Ready to explore the best things to do in Aswan? From the stunning architecture of Philae Temple to day-tripping to Abu Simbel, discover Aswan's charms with this in-depth guide.
Set along the east bank of the Nile River, Aswan is a laidback and friendly city that will capture your heart – not to mention your imagination.
I'll admit – aside from its proximity to Abu Simbel, Aswan was probably the city I knew the least about before my recent Egypt trip – as a result, it was the one that surprised me the most.
Aswan has always been an important city in Egypt and has acted as the country's gateway to the rest of Africa for centuries. The area is unlike any other in Egypt and is famous for its distinct Nubian Culture.
Throw in a few show-stopping landmarks, a rich heritage and its jaw-dropping location on the Nile, and you'll start to understand why Aswan earns itself a special place in so many people's memories. 
Grab a sneak peek and watch my video on incredible things you shouldn't miss on your Aswan trip!
Top Tip: Book a stay at the luxurious Sofitel Legend Old Cataract Hotel for your trip
Top 5 Things to Do in Aswan
Visit Philae Temple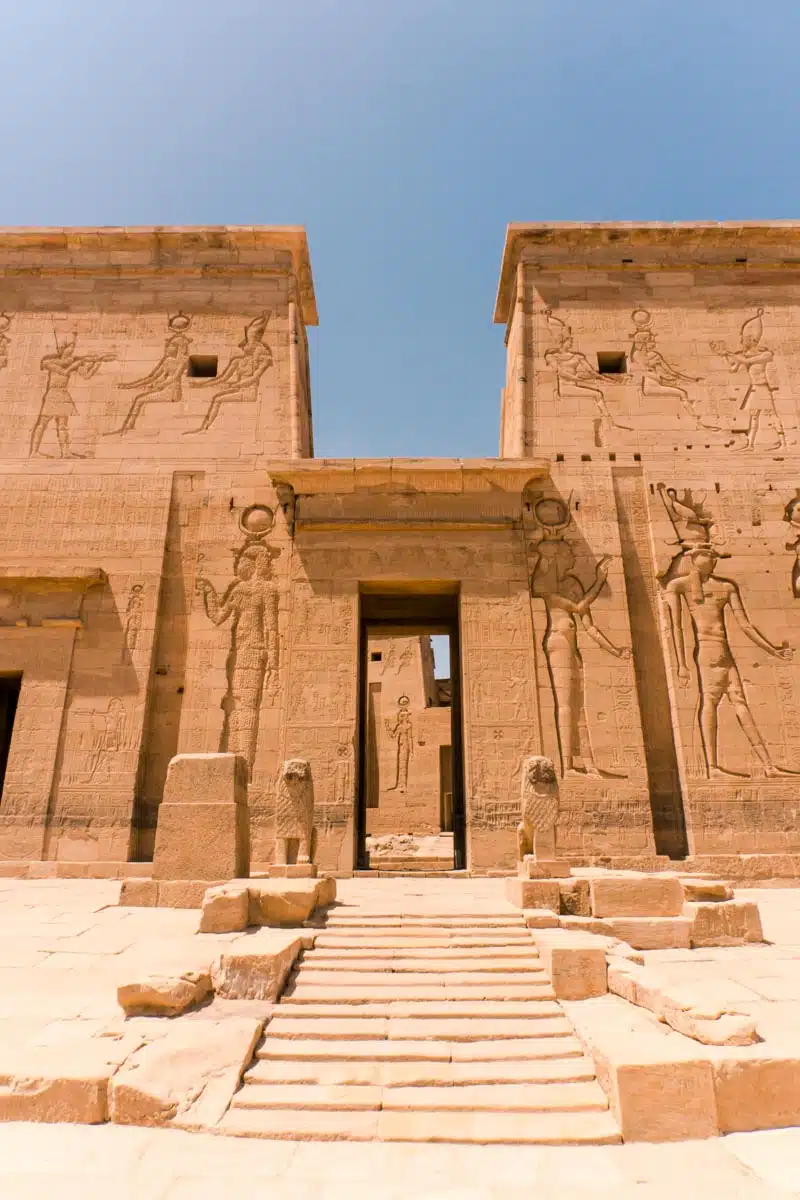 Sitting pretty on its own island, Philae Temple is one of the best-preserved temples of the Ptolemaic Dynasty and one of my own personal favourite tourist attractions in Aswan.
To put it quite bluntly: it is stunning.
I'm not going to go into too much of the temple's history but there are a couple of reasons why Philae looks quite different to some of the others you will see in Egypt.
First is the age: at just over 2,000 years old, Philae is actually one of the youngest Ancient Egyptian temples still standing.
In addition to that, the Ptolemaic Dynasty was an era which saw Macedonian Greeks rule over Ancient Egypt as Pharaohs and, as such, the architecture from this period is distinctly different to that of previous eras.
All that to say, that Philae, a temple that is dedicated to Isis, Osirus and Horus, is jaw-dropping, not only in its scale, but in the intricacy of the hieroglyphs that chart their way over every available surface.
Stunning as Philae is today, the island you find it on isn't actually the same one the Ancient Egyptians built it on all those years ago.
Philae was originally located on a different island but had to be moved when the High Dam was built in the late sixties as it would have been completely submerged.
And yes, if you think this tale sounds familiar, the same thing had to be done with Abu Simbel, while other temples like Debod were donated to other countries (Debod was given to Spain and is one of my favourite spots in Madrid).
You'll see why Philae is nicknamed the Pearl of Egypt as you approach the temple by boat. There are tons of imposing monuments with exquisite reliefs and perfect symmetry, while the hieroglyphics carved onto its stone walls are some of the last recorded in the Ancient Egyptian civilisation.
Tip: The best way to explore the Philae Temple is with a guided tour, where you can combine a visit to the temple with other
Learn About Nubian Culture at Nubian Museum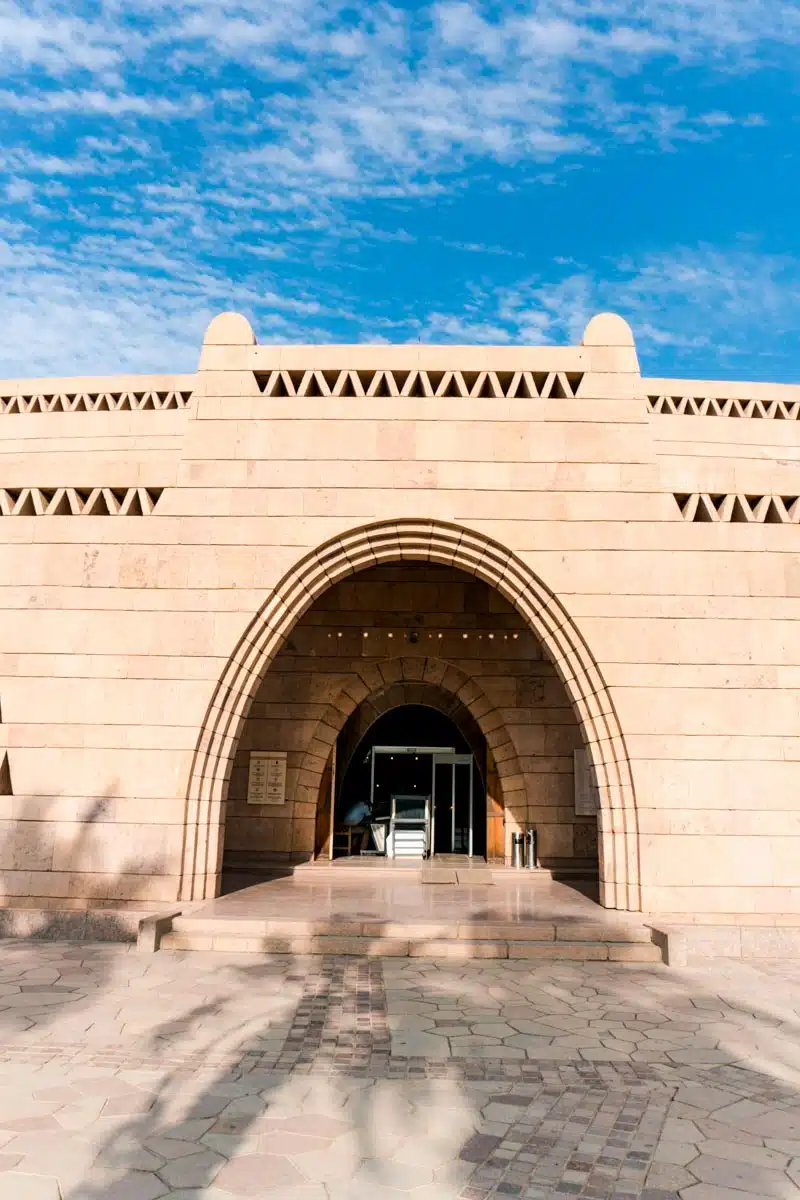 The Nubian Museum is one of the most remarkable museums that you can visit in Egypt. Aswan is best known for its rich culture and link to the ancient Nubian Kingdom. This is one of the best places to learn more about the ancient and modern-day Nubian people and their way of life.
This museum dives into the history of the Nubian people and contains a range of artefacts, including handicrafts and artworks. There are also monuments to visit, such as a collection of statues of Rameses II and other Pharaohs.
Just behind the museum is the Fatimid Cemetery, where you'll get to take a tour of a unique collection of domed tombs from the Fatimid period.
Take a Day Trip to Abu Simbel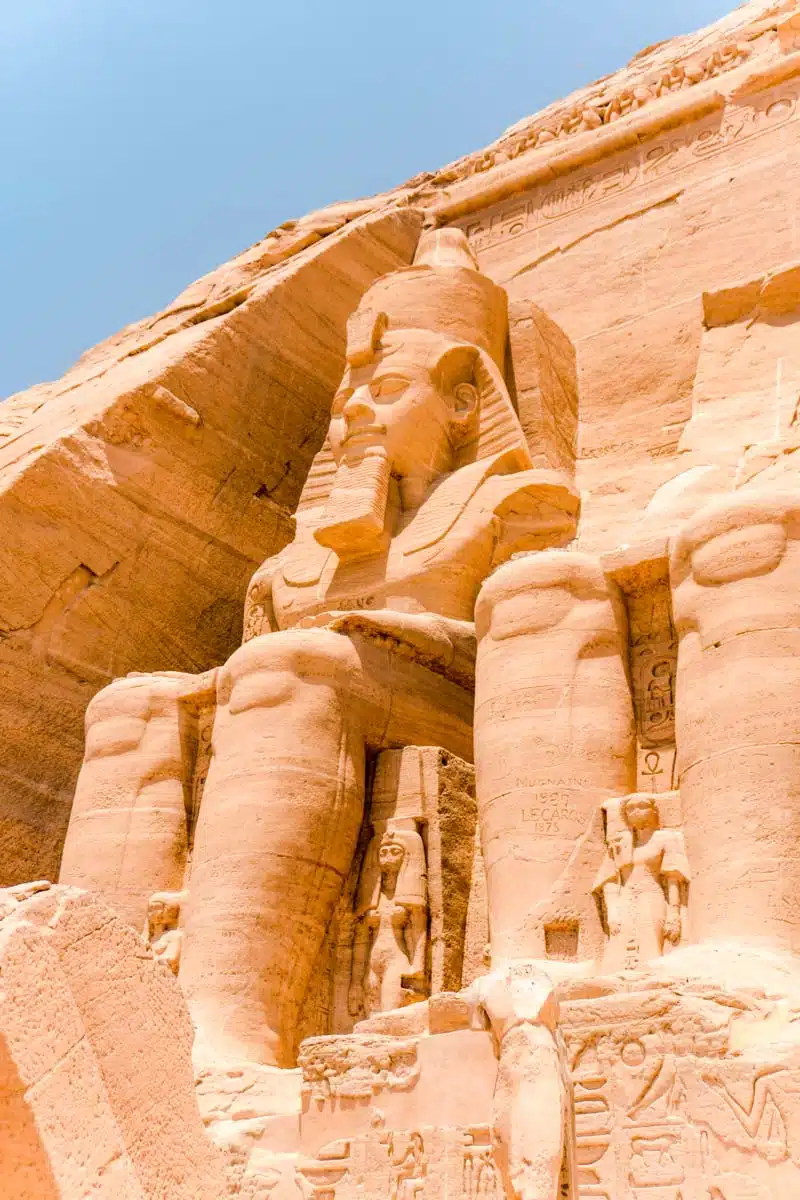 If you only have time for a one day trip from Aswan, then I recommend a day trip to the temples of Abu Simbel, which I've written a full guide on here.
I was emphatic that I was going to visit Abu Simbel on my recent trip and I'm so glad I did – the temple complex is one of the most impressive sights in Egypt… which is really saying something given it rivals destinations like Karnak and The Pyramids of Giza.
These temples are some of the greatest in Egypt, built by Rameses II. Abu Simbel is a triumph of ancient engineering and architecture – honestly – I'm yet to meet a person that wasn't awestruck by the sight of the temples.
The site is about 280 kilometres from Aswan, so you can get there by plane from Aswan Airport or by bus or private car, which is cheaper but takes longer.
Top Tip: Taking a Day Trip to Abu Simbel by Plane is Much Faster
Visit Kitchener's Island and the Aswan Botanical Gardens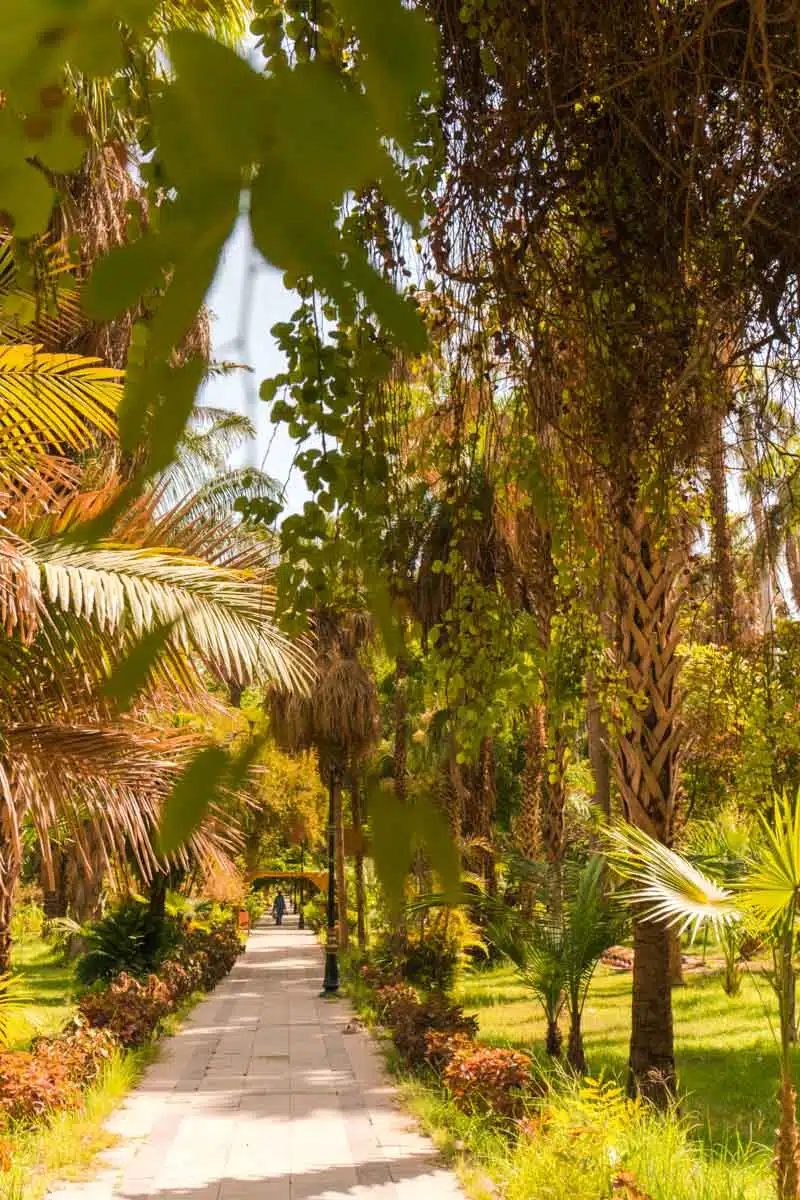 If you're looking for a place to relax and take in the beauty of Aswan, visit the Aswan Botanical Gardens on Kitchener's Island. It's a small island in the Nile, opposite Aswan. It takes its name after Lord Kitchener, who owned the island.
In 1928 he turned the island into a wonderful botanical garden with exotic plants from all over Africa and Asia. The island is a great place to take a moment to breathe and relax surrounded by lush greenery that makes a nice contrast to the arid landscapes of the south.
Here you can take a stroll, explore the vibrant variety of plants, or enjoy a picnic of delicious Egyptian treats.
To get there, simply nab a boat from the pier next to Aswan's McDonalds to ferry you across the river (and ensure they wait for the return journey).
See The Unfinished Obelisk
Just a few minutes away from Aswan's downtown area, you'll find one of the city's most famous attractions – The Unfinished Obelisk.
This landmark is in Aswan's Northern Quarry, and it is the largest known obelisk in Egypt. No one knows why it was never completed, but if it were, it would have weighed over a tonne.
This impressive granite monument is one of the most important discoveries in Egypt. It provides a glimpse into the exceptional stonemasonry of the ancient Egyptians.
Brilliant Things to See & Do in Aswan During the Day
Explore Tombs of the Nobles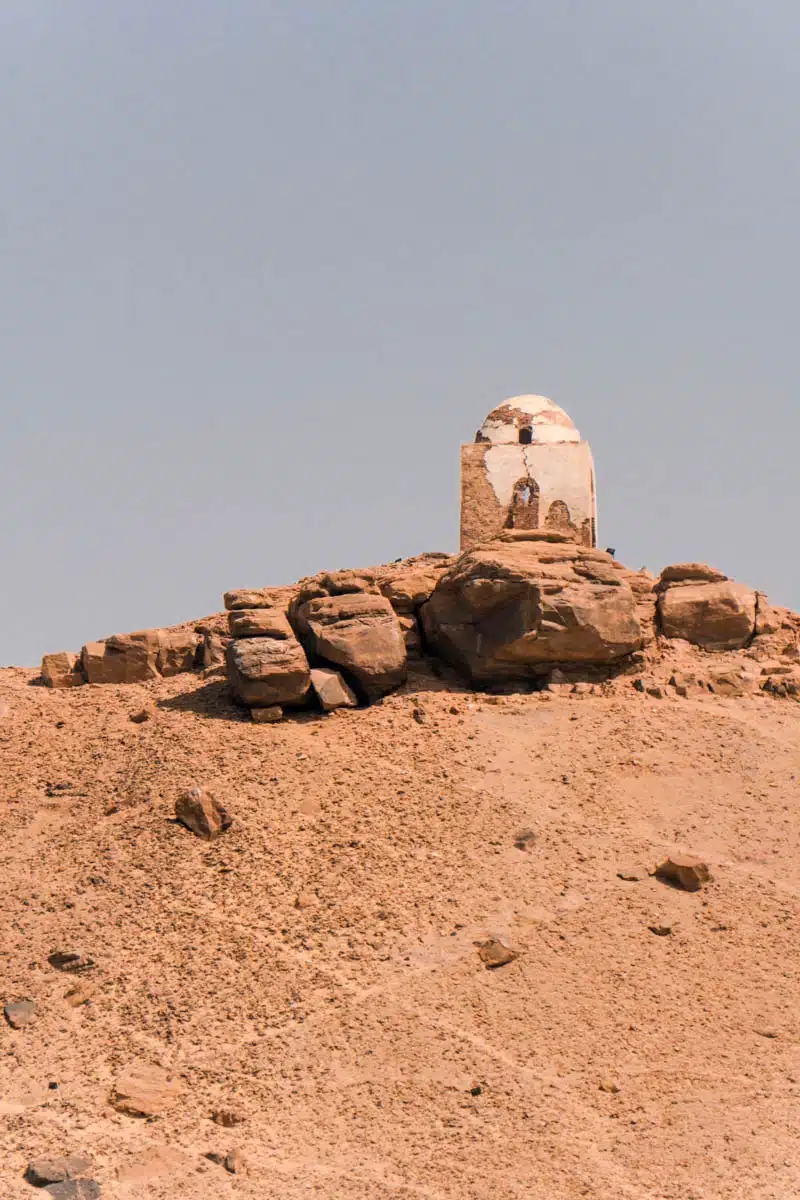 The Tombs of Nobles are a set of impressive rock tombs on the cliffs of the West Bank and are where Aswan's nobles have been laid to rest.
You can access the tombs through a steep staircase near the Gharb Aswan boat landing.
While it might be quite a trek to the top, it's worth the effort.
Do so to explore the intricately decorated tombs of princes and other leaders. One of the most notable tombs is Tomb 31, which is the best-preserved tomb on the cliffs.
Walk Around Elephantine Island
A visit to the historic Elephantine Island should go onto any guide to the top 10 things to do in Aswan – and I'm not going to be the exception.
Sprinkled with multitudes of palm trees, it's one of the most scenic places in Aswan, right in the middle of the Nile River.
There's so much to see and do on the island. It has a plethora of ancient archaeological sites, which are now on the UNESCO World Heritage Site. Some of the sites that are worth exploring are the Aswan Museum and the Ruins of Abu.
The Ruins of Abu is the oldest settlement in Aswan. Then there's the Temple of Satet, a stunning 19th-century villa that houses some artefacts and shows the island's history.
If history isn't for you, you can always take a felucca boat ride around the island or take a stroll past the colourful houses in the villages of Koti and Siou.
Take a Day Trip to Temples of Kom Ombo and Edfu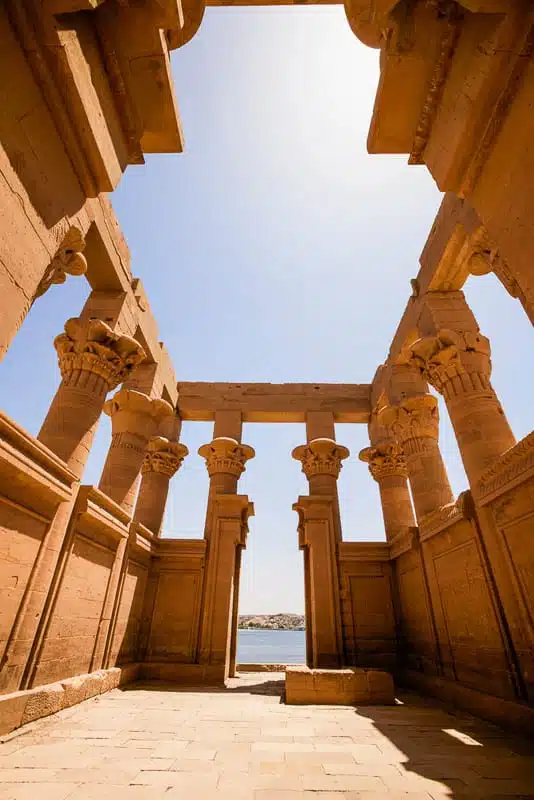 You can skip this one if you are going to take a Nile river cruise from Luxor to Aswan as, chances are that the cruise will stop at both Kom Ombo and Edfu along the way.
If you're not, then a day trip to Kom Ombo and Edfu is a great option for seeing two very different kinds of temples within easy distance of Aswan.
Kom Ombo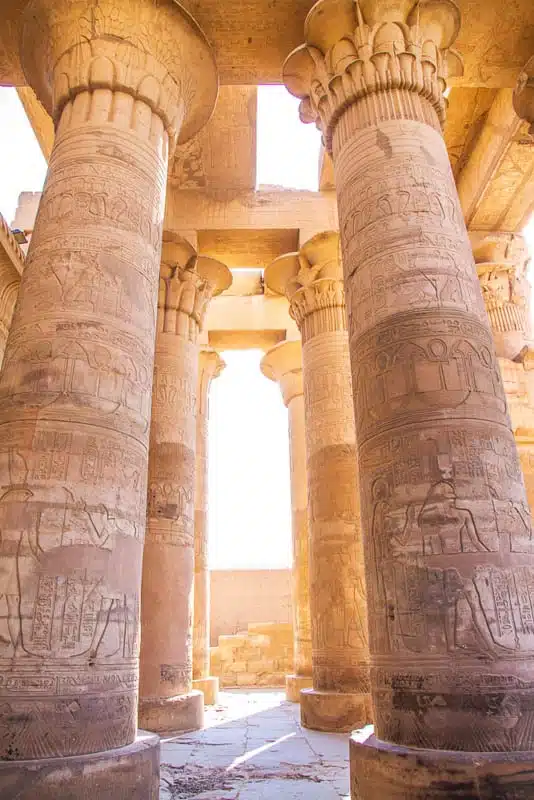 Kom Ombo is about an hour away from the city and is part of the route from Luxor to Aswan. In Kom Ombo, you'll find a unique temple complex dedicated to the gods Sobek and Haroeris.
It's one of the largest temples in Egypt, although divided into two parts. One part portrays the story of the crocodile god Sobek, while the other gives insight into the life of Haroeris, the falcon god.
The hieroglyphs on the temple's walls also paint a vivid picture of the ancient Egyptians harvest seasons and special events around the Egyptian calendar. There's also a Crocodile Mummy Museum that delves more into the cult that worshipped Sobek.
Edfu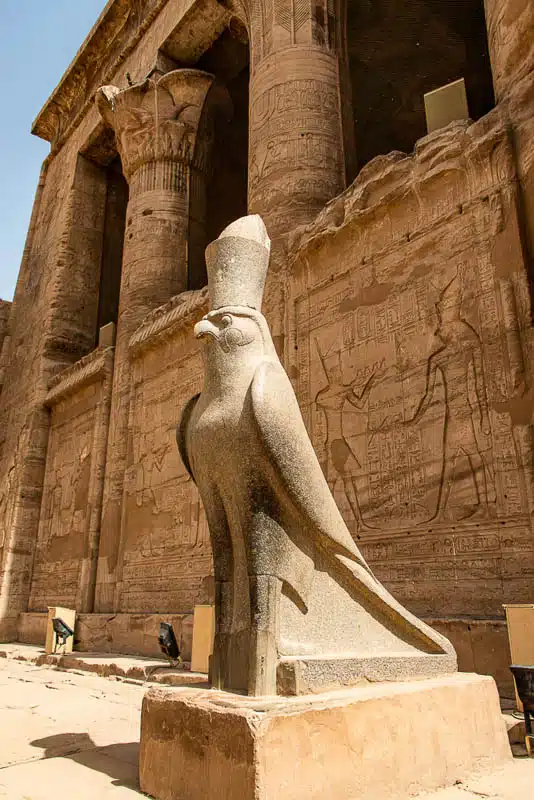 Edfu is home to one of the most important temples in Egypt, built to honour the falcon god, Horus. The Temple of Edfu is a large complex with a stunning courtyard, multiple chambers, and tons of hieroglyphs.
Book your tour to Kom Ombo and Edfu now
Shop at Aswan Souq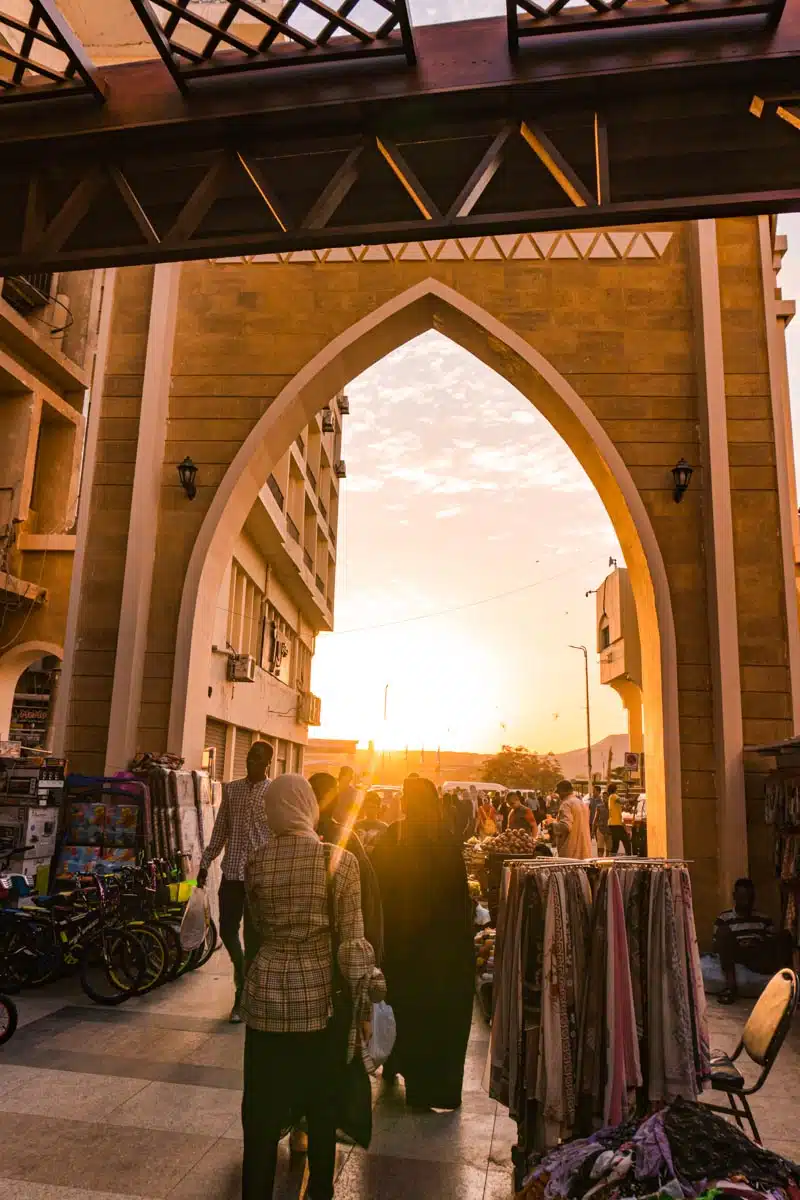 Just over a kilometre long, Aswan Souq is a shopaholic's dream. You'll find everything from jewellery and textiles to handmade goods and spices.
It's also a great place to try local favourites like Karkadai, a refreshing tea made from dried hibiscus flowers. If you're looking for fun things to do in Aswan, a visit to the Souq is right up there.
It provides refreshing changes from temples and monuments and is a great place to pick up some items to remember your trip to Egypt.
Take a Trip to a Nubian Village
If you're keen to try some exciting activities in Aswan, then you might want to take a boat trip to one of Aswan's colourful Nubian Villages.
The main one, across the river from central Aswan, aims to preserve Nubian culture.
You can learn about the Nubian people and take some very Insta-worthy pictures outside their colourful homes.
I'd also recommend booking a dinner at a local family's home so you can learn more about Nubian culture from the source (and eat some very tasty food as you do).
Indulge in High Tea at the Old Cataract Hotel
High tea might be quintessentially British, but the one at the Old Cataract Hotel is an absolute must.
It is one of the oldest hotels in Aswan, built in 1899 by Thomas Cook.
Over the years, it has hosted many important people, but it is most famous for being the place where Agatha Christie wrote Death on the Nile while staying in Egypt.
Indulge in a variety of high tea classics while taking in the stunning views of the Nile and West Bank.
Cool Things to See & Do in Aswan at Night
See the Philae Sound and Light Show
One of the coolest things to do in Aswan at night would definitely be to catch the sound and light show at the Philae Temple. It is a magical experience as you watch the temple light up and hear incredible stories of its history.
Dine at Salahaddin Restaurant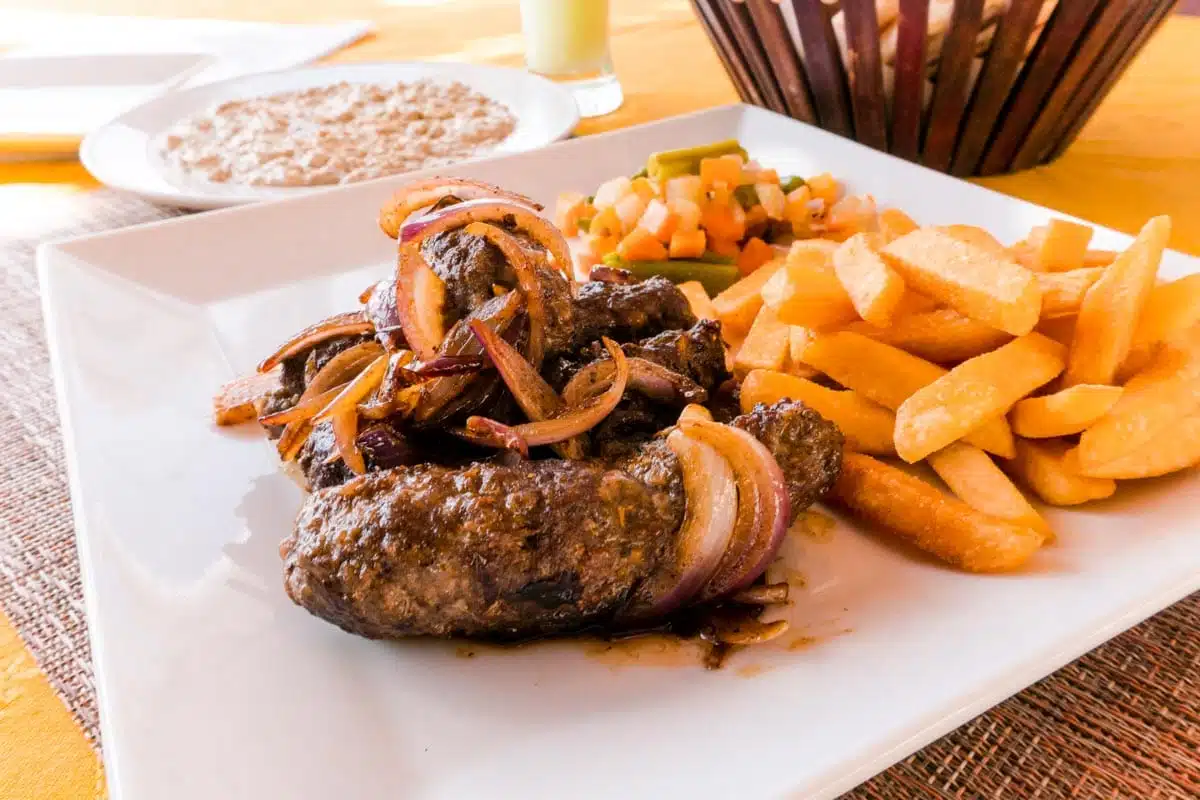 There's no better way to experience Aswan than through its food, and you can do so at the Salahaddin Restaurant. It's one of the best restaurants in Aswan, located right next to the Nile with several terraces.
They serve an interesting mix of Egyptian, Nubian, and international dishes – it was one of my favourite dining spots in Egypt.
Feast on Traditional Egyptian Food at Makani Restaurant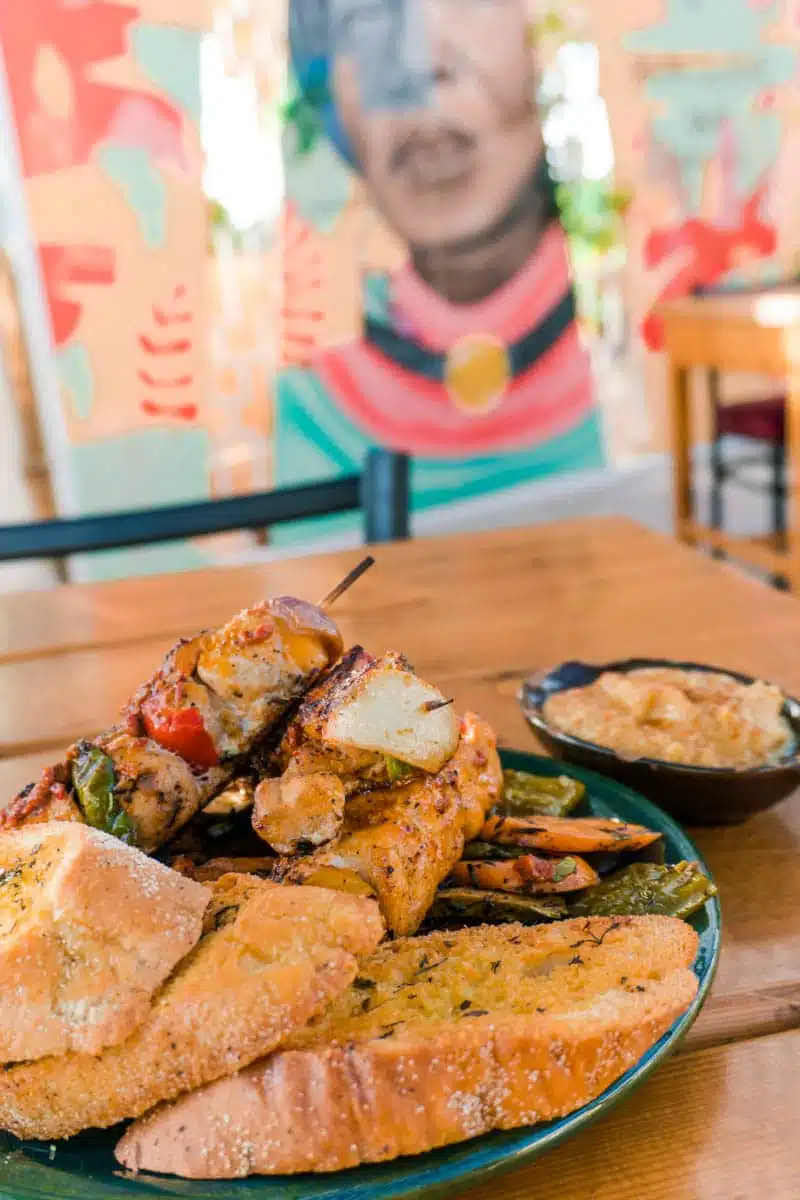 Makani Restaurant was another one of my favourite eating spots in Aswan. Serving traditional Egyptian cuisine on a gorgeous riverfront terrace, it's a lovely spot for lunch or dinner – the owner is super-friendly and helpful too.
Hop on a Felucca at Sunset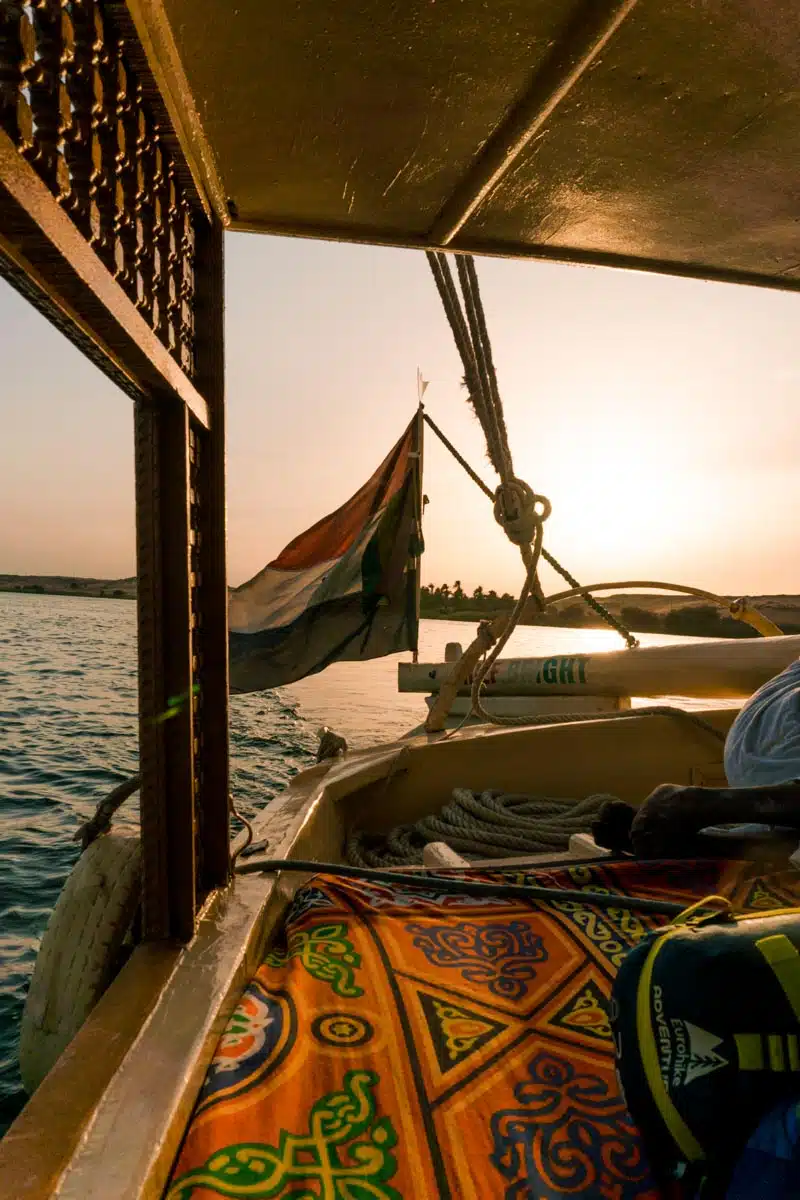 A felucca boat ride is pretty exciting during the day, but it's even more magical when you go just as the sun sets. The ride usually lasts an hour or two and takes you around the various islands in the Nile.
It's one of the most scenic and memorable things you can do in the evening as you watch the sun slip away over the horizon.
Explore Aswan's Old Souks & Bazaars
The one thing that's great about Egypt is that its Souks and bazaars stay open until late. If you're not keen on walking around in the heat during the day, then you can always go exploring at night.
One place worth checking out is the Hanafi Bazaar, where you can buy 18-carat gold items and jewellery.
Things to Do in Aswan Egypt: Practical Tips for Your Trip
Is Aswan Worth Visiting?
Yes! Aswan is full of sights for you to explore, and is a great base for a day trip to Abu Simbel. It's also quite different to cities like Cairo and Luxor, so makes for a nice contrast on your trip.
How Long Should I Stay in Aswan?
Two to three days is enough time to see most of Aswan's attractions and the surrounding areas.
Best Time to Visit Aswan
The best time to visit Aswan is from October to April. This is when the weather is relatively mild, and there are fewer crowds, so you can enjoy all the sights and activities to the full.
Where Should I Stay in Aswan?
Pyramisa Island Hotel Aswan (Mid-Range)
The Pyramisa Island Hotel is a welcoming resort near the Aswan city centre. It has the most beautiful gardens as well as impressive panoramic views of the Nile River and the city.
Their rooms are superbly spacious and have all the amenities you'll need for a comfortable stay.
Check Rates and Availability for Pyramisa Island Hotel Aswan on Booking.com
Sofitel Legend Old Cataract Hotel (Luxury)
Sitting tight opposite Elephantine Island, the Sofitel Legend Old Cataract Hotel is the ultimate place for a luxurious stay in Aswan.
It is a Victorian building with incredibly luxurious and modern rooms. It also has a range of amenities, including four restaurants, four bars, a spa, and an incredible pool.
Check Rates and Availability for Sofitel Legend Old Cataract on Booking.com
Obelisk Nile Hotel (Budget)
Alternatively, the Obelisk Nile Hotel on the same stretch of The Nile offers more affordable but still very comfortable accommodation.
Check Rates and Availability for the Obelisk Nile Hotel
Recommended Tours in Aswan
Things to Do in Aswan: Map