Looking for the best things to do in Monopoli, Italy? This guide will take you through everything you need to know about this picturesque town in Puglia.
Where is Monopoli? Tucked away along the Adriatic coast sits this charming little haunt – it's just 30 km from Bari and is one of southern Italy's hidden gems.
Monopoli is often overlooked when most people visit the Puglia Region, but I think it deserves all of the bellissimo's it gets. And I will continue to sing its praises forevz.
It's a gorgeous little getaway, especially during the summer when most travellers flock to more popular coastal places in Italy like Cinque Terre.
Ready to dive into what Monopoli has to offer? Great, let's get started.
Top Tip: Looking for somewhere to stay in Monopoli? I recommend the gorgeous Torre Cintola Natural Sea Emotions with incredible oceanfront views.
Top 5 Things to Do in Monopoli
Admire Castello di Carlos V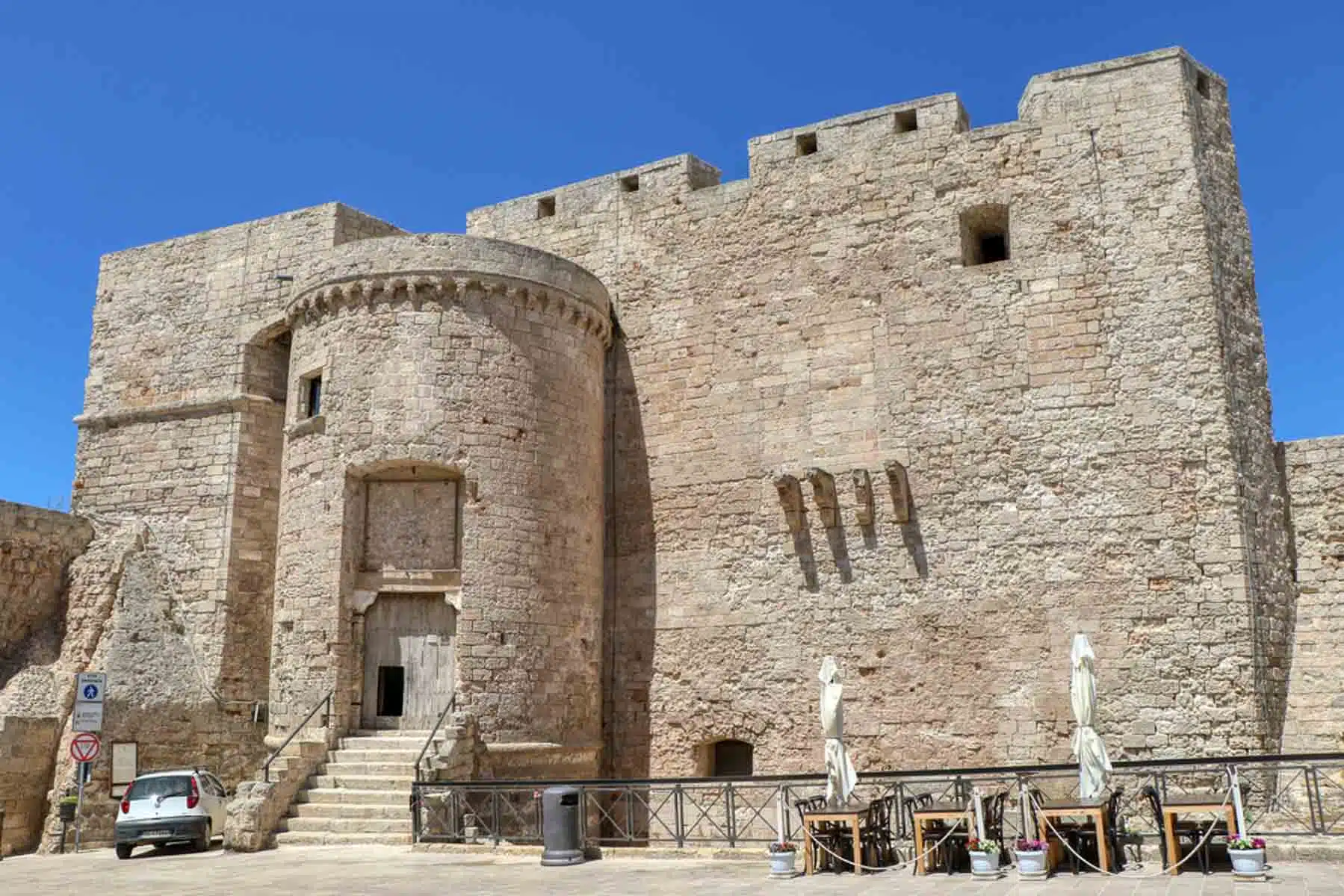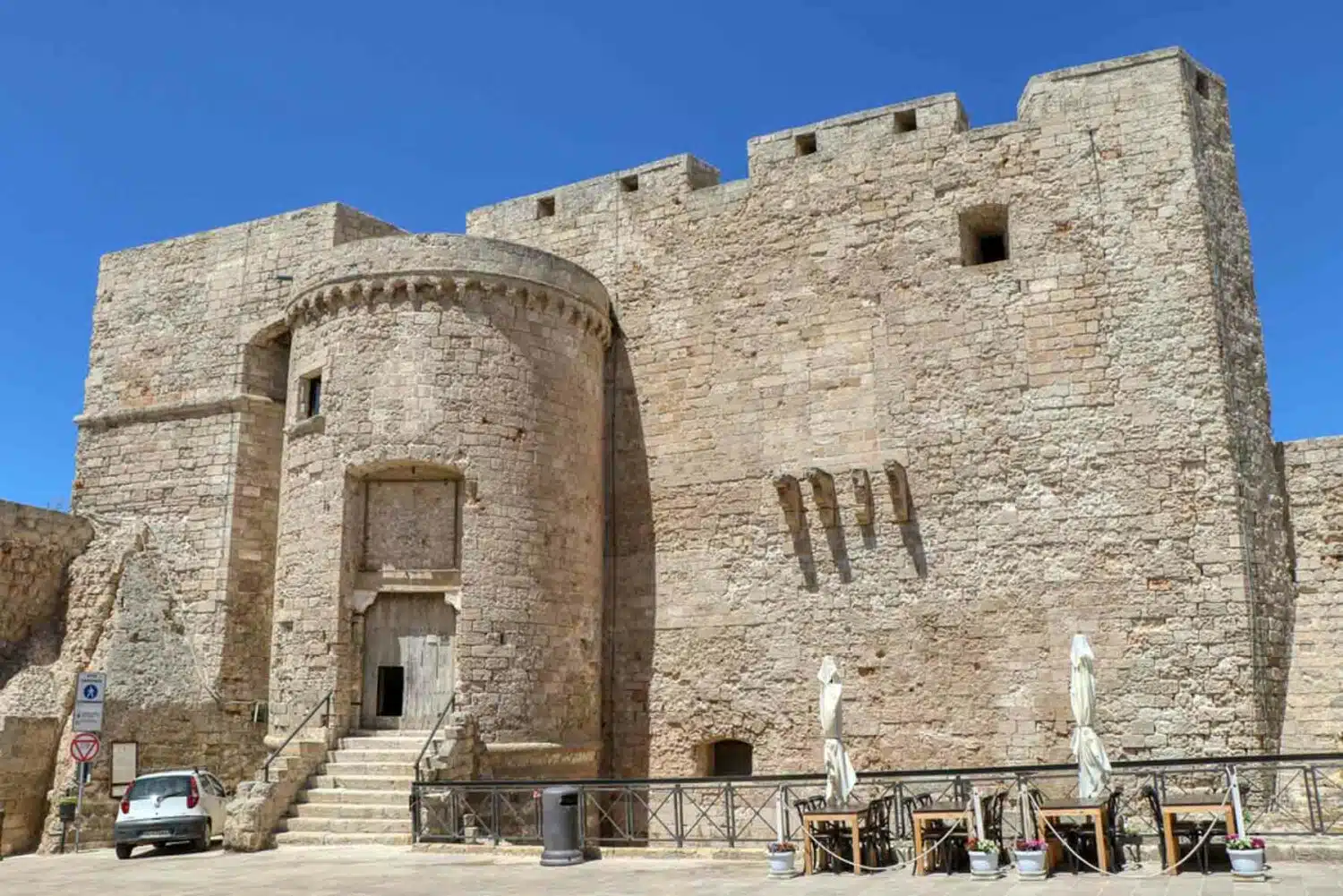 One of the first places I recommend visiting is the stunning Castello di Carlos V. It's a 16th-century fortress on a peninsula called the Punta Pinna and it's situated near the Old Port of Monopoli.
This fortress is part of the town's fortification systems built by Emperor Charles V. In later years, the Spanish took over the fort during their short occupation of the town, where they enlarged it to accommodate their soldiers and their families.
Over the years, the Castello Carlos has acted as a court, military fortress, and a prison as recently as the 1990s.
Today it is one of Monopoli's prized attractions. It sits along Monopoli's coast and boasts the most incredible views of the Adriatic Sea and Old Port. It's one of the most picturesque places in Monopoli, so don't forget to bring your camera along for some enviable Instagram photos.
Hang Out at the Porto Antico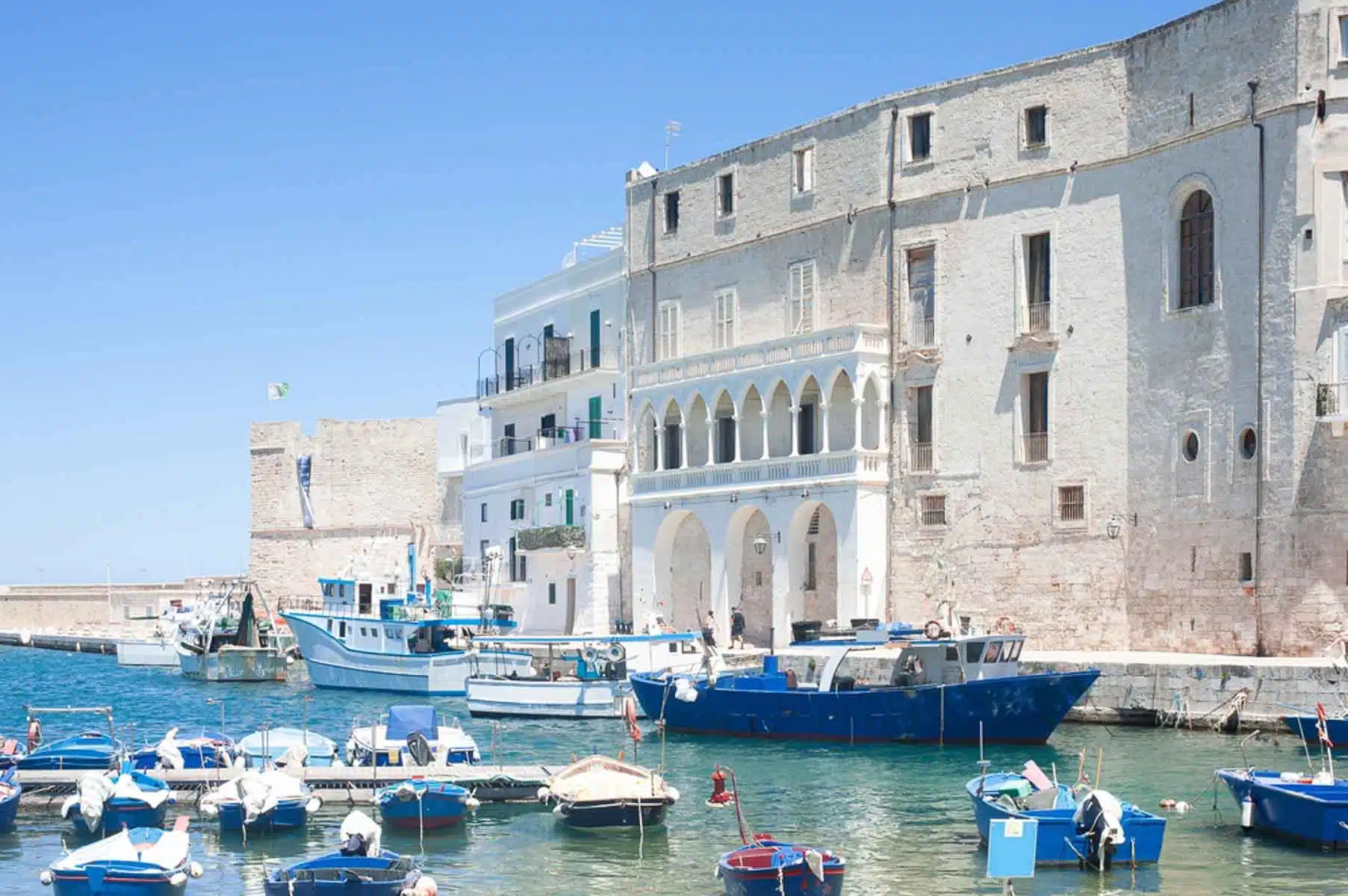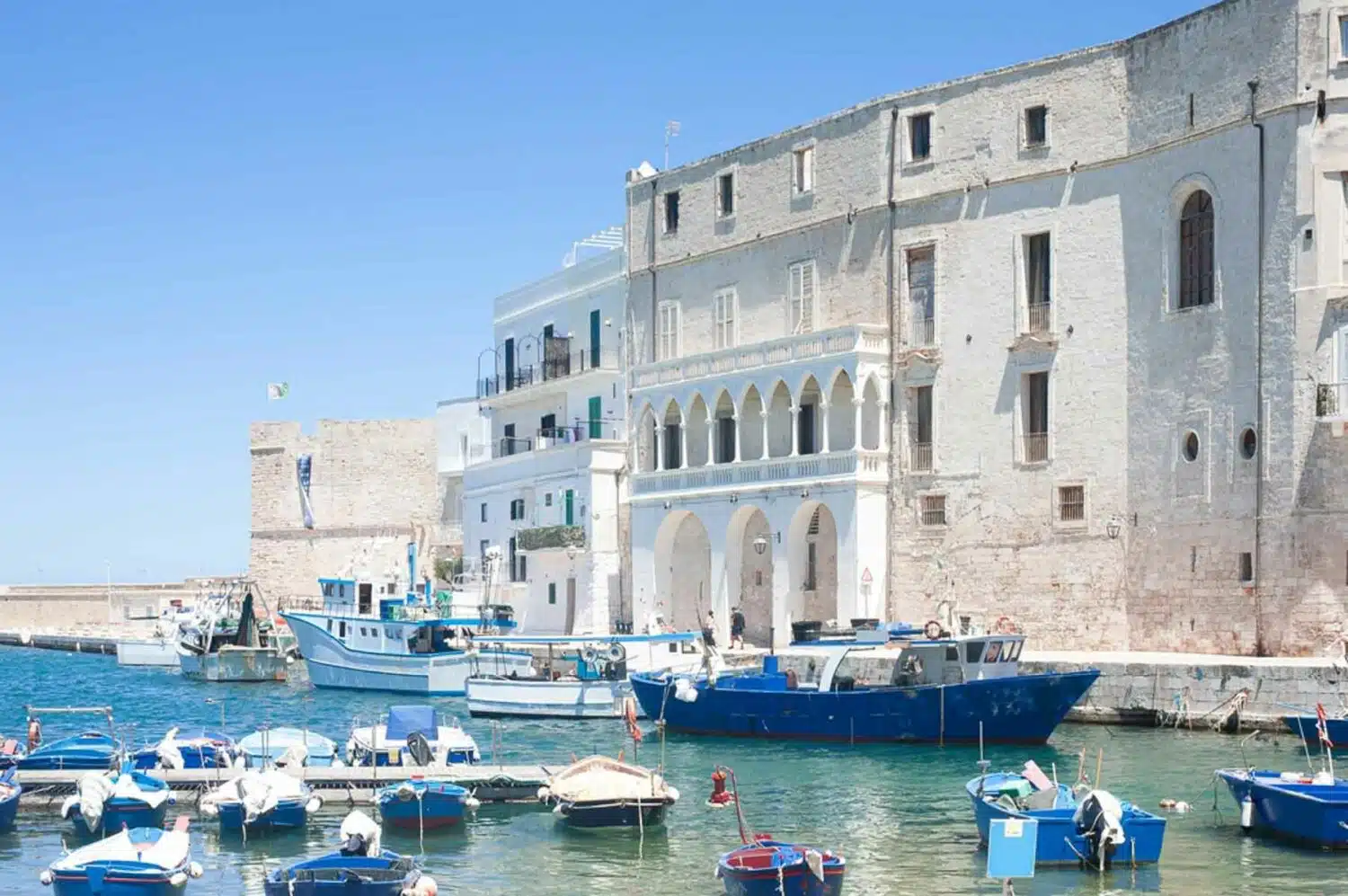 Even if you only have time to visit one place while you're in Monopoli, it should be the Porto Antico—or the Old Port. This is where you'll get a true feel for the town since much of it hasn't changed for centuries.
You'll find stunning white-washed stone houses and buildings enclosed by the old city wall. These stone houses, with the stunning turquoise sea as a backdrop, provide one of the most breathtaking sceneries in this town.
You'll also spot small red and blue boats that the fishermen in the area have used for many years. There's plenty to do in this part of town. You will come across a few hidden gems as you walk through the quaint cobblestone streets.
There are cute cafés, restaurants, and market stalls where you can pick up just about anything. This is also where you can hop on a boat, take a trip around the harbour, and learn more about its history.
Some of the streets have artwork by local artists on their walls, making Porto Antico one of the most Instagrammable places in Monopoli.
Wander Around the Centro Storico (Old Town)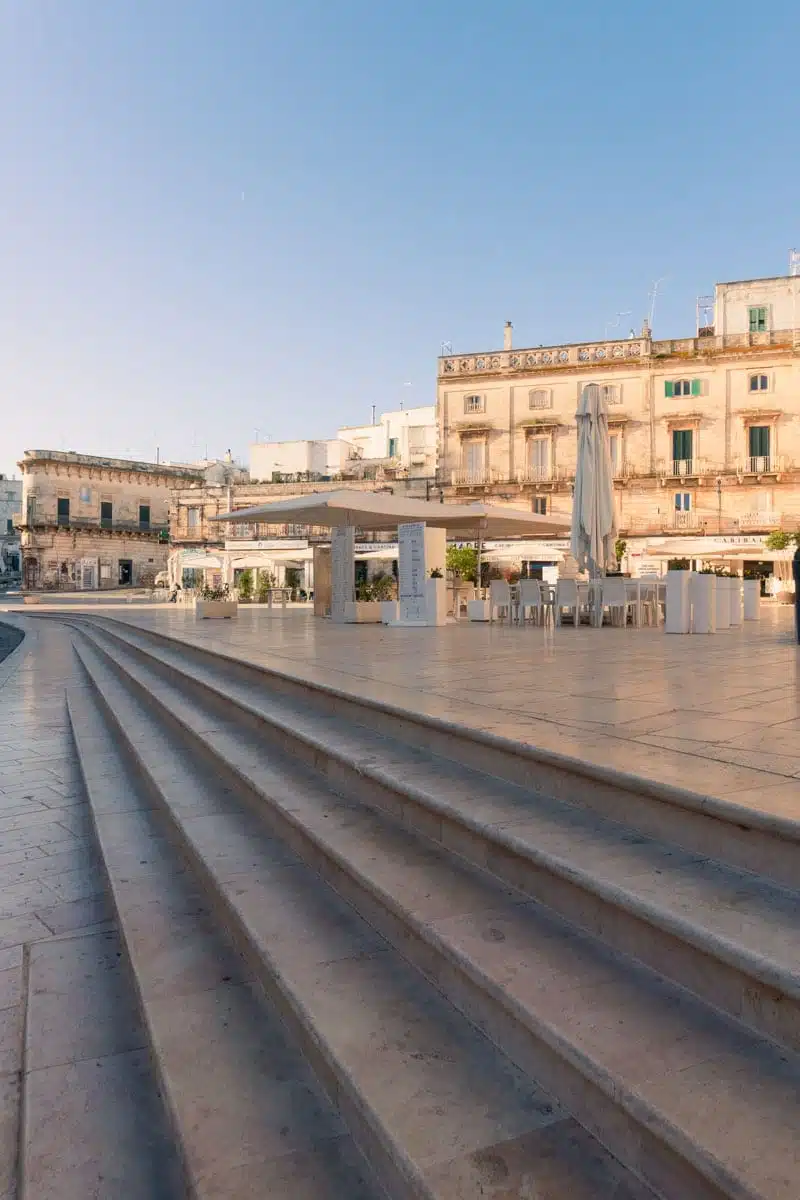 The Old Town is one of the most wonderful places you can visit in Monopoli. Ideally, this is where I recommend you start your Monopoli adventures.
The Old Town is a true masterpiece on its own and is a great place to delve into Monopoli's rich history. The town is pretty colourful, and there's something different to discover at every corner.
You could easily spend hours exploring the Old Town, from classic whitewashed Italian houses with balconies brimming with colourful flowers to boutiques, restaurants, galleries, and cafés.
Some highlights of the Old Town include the Basilica of Madonna Della Madia, a true architectural masterpiece, and the Palmieri Palace.
While you can take a guided walking tour of the Old Town, navigating on your own is straightforward.
Chill Out in the Piazza Giuseppe Garibaldi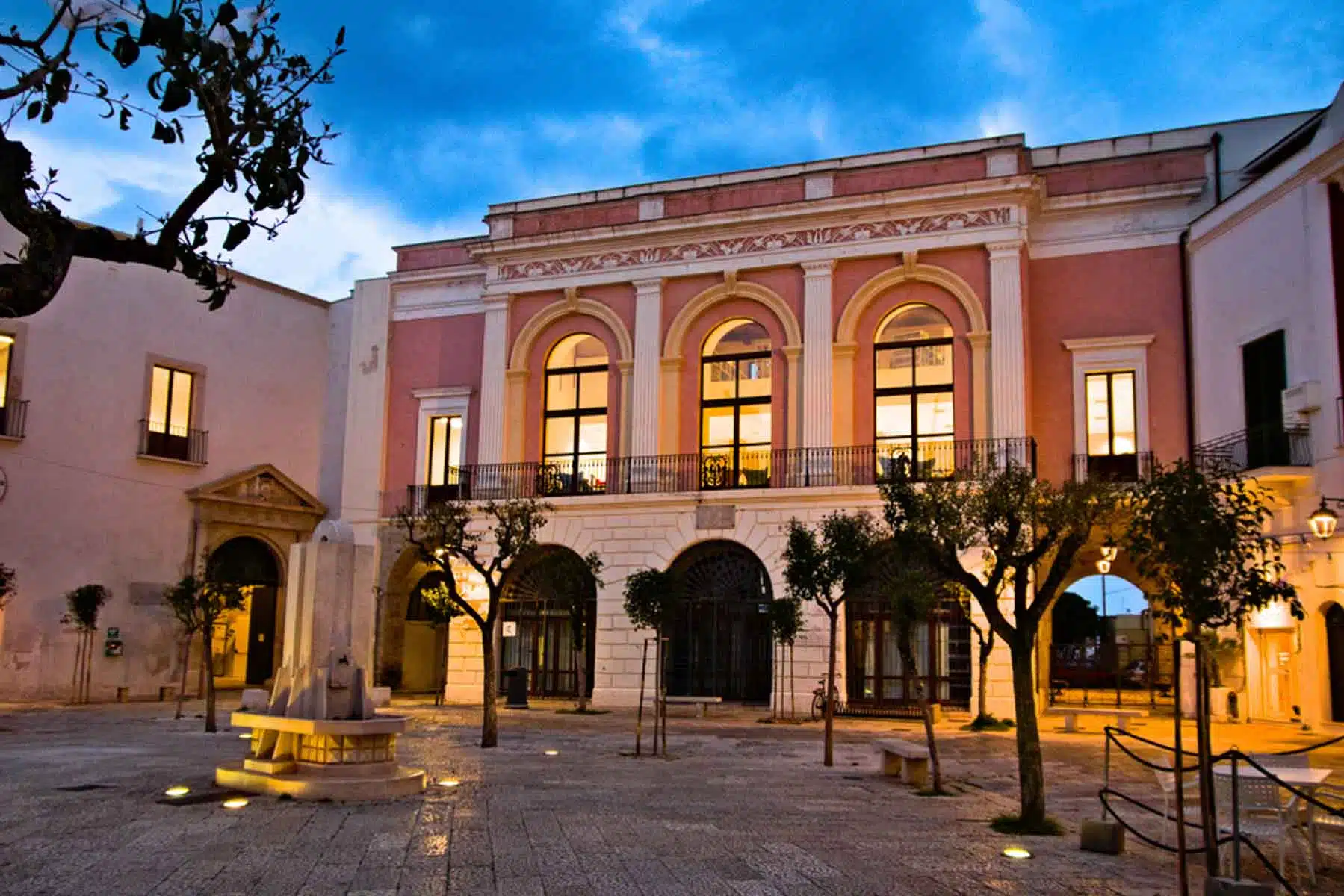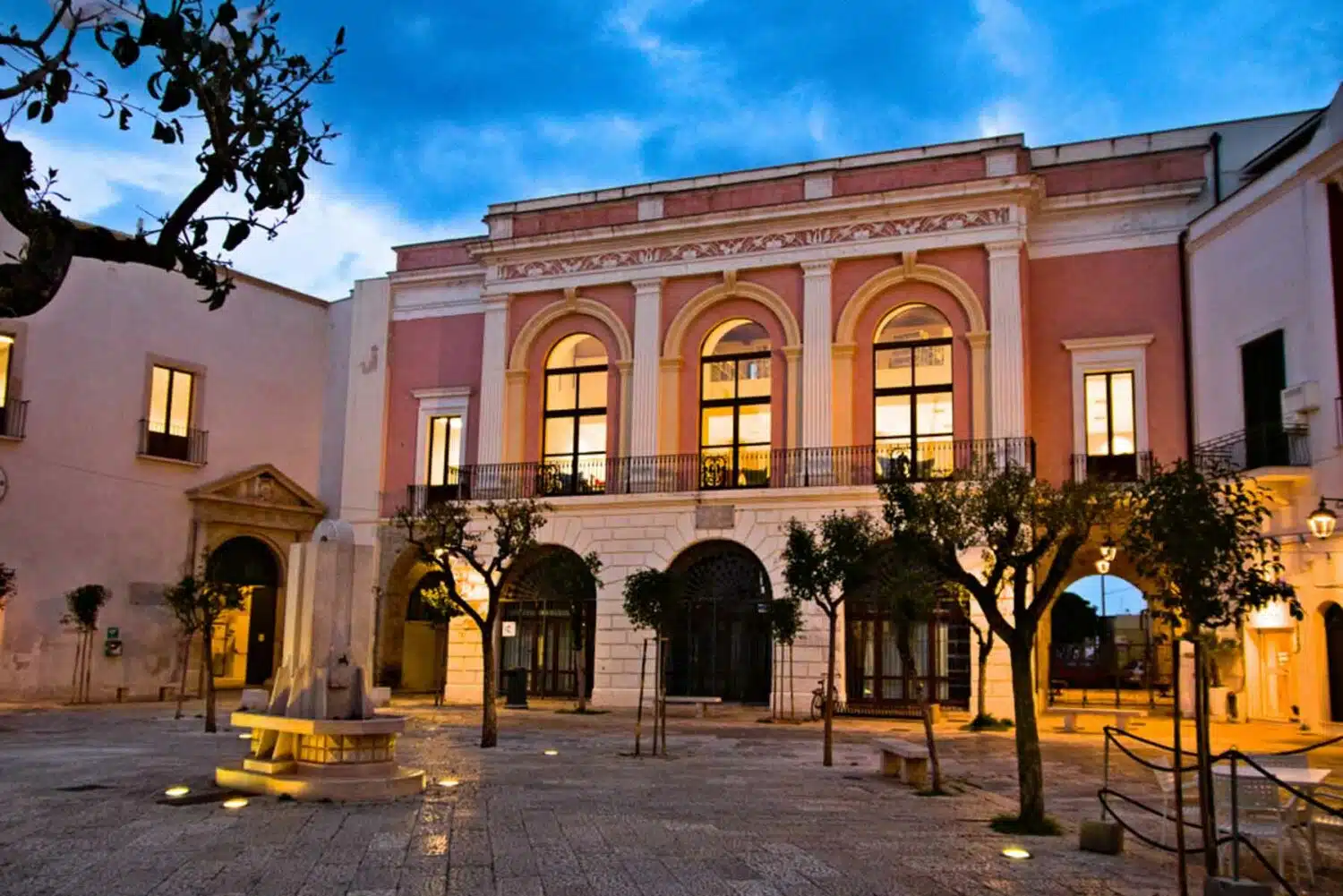 Italy is famous for its delicious pizza, wine, gelato and coffee, and there's no better place to enjoy all this than at the Piazza Giuseppe Garibaldi. This main square is a popular hangout where locals and visitors gather to enjoy some socialising.
There are countless pizzerias, gelaterias, wine bars, and restaurants where you can grab some Italian classics and soak up the warm atmosphere around you. Top picks include Ristorante La Dolce Vita, Porte De Ma, and Vini e Panini if you're on a budget.
Stroll Along the Lungomare
One of the best places where you can experience the beauty of Monopoli is down by the Lungomare. It's a scenic walking path that leads you down to Castello Carlos V.
It's a special place to enjoy a stroll, especially at sunset when the sun touches the crystal blue waters. It's a wonderful place to take a minute and enjoy the beauty of southern Italy.
Brilliant Things to See & Do in Monopoli
Take a Dip at One of Monopoli's Beaches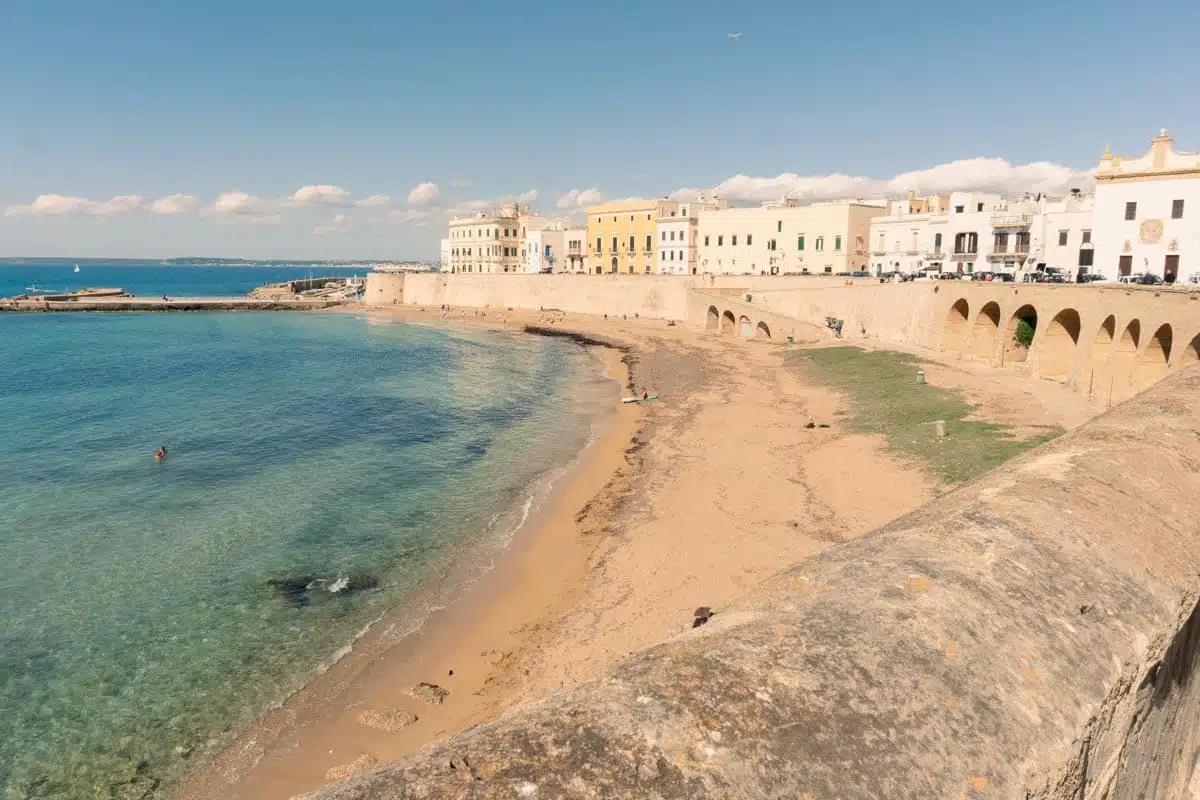 Monopoli has some of the best beaches in Italy, so it's only right that you take a dip or stick your toes in the warm Adriatic waters. Here are some beaches that you can look forward to:
Cala Porto Rosso – This beach in Monopoli is about a 15-minute walk from the Old Town. It's a small cove with a delightful sandy beach and rock area. It's perfect for lazing around and sunbathing.
Cala Paradiso – A part of this beach belongs to a trendy beach club with sunbeds and umbrellas available for rental. Then there's also a free area where you can hang out.
Calamarena – This beach is a popular area with most locals and visitors. The cove has crystal clear waters, sun beds, and a small bar. It can get extremely crowded in the summer, though.
Capitolo – This is the most famous beach area in Monopoli. It is well known for its beach resorts and has a good mix of public and private beaches. The area has many restaurants, bars, and clubs and quite an exciting nightlife scene.
Marvel at Chiesa San Salvatore
Italy's catholic affliction is no secret, so it's also not surprising that Monopoli is dotted with gorgeous churches. One of the oldest being the Chiesa San Salvatore, which was believed to have been built in 313 AD by pirates who survived a shipwreck.
While I'm not recommending you pop into every single church you come across (you'll be there for days), this one is very much worth a pit stop. Steps from the ocean, this church is every bit as dramatic as it is beautiful.
Must-Try Bars & Restaurants in Monopoli
The King Street Food
One restaurant that you have to try is The King Street Food. It's a popular restaurant and bar close to some of the city's best attractions, like the Castello di Carlos V. Most people pop around here after a long day of sightseeing.
Their menu is fairly extensive and features all the familiar Italian classics including pizza and puccia (a toasted sandwich kind of deal) with a variety of toppings. Their drinks menu is just as delish and features a variety of craft beers and wines.
Komera Cucina
Since Monopoli sits along Italy's southern coast, it's easy to enjoy a range of delicious seafood dishes here. If you're a seafood fan, you may want to check out Komera Cucina.
It's an elegant restaurant where you can enjoy freshly caught fish, octopus, mussels, oysters, prawns, and much more. Their drinks menu is also carefully crafted so that you can pair the perfect bottle of wine with your dishes.
If you're after a special date night location, look no further.
Best Hotels in Monopoli
Hotel Don Ferrante
Once an ancient fortress, Hotel Don Ferrante is now an elegant hotel with stunning stone walls and arches. It's quite modern but has cool touches of old-world charm.
It's also 2 minutes away from many beaches, including Porto Vecchia and Cala Paradiso. It has some of the best sea views you'll find in Monopoli.
Check Rates and Availability on Booking.com
Palazzo Indelli
This quaint spot is one of my favourite Monopoli, Italy hotels and sits right in the heart of Piazza Giuseppe Garibaldi. It features a simplistic design with all the modern amenities needed for a comfortable stay.
It's near the Monopoli Train Station, making it easy for you to take trips to nearby Bari and Brindisi. It's also quite close to several beaches.
Check Rates and Availability on Booking.com
Monopoli, Italy: Practical Tips for Your Trip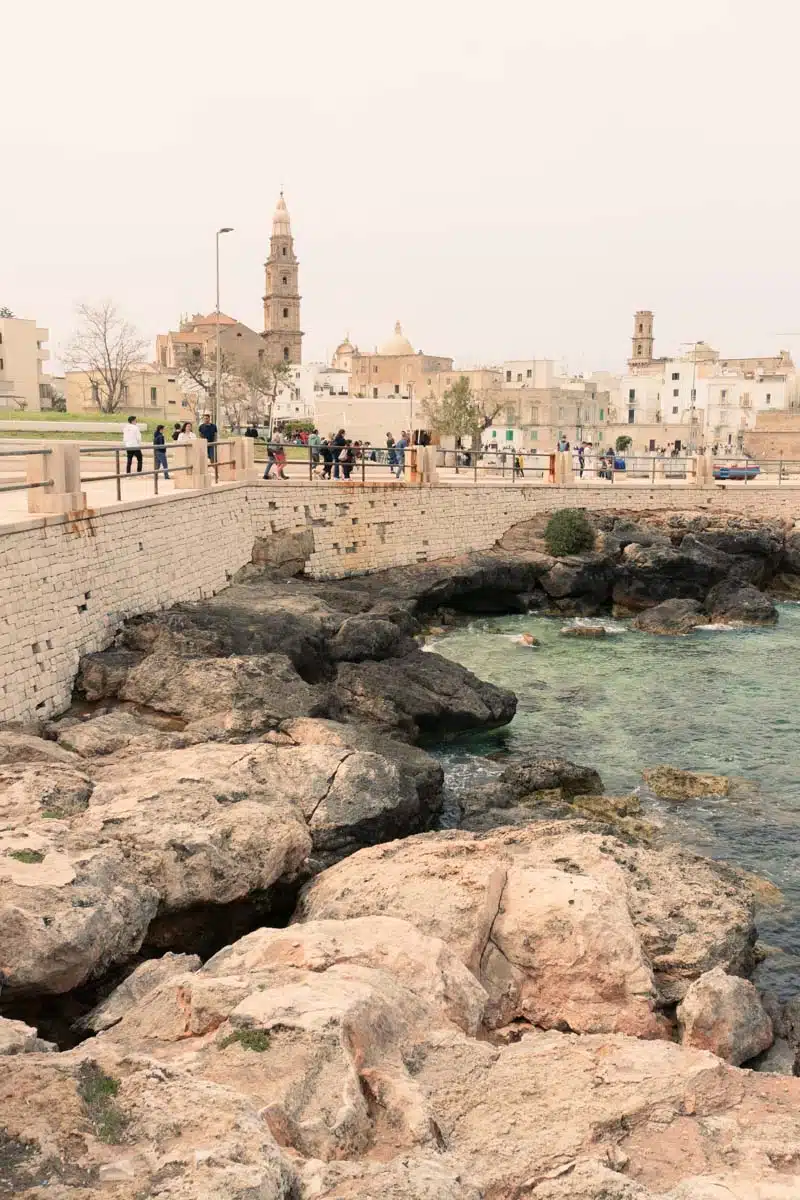 How Long Should You Stay in Monopoli, Puglia?
Three days is more than enough to discover what Monopoli has to offer. If you'd like to kick back and relax more, I recommend extending your stay to five days.
Best Time to Visit Monopoli, Puglia
The best time to visit Monopoli is during the summer months of July and August. This is when the weather is nice and hot, and it's great to lounge about on one of the town's many beaches.
Alternatively, you could also visit in September and October when the weather is slightly cooler and the town is quieter.
Where Should I Stay in Monopoli?
Monopoli is home to some of the most incredible places to stay in Puglia. I recommend staying at Hotel Don Ferrante if you're keen on experiencing old-world charm with stunning sea views.
If you'd like to be close to all the action in the city centre, then I would recommend staying at Palazzo Indelli.
How to Get to Monopoli?
By Car from Bari
Getting to Monopoli from the larger city of Bari is relatively easy. The distance between the two places is only 45 kilometres. Depending on traffic, it should take you anywhere between 45 minutes and an hour to get to Monopoli from Bari.
By Train from Bari
If you're not keen on driving to Monopoli, then you can hop on a train. Multiple trains operate daily between Bari Centrale Station and Monopoli Station. The train ride can take up to an hour and costs just over €3.
Things to do in Monopoli, Puglia: Map
Monopoli, Puglia: Discover More Puglia Guides
Save + Share on Pinterest