Wondering where to stay in Puglia? The southern heel of Italy may not be as popular as the country's more northerly reaches, but the Puglia (Apulia) region is making an appearance on the radar of savvy travellers — and for good reason.

Hotels are easy enough to come by in Puglia, but staying at the perfect place with the best to offer you makes all the difference to your holiday.
Whether you're coming to Puglia to enjoy some of Italy's best beaches or to enjoy the local ambience and architecture (take it from me – both are incredible), you won't leave this gorgeous region disappointed.
Read on to discover my guide to the best places to stay in Puglia – and the hotels that make it so special.
Best Places to Stay in Puglia: At a Glance
Where to Stay in Puglia
Some of the best hotels in Puglia are in the most unexpected places. From little villages to bustling cities, here are my favourite places to visit and stay when visiting the region.
Ostuni: Best Place to Stay in Puglia Overall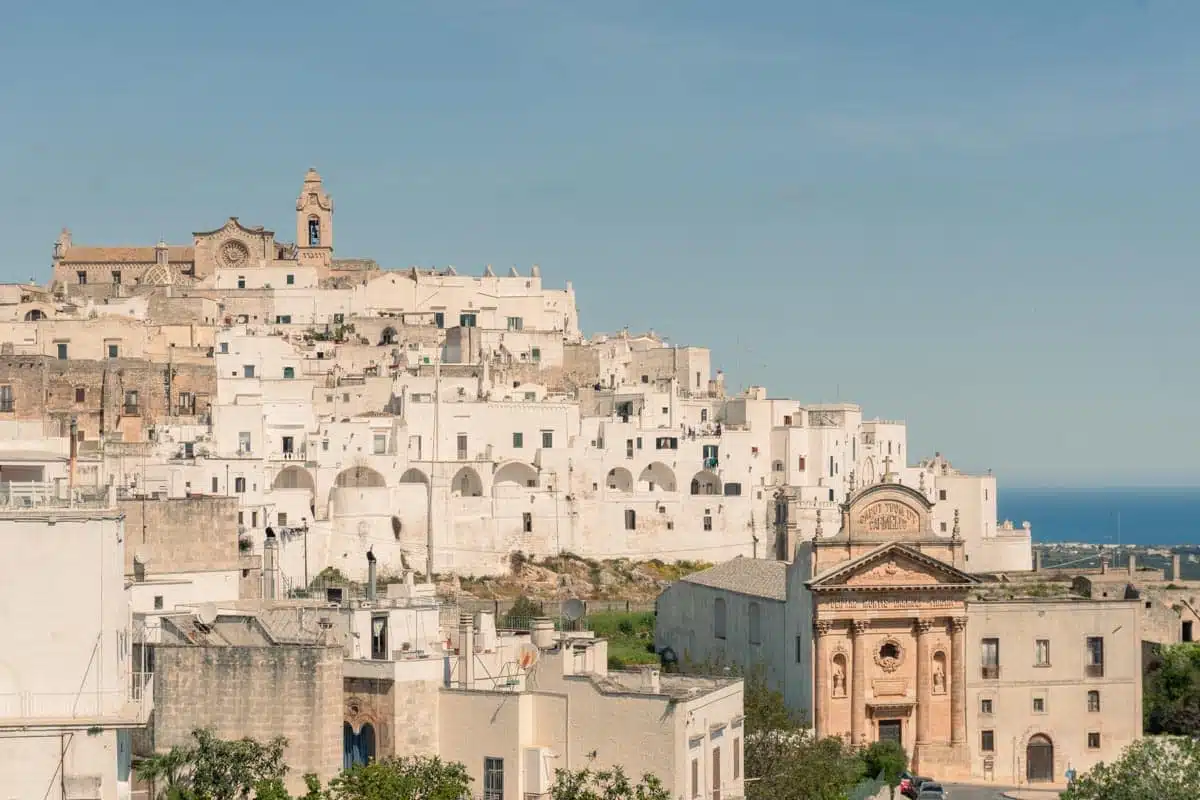 Rising from a sea of ancient olive trees is Ostuni. This stunning white-washed city rests on a hill in the heart of Puglia. There's plenty to do throughout the day and night, from dining at excellent restaurants to relaxing at bars with beautiful views.
Its central location means that it's a short journey to other nearby attractions, so if you're wondering where to stay in Puglia as a base, this is it. Take a 30-minute drive to Martina Franca, or visit Alberobello, which is only an extra 10 minutes away.
Don't have a car? You can easily rent one from either Bari Airport or Brindisi Airport. If you prefer public transport, Ostuni's train station sits 2 km outside of the city, so you'll need to catch a bus to get to the city centre.
Ostuni Highlights
Ostuni Saturday Market — held every Saturday from 8:00 am to 1:00 pm, the Market is the place to find great bargains on fresh produce, clothes, bags, and more. Pick up some taralli crackers to snack on as you peruse the stalls.
Arco Scoppa — stop by the Piazzetta Cattedrale to see this famous ancient arch connecting the seminary to the Bishop's Palace.
The Gothic Cathedral — atop the hill that is the backbone of this town sits the 15th-century cathedral, which has a unique blend of Gothic, Byzantine, and Romanesque features.
Best Hotels in Ostuni
Masseria Il Frantoio — an organic farm only a 10-minute drive from Ostuni, this hotel features rustic rooms with antique charm and a restaurant with incredible local cuisine.
La Dama Bianca — with warm stone walls and turquoise spa baths in the inviting rooms, this hotel is the best of both the old and the new. I highly recommend the suites.
Centro di Spiritualità Madonna Della Nova — the furnishings may be modern and modest, but the service is exemplary, and the garden is the perfect retreat.
Alberobello: Where to Stay in Puglia, Italy to See the Trulli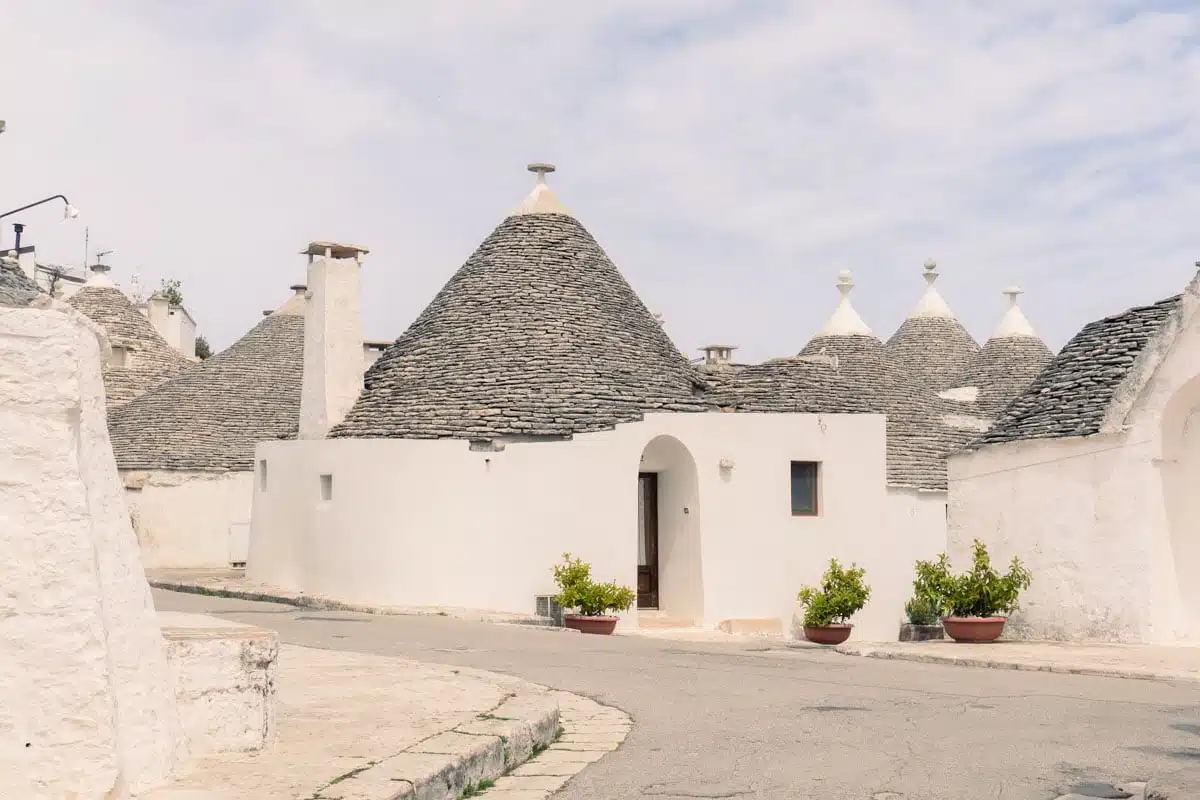 Numerous legends discuss the origins of the cone-shaped trulli of Alberobello, though none can definitively claim to be the true inspiration behind their unique design.
You can spend several hours strolling through the streets enjoying the unusual architecture. I recommend you take a walking tour to make sure you see the best landmarks that you might otherwise miss.
The Puglia hotels in this quaint village fill up very fast, so booking in advance is essential to ensure you don't miss out on your trullo experience.
Alberobello Highlights
Trullo Sovrano — named for its enormous size, you won't want to miss this colossal trullo now converted into a living history museum.
Church of St Anthony — housed in a trullo, it's possibly the most unique church in Italy. The painted image behind the altar is quite beautiful.
Rione Monti Quarter — you'll see over 1,000 trulli in this area and lots of shops to grab souvenirs from. Some shops have a "casolare panoramica" sign, meaning you can pop upstairs and get a panoramic view of the town if you buy something small from them.
Best Hotels in Alberobello
Resort La Corte Dell'Astore — full of cosy charm, this resort featuring trulli apartments also has a garden with turtles, horses, and hawks, making it an extra memorable experience.
La Cantina — these gorgeous trulli are a true example of classic Italian decor style, with the modern conveniences of air-conditioning and flat-screen TVs.
Trulli Holiday Albergo Diffuso — rustic furnishings abound in these charming trulli. With a scrumptious breakfast on offer in their breakfast room, who can say no?
Monopoli: Where to Stay in Puglia for History & Beaches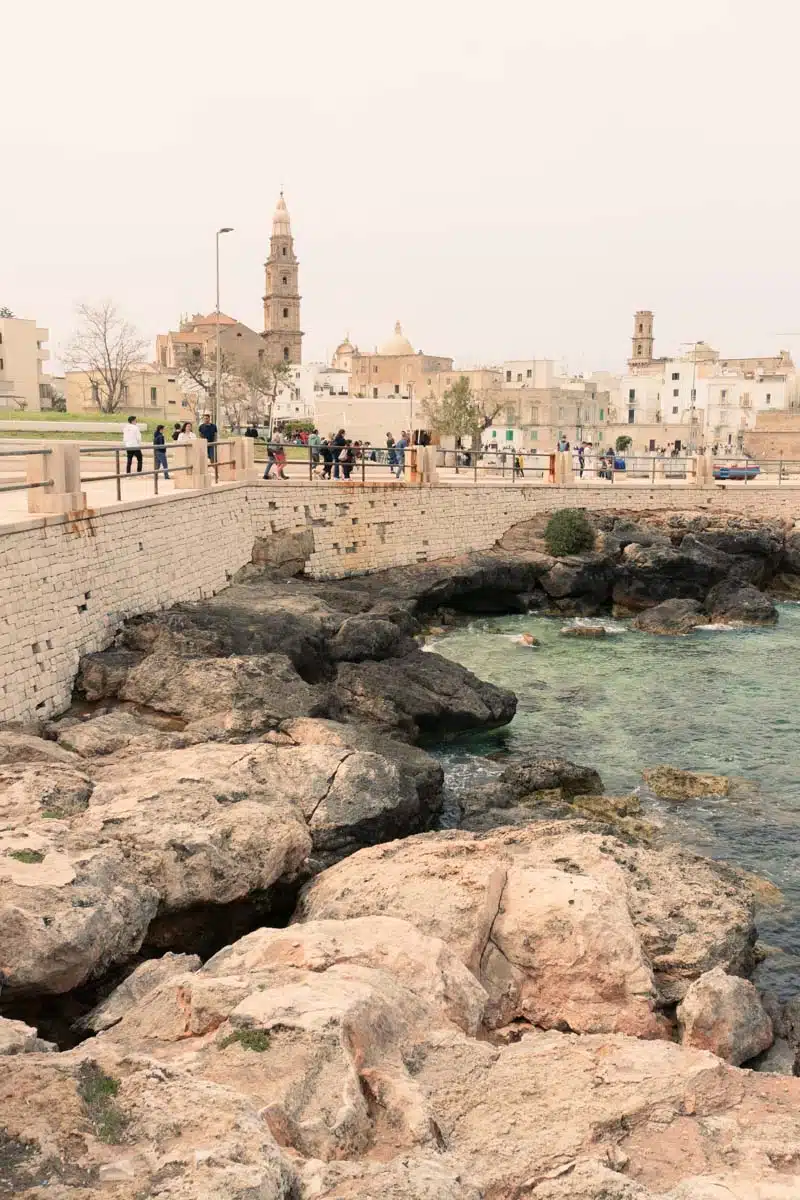 Are you wondering where to stay in Puglia on the coast? Monopoli is the answer. This seaside gem is awash in things to do, and it's fairly easy to reach from Bari by car or train.
You truly get a sense of the rustic charm of Old Italy in its historic old town area, and the fresh seafood is fantastic.
Monopoli is also a fantastic destination for beach-lovers. Splendid little stretches of sand are peppered throughout the area, with gentle waves and crystal waters to swim in.
Monopoli Highlights
Old Town — the narrow, crumbling alleyways of Old Town have pot plants and tiny balconies and merge into historical little squares.
Monopoli Cathedral — this Baroque-style cathedral might have an impressive façade, but the interior is mindblowing with sumptuous frescos and finishings.
Castle of Charles V — a fortress once built to defend against the Spanish, you can climb to the top for superb views over the old port.
Best Hotels in Monopoli
Vittorio Emanuele Charming Suites — This hotel in Puglia has gorgeous warm stone walls and comfy white linens. I highly recommend a room with a patio or a garden view.
Donna Antoinetta — This self-catering holiday home's decor is adorably rustic with a modern twist, the balcony views are divine, and the beach is only a 2-minute walk away.
B&B Villa Maria Pia — you'll find modern and simple decor with Tuscan colours at this delightful B&B that's only a 10-minute walk from the centre of town.
Lecce: Where to Stay in Puglia without a Car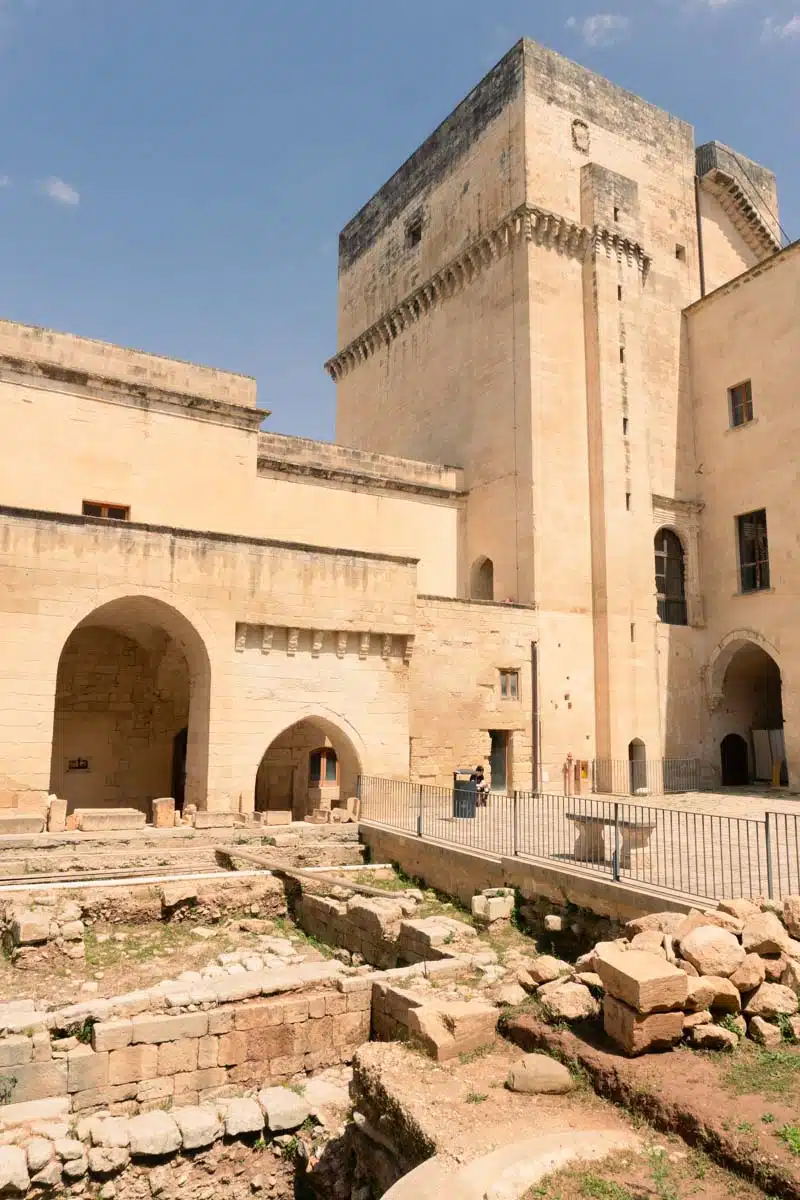 Lecce is a straightforward city to navigate by foot – there are almost too many points of interest to visit within walking distance of each other – if that's even a thing.
The splendid baroque architecture of the buildings around you commands attention, while the local cuisine is sublime. And thanks to the University of Lecce, the student culture ensures the city has a hopping nightlife.
Lecce Highlights
Basilica di Santa Croce — this stunning example of 17th-century baroque architecture owes its creamy facade to the unique Lecce stone. The gold accents and rose windows are astounding.
Roman amphitheatre — visit these Roman ruins built around the second century in the southern part of Piazza Sant'Oronzo.
Lecce Cathedral — the carvings on the outer façade are incredible, but the interior of this famous cathedral is opulent with archways, goldwork, and historical artwork.
Best Hotels in Lecce
Patria Palace Lecce — close to several attractions, this hotel dates back to the 18th-century and has many of the original frescoes and fountains. The decor is modern with clean lines.
Azzurrette Guest House — homemade breakfast is available at this modest and rustic hotel in the heart of Lecce's historic centre. The staff can even arrange massages for guests.
Suite Hotel Santa Chiara — ornate decor and warm tones dominate this hotel that serves a traditional Italian breakfast. It's located close to many attractions.
Polignano a Mare: Where to Stay in Puglia for Coastal Beauty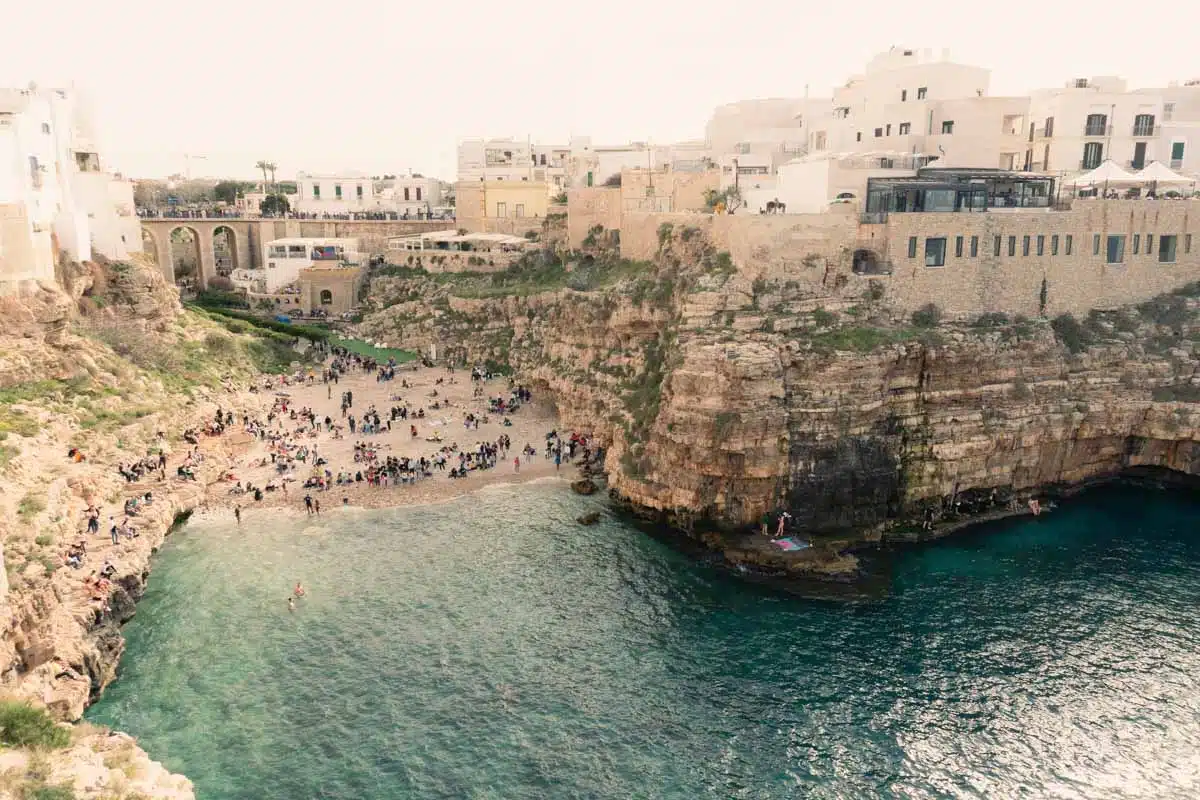 Reminiscent of the Cinque Terre, clusters of white and golden buildings cling to the cliffs beside the brilliant waters of the Adriatic, where you can laze away the day on the public beach. I highly recommend grabbing a room with a sea view, if not a balcony as well.
The town, particularly the old section, is delightful to wander about. You'll find Italian poetry written on the white-washed walls—an elegant nod to graffiti. The most famous of these artistic expressions are the poetry stairs.
This area is also particularly well-known for its gelato, so don't hesitate to find the nearest shop and grab some of this Italian treat.
Polignano a Mare Highlights
Lama Monachile — a famous pebbled beach with cliffs on two sides and a Roman bridge that marks its entrance.
Boat tours of the caves — take a small trip exploring the caves carved into the cliffs beneath the town. The views are spectacular from this vantage point.
Have dinner in a sea cave — some of the sea caves are now high above the water level and converted into restaurants, making it a unique experience.
Best Hotels in Polignano a Mare
La Naca Sul Porto — oozing with rustic charm, comfort is key at this little B&B. Enjoy the continental breakfast in the morning and watch the sunset from the rooftop terrace.
A Casa Di Dani — three minutes from the beach, this hotel features warm stone interiors, and some units have a balcony overlooking Lama Monachile.
Poesia Di Mare — while some units are more modern than others and can boast a rooftop terrace, they're close to the beach and sport gorgeous sea views.
Best Hotels in Puglia
La Sommità Relais & Chateaux: Ostuni (High-End)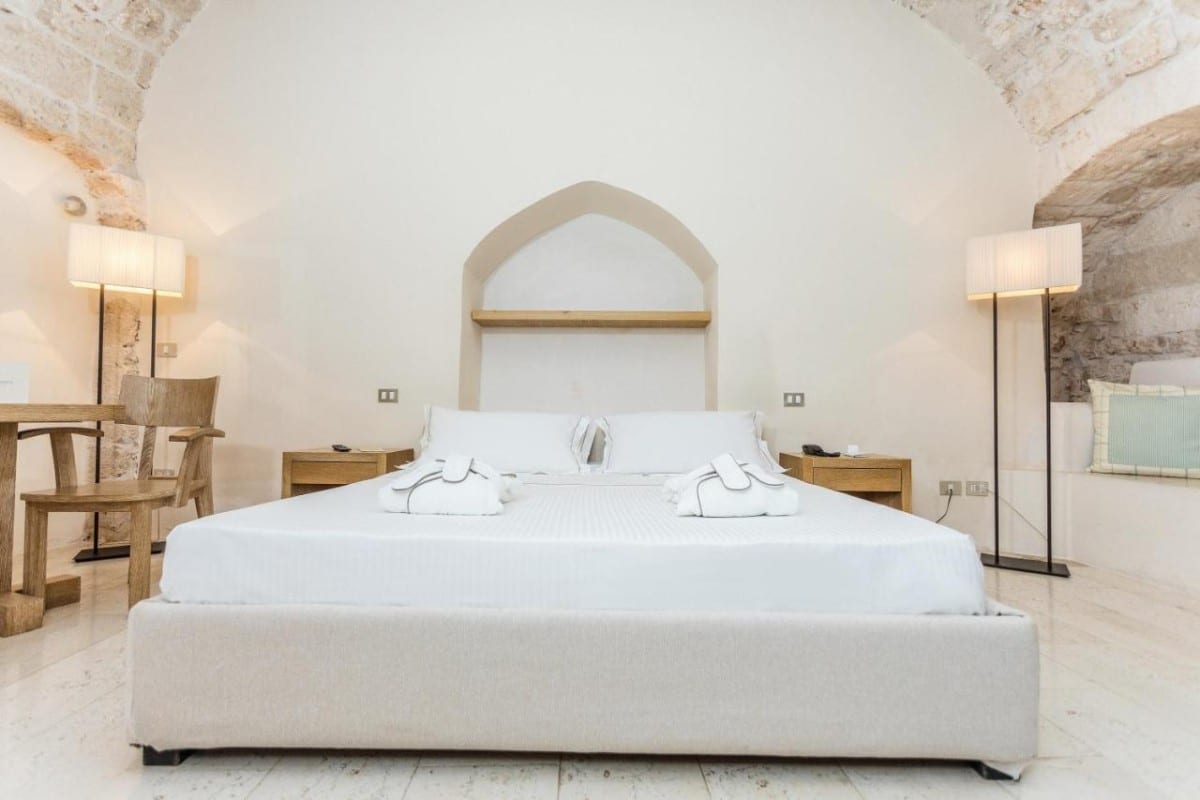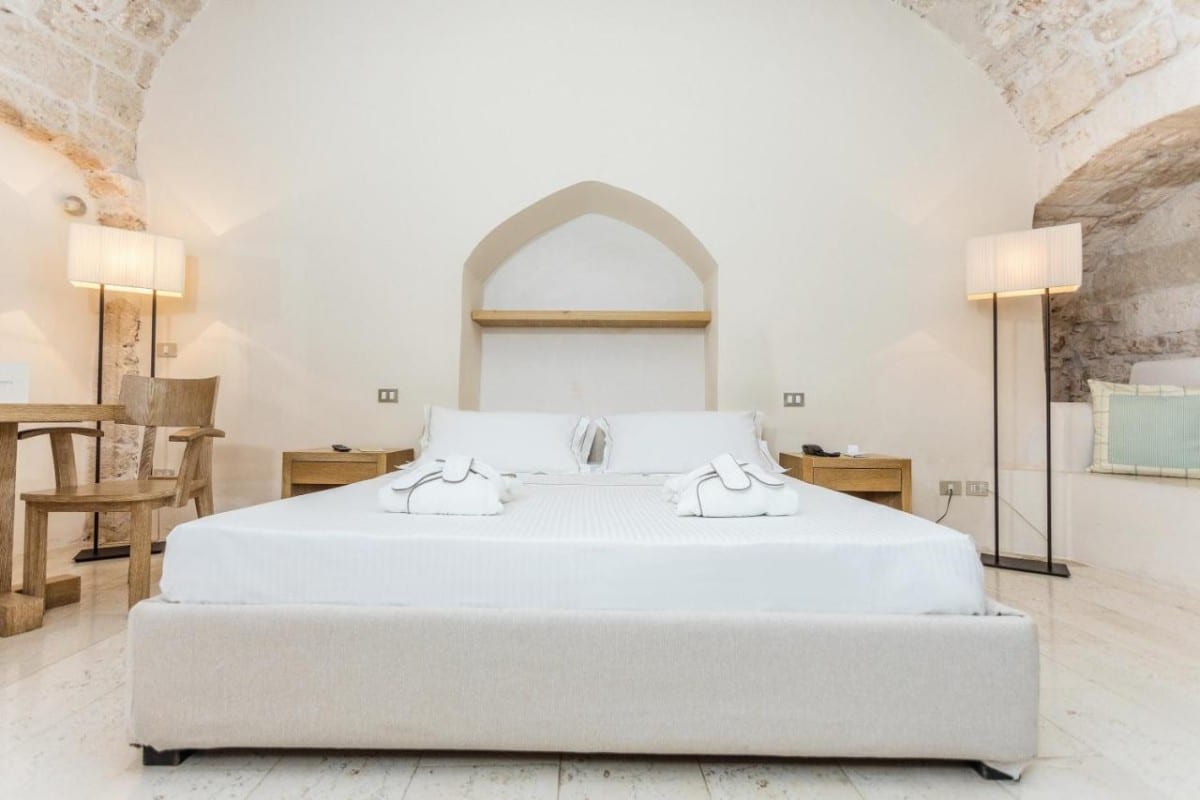 If you're looking for luxury hotels in Puglia, this is it. Boasting historic architecture, this hotel features an ancient hall, reading lounges, and breathtaking sun terraces.
The interiors are equal parts white modern chic, and warm antique charm. I highly recommend a stay at this glorious testament to the beauty of Old Italy in one of the best locations in Ostuni.
Romantic Trulli: Alberobello (High-End)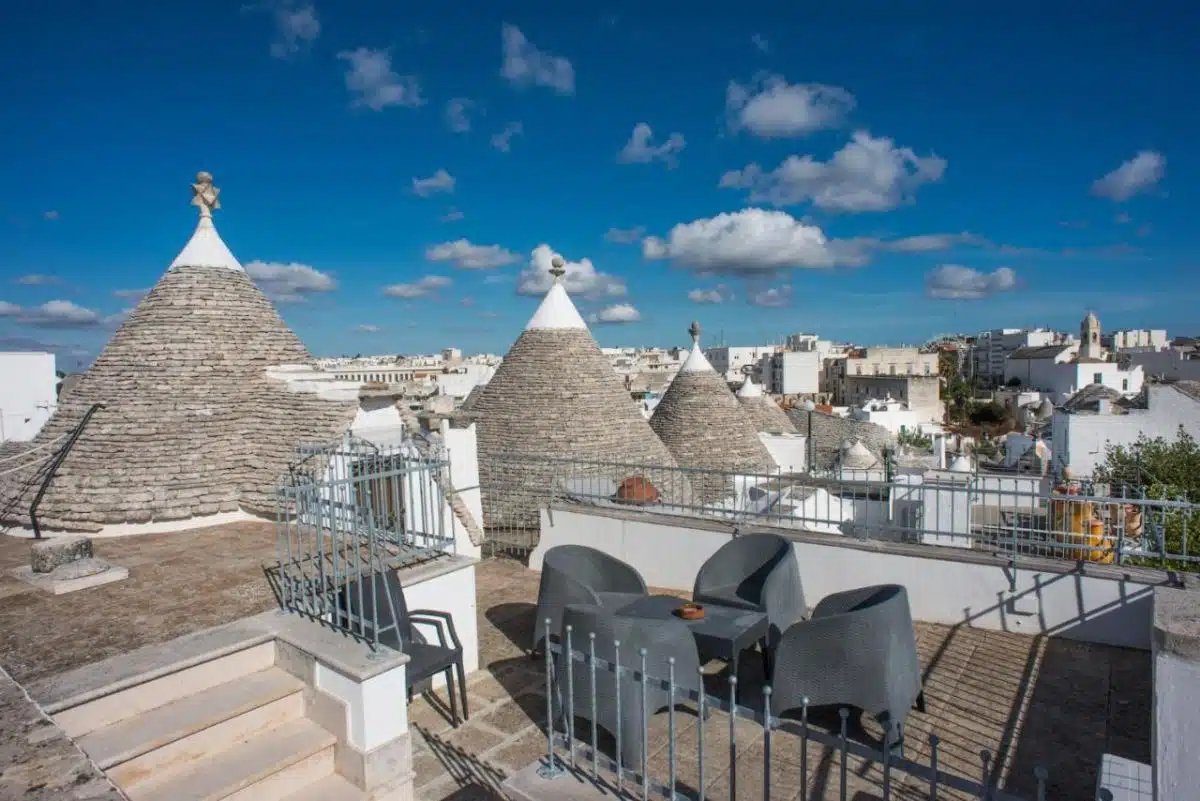 Sumptuous finishings juxtaposed against antique trulli stonework make these air-conditioned apartments an intimate and breathtaking experience. They feature kitchenettes and private bathrooms as a rule, but some of the apartments have their own terraces and patios.
I loved watching the sunset over the trulli from the luxury of my private rooftop terrace. The breakfast is exceptional, too.
Distinto Suite & Rooms: Lecce (Lower Mid-Range)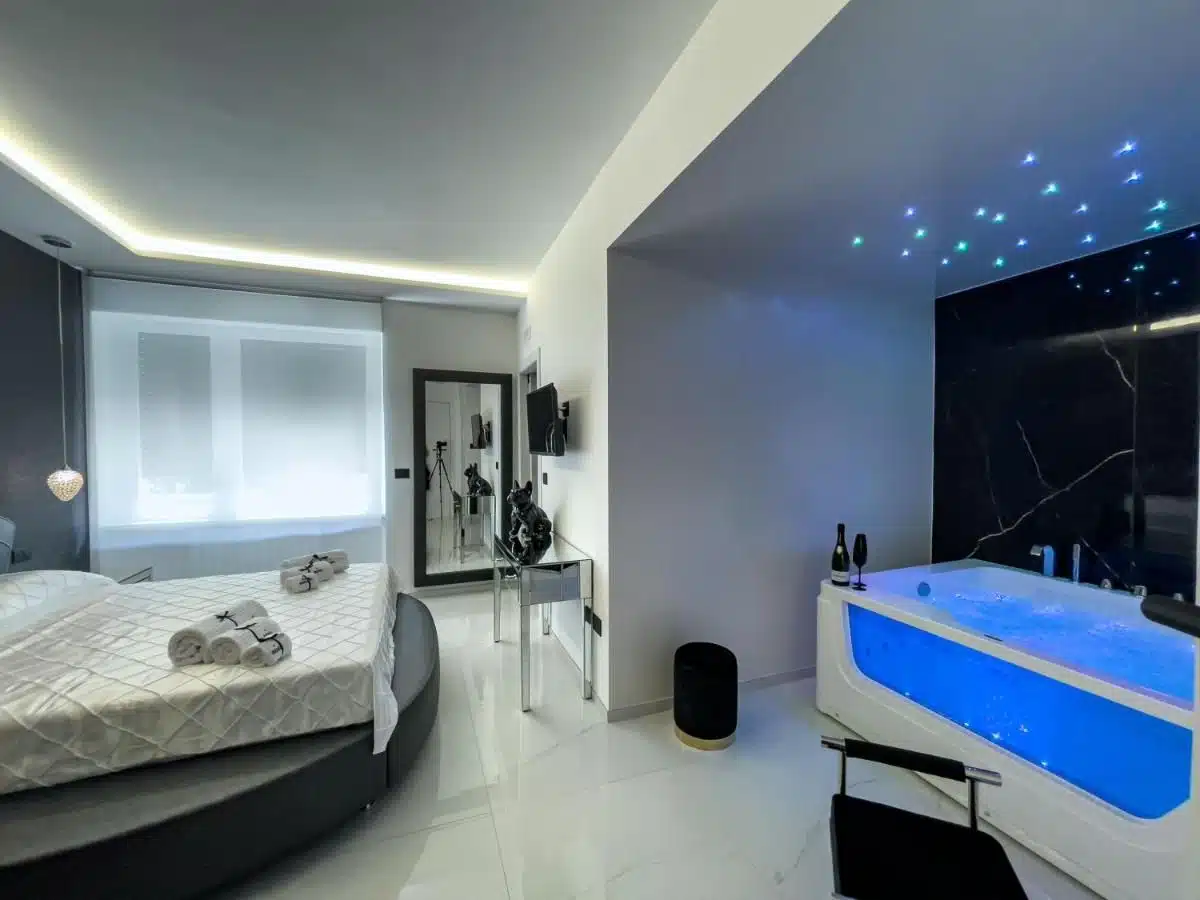 With ultra-modern decor and finishings in playful colours and themes, this hotel stands out. The breakfast is very good, and Lecce Cathedral is nearby.
I highly recommend the room with the LED-lit spa bath—it's a perfect way to pamper yourself after a long day of sightseeing through Lecce.
Maria Ancona Suite: Martina Franca (Mid-Range)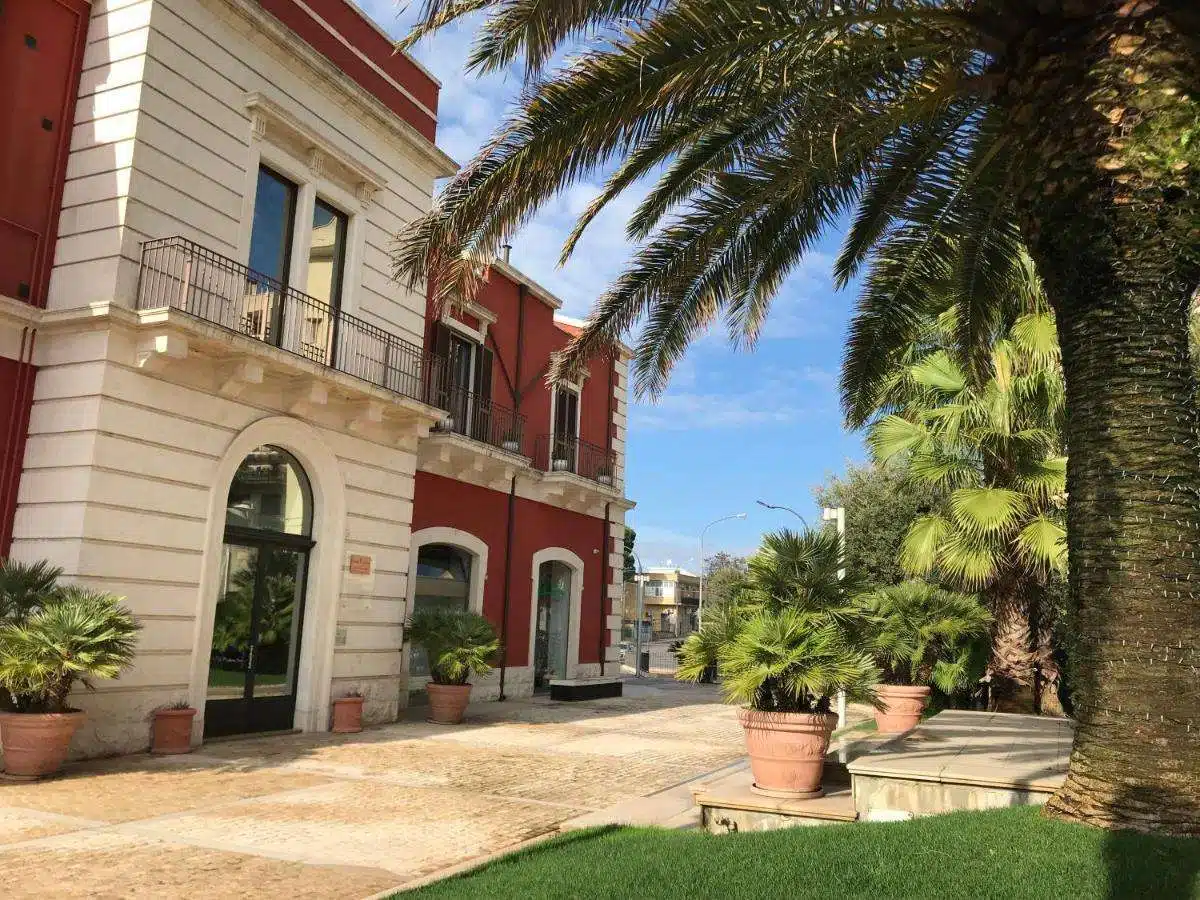 This 2-bedroom self-catering accommodation is superbly cosy and comes with comfortable furnishings and minimal decor. It's perfect if you're travelling by car and want to visit several locations as it's only 28 km outside of Monopoli and 23 km from Ostuni.
Hotel Don Ferrante: Monopoli (High-End)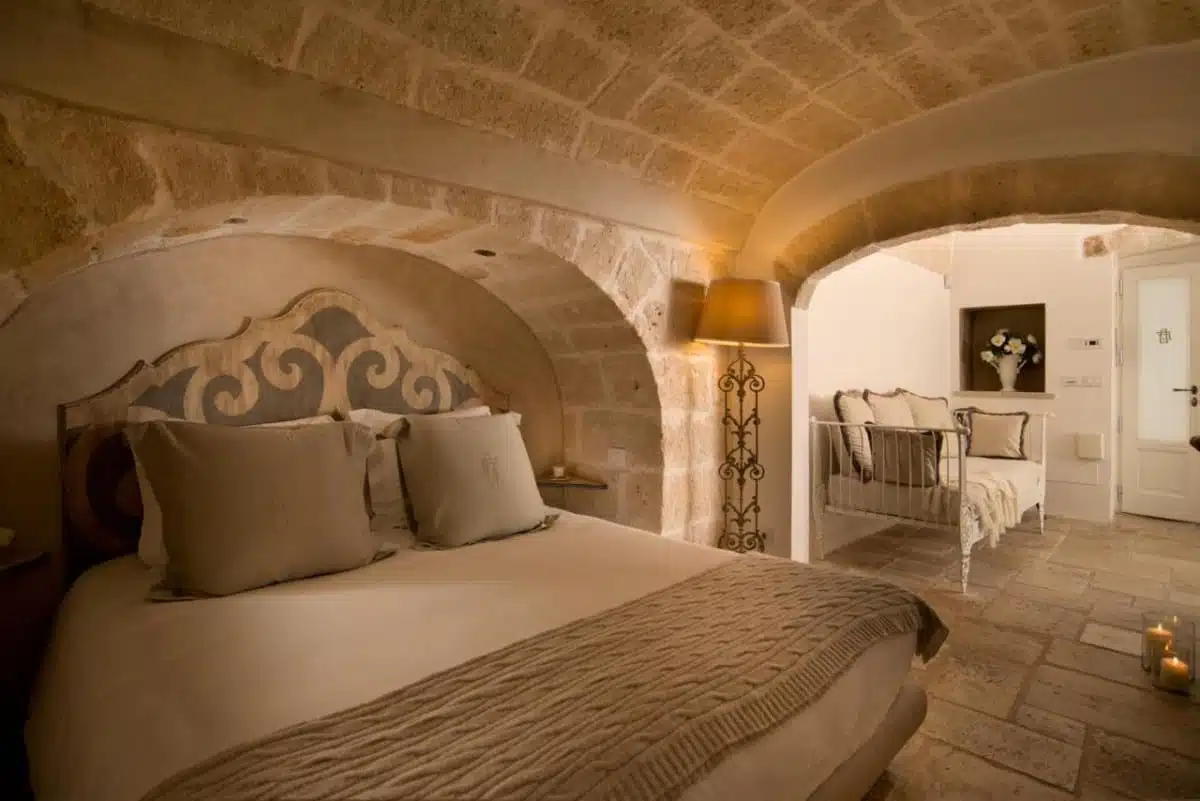 Step into an Italian dream of warm earthy tones inside and bright white terraces facing a turquoise sea. Once an ancient fortress on the cliffs of Monopoli, the furnishings of Hotel Don Ferrante are luxurious and the design impeccable.
Those seeking beautiful places to stay in Puglia won't be disappointed. The breakfast is also superb, as are the Puglian specialities served by the restaurant on site.
B&B Corte Dei Taralli: Lecce (Lower Mid-Range)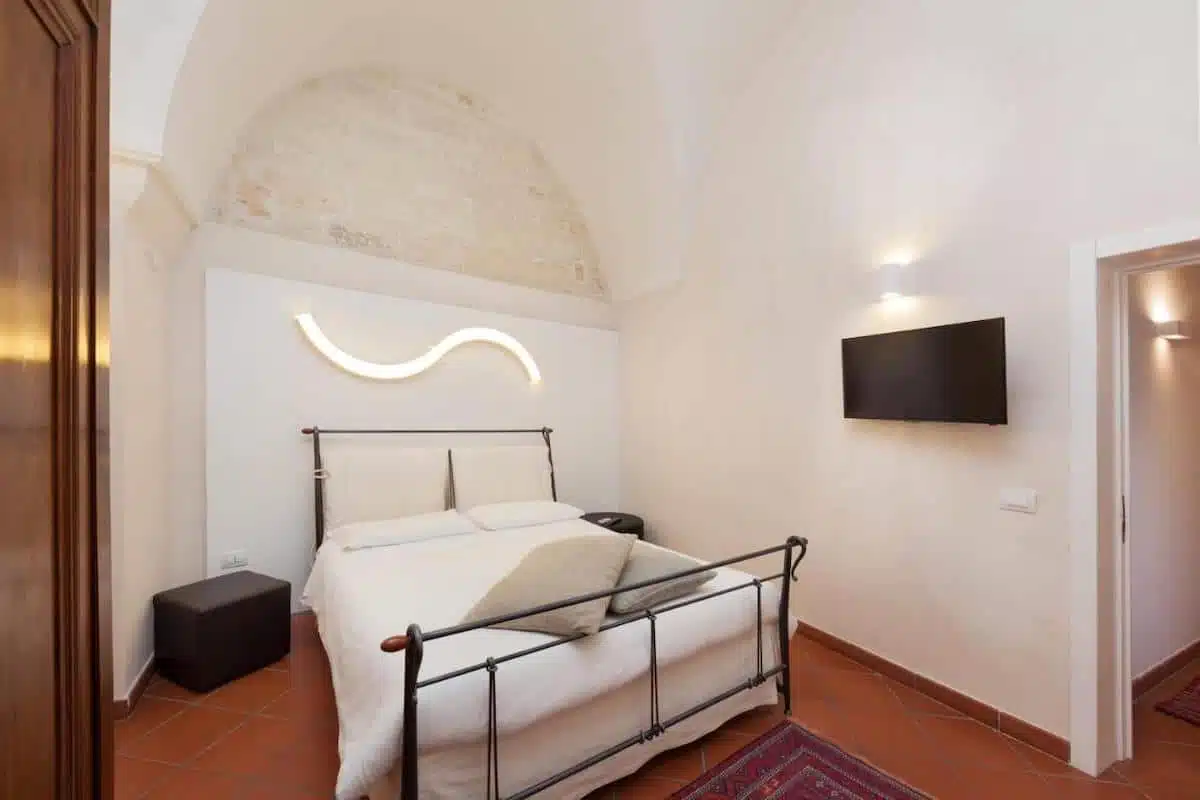 Stone walls and vaulted ceilings are what this hotel is all about. Right next door to Santa Croce Basilica, a welcoming rooftop terrace offers views over the city. The furnishings are modern and simple, but the comfort level is top-notch.
The train station is a 15-minute walk away, and the sweet Italian breakfast is, quite frankly, fabulous.
Antico Mezzanino: Ostuni (Mid-Range)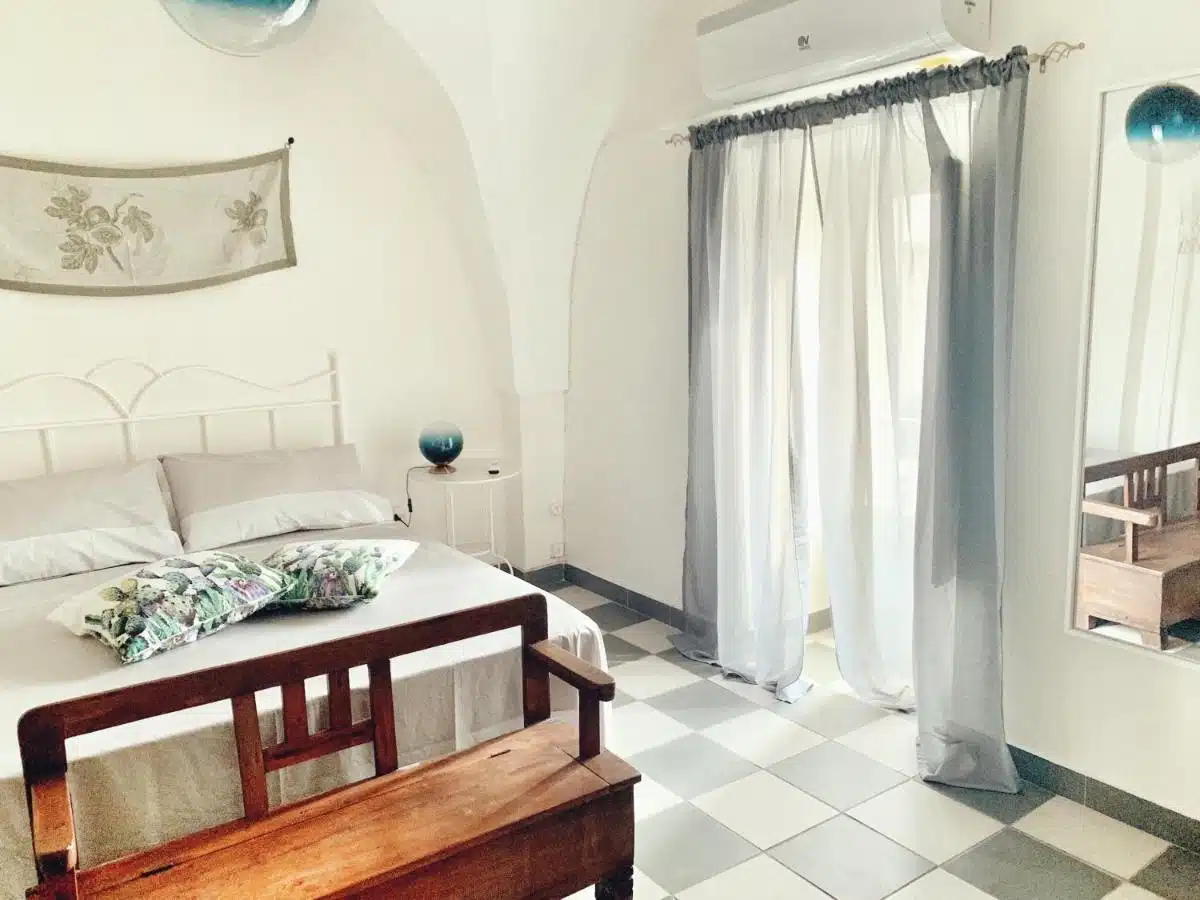 This colourful modern Italian apartment has city views and is within walking distance of the historic centre of Ostuni. It's self-catering, but with all the great restaurants and Puglian cuisine around, you won't need to cook if you don't want to. Alberobello is 30km away if you fancy a day trip.
Sei Stelle Mama: Polignano a Mare (High-End)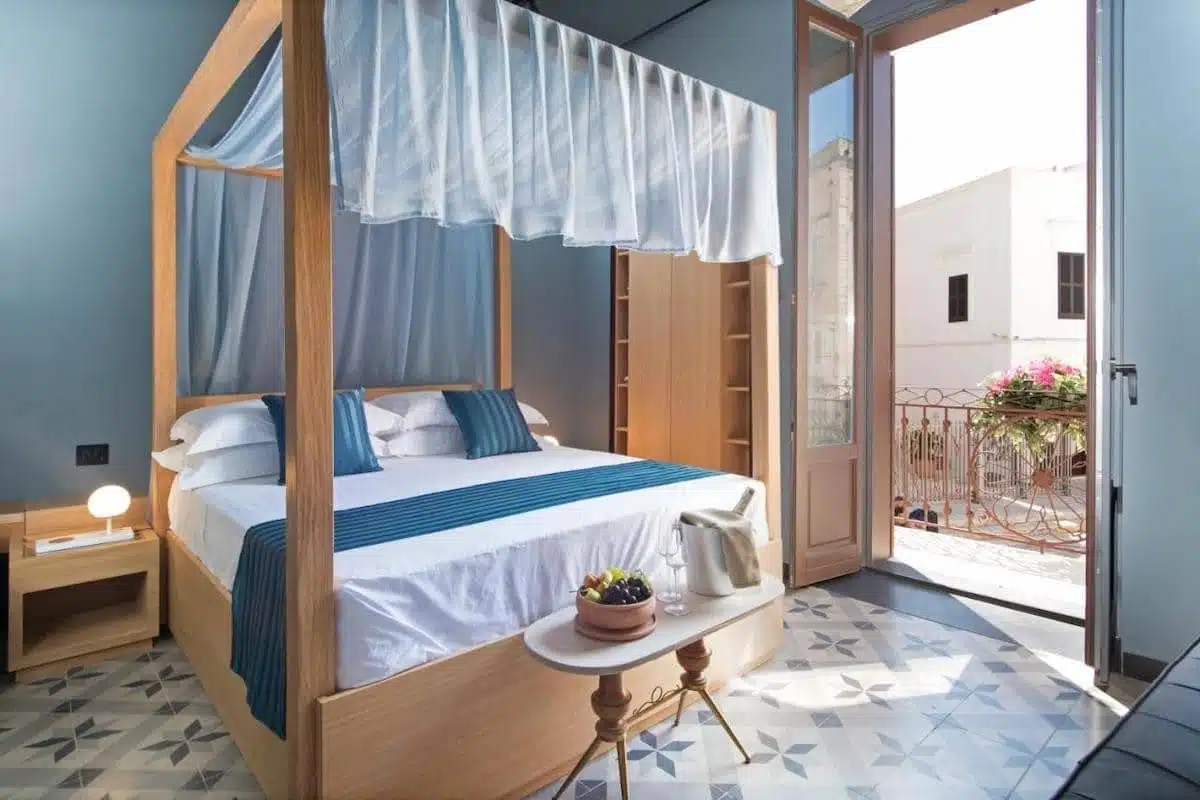 Set in the centre of town, this hotel boasts gorgeous city views from its sun terrace and is only a 5-minute walk from the beach. Modern Italian decor with splashes of colour and an exceptional assortment of breakfast options distinguishes this hotel from others.
Casale Ramunno: Ostuni (Mid-Range)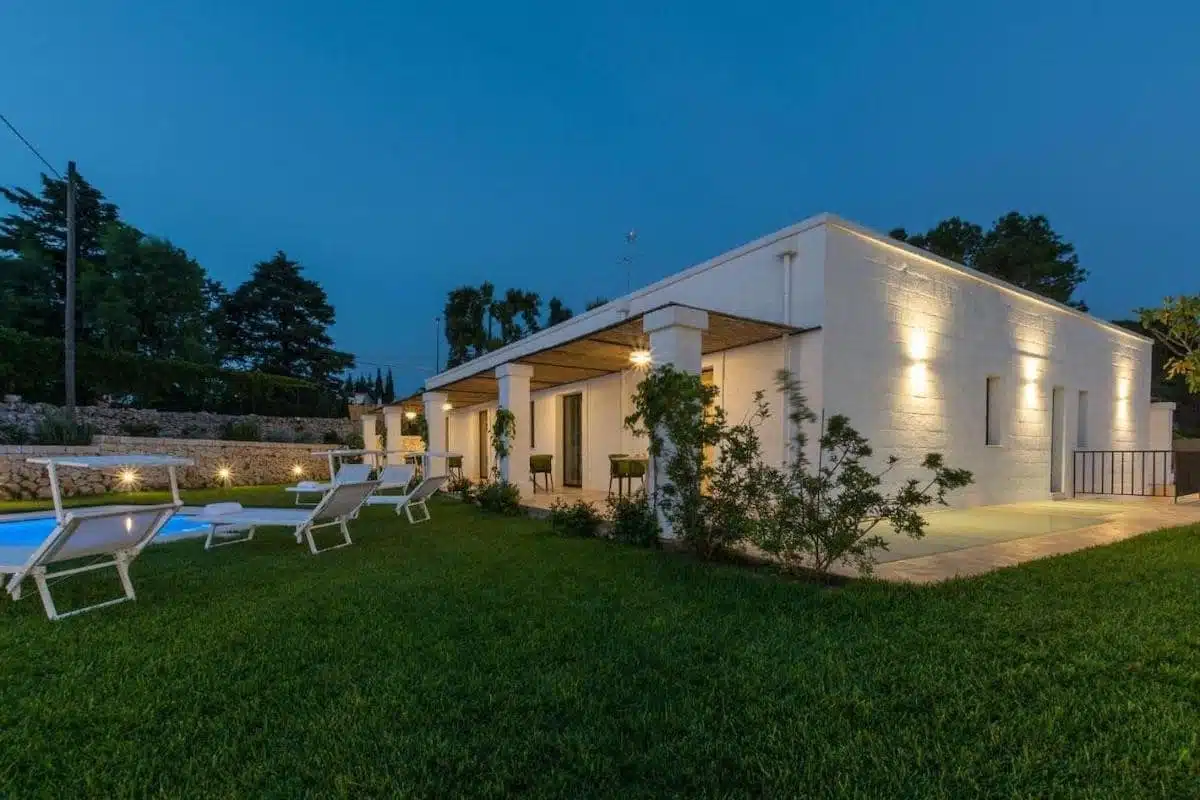 Every unit in this one-story complex has a patio and air-conditioning—a must for Italian summers. The rooms are comfortable with rustic stoneworks and modern finishings, and the buffet or Italian-style breakfasts are exceptional.
Take a dip in the crystalline pool to combat the heat if you can't make it to Monopoli, only 35 km away.
Palazzo Lecce: Lecce (Very High-End)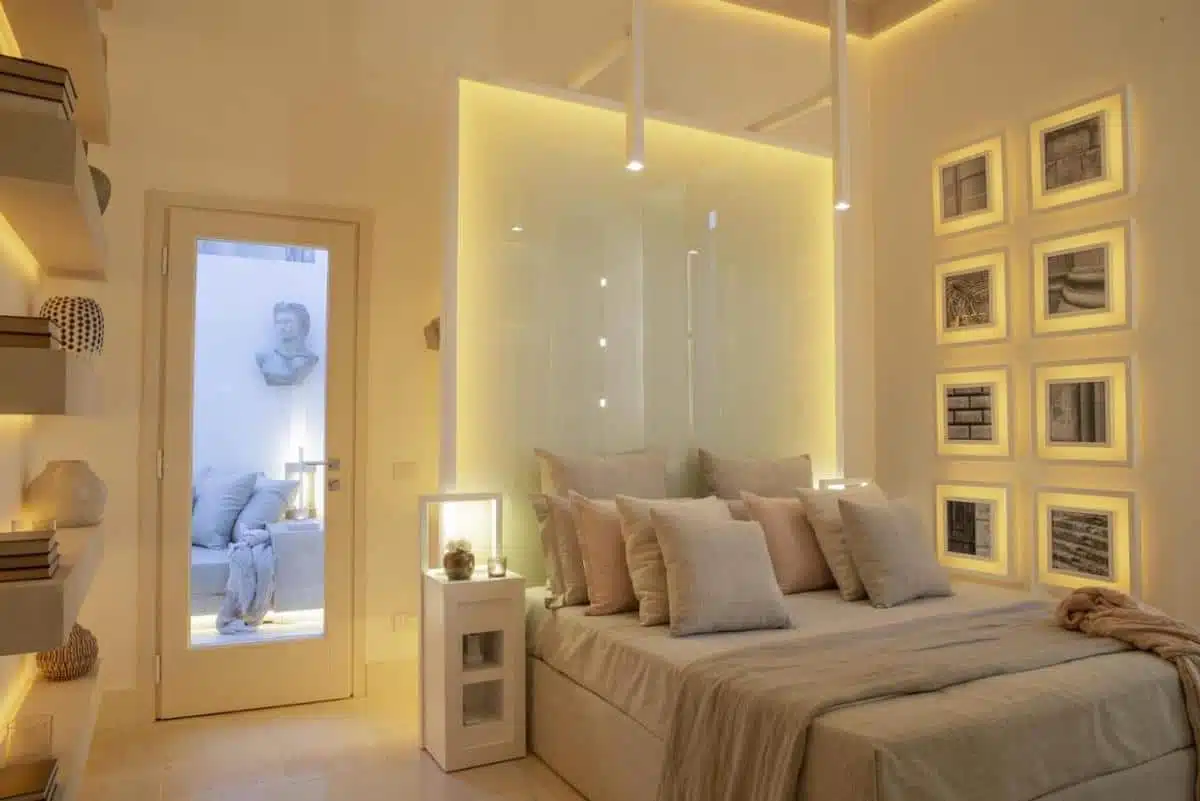 If you want the ultimate in Puglian accommodation, look no further than Palazzo Lecce. Located close to many points of interest, the interior design is sophisticated and chic with a lush modern Italian feel.
The hotel features two swimming pools and a wellness centre complete with a sauna for the ultimate pamper. The continental breakfast is sublime.
Where to Stay in Puglia: Frequently Asked Questions
What is the Best Area to Stay in Puglia?
When considering where to stay in the Puglia region, I think that the southernmost Salento region has the most iconic features that make Puglia so attractive to holidaymakers.
The best beaches, charming villages in time-stained disrepair, and towns with the most glorious architectural statements from the past. Lecce, with its plethora of baroque churches and buildings, as well as Gallipoli and Otranto, call this southern heel of the country home.
Related Searches FAQs
Where is a Good Base in Puglia?
Ostuni is well-located as it's close to many desirable locations and places of interest, so it makes a good base.
How Many Days Do you Need in Puglia?
While 3-5 days should be enough for a visit, I recommend 7-10 days to fully experience the region.
How Do You Get Around in Puglia?
There are trains and buses at your disposal, but if we're being honest, they take a lot of time due to the nature of public transport in the region. You'll also bypass many cute pitstops that would otherwise make a splendid holiday memory. So, I reckon that renting a car is the best way to get the most out of Puglia.
Practical Tips to Consider Before Booking Your Puglia Accommodation
Life moves at a slower pace here, and so the shops and stores are often closed in the early afternoons. Plan your days accordingly.
Large sections of beaches are off-limits, available at a fee, or are private "lidos". If you fancy spending a lot of time at the beach, choose accommodation near one that has plenty of public access.
English is not as prevalent in the smaller villages and towns, so knowing a little Italian won't hurt.
Puglia Accommodation Guide: Map