Planning to travel to Banff and not sure where to stay? Read this guide to the best places to stay in Banff National Park to help you plan your trip.
Turquoise lakes surrounded by vast rocky peaks. Evergreen forests dotted with waterfalls. Let's face it: Banff National Park is one of the most iconic places to visit in North America (and arguably, the world).
Because it is such a popular destination, it can be hard to figure out where to stay in Banff.
Don't worry: I've got you covered with my hand-picked list of the best spots for you to bed down in.
Before traveling in Banff, there's one thing you should know: Banff accommodations often get booked months in advance. In the most popular summer months, it can be nearly impossible to get a last-minute reservation inside of the park.
To help you out with this dilemma (if you've been here before, you know I'm quite the last-minute traveler myself!), I'm also including a few recommendations for hotels near Banff and other options if you can't find any places to stay in Banff.
Okay, well let's get to it!
Here are my top recommendations for the best Banff accommodation for every budget.
Banff Hotels: Where to Stay in Banff National Park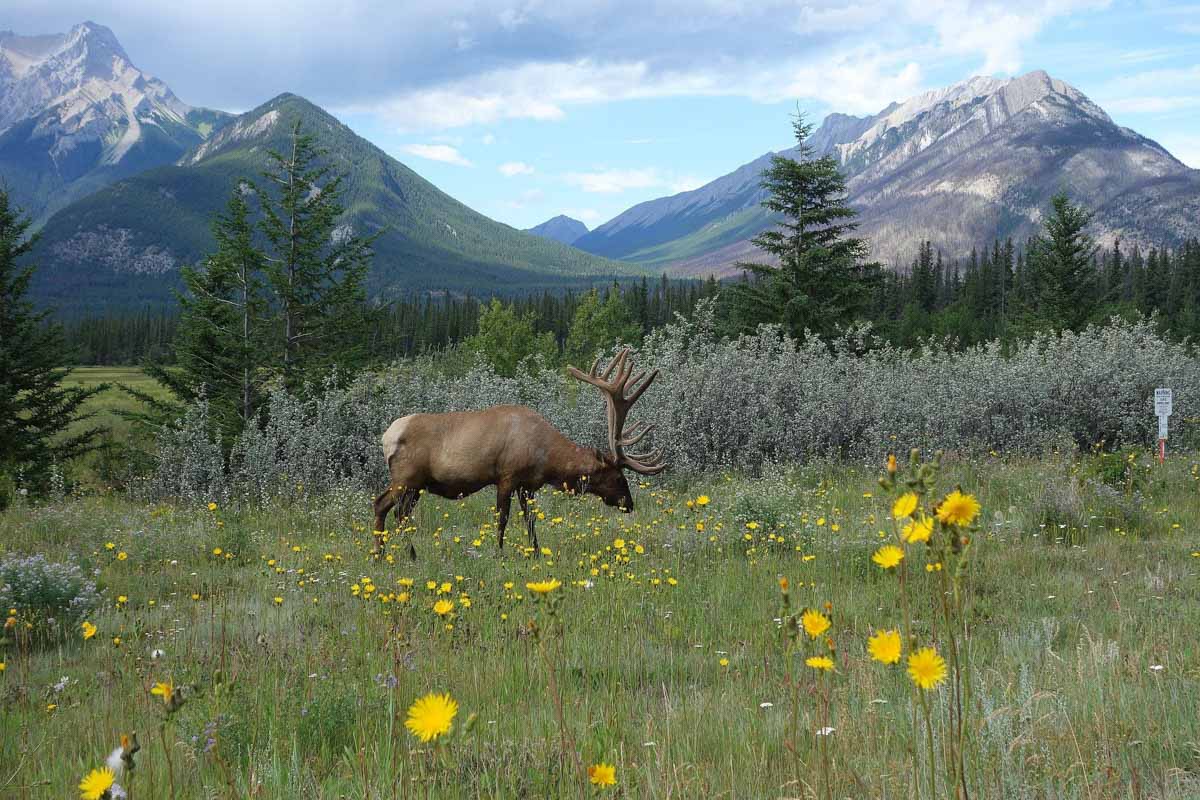 There are accommodations in Banff to match and preference or budget, ranging from luxury hotels to budget hostels and campsites. Read on to learn a few of our recommendations for hotels in Banff:
Luxury Hotels in Banff National Park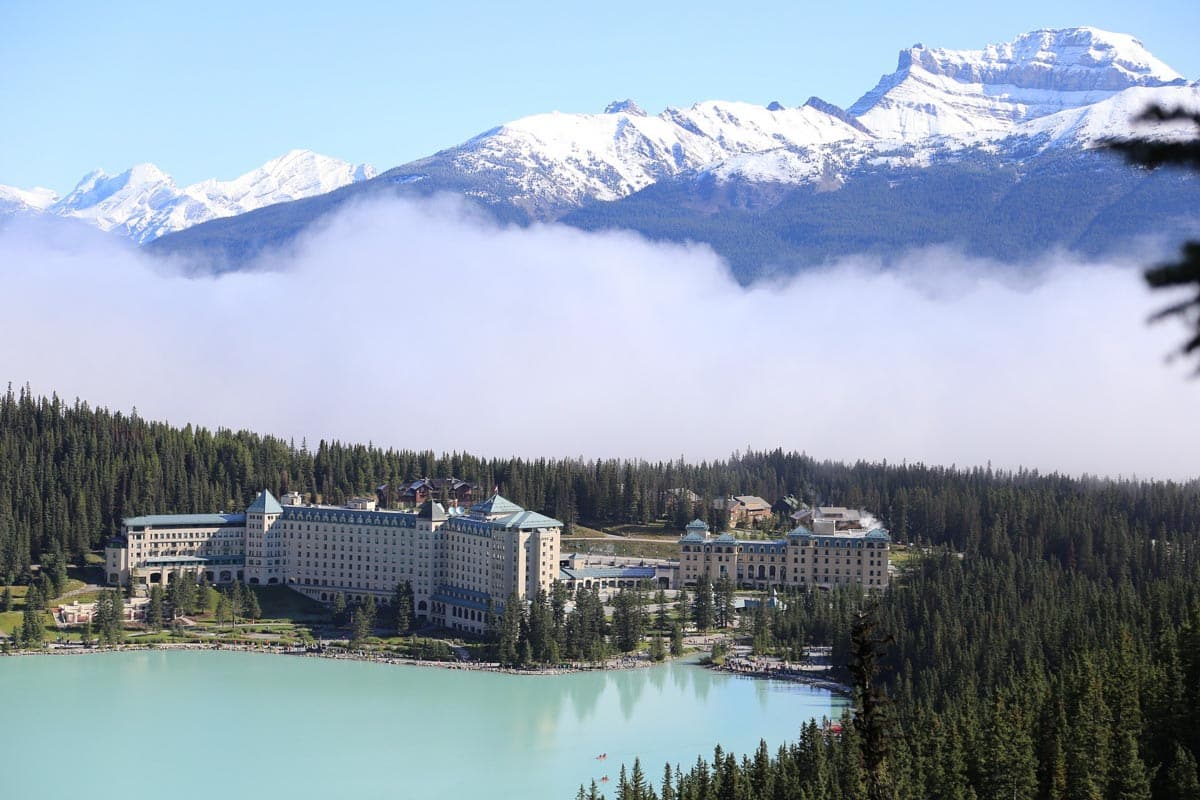 Banff is a heavenly destination to be a luxury traveler. Not only do you get the best access to some of the most amazing views in the park (like Lake Louise and Bow Valley), but the luxury hotels in Banff have their own fascinating histories as well.
There are two SUPER iconic luxury hotels in Banff that you have to check out if you're hoping to book the best of the best. (And, tbh, even if you're not a luxury traveler it's seriously worth taking a look at these incredible hotels just to see what they're like!)
The Fairmont Chateau Lake Louise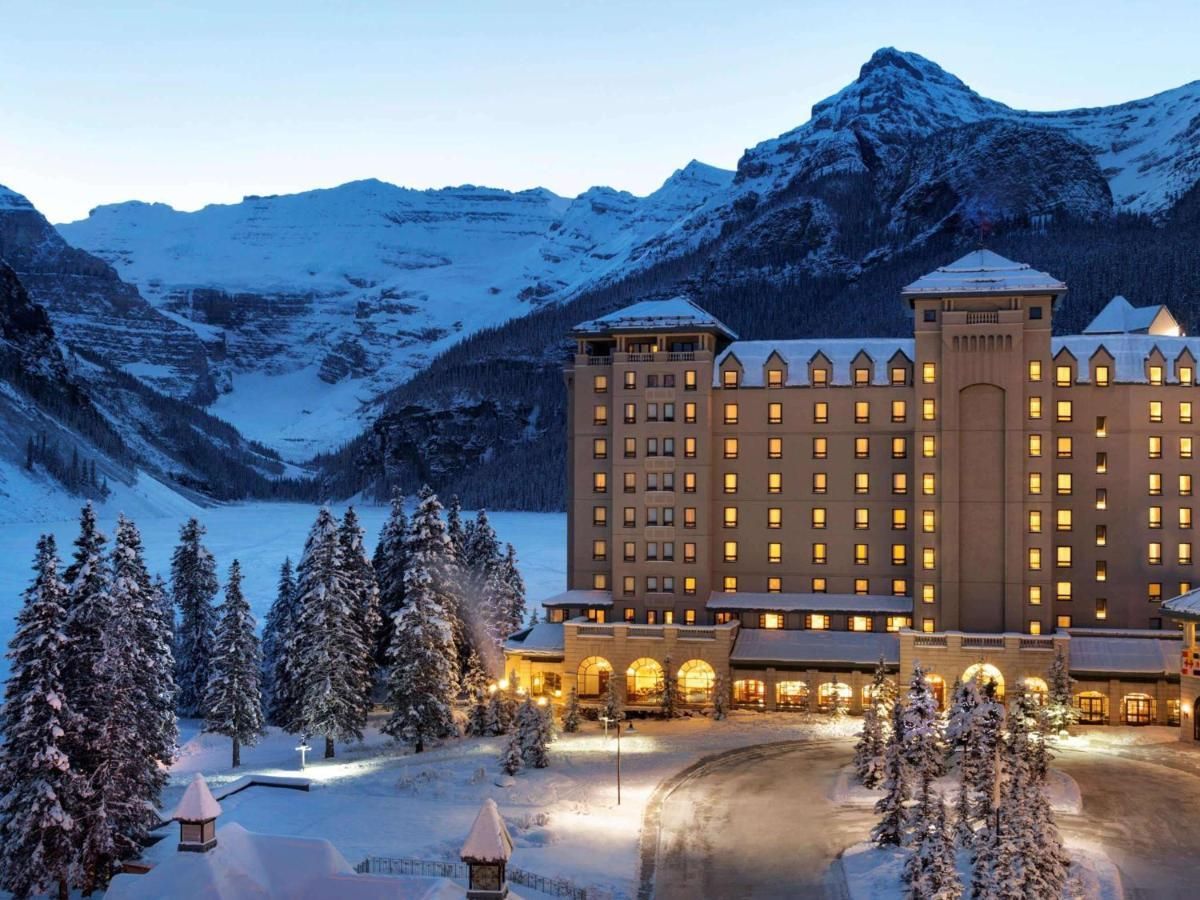 If you've ever seen photographs of Lake Louise, the Fairmont Chateau Lake Louise is the iconic hotel situated on its banks. With over 500 luxury rooms, many which boast spectacular views of Lake Louise, it's no surprise that the Chateau always tops the list of incredible Banff hotels. I mean, just look at it!
The hotel also boasts a gym, a spa, and assistance with planning activities in the Banff and Lake Louise area. Grab breakfast at the Poppy Brasserie, whose large windows provide sweeping views of the lake, or enjoy one of the amazing Banff hikes nearby.
You can literally step out of the hotel doors and be at one of the most incredible landmarks in Banff…yeah, that's pretty freaking amazing.
The Fairmont Banff Springs Hotel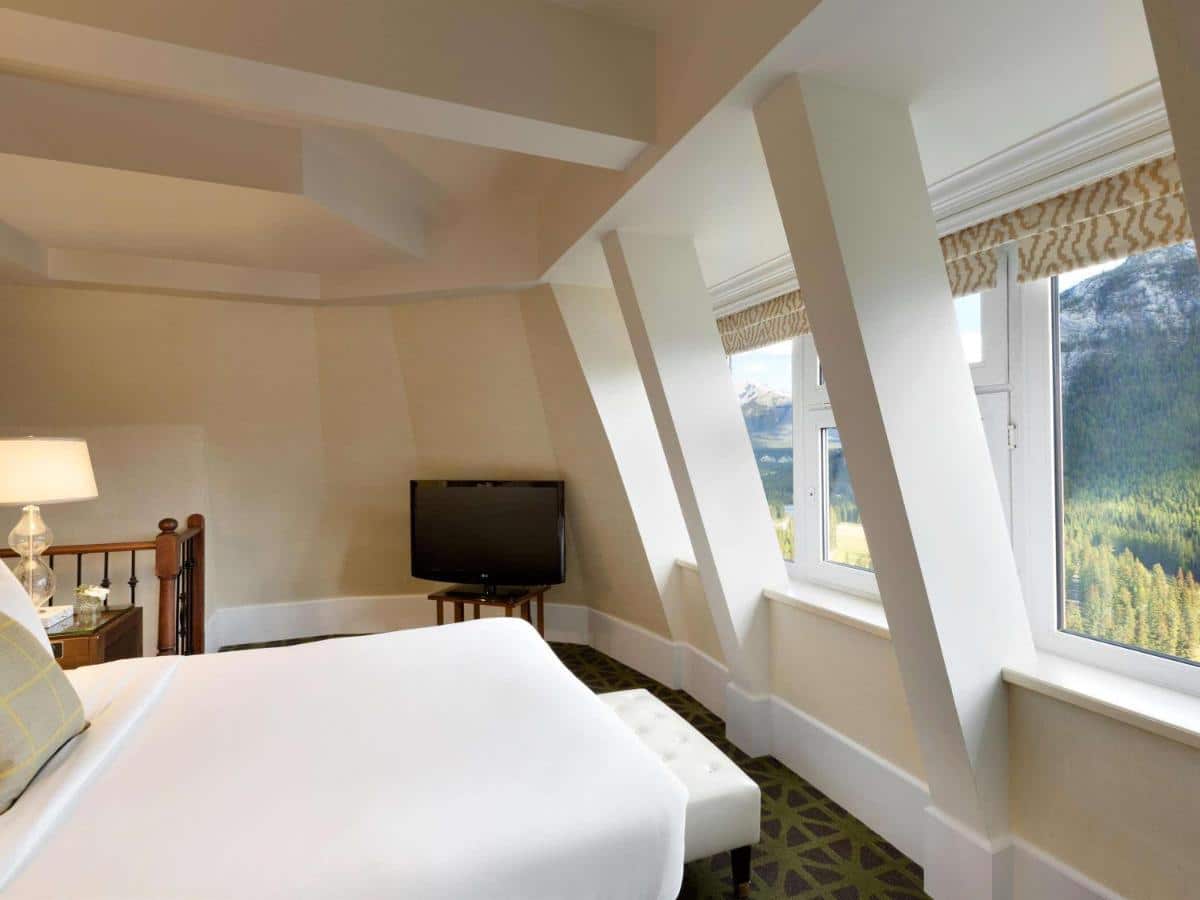 There's another world-famous luxury hotel in Banff that's also owned by the Fairmont – the Banff Springs Hotel.
Situated near the hot springs in the Bow Valley, the Banff Springs Hotel has played host to the likes of Marilyn Monroe and Winston Churchill.
The interiors literally look like something out of a European castle, with large, grandiose windows and wood paneling. Here, you can find a golf course, spa, and incredible, cozy rooms to rest your head in!
You can also learn more about the haunted history of the Banff Springs Hotel (we've got a few sneak peeks in this article)…if you dare.
Mid-Range Lodges & Hotels in Banff
Mountain lodges make up the majority of hotels in Banff, and for good reason – these homey, adorable resorts are perfect for crashing after a long day of exploring.
Open year round, the lodges attract hikers and skiers to their warm and welcoming rooms. Here are two options we thought were particularly good for adventurous travelers like you:
Moose Hotel & Suites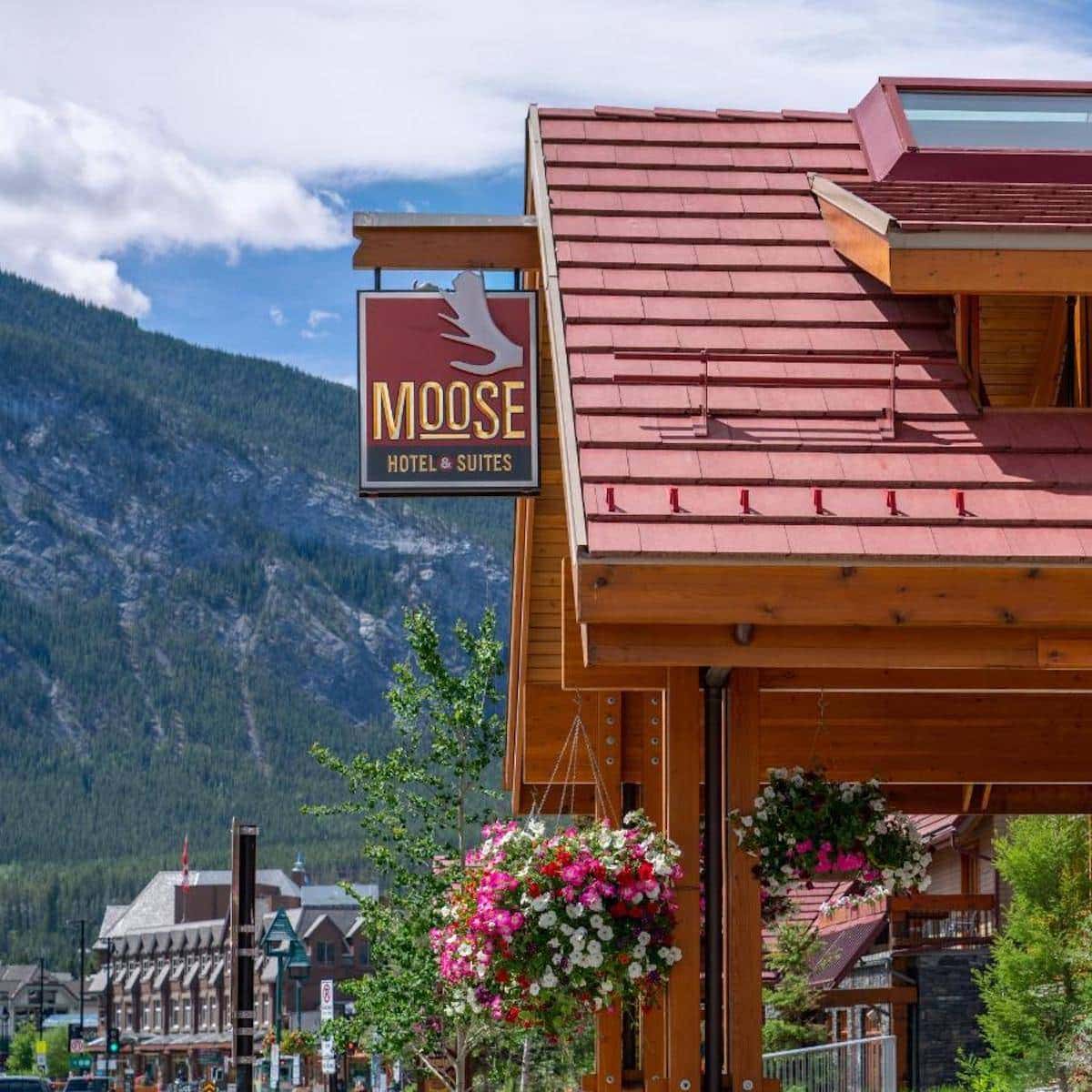 The Moose Hotel & Suites, in my opinion, is easily one of the most adorable hotels in Banff. It's basically a giant log cabin, with wood paneling and woodland decor all over the place.
The Moose Hotel has got everything you need, from free parking and WiFi to year-round heated rooftop pools, a spa, and a full-service restaurant.
They even provide free bus passes to bring you to and from Banff's town center!
Buffalo Mountain Lodge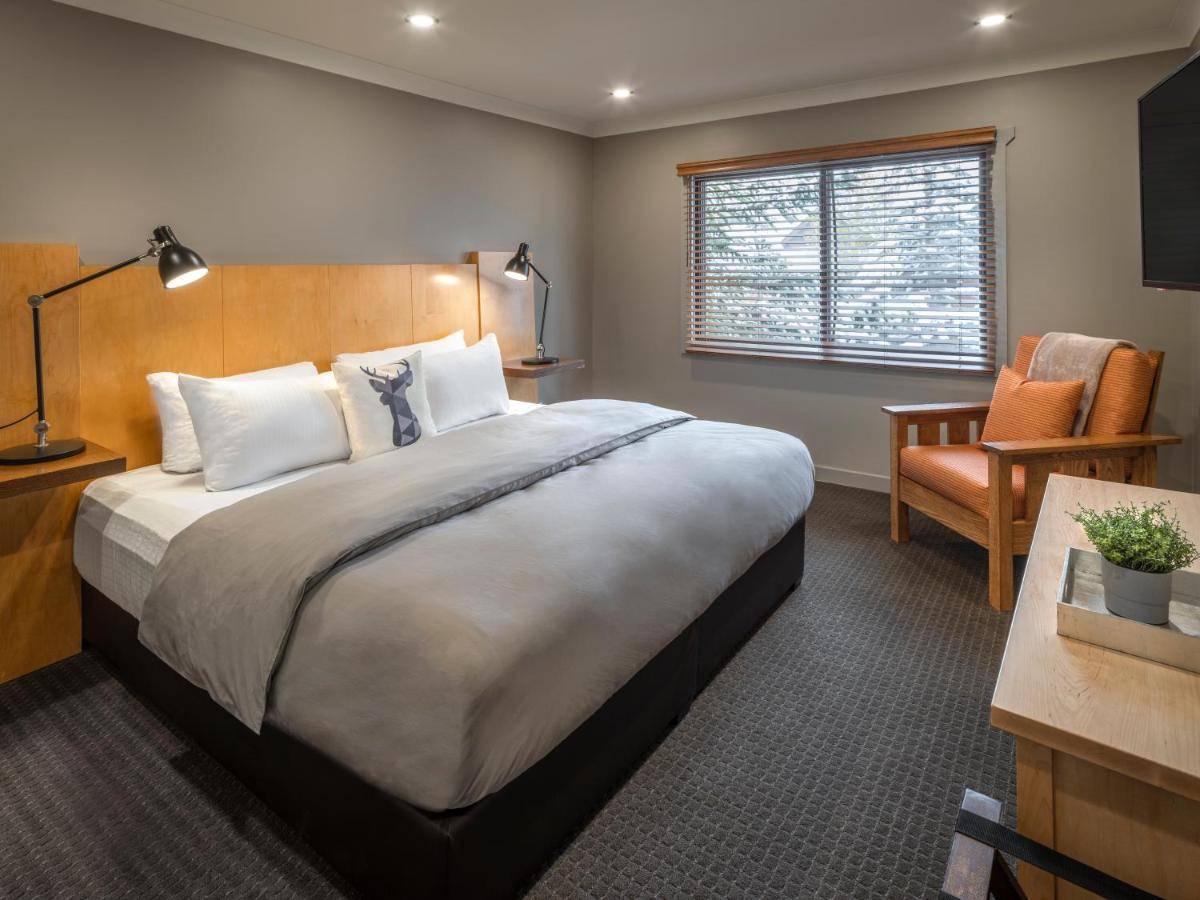 Located on one of Banff's most iconic mountains, Tunnel Mountain, the Buffalo Mountain Lodge is the perfect resort for families, couples, or even solo travelers.
Similar to Moose Hotel, it's got a wonderful woodland feel with bright, wood-paneled interiors.
As part of the Canadian Rocky Mountain Resorts hotel group, the Buffalo Mountain Lodge is super well-run, with fireplaces and cozy common areas, too. As far as Banff accommodations go, it's an excellent choice.
Cheap Hotels in Banff
While most of the hotels in Banff will cost you a pretty penny, there are a few exceptions. Cheap hotels in Banff typically don't have a lot of amenities, but for a no-frills traveler, they're perfect for crashing in after a long day of hiking, biking, paddling, or exploring.
Here are a few of our picks for cheap hotels in Banff (shh, don't spoil our secrets!):
The Juniper Hotel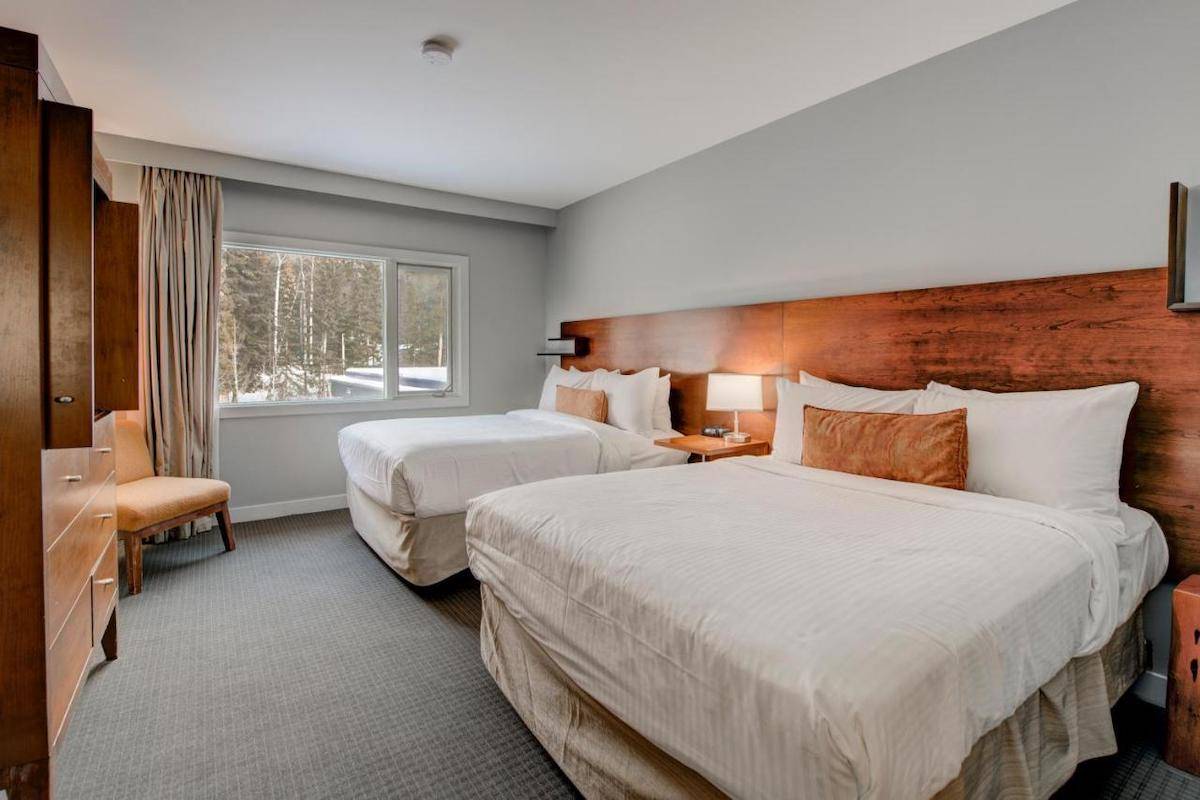 Located just outside of Banff town, the Juniper Hotel is a budget property that boasts incredible views of the Canadian Rockies, this clean, cozy hotel is the perfect place to rest without blowing through your wallet.
On the property, there's a restaurant and outdoor hangout spaces, and there's also a shuttle that will take you around to the various highlights in the area. All in all, for being one of the cheap hotels in Banff, The Juniper Hotel is a really great deal.
Banff Inn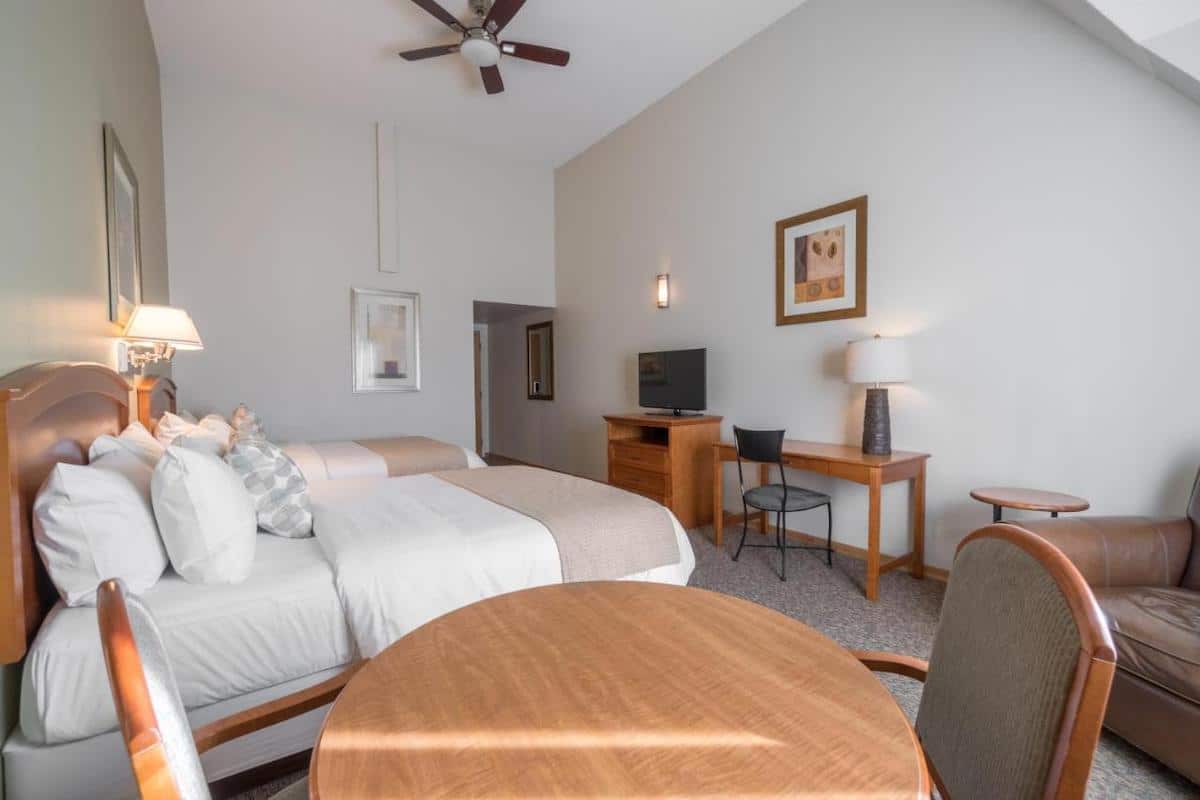 The Banff Inn is another amazing budget hotel located in Banff town. With well-maintained rooms, a fabulous location, and an indoor sauna, steam room, and whirlpool, the Banff Inn is an excellent value for budget travelers.
If you book in advance, you can often find rooms for well under $100 a night, which is pretty much a steal in Banff.
Adorable Bed and Breakfasts in Banff
No list of places to stay in Banff (or anywhere, let's be real) would be complete without a few locally-owned bed and breakfasts. If you're hoping to come back in the evenings to a home-like environment, look no further than these two bed and breakfasts in Banff:
Banff Boutique Inn – Pension Tannenhof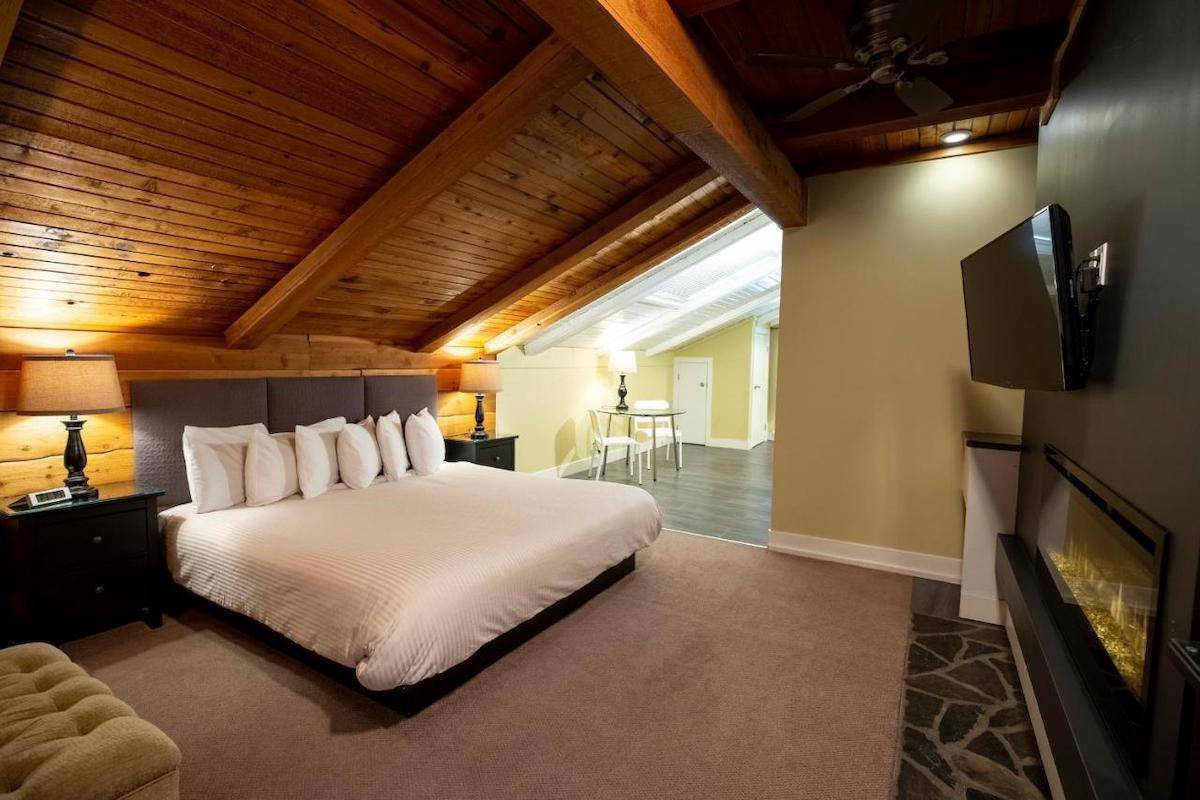 In its prime location within a short walk from Banff town center, Banff Boutique Inn is a charming little home where you can rest during your travels in Banff.
With a full-size kitchen, private bathrooms, in-room fridges, and included breakfast, the Banff Boutique Inn is the perfect place for people who are looking for a hybrid between a home and a hotel.
Free parking and WiFi is the cherry on top of one of the coziest Banff accommodations there is.
The Poplar Inn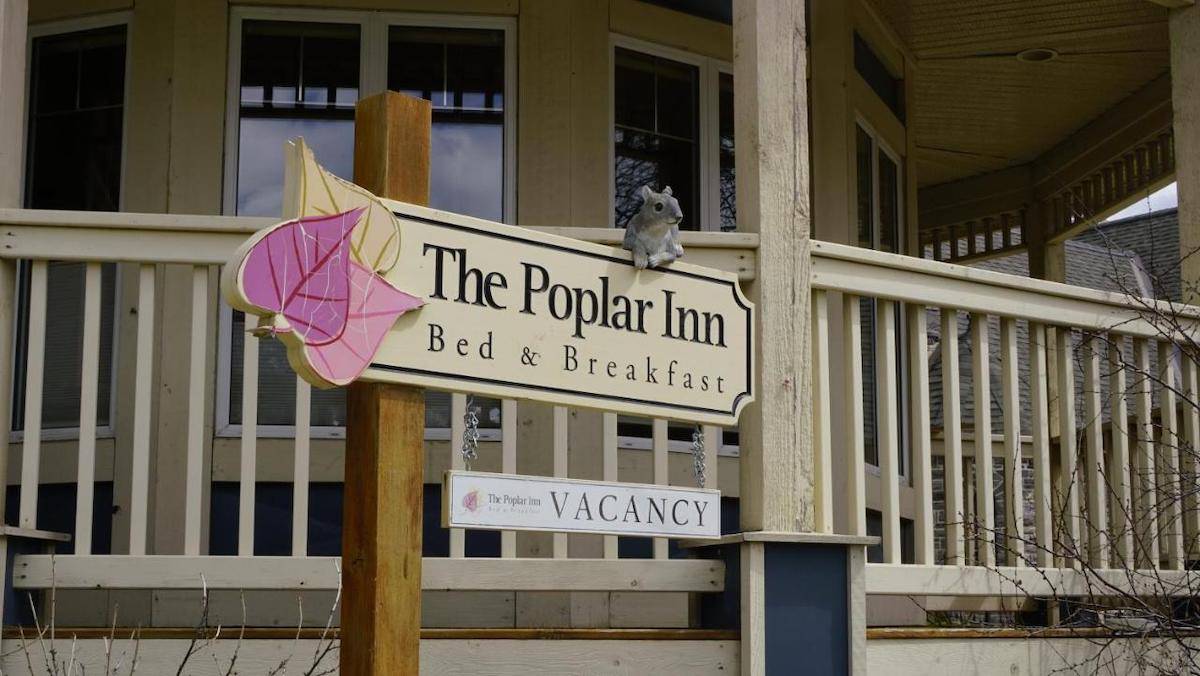 If historic, Victorian-style houses are more your jam, The Poplar Inn is a fabulous choice. This B&B is located in a lovely historic home in Banff town.
The Inn is super cozy, with only TWO guest rooms! Because of this, you'll be sure to get a personalized experience throughout your stay. The Inn features an included breakfast each morning at 8 AM, and spacious rooms with ensuite bathrooms.
Hostels in Banff National Park
Budget travelers might be wondering where to stay in Banff that won't burn a hole in your bank account.
It might seem like Banff is lacking in ultra-budget accommodations, but that's definitely not true! There are a handful of hostels that operate in Banff National Park that are perfect for backpackers, solo travelers, or people who prefer the social vibe of hostels.
Here are some of the best hostel options within Banff National Park:
Samesun Banff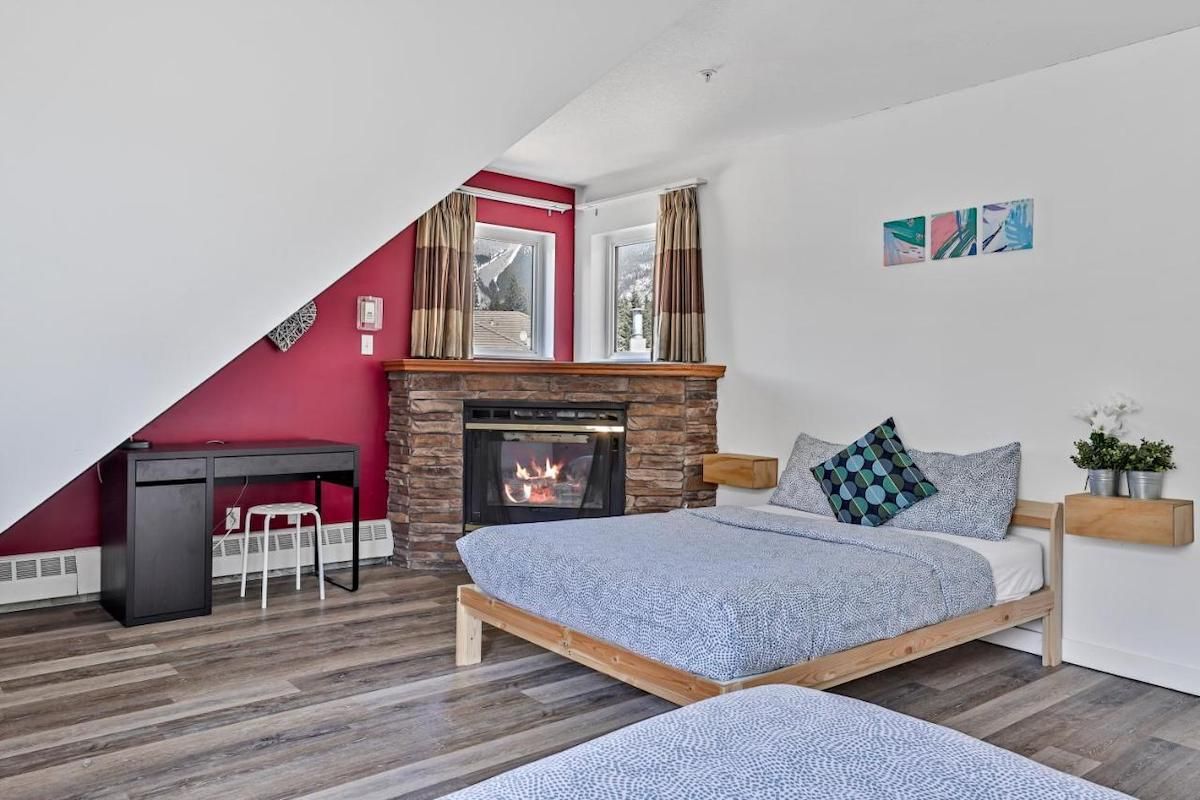 Just a 6-minute walk from Banff's town center, Samesun Banff is one of the most beloved hostels in the area. It's super cozy and communal for warm evenings after hitting the hiking trails. There are literally fireplaces in the dorm rooms! Each room has its own bathroom as well, and there are comfortable common areas, a bar, and a kitchen for guest use. For a hostel, the facilities are super nice and come at some of the cheapest prices in all of Banff.
Banff International Hostel
Another well-known hostel in Banff is the Banff International Hostel, which is located within walking distance of Banff city center. The hostel boasts beautiful, cozy common spaces in a large log cabin. There are 4- and 6- bed dormitories as well as private rooms that you can book, depending on your budget and your preferences.
Hostelling International
Hostelling International also operates a few alpine huts that have shared dorms and communal areas where you can stay. HI Banff Alpine Centre and HI Lake Louise Alpine Centre are the two hostels that they operate.
Vacation & Cabin Rentals in Banff National Park
If you're headed to Banff with a large family or group of friends, your best bet is probably to get a vacation rental. Rentals range in size from small apartments with kitchenettes to full-size cabins that can host a dozen people (or more!).
While I don't have any specific rentals to recommend, here are two places you can explore and find vacation and cabin rentals in Banff:
Airbnb: Of course, you've probably heard of Airbnb everywhere else you've traveled. But it's an amazing way to find beautiful vacation rentals for good prices. Be sure to search using your dates and the number of people in your group for the most tailored results.
VRBO: Another cabin and vacation rental platform, VRBO is very popular in the Banff area. I'd highly recommend checking both Airbnb AND VRBO before making any decisions, as the listings are often different and you might be able to snag a great deal on one but not the other for your dates.
Camping in Banff National Park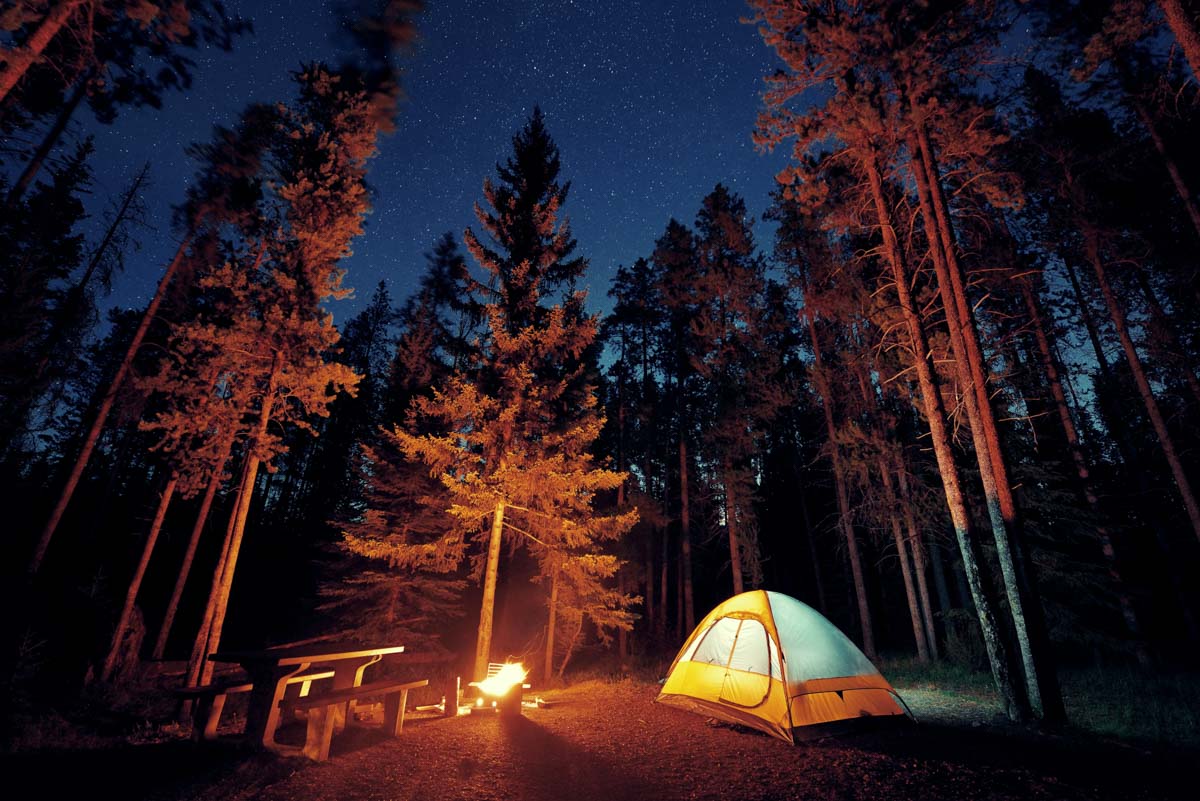 Camping is seriously one of the best ways to explore Banff National Park. It's one of the only ways you can fully immerse yourself in the incredible nature around you.
Even if you've never camped before, Banff offers ample opportunities to learn, with comfortable campsite amenities like electricity and showers.
We wrote an entire guide on camping in Banff that you should check out if you're interested in camping!
There are several front- and back-country campsites available in Banff and the surrounding areas. The cheapest and least crowded of these are in Canmore, which is in between Calgary and Banff.
If you're planning on visiting Banff during the summer, your best bet is to reserve your campsites ahead of time on the Parks Canada website.
Where to Stay Near Banff National Park
So you've decided super last minute to head to Banff National Park. Then, in horror, you realize that all of the hotels in Banff are booked up. Don't worry – not all hope is lost! You can still enjoy the beauty of Banff, but you'll have to get creative on where to stay.
For this, we recommend considering hotels near (but not inside) the park. Wondering where to stay near Banff that's close enough to enjoy the park? This section is for you.
Canmore: This mountainous area and provincial park is located 15-20 minutes from Banff. It's the perfect place to stay if you're having trouble finding Banff accommodations.
Additionally, there are tons of gorgeous hikes in Canmore that you can enjoy. Plus, you'll avoid the enormous crowds that flock to Banff during the high season.
Click here to check reviews and compare prices for hotels in Canmore, CA.
Calgary: While not optimal, if there are really no open reservations within Banff and you're booking super last minute, you can always book a hotel in Calgary and make day trips into the park.
Click here to check reviews and compare prices for hotels in Calgary, CA.
---
Did you find this post useful? Pin it for later!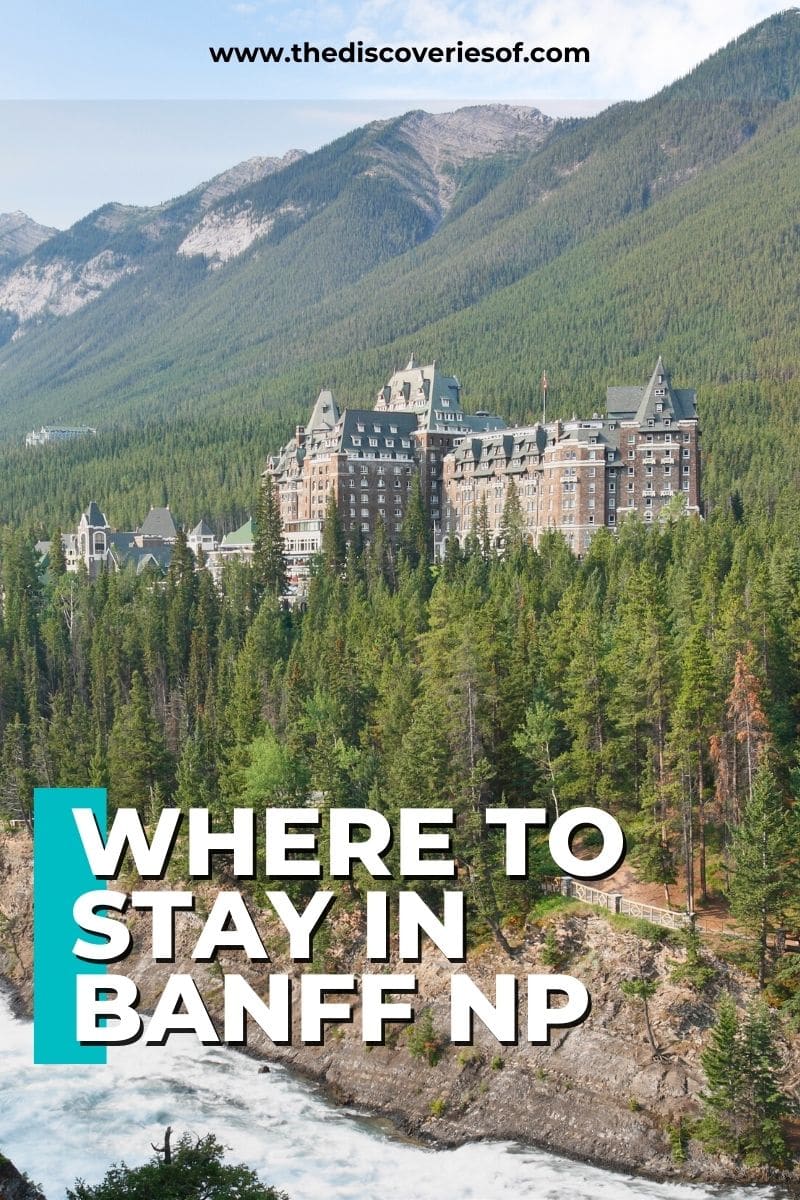 The Best Places to Stay in Banff National Park: Read Next