Planning to spend two days in Banff and not sure where to start? Discover the jewel of the Canadian Rockies with this 2 day Banff itinerary.
While it's nice to get away for a weekend to explore a city, sometimes it is even more refreshing to get out in the mountains and explore.
Where better place to do this than in Banff National Park?
Located in Alberta, Canada, it's home to some iconic mountain sights, like Lake Louise and Johnston Canyon, as well as some lesser-known gems like Cirque Peak and the Hoodoos.
If you're looking for the perfect mountain getaway for a few days, pack up and hit the trails at Banff National Park with this handy itinerary!
Why Spend 2 Days in Banff National Park?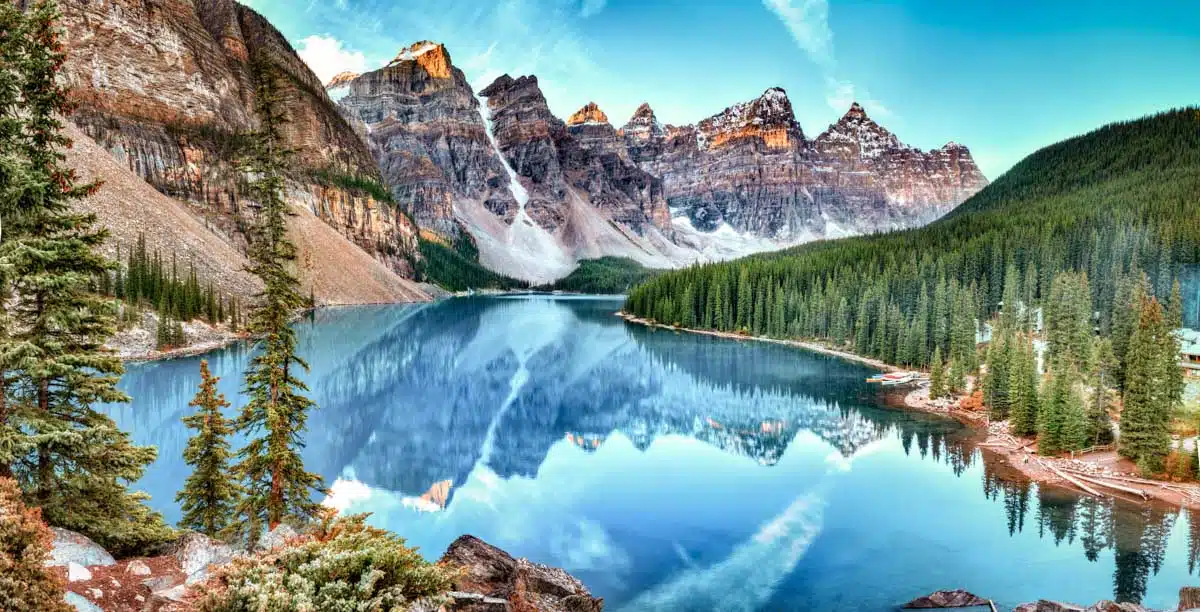 Banff is, hands down, one of the most beautiful places in Canada.
Unlike many national parks, Banff is fairly accessible, at a 1.5 hour drive from the nearest airport in Calgary.
Even simply driving into the park offers stunning mountain views, amazing, sweeping landscapes, and peeks at glaciers and sparkling lakes.
Whether you're an avid hiker/climber or just someone who appreciates nature, there are so many memorable things to do in Banff that you can try.
Although Banff is a year-round destination, for the purposes of this itinerary, I'll be covering a weekend itinerary in the spring, summer and fall as these are the best times to visit Banff.
Banff Two Day Itinerary: What You Need to Know Before You Go
When to Visit Banff National Park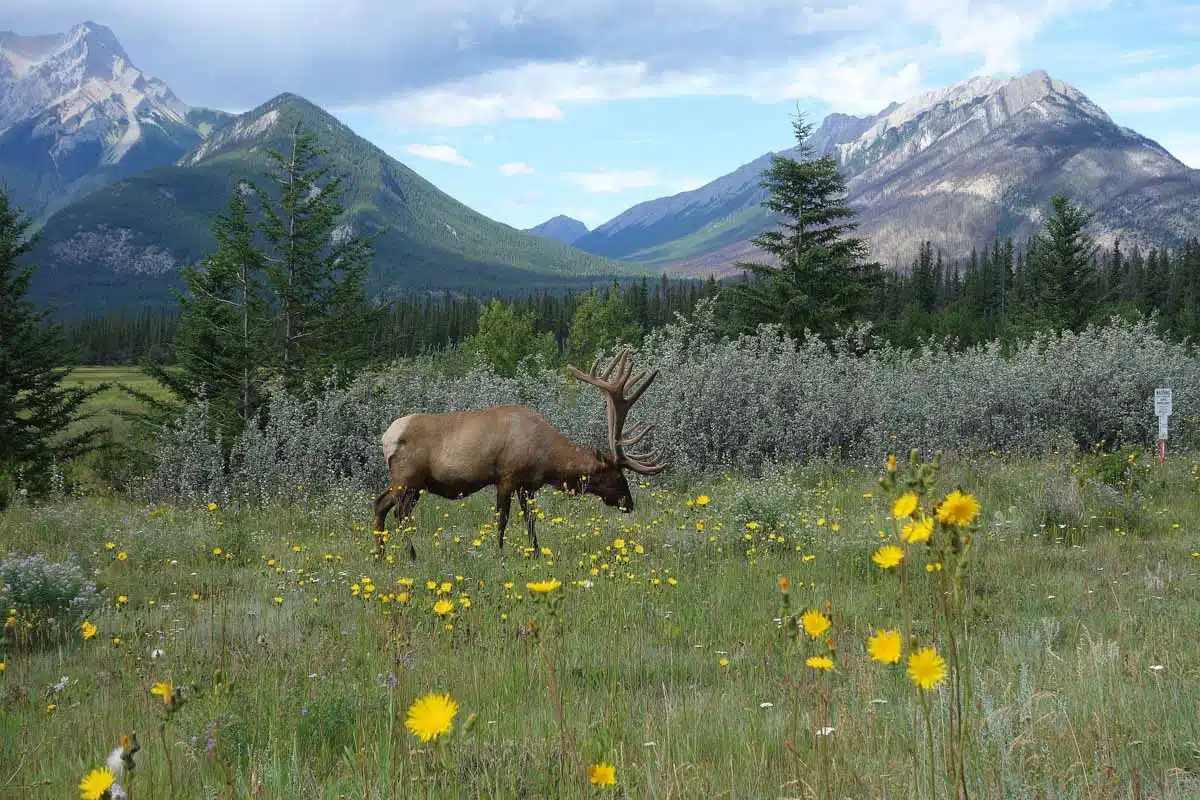 The tourist high season in Banff National Park is in the summer, from June to August.
During this time, crowds gather around the main attractions, and lines for the shuttle to get to Lake Louise can be extremely long.
Because I tend to avoid crowds like this at all costs, I recommend going in May-early June or in late August-September. The weather is still mild at these times, but the crowds are much thinner and you'll have more space to move about and relax.
Winter in Banff is more centered around snowshoeing, ice hiking, and skiing, so if you're into these adventure activities, it's definitely worth considering during the winter as well.
Just make sure you bring everything you need for warmth as it gets REALLY COLD.
How to Get to Banff National Park
To get to Banff National Park, fly into Calgary (YYC). There are several flights a day from many major cities in the US, Canada, and around the world.
Once you arrive in Calgary, rent a car, then drive west on the Trans-Canada Highway (Highway 1).
Continue driving until you reach the park – you'll begin to see beautiful mountains about 1 hour outside of Calgary, and you'll know you're on your way!
It's worth noting that you can no longer use a private vehicle to access Moraine Lake Road – you'll need to book a tour or take a shuttle to access this.
Banff National Park Entrance Fees
Because Banff is park of Parks Canada (Canada's National Park System), there is an entrance fee to get in.
What to Pack for Banff National Park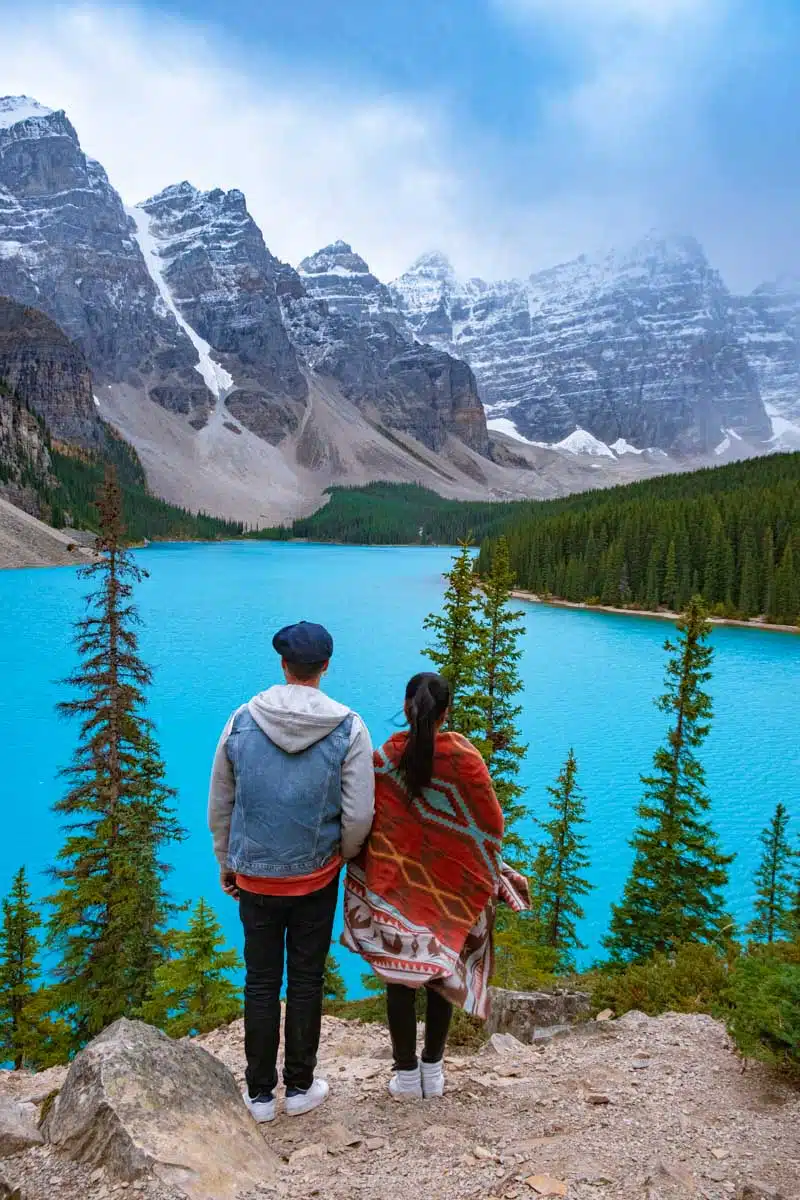 The weather in Banff can be completely unpredictable, so pack for a variety of scenarios, especially if you're planning on camping in Banff.
When packing for Banff, I recommend bringing:
Several clothing layers, including:
Gloves and a hat
Thick, water resistant socks
Camping gear, if you're planning on camping
Travel insurance (don't leave home without it!)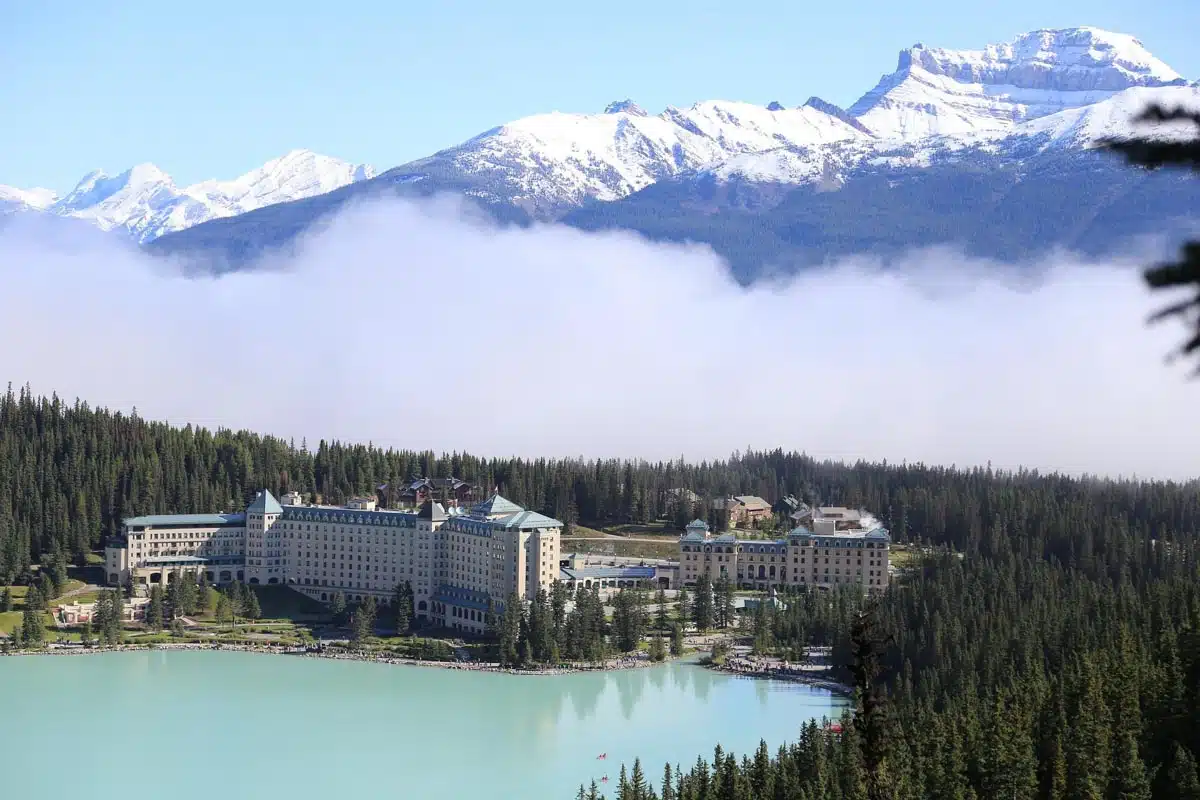 Accommodations in Banff National Park
If you're looking for the best accommodations in Banff National Park, we wrote an entire guide on it!
Our guide includes a curated list of 10+ hotels, hostels, and B&Bs in Banff that are amazing. Check it out and see if there's a good fit for you on there.
Front-country Camping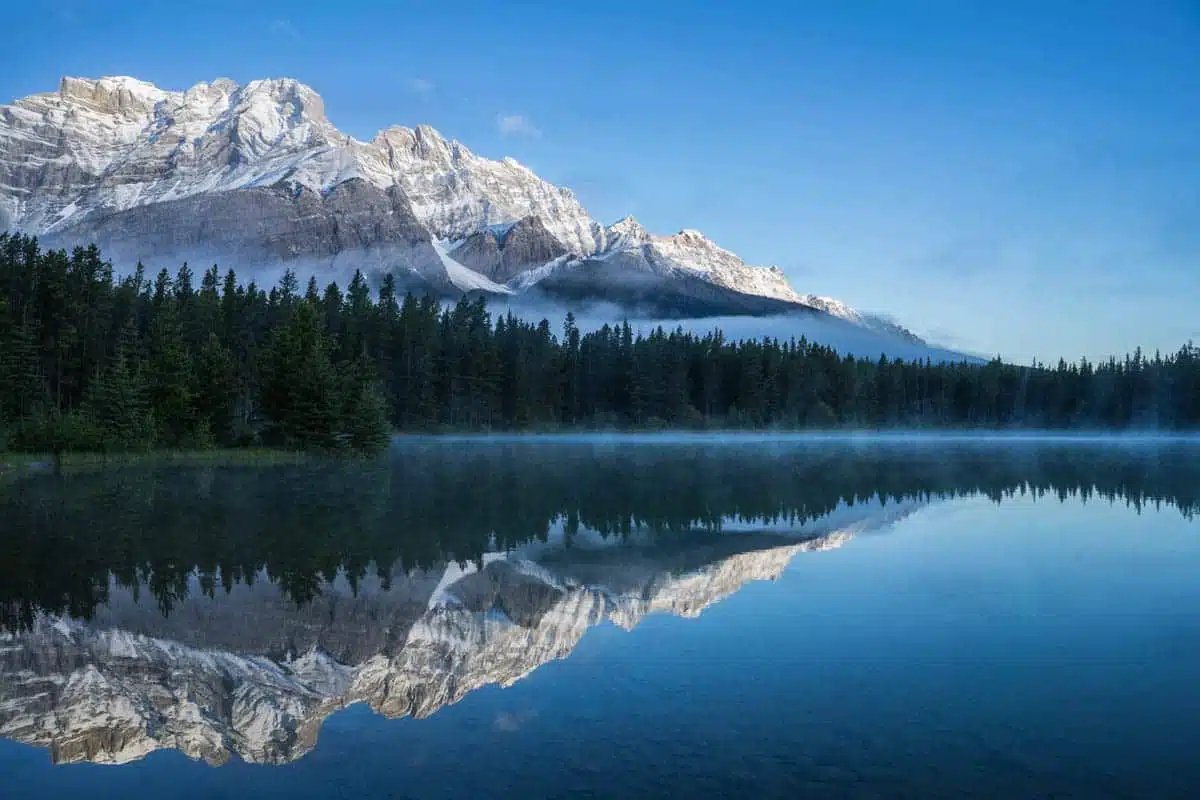 Camping is a great way to explore Banff.
Scattered around Banff National Park, there are frontcountry campsites with access to restrooms, showers, and electrical plugins. If you have a campervan, there are areas where you can park and set up shop.
The camping fees for these sites range from $20-$40 CAD per group per night.
The best way to ensure you have a campsite waiting for you when you arrive in Banff is by making an advance reservation on the Parks Canada website.
Some frontcountry campsites at Banff include:
Tunnel Mountain
Two Jack Main
Two Jack Lakeside
Lake Louise
Johnston Canyon
Castle Mountain
Protected Mountain
Waterfowl
With all of the amenities provided at the campsites, Banff is the perfect place for first-time campers.
Just don't forget to bring all of the camping gear you need for your trip, or you'll have to rent/buy it in Banff town (and pay tourist prices).
Backcountry Camping
For people who enjoy more rustic/outdoorsy experiences, Banff National Park offers several opportunities for backcountry camping.
You MUST book a campsite in order to camp in the backcountry trails of Banff. Backcountry permits cost $9.80 CAD per night, plus a $11.70 CAD one-time registration fee.
Again, be sure to bring all of your necessary camping gear or you may run into problems when you're deep on the trails
For more information about backcountry camping in Banff National Park, check out the Parks Canada Backcountry camping guide.
Read Next: Camping in Banff… What You Need to Know
Cabin Rentals
If you're traveling in a large group, renting a cabin or condo might be the best option for you. There are several options to book a cabin in Banff/Lake Louise or nearby areas like Canmore.
Sites like Airbnb and VRBO have several privately-owned accommodation options that are within reasonable driving distance of the main attractions and trail areas of Banff.
Hostels & Hotels
Banff has a ton of hotels, with more being built to meet the growing demand each year. There are also a handful of hostels you can stay at in Banff if you're a budget traveler.
Hotels in Banff tend to be on the more expensive side, since they are in high demand, especially during the summer months. However, you can still find a few high-value gems if you look carefully and book far in advance. When booking a hotel for the summer, I recommend making a reservation no later than March 1.
Budget: Like I mentioned before, there are a small handful of hostels in the Banff area. I haven't personally stayed in one there, but Banff International Hostel seems like the most popular option for backpackers in the area. Just keep in mind that it's a hostel, so don't expect five star accommodations or service.
Book Banff International Hostel Now
Mid-Range: Luckily, Banff's tourism caters to a lot of families and skiiers, so there are a bunch of affordable resorts open year round. Mid-range travelers should consider the Rundlestone Lodge; it seems to be the most well-rated and popular options.
Book Rundlestone Lodge Now
Luxury: There's no more iconic or luxurious hotel in Banff than the Fairmont Chateau Lake Louise. Situated right in front of this beautiful, teal glacial lake, it's in the perfect location for an upscale weekend getaway. I've been dying to stay here ever since I first laid eyes on it. One day, maybe, when I've got a few hundred dollars a night to spare…
Book Fairmont Chateau Lake Louise Now
Getting Around Banff National Park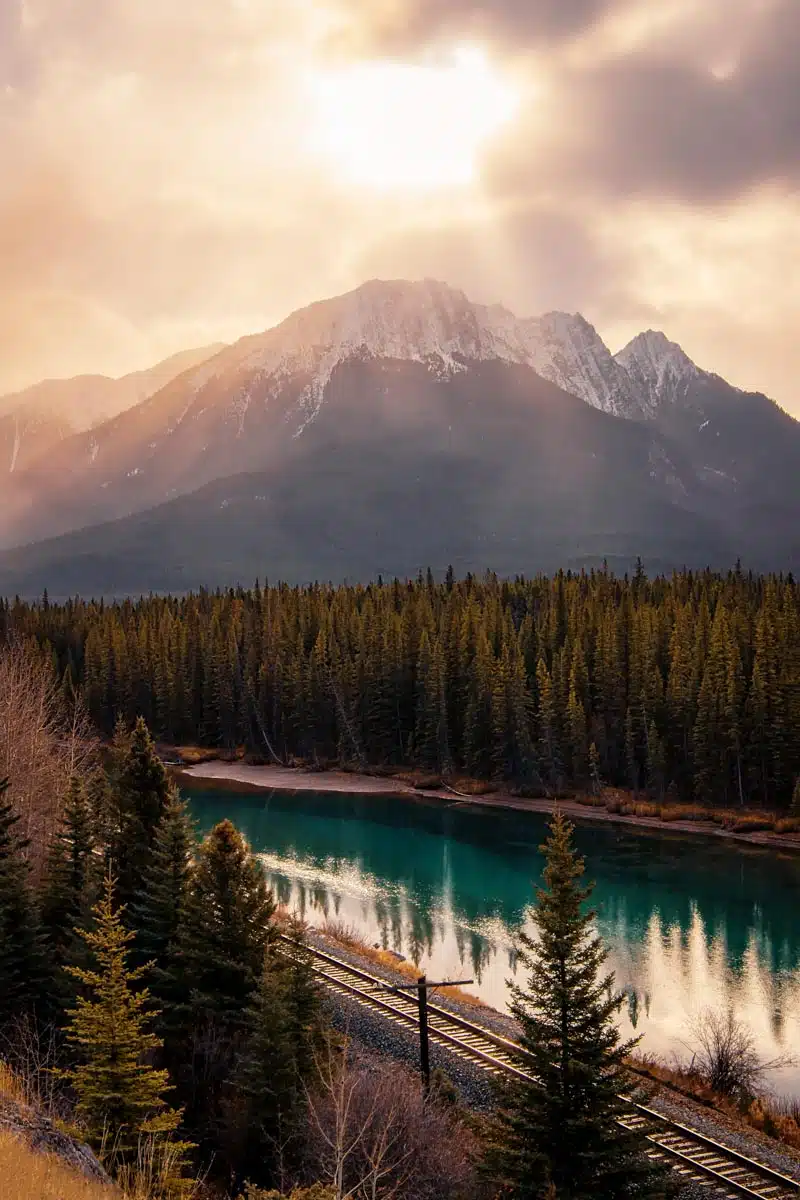 Because of the distance from the nearest airport to Banff National Park, and the distance in between hiking trails and attractions within the park, the best way to get around is to rent a car.
You can rent a car with Hertz or Avis at Calgary's international airport (YYC), as well as inside the city. You do not need a 4-wheel drive – a normal 2WD will work fine.
The Perfect 2 Days in Banff Itinerary
Arrival: Banff Town and an Evening Gondola Ride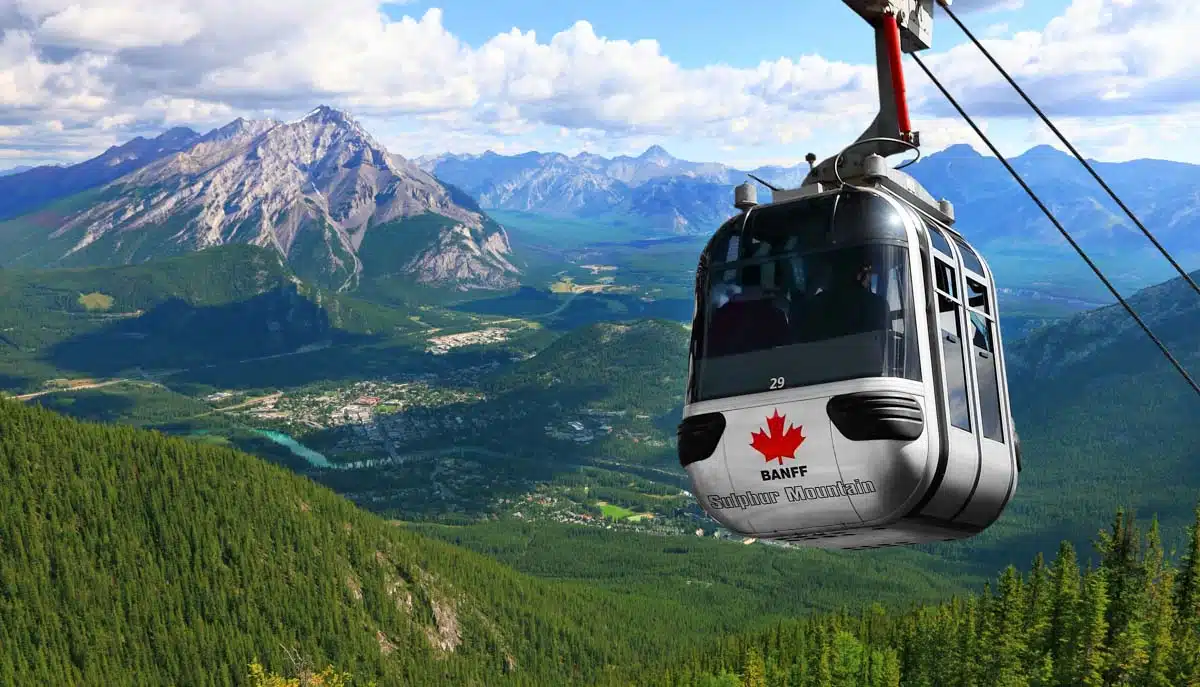 Upon arrival in Banff, head to your accommodation (camping, cabin, hotel, etc.) and drop off your things.
Depending on what time you arrive in the area, you can do a short hike like the Hoodoos or around the Two Jack Lake area.
If you're feeling hungry, head to the town center of Banff and grab a nice dinner at Park Distillery, which has delicious, fresh food options at reasonable prices in a cabin-like atmosphere.
If you're done with dinner before 8:30 PM, consider heading up to the top of the Banff Gondola ($56 CAD per person in advance) for spectacular views of the entire area.
Afterward, if it's clear outside, you should stop to do some stargazing.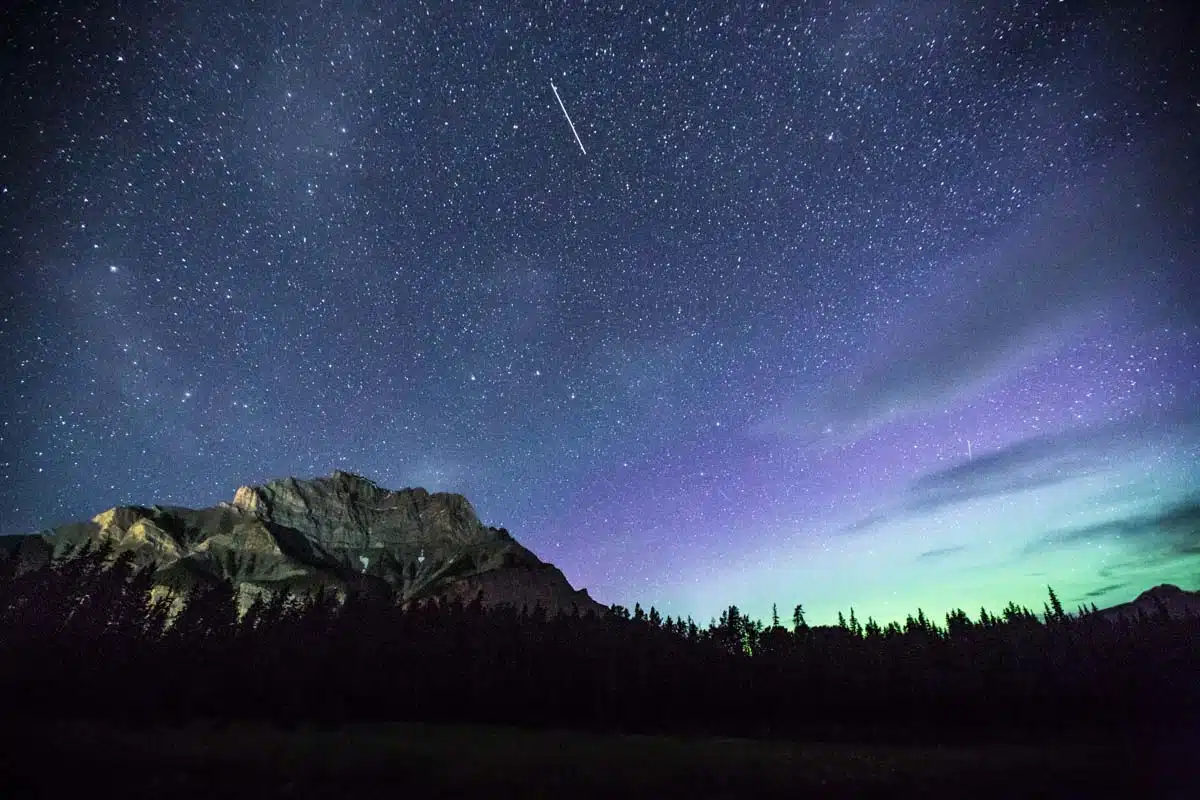 The skies in this area are extremely beautiful on clear nights, and if you're lucky, it's possible to catch the aurora borealis too!
Some of the best places to do this are around the lakes (Two Jack, Minnewanka, etc.), or on the overlooks.
Day 1: Glaciers, Lakes, and Hot Springs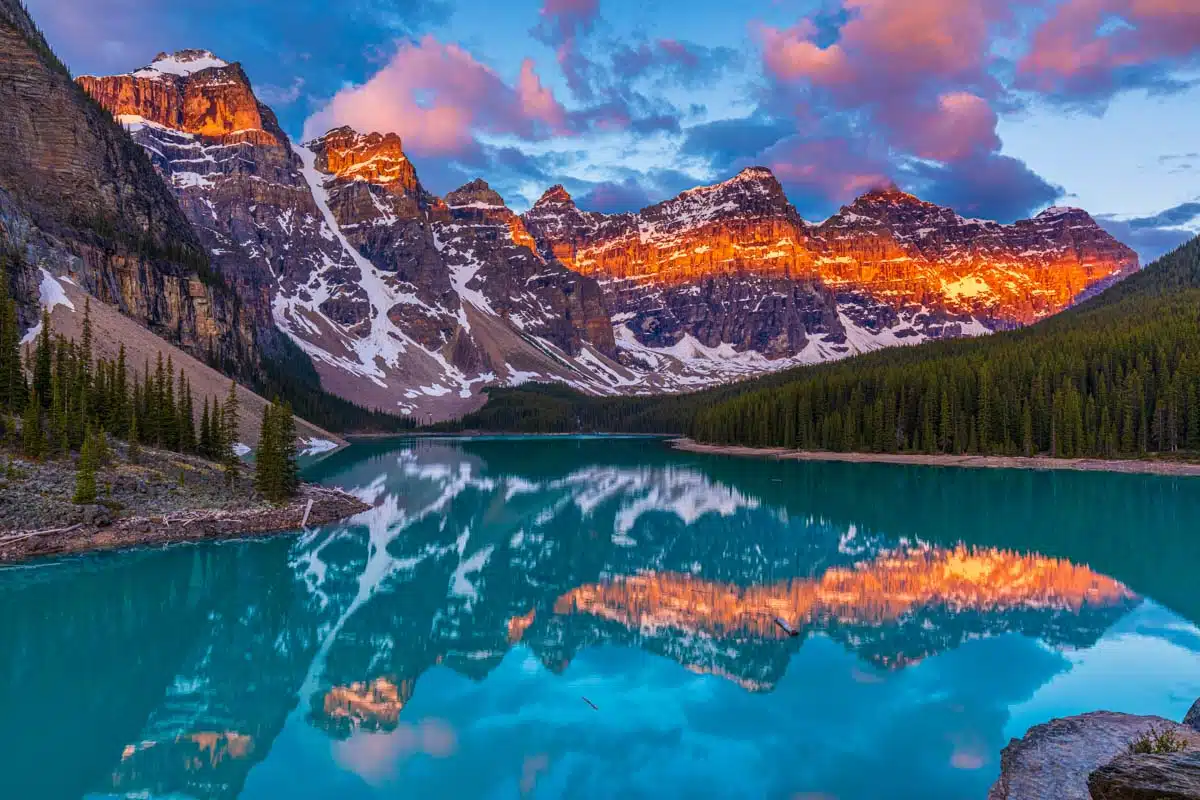 On your first full day in Banff, wake up early (I recommend before 6 AM), and head to the Lake Louise area. Before you head to Lake Louise, take the shuttle to Moraine Lake – one of the most iconic sights in all of Banff.
With its glassy lake and emerald trees surrounding rocky, jagged peaks, this is the view that you see in basically every article about Banff.
Hike up to the viewpoint above the lake or around the perimeter a bit, or just enjoy the quiet of the morning in this spectacular space.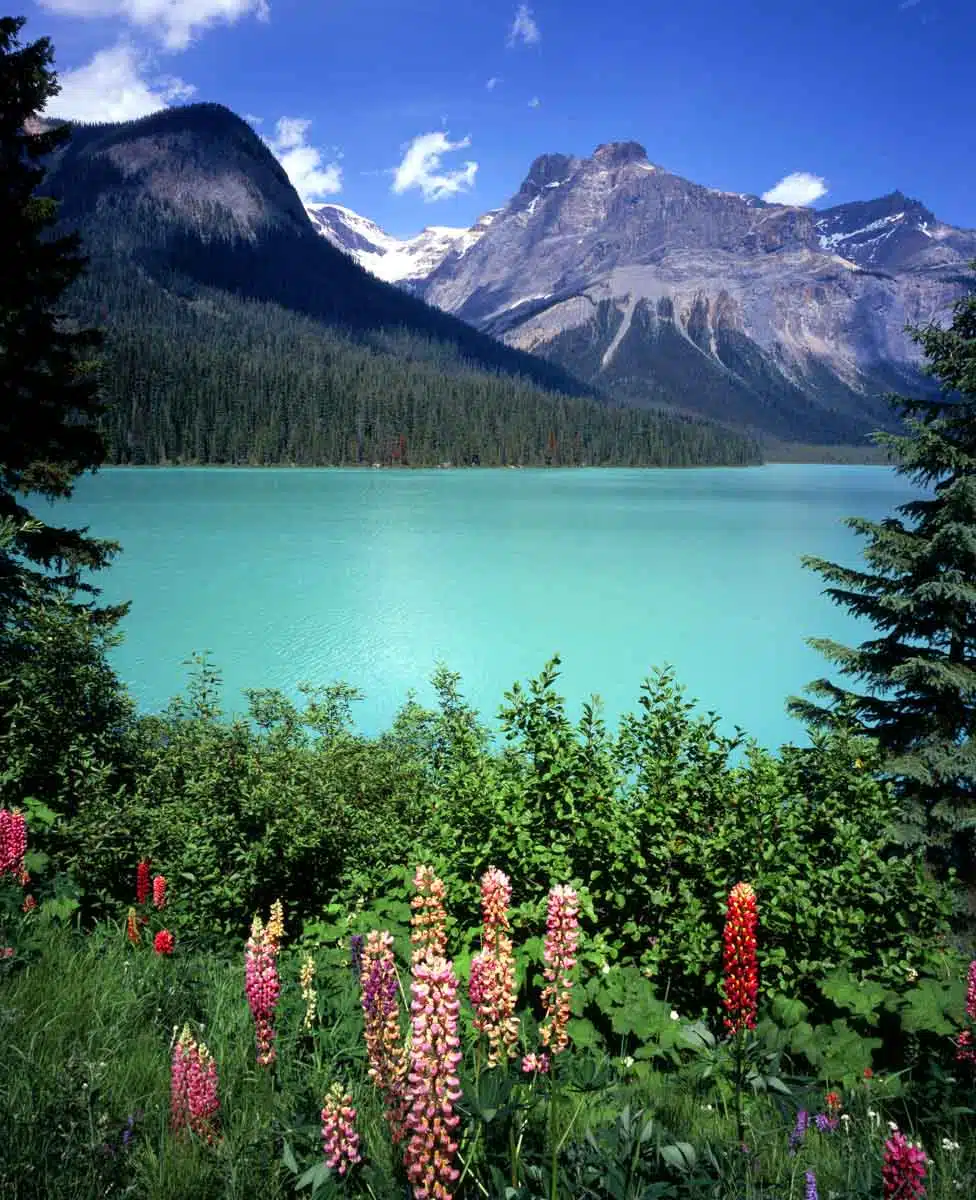 Next, drive to nearby Lake Louise. This area gets extremely crowded during the day, so the best time to go is early in the morning before the masses of people arrive.
Grab breakfast and a coffee at the Fairmont Lake Louise (for cheaper options, head to the shops near the Lake Louise Visitor Center instead).
While there, you can choose to go on one of the Lake Louise hikes – Lake Agnes Tea House (1.5 hours) or Plain of Six Glaciers (5 hours) – both gorgeous ways to explore the surrounding Lake Louise area.
By the time you've finished your Lake Louise adventure and hike, you're probably pretty hungry.
Head to the Lake Louise Visitor Center area to grab a quick lunch, then try doing another short hike in the afternoon.
If you're tired from the morning hikes, go for a soak in the Banff Upper Hot Springs, a relaxing place to watch the sunset and unwind. Go for a dinner in Banff town, or cook something up at your campsite or cabin.
Day 2: A Drive on the Icefields Parkway and Johnston Canyon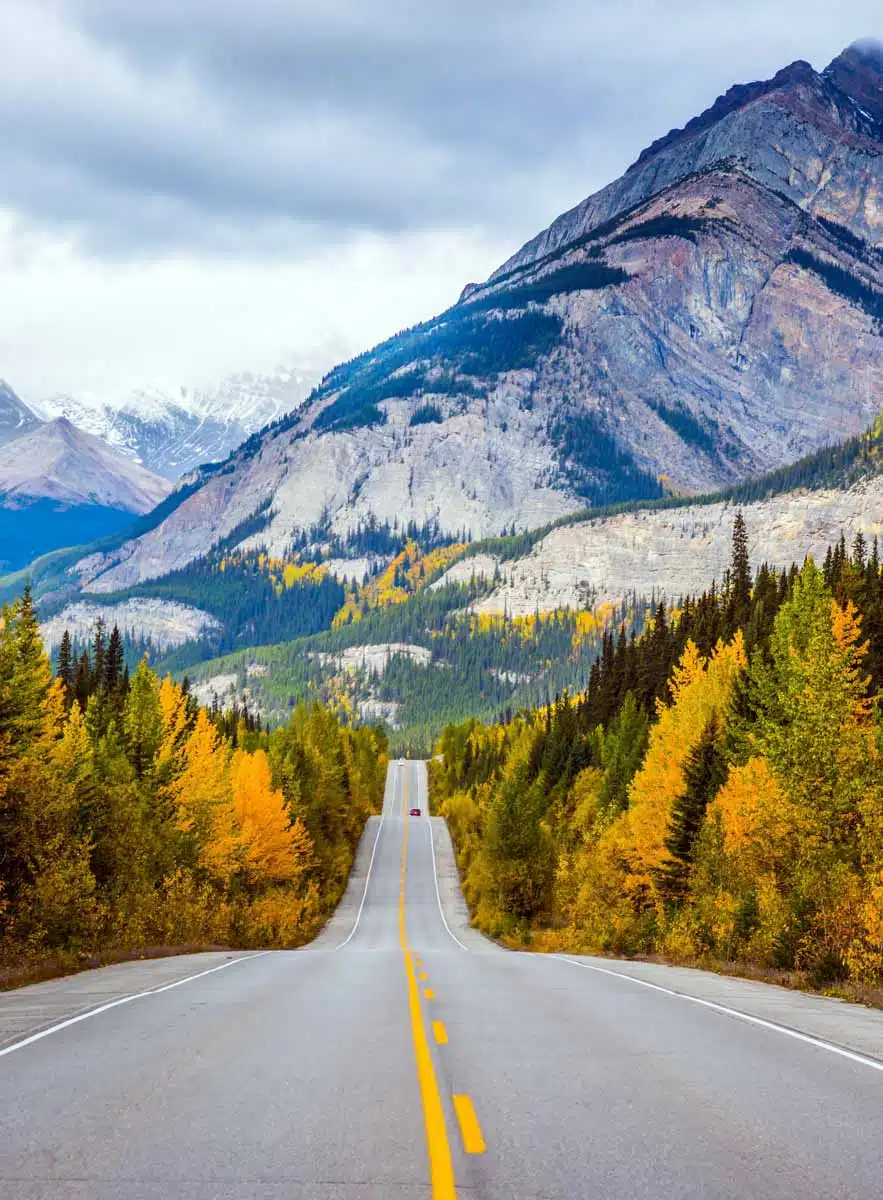 Rise and shine before the sun and hop in the car to catch the sunrise over the most beautiful drive in Canada.
As the day arrives, admire some sweeping glacier views and sparkling lakes in the valleys of the Canadian Rockies. Take the morning slowly and stop off at the overpasses and lakes nearby, taking in some of the most incredible views in the entire area.
While you're on the Icefields Parkway, you can explore some trails along the way, like Peyto Lake, Helen Lake, Cirque Peak, or Chephren Lake.
If you're up for hiking, there are several options for places to explore in the area, with trails accessible to hikers of all levels. Some of these will take all day, while some will only take a few hours.
If you have time in the afternoon, head to Lake Minnewanka, where you can rent a kayak and paddle around the cool, turquoise waters of the area.
It's $40 CAD per canoe/kayak, plus $20 CAD for each additional hour. Then, head to any of the overpasses on the Trans Canada Highway to watch the sunset and enjoy your last evening in this spectacular park.
If You Have More Time on Your Banff Itinerary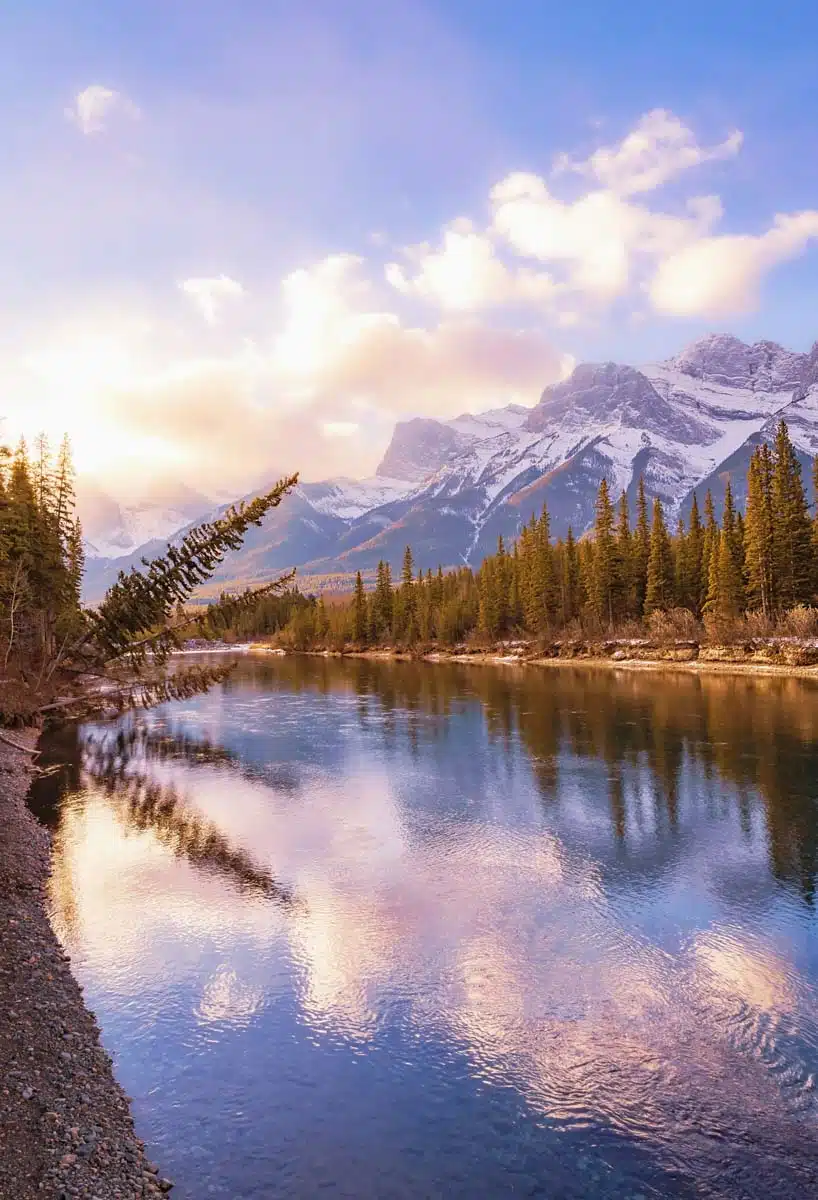 If you have a few extra days in the area, stick around and do some more of the beautiful hikes in Banff National Park.
Alternatively, head to the Canmore area (between Banff and Calgary) and try some of the amazing hikes there, like Ha Ling Peak or Mount Yamnuska.
If you want to explore a new area, try one of the other national parks in Alberta, like Jasper to the north or Waterton Lakes in the south.
Banff in 2 Days:
The Bottom Line
Banff National Park is one of the world's most beautiful parks that's also possible to visit in just one weekend. Its location less than two hours from Calgary, Canada makes it accessible from almost anywhere in North America.
With stunning mountaintops, long, windy roads, and teal glacial lakes, Banff is the perfect place to completely disconnect from the routine grind of daily life.
Pin it for later!