Discover the best things to do in Jasper National Park – from hiking to kayaking or just soaking in the scenery, these are the things you shouldn't miss.
Snow-capped, jagged mountain peaks. Turquoise lakes and waterfalls. Fresh air and evergreen forests.
Imagine all of these things mixed together in some kind of Chronicles of Narnia wonderland and voila!, you've got Jasper National Park.
This place is pretty much heaven for hikers, outdoor lovers, space nerds, and anyone who likes beautiful things (which is basically, everyone, right?!).
There are so many fun and totally epic things to do in Jasper, it *miiiight* make your head spin.
To put it lightly, Jasper is basically magical.
No matter what time of year you come to Jasper, you'll be in for a real treat. Breathtaking trails and walks, sparkling rivers and lakes, and dazzling viewpoints await.
So, what are you waiting for? Start planning your trip with this complete (and ridiculously detailed) guide to Jasper National Park:
17 Incredible Things to Do in Jasper for Adventurous Travelers
Tackle One of Jasper's Stunning Trails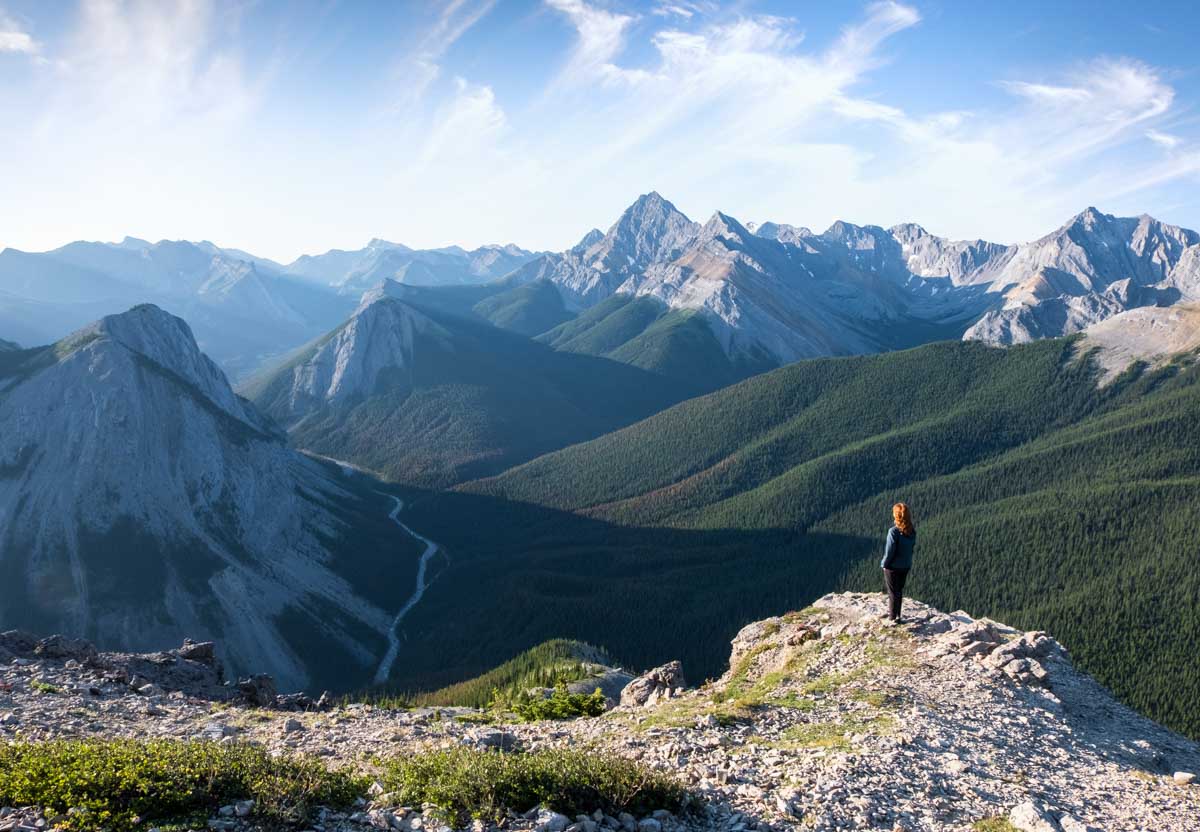 Time of Year: Year-round (Winter may require special equipment, like crampons & winter boots)
Experience Needed: None
Approximate Cost: Free
One of the most breathtaking (Literally! Haha, get it?! Okay, don't mind me…) ways to experience Jasper National Park is by going hiking.
If you're wondering what to do in Jasper, hiking should definitely be #1 on your list. Of all of the amazing things to do in Jasper, don't miss out on the chance to get on your feet and hit the trails!
With thousands of kilometers of trails, you can literally spend your entire trip to Jasper exploring the paths through the forests, alpine meadows, mountain summits, and more. While we could spend an entire article talking about hikes in Jasper, here's a short summary of a few of the best hikes in the park:
Easy Hikes in Jasper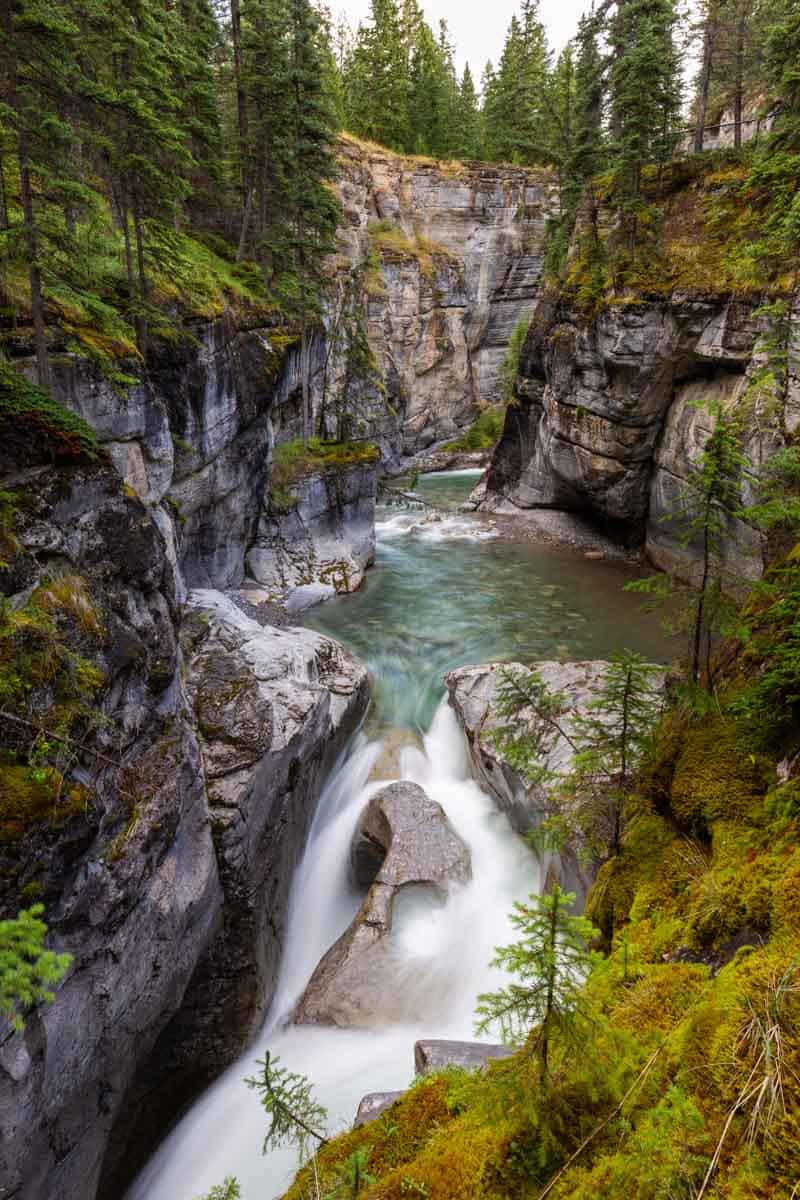 Maligne Canyon: (Easy, 3.9 kilometers) An easy, short hike, Maligne Canyon brings you through a striking canyon, passing by ranging rivers and breathtaking waterfalls in the process. Perfect for families or beginner hikers wanting to see some of the most awesome views in the park!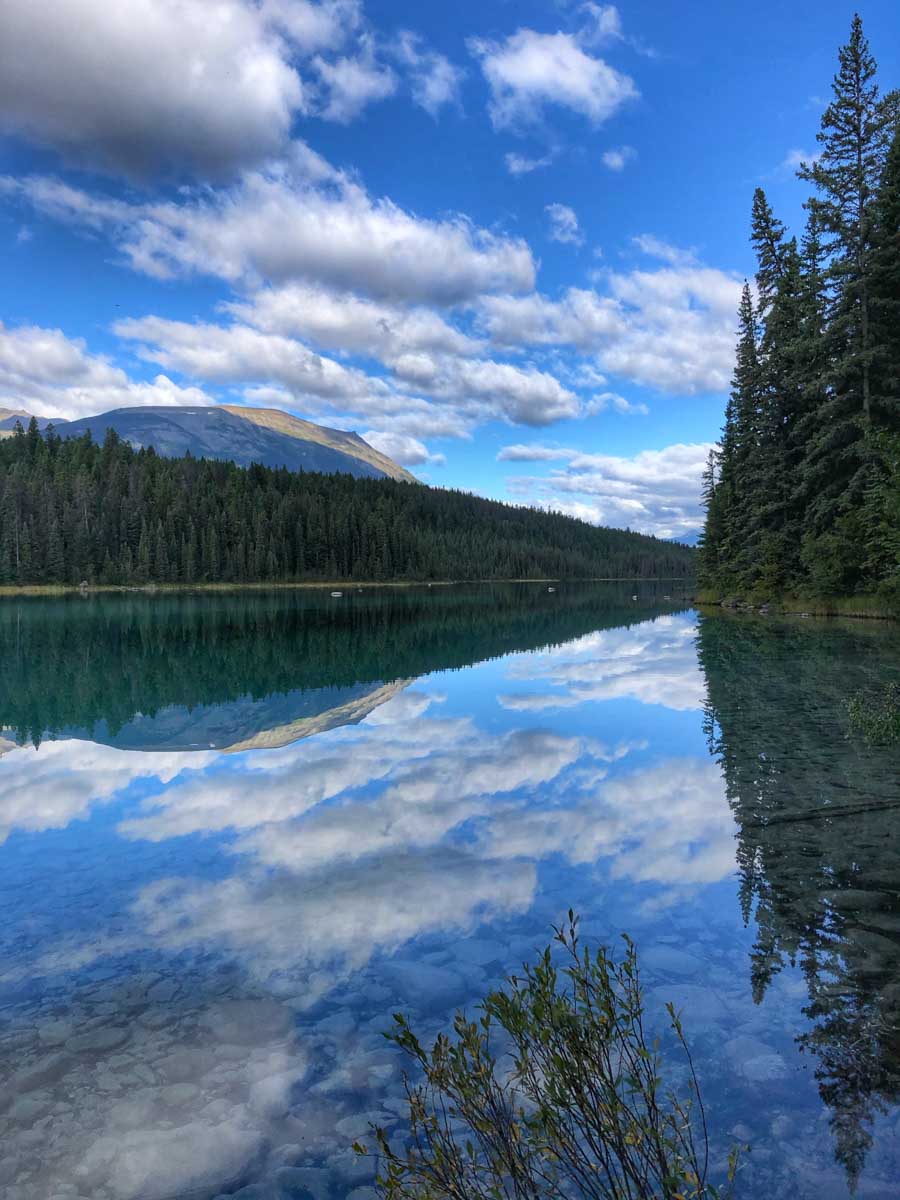 Valley of the Five Lakes: (Easy, 4.5 kilometers) The magic of the Valley of the Five Lakes trail is exactly what it sounds like: five gorgeous, picturesque lakes with the Canadian Rockies lying majestically in the background. What makes this trail special, in my opinion, is the fact that it's a little bit longer than most of the other easy trails in the park. It's perfect for hikers wanting an easy half-day adventure on one of the most tranquil and iconic Jasper hiking trails.
Moderate/Challenging Hikes in Jasper
Opal Hills: (Moderate, 7.9 kilometers) Known among locals and hiking geeks as one of the best hikes in Jasper, Opal Hills is a moderately difficult, popular trail that leads up to some seriously gorgeous views. Weaving through alpine meadows, steep inclines, and a few different lookout points, it's a varied and unique hike that's definitely worth a half day!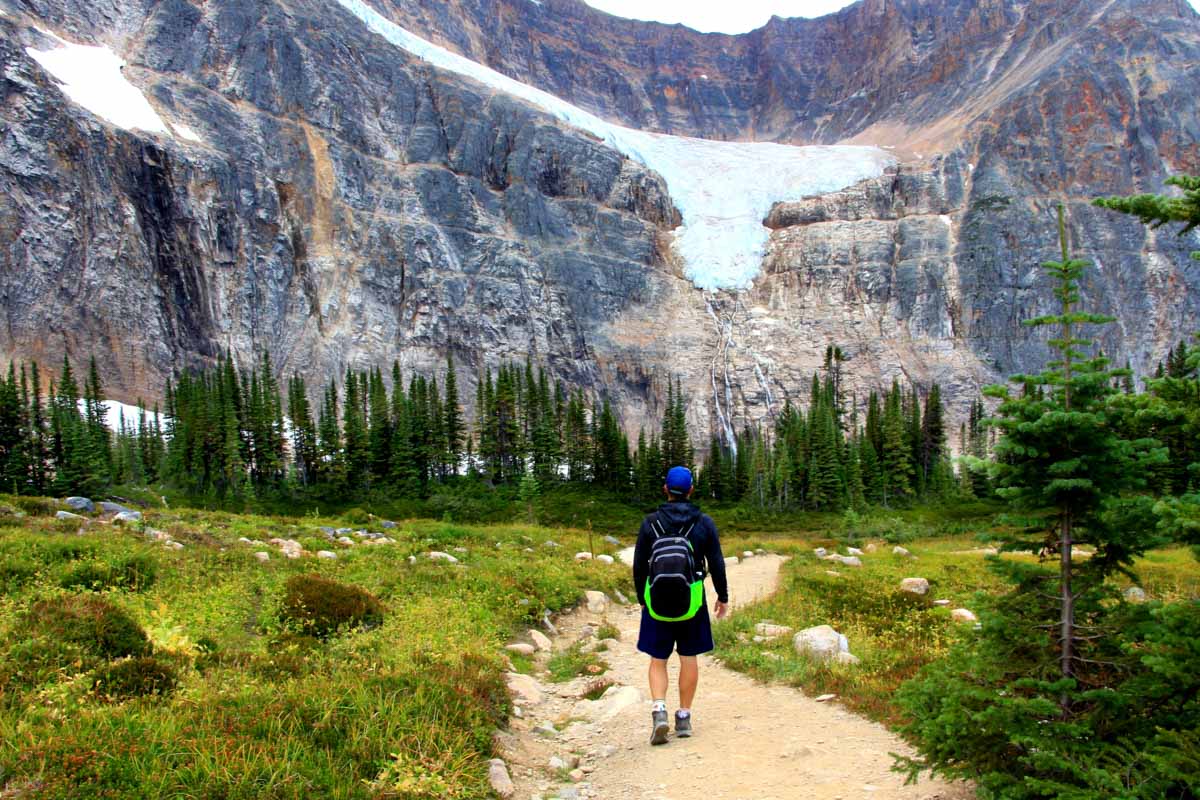 Edith Cavell Meadows: (Moderate, 6 kilometers) Edith Cavell Meadows is one of the most popular trails in Jasper, and for good reason – it's got a bit of everything, from mountain views to alpine meadows to hanging glaciers and more. The first part of the path is paved, leading you to a lookout point over Angel Glacier. After the lookout point, the trail continues ascending, which will bring you past some nice forests and meadow areas. The path leads to two more viewpoints – most people (myself included) choose to stop at the second one, but there's the option to continue up a ridiculously steep trail to the third.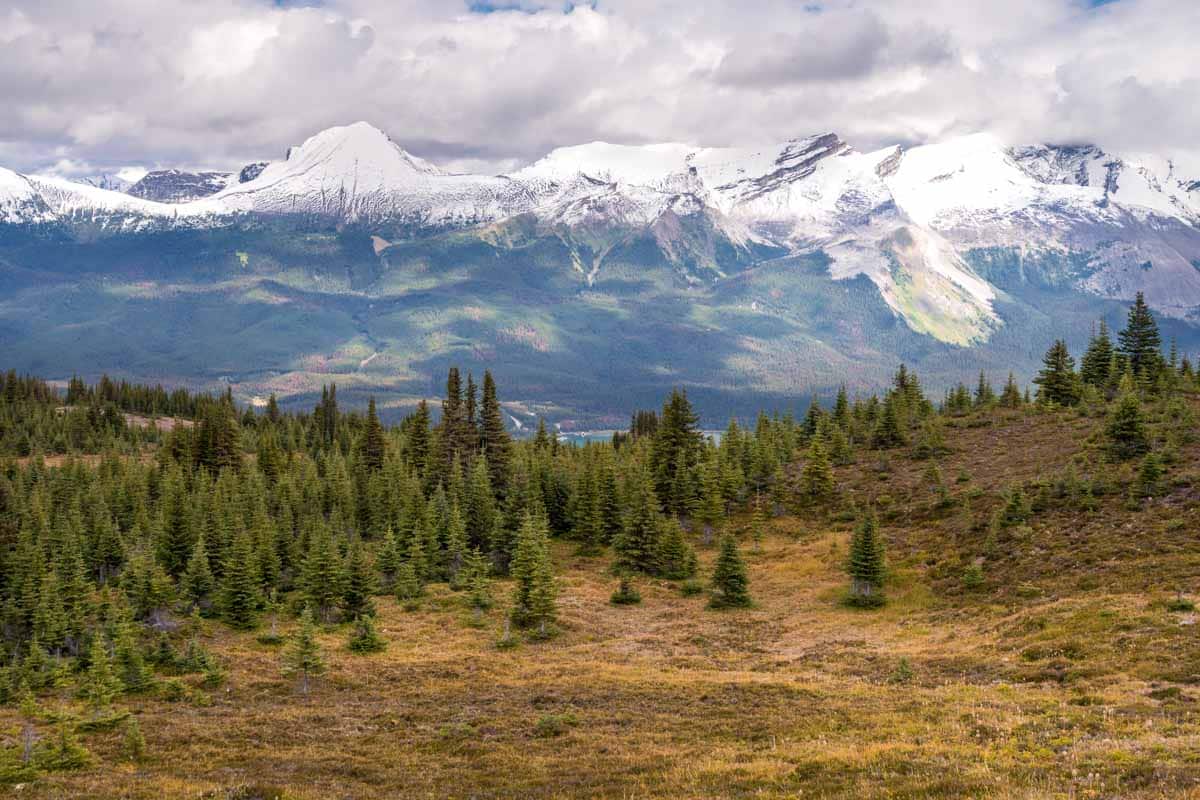 Bald Hills: (Challenging, 13.2 kilometers) As one of the most popular full-day Jasper hikes, Bald Hills is an amazing and challenging trail that will bring you up to some of those drop-dead gorgeous views you see in the postcards. This summit hike is one of the best hikes you can do in the park, and we highly recommend it if you're up for the challenge. The trail consists of fairly steep uphills interjected by alpine meadows and stellar views of the surrounding mountaintops.
Go Wildlife Watching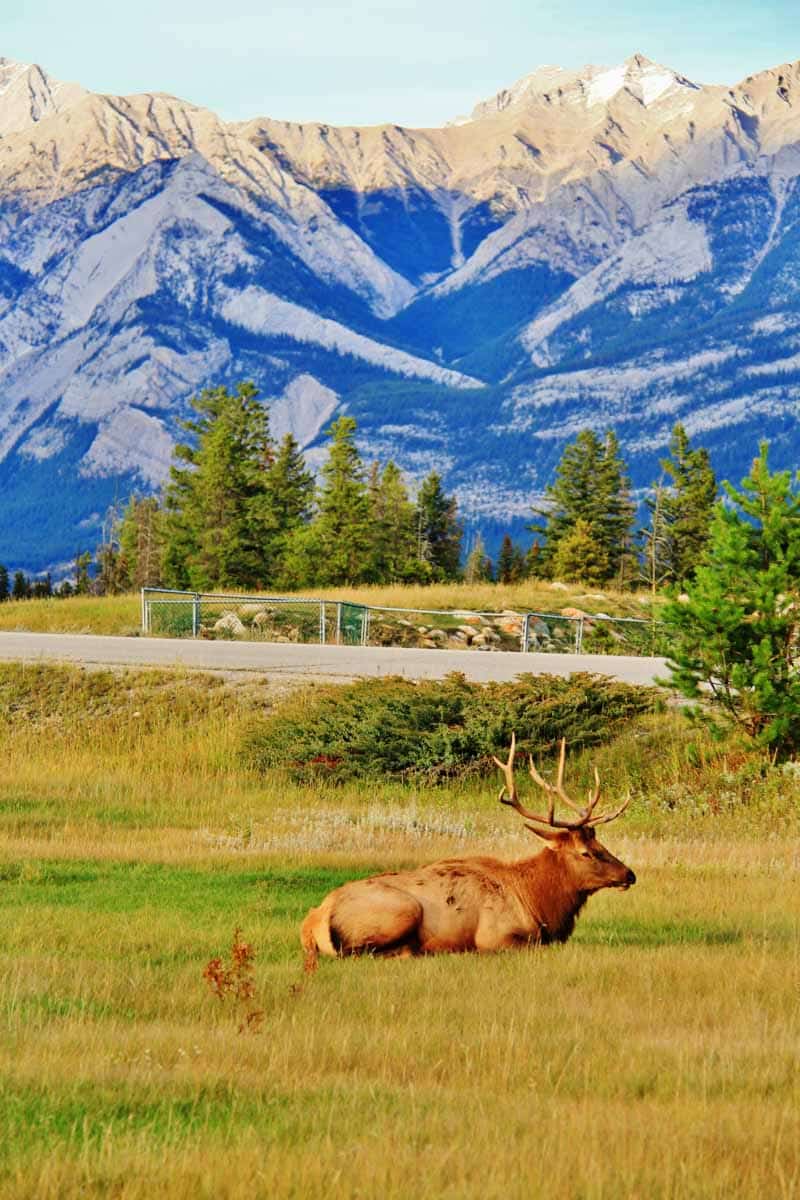 Time of Year: Year-round
Experience Needed: None
Approximate Cost: Wildlife tours cost ~$50-100 per person for 3-4 hours
After spotting an elk or a pika or a bear, you might be extra curious about the wildlife in Jasper. After all, Jasper is home to some of the most impressive and beautiful animals and plant life in the whole world! Wildlife is inadvertently one of the main Jasper attractions because visitors are so curious about it.
It might be tempting to walk or drive around the park forever in search of these majestic (and terrifying) animals. Luckily, there's an even better way to maximize your chances of seeing wildlife: a guided wildlife tour! Guided tours are a fantastic way to see wildlife in a safe and environmentally conscious way, with an expert guide who can answer your questions.
If you're interested in taking a guided wildlife tour, we recommend this tour which is about 3 hours long and are guided by a local wildlife expert, who will take you to some of the most common areas for wildlife sightings and teach you more about the species you're seeing.
These Jasper wildlife tours will definitely bring out the National Geographic adventurer in you!
Book Your Jasper Wildlife Tour
Pitch Your Tent at a Beautiful Jasper Campsite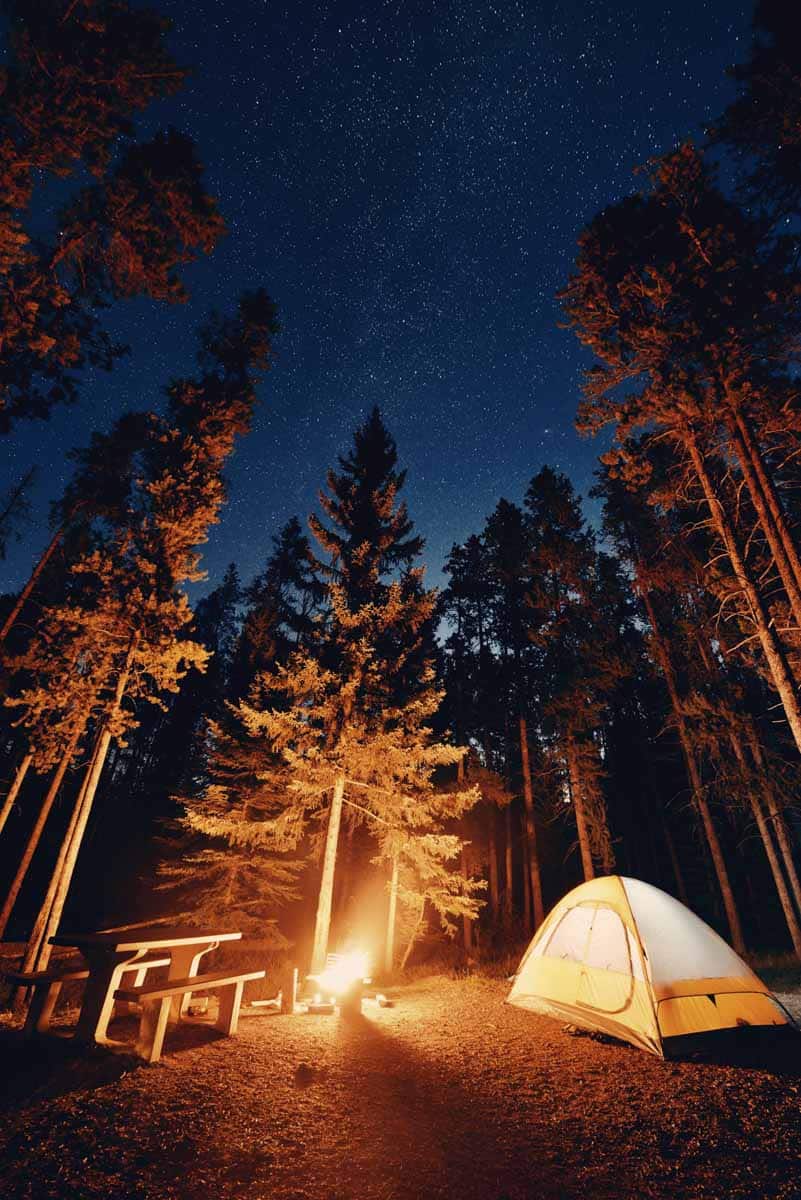 Time of Year: Spring, summer, and fall
Experience Needed: None
Approximate Cost: Cost of campsite + fire pit (Typically ~$18+ CAD per campsite per night)
For more adventurous outdoor travelers, camping is a wonderful way to fully immerse yourself in the nature of Jasper. While in Jasper, it's easy to spend a few nights in some of the park's amazing campsites, which give you access to all of the best Jasper attractions.
There are two types of camping in Jasper: frontcountry and backcountry camping. We'll get into backcountry camping in the next section, but frontcountry camping is the easier of the two, especially for beginner campers.
Typically, the frontcountry campsites in Jasper (and all of Parks Canada) have amenities like running water, hot showers, electrical hookups, and more. You can generally drive right up to your camping space and set up your tent right next to your car.
To camp in Jasper, you'll need to bring your own camping gear and have your own transportation to get to and from the campsites.
For more tips on camping in Jasper, check out my guide.
Try Backcountry Hiking & Camping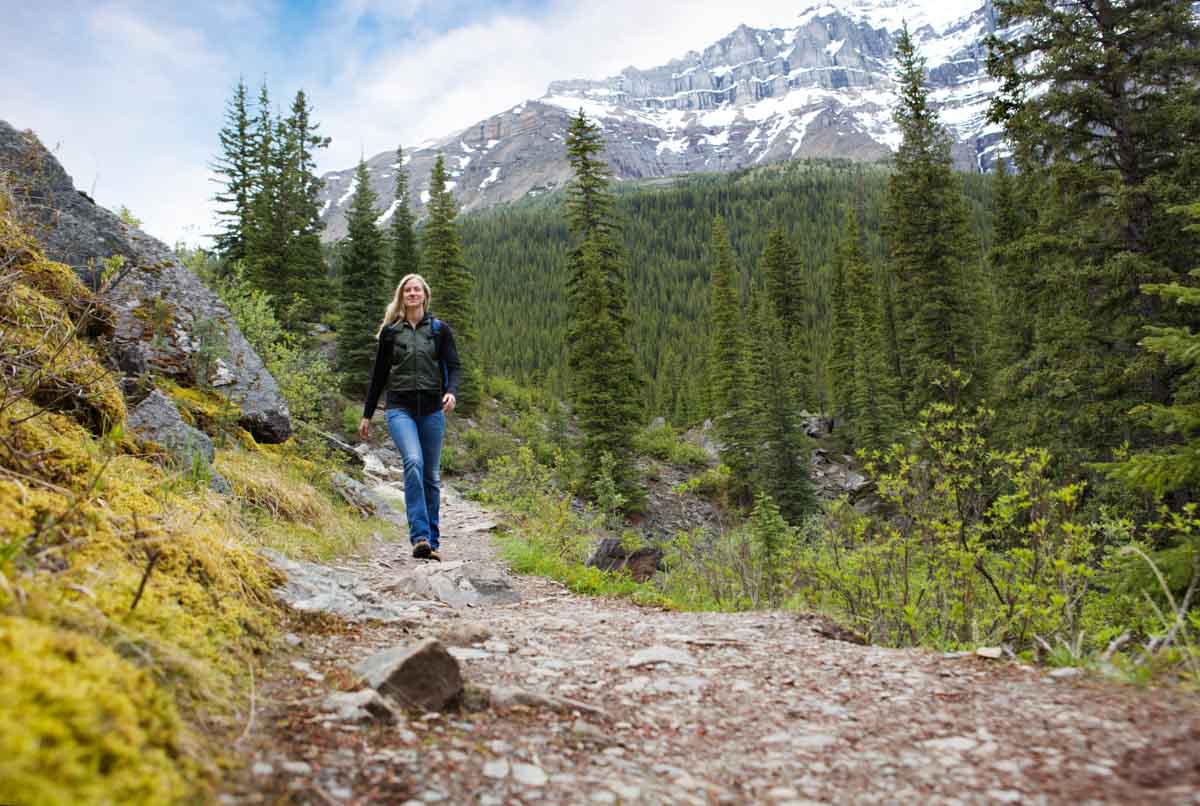 Time of Year: Summer and early fall
Experience Needed: Some hiking and camping experience is strongly recommended
Approximate Cost: Cost of backcountry permit & campsites
For experienced hikers and campers, Jasper is an incredible place to explore the backcountry for a few days. Pack up your backpack, lace up your boots, and hit one of the fabulous backcountry hiking areas in Jasper.
Backcountry excursions involve hiking out to a designated camping area far from the parking lot/main roads, then setting up camp there.
These backcountry campsites typically do not have many (if any) amenities, but they are much more remote and less heavily trafficked than the frontcountry areas. While it's definitely challenging, backcountry camping is one of the best things to do in Jasper for adventurious travelers.
One of the best ways to experience the more remote parts of Jasper, backcountry camping does require some prior experience with hiking and camping. You'll need certain gear and experience with multi-day hiking.
While there are several different areas where you can go backcountry camping in Jasper, here are some of the ones we'd strongly recommend:
Backcountry Trails in Jasper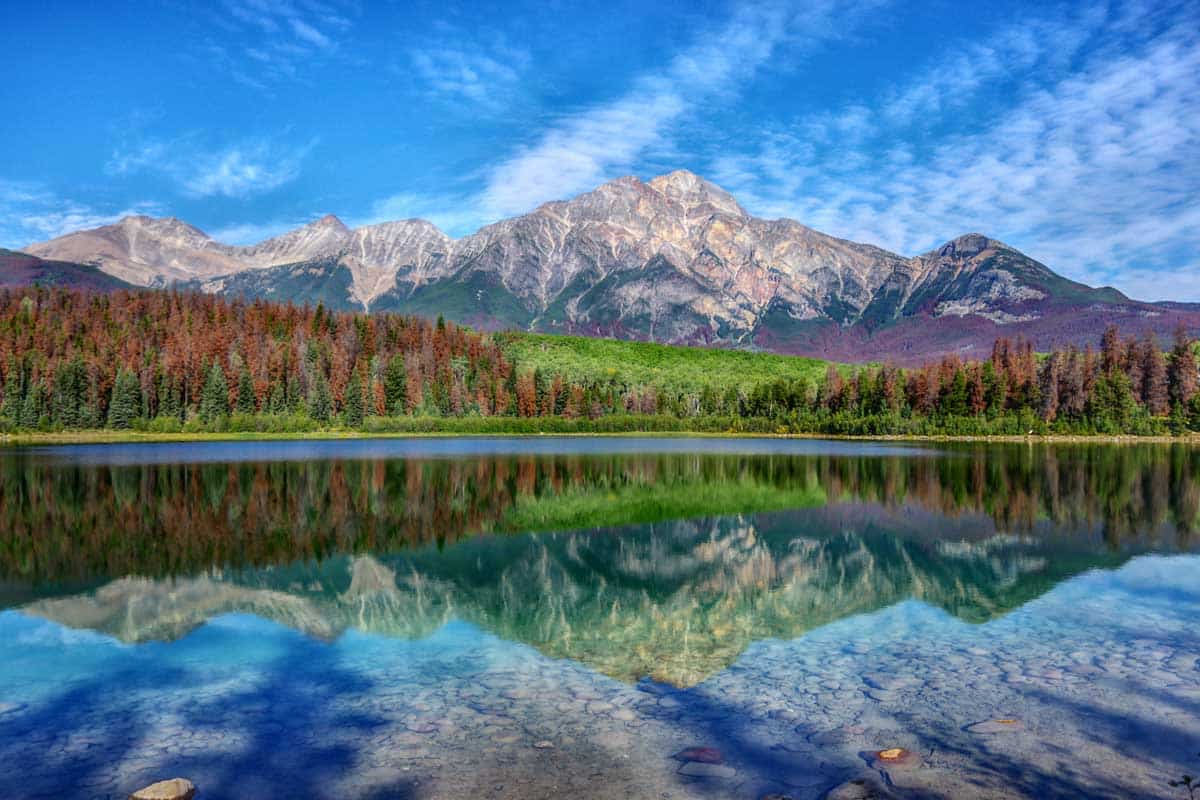 Pyramid Mountain: Pyramid Mountain is one of the most iconic peaks in all of Jasper, and with some planning, you can actually hike to its summit! This long full-day/multi-day hike is perfect for experienced hikers who want to bag a summit in Jasper without too much technical stuff. There is a bit of scrambling involved to the top, but it's interspersed with walking trails and rest opportunities. While there are people who have completed this ~20 mile hike in one day, if you're going completely by foot, we'd recommend going a bit more slowly and spreading the trail out over the course of 2 days.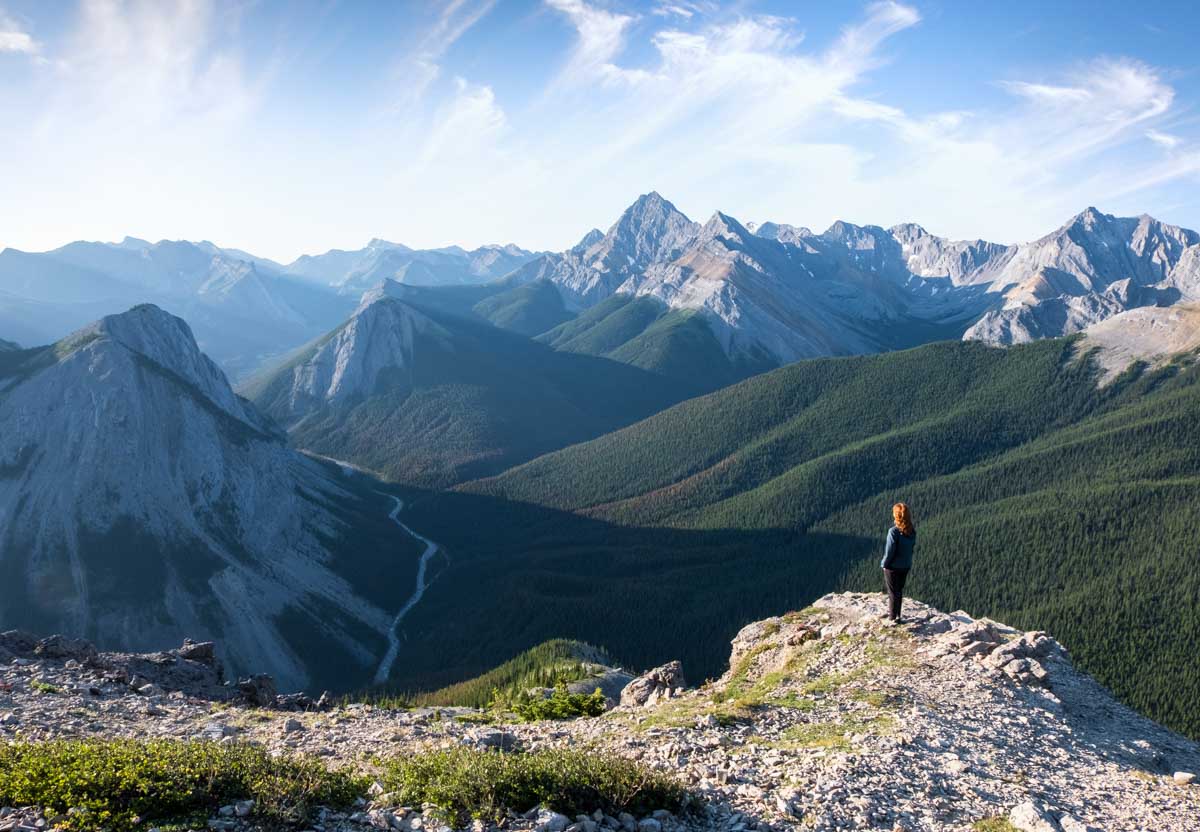 Skyline Trail: The Skyline Trail is known as one of the most amazing backcountry trails in all of the Canadian Rockies. Here, you can get some of the most marvelous views of the Canadian Rockies, while also catching a glimpse at the power and beauty of raw, wild nature here. Spanning nearly 50 kilometers through some amazing mountain passes, adventurous hikers typically complete this trek in 3-4 days (but sometimes less).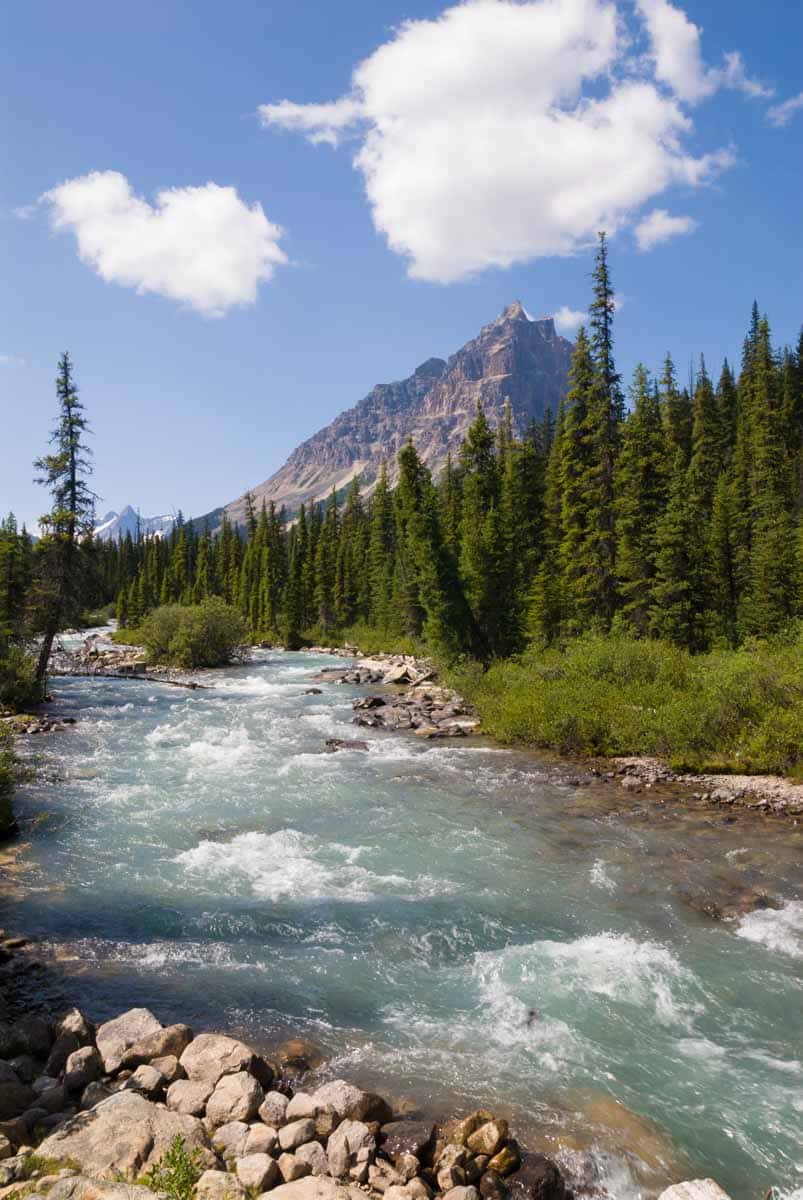 Tonquin Valley: A trail that passes by several beautiful lakes, forests, and viewpoints, the Tonquin Valley trail is arguably one of the best hikes in the Canadian Rockies. (Side note: This is the #1 backcountry hike on my list for my next trip to Jasper – it seems like an absolutely epic way to spend a few days in the park!) On this multi-day hike, you'll weave through the Tonquin Valley, stopping and camping in the midst of some of the most advantageous places in the entire park for photography and sunrises.
Ride A Bike Around Jasper's Cycling Paths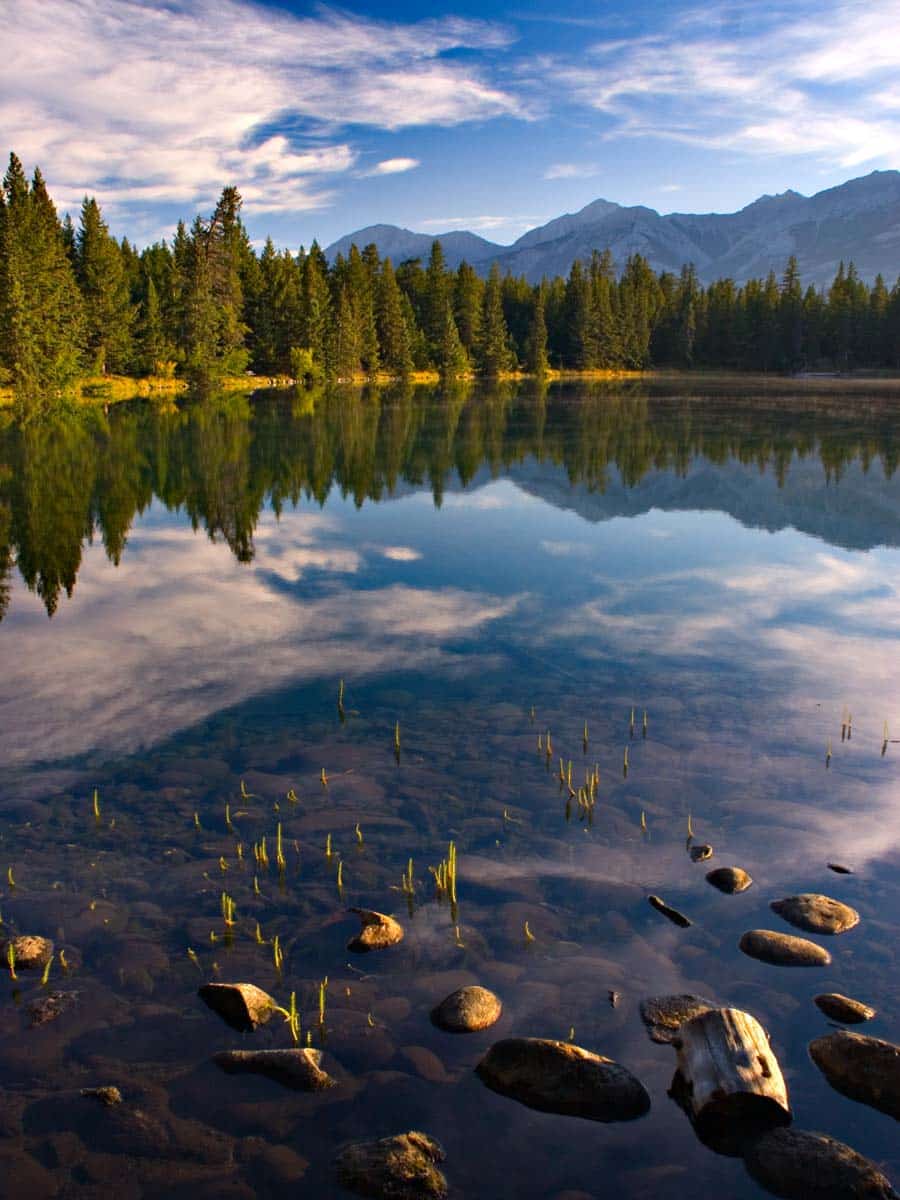 Time of Year: Spring, summer, and fall
Experience Needed: None
Approximate Cost: Mountain bike rental costs $32-60 per day
Visitors who prefer to explore Jasper on two wheels can opt for a mountain biking adventure around the many bike-friendly trails. While not all trails are bike-accessible, there are several that are, many of which are suitable for bikers of all levels. Official bike trails in Jasper are marked with a bright yellow diamond-shaped sign.
If you don't have a bike with you, don't fret! You can rent a bike in Jasper's town center – there are places that specialize in renting bikes, skis, and snowboards for all of your outdoor adventure needs in Jasper, and their prices are fairly reasonable given their high-quality gear and servicing.
Some of the most awesome mountain biking trails in Jasper include:
Lake Edith Shoreline Loop
Moberly Homestead
Trail 7 through Jasper Park Lodge Loop
Cabin Lake Fire Road Loop
Go Kayaking, Rafting, or Paddleboarding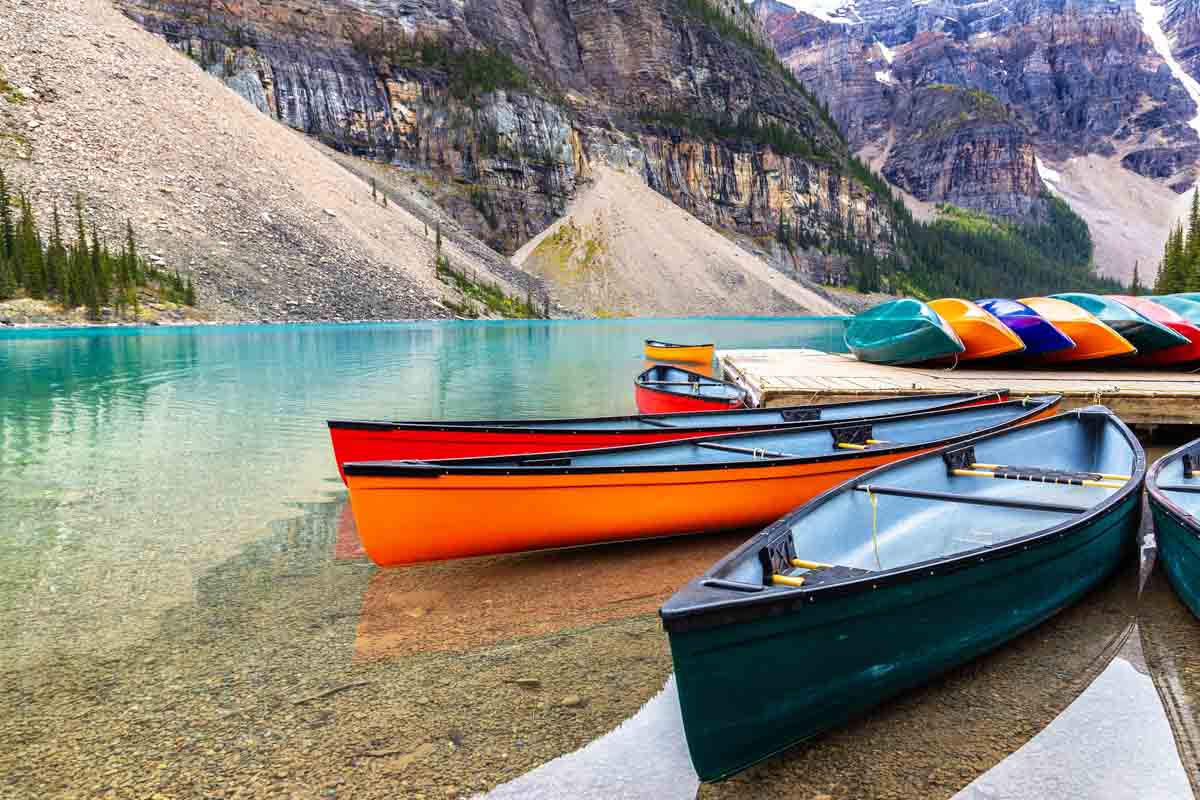 Time of Year: Spring, summer, and fall
Experience Needed: Some kayaking/paddleboarding experience recommended
Approximate Cost: Kayak/paddelboard rental costs, ~$60+ CAD per day
Jasper's waterways are some of the most spectacular sights in the park, and are best experienced from the water. If you're experienced with water sports, you can rent your own kayak in Jasper and hit the water on your own, taking a day trip on the rivers and lakes or even opting for a multi-day kayaking and camping trip.
Maligne Lake is one of my favorite lakes in the park, and is a perfect place to go kayaking for the day. The waters are fairly still, the scenery is beautiful, and it's centrally located.
For people who want a bit more of a guided experience, there are tons of rafting tours available in Jasper. There are easy excursions that take you to class 2 rapids, moderate rafting adventures on the Sunwapta River, and challenging, day-long rafting trips throughout even more of the park.
You can also book a guided canoeing excursion at Pyramid Lake, which looks like a really beautiful and peaceful way to spend half a day in Jasper.
Ride the Jasper Skytram to Whistlers Mountain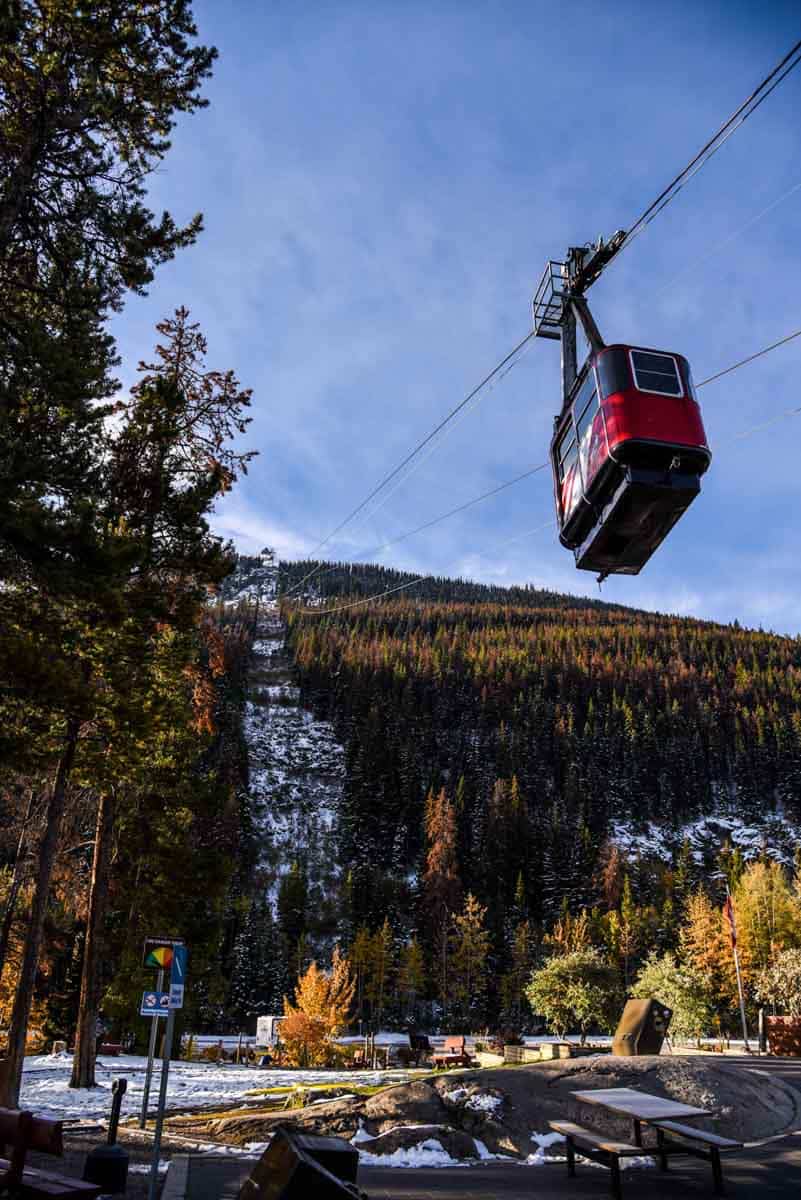 Time of Year: Late March to late October
Experience Needed: None
Approximate Cost: $49.30 CAD per adult (discount for children)
Take a break from adventuring and head to one of the Jasper attractions with the best views EVER – the Jasper SkyTram! The SkyTram is a scenic cable car ride that brings visitors up to a panoramic platform on Whistlers Mountain. Perfect for families, non-hikers, and photographers, the SkyTram takes just a few minutes to arrive at its astounding platform.
The best part? There is a restaurant available at the top where you can enjoy a snack or meal with a view.
At the top, there are a few different areas you can walk around to see different views and perspectives. You can also continue up to the top of the mountain by foot!
Head up to the summit of Whistlers Mountain for even more spectacular views. The hike takes less than one hour each way from the SkyTram platform.
Book Your SkyTram Tickets Here
Eat or Drink Something Delicious in Jasper Town
Time of Year: Year-round
Experience Needed: None
Approximate Cost: Depends on the restaurant
If you've been hiking, biking, paddling, or camping, you've probably worked up an appetite! You know, I'm kind of working up an appetite just thinking about it…
Anyway, if you feel your tummy grumbling and you're in Jasper National Park, there's no shortage of amazing places to grab a snack, eat a meal, or sip on a delicious drink. As far as Jasper attractions go, there's nothing more delicious (or important) than eating, right?
While there are tons of places you can choose from in Jasper, here are a few of our favorites:
Casual Dining in Jasper
Coco's Cafe: Coco's Cafe is THE cozy coffeeshop of Jasper, perfect for those days when you just want to sit somewhere warm and read a book. Not only do they have a delicious variety of coffee products and snacks, but they also have their signature "Jasper Haze," which you definitely can't leave Jasper without trying!
Famoso Neapolitan Pizzeria: For a casual and delicious pizza, you have to head to Famoso Neapolitan Pizzeria. The pizzas are hot, full of toppings, and definitely won't last long once they've arrived at your table. Plus, there are good vegetarian options too!
Jasper Brewing Company: Raise your hand if you love a good beer after a long hike! (*Slowly raises hand*) Well, you're in luck, because the amazing Jasper Brewing Company is the perfect hangout spot for tired hikers and luxury lodge-goers alike! Here, you can find a variety of locally-brewed craft beers (the 6060 Stour looks AMAZING) and some local dishes. There's indoor and outdoor seating and tons of good cheer.
Fine Dining in Jasper
Evil Dave's Bar & Grill: If you're looking for more of a dine-in experience, Evil Dave's Bar & Grill is a local favorite. With eclectic decor and delicious, full dishes, it's a really awesome choice for a post-hike dinner or a date night in Jasper.
Maligne Canyon Wildnerness Kitchen: True foodies will love the dining experience at Maligne Canyon Wilderness Kitchen. They specialize in smoked meats like ribs and chicken and local veggie sides, all served up in a very homemade, delicious way. I haven't been here yet, but I'm dying to go the next time I'm in Jasper.
Or, for the extreme foodies out there, you can even take a Jasper food tour to explore the culinary delights of this tiny mountain town.
Wander through Jasper Town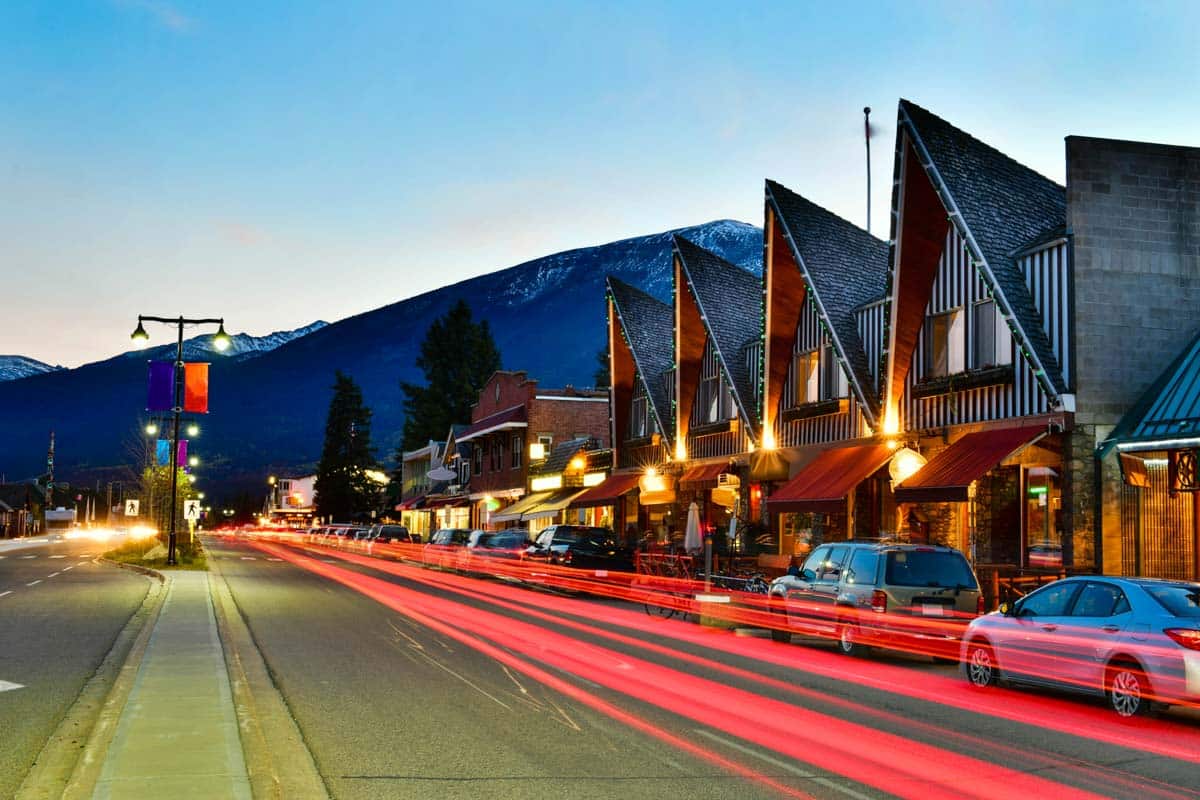 Time of Year: Year-round
Experience Needed: None
Approximate Cost: Free
While most people flock to Jasper for its incredible outdoor and adventure activities, there is a small town center you can relax in and explore. Here, you can see some of the main Jasper attractions and learn about its history, culture, and community.
Jasper's most famous building is the Old Train Station. Built in 1925, it stands today as a memory of Jasper's railroad days. It's a beautiful, historic building that's definitely worth visiting if you're in the area.
You can also learn more about Jasper's history at the Jasper-Yellowhead Museum, which is located in the center of Jasper's town. The museum discusses how Jasper's community began, and provides important historical context to the area that's now largely known for its natural beauty and adventure activities.
Head to Jasper's strangest institution, Coin Clean Laundry, which is a laundry shop, a local art gallery, and a coffee shop all in one! Because, you know, there's something about clean clothes that really makes me crave art…and coffee…
You can also see the Jasper Planetarium exhibit, built in honor of its Dark Sky Preserve designation. It's located in the lobby of the Marmot Lodge.
Soak in the Hot Springs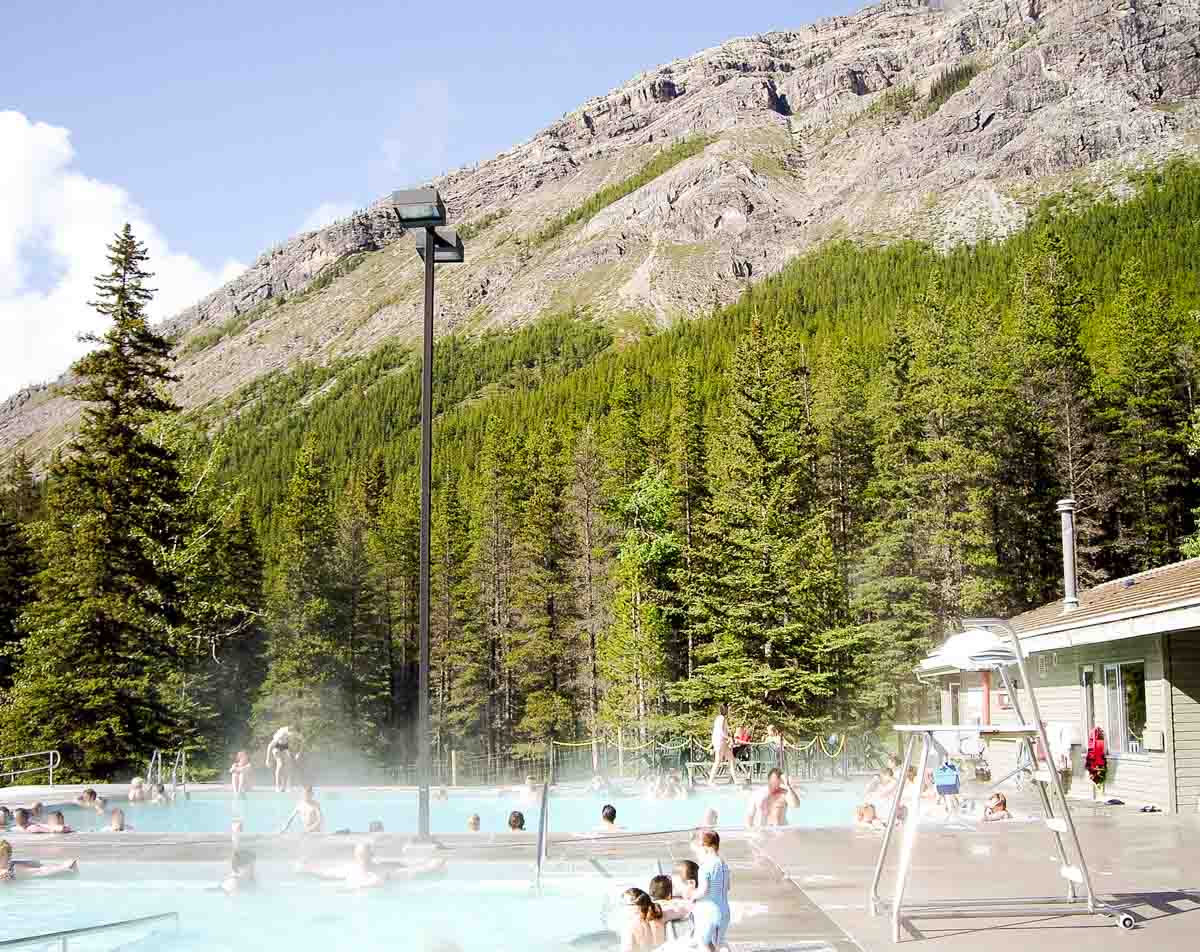 Time of Year: Year-round
Experience Needed: None
Approximate Cost: $7.05 to $9.55 per adult, depending on how long you want to stay
After a long day of hiking or backpacking, head to the relaxing Miette Hot Springs. This hot springs pool is the perfect place in Jasper to get some much needed R&R. With water at ~40 degrees C (104 degrees F), it's a hot but relaxing temperature, especially when the weather is still a bit chilly.
Literally, sitting in these hot springs after a tough, uphill Jasper hike is like heaven. You should definitely try out the hot springs after a day of visiting the many Jasper attractions.
If you don't have swimming gear or a towel, don't worry! When you enter Miette Hot Springs, you can rent both for just a few dollars ($1.90 CAD each for a towel and a swimsuit). If renting a swimsuit freaks you out (I totally understand), you can also buy one at Lole Atelier in Jasper town.
For hiking lovers, Miette Hot Springs is actually right at the trailhead for the popular Sulphur Skyline hike. It makes a fabulous pair with this half-day (7.9 kilometers), moderately-difficult hike
Explore Jasper on Horseback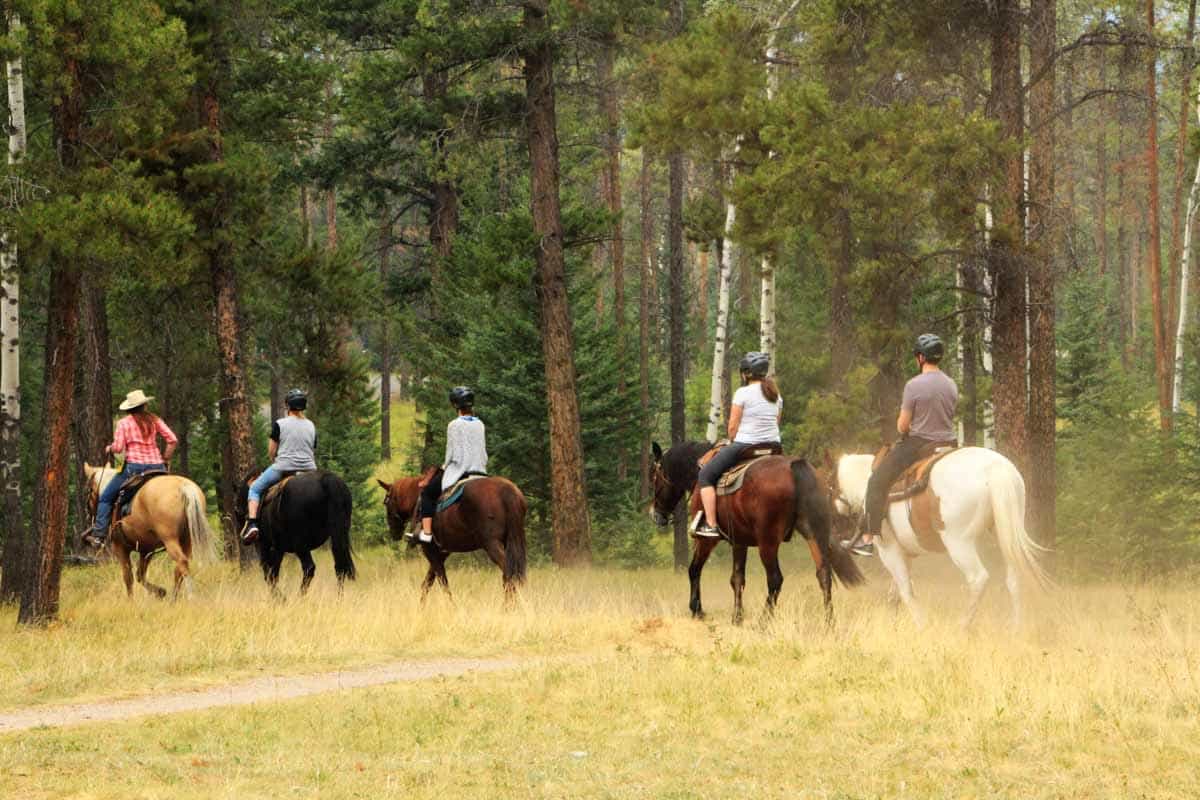 Time of Year: Spring, summer, and fall
Experience Needed: None
Approximate Cost: $50 to $110+ CAD for a guided ride, ranging from 1 hour to 3 hours
I love exploring beautiful places on horseback. There's really nothing like the feeling of being whisked through a forest or a mountainside, the breeze lapping your face. Horses are some of the most beautiful and empathetic animals in the world, and I love spending as much time with them as I can.
In addition to hiking and biking trails, there are tons of trails in Jasper that are horse-friendly, too! For those of you who love riding horses (or who want to give it a try – it's fun, I promise!), Jasper is an amazing place to go for a ride.
There are a few local stables in Jasper, but Jasper Stables seems to be one that lots of travelers recommend and love. Their tours are suitable for beginners, and they have a few different options for which trails that you can ride. All of their rides are guided and come with a well-trained horse, saddle, and helmet.
Fly Down the Ski Slopes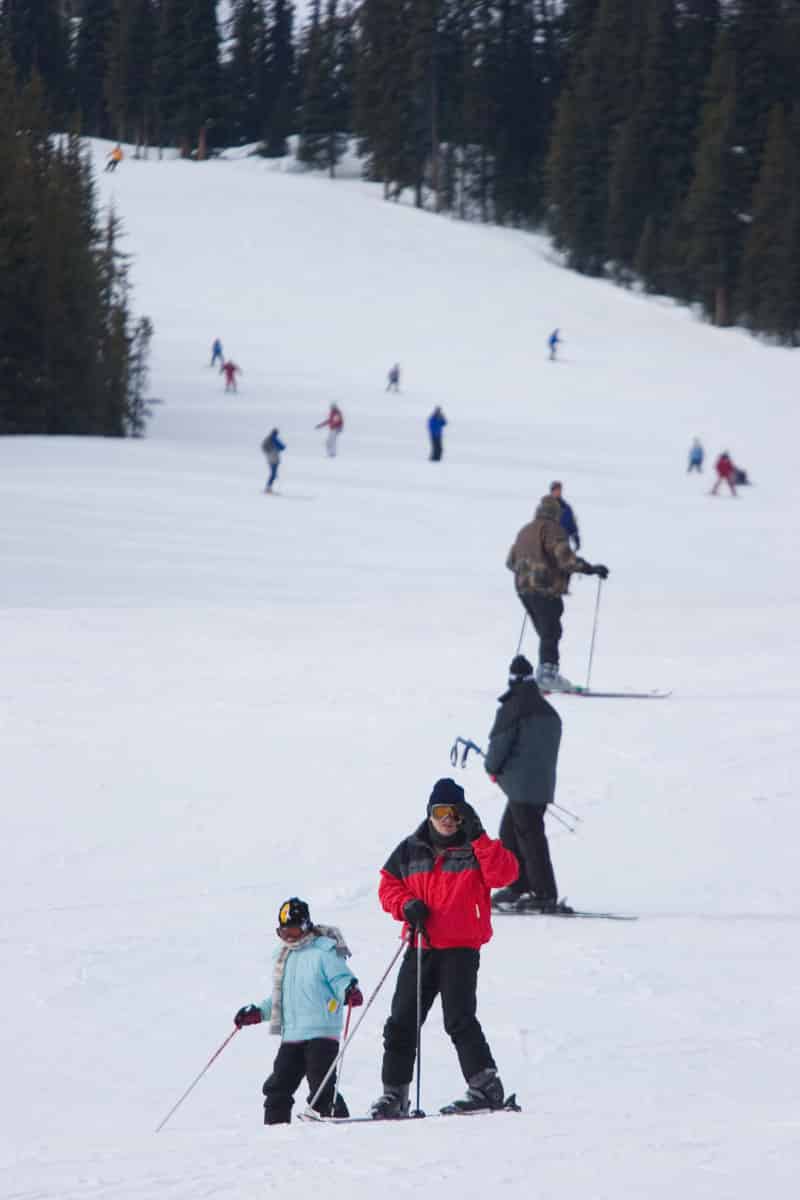 Time of Year: Winter, spring
Experience Needed: Some slopes are suitable for all levels, while others are only for experienced skiers. Please check with the ski resort for more information.
Approximate Cost: ~$102 CAD for a day pass, plus gear rental
For avid skiers (and wannabe skiers like me), Marmot Basin in Jasper is an awesome place to fly down the slopes and experience the best winter powder in the area.
If you've never skied before, Marmot Basin also offers a special package that comes with a day pass, a ski lesson, and all gear rentals. It's called their "Discover Package" and it's an awesome way to learn how to ski if you never have before. Depending on how long you want to ski after your lesson, the package coasts anywhere from $120 to $199 CAD.
For more experienced skiers, the mountain has dozens of trails that you can go down, ranging in difficulty from easy green slopes to double black diamonds. Stay for a day or a week – you definitely won't run out of trails to ski or snowboard.
Go Ice Climbing or Ice Walking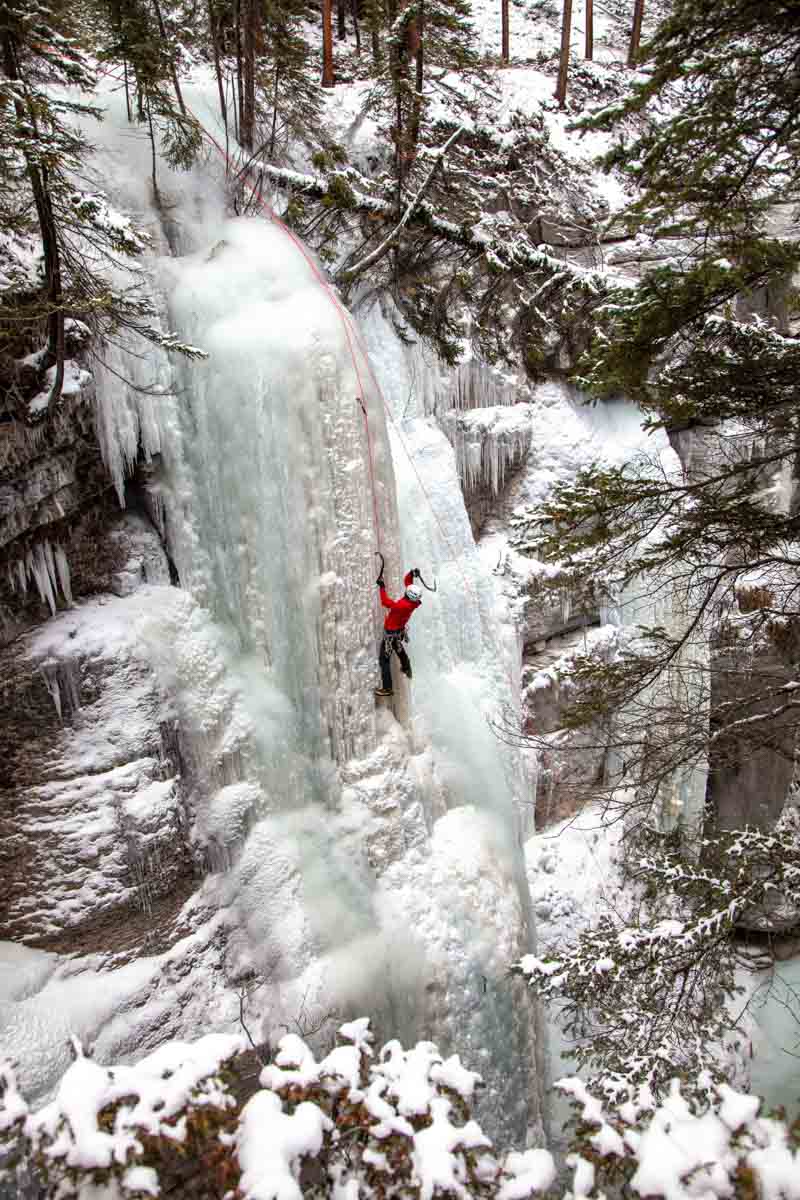 Time of Year: Winter and early spring
Experience Needed: While many ice climbing or trekking tours are suitable for all experience levels, some experience may be required for certain tours. Inquire with your tour operator.
Approximate Cost: $56+ CAD, depending on length of tour
During the colder months of the year, Jasper turns into an icy wonderland as the waterfalls and springs freeze into giant, solid icicles. In these months, visitors can try some of the coolest and most epic adventure tours in the park: ice climbing and ice walking.
Ice climbing is a really popular activity in Jasper in the winter. For people who want to give it a try, I'd highly recommend going with a guided tour that can teach you the safest and most effective climbing techniques. This 6-hour Maligne Canyon ice climbing tour takes you to some of the coolest ice climbing routes in the park.
In addition to the guide, the ice climbing tour also provides all of the necessary equipment (because, ya know, I definitely don't own an ice ax) and transportation to the climbing area.
For a slightly less intense winter sport, try ice walking, which is basically hiking with crampons over ice-covered trails and creeks. Again, you could try to do this yourself by renting or bringing your own over-the-boot crampons.
However, we strongly recommend booking a guided tour if you've never done an ice walk before. This 3-hour guided ice walk in Maligne Canyon takes you around this popular hiking trail in the frozen winter, giving you awesome close-up views of frozen waterfalls and rivers.
Watch the Sunrise at Pyramid & Patricia Lakes
Time of Year: Year-round
Experience Needed: None
Approximate Cost: Free
If you ask me, there are few things more breathtaking than watching the sunrise in the Canadian Rockies. With the sun low in the sky, you can watch the bright red alpenglow paint the mountains red and orange.
On particularly still mornings, the lakes become totally still, causing a mirror-like effect, the mountains reflecting on the water
Yup, sunrise in Jasper is pretty breathtaking.
My favorite place in the park to watch sunrise is at Pyramid & Patricia Lakes. Pyramid Lake sits right in front of the beautiful Pyramid Mountain, making for some pretty incredible sunrise views. You can also pair sunrise at Pyramid Lake with a morning canoeing trip, which looks pretty incredible.
However, Patricia Lake's water is (in general) a lot more still than Pyramid Mountain's, which causes that really gorgeous mirror lake effect.
Sunset at Pyramid & Patricia Lakes is cool, too, but it's a lot more crowded, especially in the summer.
Take an Epic Heli-Hiking Trip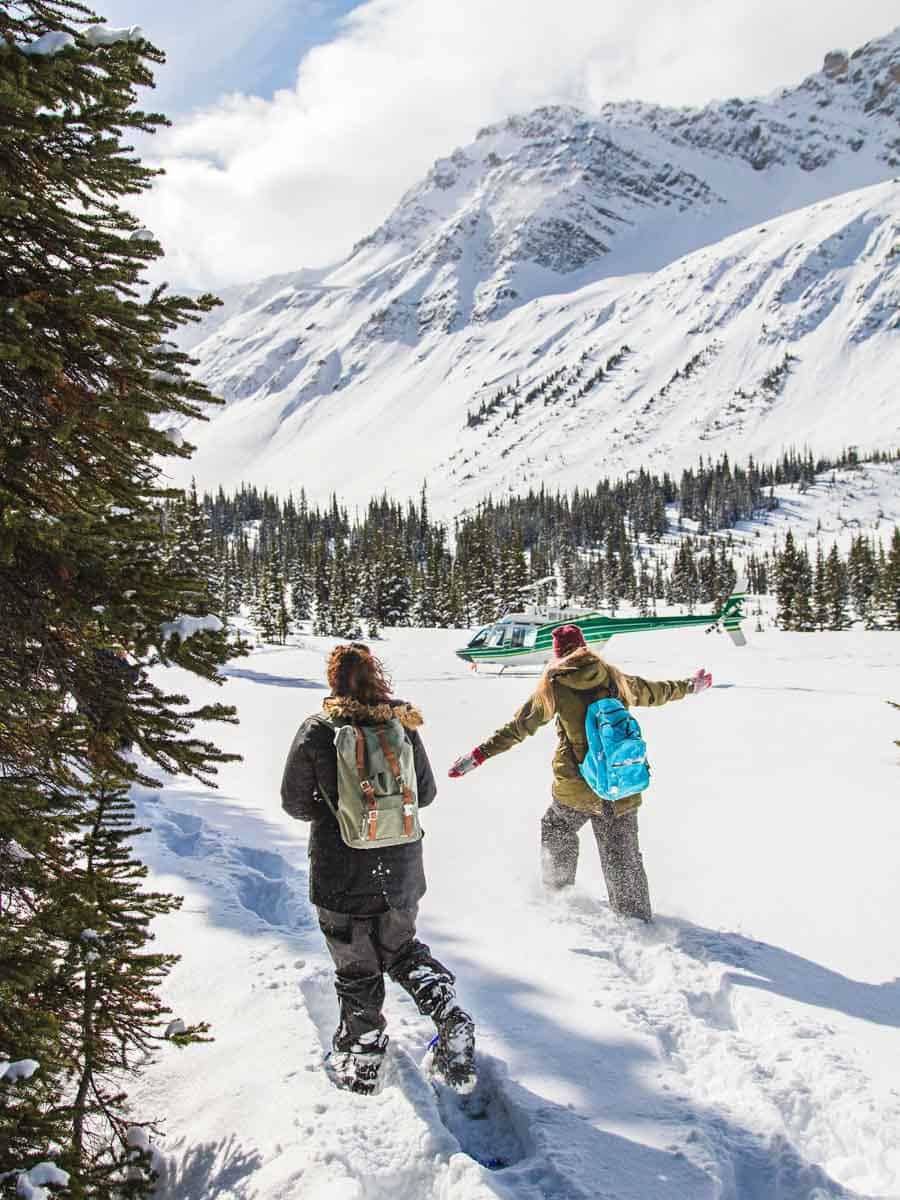 Time of Year: Summer
Experience Needed: None
Approximate Cost: $650+ CAD per person
Okay, I'll admit it: I put this one on here simply because it's really high on my bucket list, and I'm hoping one day I can actually afford to try it. (*Sobs into my empty piggy bank*)
Basically, heli-hiking is a "bucket list" type experience where you take a scenic helicopter to a remote mountain area with incredible, unreachable views. Then, you can hike around the area, taking photos and enjoying your solitude until you return to the city via helicopter again.
Jasper is one of the few places in the world that offers this kind of epic adventure. If you're interested in doing this super epic and amazing adventure during your trip to Jasper, you can book your heli-hiking experience here.
Doesn't that sound like a hiking experience for the books? It's incredible, but it comes with a hefty price tag. I'll be saving my money for the day when I can actually do this, but a girl can dream, can't she?!\
Book Your Heli-Hiking Experience
Take a Road Trip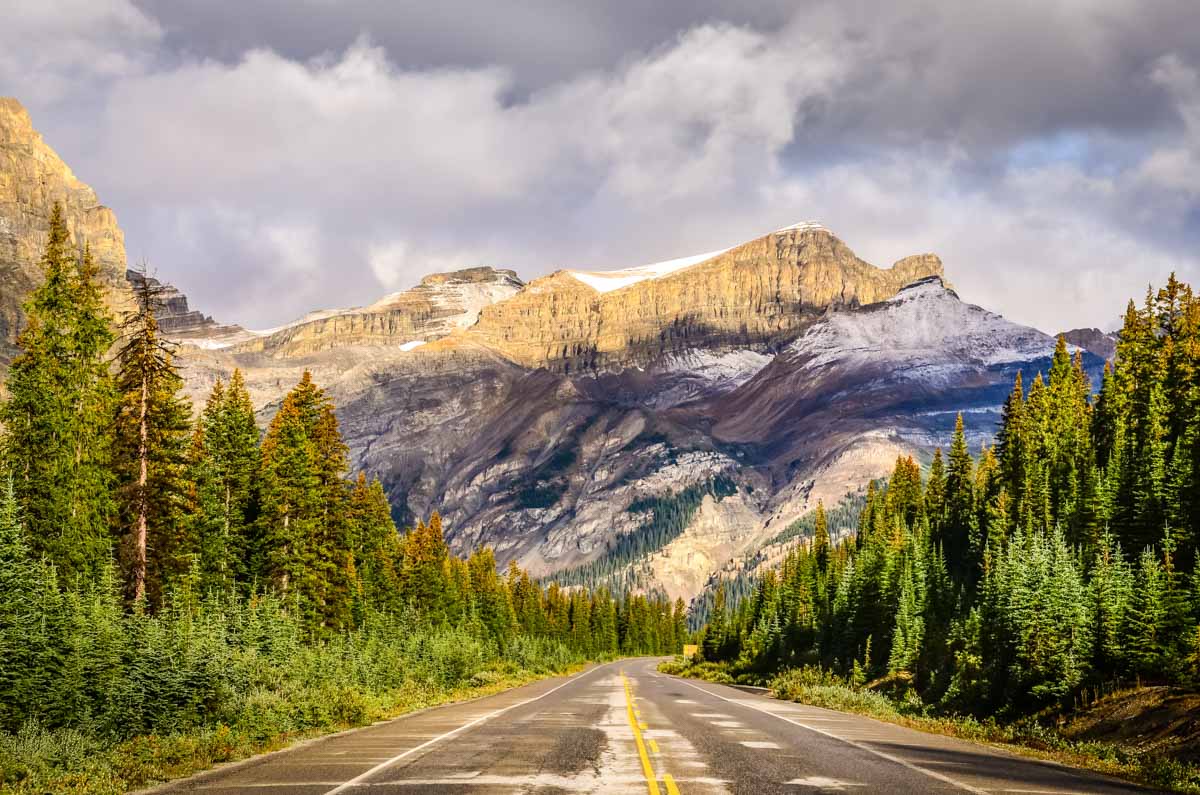 Time of Year: Year-round
Experience Needed: None, but please know how to drive!
Approximate Cost: Car rental + gas (varies, but in my experience, $50-80 CAD per day)
You probably drove quite a bit to get to Jasper, but it's worth taking some time to drive into the park's surroundings. There are some beautiful, stunning places to explore within an hour of the park.
While driving is definitely easiest in the summer, it's possible to drive around Jasper's highways and roads year-round. Be sure to check the latest conditions and road closures on Parks Canada's website before making any concrete plans.
Here are a two places we'd strongly recommend for a day trip from Jasper:
The Icefields Parkway
William A. Switzer Provincial Park
Watch the Night Sky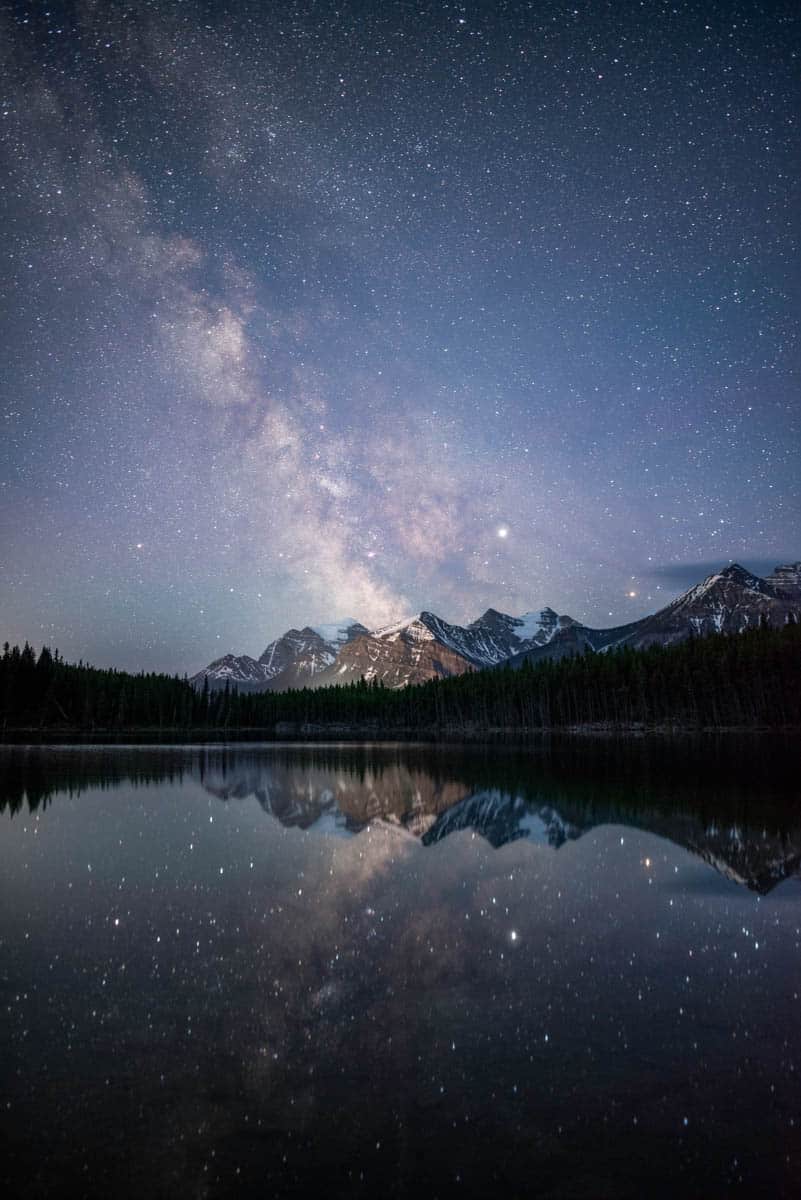 Time of Year: Year-round on clear nights
Experience Needed: None
Approximate Cost: Free
As a Dark Sky Preserve, Jasper has a ton of activities going on day and night. While you might be tempted to get to bed early, be sure to head out and stargaze on at least one clear night of your trip. You won't be disappointed!
In addition to seeing amazing constellations and clear views of the Milky Way, you also have the opportunity to view the northern lights in Jasper during the winter.
If you're planning to go out at night to stargaze, here are a few wonderful places to catch lots of night sky:
Pyramid Lake: Visiting Pyramid Lake at night will give you stunning, open skies near Jasper town. You'll have this wide lake to yourself with Pyramid Mountain looming in the background.
Patricia Lake: Patricia Lake's water is a bit more still, and here you'll have wide, treeless expanses of sky with mountains in the far distance.
Medicine Lake: Perhaps the most scenic place to view the night sky, Medicine Lake is a bit of a drive outside of Jasper. However, the amazing expanses of unobstructed sky and snow-capped mountains in the background make this place a perfect stargazing choice.
Tonquin Valley: This backcountry trail isn't just good for epic sunrises and daytime views; it's also an incredibly beautiful place for stargazing. Pitch your tent at one of the backcountry campsites and get ready to see some of the brightest stars in the park.
Things to do in Jasper National Park: Travel Tips to Know Before You Go
With its location on the Icefields Parkway, Jasper is a perfect getaway from both Edmonton and Calgary. While it's pretty straightforward to actually get there, there are a few things to know before visiting Jasper that will make your trip a lot more enjoyable.
Things to Know Before Traveling in Jasper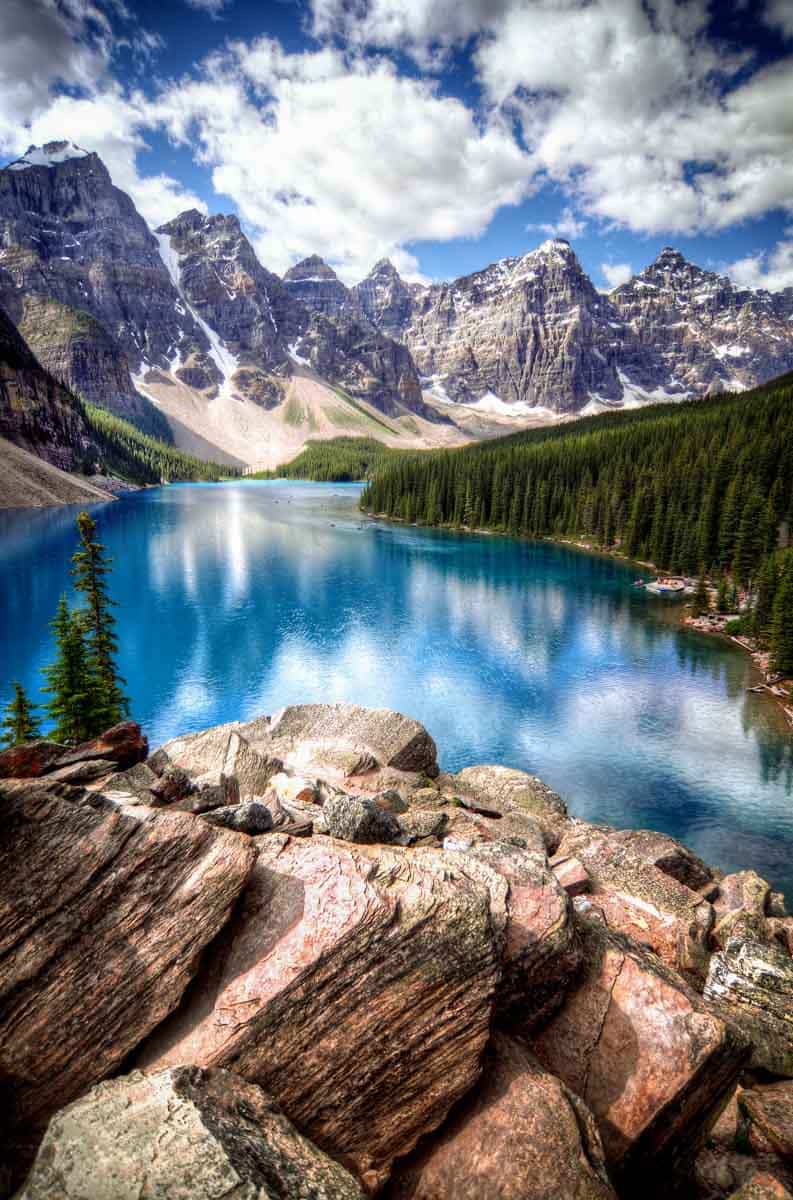 Jasper is a year-round travel destination. This means that, yes, you can visit during any time of year. Summer and fall usually boast the best hiking and camping weather, but also attract the largest crowds. Winter is the least-crowded season in Jasper, but your activities will be limited to snow sports (e.g., skiing, snowboarding, tubing, etc.) and ice activities (like ice climbing and ice trekking, which are pretty cool, IMO). Spring is the shoulder season and the weather can mimic winter or summer, depending on when in the season you visit.
You should probably get travel insurance for your trip. I know, I know. I make the pitch for travel insurance all the time, but it's for a good reason, I promise! Travel insurance has saved my butt when I've needed it the most, including when I had to have emergency surgery in Thailand while traveling solo and when my boyfriend and I got stranded in a freak storm in Patagonia.
There's wildlife EVERYWHERE in Jasper. If you're in Jasper for more than a day or two, chances are you'll stumble upon some kind of wildlife. Jasper is home to tiny chipmunk-like pikas, squirrels, mountain goats, moose, elks, bears, wolves, and more. While the wildlife are fun to find and watch, please DO NOT APPROACH OR FEED ANY WILD ANIMALS. Not only do these actions put people in danger, but they also disrupt the fragile ecosystems of the park. Watch from afar and enjoy their beauty in photos instead.
Abide by "Leave No Trace" rules and protect the park. There's this awesome concept called "leave no trace" that's pretty simple: leave a park or nature area exactly as you found it. This means minimizing and packing out your trash, not leaving marks or blemishes on any trees or rocks, and respecting all wildlife in the area. Sounds simple, right? I always follow these rules when I'm at a national park – it's just common decency and respect for our Earth's beautiful places.
How to Get To & Around Jasper Attractions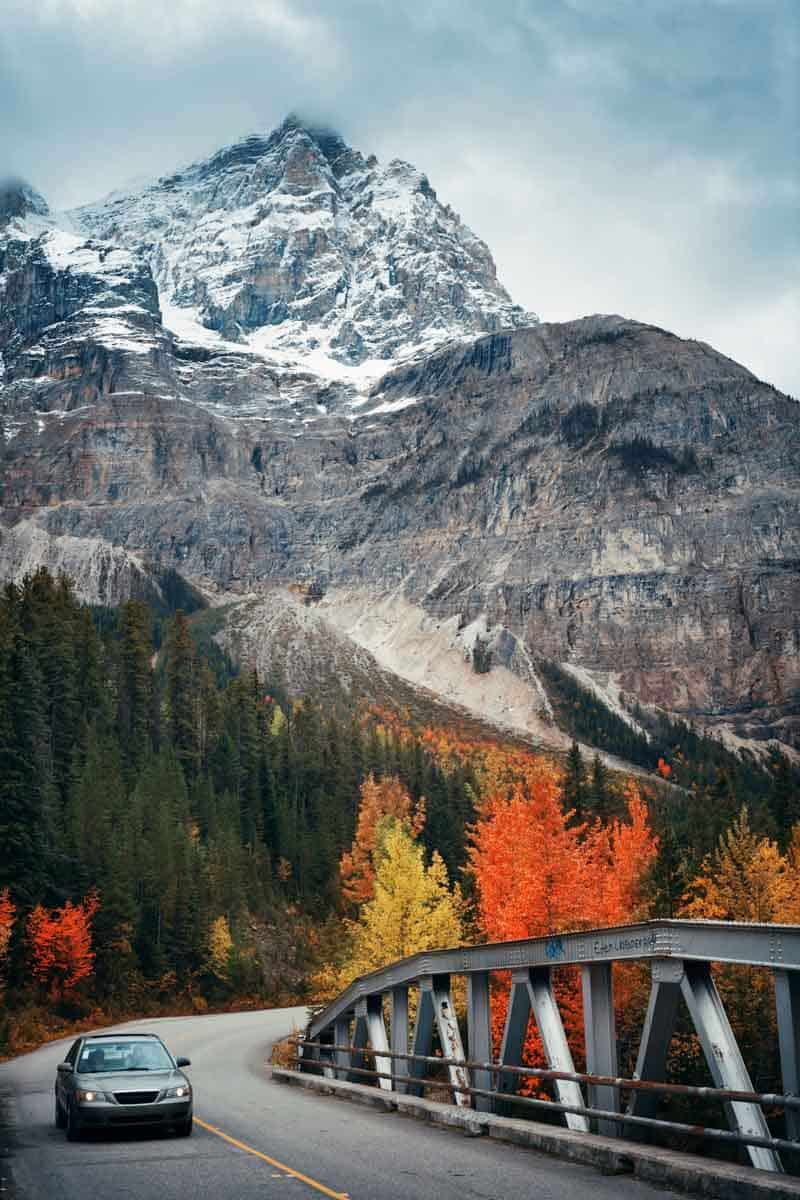 While it's technically possible to get to and around Jasper without a car, it's easiest to rent a car to get around. Renting a car means not needing to rely on bus schedules, and having more flexibility when it comes to hiking or other adventure activities. You can rent a car at the airport in Edmonton or Calgary from Avis, Hertz, or Enterprise.
Before heading out, always check the Parks Canada website for trail & road conditions. Parks Canada has this nifty page that can help you determine what the roads and hiking trail conditions are like in real time. This is super helpful because the weather is ridiculously unpredictable in the Canadian Rockies, and even if it's sunny outside, there may still be road and trail closures or warnings. I'd recommend checking the website every morning before you head out for the day's activities.
Where to Stay in Jasper National Park
While it's not quite as commercialized as its southern neighbor (Banff), Jasper has plenty of lodges, hotels, hostels, and accommodation options for any budget level.
We've got an entire guide on where to stay in Jasper! But, to make things easier for you, below is a summary of a few of the best places to stay in Jasper we'd recommend:
Hotels in Jasper
Alternative/Budget Jasper Accommodations
Jasper Downtown Hostel: Budget travelers looking for a comfortable place to stay in Jasper should definitely check out the Jasper Downtown Hostel. Located in the middle of town, the hostel has easy access to grocery stores and restaurants.
Click here to check reviews and compare prices for Jasper Downtown Hostel.
Camping in Jasper: For outdoor enthusiasts who want to truly immerse themselves in nature while hiking in Jasper, there are plenty of front- and backcountry camping options in Jasper. If you're interested in learning more about camping in Jasper, you can see the various locations, permit requirements, and campsite reservation protocols online on the Parks Canada website
Click here to compare reviews & prices for accommodation in Jasper
---
Did you find this post useful? Don't forget to share it with friends or pin it for later below: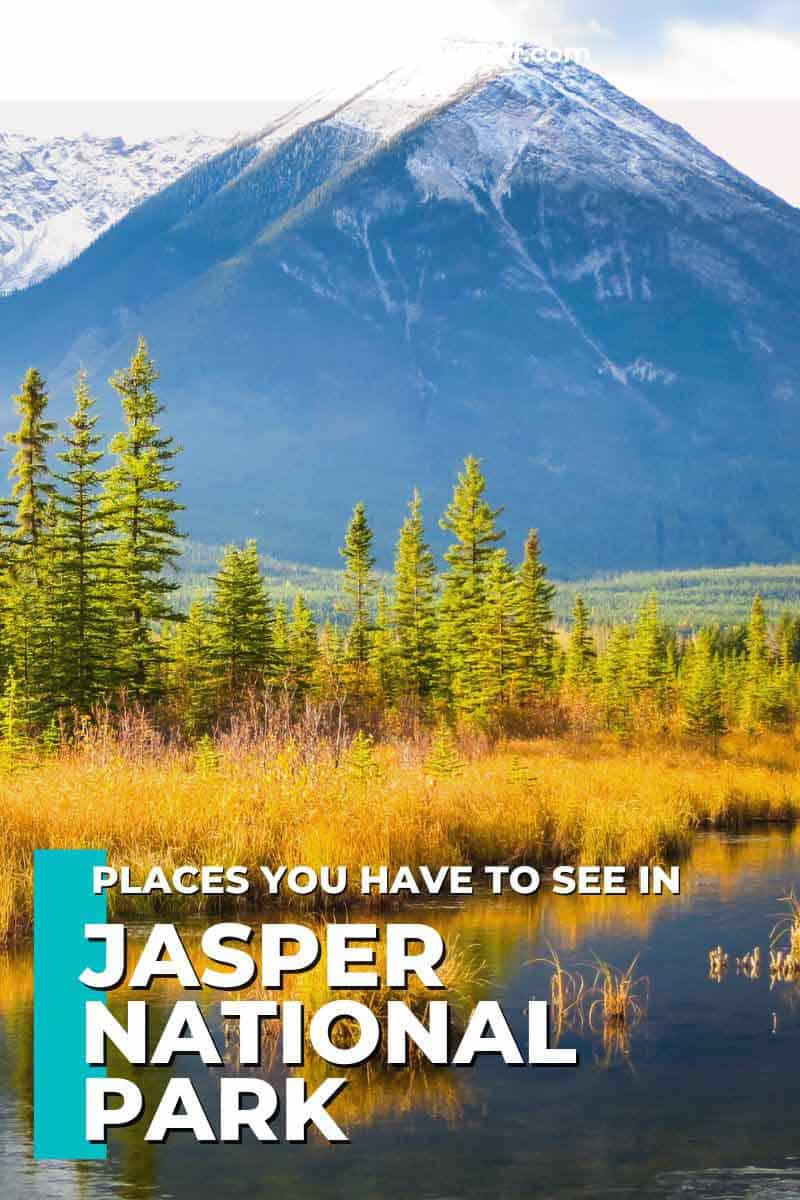 Additional Jasper National Park Trip Planning Resources
Phew, that was a long one! If you made it this far, YOU are the true champion. To reward you for reading all 5,000+ words of this post, here are EVEN MORE posts you can use to plan your trip to the Canadian Rockies. Happy adventuring!
Love This? Save and Share on Pinterest