Discover the beauty of the Canadian Rockies with this in-depth 10-day itinerary.
A few years ago, I spent a blissful 6 months gallivanting around the Canadian Rockies. I was put on a work assignment in nearby Calgary, Canada, and every weekend I'd rent a car and drive out to admire and hike around the majestic peaks and evergreen forests of Canmore, Banff, Jasper, and Waterton Lakes.
And while some of my memories include run-ins with bears or gracefully getting caught in a thunderstorm while hiking above the treeline, the majority of my Canadian Rockies road trip days were pure happiness.
After my travels there, a lot of friends and readers asked me about my travel tips for a Canadian Rockies itinerary. Several readers even went there solely because they'd seen my photos on Instagram.
To be honest, I'm not surprised at all that people see photos of the Canadian Rockies and immediately book a trip.
Yes, it's actually that beautiful.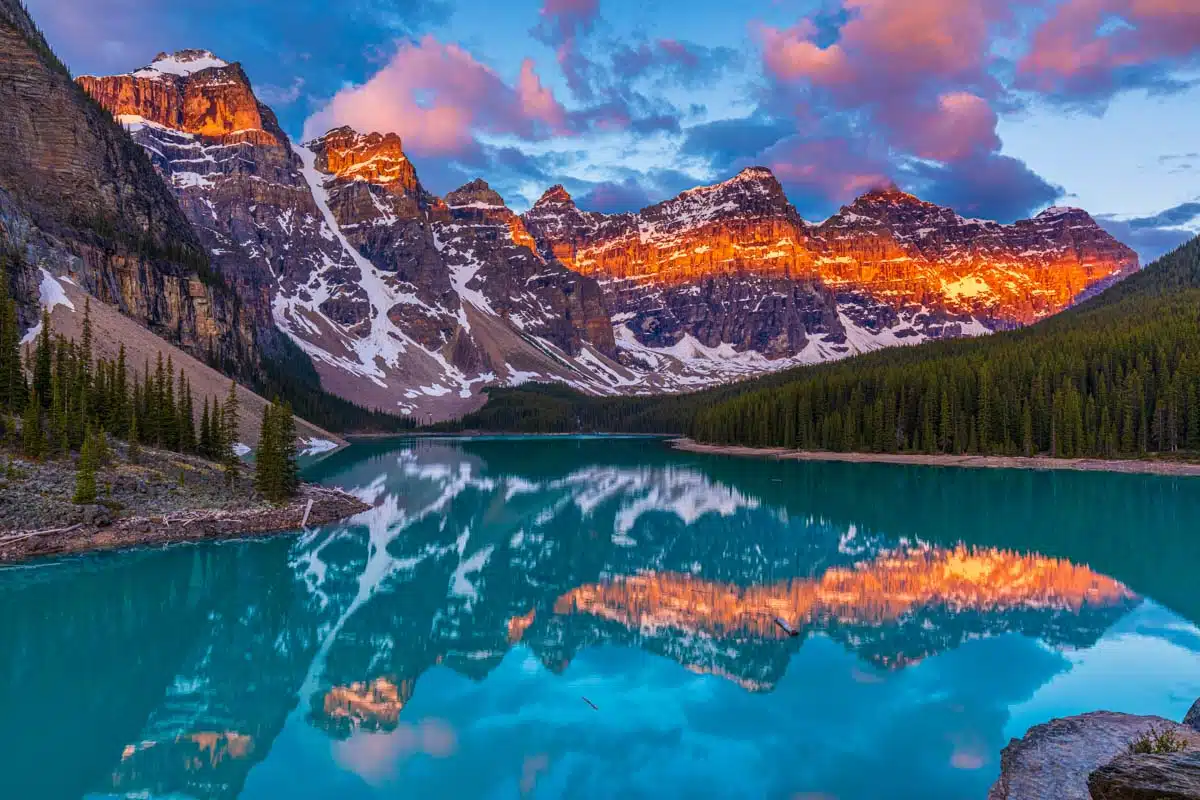 And that's how this Canadian Rockies itinerary was born.
This itinerary is arguably the most spectacular Canada road trip, and it's definitely one of the most naturally striking and totally out-of-this-world-beautiful trips you can take in the entire world.
But don't take my word for it! Read on to learn all of my first-hand tips for planning the ultimate Canadian Rockies road trip.
For your information, this is a SUPER comprehensive guide (read: long and detailed sections to come)! I just wanted to make sure all of our best tips, guides, and resources for the Canadian Rockies were all in one place for you to access easily.
Soooo, grab a glass of your favorite adult beverage, cozy on up, and let's chat by the crackling fireside about how to plan a kickass Canadian Rockies itinerary!
Travel Tips for Planning Your Canadian Rockies Road Trip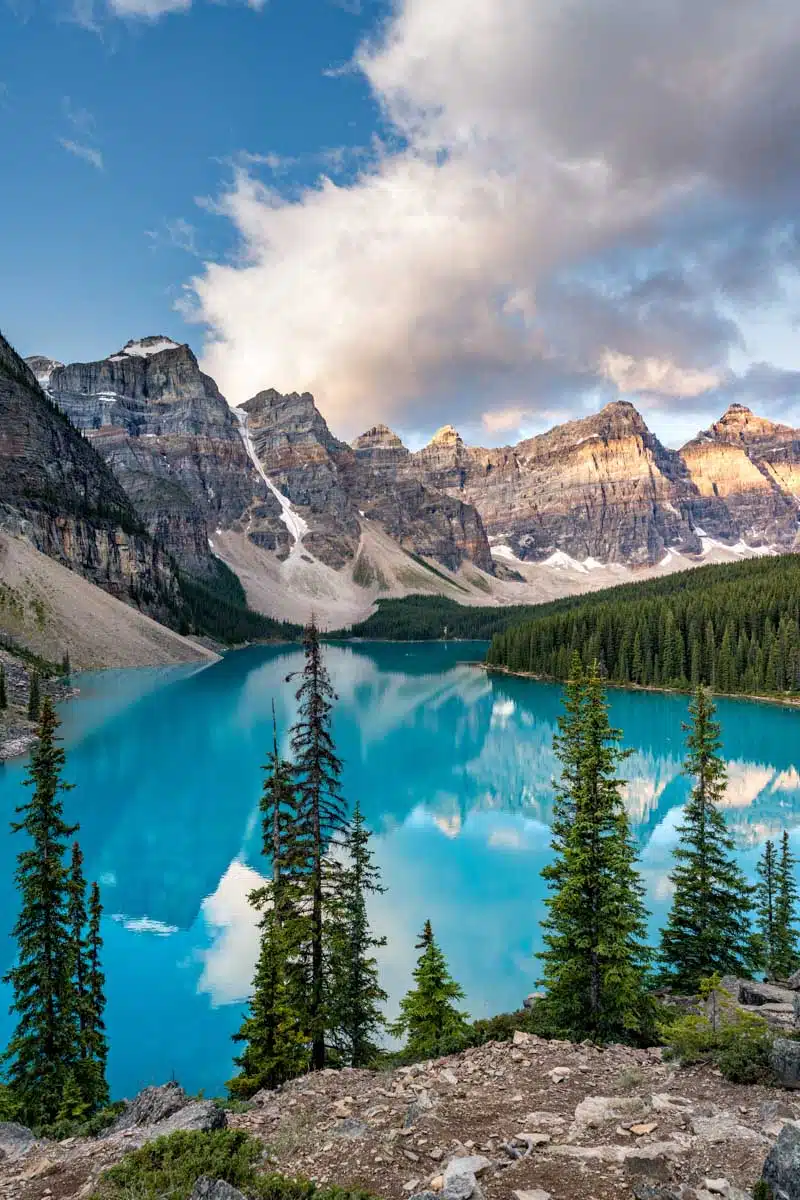 One thing that's really important to keep in mind is that the Canadian Rockies is becoming a more popular travel destination every. single. year.
That's why it's crucial to plan your trip in advance.
If you're planning on visiting the Canadian Rockies in the highest season (June through August), I'd recommend planning your trip and making all of your bookings AT LEAST 2-3 months in advance.
If you're going in the shoulder season (May through early June or September through October), you can plan 1-2 months in advance.
From my own personal experience, here's everything you need to know as you plan your Canadian Rockies road trip:
Important Tips to Know Before Traveling in the Canadian Rockies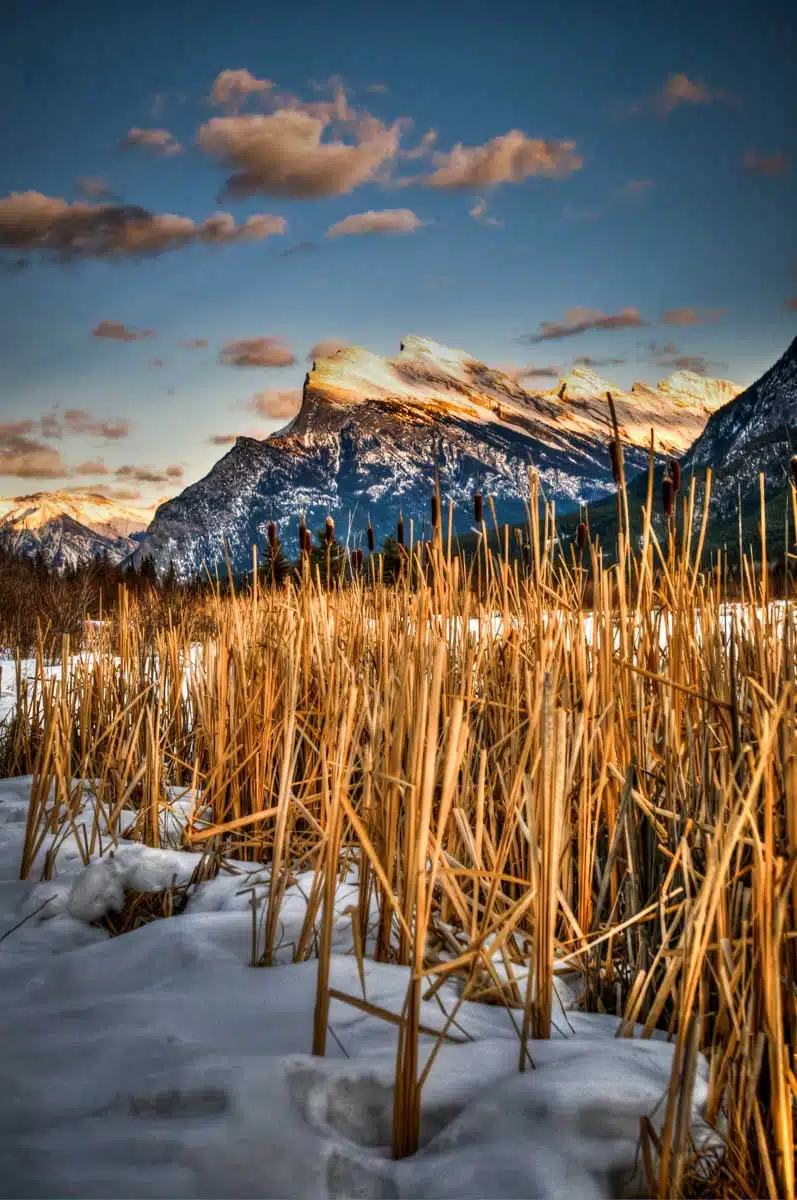 Weather conditions can be very unpredictable. One minute it's blue skies and sunny and the next, it's sleeting. This is normal life in the Canadian Rockies, and it's something you'll have to get used to if you're traveling in from a more temperate climate.
Be sure to bring gear for both cold and warm weather (we've provided our favorite recommendations a little later in this post), and have waterproof shells for when the weather turns sour.
Accommodation books up very, very quickly. When I was planning my most recent trip to the Canadian Rockies, I noticed Banff and Jasper were already booked at over 80% capacity…2 months before my arrival.
As soon as you think you want to go to the Rockies, you should book cancellable accommodation (Booking.com is great for that!) to make sure you can secure something.
There's wildlife everywhere. Talk to any local in the area and they'll tell you wildlife is commonplace here. It's not out of the ordinary to see a bear or an elk grazing on the side of the road.
You can absolutely admire these animals from a distance (and even go on a special tour to see them!). But whatever you do, KEEP A SAFE DISTANCE and DO NOT FEED ANY ANIMALS. This is their home and we need to respect and protect them.
You need to buy a ticket to enter the parks. While Canmore isn't part of this, in order to enter Banff, Jasper, or Yoho, you need to pay the entrance fee. The fees are per person, per day, so depending on the size of your group, you'll either want to pay individually or splurge for a family/group pass. You can see all prices and conditions on the Parks Canada page.
If you want to avoid the crowds, wake up early. This itinerary will be taking you to many different locations, some more popular than others. However, if you're not a morning person, you miiiiight want to become one during this trip, as the early morning is a) the best time to avoid the crowds and b) the best time for photos of the park because of the lighting.
When to Visit the Canadian Rockies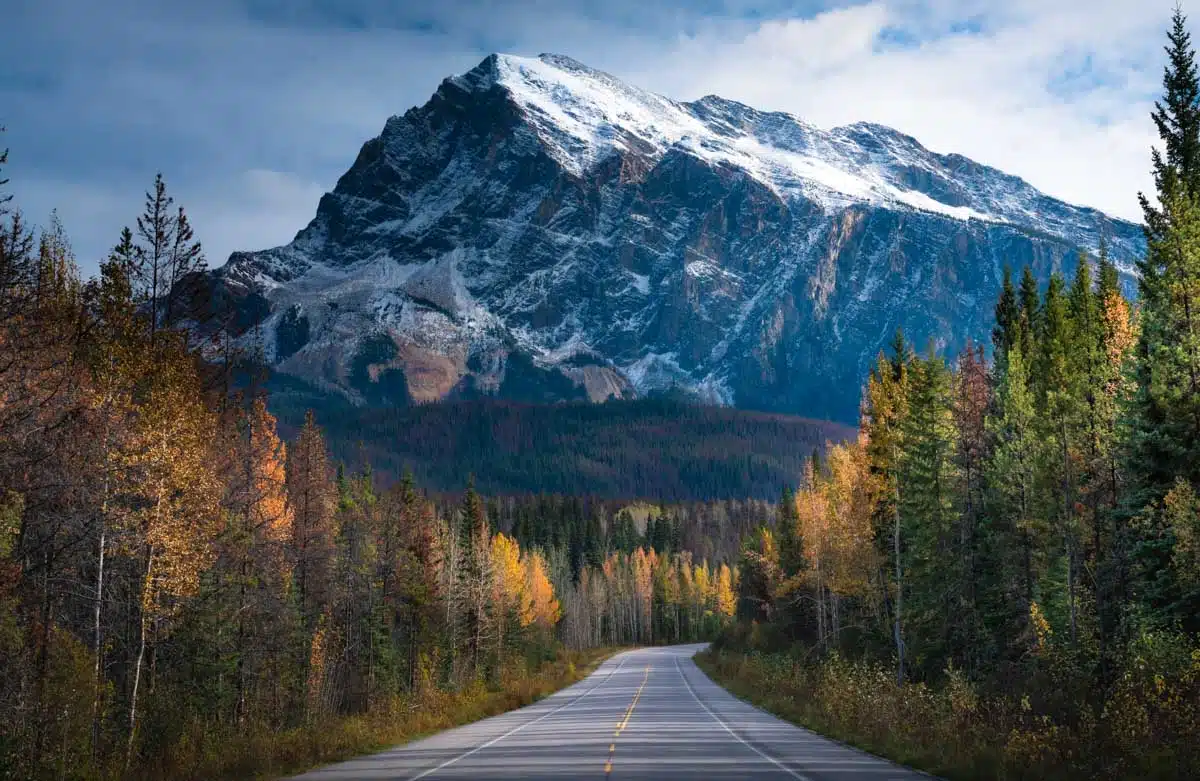 The Canadian Rockies are a year-round travel destination. This means that, yes, you can visit during any month of the year, but what you can do drastically depends on the weather. You'll need to have the right expectations about weather and available activities.
Visiting in Summer or Fall
Summer and fall usually boast the best hiking and camping weather, but also attract the largest crowds.
Typically, all of the hiking trails and summer adventure activities are open and available during this time of year, meaning that the hotels and lodges are often almost completely sold out and there's actually traffic.
If you're planning on visiting the Canadian Rockies during the summer, you'll need to plan a few months in advance to secure accommodations, car rentals, and tours.
Visiting in the Spring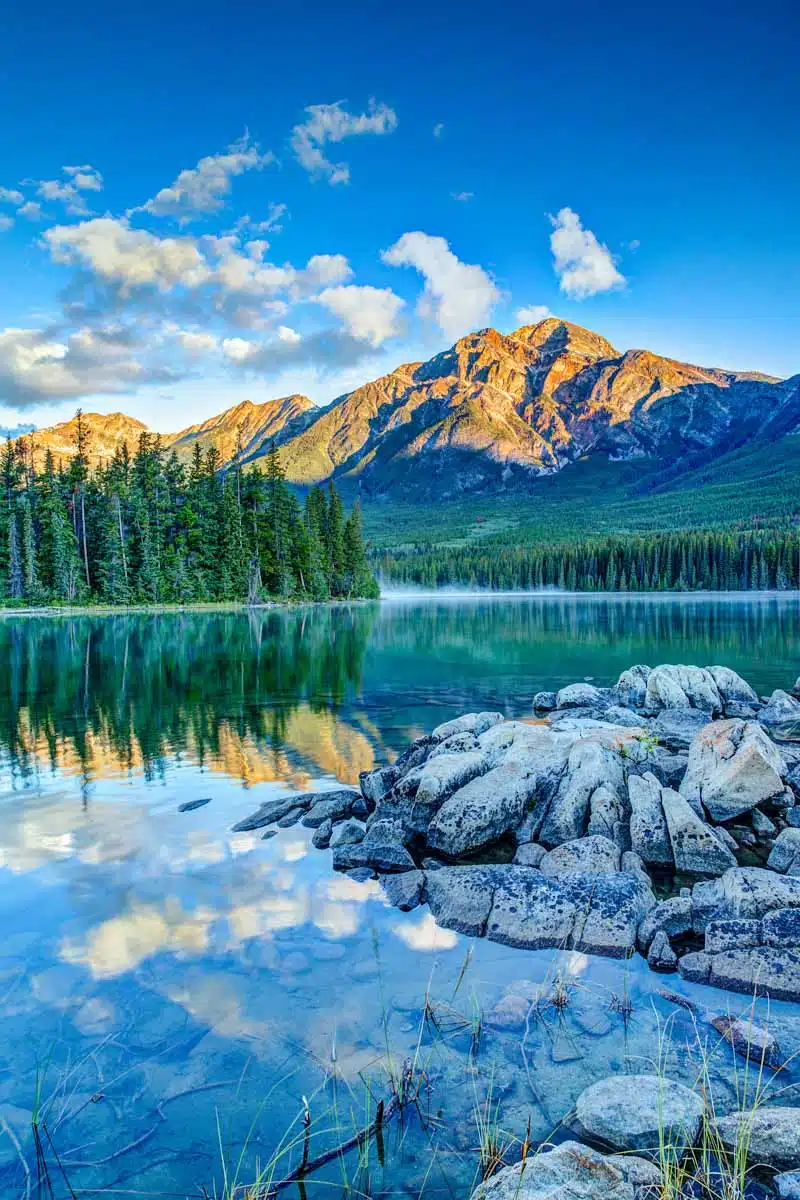 Spring is the shoulder season, especially after the ski slopes begin to melt but the trails are still covered in winter ice. Weather during this time of year can mimic winter or summer, depending on when in the season you visit.
The first time I ever visited the Canadian Rockies, we went in mid-May and, while not all of the hiking trails were open yet, we experienced very few crowds and even had Lake Louise completely to ourselves.
Not a bad trade-off if you'd prefer a more tranquil, quiet experience!
FYI, this Canadian Rockies itinerary is based on a spring, summer, or fall road trip.
Visiting in the Winter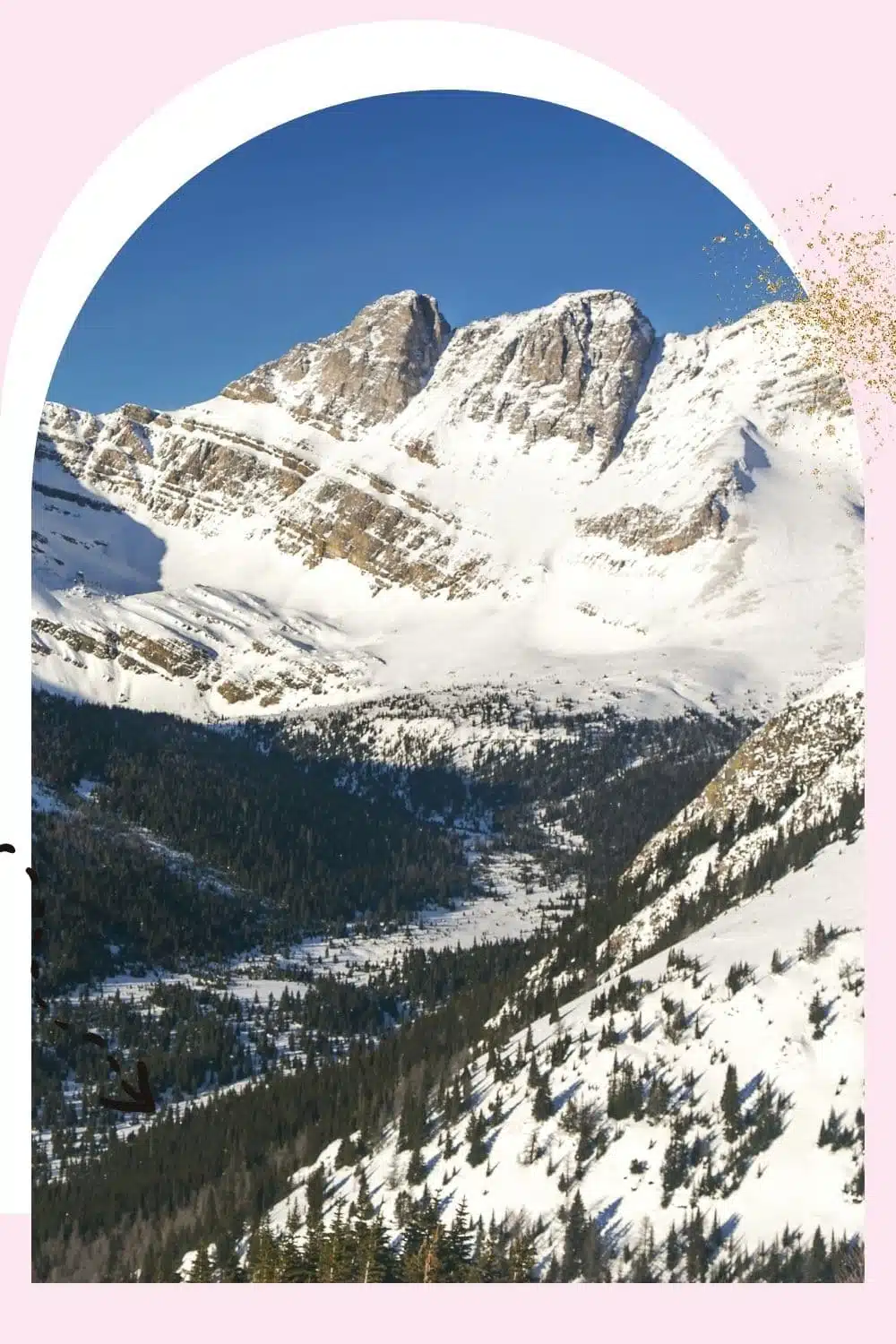 However, that's not to say you can't make a Canadian Rockies road trip in the winter. Winter is the least-crowded season in the area, but your activities will be limited to snow sports (e.g., skiing, snowboarding, tubing, etc.) and ice activities (like ice climbing and ice trekking, which are pretty cool, IMO).
If you're planning on doing any of these outdoor winter sports, I recommend grabbing yourself a pair of crampons, a durable, insulated jacket, and thermal snow pants, as you'll DEFINITELY need them. Also, make sure that you have all of the most important gear for hiking in winter.
If you're going to take a road trip during the winter season, I'd strongly recommend having experience driving in snowy/icy conditions, and please make sure to have the right gear, like snow chains, ice scrapers, etc.
How to Get to & Around the Canadian Rockies
If you haven't already guessed by the fact that this is a "road trip" itinerary, I strongly recommend driving yourself or renting a car to get to and around the Canadian Rockies. Why? Because having your own car gives you the most flexibility for where you can go in the park and what time.
How to Rent a Car in Calgary
Luckily, it's pretty easy to rent a car at an affordable price from the nearby cities of Calgary, Edmonton, and even Vancouver. You can even rent a car in Banff town. If you're not from the area, I strongly recommend flying into Calgary International Airport (YYC), as it's the closest airport to this itinerary's starting point.
You can rent a car from Avis, Hertz, and Enterprise directly from the airport. However, if you want to save some moolah, I'd recommend checking the prices at Calgary's downtown car rental locations as well. I've found rental cars downtown tend to be cheaper, costing sometimes 20-40% less per day than renting at the airport. Plus, the taxi downtown from the airport only costs ~$15 USD one way.
Getting Around the Canadian Rockies
Once you've got a car, there are gas stations all over the Trans-Canada Highway and the Icefields Parkway (the two primary roadways you'll be using in this itinerary). Before heading anywhere, I strongly recommend checking the Parks Canada road reports, so you know if there are any road closures or bad weather conditions ahead of time.
Where to Stay in the Canadian Rockies
There are places to stay in the Canadian Rockies for any budget level, from penny-pinching backpackers to luxury lovers.
To make planning your accommodations suuuper easy, for each day of this Canadian Rockies itinerary, I'll be providing two recommendations for places to stay, one budget option and one mid-range option.
I'll also suggest the most convenient campsite for each day of the itinerary.
However, if you'd like more suggestions or information on where to stay in the Canadian Rockies, we've got you covered with 2 complete accommodation guides (Banff and Jasper):
And, for those of you interested in camping in the Canadian Rockies, we've got 3 complete and detailed guides on that as well:
What to Pack for the Canadian Rockies
Clothing to Pack for the Canadian Rockies
Waterproof hiking boots

– While on a Canadian Rockies road trip, there's a good chance you'll be caught walking in mud, snow, and stream crossings. To keep my feet warm and dry during day hikes, I have a cozy pair of Ahnu waterproof hiking boots that always do the trick! My boots have been with me to Patagonia, Peru, Slovenia, and more, and they're still kicking (

haha, get it?!

).

Wool socks – You'll want to bring some warm wool socks to pair with your hiking boots. Not only will these help keep your feet cozy and dry, but they can also help prevent blisters from your boots. We love our Darn Tough hiking socks for all of our outdoor adventures and literally bring them everywhere with us.
Merino wool layers

– It's a really good idea to bring a merino wool baselayer , which will keep you cool in the summer and warm in colder weather. Merino is soft, sturdy, stink-free, and sweat-wicking, AKA the best fabric ever for staying warm and dry in the Canadian Rockies' unpredictable climate.

A waterproof rain shell

– No matter what time of year it is, there's a decent chance of a sudden downpour in the Canadian Rockies. Yes, it literally happens even when the skies are clear and blue minutes before. Bring a sturdy, waterproof rain jacket to stay warm and dry at all times.

A compressible down jacket

– Temperatures in the Canadian Rockies can be chilly even in the summer, especially as you gain altitude. For this reason, I always make sure to pack my thermal puffer, all rolled up into a tiny ball that I can shove into my day pack or clip onto the outside of my bag with a carabiner.
Toiletries & Personal Items
Mosquito repellent, sunscreen, and sunglasses

– Don't forget these! Just like most other outdoor areas, the Canadian Rockies get lots of sunshine and mosquitoes in the summer, so plan ahead.

Snacks

– Whether you're hiking, rafting, or driving, you'll definitely want some snacks to carry with you. I strongly recommend purchasing packaged or resealable snacks as the food scents can be an issue with wildlife in the area.

Good road trip playlists

– You'll be driving a LOT in the Canadian Rockies, so having a good car playlist downloaded to your phone is a must!
Other Helpful Things to Pack for the Canadian Rockies
Bear spray

–

Like I mentioned before, there is a LOT of wildlife in the Canadian Rockies. Be sure to purchase a canister of bear spray if you plan on doing lots of hiking or camping. You most likely won't have to use it (I never did in 6 months!), but it's smart to have on you in the event of a chance run-in with a bear or a wolf.
Head lamp

– If you want to catch a stunning sunrise, a colorful sunset, or some epic stargazing, a good, comfortable head lamp is a MUST. Luckily, they're not too expensive and once you buy one, you can just replace the batteries forever and ever (until the bulbs physically burn out). I like my Black Diamond head lamp for exploring in less-than-optimal lighting.

Reusable water bottle & filter

– We always bring our trusty reusable water bottle (Rafael and I both have Hydro Flask bottles that we LOVE) on our adventures to cut down on plastic waste and keep our water cold. Most of the time you should have plenty of access to clean, filtered tap water, but on long hikes you may need to refill at a stream or cascade. In this case, you'll also want a water filter or purification system to ensure your water is always potable. We recommend the rechargeable SteriPen, which purifies your water using a portable UV light.

Carabiners

– These are always super useful to have while hiking or exploring. I use them to hang my water bottles, hats, shoes, wet clothes, etc. on the outside of my bag, and they work fantastically. You can literally just buy a pack of 20 carabiners and throw them in your hiking bag when you're ready for an adventure.
Gear for Camping & Sleeping
Durable camping gear

– If you're planning on camping, you'll definitely want some high-quality camping gear to bring with you.

Hammock

– While definitely not a requirement, it's really nice to have a hammock for relaxing after a long hike or at a riverside campsite. We have an ENO Double Nest (of course, in the brightest, most psychedelic colors they sell) and we basically live it in when we're not in the car or the tent. It's perfect for sharing between two people or snuggling up by yourself.
The Ultimate 10-Day Canadian Rockies Itinerary
Day 1: Calgary to Canmore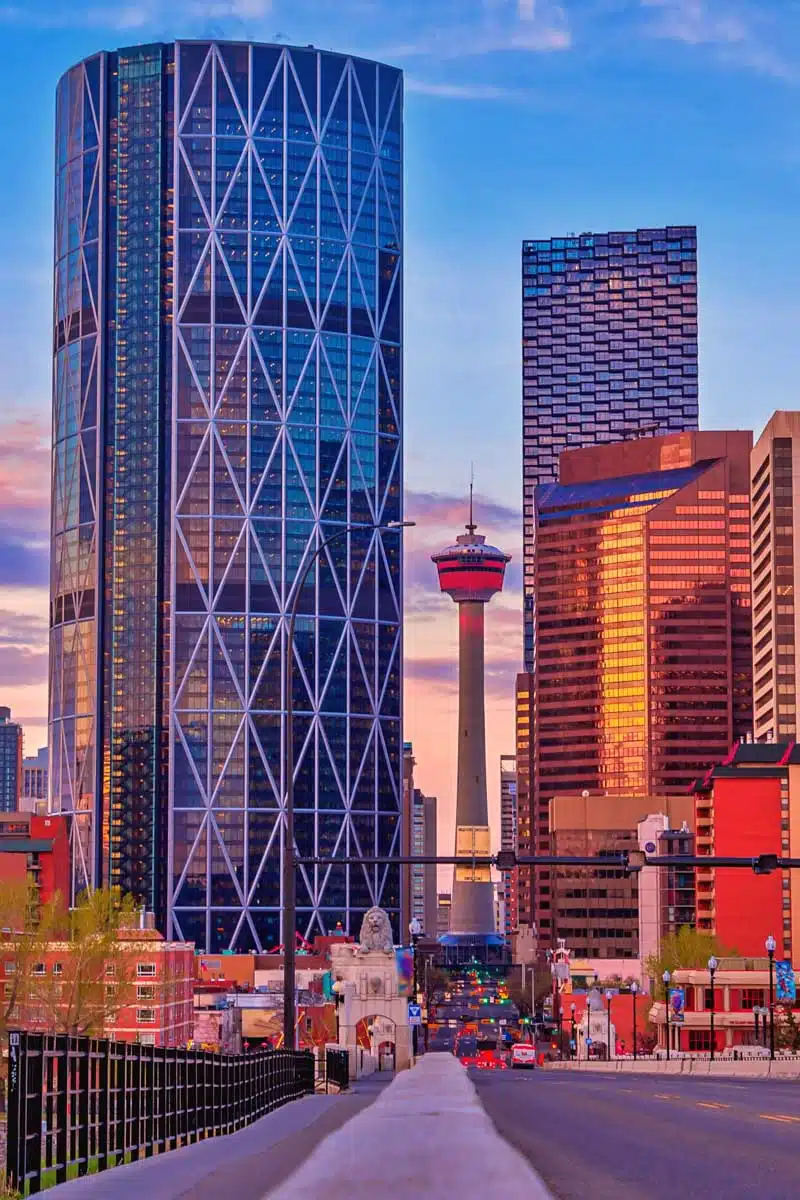 On this day, we recommend arriving in Calgary and driving to Canmore, which is the first stop of our Canadian Rockies itinerary.
You do have the option of staying in the for a day and doing some hikes (which could be a really cool option, especially if the Calgary Stampede is going on).
While many people opt to go directly from Calgary to Banff, I chose to include Canmore because it's often overlooked by tourists, but it actually is home to some of my favorite hikes and viewpoints in all of the Canadian Rockies.
While often overshadowed by their northern neighbors (Banff and Jasper), Canmore and the Kananaskis area are, in my opinion, some of the most underrated adventure destinations in all of Alberta.
Striking mountaintops, amazing hiking trails, and beautiful alpine lakes will greet you as you explore Canmore, but you can expect smaller crowds here, even during the high season.
Morning: Arrival in Calgary
If you opt for a direct morning flight from anywhere in the USA or Canada, chances are you'll most likely be arriving in Calgary Airport in the late morning or early afternoon. Once you've arrived, proceed through customs (if necessary) and grab your bags.
For car rentals at the airport: From the arrivals area, follow signs to the main rental car area to pick up your car from your designated agency.
For car rentals from downtown: Exit after baggage claim and grab a taxi (NOT a black car, these are 2-3x the price!). Make sure you have the address of your rental agency on hand and let the driver know where you're going. If you've decided to rent from Avis (which we usually recommend), their shop is right next to the Calgary Tower.
Lunch in Calgary
After you leave the airport, I recommend grabbing some lunch in nearby Calgary before heading to Canmore.
Known for its ranching industry, Calgary is known around Canada for its meats. For some of the most delicious steaks in the city, Vintage Chophouse is a fantastic place to try. Since I'm not actually a steak person myself, my favorite dish there is the lobster mac and cheese, which is exactly the heavenly deliciousness it sounds like: large lobster chunks mixed in with a perfect blend of pasta and melted cheeses.
For a cheaper, vegetarian-friendly lunch option, The Coup is a fantastic choice. Their bright, open space and delicious, healthy lunch options are AMAZING. Share a Vegan Char"coup"terie board or order the Satay Bowl for lunch… you won't be disappointed.
After lunch, if you have extra time to check out the city, explore some of the many things to do in Calgary!
Afternoon: Driving In & Exploring Canmore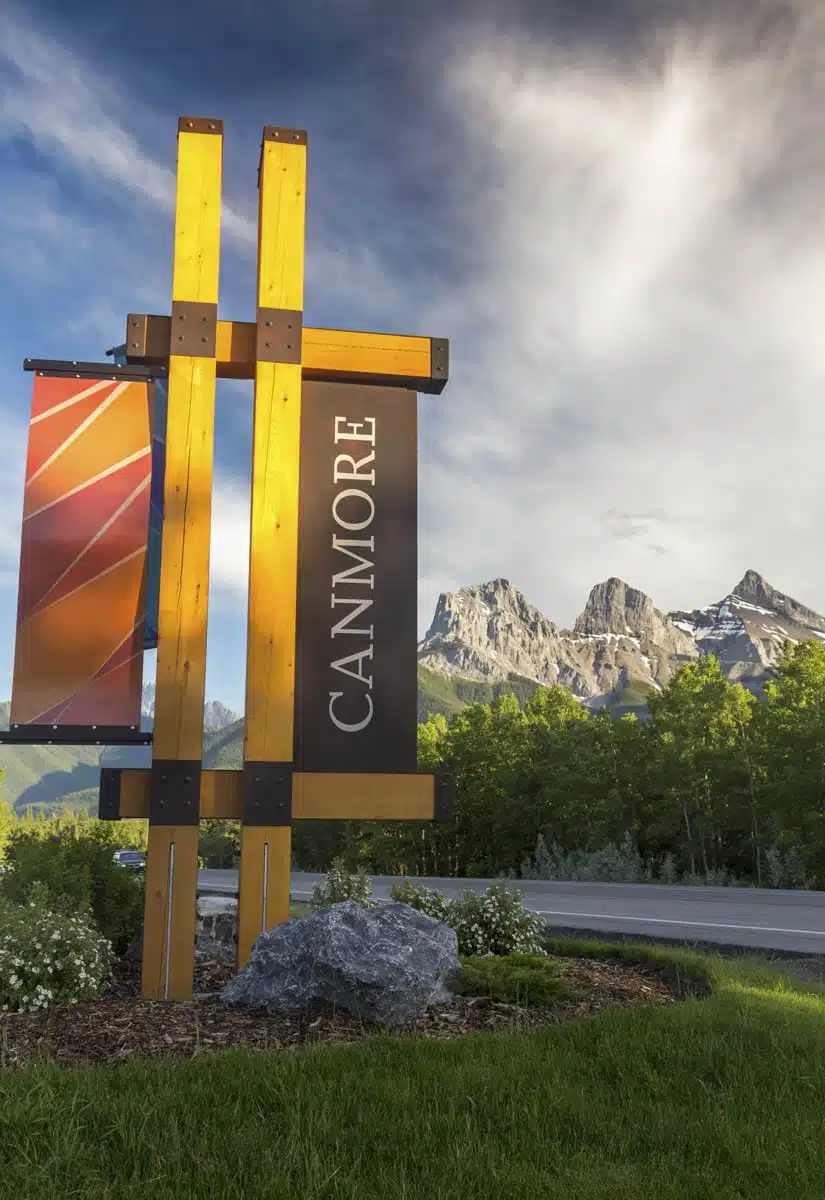 After lunch, you'll drive ~1 hour down the Trans-Canada Highway (Highway 1) to Canmore. At first, you might think you're in the wrong place, with flat farmlands for miles.
The plains eventually turn into rolling hills, and then…BAM… you'll see it: the beautiful, majestic Canadian Rockies. At first just a faint outline on the horizon, they'll eventually grow larger and bluer right before your eyes.
It's, like, ridiculously magical.
For outdoor lovers, seeing the Canadian Rockies for the first time is kind of like the feeling you get when you see the Disney Castle. It's magical, heart-wrenching, glorious. You might cry (I definitely did). Seeing the mountains and knowing that you'll be spending the next 10 days there? Priceless.
Depending on how much time you have in Canmore before dinner, you can take a drive around the area and even hop on a short hiking trail (see the next section on Day 2 for some recommendations). You can also check into your accommodations (see below for our recommendations) and wander around the town center for a while.
Evening: Dinner at PD3 Blake Canmore
Full disclosure: I've never eaten at Blake Canmore. BUT I have a good excuse — the TWO times I tried to go, it was either full with a wait (and I was hangry from hiking) or it was closed. You can choose to dine at Blake Canmore's more traditional dining hall, but I'd recommend going for the more casual PD3, which is a double decker bus converted into a local dining institution (and the food smelled absolutely heavenly).
Whatever you choose, don't be like me: plan ahead and eat your first Canadian Rockies dinner at Blake.
Not only does the food look super drool-worthy (I think I could literally inhale their "crack fries" in approximately 2 seconds), but it's also reasonably priced and the atmosphere is among the most unique in the region. They also have homemade ice cream flavors and signature drinks/cocktails in case you want to end your day 1 with a sweet treat!
Overnight in Canmore
You'll spend (at least) the first two nights in Canmore, where hotels and hostels tend to be significantly cheaper than staying in nearby Banff. Here are some of our top recommendations for places to stay in the Canmore area:
Mid-Range Hotel: The Georgetown Inn – Imagine an old-time pub and inn that magically plopped down in the middle of Canmore and you've got The Georgetown Inn. This adorable home-style inn is the perfect landing place for you after long days of hiking, since they boast large, comfy rooms and there's an attached restaurant.
Budget Hostel: HI-Canmore – Currently Canmore's only hostel, HI-Canmore is a fantastic place to stay for budget travelers, solo travelers, and backpackers. With dorms and private rooms, HI-Canmore caters to a wide variety of travel preferences and budgets, while offering typical amenities like laundry, kitchen, and cooking supplies.
Campsite: Bow Valley Campground – Situated right next to the Bow River and the nearby hiking trails, the Bow Valley Campground is the perfect base in Canmore. The campsites are spacious, the rangers are attentive, there are all of the necessary amenities, and the views are totally epic.
Check Additional Accommodation in Canmore
Day 2: Hiking in Canmore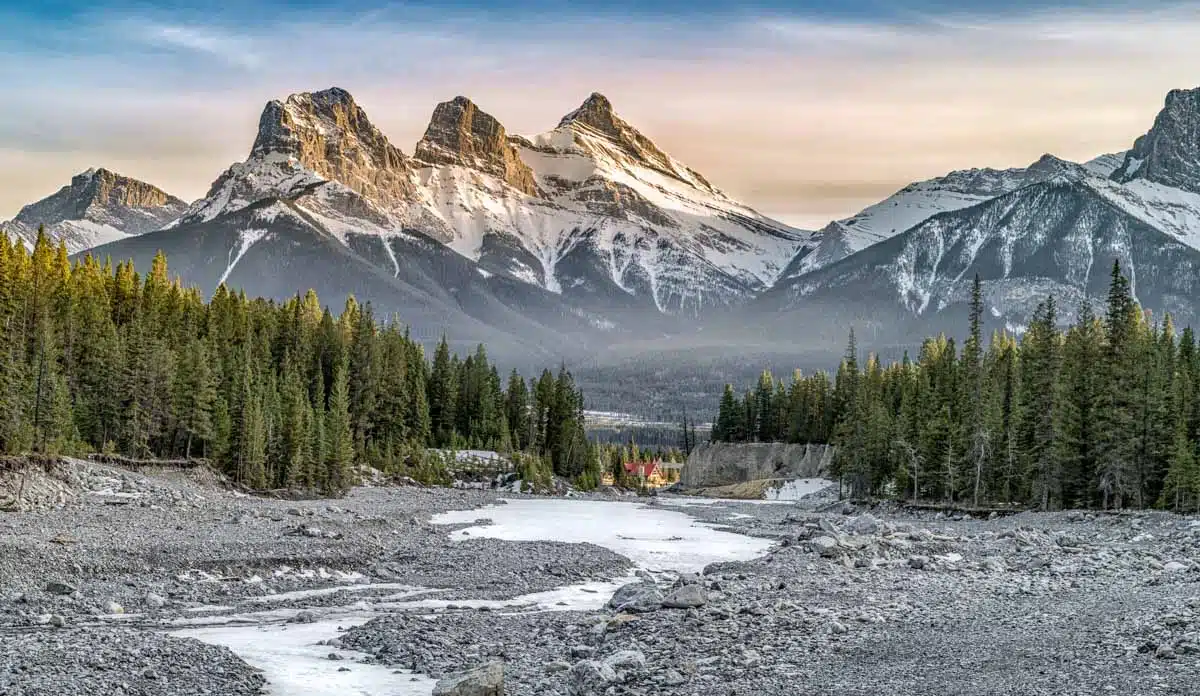 As I say whenever anyone asks me, hiking is the best way to experience the Canadian Rockies, even if you've never hiked before or get serious anxiety when you think about climbing uphill (*raises hand and blushes*).
Whether you've been hiking since your childhood years or are hitting the trails for the first time ever, there are tons of picturesque hikes in Canmore (and ALL of the Canadian Rockies) suitable for your skill level and preferences.
On day 2 of your Canadian Rockies itinerary, you have a few options: choose 1-2 short hikes in Canmore, or embark on a longer half- or full-day hiking excursion in the area. I've listed several hikes, ranging from easy to challenging, in each of the categories below so you have LOTS of options to choose from!
Pro tip: Get started with hiking EARLY. While it will definitely be a little colder outside in the mornings, the most beautiful views of the Rockies happen when the sun is low in the sky, and you definitely won't want to miss those ideal morning mountain photo opportunities.
Short Hikes in Canmore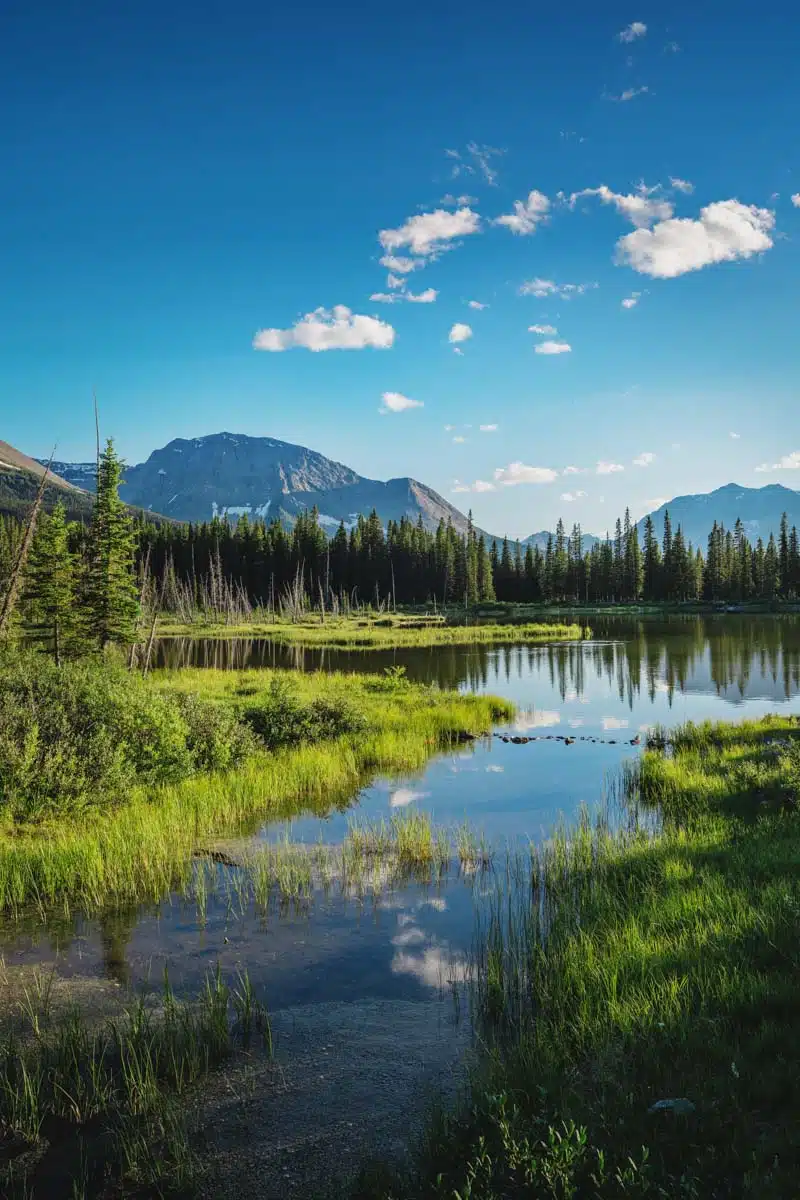 Bow River Loop – (3.5 kilometers, 1-1.5 hours) This is a nice little trail that starts in Canmore town center and loops around to the Bow River. If you've arrived in Canmore early enough on Day 1 for a short hike, this is a perfect one to try. Stunning views of the river, evergreen forests, and the surrounding mountains will greet you.
Grotto Canyon – (4.4 kilometers, 1.5-3 hours) One of the most unique hikes in Canmore, the Grotto Canyon trail takes you through huge rock structures where local climbers can often be found scaling the vertical rock faces. The trail is surrounded by large rocks and ends at a waterfall.
Grassi Lakes – (4 kilometers, 1-2 hours) Grassi Lakes is one of Canmore's iconic hikes and is a local favorite that's perfect for hikers of all levels. The trail takes you to two deep turquoise alpine lakes surrounded by evergreen trees, and it's a super tranquil place to go for a short morning hike.
Quarry Lake – (3 kilometers, < 1 hour) This family-friendly loop trail winds around the banks of Quarry Lake, offering beautiful views across the water toward the mountains. You can also swim in the lake if the weather is warm enough!
Half-Day Hikes in Canmore
Ha Ling Peak (CLOSED UNTIL FURTHER NOTICE) – (5.3 kilometers, ~4 hours) This is arguably one of the coolest and most picturesque summits in Canmore. But don't let Ha Ling Peak's short trail distance fool you: the hike is actually quite difficult, as you'll ascend well over 800 meters in less than 3 kilometers. The peak itself rewards you with breathtaking panoramic views of the Bow Valley below.
Lady MacDonald Tea House – (9 kilometers, 4-6 hours) This hike, named after a tea house that was never actually built, is a gorgeous trail that has beautiful views start to finish. One of the more popular hikes in Canmore, this moderately difficult hike is a perfect half-day adventure for hikers looking for a bit of a challenge and the reward of stunning photogenic viewpoints.
Full-Day Hikes in Canmore

Mount Yamnuska – (11 kilometers, 6+ hours) By far, Mount Yamnuska is one of my favorite adrenaline-pumping, muscle-throbbing hikes in ALL of Canada! This 11-kilometer trail takes you through an evergreen forest, up a steep rocky scramble, around a chain cliffhanger (seriously), and up to the summit of this iconic Canmore peak. It's a whopping 900+ meters of elevation gain, so be ready for some SERIOUS uphills and downhills if you choose to tackle this one.
Heart Mountain Horseshoe – (11 kilometers, 6+ hours) I haven't actually hiked this one, but I've heard awesome things about it from friends back in Calgary. This is a moderate to difficult trail that involves a bit of rock scrambling towards the top. The views from the trail and the summit are said to be absolutely incredible.
When You Get Hungry: Breakfast or Lunch at Communitea
Depending on your schedule, you'll be hungry eventually, and if you need a great stop for breakfast or lunch, I strongly recommend Communitea. It's a little coffeeshop/cafe hybrid with delicious, healthy dishes and a cute, colorful atmosphere.
Head there for breakfast for a caffeine fix before a big hike, or pick up one of their hot drinks and a delicious, filling savory bowl for lunch after hitting the trails in the morning.
Evening: Dinner at Rocky Mountain Flatbread Co
A Western Canada chain, Rocky Mountain Flatbread Co is literally the perfect post-hiking meal. They've got a HUGE oven they use to bake their flatbreads, which come out nice and piping hot to your table. If you're planning on going during the height of dinner time, I'd strongly recommend making a reservation.
When you check out the menu, you'll see they have DOZENS of pizza and pasta options to choose from (I may be biased, but you should definitely try the sundried tomato pizza). You can also grab a Canadian craft beer or a signature cocktail with your dinner.
You'll spend the night in the same Canmore accommodation you chose on Day 1.
Day 3: Banff Town & Iconic Sights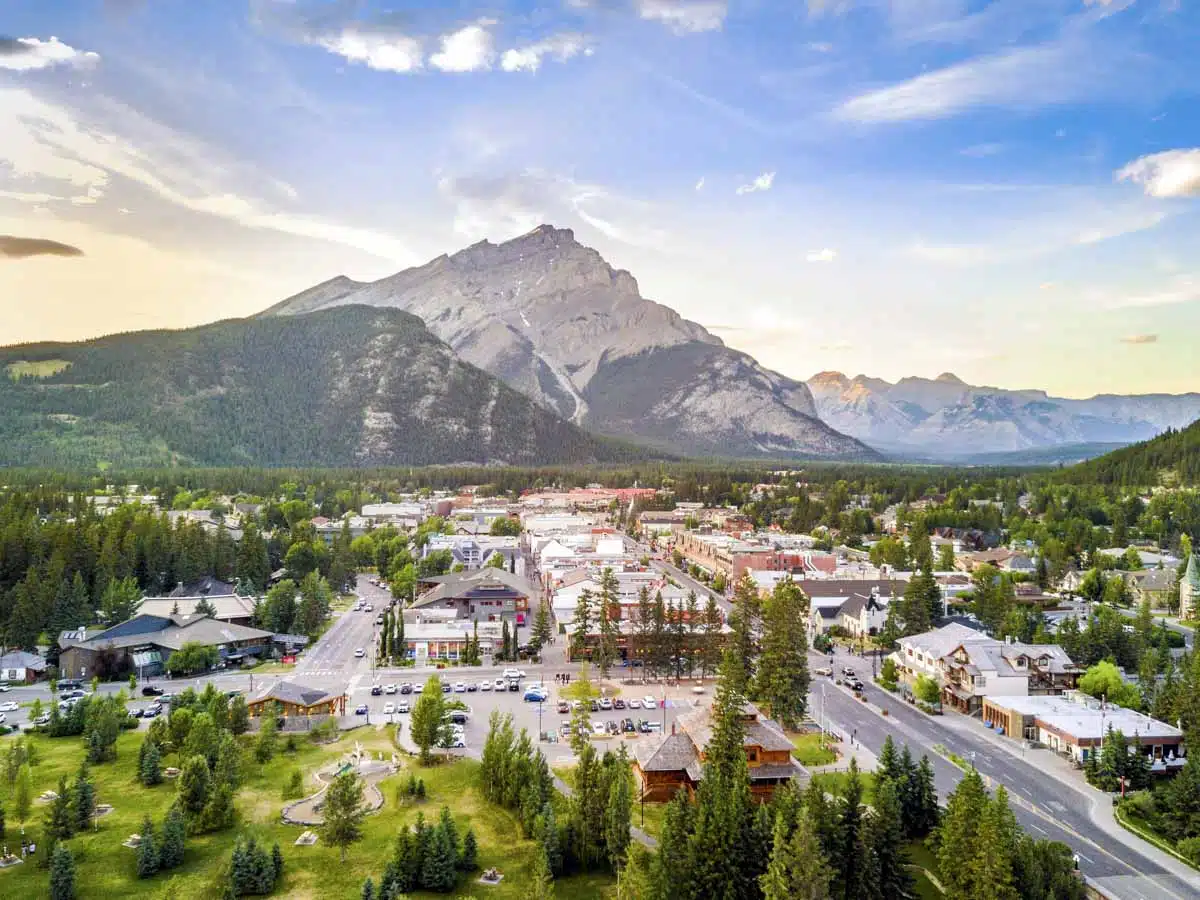 I know I gave you a day full of hiking yesterday, so today, you'll be taking it a bit more easy on the legs. You'll drive the short distance to Banff National Park, explore the Banff Town area, eat a delightful dinner at one of my favorite restaurants in Banff, and end the night with some stargazing if it's clear outside!
Morning: Drive to Banff & Breakfast at Tooloulou's
Since you'll be exploring the area near Banff Town today, you can choose what time you'll want to head out. (Banff is about a 30 minute drive from Canmore, so make sure you are in the car driving before you get struck with the iron fist of breakfast hanger.)
You'll continue down the Trans-Canada Highway until you reach the Banff Entrance (which consists of small huts on each lane of the highway where you pay your entrance fee). Pay the fee, which is $9.80 CAD per adult, then continue driving alllll the way to Banff town.
Along the way, you'll catch a glimpse of Canmore's stunning Three Sisters and Banff's Mount Rundle.
Once you arrive in Banff, head to Tooloulou's, arguably the best traditional breakfast place in town. It's a Louisiana-style Cajun restaurant with a Canadian flair. Here, you can get french toast, omelettes, and hashbrowns in HUGE (shareable) portions. It's delicious, especially since I know you'll be hungry by the time you arrive in Banff.
Late Morning/Afternoon: Explore Banff Town & Surrounding Areas
After you've wrapped up breakfast, you'll hop back in the car and explore the Banff town area. You might be thinking, Kay, I didn't come to the Canadian Rockies to spend time in a town. But actually, Banff town is pretty small and picturesque, and it's the town's immediate surroundings that you'll be getting to know on this day.
Depending on your energy levels and the amount of time you have, there are several options you can try. Here are a few of the main highlights in and around Banff Town:
Banff Gondola – One of the most fun and picturesque non-hiking activities in Banff is a ride on the Banff Gondola. While the ride is only ~8 minutes each way, the Gondola takes you up to a complex with an incredible panoramic observation deck, a cafe and restaurant, and amazing views for days.
(Pro tip: Head up on the Gondola later in the day when the sun is low in the sky for extra special views!)
Surprise Corner – The Surprise Corner is Banff's worst kept secret, an unofficial viewpoint that has never *officially* been recognized as a landmark. As a roadside viewpoint just outside the city, the Surprise Corner is actually a popular place to stop off and admire views of the Bow Valley and the Banff Springs Hotel sticking up out of the trees. There are also several trails leading from the parking area around and into the valley below.
Fairmont Banff Springs Hotel – You've probably seen photos of the Fairmont Banff Springs all over the internet. If you're looking for luxury and history all in one place, the Banff Springs Hotel is a fantastic landing spot for you. Situated in the scenic Bow Valley, the hotel boasts several restaurants, a spa, and several amenities for actual guests. However, if you just want to take a look, head there for a leisurely lunch in one of their dining spots.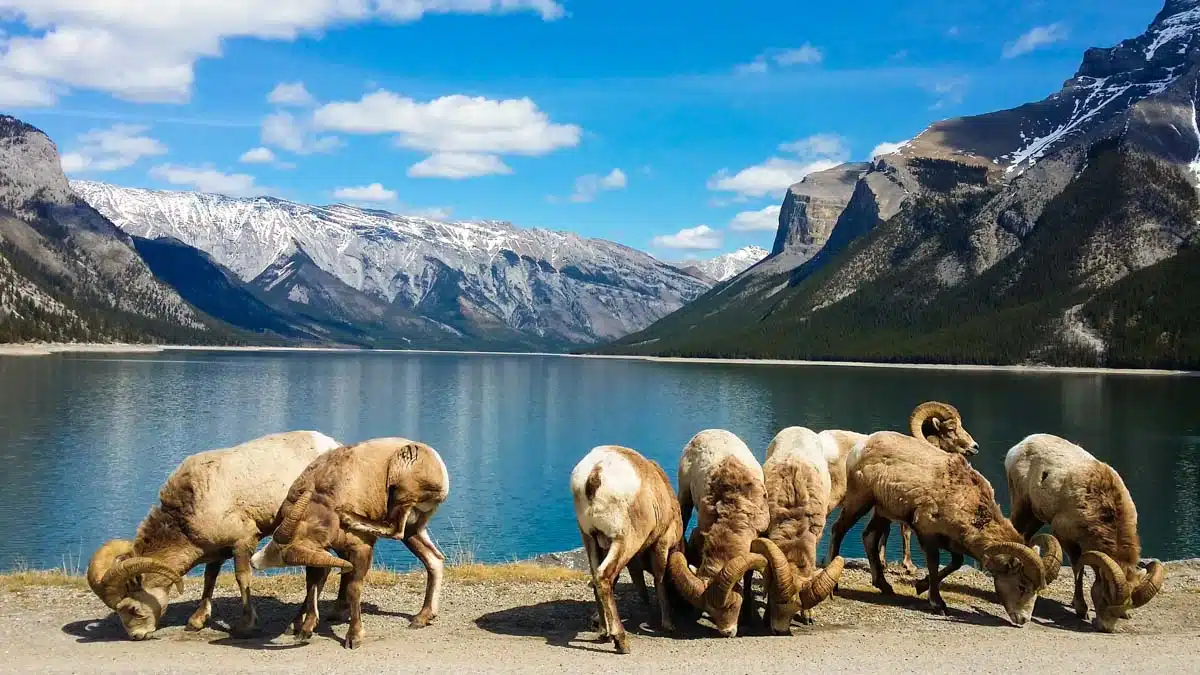 Lake Minnewanka – Lake Minnewanka is one of my favorite places in Banff, if not for the sheer fact that there is SO much to do there. You can rent a kayak or take a boat cruise, wander the lakeside trails or sit down for a picnic. In the night time, you can even stargaze here! I'd recommend heading over there and seeing where the day takes you…but beware: you might end up spending your ENTIRE day here!
Bow River Falls – This is a short, easy hike down to a wide waterfall on the Bow River. It's a nice, scenic, paved trail that is family-friendly and will take you near Banff town down the river.
Banff town center – If the weather is bad or you're just too dang tired to do anything, sticking around in Banff town center is NOT a bad option. There are scenic mountain views from the streets, as well as a handful of restaurants, shops, and museums that you can check out to learn more about Banff's history, including the Whyte Museum of the Canadian Rockies.
If you have more than just 2 days to spend in Banff, here's our complete guide to the park with a list of 23 amazing adventure activities to try:
Read our complete guide on the best activities & things to do in Banff
Evening: Dinner at Park Distillery & Stargazing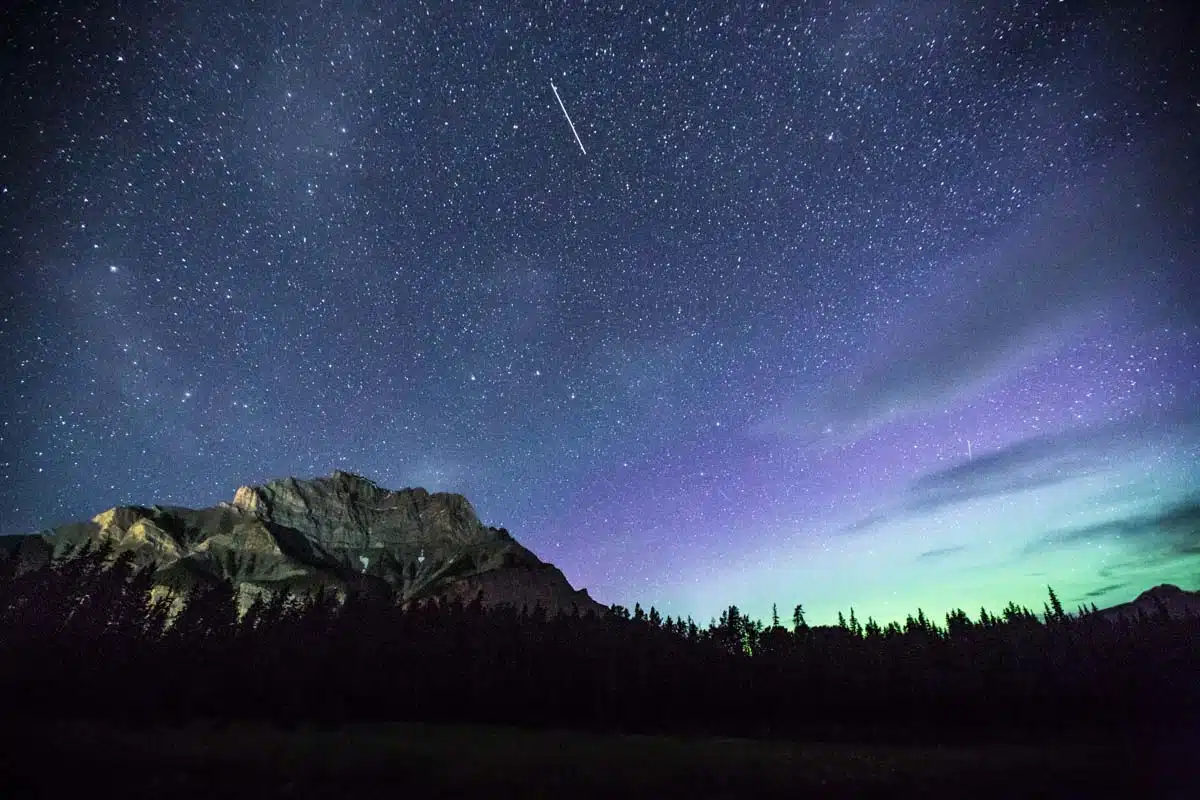 By the evening, you'll probably be REALLY hungry and ready for a hearty, delicious meal in a relaxed place. I've got the perfect place to you: Park Distillery. Their mission is "campfire-inspired meals" and they really do play the part well, from char-grilled meats and steaks to the amazing smell of campfire inside and around the restaurant.
After your dinner, if you're still a liiiiittle hungry, stop by Beaver Tails nearby for an amazing Canadian dessert: baked (fried?) dough topped with delicious sweet condiments like Nutella, M&Ms, cinnamon, and more.
If the sky is clear while you're heading out from the restaurant, you can hop in the car and head to a nearby lake for some amazing stargazing opportunities. Outside of the town center, you can see a lot of stars and constellations in areas with little tree cover.
Here are a few beautiful spots in Banff I'd recommend for stargazing:
Lake Minnewanka
Vermilion Lakes
Two Jack Lake
If it's cloudy or rainy, just head back to your hotel/hostel and cozy up in your blankets. Tomorrow is a day of hiking so you can definitely use a good night's sleep!
Overnight in Banff National Park
The blessing and the curse of Banff is that there are SO many places you can stay. And making a decision on where to stay in Banff can be a little overwhelming. So, here are my recommendations for a few popular places to stay (or you can read this post for the full list, from luxury lodges to budget hostels):
Mid-Range Hotel: Moose Hotel & Suites – This is possibly the cutest lodge in Banff, with a big wood fireplace in the lobby and stunning views of the Rockies. If you're looking for an affordable full-service hotel option in Banff, this one is arguably the best.
Budget Hostel: Samesun Banff – A cozy hostel located in Banff's downtown area, Samesun come highly recommend by budget travelers. People really love their laid-back atmosphere, low prices, and kitchen facilities (because, ya know, those restaurants can really add up!).
Camping: Two Jack Lakeside – This is my #1 favorite campsite in the Canadian Rockies. Located right next to Two Jack Lake, the campsites offer stunning sunrise views of Mount Rundle, as well as amazing stargazing options. Campsites come with access to showers and running water, as well as fire pits (extra fee) and spacious areas to pitch your tent/hammock/whatever.
Click here to check reviews and prices for accommodations in Banff
Day 4: Hiking in Banff National Park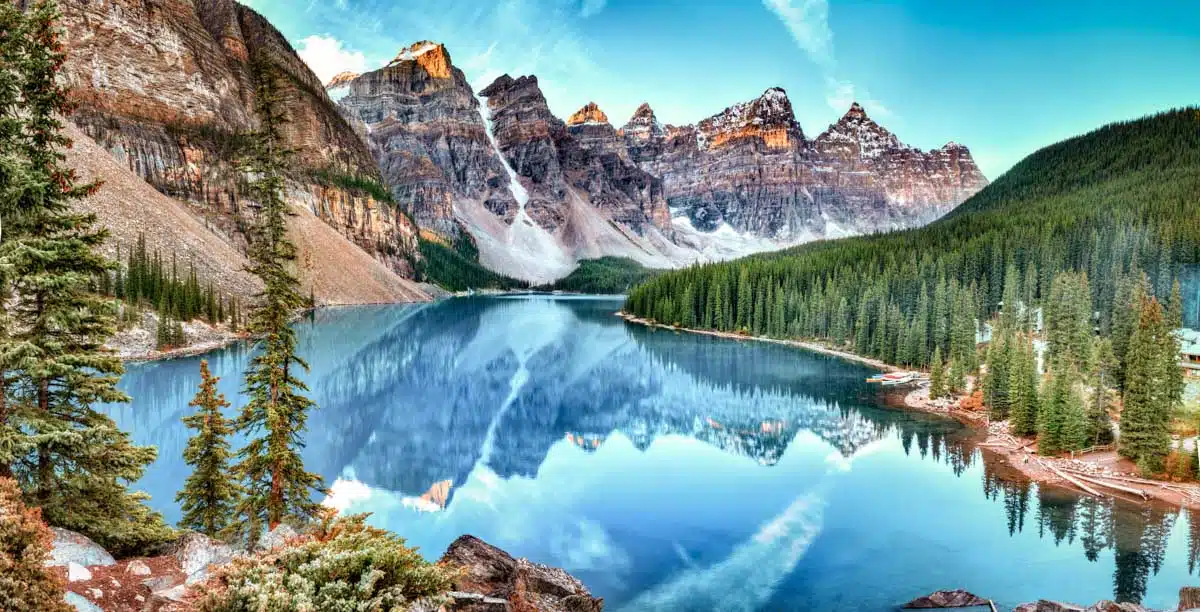 Yup, you guessed it: today is a full day dedicated to hiking! There are SO many fantastic trails in Banff, and it's worth trying at least 1 or 2 of them before you leave. Before beginning any hike in Banff, it's wise to check the Parks Canada website for updates on trail conditions and weather forecasts.
Morning & Afternoon: Go Hiking in Banff
Since we've got Moraine Lake, Lake Louise, and Johnston Canyon on the agenda for tomorrow, I'd recommend not choosing those for your hiking day today. Here are 3 other wonderful options for hikes in Banff that you can try on today's itinerary:
Lake Minnewanka Loop Trail (Easy): An easy loop around one of the most beautiful lakes in the area, the Lake Minnewanka Loop is a fabulous day hike for beginner hikers or families. If you didn't get over to Lake Minnewanka yesterday, I'd definitely recommend this option!
Cascade Amphitheatre (Moderate): Cutting through a valley with rocky mountaintop views, forested trails, and bubbling streams, this hike is a tranquil adventure into the woods. The Amphitheatre itself is a green valley surrounded by vertical rock faces and almost 360-degree views of the surrounding mountains.
Mount Rundle (Difficult): One of the most iconic mountains in Banff National Park, Mount Rundle is an amazing and challenging summit hike to the peak of this beast. If you're planning to tackle this hike, be sure you're fully prepared by reading this post and bringing all of the necessary day hiking items you'll need.
For even more hiking recommendations, check out our complete guide to Banff's most incredible hikes (for all levels of hikers!):
When you're not hiking and need some food/refreshments, I recommend heading to Good Earth Coffeehouse in Banff's town center. It's a cute, cozy coffee shop that serves warm drinks and food all morning and afternoon.
Evening: Soak in the Upper Hot Springs & Grab Dinner at Banff Ave Brewing Co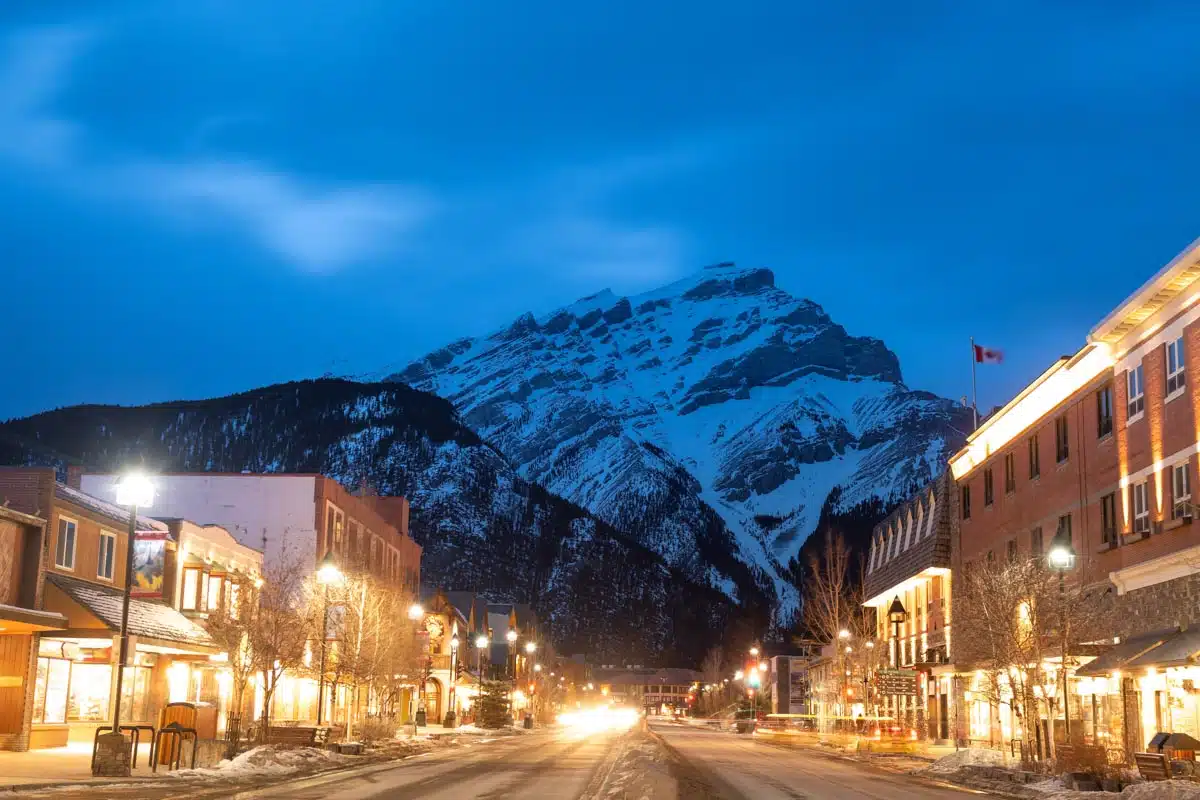 Once you're done hiking for the day, head to the Banff Upper Hot Springs, which is just outside of Banff town. Here, you can kick back in the steaming hot pool and relax your muscles after a long day of hiking. The pool is clean and spacious, perfect for relaxing for an hour or two before heading off to dinner.
The Banff Upper Hot Springs costs $8.30 CAD for adults and you can rent a towel and/or swimsuit for $1.90 CAD each.
After your soak in the springs, grab some light eats and a beer at Banff's craft brewery, Banff Ave Brewing Co. They serve up a delicious, affordable, vegetarian-friendly menu and a sizeable variety of beers, ranging from chocolatey darks (my style) to light, sour IPAs (Raf's style). Get the crunchy fried broccoli and house nachos, or go for a heavier option like the Alberta Beef Burger or the Mushroom Gnocchi.
You'll spend the night in the same Banff accommodation you chose on Day 3.
Day 5: Lake Louise, Moraine Lake, & Johnston Canyon
This is one of the most iconic days in the itinerary, where you'll be headed to the famous Moraine Lake (yup, the one you see in all those Instagram photos of Banff), Lake Louise, and Johnston Canyon.
But here's the catch: this day starts EARLY.
If you can be out of the house by 5:30 AM or before sunrise, that's ideal.
This way, you'll avoid the treacherous crowds at Moraine Lake and Lake Louise, and you can spend the afternoon strolling through Johnston Canyon (Or, like, napping in a tree from waking up so early. Both are acceptable.).
Early Morning: Moraine Lake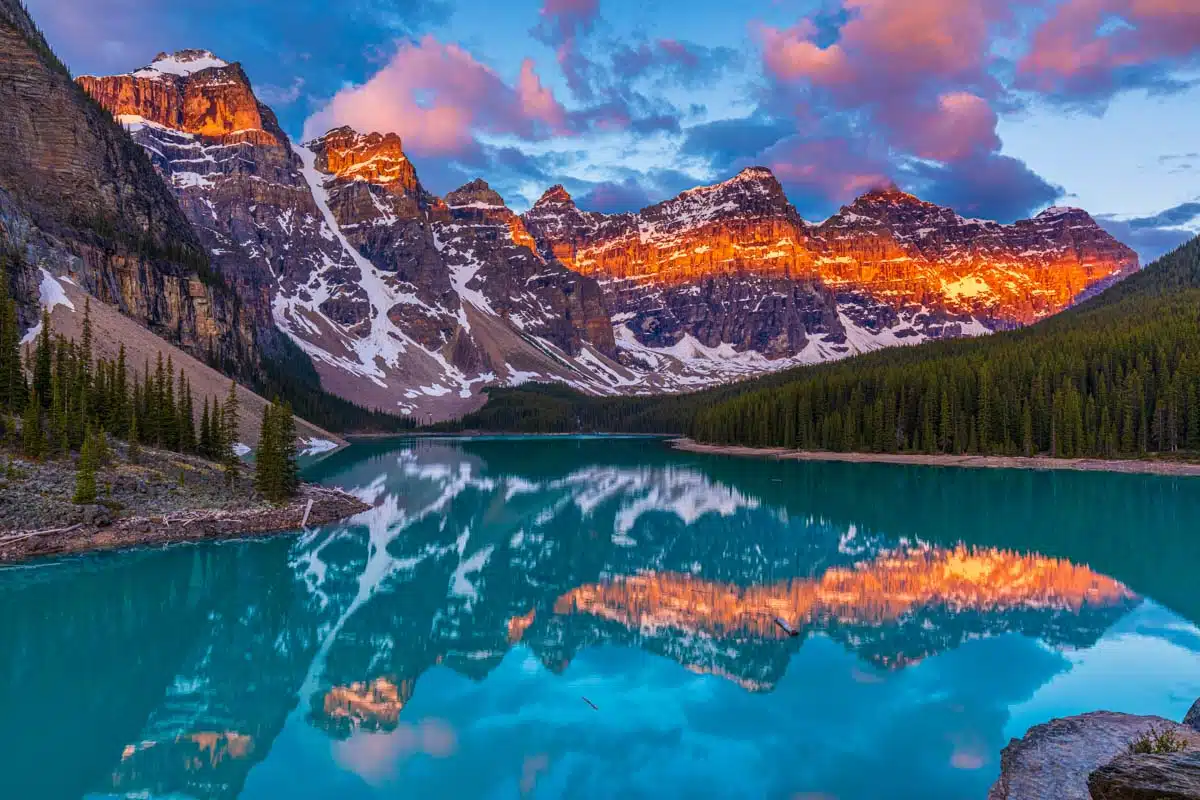 Set that alarm for 5 AM and grab a Clif bar to go for your breakfast as you leave your Banff hotel to drive ~40 minutes to the Lake Louise area.
You'll see the iconic Lake Louise a bit later in the morning, but you'll first want to drive up to nearby Moraine Lake to catch that epic sunrise view that EVERYONE AND THEIR MOTHER wants to see.
The parking lot for Moraine Lake is pretty small, which is why I'm recommending getting up so early. When Rafael and I went there for the first time, we arrived around 6 AM and, while we weren't the only people there, we had the place largely to ourselves.
Park in the parking lot and go for a stroll around the lake, or up onto the famed Rock Pile to get that incredible view that everyone raves about (there's a reason why this is one of the most Instagrammed places in Banff).
Morning: Breakfast & Hiking at Lake Louise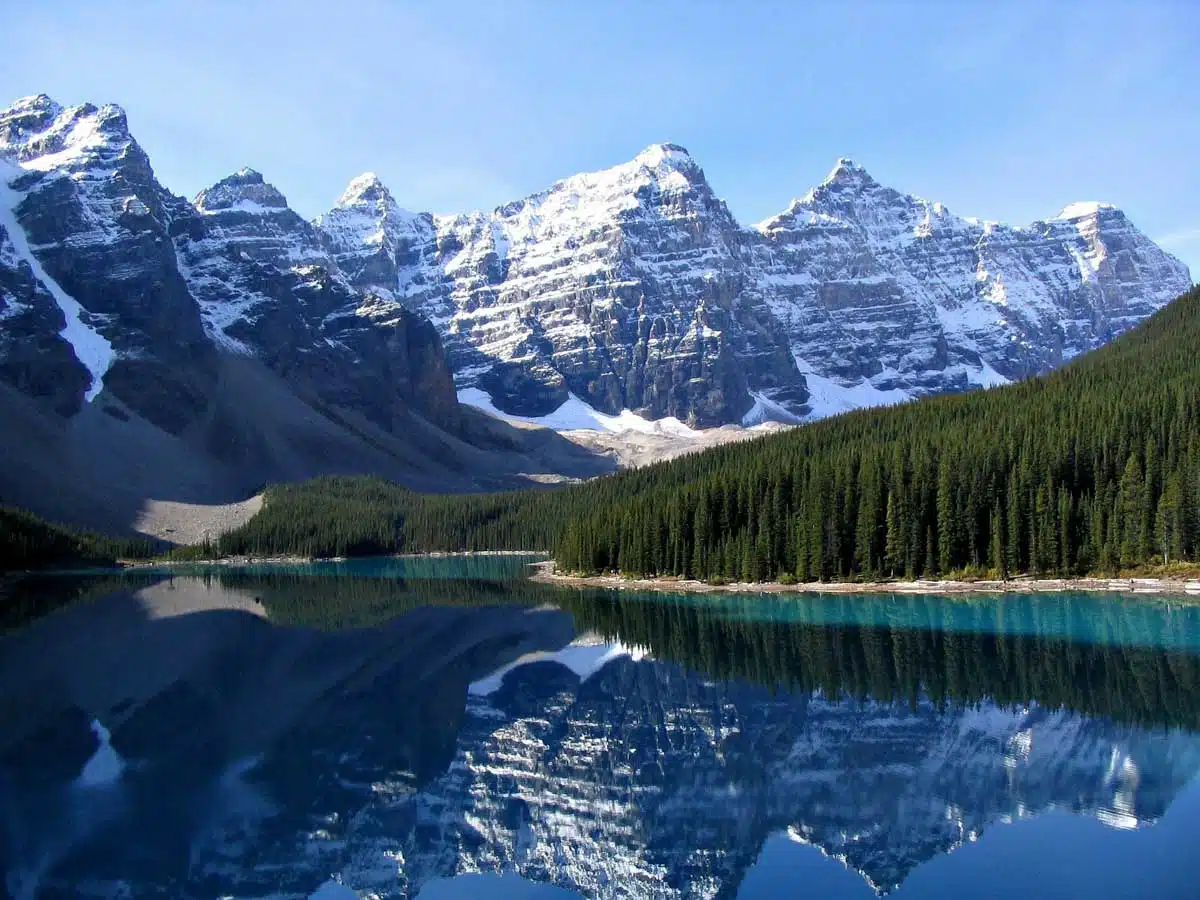 Once you're finished at Moraine Lake, you can either head straight to Lake Louise or stop at Trailhead Cafe for a coffee and a bite to eat. Their "The Cure" sandwich is amazing to start (continue?) your day.
When you're ready, head to Lake Louise and try to snag a parking spot as close to the entrance as possible. During the high season, the parking lot fills up and you have to park at a different one a few miles away and then shuttle in (which sucks, don't do it).
If you get to Lake Louise early enough, you won't have this problem. Instead, you can park right in front of the hotel and stroll right into the main lake area. Once you arrive at the lake, you'll see the otherworldly turquoise water, the famous Fairmont Chateau Lake Louise, the amazing glacier, and striking mountains around you.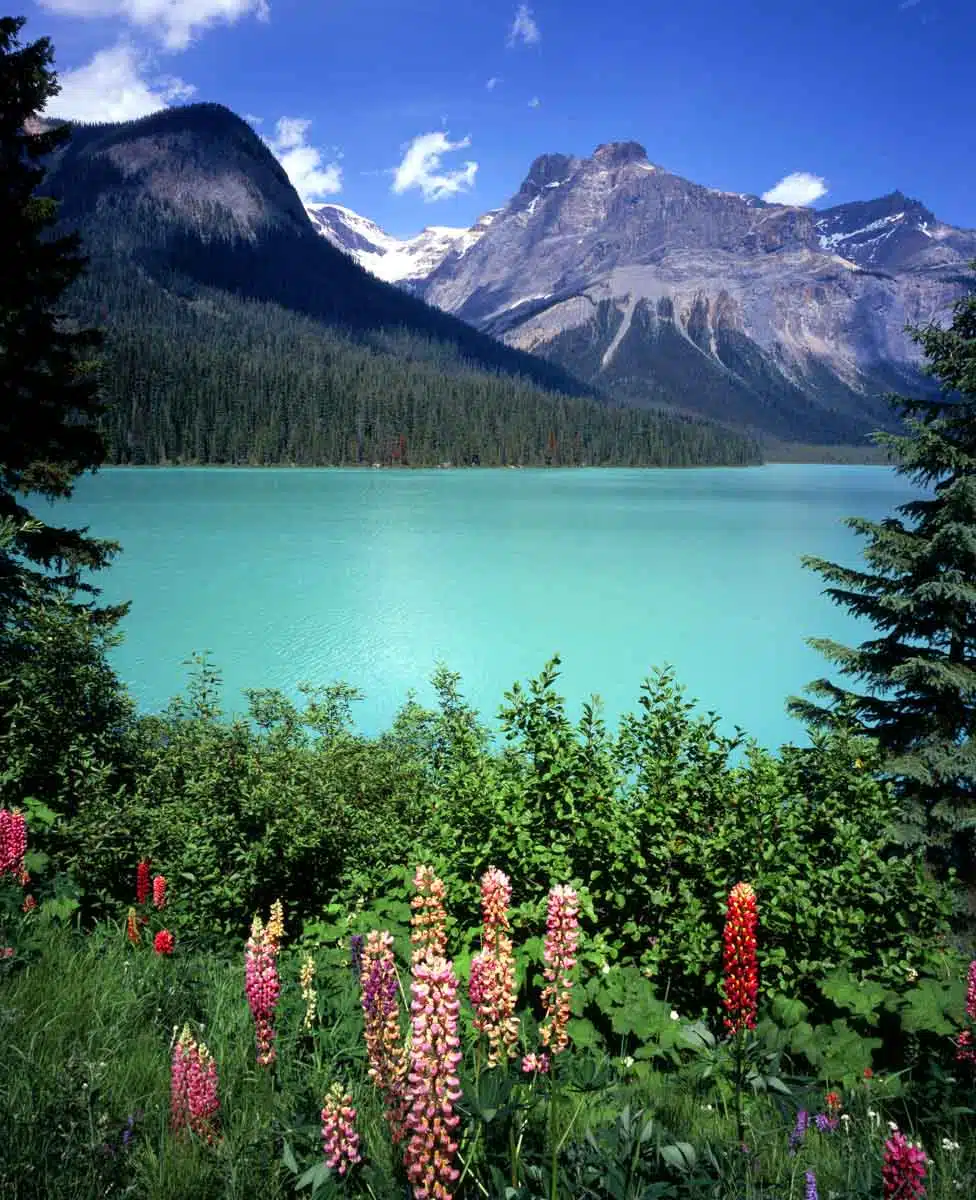 At Lake Louise, you have a few options. You can simply hang out around the hotel and the waterfront, or you can:
Rent a kayak and explore the lake on the water
Have brunch at Poppy Brasserie, the Fairmont's breakfast restaurant which boasts table-side views of the lake and the surrounding mountains
Do the Lake Agnes Tea House hike, which takes you up to a hidden alpine lake and a cozy tea house that serves warm drinks and snacks in the summer
Embark on the Plain of Six Glaciers hike, which is a half-day hike that takes you to some pretty epic glaciers and landscapes around and above Lake Louise
If you're planning on just stopping by Lake Louise, you won't need more than an hour in the area. However, if you plan on doing any of the above activities, plan for 3-4 hours (5+ hours for the Plain of Six Glaciers hike).
Afternoon: Hiking at Johnston Canyon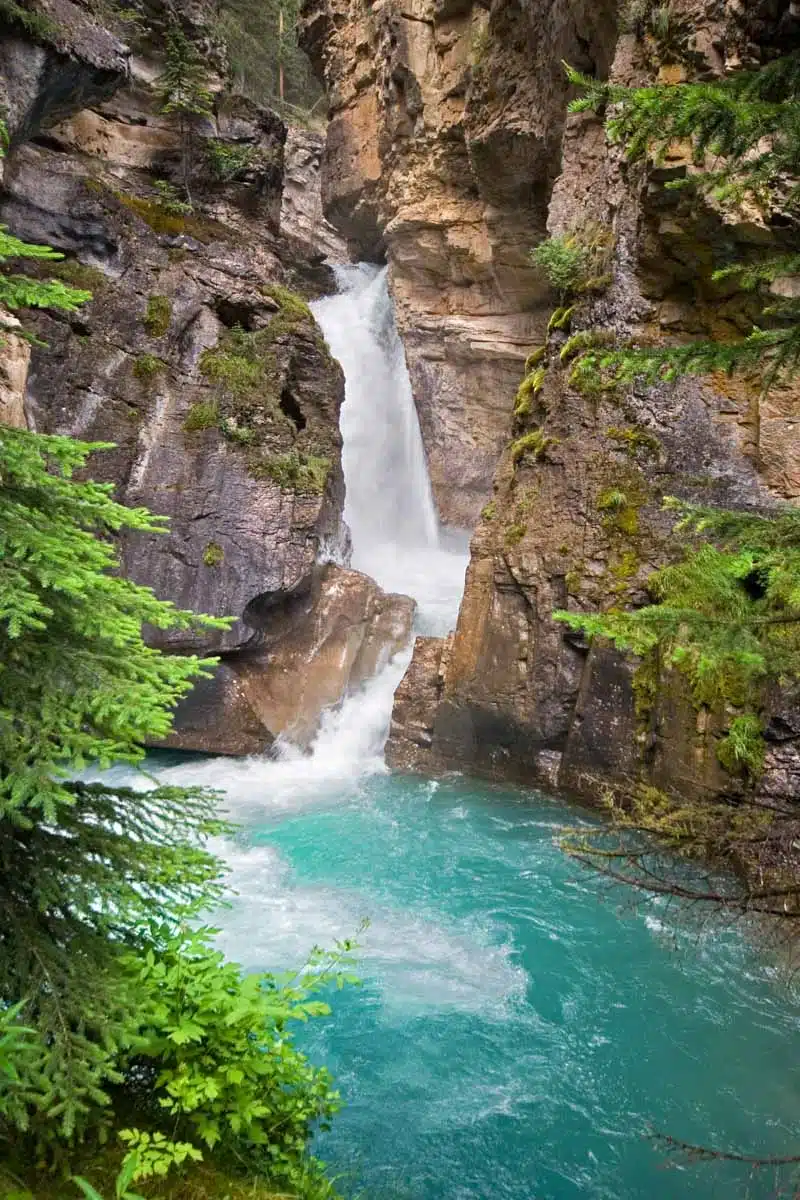 After you've wrapped up at Lake Louise, you can head towards Johnston Canyon, which is a nearby trail system that travels through a beautiful, stark canyon with teal rivers and waterfalls running through it. If you're hungry, at the entrance is a small gift shop and cafe where you can buy soups and sandwiches.
On the trails, there are a series of catwalks that take you through the canyon to two sets of waterfalls – the Upper and Lower Falls – and a lake area called the Ink Pots. At the Ink Pots, you can see multicolored pools of water that look really unique and cool for pictures.
You can choose to only visit one or both of the falls, but keep in mind that the total Johnston Canyon trail from the start to the Ink Pots is ~11.7 kilometers round trip.
Evening: Dinner at Bill Peyto's Cafe
After your busy, busy day in the northern part of Banff, there's nothing better than sitting down for a big, warm dinner. Bill Peyto's Cafe is an affordable and popular choice in the Lake Louise area for exactly that.
Full disclosure: I've actually never eaten here, but I've heard raving reviews about this place, which is actually attached to the HI-Lake Louise Hostel. After a long day (which this one definitely was), it's a great place to enjoy hearty, affordable Canadian food and drinks.
Try the elk burger with a side of Canadian craft beer, and don't forget to try their famous hot sticky toffee pudding cake.
Overnight near Lake Louise
On this night, you can choose to stay in your same Banff accommodation as the last two days, OR you can relocate closer to Lake Louise. I tend to prefer the latter because tomorrow, you'll be heading north toward the Icefields Parkway, and it will eliminate over half an hour of driving for you the next day. Gotta make up for the sleep you lost last night!
Here are a few options for places to stay near Lake Louise:
Day 6: Icefields Parkway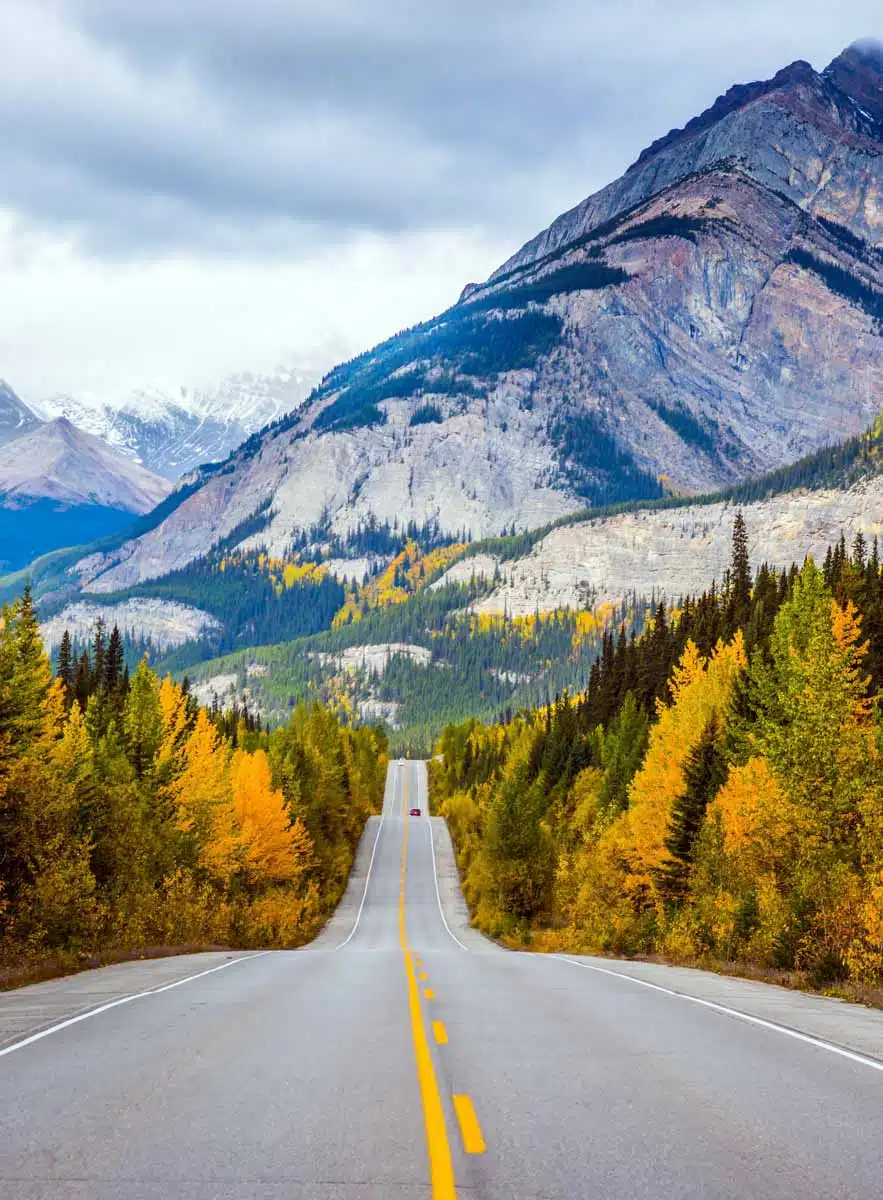 On Day 6, you'll head up to Jasper via the most beautiful highway in the Canadian Rockies (and maybe in Canada…or the world…).
Nothing screams Canadian Rockies road trip more than driving its most scenic route, and today you'll have the chance to do that, with a bunch of stops in between.
While the drive itself only takes ~3 hours, you'll definitely want to stop for some photos, fresh air, hiking, and more. In this part of the itinerary, we've laid out all of your options for places to stop and things to do along the Icefields Parkway.
Morning: Alpine Lake Viewpoints
Grab an early breakfast to go at Trailhead Cafe in Lake Louise. I'd also recommend grabbing some extra sandwiches to go for lunch later, as you may not want to stop for food during your road trip.
Then, head out north on the Icefields Parkway towards Jasper. There are tons of amazing places to stop as you leave the Banff National Park area and turn into the Columbia Icefield.
First, stop at Peyto Lake, which is about 40 minutes from Lake Louise. Peyto Lake is a stunning turquoise lake that you can admire from its highway upper viewpoint, and it's definitely worth at least a short photo stop before continuing onward.
Late Morning & Afternoon: Choose Your Own Adventure
After you've stopped at Peyto Lake, you have a TON of options for things to do along the way. Here are just a few of the many hikes, activities, and viewpoints you can stop at along the Icefields Parkway:
Columbia Icefield Discovery Centre – The discovery centre sits off of the icefields parkway about an hour and a half away from the Jasper Information Centre. Here you can get some scenic views from the top of the centre and you can book excursions out into the icefields. If you are feeling hungry, grab a bite in the attached Altitude restaurant. If you are just passing by on the way to Jasper, plan to spend 30 minutes here for a quick pit stop.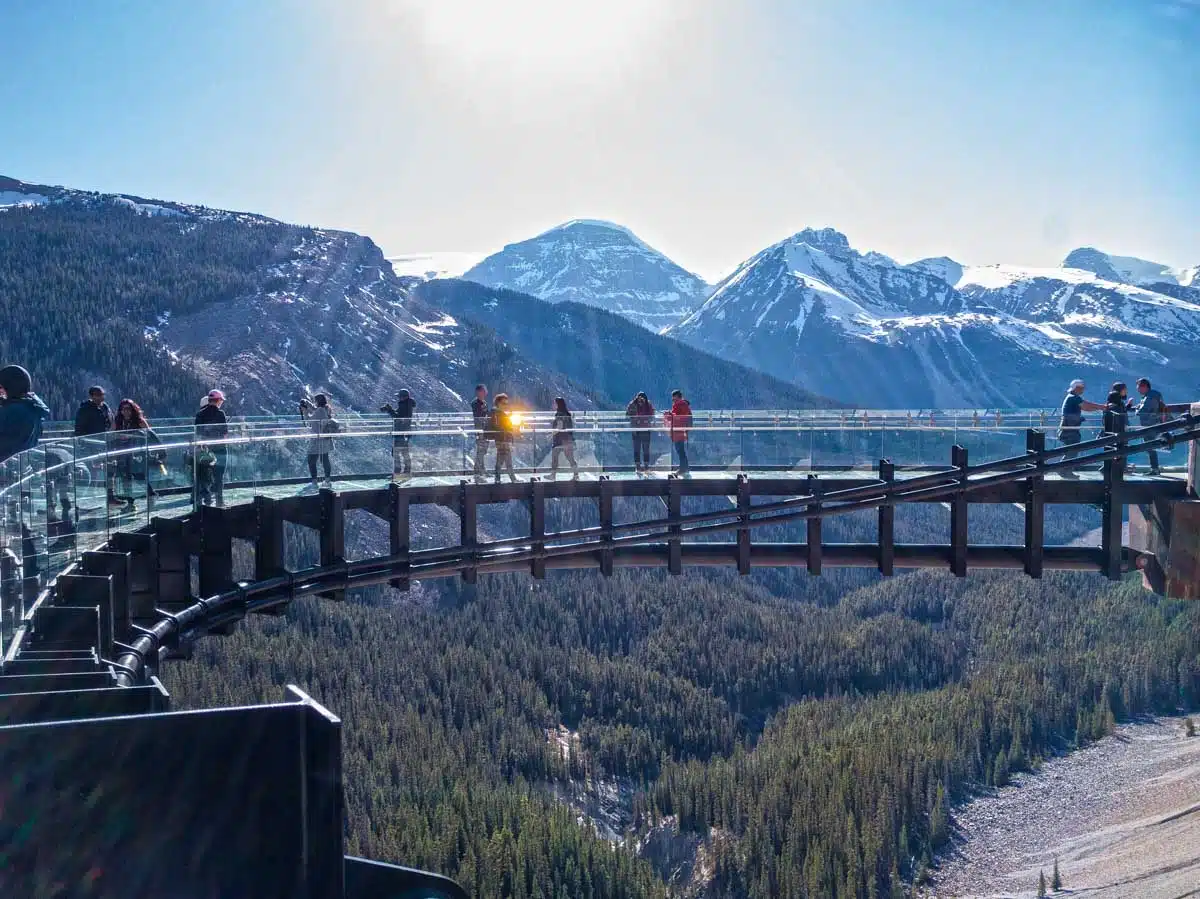 Glacier Skywalk – Take a 400 m walk along a glass-bottomed walkway that overlooks the gorgeous Sunwapta Valley 280 meters below. Tickets for the attraction can be purchased at the nearby Columbia Icefield Discovery Centre, which is about 6 km away towards Banff on the Icefields Parkway. Tickets cost $35 at the door, but you can pre-purchase them online for a slight discount. Plan to spend 30 minutes to an hour there.
Do a Glacier Walk – Take an Athabasca Glacier Tour where you can walk on and drink from the 10,000 year old sheet of ice. You'll be taken out to the glacier on a huge all-terrain bus with a knowledgeable guide who will teach you about the area's history. After arriving on the glacier, you'll get to walk directly on the ice and explore crevasses and hills. Some tours are all day events (10 am – 5 pm), but you can find shorter trips at the Discovery Centre that are 3 hours in length.
Mistaya Canyon – If you are looking for a short half hour break while driving up to Jasper, consider stopping at Mistaya Canyon. Look for a small parking area about 5 km South from the Saskatchewan Crossing. You'll take a short 10 minute hike that crosses a wooden bridge where you can see beautiful views of the mountains and waterfalls surrounding Mistaya Canyon. This spot is not as well known to many tourists, so it's a good peaceful place to stop on your way to Jasper or Banff.
Herbert Lake – Herbert Lake is only 6 km away from Lake Louise along the Icefields parkway. Similarly to Mistaya Canyon, looks for a small pull-out area next to the highway where you can park your car. A short 5 minute trail will take you to a brilliant, scenic view of a tranquil, mirrored lake. You'll have the option of following the trail around the perimeter of the lake if you choose, or simply enjoy the serenity and tranquility of this secluded area.
Chephren Lake – Stop off at the trailhead for Chephren Lake, one of my favorite lakes on the Icefields Parkway. You have to hike in ~3 hours round trip to get there, but I promise the views are totally worth it. By the time you finish up with Chephren Lake, it should be early afternoon and you'll be ready to continue on to the rest of the Icefields Parkway.
Parker Ridge – About an hour and half from Lake Louise, Parker Ridge offers unparalleled views of the Icefields and Saskatchewan Glacier. The hike is a short 2.7 km that climbs 250 m. You'll be above the treeline for the majority of the hike. Set aside about 2 hours for the entire round trip. Parking is limited.
Evening: Dinner at Evil Dave's Bar & Grill in Jasper
For a cozy dine-in experience, Evil Dave's Bar & Grill is a local favorite. With eclectic decor and delicious, large dishes, it's a really awesome choice for a post-road trip dinner in Jasper.
They serve up Western Canadian favorites, like Tenderloin and Grilled Chicken sourced from Alberta, but they've also got a whole list of amazing vegetarian and vegan options as well.
Overnight in Jasper
Mid-Range Hotel: Pyramid Lake Resort

– This resort looks like a giant log cabin from the outside and sits right next to a lake. Guests will have scenic views of the mountains and can dip their feet in the water just a couple of feet from the hotel.

Budget Hostel: Jasper Downtown Hostel – With dorms and private rooms, the Jasper Downtown Hostel is the best place for backpackers in Jasper. It offers all the proper amenities of a hostel, including common areas, a shared kitchen, and laundry machines on-site.
Campsite: Wapiti Campsite

– Wapiti is located next to the Athabasca river and offers gorgeous views of the mountains. The site includes access to hot showers, electricity, and fire pits. It is also close to the main town so you can make quick runs for supplies.
Day 7: Hiking in Jasper
Day 7 is all about exploring Jasper by foot! (Do you like how I've left a whole day in every destination on this itinerary for hiking? Yeah…I kind of like hiking…) There are several hikes in Jasper for hikers of all levels, from "never hiked before" beginners to experienced mountaineers.
Today, you'll spend most of the day hiking, then you'll relax in the hot springs before treating yourself to dinner in one of Jasper's best restaurants.
Morning & Afternoon: Hiking in Jasper
Like I mentioned, there are dozens of hikes you can try in Jasper ranging from easy, flat trails to rock scrambles. I've listed out some of the most popular ones for you here so you can choose 1-2 and plan your day:
Easy Hikes in Jasper
Maligne Canyon: (Easy, 3.9 kilometers) An easy, short hike, Maligne Canyon brings you through a striking canyon, passing by ranging rivers and breathtaking waterfalls in the process. Perfect for families or beginner hikers wanting to see some of the most awesome views in the park!
Valley of the Five Lakes: (Easy, 4.5 kilometers) The magic of the Valley of the Five Lakes trail is exactly what it sounds like: five gorgeous, picturesque lakes with the Canadian Rockies lying majestically in the background. It's perfect for beginner hikers wanting an easy half-day adventure on one of the most tranquil and iconic Jasper hiking trails.
Moderate/Challenging Hikes in Jasper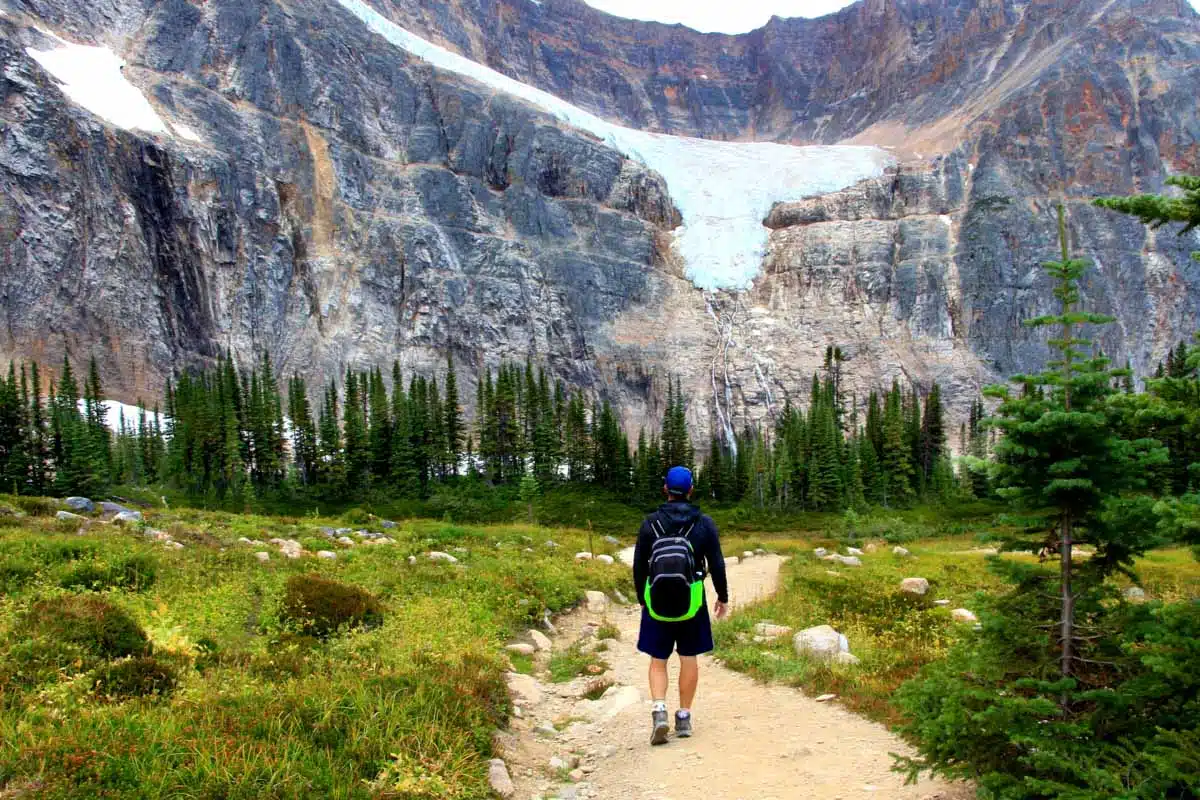 Edith Cavell Meadows: (Moderate, 6 kilometers) Edith Cavell Meadows is one of the most popular trails in Jasper, and for good reason – it's got a bit of everything, from mountain views to alpine meadows to hanging glaciers and more. The first part of the path is paved, leading you to a lookout point over Angel Glacier. After the lookout point, the trail continues ascending, and the path leads to two more viewpoints – most people (myself included) choose to stop at the second one.
Bald Hills: (Challenging, 13.2 kilometers) As one of the most popular full-day Jasper hikes, Bald Hills is an amazing and challenging trail that will bring you up to some of those drop-dead gorgeous views you see in the postcards. This summit hike is one of the best hikes you can do in the park, and we highly recommend it if you're up for the challenge.
If you're in need of some food for fuel or relaxation, head to Coco's Cafe in downtown Jasper. They serve amazing coffee beverages and snacks for hungry hikers (including some seriously mouth-watering vegetarian and vegan items), and their prices are affordable.
Evening: Dinner at Maligne Canyon Wilderness Kitchen
For the perfect smoky, rich, locally sourced meal, there's no better place in Jasper to try than the Maligne Canyon Wilderness Kitchen. Located next to the Maligne Canyon trailhead, this small, charming restaurant embodies the spirit of Canadian Rockies gastronomy, with locally sourced meats and produce.
If you're super tired from the trails, you can also grab their mouth watering dishes to go, but why not stick around and enjoy the fresh smells and flavors in-house?
You'll spend the night in the same Jasper accommodation you chose on Day 6.
Day 8: Jasper Town & Iconic Sights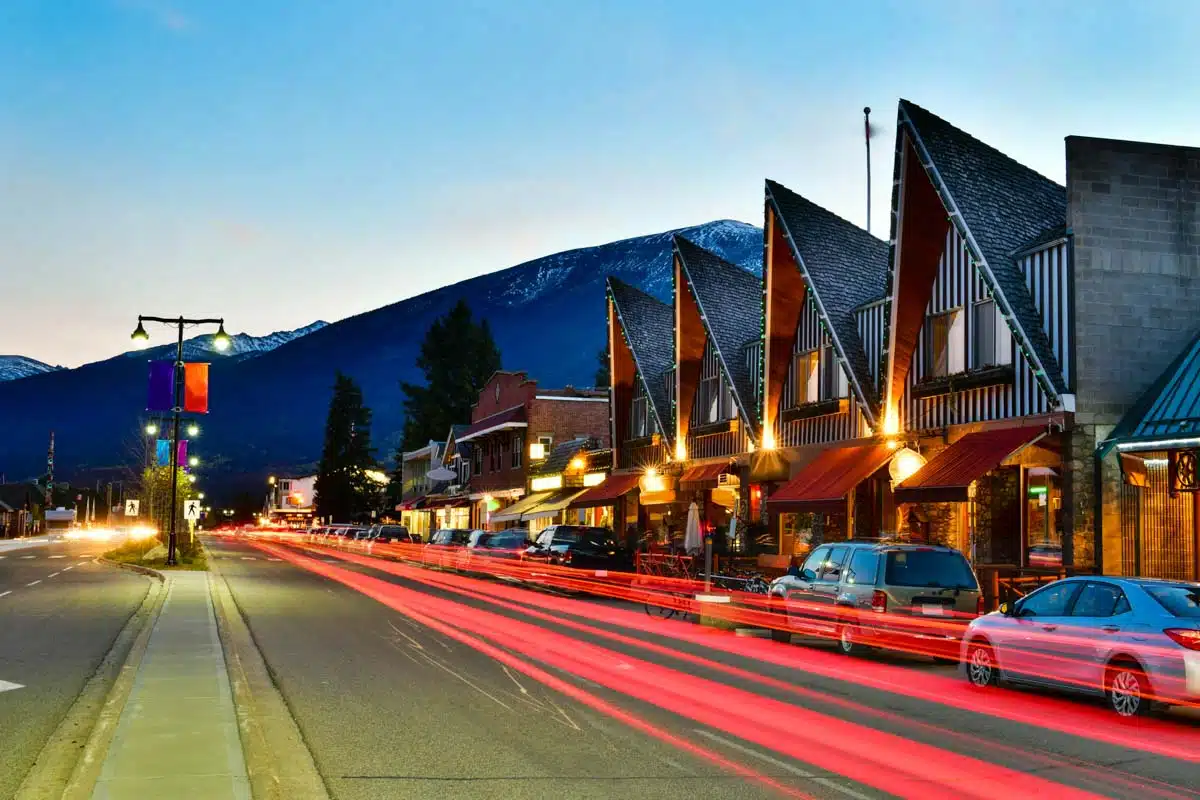 After your big day of hiking yesterday, you'll take it a little bit easier on Day 8. However, you'll start your morning super early with a beautiful sunrise view, head to one of the most picturesque lakes in ALL of Jasper, and then explore the area surrounding Jasper town before heading toward Yoho National Park.
Early Morning: Sunrise at Pyramid Lake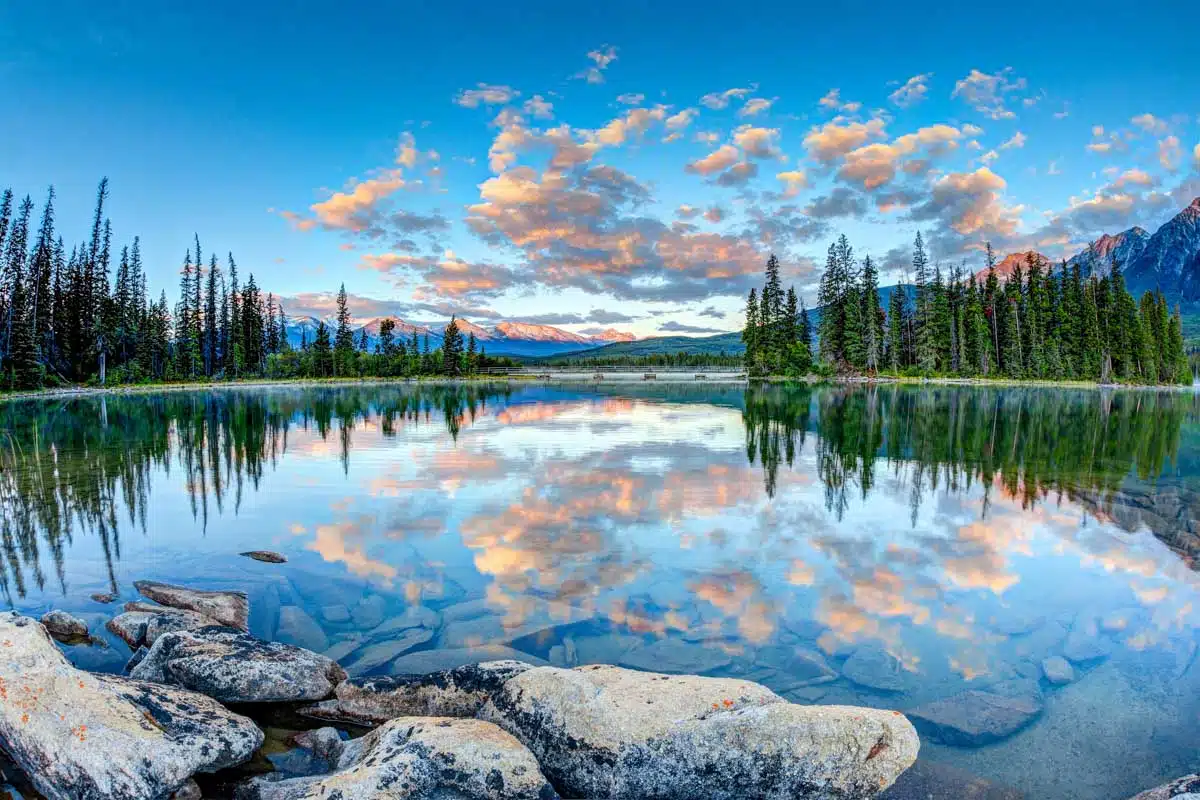 You'll head out before 6 AM (check the sunrise forecast on your Weather app for a more accurate departure time) to Pyramid Lake.
This dramatic lake is home to a towering mountain peak, a beautiful blue lake, evergreen forests, and a large wooden lodge.
You should get there when the sky is still a deep navy blue, but just bundle up and wait for the sunrise. If it's clear enough outside, you should start to see the faint hues of pink and red slowly start to paint the mountain face (like the photo I took a few years ago below).
If you're looking for an alternative view, nearby Patricia Lake is also a really lovely place to watch the sun as it peeks over the horizon. Patricia Lake's water is a lot more still than the water at Pyramid Lake, creating a gorgeous "mirror lake" effect.
Head back to Jasper town center to grab a quick coffee and breakfast at Coco's Cafe (or another one of Jasper's coffeeshops!).
Morning: Maligne Lake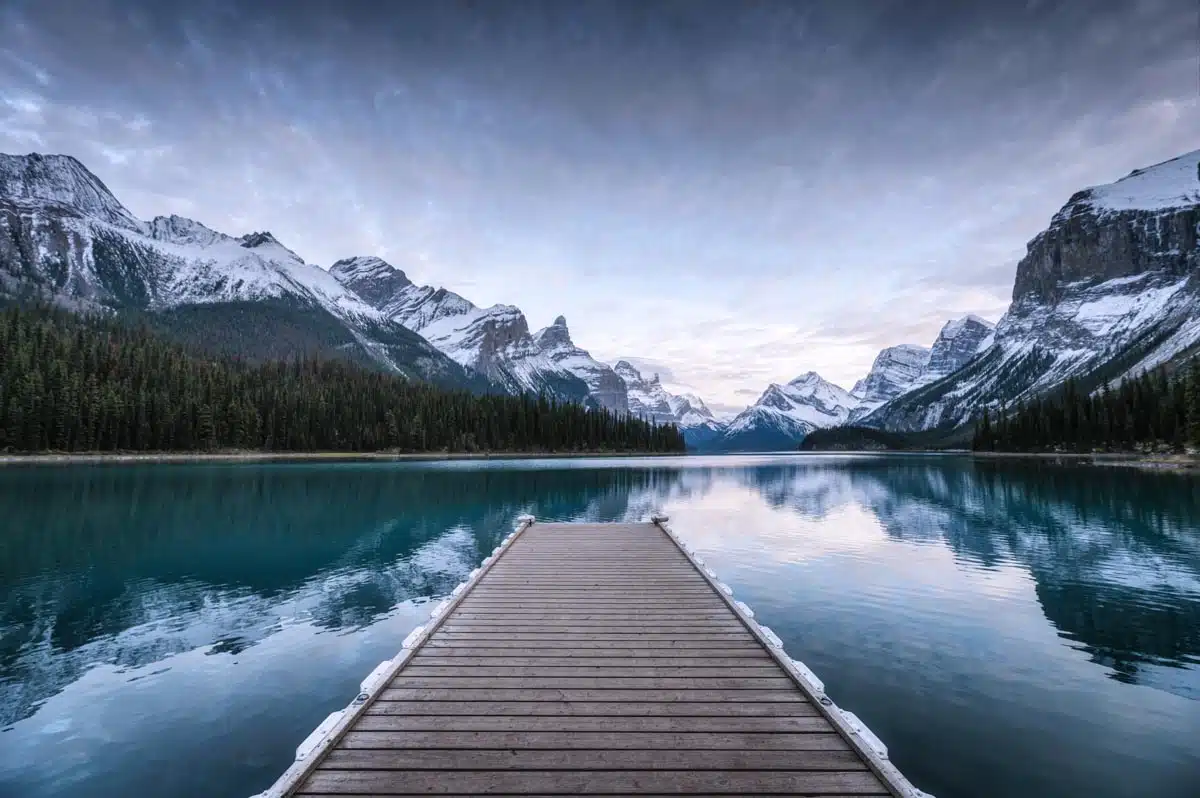 From Jasper town center, it's a bit of a drive to arrive at Maligne Lake. However, once you're there, you can spend the rest of the morning simply wandering around the area, doing a nearby hike or getting out on the water.
Here are a few ways to spend your morning in Maligne Lake:
Admire Spirit Island – One of the famous views in Jasper is Spirit Island, a tiny, evergreen-filled island jutting out into the middle of Maligne Lake. It's super picturesque amidst the backdrop of the clear, turquoise waters of Maligne Lake, and makes for a super picturesque spot to spend the morning.
Take a boat tour – There are a handful of motorized boat tours that travel through the Maligne Lake area, and you can book one very easily. If you're feeling tired from all of your travel (I understand, this itinerary is SUPER jam-packed!), opt for a relaxing boat cruise around the beauty of the lake.
Kayak around the lake – If you're looking for an active alternative to the boat cruise, you can rent a kayak and explore around the lake yourself!
Go hiking – There are tons of trails and hiking areas that extend from Maligne Lake up into the nearby mountains.
Early Afternoon: Explore the Jasper Town Area
Now that you've spent virtually the entire morning outside, you'll return to Jasper town center and enjoy some of the more laid-back attractions in the area.
Since you won't have a TON of time to do things in Jasper town, here are a few suggestions for things you can do with 2-3 hours:
Ride the Jasper Skytram – The Jasper Skytram brings you close to the top of Whistlers Mountain. There's a sizeable observation deck and an area where you can grab food and drinks. Or, if you're feeling more adventurous, hop on the hiking trail near the platform to reach the summit of the mountain.
Go cycling on Jasper's bike paths – Rent a bike at Vicious Cycle Canada and hit the trails! There are plenty of bike trails in and around Jasper's town center where you can explore on wheels.
Visit the Jasper-Yellowhead Museum – Located in the center of Jasper, the Jasper-Yellowhead Museum discusses how Jasper's community began, and provides important historical context to the area that's now largely known for its natural beauty and adventure activities.
For our entire list of things to do in and around Jasper town, check out the complete guide:
Click here to read our complete guide to things to do in Jasper
Late Afternoon & Evening: Drive to Yoho National Park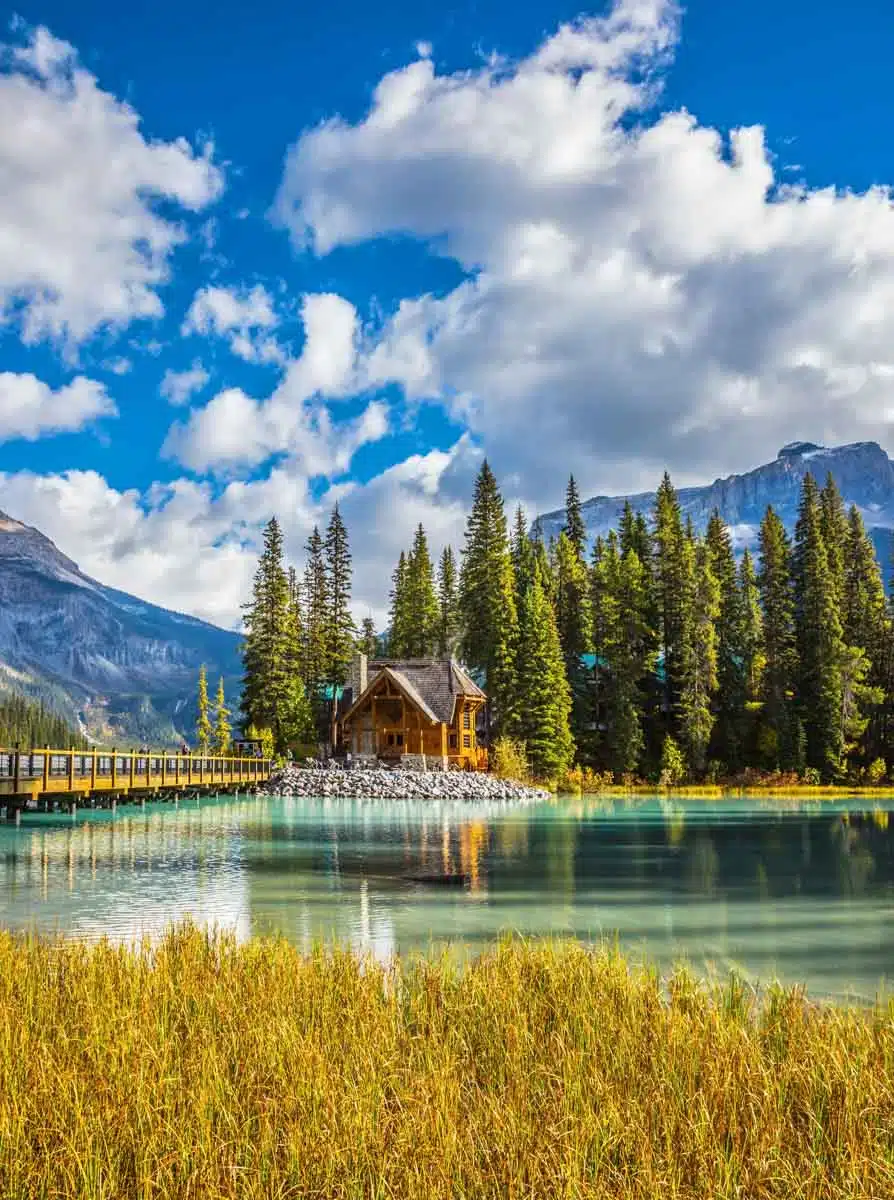 The drive to Yoho, your next stop, takes 3.5-4 hours, and since you've already made your stops on the Icefields Parkway, you can drive it straight. However, I'd plan to leave Jasper no later than 2 PM to make sure you have plenty of daylight to drive all the way to Yoho.
Once you're in Yoho, you'll actually stay in Field, the town of Yoho. There, you can grab dinner (I recommend Truffle Pigs Bistro & Lodge) before settling in to your accommodation for the night.
Overnight in Field (Town of Yoho National Park)
Mid-Range Hotel: Truffle Pigs Lodge – This 12-room inn is a small, comfortable, mid-range hotel option. With private rooms and bathrooms and an attached restaurant, it's the perfect full-service accommodation option for Yoho. It's also located in the heart of the tiny town of Field, perfect for access to all of the main park attractions.
Budget Hostel: Fireweed Hostel – Built into a two-story log cabin, this cozy hostel is the perfect backpacker lodge for budget travelers in Yoho. Located in the town of Field, it's an easy drive from most of the park's main attractions, and there are typical hostel amenities like communal hangout space and a kitchen. It's perfect for backpackers and solo travelers!
Campsite: Kicking Horse Campground – A well-maintained, quiet campsite in Yoho National Park, Kicking Horse Campground offers campers a place to rest their heads (and shower, and get access to running water) from late June to October.
Day 9: Hiking & Sightseeing in Yoho National Park
Today is your full day in Yoho National Park, which is the smallest Canadian Rockies park and one of the most easily overlooked stops on any Canadian Rockies itinerary.
It's actually in British Columbia, so it's often not listed on "places to visit in Alberta" lists. But it's equally, if not more, beautiful than its neighbors.
In fact, the word "yoho" in Cree, a local indigenous language, means something like "WOW!!!!" When you see it, you'll probably agree that Yoho National Park is definitely deserving of such a high honor.
On Day 9 of your Canadian Rockies road trip, you'll take the full day to explore Yoho. Banff is just a short drive (~40 minutes) away, so you can hang out here until about dinner time and then head over to Banff to spend the night.
FYI: Yoho doesn't actually fully open all of its roads until late June, so you may need to modify your Canadian Rockies road trip plans if you come earlier in the season.
Morning: Takkakaw Falls and Emerald Lake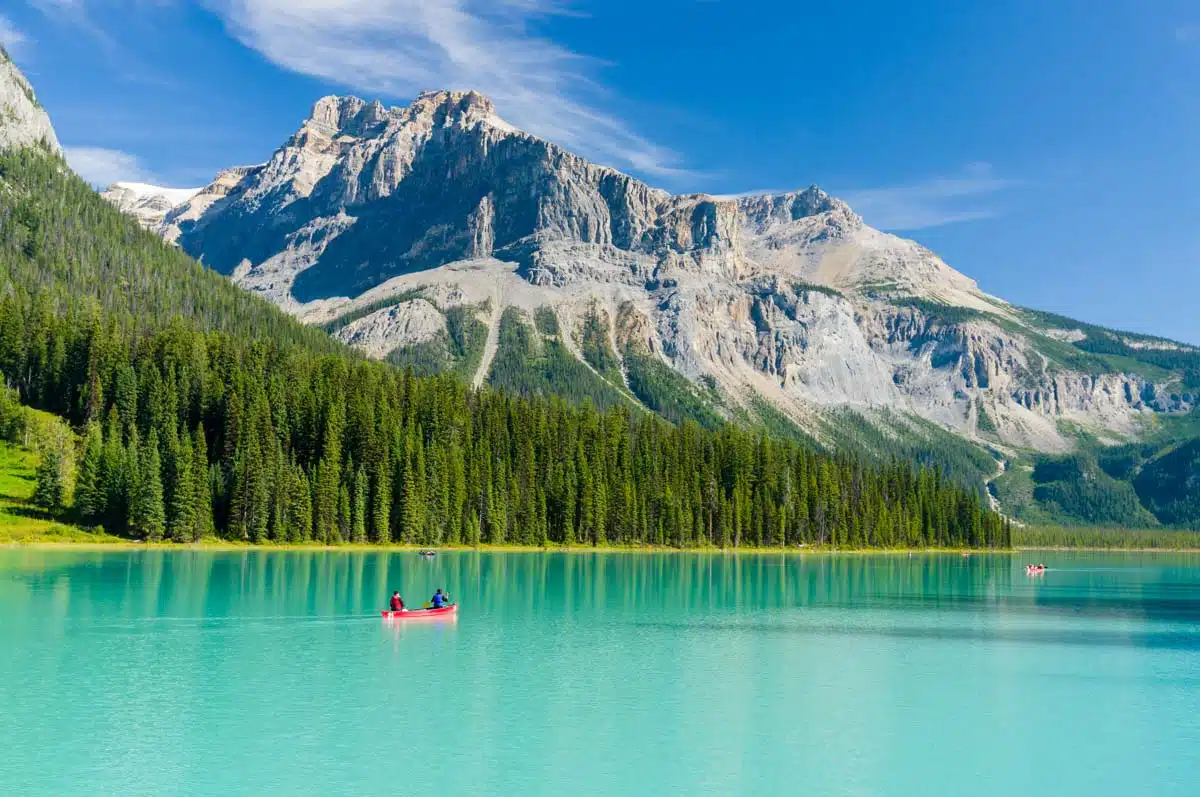 Takkakaw Falls is the second highest waterfall in Western Canada and is a super spectacular spot to head to in the morning. The access road is only open from June through early fall, so unfortunately if you are headed to the Canadian Rockies in the spring, you won't be able to see the fall at that time.
To get to the end of the falls, you'll need to take a trail, which is only ~1.5 kilometers. Once you arrive at the base of the falls, you can stand close enough to feel the cool water sprinkle your face. Cool (literally), huh?
Next, head to Emerald Lake, a stunning alpine lake in Yoho not far from Field. Here, the fine sediment from the glaciers sits in the water and gives it its characteristic emerald color after which it is named. You can rent a kayak here or hike the 5.3 kilometer loop trail around the lake!
Afternoon: Lake O'Hara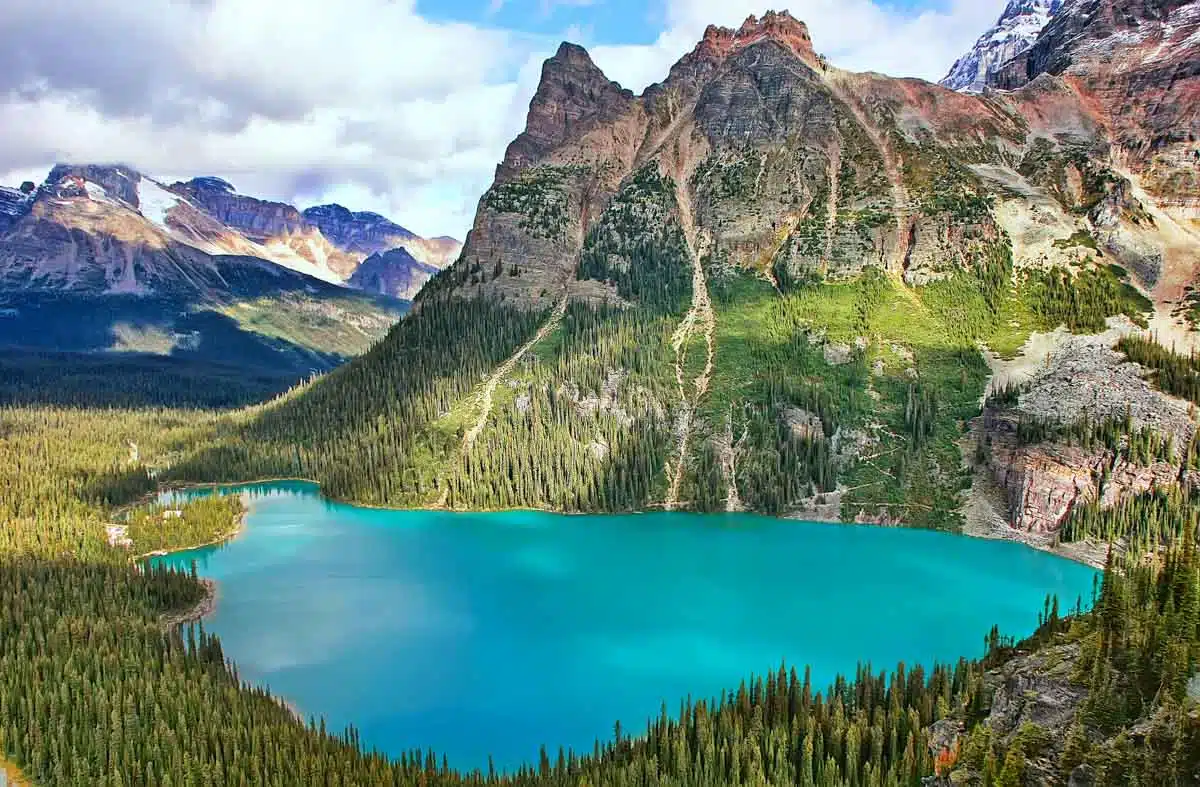 Lake O'Hara is an alpine lake, and is one of the main sights in Yoho National Park. It's definitely worth the long journey it takes to get there.
Situated at 2000m in elevation, you need to hike up a trail in order to get there (but you may be able to pay to take a shuttle down back to the parking lot during the summer months. Note, however, that this is not a guarantee!)
Advance reservations are required to go up to the lake, however, you are still able to hike the 11 km up to the top even if you weren't able to get a bus reservation.
If you don't get a bus reservation, you will have to hike back down the 11 kilometers you came (which means this will easily turn into a full-day excursion!). However, if you are able to take the bus back down, plan to be around Lake O'Hara for 4-5 hours. (If you have to hike both ways, plan for 6-7 hours.)
Evening: Dinner in Banff
For your last dinner, you'll head back to Banff's town center. You can eat at one of your favorite restaurants from before, or opt for a bit more of a "fine dining" experience at one of these Banff local restaurants:
Saltlik – Enjoy a nice quality steak dinner at one of Banff's premier steakhouses. There is a separate bar area for drinks. The restaurant has a great selection of side dishes. Try the mac and cheese!
The Bison – This picturesque dining establishment features wood-fired inspired food, and their dishes are LITERALLY to die for. For meat lovers, choose between ribs, bison, duck, or trout. Vegetarian dishes are also available. And, of course, before you leave Canada, you've got to try their poutine!
Overnight in Banff National Park
You'll be back in Banff for your final night of this Canadian Rockies itinerary, so enjoy it! Again, here are my recommendations – the same ones as before – for a few popular places to stay (or you can read this post for the full list, from luxury lodges to budget hostels):
Click here to check reviews and prices for accommodations in Banff
Day 10: Return to Calgary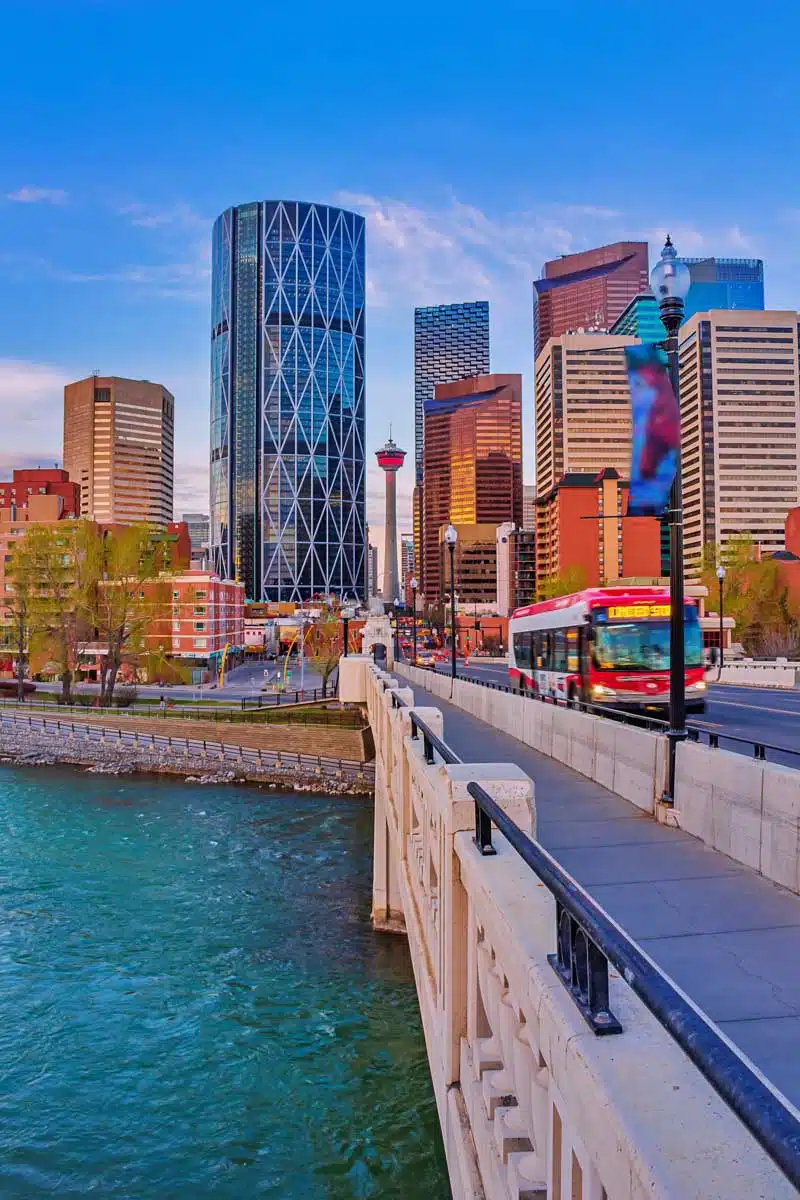 It's the last day of your Canadian Rockies itinerary, and sadly you'll have to return back to your normal life soon. But before you go, you'll spend one last blissful morning amidst the peaks and forests before heading back to Calgary.
Morning: Sunrise at Vermilion Lakes
Wake up early (before 6 AM) and head to Vermilion Lakes for your final morning in the Canadian Rockies. This is THE sunrise spot, and we left this for the last day so that you can enjoy one last morning of tranquil mountain magic before heading back to the real world (*sobs*).
Even on misty mornings, the sunrise here can be quite beautiful, so I'd recommend going even if it looks cloudy outside. Park in the parking lot at Vermilion Lakes and walk into the shore area, where you can sit and enjoy a warm drink or just listen to the sounds of the morning.
It's here where you'll bid farewell to Banff and the Canadian Rockies and all of your amazing memories you've just made over the last 10 days. From personal experience, I will say that this place really sticks with you, forever. The landscapes of the Canadian Rockies have truly made an impression on me that my heart will always yearn for.
Returning to Calgary
You're finally reaching the end of your Canadian Rockies road trip. (Sad face emoji!)
Depending on what time your flight is scheduled to depart, you'll need to make your way back to Calgary. When you're ready, dry your eyes and hop in the car, taking the Trans-Canada Highway all the way back to the city. Drop off your rental car wherever you picked it up, head back to the airport, and bid those incredible mountain vistas adieu.
Feeling some serious post-Rockies depression already? Well then you'll just have to plan another trip up here! There are LOADS MORE things to do in the Canadian Rockies than we had time for in this itinerary, and until then, you can drift off to sleep at night with visions of the snow-capped rocky peaks and magical turquoise lakes dancing around in your mind…
Other Places to Visit on a Canadian Rockies Itinerary
If you're one of the lucky ones who actually has more time in the Canadian Rockies than 10 days, read on for a few more areas you can add to your Canadian Rockies itinerary:
Waterton Lakes National Park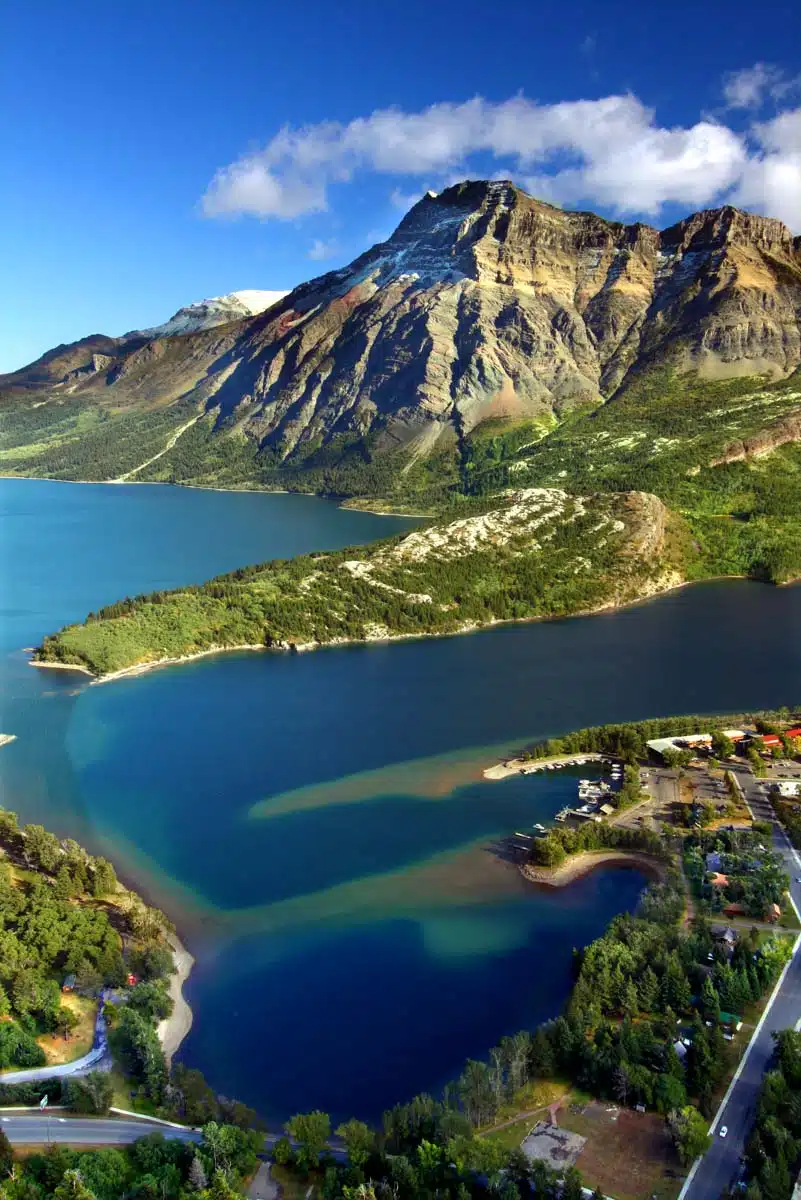 Waterton Lakes National Park (along with its US neighbor, Glacier) is a UNESCO World Heritage Site and International Peace Park. This Alberta national park consists of a giant glacial lake system surrounded by mountains, and it rests on the Canadian border with Montana. Its a bit far from the rest of the parks on our itinerary, but it's definitely a worthwhile addition to any Canadian Rockies road trip!
Like its northern neighbors, Waterton Lakes is full of amazing, spectacular views and hiking trails, including its famed Triple Crown hiking challenge. To learn more about Waterton Lakes and the hiking trails there, visit our complete guide:
Kootenay National Park
Kootenay National Park, located in British Columbia, is another lesser-known Canadian Rockies national park. Located southwest of Banff National Park, you can experience all kinds of beautiful hiking trails here, with amazing, breathtaking alpine lakes and mountain passes to explore. It's not far from the rest of the places on this Canadian Rockies itinerary and would be the perfect addition if you have a few extra days to spend in the region.
I haven't actually personally been to Kootenay National Park, but this guide to 25 things to do in Kootenay is an excellent starting point if you'd like to explore the area.
Additional Canadian Rockies Travel Resources
Phew! If you've made it this far, congratulations. You've literally gotten your hands on all of the information you need for all of the stops on this itinerary. However, we do have even MORE detailed guides on each of the stops in the Canadian Rockies on our website and beyond.
The below resources (both our guides and the external ones) are all really helpful for learning more about the attractions at each stop on this itinerary, or for adding activities and extending your trip.
Have a look and remember — these are ALL just our recommendations. Doing more research on the area enables you to make your Canadian Rockies itinerary the perfect one for YOU!
Our favorite (external) Canadian Rockies travel resources:
Lonely Planet: Banff, Jasper, and Glacier National Parks – If you're into physical guidebooks to take with you when you travel, this is the ultimate companion to our Canadian Rockies itinerary. The Lonely Planet guide to Banff, Jasper, and Glacier has all the information you need to get around, find a nice place to stay, and book tours for the adventures you want to try.
Moon Canadian Rockies – Another comprehensive print guidebook about Banff, Jasper, and more! It never hurts to have more than one, right?
Parks Canada Website – This website is the ultimate resource for up-to-date information about the national parks in Canada. Here, you can find out about road and trail closures, construction occurrences, weather warnings, and more.
To Banff and Beyond – A wonderful Banff-focused travel blog which includes several tips, hikes, and activities to do in the Canadian Rockies area!
Did you find this post useful? Don't forget to bookmark it, or pin it for later!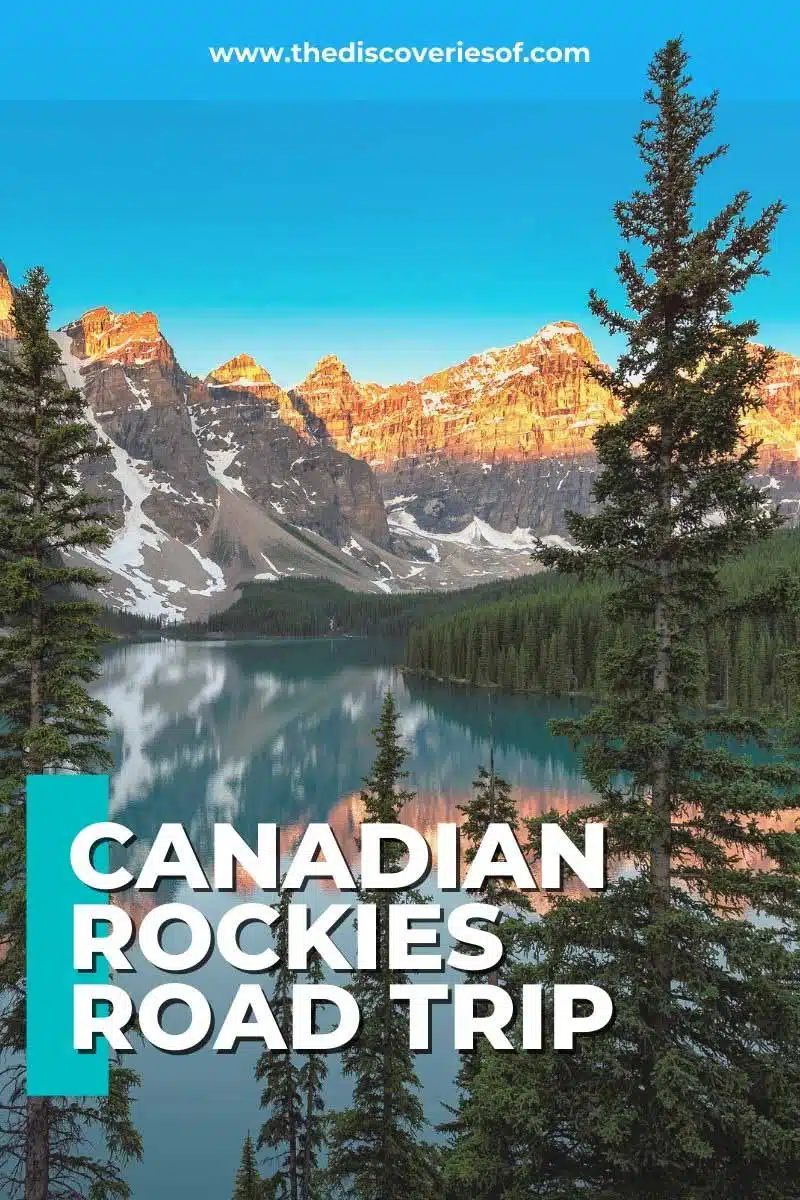 10 Days in the Canadian Rockies Itinerary: Read Next
All of our own guides, tips, and misadventures in the Canadian Rockies
Banff Guides & Resources
Jasper Guides & Resources