Discover the best things to do in Banff National Park with this practical AF insider's guide.
You've probably seen breathtaking photos of Banff National Park online, in magazines, or floating around Instagram and thought, "wow, this place can't be real."
Well, I'm here to inform you that yes, Banff is actually as magical as it looks in photographs, and it's absolutely worth taking a trip there to see it for yourself.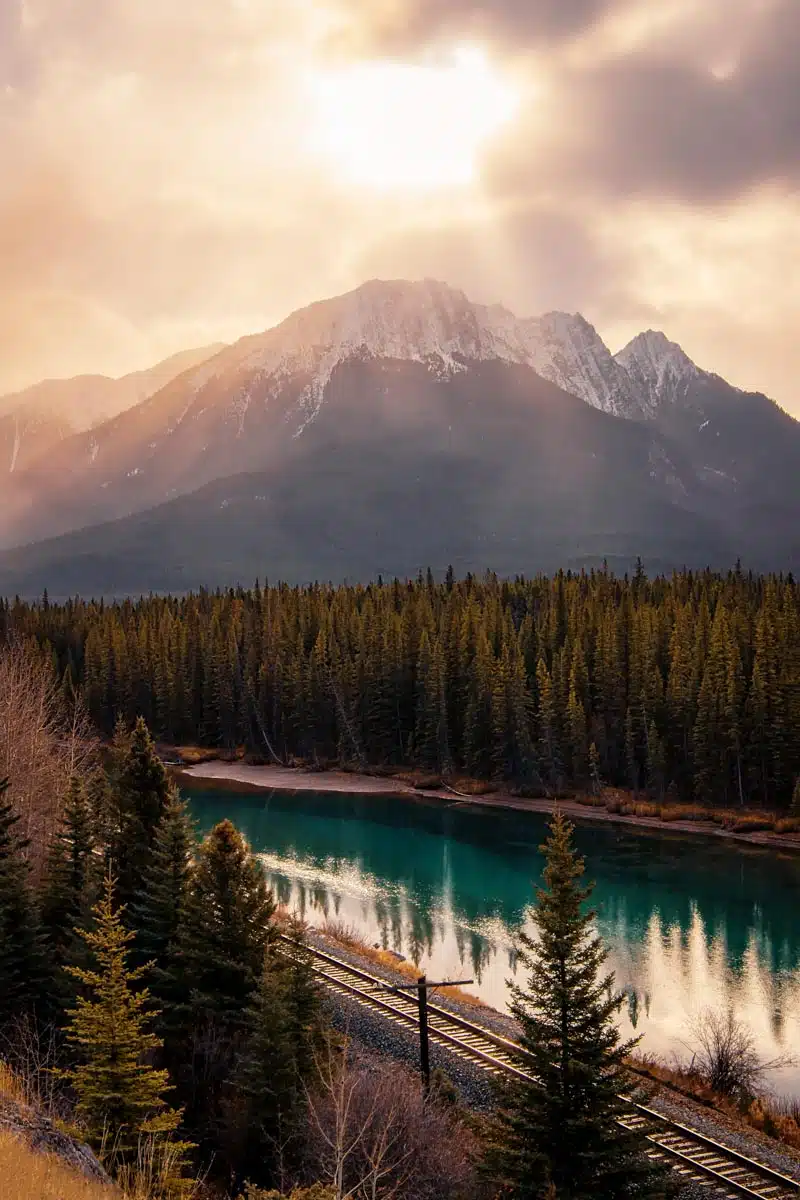 If you're wondering what there is to do in Banff, look no further.
For starters, the hikes and outdoor adventure activities here are absolutely amazing. For non-hikers, there are some truly amazing restaurants, and the accommodations range from campsites to some of the world's top-ranked luxury hotels.
But wait, I'm getting ahead of myself: keep reading to learn everything you need to know about what to do in Banff!
Incredible Things to Do in Banff National Park
Things to do in Banff: Outdoor Adventures
Go Hiking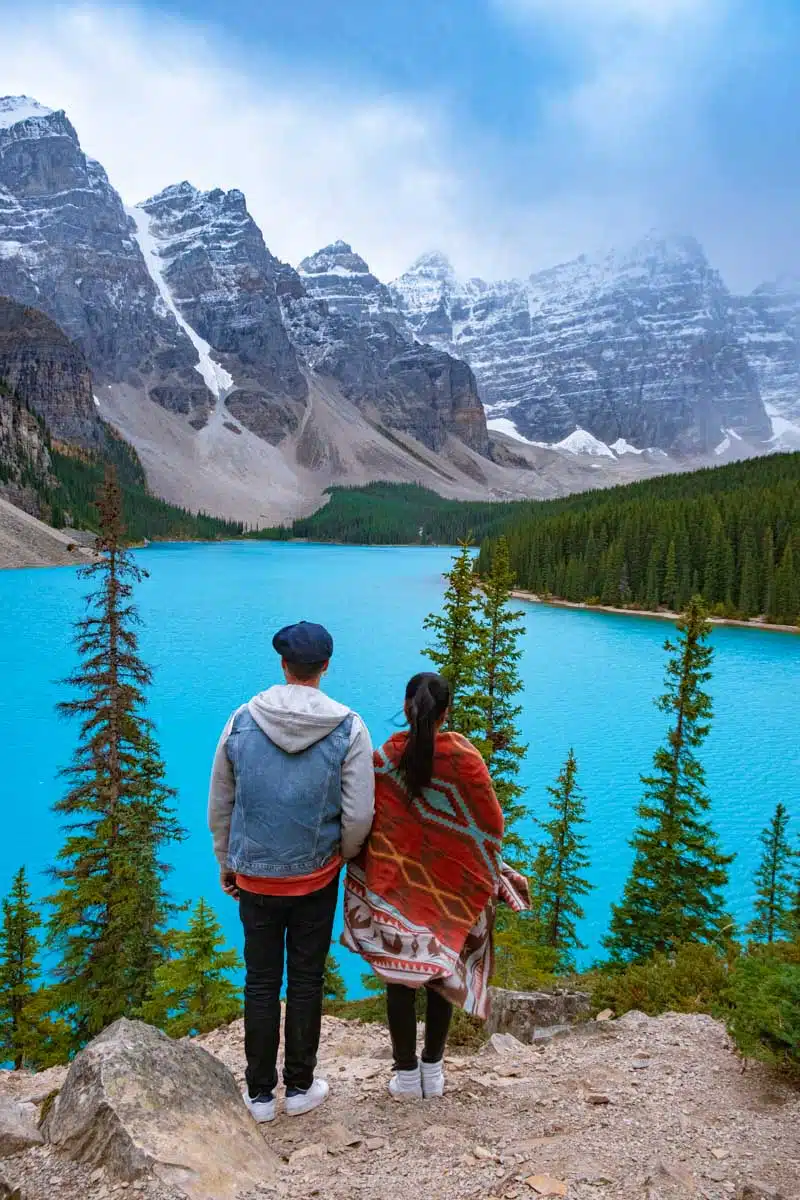 If you do nothing in Banff National Park, you should make sure to take time to hop on one of the various hiking trails.
Getting on your feet for a hike through the park is one of the best ways to see the spectacular view of the Canadian Rockies and the valleys below.
Hikes in Banff range from easy, paved paths to near-vertical rock scrambles, and will definitely excite and inspire any level of hiker.
You can hike to viewpoints, waterfalls, forests, alpine lakes, and more – there's an incredible variety of terrain in Banff and you can experience it first-hand on the many hikes in the area!
Some of the most popular/highly recommended hikes in Banff include:
Johnston Canyon (Easy): The Johnston Canyon trail is a out-and-back "paved" trail that brings you to some of the park's most beautiful waterfalls and waterways. It's one of the most popular hikes in Banff, so be sure to get there early to avoid the crowds!
Lake Minnewanka Loop Trail (Easy): An easy loop around one of the most beautiful lakes in the area, the Lake Minnewanka Loop is a fabulous day hike for beginner hikers or families.
Plain of Six Glaciers (Moderate): For a more challenging, long day hike, the Plain of Six Glaciers is an excellent option. You'll get sweeping views of Lake Louise and the surrounding glaciers, and you might even find a surprise at the end (read on in this post to learn more!).
Mount Rundle (Difficult): One of the most iconic mountains in Banff National Park, Mount Rundle is an amazing and challenging summit hike to the peak of this beast. If you're planning to tackle this hike, be sure you're fully prepared by reading this post and bringing all of the necessary day hiking items you'll need.
For some of our best recommendations, check out our complete guide to Banff's most incredible hikes (for all levels of hikers!).
Or, if you have more time in the Canadian Rockies, check out some guides to hiking in Jasper and Waterton Lakes, too.
Before beginning any hike in Banff, it's wise to check the Parks Canada website for updates on trail conditions and weather forecasts.
Drive the Icefields Parkway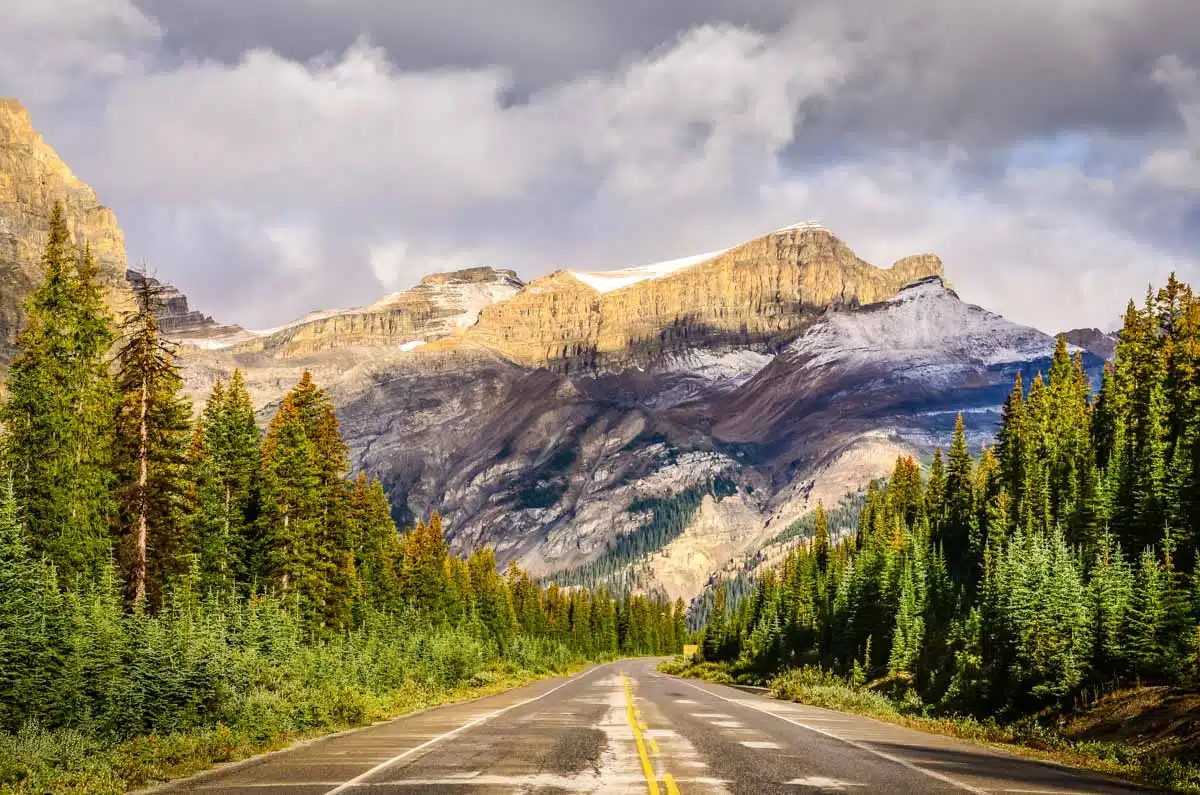 Another one of the most quintessential Banff activities is to drive down Canada's spectacular Icefields Parkway.
No words can do this place justice, but imagine this: a highway that's surrounded on all sides by towering glaciers, jagged mountain peaks, and teal alpine lakes.
Sounds amazing, right? Well, the Icefields Parkway is all this and more.
If you've rented a car, you'll take the Trans-Canada Highway from Calgary to Banff, then exit following signs to the Icefields Parkway towards Jasper. Otherwise, you'll continue on to Yoho and British Columbia (which are also awesome, but I digress…).
Then, take it slowly! I recommend taking a whole day to just drive around and explore the Columbia Icefield area.
Stop off at the many overlooks and viewpoints along the way, including the stunning Glacier Skywalk, a big, hanging pathway where you can catch sweeping views of the Columbia Icefield.
There are also several breathtaking hikes you can do in this area, such as Chephren Lake or Cirque Peak. If you're so in love with the Icefields Parkway that you want to stay longer, you can camp there as well.
Pitch Your Tent at a Beautiful Campsite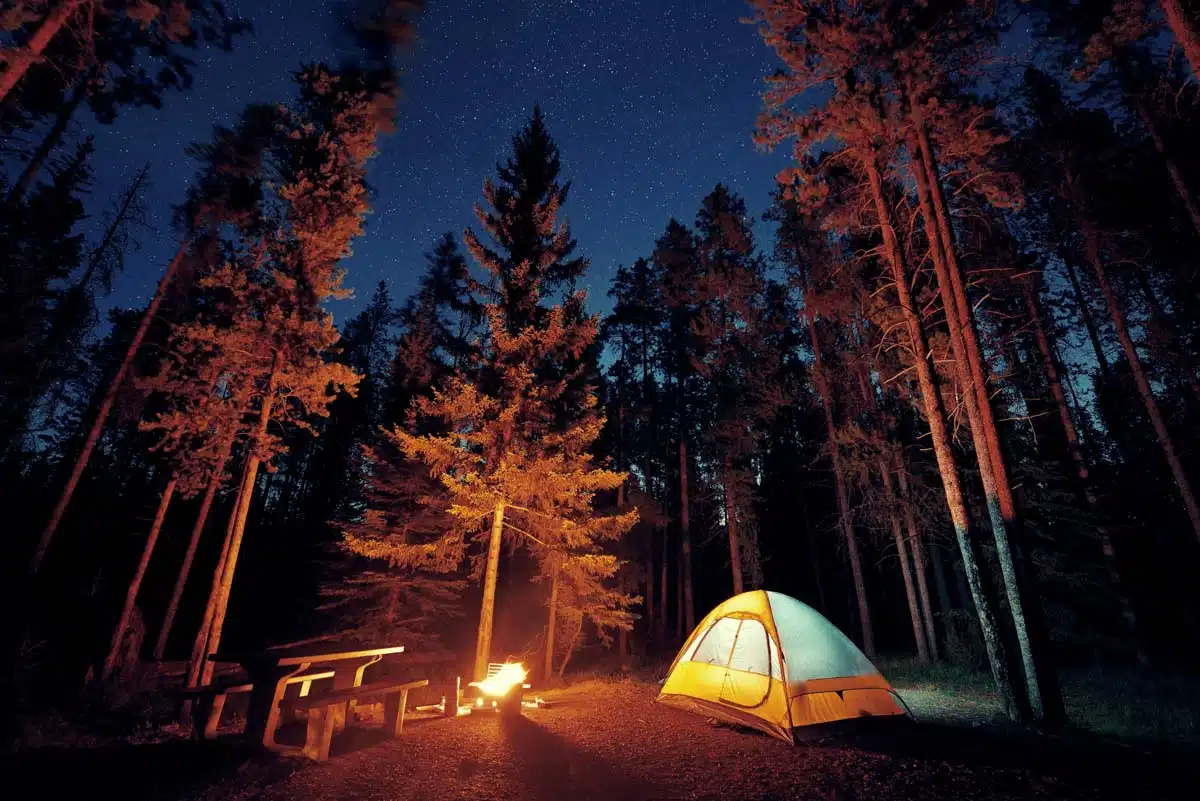 Speaking of camping, there are TONS of amazing campsites in Banff that you can stay in during a trip to the park.
Located in some of the most picturesque areas of the park, Banff's campsites are full of all the amenities you need (and cost WAY less than hotels in the area).
Needless to say, camping in Banff is an easy and fun way to get outdoors and experience the park in the most immersive way possible!
If you've never camped before, it's no problem.
Banff was actually the very first place I went on a multi-day camping trip, and I fell in love with sleeping under the stars, surrounded by fresh air and the sounds of the forest.
My favorite campsite was Two Jack Lakeside, where I got to sleep right next to the most beautiful crystalline lake in the park.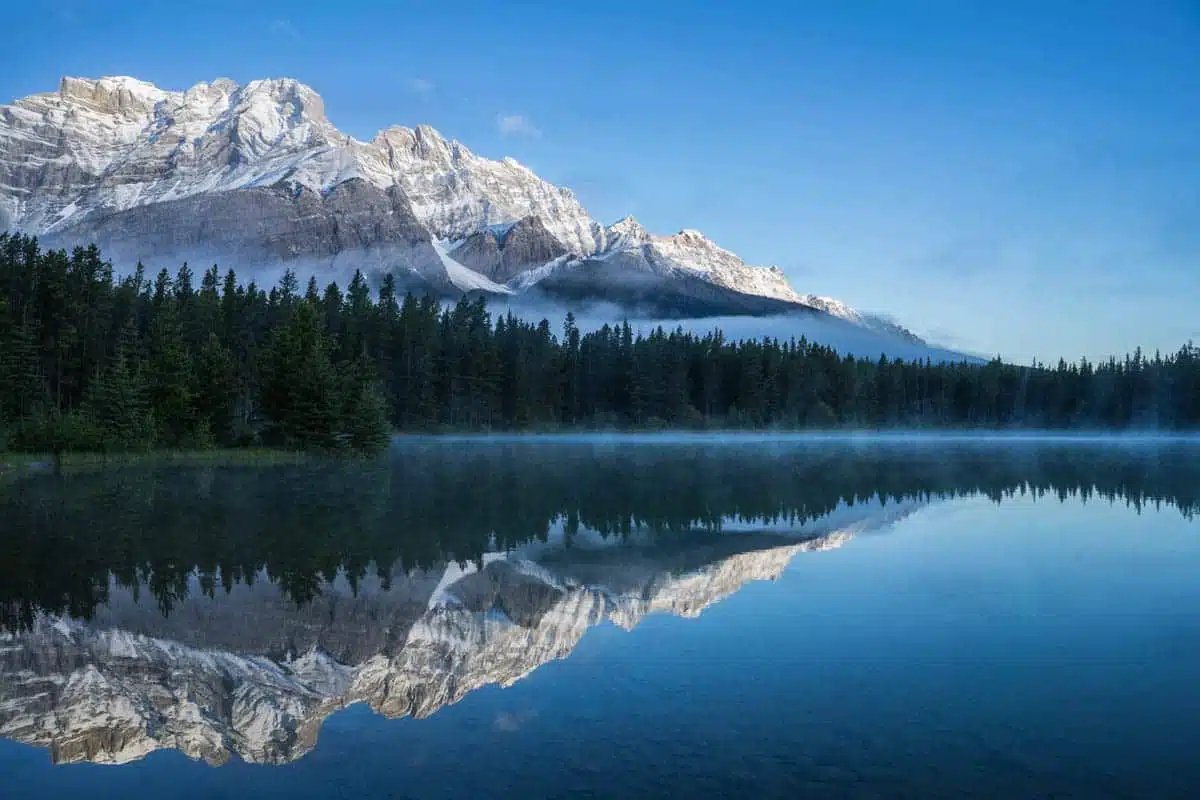 Camping in Banff is a lot easier than in some other areas because there's a town close by and many of the front-country campsites have things like running water and hot showers. If you're totally sold on camping during your next trip to the park, check out our complete guide to camping in Banff.
Read Next: The Complete Guide to Camping in Banff
Visit the Surprise Corner
Among the many lookout points in Banff National Park, the aptly-named Surprise Corner stands out as one of the most beautiful places to visit in Banff.
Once you arrive at this unofficial Banff attraction, you'll understand the reason for the name.
Located just a 5-minute drive from Banff National Park, the Surprise Corner boasts access to sweeping panoramas of the Bow Valley, with the luxurious Banff Springs Hotel jutting out from the lush evergreens. It literally looks like a scene out of a movie.
As it's not an official viewpoint, there's no sign marking the Surprise Corner.
You can find it by popping "Surprise Corner Banff" into Google Maps, or by using GPS coordinates: 51.1673692, -115.5592741. It's on Tunnel Mountain Road not far from the town, and you'll know when you arrive and see the stunning views.
Chase Some Waterfalls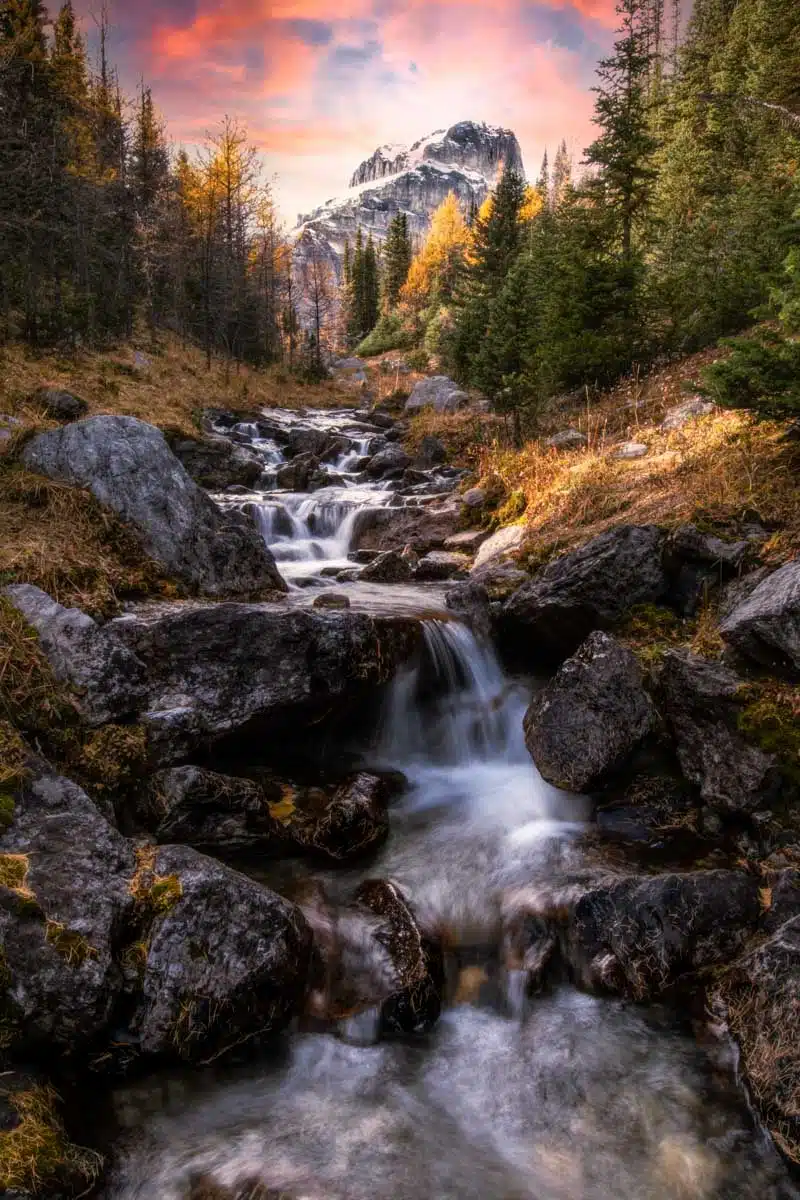 If anyone (especially a certain song) has told you not to go chasing waterfalls, throw their advice out the window when you head to Banff.
There are waterfalls EVERYWHERE here, many of which you can see up close and personal around the park.
While some of the waterfalls are located on trails (like Johnston Canyon or Bow Falls), you can also get to a few of them by kayak or stand-up paddleboard.
Some of the most popular waterfalls in Banff include:
Johnston Canyon
Bow Glacier Falls
Bow Falls
Sundance Falls
Take Iconic Photos at a Glacial Lake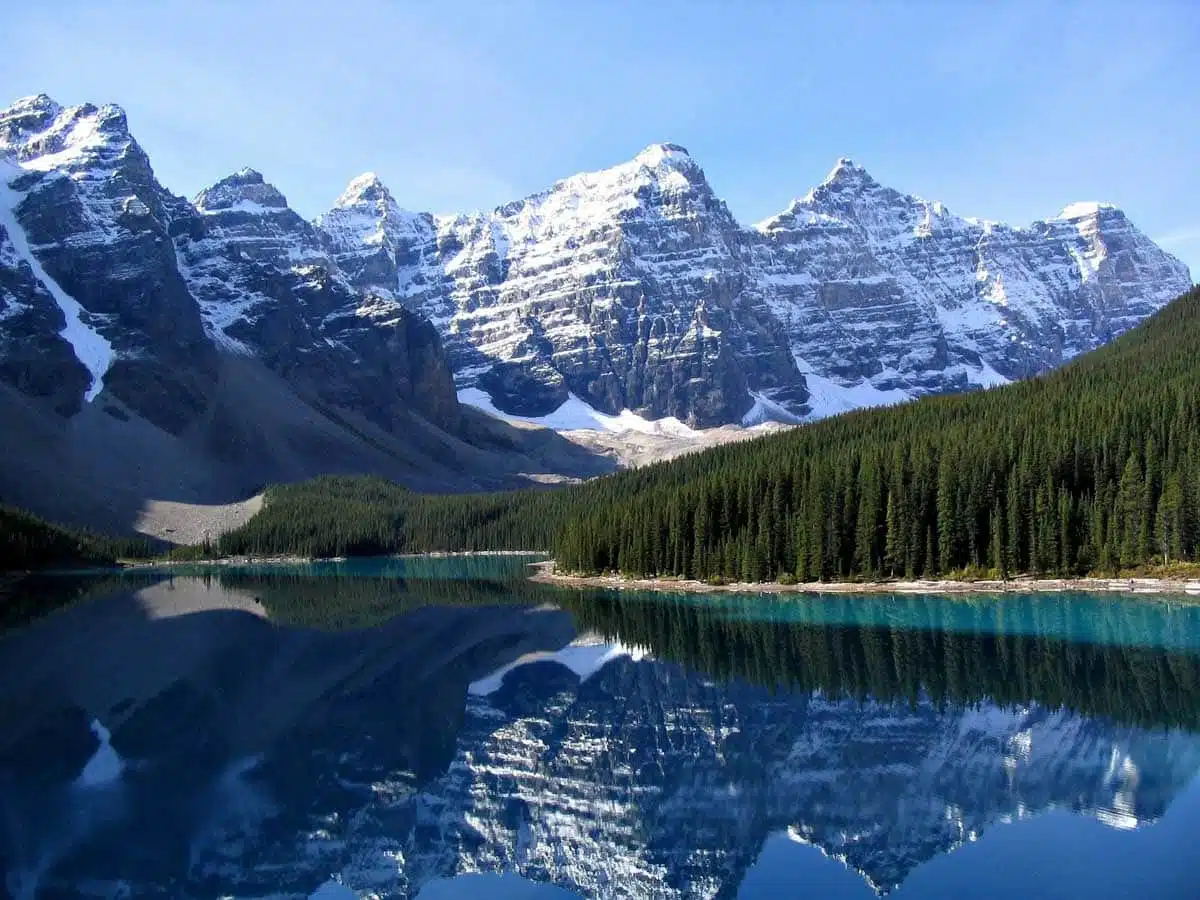 If you're like a LOT of people who visit Banff (myself included), you may have been inspired to plan a trip by stunning photos of mountains and bright turquoise lakes.
And luckily, while you're there, you'll have PLENTY of opportunities to take some of these epic photos of your own!
Some of the most iconic photo spots in the park include Lake Louise, Moraine Lake, and Lake Minnewanka. And yes, these places are definitely stunningly beautiful and are definitely worth a visit!
However, they do get extremely crowded due to their popularity during the summer months, so consider visiting early in the morning or during the shoulder season for a more tranquil experience.
If you're looking for something different or relaxed (but equally, if not more, beautiful), try Peyto Lake, Two Jack Lake, or Chephren Lake.
There are also TONS of lakes along the many hiking trails in the park – it would be impossible to name them all!
Spend a Night in an Alpine Hut
Much like Mont Blanc or the Dolomites, Banff is home to a handful of alpine huts that you can hike to (or ski to, in the winter) and sleep in!
These huts are open to intrepid hikers seeking an immersive hiking experience, and are a great compromise between serious hiking/mountaineering and a comfortable, cozy cabin experience.
Staying in an alpine hut is quite possibly one of the most unique and memorable Banff attractions.
Rooms in the alpine huts range from large dorms to private rooms, and most lodges provide food and drink at an additional cost as well.
If you're interested in learning more about alpine huts in and around Banff National Park, check this page and the complete set of listings on the Alpine Club of Canada (ACC) website to start planning your trip.
Explore the Many Adventure Activities in the Area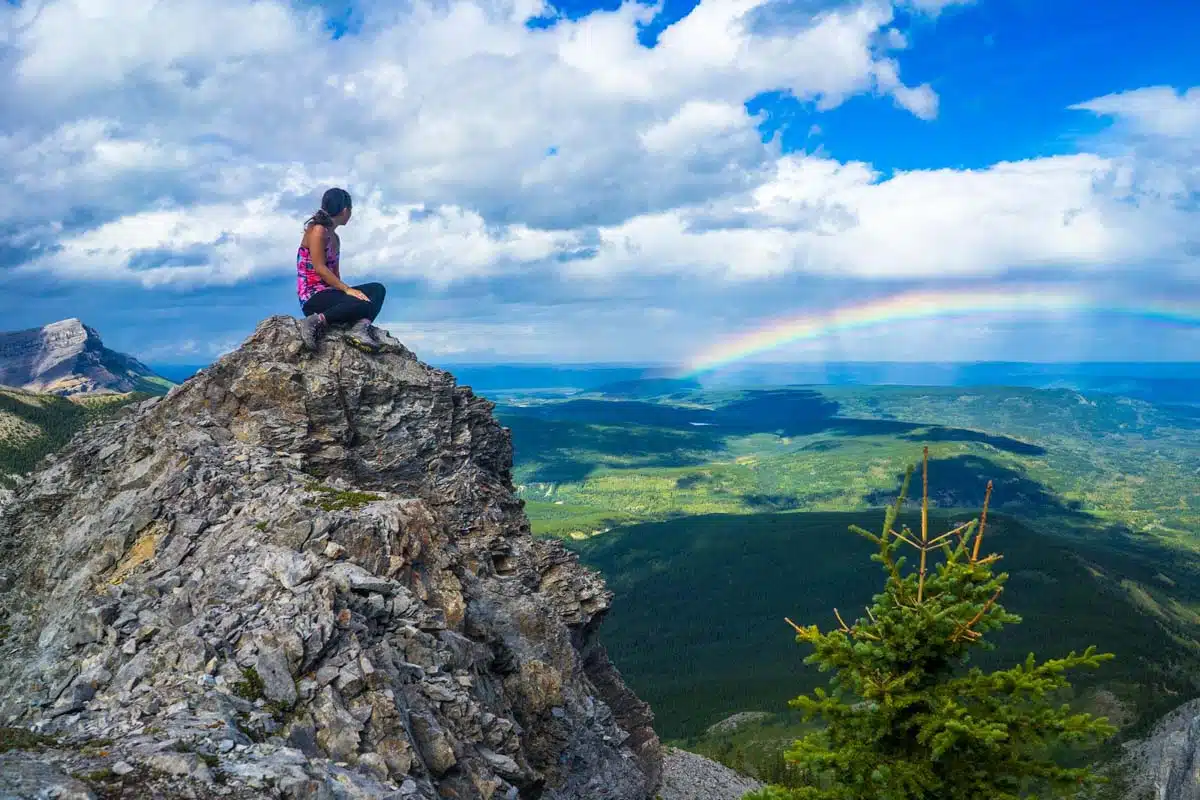 Aside from hiking, camping, and road tripping, there are TONS of other adventures available in Banff National Park. No matter what kind of sports and activities you enjoy doing, you can definitely find many activities in Banff that excite and challenge you.
Here are a few of the popular activities in the area, with recommendations for how to book them:
Kayaking, canoeing, and stand-up paddleboarding: Banff is full of gorgeous lakes and rivers that are great for kayaking and canoeing in the summer. You can rent a kayak in Lake Louise to explore this iconic area, or go on a guided canoeing trip through the incredible Bow River.
Horseback riding: Horseback riding is one of the most popular Banff activities, and for a good reason – the horse trails in the park are absolutely stunning. Within Banff, you can choose between 1-hour, 2-hour, and 3-hour horseback rides with a seasoned guide. Perfect for beginners and experienced riders!
Mountain biking: With its breathtaking views and challenging trails, Banff is a mountain biker's dream. You can rent a bike in Banff town and go on your own, or book a guided mountain biking tour to discover some of Banff's best bike trails. You can also cycle the Legacy Trail, which connects Banff and Canmore.
Winter sports & activities: Summer isn't the only time you can try out adventure activities in Banff National Park! In the winter, you can enjoy things like ice walks, ice skating, showshoeing, and more. This Johnston Canyon icewalk is reasonably priced and looks freaking EPIC! For more tips on things to do in winter, this winter guide to Banff is a great starting point.
Banff Off-the-Beaten-Path
Admire the Wildlife (from Afar)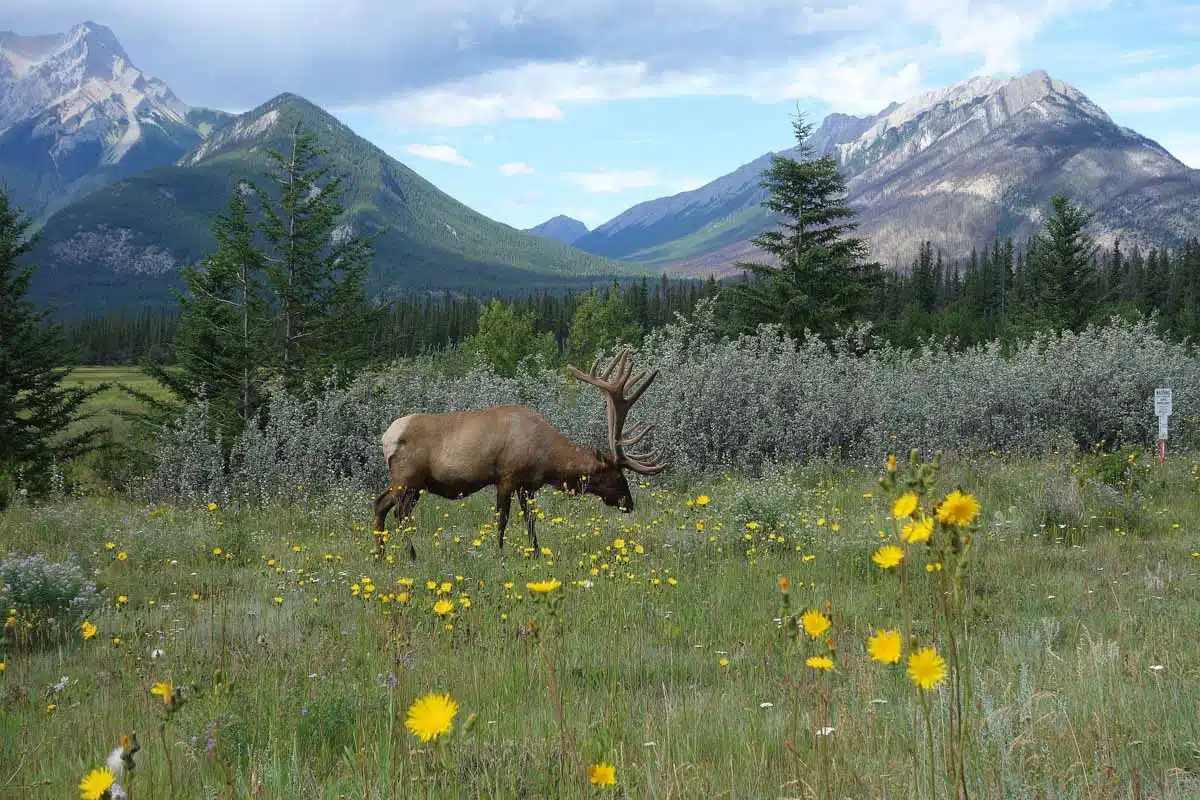 Like I've mentioned before, Banff is home to some pretty spectacular wildlife.
There are grizzly and black bears, deer and elk, wolves, mountain goats, and more! For the passionate animal lover wondering what to do in Banff, going wildlife watching is one of the best ways to appreciate the park's diverse species.
You'll likely see some of these animals from the window of your car or off in the distance. If you'd like to get a closer look, there are special guided tours that can take you to wildlife watching locations.
A local guide there can explain the different species you're observing. Check out a grizzly bear tour and these general wildlife watching tours.
Go Backcountry Camping
If you're looking for something a little more adventurous (and literally off the beaten path…sorry, I had to…), you can try spending a night (or a few) in one of Banff's backcountry camping areas.
Banff is a fantastic place to go backcountry camping, with stunning camping areas and trails to tackle.
Unlike frontcountry camping, where you can generally drive right up to your campsite, backcountry camping requires a bit of hiking into the park before you can set up camp. You'll also need to bring all of the necessary camping gear, as there are no amenities in the backcountry camping areas.
In order to go backcountry camping in Banff, you'll need to get a permit from Parks Canada. It's a pretty easy and straightforward process. For more details on backcountry camping and logistics in general, head over to our complete guide.
Take a Stroll on a Banff Town Walking Tour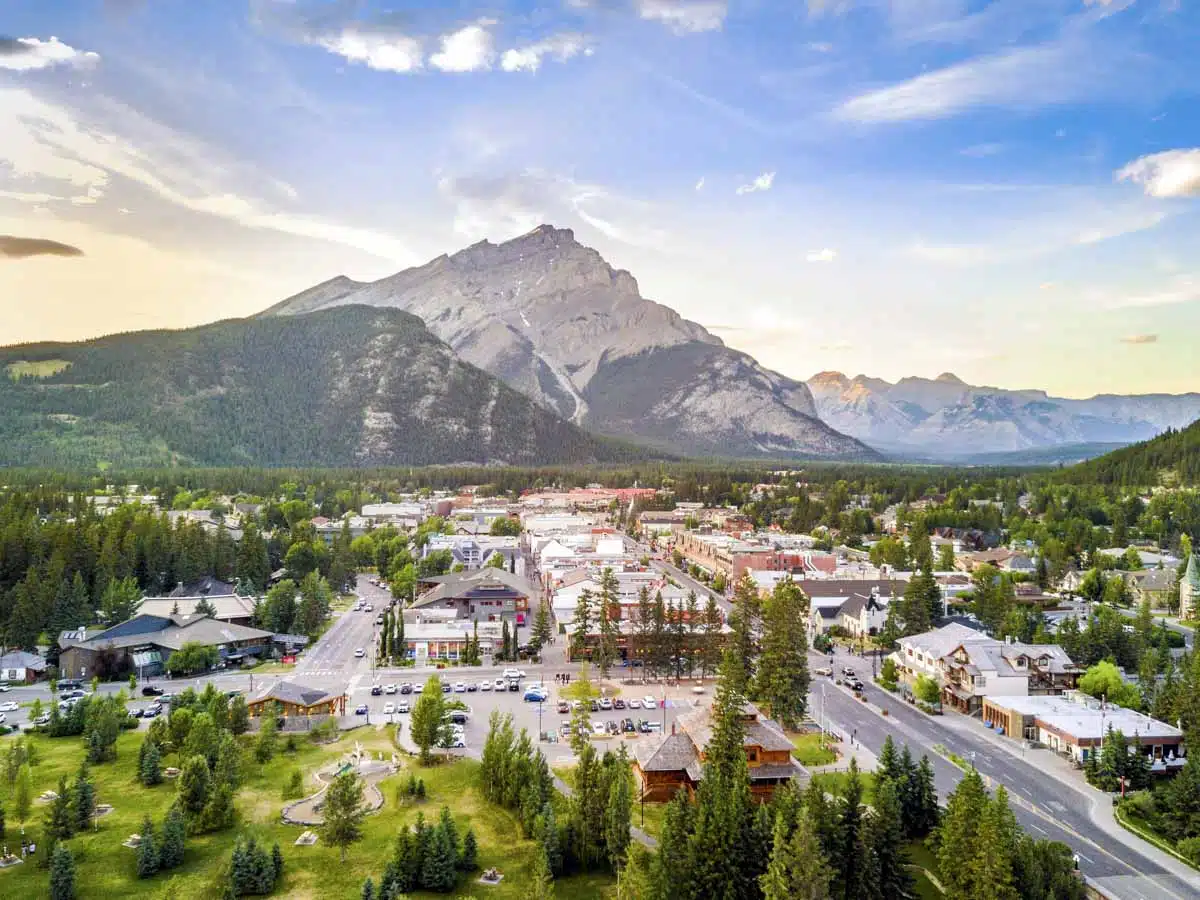 I'm sure you're aware of the many outdoor and adventure activities you can do in Banff National Park. But did you know that there's also a TON to do in Banff town as well? There's actually quite a rich history in this area that involves indigenous inhabitants, fur-trappers, European tourists, and more!
One of the best ways to learn all about the history of the Banff area (and Banff town, specifically) is by taking the Banff Historic Walking Tour.
The local guide, Graham, has lived in Banff for over 50 years and has tons of awesome and interesting knowledge about the entire Banff area.
Travelers in the area really love Graham's tour, so if you're interested in learning more about Banff and contextualizing your trip (which I always recommend), go ahead and book it!
If you're interested in the history of the Canadian Rockies, this is by far one of the best things to do in Banff.
Learn about the Haunted History of the Banff Springs Hotel
On the outside, the luxurious Banff Springs Hotel looks like a castle out of some magical movie (like literally, just look at it…Chronicles of Narnia, anyone?!).
Situated amidst evergreens in the Bow Valley, its spires pierce the landscape in the most stunning way possible. However, upon closer look, this opulent hotel has a dark history that's worth trying to learn more about.
Having hosted the likes of Marilyn Monroe and Winston Churchill, the Banff Springs Hotel is definitely one of the most high-profile hotels in the area.
But there are also rumors of hauntings in its halls, from a ghost bride who died after falling down the stairs and the strangely absent room 873.
You can head to Banff Springs Hotel for yourself and try and spot some of the hauntings…or just grab a coffee and admire your historic and natural surroundings. As far as Banff activities go, drinking a tea in a haunted hotel is pretty much the weirdest (and most awesome?!) of all of them.
Explore the Arts Scene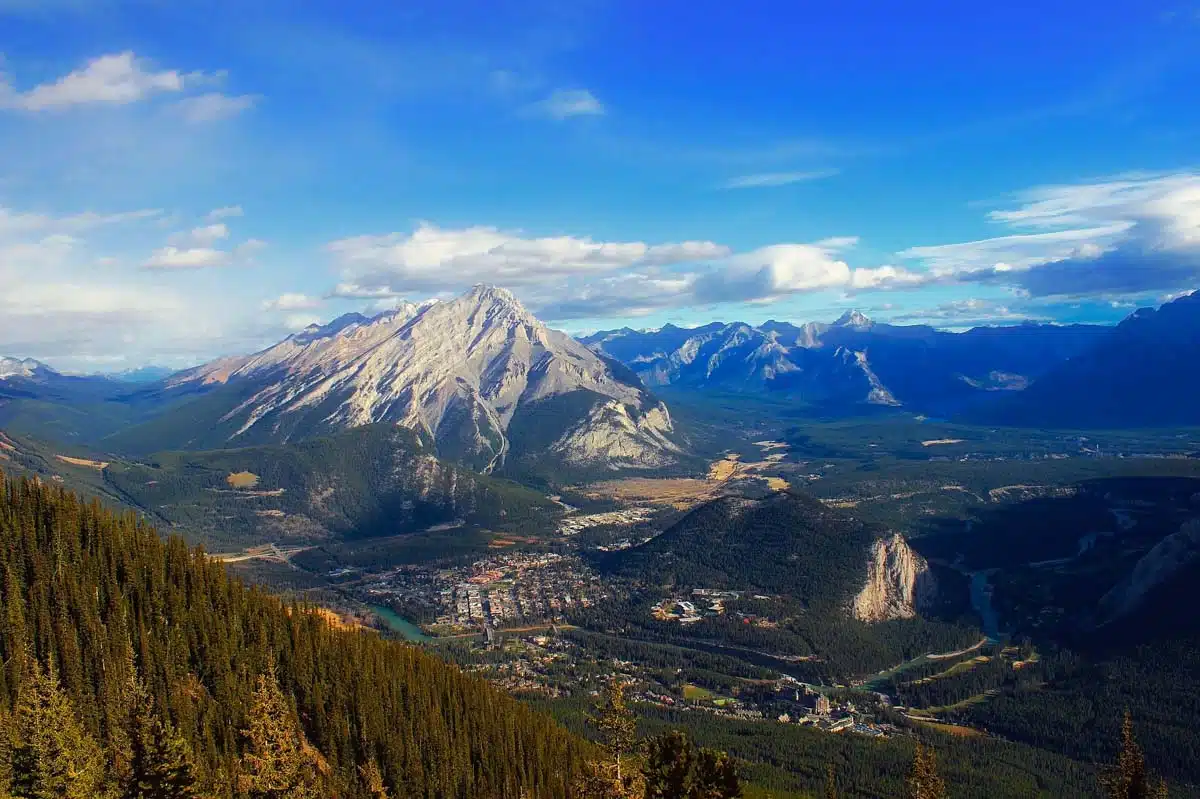 In addition to natural, cultural, and historic significance, Banff also hosts several international artists and festivals each year.
It's a hotspot for creativity and inspiration, and you can enjoy some of this by visiting some of the local art institutions.
Each year, thousands of creatives from around the world come to Banff for festivals including the Banff Film + Book Festival and the Ice Magic Festival (for professional ice carvers!!).
The Banff Centre for Arts and Creativity is home to many of the most renowned art exhibits and festivals in the area, and it's worth checking the calendar to see if anything is coming up during your trip!
Things to do in Banff: Food & Drink
Hike to an Alpine Teahouse
One of the coolest things about Banff is the fact that some of the trails have alpine teahouses along the way. It's a super unique and awesome reward for getting your steps in, and you'll be able to experience one of the most fun Banff activities ever.
What's an alpine teahouse, you ask? It's a little cabin on the trails that serves snacks and tea made from the glacial water nearby! So you'll literally be getting a taste of the park by snacking at one of the teahouses.
The two trails in Banff National Park that have teahouses (open during summer months only) are Lake Agnes and Plain of Six Glaciers.
During opening hours, they serve things like cookies, sandwiches, and tea. Generally, both teahouses do not have electricity and only accept cash, so be sure to bring some Canadian dollars with you if you want to buy anything.
Taste Alberta's Amazing Locally-Sourced Dishes
In Banff town, you can find all kinds of amazing restaurants that serve a variety of foods ranging from vegan bites to specialty meats (Calgary's bread and butter, so to speak).
While there are a bunch of restaurants you can try there, here are a few we've hand-picked that we recommend:
Park Distillery: An amazing restaurant/distiller combo that serves great dishes made from local meat and produce. I loved their salads, and Raf really enjoyed the grilled meat selections. There are also signature cocktails made with their own spirits!
Saltlik: Saltlik specializes in meat dishes, so if you're looking for a heavy dinner, this is the place to be. The restaurant is spacious and cozy and has a wide selection of wines, perfect for a splurge night.
The Bison Restaurant: If you're looking for dinner with a view, look no further than The Bison Restaurant. There are both meat and vegetarian dishes, all of which are delicious. And to top it all off, the restaurant has windows all around, perfect for admiring the sunset as you stuff your face.
Nourish Bistro: Vegetarians and vegans rejoice! Nourish Bistro serves delicious healthy bites in a laid-back eatery. The curries are absolutely amazing!
Eat a Beaver Tail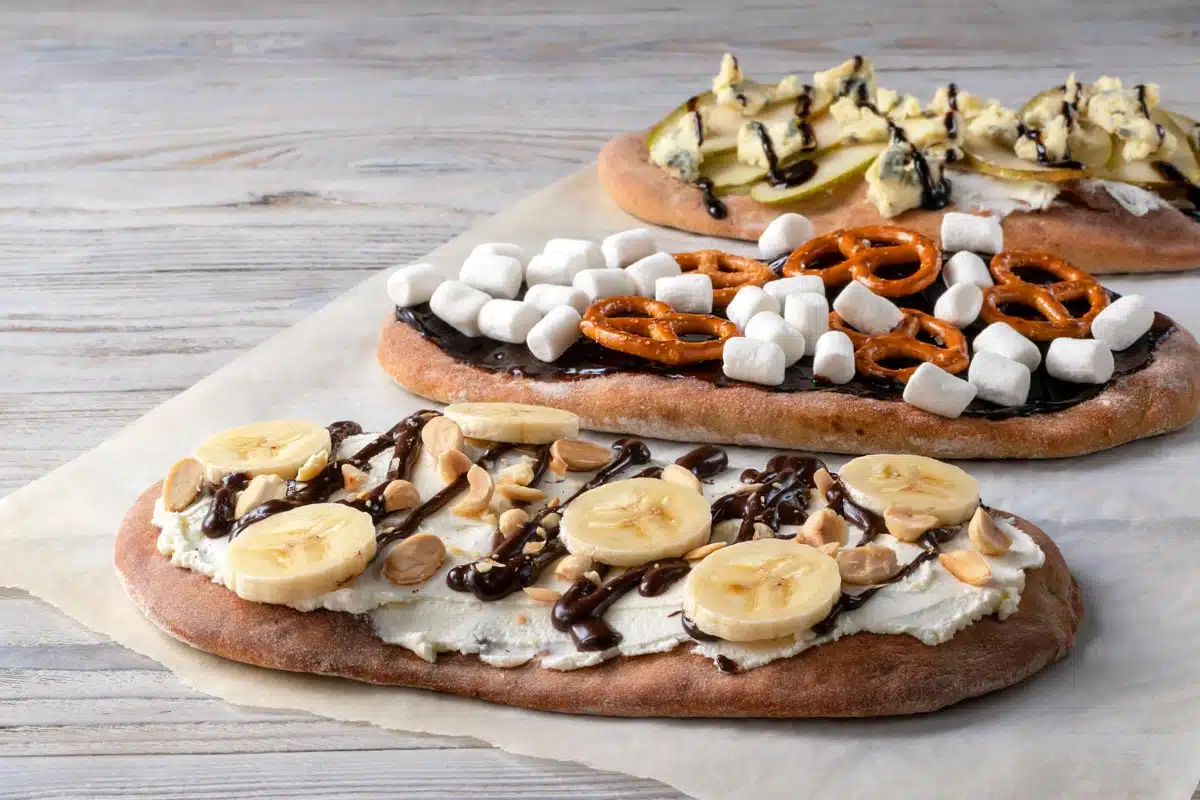 Craving something sweet after you eat? Beaver Tails are one of Canada's favorite sweets, and there's a shop right in the middle of the town center where you can try one!
Basically, a Beaver Tail is a piece of dough cooked to perfection and topped with all kinds of yummy things like Nutella, M&Ms, fruit, cinnamon, and more. (Literally all things delicious can be put on a Beaver Tail. Trust me, I've tried it.).
There are several pre-made combinations to choose from or you can make your own!
While Beaver Tails are not unique to Banff, it's still an awesome way to experience a Canadian favorite. It will also satisfy any sweet tooth cravings you might be having after a long day of hiking.
Try Banff's Craft Beers and Spirits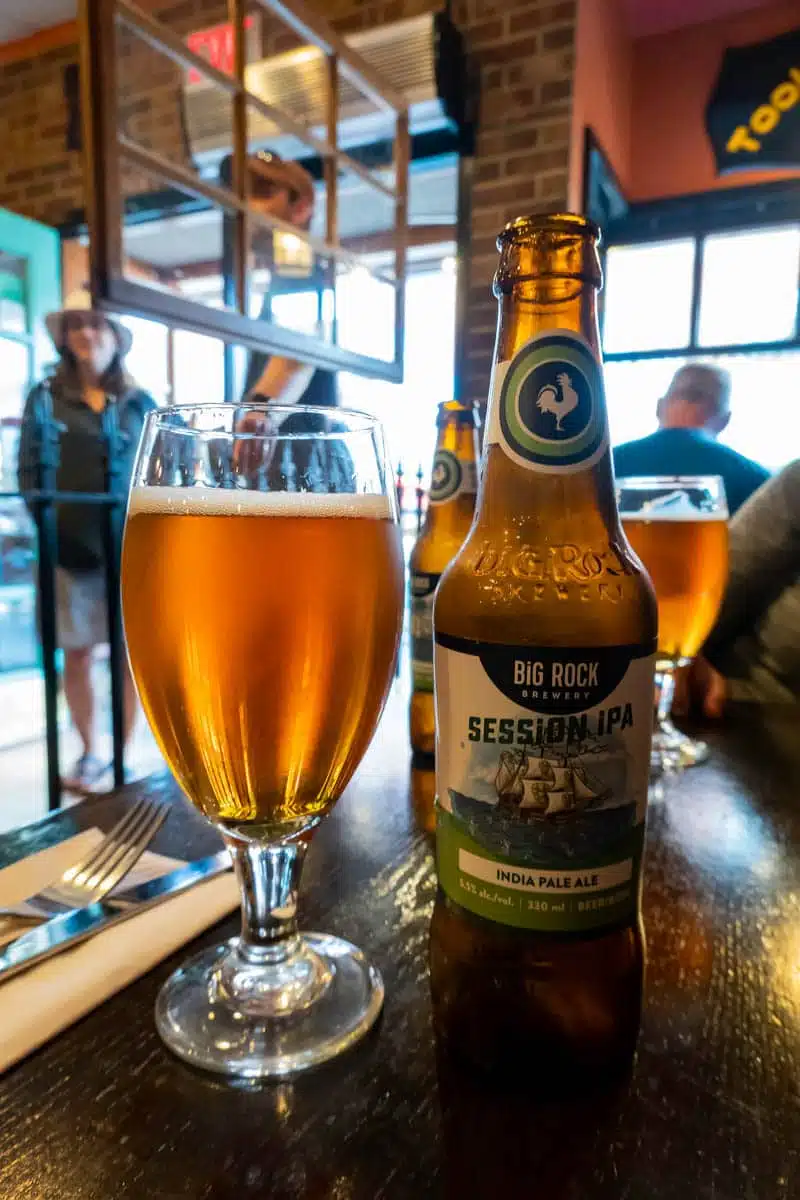 Aside from food, Banff is also home to some awesome craft beer varieties and local spirits. After a long day of hiking or adventuring in the park, it's fun to unwind with a local beverage.
I've already mentioned Park Distillery, which in addition to being a delicious restaurant, also has home-made spirits (you can even see how they make them on a distillery tour!). They make homemade cocktails that are really delicious, too.
Additionally, you can head to Banff Ave Brewing Co, the original brewery in town. In true brewery fashion, there are several beers on tap, as well as a bunch of different bar snacks and entrees. Grab some classic poutine or a plate of warm pretzels and enjoy this scenic brewery
Brunch at Chateau Lake Louise
If you're looking for a really amazing splurge experience, head to the stunning Chateau Lake Louise for brunch. Early birds can snag a table that overlooks Lake Louise itself, which in itself is worth the high prices that the Chateau's restaurant, Poppy Brasserie, charges.
The menu here is extensive and there are options for vegetarians as well as omnivores. There's both a buffet and an a-la-carte menu that you can order from.
Note: Poppy Brasserie prioritizes seating hotel guests, so if you go on a particularly crowded day, you may have to wait a while. However, it opens at 6:30 AM, so you may be able to snag a table if you get there before everyone begins to wake up.
Banff Attractions & Activities for Non-Hikers
Ride the Banff Gondola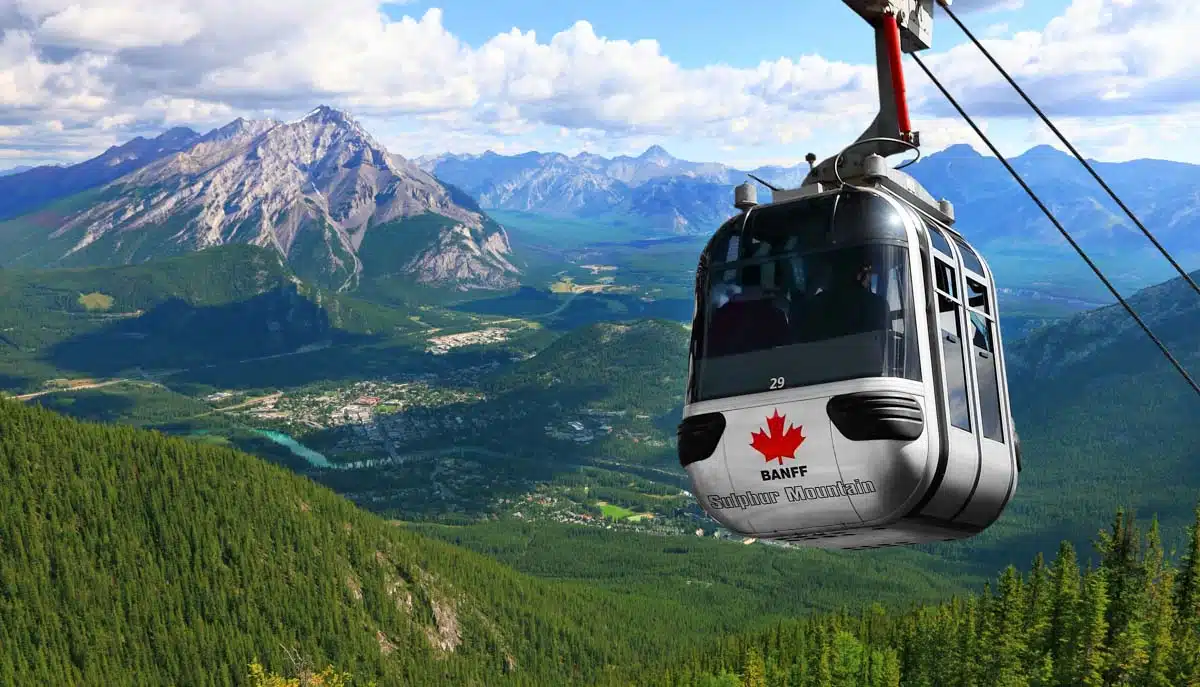 If you're craving a gorgeous viewpoint but don't want to hike all day for it, the Banff Gondola is the perfect place to go. With a cable car that will bring you 7,500 up to an observatory deck, the gondola boasts some of the most amazing views in the park.
Even better, the Banff Gondola is open year round and has a restaurant and cafe on top. It's perfect for watching the sunset or grabbing a warm drink (or a glass of wine) on chilly days.
They also have special packages throughout the year, which are awesome ways to expand your gondola experience if you're celebrating a special occasion or simply want to treat yourself to some upscale Banff activities.
Go Shopping in Banff Town
If you enjoy shopping, Banff town is literally FULL of adorable boutique shops selling artisan items from around the area. Here, you can buy outdoor gear, cute handmade clothes, souvenirs, and more.
Even if you don't want to buy anything, window shopping is a fun way to spend an afternoon unwinding from a busy tour or road trip. I recommend parking on the street and wandering through the visitor center and down the main street.
Take a Dip in the Hot Springs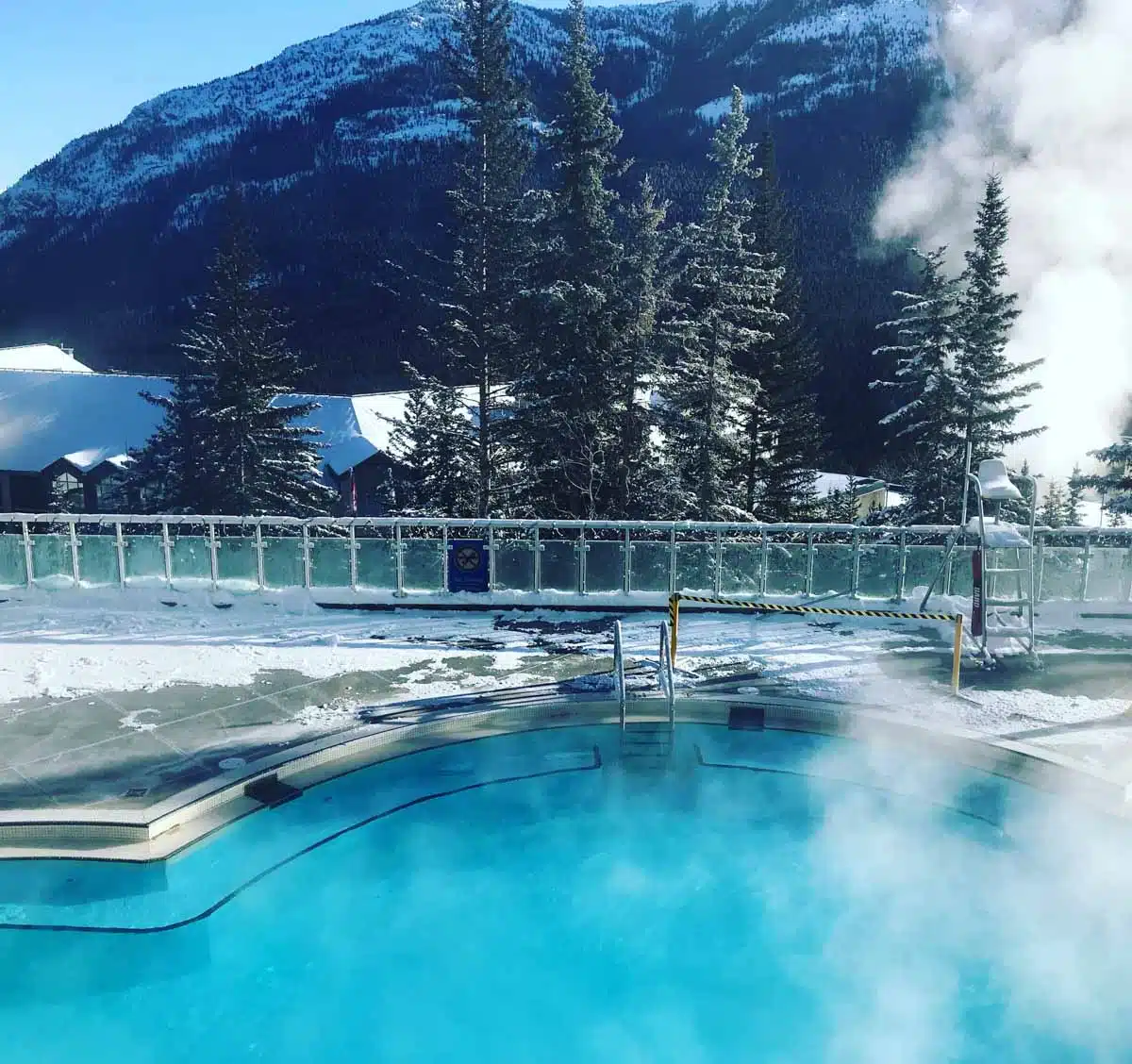 An evening of unwinding in Banff isn't complete without taking a swim in the Banff Upper Hot Springs. Here, you can find a large outdoor pool that is full of warm water, overlooking the mountains and forests below.
We came to the hot springs for sunset and were stunned at the views and the colors all around us. It was easily one of our favorite things to do in Banff when we went.
Not only is a dip in the Banff Hot Springs relaxing, but it's also reasonably priced at just $8.30 CAD per adult. Bring your own towel to save money, or rent one for just $1.90 CAD. You can even rent a swimsuit if you didn't bring one!
Fly Down the Ski Slopes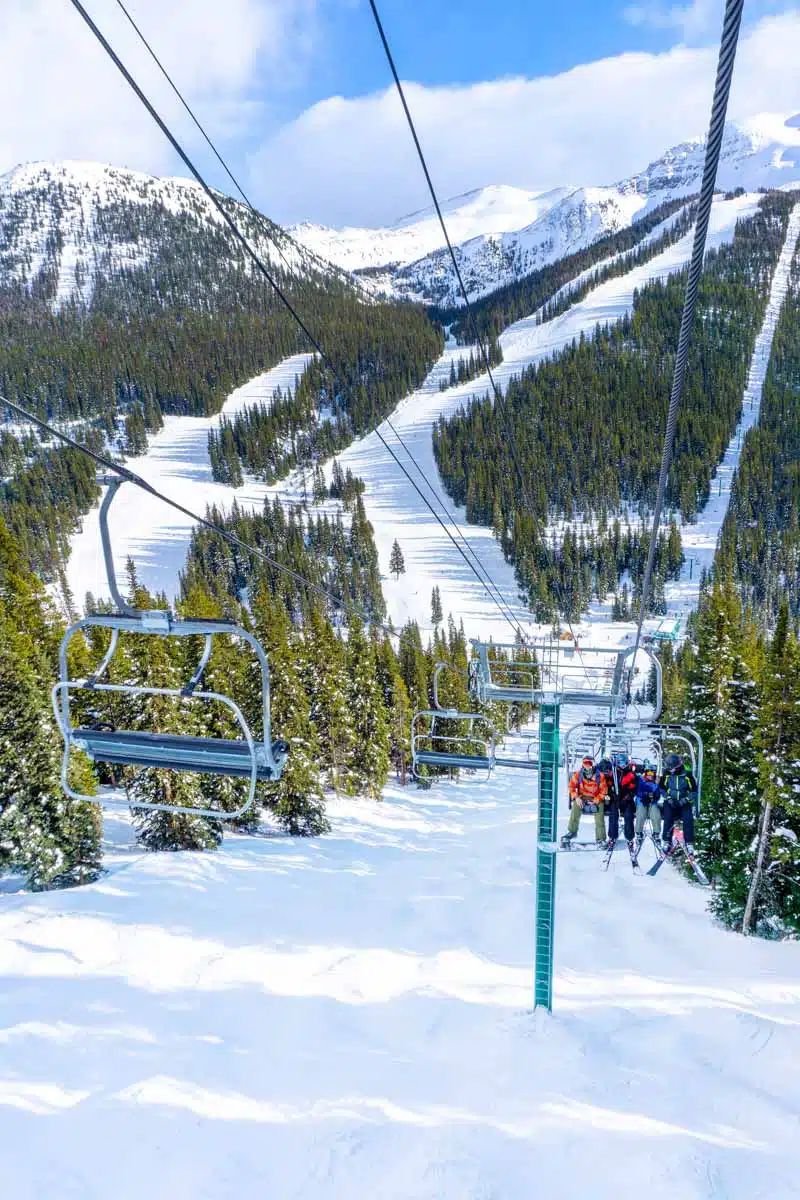 In the winter, Banff is a beloved destinations for skiers, snowboarders, and other snow sports lovers. There are 3 world-renowned ski resorts in Banff National Park: Sunshine Meadows, Mt. Norquay, and Lake Louise.
For skiers who want to spend their entire trip on the slopes, it's worth looking into the Big 3 Lift Ticket, which will give you access to all three ski resorts in the park. In addition, Big 3 offers shuttles from most major Banff hotels to the ski resorts, making it even easier to hit the slopes in the morning.
There are options in Banff for skiers and snowboarders of all levels, with slopes ranging from bunny hills to black diamonds. Mt. Norquay even offers night skiing (the only night skiing available in Banff). You can also rent equipment at the ski resorts if you don't have your own.
And, you know, if you don't want to actually ski, you can just sit by the fire inside the lodges instead!
Go Stargazing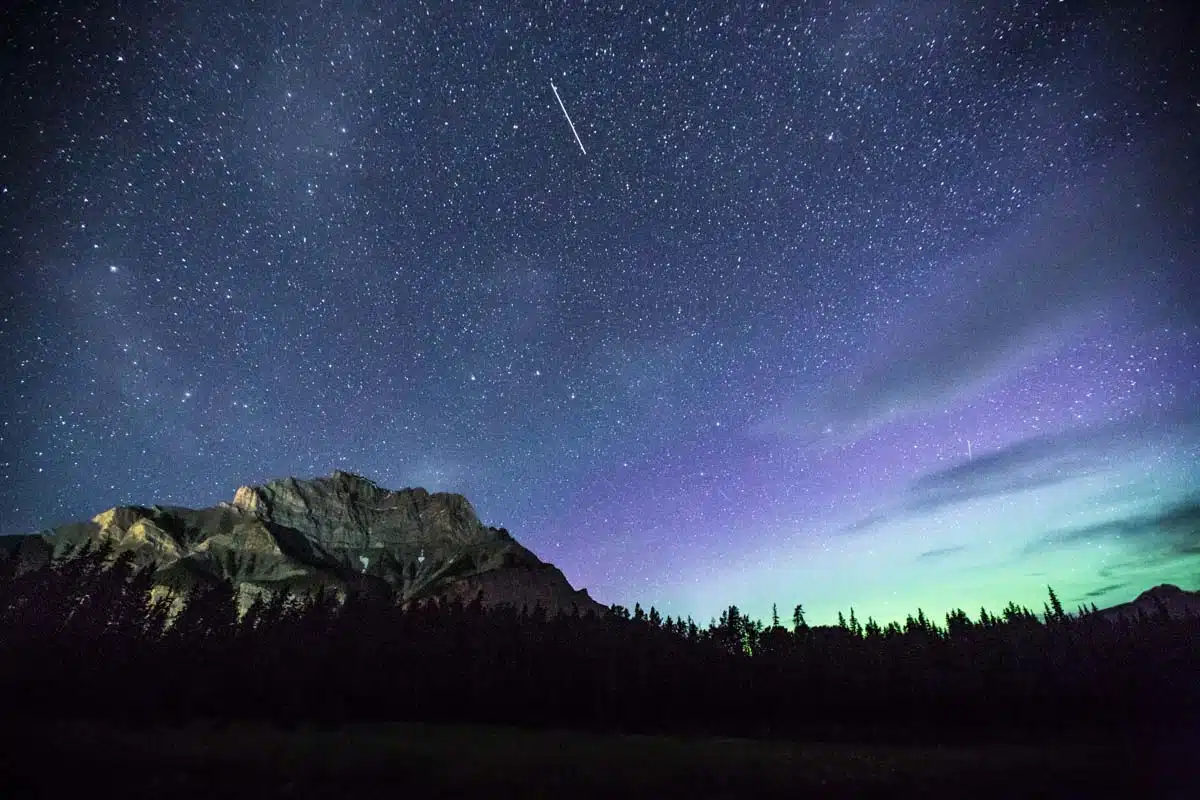 Of course, I've saved the best non-hiking activity for last – stargazing in Banff. Throughout the year, Banff's skies are really dark and on clear nights, you can see tons of stars. When we camped in Banff, we were lucky enough to catch a few clear nights where we could see the stars reflecting off the lake near our campsite.
It was SO amazing.
If you're looking for one of the most beautiful and laid-back Banff activities, hop in the car and head to Lake Minnewanka. You'll get some seriously beautiful sky views. It might just be your favorite memory from your entire trip.
Things to do in Banff National Park: Know Before You Go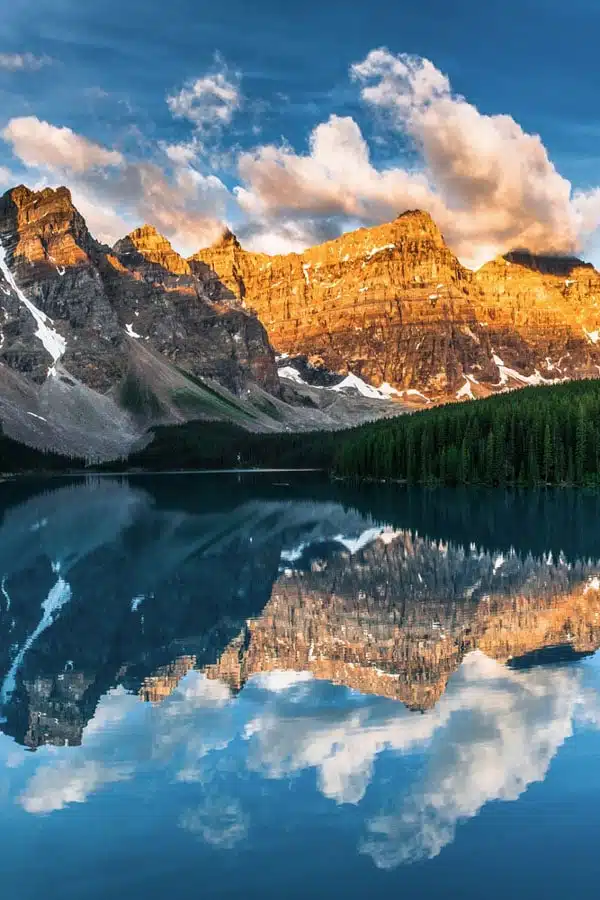 Important Things to Know Before Traveling to Banff
Like a good traveler, you've probably stumbled on this guide while researching Banff activities for your upcoming trip. And it's my job to help you find all of the information you need!
Here are the critical few things to know before traveling in Banff…
Be sure to get travel insurance before your trip. We use and LOVE World Nomads travel insurance, which has saved my life in the past. I very strongly recommend getting travel insurance before you go to Banff.
While it's relatively safe, you'll likely be driving and doing lots of adventure activities. Travel insurance will protect you in the event of injury or if conditions cause a delay or cancellation in your trip.
Banff is a year-round destination! While the warmest season of the year in Banff is summer, Banff actually has trails and activities open all year! Most of the tourists flock to Banff in July and August, so if you want to avoid massive tourist crowds, avoid those months. In our opinion, the best time to visit Banff is in the spring or the fall.
This is when the weather is warm enough to stay outside for extended periods of time but the summer crowds have subsided. I absolutely loved traveling in Banff in May and September.
The easiest way to get around Banff National Park is by car. Attractions in Banff are really spread out and it can be hard to get from place to place without a car.
If you're visiting from far away, you can easily rent a car in the Calgary Airport (YYC). Typically, I use Avis in Canada – they have reasonable prices and their rental process is hassle-free.
Trails can still be snowy and icy all year, even in the summer. When we visited Banff in late May, there were still a bunch of trails that were closed due to icy conditions. Be sure to bring sturdy hiking boots (we love these and these) and warm clothes, and stay updated on the trail conditions before going hiking in Banff.
To check trail warnings and closings, visit the Parks Canada website.
There's TONS of wildlife in Banff year-round. Bears, mountain goats, elk, wolves… There are these species and more all over Banff. Always bring bear spray, avoid hiking alone, and look for notices on the trail heads about recent wildlife sightings.
Banff isn't that remote. There's a nice, posh little town in the middle of the park that has basically everything you could ever need.
Many areas of the park also have cell phone service. However, it is in the mountains and you'll want to make sure all the important information you need is stored somewhere offline.
Where to Stay in Banff National Park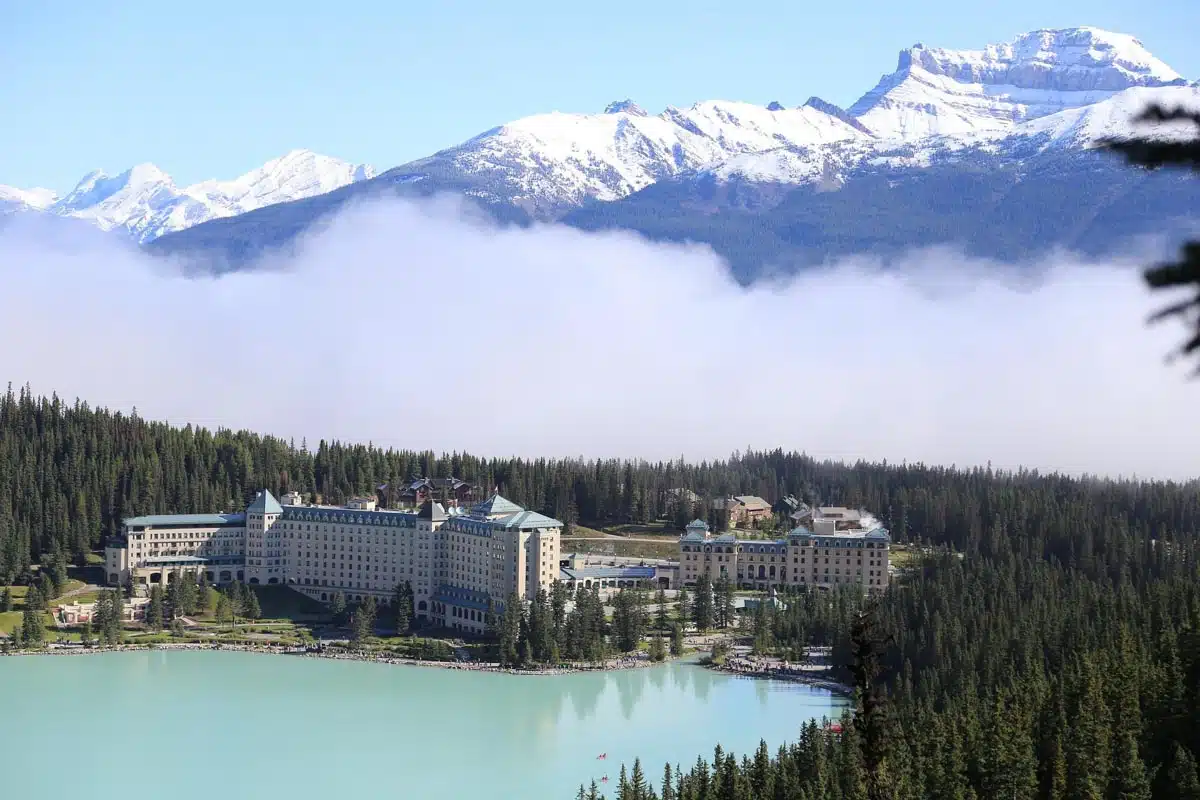 Let me put it to you this way: good accommodation in Banff (including campsites) sells out QUICKLY. Whether you're only spending a weekend in Banff or an entire week, this means you should look into booking your hotel, hostel, or campsite ASAP.
If you're thinking about visiting Banff but aren't sure yet, I'd recommend comparing hotels in Banff on HotelsCombined, which aggregates all of the different prices from the Internet into one easy platform, or booking a cancellable place on Booking.com.
To help you choose the best place to stay in Banff for your budget and preferences, I created this extensive guide to the best places to stay in Banff. In it, I spill all of my secrets on my favorite hotels, hostels, and B&Bs in Banff!
Here are a few of the best and most beloved accomodations:
Luxury Lodges: If you're hoping to make your Banff vacation a splurge, you can't go anywhere else than the Fairmont Chateau Lake Louise . Honestly, it's worth just ogling the photos online. With stunning views of the lake, access to several hiking trails, and fine dining available, what could be more luxurious or convenient?
Mid-Range Hotels: For travelers who want a good level of comfort but don't want to spend an arm and a leg, there are several inns, hotels, and lodges available in Banff town and on its outskirts where visitors can stay. Again, these book up very early for the summer months, so be sure to reserve far in advance. Mid-range travelers love the Rundlestone Lodge and the Banff Park Lodge, with wonderful service and fabulous locations (with mountain views, of course!!).
Budget Hostels: If you're on a budget but don't want to camp, there are a few hostels available in the Banff area that are perfect for travelers on a shoestring. I haven't personally stayed in any hostels in Banff, but Banff International Hostel is the most popular option for backpackers in the area.
For the more hardcore hikers, HI Lake Louise Alpine Centre and HI Banff Alpine Centre are awesome alpine options.
Camping: There are several front- and back-country campsites available in Banff and the surrounding areas. If you're planning on camping during your stay in Banff, be sure to check out our complete guide to camping in Banff.
Did you enjoy this post? Pin it for later!