Planning your trip to the Rockies in the summer? This practical Canadian Rockies packing list walks you through packing for your travels like a pro.
When heading on an incredible bucket list trip like road tripping the Canadian Rockies, what you pack can really make or break your trip.
Pack too much and you're bogged down with a bunch of stuff. Pack too little and you'll be cold, soaked, and miserable.
The perfect Canadian Rockies packing list can definitely help, but that didn't exist when I lived in the region, so I learned by a baptism fire what to pack (and what NOT to pack).
After many, many packing misadventures during my ~6 months in Canada, I created this Canadian Rockies packing list so you don't make the same mistakes I did!
Read on to learn more.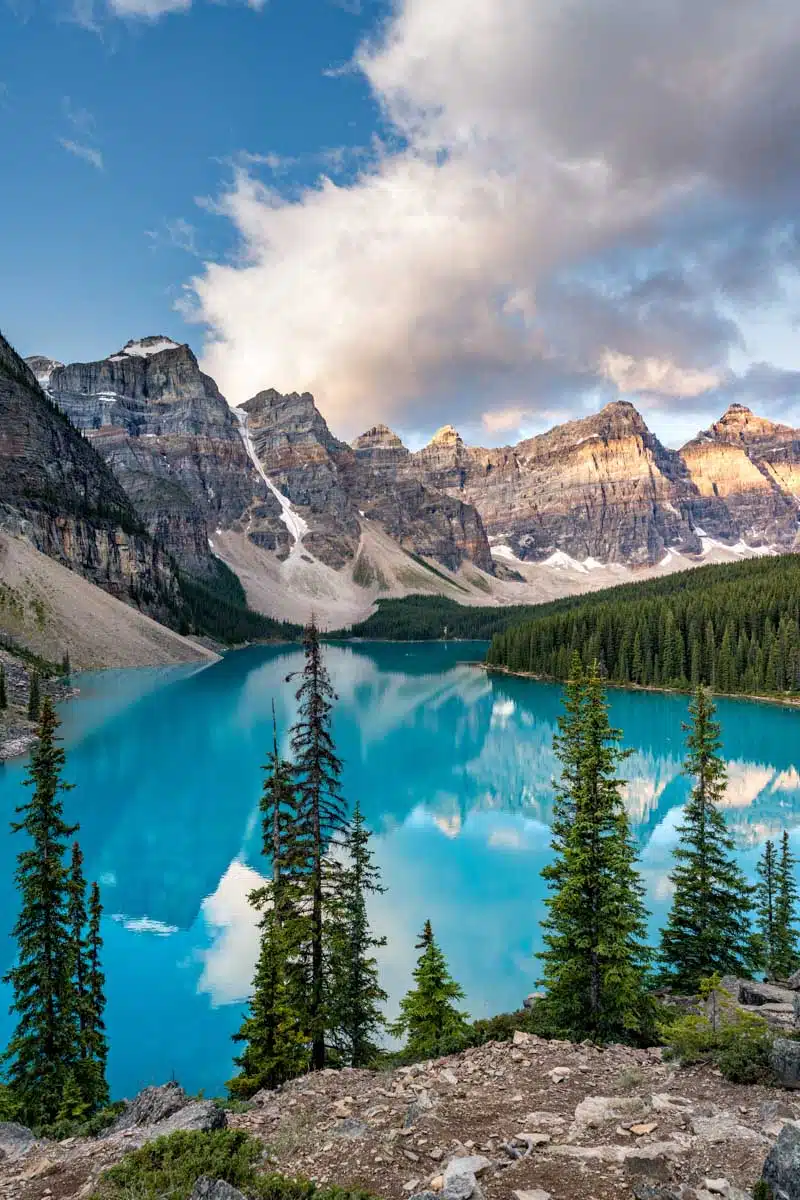 What to Pack for the Canadian Rockies in Summer: The Ultimate Canadian Rockies Packing List
What to Pack for the Canadian Rockies: Clothing
Packing your clothing for the Canadian Rockies is really not something you want to screw up.
I mean, if you don't bring the appropriate clothing, you won't be able to enjoy some of the amazing outdoor activities the region has to offer.
Here are the basics for clothing you absolutely need to bring to stay warm, cozy, and dry during your trip — yes, even in the summer!
Clothing Essentials for the Canadian Rockies
Merino wool base layers: It's a really good idea to bring a merino wool baselayer, which will keep you cool in the summer sun and warm in colder weather or higher altitudes. Merino wool is soft, sturdy, stink-free, and sweat-wicking, AKA the best fabric ever for staying warm and dry in the Canadian Rockies' unpredictable climate.
At a minimum, bring one upper baselayer, but I'd recommend bringing 2 if you're staying more than a couple of days. Check out our recommended option here. You can also purchase merino wool leggings, but I never used them in the Canadian Rockies in the summer.
Sweat-wicking tank tops or t-shirts: Bring some nice sweat-wicking shirts for warmer weather and for layering. I love the prAna's tanks and t-shirts for this! Here are my recommendations for women's tops and men's tops.
Hiking pants: Hiking pants will be your best companions for a trip to the Canadian Rockies. Whether I'm planning on hiking or just lounging, I bring my prAna hiking pants for all of my adventures in the mountains. My boyfriend hiked a full 75 miles in his prAna pants over a week and he had no issues or tears in them. You can see the prices for women's pants and men's pants here.
Compressible down puffer jacket: Temperatures in the Canadian Rockies can be chilly even in the summer, especially as you gain altitude. For this reason, I always make sure to pack my thermal puffer, all rolled up into a tiny ball that I can shove into my day pack or clip onto the outside of my bag with a carabiner.
Wool socks: You'll want to bring some warm wool socks to pair with your hiking boots. Not only will these help keep your feet cozy and dry, but they can also help prevent blisters from your boots. We love our Darn Tough hiking socks (these are the womens & mens versions we have) for all of our outdoor adventures and literally bring them everywhere with us.
Hiking boots: While on a Canadian Rockies road trip, there's a good chance you'll be caught walking in mud, snow, and stream crossings. To keep my feet warm and dry during day hikes, I have a cozy pair of Ahnu waterproof hiking shoes  that always do the trick! I cannot stress enough the importance of using proper footwear while hiking. My boots have been with me to Patagonia, Peru, Slovenia, and more, and they're still kicking (haha, get it?!).
Sunglasses: Protect those eyes and bring a nice pair of polarized sunglasses!
Swimsuit: There are tons of hot springs available in the Canadian Rockies, and you'll definitely want to take a dip after a long hike or a day of driving. Don't forget a swimsuit!
Towel: If you plan on swimming in the hot springs, you can rent a towel at the pools for $1.90 CAD. However, it's a good idea to invest in a quick-drying microfiber towel. I have used a Dock & Bay one for the past several years and it is extremely handy since it doesn't smell and it folds really small, but is big enough to be practically useful.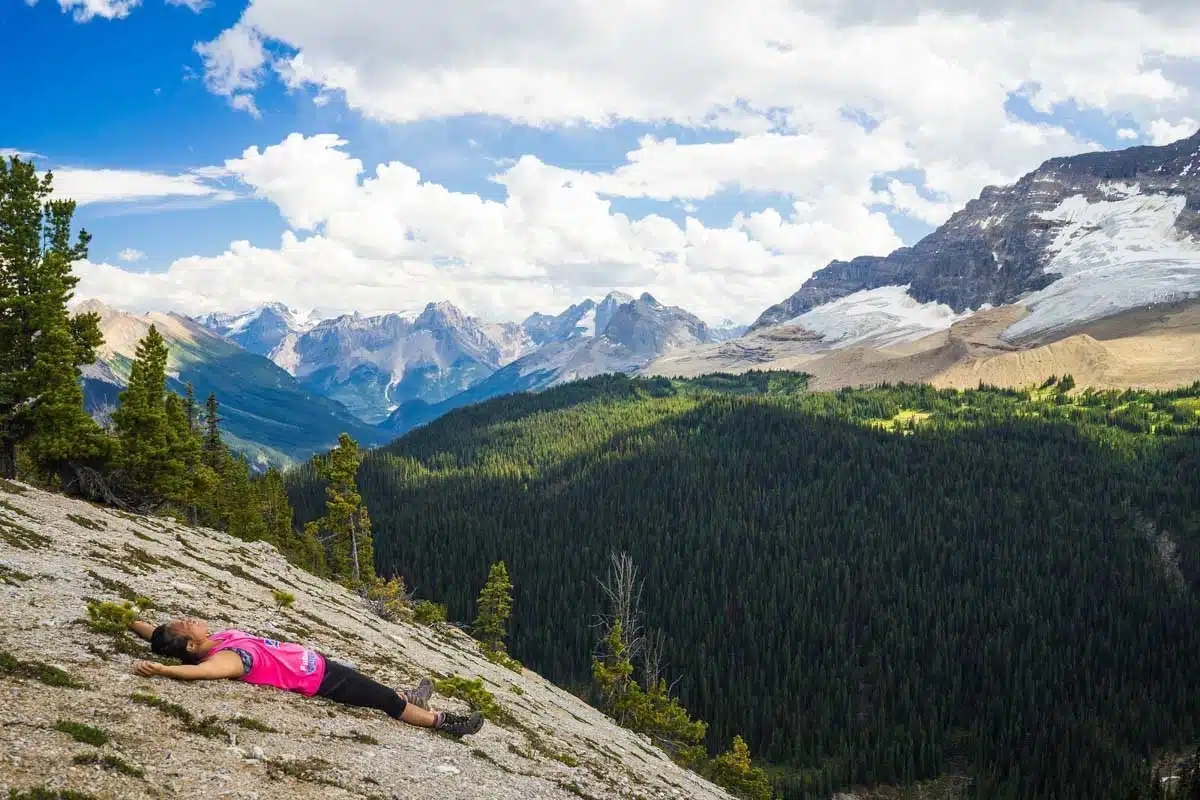 Outerwear and "Just In Case" Clothing
Light gloves and a beanie: You won't need anything too hardcore in the summer, but having a pair of light gloves and a beanie on hand can be really helpful on cold or rainy days where the temperature is less than optimal.
Hat: Bring your favorite beaten-up baseball cap to protect your face from the sun on long hikes or days in the sun. If you want something that provides a bit more UV protection, my boyfriend swears that he's never gotten sunburnt on his face because of his dorky practical bucket hat. Click here to see his recommendation.
Waterproof rain jacket & pants: No matter what time of year it is, there's a decent chance of a sudden downpour in the Canadian Rockies. Yes, it literally happens even when the skies are clear and blue minutes before.
Bring a sturdy, waterproof rain jacket  to stay warm and dry at all times. You can also grab a pair of waterproof rain pants to keep your entire body dry (trust me, it's worth it with the crazy storms in the area!).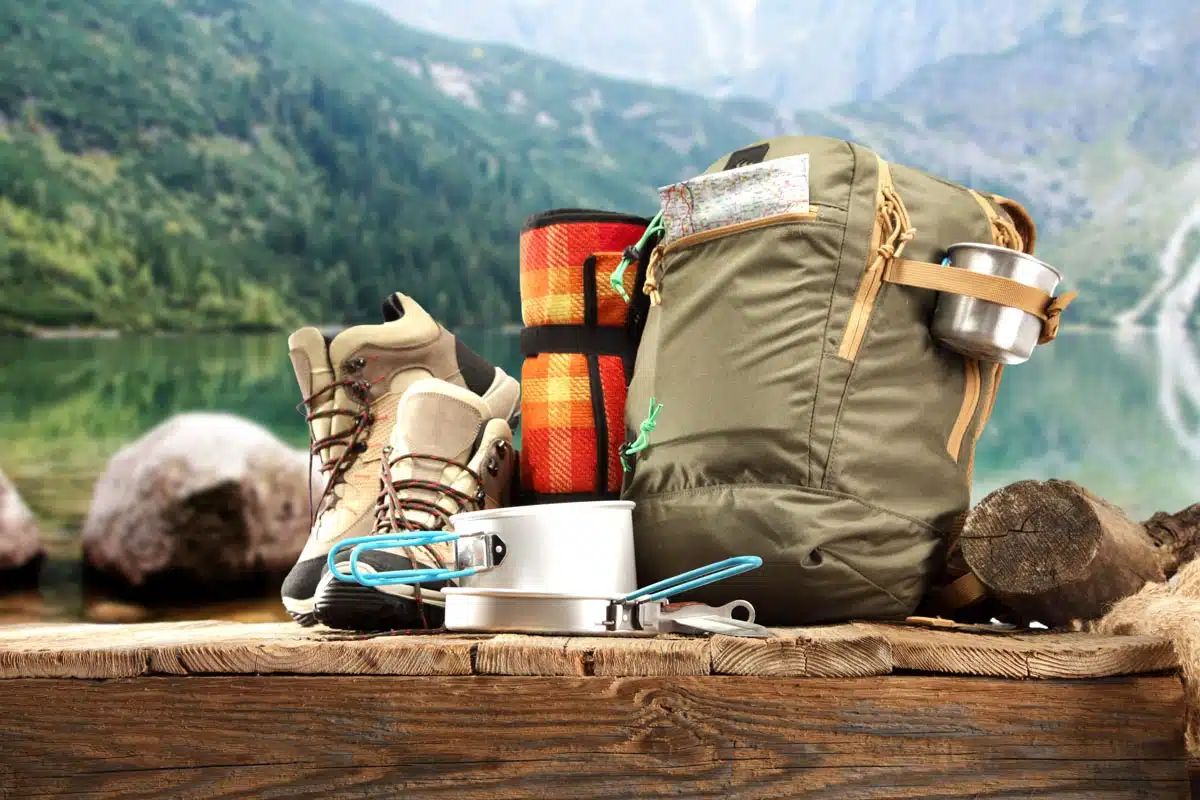 What to Bring to the Canadian Rockies: Travel Gear
General Travel Gear for the Canadian Rockies
Day pack: Hiking will often take you through a variety of different terrains, so it's important to have a backpack that's going to support you rather than weigh you down. A sturdy day pack is a MUST for any day hike, unless you're Superman and can simply fly back to town whenever you need something. The Osprey Daylite day pack gives me all of that and more – it doubles as a wonderful carry-on for flights as well.
Water bottle & purification system: You're in a national park and it's super important to minimize your plastic consumption. However, clean water is a must, so we always bring water purifiers and a reusable water bottle. I love pairing my rock-solid Hydro Flask with my SteriPen Aqua and Sawyer Products Mini Water Filter for clean, cold water on the go.
Car charger: You'll be driving A LOT in the Canadian Rockies and, if you're camping, you won't have much access to electrical plugs. I strongly recommend bringing a portable USB car charger.
External battery pack: Since you'll be out and about most of the day, an external battery pack can help you make sure your phone and camera never run out of energy.
Bug spray & sunscreen: Believe it or not, this alpine area CAN get super sunny and mosquito-ridden in the summer. Protect yourself with sweat-proof bug spray and sunscreen.
Solid toiletries: Be a responsible traveler and minimize your plastic use by using plastic-free toiletries. Ethique has a fantastic line of solid shampoos and conditioners for different hair types, as well as soap and face care items. 
Hiking Gear for the Canadian Rockies
Trekking poles: For the more strenuous hikes, you may want to take a sturdy pair of retractable trekking poles with you for easier leverage on rocky slopes. They're great for sharp downhills or for keeping your balance on rocky trails. 
Head lamp: Sometimes the best views are at sunset or sunrise, and you'll end up needing to hike when it's a bit dark outside. I love my trusty head lamp for hiking in the early morning or late evening.
Bear spray: You may not  have to use it, but this will help you out in the event of a bear sighting. You can get bear spray at any outdoor retailer in Canada, just make sure to leave them behind before you fly on a plane!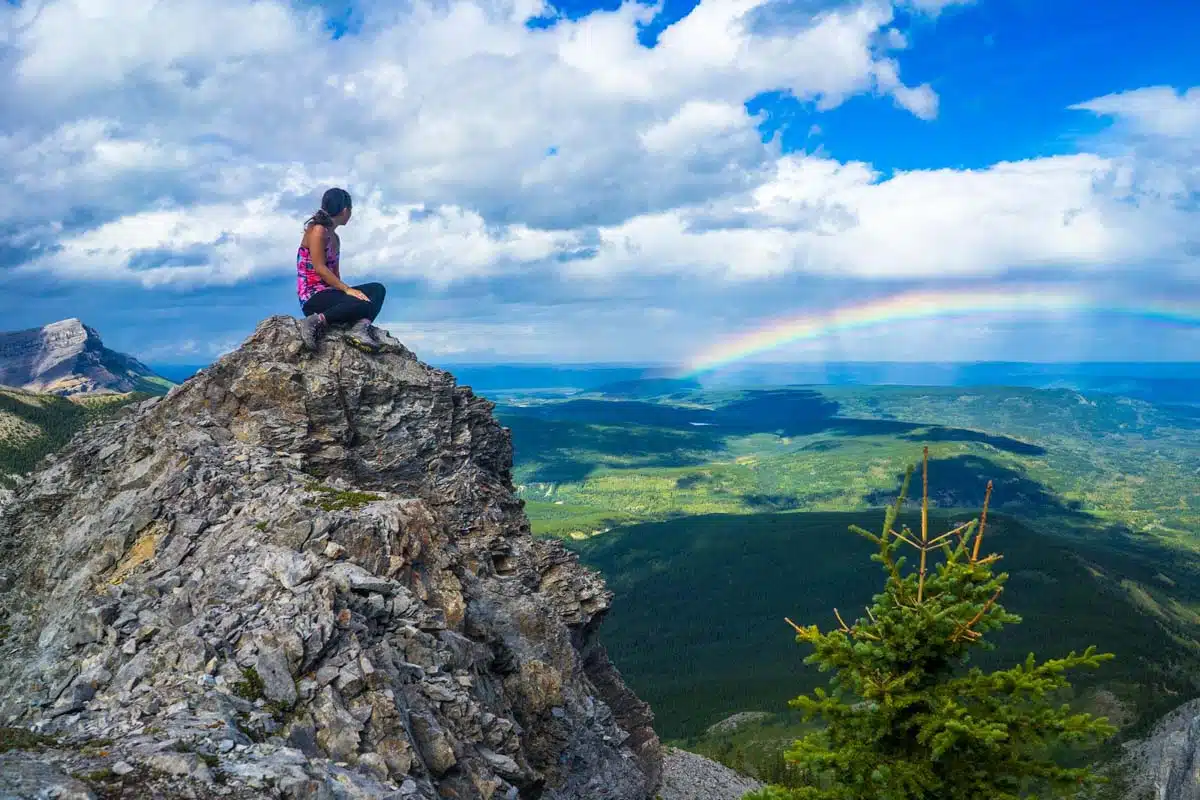 Camping Gear for the Canadian Rockies
Tent & rain fly: This is obvious, but you will need something to protect you from the elements. I have a 2-person Marmot tent/rain fly that I love because it's lightweight and easy to set up – I even use this when I'm camping alone. If you're looking for an ultralight tent and have more money to spend, try the Big Agnes backpacker tents. 
Thermal sleeping mat: Tents don't come with padded floors and sleeping bags aren't cushioned, which means you'll feel every single rock, branch, and bump on the ground. Additionally, all that heat that your sleeping bag is trying to keep is going to get dissipated to the cold ground below. You NEED a layer between your sleeping bag and the ground. Sleeping mats come in a variety of sizes and some are even inflatable and can be compressed into a small bag, like the Wellax sleeping pad. We've also used the REI AirRail pad in the past and loved it.
Sleeping bag: Even in hotter climates, you'll usually want something to cover your body while sleeping and something to cushion you from the ground. Here's where a good sleeping bag and inflatable mat will come in handy. For more versatility in different climates, you'll want to bring cold weather sleeping bags and a sleeping bag liner.
Fire starting materials: TBH, starting a fire can be REALLY freaking hard, especially if you've never learned to do it. Matches and lighter fluid can help when paired with the available firewood and some pine needles.
Stove, mess kit, & food: If you're planning on cooking at your campsite, don't forget your cooking supplies and food! I personally recommend the MSR Alpine stowaway pot because the handle folds up over the lid and you can store your smaller bowls and stove inside of it. For camping stoves, I use a Jetboil MightyMo Backpacking stove. It has its own flame igniter built in and it folds down into a tiny size. If you don't finish your food, be sure to store it in a bear box to keep yourself (and fellow campers) safe.
Hammock (optional, but SUPER nice!): Totally optional, but trees are abundant in the Canadian Rockies and you may just want to take a little nap with a view… a packable 2-person hammock can help with that.
What NOT to Pack for the Canadian Rockies
Nice shoes: The Canadian Rockies are muddy and wet a lot of the time, so your shoes will PROBABLY get dirty and gross. Leave your favorite nice pair of shoes at home and bring your hiking boots or worn-in sneakers instead.
Umbrella: It's windy AF in the Canadian Rockies, so your umbrella will prove pretty useless. Come prepared with a durable rain jacket instead.
Selfie stick: Personal pet peeve, but I really hated when I'd go to a super beautiful viewpoint or hike and the incredible panoramas were obstructed by dozens (hundreds?) of selfie sticks (I'm looking right at YOU, Lake Louise). Leave it at home and ask another fellow hiker or traveler to take your photo for you…I promise we don't bite!
Love This? Save and Share on Pinterest!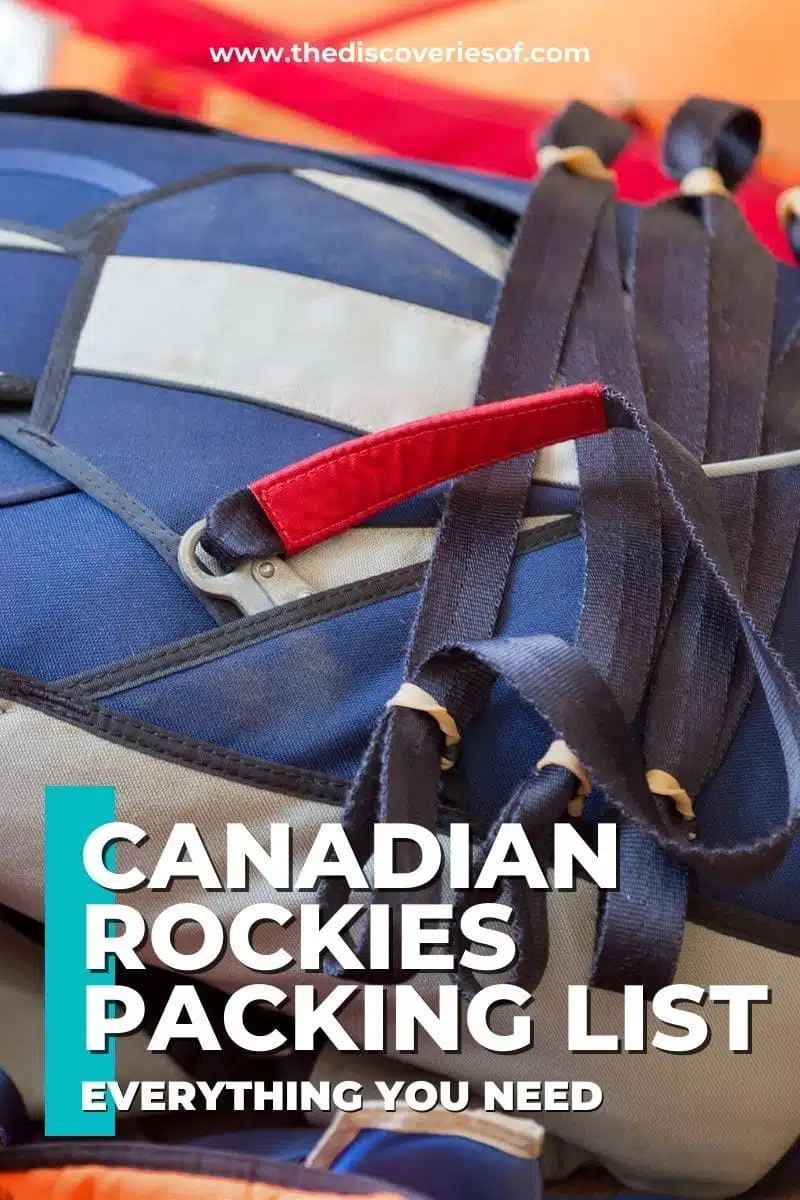 Additional Canadian Rockies Travel Resources