Winnipeg sometimes flies under the radar, but it's a treasure. Discover these brilliant outdoors activities in Winnipeg for your next trip.
When I told my friends I was traveling to Winnipeg, I was met with one singular, jabbing question: "Why?"
But, you see, the beauty of traveling isn't always in going to those iconic, Instagram-famous destinations and getting those bucket list shots.
It's also about the surprise of finding out a totally unexpected place actually has a TON of fun, beautiful, and quirky surprises around every corner.
If there's one thing I learned from traveling up to Manitoba for the first time, it's that there are so many outdoors activities in Winnipeg, and that it was a seriously unexpected treat.
I was able to spend a few days exploring Manitoba's capital city for a few days this summer, and needless to say, I was VERY pleasantly surprised with what I found.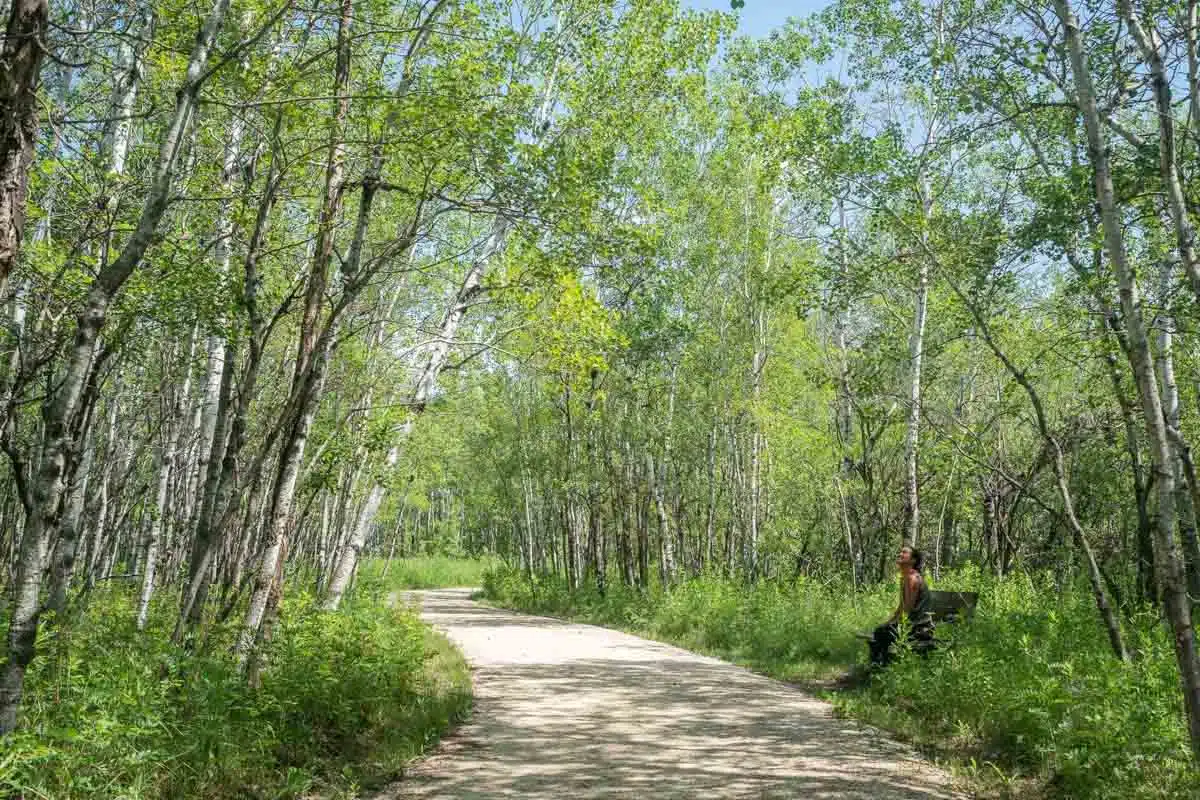 Not going to lie, I enjoyed my trip there so much that I'd consider going back…in the winter. Yep, that's how great those Manitobans were at selling me on their beautiful province and capital city.
Anyway, I'll stop rambling now and let my photos and experiences in Winnipeg do the talking. From rocky trails to steamy saunas, here's the lowdown on *actually awesome* things to do in Winnipeg, Manitoba!
12 Awesome Outdoors Activities in Winnipeg
Stroll the Riverside Trails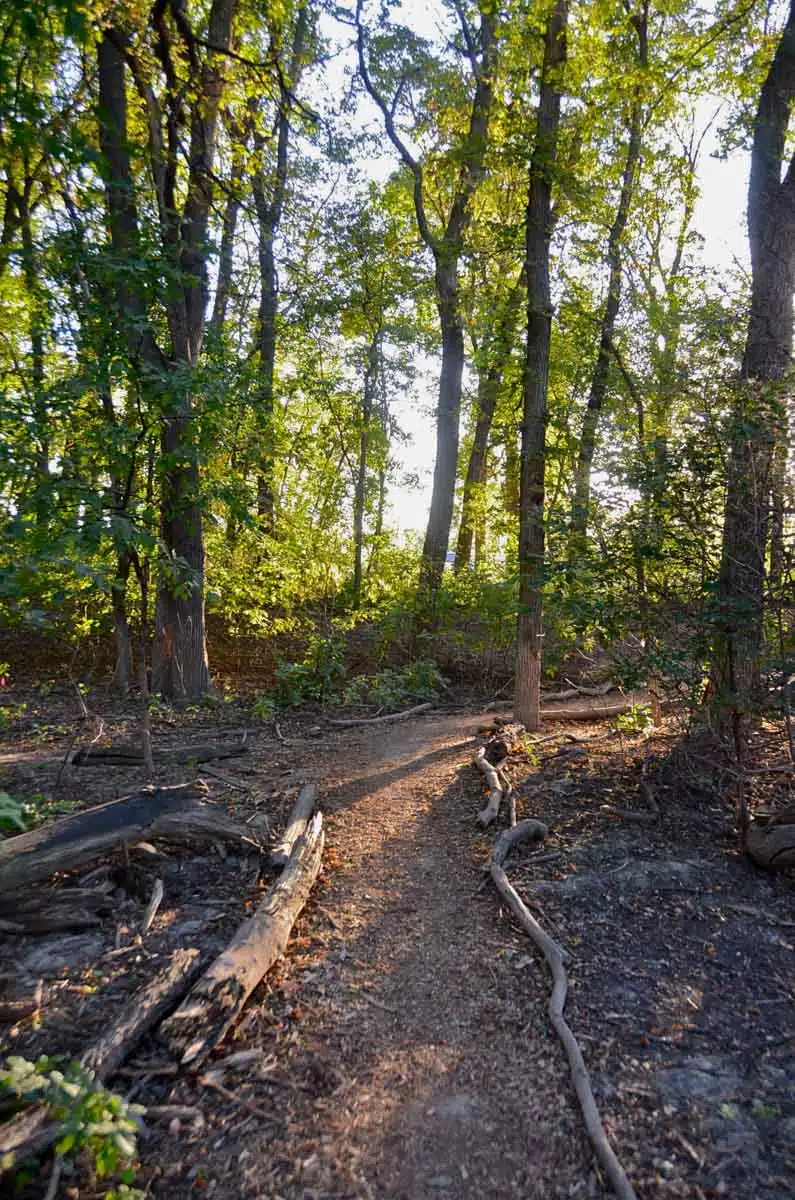 With its location at the conjunction of the Red and Assiniboine Rivers, there are tons of riverside trails that you can simply wander down, basically forever. There are several kilometers of walking running, and biking trails that run adjacent to the rivers, so you really can't get bored.
If you have limited time, I'd recommend starting at The Forks and heading north. Along the way, you can catch awesome views of the Canadian Museum for Human Rights, the Basilica, and the Winnipeg skyline.
According to my local sources, Winnipeg's trails turn into ice skating lanes in the winter, making for a really cool way to explore the city if you're there during the winter months.
I've never used ice skating as a method of transportation, and it's definitely something I'd like to try if I get the chance to return to Winnipeg during the colder months of the year.
Go Bird and Bison Watching at FortWhyte Alive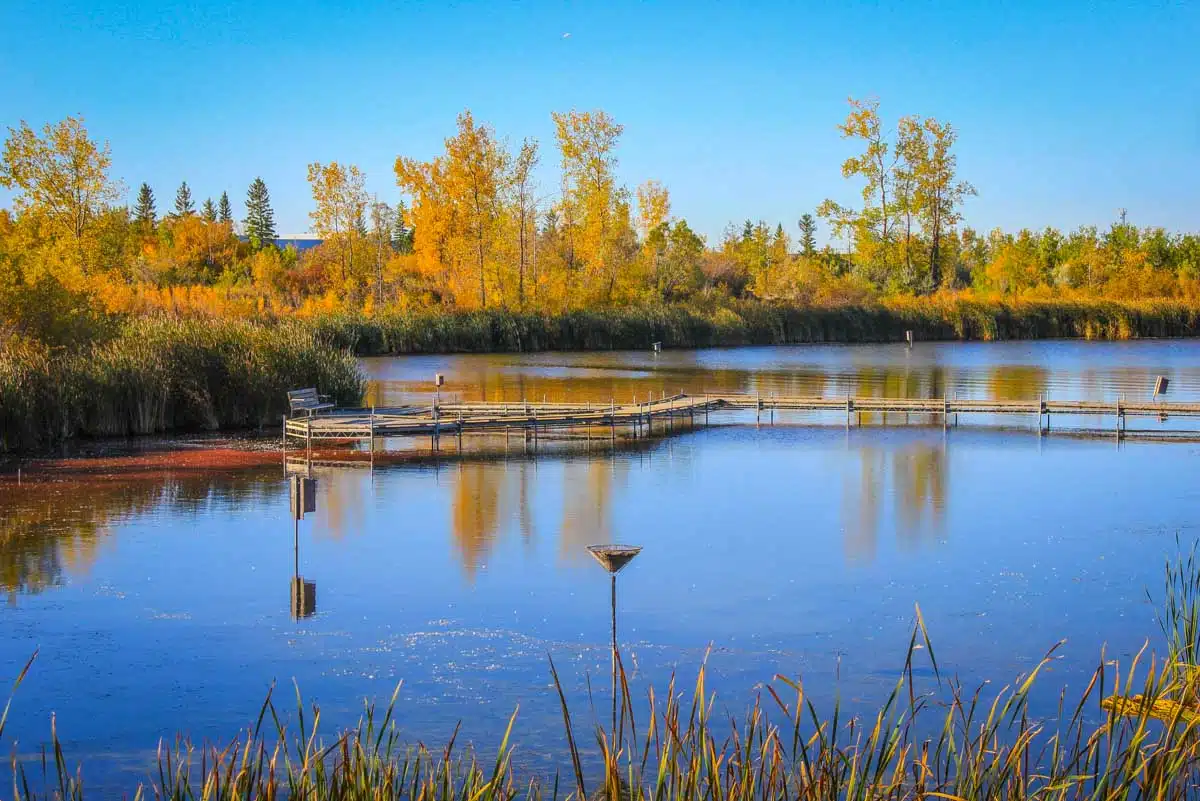 If you're fancying a more remote experience (but still within city limits), hop in the car and head to FortWhyte Alive, a nature preserve located on the southwest side of town.
The preserve is home to a handful of beautiful, wooded trails, with viewpoints to see the resident bison, birds, and marsh life that reside on the premises.
You could spend the whole day here wandering several kilometers of gravel trails, or rent a canoe and explore the waterways.
Alternatively, the preserve has bikes that you can rent to zip around the various trails and explore on two wheels.
Kayak One of Winnipeg's Two Rivers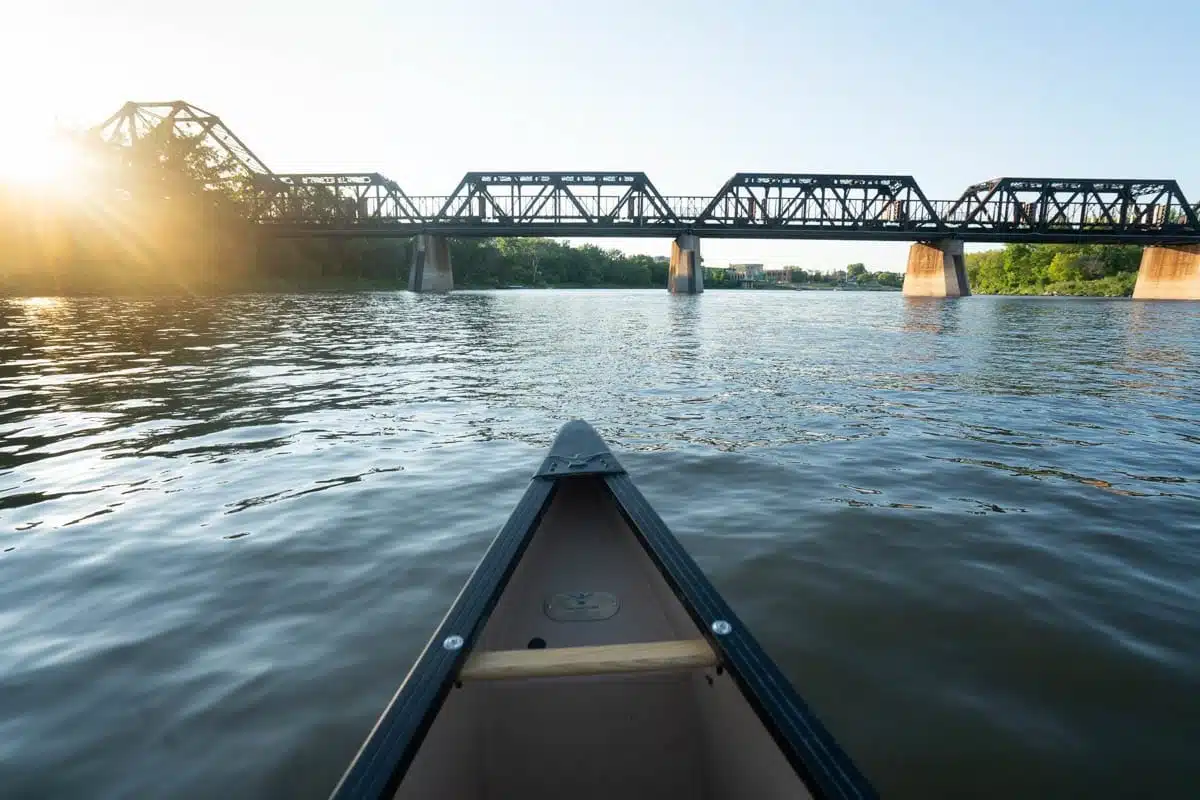 On my last night in Winnipeg, I had the immense pleasure of doing a sunset paddle.
While Winnipeg's rivers aren't exactly the most rugged, wild places, they did offer an alternative view of the city that was especially beautiful during the golden hours of the evening.
While on the river, Sam explained to me that most of his company's tours are actually geared toward getting people out of the city, either on short (2-3 day) paddling trips, or on longer ones dedicated to helping people build their skills.
Explore The Neighborhoods by Bike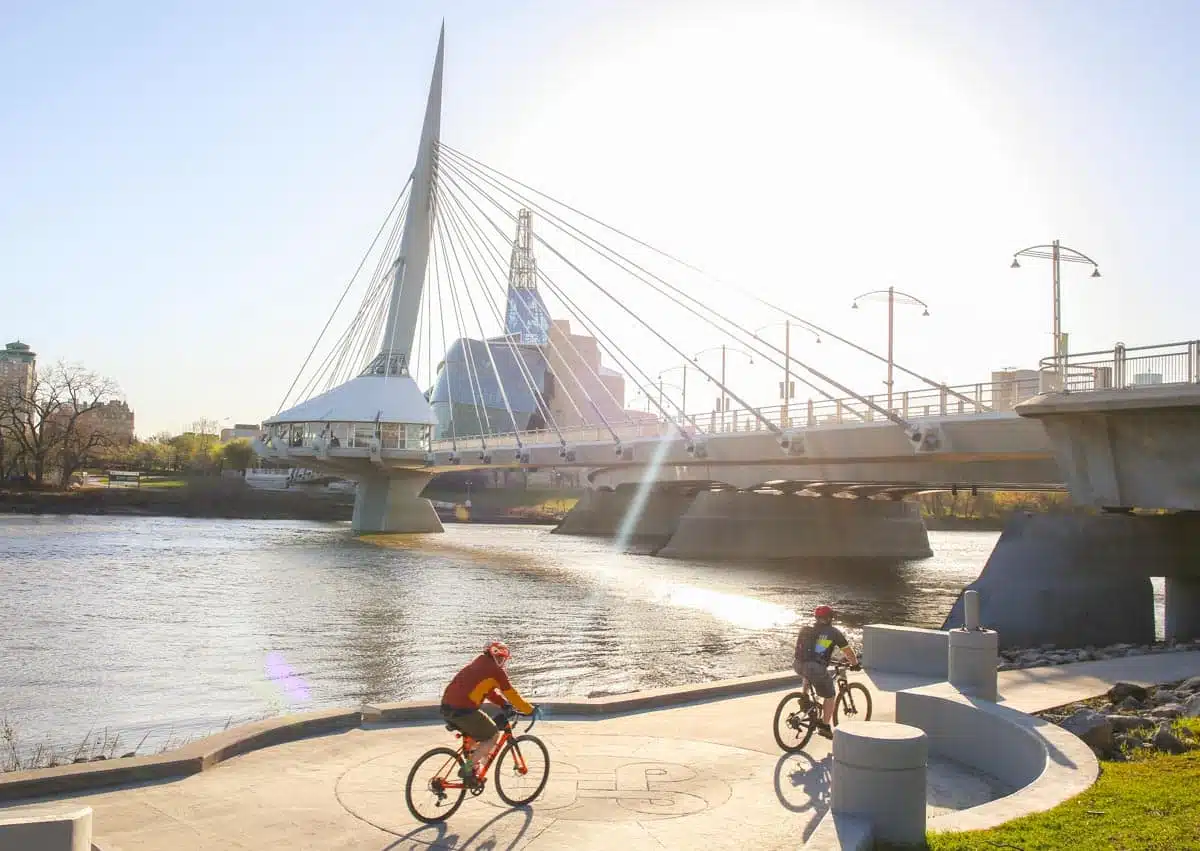 Once you've been in Winnipeg for approximately 5 minutes, you'll realize that locals love to ride their bikes around.
In fact, when I was at Folk Fest, there was an entire section of the parking lot solely dedicated to bikes!
Yup, Winnipeggers love their wheels, and as a visitor, the best way to do the city justice is by exploring in the same way.
Luckily, finding a bike to borrow isn't hard. If you stay at Inn at the Forks (like I did), they have a FREE bike-share program, where you can rent a bike for 2 hours fo' free and ride around the city.
Alternatively, White Pine Bicycle Co. offers bike rentals for half- and full-day increments for very reasonable prices.
Once you've gotten your hands on the bikes, I'd recommend checking out the Exchange District (cute shops and coffee places), Osborne Village (one of the best foodie spots in the city), and Saint Boniface (the French district – you'll feel like you're in Europe!).
Grab a Cold One at The Forks Market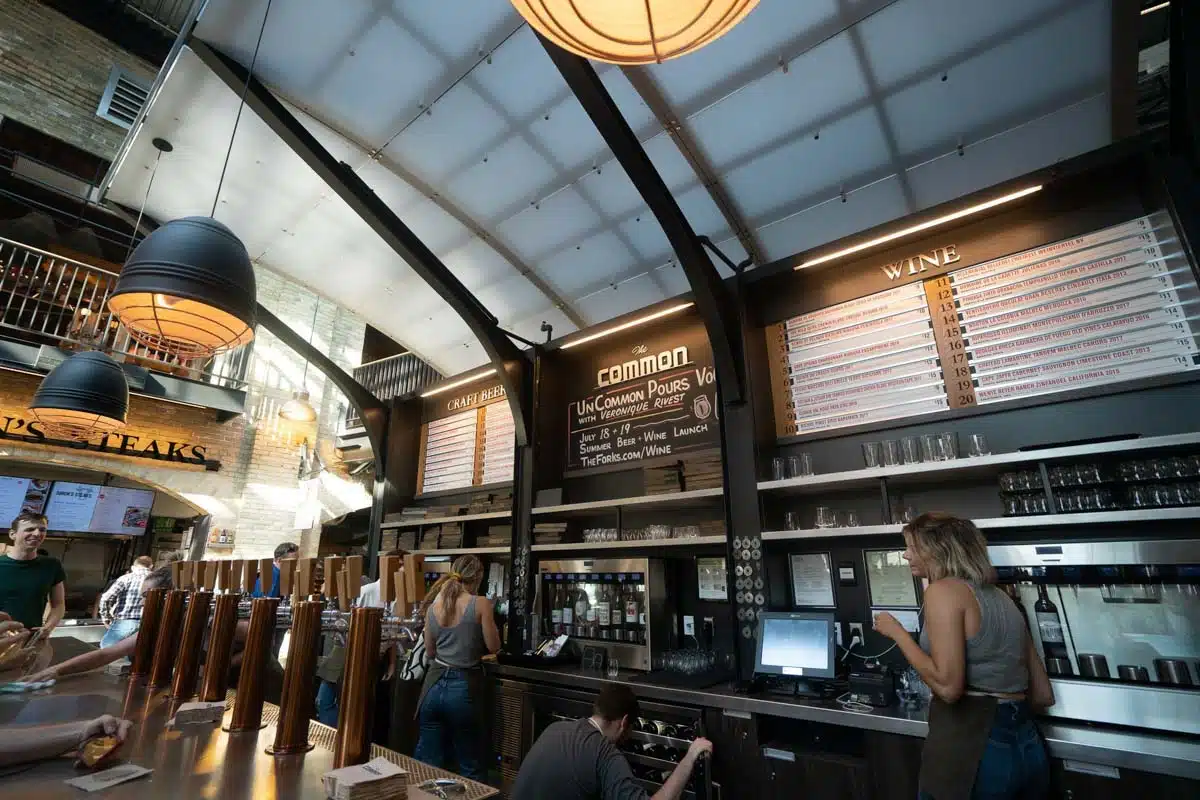 There are tons of cute, crafty places to visit in Winnipeg, but one of my absolute favorites (and the one I spent the most time in) was The Forks Market.
Situated at the convergence of the Red and Assiniboine Rivers, this terminal-gone-food-hall is the perfect place to kick back and enjoy a beer on their giant outdoor patio.
If you're looking for such an alcoholic beverage, head outside to The Common bar, where they serve tons of beer and wine varieties on tap.
The specific types of beer and wine that they have rotates periodically, so you never really know what you're going to get (and that's the fun of it, right?!).
Aside from The Common, The Forks Market has a ton of amazing food stalls and shops. For something casual, I'd recommend grabbing a pizza from Red Ember Common (I loved the Hot n' Honey).
Or, for a fancier meal, stop into Passero, the upscale restaurant located among the stalls of the market. Their fish dishes and desserts were to die for!
Admire The Wildlife at Oak Hammock Marsh Interpretive Centre
If you're an avid animal lover, head to Oak Hammock Marsh Interpretive Centre to meet some of Manitoba's local species, on land and in the water!
With over 30 kilometers of trails around the area, as well as several options for paddling in the marsh areas, the interpretive centre provides an amazing opportunity to immerse yourself in some of the most fascinating ecosystems that the Winnipeg area has to offer.
Take a City Walking Tour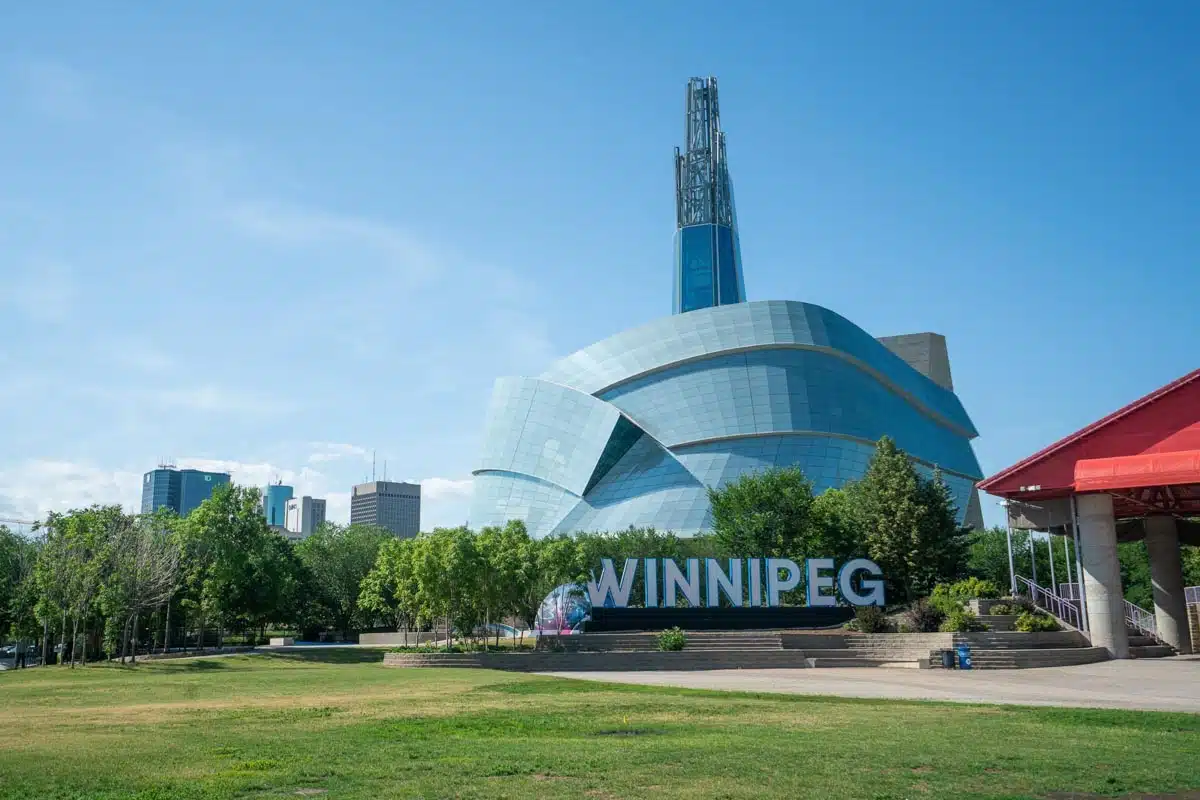 Walking tours are one of my favorite ways to see a city. What's better than a local guide giving you the scoop on a destination, all while getting some exercise?
Luckily, like many major cities, Winnipeg has walking tours you can take, and they're a great, inexpensive way to learn more about the history of the city and its many quirks and fun facts.
For a guided tour of the Exchange District, Winnipeg's "Original Downtown" which runs walking tours of the area for just $10.
Alternatively, you can DIY your own walking tour using one of the routes from this guide.
Go to Folk Fest (or Another Amazing Festival)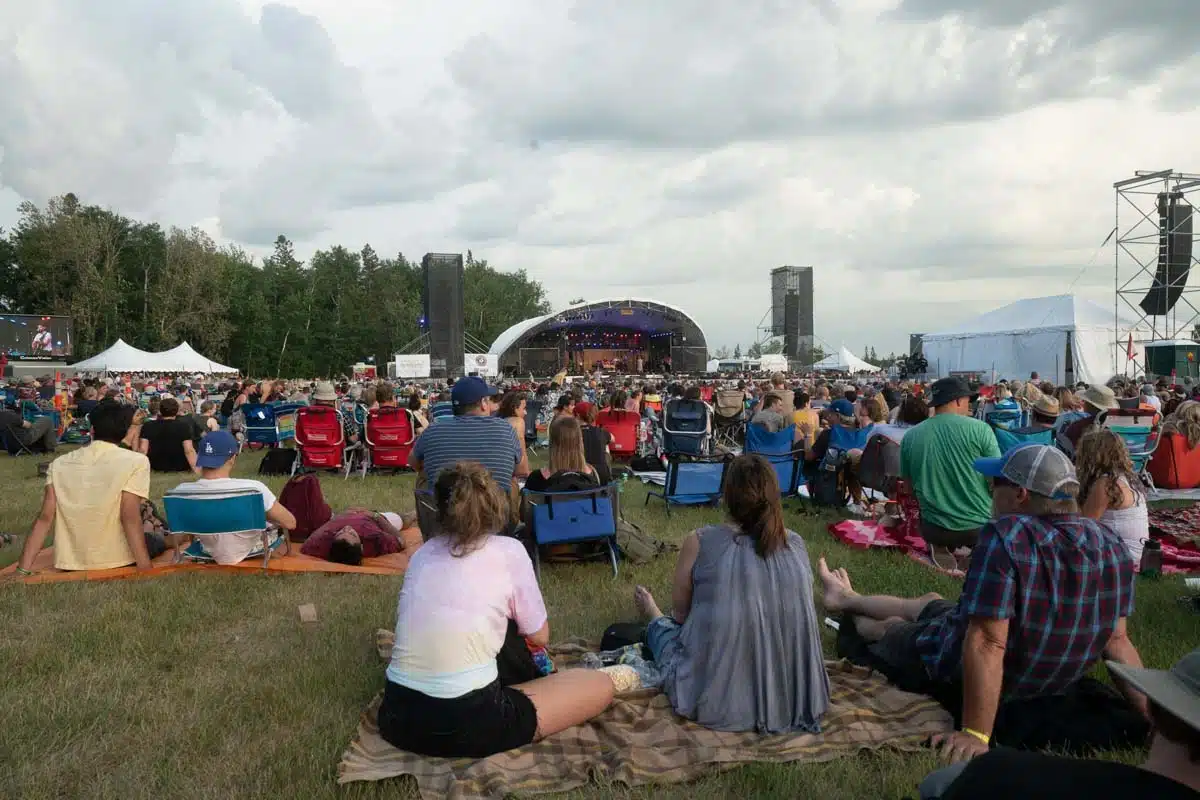 One of the highlights of my trip to Winnipeg was getting to spend a couple of days at the annual Winnipeg Folk Festival, lovingly coined "Folk Fest" by the locals.
This camp and commute festival attracts a mix of local and international artists for 4 days of musical bliss. (Side note: I got to see Death Cab for Cutie there and high school me can die happy now!)
Aside from music, the festival also has tons of local artisans and food vendors who offer delicious treats and cool crafts for you to take home with you.
Not in town for Folk Fest? Don't fret! Winnipeg has tons of amazing festivals year-round (yep, even in the winter). In the coldest months of winter, the Festival du Voyageur happens, which is one of Winnipeg's best kept secrets. I'm seriously tempted to go back in the freezing cold just to see it myself!
The bottom line? No matter when you're visiting, you're bound to find something interesting happening in the city.
Sample Locally-Sourced Ingredients at one of Winnipeg's Best Restaurants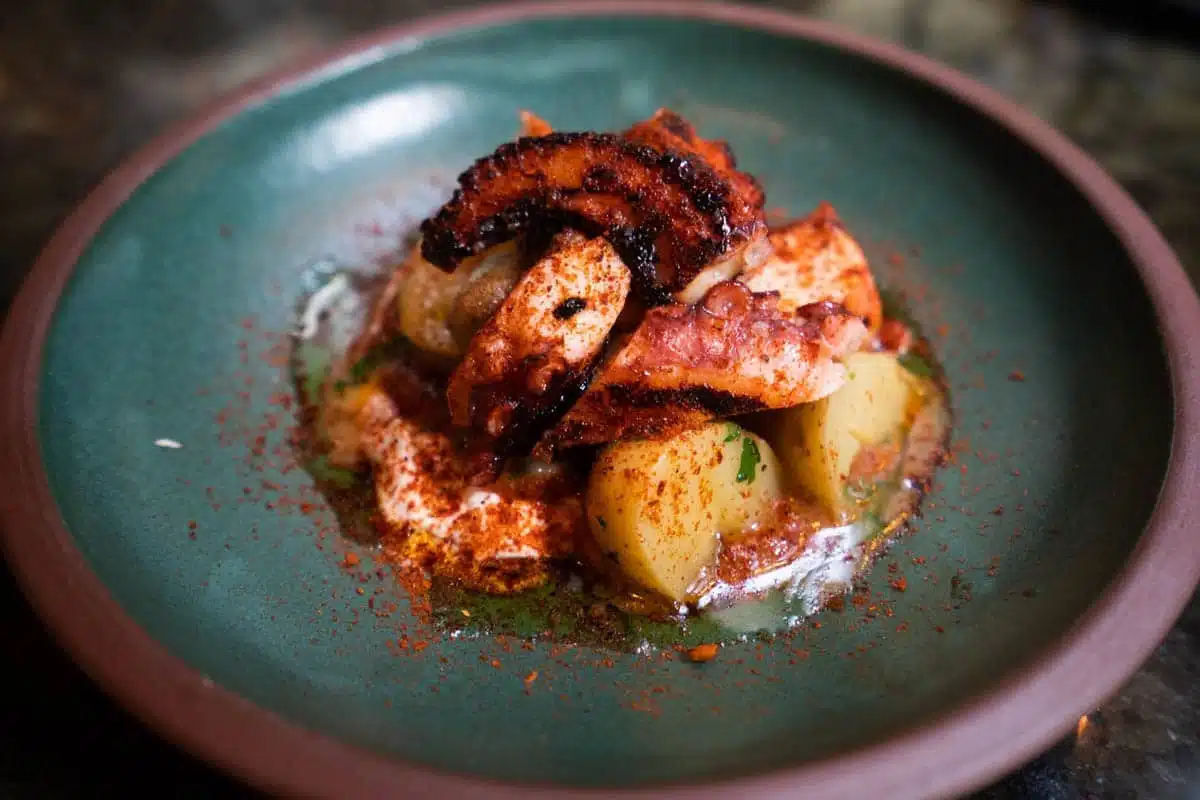 You probably didn't expect this, but Winnipeg is an amazing foodie city!
Some of my best meals of the year have been in Winnipeg, and I was blown away by the variety and quality of every meal I had there.
With tons of farmland nearby, Winnipeg has access to tons of fresh ingredients, which you should definitely try to sample while in town. I ate WAY too much while I was there, and here are some of the mouth watering places I enjoyed:
Feast Cafe & Bistro: A First Nations-owned diner serving up traditional and fusion dishes that star traditional bread called bannock. Try the "eggs banny" if you go there for breakfast!
Clementine: One of Winnipeg's favorite brunch places, Clementine has really yummy dishes, including a mean mushroom toast and curry cauliflower that I had there (yep, I ate two dishes…don't judge).
Red Ember Common: Amazing pizza at affordable prices, located inside The Forks Market. Like I mentioned, I loved the Hot n' Honey, which has spicy salami, tomato sauce, and some sweet honey drizzled on top!
Passero: Also located in The Forks Market, Passero is an upscale dining experience owned by a prolific chef in the Winnipeg area, Scott Bagshaw. I had a fantastic fish special while there, but literally all of their dishes looked incredible.
Baked Expectations: After dinner, head to Baked Expectations, an Osborne Village local favorite with amazing sweet treats and desserts.
Go For a Morning Run Through The Main Attractions
Because Winnipeg's central area is so compact, you can see a lot of the main museums and attractions within a 5-kilometer running loop. For people who like running or simply want to get some exercise while traveling, a jog through the brisk air of Winnipeg is a great way to explore the city.
Some of the main sights you'll pass by are the Canadian Museum for Human Rights, the Manitoba Museum, and the Capitol building. You can take your run at your own pace, stopping at interesting museums and sights along the way, or go with a guide to get the inside scoop.
If you're staying at Inn at the Forks, you can actually book a guided 5-km run to the main landmarks, led by a local! These guided running tours happen every Tuesday and Wednesday morning during the summer, and reservations at least 12 hours in advance are required.
Wind Down in a Thermal Cycle at Thermea Spa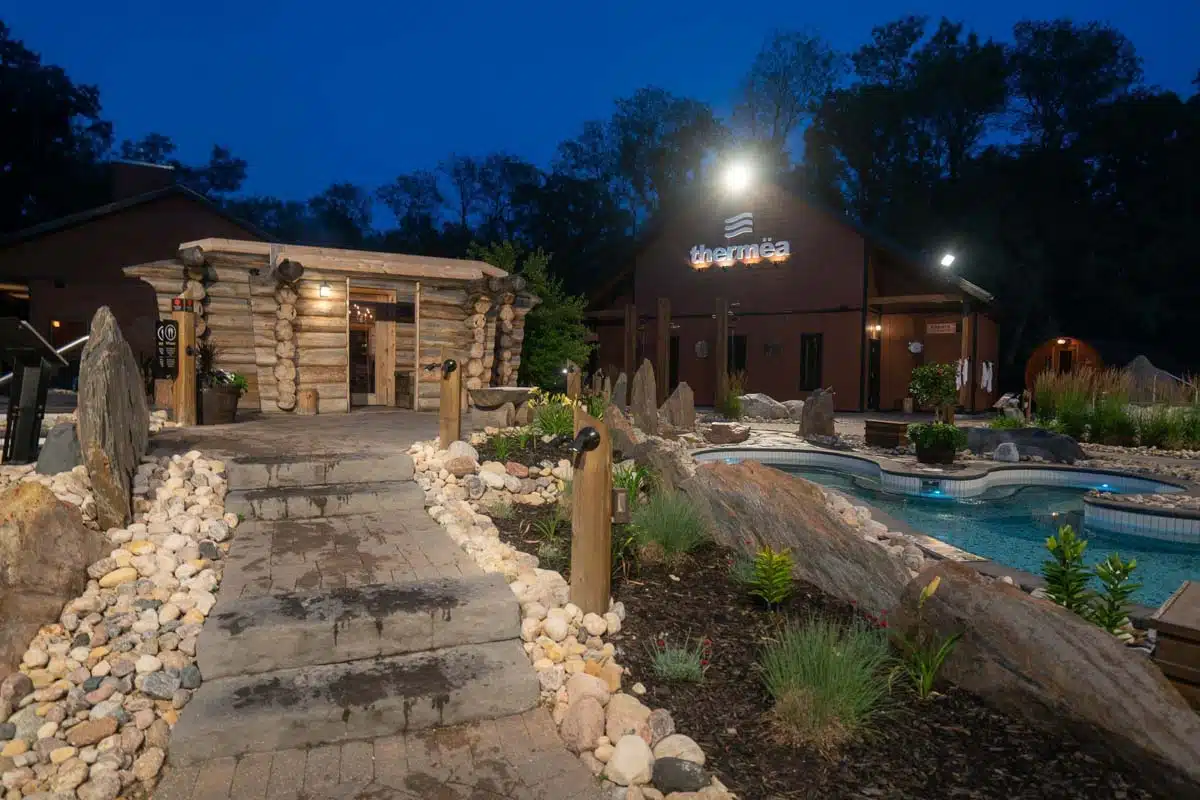 Ah, saving the best for (almost) last – Thermea Spa. Thermea is a Nordic-style spa that features several saunas, hot pools, cold pools, and relaxation areas for spa-goers to experience what's known as the thermal cycle.
The basic premise of the thermal cycles is this: heat up for several minutes in a sauna, take a polar plunge into a cold pool, drink hot tea and relax for 30+ minutes, rinse, repeat.
It sounds terrifying, but it's basically heaven. I could do it all day, every day if you asked me.
I wanted to max out my spa experience, so I actually booked one of their body treatments – the Vivifying Treatment. It was so relaxing I actually fell asleep while my esthetician was working!
I left Thermea on a total cloud, and I've been frantically looking up Nordic spas in the US ever since I returned from this trip to try and replicate my experience.
I'm not sure anything else will come close…
Go For a Day Trip to a Nearby Provincial Park or Beach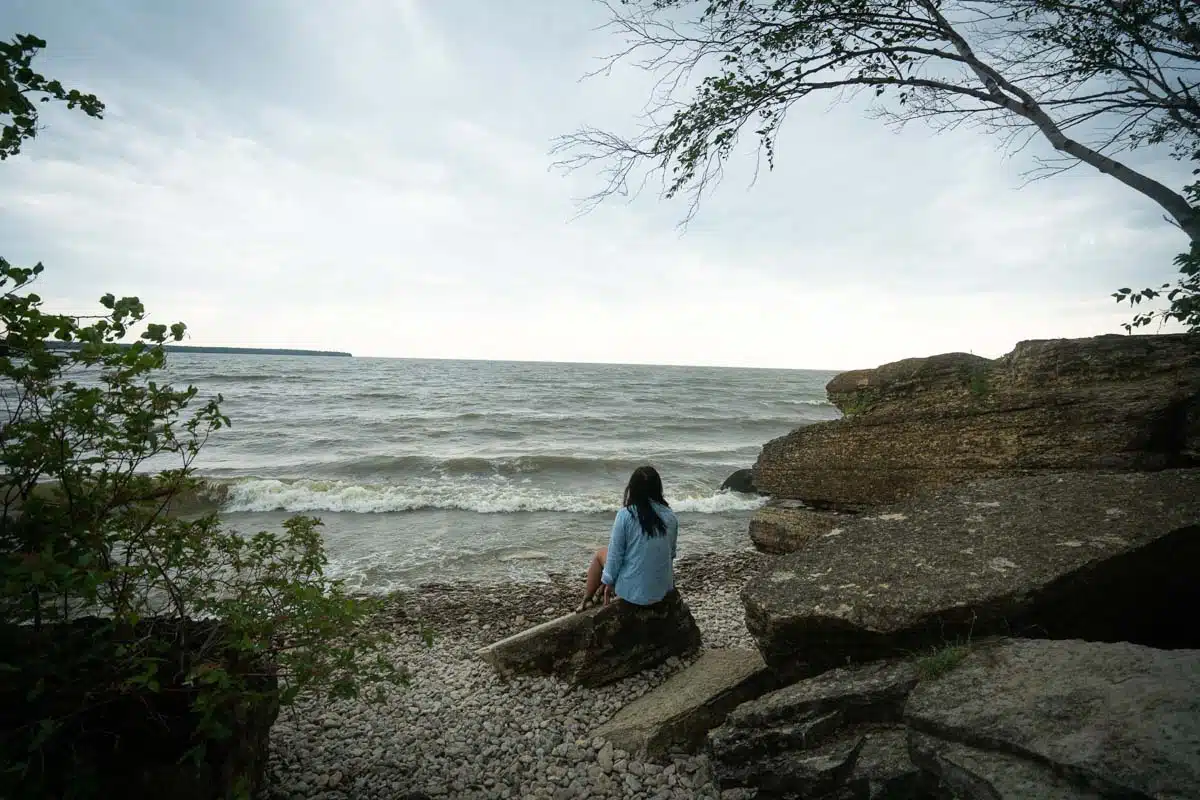 If you're up for a day-long adventure, there are tons of beautiful spots in the nearby areas of explore Manitoba to explore.
Head to peaceful Hecla to enjoy rocky beaches, lush marshes, coastal lighthouses, and an Icelandic village. There's even a hotel, the Lakeview Hecla Resort, to stay on the island if you have extra time!
Alternatively, paddle your way through Steep Rock, hit the sand at Winnipeg Beach, or explore the sand dunes and hike the "Devil's Punchbowl" of Spirit Sands Provincial Park.
There are tons of day trips from Winnipeg that you can try…the hardest part is choosing between them!
Things to do Outside in Winnipeg: Know Before You Go
Where to Stay in Winnipeg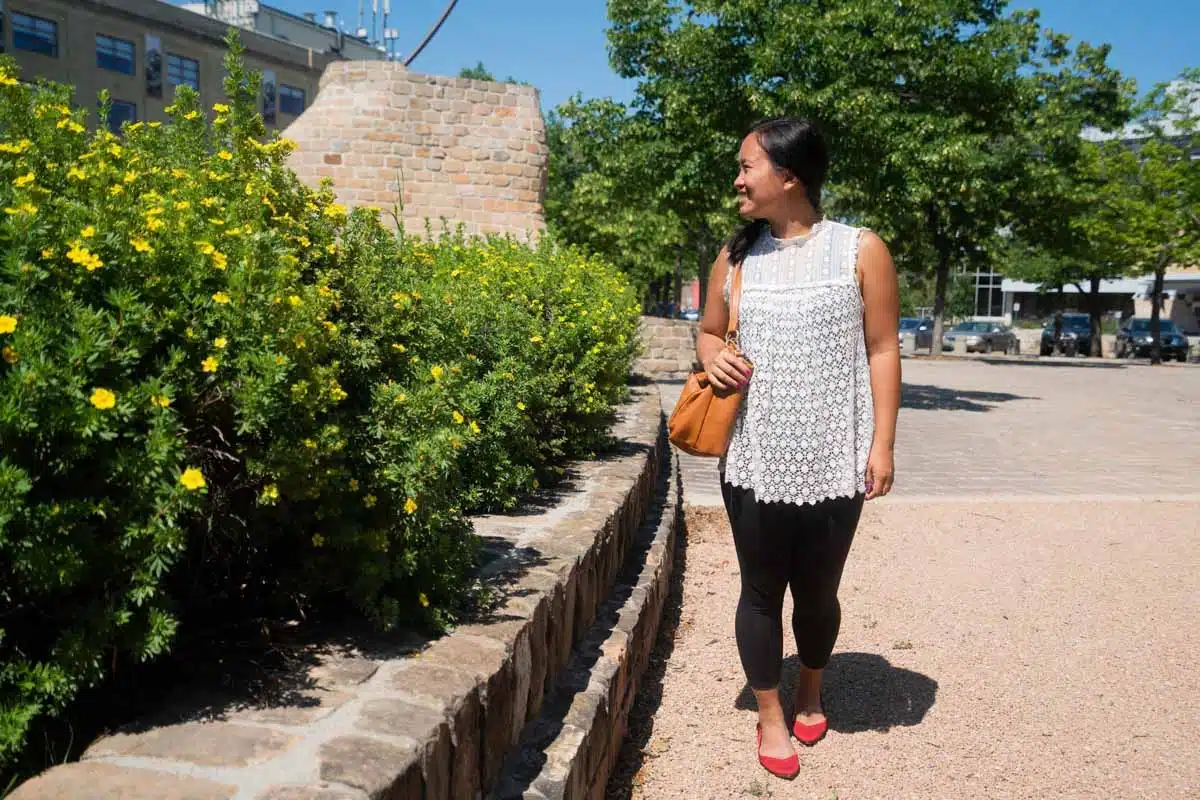 Winnipeg is a city full of cute, charming little neighborhoods, and where you stay really matters. The Forks is a centrally located neighborhood that's perfect for access to basically anywhere you'd want to go.
While in Winnipeg, I stayed at the lovely Inn at the Forks, which is a beautiful hotel right next to The Forks Market.
For an outdoor lover like me, Inn at the Forks was the perfect place to stay – there were things like free bike rentals, workout classes, and a running tour to stay active, and cozy, spacious rooms to relax in.
The hotel is walking distance to the rivers, The Forks Market, and the Canadian Museum for Human Rights (which I highly recommend visiting as well, despite not being outdoors). Within the hotel, there's also a fabulous restaurant called SMITH (which, not gonna lie, I ate at several times), and a luxurious spa called the Riverstone Spa.
Transportation in Winnipeg
Within the downtown area of Winnipeg, getting around is pretty easy. You can get cabs at most major intersections, rent a bike, or wander on foot to many of the areas listed above.
I'd actually strongly recommend the latter – I did most of my exploring by foot and felt like it really gave me a neat perspective of the city.
However, if you're hoping to get out in the countryside to places like FortWhyte Alive, Oak Hammock Marsh, or any of the day trips mentioned here, you'll probably want to rent a car.
I usually go with Avis for my rental car needs, and you can pick one up directly from the airport.
Things to do Outdoors in Winnipeg: Read Next
Love This? Save and Share on Pinterest