Wondering what to do in Asheville, NC? Well, look no further – Asheville is bursting at the seams with highlights, attractions, and charm.
I've long known that Asheville is a little gem of a city in North Carolina, but plenty of people pass over this unassuming city without a second thought.
But, I'll let you in on a secret — spend a few days here, and you'll be pleasantly surprised how easily Asheville fits into your USA bucket list.
I've put together this definitive guide of all of the city's best places, sights, attractions, and more to make planning your Asheville itinerary easy-peasy.
Pssst… The best place to stay while exploring this gem, check out the Hilton Garden Inn Asheville Downtown.
Top 5 Things to Do in Asheville
Explore the Blue Ridge Mountains & Parkway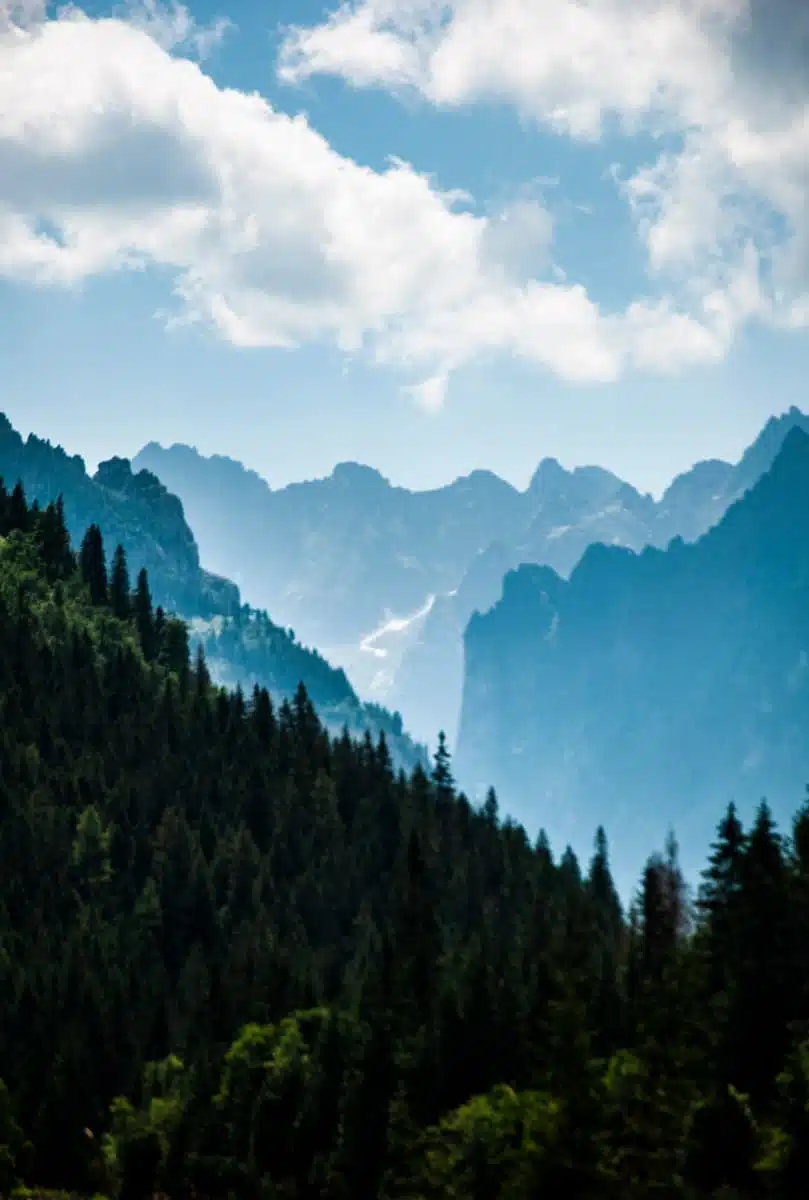 Spanning eight states, the Blue Ridge Mountains is the answer to your next escape into nature.
Although shared by numerous neighbouring states, Asheville's proximity to this pristine mountain range is excellent, making it one of the top things to do around Asheville, North Carolina.
You're spoilt for choice as Asheville provides access to a massive amount of hikes and trails through the mountains. Pair these with views straight from a nature photographer's wildest dreams. Few places can compare.
The main reason the mountain range is so famous is due to the Blue Ridge Parkway. This 754 km stretch of road runs through the mountains and spans 29 counties between North Carolina and Virginia. A driving tour from Asheville down this majestic highway is an absolute must.
Get Artsy in the River Arts District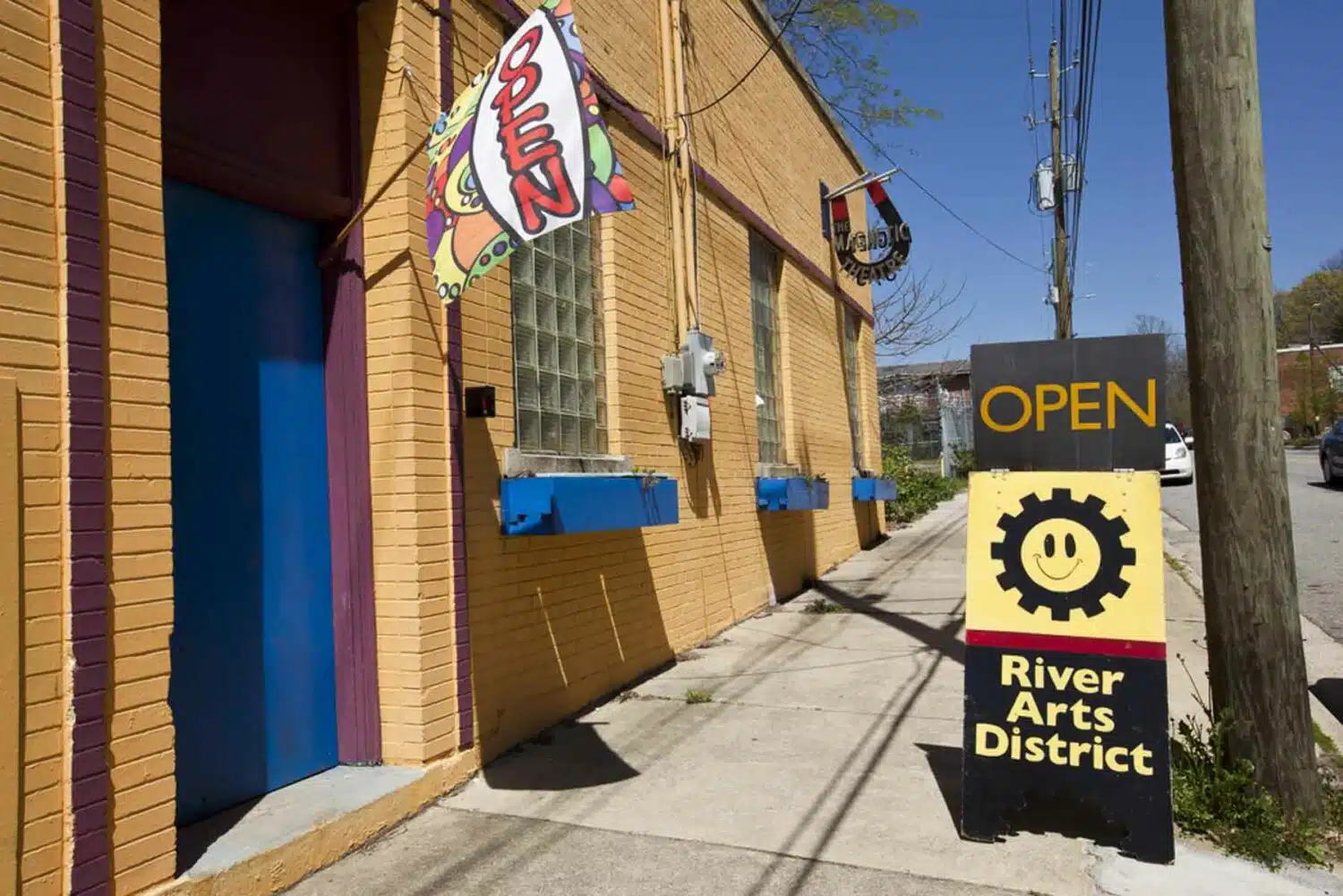 Boy, does Asheville love art and artists. One of my favourite things to do in Asheville is to explore the River Arts District, a celebration of everything artistic.
A massive collection of 25 dilapidated and derelict buildings, all of which are warehouses in a once-industrial zone within the city. But, thanks to a growing need for a platform where artists could explore creativity and artistry, rezoned into the now-famous River Arts District.
Here over 200 artists showcase collections of their ever-changing portfolios. The extensive galleries spread throughout have something for everyone. And, if you like an artwork, you can take it home — at a price, of course.
Indulge in Craft Beer Made by the Best
Beyond the immense arts scene in Asheville, the city is home to some of the most renowned craft beer breweries countrywide. Dating back to 1994, the relationship between the city and craft beer began with the opening of the Highland Brewing Company.
In 2009 the city received the title of the first Beer City in the USA, and since then, thousands come to experience the craftsmanship annually.
Dozens of breweries line the streets of Asheville, and you'll be hard-pressed not to give in to the urge to indulge in one (or more) of them during your visit. Start with The Whale, Thirsty Monk, and Burial Beer Co.
Scare Up Some Spooks with Asheville's Haunted History
While mostly everything in and around Asheville revels in an air of lighthearted fun and excitement, there is a ghostly and haunted side as well. Fill your days with the incredible sights and sounds of the city, but save your nights for some hair-raising antics.
There's no better way to delve into the history of Asheville. So take your pick from a guided night-time walking ghost tour or go ghostbusting on your own.
Luckily ghosts don't mind the changing of seasons, so this is one of the year-round ultimate fun things to do in Asheville, North Carolina.
Go to (At Least) One Asheville Music Festival
Ask any local, and your list of potential festivals will quickly explode. The city does well to bring together festivals that celebrate various genres, and every single one is worth a visit. Though, you would need to spend an entire year in the city to attend them all.
If you're in Asheville during spring or summer, catch the Downtown After 5 Festival hosted on North Lexington Avenue.
In the city during May? Book your place at the Asheville Electro-Music Festival. Hosted in the Black Mountains, this contemporary festival combines music and visuals into the perfect sensory celebration.
Then there is the Biltmore Concert Series. Join in with the incredible vibe on the South Terrace at Biltmore with both local and out-of-town musicians. Set to the backdrop of Blue Ridge Mountain, this is a must.
Brilliant Things to See & Do in Asheville During the Day
Visit the Biltmore Estate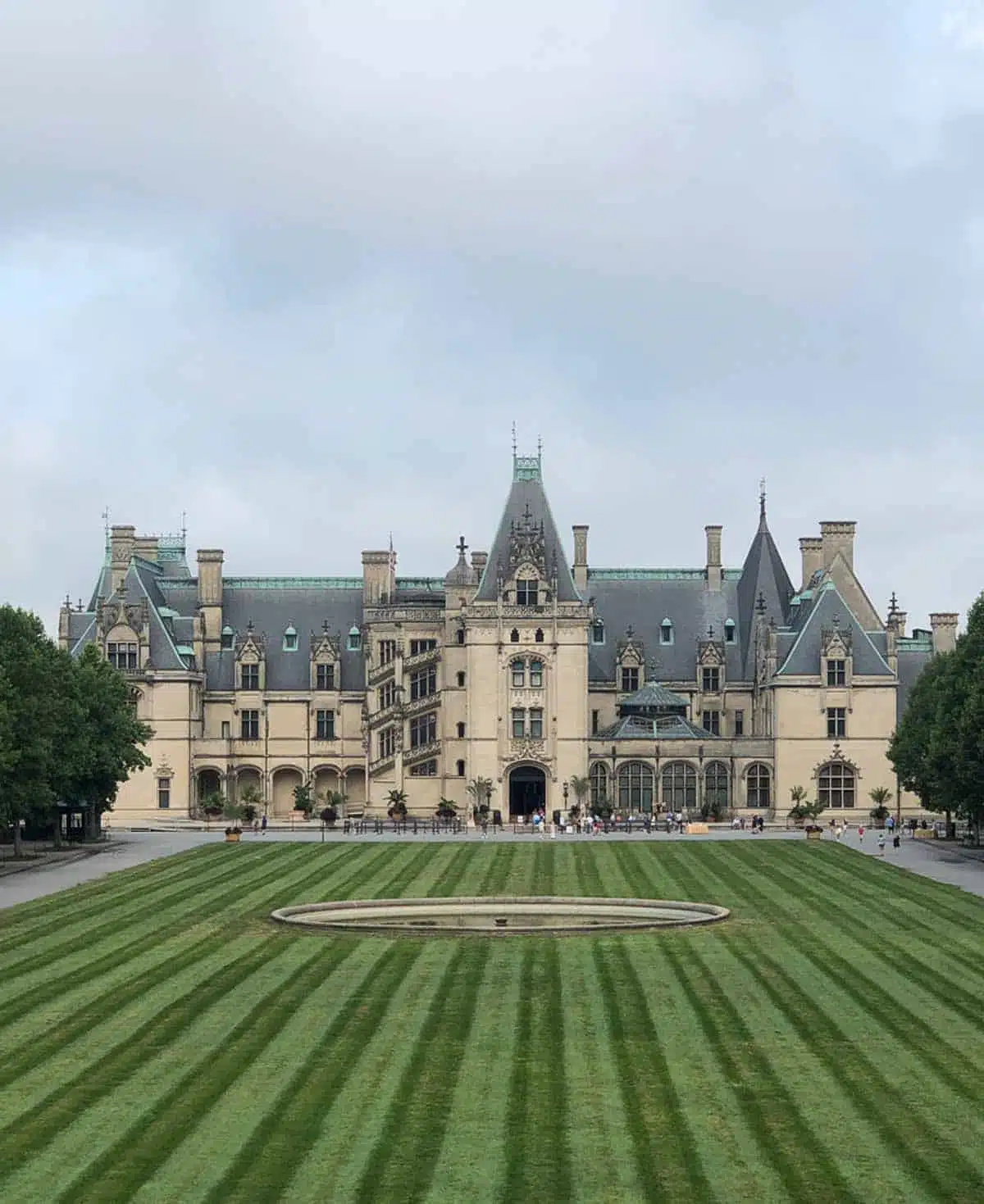 One of the most famous Asheville, NC attractions is the Biltmore Estate. The largest privately-owned residence in the entire United States, this 3237-hectare estate is a must-visit.
This modern-day castle features 250 rooms – these include 34 bedrooms, 43 bathrooms, 65 fireplaces, and a 10,000-volume library. There are both privately guided tours and self-guided tours available in the mansion.
Oh, and be sure to visit the Biltmore Winery, a four-star hotel with numerous restaurants on-site. Date night = sorted.
Lose Yourself in Nature at the North Carolina Arboretum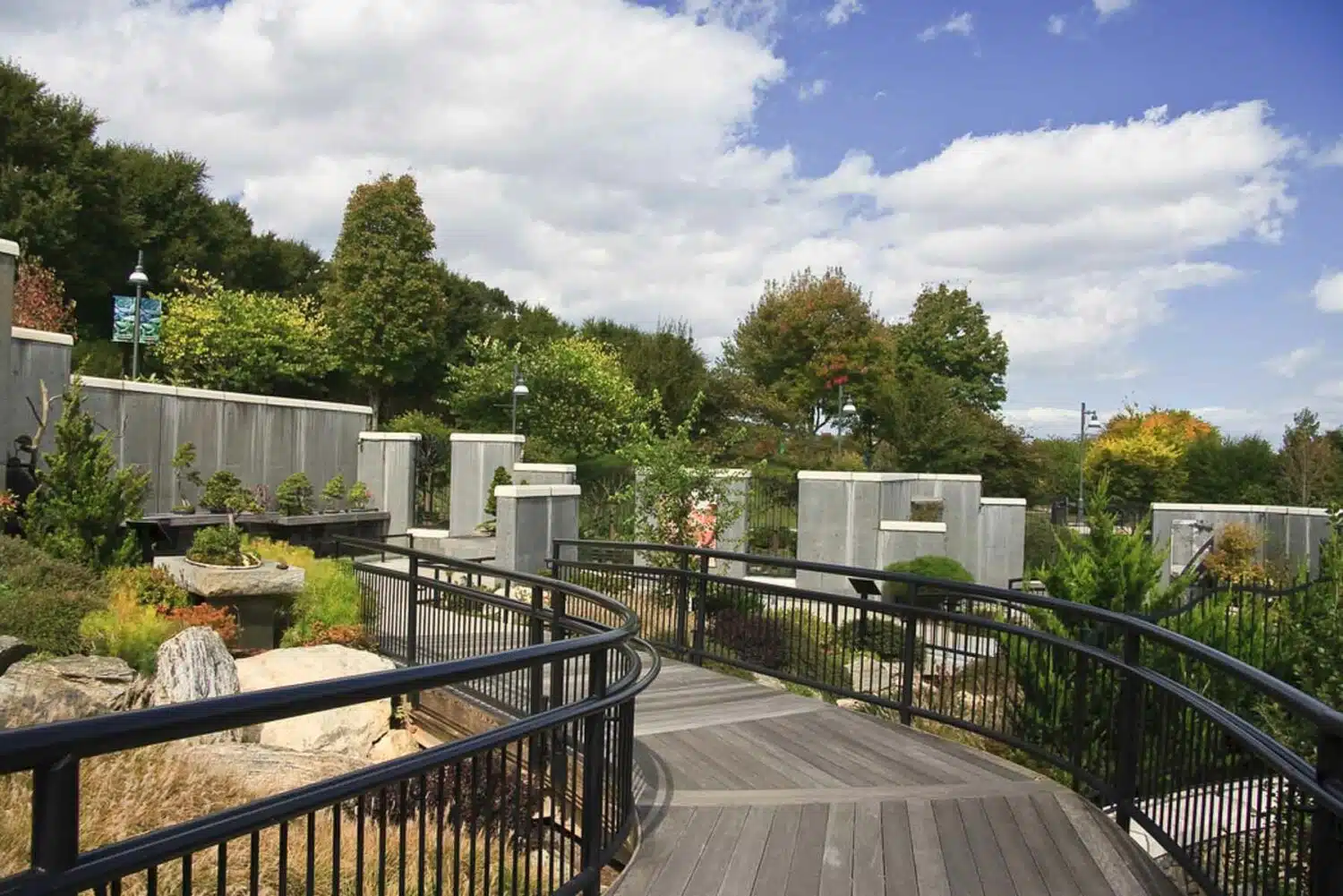 The North Carolina Arboretum is Asheville's top thing to do and see, looking something like a scene stolen from a fairytale. This 175-hectare public garden is near the Blue Ridge Parkway and is the perfect spot to catch epic views of the Southern Appalachian Mountains.
The Arboretum is home to some of the rarest and most diverse plant life in the US. And anytime from April through to October, it is the sight of thousands of mesmerising butterflies attracted to the blooming flowers.
Culture Dive into the Folk Art Centre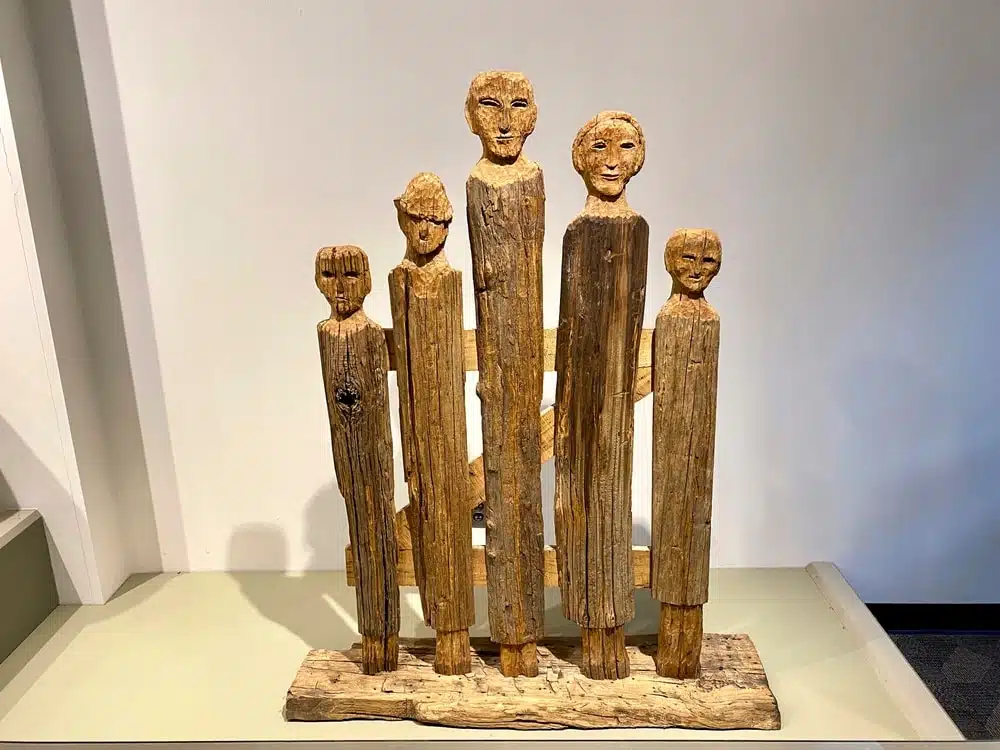 Right off milepost 382 in Asheville sits the Folk Art Centre. This vibrant and culturally- influential attraction, where the works of over 300 artisans and craftsmen are on show, is one of the city's most delightful places to visit.
It first opened during the great depression in 1930 to help provide a space for struggling artists of the time to exhibit their works. Promoting handmade crafts across three galleries at the centre, you can stroll through and admire many artworks.
From woodworking sculptures and paintings to glass sculptures, it's a feast for the eyes.
Treat Yourself to Retail Therapy at the Grove Arcade
Battery Park holds many of the best things to do in downtown Asheville, NC and it's not often I recommend you spend your trip shopping – but this one is special. Don't believe me? Well, head down (pardon the pun) to the Grove Arcade for some old-school retail relaxation.
Designed and established by Edwin Wiley Grove in 1929, this shopping arcade is unlike any other. The elegant period designs and construction persist till today, and you can look forward to shopping at some of the most eclectic boutique stores in the country.
And if you're here during winter, the Grove transforms into a proper winter wonderland.
Spend Some Time in Pisgah National Forest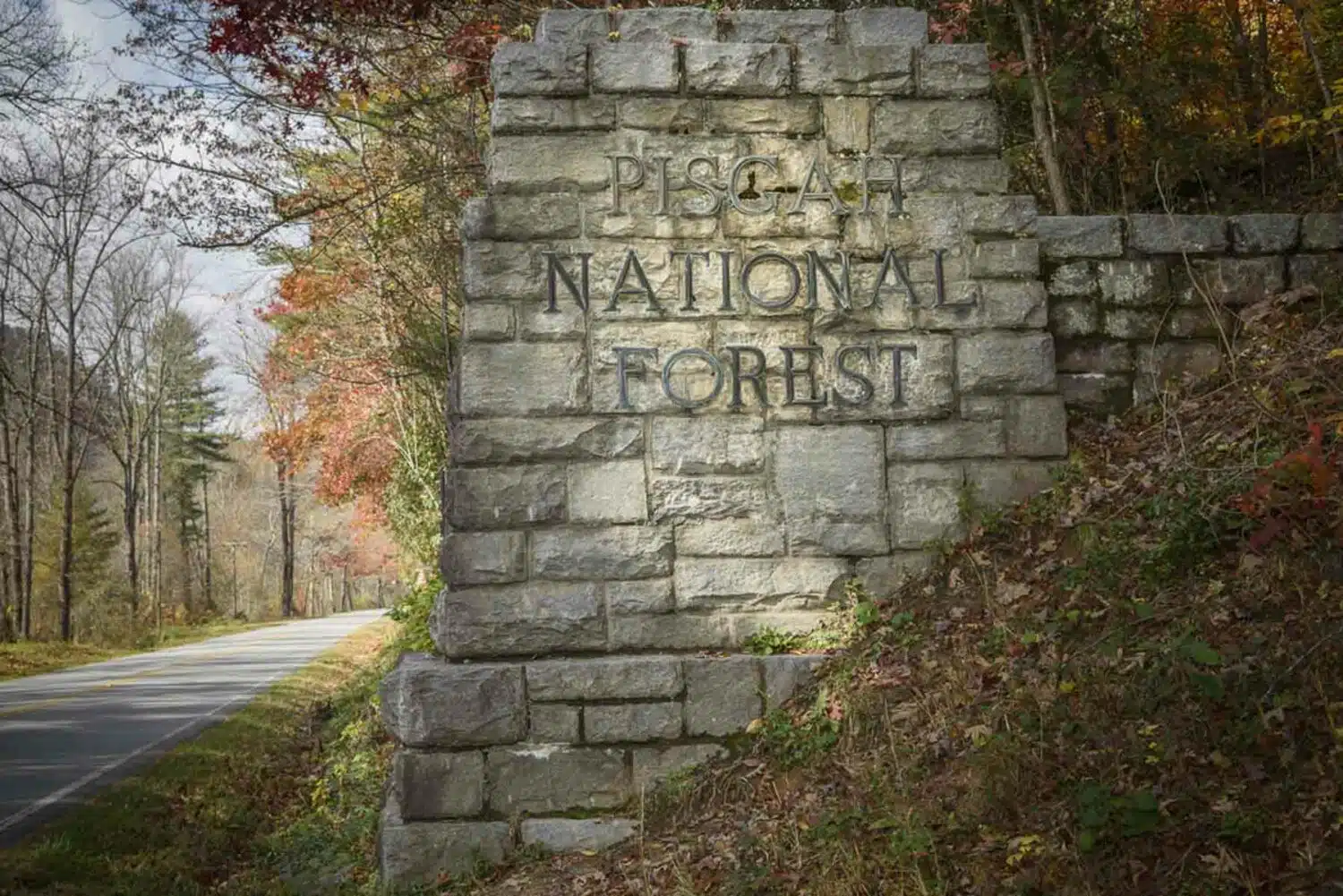 Pisgah National Forest is one of the true natural gems of not just Asheville but the entire region.
Hold onto your hats, folks, because this national treasure spans over 200,000 hectares. It's so huge that nearly every naturally-occurring phenomenon features here, from beautiful waterfalls to dense forest floors, ready to explore.
You can spend hours chasing waterfalls, going on hikes (some more difficult than others), or heading out on a horseback adventure, all in one place. Guided hikes are the best way to experience Pisgah in all its glory.
Split Your Sides Laughing with LaZoom
What do you get when you mix a sightseeing bus tour with the comedic stylings of hilarious funnymen? You get LaZoom, of course. This favourite amongst locals and visitors alike will take you through large parts of the city while you laugh yourself silly.
Tours cater to everyone, but the Fender Bender Tour is a surefire hit. This one is for adults 21+ years or older. You can purchase beverages (including beer and wine) before the tour starts and enjoy them on the bus. Bonus.
Relax at Omni Grove Park Inn Spa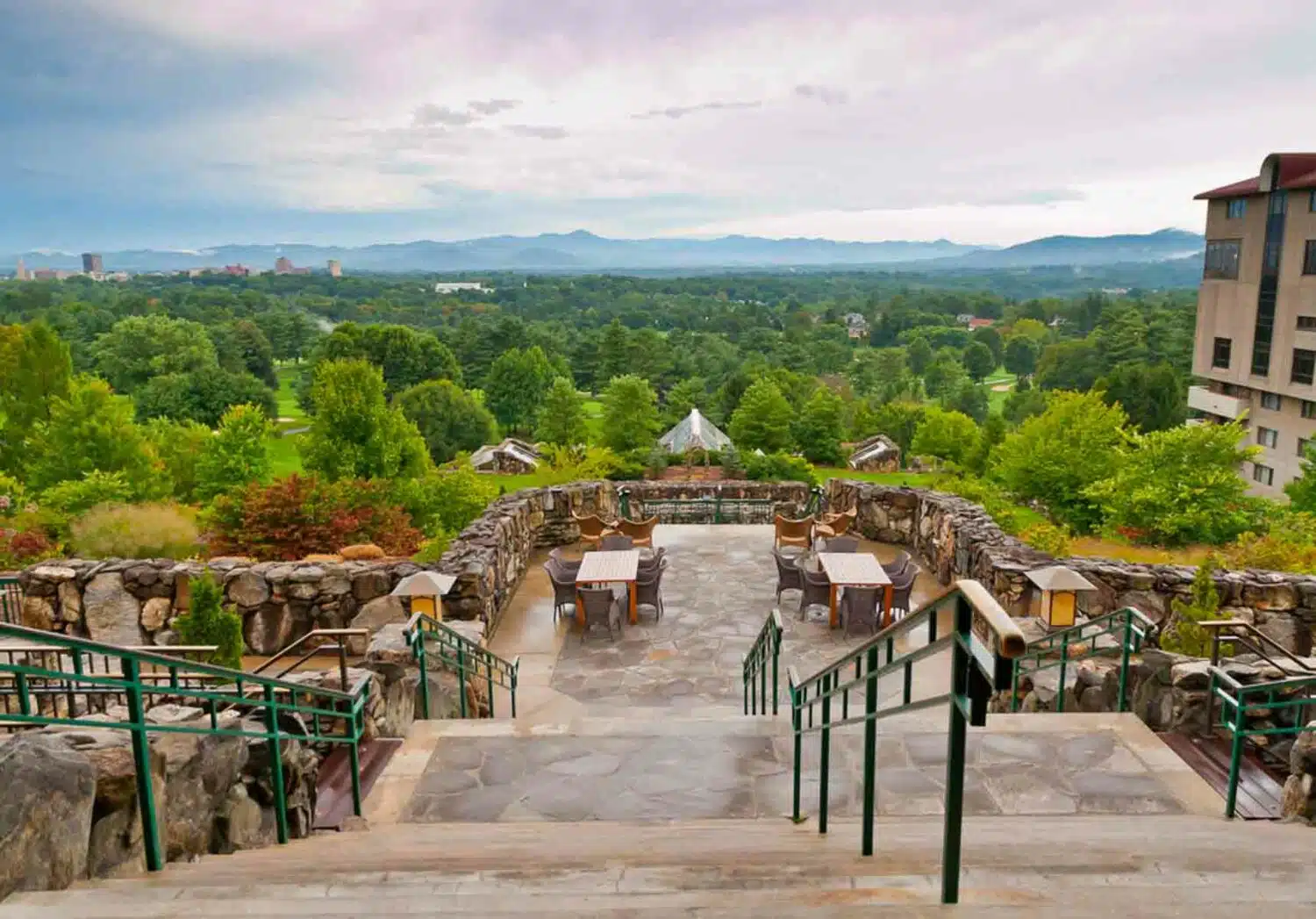 The ultimate go-to for true relaxation, the Omni Grove Park Inn Spa, knows no equal.
Yes, it does feature what you can expect from any typical spa facility. But have you ever been in a spa with over 6,000 fibre optic stars in the ceiling, music that plays from hidden speakers, and two waterfalls?
Selecting from a massive service menu, unwind in steam rooms (that are individually scented), contract pools, and lounges lit and kept warm by fireplaces.
Forage with No Taste Like Home
There is something magical about foraging for edible goodies. That's the premise behind No Taste Like Home. Book a tour with this wild food and foraging company and get a fresh perspective on food.
With tours rotating according to season, expertly trained tour guides will lead you through a vast forest while you search for everything from mushrooms and wild fruit to berries and wild nettles.
Don't try this at home!
Investigate the Paranormal
I have mentioned that Asheville is bustling with ghostly activity. But, you'll only get the real feel once you pay a visit to the Asheville Mystery Museum. Started by Joshua P. Warren (Yes, Warren from The Conjuring), it's bursting with images, items, and recordings of the paranormal.
Even the location of this place, down a twisted set of stairs in an eerie basement, is enough to get anyone peering over their shoulders. To gain entry, you'll have to be part of a Haunted Asheville ghost tour.
Become a Kid Again at the Asheville Pinball Museum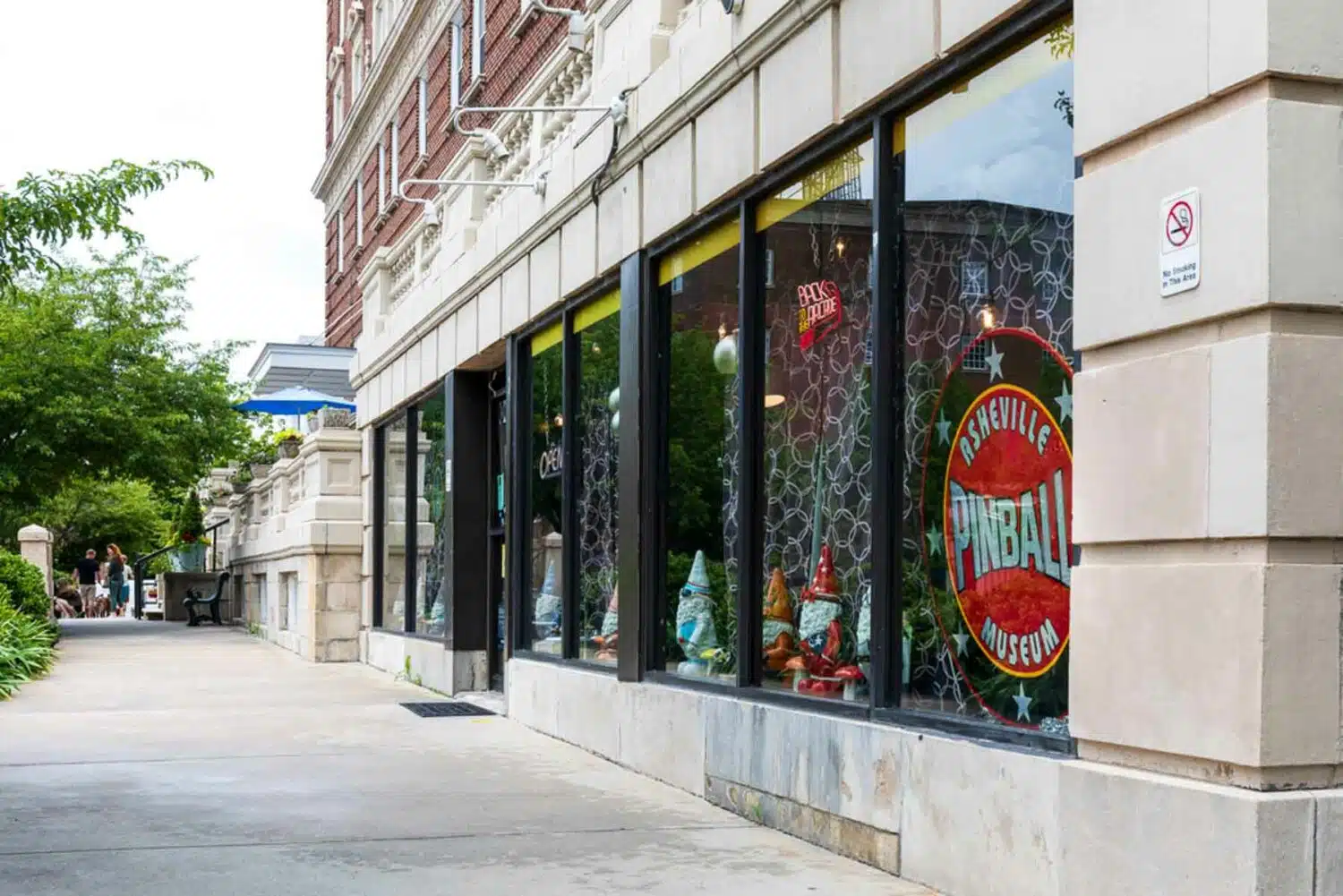 Home to more than 20 classic arcade games and 30 vintage pinball tables, this is one of the best things to do in Asheville, especially over weekends.
You can find this slice of retro gaming heaven in Battle Square, inside an old hotel building. The Asheville Pinball Museum is also on the National Register of Historic Places. They even showcase Golden Age cabinets: if you fancy yourself a collector, some machines here are up for sale.
Zipline at the Adventure Centre of Asheville
You can easily spend days exploring Asheville, NC's things to do. But make time to take a trip to the Adventure Centre of Asheville for some adrenaline-pumping fun. The many ziplines and aerial challenge courses will test your fitness and nerve.
Multiple tours are available here, though the three-hour tour of 11 ziplines and the express two-hour tour of 7 ziplines are standouts.
Another highlight is the Asheville Treetop Adventure Park, where you can spend two hours swinging, rappelling, and jumping in true Tarzan fashion.
Cool Things to See & Do in Asheville at Night
Test Your Bravery at Helen's Bridge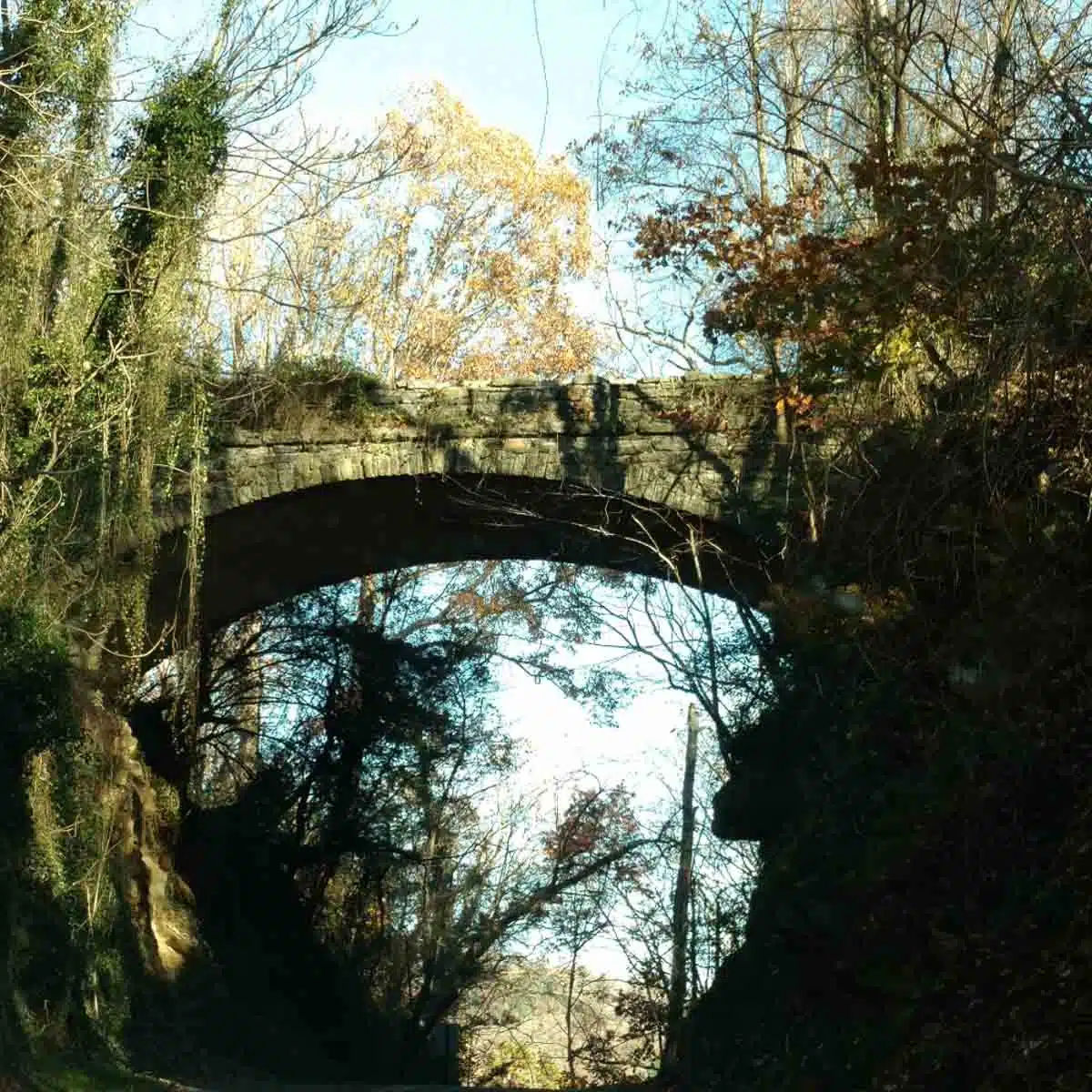 Helen's Bridge is a cult-classic destination in Asheville.
Constructed in 1909 to connect the Zealandia Mansion to Asheville, this is the site where a woman named Helen ended her life. After the loss of her son in a fire, she hung herself from the bridge, unable to bear the pain.
Since then, locals and visitors have reported seeing Helen's ghost standing atop the bridge at night. Some even say catching glimpses of her strolling through the surrounding forests. Either way, this is a spooky way to spend a night in Asheville.
Experience downtown Asheville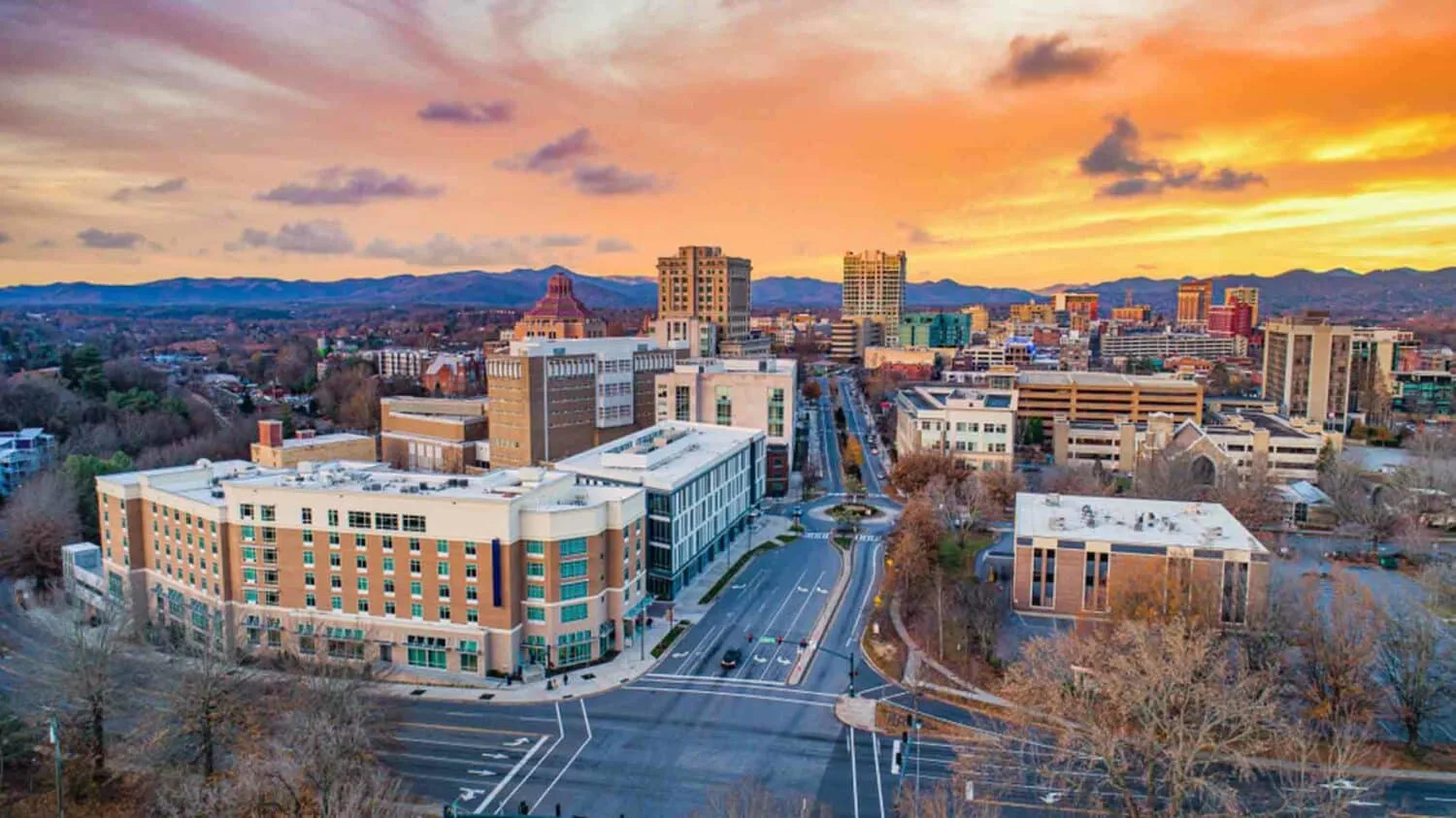 Something Asheville does better than most cities is deliver unique, fun, and memorable nights. Bustling during the daytime, the fun doesn't stop when the sun sets. Especially not in downtown Asheville.
Nights are when an unparalleled air of excitement bubbles up through the city as cafés, bars, restaurants, and more put on quite a show. Famous for live music, tantalising meals, and delicious cocktails, I bet you'll find your favourite hangout quickly. Mine is the 5 Walnut Wine Bar.
Get Weird with the Pritchard Park Drum Circle
One word perfectly describes his unique attraction in Asheville — eclectic. The Pritchard Park Drum Circle takes place every Friday night in downtown Asheville. Okay, not every Friday because winter months and an open-air drum circle don't mix well.
But, during the summer, this dedicated group of drummers livens up the streets with some excellent head-bopping drum jams.
Playing everything that can make a beat, this is heaven for percussion instrument fans. Dunduns, djembes, congas, and shekeres are just some of the instruments you can expect to hear played here.
Catch a Show at the Diana Wortham Theatre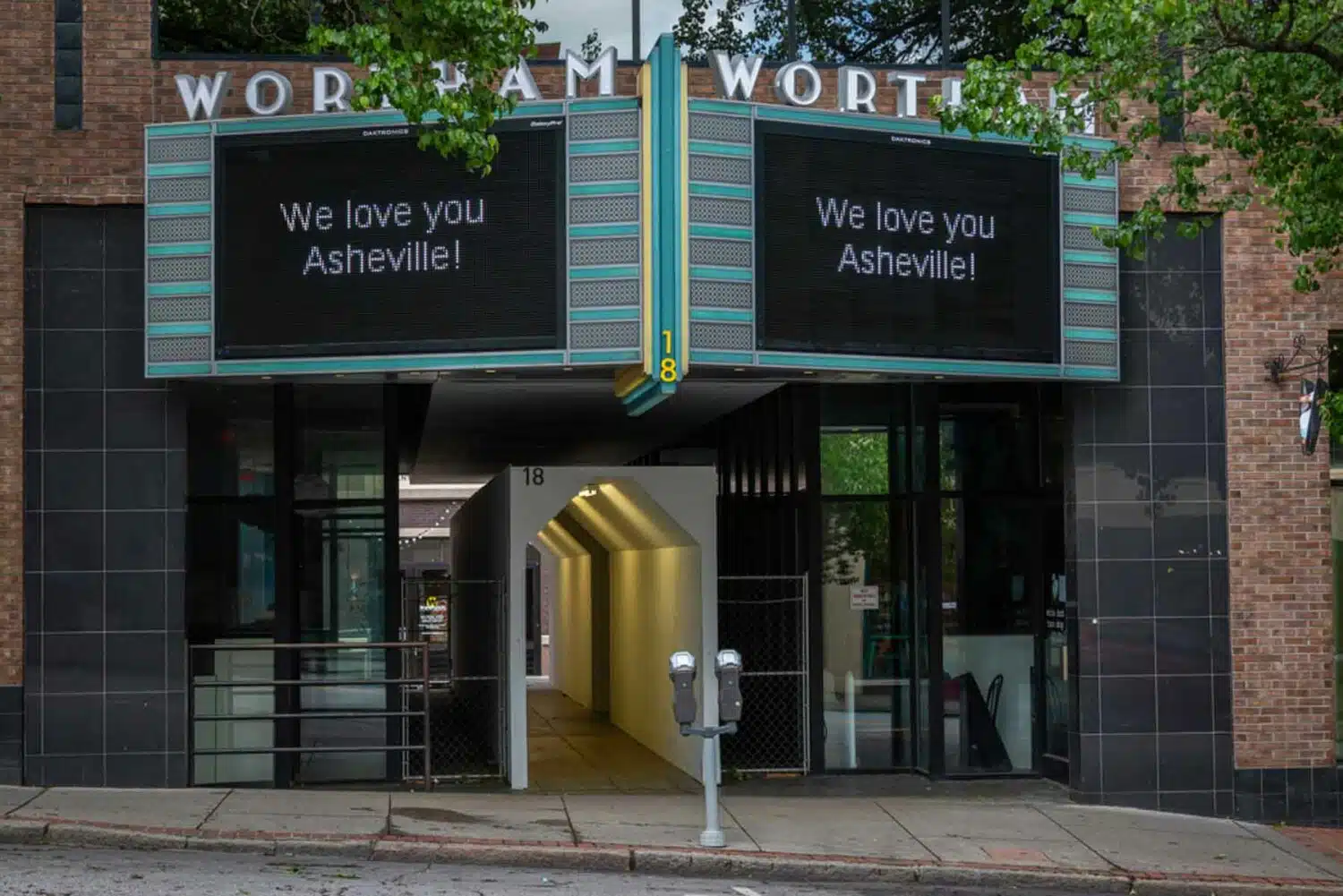 Not to be outdone, the Park Square Cultural District also draws enormous crowds, for a good reason. One of them being the Diana Wortham Theatre. This premier performance stage hosts shows from numerous genres (the best shows are over weekends).
These include the Terpsicorps Theatre of Dance, the Asheville Puppetry Alliance, and the Asheville Lyric Opera. With seating for only 500 people, it's the perfect intimate setting to catch one of the top fun things to do in Asheville, NC.
Gaze at the Sunset on the Blue Ridge Parkway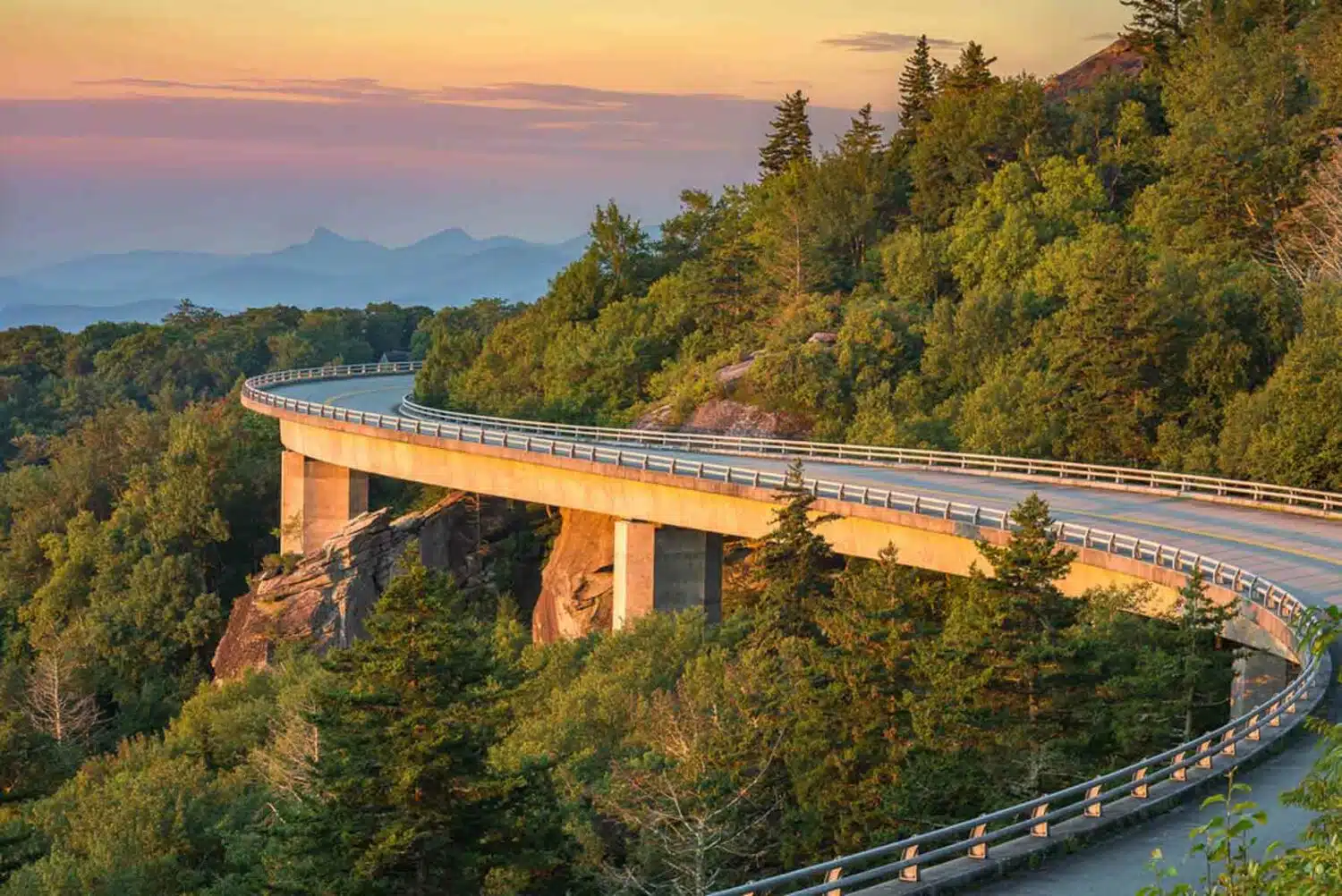 Ready to witness the most stunning sunsets of your life? Dotted all along the Blue Ridge Parkway are hundreds of spots where you can feast your eyes on breathtaking sunsets. It's the most majestic way you could end your day or start your night with.
A picnic or intimate lookout over the Blue Ridge Mountains is the cherry-on-top of the most delicious cake ever. Opt for a solo sunset-chasing mission, or indulge in the most romantic moments possible with your significant other.
Where to Eat, Asheville, NC
Asheville is not just a hotspot of activities and attractions but also the home of some fantastic culinary treasures. Here are a few that I'd recommend:
12 Bones Smokehouse
It's no secret that the city is proud of its BBQ talents, and this is on display at 12 Bones Smokehouse. Here a world of flavours meets the art of barbecue, and you can indulge in some favourites. Expect pulled pork, beef briskets, and their signature slow-smoked baby back ribs.
It's also a vegetarian-friendly restaurant and keeps up the craft beer tradition. A wide selection is available to pair with your meals.
Cúrate Bar de Tapas
If it's Spanish cuisine you're after, look no further than Cúrate Bar de Tapas. Treat your tastebuds to this flagship eatery's authentic Spanish dishes made fresh and with flair. As the name suggests, this place is all about tapas, and they are all packed with flavour.
Their extensive wine list paired with fantastic food make this a standout place to visit in Asheville, NC.
Chai Pani
At Chai Pani, you are in for a surprise, and your tastebuds for a good time. Chai Pani Indian in downtown Asheville serves traditional Indian cuisine with innovative twists.
Look out for their daily specials, including Thali, nimbu Pani, spicy Chaat, and much more. Receiving acclaim from The New York Times, GQ, and New York Magazine, the food speaks for itself and is delectable.
Limones
While on your visit to Asheville, North Carolina, you simply have to book a table at Limones. This intimate and ambience-laden restaurant is the perfect spot for a romantic dinner with your partner. Mexican and French cuisine takes centre stage while Californian classics inspire other dishes.
Highlight dishes include their fusion-inspired BBQ fish, scallops with salsa, and ramen short ribs. The combinations might sound bonkers, but the delivery and taste are off the charts.
Chestnut
A sleek, vibrant, and trendy favourite of locals, Chestnut is where you need to go for some fine dining. This hotspot serves some of the most mouthwatering Southern-style dishes using fresh and locally sourced ingredients.
But, a true stand-out is their selection of charcuterie boards. Pair these with a wide variety of drinks from the elegant bar, including craft beer and cocktails. It's the perfect spot for brunch before you continue to explore the city.
Where to Drink
Battery Park Book Exchange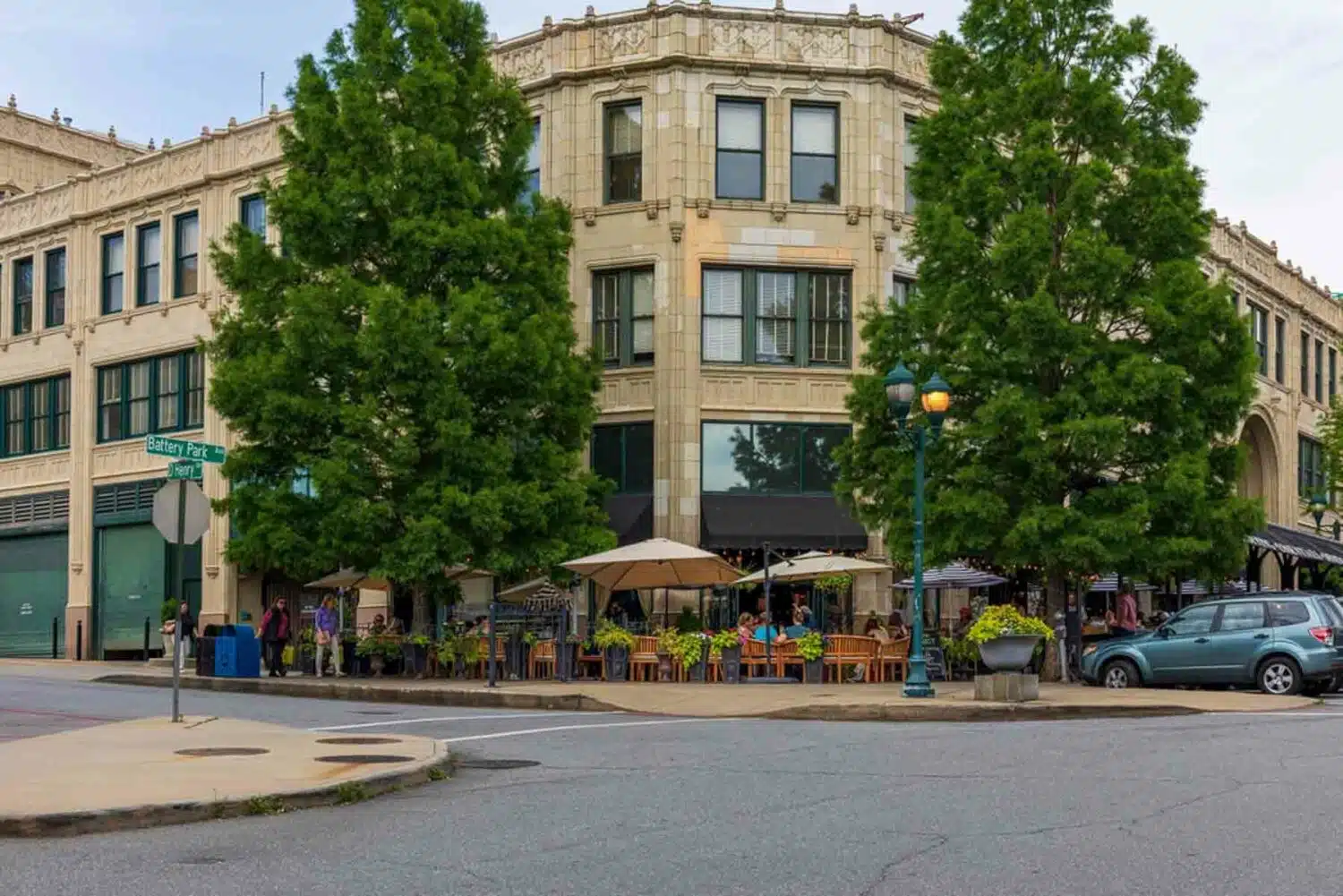 Two things: wine and books. This simple premise is where Battery Park Book Exchange and Champagne Bar found their inspiration. It's literally a library (that is reminiscent of European libraries) where you can relax while browsing the massive range of pre-loved books.
Oh, and they offer an impressive list of wines and plenty of bubbly to enjoy while you do that.
Burial Beer Co.
Nestled in the South Slope District is the Burial Beer Co., renowned by locals and visitors as the best brewery in Asheville. This is the place to be for good drinks with great friends.
Adding some flair to their drinks, watch out for their spooky titled craft brews such as "The Shattered Remains of Nothingness".
Cellarest Beer Project
This is the new kid on the block in Asheville's growing craft beer scene. Don't let that fool you, though, as the craftsmanship and ingenuity that goes into their beers are stellar.
With three different fermentation techniques, each beer at Cellarest has varying tastes. Their farmhouse ale, Tether, is a standout.
Things to Do in Asheville, NC: Practical Tips for Your Trip
How Long to Visit Asheville, NC
One day is simply not enough time to experience everything there is to do in Asheville. To truly live it up in this city, I'd recommend anything from two to five days.
In fact, two days is the perfect starting point, so be sure to check out my 2-day Asheville itinerary, especially if you're here over a weekend.
Best Time to Visit Asheville in North Carolina
Regardless of the time of year you choose for your visit, the city holds plenty of things to do in Asheville. While all four seasons are equally represented here, none go to any extremes.
However, if you're planning for more outdoorsy activities and attractions, I'd recommend going to Asheville during the summer months from May to September.
Where Should I Stay in Asheville?
GLō Best Western Asheville Tunnel Road (Mid-Range)
The perfect mid-range option for where to stay in Asheville is GLō Best Western Asheville Tunnel Road. Centrally located about 6km from the Biltmore Estate, 3.5km from the Folk Arts Centre, and only a few minutes from downtown Asheville.
Rooms are elegantly decorated and offer many modern amenities, while the 24-hour front desk is the perfect concierge.
The Omni Grove Park Inn – Asheville (Luxury)
The uber-luxurious Omni Grove Park Inn is your go-to option if you want to stay in sheer opulence. It is also a historic site in the city where you'll find the Omni Grove Park Inn Spa. And as guests here, you'll have full access to all its facilities.
This one is close to the dazzling Blue Ridge Parkway and Biltmore Estates. Relax and unwind here while you discover incredible Asheville.
Recommended Tours in Asheville
Although brimming with tours, both privately guided or self-guided, here are my tops picks for your Asheville adventure:
Things to Do in Asheville: Map
Things to do in Asheville: Discover More North Carolina Guides
Love this? Save and share on Pinterest.