Medieval architecture, forest-green gardens and ancient city walls that stretch for kilometres make up one of Tuscany's most enchanting destinations. Welcome to Lucca. Explore the best things to do with this Lucca travel guide.
Oh… Lucca. It's stunning, it has incredible cuisine, loads of historic sights and – as someone pointed out to me on Instagram in response to my stories during my recent trip "If Lucca wasn't in Tuscany, no one would ever stop talking about it."
That much is true. Lucca's proximity to destinations such as Pisa and Florence meant that it spent too long in the shadow of their better-known names – but that's changing. People are waking up to the fact that Lucca is indeed a charmer and – big bonus – doesn't get as crowded as some other Tuscan hotspots.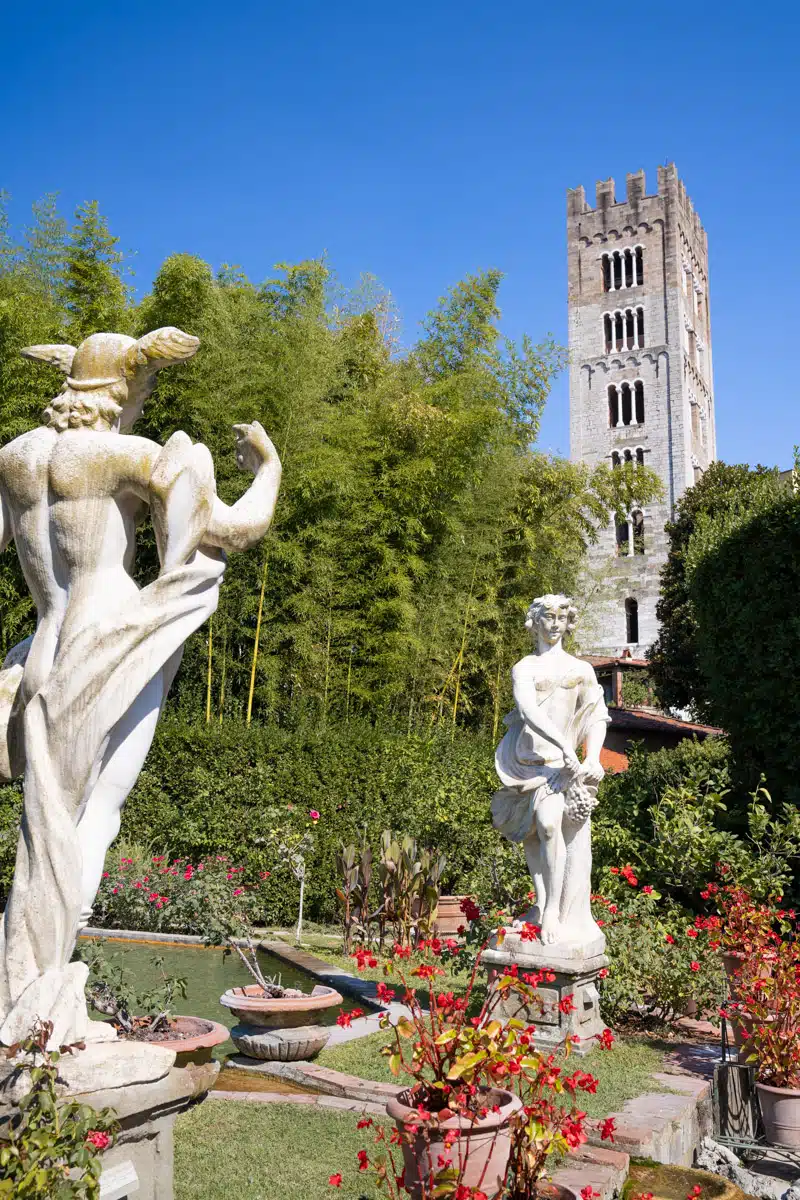 Personally I'm all for being able to walk around a destination without being barged by endless crowds and I'm guessing that you are too. During my very first trip to Tuscany we rented a villa near to Lucca and spent days poking around the city's hidden streets – and my trip last month confirmed that it's lost none of its appeal.

So what separates Lucca from the pack? In a word, everything. Get ready to explore Lucca at its very best.
Top Tip
Plan your trip to Lucca in the autumn and you might just see the elm and oak trees changing magical shades of gold, amber and crimson red. There's never a bad time to visit, but this is when Lucca really shines.
Top 5 Things to Do in Lucca
Walking the City Walls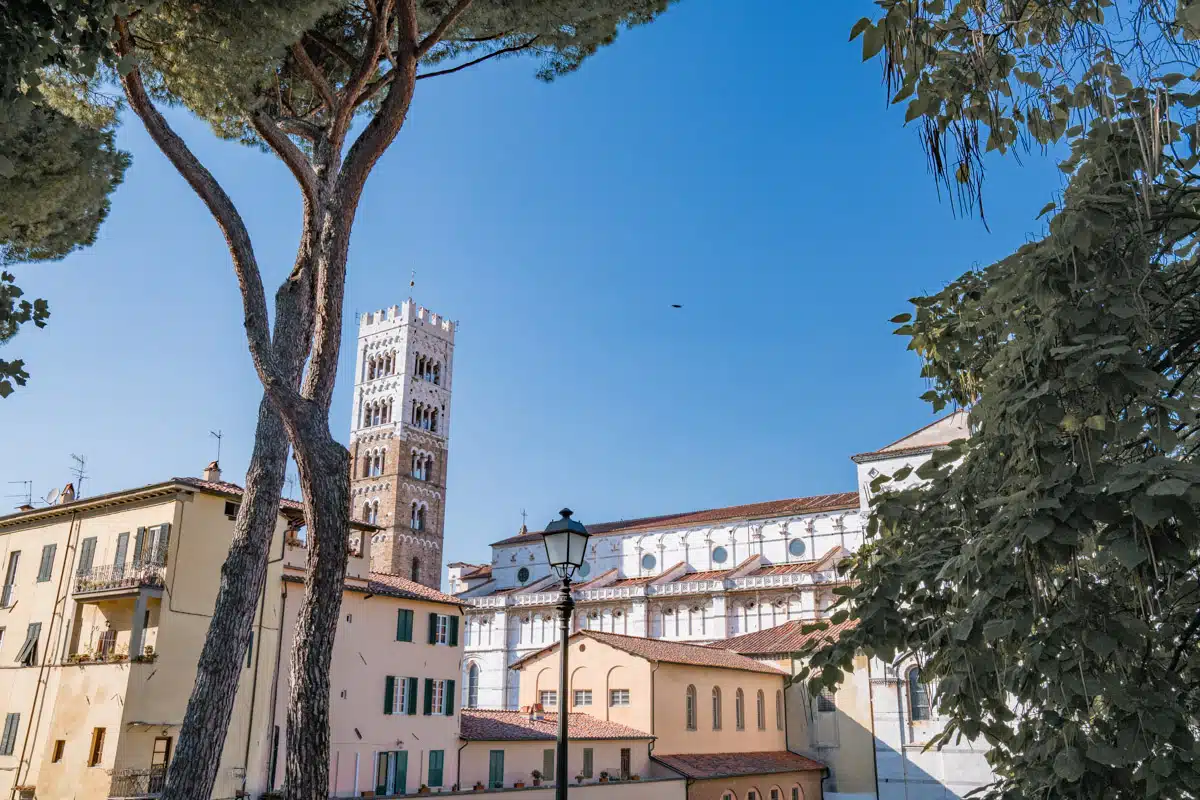 There are a few cities in Europe that allow you to walk the city walls. But trust me when I tell you that walking the long (I mean really long) stretch of ramparts – otherwise known as the Mura di Lucca when you visit this gorgeous mediaeval city in Tuscany is different.
What's cool about the 4.2km-long city walls isn't just what you can see, it extends to the important role they've played in the history and culture of the city. The walls are a vital part of the city's life, where locals use the pathways alongside them to bicycle, jog, or take a casual afternoon stroll.
Top Tip
I recommend setting aside a couple of hours to walk the walls in their entirety.
See The Curious Plaza del Anfiteatro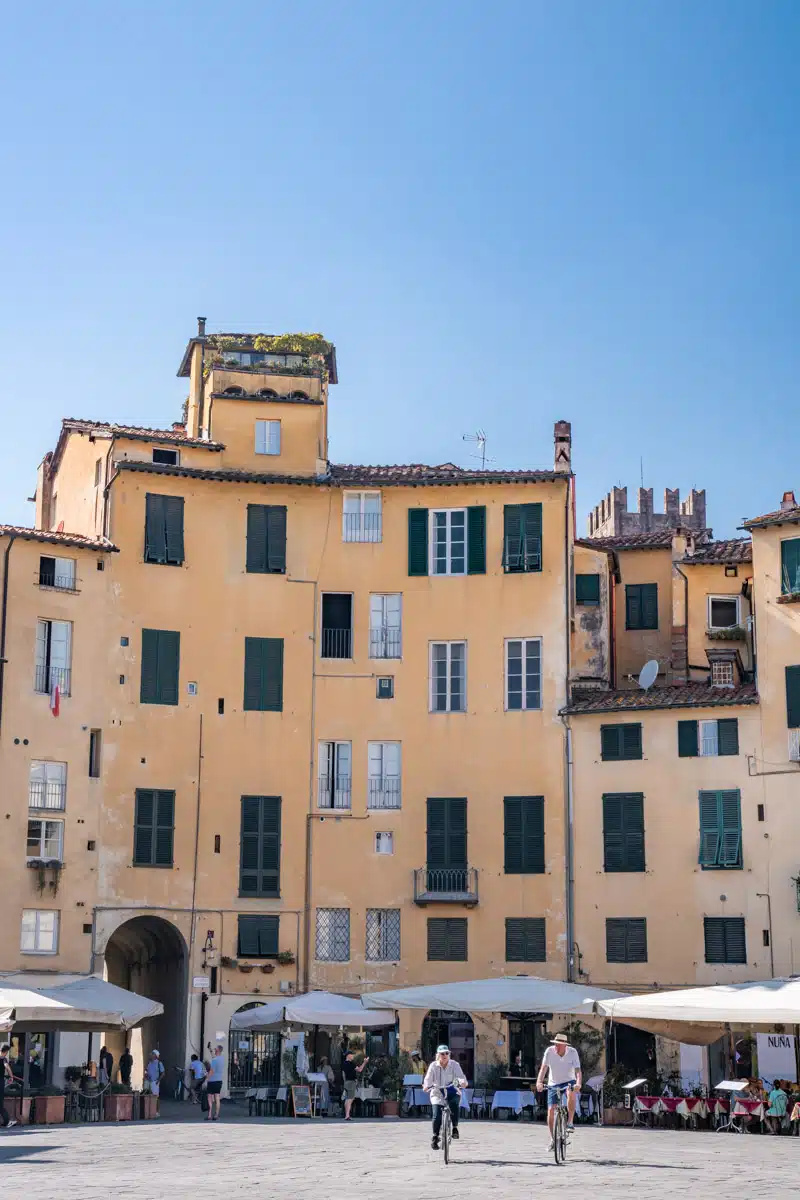 You know how I said that Lucca's hiding more than a few secrets? How about a central square that's actually built on the ruins of a Roman amphitheatre? Told you.
My first time in Lucca, I noticed the unique shape of Plaza del Anfiteatro, which looks a tad more oval than your typical town square and immediately started digging into the story behind it.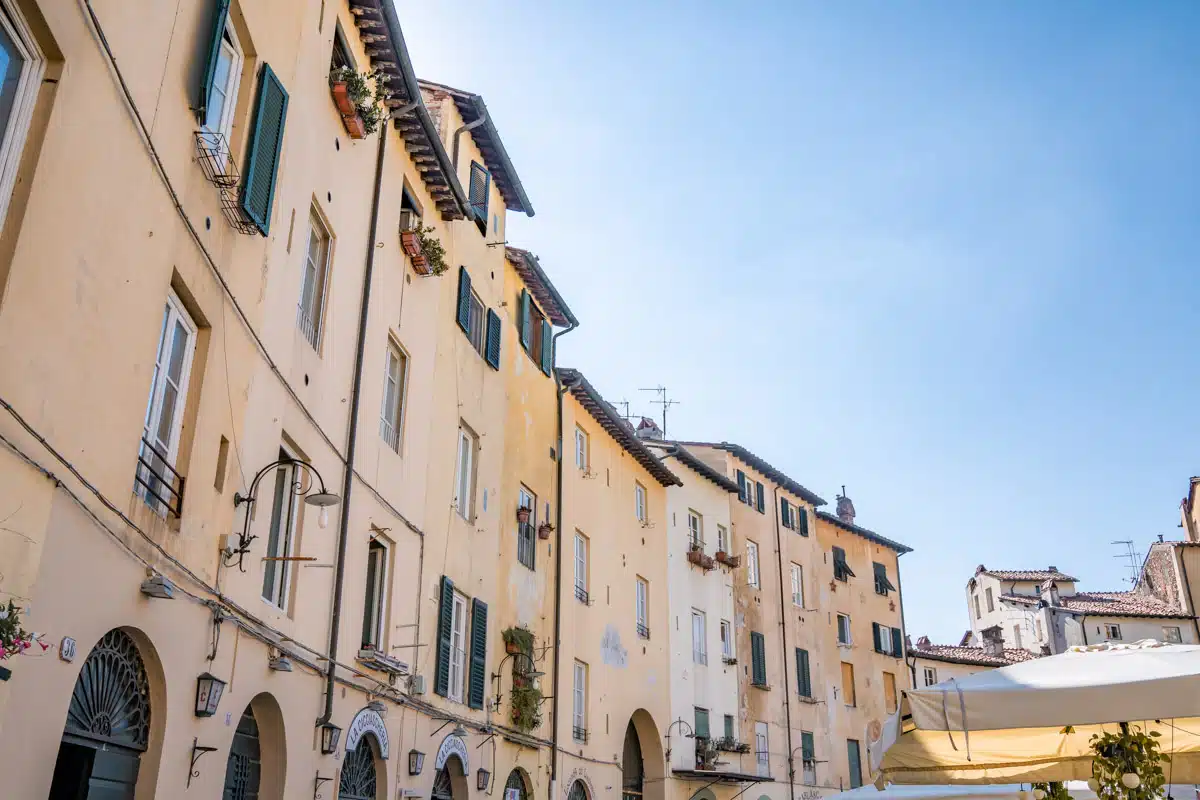 Turns out, many of the cafes, residences, and restaurants along this important part of the city are actually built around an ancient Roman amphitheatre dating back to around 150 AD.
Spend an afternoon shopping, grabbing a snack at one of the many restaurants ( Osteria Parlascio is a popular choice), and watching free live music in the centre of the former amphitheatre.
Go Wine Tasting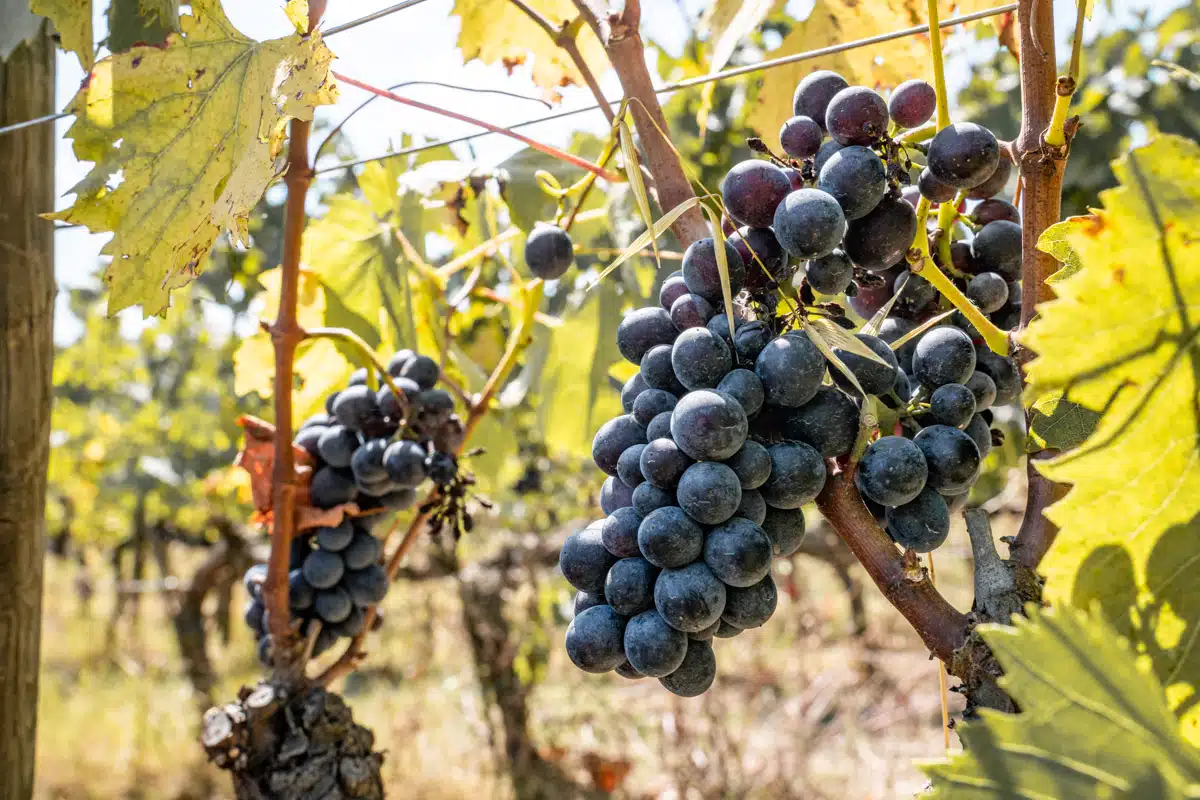 Lucca is blessed with some amazing wineries within a short drive from the city centre.

So what are some of the best wineries near Lucca? It depends which direction you want to go.

If you're only staying in Lucca on your trip to Tuscany, I'd recommend making a longer (1 hour) drive to visit the best winery in the world (IMHO), Antinori Nel Chianti Classico. The family-run winery has served up incredible wines here since the 14th century.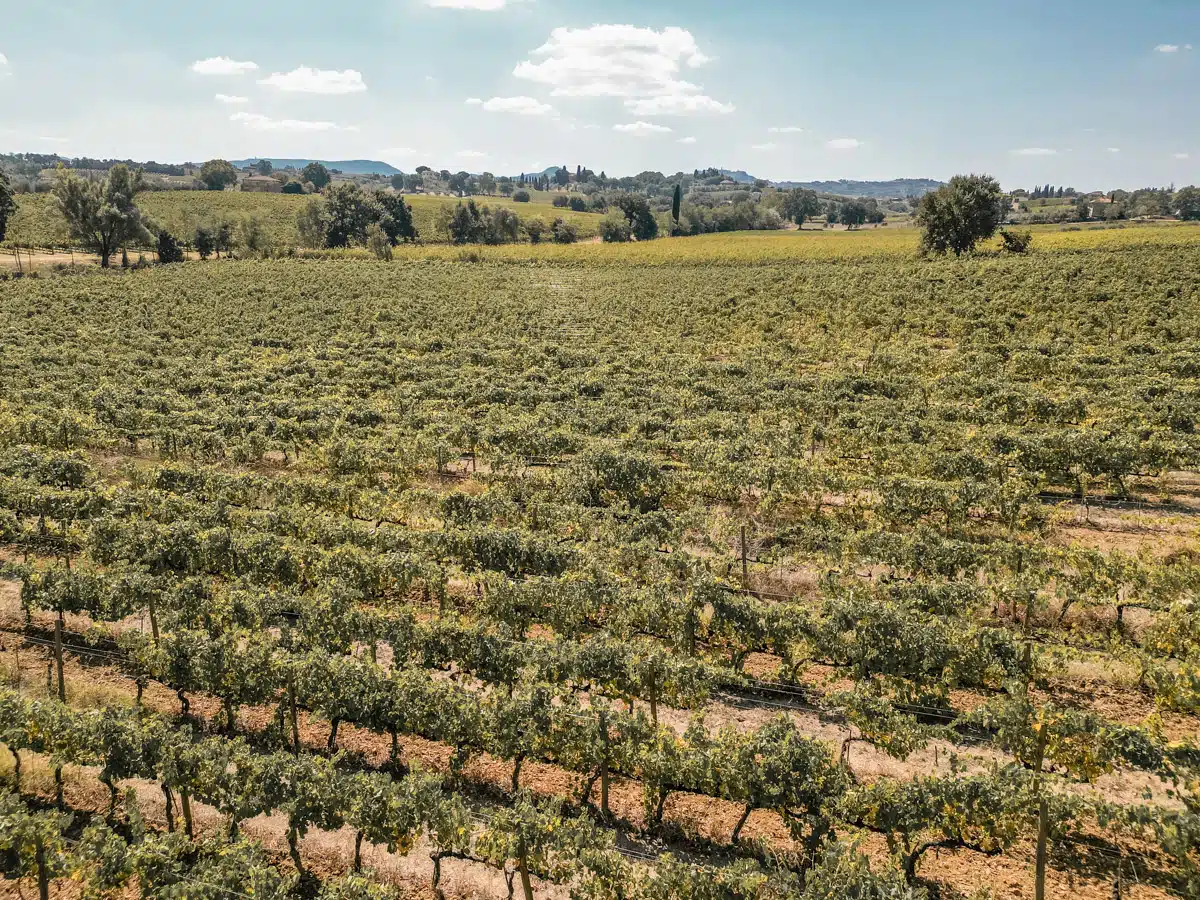 But if you're going to Florence before or after your time in Lucca, stick with some of the nearby gems like Fattoria Al Dotto Lucca before you leave. The winery serves up delicious Sangiovese and Rosapenna on an idyllic estate near the Serchio River.
Hunt Out Lucchese Cuisine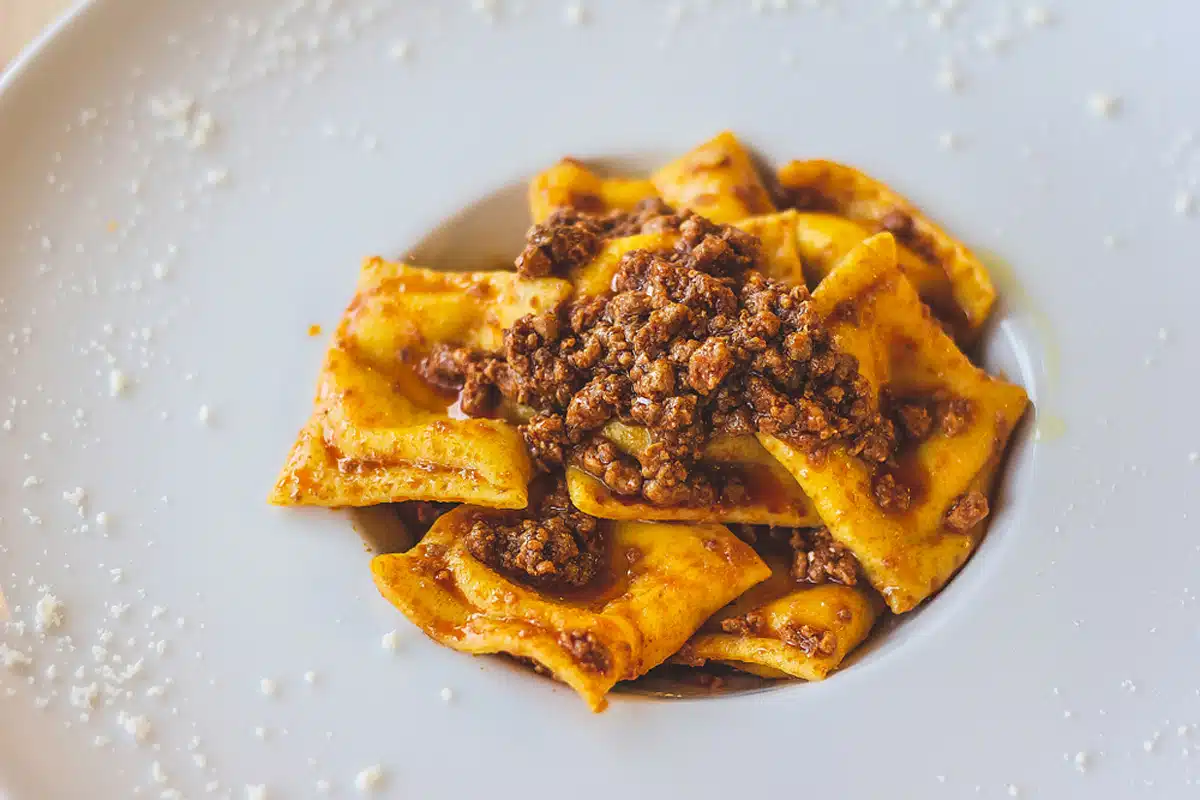 Ok, it might not come as a huge shock, but like most cities in Tuscany – you can find some incredible cuisine in Lucca.

I'm not exaggerating when I say it seems like you can find incredible restaurants in Lucca, Italy, without even trying. Why? The ingredients and centuries-old recipes are among the best in the entire Tuscany region.

If you don't believe me, look no further than the iconic Tortelli Lucchese – an egg-rich pasta dish stuffed with pork or beef and seasonal ingredients like chard or pine nuts in a rich, tomato and wine-based sauce. Drool.

I love the Tortelli Lucchese at Buca di Sant'Antonio (we'll get there a bit later in this article), but there are also many other dishes worth seeking out.
Top Tip
You should track down baccalà fritters and braised rabbit, two more iconic local dishes.
Explore the Palazzo Pfanner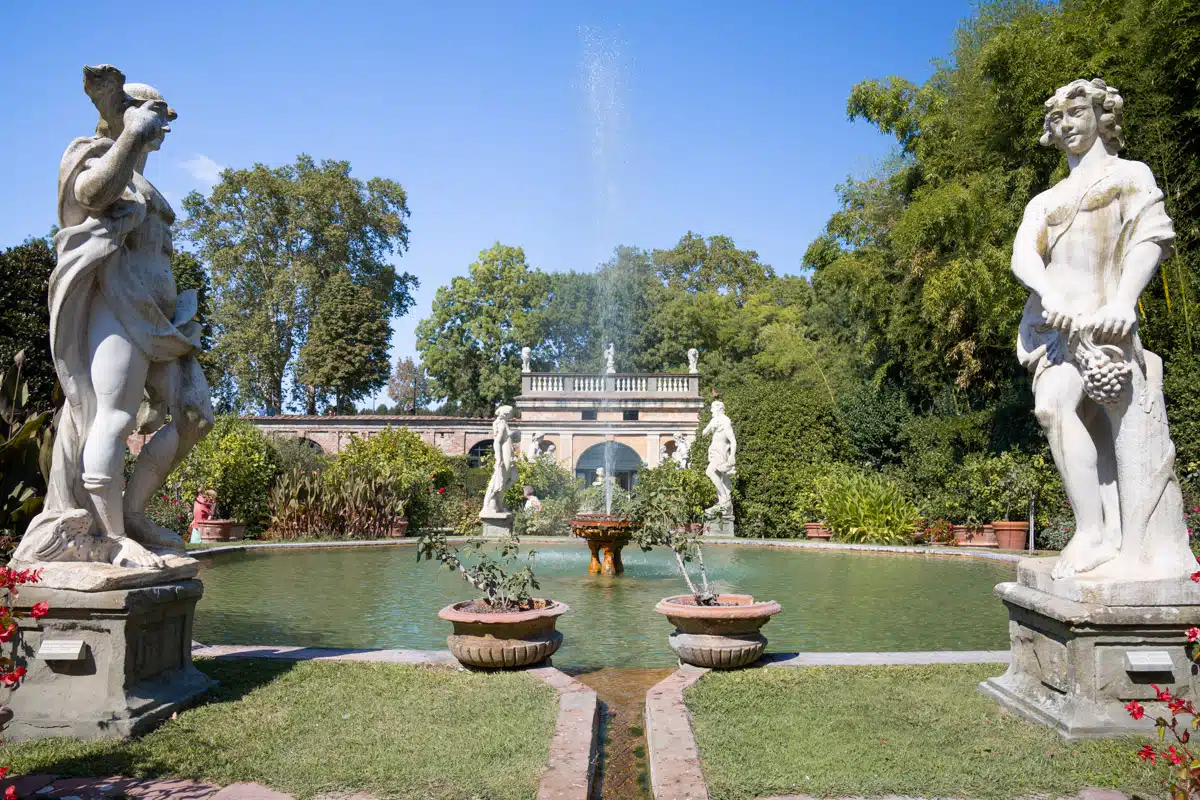 Is Palazzo Pfanner the most famous building in the city? Probably. At the very least it's certainly the one with the most gorgeous courtyard.
It might look familiar if you've ever seen Jane Campion's 90s film adaptation of Henry James' novel Portrait of a Lady with Nicole Kidman and Daniel Day Lewis… cos it was used as a filming location for the very same.
It's not a surprise, the director picked Palazzo Pfanner – with its lush gardens, ornamental flowers, and opulent fountains, it's nothing short of unforgettable.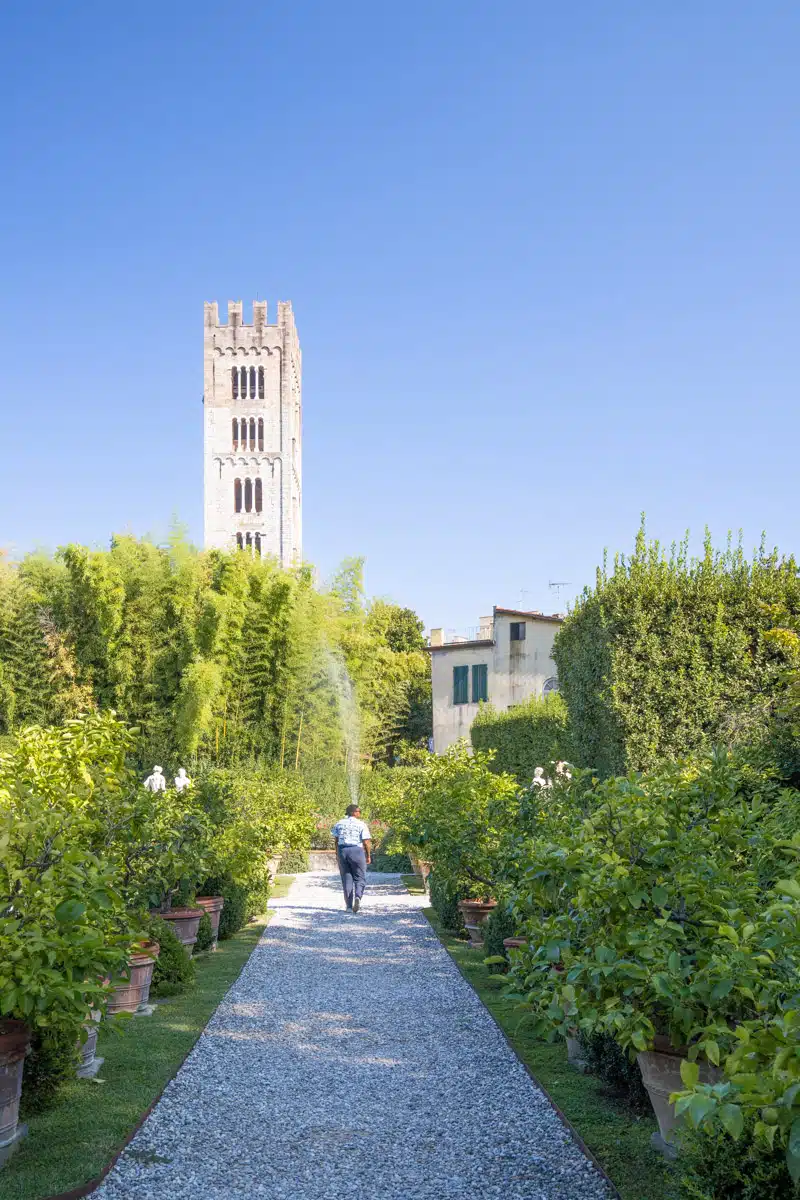 Quick history lesson. The palace was commissioned by the Moriconi family in 1660, who had to sell it to the Controni family before it finally made it into the hands of brewer Felix Pfanner in the middle of the 19th century – and it's been in the Pfanner family ever since. The gardens I was raving about? They date back to the 18th century.

I spent an hour or so here, but I'd very much recommend getting a picnic from a local deli and spending some time relaxing in the gardens if you have the time.
Top Tip
While you can walk through the palace and gardens for €6.50, you can also opt for a cheaper garden-only ticket, especially if you're short on time.
Brilliant Things to See & Do in Lucca
Visit the Cathedral of Lucca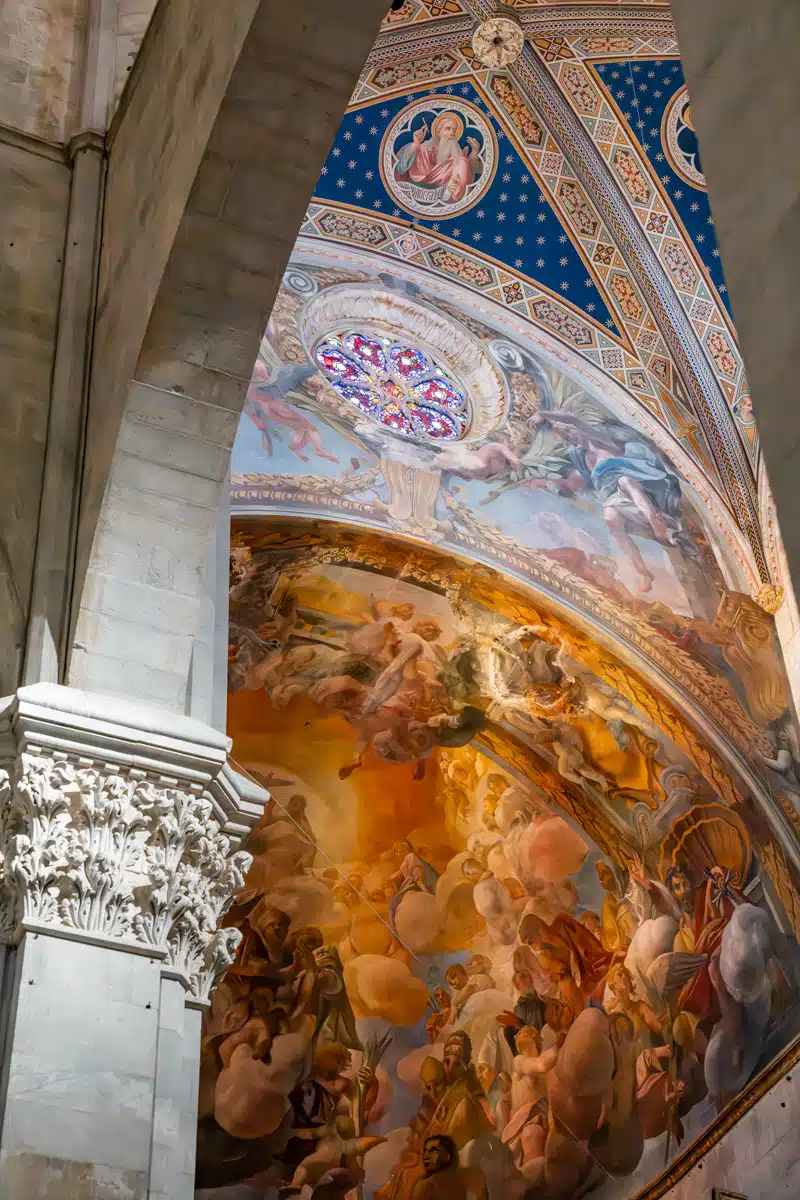 Visiting the Cathedral, or Duomo, is one of Lucca's top things to do. Why?
Let's just say that when you're known as the "City of 100 Churches," as Lucca is, the most famous church will be worth checking out.
The 1,000-year-old cathedral doesn't disappoint.

Ok, so much of the building was actually restored in the 14th century and later. But regardless of exact age, the Romanesque exterior of the Church of San Martino and its Gothic interior make it a must-see.
Top Tip
Make it a point to look at the Holy Face of Lucca. The ancient relic is a nearly 2.5-metre wooden cross that legend has it was made by Nicodemus and stored secretly in a cave for over 700 years.
Climb to the Top of the Guinigi Tower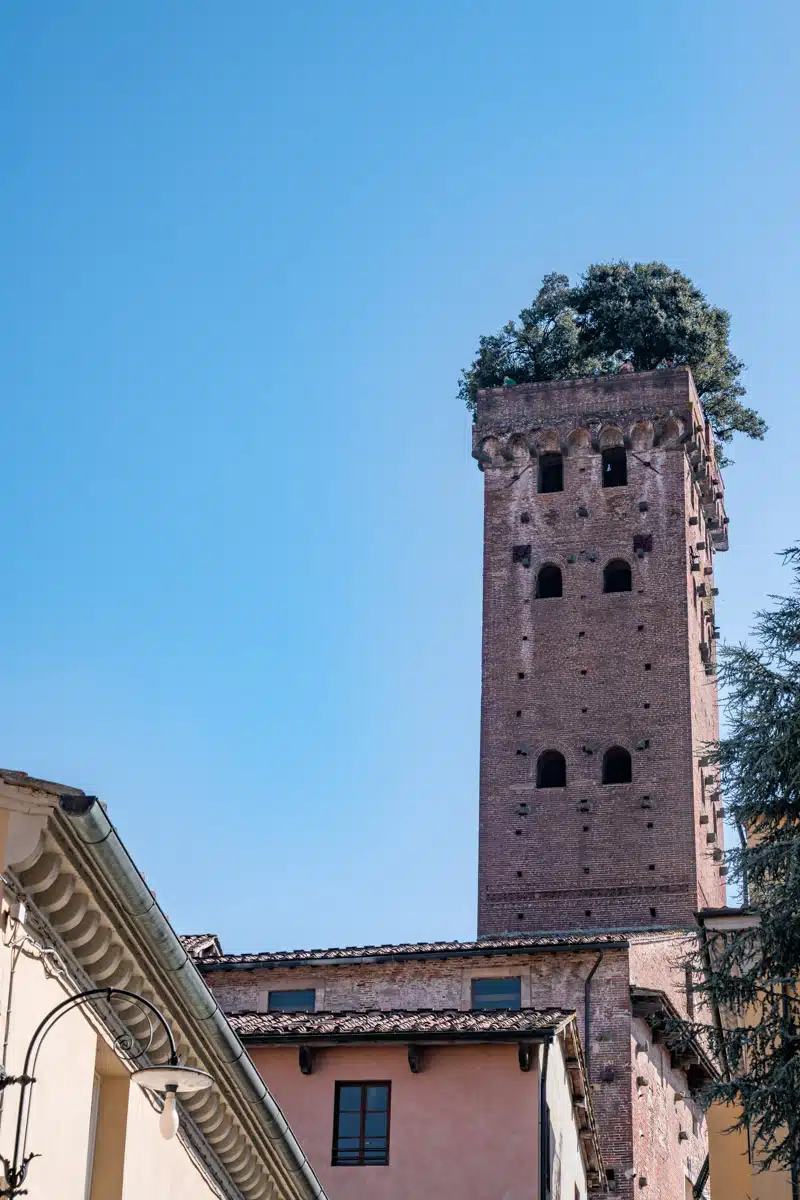 Torre Guinigi has proudly stood in Lucca since the 14th century. Good news; you can retrace the steps of the wealthy family up the 45-metre tower just south of Plaza del Anfiteatro.
It's a bit of an odd one – I first spied the tree poking out the top of a stone tower when I was on the other side of the city and decided to explore. You should do the same.

The view is gorgeous, and you can catch some much-needed shade on a warm day, as the Holm Oaks on the roof offer a welcome bit of green space in the city centre.
Step Inside the Chiesa di San Michele in Foro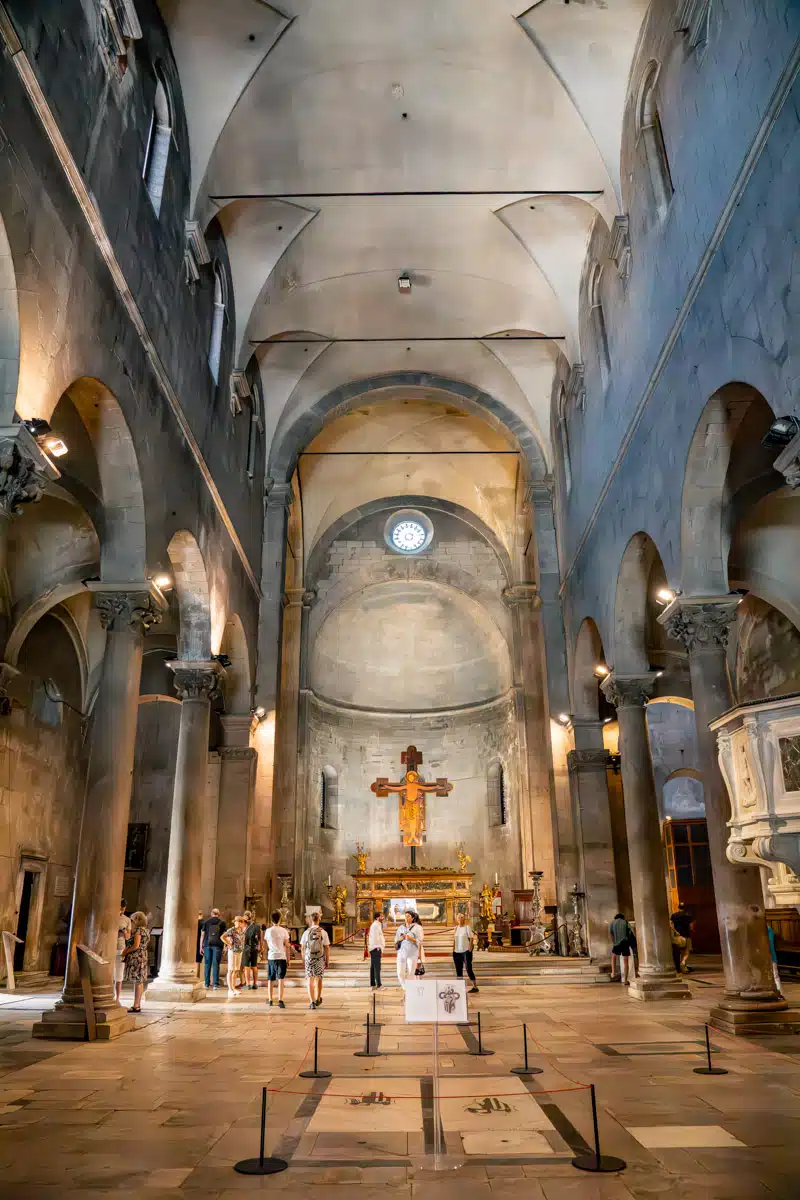 The Chiesa di San Michele in Foro is another top spot in the city – and one of the most impressive religious and historical sites in the region. This impressive church was built over a former Roman Forum.
The arches and artwork inside the three naves are stunning, and the most famous piece, Madonna With Child by Andrea della Robbia, is worth seeing for yourself.
Take a Cooking Class
Deciding on what to do in Lucca, Italy? Take a cooking class and learn how to make some of the regional specialties that put Lucca on the map as one of the culinary capitals of Tuscany.
Step into the chef's countryside villa and learn how to make some of the best handmade pasta dishes in Lucca. The menu changes based on what's available at the market, so arrive with an appetite and open mind to one of the best cooking classes in Lucca, Italy.
Must-Try Bars & Restaurants in Lucca
Buca di Sant'Antonio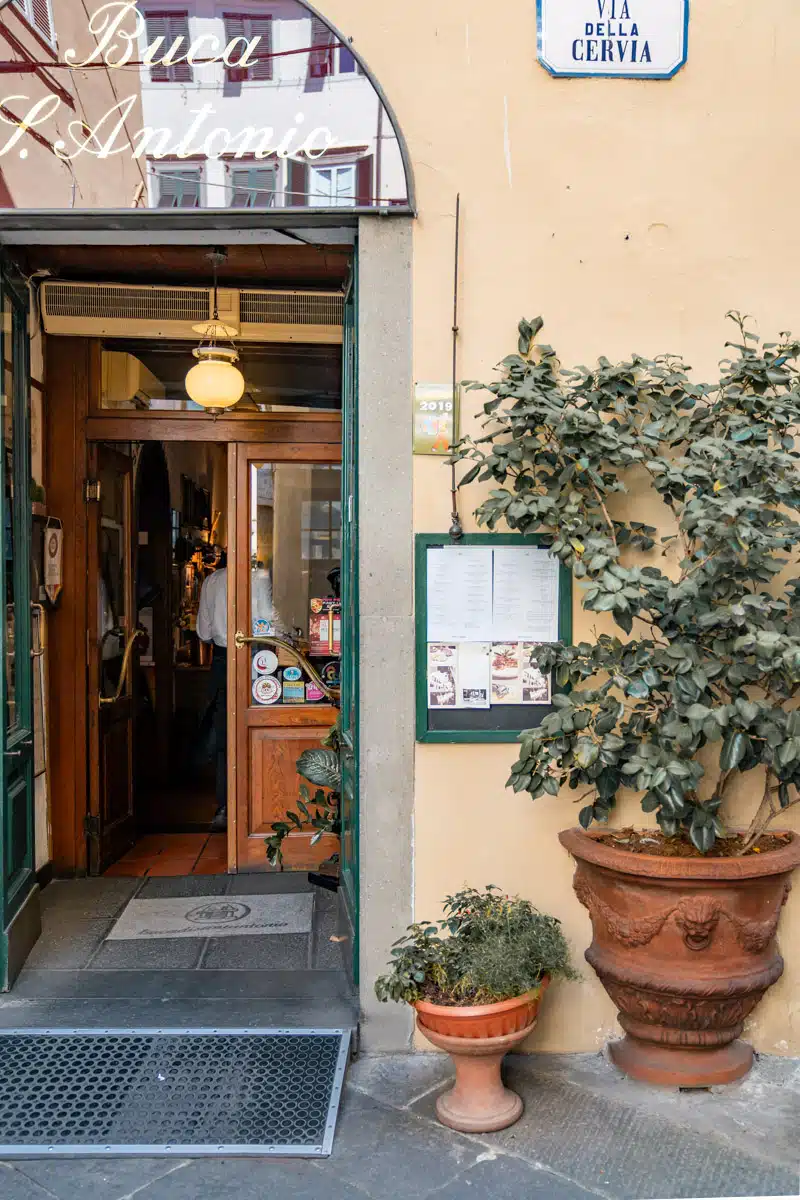 If you're looking for the best restaurant within the Lucca city walls, look no further than Buca di Sant'Antonio. One of the most charismatic restaurants in town, the doors have been open longer than perhaps any other dining spot in town at 300+ years and running.
I had one of the most memorable meals of the whole trip on my last visit. Order the three-course dinner, and cross your fingers that they have rabbit pate and Tortelli Lucchese on the menu (they likely will).
Pair it with a glass or two of Sangiovese, and you have one of the quintessential Luccan meals.
In Pasta – Cibo e Convivio
Enjoy classic dishes like Zuppa di Farro and handmade ravioli from this budget-friendly restaurant in a casual setting that's great for lunch or a laid-back dinner.
L'Isola Che Non C'era
The sunny space inside L'Isola Che Non C'era – a quaint neighbourhood restaurant adorned with wine bottles and a charming deli counter provides some of the best food in town.

Start with the Gran Misto Fritto to sample delicious fried vegetables and meat before digging into some taglioni with black truffles or fresh lasagne.
Rewine Bar
Ready for some sundowners? Check out this lively bar with cocktails, draft beer, and a perfect mix of locals and regulars.
Best Hotels in Lucca
Hotel Albergo Villa Marta
Looking for where to stay in Lucca? Hotel Albergo Villa Marta offers luxury accommodations in a former hunting lodge, taking advantage of the tranquil setting outside of town. The seasonal pool and garden grounds are lovely for much of the year, and the excellent restaurant gives you a taste of Tuscan cuisine with specialties like homemade ravioli and baccalà.
Hotel Villa Casanova Lucca
Guests who want 5-star hotels in Lucca, Italy, should look no further than Hotel Villa Casanova Lucca on the outskirts of town. The 18th-century villa is surrounded by rolling hills and forests, which you can admire from the lovely outdoor pool. When you're ready to relax, settle into your spacious accommodations with four-poster beds, a large living room, and convenient work space.
Palazzo Dipinto
If you're looking for where to stay in the walled city in Tuscany, Palazzo Dipinto offers you authentic Old Town accommodations with charming contemporary suites in a historic palace near the city centre.
Lucca: Practical Tips for Your Trip
How Long to Visit Lucca? 
Many people travel to Lucca, Italy, on a day trip or just passing through. Trust me when I tell you, it's worth staying a little longer. 
I recommend visiting for at least 1-2 nights to enjoy everything the historic walled city offers. 
Best Time to Visit Lucca
Lucca is magical in the fall, when temperatures begin to cool off, fall colours emerge, and the plates of local pasta like Tortelli Lucchese and Zuppa di Farro taste all the more delicious.
Where Should I Stay in Lucca? 
When visiting Lucca, Tuscany, I recommend staying in the heart of the city. You'll have the easiest time finding great food and wine, and there's something magical about staying within the ancient walls in this charming mediaeval town. 
How to Get to Lucca? 
You can't fly direct to reach your hotel or Airbnb in Lucca, Italy – but the airport in Pisa only takes about 30 minutes to reach from most accommodations.

Once you land, I recommend finding a car rental for Lucca, Italy – having a set of wheels goes a long way when planning the best day trips from Lucca. 
Things to Do in Lucca: Map
Love This? Save and Share on Pinterest