Is Hamnøy the most photogenic fishing village in the world? Perhaps so. Explore the best things to do in and around this scenic spot in Norway's Lofoten Islands.
If you've ever been to – or even caught the merest whiff on social media about – the Lofoten Islands in Norway, you know how many incredible sceneries there are to explore.

Even so, if you strike out along the E10 across the bridge in Moskenesøya, you'll notice one place that really stands out. Picture a small town with crimson-hued fishing houses contrasting with snow-laced cliffs over the deep, dark waters of the Norwegian Sea. That village is Hamnøy.
The average tourist snaps a photo, jumps back in their car, and keeps driving to the next location. I'm guessing you're not the average tourist and you're ready to stay longer.

Hamnøy is one of my favourite locations in the Lofoten Islands, and I think it'll be yours, too. Here's a look at what you need to see and do in the most scenic fishing village in Norway.
Stay in one of the iconic red rorbuers at Eliassen Rorbuer in Hamnøy.
Top 5 Things to Do in Hamnøy
Take the Iconic Photo
You've probably seen the photos on IG, but do you know where you can get the best shot of Hamnøy? If you walk along the Hamnøy Bridge, you'll capture the same photos that made this small fishing village famous worldwide.
Pay attention closely to details beyond the famous crimson fishing houses propped up on timber.

You'll see dozens of large drying racks (used to make the famous stockfish), layer after layer of picturesque mountains, and (if you're lucky) the Northern Lights from October to March.
Top Tip
Be patient with the lighting and weather. One of the advantages of staying in Hamnøy is that you give yourself time to capture the best photos around sunset or sunrise on a clear day.
Hike Reinebringen
Just a short drive from Hamnøy is another iconic fishing village, Reine. The town itself is worth visiting, and you can actually walk there in a little over an hour from the Hamnøy Bridge photo spot viewpoint.
But you can also access one of the best hikes in the Lofoten Islands from Reine, the Reinebringen Viewpoint.

This 3.6-mile out-and-back trail gives you some of the best views of the fjords, mountains, and villages that make this region special.
Top Tip
This is a challenging hike requiring shoes and poles, especially if you hike after rain.
Relax in a Sauna
Sauna culture is a thing in Nordic countries. If you've ever spent any time hiking, skiing, or kayaking in the frozen tundra, you'll know why.

Finding a sauna in the small town of Hamnøy is easier than you may think. Hamnøy Saunas is a popular option located in town, where you can relax and sweat it out while enjoying views of the mountains and fjords.
See the Northern Lights on a Sailboat
If you look at Hamnøy on a map, you'll see that the Norwegian Sea and fjords surround it. It's also in a prime position for viewing the Northern Lights.

Pukka Travels organises some great guided tours, and one of my favourite ideas for a trip to Lofoten is seeing the skies light up shades of green, blue, and red from the water.
Kayaking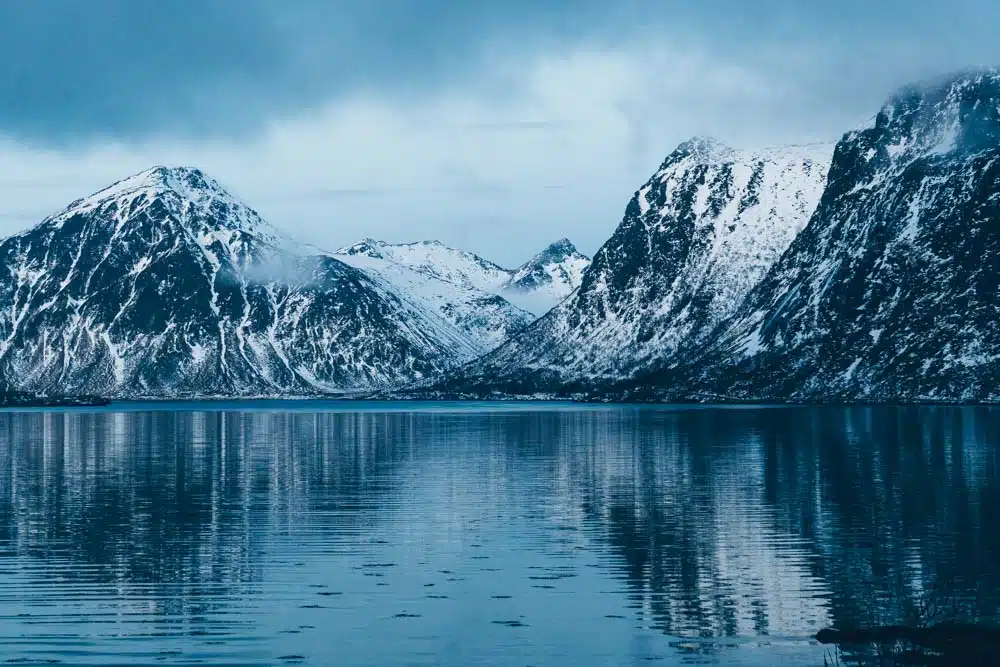 The Lofoten Islands are a wonderful place to kayak, and you can find a couple of great launching sites near the town of Hamnøy.
If you go to the nearby town of Reine, you can rent kayaks or take a guided tour with Reine Adventures, where you'll paddle through fjords with an expert guide.
Brilliant Things to See & Do in Hamnøy
Bike Around the Lofoten Islands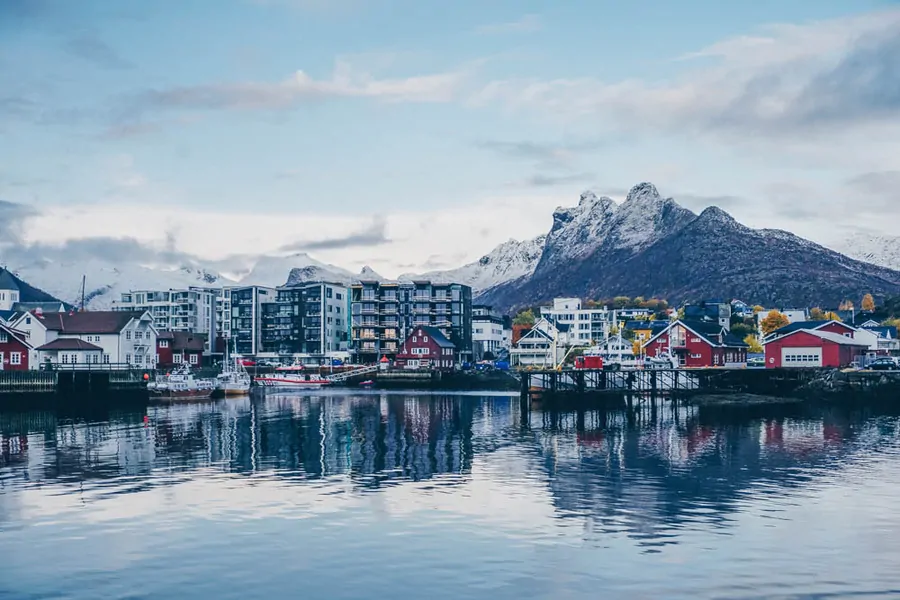 Is there a better way to get to know the famous stretch of Nordic highway than pedalling down the windy roads surrounded by the Norwegian Sea? I don't know of any, personally.

Renting a bicycle allows you to explore the different villages along E10. You can sample local food, see wildlife like sea eagles and elk in their natural habitat, and get some great cardio while you're at it.
Top Tip
Try biking under the Midnight Sun if you're up for a unique experience.
Hiking To Hidden Beaches
If you want to see some of the gorgeous and undisturbed coastlines in Hamnøy, there are lots of opportunities for backpacking near the beaches.

You can reach many of the trails by taking a private boat from Reine and before hiking. Look for signs for small ferry companies in town to explore famous areas like Bunes Beach and Horseidstranda.
Top Tip
Bring your backpacking gear if you visit in the summer and want to camp out. You can set up camp in just about any open space without farmland or restricted forests.
Must-Try Bars & Restaurants in Hamnøy
Gadus
A top-notch Italian restaurant near the small Norwegian fishing village of Hamnøy? You bet. Considering that Italy is one of the largest importers of stockfish, it's not that big of a surprise.

Try freshly made pasta with seafood and enjoy the scenic views at the best place to eat at Hamnøy, Lofoten Islands, in nearby Reine.
Lofoten Bakery
There aren't many spots to eat in Hamnøy proper. Luckily, there's a good bakery. Sometimes that's all you need.

Freshly baked bread, coffee, and cinnamon rolls will provide the energy you need for hiking, kayaking, and photographing Hamnøy.
Tapperiet Bistro
If you're ready for a sundowner after a long day taking in the beauty of Hamnøy, Lofoten, Norway – check out this gastropub that serves beer and beer-friendly food like pizzas and burgers.
Best Hotels in Hamnøy
Eliassen Rorbuer
If you want to stay in one of the iconic fishing houses (rorbuer), Eliassen Rorbuer offers modern apartments with full kitchens, private bathrooms, and Wifi.
Reinefjorden Sjøhus
Stay just across the Bay of Hamnøy at Reinefjorden Sjøhus. Located in yet another postcard-worthy fishing village (Reine) the views of the fjords, mountains, and ocean from the cosy apartments are stunning.
The Manor House in Hamnøy
The Manor House in Hamnøy offers comfortable rooms with ocean and mountain views from Hamnøy. You'll need to be ok with sharing a bathroom, as this accommodation doesn't have private restrooms.
Hamnøy: Practical Tips for Your Trip
How Long to Visit in Hamnøy? 
Hamnøy is a tiny village. I suggest staying for 2 days to see Hamnøy and the surrounding areas before continuing on your drive through the Lofoten Islands.
Best Time to Visit Hamnøy
Summer is the best time for exploring Hamnøy and enjoying the summer weather. But if you visit Hamnøy in the winter, you can capture some incredible Northern Lights photos.
Where Should I Stay in Hamnøy? 
Be sure to stay in a rorbuer when you visit Hamnøy.

You know, those iconic fishing houses that you came here for in the first place? You can stay in one in Hamnøy or a similar accommodation in nearby villages
How to get to Hamnøy? 
Fly from Oslo to the Harstad/Narvik Airport, and then drive to Hamnøy, Lofoten Islands, in approximately 4-5 hours.
Take a peek at more of the Lofoten Islands on Youtube!
Things to Do in Hamnøy: Map
Explore More of the Lofoten Islands
Love This? Save and Share on Pinterest