Looking for the best things to do in Norway? You've come to the right place. This guide will take you around the country — from the most famous spots to some places off the beaten track.
Norway is a country I could (and will) visit time and time again and never tire of. It's a place that highlights the beauty of nature in abundance.
From the mesmerising Northern Lights to a landscape outlined by picturesque fjords, towering mountains and icy glaciers – it's impressive, to say the least.
Planning your trip to Norway and not sure where to start? These are the places not to miss.
If you're looking for one of the most stunning places to stay during your adventures in Norway, the Aurora Borealis Observatory is a surefire hit. The panoramic views it offers easily make it one of the most incredible Northern Lights Hotels in Norway.
Top 5 Things to do in Norway
Visit the Lofoten Islands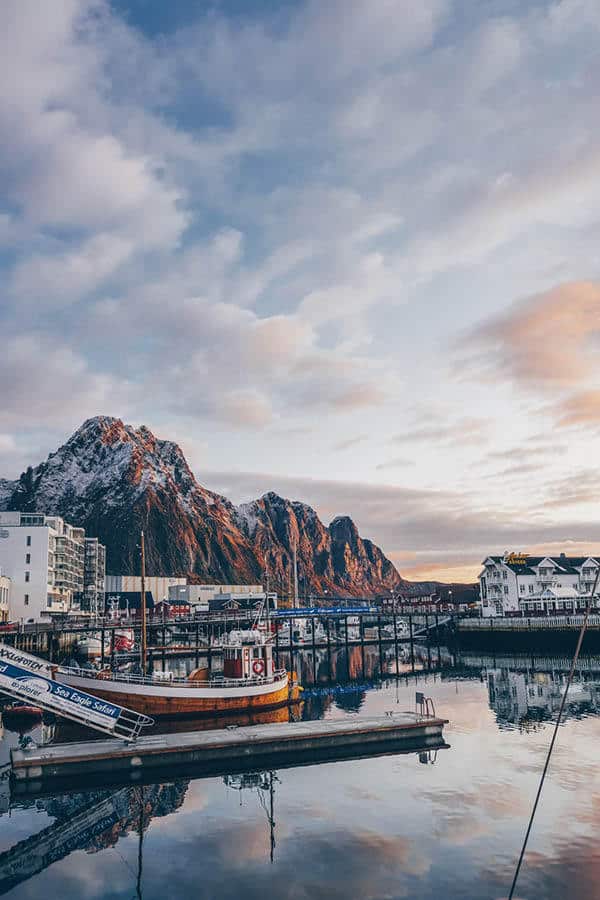 Picture Norway in your mind and you'll probably imagine something that looks like the Lofoten Islands.
This awe-inspiring archipelago, just north of the Arctic Circle, is a picture postcard of natural Norway scenery. Imagine towering snow-capped mountains, clear blue water, white sand beaches, and colourful fishing villages.
If you're adventurous, you'll find ample activities for exploring the area. Hiking and climbing trails weave through the diverse landscapes, from the scenic beaches to mountains.
Off-land, some of the most popular things to do include kayaking, boating, and fishing. And in winter, no trip to the Lofoten Islands is complete without skiing.
During your downtime, pop into a local museum or cosy cafe. And make sure to check out the impressive food scene on Lofoten Island. The ocean provides the star ingredients for many culinary delights on the local menus.
How to Visit: Book this Lofoten Islands Trollfjord Cruise and read my Lofoten Islands Guide for more information on this incredible archipelago.
Explore Oslo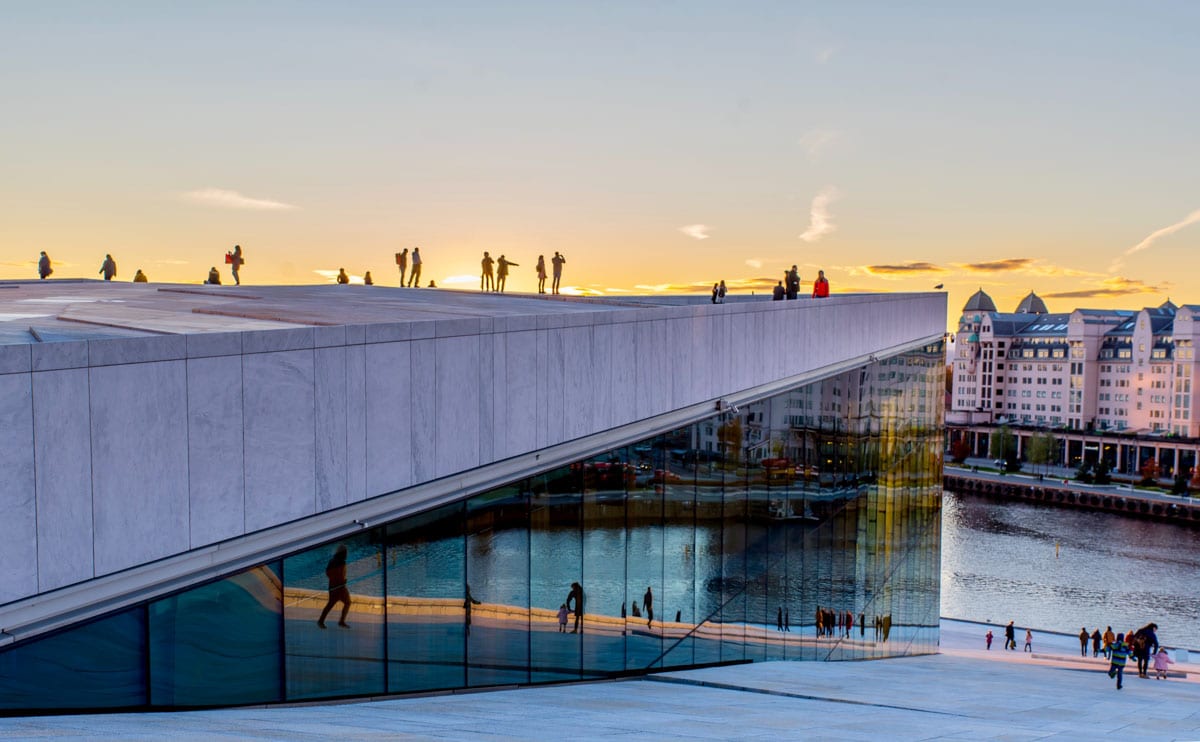 Norway's capital, Oslo, is continually ranked as one of the best cities in the world to live in. It's no secret that the city is also one of the prettiest — set on the shores of the gorgeous Oslofjord.
Many attractions take advantage of the capital's scenic appeal. The Aker Brygge neighbourhood is a lively hub for dining, shopping, and entertainment – the strip of al fresco eateries and bars along the boardwalk offers breathtaking sea views.
For nature lovers, there are also numerous parks and public spaces. Many feature beautiful (and sometimes surreal) sculpture gardens, like the one inside The Vigeland Park.
If you want to learn about Norway's culture and history, there are countless museums situated on a teeny island accessible via boat.
The Norwegian Maritime Museum, the Munch Museum, and the Kon-Tiki Museum are the most well-known ones, though the Viking Museum is my fave.
How to Visit: Book this Boat Tour of Oslo's Fjords.
See the Northern Lights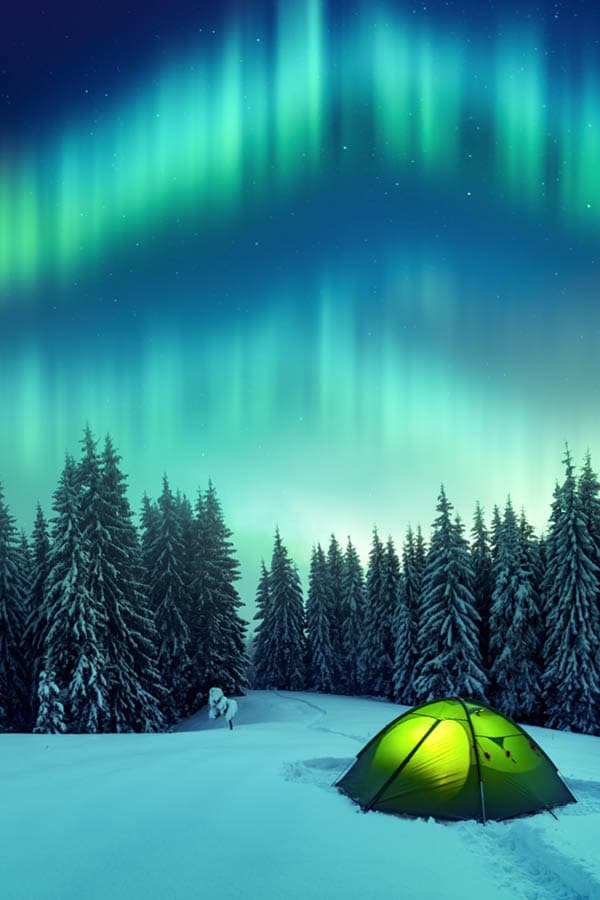 The Northern Lights are one of the best things to see in Norway. But you can't catch a glimpse of them from anywhere; you'll need to travel to the very north of the country — to Arctic Norway.
November through March is the peak season for seeing the Northern Lights. But luckily, you'll also have a chance to see this natural phenomenon anytime between September and April.
How to Visit: Book this Northern Lights Tour from Tromsø.
Travel to Tromsø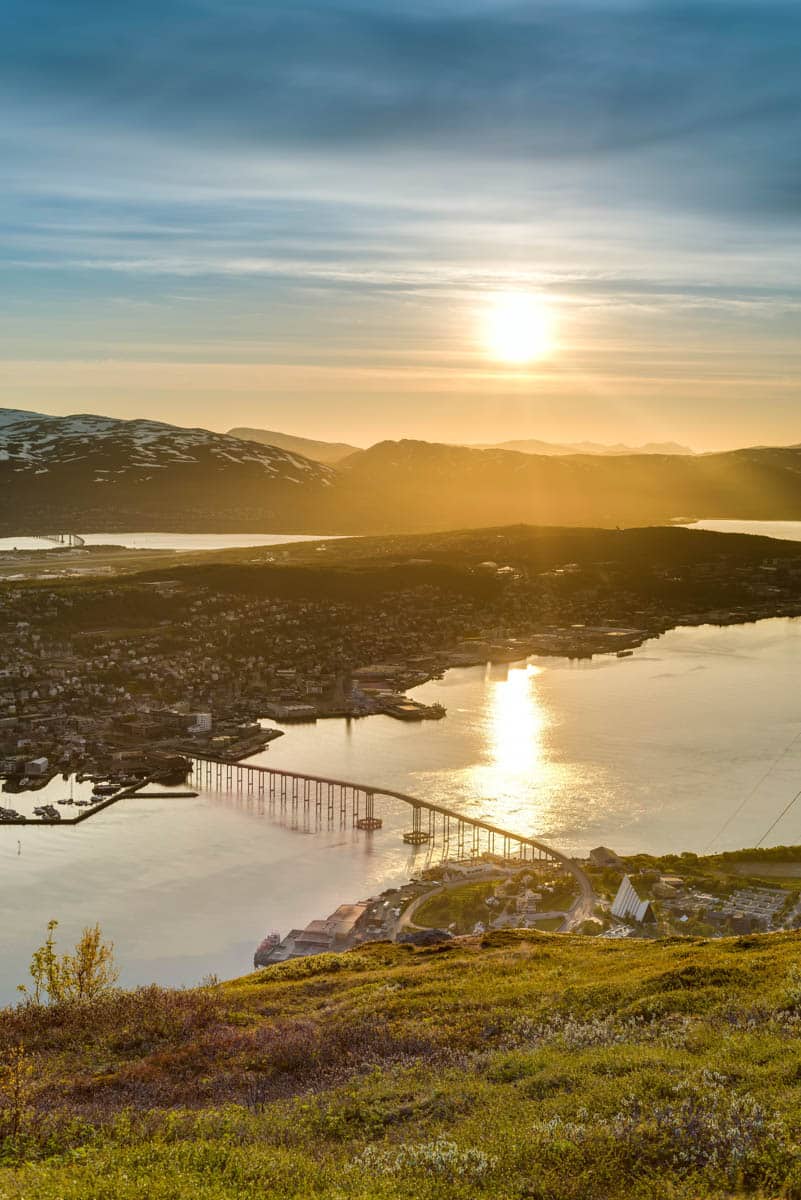 The village of Tromsø is about 350 km north of the Arctic Circle and is outlined by stunning Norwegian fjords.
One of the best excursions you can take is a cruise down the narrow waterways – seeing the area's wildlife and towering mountains up close is one of the top things to do in Norway.
In winter, Tromsø is a Northern Lights hotspot and a popular place to enjoy arctic activities, like snowshoeing, ice fishing, and husky dog sledding.
In summer, the city is famous for its midnight sun. From mid-May to the end of July, the city has sunlight around the clock. This makes hiking and other outdoor activities available and at your disposal 24/7.
The city also has unique indoor attractions, like the Arctic Cathedral, the Polar Museum, and the Polaria Arctic Aquarium.
How to Visit: Book this Tromsø Fjord Cruise and read my guide on the top things to do in Tromsø.
Spend Time in Bergen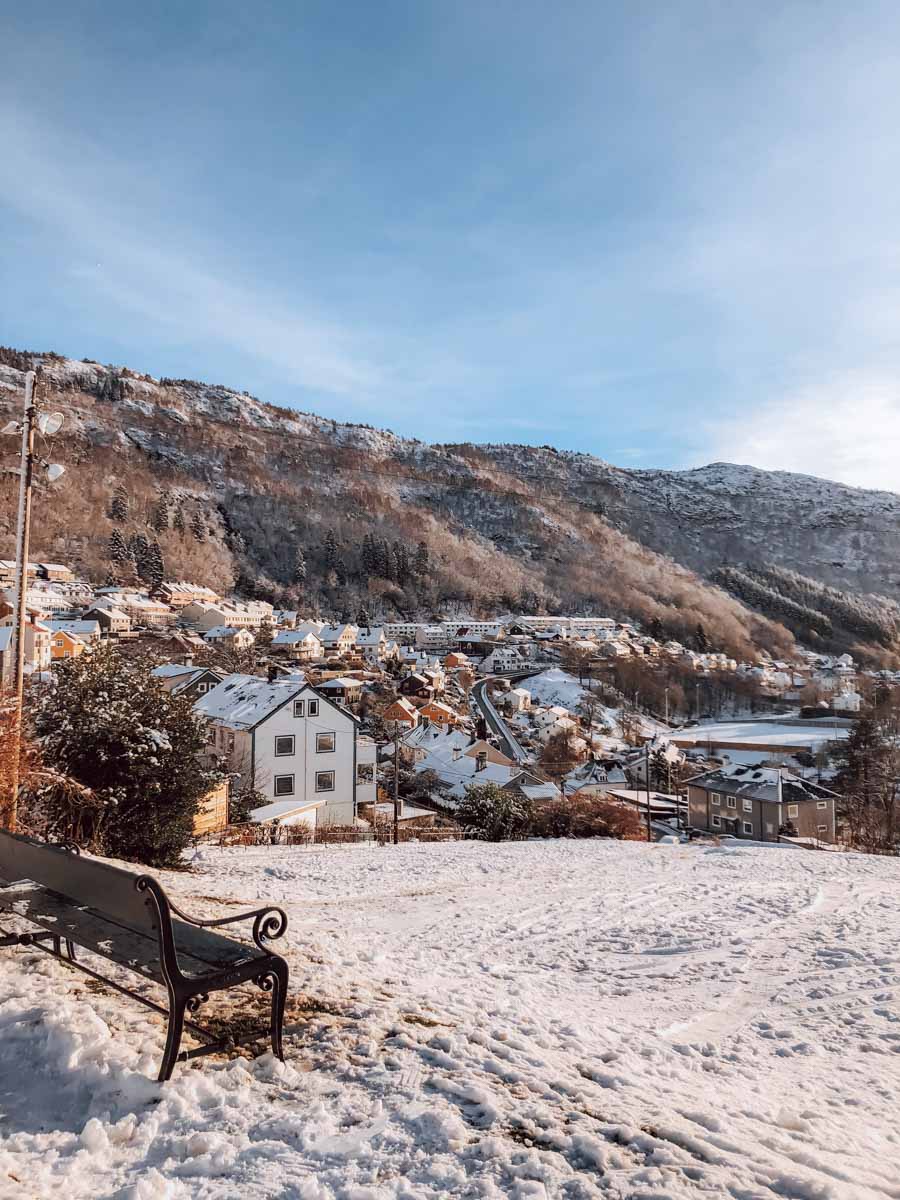 Bergen is Norway's second-largest city (it also happens to be my favourite) and is set on the southwestern coast and known as the gateway to the fjords. The historic city contains many cultural attractions, like old churches and insightful museums.
The most charming area of Bergen is the Bryggen district – this section of the city features colourful wooden buildings, many dating back to 1702.
Check out the popular fish market, where you can enjoy a fresh seafood meal and pick up some fresh fruit, vegetables, hand-crafted items, and souvenirs.
If you want a break from the city, hop on the Fløibanen funicular railway or the Ulriksbanen aerial tramway. These two different shuttles connect Bergen with the outlying mountain regions and offer fantastic hiking routes along with stunning views of the city below.
How to Visit: Book this Walking Tour of Bergen.
Brilliant Norway Things to Do & See
Drive the Atlantic Ocean Road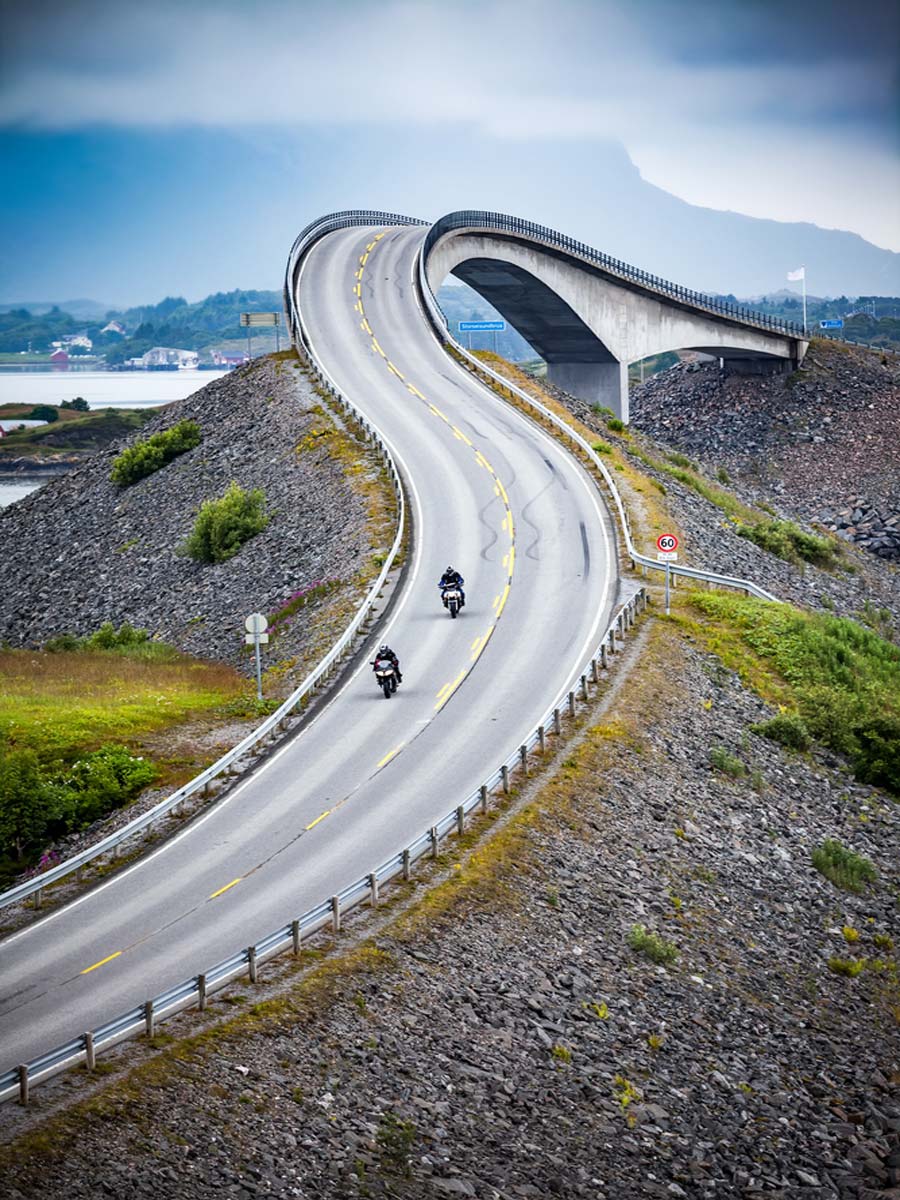 Wondering what to see in Norway that will take your breath away beside the Northern Lights?
Well, the Atlantic Ocean Road is your answer. It's one of the most spectacular driving routes in the world. The route connects Averøy island with the mainland through a series of eight low bridges.
The 8.3-kilometre-long scenic road twists and turns as it passes over a small archipelago, and there are several viewpoints along the way where you can pull over and admire the amazing views.
How to Visit: The road is toll-free and open 24/7.
Pose for a Photo at Trolltunga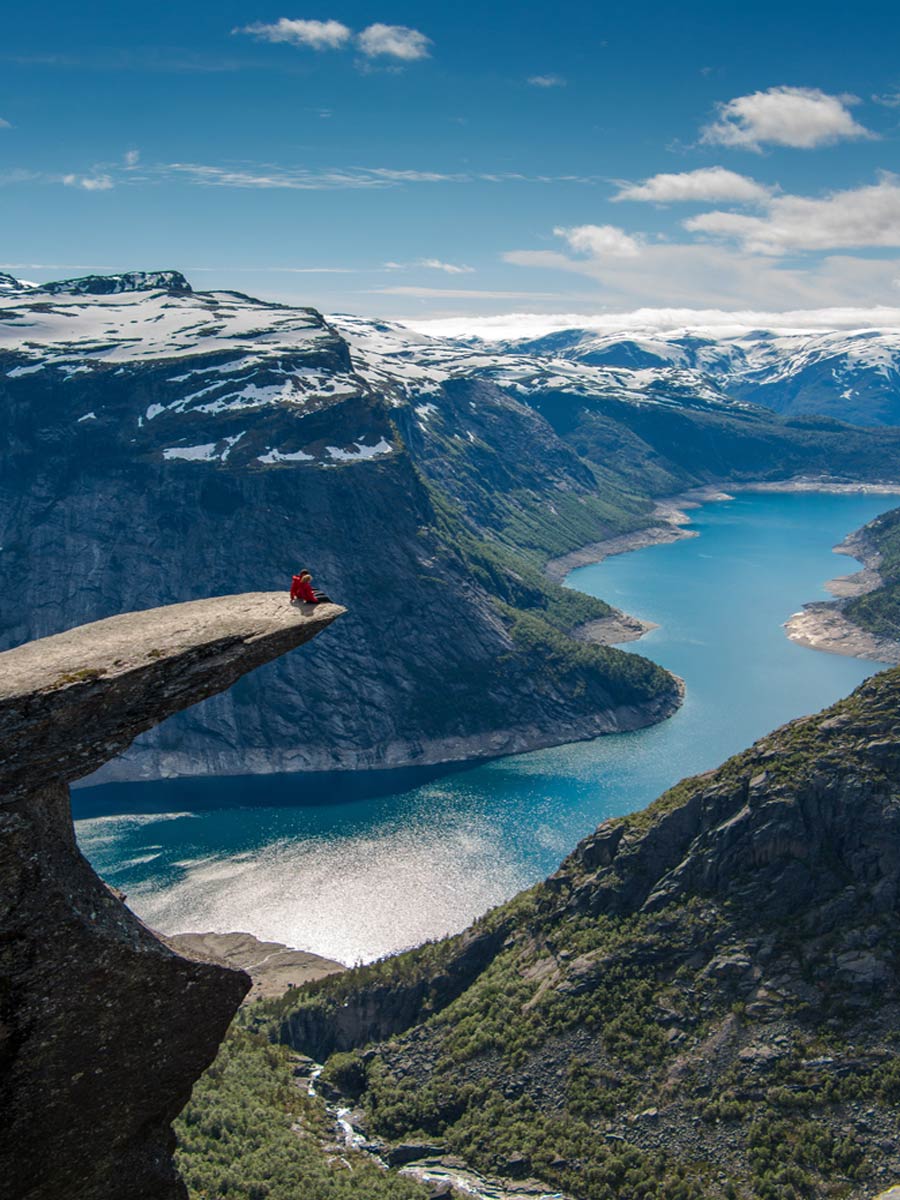 Trolltunga ​​is hands-down one of the most breathtaking cliffs in Norway. It provides an incredibly scenic hike that leads to a stunning rock formation called the Troll's Tongue. This thin slice of rock juts out over the vast landscape below, providing an epic photo opportunity.
Skjeggedal is the main trailhead and the roundtrip hike from here is 27 kilometres and takes about 8 to 12 hours to complete.
Mågelitopp is the second trailhead – the round trip hike from here is 20 kilometres and takes about 7 to 10 hours (and is significantly easier, if you're worried about tackling something too big). If you love hiking, this is the perfect way to spend a day.
There is also a shuttle that runs during summer. It doesn't take you to the top, just the first 4.3 km. But, this initial part is one of the steepest sections of the trail, so it might be worth it.
How to Visit: Book this Trolltunga Overnight Hiking Excursion
Hike up Pulpit Rock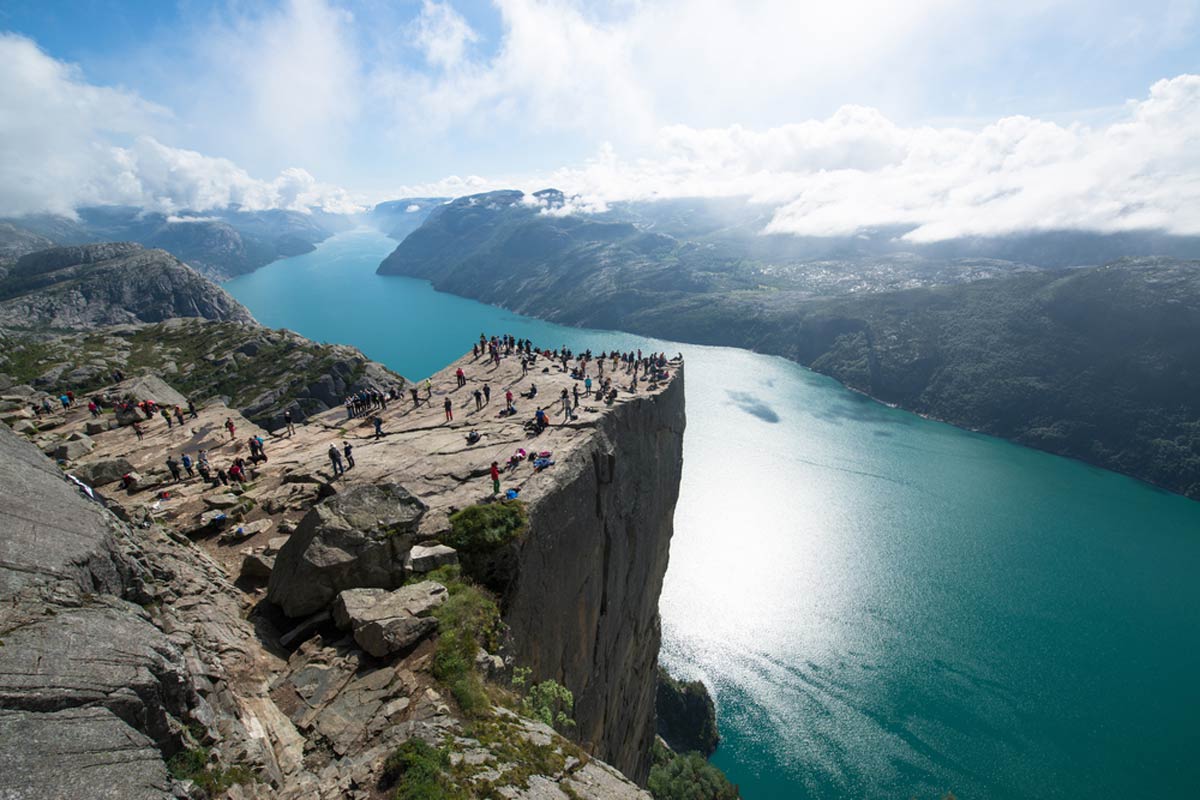 Pulpit Rock is another one of Norway's beautiful hiking spots. Two factors make this location so unique. First, the trek offers a breathtaking viewpoint out over the Lysefjord. And second, the top of the cliff has a seamlessly flat top that runs for about 25 metres.
The round-trip hike is 7.6 km and usually takes 3 to 5 hours. It's rated as moderate, with only a few steep sections along the trail.
One last thing to mention is that hiking Pulpit Rock is one of the most popular things to do in Norway in summer. The trail can get very crowded, especially from June to August when the weather is warm.
If you want a more peaceful experience, try to visit on a weekday and start your hike as early as possible.
How to Visit: Book this Pulpit Rock Guided Hike from Stavanger.
What to do in Norway: Unique Hidden Gems Off the Beaten Track
Go to Geiranger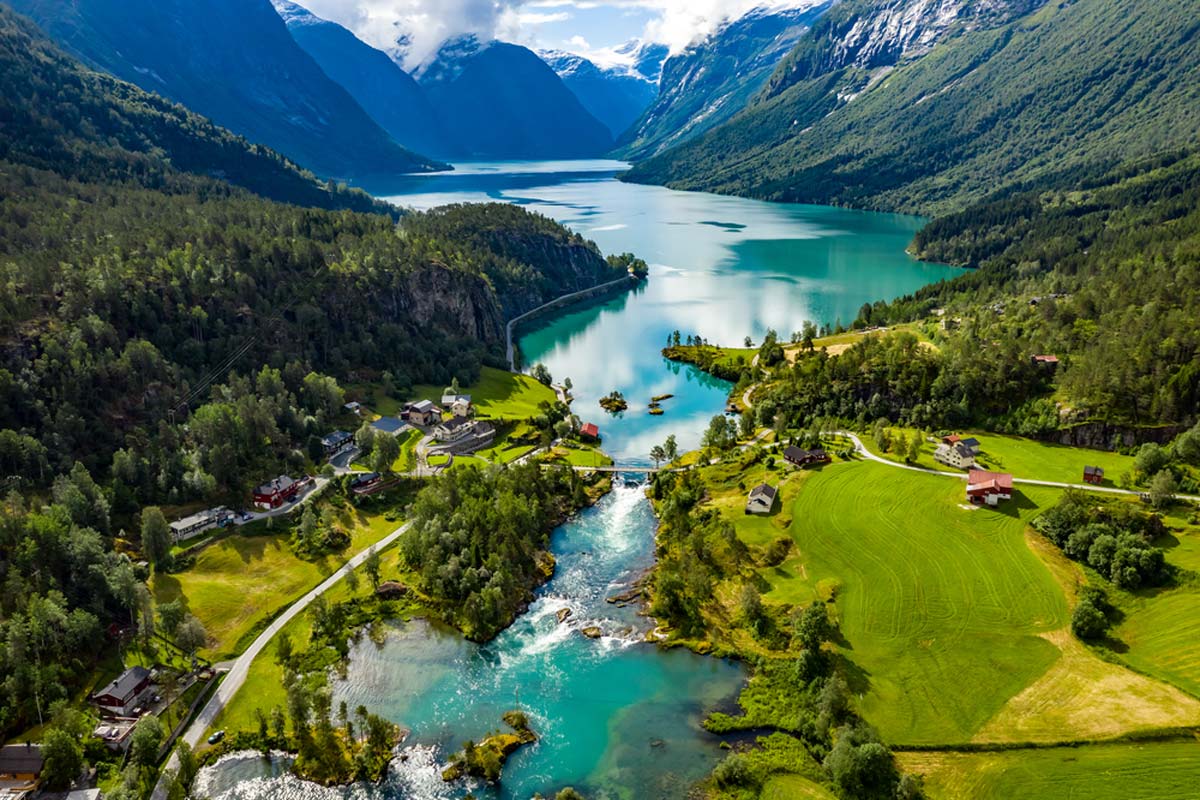 The village of Geiranger looks like a scene straight out of a storybook. It's an area of exceptional beauty made up of lush vegetation, cascading waterfalls, majestic mountains, and pristine fjords.
Ørnesvingen and Flydalsjuvet are two noteworthy vantage points that supply dramatic views of the region laid out before you. The Seven Sisters Waterfall runs down the side of a cliff into the glassy blue fjord below.
The landscape throughout Geiranger is so pure and unspoiled it might take your breath away.
How to Visit: Book this Geiranger Sightseeing Tour and explore the region.
See a Glacier up Close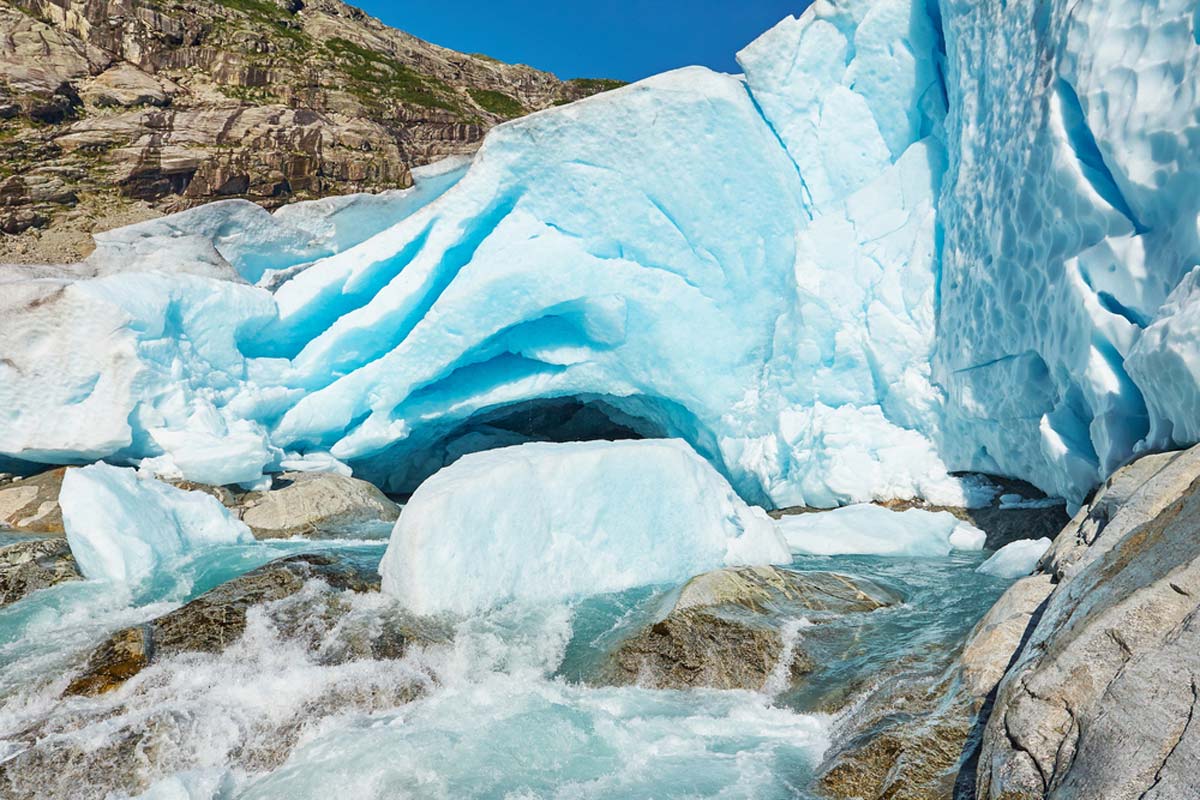 Located in Luster, Nigardsbreen is part of the Jostedalsbreen Glacier, the largest glacier in continental Europe. A scenic hiking route starts at the Nigardsbreen Car Park and takes you right next to the glacier.
You'll venture along a calm lake between towering mountains as you reach the large and dense piece of blue ice – the hike takes about 1 to 2 hours, one way, so it's a fairly easy trek with plenty of rewards.
Or, if you want to save time, you can hop on the boat that runs daily between June and September. It cuts across the lake and reduces your hiking time to the glacier to only about 30 minutes.
Either way, getting a glimpse of the glacier up close is one of the coolest things to see in Norway.
How to Visit: Book this Guided Nigardsbreen Viewpoint Hike or walk the route on your own.
Stand on Top of Kjeragbolten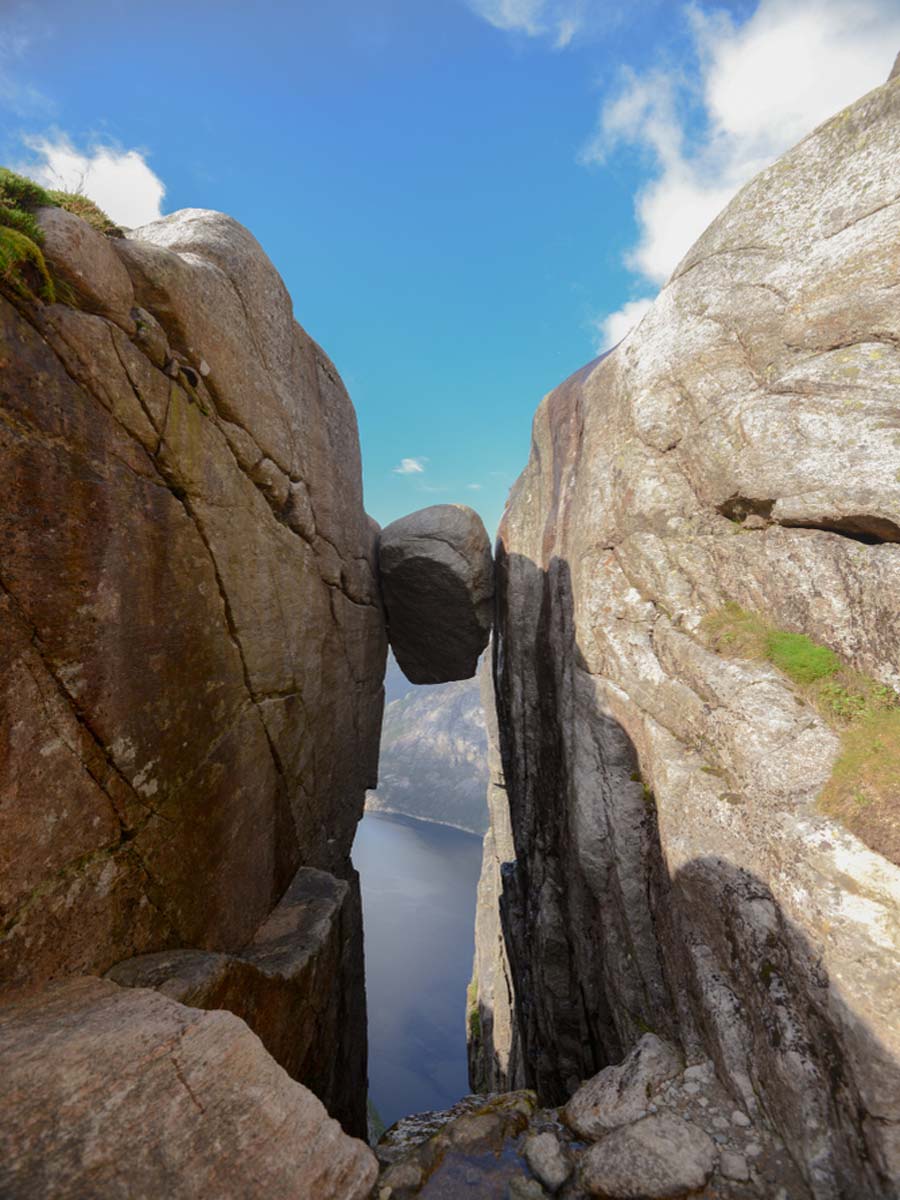 If you're an adrenaline junkie looking for places in Norway to visit, put Kjeragbolten at the top of your list. This unique and famous boulder is accessible via a 12 km round trip hike, which takes about 6 to 8 hours to complete.
It's a long trek, and there are several steep sections along the route, so it might not be for everyone.
But if you're down for a challenge, the views along the trail make it all worth it. And, if you step out onto the boulder, when you reach the top, you'll have a picture to treasure for a lifetime.
How to Visit: Book this Guided Hike to Kjeragbolten from Stavanger.
Things to do in Norway: Practical Tips for Your Trip
How Long to Visit in Norway?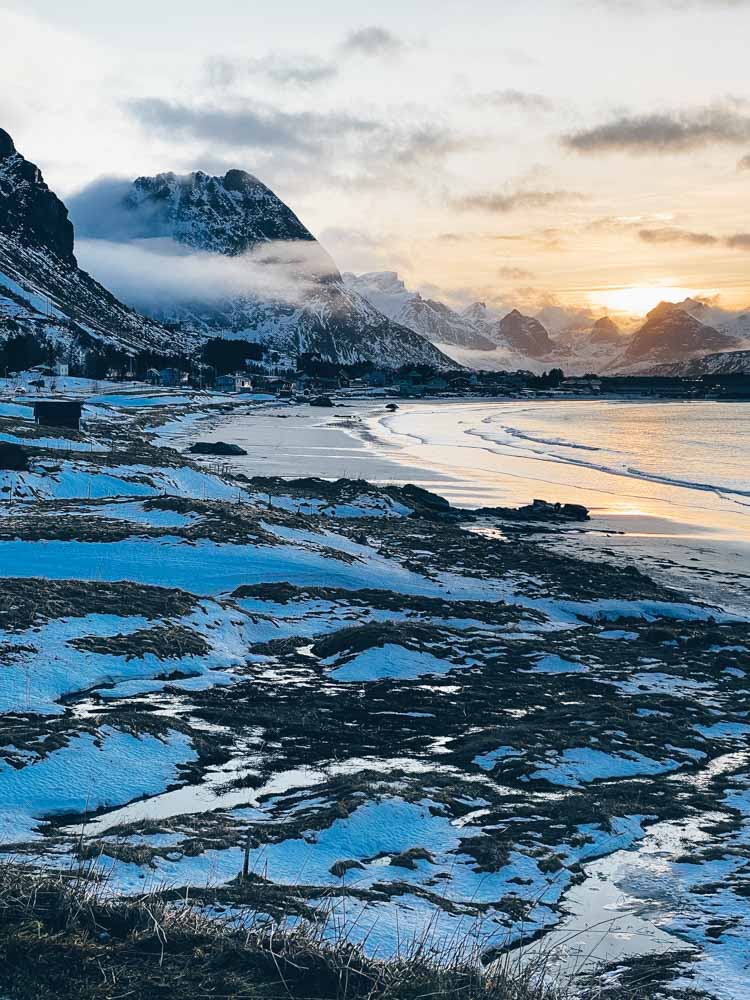 The length of your trip comes down to what you want to do when visiting. If you're keen to see Norway's remote villages and partake in outdoor activities, 1 to 2 weeks is a good length to aim for. Shorter trips are also possible but should focus on 1 or 2 areas – Oslo and Bergen are my picks.
Best Time to Visit Norway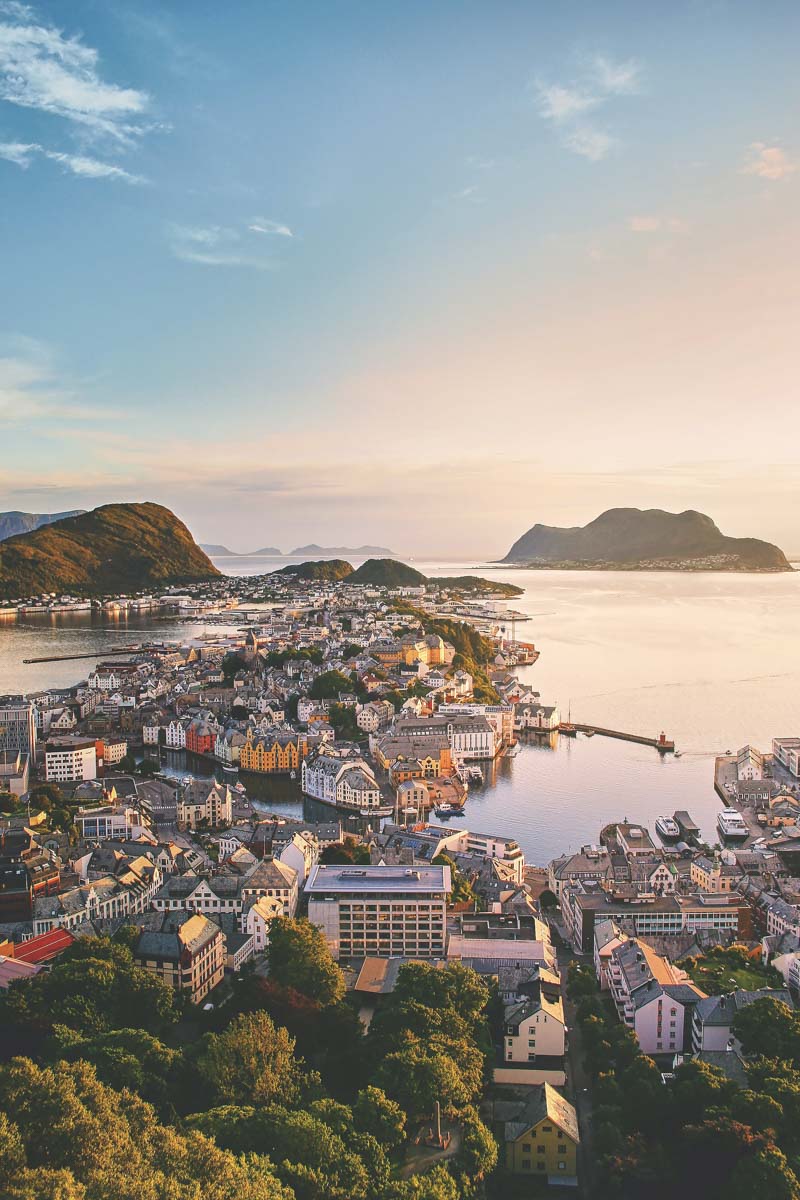 There's never a wrong time to visit; there are fun things to do in Norway year-round. During the cooler months, the landscape is well suited for snowy sports. This is also when you'll have the best shot of seeing the Northern Lights.
But if you want to visit the country's incredible hiking locations, like Trolltunga, Kjeragbolten, and Pulpit Rock, you'll want to visit in the warm months after the snow melts.
Where Should I Stay in Norway?
Hotell Bondeheimen
Oslo has an impressive number of budget and mid-range options. Hotell Bondeheimen is one of them. It's in the city centre and features an on-site restaurant with a complimentary breakfast.
Check Rates and Availability for Hotell Bondeheimen on Booking.com
Opus 16
Opus 16 rolls out the VIP treatment for its guests. This 5-star accommodation is in central Bergen and has its own restaurant, bar, and local art exhibit. Rooms are super-stylish with dark wood features.
Check Rates and Availability for Opus 16 on Booking.com
Recommended Tours in Norway
Things to do in Norway: Map
Things to do in Norway: Read Next