Discover the best things to do in Henningsvær with this travel guide. Packed with tips for your trip.
The Lofoten Islands are famous for being nestled along the long arms of the Norwegian Sea with dramatic cliffs rising high above the Arctic Circle's pristine (and often unforgiving) wilderness on land and in the water.

It's a land of storied fishing villages that pop up on the horizon, welcoming you in with warm architecture, friendly locals, and a tangible sense of adventure. Personally, it's one of the most spectacular destinations I've ever been to – and believe me, I don't say that lightly.
Henningsvær may well be my favourite village in Lofoten, with its beautiful scenery, delicious cuisine, and the finest football pitch I've ever laid eyes on.

Here's a look at where to stay, what to eat and things to do in Henningsvær.
Stay in the stylish apartments near the best restaurants and shops in Henningsvær at Tobiasbrygga.
Top 5 Things to Do in Henningsvær
Henningsvær Football Pitch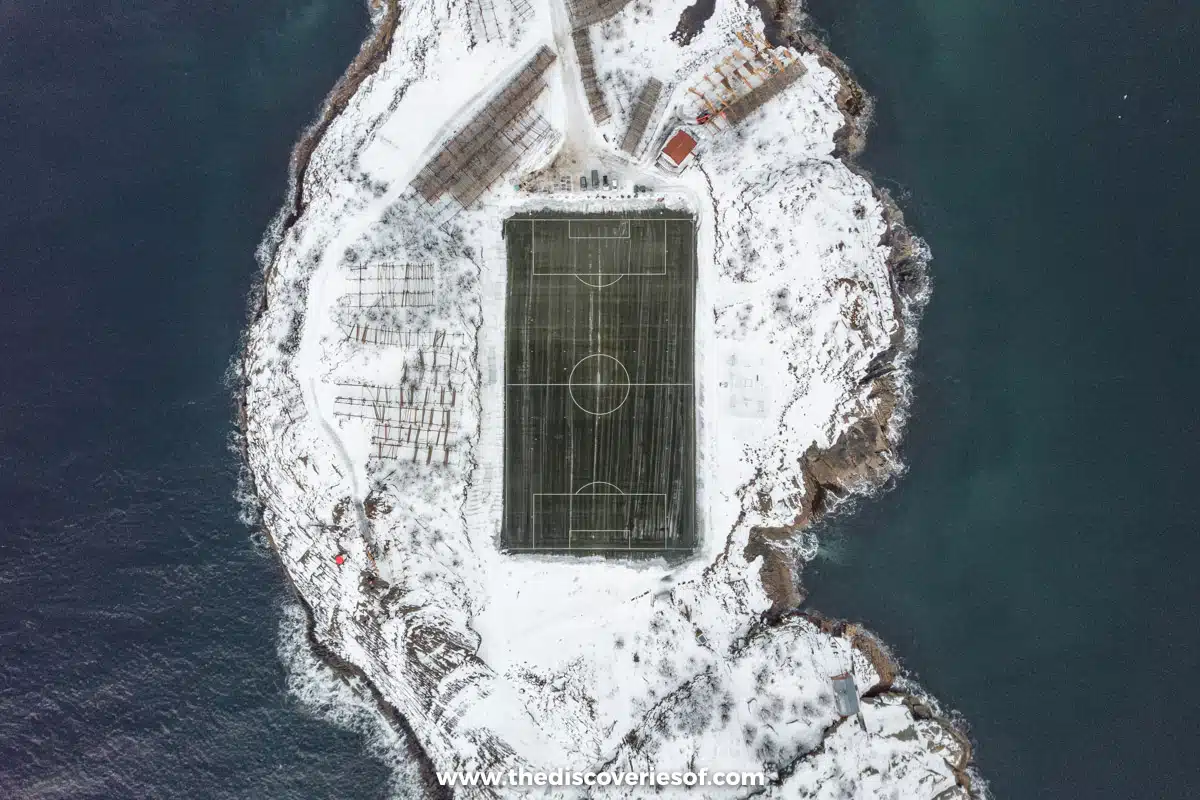 Every so often, there's a stadium so magnificent that even the most pessimistic sports fan would gladly accept any invite to check it out. That stadium in Norway? Henningsvær Football Pitch.

Located just outside of town on a small island in Henningsvær, the stadium is home to a local amateur team – Henningsvær IL.

You won't find any bleachers or concession stands, but it's the most photogenic football field I've ever stepped foot on.
Top Tip
Use your drone to capture photos of the pristine green lawn amidst a backdrop of craggy mountains, stockfish drying racks, and the deep blue waters of the Norwegian Sea.
Check Out the Art Scene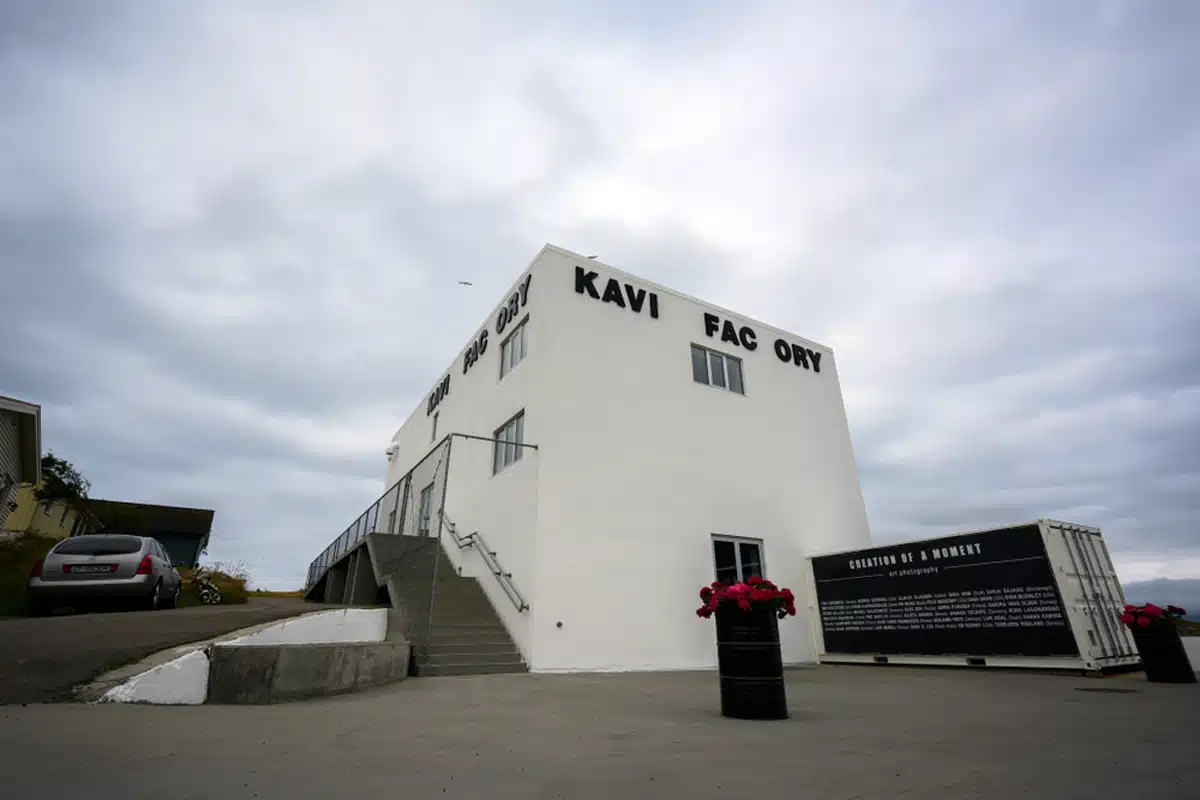 No joke, Henningsvær might be one of the coolest small towns in Northern Europe. Aside from endless outdoor activities, there is a vibrant food and beverage scene (more on that below) and some surprisingly great art galleries.

Gallery Lofoten is the most well-known spot to check out local art and highlights what they call "The Golden Age of Northern Norwegian Painting."

The popular KaviarFactory showcases more modern artwork – but they're only open by appointment for now.
Kayak Under the Midnight Sun
Visiting Henningsvær in the summer allows you to take advantage of warmer temperatures, outdoor adventure, and the Midnight Sun.

What does this mean for your trip to the Henningsvaer Islands? Picture yourself kayaking late into the evening hours, so long as you travel in June and July.

Paddle through the harbour, admiring the charming fishing houses (rorbu) and taking in the beauty of the bustling fishing port in the middle of the night – while everyone else is sleeping.

The sun will provide a gentle glow that only makes the small islands and inlets of the "Venice of Norway" more beautiful.
Winter Photography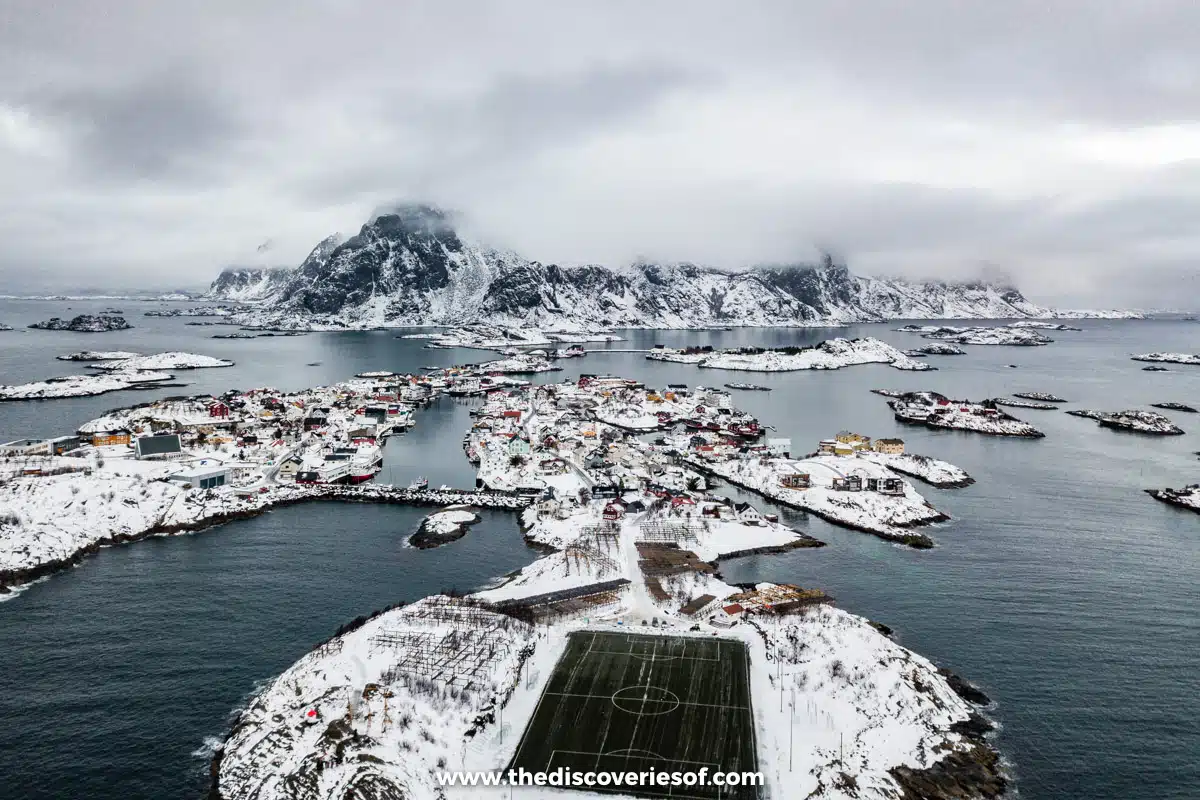 Unless you hire a tour guide with a keen sense of where to go and some genuinely brilliant luck – you might want to save hunting photos of the Northern Lights for Tromso rather than the Lofoten. Why? So. Many. Clouds. It's not at all impossible to see the Northern Lights in the Lofoten Islands but it's not the best-destination weatherwise.
But don't be discouraged. Winter photography in Henningsvær is first-rate.

Capturing the beauty of this unique city and its small islands, canals, and mountains is even more stunning after the snow falls.
Top Tip
Looking for that photo? Capturing Henningsvær Football Pitch from overhead in the winter is too beautiful for words.
Festvågtinden via Heiavatnet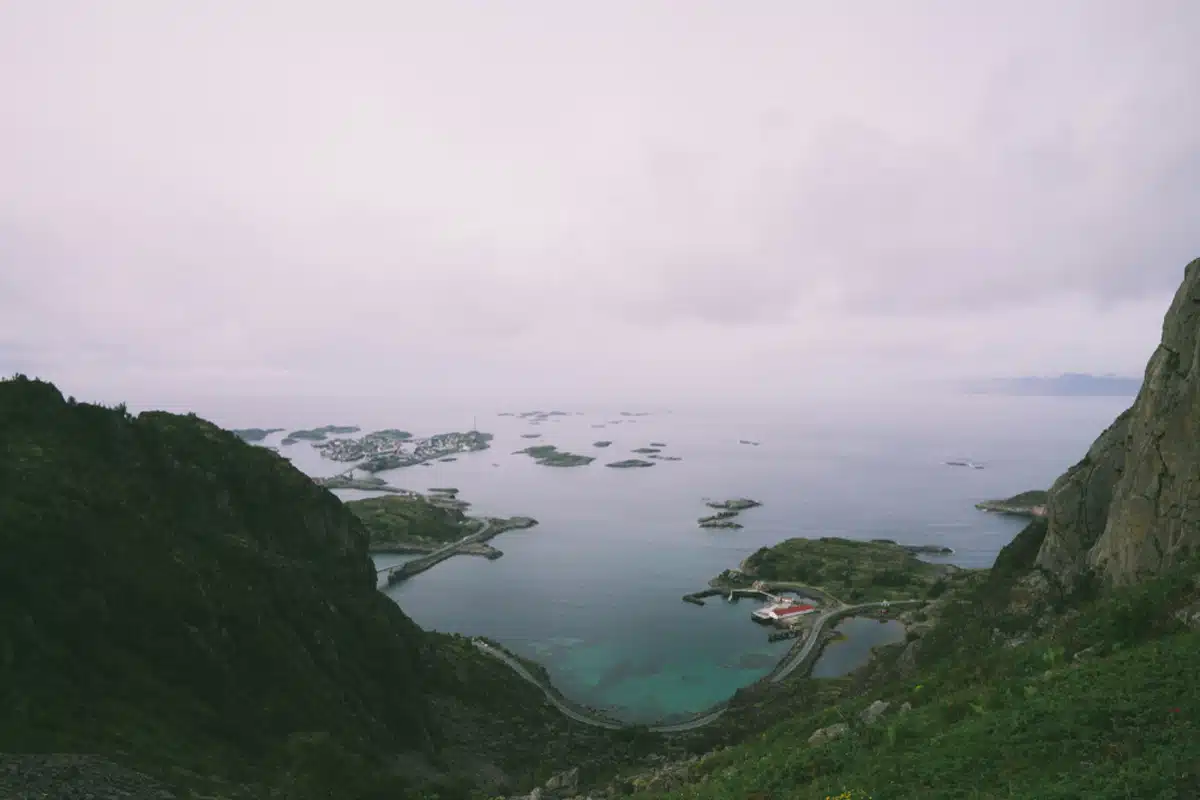 Don't have a drone? No problem. You can catch some amazing photos of Henningsvær and the Lofoten Islands from this short (but challenging hike).
Expect a steep climb up this 1.7-mile loop, but taking those panoramic shots from the top is worth every step.
Top Tip
Time your hike for a clear, dry day for the best photos and safest hiking conditions.
Brilliant Things to See & Do in Henningsvær
Sea Eagle Safari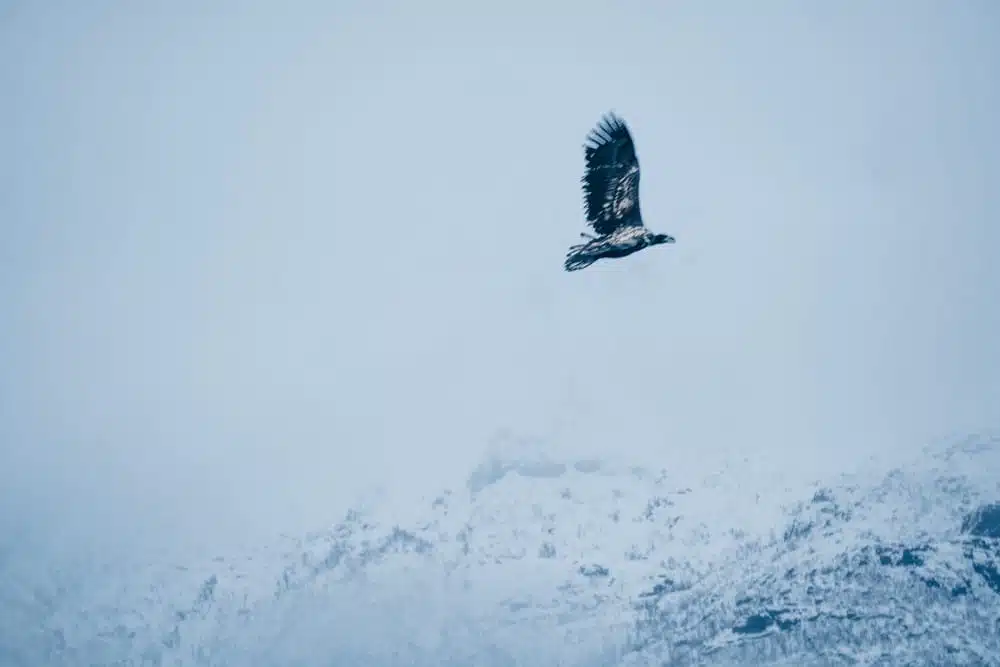 When you visit Henningsvaer, booking a guided tour to see one of Europe's most majestic birds is a must.

Imagine yourself bobbing around on a little RIB with a local guide who navigates through the dark waters and massive cliffs known as fjords. It's slightly terrifying, but I promise it's worth every butterfly in your stomach.

Why? So you can see the giant birds of prey up close in their element – they will practically eat right out of your hands.
Climbing in Henningsvær
You'll notice quickly at local restaurants and cafes that Henningsvær climbing is a thing (check out the walls at Klatrekaféen).

Want to try it yourself? If you didn't pack your climbing gear or just want to know all the best spots – I suggest going with a guide.

You can experience the mountains year-round, with climbing in the summer and ski touring in the winter.
Must-Try Bars & Restaurants in Henningsvær
Restaurant Lofotmat
One of my favourite reasons to visit Lofoten is the food. Fresh seafood with expert presentation and local ingredients is what makes Lofotmat one of the most popular Henningsvær restaurants.

There's plenty to choose from, but the creamy fish soup is the go-to in this comfy dining room in the centre of the main island.
NORD Bar
Take in mountain and ocean views and local beers at this popular haunt on the harbour. Live music and free snacks also show up occasionally for locals and lucky tourists.
Klatrekaféen
Stockfish, creamy soup, and fish burgers are the most popular items at this casual haunt in the heart of the village.

Inside, there's a Nordic cabin vibe that is spruced up with modern artwork and indoor plants – but the outdoor seating is equally charming with its up-close views of the canals.
Best Hotels in Henningsvær
Tobiasbrygga
Tobiasbrygga sets you up with stylish apartments that have a very Hygge vibe to them. Hardwood floors & walls combined with MCM furniture & warm lighting help make you feel right at home.
Henningsvær Rorbuer
Looking for a Henningsvær hotel? It doesn't get much more authentic than staying in a rorbuer when visiting the Lofoten Islands.

The bright red facade of Henningsvær Rorbuer embraces the fish house experience inside and out, with contemporary cabin decor inside and access to fishing equipment at the store if you want to try your luck.
Trevarefabrikken
One of the most popular Henningsvær hotels, Trevarefabrikken is a spacious boutique with several different room styles to choose from. The lofts are particularly cool, with excellent mountain views.

The restaurant on-site serves up a large menu with vegan and vegetarian options, which offers a nice change up from the typical seafood houses nearby.
Henningsvær: Practical Tips for Your Trip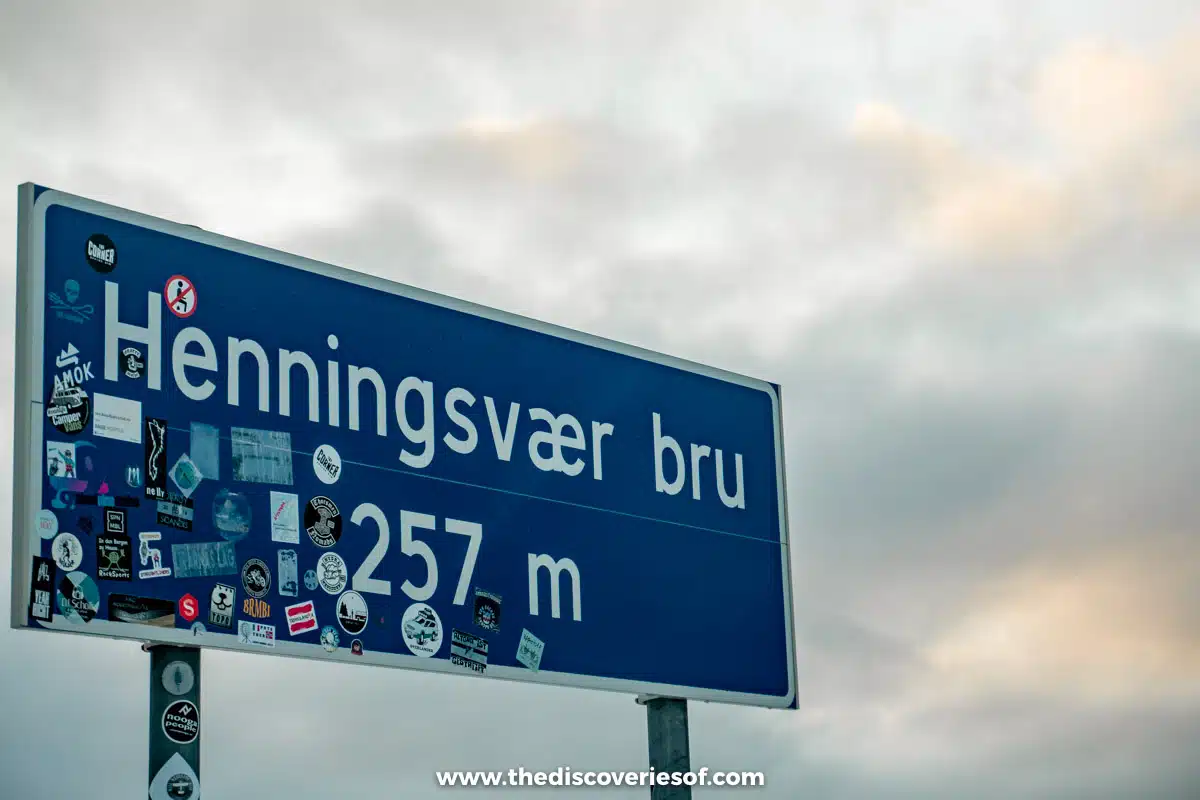 How Long to Visit in Henningsvær? 
Henningsvær is a small town that you can see most of in 1-2 days. But if you travel this far, I'd recommend staying a few more nights to see the best of the Lofoten Islands. 
Best Time to Visit Henningsvær
Both winter and summer have their perks when visiting Henningsvaer. So when should you go?

If you're coming to Henningsvaer to hike, I suggest travelling in the summer or fall. But if you're after the perfect photos of the pitch – winter is an unbelievable time to visit.
Where Should I Stay in Henningsvær? 
Looking for where to stay in Henningsvær, Norway? Book a Henningsvær rorbu, where you can stay in a traditional fishing house, many of which are now hotels and B&Bs.
How to get to Henningsvær? 
Getting to Henningsvær requires both a plane ride and drive. You can book a flight from Oslo to the Harstad/Narvik Airport, and then it's about 3 hours by car once you land.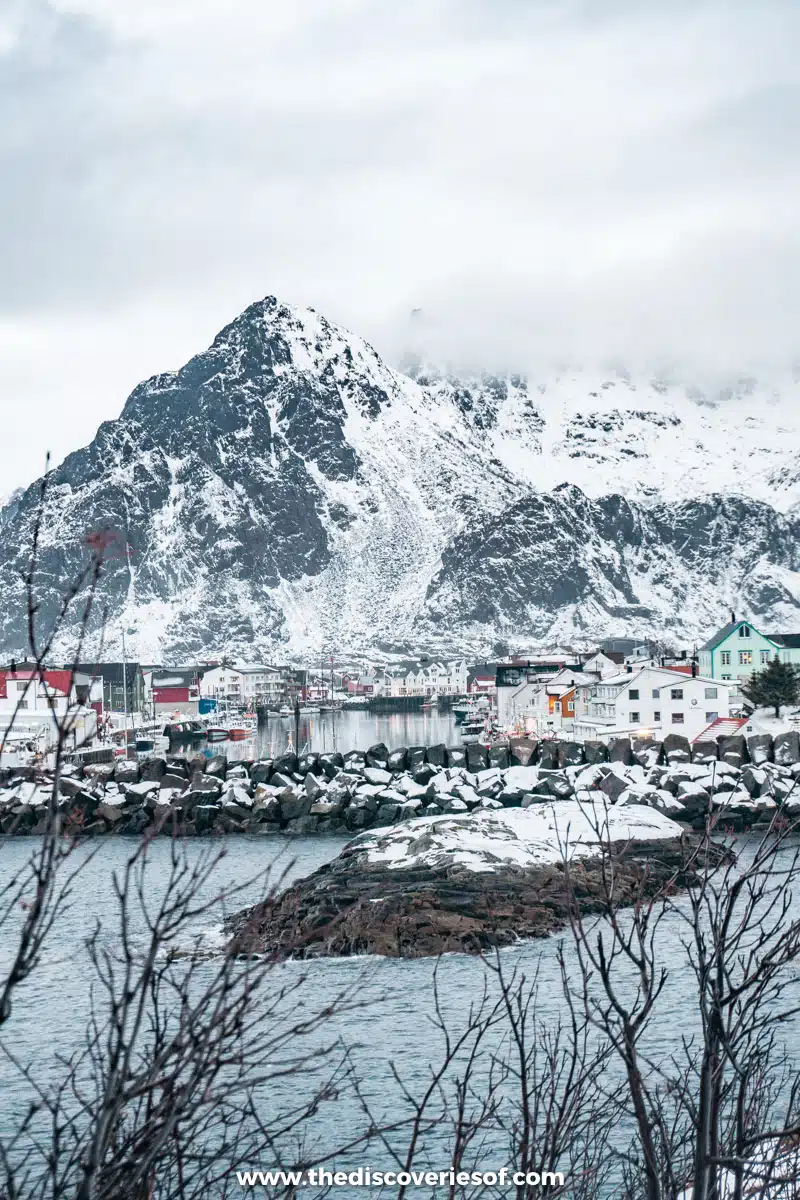 Things to do in Henningsvær: Map
Love This? Save and Share on Pinterest