Svolvær sits at the heart of Norway's Lofoten Islands – a small city brimming with the possibility of adventure. Discover the best things to do in Svolvær with this guide.
It's no secret I love Norway's Lofoten Islands. They're a stunning getaway that's enjoyable any time of the year for epic scenery during the day and wildly unique nighttime skies.

At the heart of it all sits Svolvær, the capital of the Lofoten Islands. Although it is a city, you'd be mistaken for thinking it's a bustling metropolis. Instead, it's a quiet gem where the pace of life is slower, the economy revolves heavily around fishing and adventures abound.
That said, there's a helluva lot to do for a smaller city – not to mention that Svolvær is the perfect location for exploring the sprawling expanse of the Lofoten Islands.
Ready to discover the best things to do in Svolvær? Let's go.
Wanna take a sneak peek? Check out my Svolvær travel guide on Youtube!
Top 5 Things to Do in Svolvær
Head Out on a Sea Eagle Safari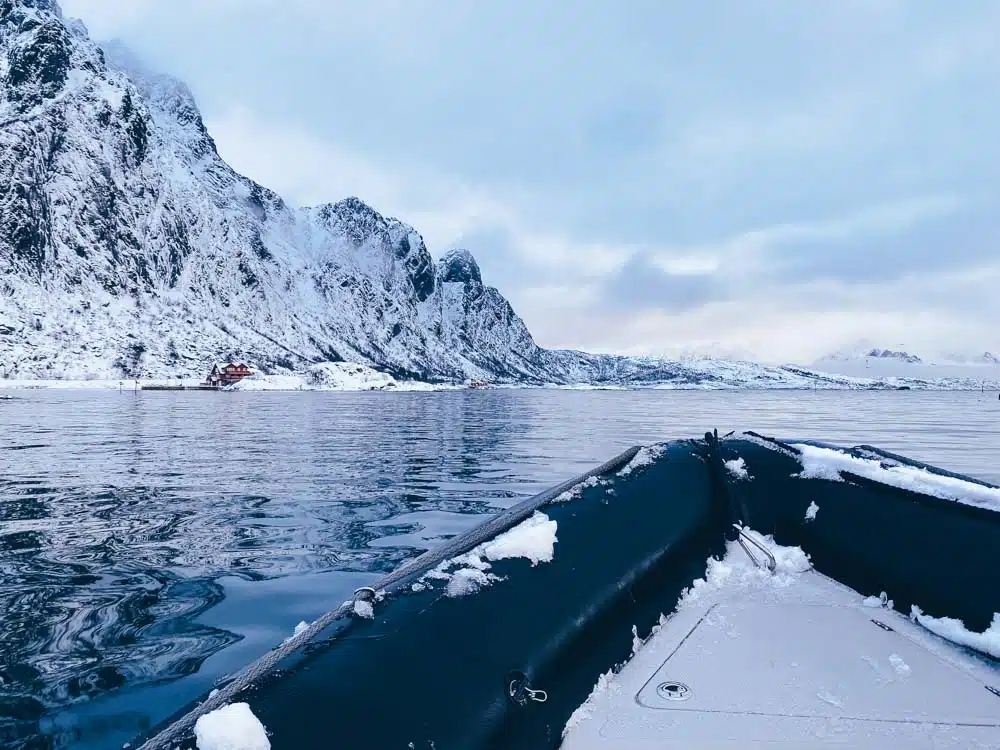 Even the quickest glance at things to do in Svolvær will tell you that there's a lot of wildlife to see on your visit to the Lofoten Islands but the sea eagle safari is hands down my favourite.
Safari is the right word too – this is no sedate cruise for a bit of bird spotting, this is an adrenaline-fuelled experience to see the largest birds in the Lofoten Islands.
It was such a whirlwind of wonder – from the moment I donned my (rather fetching) insulated suit, to the time spent pelting across the fjords under the experienced guidance of our local guide – not to mention seeing the eagles themselves.
Imagine riding through gigantic massive fjords, ensconced by towering cliffs only to see Sea Eagles swooping down to catch fish just a few metres from your boat. Magic.
Try Your Hand at Deep Fjord Fishing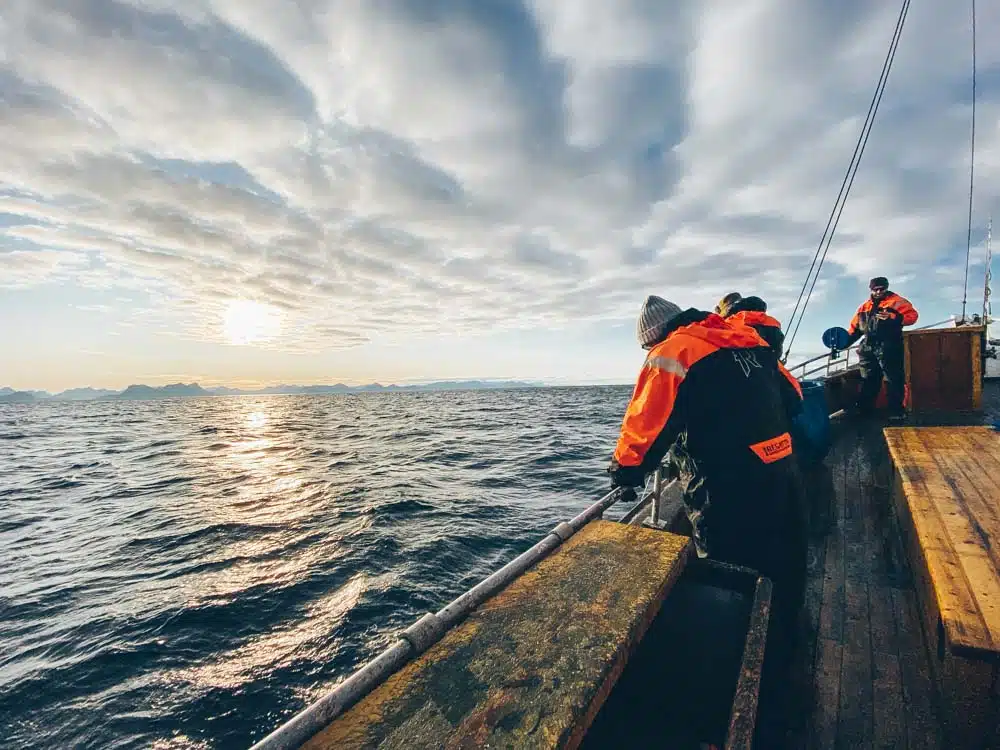 Deep sea fishing is always fun, but again this is Norway so we're heading to the fjords to do things a little differently. Let me tell you, it doesn't get much better.
On my last trip to Svolvær, I took a guided fishing expedition with XX Lofoten. The captain was great, showing us how he found fish on his fish finder before we took a crack at casting out our lines.

We gathered just as the sun rose, the warm light catching the water in flecks of gold and pink before heading out into what looked like the sea but which our captain assured us was just a giant fjord. Fish-finder activated, we spent a few hours chasing shoals and catching enough haddock, cod, and other tasty morsels for our lunch.

But the best part? Enjoying my catch on the boat with the fjord views.
See the Midnight Sun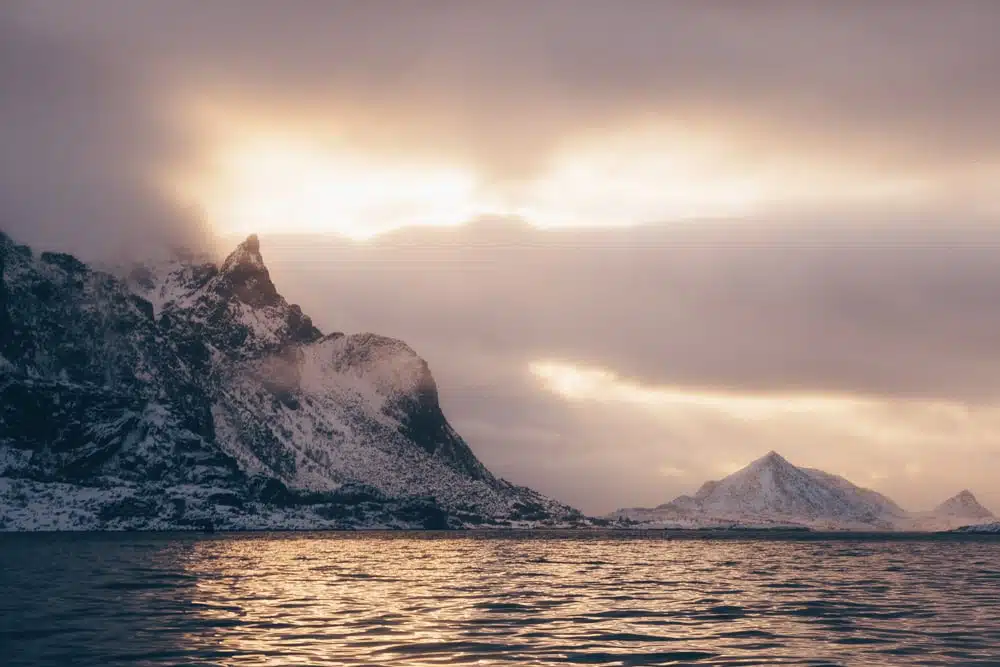 Ever heard the expression Land of the Midnight Sun? Yes, that's Norway.

Seeing the sun dance around the edge of the coastline and never quite disappear is something I recommend everyone try at least once.

You can take a short hike for unique photos or just look out your hotel window before you turn in for the evening.
Top Tip
You'll need to visit in the summer to see the Midnight Sun, which most locals consider the best time to visit for hiking and sightseeing.
Track Down the Northern Lights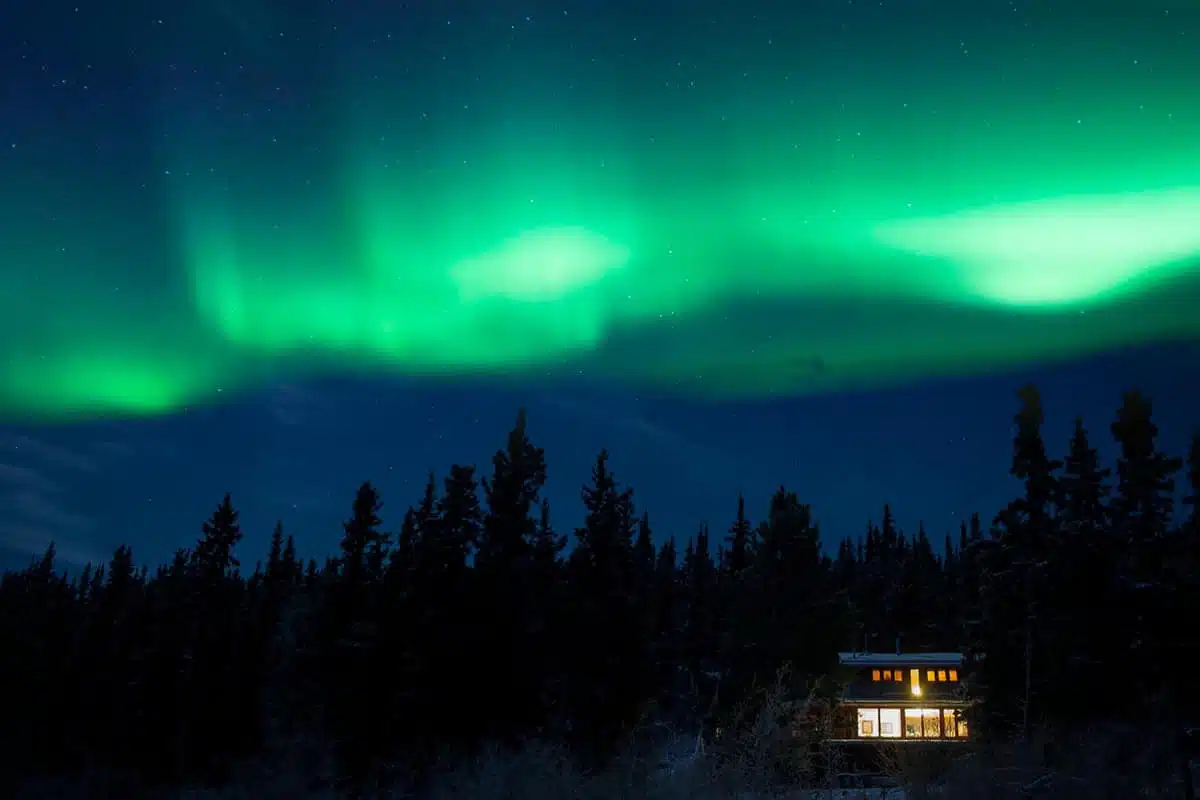 Seeing the Northern Lights is absolutely incredible but you'll have to be a bit luckier than with the Midnight Sun.
While anybody, I mean anybody, can see the Midnight Sun in Svolvær, finding the Northern Lights is a lot trickier.
I won't lie – although Lofoten's position in the Arctic Circle means it's well-placed for Aurora activity, its coastal location means it's prone to a lot more cloud cover than other Norwegian destinations like Tromsø.

Luckily, there are some great tour guides who do a lot of the hard work for you, finding spots where the clouds aren't there to spoil your party. Visit from late September to very early April for your best chance at seeing them.
Go Kayaking in the Norwegian Sea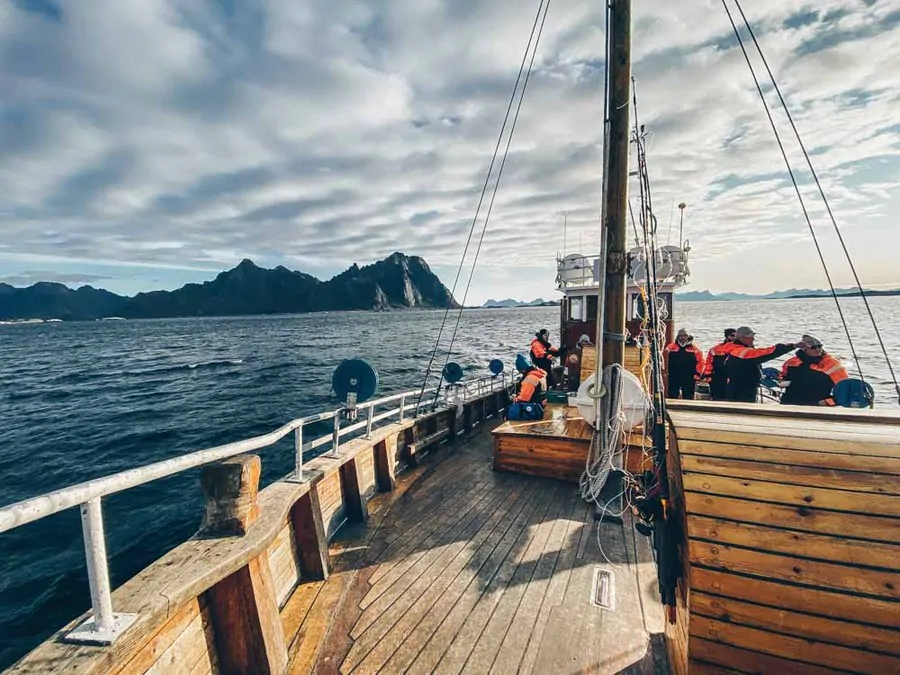 Kayak through the gorgeous fishing villages and harbours near Svolvær to take in the beauty of the Norwegian Sea while getting some cardio.

If you don't have your own gear, some great tours teach you more about local customs and show you the best places to paddle out from Svolvær.
If you're visiting Svolvær and want luxury accommodation in a central location, Thon Hotel Svolvær is a brilliant choice.
Brilliant Things to See & Do in Svolvær
Try Stockfish
Delve into unique flavours of stockfish, a Lofoten Islands food staple.

What exactly is it? A dish similar to bacalao that locals make by catching cod, haddock, and other fish before leaving them out in the cool, salty air to dry over time.

It's much more delicious than it sounds and one of many local specialties I fell in love with on my first time in Svolvær. I've recommended a couple of restaurants in the restaurants section below.
Take a Trip to Henningsvӕr
Henningsvӕr is one of the most photogenic places I've travelled to.

"The Venice of Norway" is a charming village made up of several small islands. There's lots to do, with great food and art. But there's a surprise for football fans you have to see to believe.

Henningsvӕr Football Pitch is on a private island and an unbelievable place to take in a game or photograph from above.
Hike The Devil's Gate
Djevelporten, or the Devil's Gate, is a short but challenging hike you'll want to take if you travel in the summer.

The out-and-back trail is under 2 miles long but full of fun rock formations and challenging (read slippery) terrain.

The hike gets its name from the large boulder somehow balancing between cliffs like a bridge – and some hikers (not this one) even walk out and pose on the bridge.
Top Tip
Wear good hiking shoes and avoid going after rain or snow.
Must-Try Bars & Restaurants in Svolvær
Nordis Restaurant
Du Verden became a fast favourite of mine on my last couple of trips to Svolvær.

Now known as Nordis Restaurant, they still serve up a tasty (and wide-ranging) menu with pizzas, seafood, and sushi. Everything I've had is great, and it's a friendly place to kick back in after a long day of outdoors adventures.
Bacalao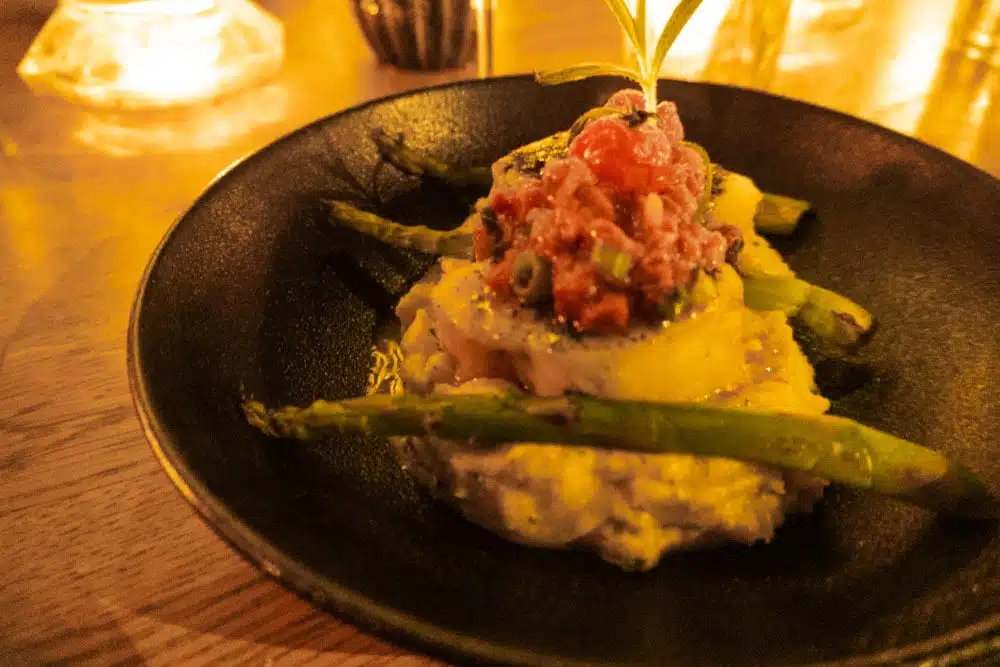 Bacalao is another of my go-to spots in Svolvær.

The seafood dishes are top-notch, the atmosphere is upmarket but laid back, and they have a great wine list (although, be warned) you can rack up a sizable bill in a hurry. Try the Bacalao, as the restaurant specialises in the dried salt cod dish.
Pizzeria Fellini Svolvær
Listen, the seafood in Svolvær is incredible. But at a certain point, you may tire of it or just want to try something new for the sake of variety.

Pizzeria Fellini Svolvær doesn't just offer a welcome change. They dish up some of the best pizzas you'll find North of Italy. And if you're team pineapple on pizza (guilty), they have several house specials with the controversial topping.
Paleo Arctic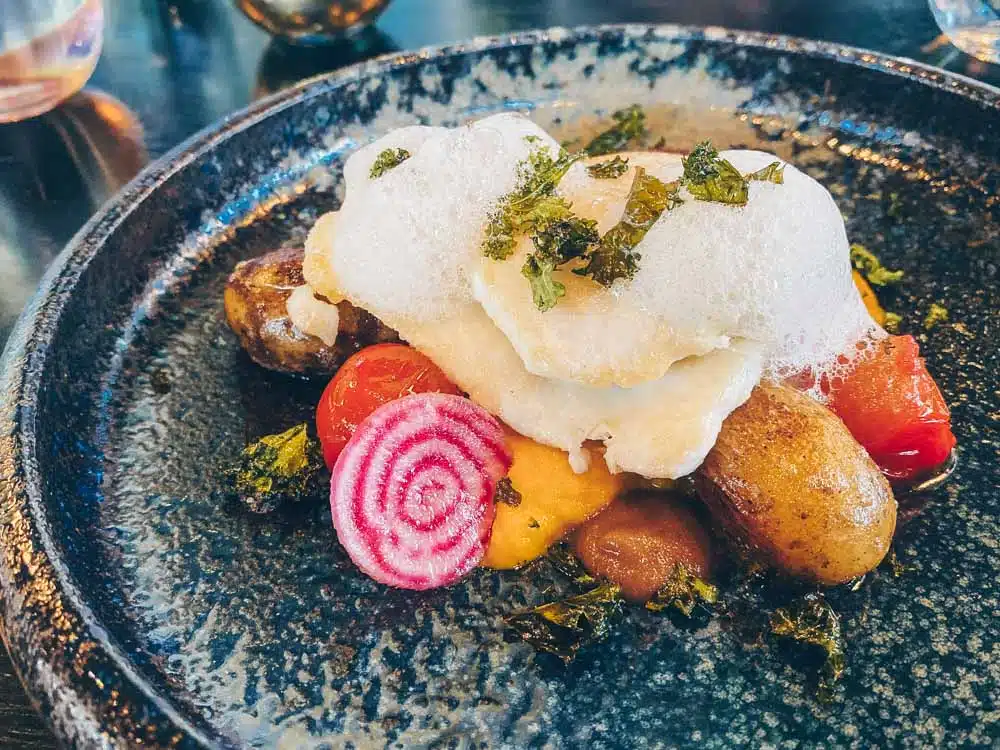 I have a rule about always leaving my hotel to find good food. I'm willing to break that rule when staying at Thon Hotel Svolvær.

Paleo Arctic has incredible seafood dishes and a great wine list perfect for a nice lunch or dinner.
Dishes like creamy fish soup or grilled stockfish allow you to sample fine-dining versions of Norwegian classics in a stylish space.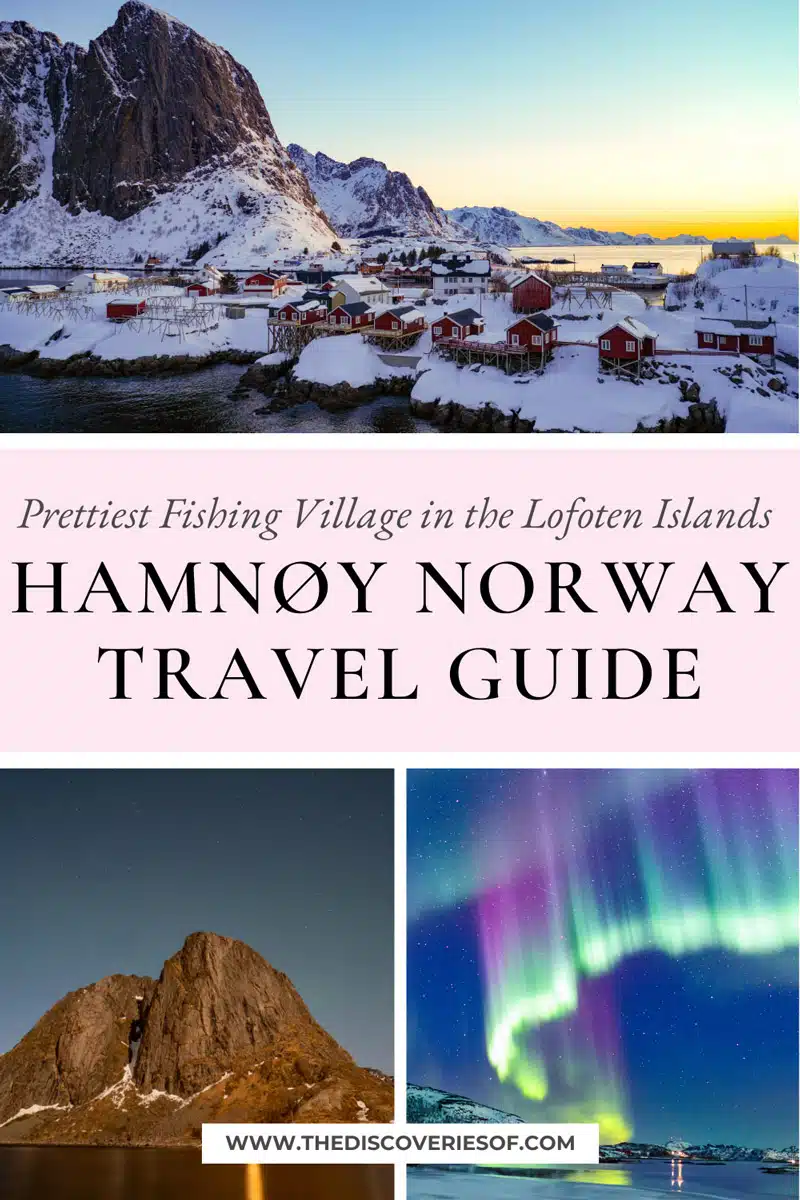 Best Hotels in Svolvær
Thon Hotel Svolvær
Looking for the best luxury Svolvær hotels? Thon Hotel Svolvær is a lovely 5-star hotel right on the water near the ferry terminal. I stayed here during my first trip to Svolvær and it is my favourite hotel in the city. Book a room and you'll enjoy private parking, an excellent breakfast, and beautiful decor inside your room with a view of the Norwegian Sea.
Scandic Svolvær
Another hotel I've stayed in, although not quite as nice as Thon, you'll find affordable accommodations at Scandic Svolvær. Overall, they're quite nice and the rooms with harbour balcony views are really cool.

My only knock on the hotel is the rooms are really cold in the winter.
Anker Brygge
If you want to live like a local for a few days, Anker Brygge sets you up in a rorbuer (former fishing hut) with plenty of space, a kitchenette, and ocean views, a short walk from the town centre.
Nordis Hotel & Suites
Nordis Hotel & Suites features stylish apartment-style accommodations with modern decor and comfortable furniture and beds. But the gorgeous mountain views from private balconies highlight this 5-star hotel.
Svolvær: Practical Tips for Your Trip
How Long to Visit in Svolvær? 
I think 5 days gives you enough time to explore Svolvær, take a couple of tours, and explore other parts of the Lofoten Islands like Henningsvær, Å and Hamnøy. 
Best Time to Visit Svolvær
If you're planning on experiencing the Midnight Sun, visit from May to mid-July. If you're more into hunting out some Northern Lights, you'll want to travel to Svolvær from October to April. 
Where Should I Stay in Svolvær? 

One of the reasons I recommend staying in Svolvær when visiting Lofoten is that you can choose from a wider range of hotels.

There are luxury hotels and budget-friendly options throughout town; most are near the water. You are in Svolvær to take in the beauty of the Norwegian Sea, after all.  
How to get to Svolvær? 
Svolvær Norway is in the Lofoten Islands on Austvågøya. You can reach it one of two ways.

My favourite? Fly into Harstad/Narvik Airport (Norwegian has flights from Oslo), get your Svolvær car rental at the airport, and take the 2.5-hour drive down.

Alternatively, you can take a ferry from Bodo, which takes from 3-5 hours, depending on the day.
Things to do in Svolvær: Map
Love This? Save and Share on Pinterest