Discover the Lofoten Islands in Norway with this guide. The travel tips you need to know when planning your visit.
Is there anywhere more magical than the Lofoten Islands?
Ensconced cosily in Norway's Arctic Circle, Lofoten verges on the unbelievable – snow-capped mountains rising straight from the sea, an archipelago of wind-hewn valleys and arresting landscapes. 
It's no wonder that it's fast becoming something of a photographer's playground.
I've just returned from my second trip to the Lofoten Islands and cannot recommend it enough. If you're thinking of booking a trip, do it. If you're not thinking of booking a trip, well, you certainly should be.
Colourful fishing villages pop against the background of granite and snow, wildlife comes closer than you'd think possible and, through it all, the E10 Highway winds its way from island to island, the promise of discovery around every corner.
Want to take a peek at what to expect from your trip? Check out my Lofoten Travel Guide video
Lofoten Islands: At a Glance
Do: The Sea Eagle Safari with a trip to Trollfjord.
Stay: In a traditional rorbuer (converted fishing hut). 
Eat: A dish made with stockfish – the lifeblood of the Lofoten Islands since the Viking times.
See: Rambergstranda  – a stunning Arctic beach, with pale turquoise water.
Treat: Yourself to a meal at Lofoten Food Studio, where chef Roy Berglund serves stellar dishes from local produce at an intimate chef's table in his home.
How to Plan a Trip to Norway's Lofoten Islands: Before You Go
Take a Tour or Travel Independently?
First up, if you're planning to go to Lofoten, you will want to think about whether you want to travel independently or use a tour operator. There are pros and cons to both.
Using a tour operator like Original Travel, whose Lofoten itineraries showcase the very best of the islands is the easiest option. They create tailor-made itineraries depending on your preferences, but you don't have to do any of the work.
Alternatively, if you have the time and patience, you can book your travels independently, which will be more cost-effective, but takes more time.
Best Time to Visit Lofoten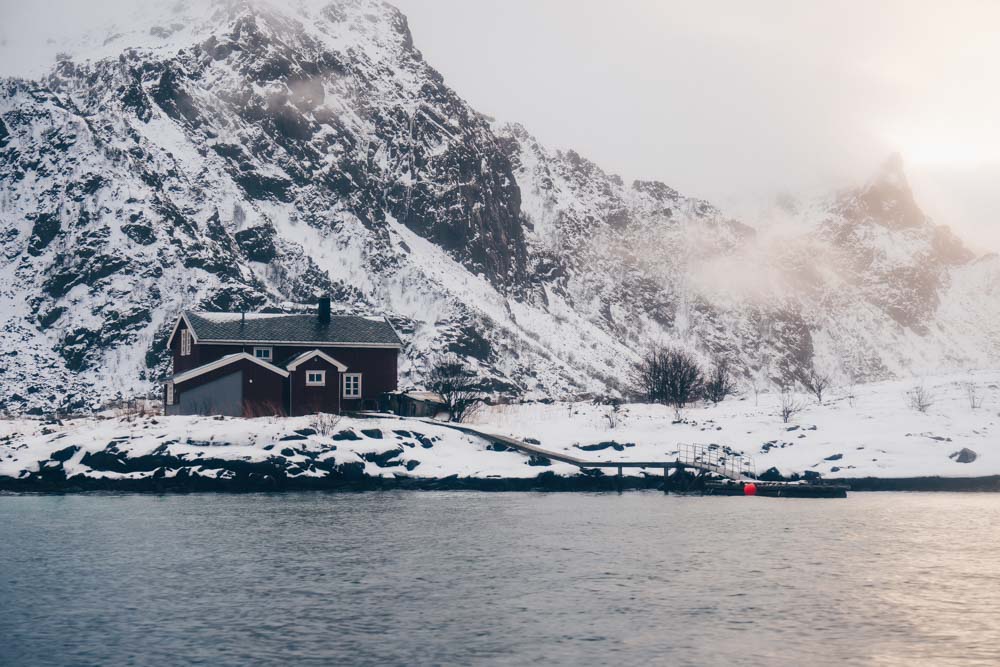 It's a bit tough to say when the best time to visit Lofoten is, simply because each season has its own unique appeal.
Want a shot at seeing the Northern Lights? Visit between late September and mid-April.
If you want to see the midnight sun, you'll need to go between the end of May to mid-July.
Looking for a true wintery wonderland? Go and visit between January to March. Alternatively, if you're really keen to explore the great outdoors, particularly to tackle the many hiking trails that crisscross the islands, then the summer is the time to go.
Bear in mind that the summer is, without a doubt, the most popular time to visit the Lofoten Islands. If you do want to go then, you will need to make sure that you book your flights, accomodation and activities well in advance as the islands do, quite literally book out.
How to Get to the Lofoten Islands
There are several ways to get to the Lofoten Islands, each with its own pros and cons. I've run through some of the most popular ones below.
I personally think that flying to Harstad / Evenes and hiring a car to drive to Lofoten from there is the best option when you consider cost/ time and convenience.
Fly to the Lofoten Islands
There are two small airports in Lofoten in Svolvӕr and Leknes, both of which you can fly to from Oslo Airport.
While this is undoubtedly the most convenient option it's not necessarily the best because the flights tend to be pretty expensive. On top of that, the choice of cars for hire at these airports tends to be relatively limited.
Fly to Harstad / Evenes and Drive
This is the way that I've travelled to the Lofoten islands on both of my trips.
Budget carrier Norwegian flies from Oslo to Harstad/ Evenes Airport which is about a 2.5 hour drive from Svolvӕr (the first and biggest town in Lofoten).
It's easy to rent a car at Harstad through Avis, Sixt or Hertz and then drive up to the islands. There are also public buses that do the same journey. 
Fly to Bodø and Get the Ferry
You also have the option of flying to Bodø from and then getting a ferry from Bodø to Lofoten to Svolvӕr and Moskenes. While this option is not too difficult, you're restricted to the ferry times and the ferry also books out in high season.
Getting Around Lofoten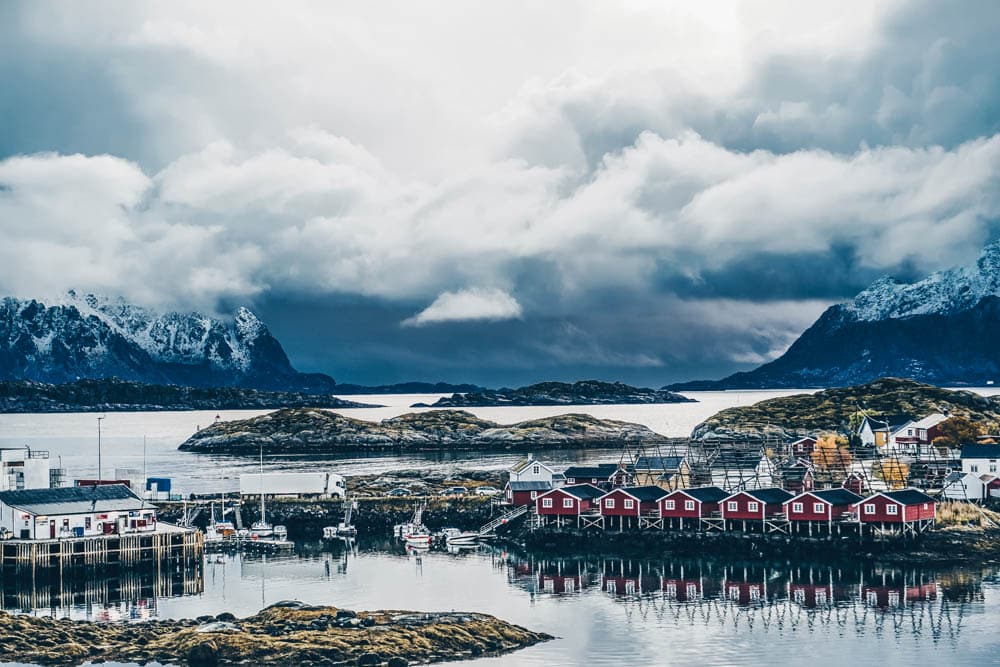 Hire a Car
Unless you're planning to base yourself in one of the larger destinations like Svolvӕr and book tours and excursions from there, the easiest way to get around the Lofoten Islands is by car.
Local and international car hire companies rent cars from various hubs in Lofoten, including Avis, Sixt, and Hertz from Harstad / Evenes Airport, Sixt and Europcar from Svolvӕr and Hertz, Sixt and Europcar from Leknes. 
Whoever you rent from, ensure that you take out fully-comprehensive insurance, particularly if you're travelling in Lofoten's winter months. It's not unheard of for car doors to blow off on gusty days or other accidents to occur in the slippery conditions.
Use Public Transport
Public transport in the Lofoten Islands is restricted to buses and boats – that said, there are actually enough options to make it feasible (if not necessarily that easy) to get around the islands using public transport alone.
You can get a public transport pass for €99 for seven days from Travelpass Nordland (this does not cover the large ferries).
Book Excursions
If you're not hiring a car and don't want to use public transport, your best option is to base yourself in Svolvӕr and book excursions from there.
Don't worry, you still have plenty of options for activities, including going on a sea eagle safari (highly recommended), going deep fjord fishing, Northern Lights hunting or snowshoeing off the beaten path. 
Seeing the Northern Lights in Lofoten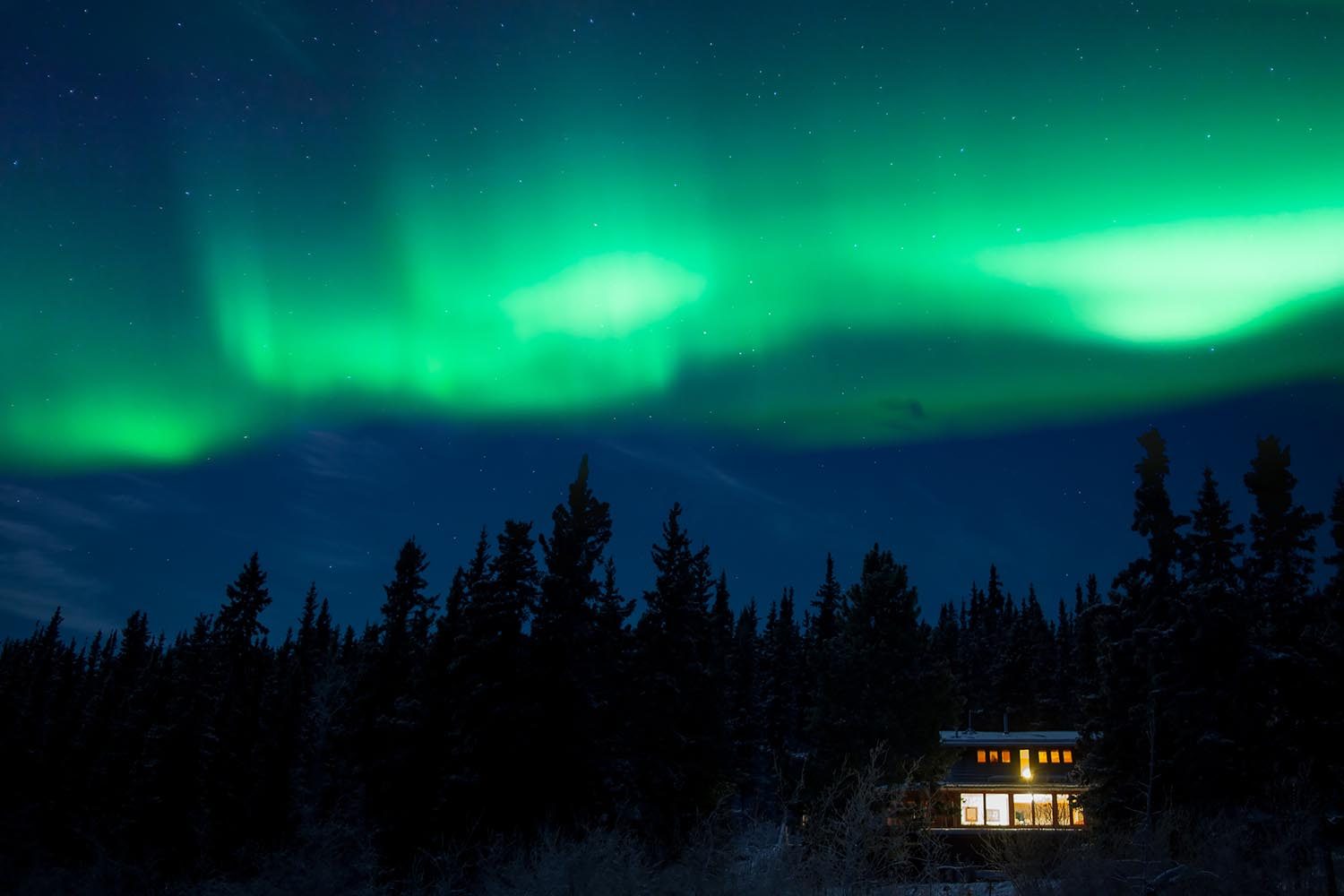 I think it's only fair that I preface this section by saying that even though Lofoten is very firmly within the Northern Lights zone, it's not necessarily the absolute best place to go and see the Northern Lights.
Why?
Pesky, freaking clouds.
Let me explain.
The Northern Lights take place in the earth's atmosphere, 60-150 miles above the surface of the earth. On the other hand, clouds tend to form 1-5 miles from the ground, making them the perfect blocker for any stunning Northern Lights display.
They're like that horrid person in the club you can't shake when you're trying to impress someone you've got a raging crush on. You know, the ones who insist on trying to strike hollow conversation after hollow conversation when you're just desperate to get away.
Unfortunately, Lofoten is quite cloudy – particularly in comparison to other Northern Lights destinations like Tromso and Abisko in Sweden.
I'm not saying you can't see the Northern Lights in Lofoten, you absolutely can, it's just not necessarily the place with the highest chance of seeing them.
Still, it's 100% worth booking onto a Lofoten Northern Lights Tour as these guys are the best at hunting out the lights. You can also book a Northern Lights hotel for a chance for spotting them from the comfort of your room.
Seeing the Midnight Sun in the Lofoten Islands
Where your chances of seeing the Northern Lights in Lofoten might be in doubt, you are absolutely guaranteed to see the midnight sun if you travel to Lofoten between the end of May and mid-July.
I've never travelled to Lofoten in the summer, but the locals describe it as a magical and somewhat surreal time, with plenty of time for long hikes and magical light that shows the islands at their very best.
Where to Stay in Lofoten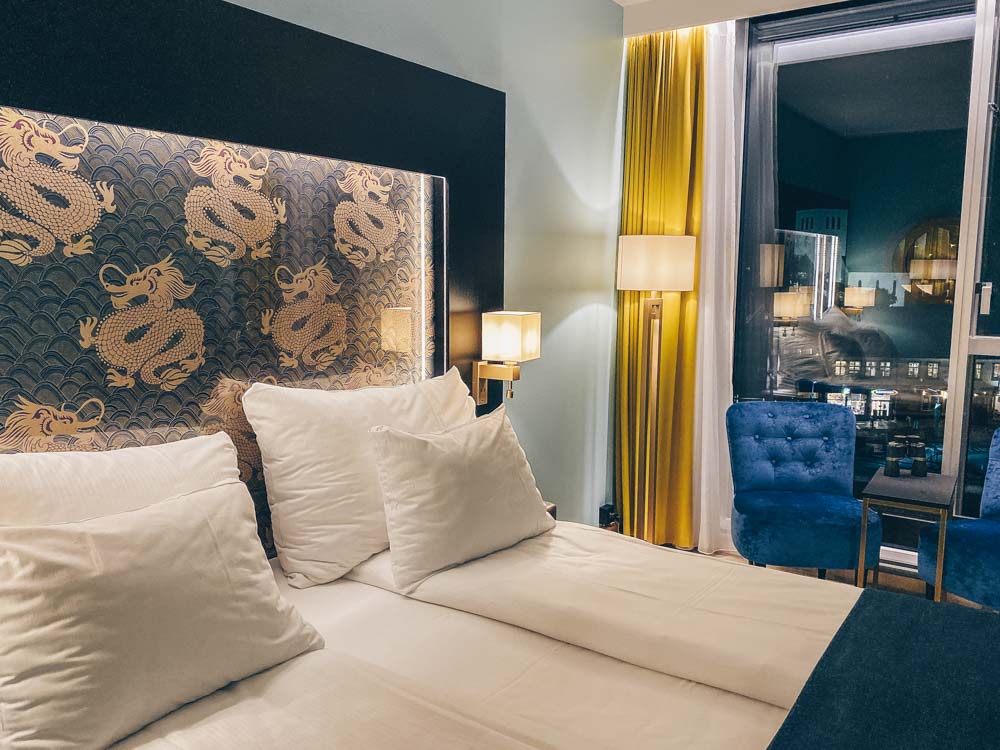 Lofoten is famed for its traditional rorbuer (converted fishermen's cottages) and many travellers opt to stay in one or two of these for the duration of their trip.
Alternatively, there are a number of hotels, particularly in Svolvӕr that make a nice base for your stay.
I stayed in the Thon Hotel and the Scandic Hotel in Svolvӕr during my trips and would recommend both. The Scandic is cheaper, but the rooms are very basic, while the Thon is a much nicer (and pricier) option.
Alternatively, check rates and availability on Booking.com
Things to do in the Lofoten Islands
Take a Sea Bird Safari
Lofoten isn't short of wildlife-spotting opportunities, but, if you only have time to do one of them, I would plump for the Sea Bird Safari for a chance to get up, close and personal with the biggest birds in Europe – the sea eagles.
You hop onto a RIB boat, cling on as you bomb it through the fjords and then watch as the sea eagles swoop down mere metres away to catch the fish the captain throws out to lure them in.
Although I was looking forward to the safari, I wasn't out of my mind with anticipation before I went – but this turned out to be one of my favourite experiences from my trips to Lofoten. Seeing the eagles in their natural habitat, surrounded by the dramatic landscapes of the fjords is something you really shouldn't miss. 
Book Your Sea Bird Safari Here
Go Deep Fjord Fishing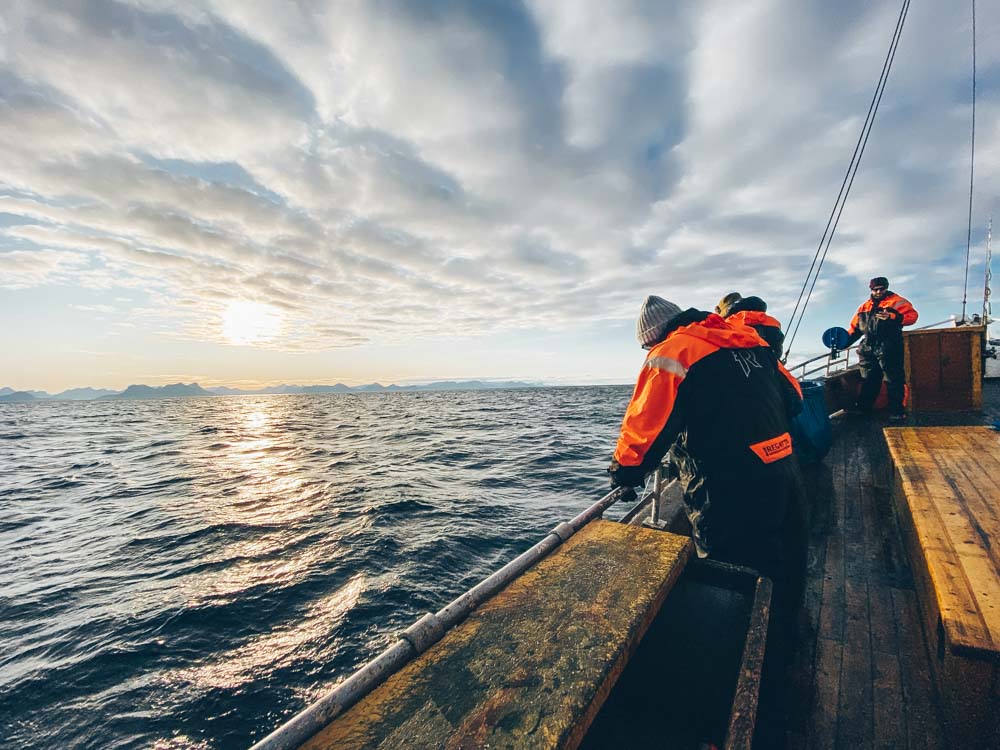 Life on the Lofoten Islands has always revolved around fishing, so what better way to experience Lofoten than on a boat trawling for your own catch of the day?
Again, this was another of my favourite things to do in Lofoten.
Waking up bleary-eyed and definitely not bushy-tailed, I stumbled onto the fishing boat with XX Lofoten, decked out in a fetching padded and inflatable onesie to shield me against the Arctic winds.
I spent the next two hours alternating between trying to focus on catching the fish and being distracted by some, quite frankly, monstrously pretty views of the islands #toughlife. 
Stroll Around the Gorgeous Towns and Villages in Lofoten
Henningsvӕr + the Henningsvaer Football Pitch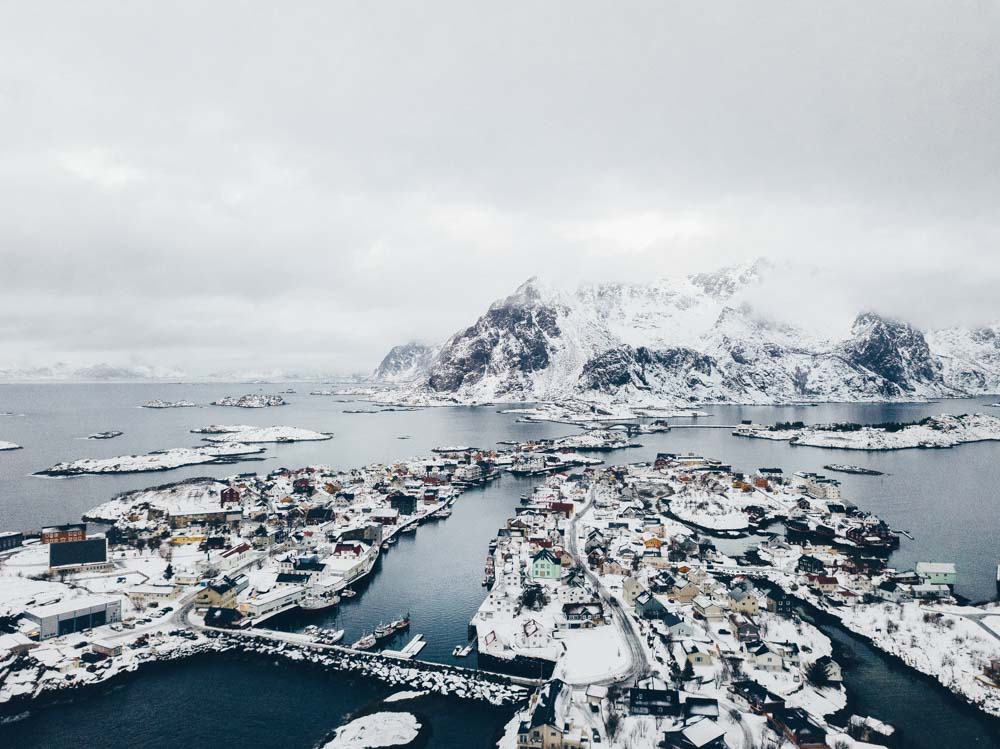 IMHO Henningsvӕr is one of the prettiest villages in the Lofoten Islands due to the fact it's spread out over a number of islands.
They don't call it "The Venice of Norway" for nothing.
Lights twinkle over the quay, snug restaurants serve up warming meals – there's even a cool art gallery – Galleri Lofotens Hus that showcases artwork of Lofoten and Northern Norway.
In fact, Henningsvӕr is something of a surprising little arts hub: with an old caviar factory doubling up as another contemporary art gallery that's aptly named the Kaviar Factory.
Cute and twee as that is, Henningsvӕr is hiding a secret from you, a secret that only reveals itself if you just so happen to have a drone with you (judging from my trips to Lofoten, that would cover about 90% of visitors anyway).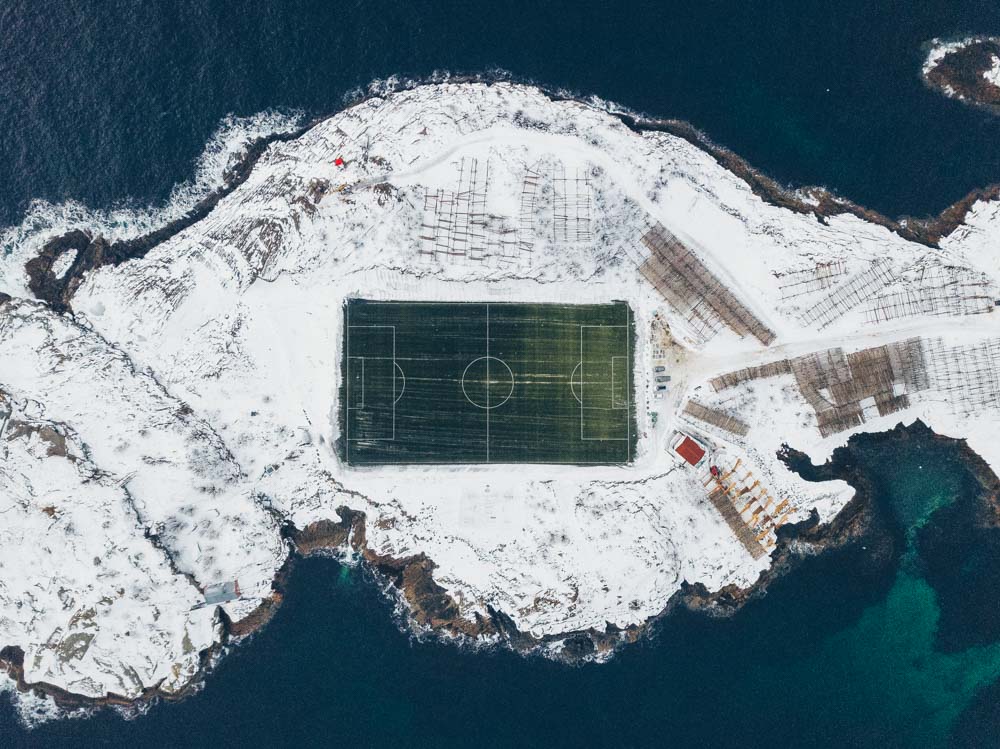 The Henningsvӕr football pitch.
Yes, it's real. No, it's not a Photoshop myth – the football pitch really is located on its own little island. If you don't have a drone, you can walk on a path that ends with a view of the pitch and the village behind it.
Hamnøy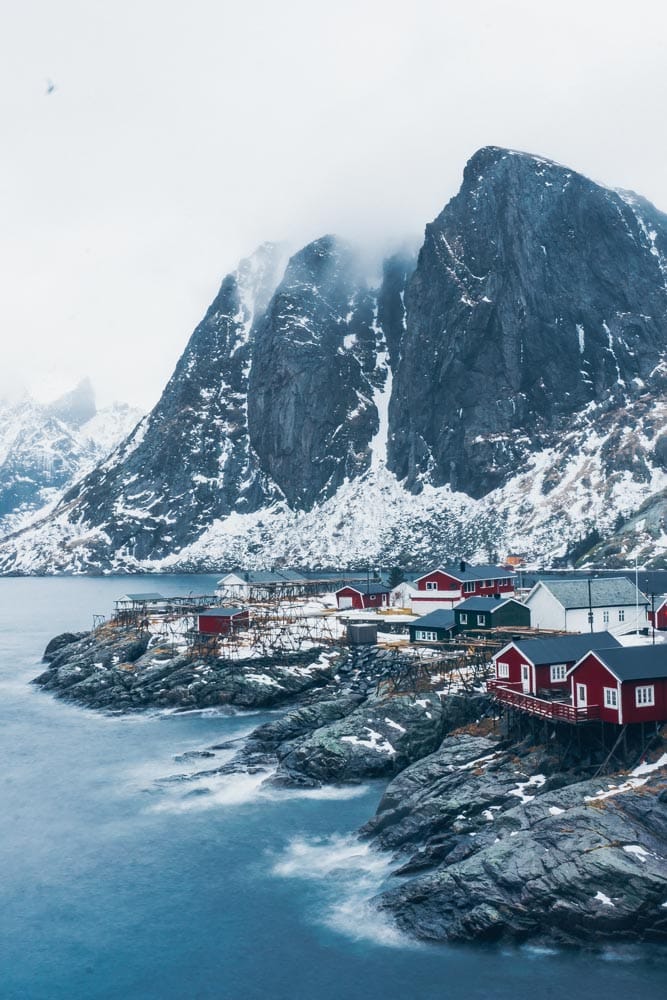 If you've ever spent any time in the history of ever on Instagram looking at travel photos, I guarantee you'll have seen a shot of Hamnoy, cute red rorbuer on stilts over inky black water, the mountain peak of Festhelltinden looming in the background.
Of course, you should take a chance to see this idyllic village for yourself. It's small and there's not much to do other than appreciate how damned beautiful it is, but that will keep you busy enough.
Psst, if you are looking for that iconic shot to blow up the 'gram, it's taken from the bridge on the E10.
Å
Perched at the end of the E10, Å is set in (yet another) stunning location.
More than that though, it's home to two of Lofoten's best museums – the Torrefiskmuseum (Stockfish Museum) and the Norsk Fiskeværsmuseum where you can learn all about life on Lofoten in times past. 
Nusfjord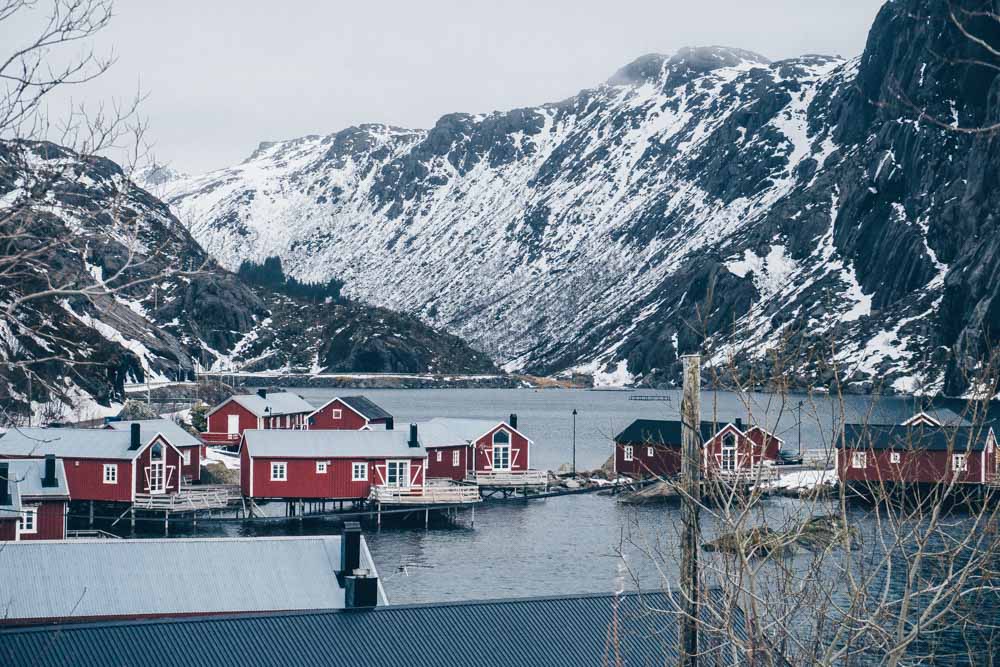 Want to see a traditional Lofoten fishing village without the crowds? Head to Nusfjord. Thanks to its location, which is about a half an hour drive off the E10, it's much quieter, but no less picturesque than other famous spots like Hamnoy and Reine.
It's one of the oldest habitations in Norway, with signs of people having lived here as early as 474BC.
Plus you get gorgeous views of the Storvatnet Lake on the road there too.
Enjoy Lofoten's Striking Arctic Beaches
Ramberg Beach (Rambergstranda)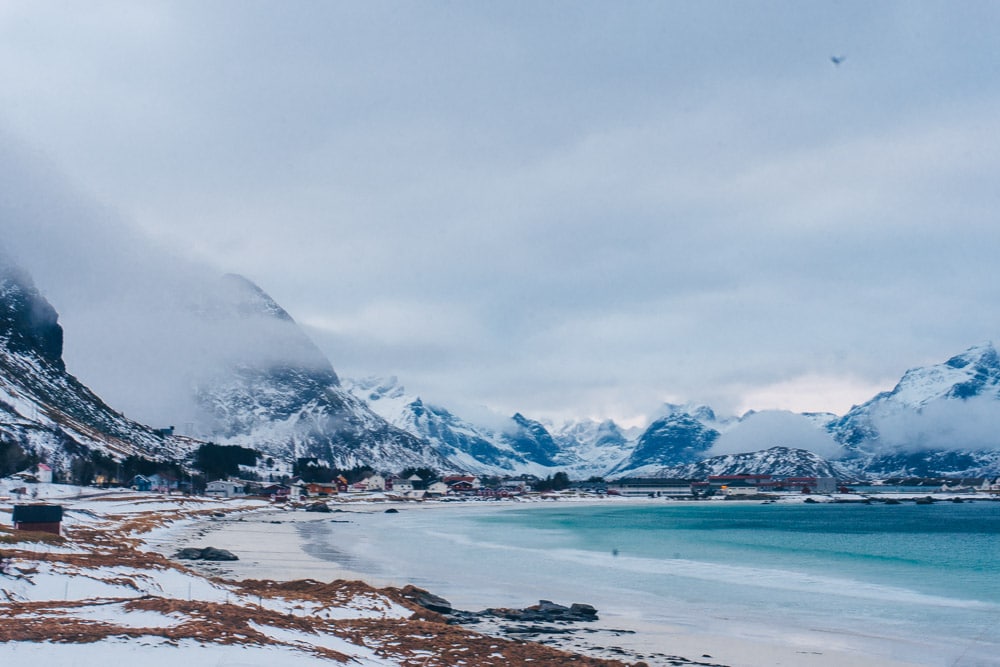 You probably don't think of coming to the Lofoten Islands to hang out on some beaches… more fool you because these beaches are STUNNING.
I hate to play favourites (who am I kidding, I love it) – of all the beaches we visited on our Lofoten travels, Rambergstranda was the one that really made my jaw drop.
Milky turquoise sea laps against pale white sand, so fine it could have been imported straight from the Caribbean. Distinctly less Caribbean is the snow and the mountains, but the overall effect is one of pure drama.
Uttakleiv Beach
Uttakleiv is Lofoten's most photographed beach – a wide sweep of jagged rocks, mountains and brooding sea. You can also camp here during the season.
Unstad Beach + Unstad Arctic Surf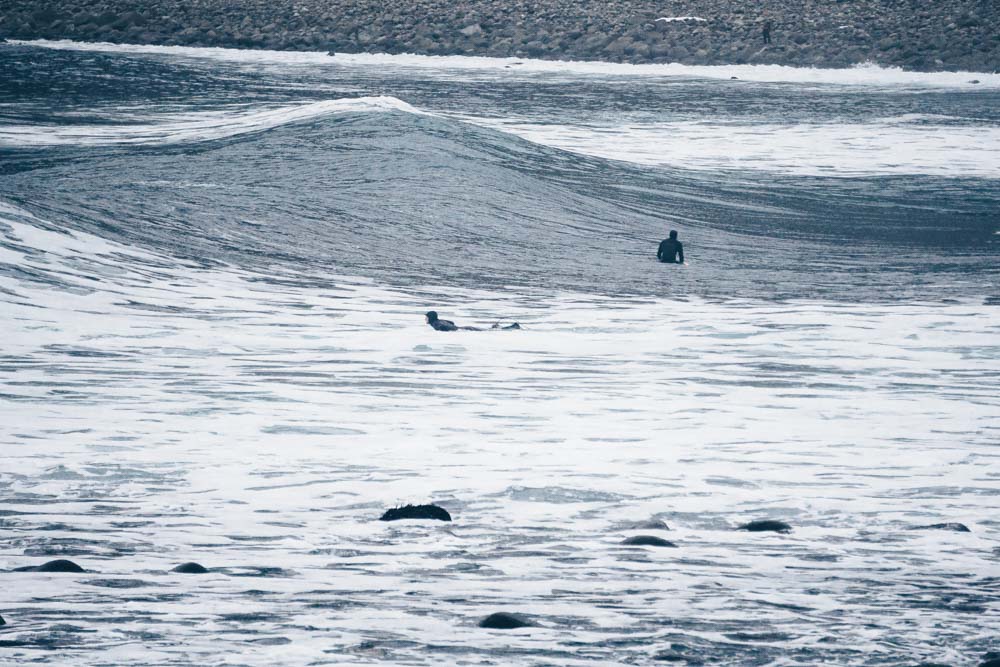 Yes, you read that right. A surf resort. In the Arctic Circle.
Unstad Arctic Surf is the most northerly surf resort in the world, luring surfers from near and far with its promise of reliably big waves that roll all the way from Greenland across the Norwegian Sea, ending with a crash and a wallop off the coast of Unstad Beach.
Sure, that sounds great… if you're a surfer.
If you're not, the surf resort has a reputation as one of the nicest places to stay in Lofoten thanks to its remote location, nighttime beach campfires and stylish digs.
Or just pop in and gorge yourself on their cinnamon buns – which are often named as the best in the world (they are truly spectacular). We were distraught when we popped in on our last day, only to be told that the day's batch weren't ready yet. Luckily, the owner magicked up a couple for us to try and they were divine.
Other Beaches to Visit
Flakstad Beach and Haukland Beach are also rather impressive if you have the time to visit.
Check out the Stockfish Racks and Learn About How Stockfish is Made
Spend any amount of time in the Lofoten Islands and I guarantee that you'll start to notice triangular-shaped wooden structures dotted about all over the place. In the winter months, when they're festooned with gutted fish drying in the breeze, their purpose is clearer – they're stockfish racks.
Lofoten's inhabitants have been making stockfish since the Viking times. Unsalted fish (normally cod) is left to dry on wooden racks to preserve it. After it's dried, the fish can be used for up to ten years.
I learnt all about stockfish on my trip with the Norwegian Seafood Council, but short of that you can visit the Lofoten Stockfish Museum in the village of Å. 
Go Snowshoeing
If you can brave the cold, snowshoeing is one of the top activities on the Lofoten Islands. Strap on your snowshoes and prepare to crunch your way across the snow, heading deep into the quiet and untouched nature.
The stunning vistas of snow-capped mountains, frozen lakes and icy streams are hella impressive. Not to mention that it's super fun trying to schlepp across the snow with the huge, flipper-esque attachments stuck to your feet.
Book Your Snowshoeing Adventure Here
Must-Try Places to Eat in Lofoten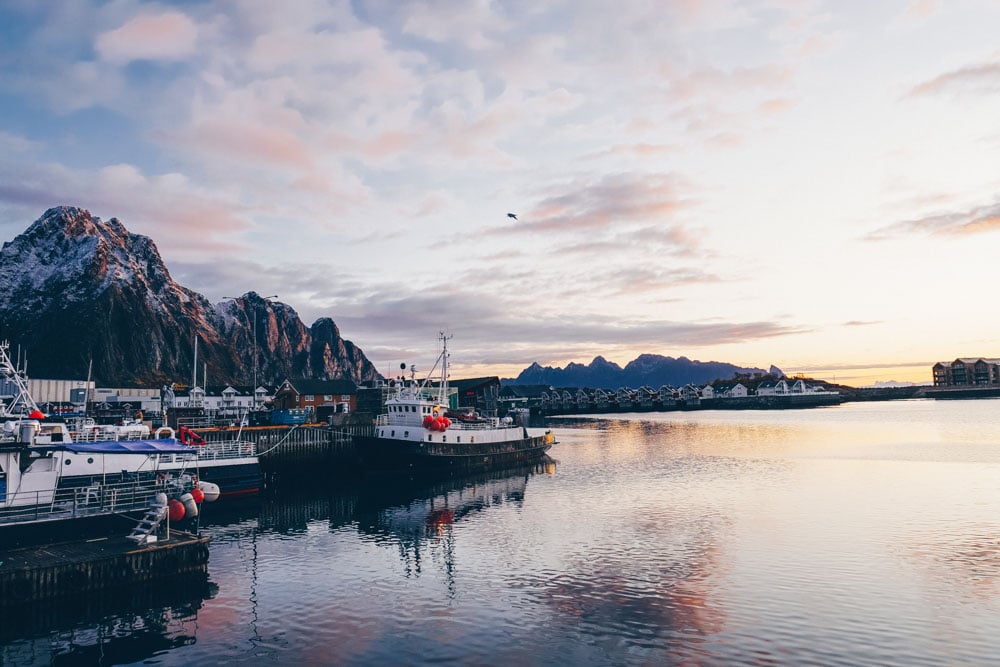 Anita's Sjomat
No one is ever going to describe Lofoten as a budget destination, so when you find somewhere serving up absolutely deeeeelicious food at reasonable prices, you sit up and pay close attention.
Anita's is a cafe, deli and hangout all rolled into one, but if you only try one thing, make it the fish sandwich. Served piping hot in a bun, a glorious feast of fish pattie, sauces and salads, it's a winner.
Lofoten Food Studio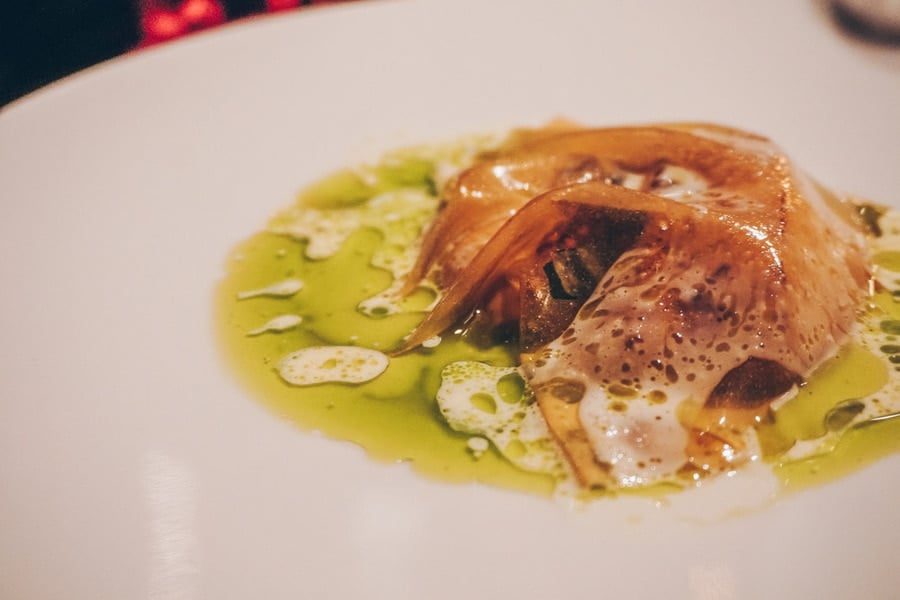 I am being incredibly serious when I say that my meal at Lofoten Food Studio was one of the best I've had. Ever. Yes, really.
Far away from the tourist hubs, chef Roy Berglund brings his quiet excellence to a chef's table in an outbuilding of his family home. Using local ingredients paired with skill and panache, he serves up what is undoubtedly the best food in the Lofoten Islands. Book ahead.
Du Verden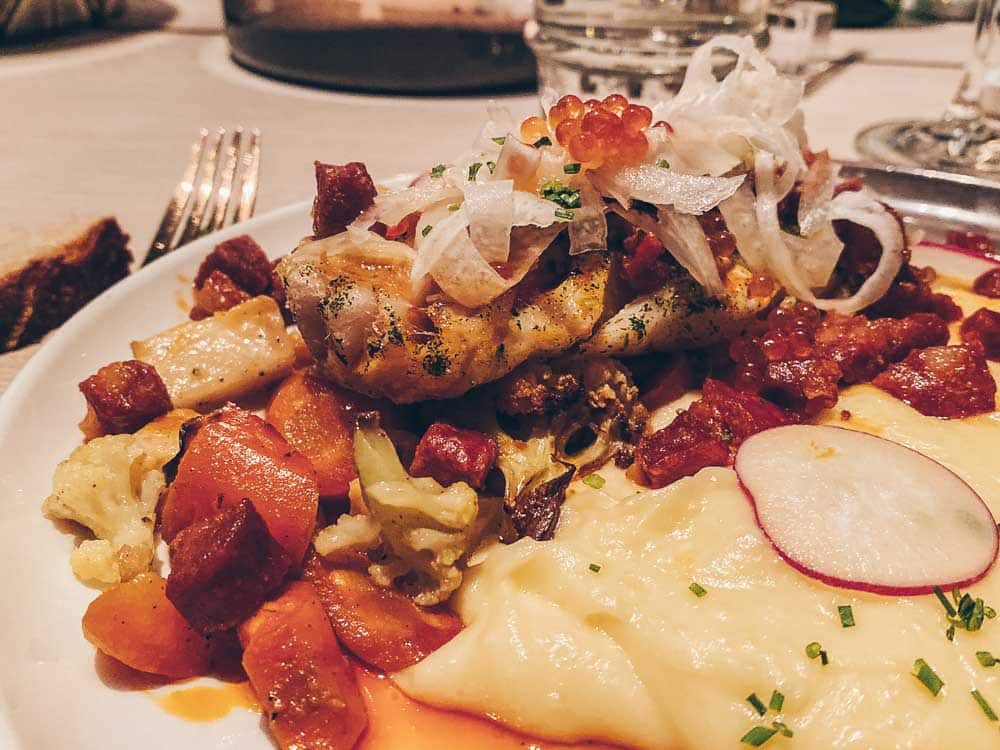 This chic restaurant in Svolvaer dishes up tasty meals from an international menu. Food is consistently good though the service can be a bit wobbly at times. 
Børsen Spiseri
If it's truly authentic food you're after, Børsen Spiseri is one of the hottest places to dine in Lofoten right now.
The adorable white beach-shack-esque restaurant overlooks the water and Svinøybrua Bridge, and rustles up some of the finest seafood dishes in Lofoten (and maybe in Norway, it's just that good).
Paleo Arctic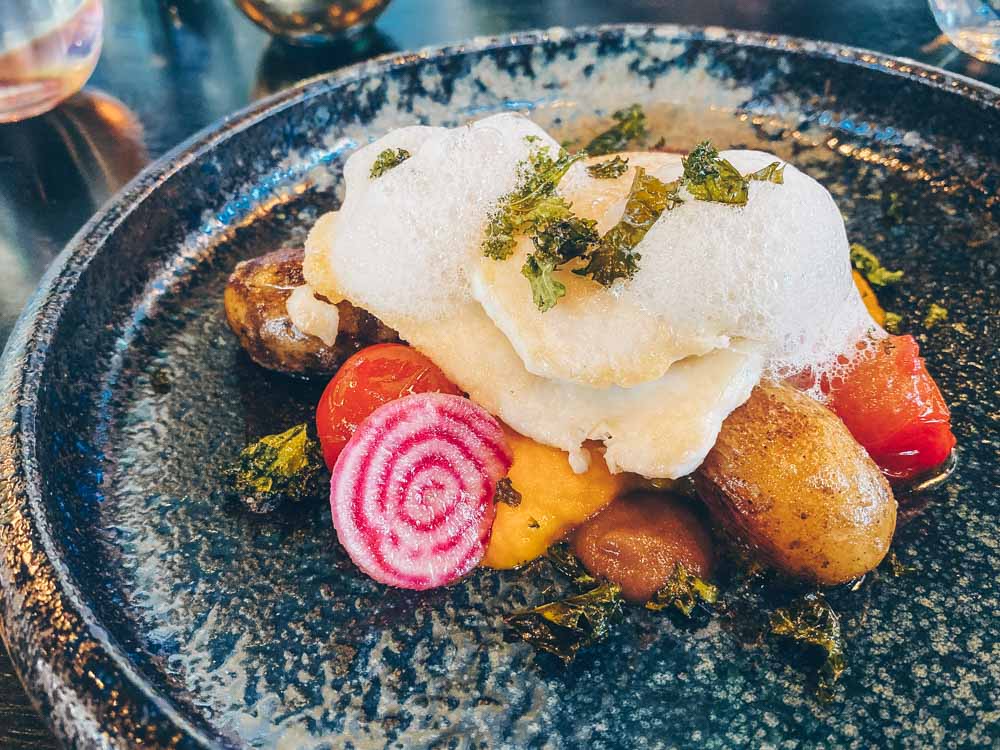 I'm not normally into hotel restaurants, but every rule has its exception and in this case, its for the Paleo Arctic restaurant in the Thon Hotel Svolvaer. Go for traditional Norwegian dishes that have been given a modern makeover and a comfortable setting.
Bacalao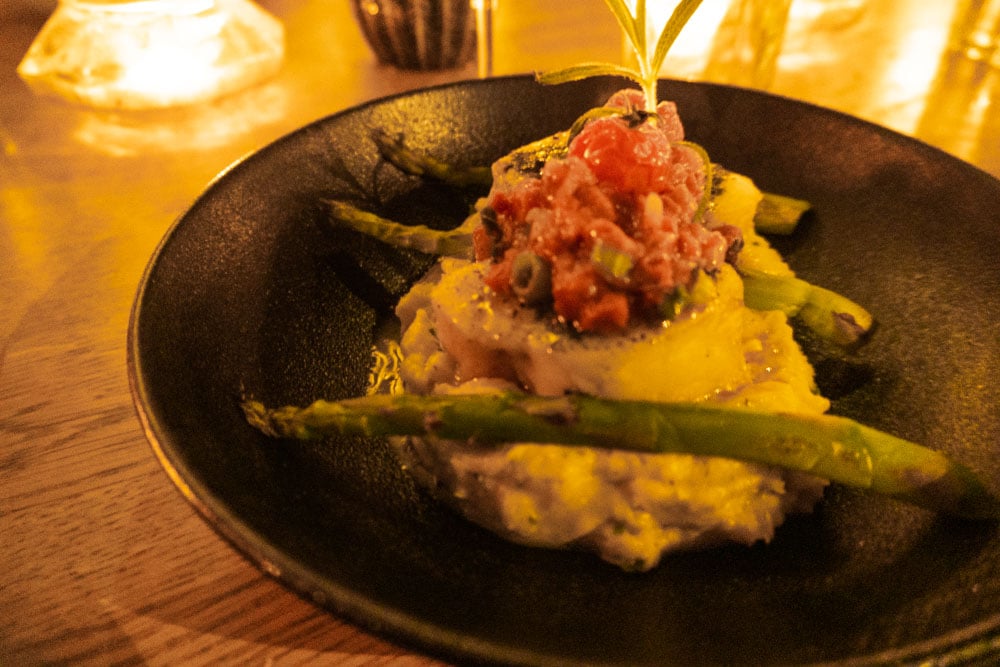 Another winning eatery in Svolvaer, Bacalao serves as a bar-come-restaurant. As you'd suspect from the name, the fish is very good – paired with friendly staff and a buzzy atmosphere, it's a nice place to while away an evening. 
Bringen
One of the most famous cafes on the Lofoten Islands, escape the chill and cuddle up with a coffee in Bringen.
This cafe is only open between 10am and 4pm (as are most of the coffee shops for much of the year), but it's the perfect place to grab a late brunch or mid-noon snack.
Lofoten Islands Map
Love this? Save and Share on Pinterest!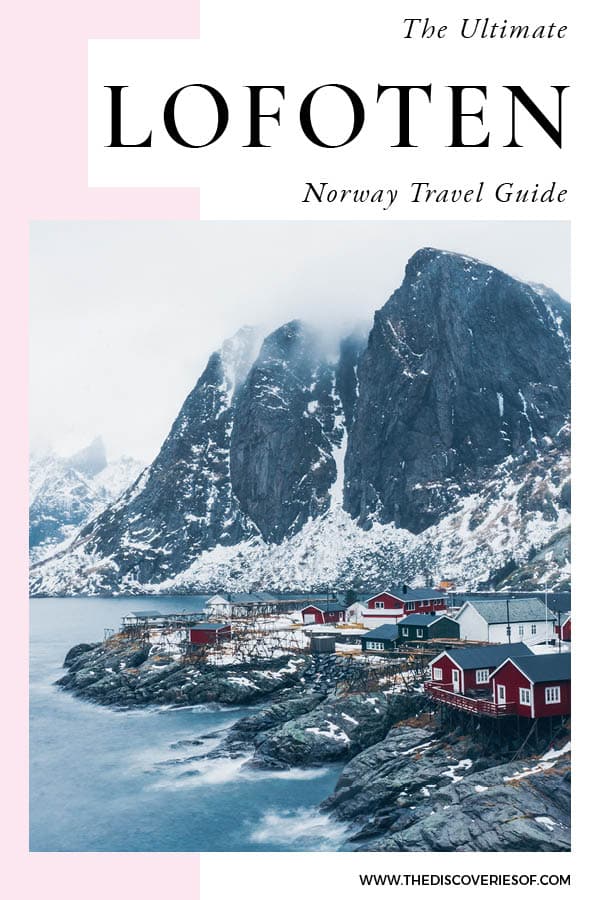 Read More Lofoten + Norway Guides