Deciding on where to stay in Cyprus? Discover the area best-suited to your trip to this stunning island country.
To say that I really like Cyprus would be an understatement.
But how could you resist this island's charm? Home to some of Europe's most incredible beaches, nightlife, cuisine, and historical sites, it's an easy choice whenever I'm considering a holiday.
The island is also blessed with its fair share of dreamy resorts – so much so that deciding where to stay can be difficult.
Whether you're staying in the cosmopolitan city of Limassol, enjoying a coastal retreat at Nissi Beach, or exploring the wonderful (if a bit complex – more on that later) area of Northern Cyprus, there are dozens of candidates for the best places to bed down.
That's why I'm here – I've written this guide to help you decide where to stay in Cyprus, featuring the best areas and resorts. Let's explore.
Best Places to Stay in Cyprus: At a Glance
Where to Stay in Cyprus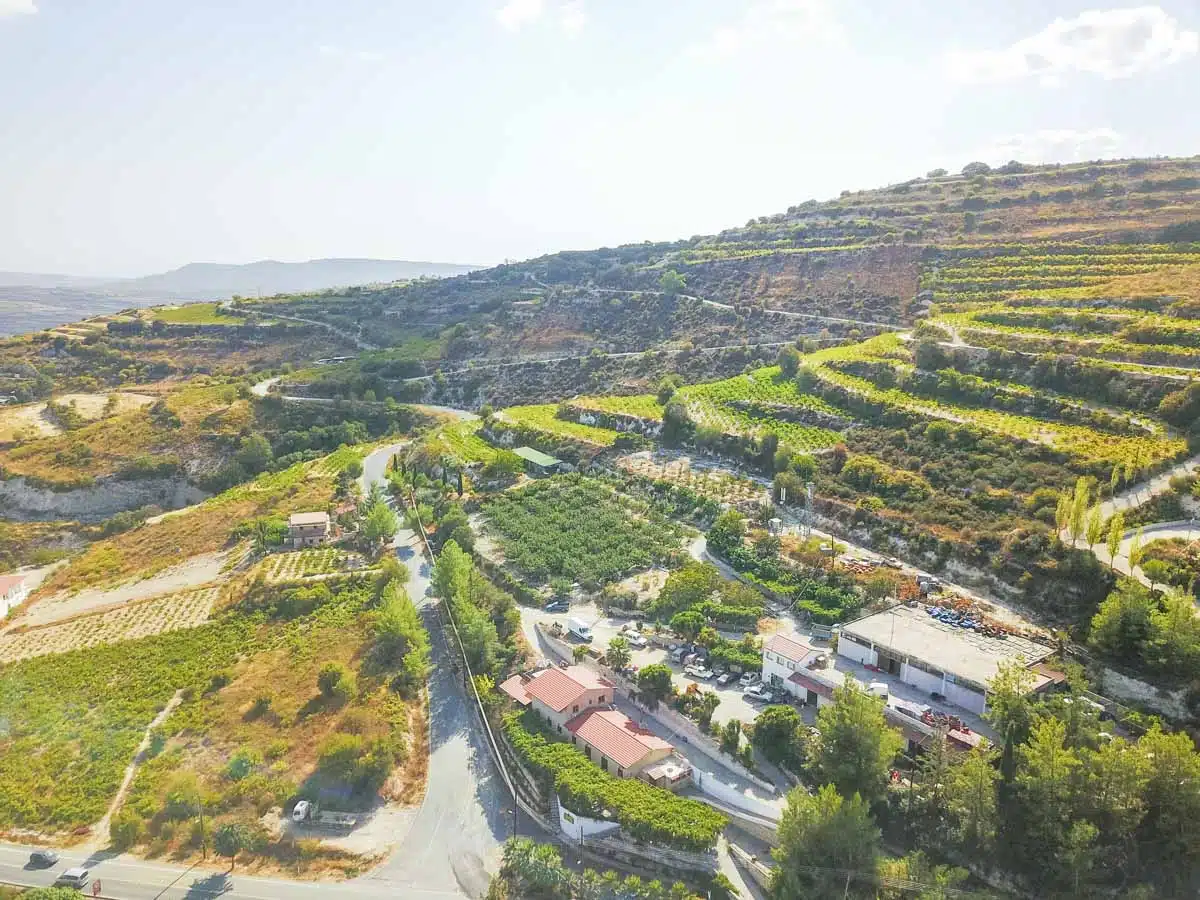 Finding the best place to stay in Cyprus is relatively easy, but choosing one that matches your budget, preferences and style requires some research.
Don't worry, pals, you've come to the right place. Let me give you the lowdown on the top places to stay in Cyprus.
Limassol: Best Overall Place to Holiday in Cyprus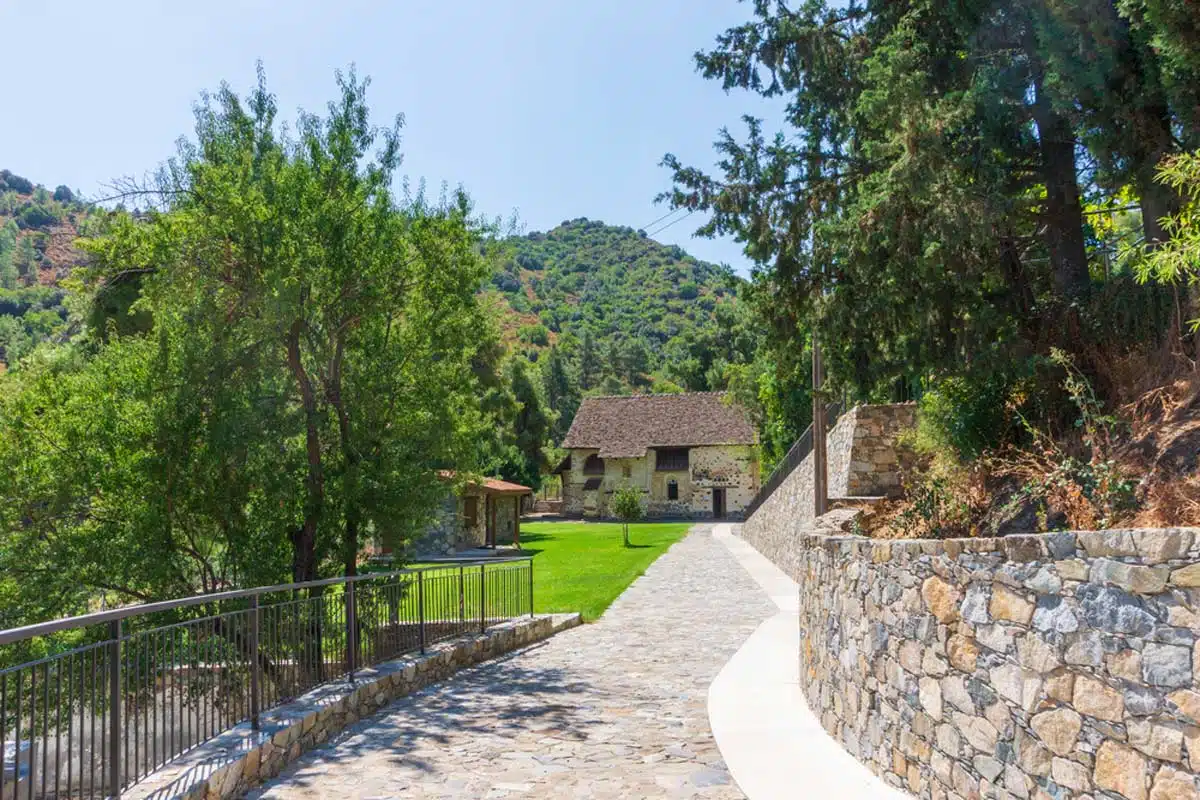 What makes Limassol the best place to stay in Cyprus?
For starters, it's gorgeous. From famous trails to lesser-known hikes with stunning waterfalls, mountains and forests, the outdoor beauty of Limassol is amongst the best in Cyprus.
But cultural and historical landmarks here also rival anywhere in Europe, including the ancient ruins, castles and cathedrals.
Want shopping? Check out the marina or many small shop-lined streets further from the water. Dining and nightlife? You'll find plenty of excellent choices for that too.
In short, no matter your interests or why you came here, you're bound to fall in love with my favourite choice for an overall holiday in Cyprus.
Limassol Highlights
When it comes to the best things to see and do in Limassol, there's plenty to choose from.
Cyprus Medieval Museum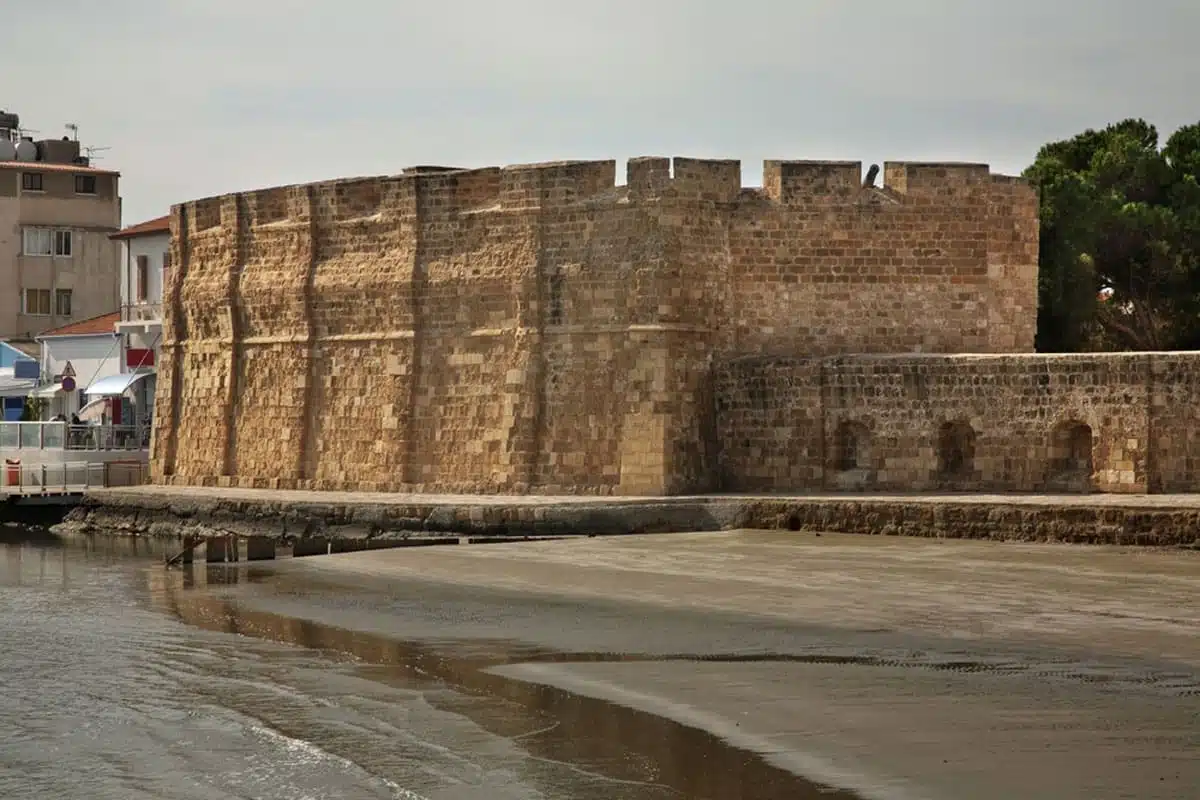 Another highlight is the Cyprus Medieval Museum – this mediaeval castle and museum competes with the best in Europe.
Pop in for the chance to explore the dark chambers and catch glimpses of Byzantine antiques you won't see in many other places in the world.
Limassol Marina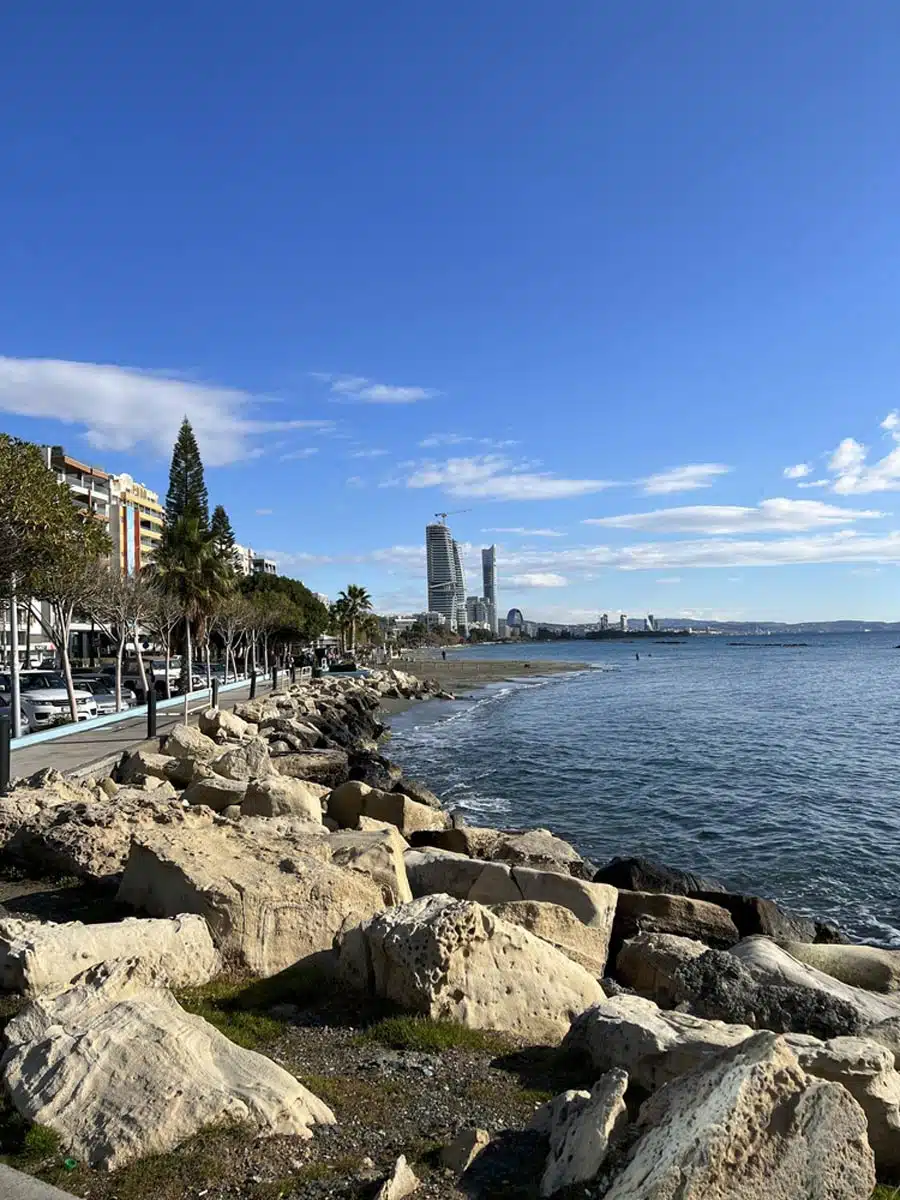 If you fancy exploring the other side of Limassol, head to the marina. This is the place to go if you want to see superyachts and the rich and famous who dock them here – it's a beautiful place for an afternoon walk.
Bars and Restaurants
Remember when I said that you've got plenty of bars and restaurants to choose from? I meant it.
For drinks, Sherlock's Home Bar and Lab are my top picks – both have a laidback vibe that's perfect for a post-sunbathing cocktail – and when it comes to food, you'll struggle to find anywhere that beats Industry Bar and Grill.
Suggested Best Overall Hotels in Limassol
Alasia Boutique Hotel
Alasia Boutique Hotel is perfect if you're looking for something closer to the city's centre. Rooms are modern, soundproof, and have balconies with views of the city around you.
Four Seasons Limassol
How does a stay on an exclusive section of coastline sound on your stay just outside of Limassol? It's not just the location of the Four Seasons that's perfect; the dining options, bars, and pool are all great reasons to stay at this luxury property for as long as possible.
Alternatively, check all accommodation in Limassol
Pissouri: Where to Stay in Cyprus for Outdoor Lovers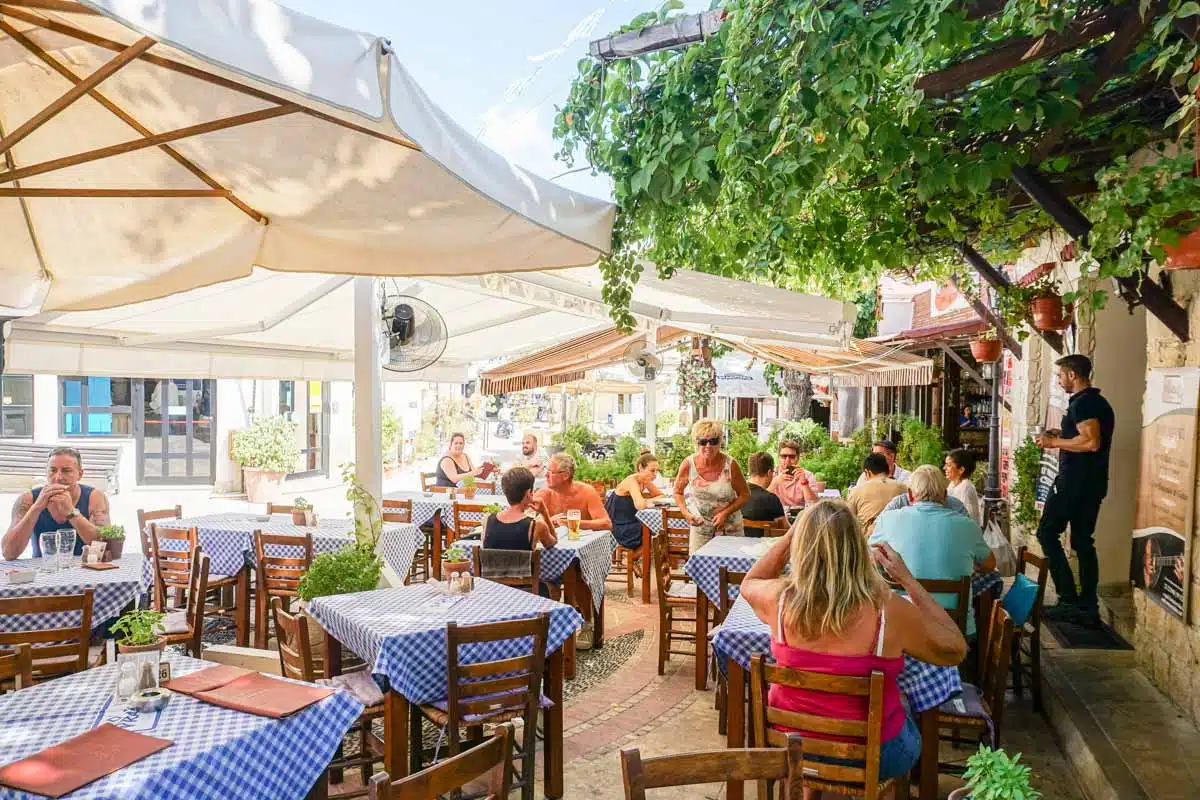 Part of the wider area of Limassol, there's no denying that Pissouri is incredibly beautiful.
The streets meander their way down to the sea, dotted with incredible food spots and an outstanding balance of old-world tradition that meets modern charm. Be sure to taste halloumi cheese while you're here; it's divine.
And that's before I even mention the hiking trails, outdoor attractions and natural features that pepper the area. There's no better place to admire the area's beauty than from Pissouri's epic viewpoint, if you ask me.
Pissouri Highlights
Pissouri Beach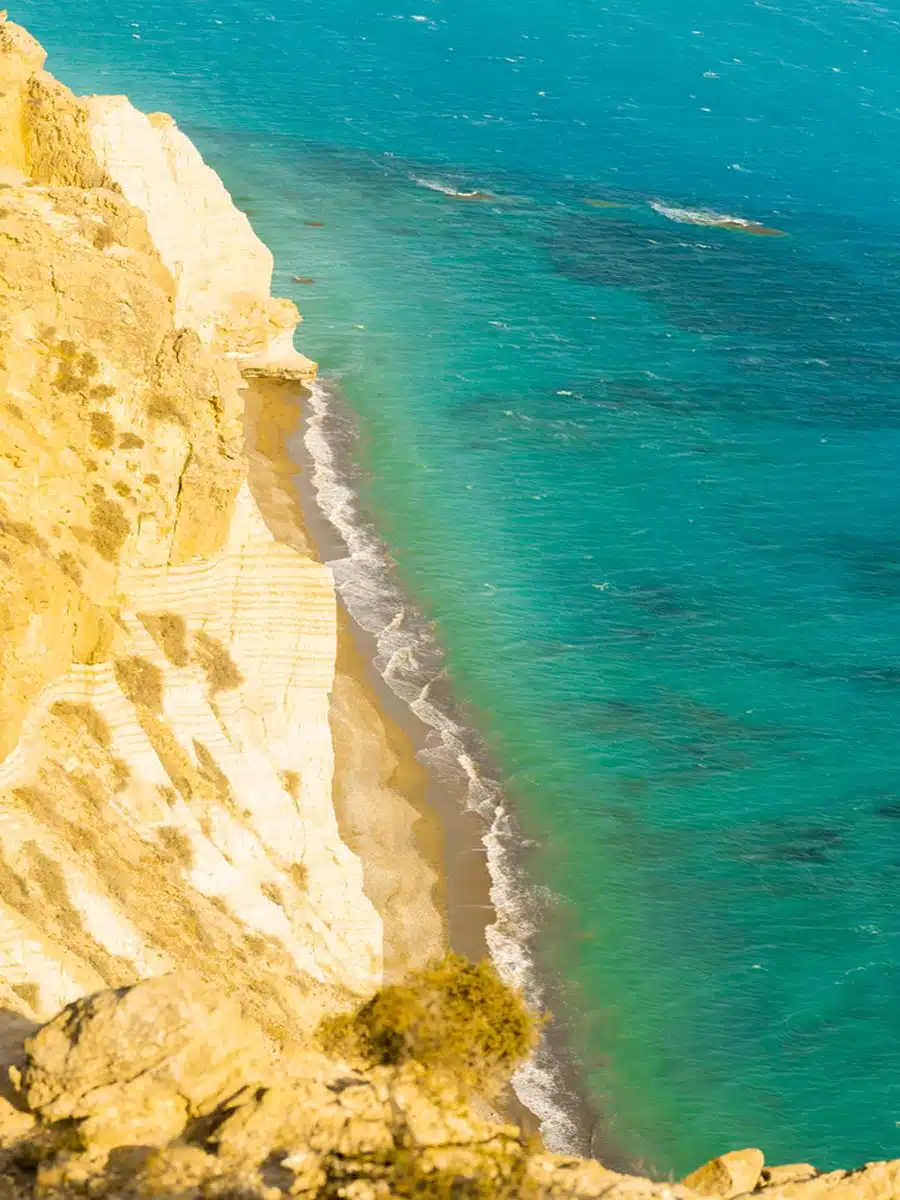 The main reason many people choose to base themselves in Pissouri is its scenic, soft sand beach. Take my advice and pitch up near the eastern end for epic views of Black Rock as you sunbathe.
Aphrodite's Rock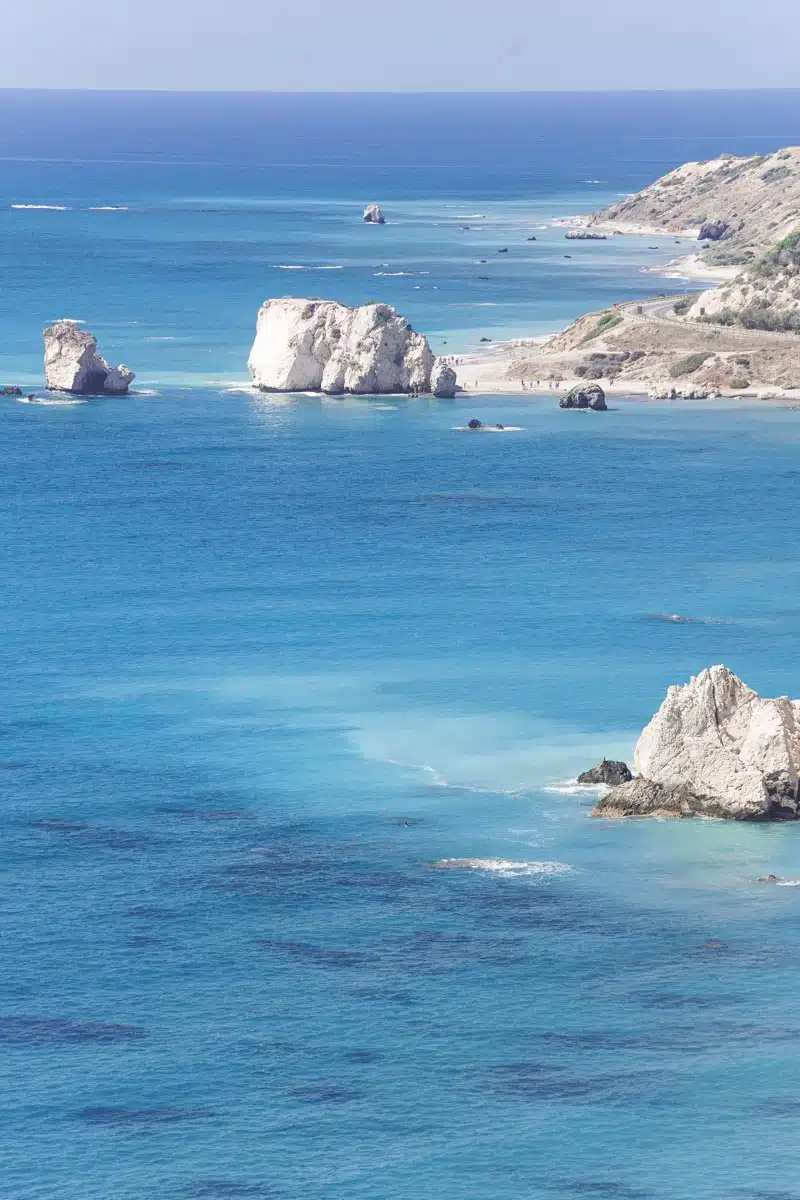 Sure, Aphrodite's Rock might sit just outside of Pissouri's borders, but the beautiful trail that leads you to it starts smack bang in the middle of town.
This rock is said to have been the birthplace of Aphrodite and, while there's not actually much to do in and around the area, the hike itself is a stunner.
Hikes
If you couldn't tell, Pissouri is blessed with a number of brilliant hikes – but my favourite has to be the Cape Aspro Trail. It winds its way around the coast, and the epic views make for the perfect reward.
Suggested Hotels for Pissouri
Columbia Beach Resort
One place I can't go to Cyprus without visiting is Pissouri Bay Beach, and Columbia Beach Resort is located right on it. The property grounds boast six bars, three restaurants, an incredible spa and three swimming pools.
Is it any wonder that it's my favourite hotel in Cyprus?
Hill View Hotel Apartments
For somewhere a little more low-key than Columbia Beach, but still as idyllic, the Hill View Hotel Apartments have got you covered.
Rooms are simple but spotless, while the trek to the top of the hill to reach the apartments all becomes worth it when you check out the view from your balcony.
Alternatively, check all accommodation in Pissouri
Ayia Napa: Where to Stay for Cyprus Beaches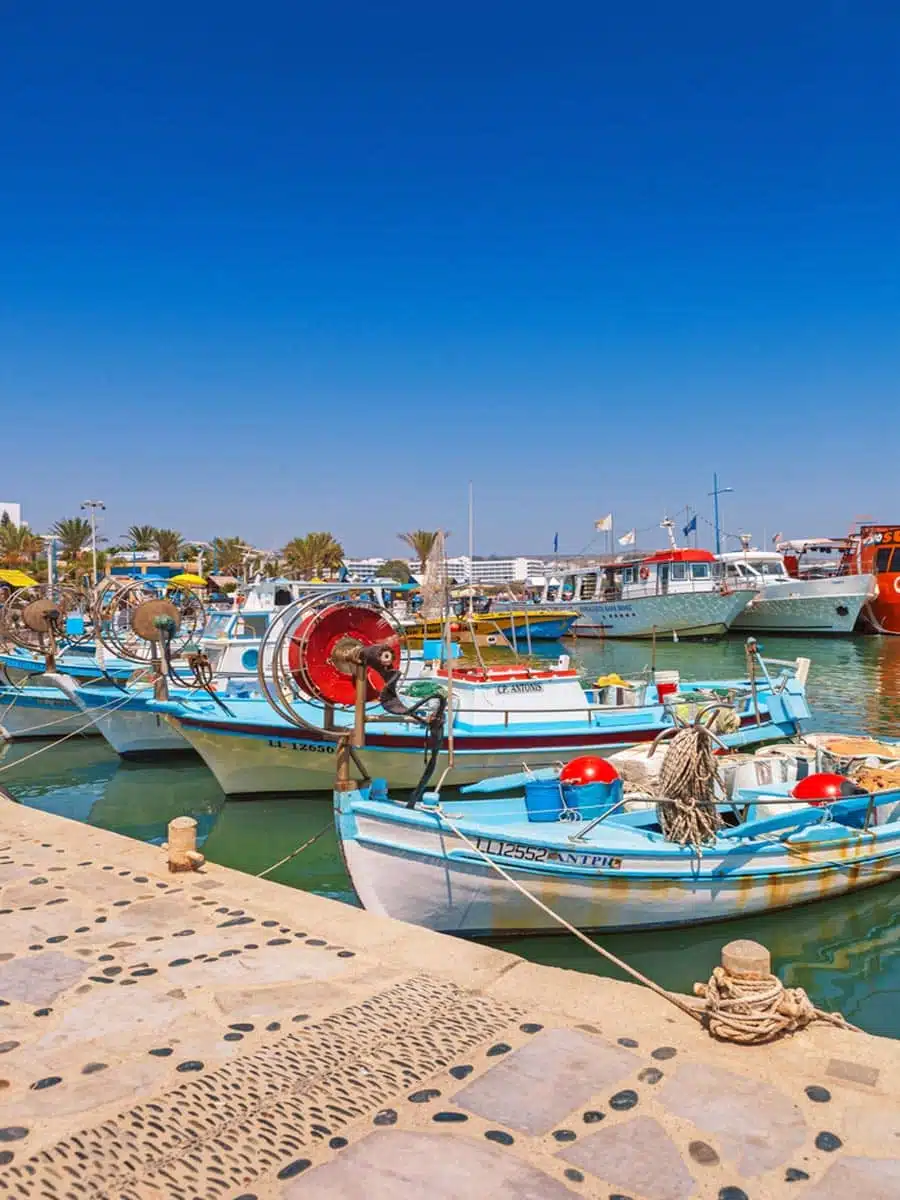 I admit that Ayia Napa gets a bad rep. But I promise it's not all boozed-up brits and partying (though, there's a lot of that if you're up for it).
So what makes Ayia Napa the place to stay if you love some time along the coast? You'll find glistening blue waters shimmering in the sunshine, matched by sands that are powdery soft, and perfect for spending the afternoon (or longer).
But they are also extremely well-kept, and many have all the amenities you can dream up when planning a perfect day in the sun.
Ayia Napa Highlights
Beaches
I can't discuss Ayia Napa without mentioning its beaches. Life's a party when you're at Nissi Beach – this bustling waterfront area is home to live music, energetic and youthful crowds, and abundant activities.
It's also utterly breathtaking and a perfect place to lay in the sun or dip in the water and chill out in Cyprus, regardless of your age.
Cape Greco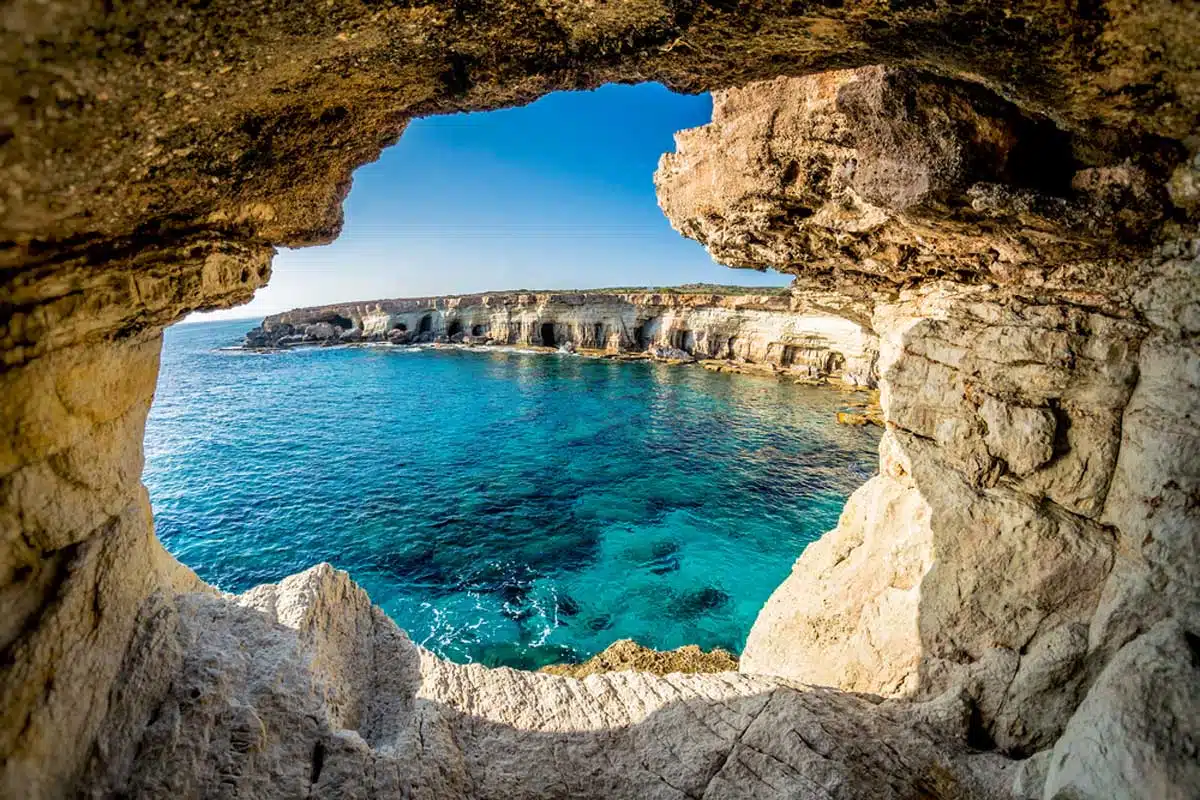 Cape Greco is another must-visit spot with some of the most beautiful coastal cliffs landscapes in the Mediterranean Sea.
It's also home to the Bridge of Lovers, and this oceanside hotspot is easily one of Cyprus's best places to visit to take in its natural beauty.
Suggested Beach Hotels in Ayia Napa
Limanaki Beach Hotel & Suites
Where is the best place to stay in Cyprus for incredible views of the Cyprus coast? Limanaki Beach Hotel & Suites is a good start.
The sprawling resort property is ideal for couples, families, or young adults as it features everything you can dream of wanting on your trip to Cyprus, either on-site or a short walk away.
NissiBlu Beach Resort
Another excellent choice is the NissiBlu Beach Resort. Beautifully decorated rooms, attentive staff, and views of the beaches nearby greet you when you stay at this plush resort.
It's a great choice for any age but appeals to families with children, thanks to an on-site kids' pool and playground.
Christopher's Sandy Beach Suites
For something a little more self-contained, Christopher's Sandy Beach Suites offers apartment-style accommodations within walking distance from Nissi Beach.
They each have a private bathroom, kitchenette, and balcony overlooking the beachy vibe around you, all at a very reasonable price.
Alternatively, check all accommodation in Ayia Napa
Paphos: Where to Stay for Couples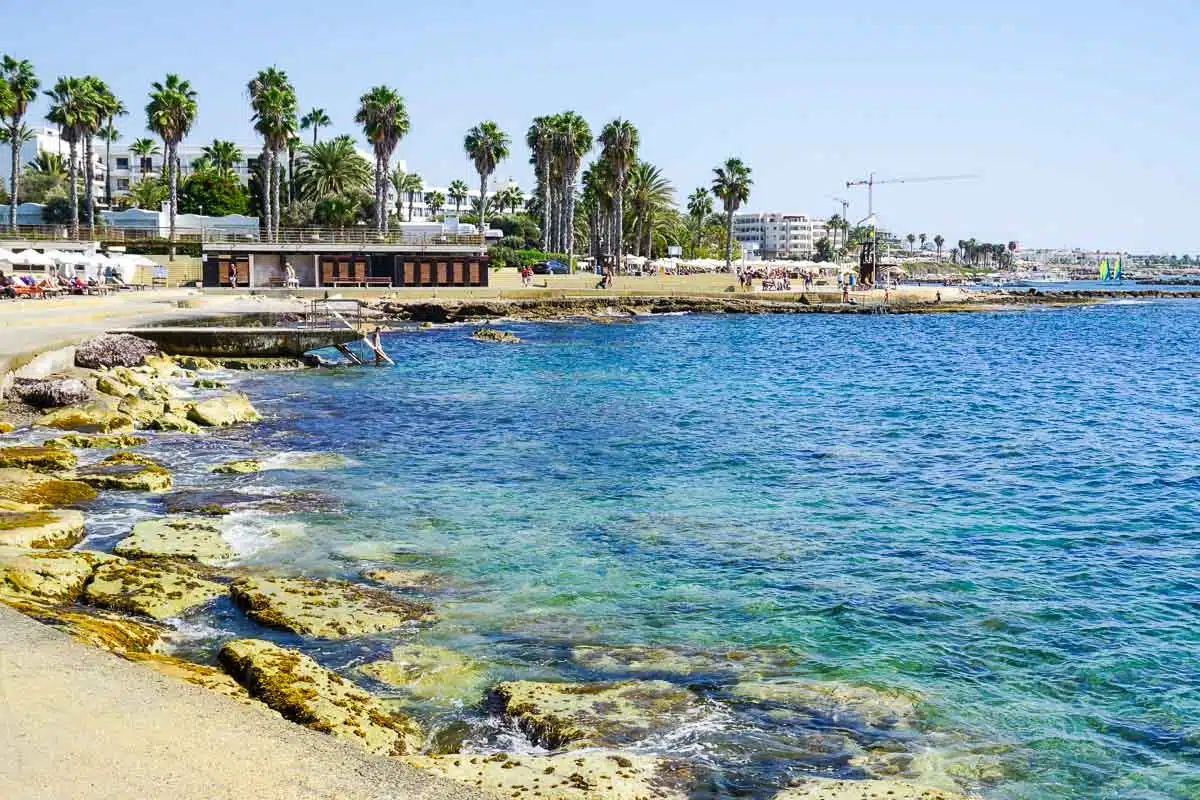 Home to architectural marvels, new and old, Paphos boasts endless opportunities for seeing amazing archeological sites.
It's also one of my favourite places for a romantic holiday in Cyprus, as the enormity of the centuries-old ruins takes on new life when you're walking hand-in-hand with your partner.

Whether you want to spot relics from the Romans, or artefacts spanning back even further, there is no shortage of destinations for history lovers when they come to Paphos.
Paphos Highlights
Kato Paphos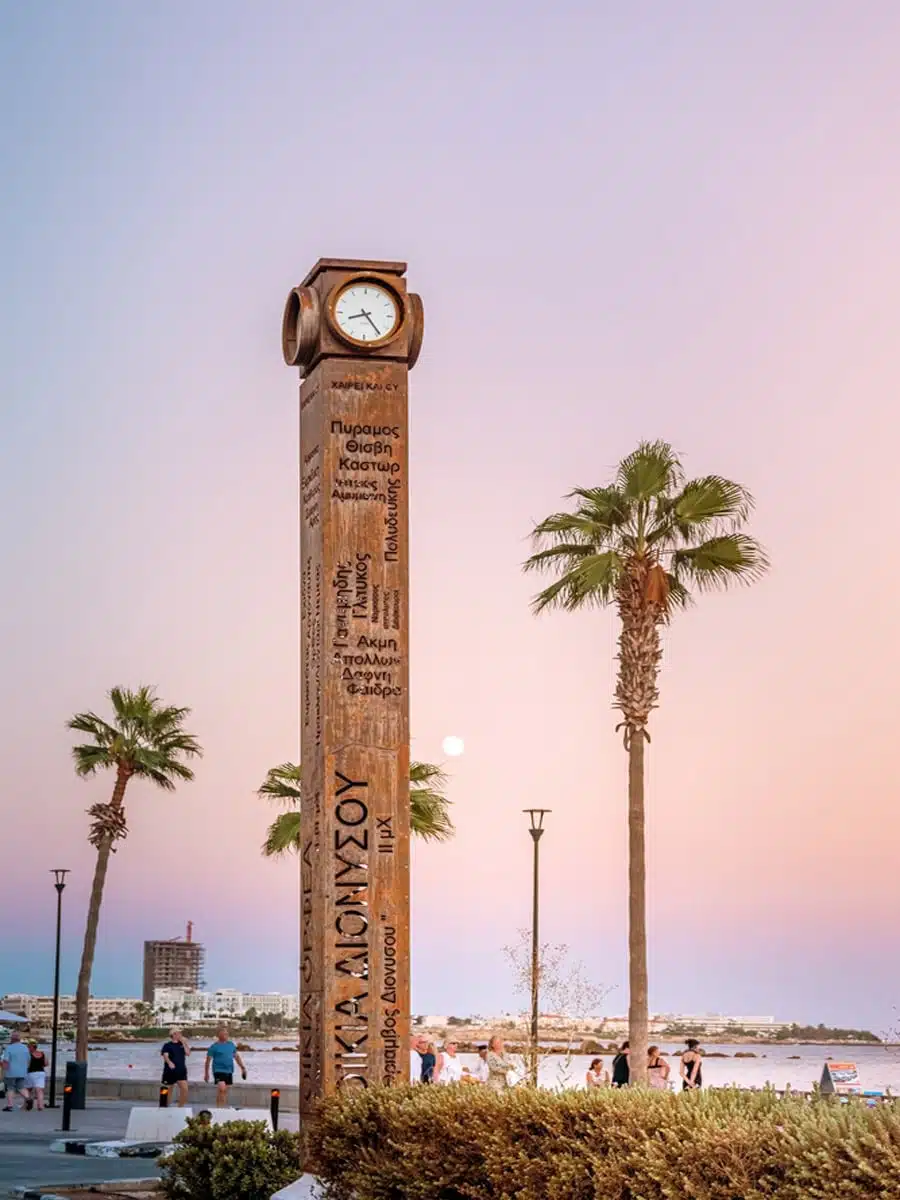 When in Paphos, the Archaeological Park of Kato Paphos is a must-visit. This is not only a can't-miss destination in Paphos but one of the most impressive archaeological sites you'll find in Cyprus.
Make sure to look at the mosaics and the Tomb of the Kings while you're here.
Paphos Castle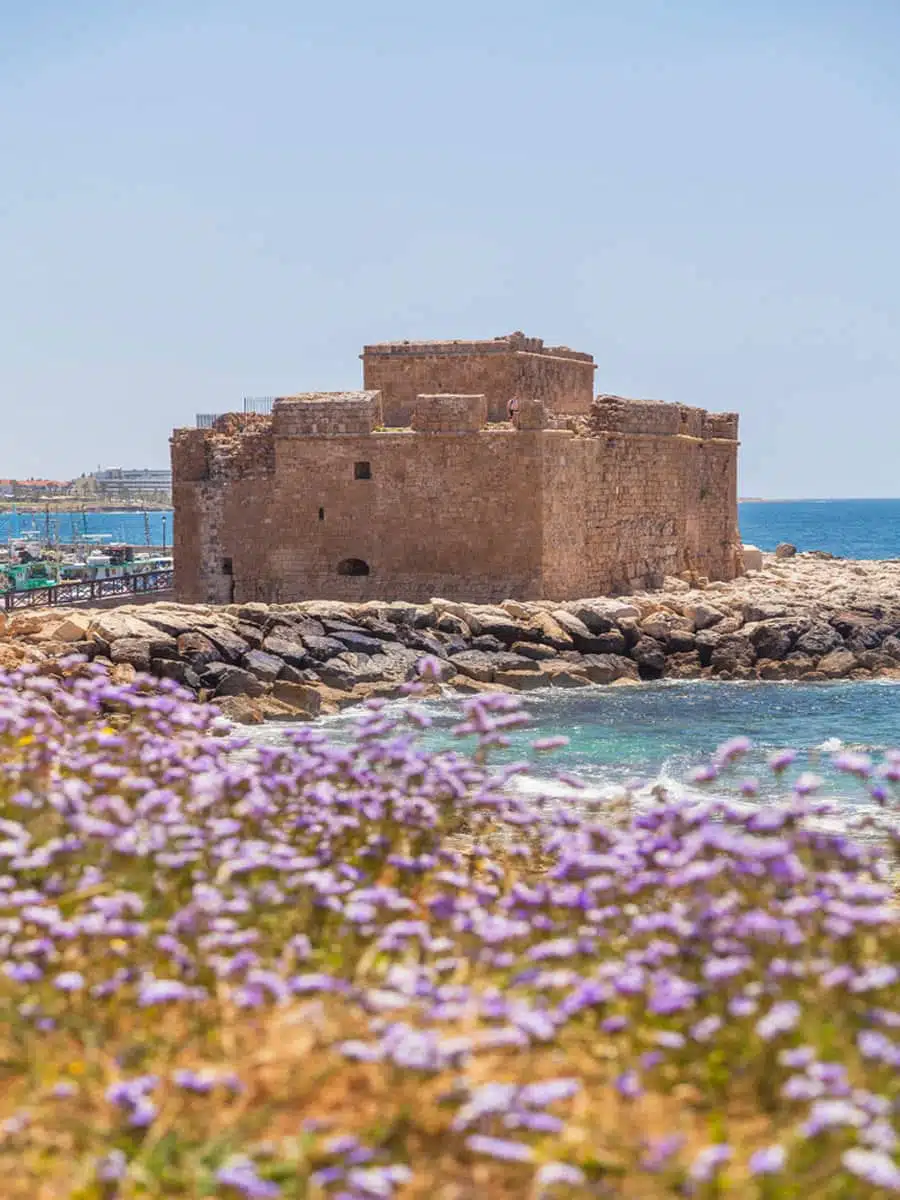 As well as this, head to Paphos Castle – a Byzantine castle located on the water is a defining historical site in Paphos.
The price of admission is under 3 Euros, making it a bargain for such an impressive historical site. St. Paul's Pillar is also nearby.
Cypriot Food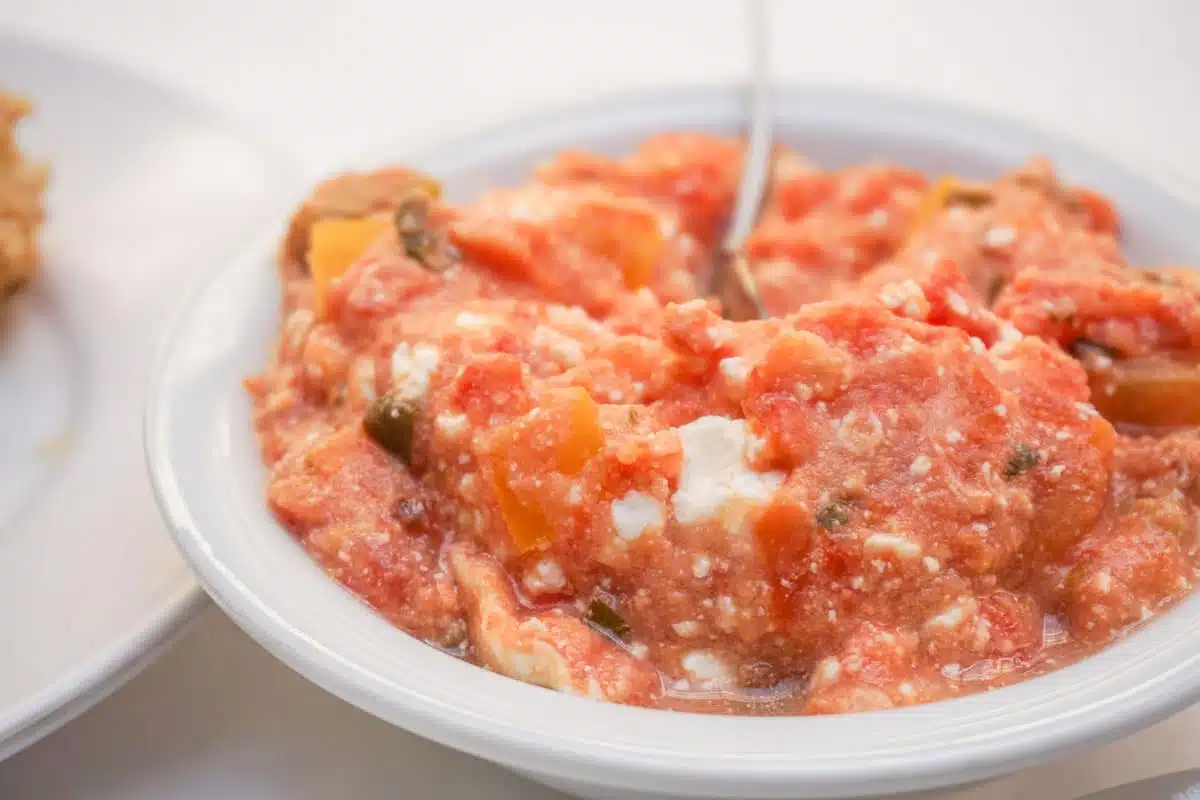 While you're here, try Cypriot cuisine, a beautiful combination of numerous cultures that features incredible dishes like kebabs, fried halloumi, olives, and other Mediterranean delicacies.
Also, be sure to try a cup of coffee, as Cyprus does an insane cup of Joe – it's one of the most unique and delicious you'll ever have.
Suggested Romantic Hotels in Paphos
Roman Boutique Hotel
If you're looking for where to stay in Cyprus to be close to the most amazing destinations the romantic area offers, look no further than the Roman Boutique Hotel.
Not only is this gorgeous property charming inside and out, but it's also one of the best values you'll find in Cyprus and a true gem for an affordable romantic holiday.
Leonardo Plaza Cypria Maris Beach Hotel & Spa
Leonardo Plaza Cypria Maris is an adults-only resort and a wonderful choice for where to stay for couples in Cyprus. The rooms are comfortable and modern, and balconies overlook the Mediterranean Sea and outdoor pools at this romantic hub.
King Jason Paphos
Likewise, the 18+ The King Jason Paphos has five pools, two restaurants, and various all-inclusive packages.
Rooms are spacious and tastefully decorated, giving you the perfect place to stay with your partner during a romantic week in Cyprus.
Alternatively, check all accommodation in Paphos
Nicosia and North Nicosia: Where to Stay in Cyprus and Northern Cyprus for History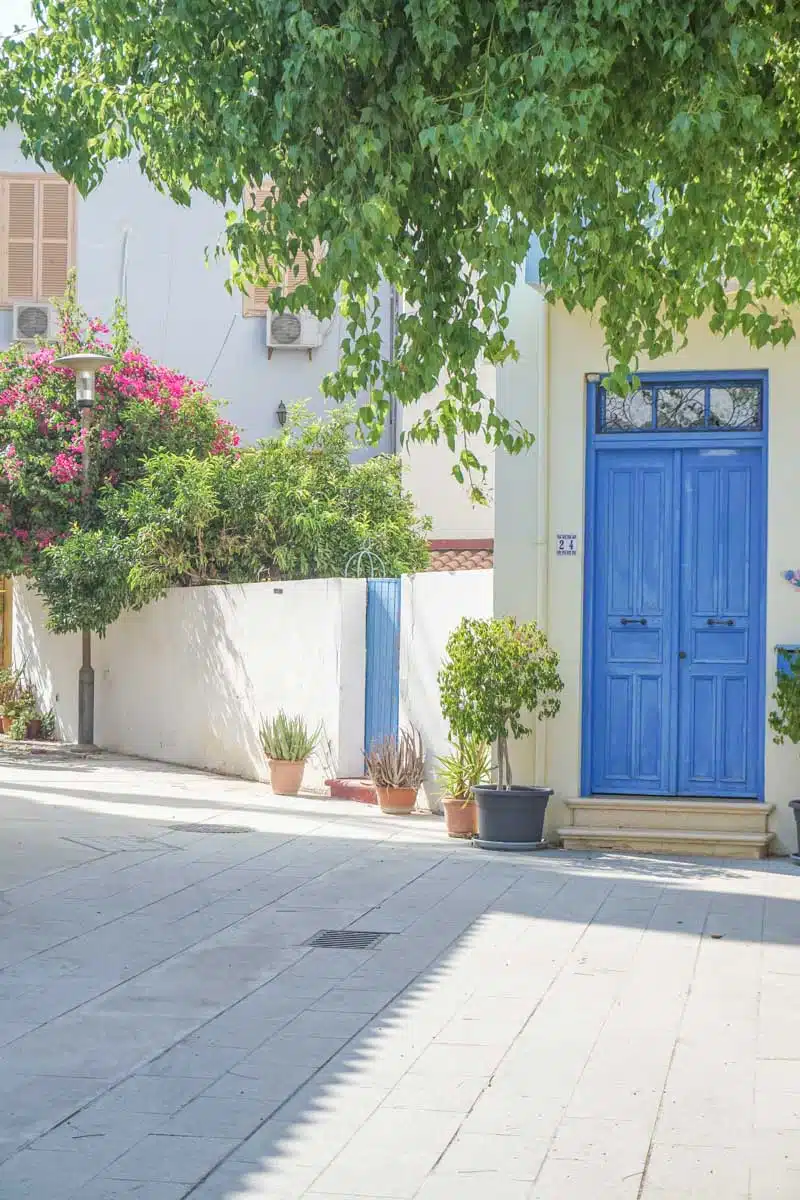 Nicosia is a must-visit location when you go to Cyprus, but when you visit the capital city, you should hang on to your travel credentials, namely your passport.
I strongly recommend visiting the capital city, in fact, it's where to stay in Cyprus if you want to experience a larger city. Just bear in mind that it is still a city that's politically divided.
When you're in the southern portion of Nicosia, you're still in Cyprus. But upon heading a bit further north in the city streets, you may be greeted by military checkpoints as you enter Northern Cyprus territory (which Turkey considers a separate country).'
Within the walls and gates of the city, you'll find excellent shopping, dining, and museums on either side.
Nicosia Highlights
Where do I even begin? There are so many highlights to see in Nicosia.
Shacolas Tower
Shacolas Tower might be a little bit tired-looking – but the interior, home to a museum, has an observatory 11 floors above ground that offers the best views of Nicosia.
Selimiye Mosque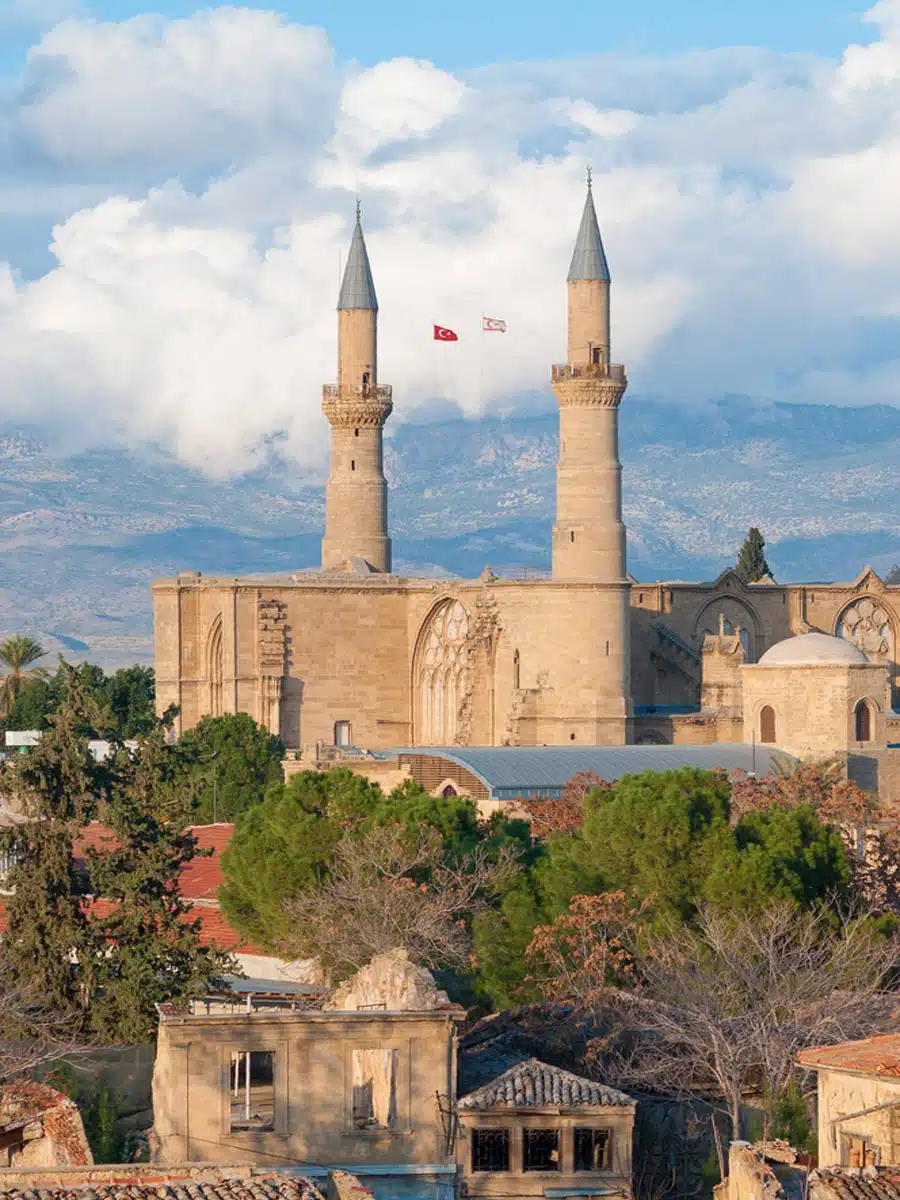 As well as this, Selimiye Mosque is perhaps the most recognizable landmark in the area. The towering minarets and large dome make up the famous building that has stood proudly since opening around 1575.
Be sure to go inside while you're here, as the decor is as impressive as the gorgeous exterior.
History + Museums
What's the best area in Cyprus for history buffs? There are quite a few, but adding the most ancient example to your Cyprus travel plans is a must. Be sure to stop by the Cyprus Museum when you're in Nicosia, as it's a treat for casual and career historians alike.
Suggested Hotels in Nicosia and Northern Nicosia
Madama Residence
Boasting a central location, 24-hour front desk, and striking interior design make Madama Residence an easy decision when it comes to finding a Cyprus hotel.
Rooms are cosy and have everything you need, with AC, WiFi, and a complimentary breakfast.
El Greco House
The El Greco House – featuring large apartment rooms and just steps away from Nicosia's main attractions – is a great choice for extended stays. Modern furniture, hardwood accents, WiFi, and AC highlight each room.
Merit Lefkosa Hotel & Casino
Merit Lefkosa Hotel & Casino has pools inside and outside, multiple dining options, a casino, and a spa putting this at the very top of the conversation for where to stay in Cyprus for couples.
The short drive to downtown Nicosia is another reason it's a contender for the best place to stay in Cyprus.
Alternatively, check all accommodation in Nicosia
Kyrenia: Where to Stay in Northern Cyprus for Luxury Hotels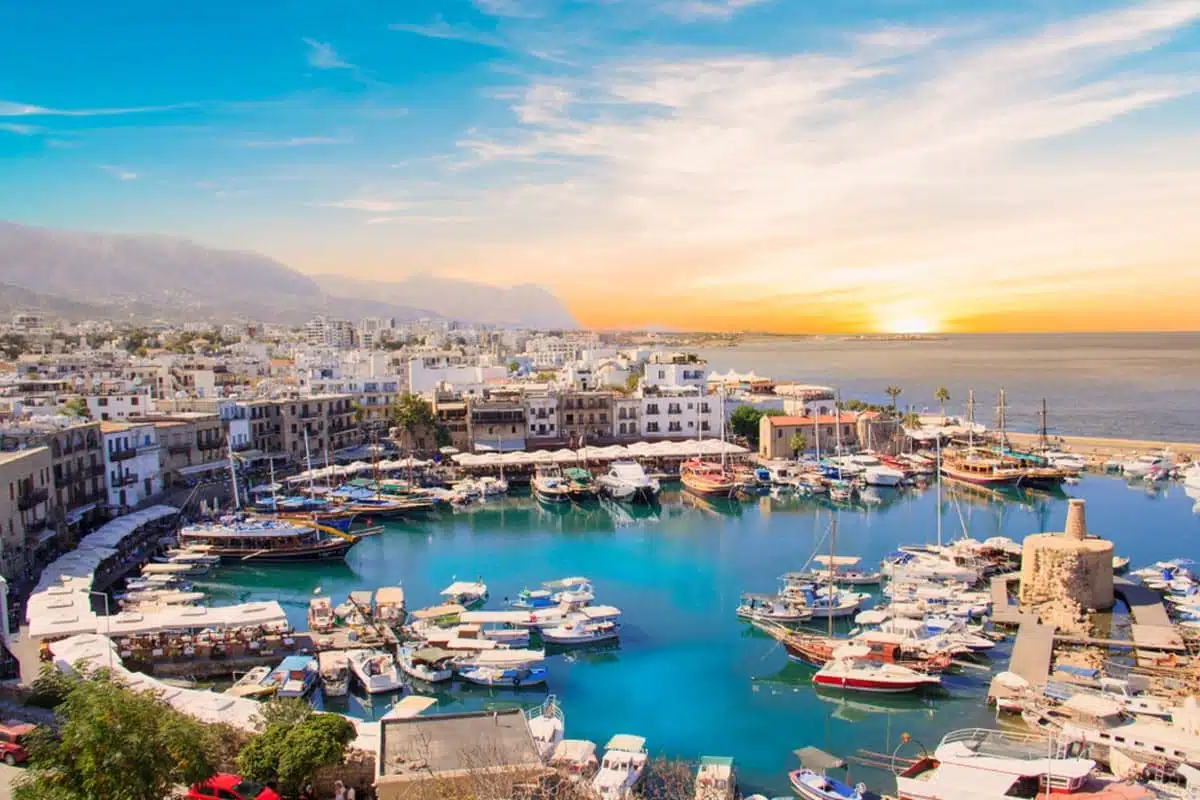 Kyrenia (AKA Girne) sits pretty on the northern coast of Cyprus, surrounded by charming cobbled streets and its iconic harbour.
Why visit? Well, with its ancient vibes and picturesque views, there's nowhere better to hunker down in a luxe resort (of which, Kyrenia has many) and soak up the atmosphere. But make sure you spend some time on the streets, too – this Northern Cyprus town is simply stunning.
Kyrenia Highlights
Kyrenia Castle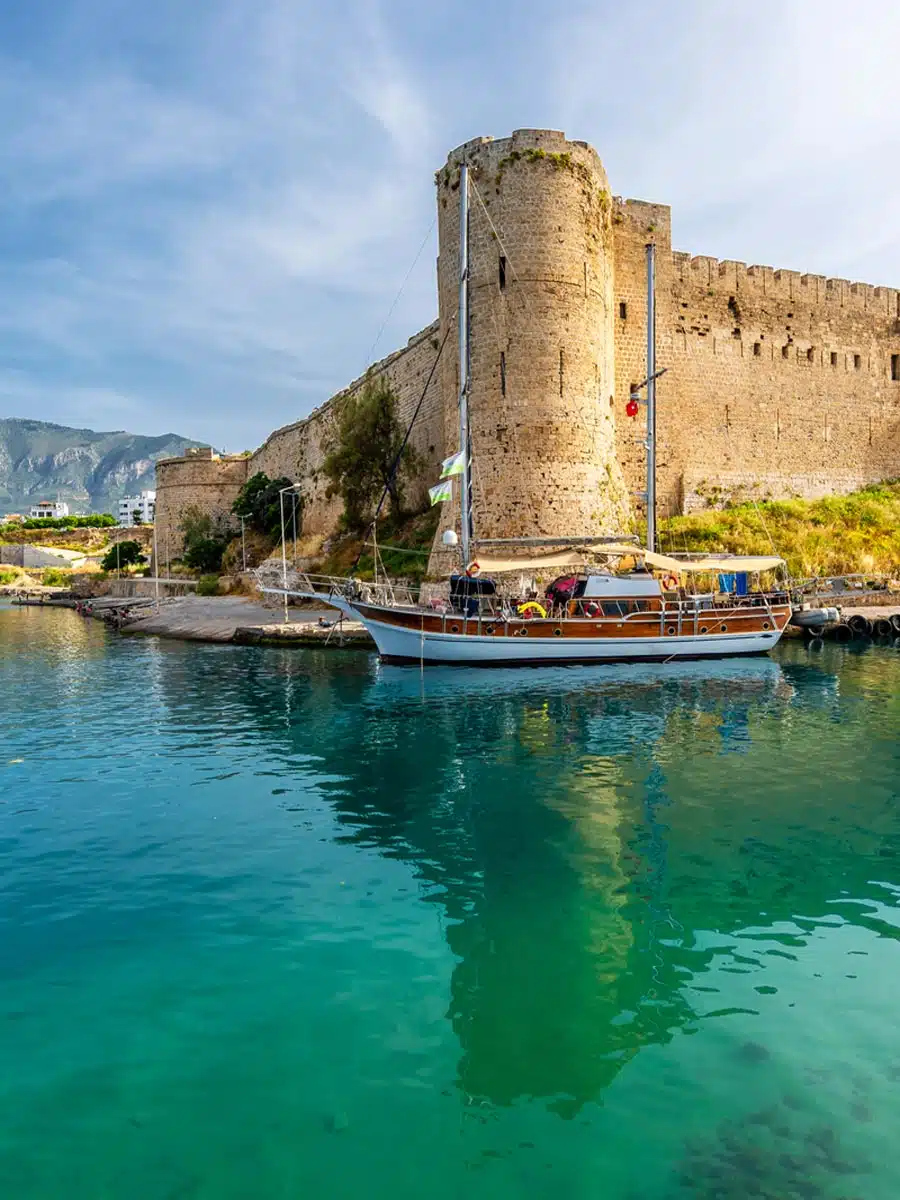 One of the main reasons that visitors flock to this area is to see Kyrenia Castle. Overlooking the harbour, this castle stands proud as the icon of the city.
Bellapais Monastery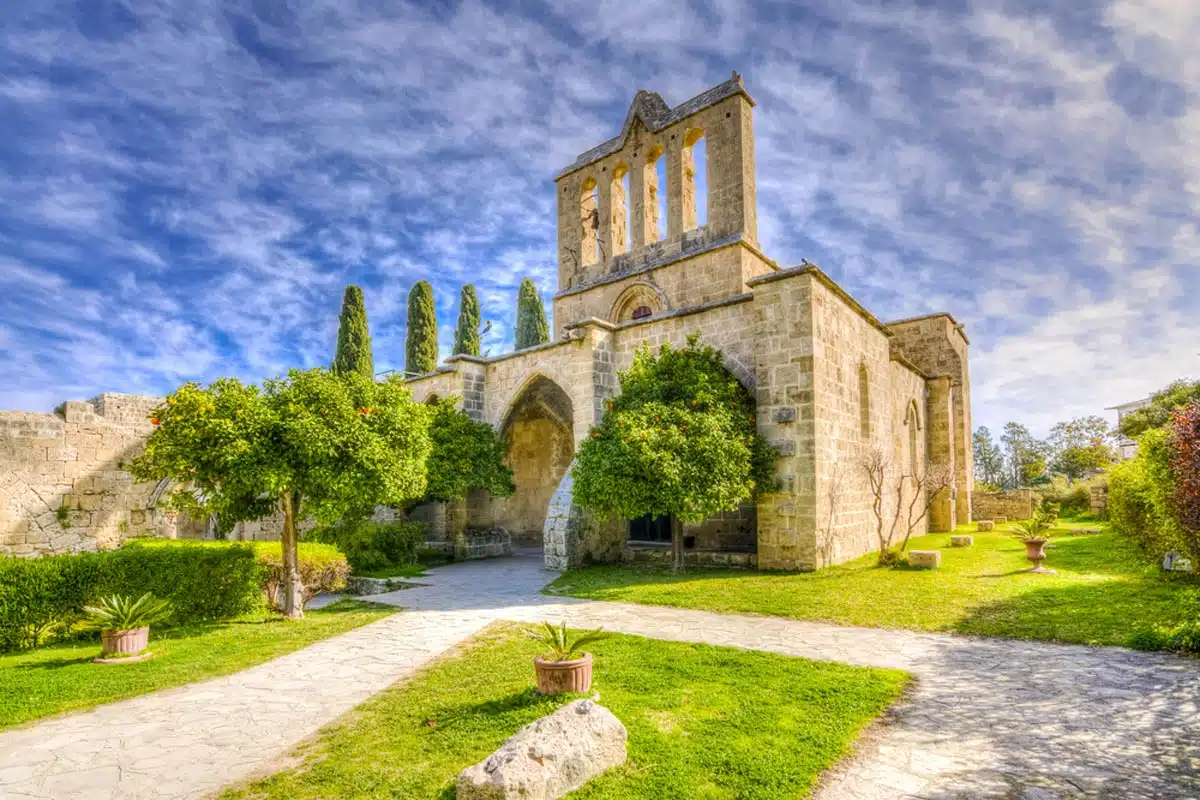 Another stunning place you need to visit in Kyrenia is the Bellapais Monastery. Here you can wander through the well-maintained gardens (look out for the tree of idleness!) and admire the architecture from the inside.
Nightlife
Kyrenia is known to be the nightlife capital of the north. Though don't expect Ayia Napa levels of partying – it's pretty sophisticated here.
Head to Casablanca for a cocktail or two, before hitting up Onyx or Groggy for a late-night boogie.
Suggested Hotels in Kyrenia
Elexus Hotel Resort
If you fancy going all-out and booking the most luxe resort in Kyrenia, Elexus Hotel Resort is the one.
Situated on a private beach, it offers a tranquil escape from the hustle and bustle of Kyrenia town. Rooms are spacious and modern, while all-inclusive options come as standard.
Savoy Hotel
For a more budget-friendly option, though no-less beautiful, the Savoy Hotel has you covered with its gorgeous spa and pool. There's even a casino on-site.
You'll stay in total luxury, with stylish rooms and traditional-influenced design throughout.
Alternatively, check all accommodation in Kyrenia
Larnaca: Where to Stay for a Relaxing Getaway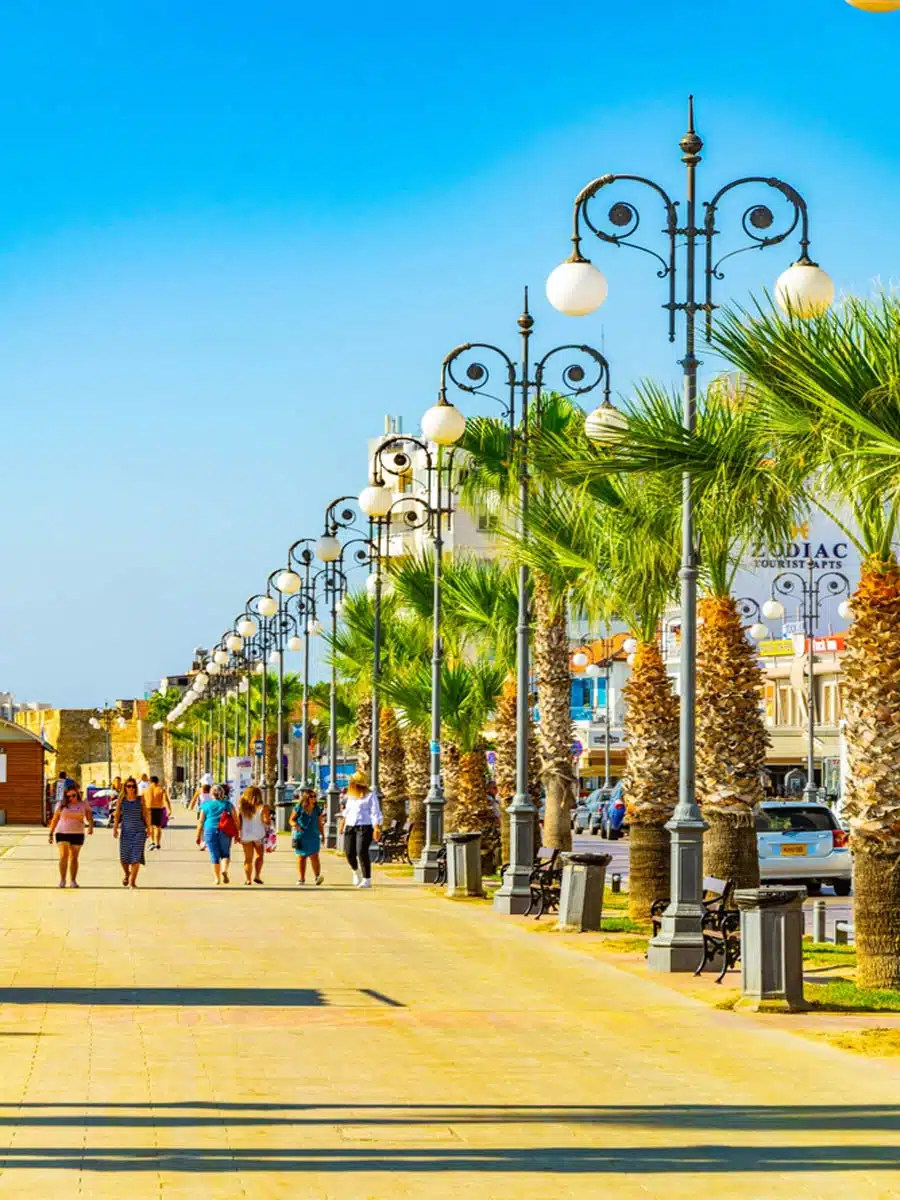 You need to consider staying in Larnaca for at least part of your Cyprus stay. Why? The charming oceanfront village is ideal for people who want to get away from it all and have a holiday near the water.
It's also one of the most popular locations for scuba diving if you feel like adding a little adventure to your laid-back holiday. Some truly incredible dive sites include the Museum of Underwater Sculpture Ayia Napa and the Zenobia Wreck.
But there's more to Larnaca than beaches, boardwalks, swimming, and sunset cocktails (although all of that is great here, too).
Walk around the area, and you're bound to see impressive architecture and historical sites, a few of which are among the most unique you'll find just about anywhere on your Cyprus vacation.
Larnaca Highlights
Church of Saint Lazarus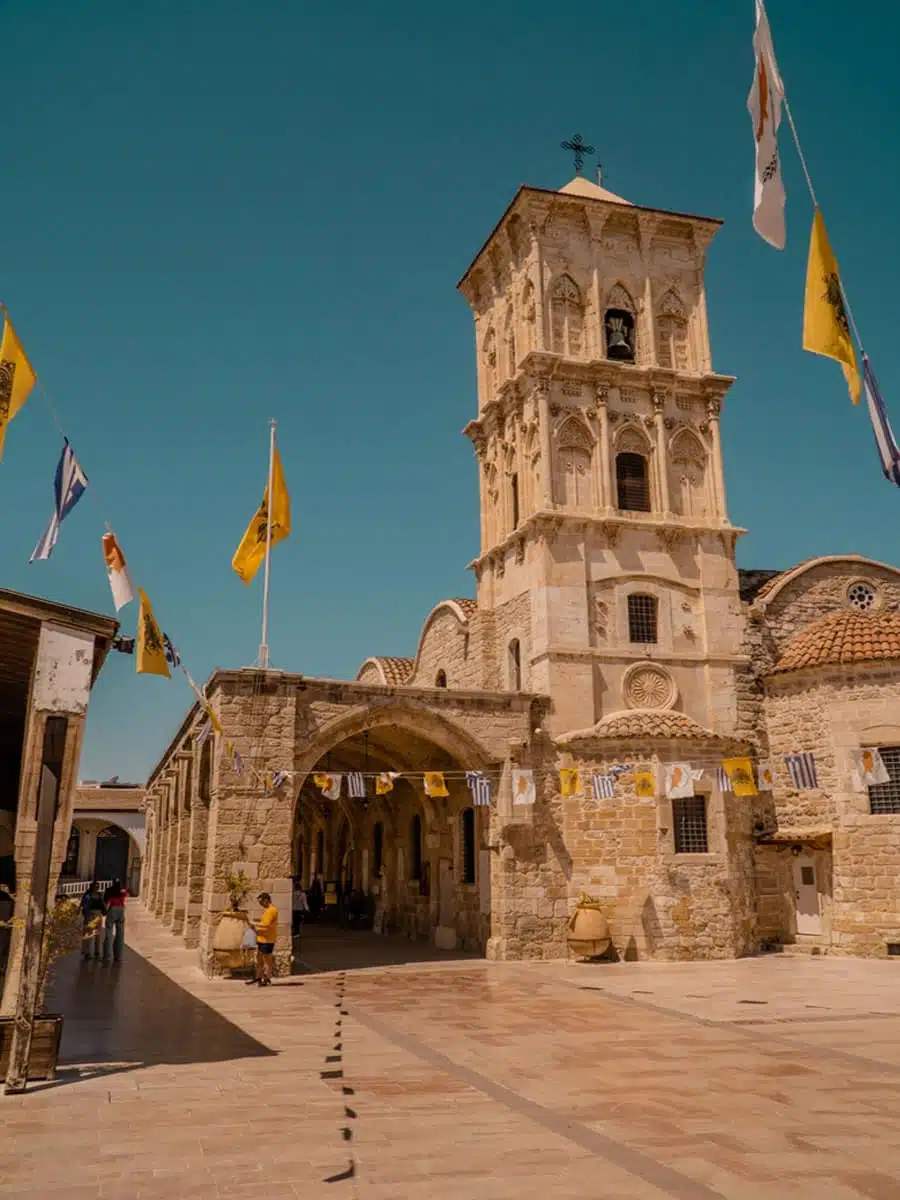 No visit to Larnaca is complete without swinging by the Church of Saint Lazarus. If you want to witness a piece of ancient history when you're in Larnaca, be sure to stop by this 9th-century church that, legend has it, sits over the tomb of Lazarus of Bethany.
Finikoudes
Finikoudes is a popular beach and the perfect place to spend the afternoon on the sand or stroll the boardwalk. It's well-maintained and features cafes, bars, and restaurants nearby if you want to make an evening of it.
Kamares Aqueduct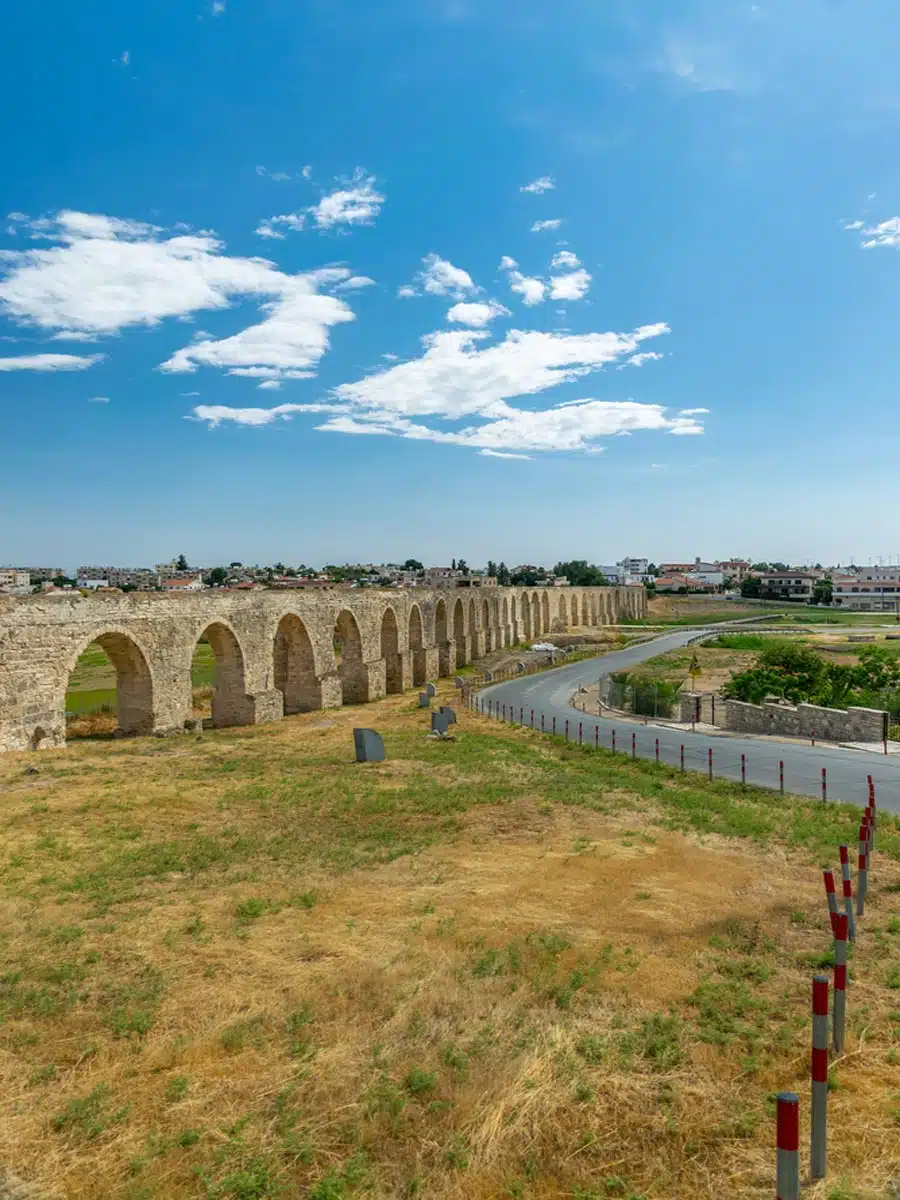 As well as this, Kamares Aqueduct is an impressive and historically important structure that dates all the way back to 1747. Don't miss it!
Suggested Idyllic Hotels in Larnaca
Qbic City Hotel
If you want a stylish and modern hotel in the heart of Larnaca, Qbic City Hotel is a top choice. Opt for the Deluxe Suite with Spa Bath for an upgrade you won't regret.
Lebay Beach Hotel
Lebay Beach Hotel is another epic place to stay – the rooms at this 4-star resort are splendid, and even the standard options come with a private balcony with exceptional views.
Modern amenities and breathtakingly beautiful property grounds will have you feeling like there's nowhere else you'd rather be staying in Cyprus.
Aquarium Beach House 32
Beach house accommodations in Larnaca? Aquarium Beach House 32 – sign me up.
In walking distance from Oroklini Beach, your home for the week includes WiFi, a kitchen, a washing machine, and a private outdoor terrace where you can enjoy the fresh ocean breeze around you.
Alternatively, check all accommodation in Larnaca
Protaras: Where to Stay for a Low-Key Trip to Cyprus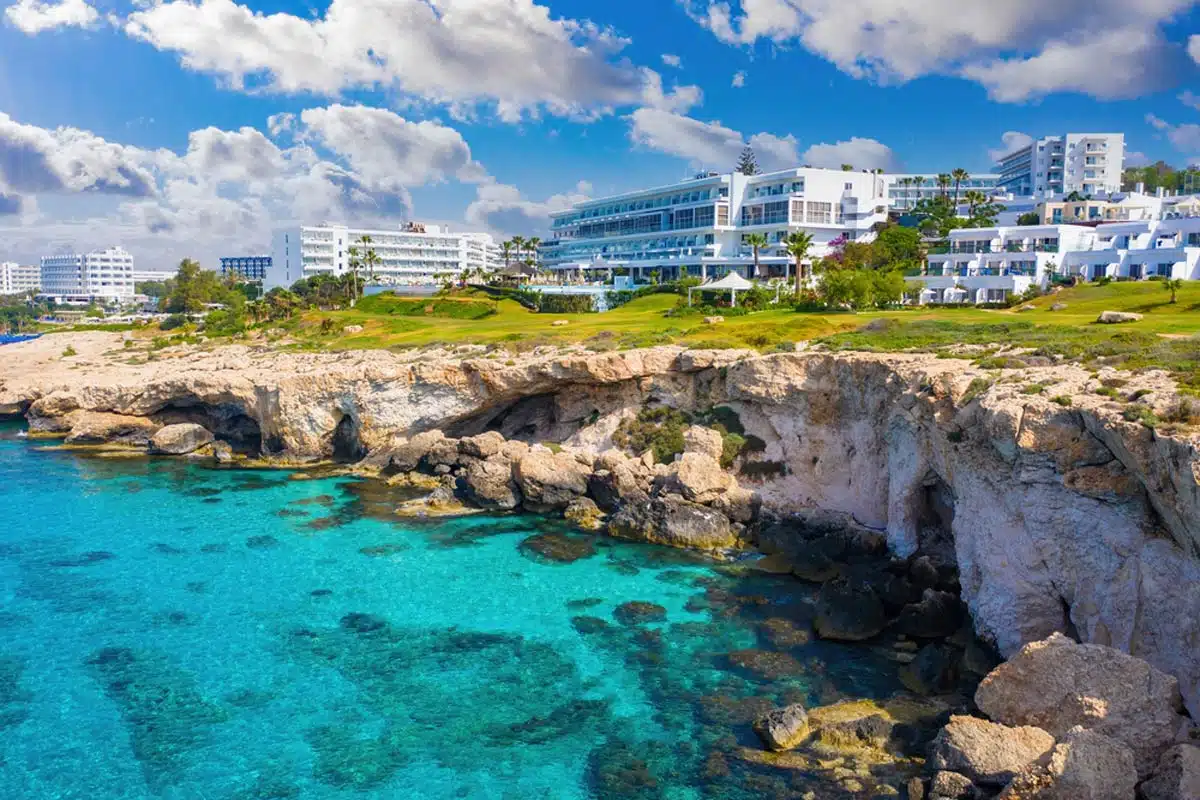 Protaras is another brilliant region of Cyprus, known for its beaches and stellar views. Tucked away in the southeast of the island, you're surrounded by national parks, dreamy bays and impressive hiking trails.
If it's a chilled-out vacay you're after, Protaras is where you'll want to head.
Protaras Highlights
Famagusta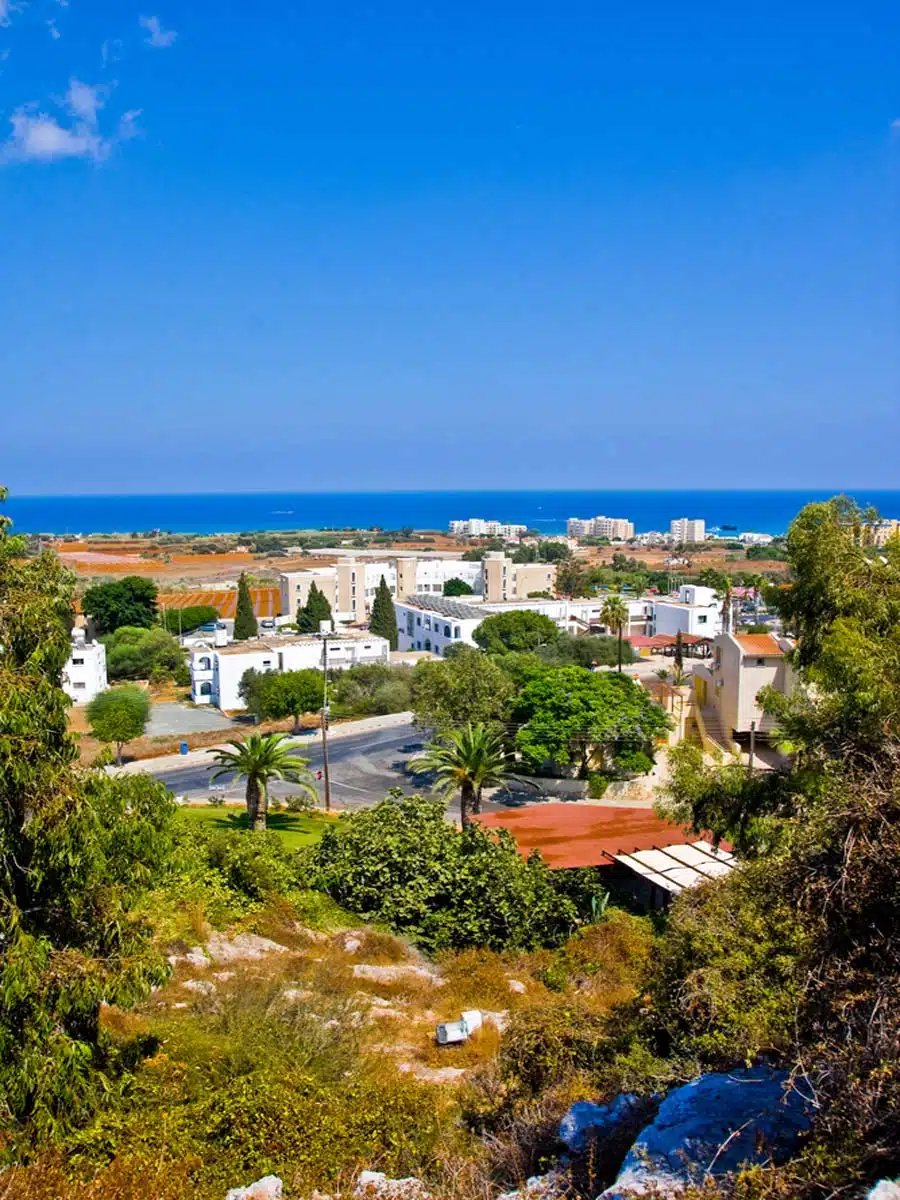 Take a trip to the abandoned town of Famagusta and delve deeper into the region's troubled history. The town is filled with pretty ruins and is totally free to visit, though you can rent a bike to get around more easily.
Fig Tree Bay
Protaras is a quintessential beach resort town, but Fig Tree Bay (and its lone fig tree) is the star of the show. With numerous accolades under its belt as one of the best beaches in Europe, it's no wonder that this popular spot gets busy during the summer months.
Suggested Hotels in Protaras
Leonardo Crystal Cove Hotel
Sheer indulgence awaits you at Leonardo Crystal Cove – from the huge rooms with sweeping views to the all-marble bathrooms. With 2 swimming pools and a spa, I guarantee you'll struggle to peel yourself away from this gorgeous hotel.
Louis Althea Beach
Situated on the beach, Louis Althea Beach is a hotel that impresses. Take my advice and book the studio – you'll have everything you need for a more-than-comfortable stay at your fingertips.
Alternatively, check all accommodation in Protaras
Where to Stay in Cyprus: Frequently Asked Questions
Practical Tips to Consider Before Booking Your Cyprus Accommodation
As with many European destinations, you'll save plenty of cash whilst still being able to enjoy beautiful weather if you go in the spring or fall.
The Euro is the currency in Cyprus, so convert your cash when you arrive if you travel from a country outside the European Union.
Cyprus uses the G wall plug at 230V and 50Hz, so you won't need to bring an adaptor if you visit from the UK.
Where to Stay in Cyprus: Read Next
Love This? Save and Share on Pinterest