Looking for Cyprus hiking tips and advice? Discover the best hikes in Cyprus with this detailed guide.
Sure, Cyprus looks hella beautiful when you're strolling through its towns and lazing on beaches, but there's something special about hiking in Cyprus.
Setting off on a rugged trail lets you see parts of the country from a unique perspective – mountains, rivers, waterfalls, and picturesque coastlines are just some highlights when hiking in Cyprus.
But perhaps the most impressive thing about hiking in Cyprus is the chance to wander historic trails whose origins go all the way back to Greek mythology.
Ready to head to this small but mighty Mediterranean Island and get your hike on? I thought so.
Read on for my pick of the most epic hikes in Cyprus.
Best Hikes in Cyprus
Mount Olympus
Length: 8.2 km
Time: 2.5 Hours
Difficulty: Medium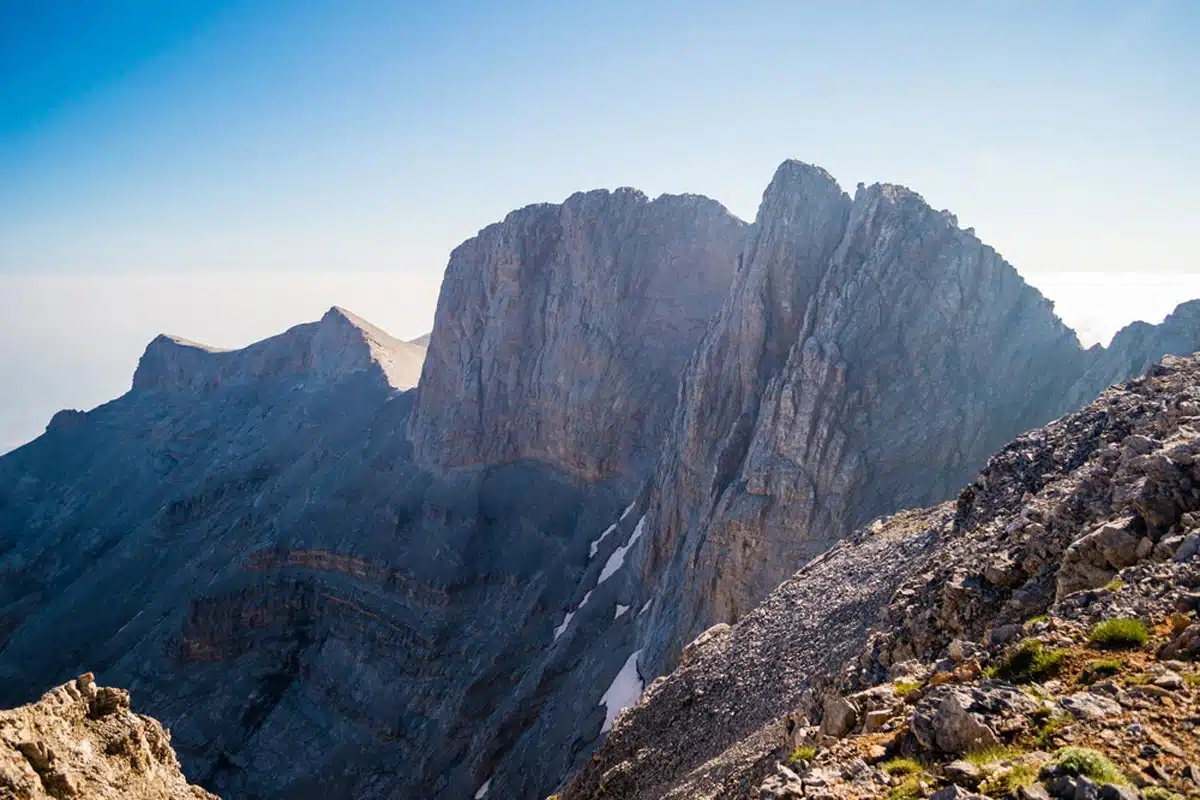 Ready to add some elevation to your walking in Cyprus? You need to tackle the Mount Olympus hike. While not quite as epic as its namesake counterpart in Greece, it's still pretty challenging.
You'll want to consider a few things before climbing Mount Olympus in Cyprus. The summit is technically off-limits for political reasons and you'll want to make sure it's optimal weather for your hike. But, most importantly, I recommend downloading a map offline as the trail markers are pretty bad in some places.

That said, it's a wonderful place to spend part of an afternoon, and the hike should take around 2.5 – 3 hours to complete. Add a Mount Olympus Cyprus hike to your itinerary, and thank me later.
Avakas Gorge
Length: 8 km
Time: 4 Hours
Difficulty: Medium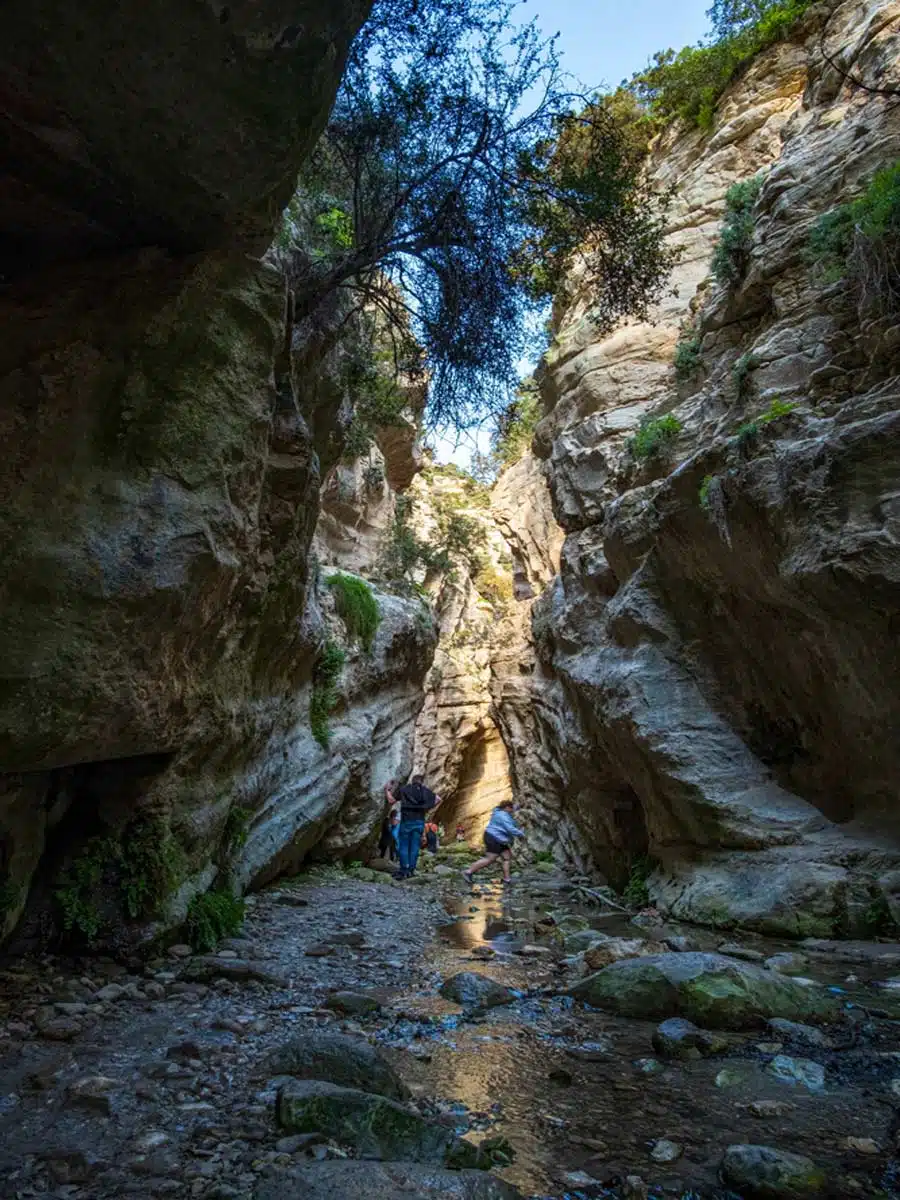 Depending on who you ask, this trail sits somewhere between moderately challenging and seriously epic. Conditions may include muddy terrain, areas requiring some scrambling, and potential falling rocks (yes, really – watch out).
Wear your best shoes, go when the weather is playing ball, and pay attention to the impressive but slightly rugged nature around you.
With all this in mind – enjoy! You'll likely stumble across goats, foxes, and plenty of other wildlife, so make sure your camera's fully charged.
The Caledonia Trail and Waterfalls Loop
Length: 3.54 km
Time: 1.5 Hours
Difficulty: Medium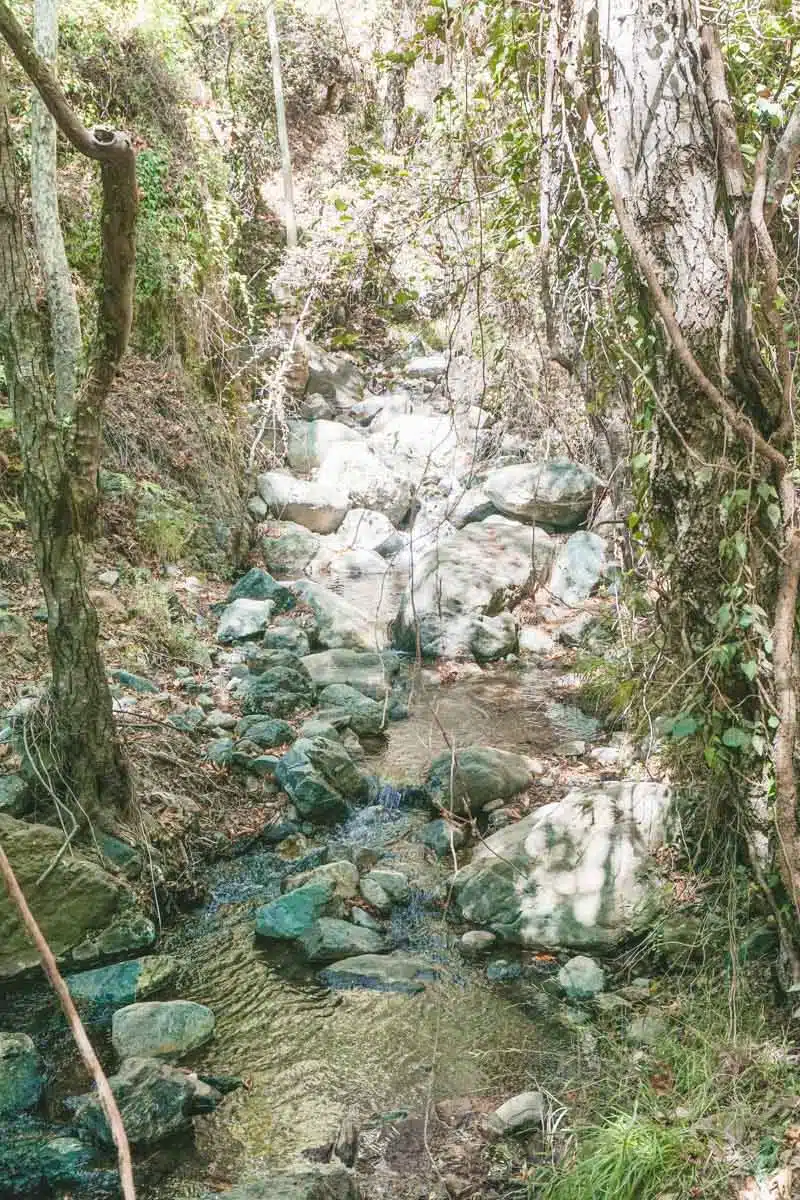 Beginning near Pano Platres village, this relatively short loop is an excellent option for a day hike in Cyprus.
You'll see one of the most memorable waterfalls on the island, walk along the Kalidonia river, and traverse the gorgeous forests that make inland Cyprus one of my favourite places to explore.
It's relatively manageable to walk and absolutely stunning, making it popular with tourists of all hiking abilities. Arrive early to avoid crowds and, whatever you do, avoid winter weather.
Aphrodite and Adonis Trail
Length: 9.65 km
Time: 3 – 3.5 Hours
Difficulty: Medium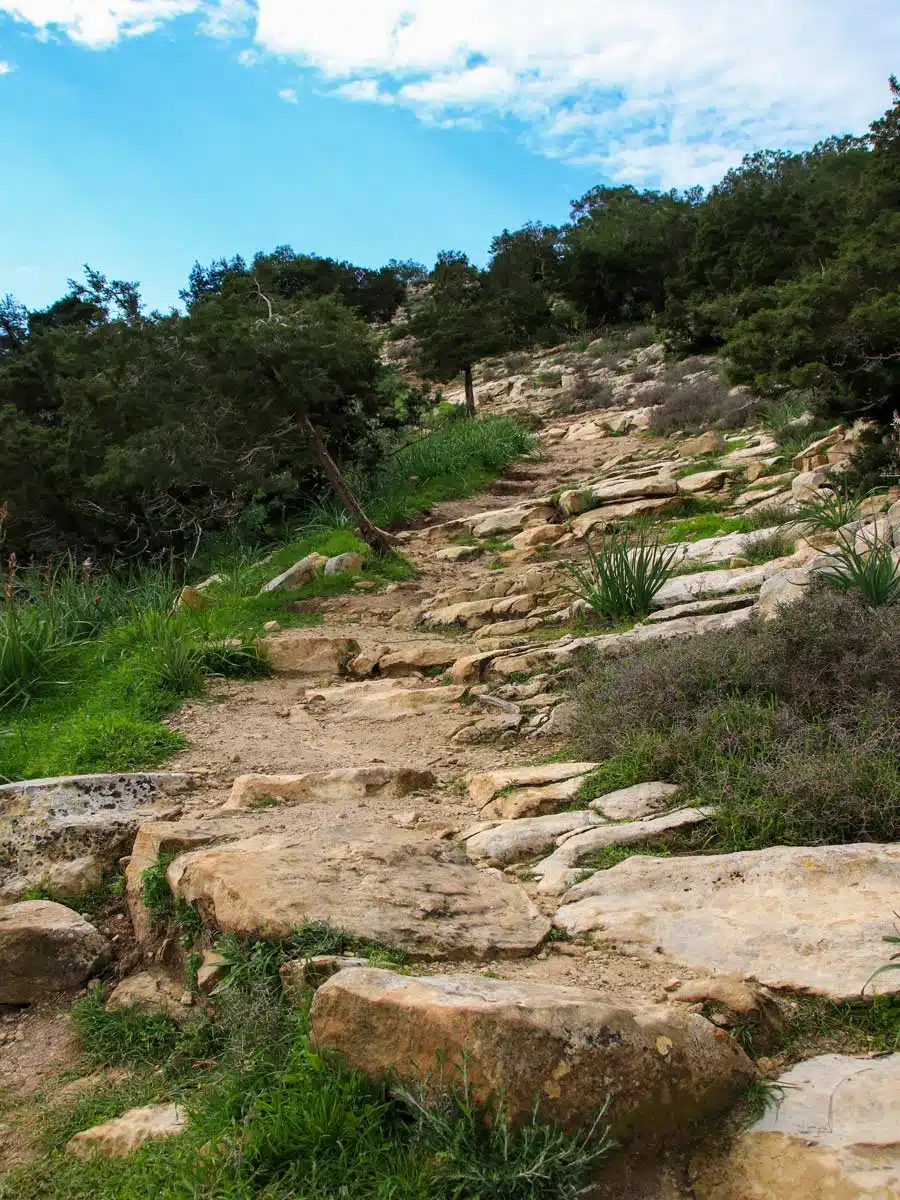 Ancient lore is all around you when you're in Cyprus, and I just can't get enough of it. I could spend days chatting with locals, reading history books, and exploring Cyprus's storied mountains and forests.
The Aphrodite and Adonis trail is one of the more famous hikes associated with Greek mythology, making it a perfect choice for history buffs and romantics.
You'll start at the Baths of Aphrodite before going through the ruins of ​​Pyrgos tis Rigenas. Next, you'll link up to the Adonis Trail before making your way back to the Aphrodite Baths, where the two love birds met.
Want a literal walking history lesson? You'll find it here, and if you only do one of Cyprus's best hikes, this should be it.
Nature Trail Kannoures – Agios Nikolaos tis Stegis (Kakopetria)
Length: 15.61 km
Time: 6 Hours
Difficulty: Hard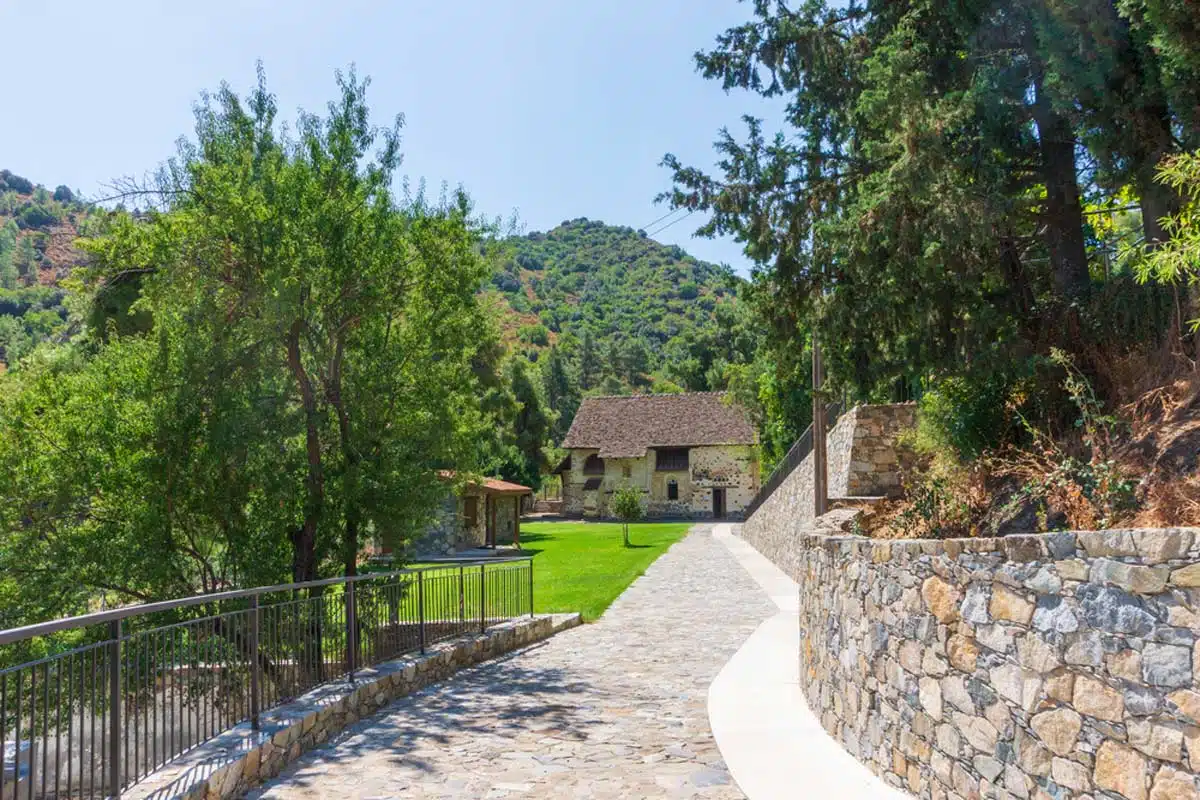 If you're like me, crowds are never a big issue, but sometimes it's nice to get away from it all. And on this hike between Nature Trail Kannoures and Agios Nikolaos tis Stegis, you'll be doing exactly that.
Elevation is a thing on this hike (over 900 metres), and you'll feel the burn during some sections of this trail.
But trust me, it's worth it when you get an up-close look at the charming village of Kakopetria and the Byzantine landmark Church of Saint Nicholas of the Roof along the way. Stretch your calves and double-knot your shoelaces before this challenging Cyprus hike.
Cape Greco National Forest Park
Length: 2.73 km
Time: 45 Minutes
Difficulty: Easy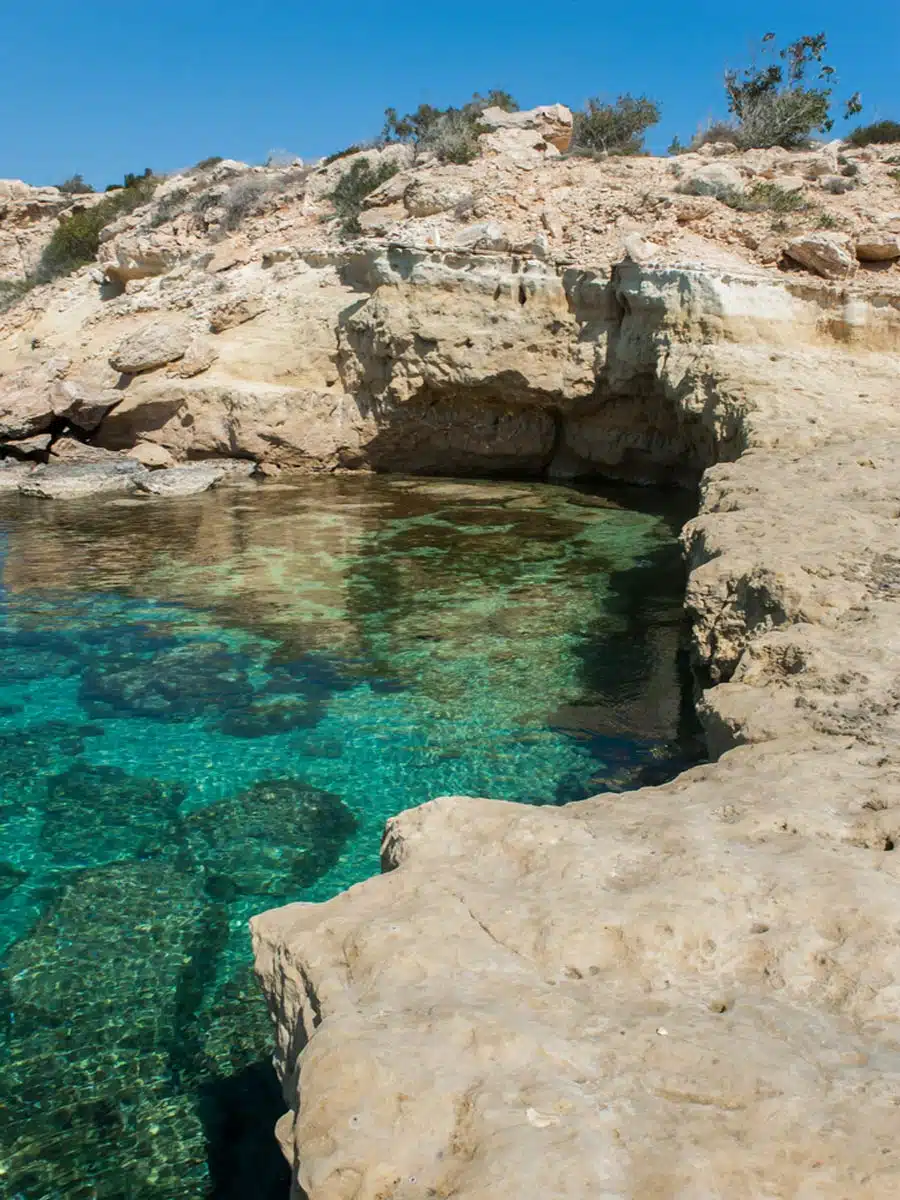 Cape Greco trail is your best bet if you want a more laid-back walk in Cyprus.
But, while it might be chilled, you'll get to see all the incredible views around Cape Greco, and it's an excellent example of the coastal beauty that makes any hike in Cyprus one for the books.
Keep an eye on the sky (it's a great bird-watching locale), and stop to explore the nearby caves on your Cyprus hike.
Circuit of Spilia – Madari Summit
Length: 14 km
Time: 5 Hours
Difficulty: Medium
After incredible views on your hike in Cyprus? I've got you covered.
Cyprus has its share of challenging trails, and this one is no walk in the park. But the trails are clearly marked, plenty of other hikers are nearby, and the views of the surrounding mountains are unreal.
Add this to your Cyprus itinerary, and you won't be disappointed.
Akamas Panoramic Walk
Length: 7 – 13 km
Time: 9 Hours
Difficulty: Moderate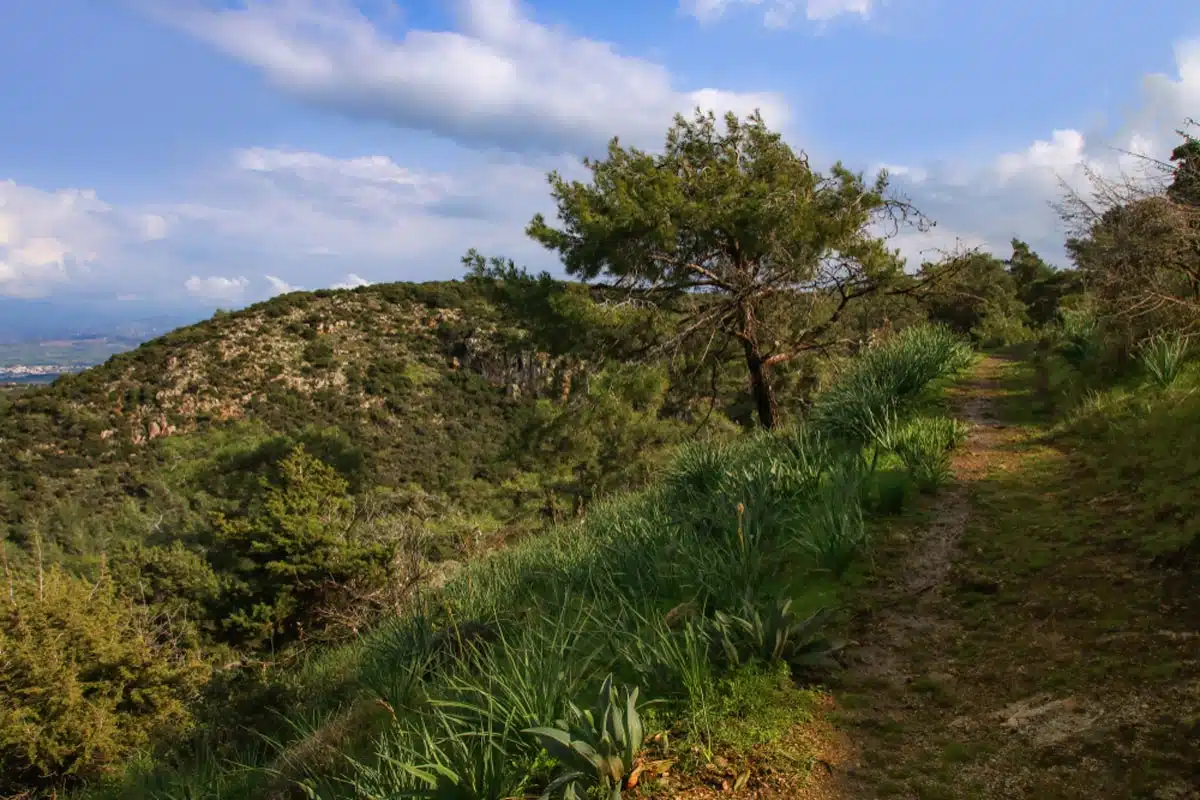 If sweeping vistas of the Cyprus seaside are what you want to see when hiking Cyprus, you're in the right place.
This tour is one of my favourite ideas for a hike in Cyprus because it can be as long or challenging as you'd like (within reason).
You'll walk along parts of the Aphrodite and Adonis trail before experiencing much more of the natural beauty of Akamas from the top of Moutti Tis Sotiras. If you're tired after the first 7 km, chat with your guide, and you can change course and go snorkelling or take a swim instead of continuing your Cyprus hike.
Saint Hilarion Castle
Length: 1.28 km
Time: 30 Minutes
Difficulty: Easy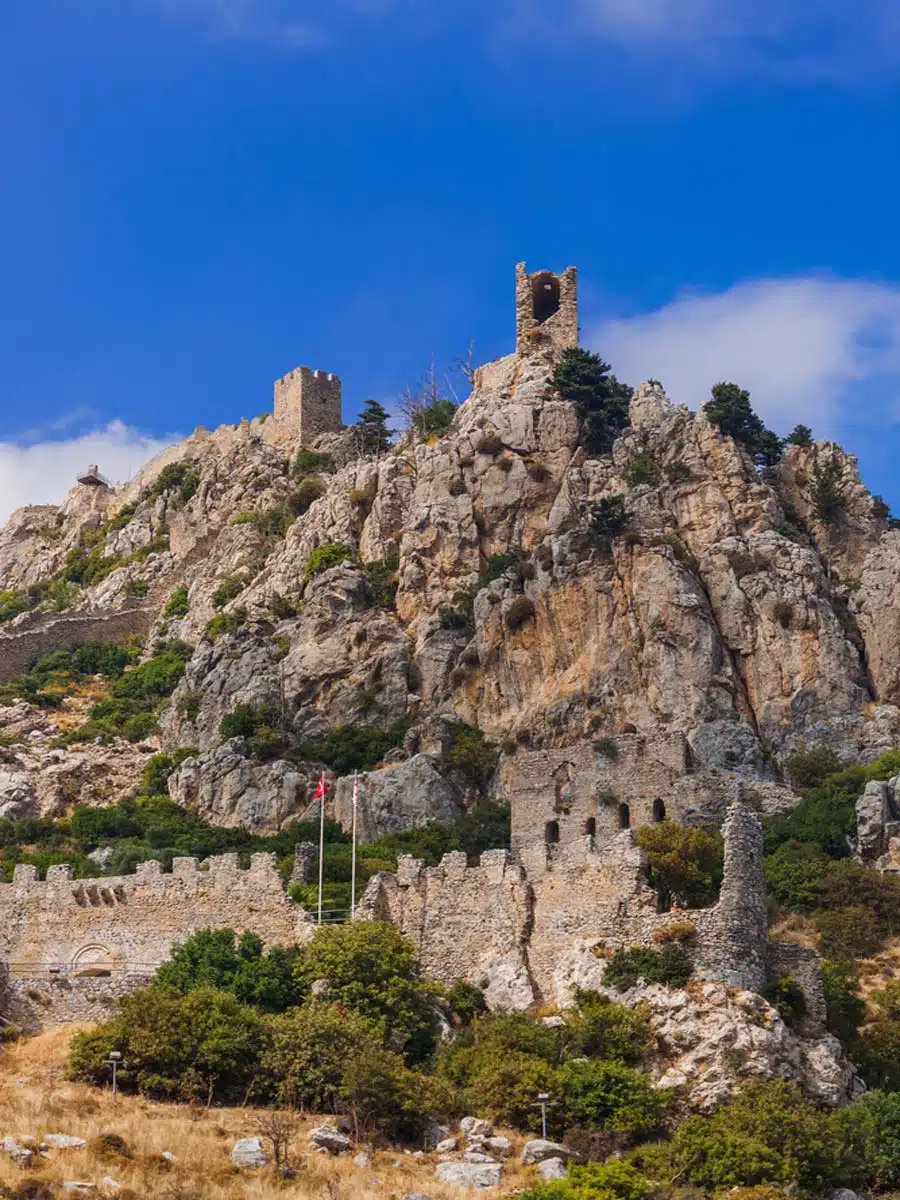 Hiking in Cyprus and looking for a shorter trail? This scenic walk in Northern Cyprus allows you to check out the Byzantine ruins of Saint Hilarion Castle from 11 AD and unbelievable views of Kyrenia.
It's short but has some elevation, so you'll want plenty of water on warmer afternoons. You'll also want to take care when it comes to the steps en route – they're pretty narrow.
Karmi – Saint Hilarion Loop
Length: 9.49 km
Time: 4 Hours
Difficulty: Medium
Want to see a little more of Northern Cyprus? You'll want to add this hike to your list of amazing things to do in Cyprus.
You'll begin your journey in Karmi before heading up to the nearby Kyrenia Mountains. Your reward? Unbelievable vistas allow you to look out at a part of Cyprus less travelled by tourists.
Trust me; it's a hike you'll want to consider.
Tombs of the Kings Coastline
Length: 7.4 km
Time: 1.5 Hours
Difficulty: Medium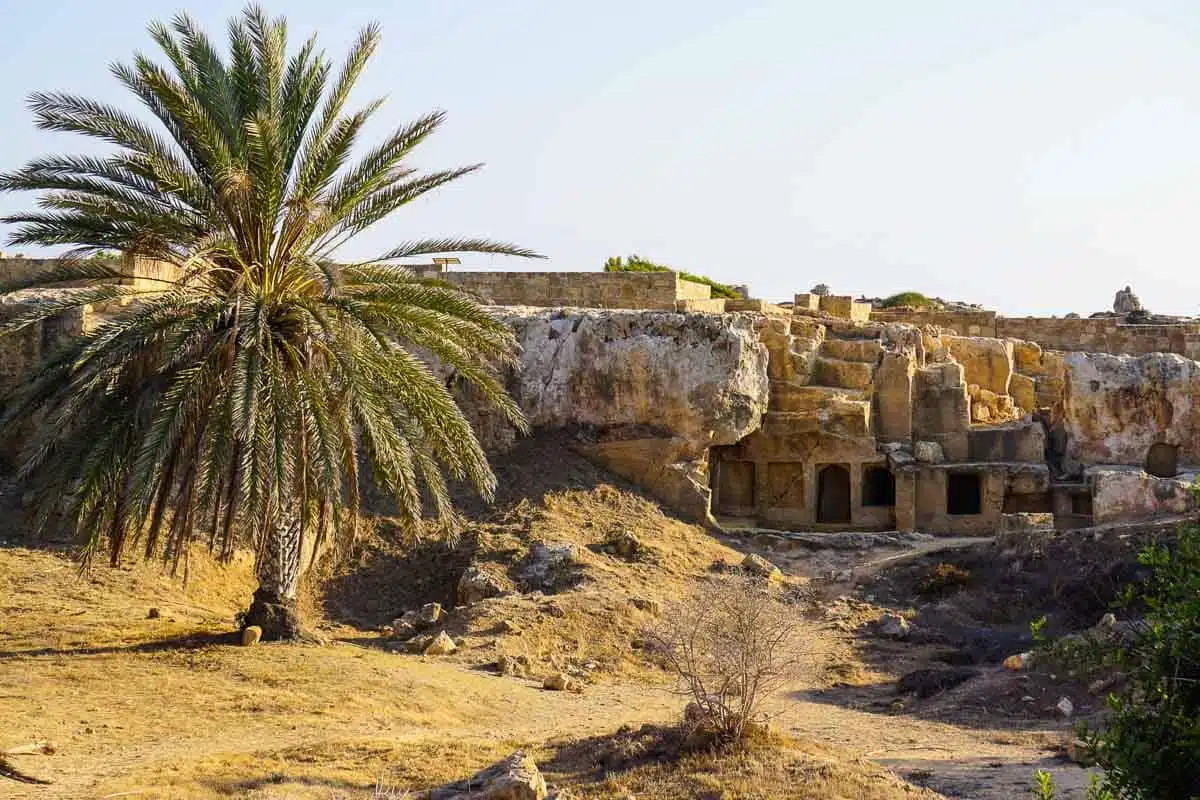 Year-round access to trails like the Tomb of the Kings Coastline makes hiking in Cyprus ideal whenever you travel.
This trail is a great way to see one of Cyprus's most impressive archeological locations while heading out on a long and gorgeous walk. It's also a perfect way to see the Mediterranean Coast on your walk in Cyprus.
Go early in the day in the summer, and check ahead of time to be sure it's open, as the trail sometimes closes from time to time.
Governor's Beach in Pentakomo
Length: 4.98 km
Time: 1 Hour
Difficulty: Easy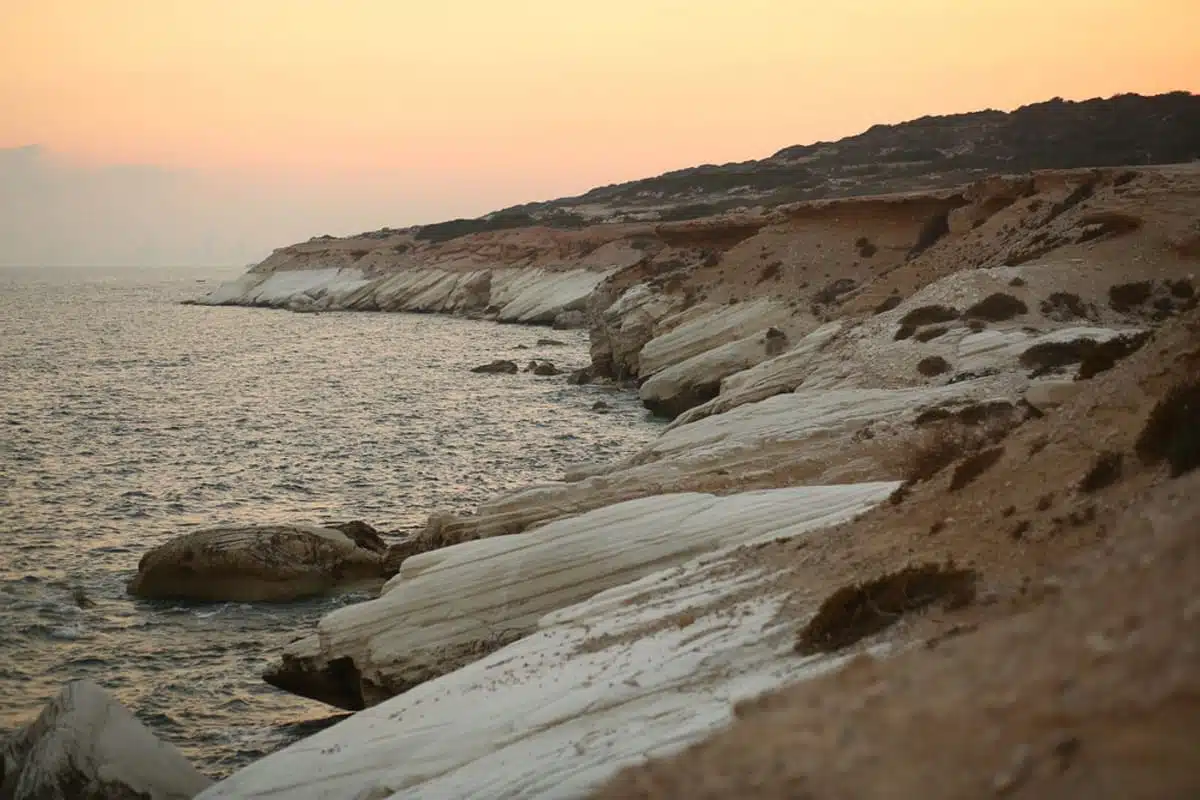 Hiking in Cyprus is always fun, especially near the stunning Governor's Beach coastline. And this hike has seaside trails that are perfect for a leisurely stroll.
I love Limassol, and this is a great way to see the beaches and bluffs that make it one of the most impressive areas on the island.
For a mellow coastal hike in Cyprus, it's tough to do much better than this.
Pissouri Trail
Length: 7.72 km
Time: 2.5 Hours
Difficulty: Medium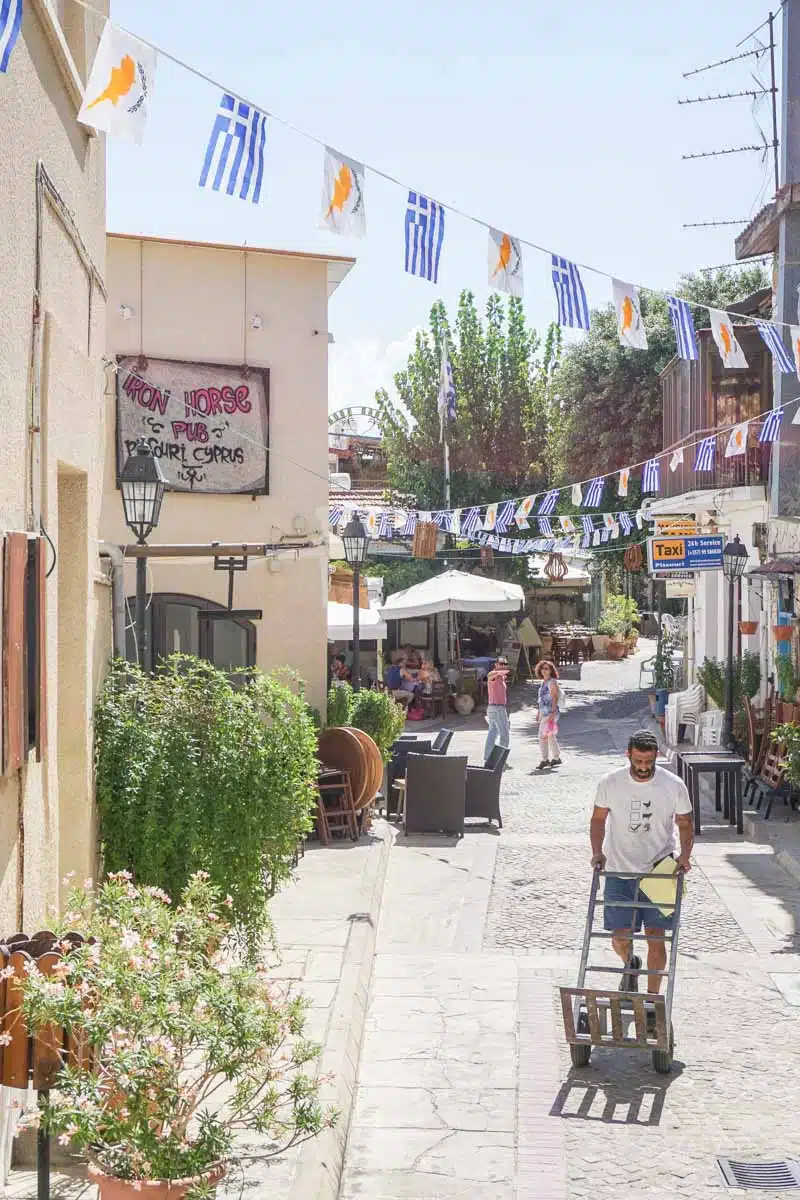 The Pissouri Trail is an out-and-back option that is an excellent choice if you want a challenging hike in Cyprus. It's one of my favourites – mainly because you get to take in the limestone cliffs and glistening blue waters of the incredible shores of Pissouri.
There's some elevation, and the footing can be tricky, so wear your best hiking shoes when you head off on this amazing Cyprus hike.
Old Lagoudera Bridge – Xyliatos Dam
Length: 6.92 km
Time: 2 Hours
Difficulty: Medium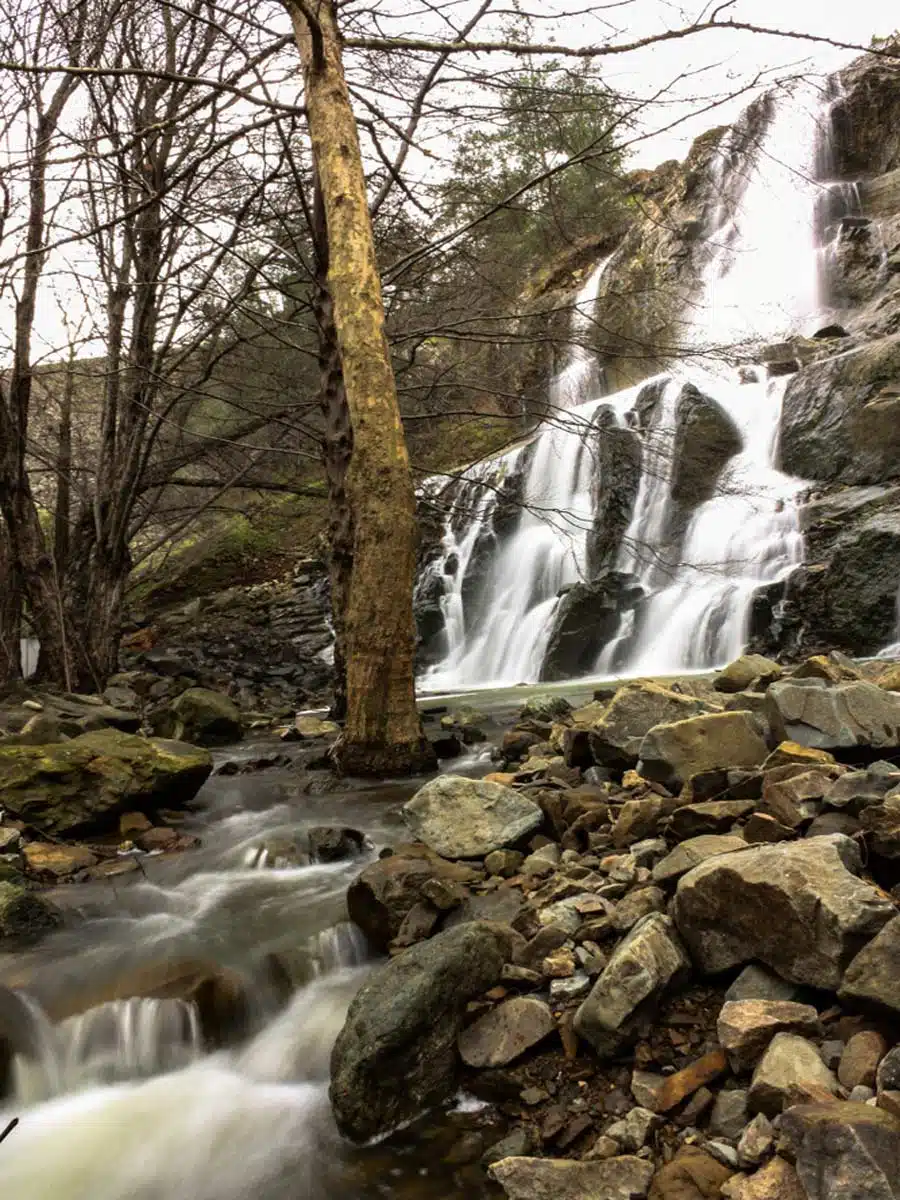 For a trail less travelled, check out the wonderful Old Lagoudera Bridge hike near Nicosia. Highlights along the way include the Old Lagoudera Bridge, a beautiful gorge, and the vast Xyliatos Dam.
The hike itself isn't too tricky, but it's best to do it when the weather has been warm to avoid slippery paths.
Take in the serene landscape on one of the quieter trails on this list and see why hiking in Cyprus is always a must when planning a holiday to this Mediterranean Island.
Atalante Trail
Length: 13.67 km
Time: 4 Hours
Difficulty: Medium
The Atalante Trail is a great choice if you're looking for another vantage point to experience a Mount Olympus Cyprus hike.
The pine forests are majestic and feature some of the oldest trees on the island – allegedly dating back 800 years, but you'll have to check them out for yourself.
The elevation is noticeable but manageable, and it's a great way to see the Cyprus countryside. Winter = snow, so bring the proper gear if you're hiking Cyprus during the coldest months.
Best Cyprus Hikes: Practical Tips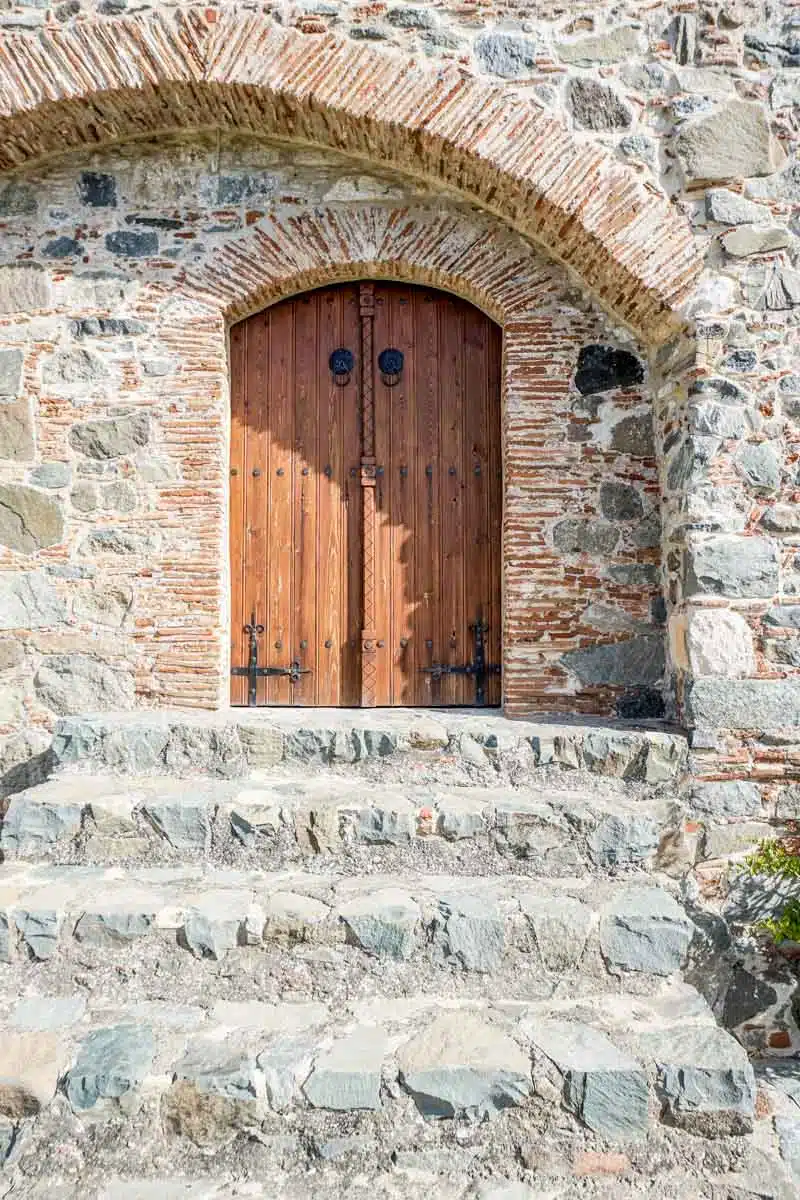 If you're hiking in the mountains, always check the forecast. Winters are known to have cold temperatures, rain, and snow. Pack accordingly, and schedule your hikes to Troodos and other mountain regions from April through November.
Animal Safety
I always want to know which animals I may encounter when hiking anywhere (preferably from a distance). You won't need a bear horn like you would if hiking in the Rocky Mountains, but you will want to stay on the trail and look for snakes.
Look out for the Blunt-Nosed Viper in particular, as their bite can be deadly to humans.
What to Bring
Some trails are difficult to navigate, even when labelled. So do your best to prepare and download any trail maps for when you lose cell phone reception.
Pack warm clothes if you're hiking in the mountains, even during the summer. Dress in layers as the mornings may be cool and the afternoons heat up quickly.
Bring plenty of sun cream, a good hat, and bug spray if you hike near the coast in the summertime.
Bring a good pair of hiking shoes and poles if you have them. Some trails are more challenging than they appear at first glance and may have uneven rocky footing.
Brilliant Cyprus Hikes: Read Next
Love This? Save and Share on Pinterest