Planning a trip to Cyprus? You're in luck – discover the best places to stay in Cyprus with this handy guide.
Choosing the perfect Cyprus hotel can feel daunting. But don't let it get you too stressed out; you're planning a trip to one of the most incredible destinations on the planet, after all.
Cyprus is world-renowned for the sandy shores that seem to wrap their way around the island endlessly.
Want to find a resort near the best beach in Cyprus? Take your pick. Limassol, Pissouri, Larnaca, and Ayia Napa are all contenders for coastal areas you can't miss.
But, believe it or not, there is so much more to Cyprus than the stunning crystal blue waters and golden sands – hikes and history can be found in abundance on the island.
So where should you base yourself when embarking on your next adventure? I'm here to help. Let's look at the best hotels in Cyprus.
Best Hotels in Cyprus: At a Glance
Best Hotels in Cyprus
Columbia Beach Resort
££
Pissouri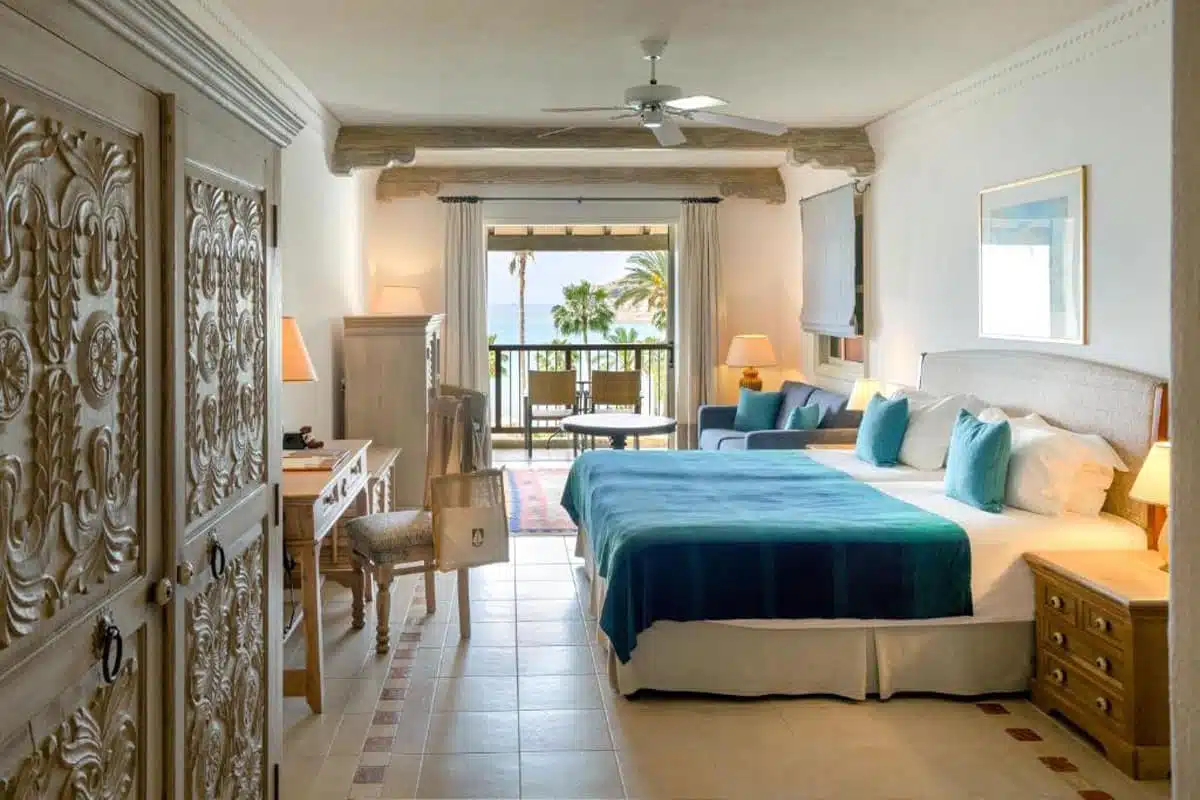 Where should you stay when you fancy exploring the island's lively streets and dramatic shores? Enter Columbia Beach Resort, sitting charmingly on the idyllic Pissouri Bay and, IMO, the best overall choice for a Cyprus hotel.
But location isn't all that makes this my top pick for hotels in Cyprus.

The all-suite property boasts 169 luxurious rooms (some of which will be temporarily closed for renovations in March 2023) with views that open up to the garden, pool, or the Mediterranean Sea. Each and every room showcases flashes of modern decor with a chilled-out beachy feel.
Ready to spend some time at one of the pools? Swim up and take a seat at the posh pool bar. Then, dine at Apollo Restaurant, or treat yourself to a treatment at Hébe Spa when you need a little time for pampering. Don't we all?
Nonetheless, location is one of the biggest draws here, and you'll instantly see why the incredible coastline and beach access are the icing on the cake for my favourite overall choice of a Cyprus hotel.
Alasia in Limassol
££ – £££
Limassol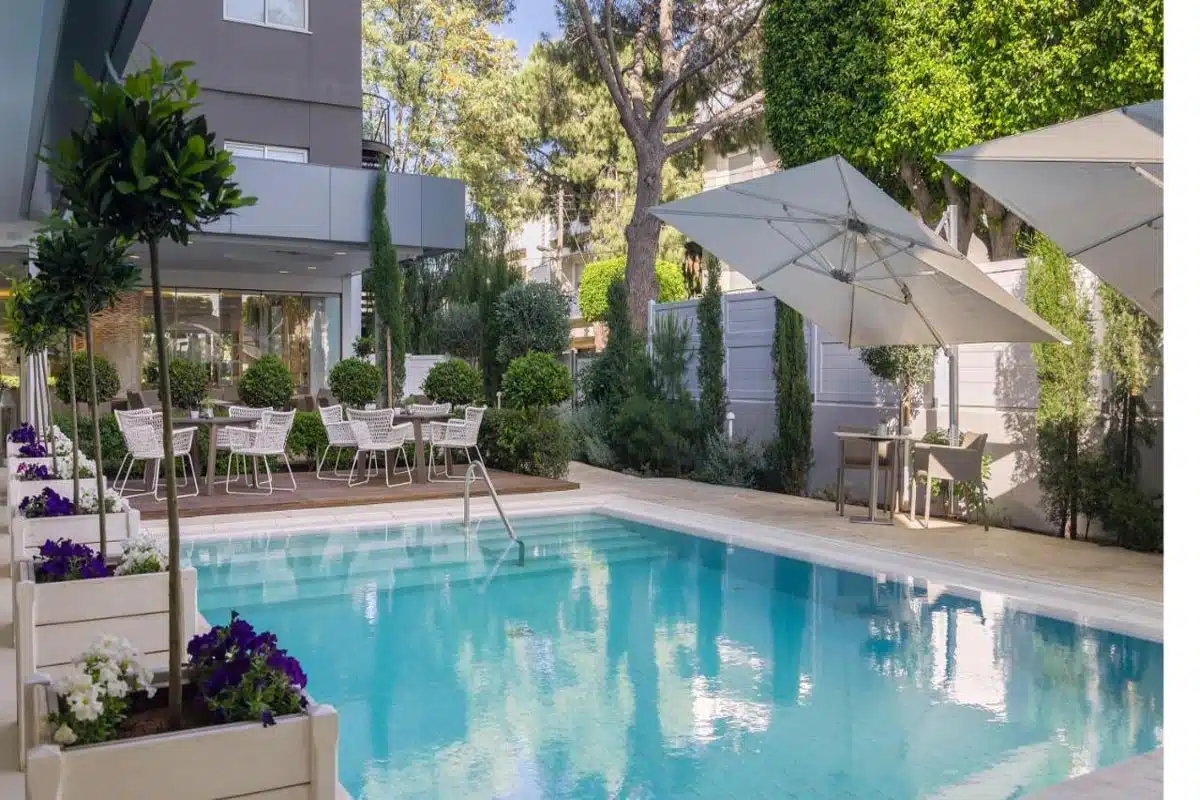 If it's an urban oasis you're looking for in Limassol, the Alasia Boutique Hotel is your best bet.
Situated right in the heart of the Limassol district, this stylish and modern Cyprus hotel is perfect in nearly every way. Let's start with the design. Architect Sotiris Psaras created a groundbreakingly modish and inventive space that feels a little bit like the cool kid that doesn't try too hard.
The luxury spa boasts Temple Spa products and expert attendants to help you take your mind off the bustling city streets just outside the doors.
Rooms here are perfectly suited for business or pleasure, with plenty of space for relaxing or working inside or on your private terrace. Choose the Executive Suite with Pool View and look out at Limassol from your private outdoor jacuzzi for some serious wow factor.
AMARA Hotel
£££
Limassol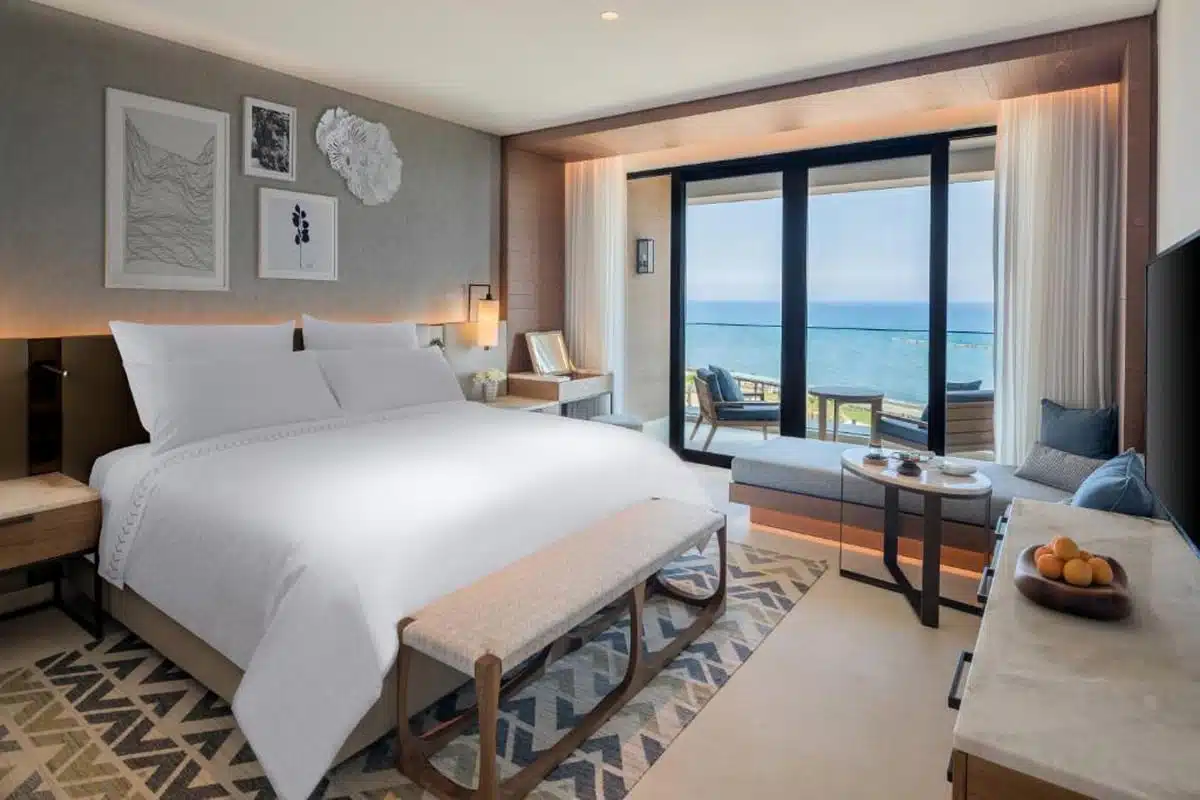 There are some big shoes to fill when building the first new coastal construction in Limassol in nearly 20 years. The AMARA Hotel in Limassol got off to a good start when they uncovered ancient ruins that became a focal point of the hotel grounds.

What makes this the best beach hotel in Cyprus, if not the entire world? How about amenities including private beach access, restaurants from acclaimed chefs like Chef Nobu and George Papaioannou, and panoramic views from Every. Single. Room.

Add to that a sustainable design plan combining the stunning natural landscape with cutting-edge architecture and you'll see why I'm hyping this up so much. The ingenuity is evident in beautiful yet understated touches like the Cypriot-inspired lobby with sweeping views of the Mediterranean Sea.

Ready to book? You should be, as it doesn't get any better than this new and exciting Cyprus hotel on the beach.
NissiBlue Beach Resort
££
Ayia Napa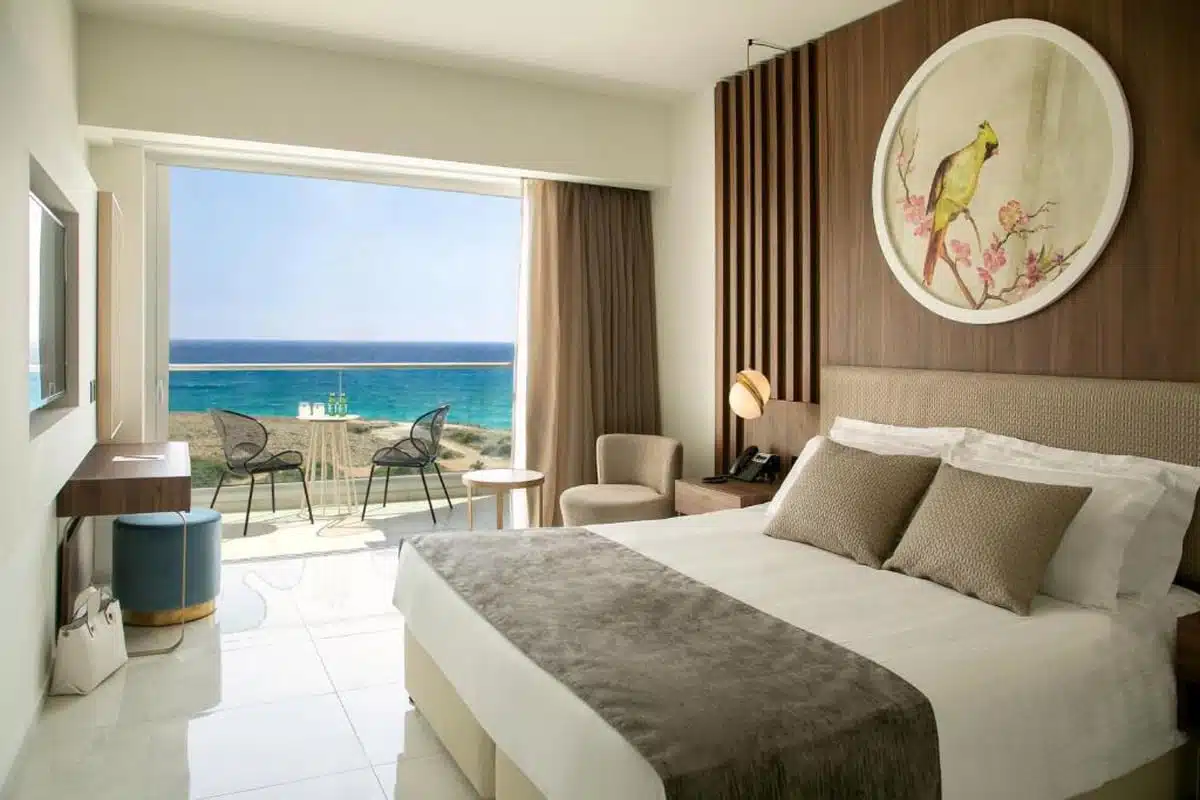 Looking for luxury hotels in Cyprus that are ideal for some fun in the sun? The NissiBlue Beach Resort is an incredible choice.

What makes this hotel shine? To start, it's near one of the most popular beaches in Ayia Napa. In fact, you'll likely be staring right out at Nissi Beach from your high-tech room, where you can contact the 5-star resort staff for any special request right from your mobile device.
Want a taste of local Cypriot food? Of course, you do. Choose between a la carte or buffet options at one of several on-site restaurants. Indoor and outdoor pools, a luxury spa, and a fitness centre are all top-notch amenities at your disposal.
Roman Boutique Hotel
£
Kato Paphos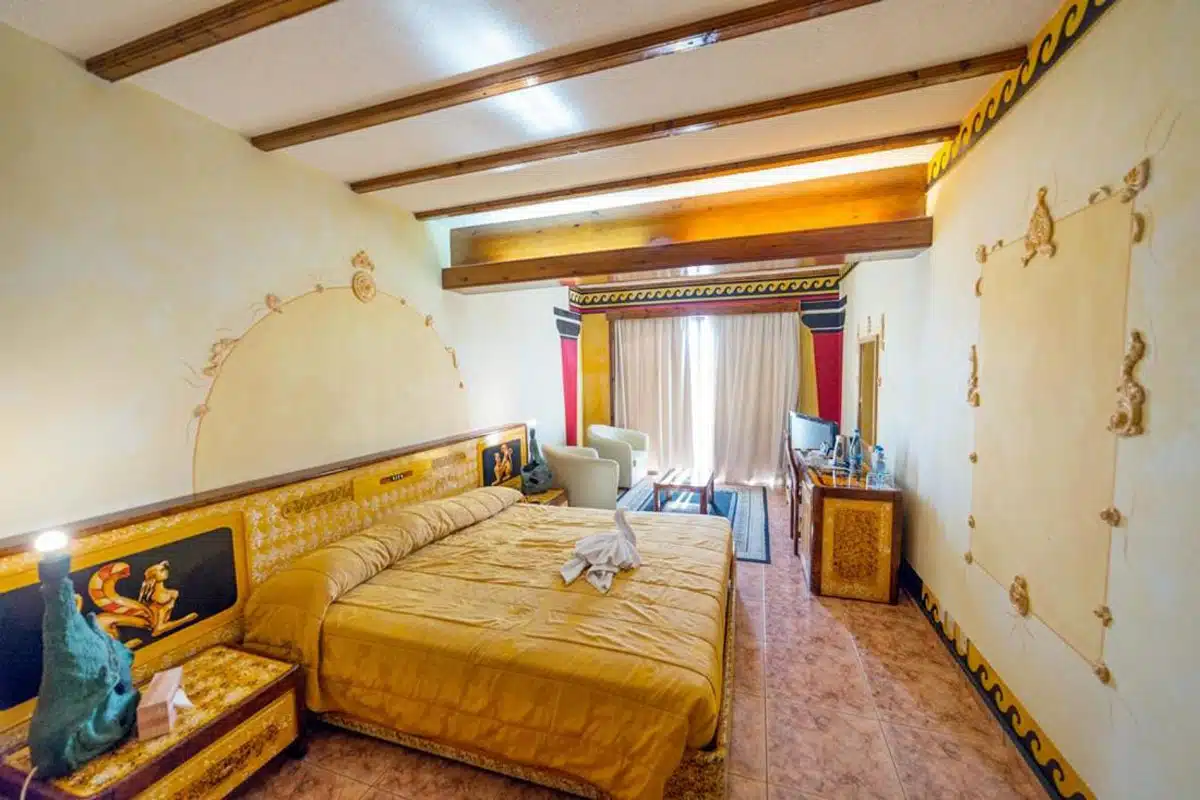 Next up, let me introduce a budget-friendly (but no less brilliant) option. The Roman Boutique Hotel is mere steps away from the mosaics and ruins at Paphos Archaeological Park. And it's also within walking distance from the gorgeous Faros Beach.
Each room features ornate paintings of Greek mythology on the walls and are comfortable, spacious, and cool, all at a more-than-reasonable price.
Be sure to try the outdoor buffet for breakfast or dinner and stick around for live traditional Cypriot entertainment in the evening for a truly unique experience at your hotel in Cyprus.
The King Jason Paphos
££
Kato Paphos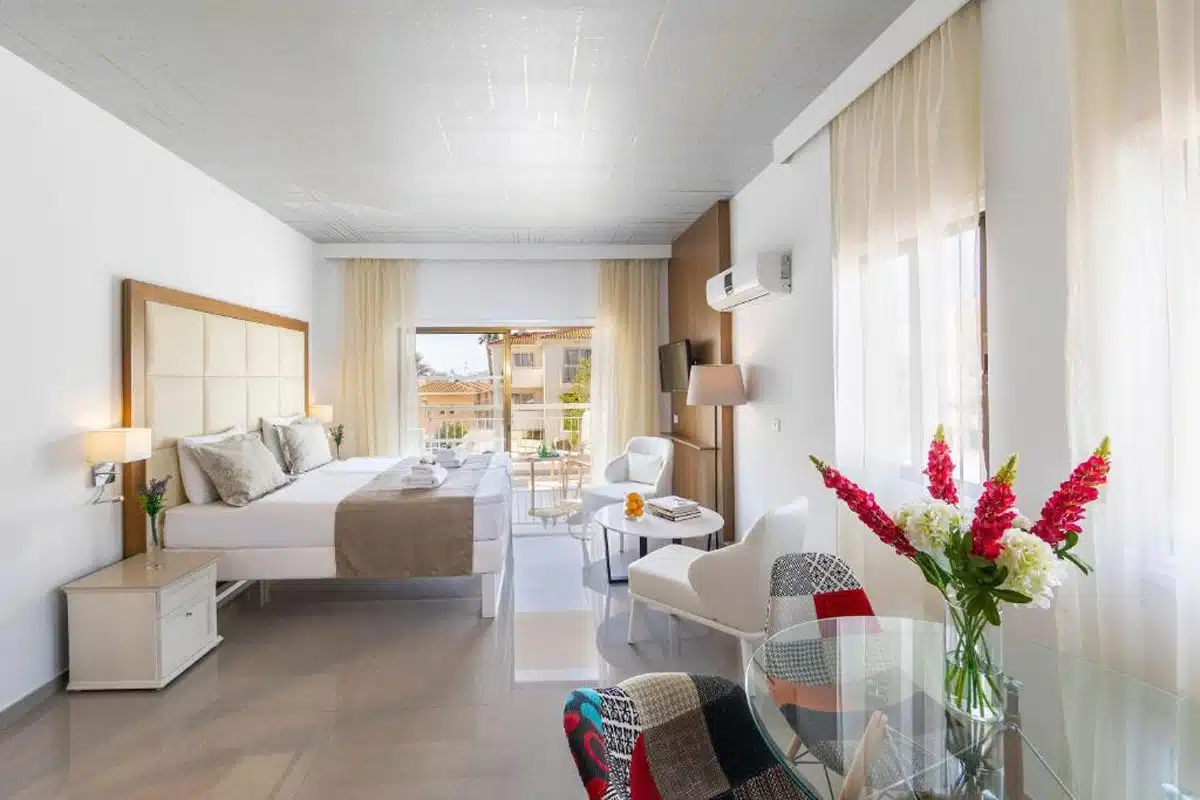 Keen to find all-inclusive hotels in Cyprus that are adults-only? The King Jason Paphos is your best option.
Choose from several all-inclusive packages, ranging from a breakfast-only setup to a premium package featuring unlimited meals, a carving station, and chefs rustling up delicious meals right in front of your eyes.
The rooms and property grounds are luxurious and completely kid-free, making it a great choice for couples who want a quiet romantic holiday at one of the best all-inclusive hotels Cyprus offers.
Merit Royal Diamond Hotel & SPA
£££
Kyrenia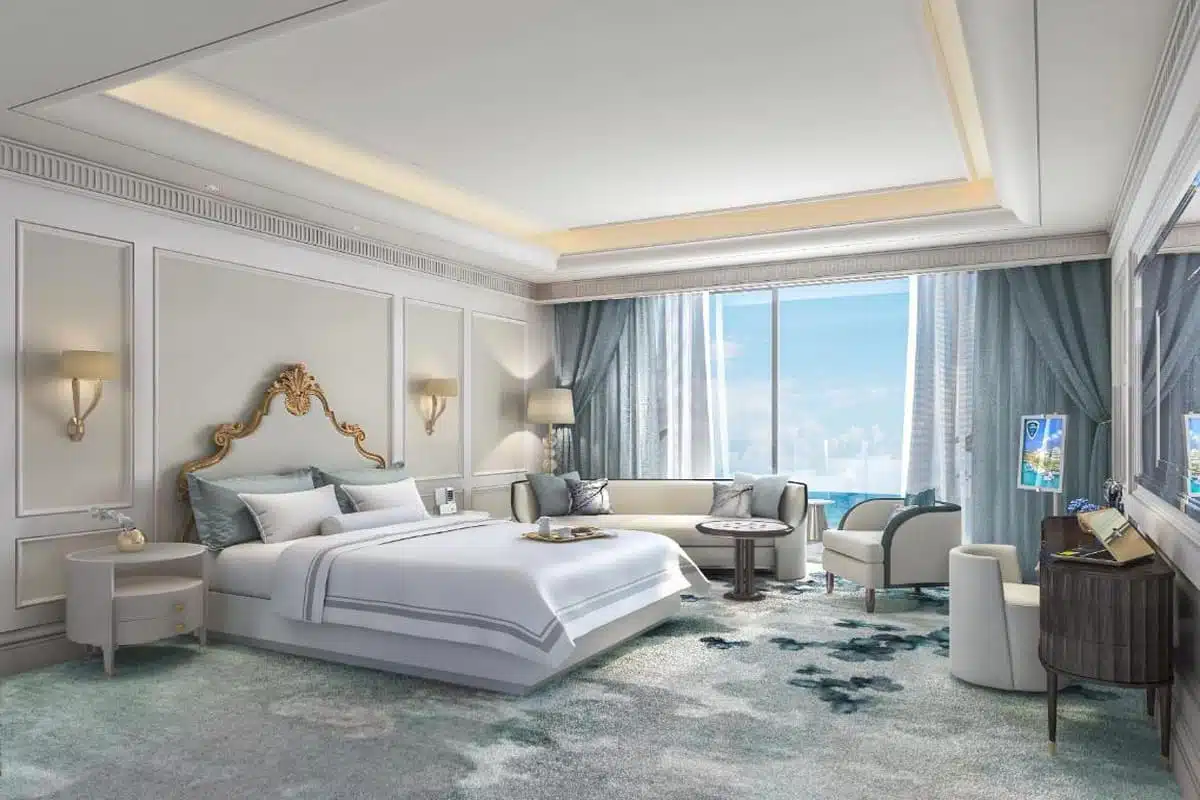 Merit Royal Diamond Hotel & SPA is one of the best Northern Cyprus 5-star hotels and an excellent pick for seeing Kyrenia and its natural beauty.
The stately interior has an old-world charm – rooms are warm and luxurious and have that grandma's house feel (that is, if your grandma was the Countess of Grantham).

The lobby and lounge area are opulent, and there's even an indoor pool for those chillier Northern Cyprus evenings.
Lebay Beach Hotel
££
Larnaca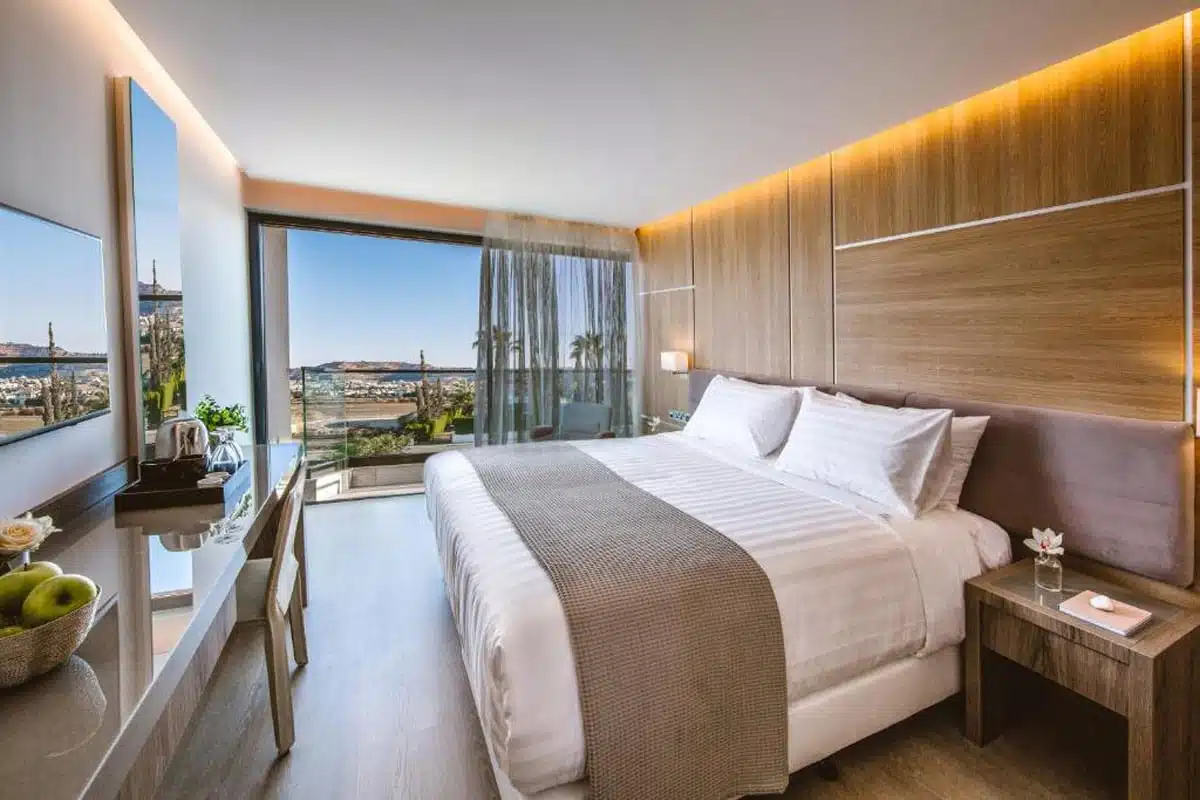 Looking for the best hotel in Cyprus for couples? Lebay Beach Hotel is perfect for a romantic escape by the water.
Don't believe me? Picture yourself downing poolside cocktails whilst overlooking the pristine Larnaca beaches from your lounge chair.
Oh, and if you fancy a bit of an upgrade, you can always rent a beach cabana and spend some time taking in the beauty of the Mediterranean Sea together.
When you're ready to head upstairs, your room at one of the best Cyprus beach hotels will not disappoint. Whether you reserve a suite or a standard option, your luxe accommodation and balcony views are sure to impress.
Four Seasons Hotel
£££
Agios Tychonas (Limassol)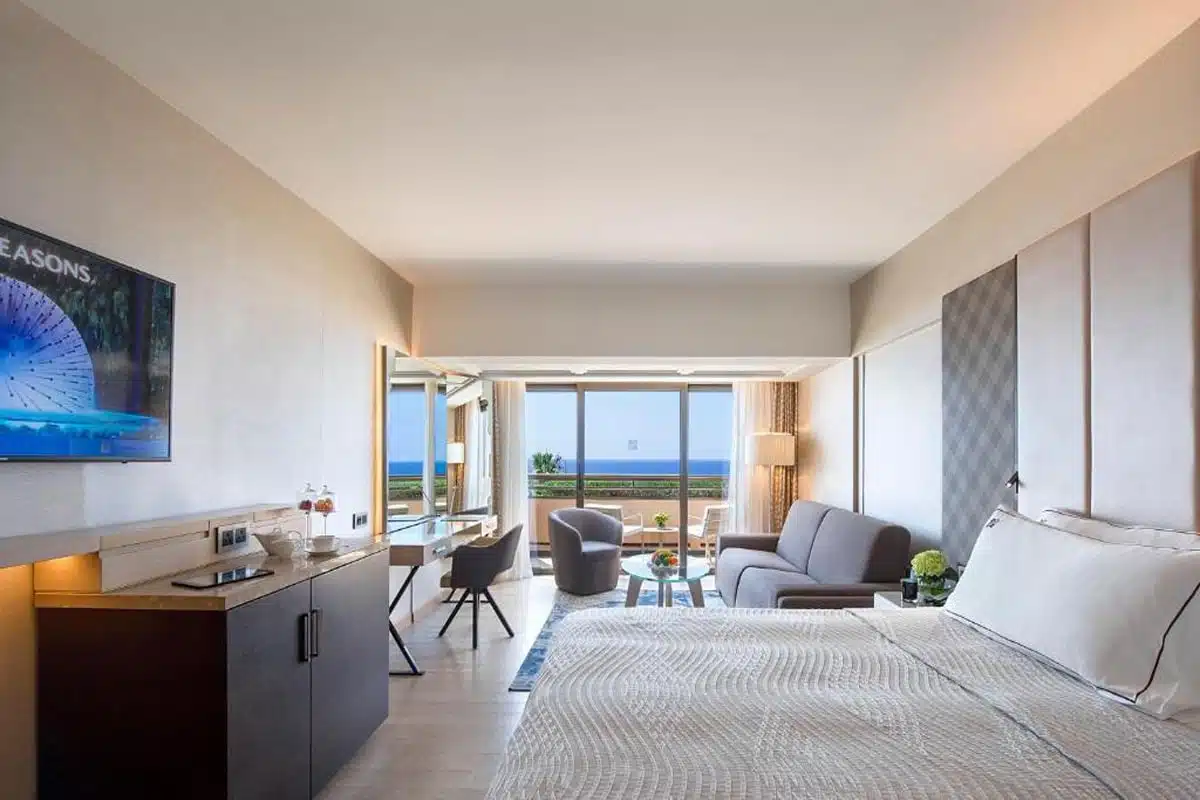 Looking for the best 5-star hotels in Cyprus? The Four Seasons Hotel is an easy choice, with private beach access, tennis courts, and a deluxe spa on site.
In addition, the dining options here are fantastic; from the local favourite Colors Cafe to global fare, including Chinese food and a soon-to-open Italian restaurant, there are crave-worthy options galore.
Rooms are quiet, luxurious, and ideal for spending a few relaxing nights at one of the best Cyprus resorts.
Cap St Georges Villas
£££
Peyia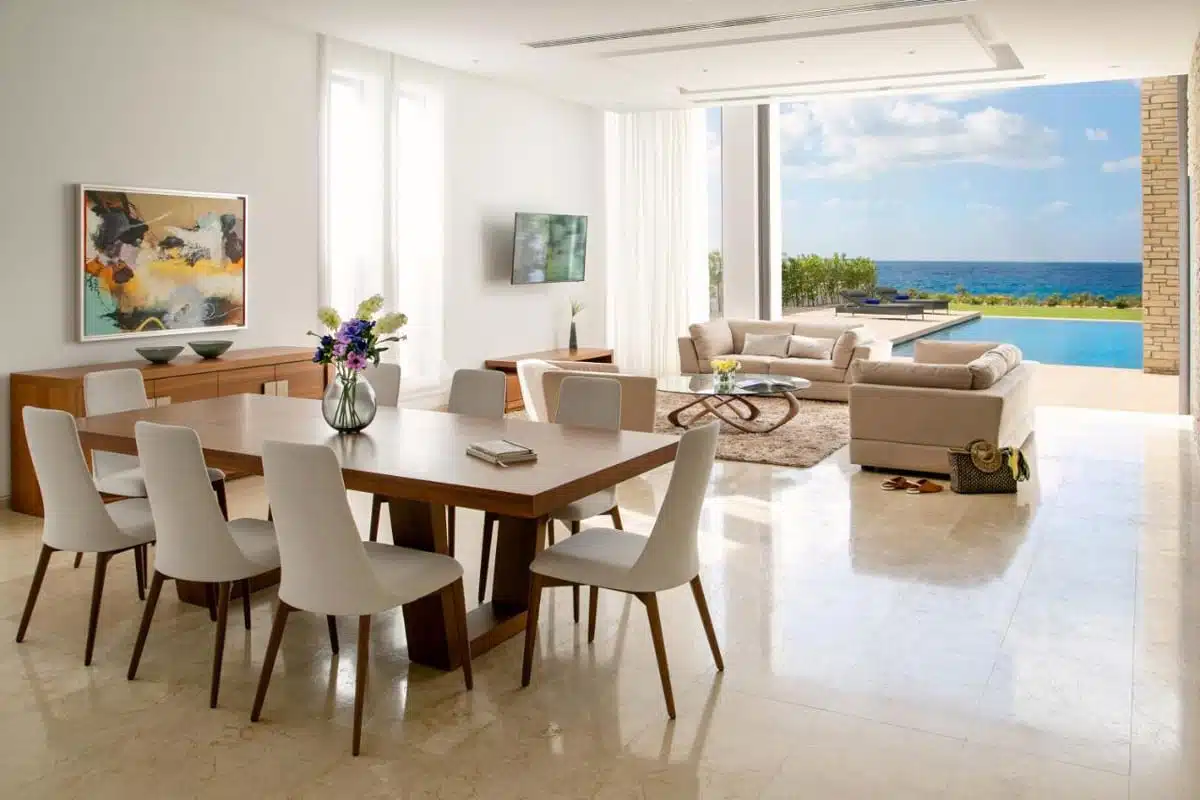 Looking for a stylish and lavish experience in Akamas National Park? Cap St Georges Villas is an exceptional place to holiday in Cyprus for a taste of high design and luxury accommodations in a private setting.

The luxury villas blend modern design with elements of classic Mediterranean style and high-end features like smart technology you can control when you're not even in your room.
A pristine beach, an infinity pool, and unparalleled access to the scenic Cyprus Coast on Maniki beach are just a few reasons to choose this luxury resort in Cyprus.
Merit Lefkosa Hotel & Casino
££
North Nicosia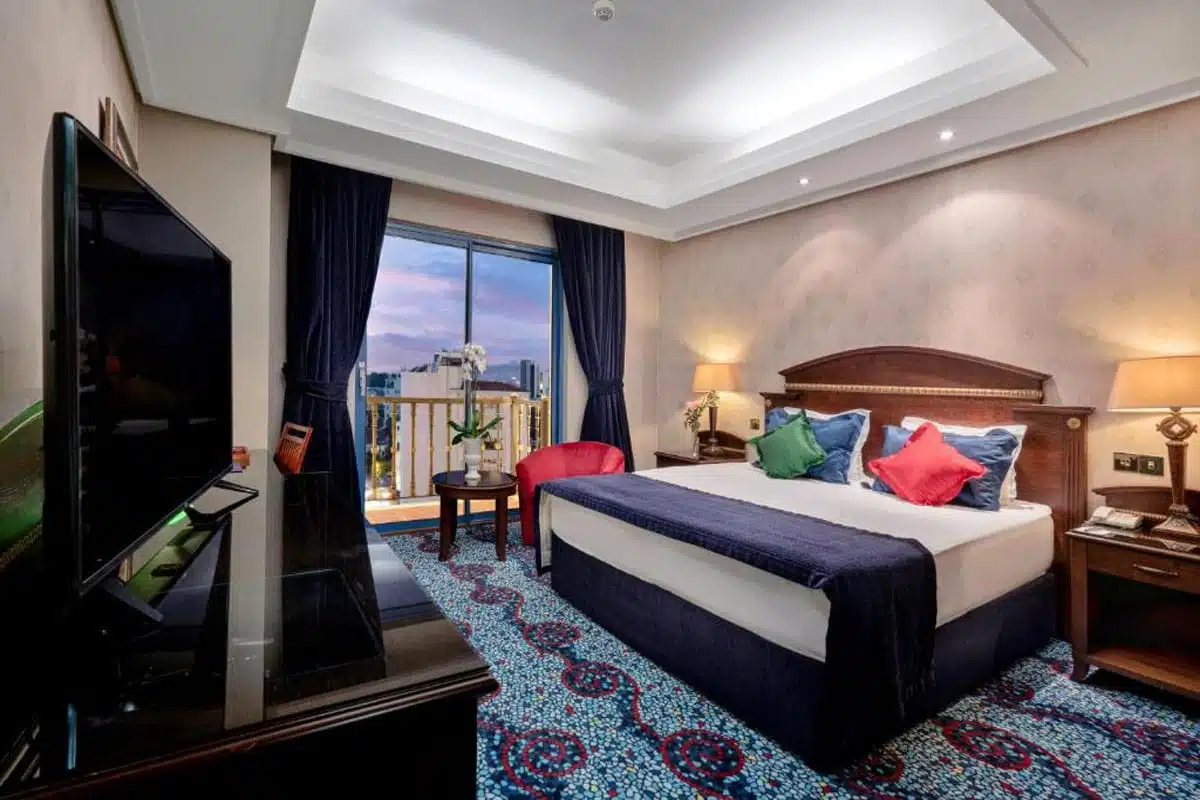 Merit Lefkosa Hotel & Casino is ideal for a luxury resort option near the capital city of Nicosia.
You'll enjoy access to indoor and outdoor pools, buffet-style and a la carte restaurants, and a casino (hello, Blackjack) at one of the premier hotels in Northern Nicosia.
Rooms are excellent, if not a little garish (but you're in Cyprus – who cares!), decked out in rich jewel tones and dark wood furniture.
They're not the most spacious, but you can always upgrade to a suite for a little extra space and views of Northern Cyprus that rival any you'll find elsewhere.
Best Hotels in Cyprus: Frequently Asked Questions
Practical Tips to Consider Before Booking Your Cyprus Hotel
Plan your trip for shoulder season. You'll get better rates at some of the best hotels in Cyprus if you can avoid going during peak travelling times.
Book your hotel well in advance and use websites like Booking.com to get great deals on Cyprus hotels.
Don't forget to bring your beach gear (and plenty of sun cream!) because many of the best Cyprus hotels are on the water.
Love This? Save and Share on Pinterest