Dreaming of witnessing the Northern Lights? These wonderful Northern Lights hotels in Norway can help you do just that.
Many people think that Norway is all about fjords, Vikings, and idyllic little fishing villages surrounded by snow-capped mountains… And they'd be right. But, as much as that's true, Norway is also one of the few places in the world where you can witness the magnificent Northern Lights (or Aurora Borealis, if you like big words).
While you won't often see them from the capital city of Oslo, there are a handful of towns, villages, and even islands where the Northern Lights illuminate the sky. If you're looking for things to do in Norway, it'll be well worth your time to take a trip up North.
Aurora Borealis is a phenomenon that's sometimes hard to spot. In fact, the weather conditions have to be pretty much perfect to get a good glimpse of the spectacle. So staying at one of the specially designed Norway hotels for Northern Lights viewings is the best way to see this.
Ready to discover the best Northern Lights hotels in Norway? Let's go.
Best Northern Lights Hotels in Norway: At a Glance
Incredible Norway Northern Lights Hotels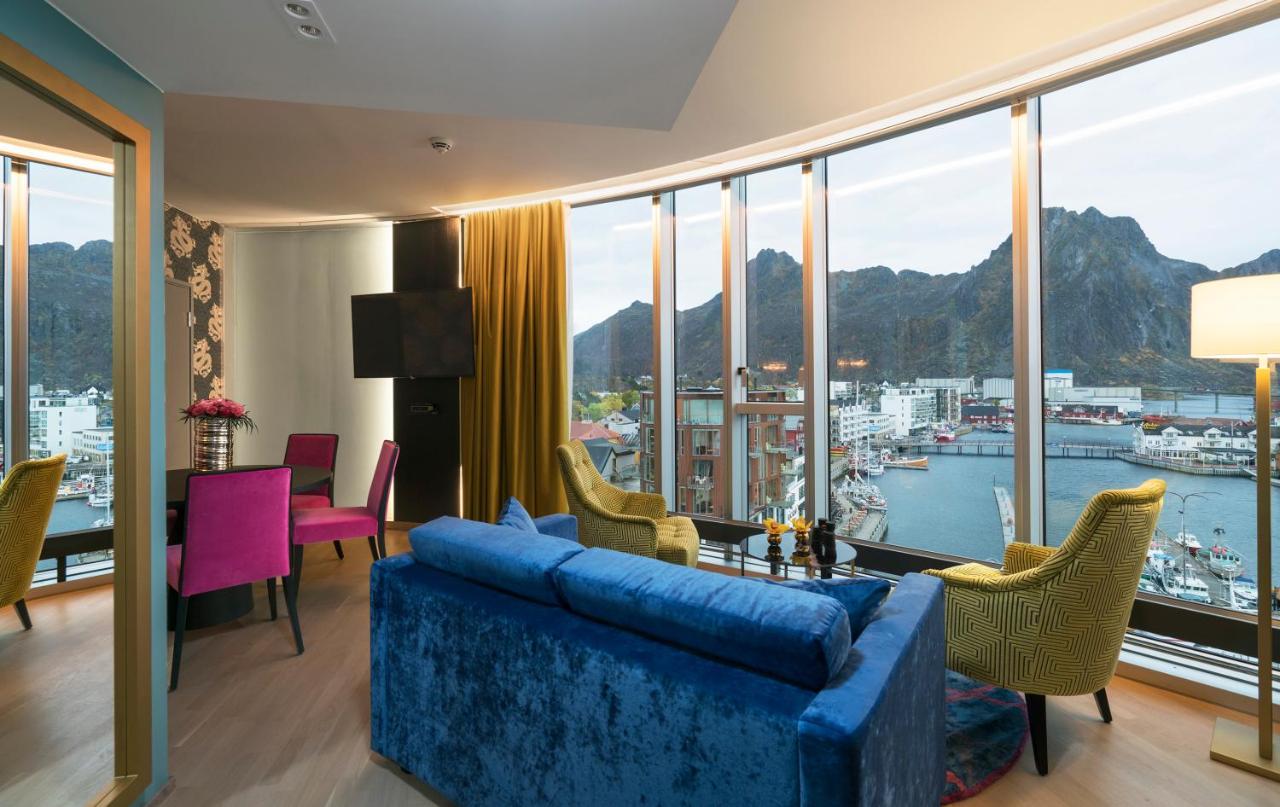 Thon Hotel Lofoten
Svolvær
The Thon Hotel Lofoten is a trendy and eco-friendly place to stay in Norway. Ideally situated on the waterfront, this hotel offers guests picturesque views of the surrounding mountains and life in the harbour.
Not only does this beautiful accomodation have an on-site restaurant serving local cuisine such as Lofoten lamb and dried cod, but there is plenty to do and see around the hotel – including free access to the neighbouring fitness centre.
You can ask the hotel's staff to arrange Northern Lights excursions and other activities.
North Experience Basecamp
Melen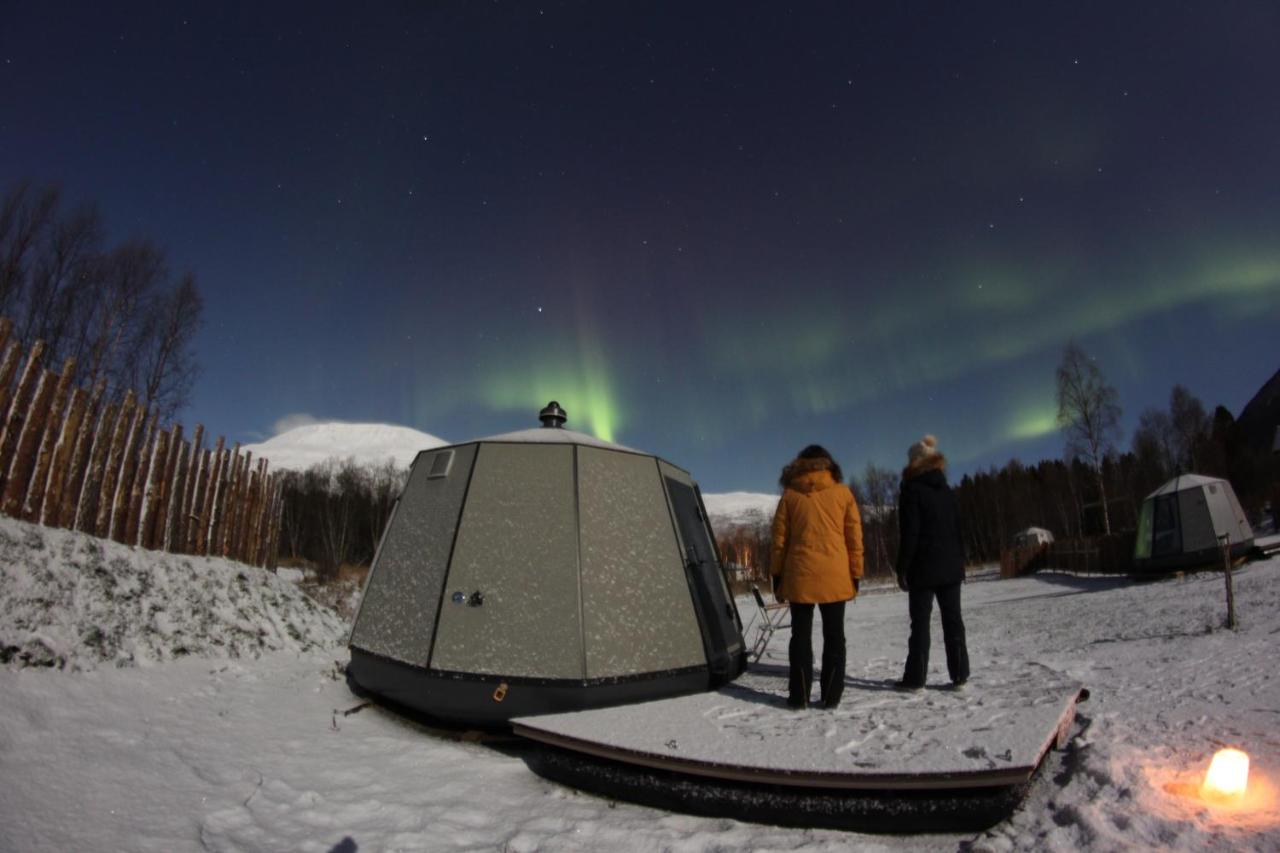 This one is for the adventurers who enjoy a little luxury here and there (this is totally, unapologetically me).
You can visit The North Experience Basecamp in Norway's mountainous region of Melen. Here you'll find the highest peak this close to the Atlantic Ocean, at 768 metres above sea level.
While the tent-like accommodation might not be for everyone, it's one of the best hotels in Norway for Northern Lights observations.
Visitors to the North Experience Basecamp can expect a delightful stay, including room service, a snack bar, and a garden with a barbeque and terrace. Guests are welcome to use the accommodation's sauna and book time at the spa bath facilities.
Check Rates and Availability at North Experience Base Camp
Malangen Resort
Mestervik
For those who can't quite decide between luxury and penny-pinching, Malangen Resort offers guests the choice between both hotel rooms and self-catering units. The resort overlooks the Malangen Fjord, which is a popular location for fishing and Northern Lights excursions.
Guests can eat at the hotel's in-house restaurant that serves fish and other traditional Norwegian foods. Note that if you're visiting with kids, the hotel restaurant offers free meals for children under the age of 15.
During the summer, the restaurant's terrace is open for dining. However, it's a fantastic spot to witness the Northern Lights in winter.
Malangen Resort's self-catering units have cooking facilities, a dishwasher, and a comfortable dining area. Each cabin has its own bathroom and complimentary Wi-Fi connectivity.
Check Rates and Availability at Malangen Resort
Scandic Grand Tromsø
Tromsø
This modern hotel in central Tromsø is a popular accommodation for both international guests and locals. If you're looking for one of Norway's top luxury hotels with Northern Lights views, the Scandic Grand is an excellent option for families and solo travellers alike.
All rooms at the Scandic Grand are beautifully furnished with modern amenities. Larger rooms also include a small seating area. But, with complimentary tea and coffee in the hotel lobby, most guests prefer to chill out in the common areas.
Many people visit this area to view the Northern Lights, and if you're lucky, you might even catch a glimpse of them from the hotel. If not, don't worry – the hotel can also arrange Aurora Borealis tours in Norway and other daily activities.
Check Rates and Availability at Scandic Grand Tromsø
Eliassen Rorbuer, Lofoten Islands
Reine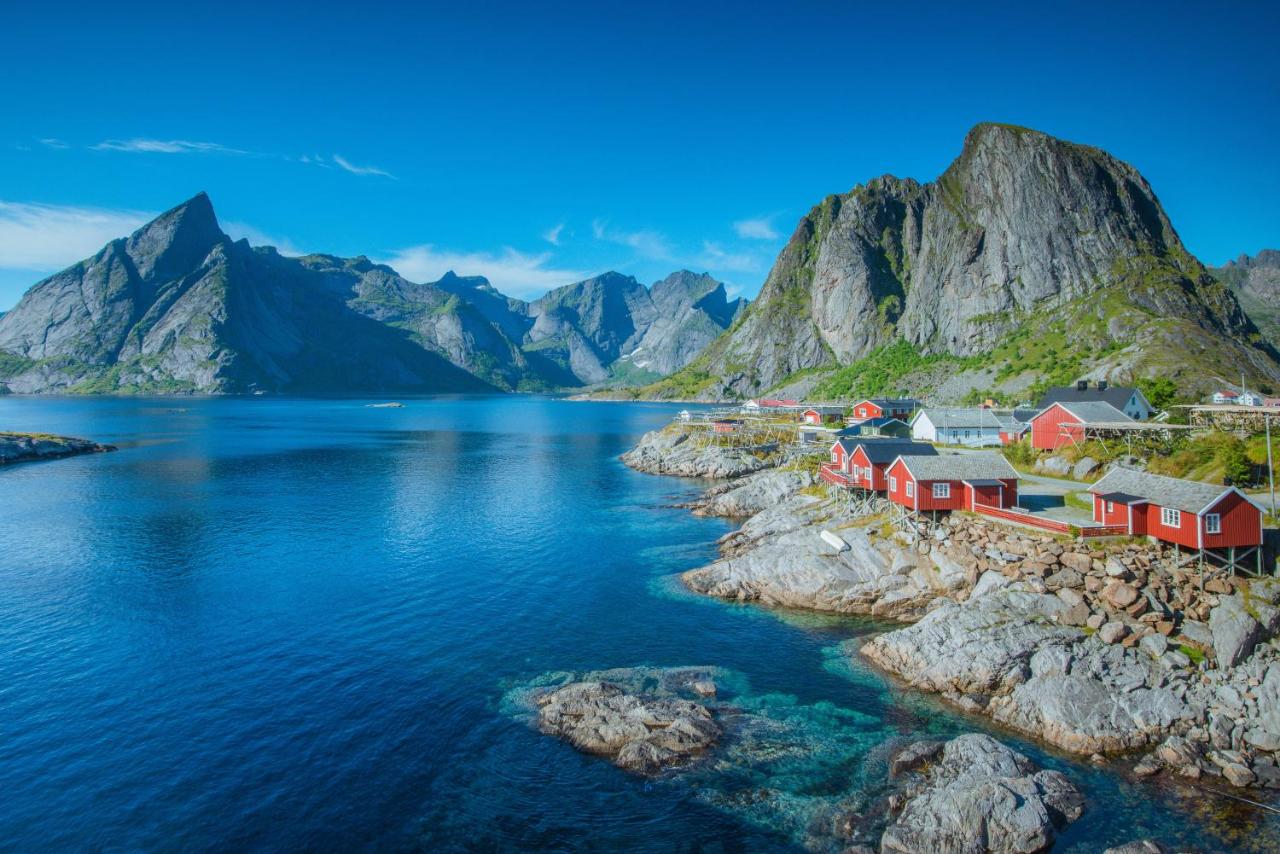 Eliassen Rorbuer is another big winner on the Lofoten Islands – it offers newly-renovated waterfront cabins with unbeatable picturesque views of the Fjords. While there are stunning views all year round, it's one of the best places to stay in Norway for the Northern Lights in winter.
Guests can enjoy Norwegian-Italian fusion food at the accommodation's on-site restaurant (a weird mix, but I'm a fan). The friendly staff at Eliassen Rorbuer are more than willing to help with arranging daytime activities – you can book sea safaris, kayaking, diving, and fishing adventures in this area.
Check Rates and Availability at Eliassen Rorbuer
Radisson Blu Hotel Tromsø
Tromsø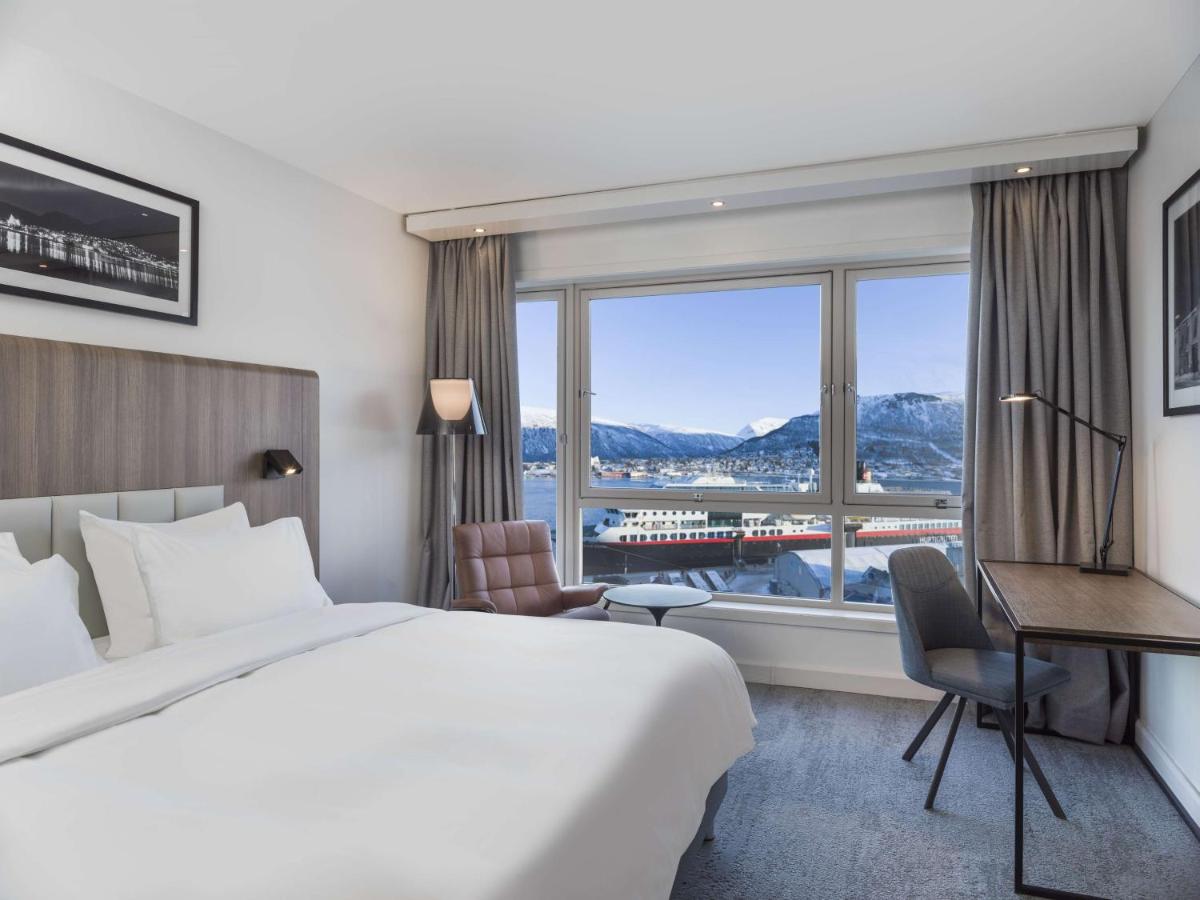 Tromsø's Radisson Blu Hotel maintains the same superb international standard as other hotels of the Radisson Blu chain around the world. This hotel, near Tromsø's harbour, has a modern fitness room, sauna, restaurant, and bar.
Guests and locals agree that the Radisson Blu is one of the best hotels to see the Northern Lights in Norway. Head up to the hotel's glass bridge during winter, and you might be lucky enough to see Aurora Borealis illuminating the sky.
The Arctic Cathedral is also a short distance from the hotel.
Check Rates and Availability at the Radisson Blu Tromsø
Arctic Panorama Lodge
Uløybukt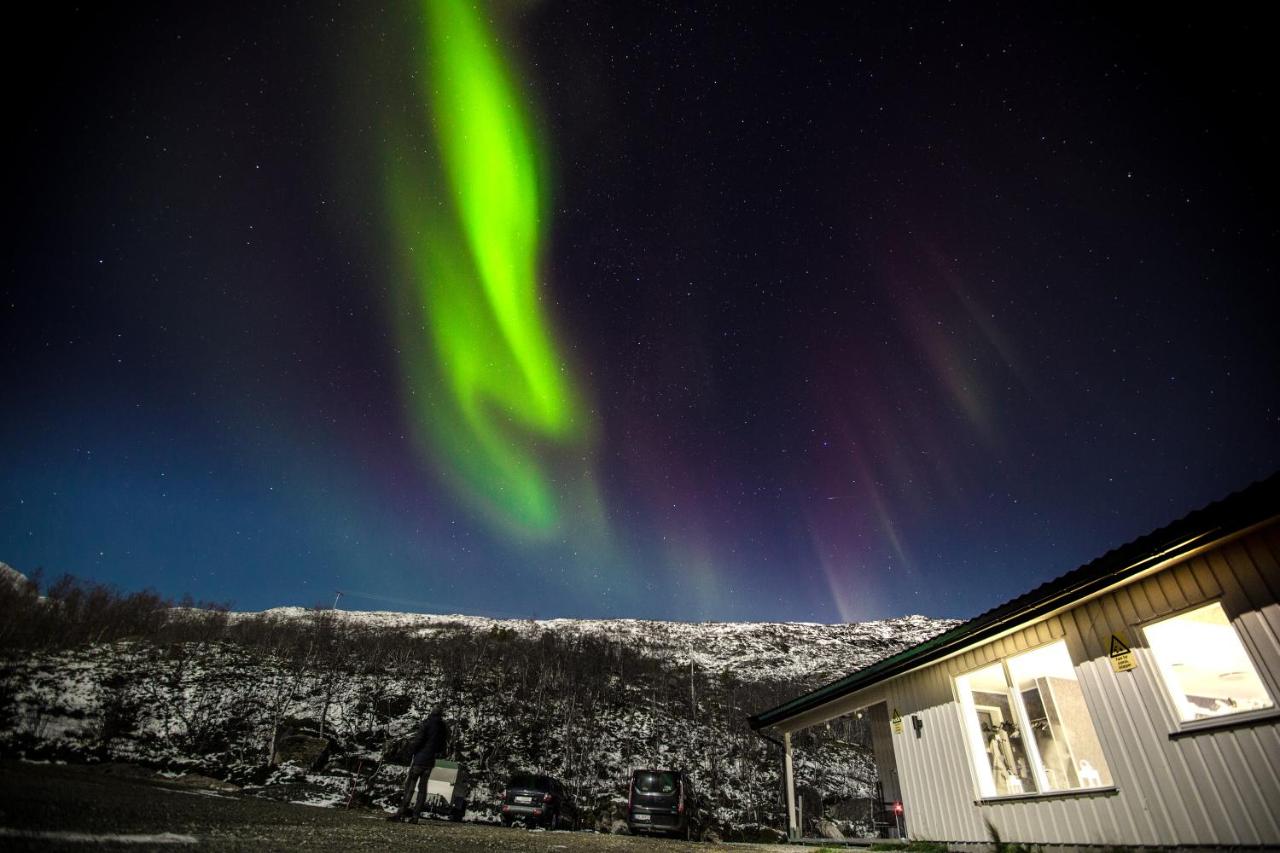 The Arctic Panorama Lodge on Uløya island is perfect for a couples retreat. This island is only accessible by ferry and inhabited by about 22 people. The lodge offers twin rooms, a double room, and a superior suite with sea views.
Booking includes continental breakfast, and guests are welcome to dine at the lodge's restaurant, which uses local produce to serve regional specialities.
Activities like dog sledding, whale watching, and Northern Lights tours are available here.
Check Rates and Availability at Arctic Panorama Lodge
Aurora Borealis Observatory
Silsand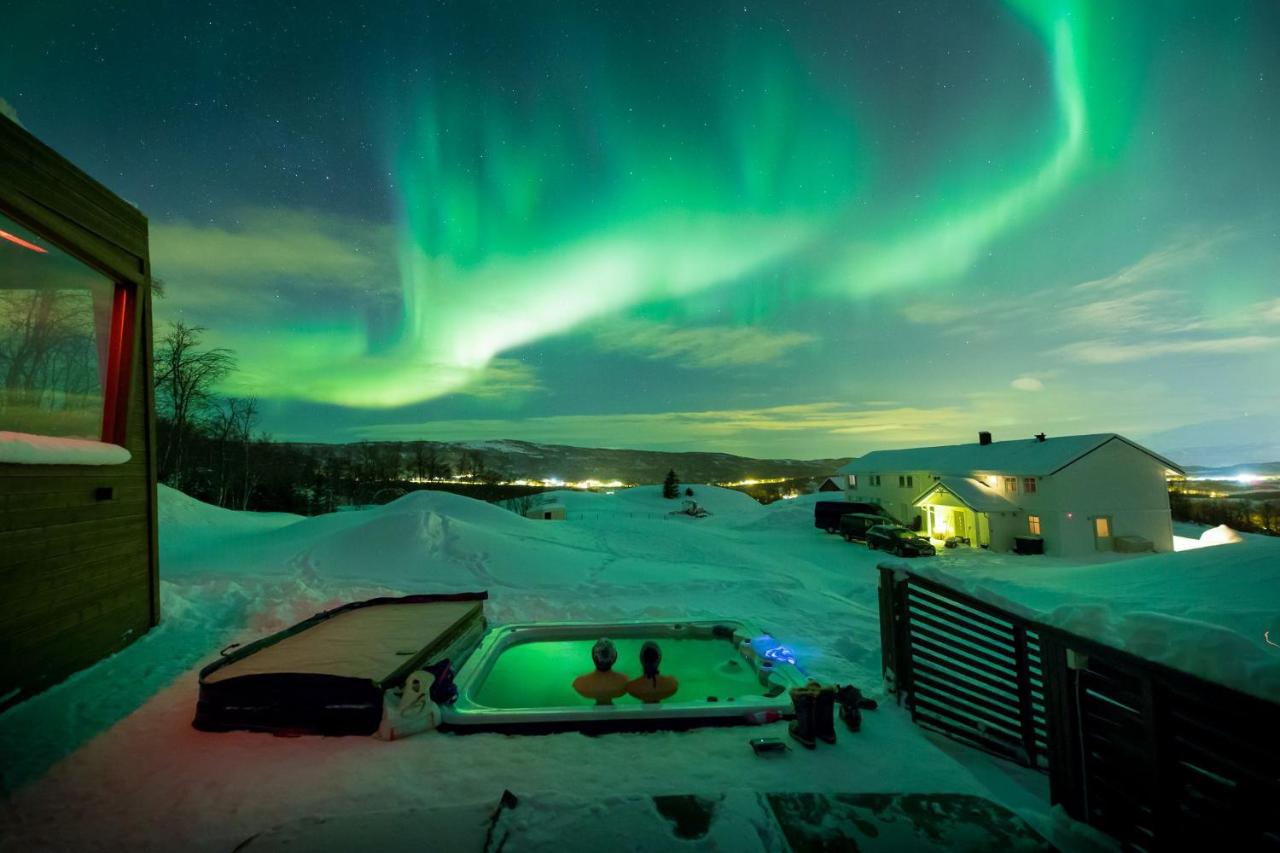 In my humble opinion, the Aurora Borealis Observatory is the best hotel in Norway to see the Northern Lights. Though I doubt you'll disagree with me – the rooms here are all designed for guests to observe the phenomenon with huge glass panels adorning the hotel.
But even when the lights aren't on show, the hotel is a popular location for skiing.
Besides the stunning views, guests at Norway's Aurora Borealis hotel can expect an exceptional breakfast and skiing facilities. It's also possible to rent out ski equipment or book time in the hotel's hot tub.
In Norway, glass hotels for Northern Lights views sell out fast. Make sure to book well in advance.
Check Rates and Availability at Aurora Borealis Observatory Hotel
Senja Fjordhotell
Stonglandseidet
The stunning Senja Fjordhotell is the perfect place to stay for adventure enthusiasts who love hiking, skiing, and cycling. This small yet impressive waterside hotel provides unforgettable views of the Northern Lights and the area's fjords throughout peak season.
Stays at the Senja Fjordhotell will include a continental breakfast, complimentary Wi-Fi, private bathrooms, and free teas and toiletries throughout your stay. It's the perfect place to stay for couples who are chasing Auroras.
Check Rates and Availability at Senja Fjordhotell
Northern Lights Hotels Norway: Practical Tips
The best time to see the Northern Lights is from late September to March.
Svalbard, an island north of the mainland, offers more hotels for Northern Lights in Norway and for viewing some of the world's northernmost attractions.
Norway is considered Europe's coldest country, and the weather at this time can be brutal – you really have to be ready for the cold. Pack lots of warm clothes and appropriate snow gear.
Best Northern Lights Hotels Norway: Map