Read on to learn about my magical Sami Reindeer experience in Tromso, Norway.
I pulled on my boots and buttoned up my winter coat, preparing to face the biting winter cold of the Arctic. It was about 11:30 in the morning, midday by any normal standards, but the sun had just begun to rise in a sky full of clouds.
After traveling about an hour outside of Tromsø, we arrived at a small farm, marked only by a few stables, a large tipi-like structure, two cabins, and an expansive, snowy field.
Despite the chill, we had a reason to be excited – we were about to meet some magnificent creatures on our Sami reindeer experience in Tromso, Norway.
Sami Reindeer Experience in Tromso
Choosing the Sami Reindeer Experience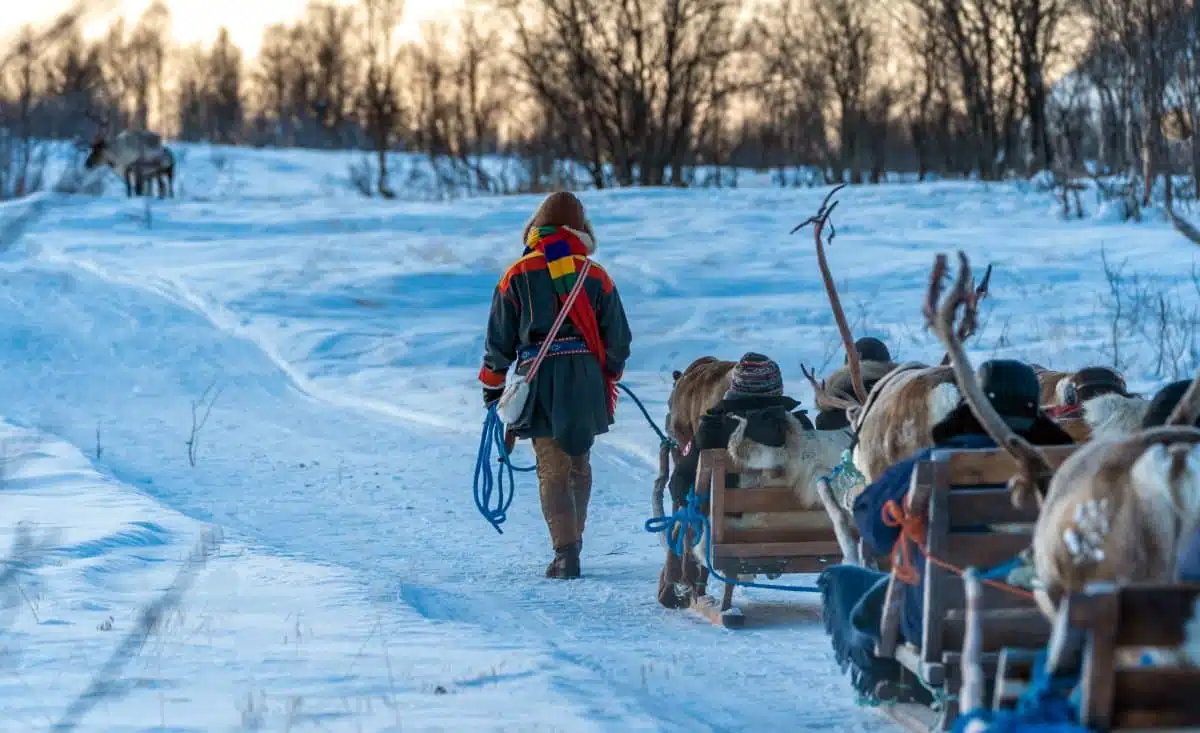 One day before, we stumbled into the tourism office in Tromsø looking for something to do during the short days in the arctic circle.
Although we'd come to Norway primarily to see the northern lights, we got excited about the sheer number of options for day tours around the Tromsø area. The representative suggested we do one of two things: we could ride on dog sled, or we could visit a Sami reindeer farm.
The Samis, we learned, are a group of semi-nomadic indigenous people who live in the arctic areas of Lapland and Siberia. Over the years, they've taken up a variety of occupations like fishing and hunting, but the predominant group of Samis in Norway has herded reindeer for generations. In fact, in many areas, the Samis are the only people who are legally allowed to herd reindeer for a living.
Fascinated about the Samis, my sister and I decided to embark on a Sami reindeer experience and culture tour with a company called Tromsø Lapland.
Meeting Our Guide
The next morning, we boarded a bus and met our Sami guide, Ken.
Ken was a young man, somewhat short in stature. When we met him, he wore an exquisite, embroidered traditional Sami outfit. We sat up in the front of the van with him and learned about his journey.
He grew up in a Sami community, left for college, then built his tour business to teach others about his heritage. He spoke about his work in a very matter-of-factly way, but with glimmers of excitement in his eyes.
A Magical Sled Ride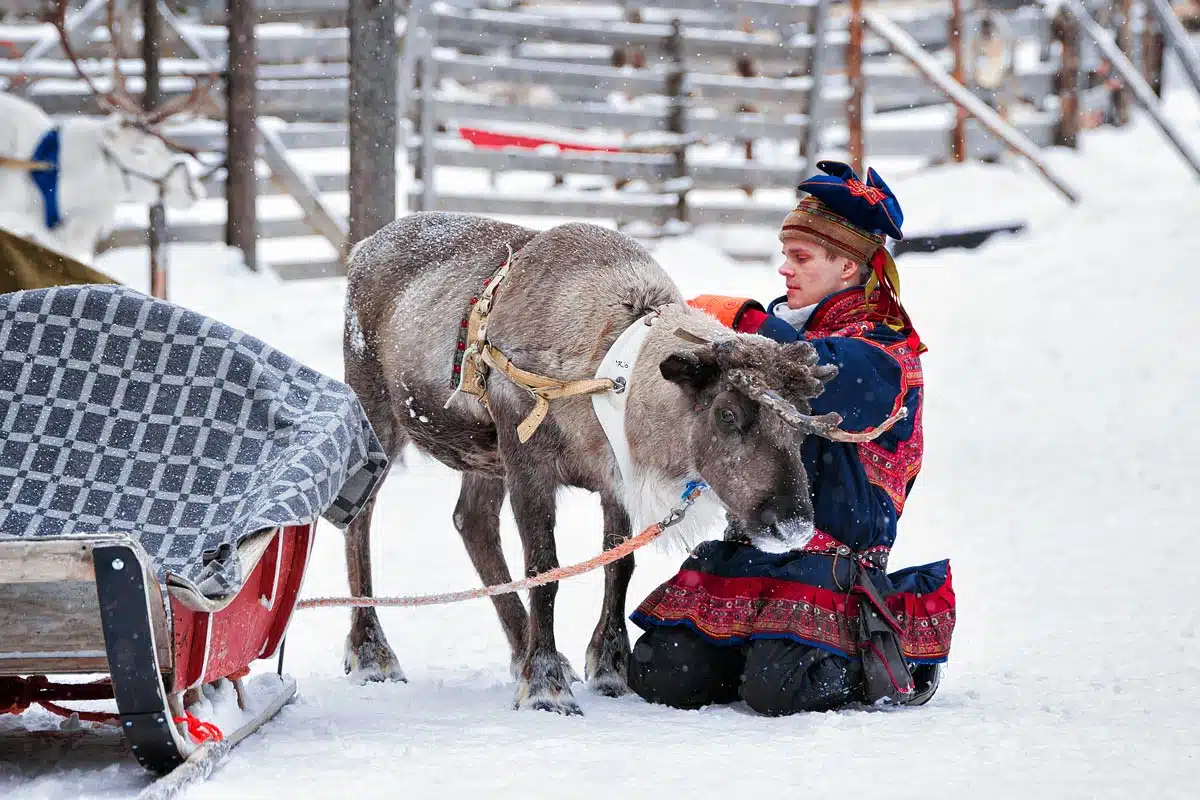 As we emerged from the van, the midwinter sun cast an eerie blue light across the snow-covered landscape. Every inch of the world seemingly covered in its azure sheer. Snow flurries swirled around, nipping our cheeks as we treaded through the snow.
My sister and I boarded a creaky wooden sled, the second one in the pack, led by a snowy white reindeer. The Sami guides put the sleds together and whisked us – along with 6 reindeer – through a winter wonderland.
Riding the sled was a magical experience. It gave me the kind of little-kid joy you might feel on Christmas day. We rode through the winter wonderland, snow crystals flying all around us as we drive through the blue of the afternoon. It was spellbinding.
The Reindeer Meet and Greet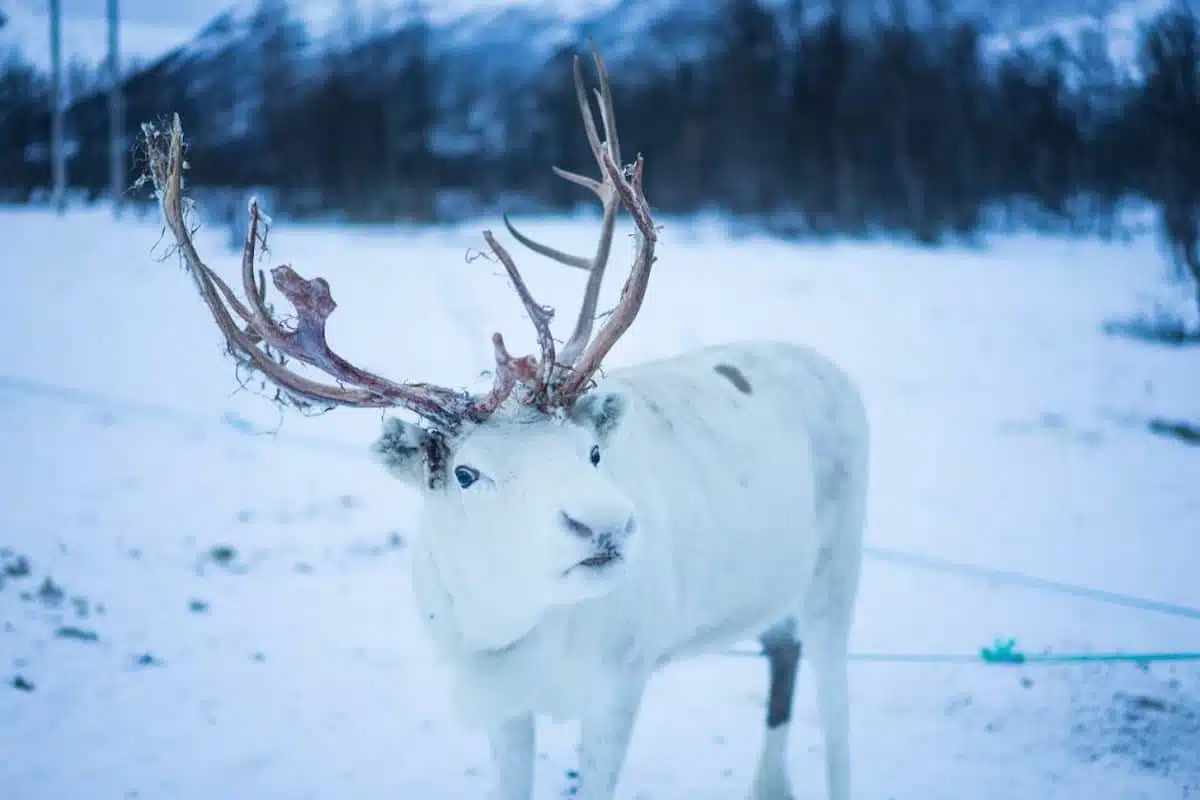 After our sleigh ride, we were given some moss to feed to the reindeer. They must have been tired from carrying us around because they gobbled it up right away!
Our snowy white reindeer was such a beautiful, gentle creature, curiously approaching us and rubbing his nose against our blocks of moss. He had a quiet and childlike demeanor about him. Our guide later confirmed that our reindeer was a young but promising member of the pack, a potential leader of the sleigh troop one day.
*NOTE: Usually I'm a bit skeptical about animal experiences (mostly because I want to ensure that I'm not harming animals in any unethical way). However, Sami people have been herding and dealing with reindeer for many generations. As we spent time with these magnificent beasts, they told us a bit about how they take care of the reindeer year-round and the traditions surrounding the deer.
Learning About Sami Culture
Once we'd fed the reindeer (and were thoroughly frozen from the winter weather), we huddled inside a large, tipi-shaped building around a wood furnace. At our wooden tables, we tasted traditional Sami bidos and learned about Sami culture.
As we ate, Ken taught us a bit about how he grew up and let us examine a few pieces of his traditional Sami clothing. He explained that in the wintertime, the Samis live in extremely harsh conditions.
Temperatures in rural Northern Norway sometimes dip below -40 degrees Celsius! Because of the unbearable cold, they must wear reindeer fur for warmth. Even a synthetic parka won't do.
Then, Ken went on to describe daily life in a Sami community. I enjoyed learning about the unique traditions surrounding marriage proposals and weddings. Although many Samis go to college and no longer herd reindeer, Ken said that most people maintain their Sami language at home and remain loyal to their heritage.
The Strange and Beautiful Joik
In the final moments of our stay, Ken sang us a traditional joik, or a traditional Sami song. In Sami tradition, joiks are all unique and represent a very specific person's character. Ken decided to perform one about one of his family members.
At times, it was percussive and staccato; at others, it was smooth and melodic. The song seemed to dance around the room, painting a picture of the person it was about. It was such a strange and beautiful combination of sounds and rhythms, unlike anything I'd ever heard.
Sami Reindeer Experience in Tromso: Final Thoughts
I'm often skeptical of cultural tours because they sometimes feel contrived or just plain cheesy.
This tour with Tromsø Lapland was not at all like that.
Throughout the tour, I was so impressed with the professionalism and knowledge we experienced with Ken and the other Sami staff members at the farm. It turned out to be an unforgettable day meeting reindeer and learning about these unique communities.
In a world where indigenous people often face prejudice, I was excited to spend a day learning and appreciating their rich culture.