Discover the most famous landmarks in Venice with this handy guide. Stick around to discover Venice's top attractions to add to your travel bucket list.
I know it's a little bit cringe, but Venice was a city that stole my heart when I first visited. It's true – Italy's Floating City is one of the most picturesque places on earth.
Not to mention that Venice just so happens to be one of the oldest cities in the world, and thus it's full of cultural heritage and architectural wonders.
You might know by now that I'm a little bit of an architecture nerd. And Venice, dotted with Gothic and Renaissance palaces, Byzantine churches, and incredible bridges and squares, has got plenty of impressive buildings to boot.
If you're visiting the city for the first, second, or tenth time, you might be wondering which landmarks you NEED to visit. That's where I come in.
I've narrowed down the search (and believe me, it was far from easy) to the top 25 Venice landmarks.
Famous Landmarks in Venice, Italy
Grand Canal (Canalazzo)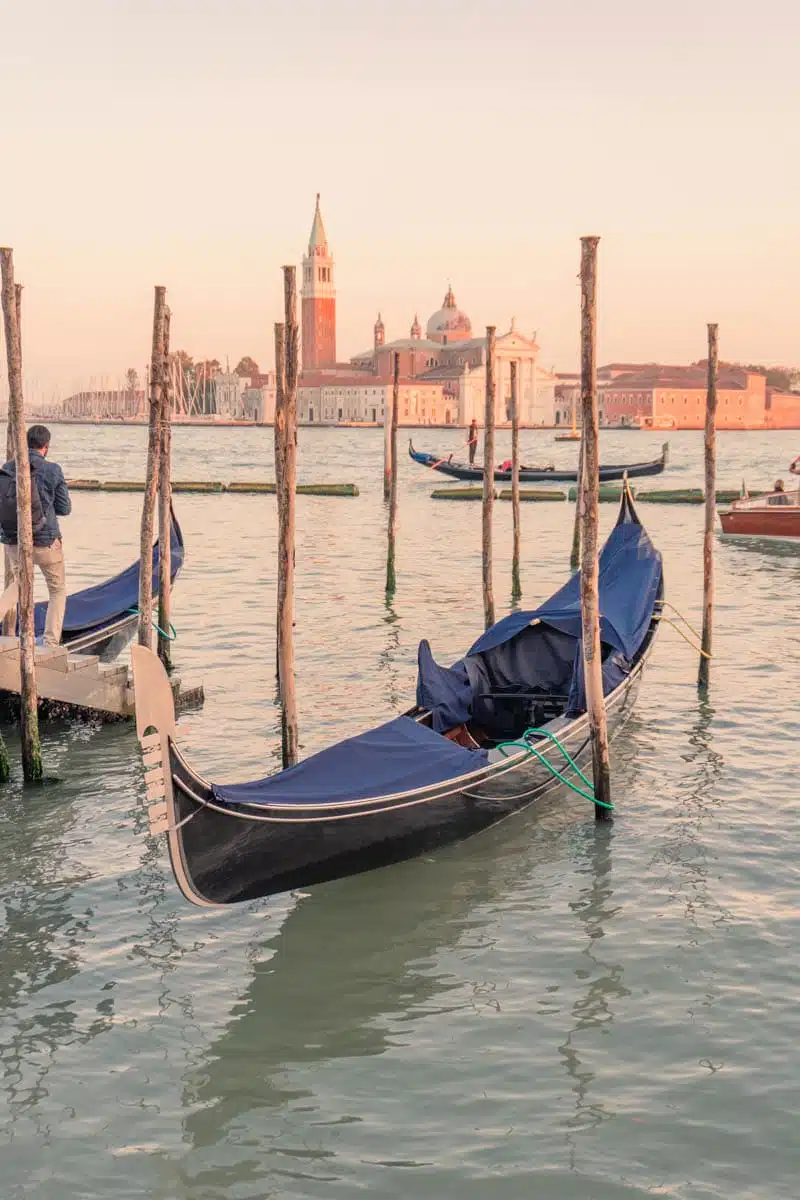 Sure, it may be a bit cliche to start this list off with the Grand Canal, but I feel it's necessary – you're in Venice, after all! It's the city of cliche – and, if you search for the best things to do in Venice, the Grand Canal will be the first thing that will pop up.
The Grand Canal is the largest waterway in Venice, connecting the city's central districts. The Canalazzo spans over 2.4 miles (3.8 km), has always played an important role in transporting Venice's citizens around, and has four bridges crossing it.
Today you'll spot Gondola rides and vaporettos (water taxis) travelling up and down the canal, transporting dreamy-eyed travellers, and sometimes locals, from one end to the other.
There are more than 170 buildings that line the Grand Canal, all dating back between the 13th to 18th centuries. You'll see a unique mix of architectural styles, including Venetian-Byzantine, Venetian Gothic, Renaissance, and Venetian Baroque, to name a few.
It's no wonder then that the Grand Canal is a great vantage point to capture some memorable shots of Venice.
Tip: Dreaming of taking a Gondola ride down the canal? Check out my detailed guide on taking a gondola ride in Venice to avoid scams.
Doge's Palace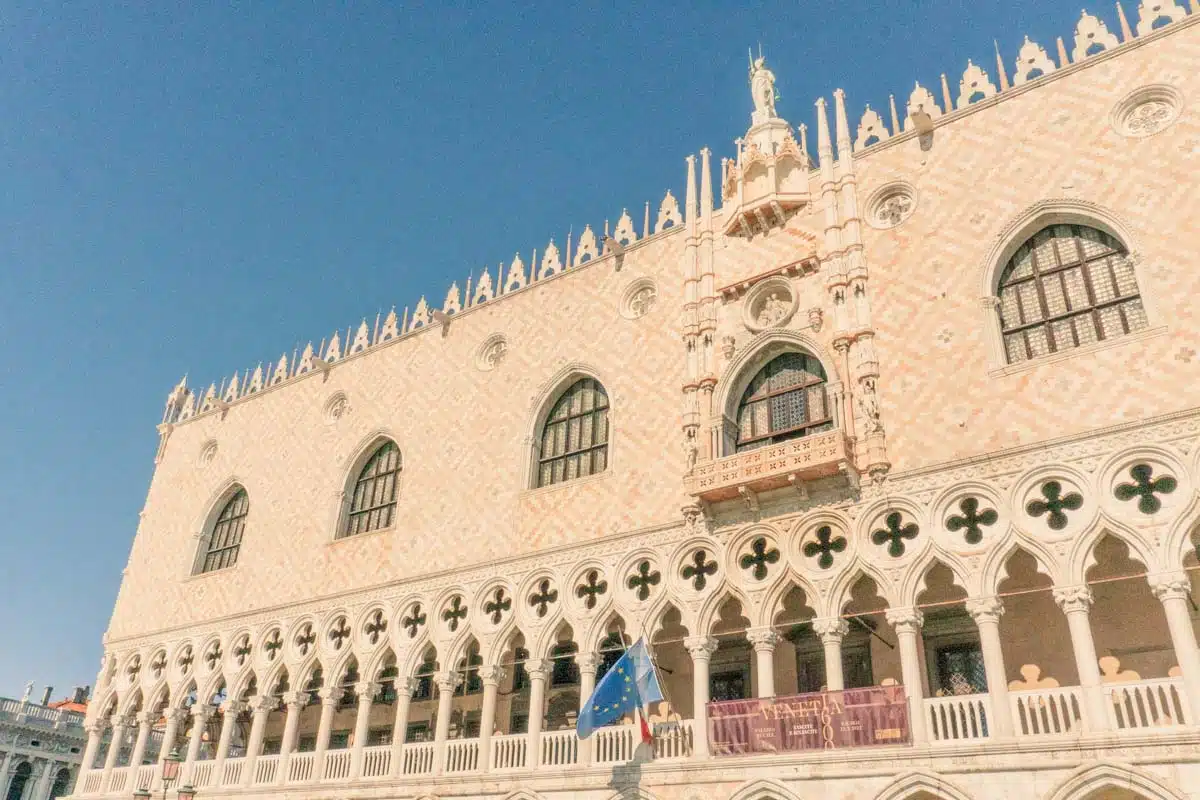 If, like me, you're a history and art lover, a visit to the Doge's Palace is unmissable.
Now there are quite a few palaces throughout Venice. But if you ask me, this is one of the best. This Venetian Gothic-style palace dates back to 1340 and is one of the most powerful symbols of the former Venetian Republic government.
Over the years, it's sustained quite a bit of damage, but not even the worst disasters could tear it down. Today it serves as a museum, giving visitors a peek into Venice's past in all its glory.
As you step into the palace, the first thing that will capture your attention immediately is the elaborately decorated ceiling in the Great Council Chamber. The intricate gold picture frames holding some of the most exceptional artwork are quite a sight.
Tip: I advise booking a guided Doge's Palace tour with a priority entrance to avoid crowds and delve into this landmark's history.
Peggy Guggenheim Collection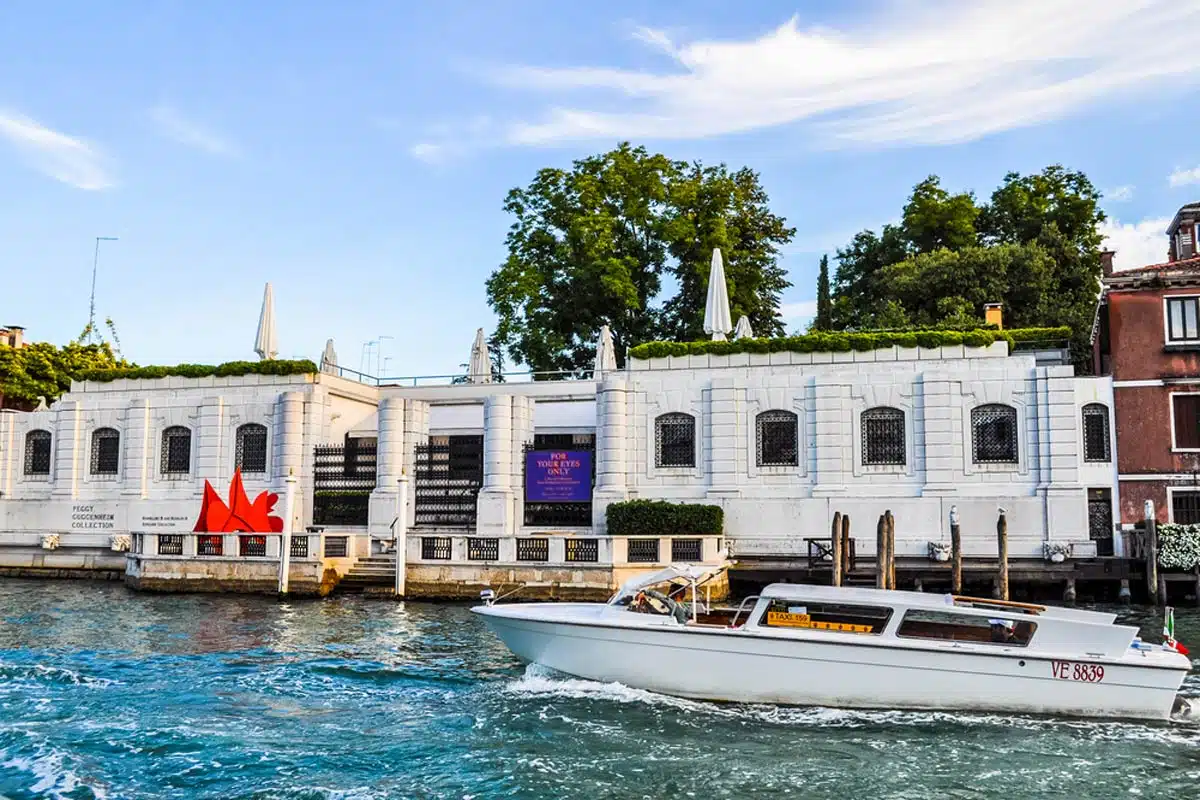 Now, I don't want to be dramatic (cue me being dramatic), but The Peggy Guggenheim Collection is one of the world's most outstanding contemporary art galleries and my favourite place in Venice.
Started in the late 1940s by American art collector Peggy Guggenheim, this gallery sits in the Palazzo Venier Dei Leoni along the Grand Canal. It houses a unique mix of European and American artworks from over 200 artists, including Pollock, Dali, Picasso, and Magritte, collected by Peggy herself.
There's a lovely garden, an extensive library, and (my favourite) a picturesque cafe with countless spectacular art pieces, where you can grab something to eat after exploring.
Ponte Dell'Accademia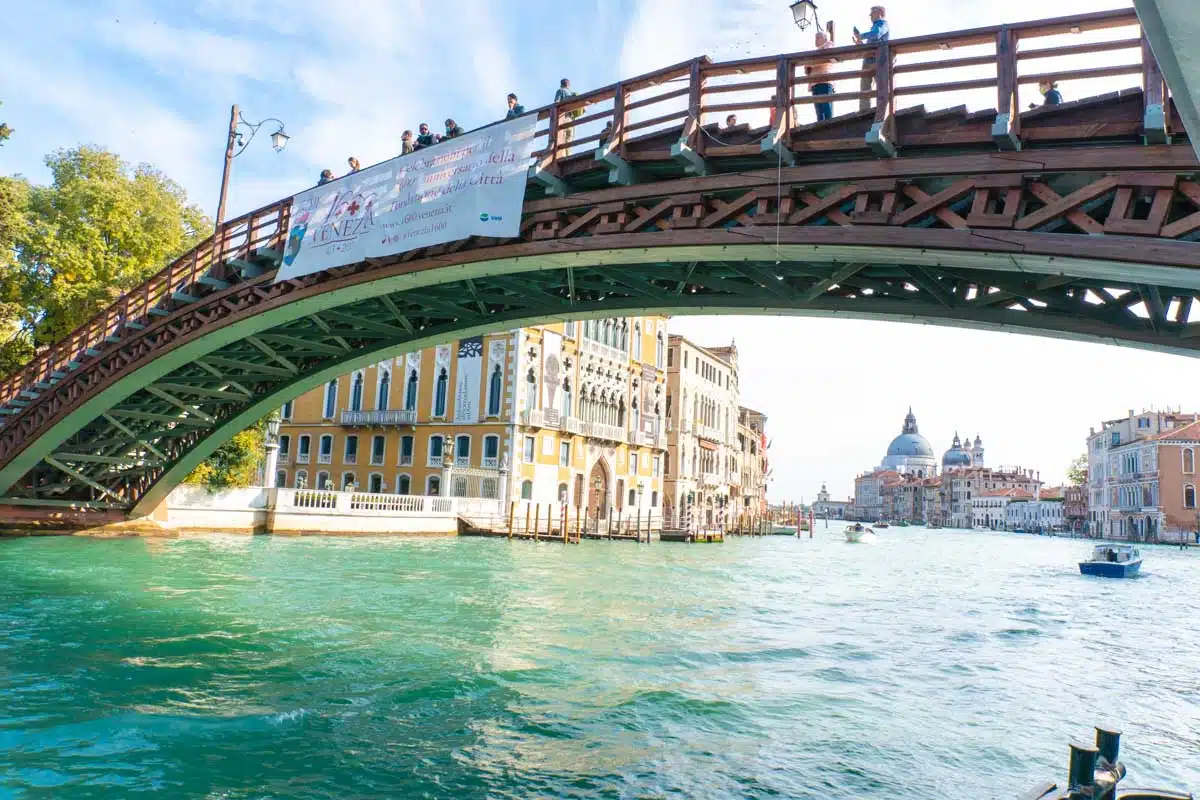 The Ponte Dell'Accademia is one of the four Venice bridges that cross the Grand Canal. While it's not as famous as the Rialto or Bridge of Sighs, this is still a significant landmark to check out while you're in the Floating City.
The first Ponte Dell'Accademia dates back to 1488, when it was a simple wooden bridge to help residents cross from one area to the next. The bridge links the San Marco District and Dorsoduro with the Gallerie Dell'Accademia and Peggy Guggenheim Collection.
Ponte Dell'Accademia's advantage over its rivals is that it's quite a high bridge with one single arch. This means that because it's suspended higher up, the views you'll get over the Grand Canal are incredible, especially at sunset.
Venetian Ghetto (Cannaregio)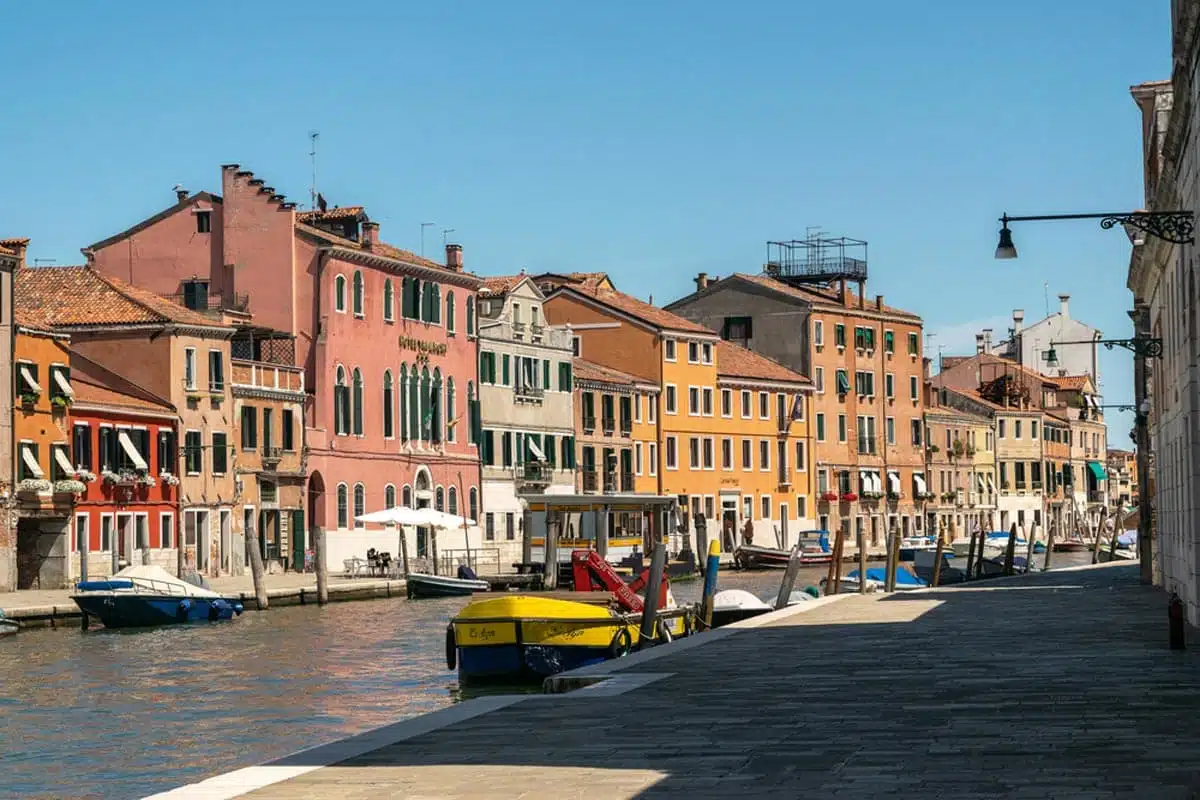 Venice looks like a time capsule – seriously, it's crazy how the city looks frozen in time.
However, one area in Venice that's full of rich culture and history is the Venetian Ghetto, also called the Cannaregio. This area came into existence in 1516 when the Venetian Council forced all Jews to live in the Ghetto.
It remained a lively area, always buzzing with people – but not without hardship. All Jews in the area had to wear yellow patches identifying themselves when leaving the Ghetto. During the evening, guards would lock the area and patrol it, segregating the Jews from Venetian society.
While the Cannaregio area might seem like a symbol of oppression to many, today it's quite a lively part of the city that attracts many visitors.
Here's where you'll find the Jewish Community of Venice Museum, where you can delve into the history of this area. The museum also has regular art exhibitions by Jewish artists.
Rialto Bridge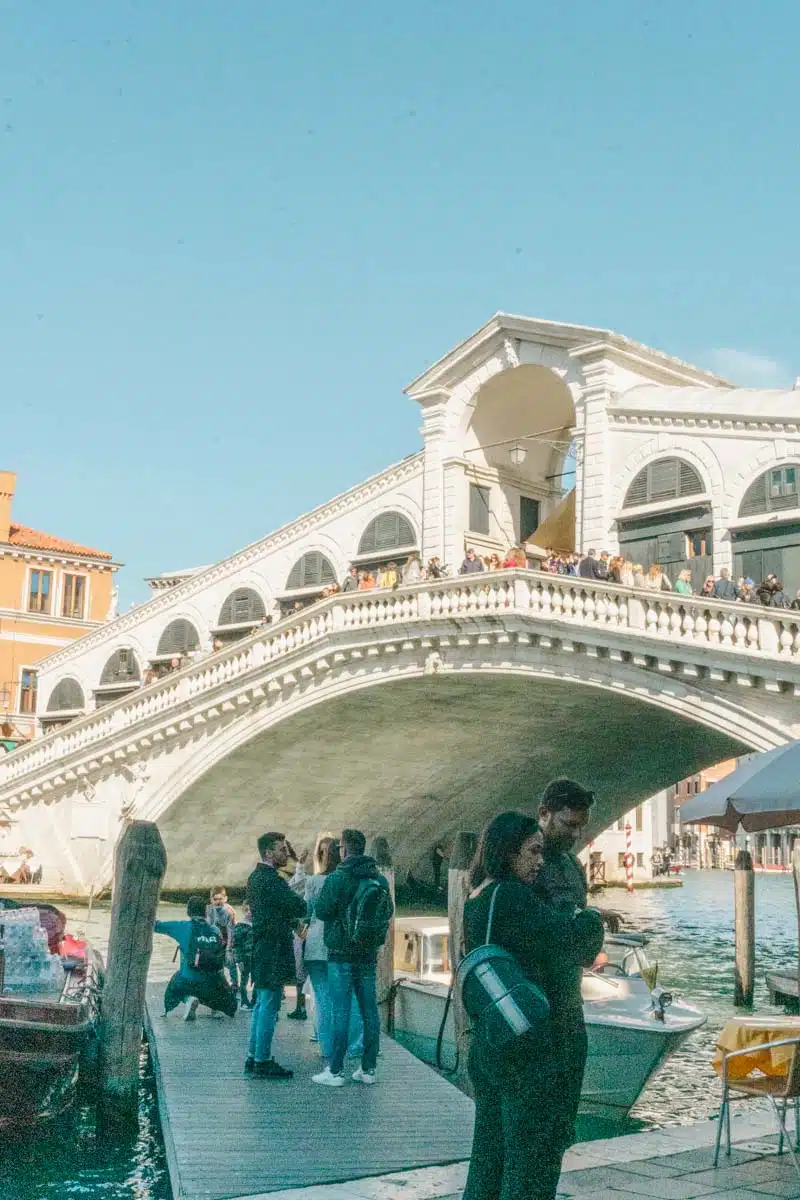 There's no way that you can visit Venice and not see the Rialto Bridge – it would be criminal and near impossible. It's a true symbol of the city and one of the first things you'll see when you enter Venice as it floats over the Grand Canal.
The Rialto Bridge is the oldest of the four bridges that cross the Grand Canal, first built in 1181 as a pontoon bridge.
The current bridge consists entirely of stone and has two arches. It connects the San Polo and San Marco Districts with the Grand Canal. Inside the bridge, you'll find a set of wide stairs and shops lining each side of the bridge.
The Rialto Bridge is always so busy that it's so easy to forget that you're crossing the Grand Canal. If you ask me, the best time to visit is just before sunset, as the sun gleams over the water.
Bridge of Sighs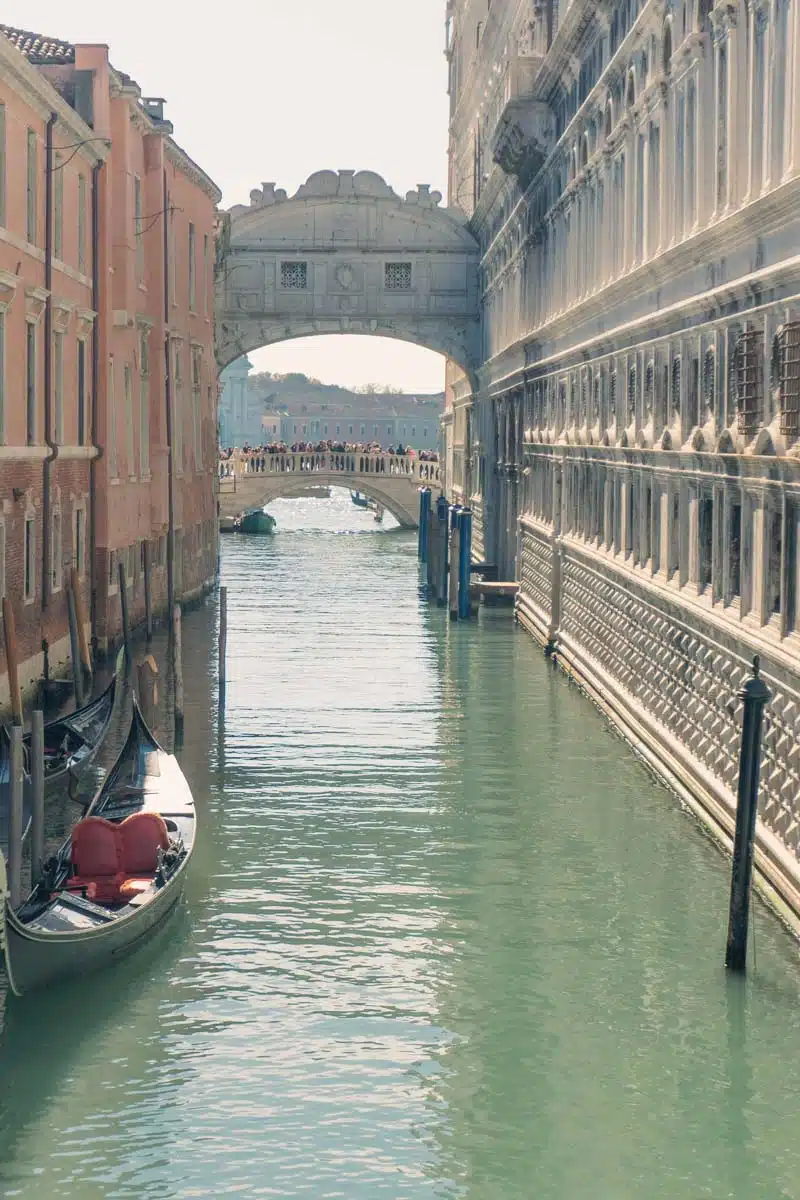 One of the top sights in Venice that you'll no doubt hear a lot about is the Bridge of Sighs. This highly ornate limestone bridge dates back to 1602. It features windows and stone bars and passes over the Palazzo River.
It connects the New Prison to interrogation rooms in the Doge's Palace. Legend has it that as prisoners crossed the bridge to the prison, they would sigh as they caught their last glimpse of Venice before heading off to their fate.
While the inside of the bridge might still be a bit dreary, it's a great place to immerse yourself in another aspect of Venice's history. If you're on a gondola or Vaporetto, you'll get stunning views of the bridge from the water. Sighhhhh.
Tip: Check out my complete Bridge of Sighs guide for more information.
Piazza San Marco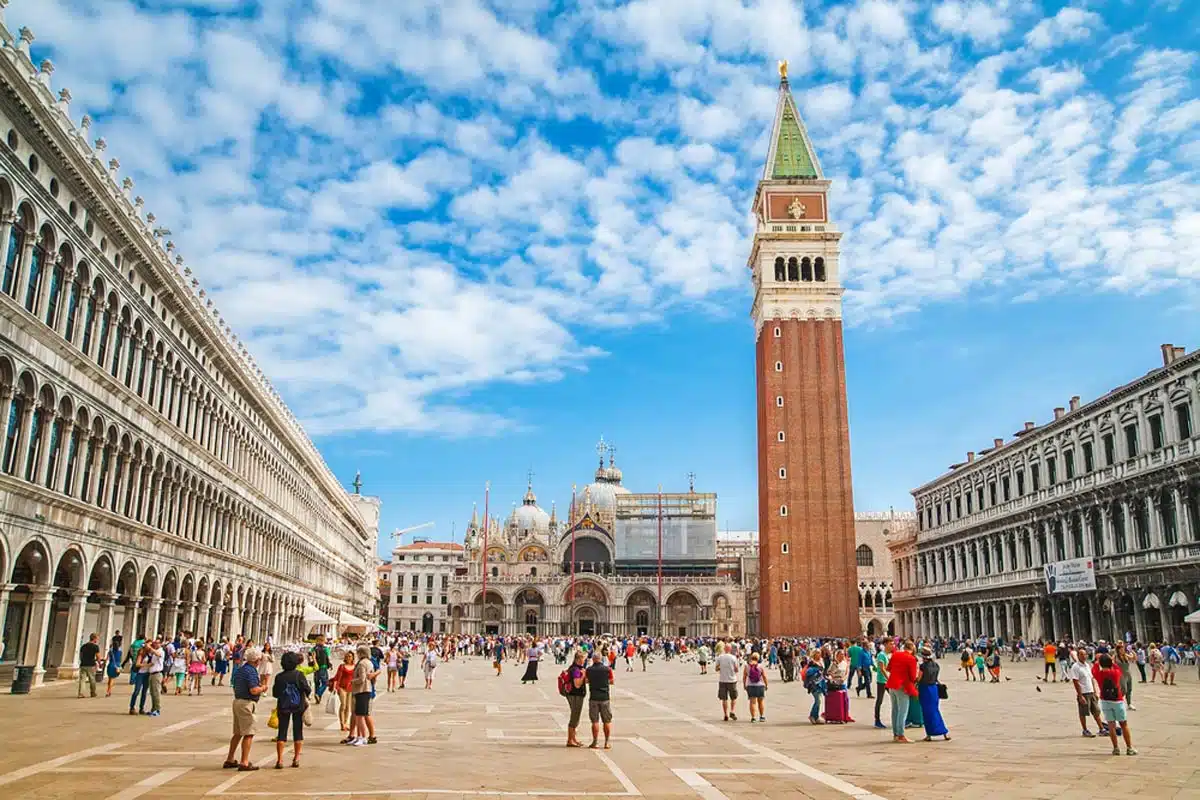 The Piazza San Marco, or St. Mark's Square, is easily one of the most recognisable places in the world.
Serving as a market and centre for religious, social, and political activities in Venice's early days, it's the one place in the city that's always brought people together. It's also home to other iconic landmarks, including St Mark's Basilica, Doge's Palace, and the Campanile of St. Mark.
The square is a great place to sit down and do some people-watching. You can grab something from a nearby restaurant or cafe (Cafe Florian is the OG place), soak up the atmosphere and imagine what life in Venice looked like in its early days.
Tip: Check out my guide on St Mark's Square for a complete list of unmissable things to do.
St. Mark's Basilica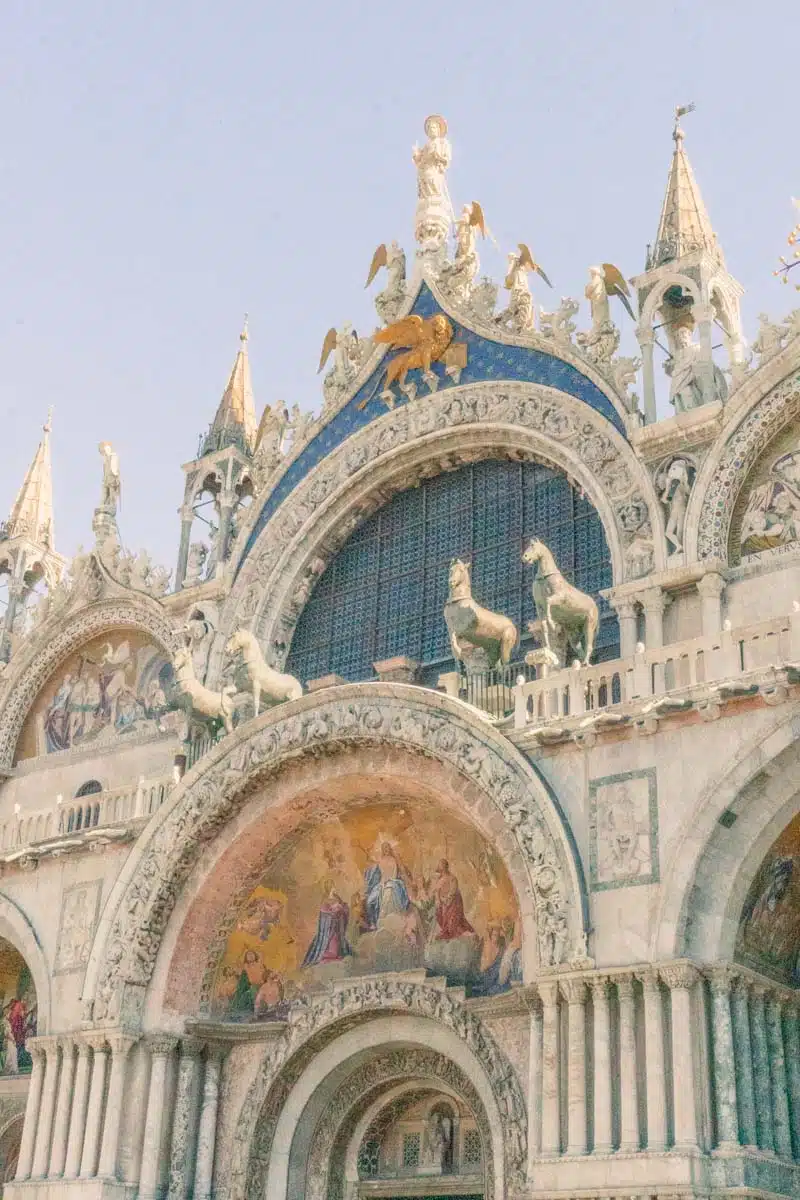 There are so many churches peppered throughout Venice that you might become a little desensitised to their beauty, but one you can't miss is the St. Mark's Basilica. Not because you'd want to but because the structure is so massive that it demands your attention.
It's one of the oldest churches in Venice and sits at the eastern end of St Mark's Square. You'll see a monumental structure from the outside that features Byzantine, Romanesque, Gothic, and even Islamic architectural styles.
If you think the exterior is impressive, just wait until you see the inside. The interior domes, vaults, and upper walls are decked out with stunning gold mosaics. You'll also find Mediaeval artworks from artists such as Tintoretto, Veronese, and Titian adorning the basilica.
Tip: Book this St. Mark's Basilica tour with a fast-track entry ticket and audio guide.
St. Mark's Campanile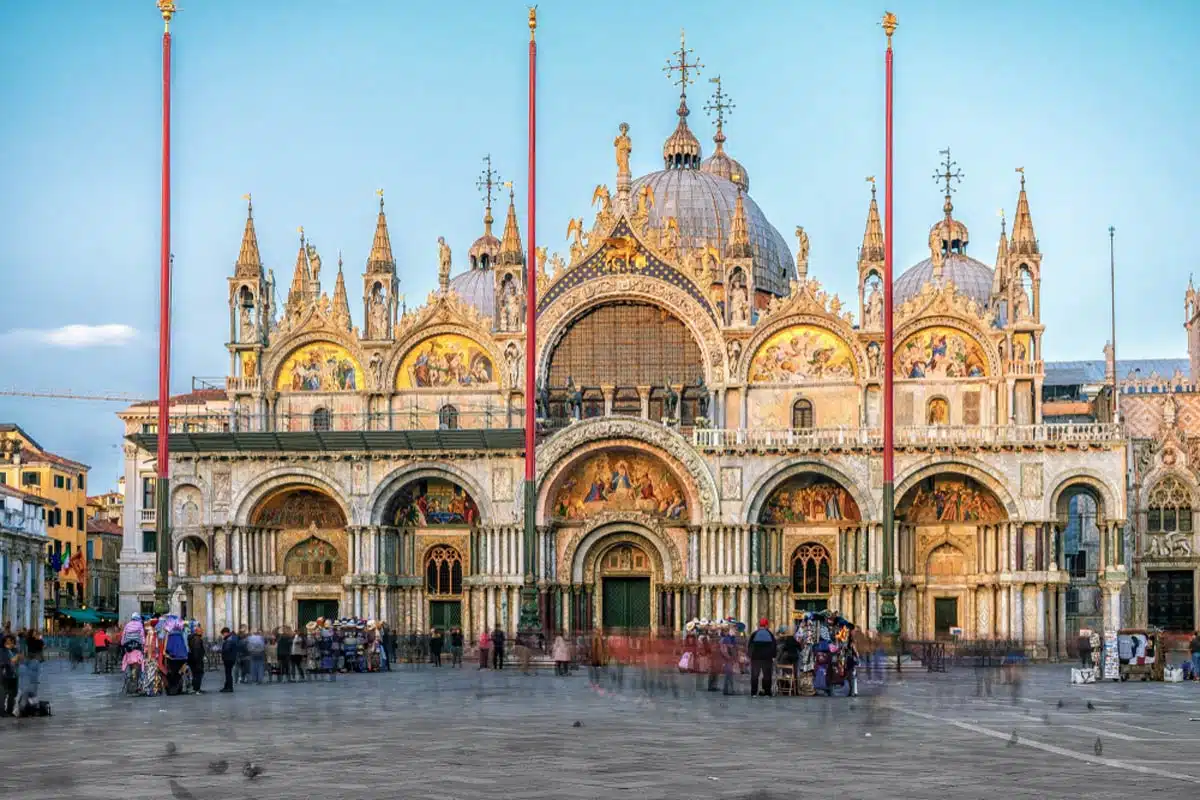 Another Venetian landmark that's very hard to miss is St Mark's Campanile. At 98.6 metres (323 feet), this bell tower is the tallest structure in Venice. It sits near the mouth of the Grand Canal, so this likely is one of the first places you'll see upon entering Venice.
Serving as a watchtower and landmark to guide ships into the Venetian Harbour. St. Mark's Campanile is quite a sight to behold from anywhere in the square. But if you're after the best views of Venice, then head up to the top of the tower.
Sure it might be a workout walking up all those stairs, but trust me, it's worth it. Once you reach the top, you'll have unrivalled 360 degrees of the Floating City. Remember to bring your camera for some postcard shots.
Gallerie Dell'Accademia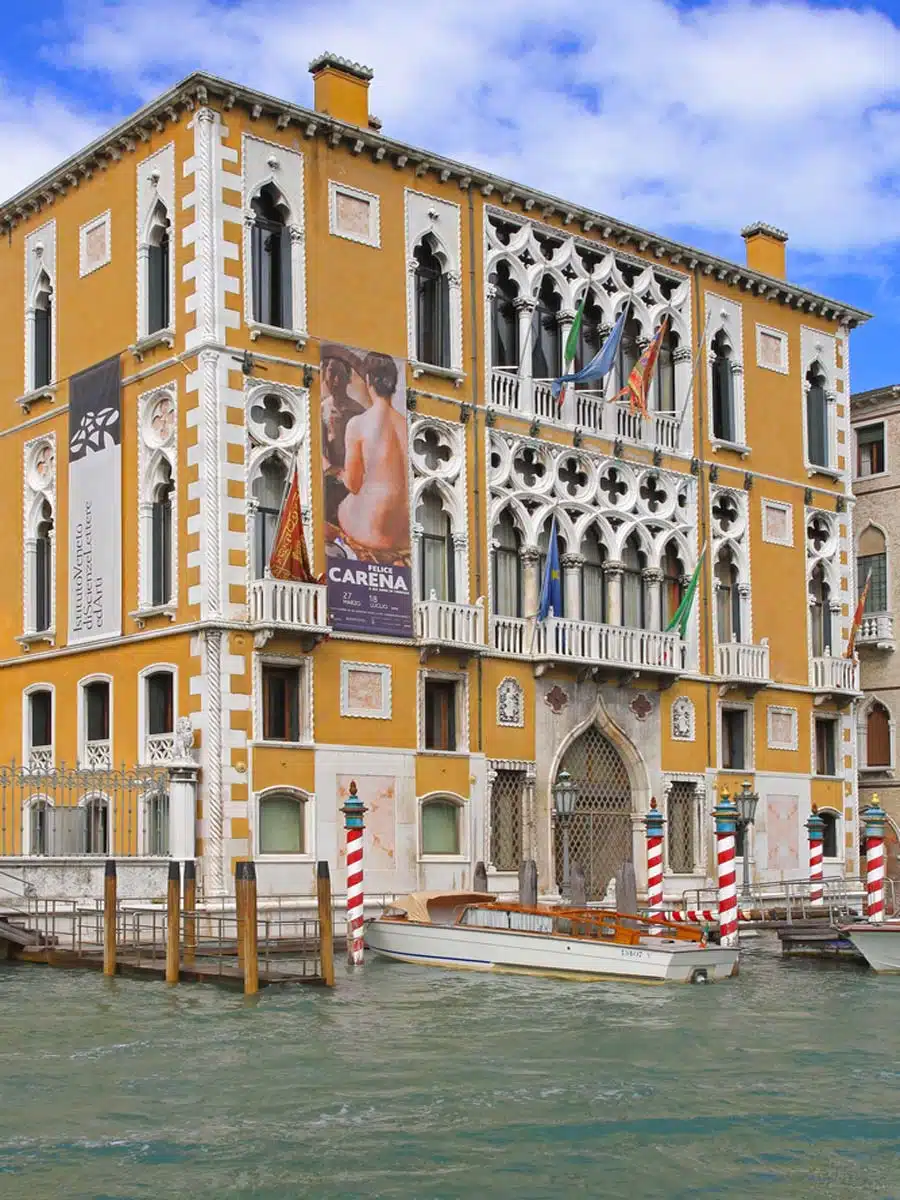 Housed in the Scuola della Carita, the Gallerie Dell'Accademia is one of the best fine arts museums in the world. Initially opened as a school for art and restoration, it later became a museum in the late 18th century.
The current museum has the most extensive collection of Venetian art predating the 19th century. There are over 800 paintings from prominent artists, including Veronese, Guardi, and Tintoretto.
Its extensive collection also includes Leonardo da Vinci's Vitruvian Man, which is rarely displayed.
Ponte dei Pugni (Bridge of Fists)
The name alone of this Venice landmark makes it worth visiting. I mean, Bridge of Fists? Surely that's something to check out.
The Ponte dei Pugni is one of the most unorthodox landmarks in the city, situated in the Dorsoduro area. The story goes that men would gather at the bridge between the 14th and 17th centuries to hold fist-fighting competitions. The person who fell over the bridge and into the canal below was the loser.
These fist fights ended abruptly in the early 18th century after an altercation led to a bloodbath involving knives and stones.
Luckily today, you won't see any fist fights, but it's still worth stopping by the Ponte dei Pugni to imagine the scenes taking place here.
Venice Lido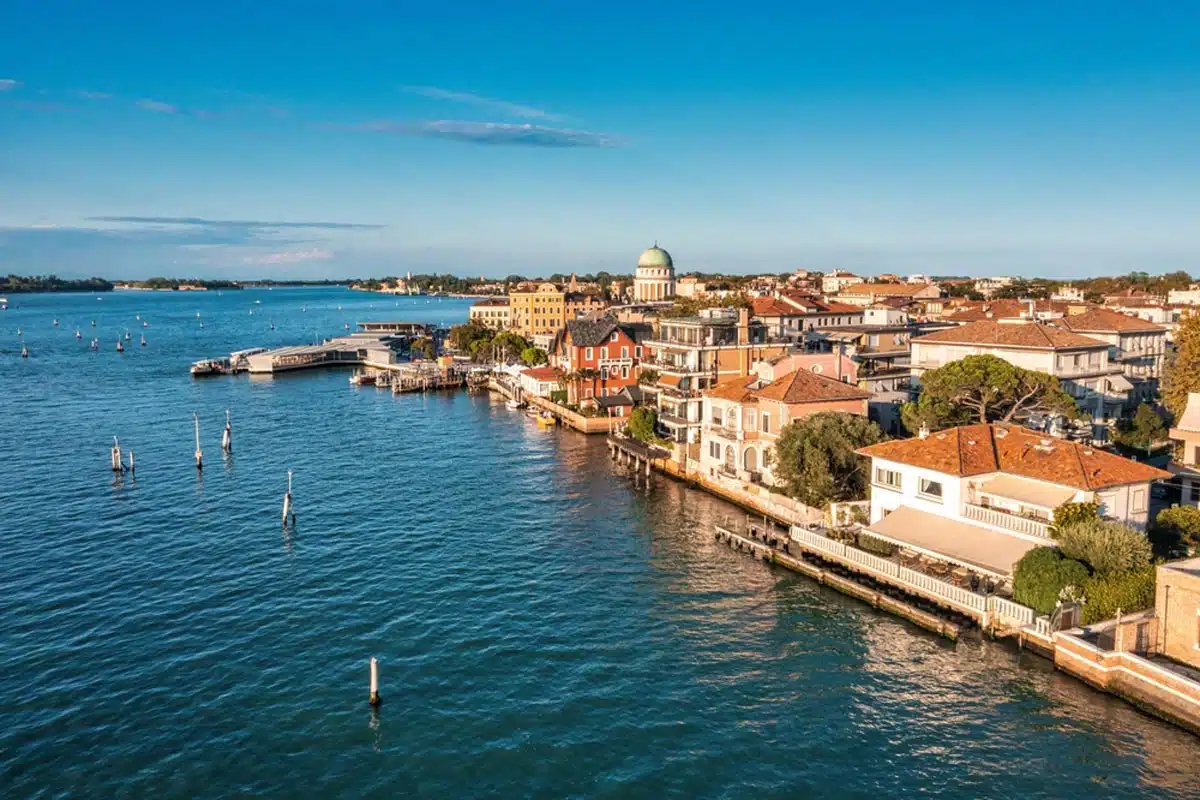 Keen on getting away from the hustle and bustle of the city? Head over to the nearby Venice Lido Island. Lido sits in the Venetian Lagoon and is 11 km (7 miles) long. While it's only a short boat ride away from the main city, it feels different, with wide streets and cars.
Lido is a favourite of tourists and locals, as it boasts some of the best beaches in Italy. So if you want to work on your tan and enjoy a quiet afternoon, head over to Lido.
Burano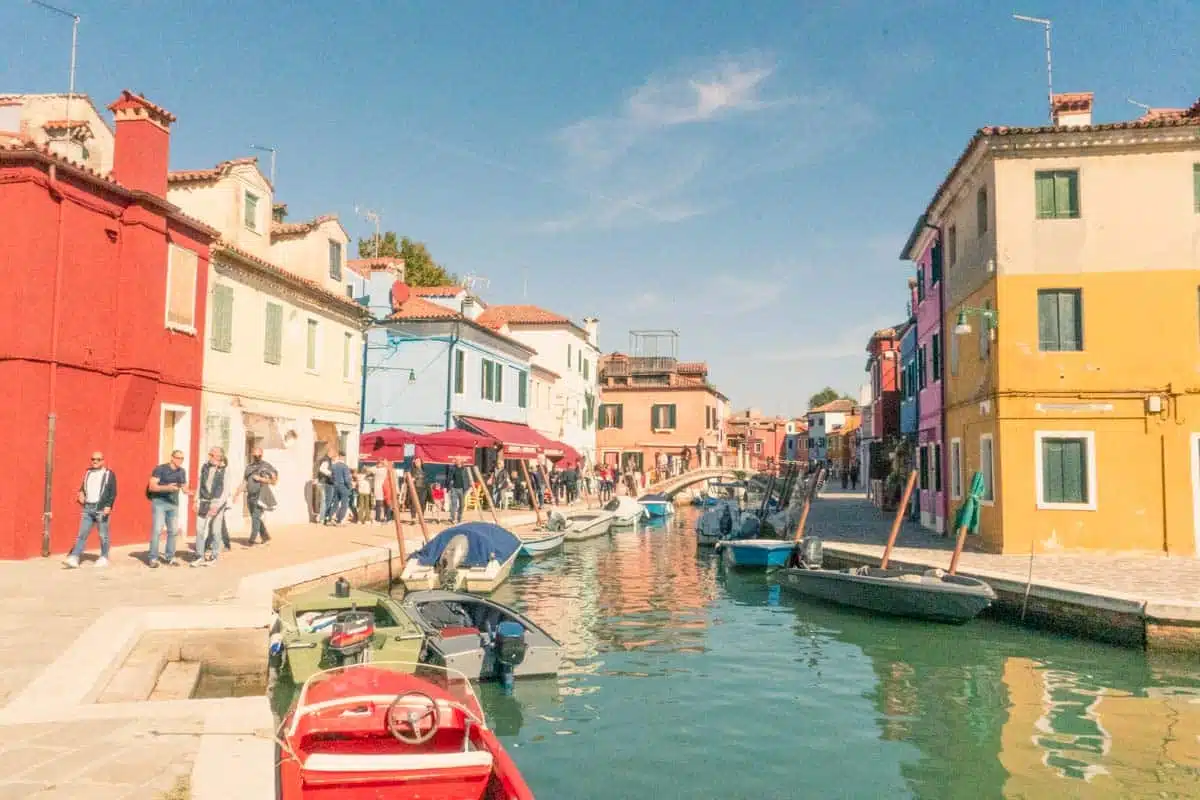 Few places in the world are as bright and colourful as Burano. This vibrant island sits adjacent to the Venice Lagoon and is less than 7 miles away, making it perfect for a quick day trip.
According to locals, fishermen painted their houses to distinguish themselves from their neighbours. Aside from being a stellar photo-opp, it's a lovely place to take a stroll and enjoy the atmosphere of this friendly village.
One thing that Burano is particularly famous for is making lace. Lace-making dates back to the island's 14th century, making it a prominent role player in the textile industry. To learn more about lace making on the island, you can head to the Museo Merletto.
Murano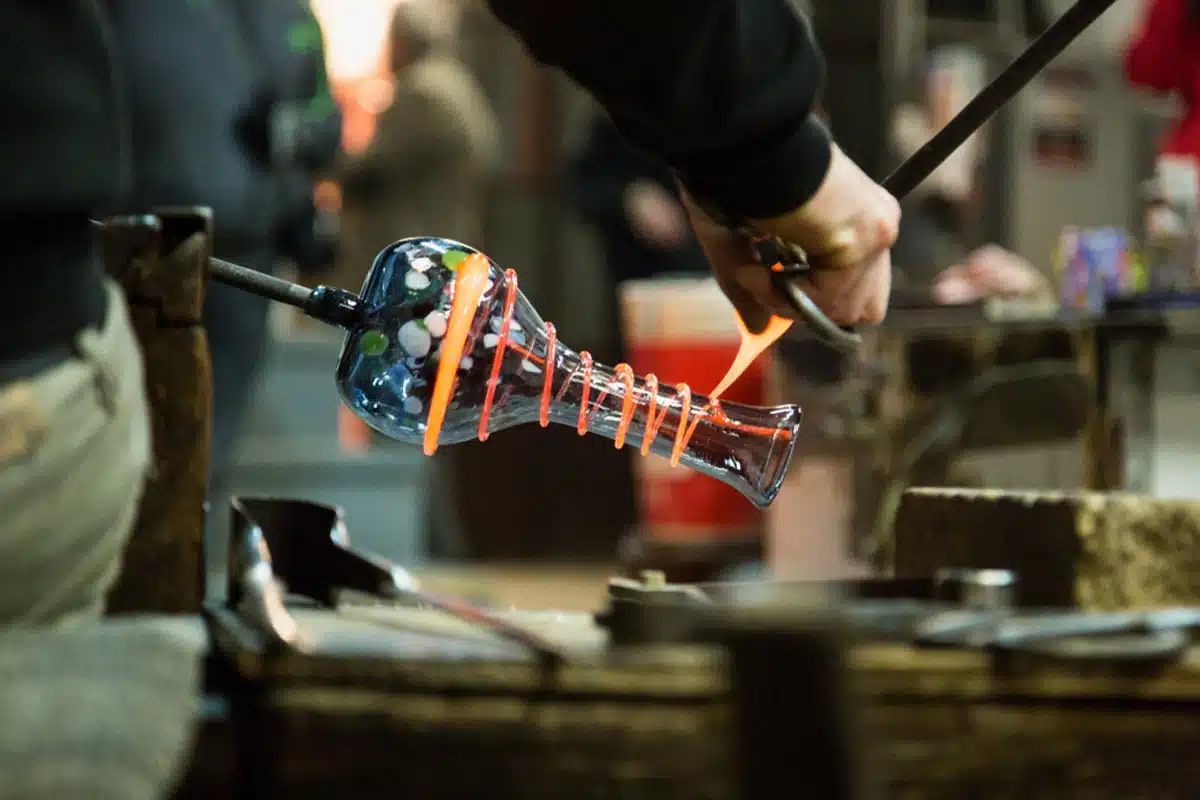 While Burano is famous for its lace, the island of Murano, on the other hand, is popular for its exquisite glass-making. Murano lies 1.5 km (1 mile) north of Venice, making it another easy boat ride away.
Following numerous fires on the main island, the Venetian Republic's governors ordered all glassmakers to move to the island. Since 1291 glass makers have perfected the art of making Murano glass into one of the most sought-after products in Italy.
You can visit the Museum of Glass Art to learn more about Murano's glass-making history. If you have time, it's worth checking out a glass-making demonstration.
Tip: Book this day trip, including a visit to both islands and a glass-making workshop. 
San Giorgio Maggiore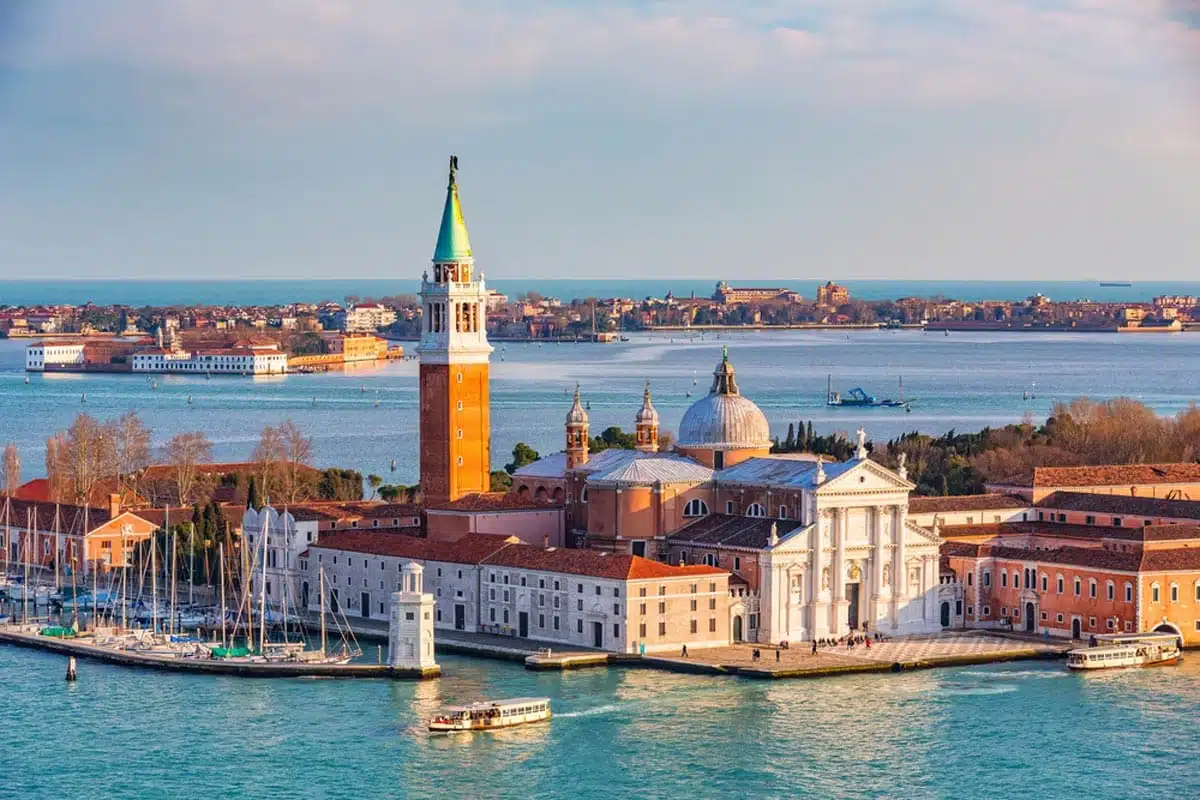 Sitting on a separate island just a short distance from Venice is another eye-catching landmark that is hard to ignore. The San Giorgio Maggiore Basilica is one of the most striking churches built in the 16th century, serving as an architectural inspiration to later churches.
Next to it, you'll find the Campanile San Giorgio, which stands at a staggering 63 metres (206 feet) tall. A huge round of applause if you reach the top of the tower, where picturesque views of Venice and the surrounding islands await you.
Rialto Market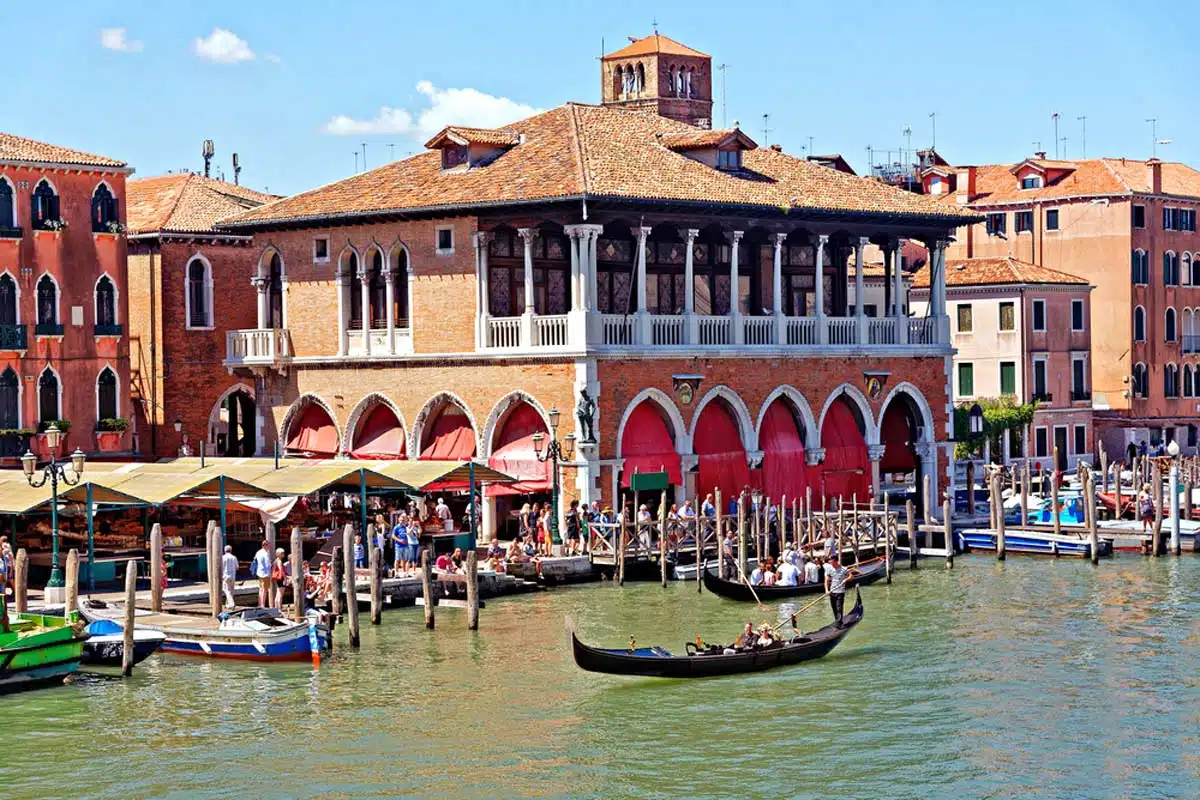 You'll find this lively and colourful market just a short walk from the Rialto Bridge. The Rialto Market is even older than the Rialto Bridge, predating it by almost 100 years. There are three main sections that sell the freshest of veggies, fish, and meat.
This is a great place to grab some food, as there are a few restaurants and cafes serving up some Italian classics.
Basilica Santi Giovanni e Paolo
This is the largest church in Venice and one of the most important ones in the city. It is home to 27 tombs of Venice's former Doges' (chief magistrates). It took approximately 100 years to build, and its completion was in 1430.
The church is pretty gorgeous – it boasts Italian Gothic architecture and red bricks on the facade. The interior is elaborate, with large stone columns, arches, intricate paintings, Byzantine artwork, and chandeliers.
Teatro La Fenice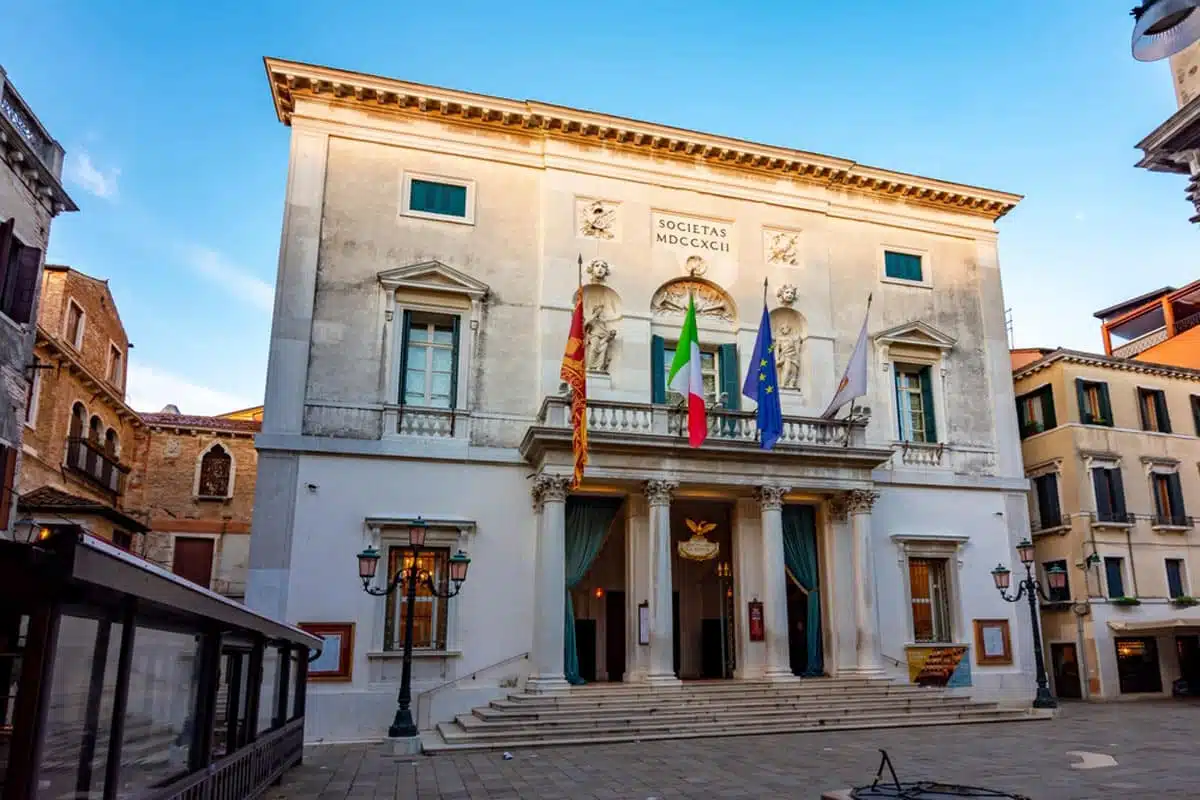 While churches and art galleries might not be your kind of landmarks, perhaps a theatre is. Teatro La Fenice is one of Italy's oldest and most important opera houses, built in 1792.
Its name in English means "The Phoenix." And the name is fitting, considering that the theatre has endured major damage over the centuries. On the outside, it seems like another ordinary ancient Venetian building.
It's only once you step inside that you see its true beauty. Lined with gold seat boxes, red seats, chandeliers, and intricately decorated ceilings and artworks, Theatro La Fenice is spectacular.
Venetian Arsenal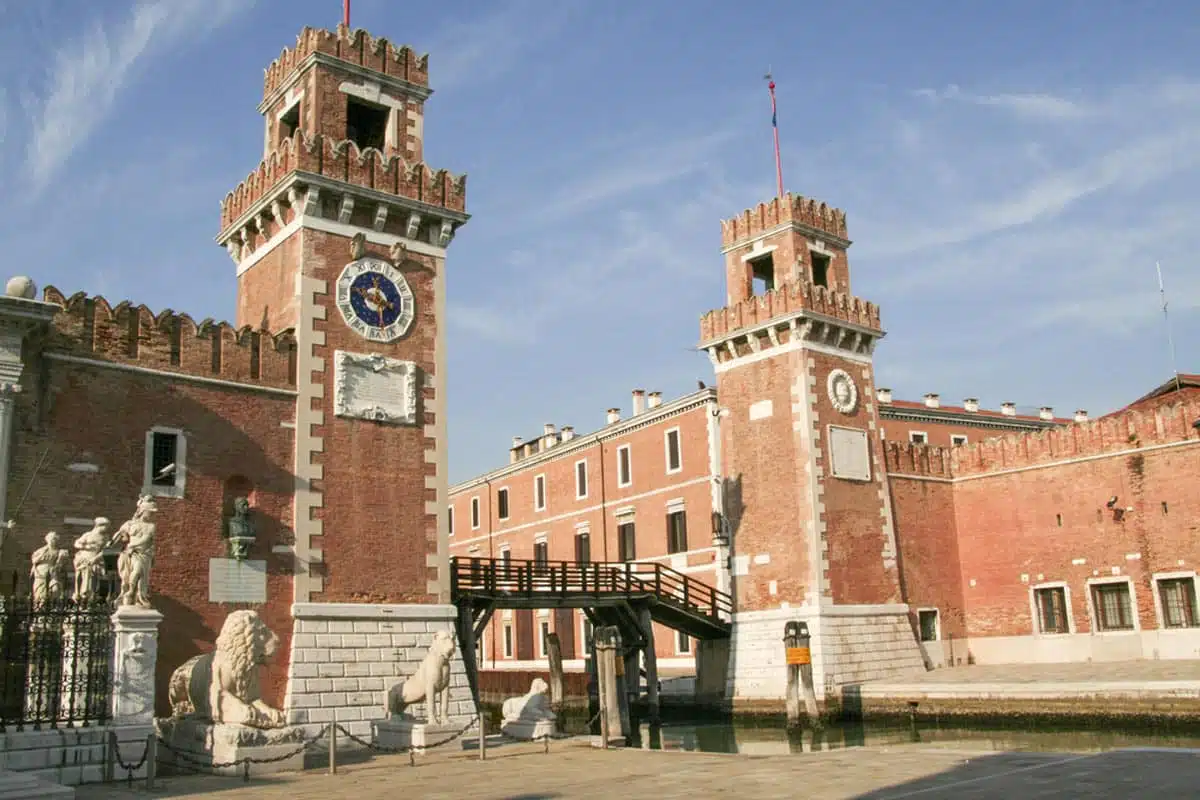 The Venetians have an excellent record of naval power and seafaring. And a large part of its success is due to its impressive Arsenal. This vast complex had armouries and shipyards and is one of the earliest industrial complexes of its kind.
The Venetian Arsenal is one of Venice's most important historical landmarks, so much so that it covers 10% of the island. While certain sections remain closed to the public, there are still many places to explore and delve into Venice's naval history.
Palazzo Ca' O'ro (Golden House) 
Sure, you'll find numerous palaces throughout Venice, but only one holds the prestigious title of the "Golden House." Sitting on the edge of the Grand Canal, this palace received its name because of its once-golden exterior.
While it's no longer gold, the name has stuck, and Golden House is one of the best-surviving palaces in Venice.
Basilica di Santa Maria della Salute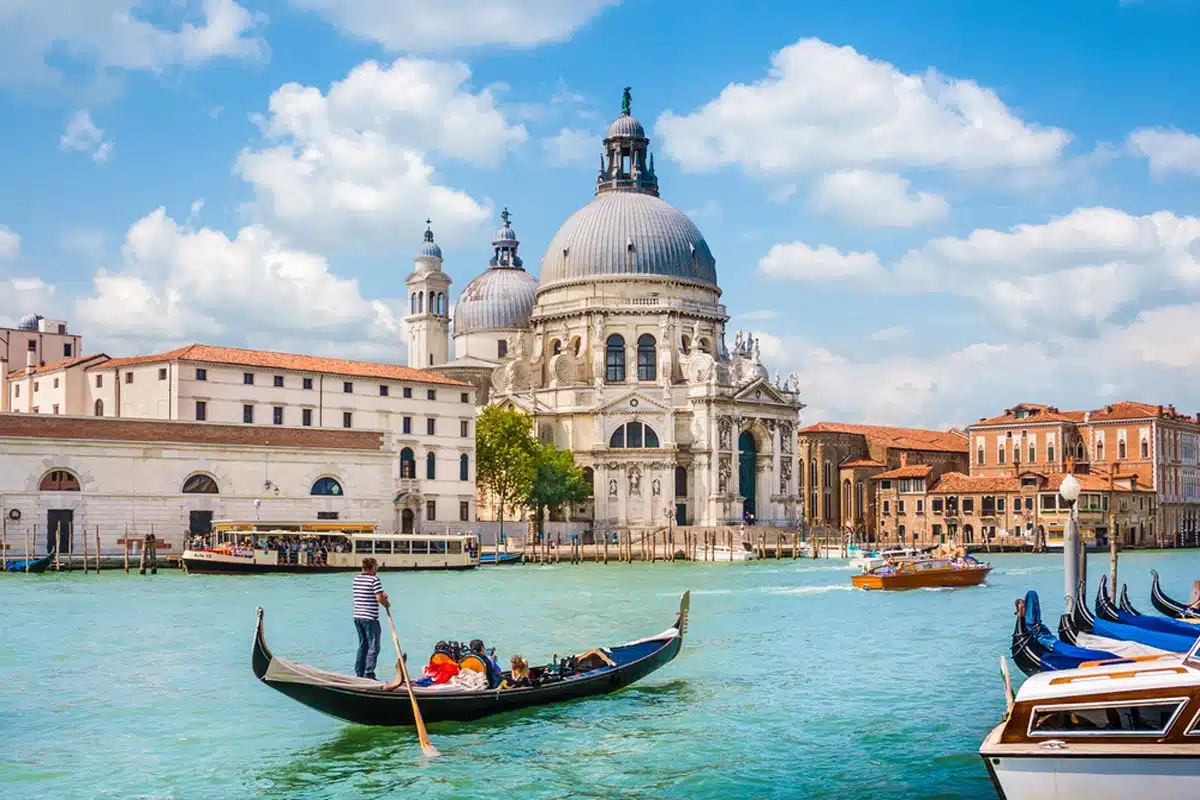 At the southern end of the Grand Canal sits one of the most imposing structures in Venice – the Basilica di Santa Maria della Salute. You can see the Basilica from anywhere in the Grand Canal, and it's one landmark that forms an integral part of Venice's skyline.
Built in 1631, it commemorates the end of the Italian plague that claimed the lives of thousands of Venetians. The exterior features distinctive Baroque architecture, white limestone with intricate details, and a towering blue dome.
Meanwhile, the interior boasts high ceilings, tall white stone pillars, wide arches, statues, and highly decorative floors.
Procuracies (Museo Correr)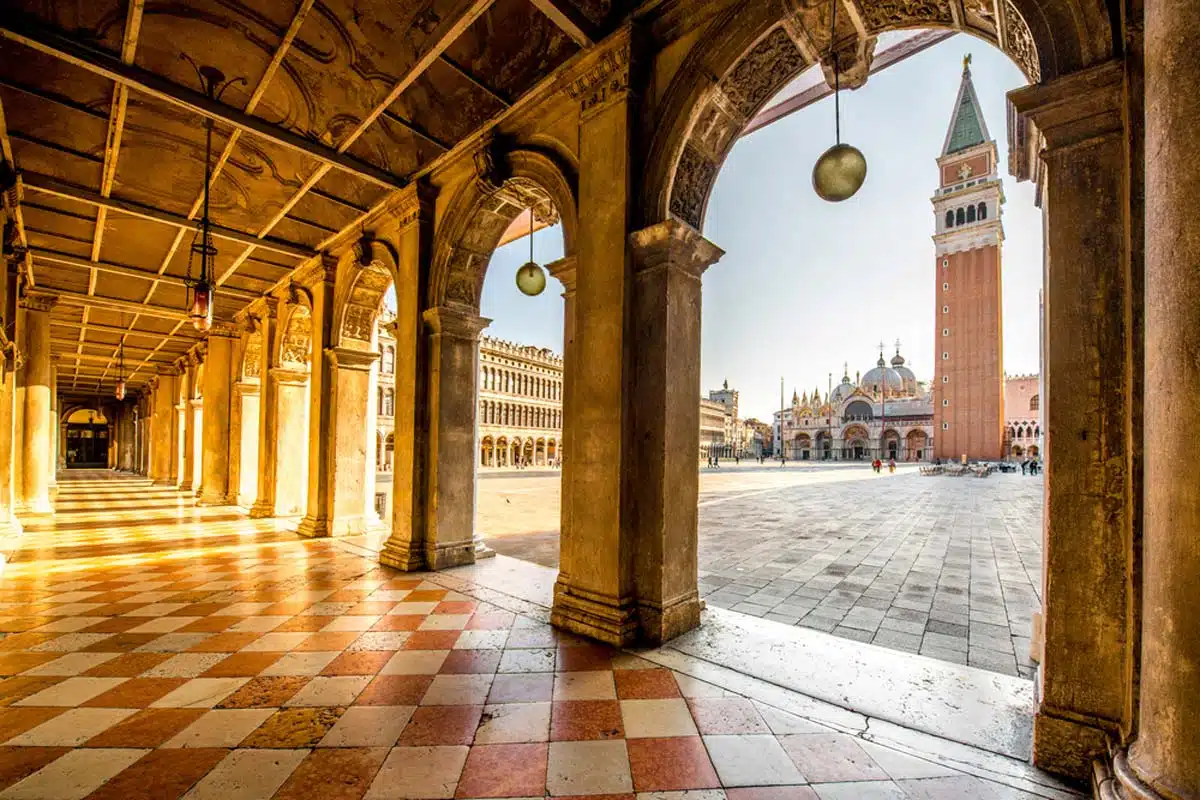 Fancy learning a little bit more about the city you're in? You should do.
This long, impressive museum extends on the south side of the Piazza San Marco and occupies the upper floors of the Procuratorie Nuove. Once the house of important Venetian dignitaries, it now serves as a museum that houses art pieces and other objects that trace back Venetian culture, art, and history.
The interior is just awe-inspiringly beautiful. Wide and elegant staircases, highly decorative ceilings, paintings, and incredible chandeliers are just some of the features that make visiting this museum worthwhile.
Scuola Grande di San Rocco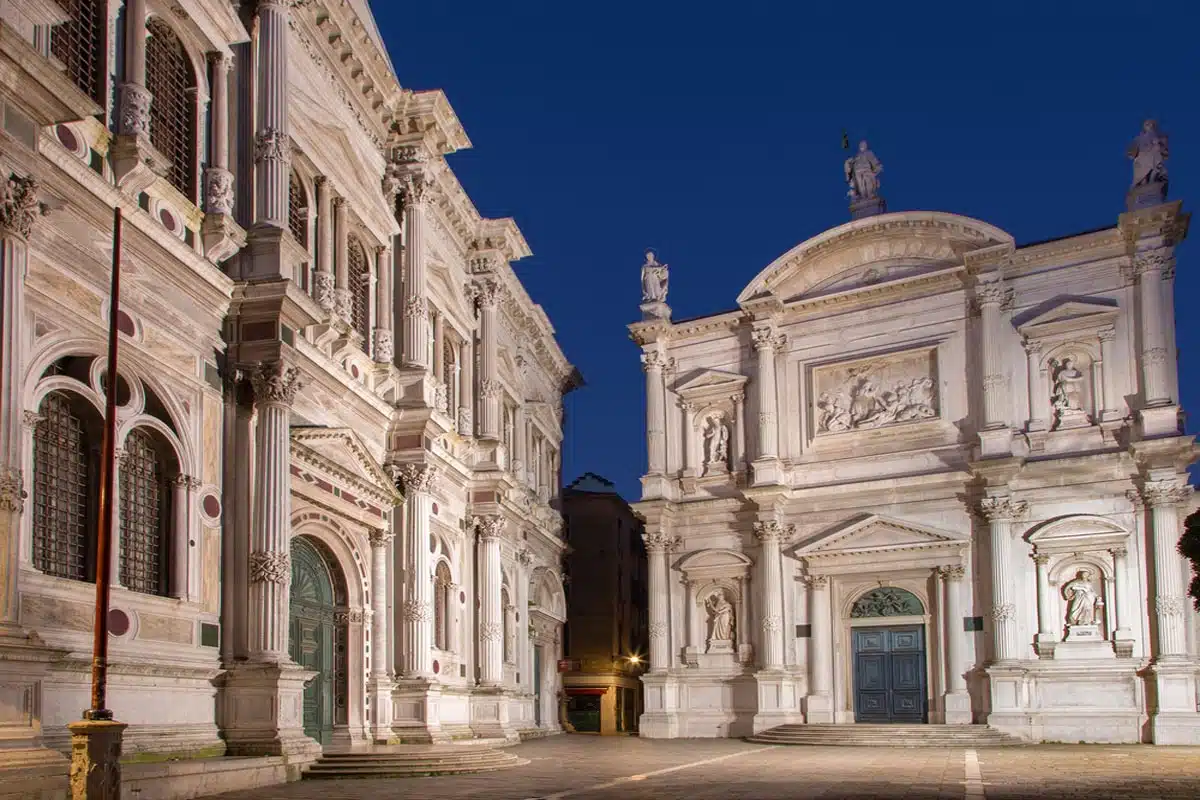 One thing about Venice is that there are plenty of grand buildings. The Scuola Grande di San Rocco is another one. Inside and out, it's incredibly impressive. Starting as a confraternity to help fight the plague in 1478, it now acts as a fantastic art museum.
The one thing that the building is most famous for is its extensive collection of Italian artist Tintoretto's work. The most striking feature of this building is its ceiling which has numerous paintings from Tintoretto's work encased in gold picture frames. It's a magnificent sight, if you ask me.
Ca' Rezzonico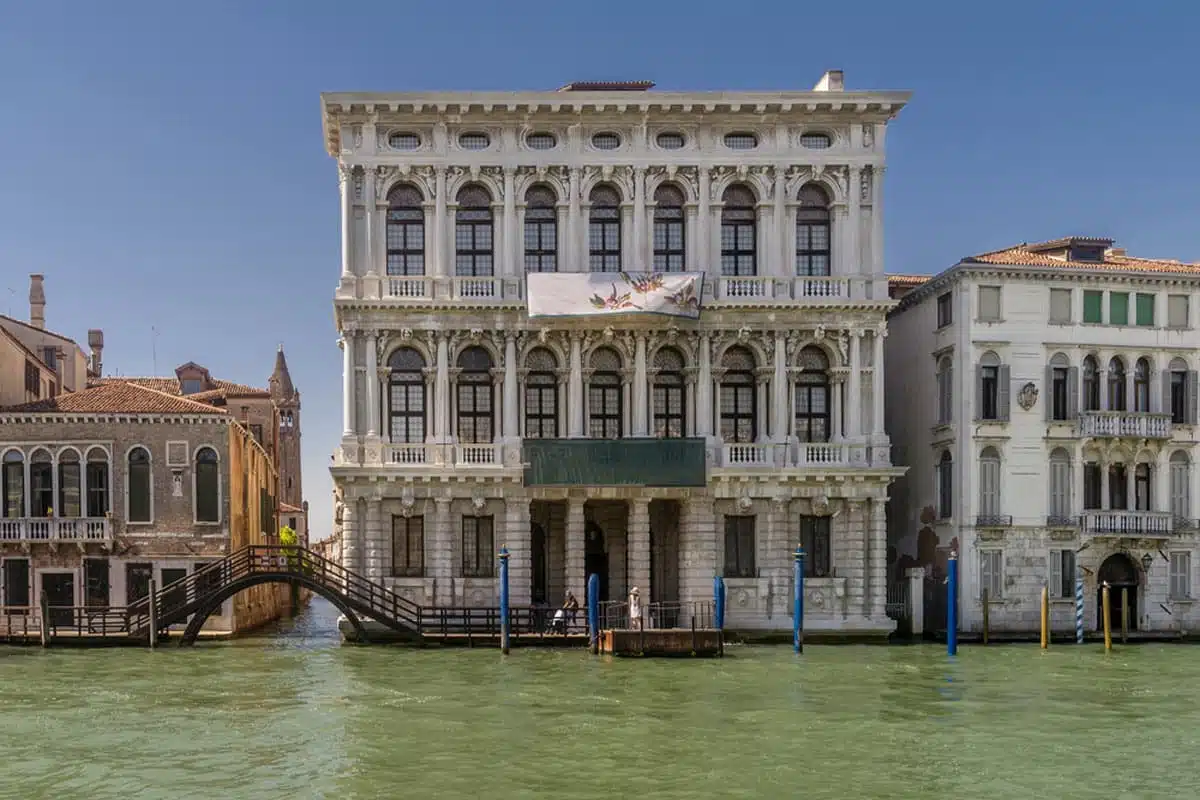 At first glance, the Ca' Rezzonico looks like it's floating on the Grand Canal.
But, dear traveller, look again – once a palace, it is now a stunning art museum dedicated to showcasing 18th-century Venetian art. One notable feature of this museum is its Baroque and Rococo architecture and interior design styles displayed on the exterior and interior.
There are numerous exhibits spread across its floors – remember to take a proper look around to enjoy the impressive art-decorated ceilings and grand chandeliers.
Practical Tips for Visiting Venice Italy Landmarks
Trust me on this one – make sure you pack comfortable walking shoes, as you'll see the best of Venice on foot.
Take a Vaporetto instead of a gondola. It might be less romantic, but it will still give you an excellent opportunity to see the Grand Canal and is a fraction of the cost. 19 scheduled lines travel all around Venice and the nearby island, making it easy and cost-effective.
Venice is always buzzing with tourists, so it's best to visit most places early in the morning to avoid the hordes of visitors.
Because Venice has narrow streets and many tourists, this can cause overcrowding. Ultimately this can also affect how long it takes to get from one place to the next, so bear this in mind if you're walking around and on a tight schedule.
Venice Landmarks: Map