Explore with this Puglia itinerary. Discover the best of Puglia in one week – culinary adventures and gorgeous locations await.
Puglia (Apulia) is one of those places you can visit and fall in love with over and over again on every stop you make along the way. I'm not exaggerating when I say Puglia has it all.

Beaches? Check. Italian cuisine? Oh yes. The bread, pasta, seafood, and pizzas here stack up against the best in the country.

There's notable architecture too – including ancient Roman ruins and the famous conical style Trulli. Really, you can draw the name of any Puglian village from a hat, and it's almost certainly worth a stop.
That said, there are a few locations you just can't afford to miss if it's your first time gallivanting along the heel of Italy's boot. So here's my advice for the perfect Puglia trip itinerary.
Handy Tips for Planning Your 1-Week Puglia Itinerary
Group Tour or Independent Travel?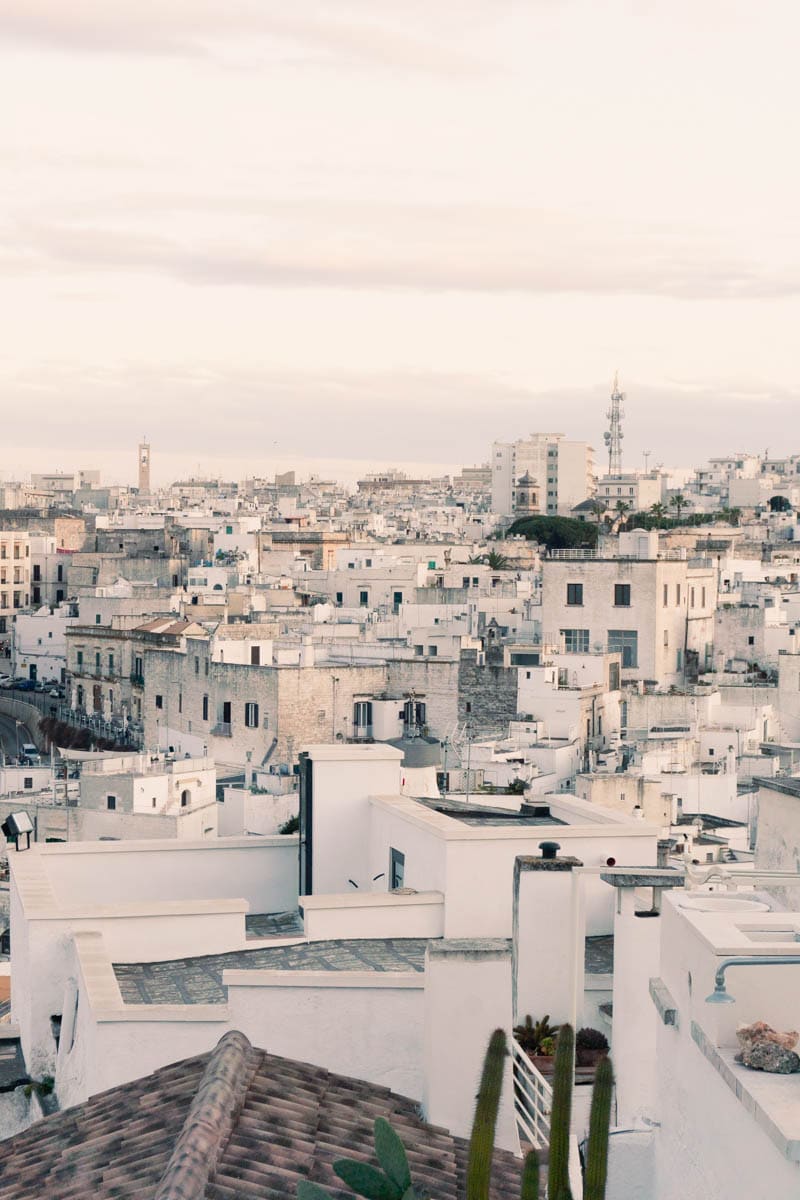 Whether you plan your week in Puglia itinerary by yourself (where you can choose each step of every day) or go for something a bit more organised – any trip to Puglia will be packed with long-lasting memories and the photos to prove it.
For group travel, Explore offers an excellent Puglia group trip, though you'll miss a few of my favourite destinations on this itinerary.
What to Pack for Your Puglia Itinerary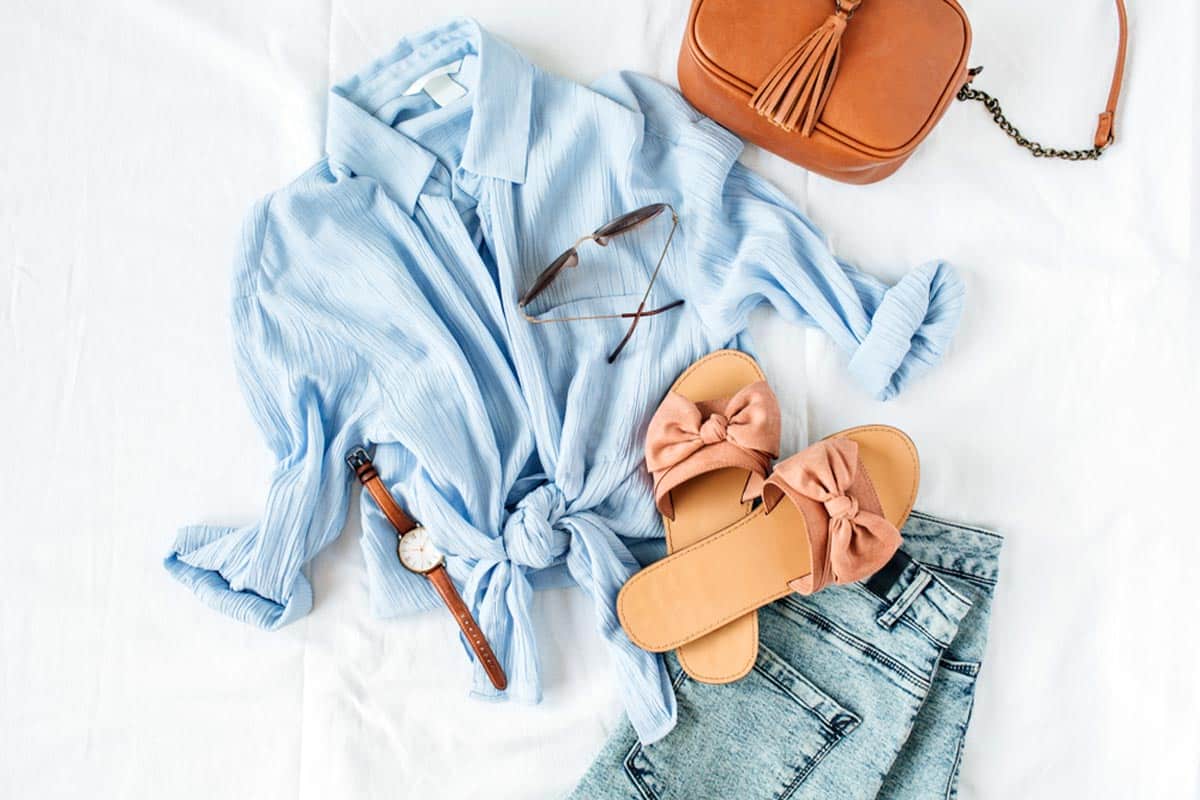 No matter when you visit Puglia, you'll want polarised sunglasses, a hat, sunblock, a pair of sandals, walking shoes, and dress shoes for dinner.

But depending on what season and which region you visit, you may want to bring a few different packing cubes in your suitcase to organise for the microclimates the region is known for. I always pack lightweight short and long sleeves, dresses, and pants.

Wear classy clothes (nothing too loud) and bring layers for the Mediterranean climate Puglia is famous for. A beach coverup is great in the summer for quick lunches, and a rain jacket is usually necessary in the winter, especially if you head up north.
Useful Resources
Planning an Italy trip itinerary isn't as easy as other places I've visited. I'm not trying to scare you away, but it is important to plan ahead so your travel arrangements and tours are booked and ready to go when you arrive.
You'll want to use some of these resources when you book your trip:
Skyscanner – You can use other websites and apps to find flights, but you most likely won't find better deals than on this flight search website.
GetYourGuide – Plan any activities with this excellent resource for guided tours, cooking classes, and skip-the-line tickets.
Rentalcars.com – I use this for renting cars anywhere I visit. Puglia is no exception, and there are plenty of agencies to choose from near Bari.
Booking.com – Find luxury resorts, stylish boutiques, and hidden gems on this reliable website and app.
Getting Around
There are plenty of ways to get around Puglia.
Puglia is relatively small. I recommend choosing one or two locations as your home base and then using trains, buses, and cars to take day trips to other locations throughout the week. Ostuni is great as it's relatively central so it isn't longer than an hour or so to any of the locations I've featured in this guide.

Rome2Rio is a great source for finding the most efficient route.
Puglia Itinerary 7 Days
Day 1: Bari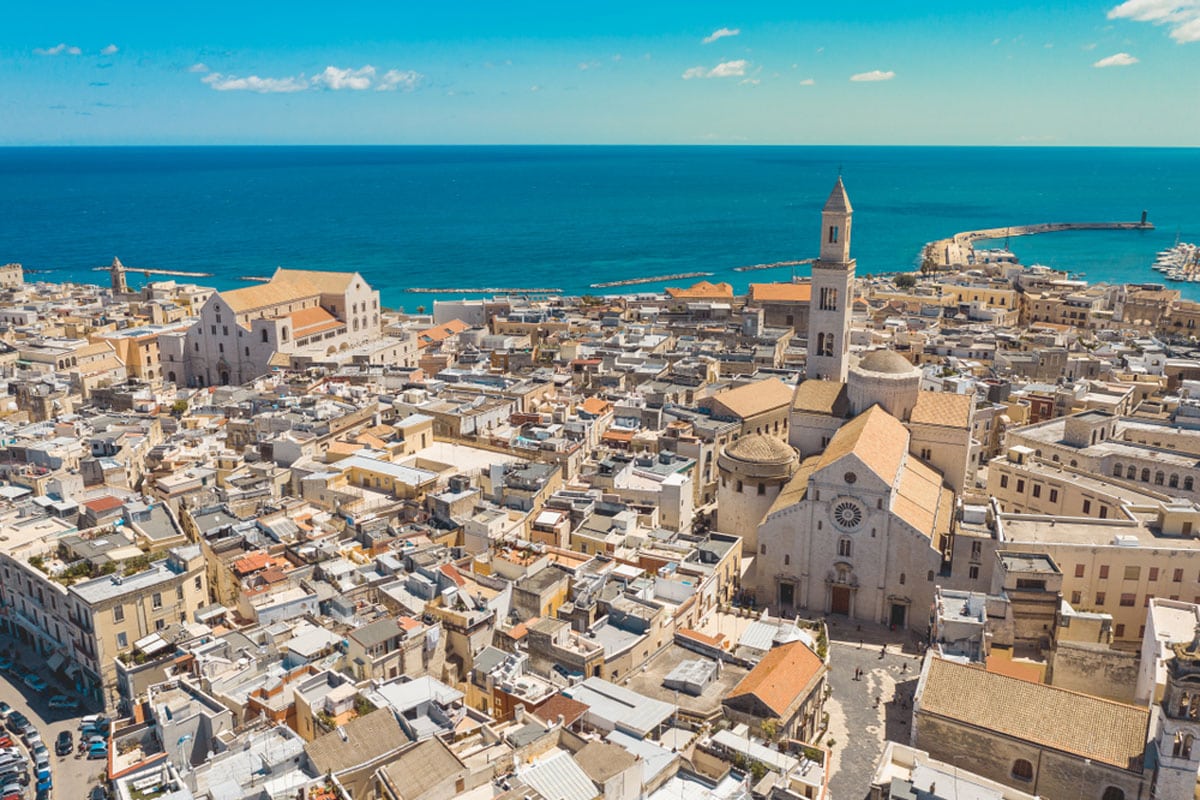 Bari isn't just a popular location for landing in Puglia; it has many of the best restaurants, historic churches, and vibrant culture that make the bustling port city in Southern Italy a winner.
Bari is the largest city in Puglia, but it's still so walkable.

Exploring the streets and piazzas is a true treat, so start in Old Town Bari before making your way through Piazza Mercantile, where you'll see the iconic clock tower at Palazzo del Sedile and (with a little luck) a concert or live performance in the town square.
Finish your day with an amaro and light snack at The Ciclatera Under the Sea for a perfect setting along the boat-filled harbour.
Things to do in Bari
Walk Around La Città Vecchia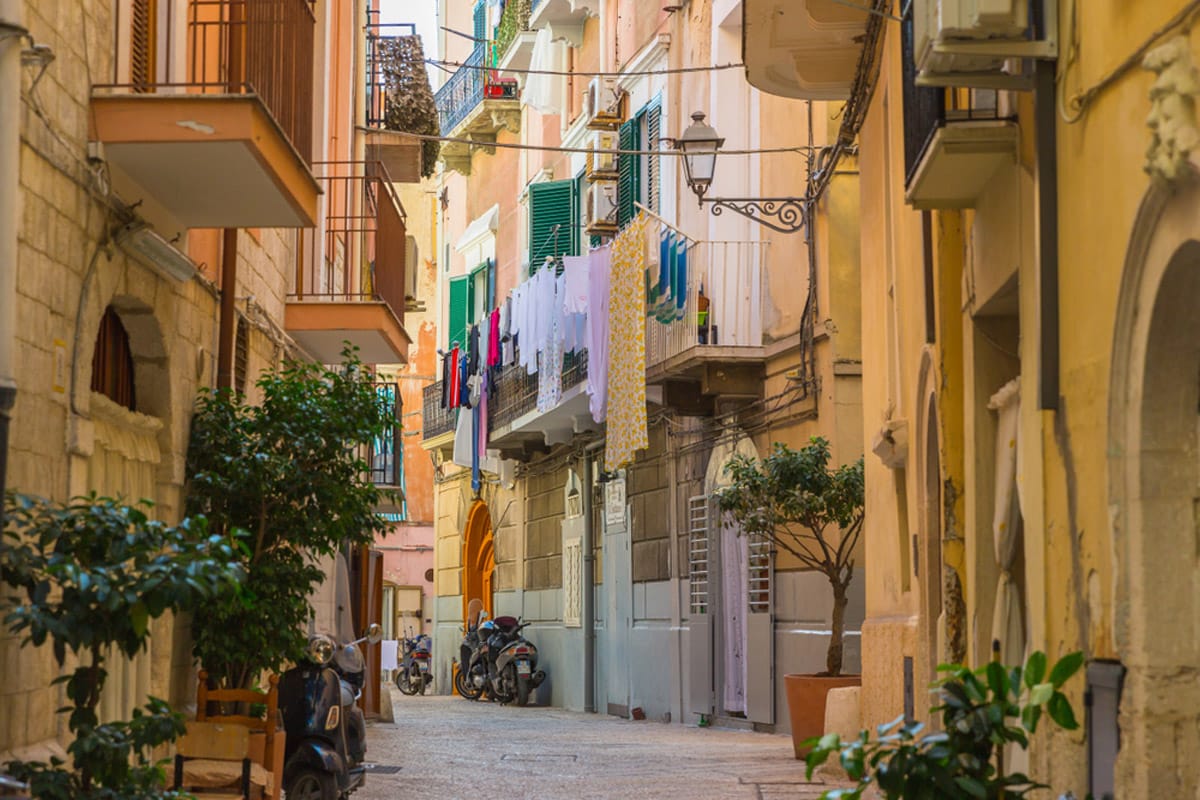 Any visit to Bari isn't complete without exploring Old Town's (La Città Vecchia) churches, restaurants, and historic buildings.

Visit the 13th-century Basilica Cattedrale Metropolitana Primaziale San Sabino, taste as many flavours of gelato as possible at the historic Antica gelateria Gentile, and bring a cone or cup over to Giardini Isabella d'Aragona, a picturesque garden next to the famous mediaeval Castello Svevo di Bari.
La Cantina dello Zio
Walking around the ancient city streets of Bari, you're more than likely to see locals spinning pasta from the windows of their shops and homes.
La Cantina dello Zio is one of the best places to try said pasta, with the Orchiette con Frutti di Mare and Gnocchi al Pesto being two I still have dreams about.
Visit Basilica San Nicola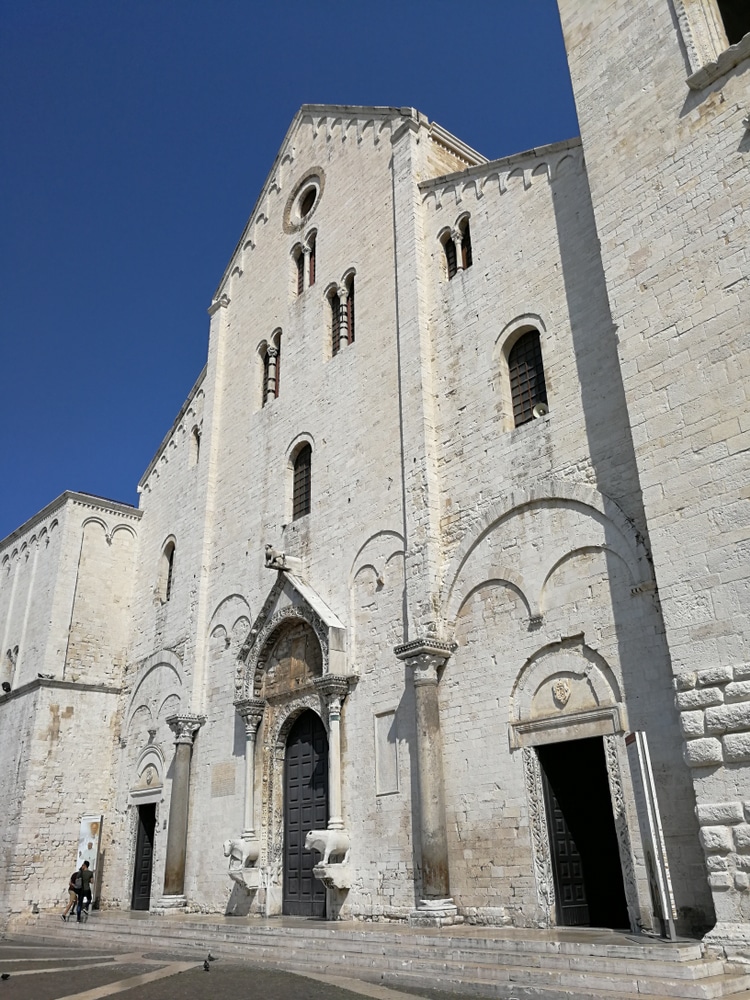 One of the most important landmarks in Bari, the Basilica San Nicola is a must-visit when planning a week in Bari.

The towering Romanesque building is home to the tomb of Saint Nicholas. Look for the 26 towering columns and the famous 11th-century bishop's throne.
Getting to Bari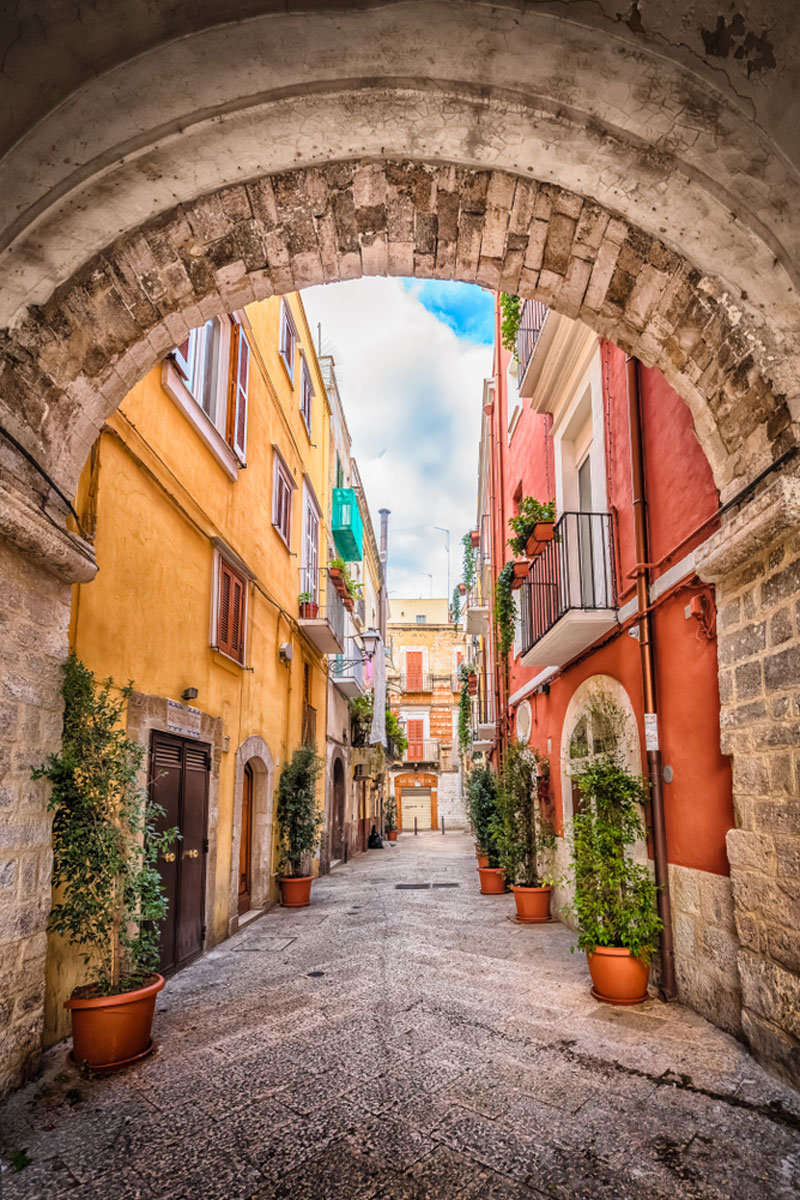 Most visitors land at Bari International Airport-Karol Wojtyla (BRI) when planning their one week itinerary in Puglia. It's a busy airport with plenty of flights from around the world.
Suggested Stay for Bari on your Puglia Itinerary
Residence Hotel Moderno is a perfect place to start your 7-day Puglia itinerary. Why? It's mere steps away from the train station, which will come in handy when you make a few day trips over the week.
Aside from convenience, the breakfast is excellent, the bar is cool, and the full kitchen comes in handy when sampling all the delicious produce, handmade pasta, and cheeses from the local markets.
Check Prices and availability for Residence Hotel Moderno on Booking.com
Alternatively, check all accommodation in Bari on Booking.com
Day 2: Trulli of Alberobello and Locorotondo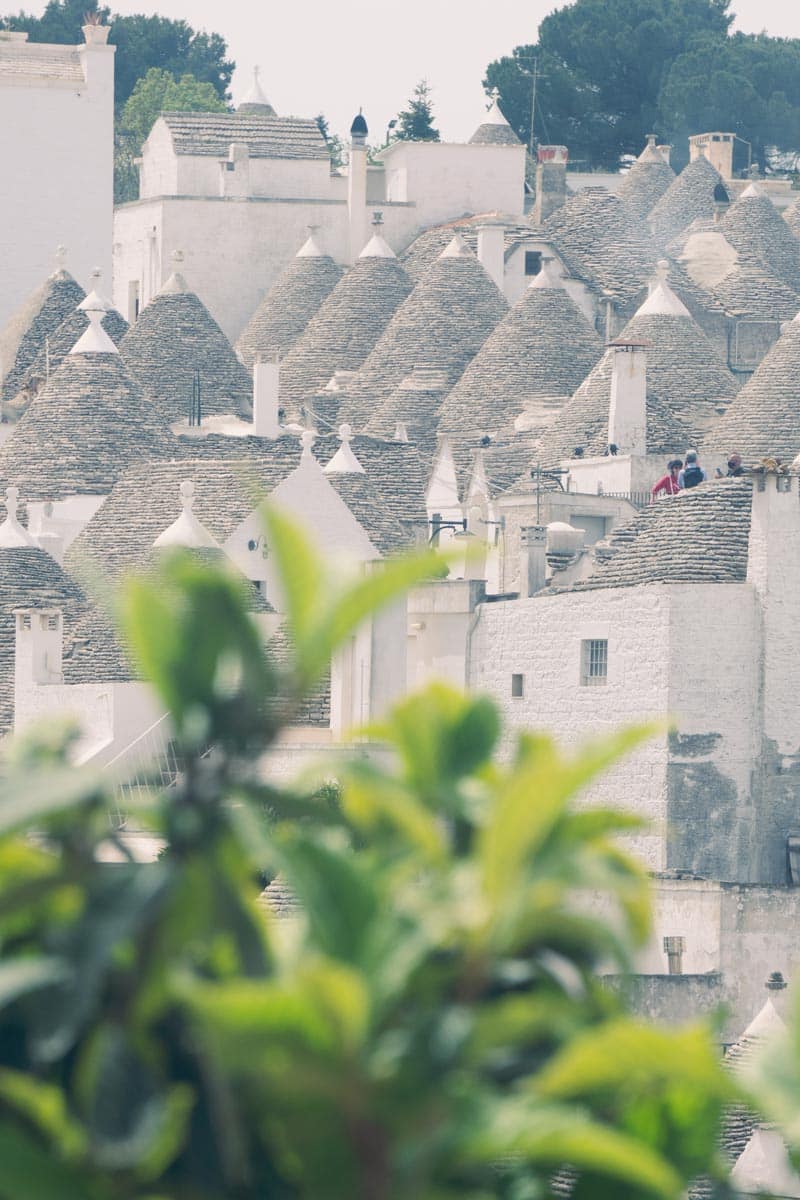 A day trip from Bari to Alberobello and Locorotondo is a must on your Puglia itinerary. If nothing more than to have a day free to wander, eat, and drink your way through two of the most charming towns in Puglia.
The unique (and adorable) conical-style houses in Alberobello are worth a visit on their own. But there are endless hidden gems to eat, shop, and sip a cocktail or two in these idyllic towns.
Things to do in Alberobello and Locorotondo
Photograph the Trulli of Alberobello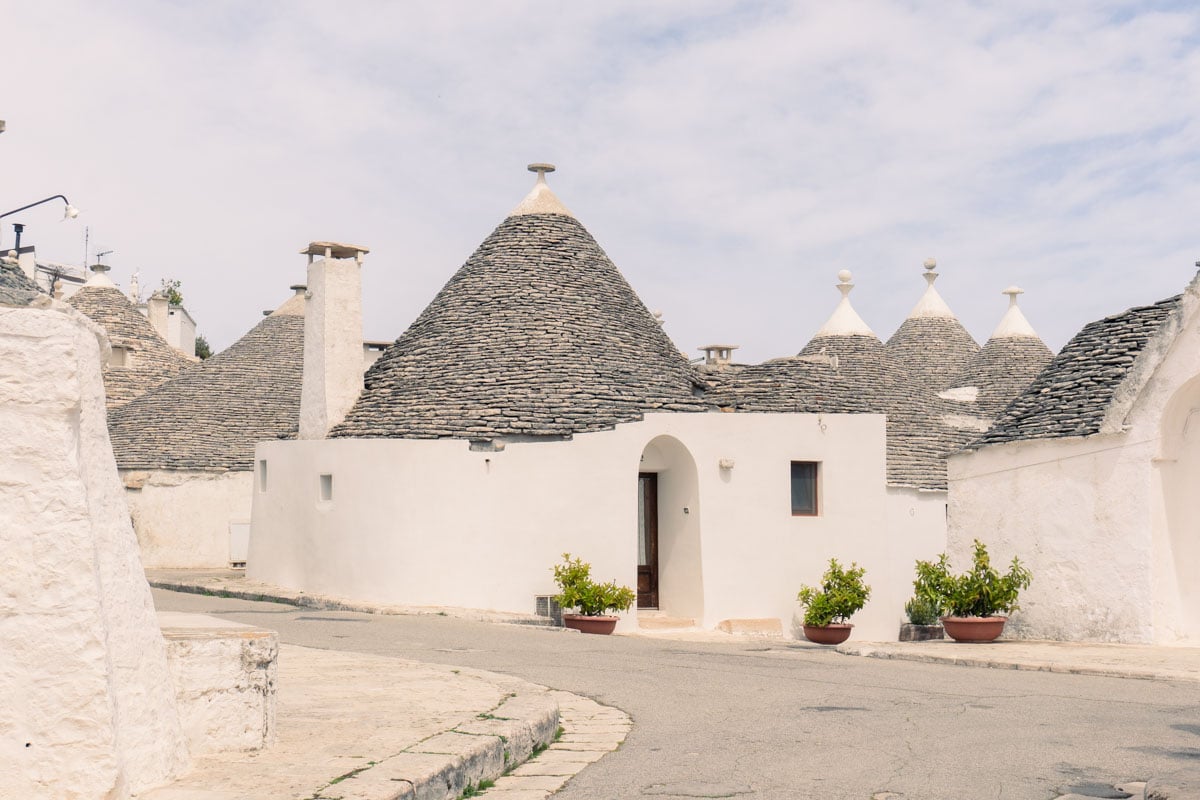 No exaggeration, the Trulli of Alberobello are impossibly charming. Each of the 1,600 white-washed homes with cone-style roofs is as impressive as the last.

If you want a glimpse inside any of the 14th-century buildings, Ristorante Trullo D'Oro is a great choice. The charming restaurant inside a Trullo serves excellent cuisine in a dramatic interior, with the Orecchiette Pomodoro being the go-to dish.
Church of Saint Anthony of Padua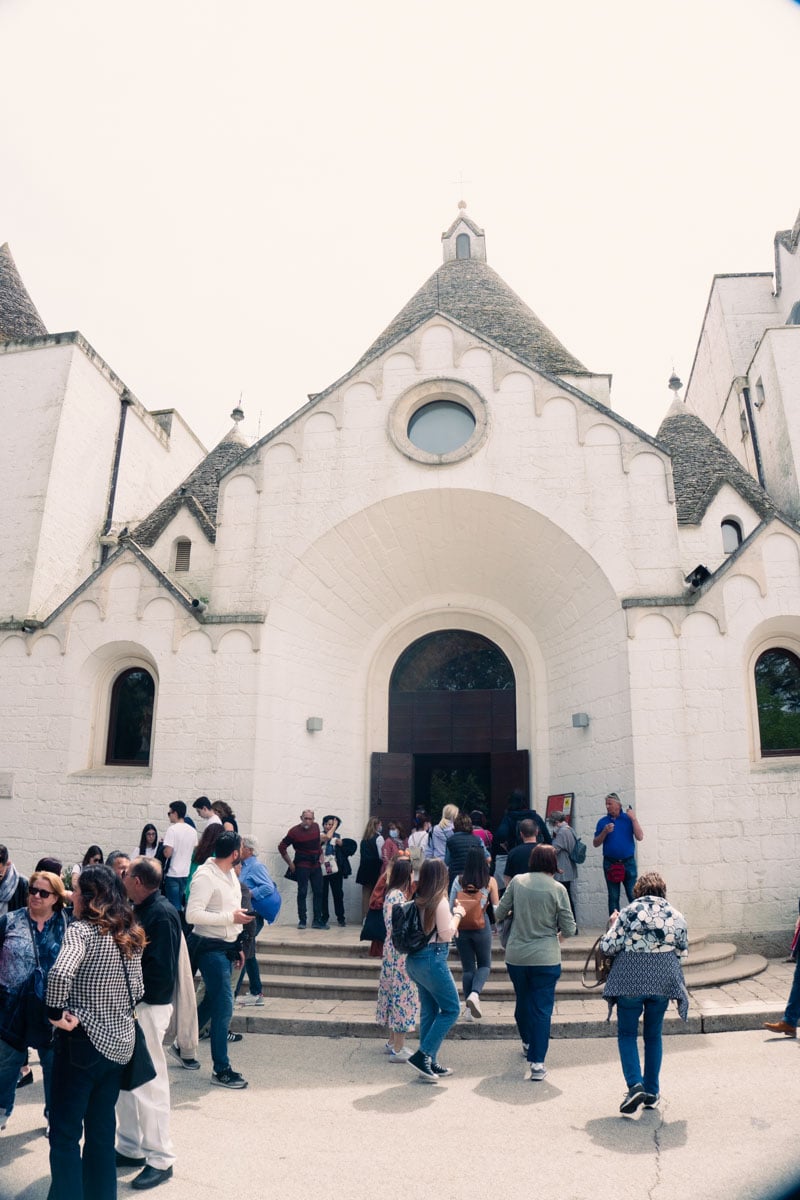 There are too many storied churches in Italy to count, but you've never seen one quite like this. The Church of Saint Anthony of Padua is a massive trullo and stunning inside and out.
Explore the Streets of Locorotondo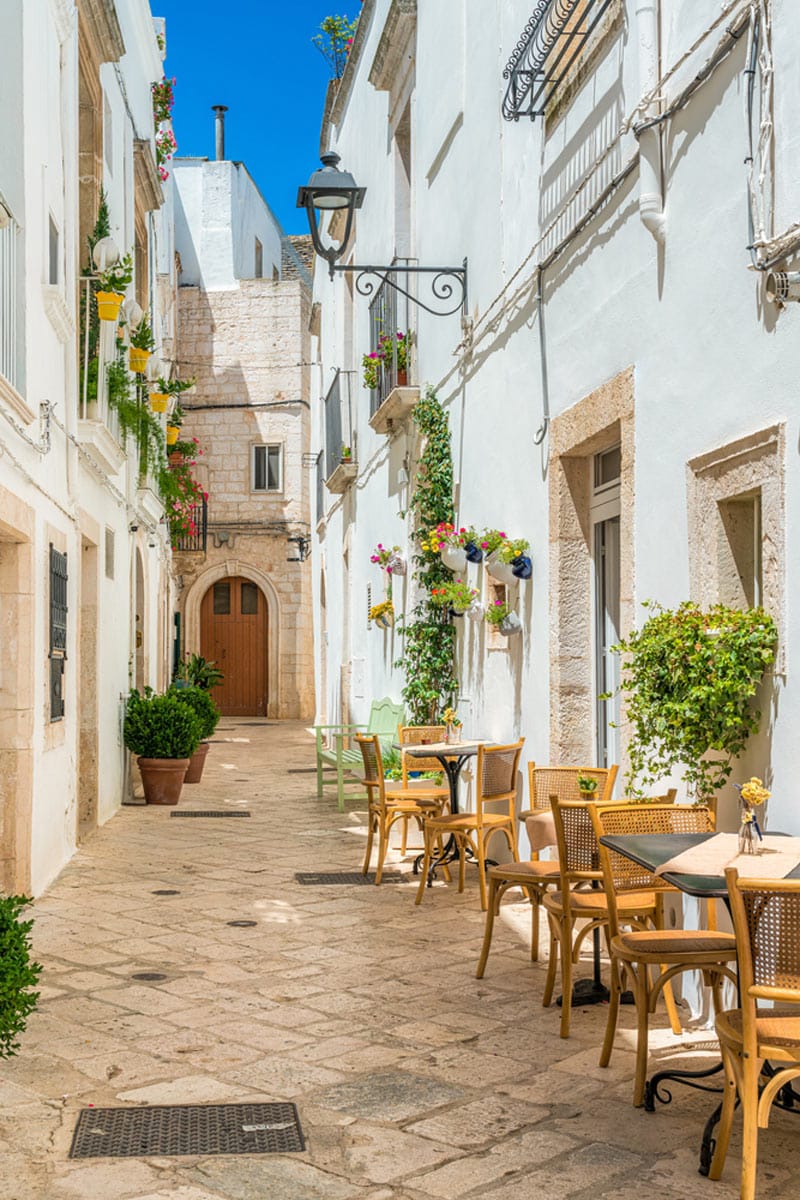 While Alberobello is no hidden gem any longer (it's swarmed with tourists most weekends), Locorotondo is a bit more off the beaten path.
Simply walk around and marvel at the architecture (Santuario di San Rocco is a favourite) before popping into some shops and restaurants.
Then enjoy an afternoon snack of local meats and cheeses at L'Arco Dei Tipici or take part in a wine tasting and pick up a bottle of the locally famous Bianco Locorotondo DOC wines at Neglia Alfredo.
Getting to Alberobello and Locorotondo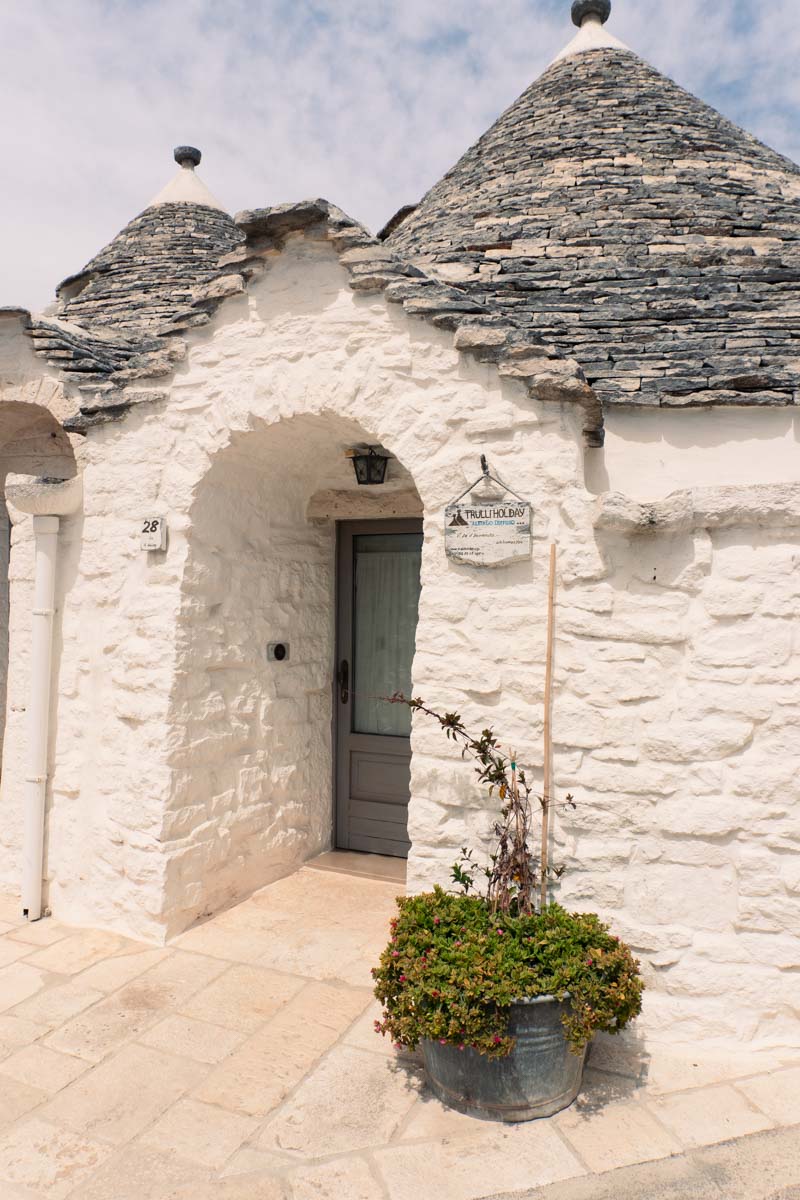 I'd recommend hiring a car to visit these two towns, as there aren't any high-speed trains to either village and you'll save several hours by driving.

If you choose to take a train, expect a 3 hour commute from Bari to either location, while driving takes around an hour.
Day 3: Polignano a Mare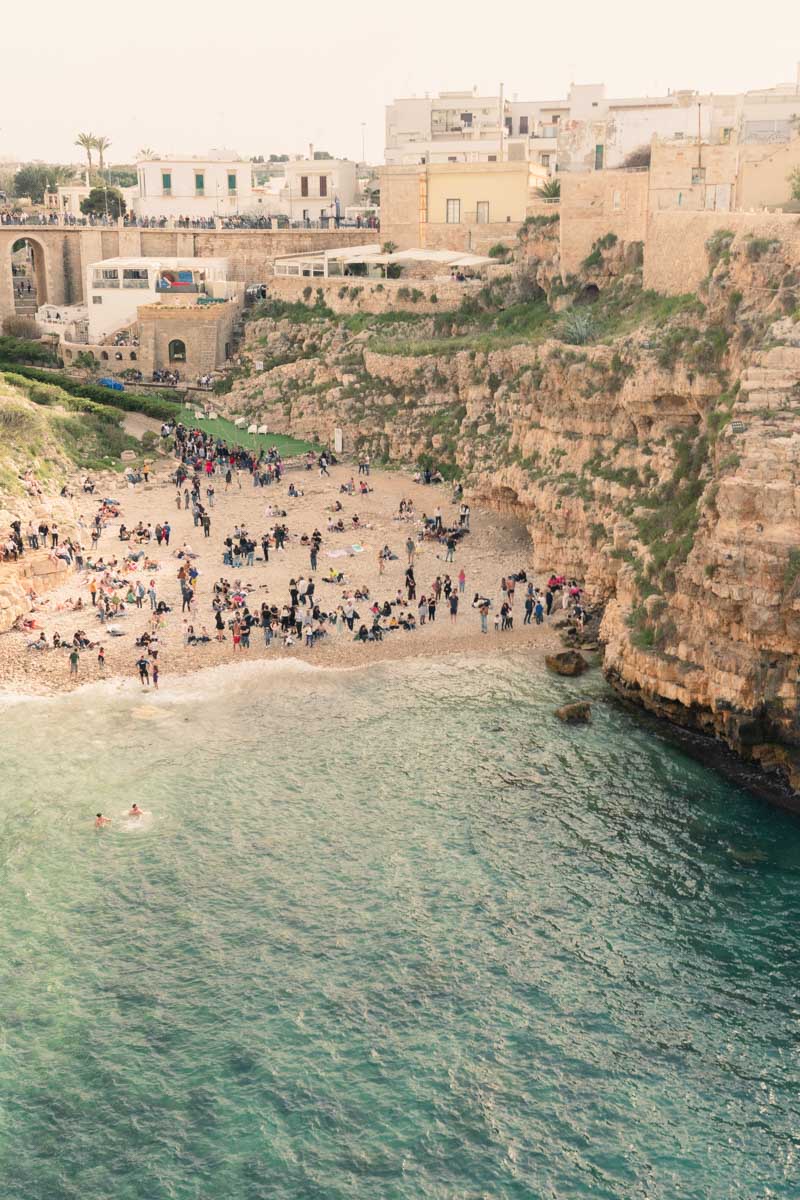 Want to know one of my absolute favourite spots in Puglia? Polignano a Mare.

Honestly, you won't find many more charming locales anywhere in Italy.
The towering limestone cliffs separating the city centre from the Adriatic Sea by mere inches are postcard-worthy and worth stopping by just to photograph.

But no joke, there is plenty to do here, so plan to stay for at least a few hours.
Things to do in Polignano a Mare
Calaporto
Calaporto (or Lama Monachile) is famous for cliff jumping, swimming, and relaxing in the sunshine that you won't want to skip. Pack your water shoes and beach towel and go early in the day for this day trip from Bari.
Centro Storico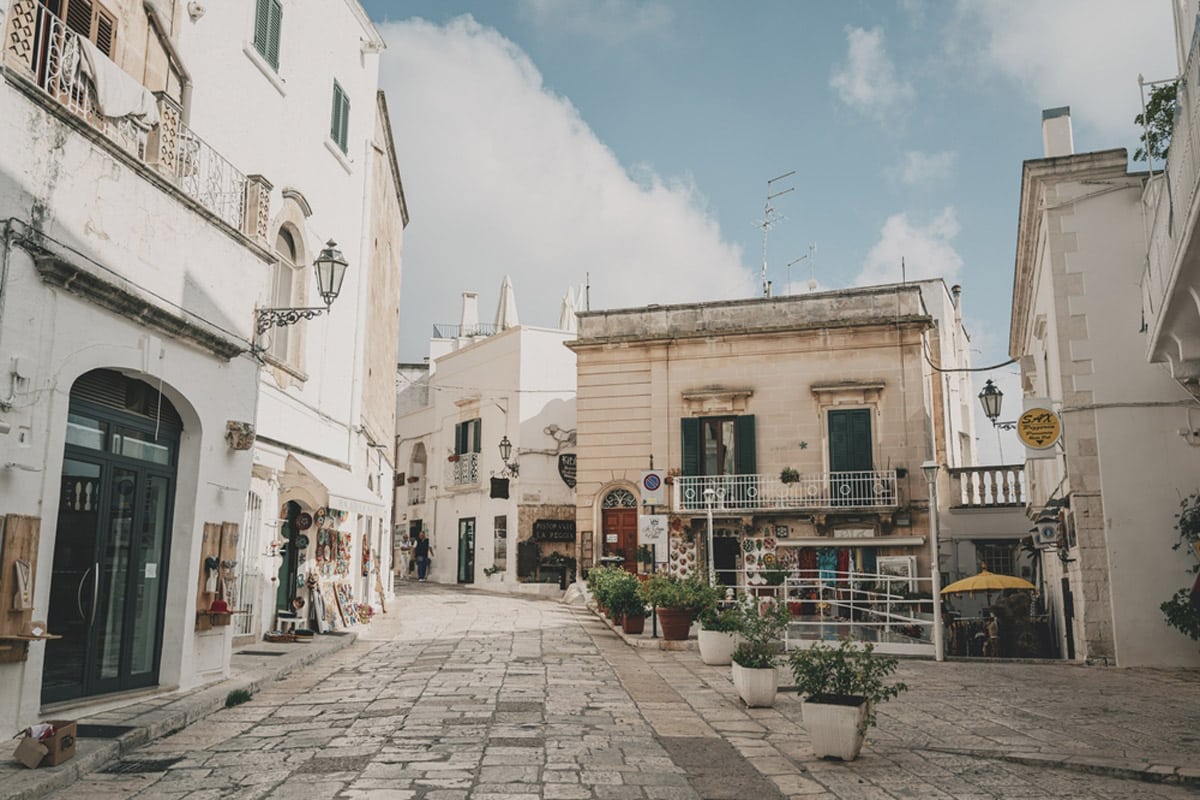 After your swim, dry off and put on a cover-up to explore Centro Storico. The towering 16th-century walls of Arco Marchesale and the gorgeous Church of Saint Mary of the Assumption are must-sees.

Head to Antica Trattoria Comes after. It is a gem of a family-run restaurant with excellent seafood and pasta. Grilled prawns and any seafood pasta are the plays here.
Taste Wine at Caffè dei Serafini
One of the best places to learn about local wines from friendly staff, Caffè dei Serafini is a true gem. The last time I was there, I tried three wines for €12 (sommelier's choice) and a platter of cold cuts that was ridiculously good.
Getting to Polignano a Mare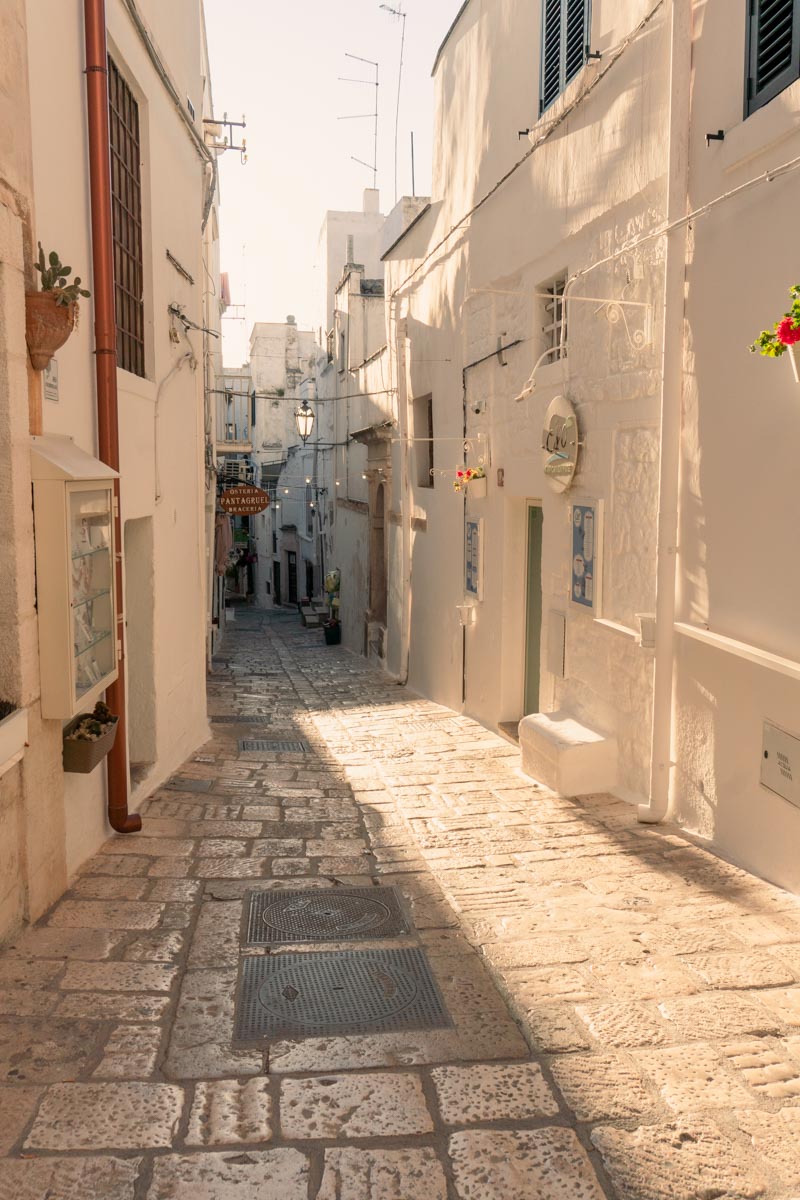 You can take a local bus or train in about 40 minutes, making this a lovely day trip from Bari.
Day 4: Lecce and Gallipoli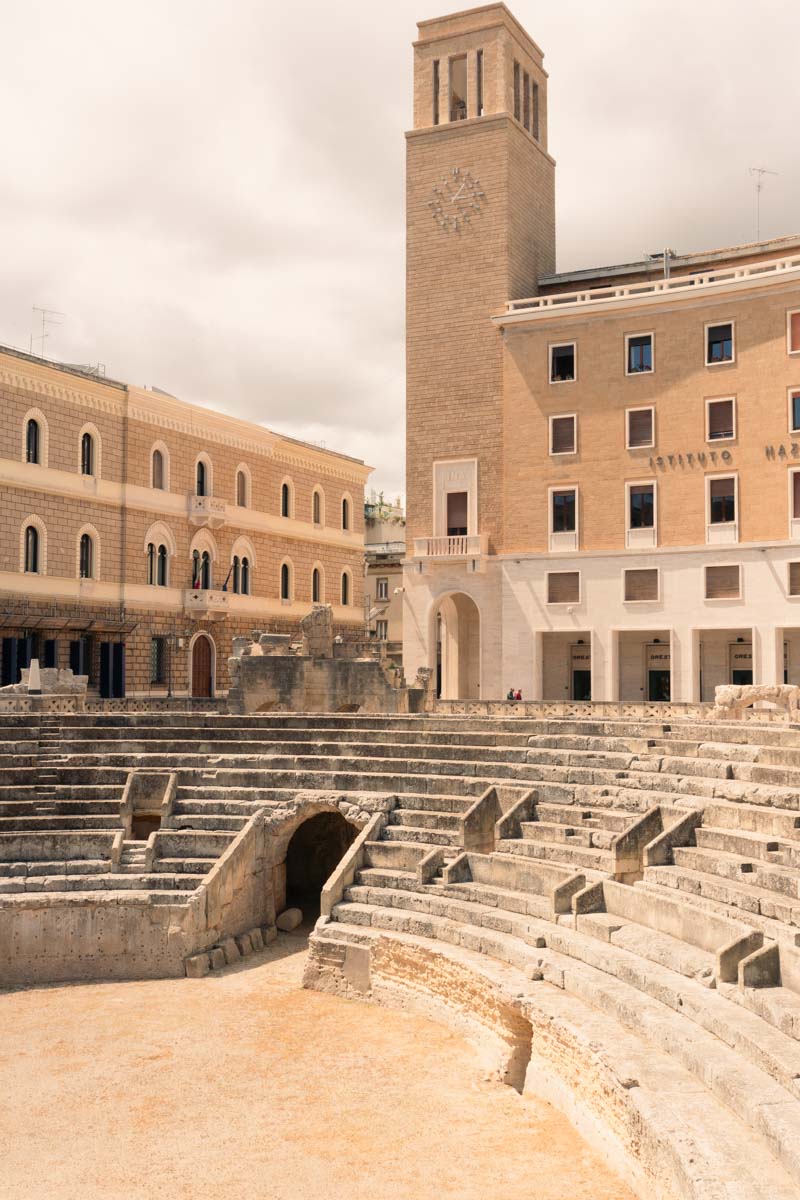 Two of my absolute favourite places in Puglia are Lecce and Gallipoli. Luckily, Puglia is small enough that it's easy to explore two completely different towns in a single day during a week in Puglia.
Lecce will treat you to some of the most memorable architecture in Puglia, with Baroque churches like Basilica di Santa Croce and Church of Saint Irene worth checking out.

But the Roman Amphitheater is the most iconic landmark in Lecce and well worth a visit.

Once you've made the most of a visit to Lecce, take a short drive to the coastal village of Gallipoli to sample truly incredible seafood and take a swim in some of Italy's best beaches.
Things to do in Lecce and Gallipoli
Roman Amphitheater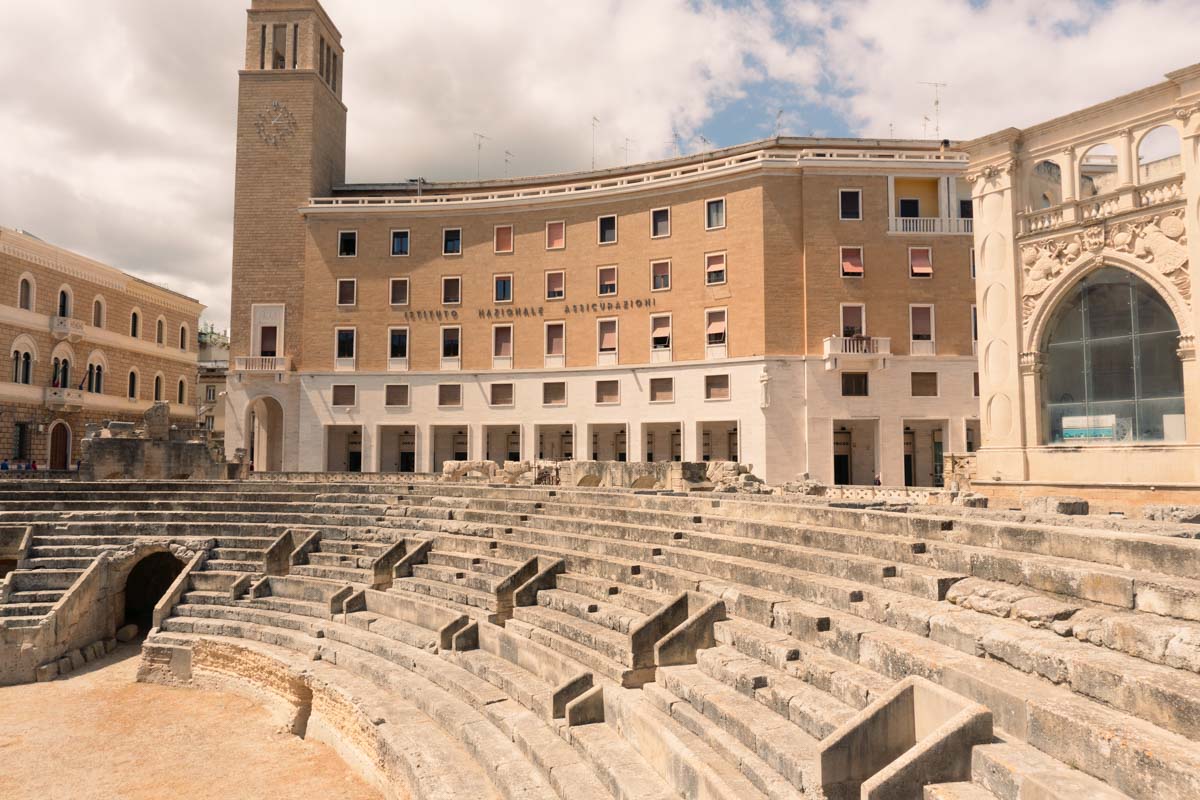 Visit this massive ancient theatre that wasn't rediscovered until the 20th century. If you time your visit right, you might see a live performance in the 2,000-year-old landmark.
Castello Angioino di Gallipoli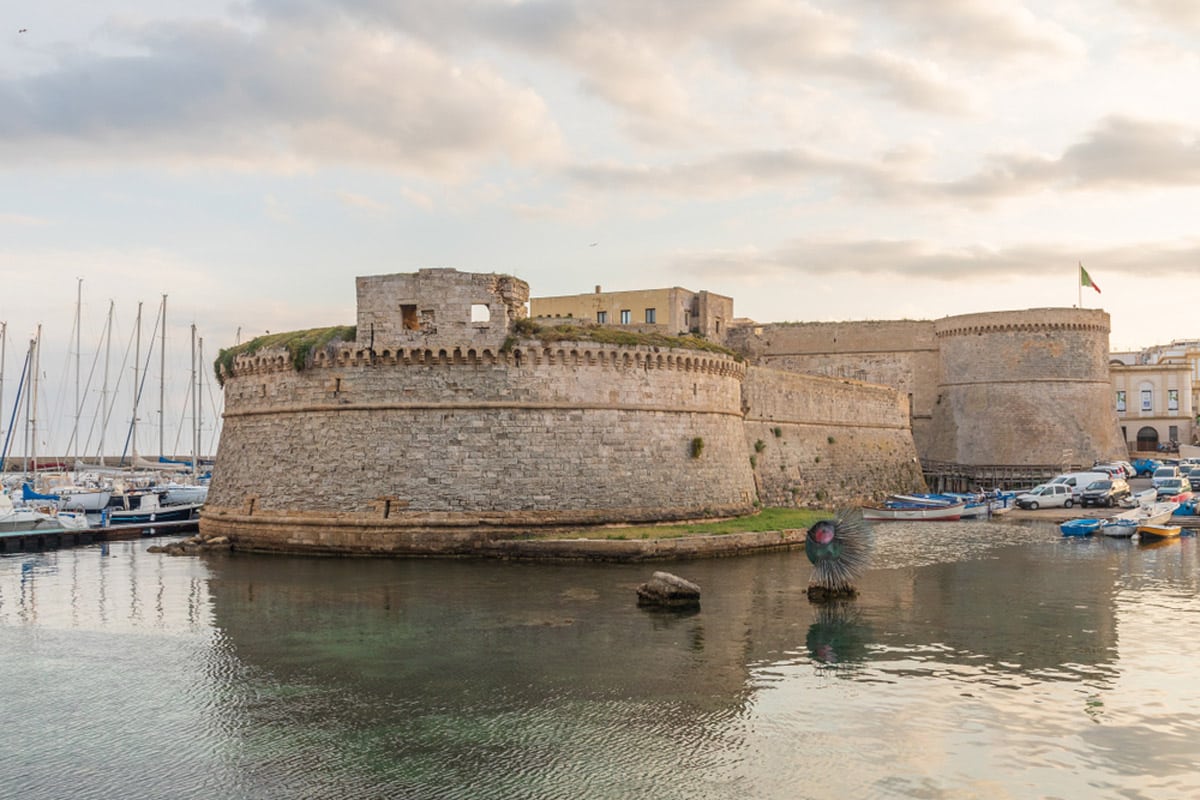 Tour the castle and then spend a couple of hours walking around Old Town to watch local musicians performing live and soak in the local culture of this fishing town at Gallipoli Fish Market and Costa del Sud.
Greek Fountain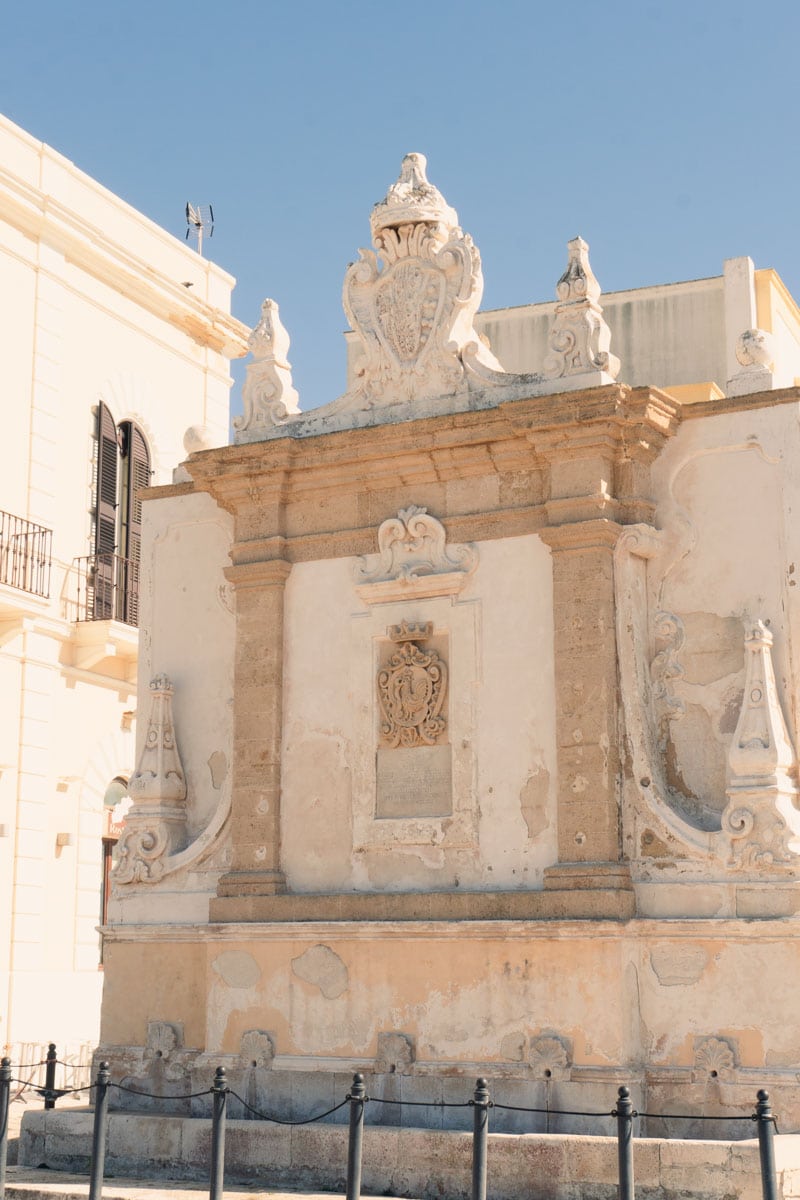 If you want one of the most memorable (and quickest) stops on your itinerary for Puglia, Italy stop by the Greek Fountain (exact age unknown) and toss a quarter into this ancient landmark.
Spiaggia della Purità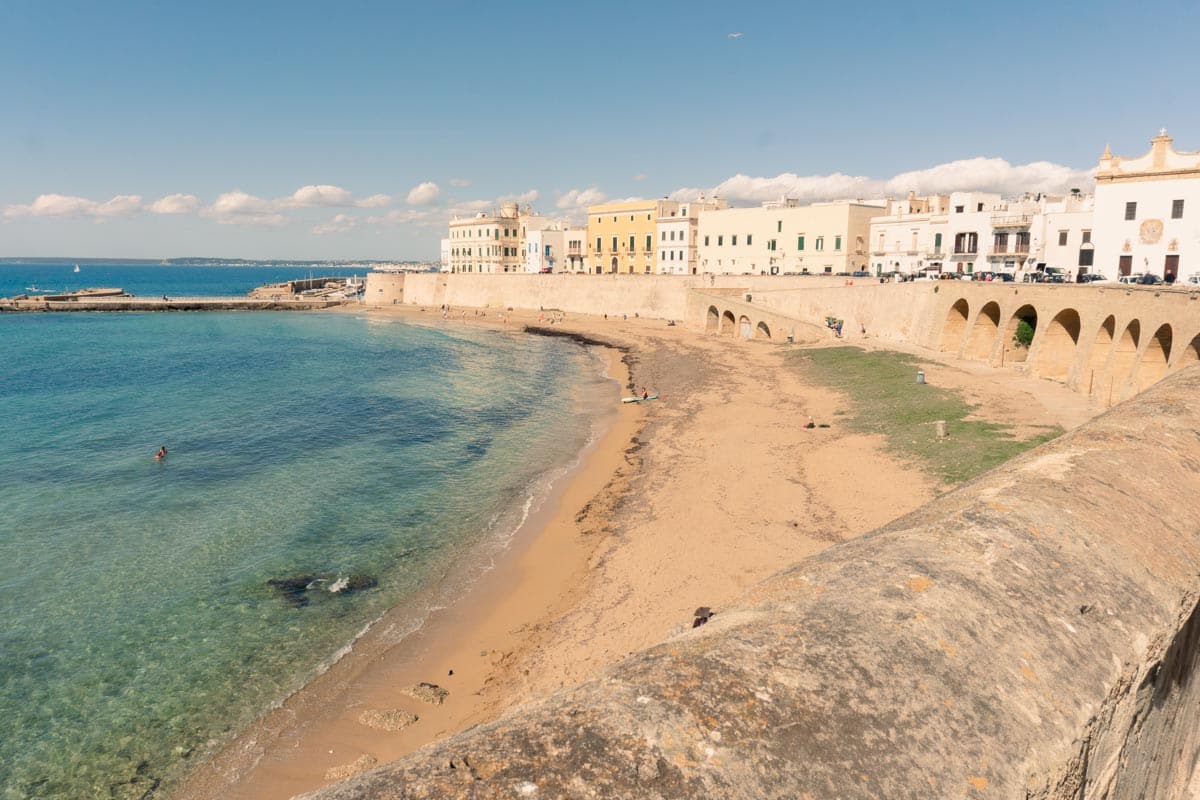 Just beneath Old Town is the half-moon cove Spiaggia della Purità, one of the most popular beaches in the city. It's a perfect place to chill out for a few hours.

Renting a chair and umbrella is easy enough and worth it on the warmest days.
Getting to Lecce and Gallipoli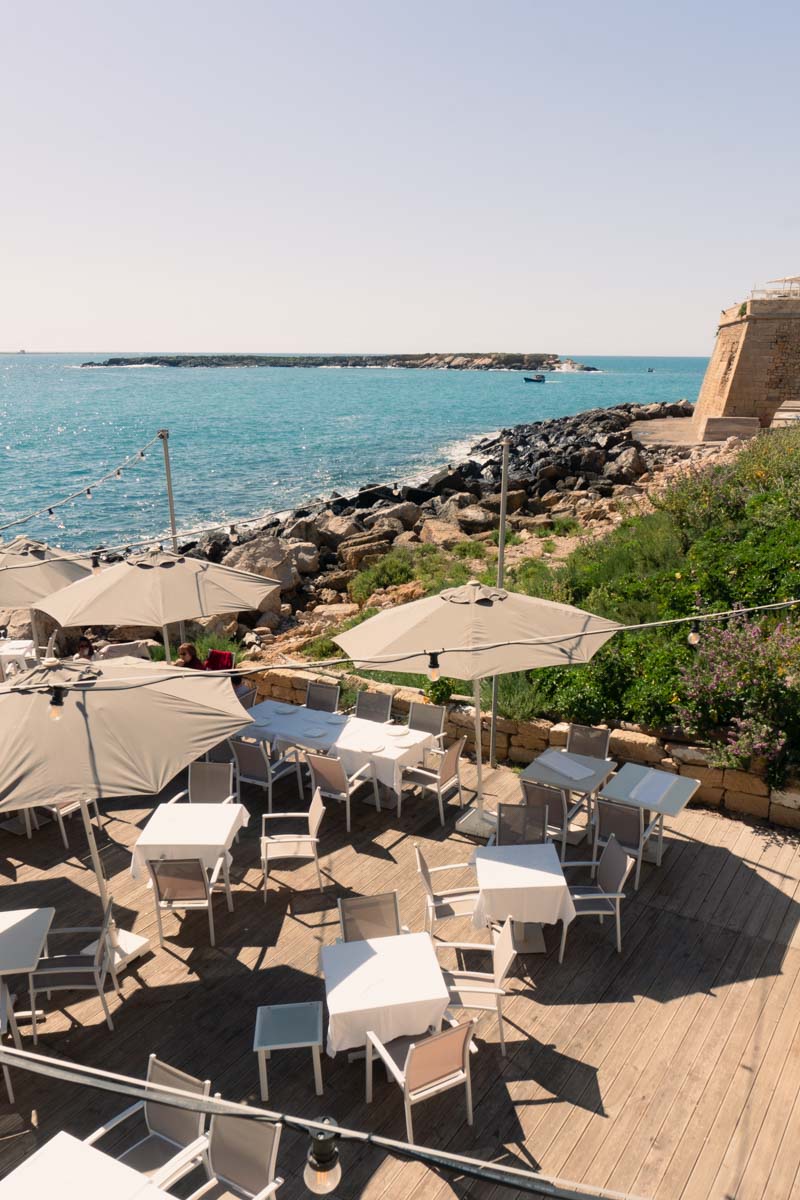 Hire a car in Bari (near the airport is easiest) and make your way to Lecce and Gallipoli on a leisurely day trip.
Day 5: Ostuni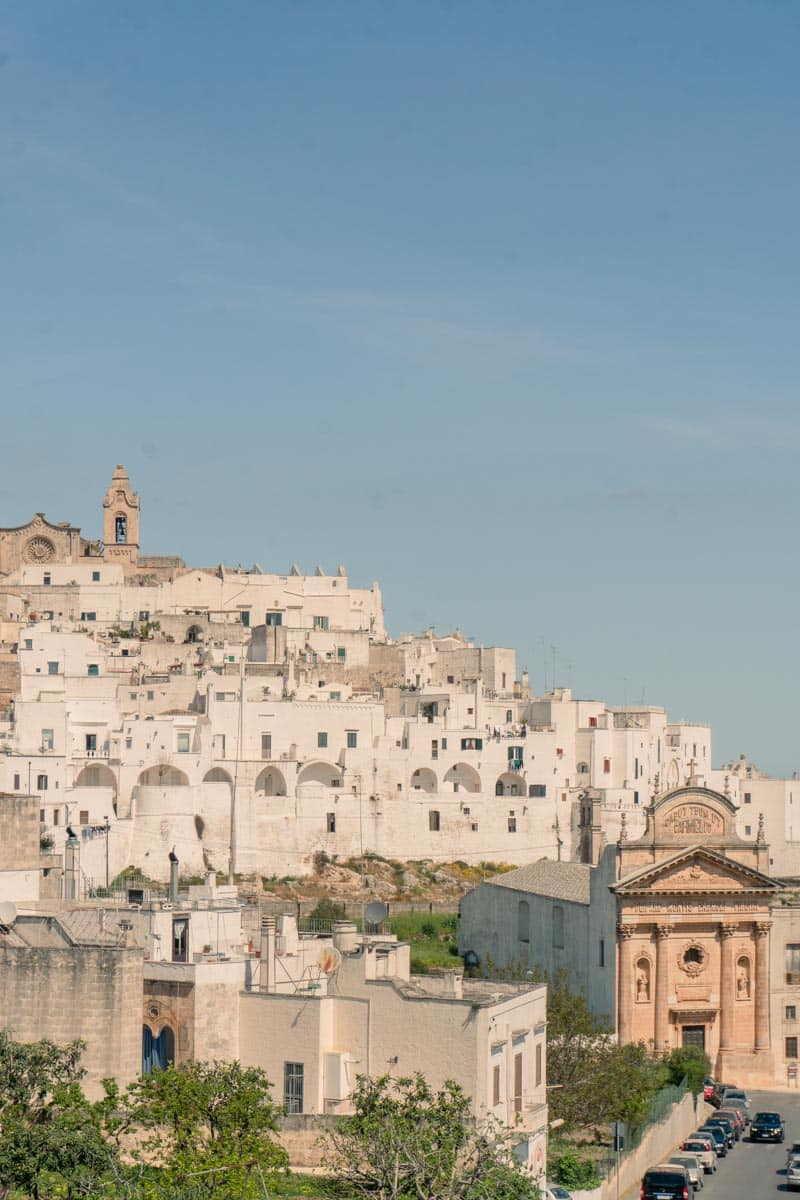 Ostuni is a great location to use as a home base for a Puglia travel itinerary because it's a short drive to many of the most popular locations nearby.
But I'm not just recommending spending a couple of nights in La Città Bianca for your convenience. It offers visitors a chance to really dive into the cobbled streets, white-washed architecture, and charming osterias it's famous for.
Speaking of osterias, Osteria del Tempo Perso is a must. The rotating menu is heavy on handmade pasta and local ingredients, service is nearly perfect, and the cavernous setting is as romantic as they come.
Things to do in Ostuni
Masseria Il Frantoio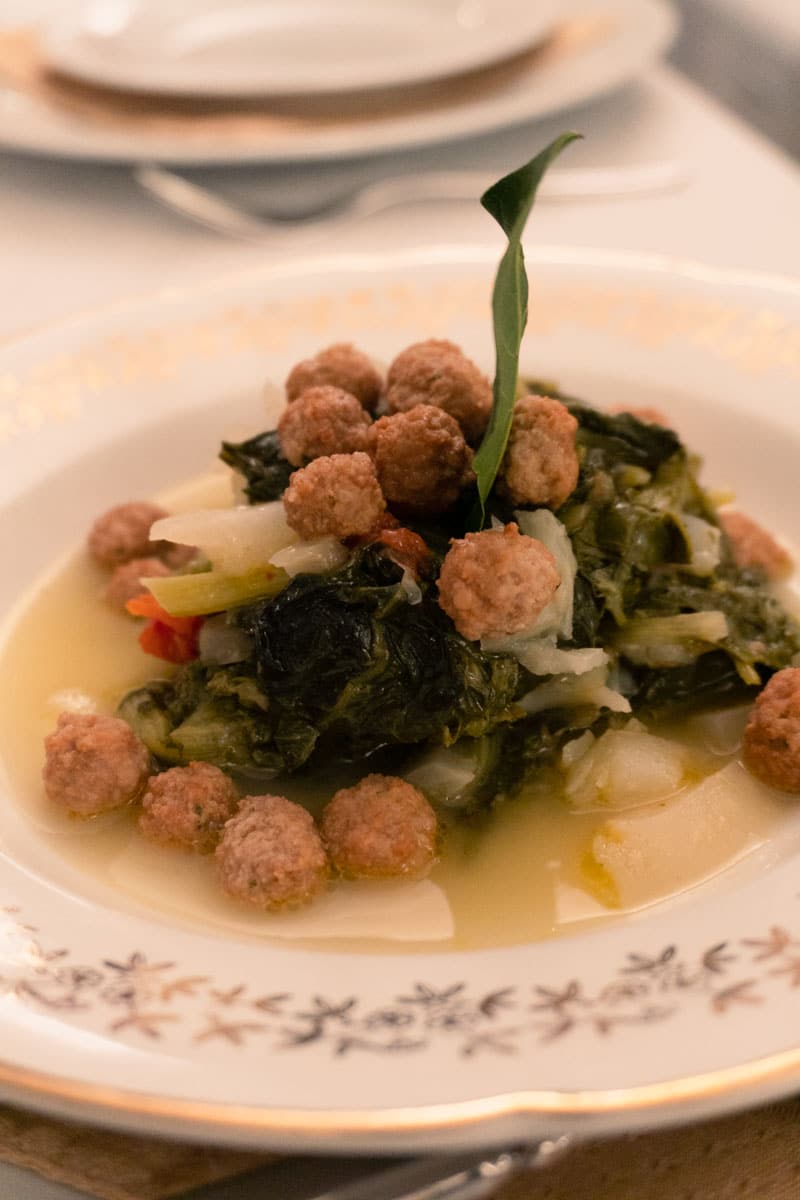 If you only have time for one dinner in Ostuni, reserve a table at Masseria Il Frantoio. The small farm is outside Ostuni proper, but well worth the short drive for the locally sourced tasting menu that changes daily.

Arrive a little early to walk around the property grounds which feature an idyllic pool tucked away inside the olive grove.
Explore the Architecture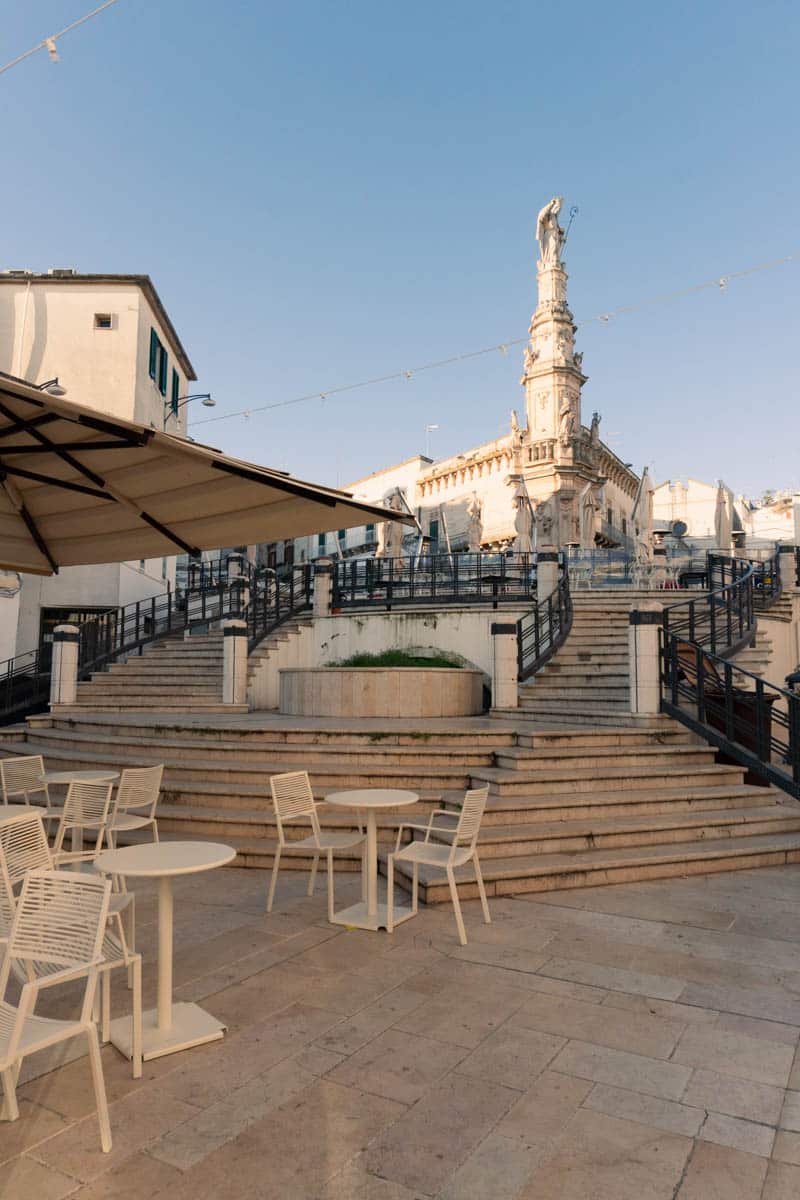 Walking around Centro Storico and the winding (and hilly) streets of Ostuni is easily one of the best things to do when planning one week in Puglia.

Keep your eyes peeled for architectural masterpieces like the towering arch of Arco Scoppa, Romanesque and Gothic Ostuni Cathedral, and any piazza you can find (Piazza della Liberta is the most famous).
Go Beach Hopping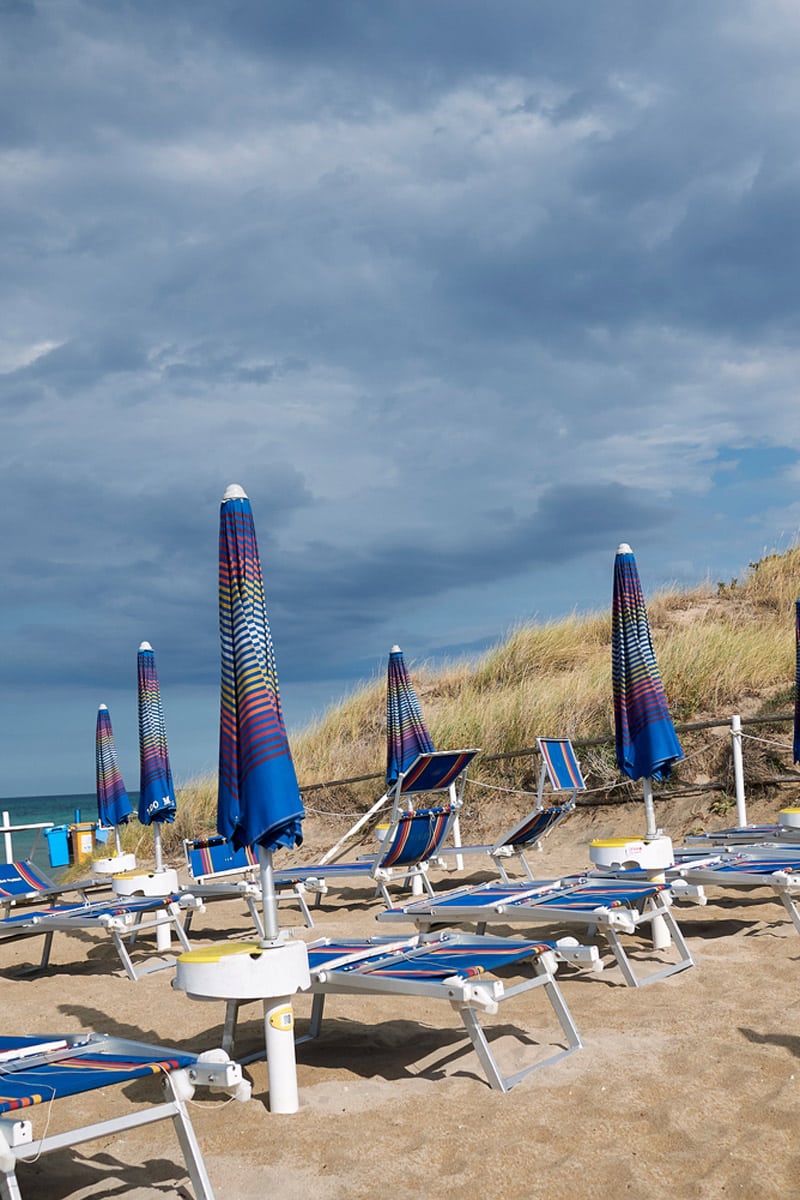 One of my favourite reasons to visit Ostuni is to explore all the great beaches in the surrounding area. Want my picks? The gentle, crystal clear waters at Lido Morelli and the rocky cliffs (perfect for a splash) at Spiaggia della Gola are two of the best.
Getting to Ostuni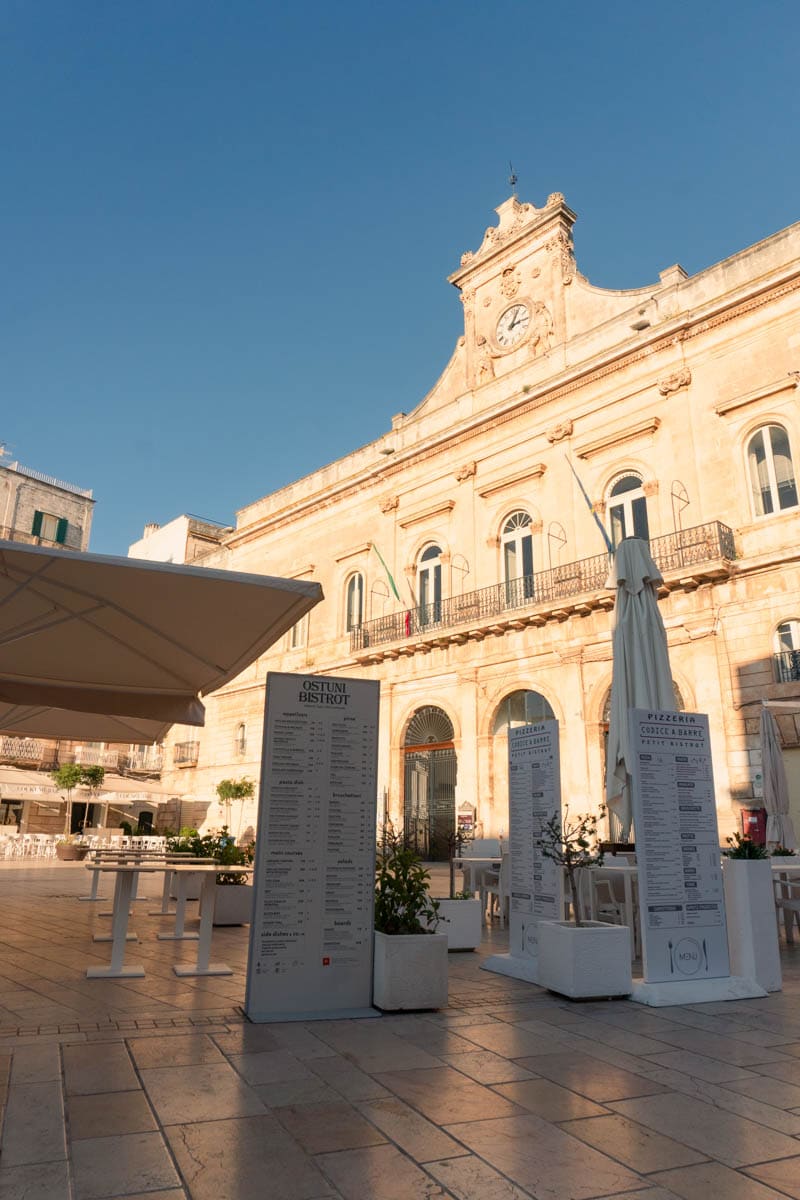 Drive from Gallipoli in around 1.5 hours or hop on the train, which will take about 2.5 hours, including a transfer in Lecce.
Suggested Stay for Ostuni on your Puglia Itinerary
Hotel Monte Sarago sits in the middle of the idyllic white-washed village of Ostuni and offers guests an intimate boutique hotel experience with only nine rooms, each featuring a minimalist Mediterranean decor.
Check Availability for Hotel Monte Sarago on Booking.com
Alternatively, check all accommodations in Ostini on Booking.com
Day 6: Monopoli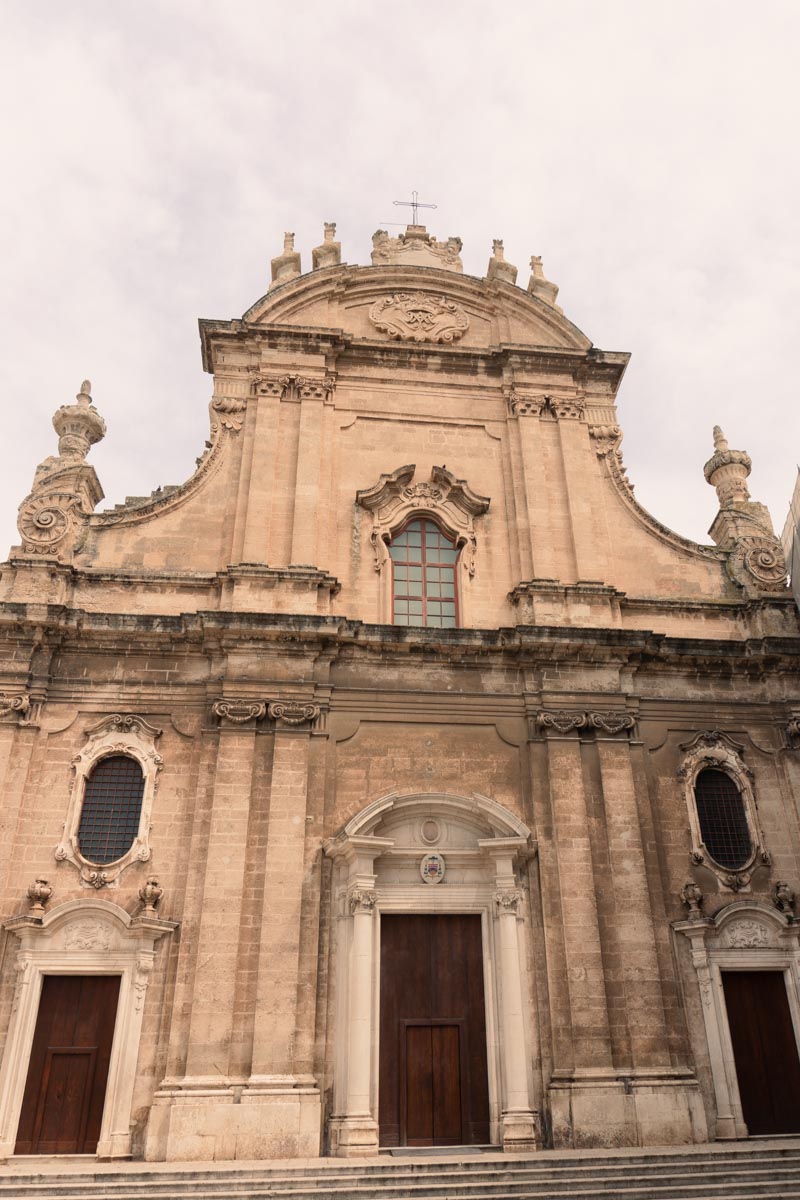 If you haven't heard of this small hidden gem nestled along the Adriatic Coast, you're not alone. Monopoli just recently started to show up on many holidaymakers' radars, so it's still relatively unknown (for now).
It's a perfect location to spend your last day or two before returning to Bari, only about 30 km away.

Why? Think 16th-century castles, a bustling port with markets and cafes, and spectacular beaches like Cala Porto Rosso and Calamarena.
About that port, though. The tall white-washed houses butting right up to the boats along the blue-green water offer one of the most photogenic scenes in any small town in Italy.
Things to do in Monopoli
Visit Masseria Spina
Start in Monopoli at the legendary Masseria Spina Resort. You can do this as a day trip or spend a night at the resort (I recommend the latter), where you can explore the ancient caves and grounds of the fortress, with some ruins dating back to the middle ages.

Be sure to tour the citrus groves and farm on site, and schedule a guided tour to taste the olive oil and learn more about Puglia wines from a trained sommelier.
Capitolo
Looking for the best beaches in Italy? You'll find a few in Monopoli, and this well-known area has many of the best sandy beaches dotting the Puglia shores, with Lido Azzurro being one of the easiest to access.
Castello di Carlos V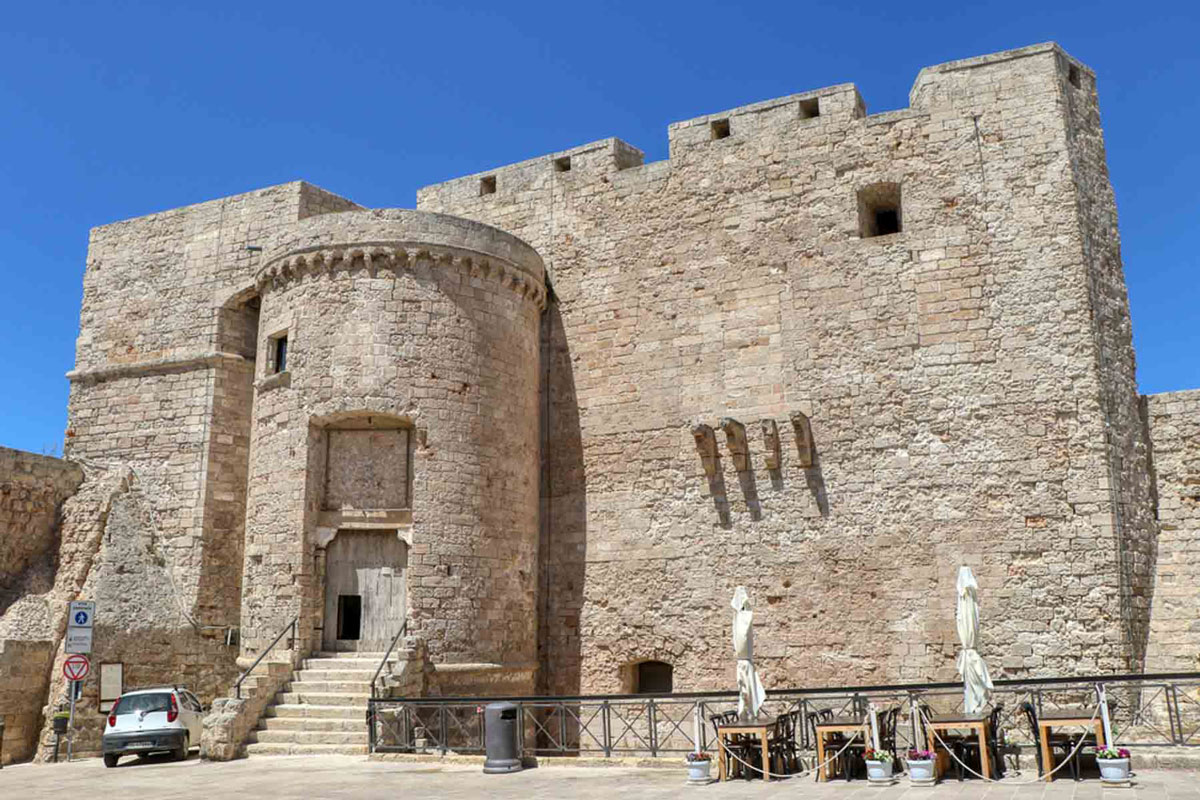 If you only have time for one landmark in Monopoli, without a doubt, you'll want to visit Castello di Carlos V. The 16th-century castle has been called the port of Monopoli home since Charles V and remains in spectacular shape along the Adriatic Coast.

Walk over and try a Puccia (think sandwich on pizza dough) at The King Street Food between sightseeing. Trust me.
Old Town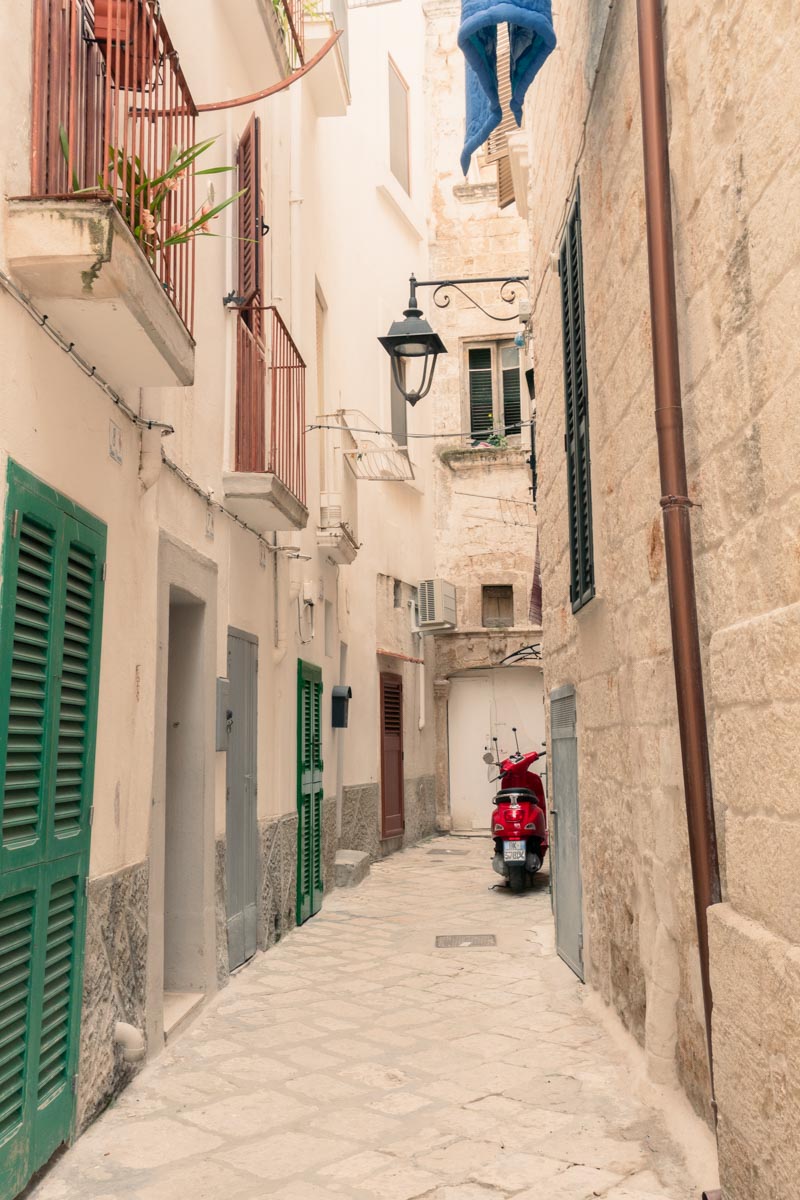 Save a little time to explore Old Town, where you can check out ​​the beautiful Basilica of Madonna Della Madia and Piazza Giuseppe Garibaldi, where you can people-watch and grab some traditional Apulian seafood dishes at Ristorante La Dolce Vita.
Getting to Monopoli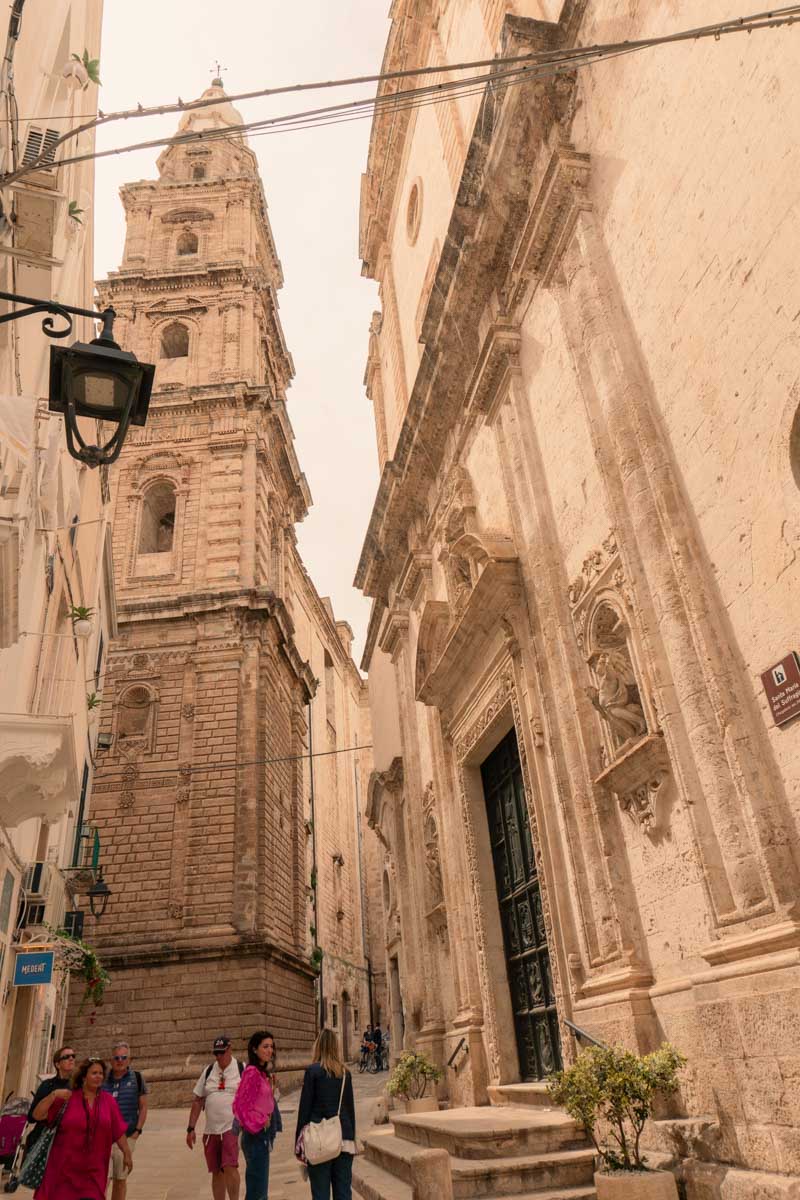 Getting to Monoploi is easy enough to fit in as a day trip. A train will get you there in under 30 minutes.

But if you hire a car, head north to Torre Incina for a stunning beach along a cove with 16th-century ruins right above the rocky shores.
Day 7: Explore the Area's Vineyards and Olive Oil Producers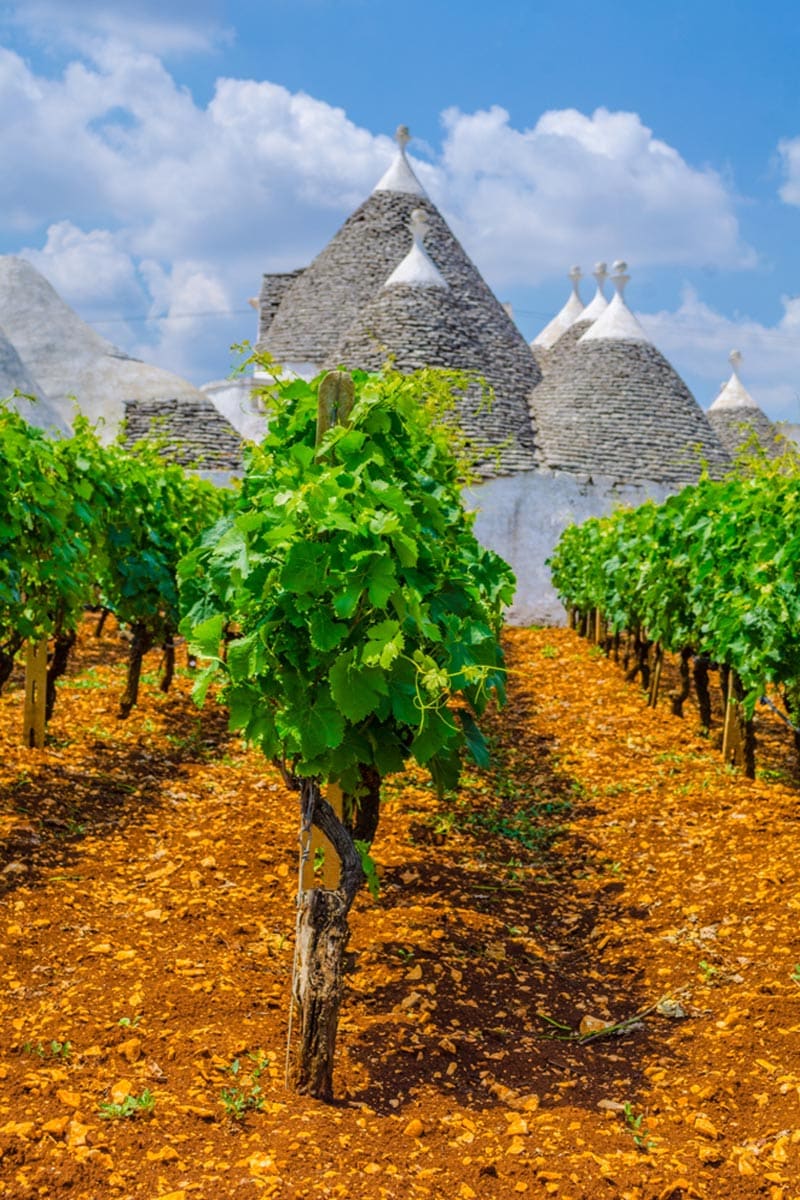 I can't think of a better way to cap off 7 days in Puglia than by exploring the vineyards. The Rosé, Sangiovesee, Primitivo… I could go on and on.

There are also fantastic olive oil producers, making it a perfect stop for some souvenirs before returning to Bari Airport.
Best Vineyards and Olive Oil Producers
Cantine Paolo Leo Winery
Drive south from Ostuni and begin your journey at Cantine Paolo Leo Winery. The family-run winery is a gem and serves charcuterie alongside excellent examples of chardonnay and the DOC wine Salice Salentino.
Masseria Pezze Galere
Visit Masseria Pezze Galere in the countryside (about 20 minutes from Ostuni) for excellent extra virgin olive oils. This small family-operated farm makes high-quality oils from ancient olive groves as they have since 1859.
Cantina Pantun
Cantina Pantun is a small winery with some special terroir that shines through its wines.

The land was once a river bed, so it's highly fertile and produces some outstanding wines, including reds and rosés made with 100% Primitivo grapes.
Getting to Vineyards and Olive Oil Producers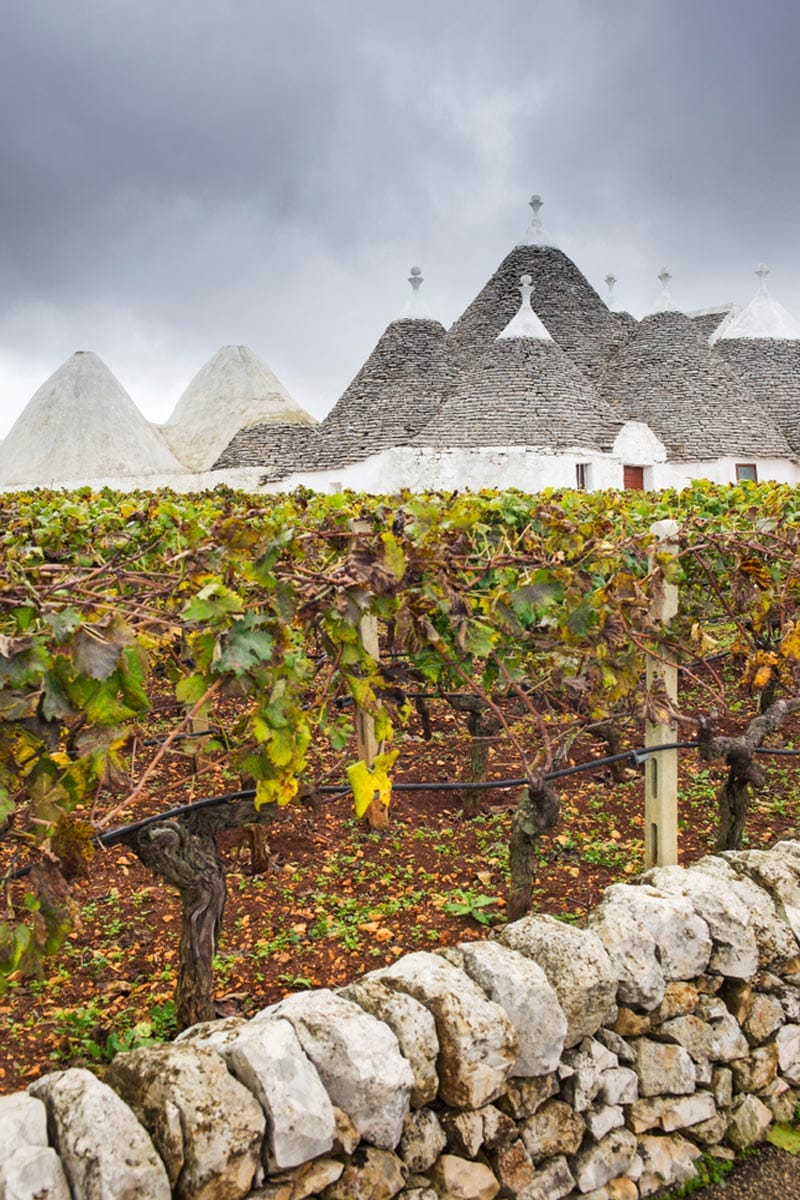 You'll want to hire a car to reach many of the best wineries and olive farms in Puglia.

Most are outside of town centres, so you can't access them directly from train stations unless you take a taxi.
If You Have More Time on Your Puglia Itinerary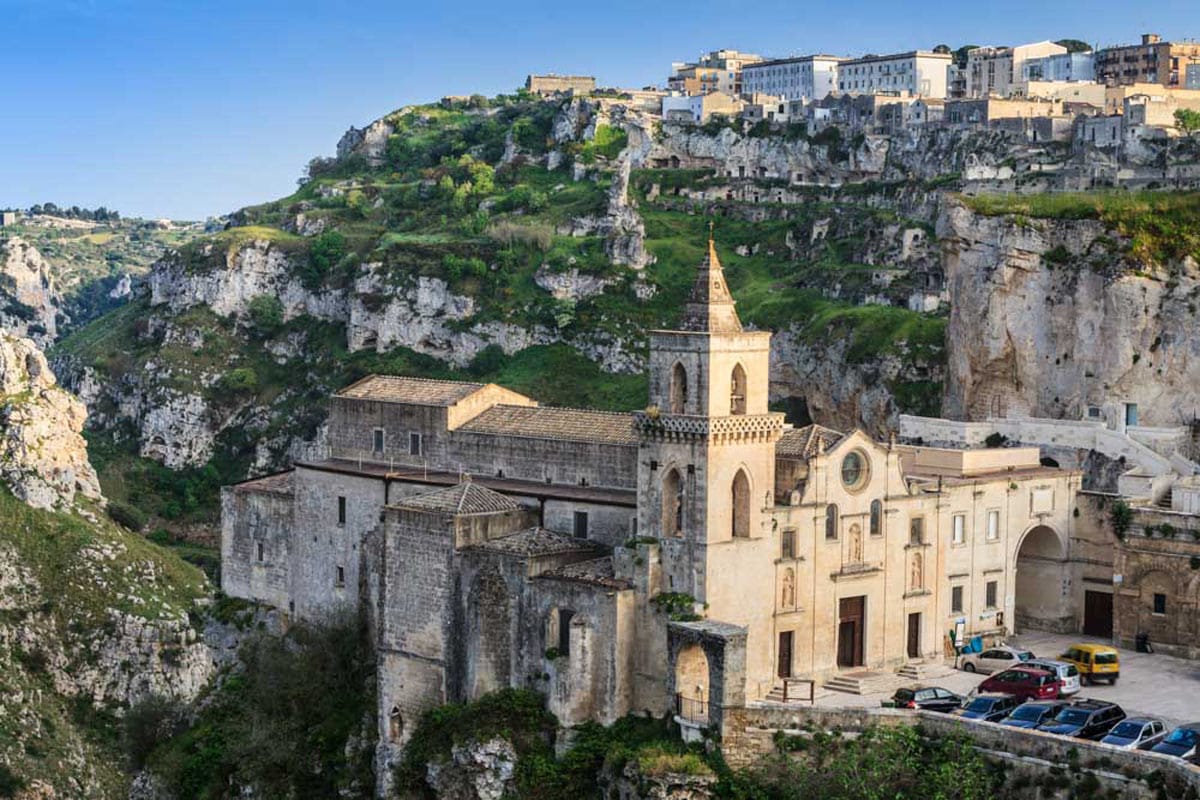 Want to extend your Puglia Itinerary? Head to Matera.

Matera is an excellent choice that's not in Puglia per se. But in the nearby Basilicata region sits an ancient village perched high on a rocky cliff known for its churches, dramatic scenery, and caves dating back to the Palaeolithic period.

It's truly a gem and one I'd recommend adding if you have an extra day.
1 Week in Puglia Itinerary – Map
Love This? Save and Share on Pinterest