Cities like Rome and Venice spring to mind when you think of holidaying in Italy, but you're missing out if you don't make a beeline for the region of Puglia in southern Italy. Here's why.
I fell so freaking hard for Puglia on my recent trip. I'm talking about love at first sight, selling all my belongings, packing up my bags and moving there kind of feels.
Please don't tell me you've never felt like that about anywhere before. If you haven't (in which case, poor you), nevermind – Puglia is going to be that place.
Brimming with gorgeous Baroque architecture and natural beaches, the region of Puglia (also known as Apulia in Italian) is becoming a firm favourite with travellers. Particularly those looking for an Italian escape with gorgeous landscapes alla Umbria, delectable food and wine alla Tuscany… but with a strong identity and heritage all of its own.
Whether you're simply looking for some of the best beaches in Italy to suntan on, plan a Puglia road trip, or want to gawp at some ancient architecture, Puglia is a top choice.
Ready to discover the best things to do in Puglia? Let's go!
Are you looking for a gorgeous place to stay in Puglia? Try La Sommità Relais & Chateaux. Every room is a visual delight, and there's an ancient hall, reading lounges, and a Spanish garden complete with orange and olive trees.
Top 5 Things to Do in Puglia
Marvel at the Whitewashed Beauty of Ostuni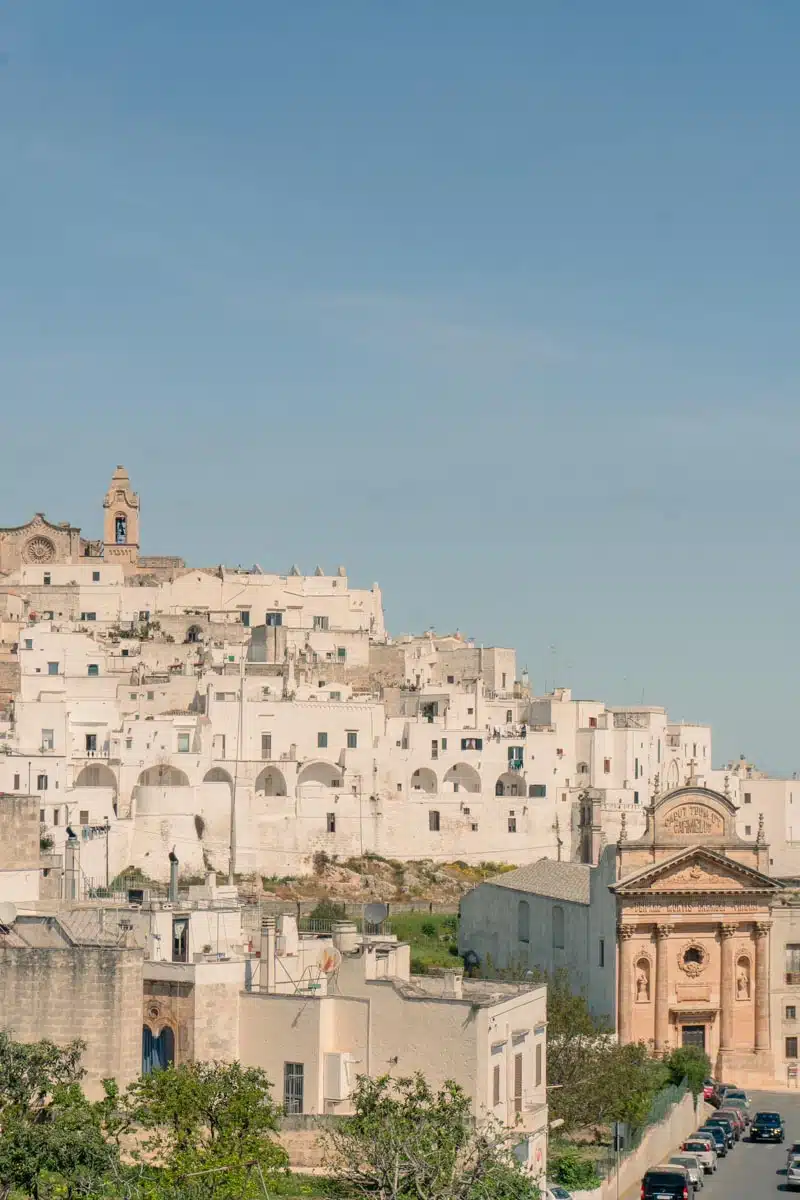 This gorgeous whitewashed town surrounds a 15th-century Gothic cathedral and is a must for lovers of Italian food.
I based myself in Ostuni for our week-long trip and I have no regrets – well maybe other than the steep hill that is basically the town centre.
Burning thighs aside, Ostuni is well located as a base for any trip to Puglia – aside from the beautiful historical centre there are enough sights and restaurants to keep you occupied and it's an easy jumping off point to the other places in Puglia I cover below.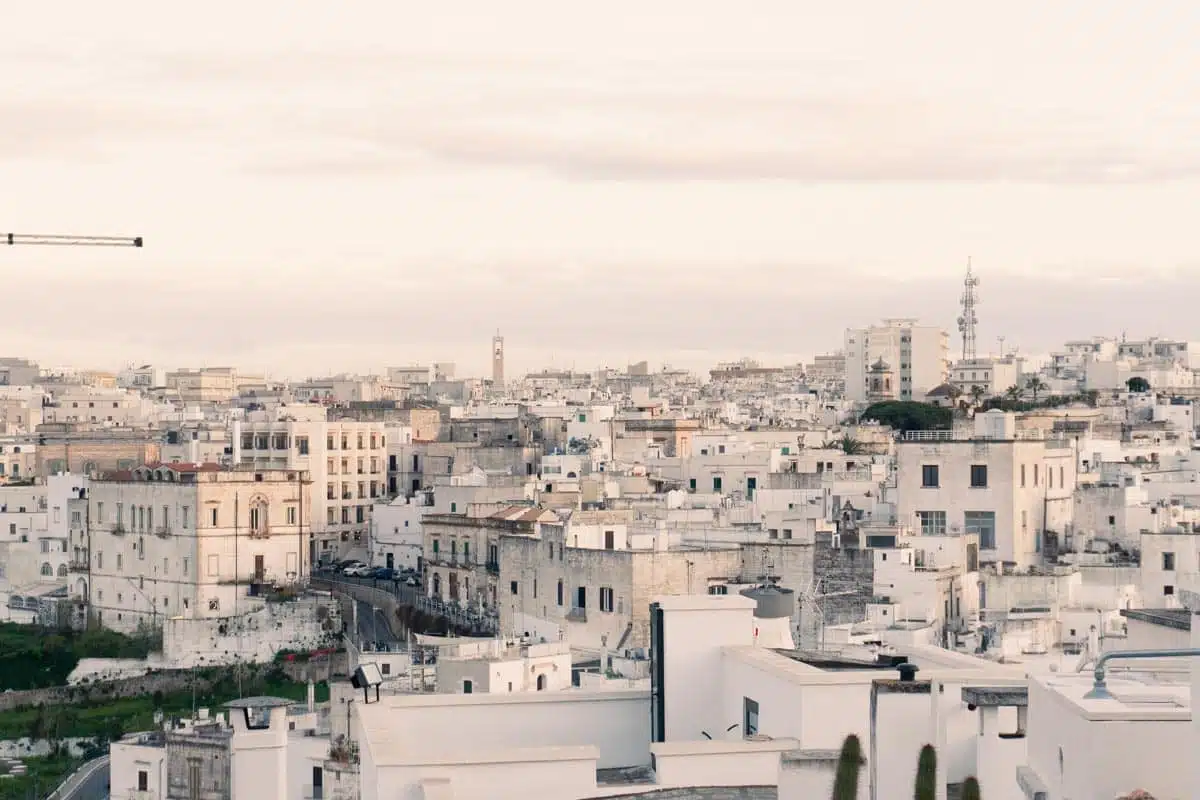 One of the best things to do in Puglia is to visit the Mercato del Sabato. Open on Saturdays from 8:00 am to 1:00 pm, you'll find everything from fresh produce and cheese to clothes and handmade knickknacks.
Continue your afternoon with a stroll through the town's medieval streets. You can almost see the passage of time imprinted on the 18th-century Arco Scoppa, connecting the Bishop's Palace to the seminary.
Stop at the unique Borgo Antico Bistrot for some al fresco antipasti (including vegan options) along its sloping terrace. If you prefer eating indoors, Osteria del Tempo Perso serves the most glorious pastas and regional wines in the belly of a well-lit ancient cave.
And what would a trip to Italy be without gelato? Cremeria La Scala serves up artisan ice creams that will have you begging for more (the salted caramel flavour is sublime).
How to Visit: Take this walking tour of Ostuni.
See the Baroque Architecture in Lecce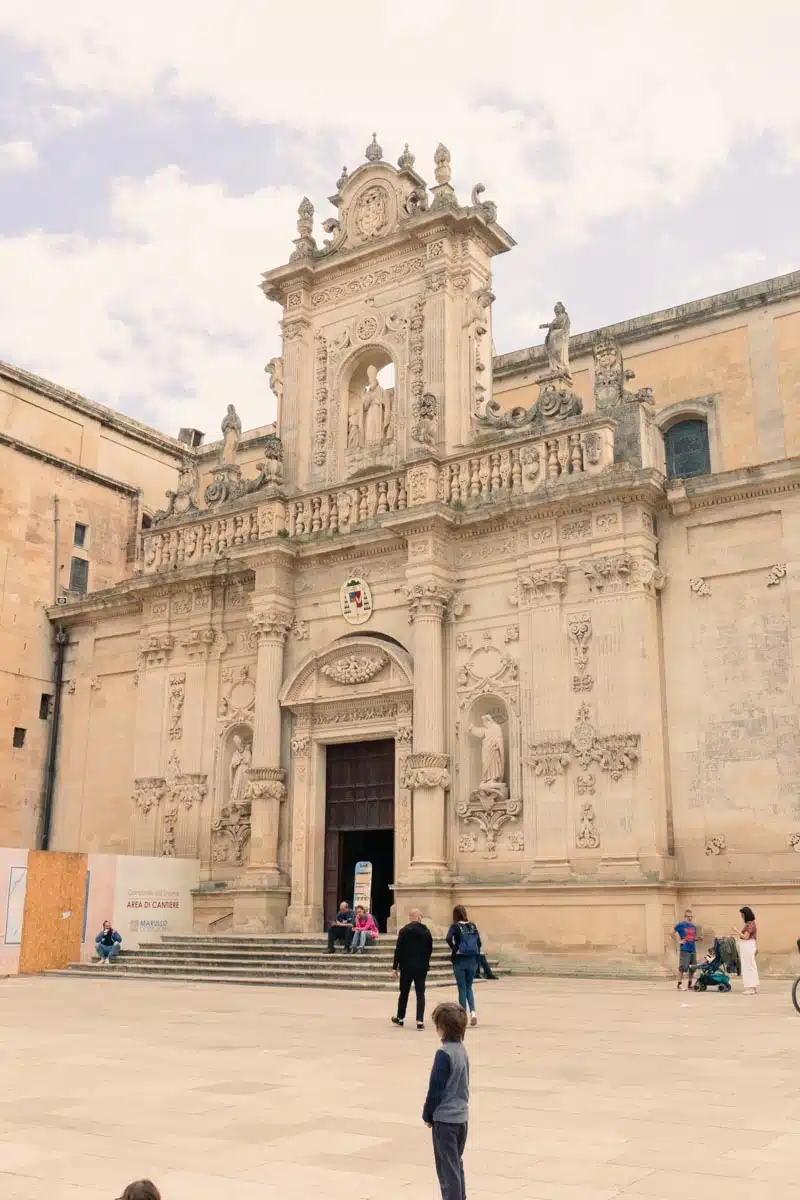 Nestled in the Salento peninsula, Lecce is a haven for architectural enthusiasts.
I'll make no bones about it, visiting Lecce is one of the top things to do in Puglia and it would be a real shame if you miss it off your list.
What should you see?
The Baroque façade of the 17th-century Basilica Di Santa Croce is breathtaking for starters. With gold accents and rose windows, it owes its pale cream colour to the unique Lecce stone.
The Church of Sant'Irene is similarly gorgeous and named for Lecce's patron saint. As you can see in the half-columns that line its exterior, it has strong classical features.
Finally – because we just love eyeing up old buildings – stop at the Anfiteatro to see a small Roman amphitheatre that's been preserved through the ages.
How to Visit: Book a guided walking tour of Lecce.
Wander Around Monopoli's Old Town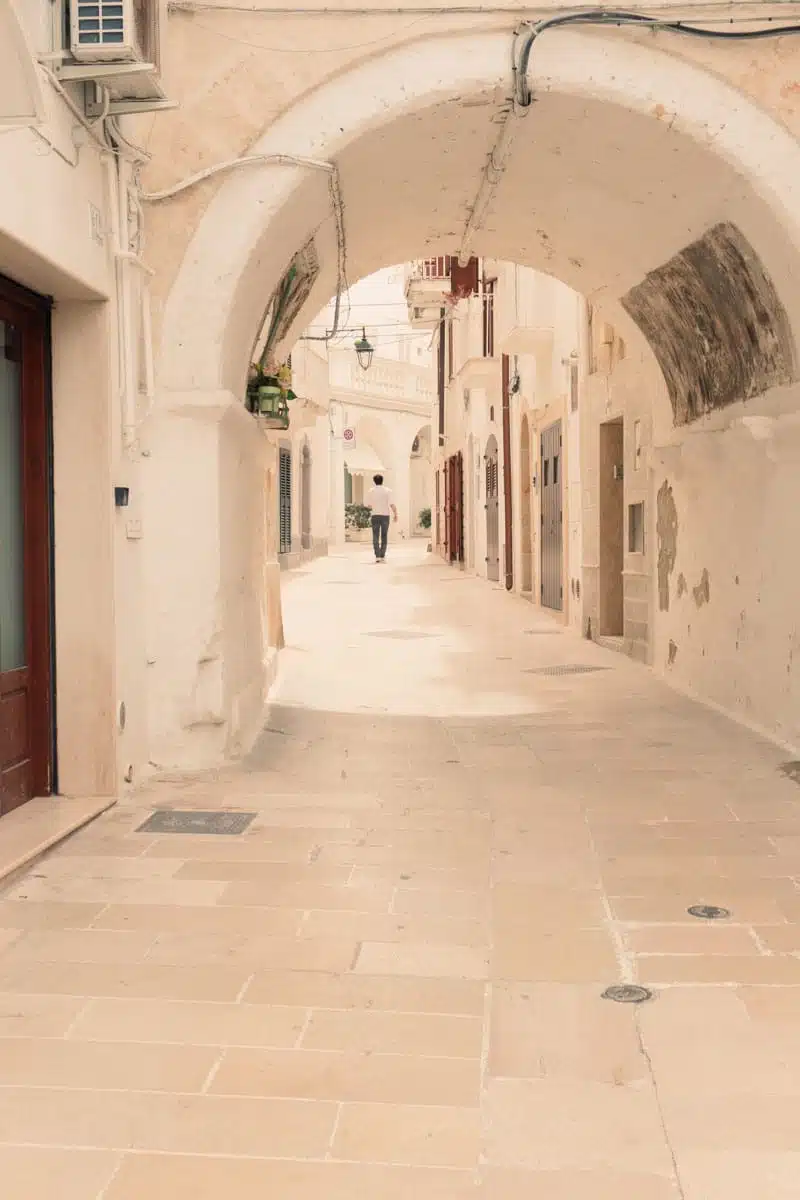 I hadn't actually been planning to visit Monopoli until we got talking to our taxi driver on our first day in Ostuni and he (very sagely) advised us to make a beeline for Monopoli.
"I am from Ostuni, so obviously I have to say it is the most wonderful city in Italy, but if I had to choose another place to visit in Puglia, it would be Monopoli," he advised, glancing over his shoulder with a quick smile.
Well, what can I say? Maurizio was right.
Heading to the Old Town section of Monopoli is a must for history buffs and lovers of Italian country charm.
Castello Carlo V also has an interesting historical backstory. You can climb it for superb views of the old port and the Mediterranean or check out the art exhibition inside.
When hunger strikes, head to The King Street Food for some epic eats that are affordable and super fresh.
How to Visit: Book a walking tour through the centre of Monopoli
Dining in a Masseria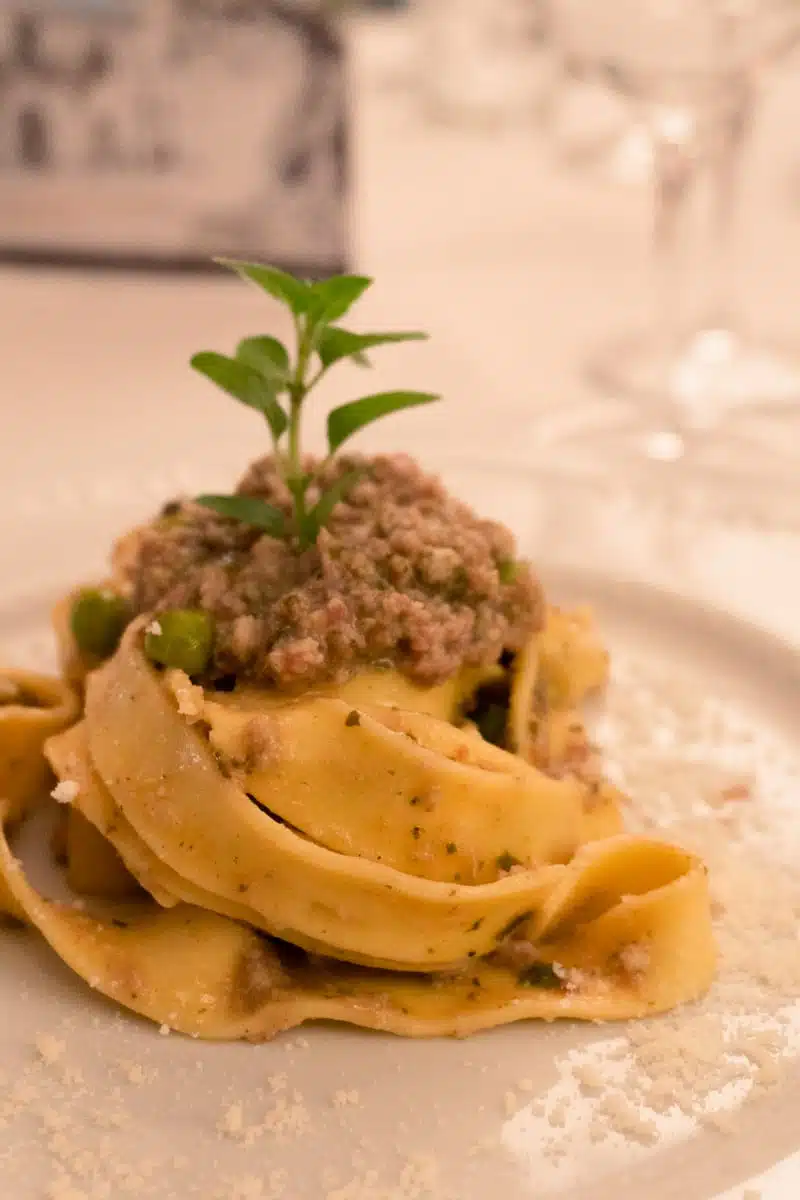 Foodies take note: experiencing the food at a masseria is hands down one of the best things to do in Puglia.
Masseria Il Frantoio might be a hotel, but its restaurant is the epitome of authentic Puglian cuisine. For the last 500 years, this site has been a farm, and even today, they prepare their food from the fresh ingredients grown on the estate.
The menu is ever-evolving according to the seasons and can change even in two weeks. They refer to their chefs as "passionate mothers," showing how much authentic Italian soul goes into their dishes.
See the Trulli in Alberobello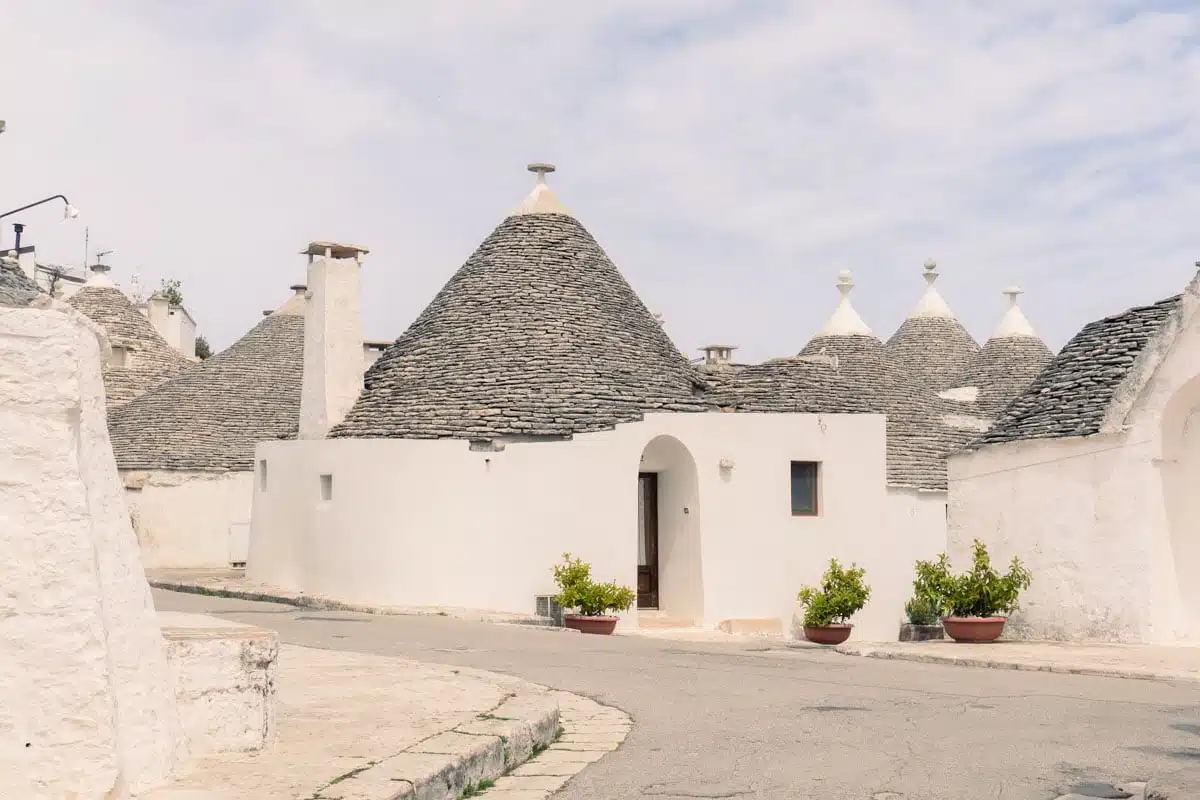 One of the best places to visit in Puglia, Alberobello is a little town that is home to hundreds of cute trulli (cone-shaped houses).
Look, I won't lie. The word about Alberobello is well and truly out. We visited on a Sunday (which in fairness was the day before an Italian bank holiday) and it was rammed.
Literally heaving to the point that I sorely wished I'd dragged my lazy butt out of bed early to drive down as I'd planned to instead of lolling around for hours and subjecting myself to being butted and pushed around like a hockey puck. Que sera, sera I guess.
But. BUT. It is pretty. And cute.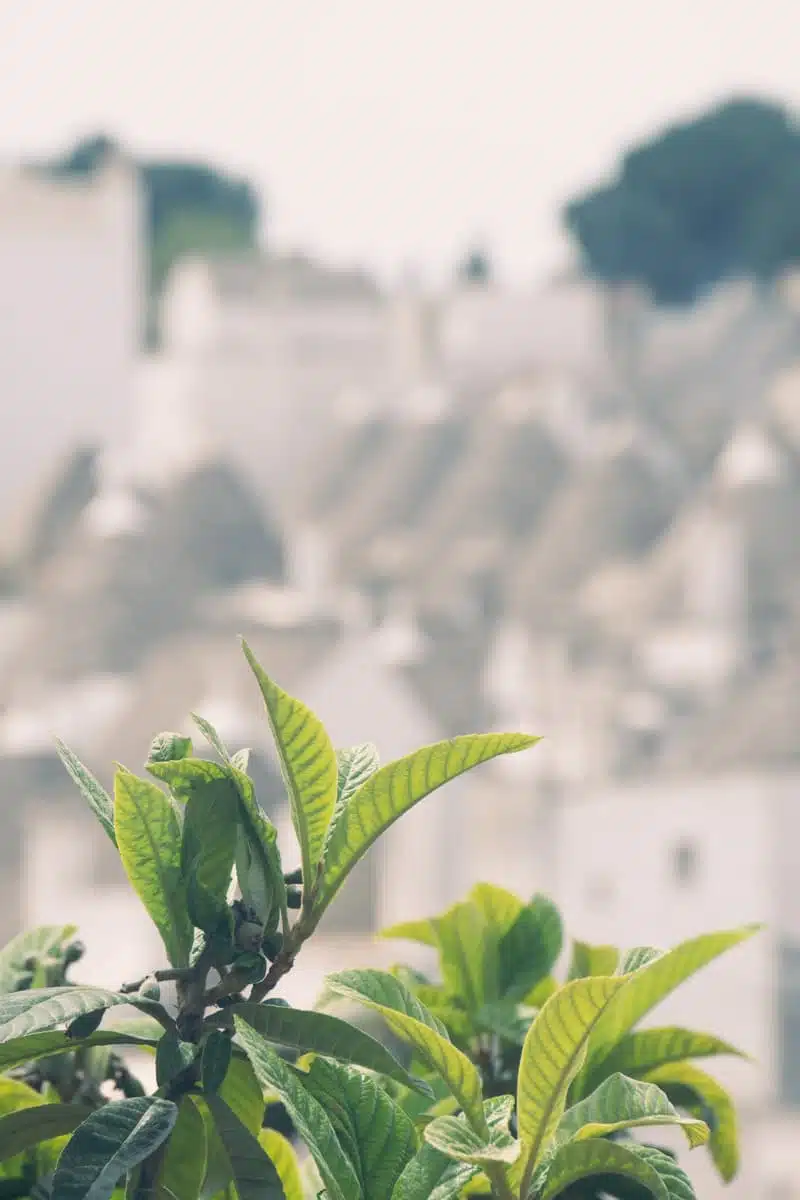 Even the Church of St Anthony is an enormous trullo, making it one of the most unique churches to visit in Italy.
Once you've done your fair share Stop by the Trullo Sovrano, now a living history museum that sells souvenirs and books to glean more about the local history.
How to Visit: Book this walking tour of Alberobello.
Brilliant Things to See & Do in Puglia, Italy
Hang Out On the Seafront at Gallipoli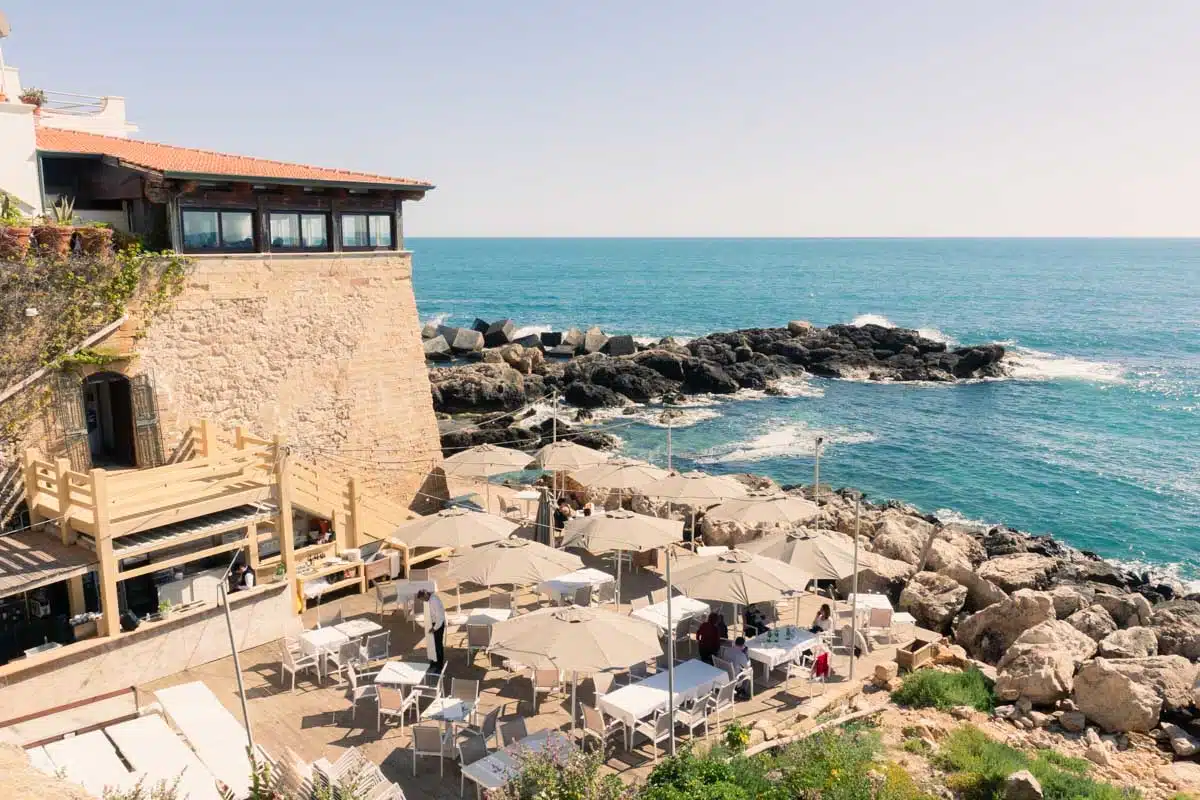 Gallipoli – a little gem on the Ionian coast is split between the new town on the mainland and the old town on an island and linked only by a 16th-century bridge.
Baroque architecture and pristine beaches abound, so it's the perfect holiday destination to catch a tan and a bit of culture.
Take a walking tour to see the most iconic sights of the Basilica of Sant'Agata, the Greek fountain, and the Byzantine fortress.
If you do nothing else, make sure you go to Ristorante Il Bastione for the delectable seafood platters against the stunning backdrop of the sparking clear sea.
How to Visit: Take this 2-hour walking tour of Gallipoli.
Glug Your Way around Puglian Vineyards
What better way to spend your Italian holiday than by exploring the aromatic tastes of the local wines?
Cantine Paololeo is a vineyard centred on family, with the farm handed down from father to son. Tastings, pairings, and charcuterie to match your choice of vino are available.
The soil of Cantina Pantun was once a riverbed, meaning it's very nutritious and lends a virility to the grapes that inevitably become their organic wines. They may be a small and simple establishment, but the flavour of their wines speaks for itself.
How to Visit: Experience a wine tasting and tour at a vineyard in Martina Franca.
Explore Puglia's Stunning Beaches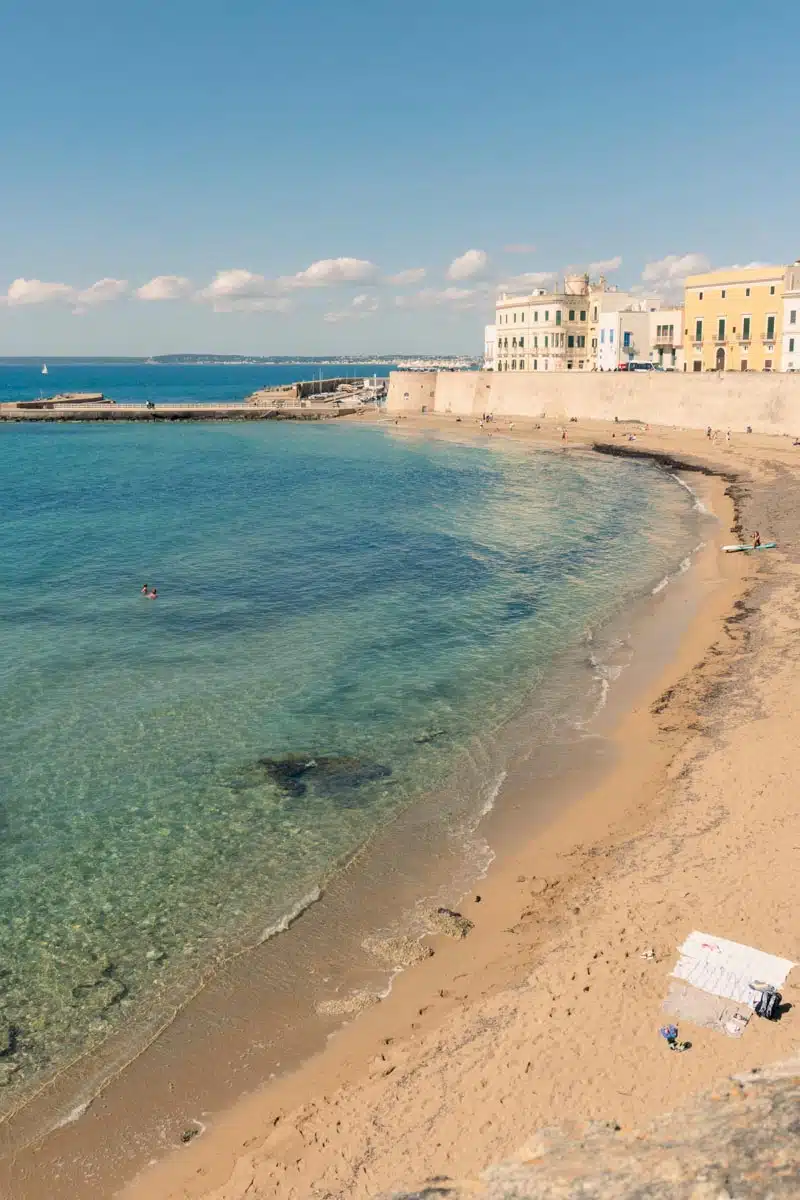 If all you want out of your holiday is to spend it at the beach, I couldn't encourage you more. Puglia is home to a ridiculous number of incredible beaches.
The Spiaggia di Pescoluse in particular, is nicknamed the Maldives of Salento, with tranquil turquoise seas and a thin pale shore.
Go to an Olive Farm
Want to explore one of the best places in Puglia to get a feel for the local gastronomy? Visit an olive farm.
Wander the ancient groves of olive trees, take in the sight of the oil mills, and then partake in tastings of the delicious golden liquid. You won't find it any purer or more authentic than straight from the old mills of southern Italy.
How to Visit: Book an olive oil tasting tour in Puglia.
See the Bizarrely Brilliant Castel Del Monte
A visit to Castel Del Monte is one of the more popular things to do in the Puglia region, but that doesn't mean you should skip a visit to this geometric 13th-century fortress.
The number eight provides the inspiration for the entire building, with eight towers that themselves are octagonal, surrounding an eight-sided base.
If you can time your visit during a solstice or an equinox, do – that's when all kinds of light and shadow effects come into play.
How to Visit: Learn more about the fortress in this sunset tour.
Stroll Around Polignano a Mare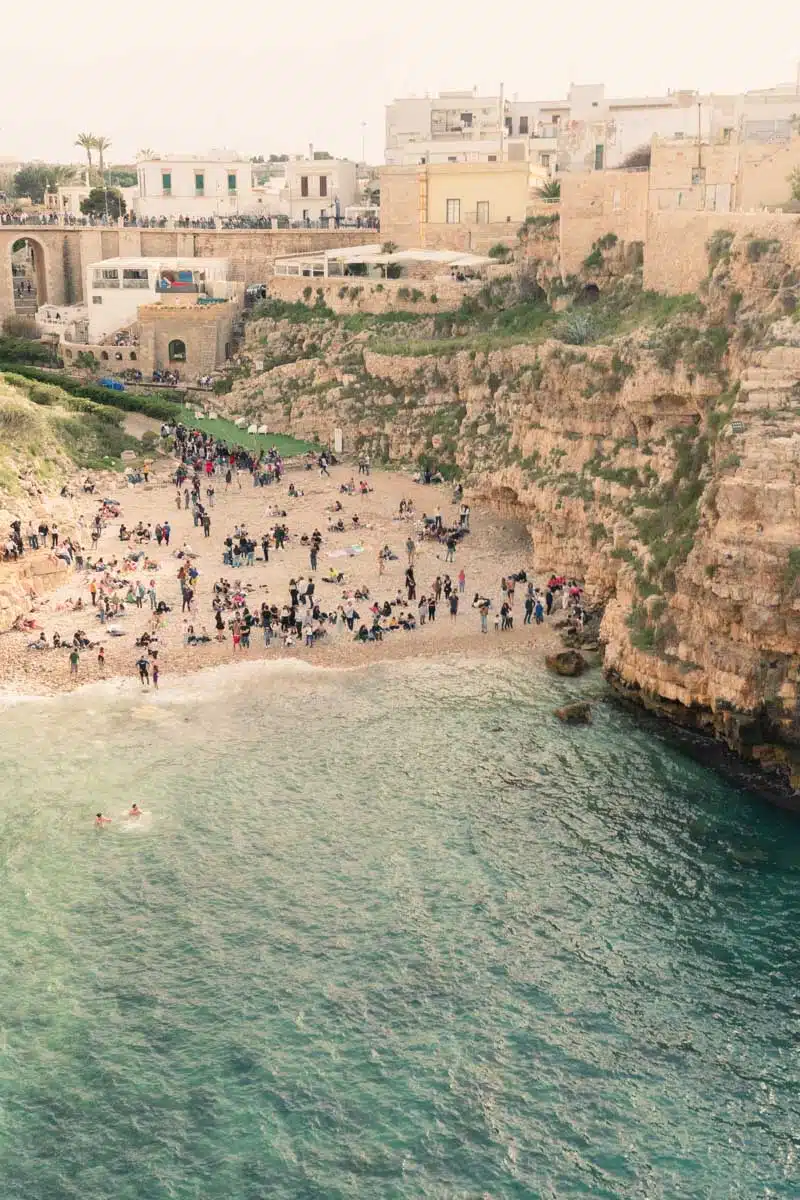 Clinging to the edges of sheer cliffs, the ancient town of Polignano a Mare is a mixing pot of architectural styles.
You can take a boat tour of the caves that dot the cliffs below or explore the poetry written on the walls of its Old Town.
Top tip? Visit Lama Monachile, a secluded white-pebble beach nestled between cliff faces with a magnificent Roman-era bridge serving as its entrance.
How to Visit: Explore the cliff caves by boat.
Take a Splash at the Grotta della Poesia
The Grotta della Poesia sits just outside of Roca Vecchia and is a spectacular occurrence of nature. A large fissure carved out of the limestone opens this giant natural swimming pool up to the sky.
Take a five-metre leap into the warm salty water beneath and exit through an underground canal big enough to fit a small boat. Or float around, gazing up at the sky and ponder the pleasure of the dolce far niente (the joy of doing nothing).
How to Visit: Take the bus from Lecce to Rocca Li Posti and walk 1 km to the cave.
Take the Waters at Santa Cesarea Terme
This town with a rocky coastline has sulphurous thermal springs, which, according to legend, have curative properties.
Head to the Moorish Stabilimento Termale Gatulla thermal baths for a truly indulgent experience.
With clear cold seas and prehistoric caverns peppered throughout the cliffs, water sports like snorkelling are a popular activity for holidaymakers.
How to Visit: Experience a private tour of the town's highlights.
Swim at the Sant at Torre Sant'Andrea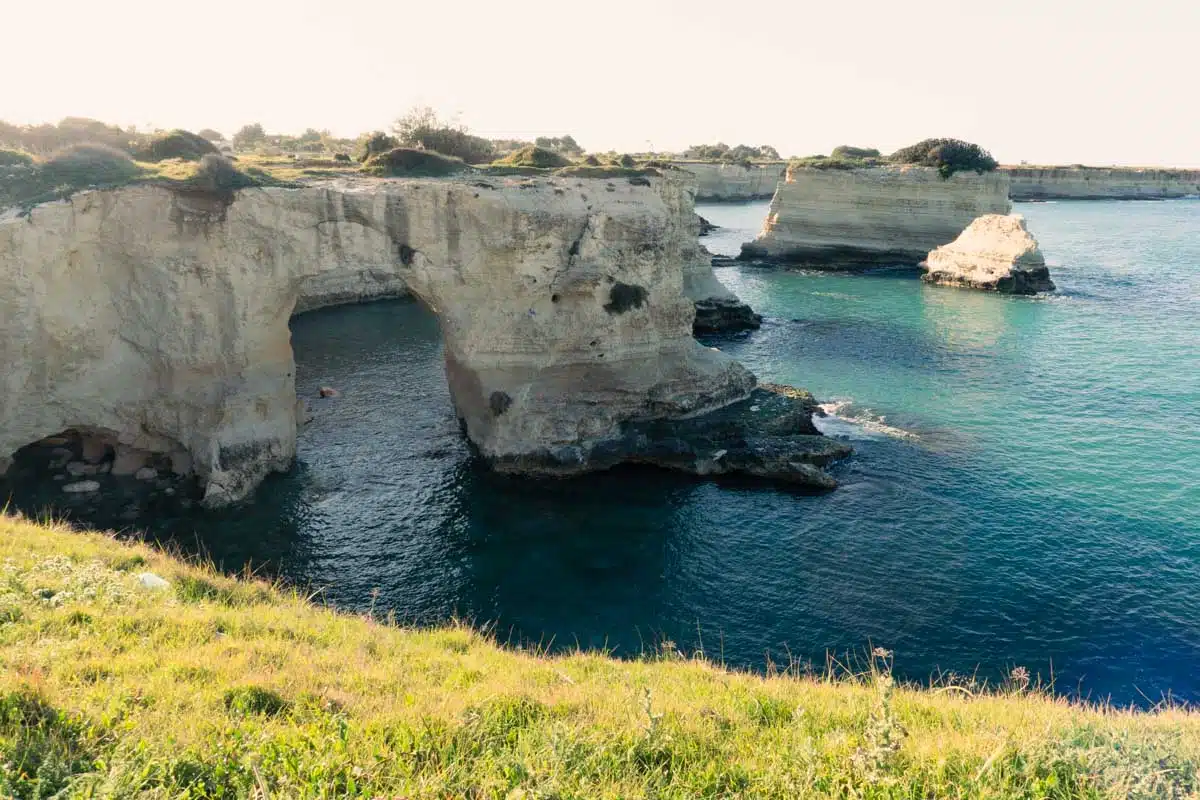 The turquoise waters of the Adriatic swirl about the natural rock formations that make this little beach in Salento famous.
The sandy beach is perfect for suntanning or wading, or swimming beneath the massive archway carved by the wind and waves over centuries.
How to Visit: Take a 30-minute drive from Lecce.
See the Gothic Beauty of Otranto
What was once a trading post ruled by multiple empires over the centuries is now a town with an eclectic architectural history.
If you're looking for some things to see and do in Puglia, Italy, that are more quirky, how about a trip to the Romanesque cathedral?
It has a wonderful floor mosaic… and an altar surrounded by human skulls. Talk about a unique selling point.
How to Visit: Book this 90-minute walking tour of Otranto.
Visit Charming Locorotondo
Once you've soaked up the typical best places to visit in Italy – you should start ripping up the rule book and going to the places the Italians go.
Locorotondo – a charming old village that's commonly named by locals as one of the "most beautiful in Puglia" (high praise indeed) should be high on your list.
The churches are a delight – even if that's normally not really your thing. The most notable among them are the Romanesque Chiesa della Madonna della Greca and the Santuario di San Rocco.
When you're finished, sample the local Bianco Locorotondo DOC wine that's famous throughout the country and relax in the ambience of the town.
How to Visit: Book this 2-hour private tour of Locorotondo.
Take a Tour of the Castellana Caves
To see one of Bari's most wondrous natural sights, you'll need to head to the underground cave system of Castellana Caves.
They're 3 km long, and 70 m deep, and tours will guide you through their formations.
The nighttime tours are awe-inspiring. The caves have haunting names such as "Desert Corridor" and "Wolf Cave," but the alabaster "White Cave" is possibly the most astounding of them all.
How to Visit: The caves are open from 9:00 am – 5:00 pm daily, with tours starting every hour.
Dip into Bari
The capital of Puglia, Bari is rich in old architectural gems like the Piazza Mercantile. It often gets overlooked by those visiting the region – their mistake – Bari has a charm of its own.
Once you've had your fill of wandering the crumbling streets of Old Town, head to the Via Sparano to satisfy your need for a modern shopping spree.
You can pop over to nearby Altamura for a day trip filled with historical charm. Bari also has a rich street food scene, so take advantage of it.
How to Visit: Book this walking street food tour of Bari.
Visit Martina Franca
The centre of this historic town has plenty of piazzas to explore, most notably Piazza Roma and Piazza Plebiscito.
The enormous Basilica di San Martino is a must-see, especially when the Valle d'Itria Festival is on. Make sure you grab a capocollo sandwich while in town—it's a regional speciality.
How to Visit: From late July to early August, they celebrate Valle d'Itria Festival with operatic performances at the Palazzo Ducale or the Basilica.
Things to Do in Puglia: Practical Tips for Your Trip
Where Should I Stay in Puglia?
MammaDada Charm Rooms (Mid-Range)
This cosy little nook near Old Town Bari is all about location. You can easily walk to many of the best tourist attractions in Bari, including the beach, which is only 12 minutes away. They have air conditioning, so if you visit during summer, the heat won't keep you up at night.
Check Rates and Availability for MammaDada Charm Rooms on Booking.com
Patria Palace Lecce (Luxury)
The hotel itself is a mansion from the 18th-century. The exterior is sumptuously baroque, and inside, the lines are clean and modern with hints of old-school Italian charm. The breakfast is a fabulous buffet of local and international cuisine, and superior rooms come with a private terrace.
Check Rates and Availability for Patria Palace Lecce on Booking.com
Alternatively, read the full guide to The Best Places to Stay in Puglia
Recommended Tours in Puglia
Things to Do in Puglia, Italy: Map
Love This? Save and Share on Pinterest!