Ostuni is a beautiful place in Italy's Apulia province you must visit. Discover the secrets of the White City with this in-depth travel guide.
Ostuni. Where do I start?
Nicknamed "La Città Bianca," thanks to the white architecture prevalent throughout the city, it's certainly one of Puglia's prettiest spots.
That's not all there is to Ostuni though. Spend any time exploring its maze of streets and you'll discover a treasure trove of traditional osterias and stately architecture combined with a laid-back pace of things that's the living embodiment of la dolce vita.
I used Ostuni as my base for my recent trip to Puglia and I did not regret it – not only is it a gem in itself, but it's also well located for exploring the rest of the region's many charms.
Ready to explore the best of Ostuni? It's time to explore.
Top Tip: Looking for somewhere to stay in Ostuni? I recommend the gorgeous Hotel Monte Sarago.
Top 5 Things to do in Ostuni
Sundowners at Borgo Antico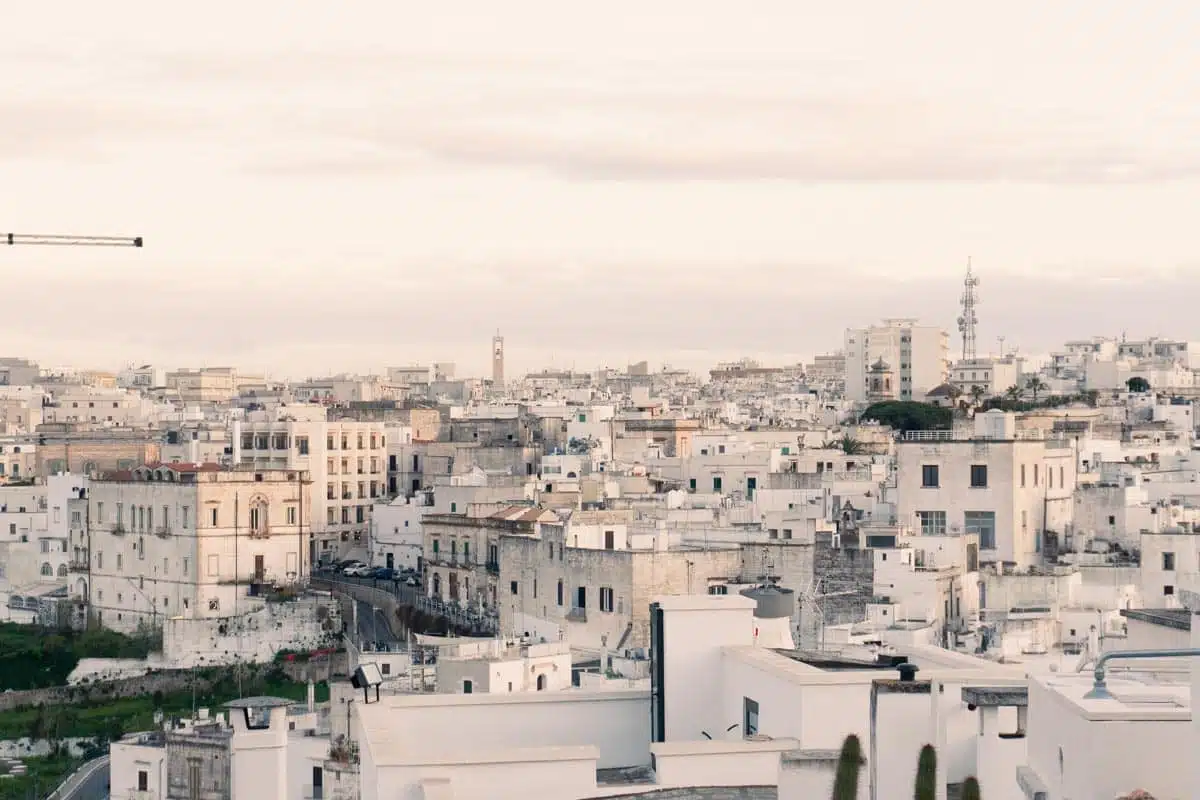 Set high on a hill with stunning views of Ostuni, Borgo Antico is a stunning place to dine. Fresh and delicious dishes are delivered swiftly and, more importantly, their servings are reasonably large. This traditional Italian restaurant serves Italian, Mediterranean, and European dishes.
Upon my visit, the staff were faultless, and greeted the group with warm hospitality. Borgo Antico serves sumptuous lunches, including large platters of various meats and cheeses. Though their sundowners truly were sublime – which, if you ask me, is a huge win.
Dinner at Osteria del Tempo Perso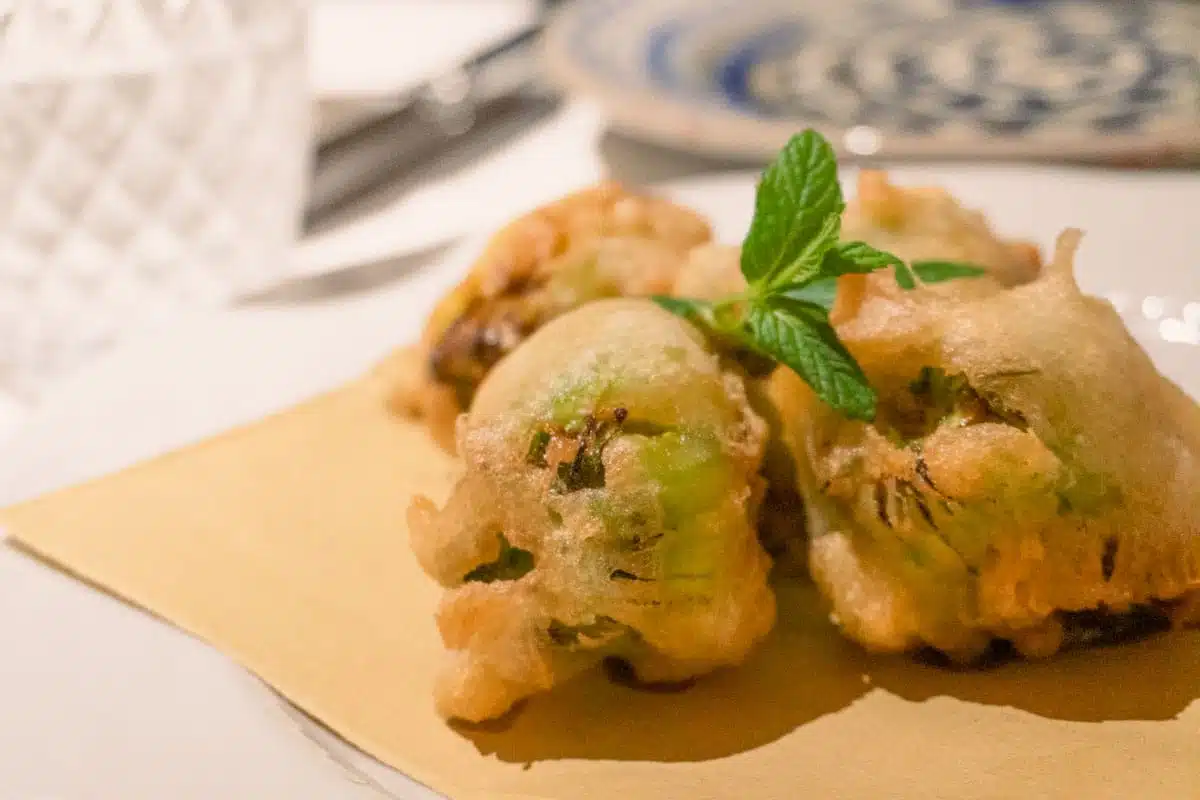 Open since 2004, Osteria del Tempo Perso delights customers with no nonsense, freshly cooked meals. This relaxed eatery is tucked away inside two caves, where antique rough-hewn stone walls contrast with strikingly sophisticated table sets.
The menu changes every two months to reflect the seasons, which I absolutely love. Plus, they refresh their wine list twice a year to change things up a bit.
Maitre Massimo and Chef Sivio Piccari own and manage the restaurant. Massimo's photographs of artists adorn Osteria, which adds to the cool vibes. You'll also find books and several bottles of wine on the restaurant's shelves to peruse.
Wander Around the Centro Storico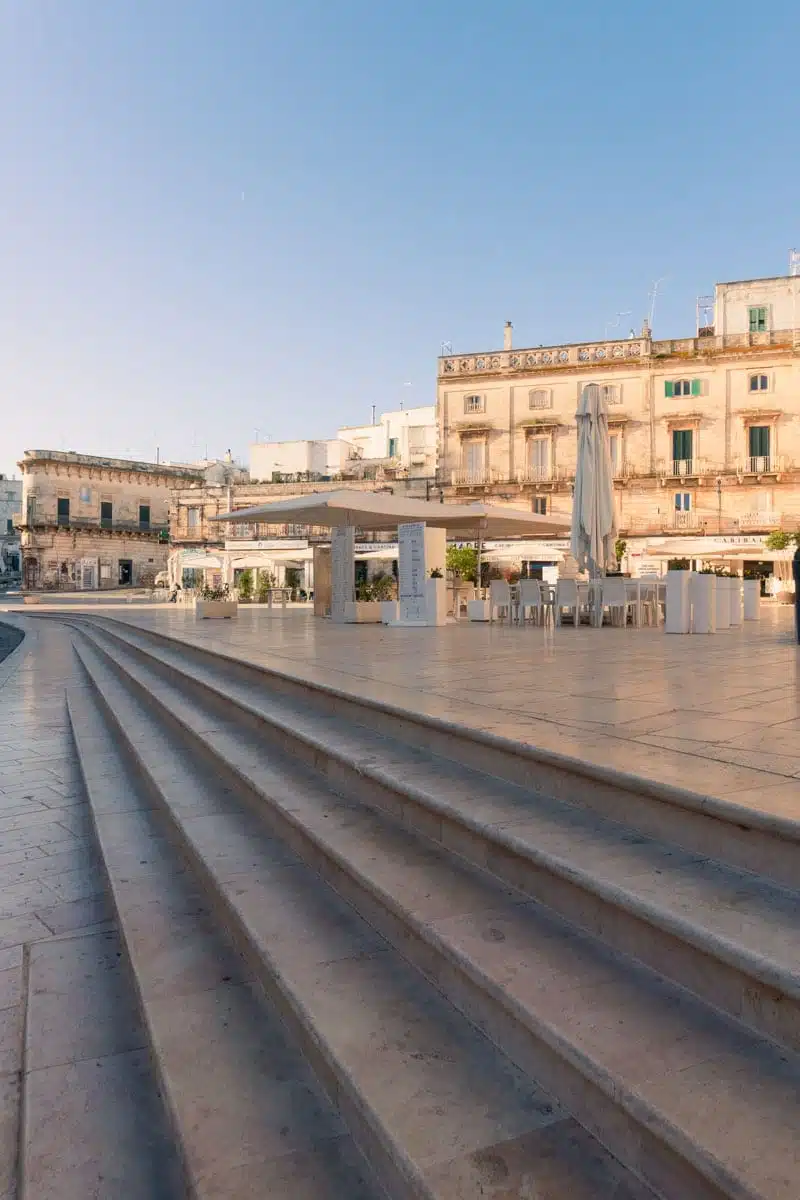 A large portion of the Eternal City's key attractions is right in the city's historic centre. Centro Storico is considered the city's historic core, and much of it is a pedestrian zone.
Only cars with special licences are permitted to drive here, making it a pedestrian's paradise. Centro Storico is a maze of little alleyways that contain some of the finest examples of Italian architecture and design to explore.
Dinner at Masseria Il Frantoio
Okay, I know that most of these things revolve around food – but come on, it's italy!
Masseria Il Frantoio is an organic farm located in Puglia's idyllic countryside, just a 10-minute drive from Ostuni and the sea. This fortified farm has a timeless ambience where culture and history merge with scientific wine research. While there's a pool in the olive grove (absolutely wild, if you ask me), excellent beaches are only a 5-minute drive away.
Dinner is open to the public, but you'll still have to make reservations beforehand. Dinnertime is a unique experience each time because Masseria Il Frantoio changes its menu daily.
Chefs pair each course with local wine, and they scientifically select them to fit the precise terroir and flavours of the food served – wine connoisseurs will love this.
Fascinated by the olive grove in Masseria Il Frantoio? Go on an olive tasting tour that is sure to delight your senses.
Pick Up a Treasure at the Saturday Market
On Saturday mornings, Ostuni's weekly market is one of the largest in the region, drawing both locals and foreigners. The impressive market is in and around Via Sansone, approximately 10-15 minutes walk from Centro Storico.
Because it's the largest market, it has a considerably broad range of merchants and products to purchase from. I think it's worth taking a stroll here after going on a walking tour and buying a few souvenirs for your friends (or yourself – you deserve it).
Brilliant Things to See & Do in Ostuni
Admire Arco Scoppa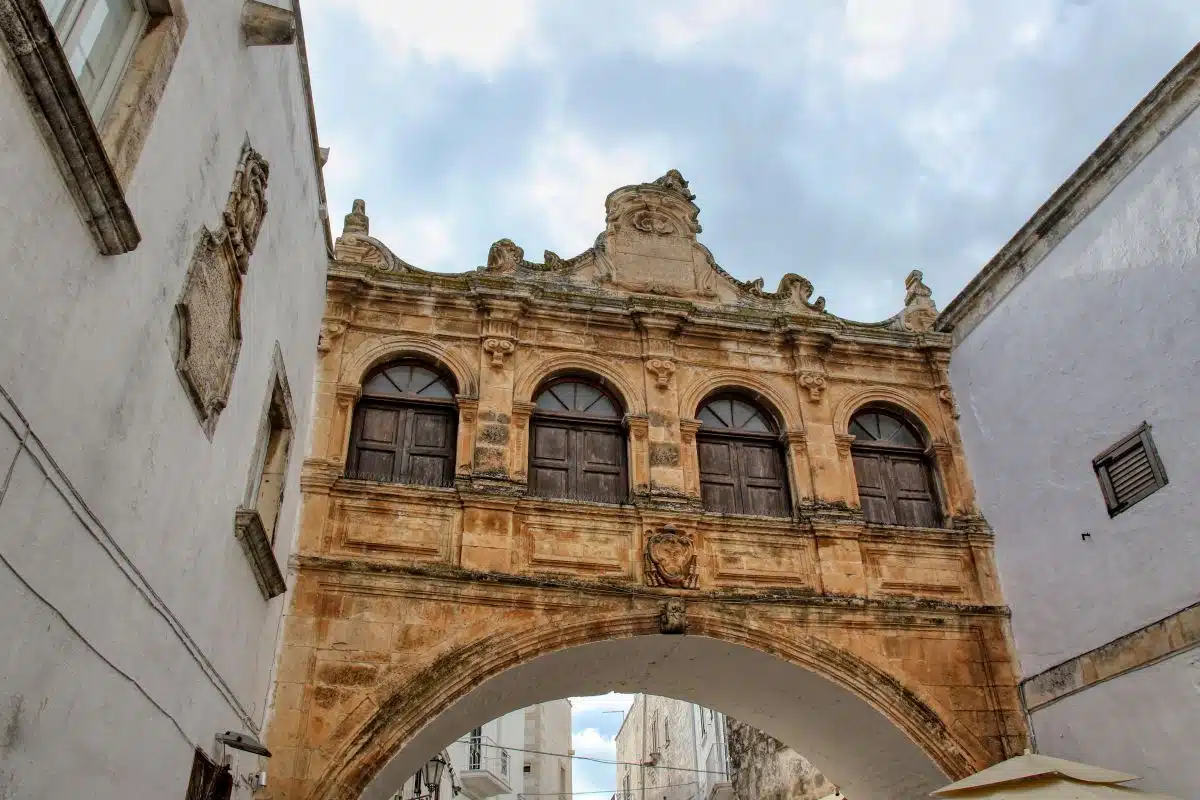 The elaborate Arco Scoppa connects the Bishop's Palace to the Seminary; take a moment to enjoy this beautiful arch while roaming around. The name comes from the Bishop – he replaced the ancient wooden bridge to give a safe path between these places.
The historical centre is an excellent area to roam about and admire the antique architecture – in fact, it's one of the best free things to do in Italy. I think this is a great way to explore the city while walking off some calories after a hearty Italian meal or two. And working up an appetite for your next meal.
Explore the Beaches Near Ostuni
Ostuni's beaches are 20 kilometres of sand and undisturbed greenery, lapped by a crystal blue sea. The coastline stretches along the Adriatic coast and contains some of the best beaches near Ostuni.
The crowded Lido Morelli beach has sandy dunes, whilst the charming Quarto di Monte beach is far more intimate. Torre Pozzella, on the other hand, is a collection of little beaches that will enchant you with their beauty. They're my favourite.
Love these beaches? Look at some more of these best beaches in Italy to visit while in the country.
Must-Try Bars & Restaurants in Ostuni
Al Solito Posto
Al Solito Posto, located in the heart of Ostuni, has been delivering great Italian pizza to customers since 1999. The Ostuni restaurant's menu is diverse, including superb seafood, classic spaghetti, and fine wines to pair your meals with.
Cremeria Alla Scala
Cremeria Alla Scala sits atop a stairway, boasting one of the most stunning and unforgettable views of Ostuni. The ice cream shop serves up a range of artisanal gelato, which is a must-try in any part of Italy.
The staff are friendly and helpful – and they all speak a little bit of English – which is useful when struggling to tell your stracciatella from your Kinder Bueno.
Best Hotels in Ostuni
Hotel Monte Sarago
Need proof that Hotel Monte Sarago is perfectly located? It sits in the city's business district, just a short walk from Ostuni's historic centre – and the Puglia shore is only a 10-minute drive away.
With nine spacious and stylish rooms to choose from, I think you'll enjoy your stay in Hotel Monte Sarago. Their beautifully designed rooms feature contemporary Mediterranean accents.
Hotel La Terra
Hotel La Terra is in the centre of Ostuni's pearl white city and offers stunning views.
The hotel's proximity to surrounding monuments such as Museo Civilta Preclassiche della Murgia Meridionale and Guglia di Sant'Oronzo make it an excellent choice when visiting Ostuni.
Masseria Cervarolo
Masseria Cervarolo offers one-of-a-kind accommodation in typical Ostuni hotel fashion. Both the main building and traditional Apulian trulli are 16th-century stone structures.
Masseria Cervarolo's restaurant is within a massive Lamia – through which you can marvel as the chefs prepare your meals. The Lamia, a traditional Apulian structure, provides a theatre-like experience.
If you value sustainable travelling, you'll be pleased to know that Masseria Cervarolo is a sustainable travel property.
Ostuni, Italy: Practical Tips for Your Trip
How Long to Visit Ostuni, Puglia?
Three days may be plenty for a little getaway, but if you want to make the most of your time in Ostuni, I recommend staying for at least ten days.
Best Time to Visit Ostuni, Puglia
July and August are the best months to visit if you're looking for warm, sunny weather. Because prices skyrocket during the busiest months of the year, the best times to visit are May, June, or September. Plus, the weather is a bit more tolerable then.
Where Should I Stay in Ostuni, Puglia?
Ostuni hotels are in abundance. If you're on a budget, I'd recommend staying at Hotel La Terra. Not only is it the more affordable option on this list, but it still offers you great hospitality while being close to amenities.
Looking to splurge? Book a room at the lavish Masseria Cervarolo and enjoy time spent on the lush farm grounds of this estate. Swim laps in the amphitheatre pool while trained chefs prepare you a delicious Apuglian lunch.
How to get to Ostuni, Puglia?
There are different ways to get to Ostuni, Puglia. You can travel by bus, train, or taxi straight from Bari Airport (BRI).
Taking the bus is often recommended as it's the most affordable choice. Whichever method you choose, note that it will take you anywhere from an hour to two hours to reach the whitewashed town of Ostuni.
Things to do in Ostuni, Puglia: Map