Discover the best places to stay in Bath with this step by step guide.
Named for the warming thermal springs that the city was built on, Bath might be relatively small in size but it's a powerhouse of a cultural experience. 
With splendid architectural sights from throughout the ages around every corner, it's an environment rich in things to see and do and I LOVE it.
The first time I went to Bath, I was pretty excited about getting to see the place I'd pictured from so many Jane Austen novels. Like… ridiculously and quite embarrassingly excited. Aside from that, I wasn't sure what to expect.
What I discovered fast became one of my favourite cities, and one I've come back to time and again throughout the years.
Quirky cafés, boutique shopping, and—of course—hot springs are only a few of the many attractions it can boast.
Ready to explore?
Here are some of the best places to stay in Bath.
Best Places to Stay in Bath: At a Glance
Where to Stay in Bath
From the bustling city centre to the quieter and more eclectic suburbs each boasting their own personalities, there's no doubt you'll find the best place for your stay in this guide.
The Best Places to Stay in Bath City Centre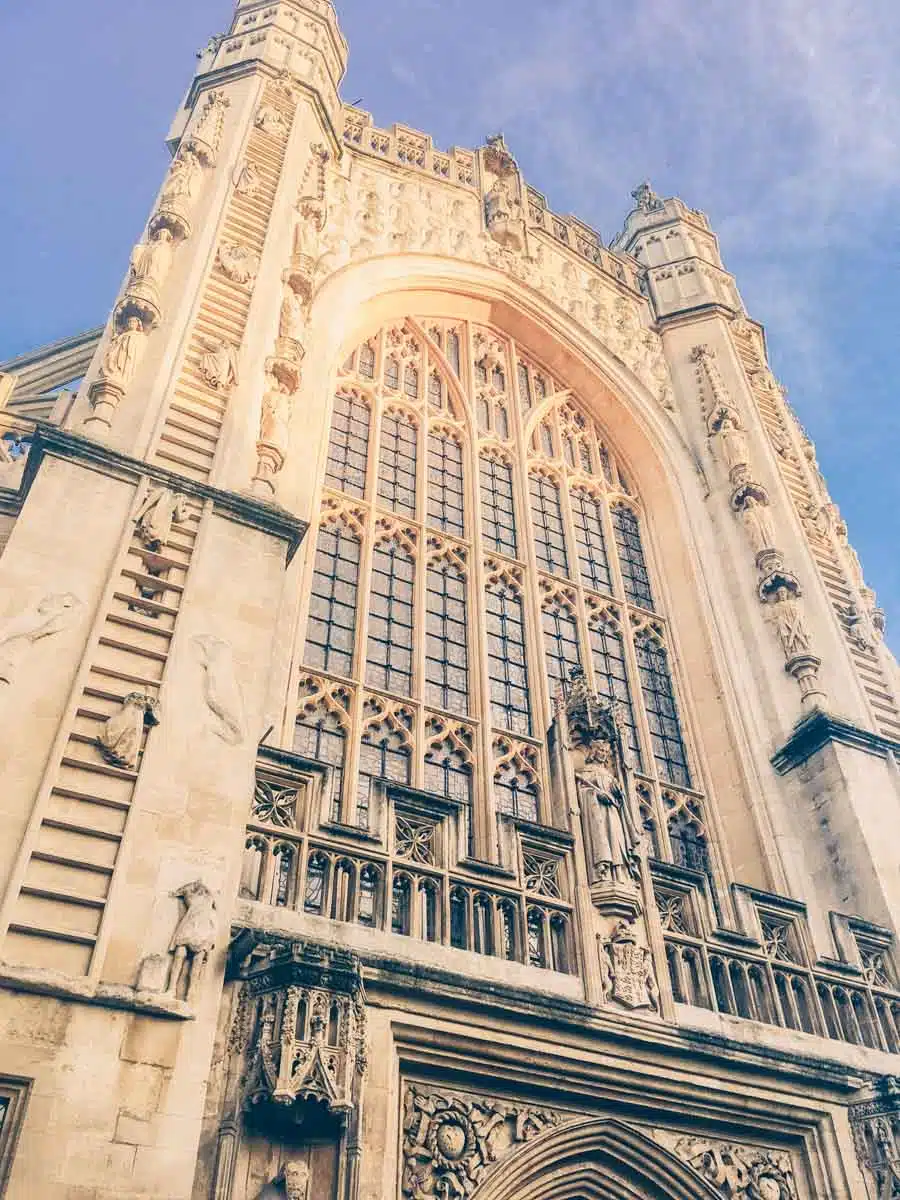 The thermal springs that have brought people in droves over the ages seeking a restorative health soak make Bath the architectural splendour it is today. There are plenty of places to stay in Bath City Centre, so accommodation shouldn't be a problem.
Take in the gorgeous sights of Bath Abbey, have brunch on Pulteney Bridge, or visit the Georgian townhouses of Royal Crescent. The Roman Bath is also a must-see; its misty green waters paired with crumbling façades give the ruins a mystical feel.
If it's a proper soak you were hoping to indulge in, head to the nearby Thermae Bath Spa for multiple levels of spa luxury and wellness.
The Bath Christmas Market is one of the best in the UK, hosting more than 150 chalets. So if you find yourself in the area in December, be sure to visit and have a warm seasonal drink.
Bath City Centre Highlights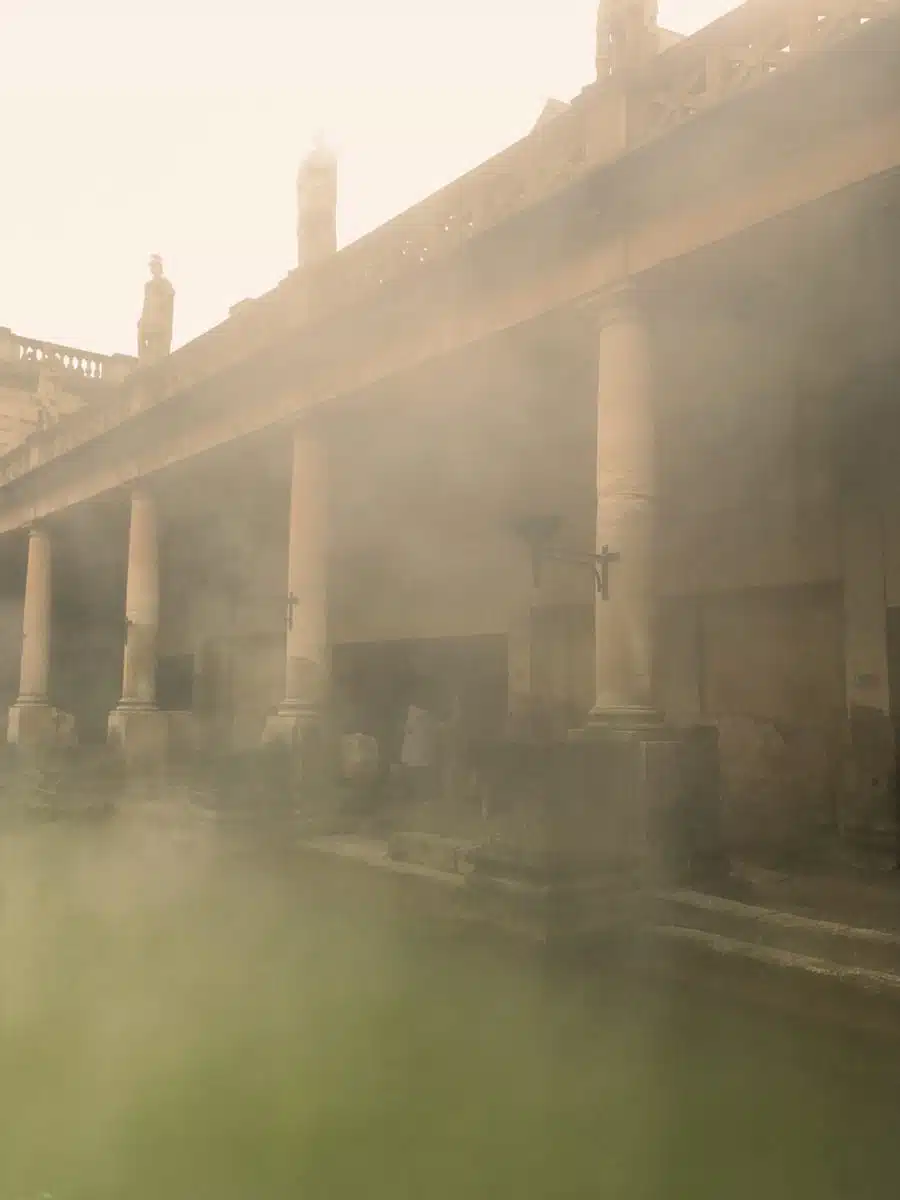 Roman Baths — Originally built in 60 AD, the Great Bath, sacred spring, and Temple remains make this a fascinating and beautiful trip into history.
Pulteney Bridge — with little boutiques and quaint cafés lining this most famous bridge in Bath, you'll have plenty to keep you occupied for an afternoon.
Thermae Spa — if you'd like to soak in some thermal hot springs, head to the rooftop pool for a gorgeous view of Bath Abbey and the town's skyline.
Best Hotels in Bath City Centre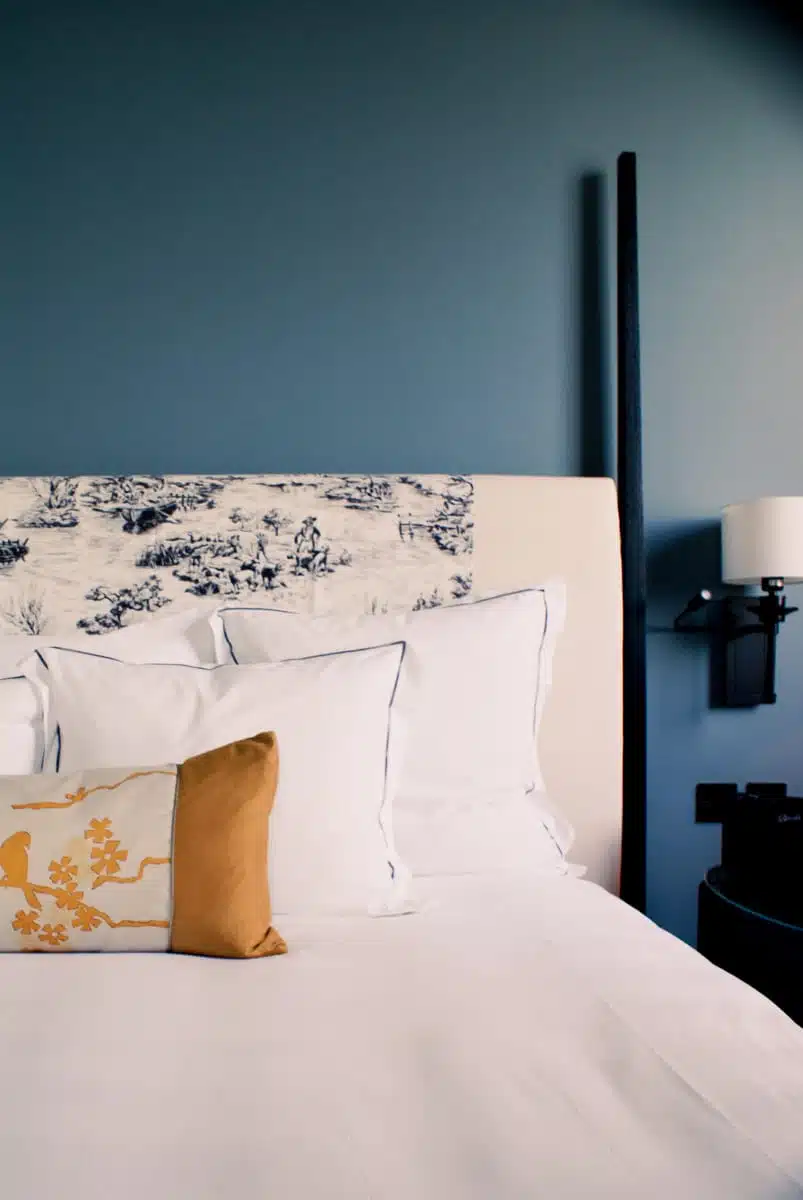 Camden: Where to Stay in Bath for Boutique Finds
An upscale neighbourhood of Bath, Camden is where people go for boutique shopping and austere tree-lined streets.
There're plenty of green spaces to enjoy, as well as a plethora of cocktail bars and classy restaurants. It's only a 10-minute walk from the city centre, and its location on a hilltop means excellent views, but also an uphill walk on the way home.
It's a peaceful neighbourhood, befitting its rolling meadows.
Camden Highlights
Camden Crescent — A row of historic homes dating back to 1788 with an impressive view; this is where the suburb of Camden gets its name from.
Kensington Meadows — A gorgeous grassy meadow beside a wildlife preserve and the river. Bring your bicycle and enjoy the ambience.
Hedgemead Park — With pieces of historical architecture and fountains scattered about this sizeable park, it's the perfect place for an afternoon stroll before you hit the restaurants for dinner.
Best Hotels in Camden
Walcot: A Trendy Suburb With Some of the Best Hotels in Bath
If you're looking for cool places to stay in Bath, consider the trendy suburb of Walcot. This is where the little city's nightlife springs to the forefront.
Small pubs that ooze with character compete with nightclubs, comedy clubs, and live music performances for your attention. Vintage shops that sell anything from antiques to herbal remedies line the streets, and the restaurants are pretty up-and-coming.
Bath City Centre is close enough to reach by foot, but there are always public transport options if you want to save yourself the walk.
Walcot Highlights
Bath Aqua Studio & Memorials — A glassblowing studio with interactive demonstrations and a unique gift shop that promises an interesting experience like no other.
St Michael's Church — Undoubtedly the architectural stand-out of this small suburb, I highly recommend a pitstop to take a few snapshots of this gorgeous structure.
Best Hotels in Walcot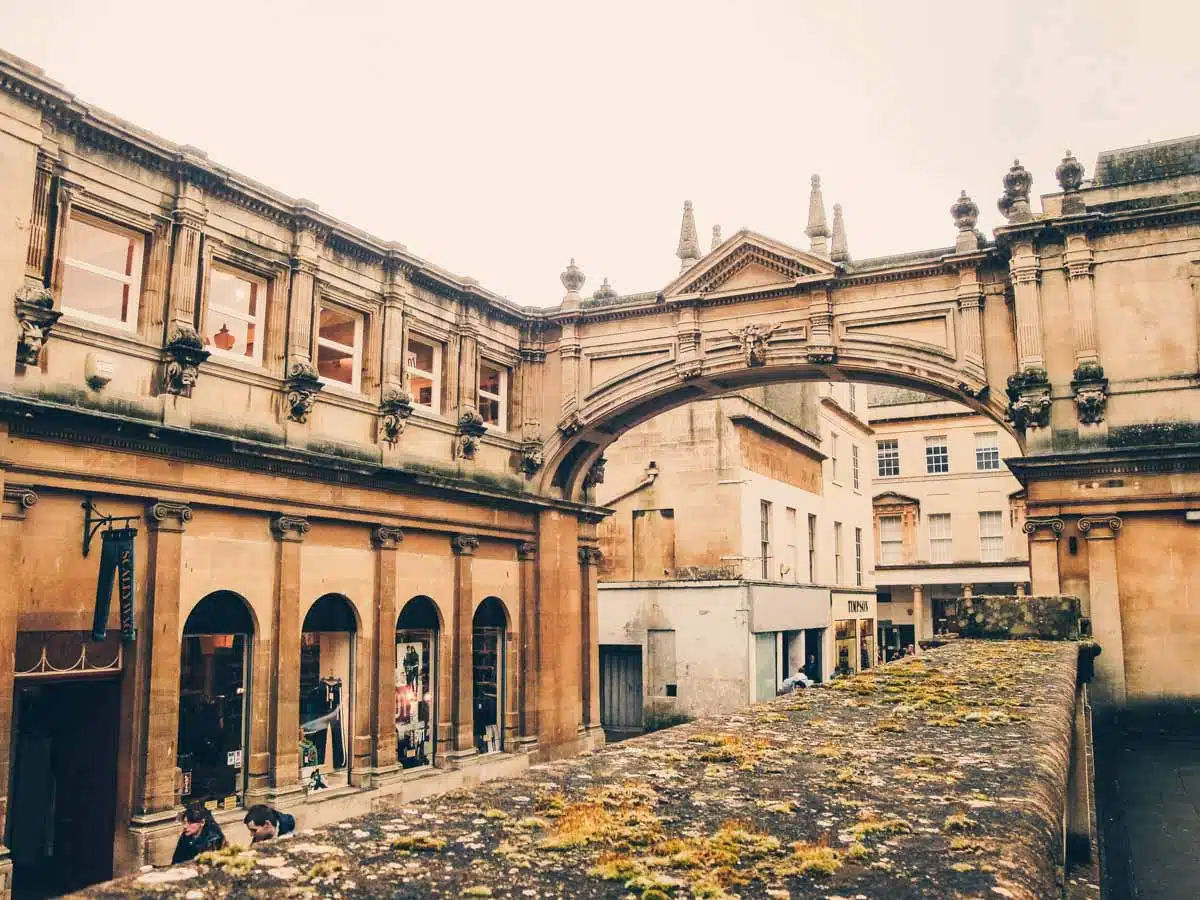 Larkhall: Where to Stay in Bath Outside the City Centre
This old section of the village is utterly charming. Farther north than the suburb of Camden, Larkhall is a family-friendly bohemian neighbourhood
Quirky gift shops and bookstores abound, and — foodie alert — you'll find trendy Indie cuisine on the popular streets. It's also home to the Rondo Theatre, where you'll see some of the best shows and comedic acts the suburb has to offer.

Larkhall is about a 20-minute bus ride from the city centre, so it's situated perfectly on the fringes of both country and city, making it a nature lover's paradise. If you're coming from a visit to the Cotswolds, this suburb will be your first entry into Bath.
Larkhall Highlights
The Rondo Theatre — A little gem for theatre lovers, you can catch anything from independent productions to circus acts and touring shows.
St Saviour's Road — A popular stretch with many high-street shops, boutiques, cafés, and charming bookstores.
Alice Park — Alice Park has a delightful café and peaceful community garden with fruit trees and vegetable beds for the ultimate tranquil retreat.
Best Hotels in Larkhall
Oldfield Park: Best Place to Stay in Bath for Affordable Hotels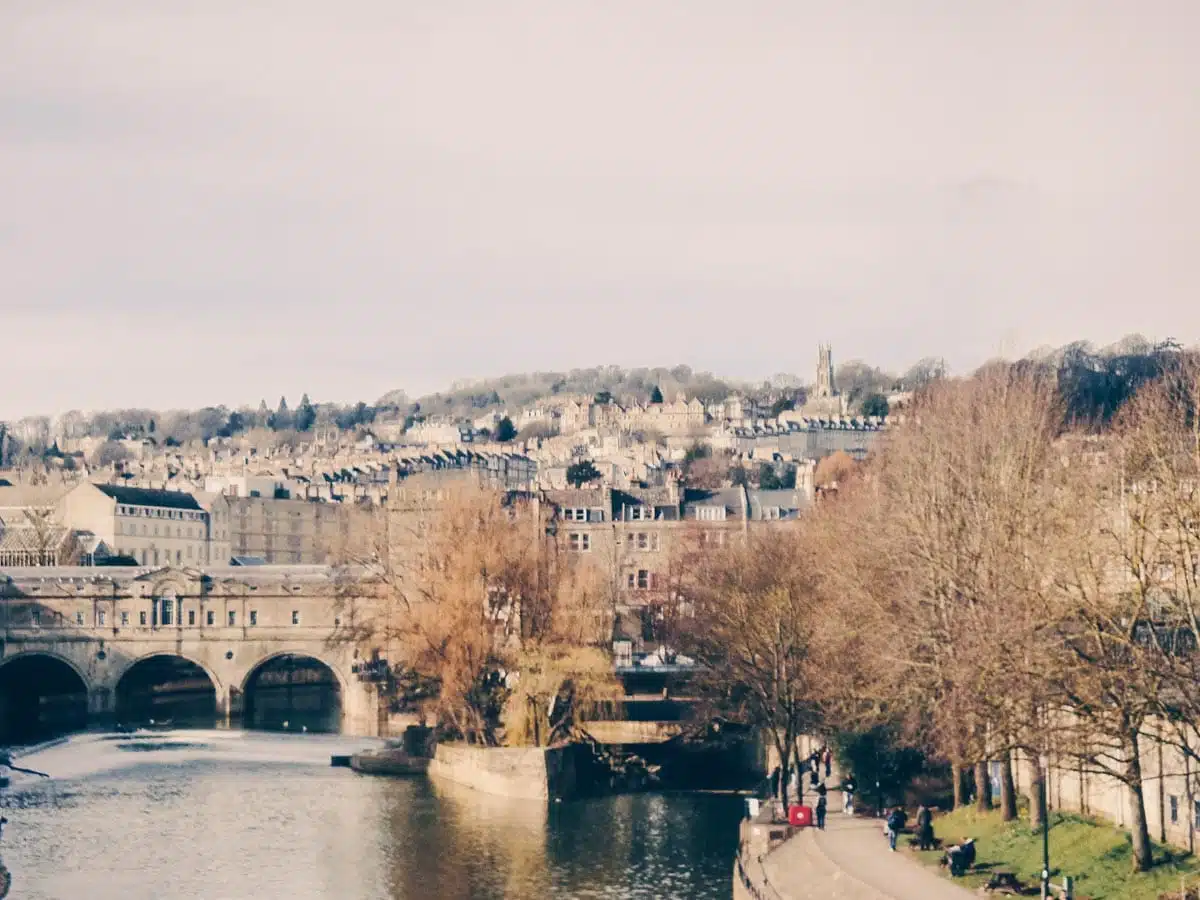 Families and students fill this suburb, and as a result, it can be one of the cheap places to stay in Bath.
It's nestled against the River Avon, with a pathway following the gently rolling waters that's perfect for early morning bike rides or casual walks. You can even take a river cruise and gaze upon the gorgeous scenery.
Oldfield has its own train and bus stations, so getting to the city is easier than ever if you don't fancy walking the up-and-down terrain.
Oldfield Highlights
Moorlands Road — Numerous quality charity shops call this little stretch of road home, as well as several local businesses and eateries.
Brickfields Park — The best green space in the neighbourhood, it features playgrounds and sports fields.
St James Cemetery — Come and look upon the gorgeous Gothic arches at this old cemetery where war graves remain today.
Best Hotels in Oldfield Park
Where to Stay in Bath: Frequently Asked Questions
Find answers to the most frequently asked questions about where to stay in Bath.
What is the Best Area to Stay in Bath?
If you're a first-time visitor, the best area to stay is in Bath City Centre. Not only is the train station right there, but all of Bath's gorgeous attractions are practically at your feet. It's highly tourist-friendly with plenty of shops and restaurants, and the hotels are abundant and beautiful.
Frequently Asked Questions
How Many Days Do You Need in Bath?
It is possible to see a couple of the sites on a day trip, but who wants to hurry such a sumptuous experience? I recommend two days for a proper experience of Bath, while three days is better for a more leisurely pace.
Is Visiting Bath Worth It?
Bath is only a 90-minute trip from London by train, and there are plenty of gorgeous architectural delights to witness. From the Roman Bath to the Pulteney Bridge and the Bath Abbey, they're all pieces of living history.
You can pamper yourself and have a soak in one of the modern thermal baths, too, so why wouldn't you want to visit this glorious setting?
Can you Go into the Roman Baths in Bath?
Unfortunately, the waters of the Roman Baths are untreated and therefore unsafe to bathe in. If a soak is what you're after, you can go into the waters of the Thermae Bath Spa nearby instead.
How Do You Get Around in Bath?
Because many of the sights are quite close to each other, walking is a common way of getting around. Otherwise, public transport is ideal for going a little further afield.
If you'd like more agency, hire a car or bicycle to get around and make sure you choose accommodation with parking options.
Practical Tips to Consider Before Booking Your Bath Accommodation
The Roman Bath is one of the most popular attractions and, as such, it gets very busy. If this is one of your primary points of interest, book a hotel close to the bath and get there early to avoid the crowds.
Bath is rather hilly, so bring comfortable shoes and get ready to exercise those calf muscles if you plan on walking any distance.
There are several festivals held throughout the year, so consider them before deciding what time of year to visit Bath.
There's more to Bath than just the city centre. If you plan on enjoying the countryside a little more, choose accommodation closer to the types of activities you'd like to participate in.
Bath Accommodation Guide: Map