Full of rolling hills topped with charming, historic towns and villages and row-upon-row of stunning cypress trees, the Val D'Orcia is a gorgeous spot in Italy's most beautiful region. Explore with this in-depth guide.
Picking a single highlight from my recent trip to Tuscany is like having to pick your favourite child, yet the Val D'Orcia was very close to the top of the list.
Nestled in the heart of Tuscany, the Val D'Orcia is a tapestry of lush landscapes and medieval towns that demand relaxed days of exploration.
This UNESCO World Heritage site is known for its rolling hills and cypress-lined roads, but it's much more than that. Once a contested land sought after (and fought over) by the rival kingdoms of Florence and Siena, it became a canvas for Renaissance artists who sought to capture its magic in their works.
Today, it's a must for anyone seeking history, natural beauty and a taste of authentic Tuscan life.
So, sit down, pour a glass of Chianti and come with me as I take you on a trip through the wonderful Val D'Orcia.
Things to do in Val D'Orcia
Take the Scenic Drive Between Pienza and San Quirico D'Orcia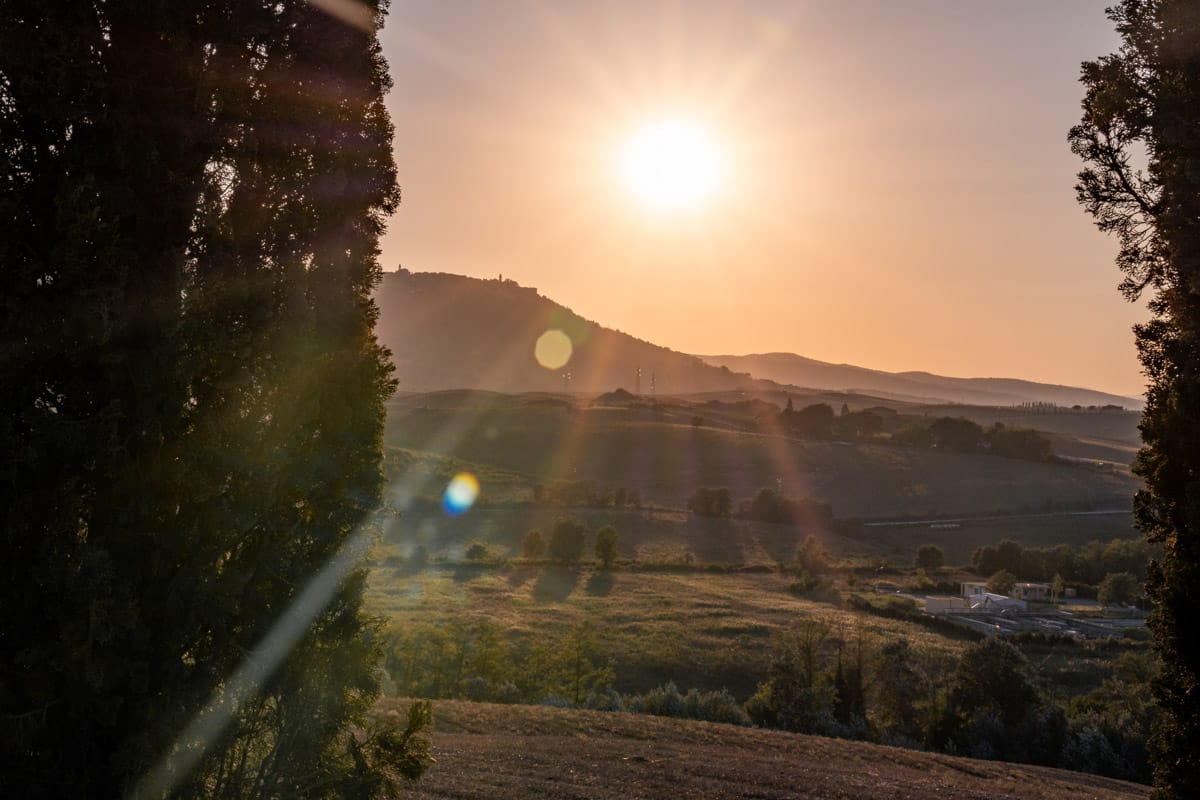 The scenic drive between Pienza and San Quirico d'Orcia is like driving through a Renaissance painting – and was one of the real highlights from my time in the region.
There are three routes between Pienza and San Quirico, the best of which is SP146, which takes you across several gorgeous hilltops, taking in villas all framed by the region's famous cypress trees and the incredible chapel of Vitaleta.
It's only 10 kilometres, but I'd recommend setting aside at least an hour or two to explore the road and its myriad of viewpoints at your leisure.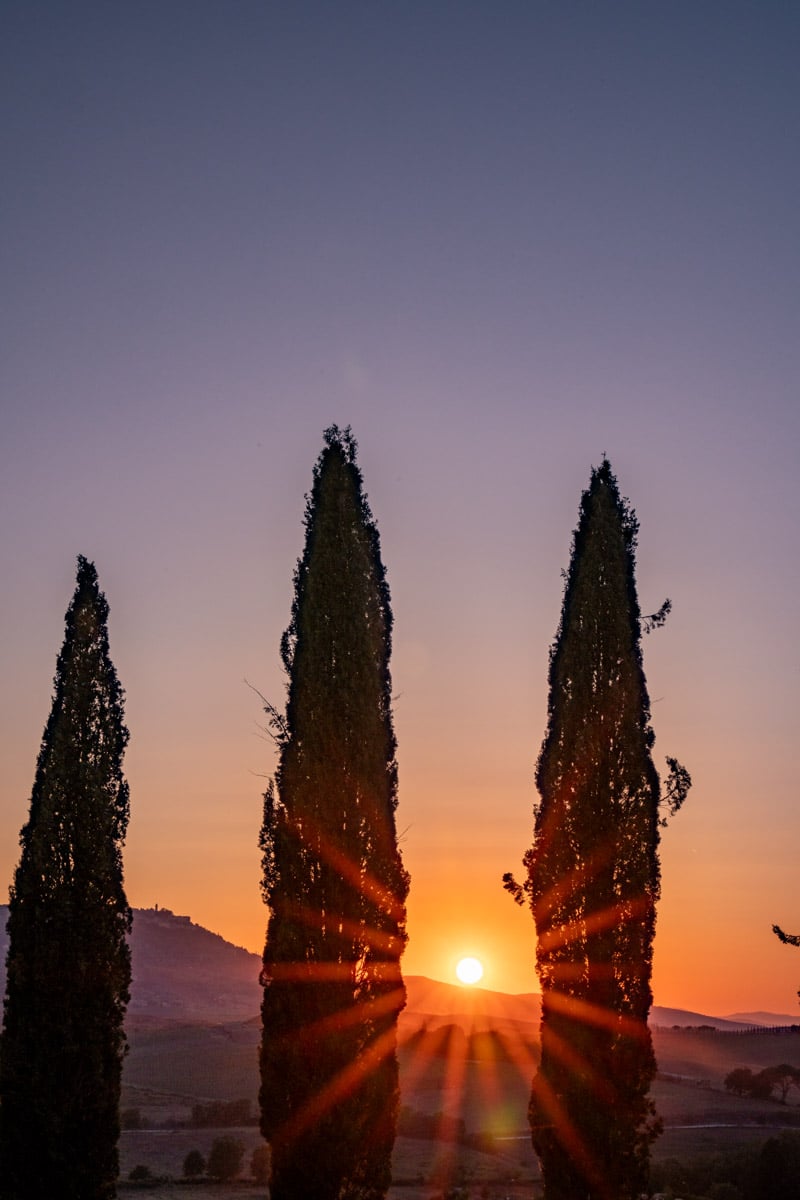 The route winds its way from Pienza, past Monticchiello, a small medieval village with well-preserved fortress walls, before making its way to San Quirico D'Orcia.
Plan a pit stop to take in the weird and wonderful Quercia delle Checche or Checche Oak by the side of the road – planted more than three centuries ago, its trunk alone has a diameter of 5 metres – which extends to more than 35 metres at the crown.
Top Tip
Spend a little time exploring San Quirico D'Orcia before heading along the winding, beautiful road of SP53 to Chianciano. The Leonini Gardens were one of my fave parts of this gorgeous little town and it's the perfect spot for a leisurely lunch in one of the myriad of outstanding restaurants paving the streets.
Spend Time Exploring the Towns & Villages of the Val D'Orcia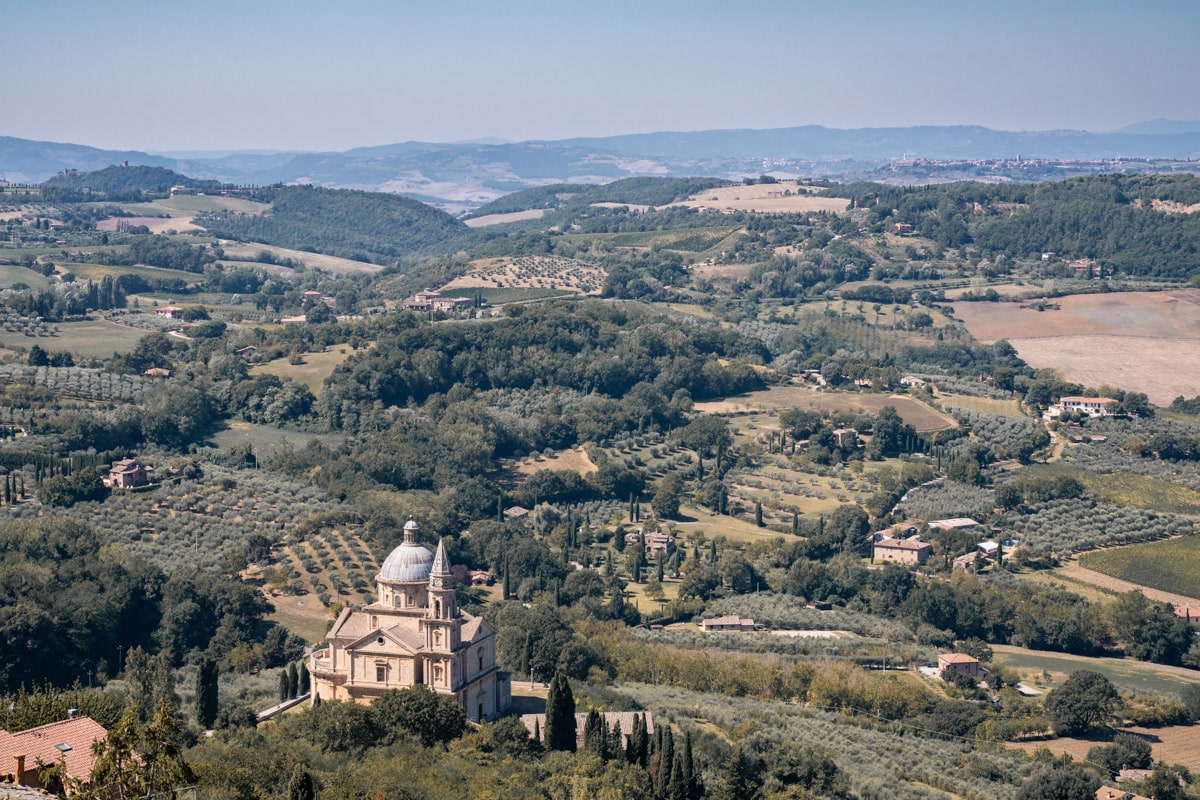 Tuscany is stacked with gorgeous towns and villages and Val D'Orcia has more than its fair share of must-see spots.
Montepulciano is the biggest and busiest (not to mention one of the hilliest, in case you were wondering. Trust me, make sure you've got comfy, sturdy footwear on).
Renowned for its Vino Nobile di Montepulciano, it's a haven for wine-lovers and history buffs alike. There's a lot to see in Montepulciano (I've linked my guide to the town above), but if you only have time to focus on a couple of spots, ensure you check out the Medico Fortress and its beautiful botanical garden, and the tower of the Palazzo Comunale for stunning views of the town and beyond.
Top Tip
As the busiest town in the region, visit Montepulciano in the early morning, or late afternoon to avoid the crowds.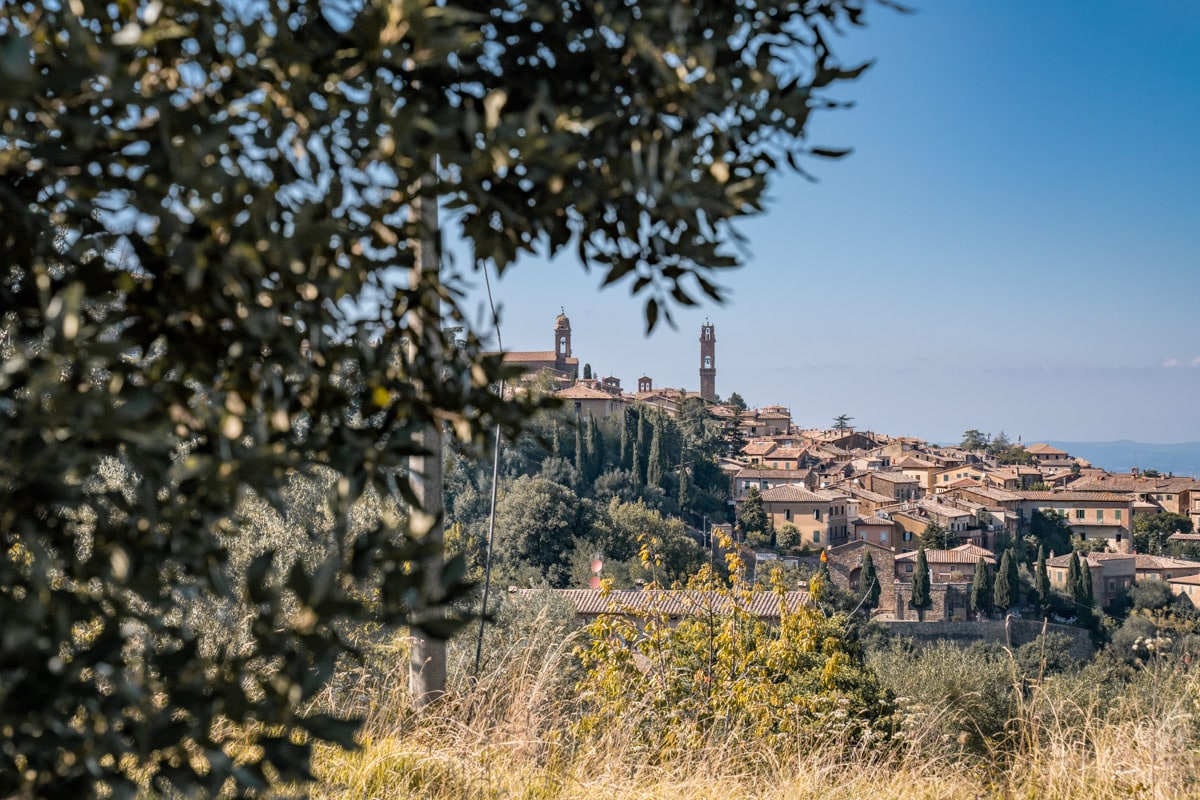 Not going to lie, my favourite town in the Val D'Orcia is the tranquil hillside town of Montalcino (which has its own separate entry later in this guide), which strips away the tourist veneer and lets you explore an authentic side of Tuscany at your own pace.
I spent a whole day meandering around the town's cobblestoned streets with no particular aim and would recommend you do the same. Even better if you pop into one of the numerous wine shops selling the famed Brunello di Montalcino.
I also loved San Quirico D'Orcia, a town that is often overlooked by Tuscany guides. While it doesn't have as many sights to take in, you should make a beeline for the impossibly pretty Collegiata di San Quirico – a Romanesque church in the town's centre.
My top tip? Slow down and sit at one of the many bars and restaurants lining the town's streets and watch the world go by Tuscan style.
Other towns and villages to have on your radar include: Bagno Vignoni, Castiglione d'Orcia, Monticchielo and Radicofani (which I cover in more detail below)
Go Wine Tasting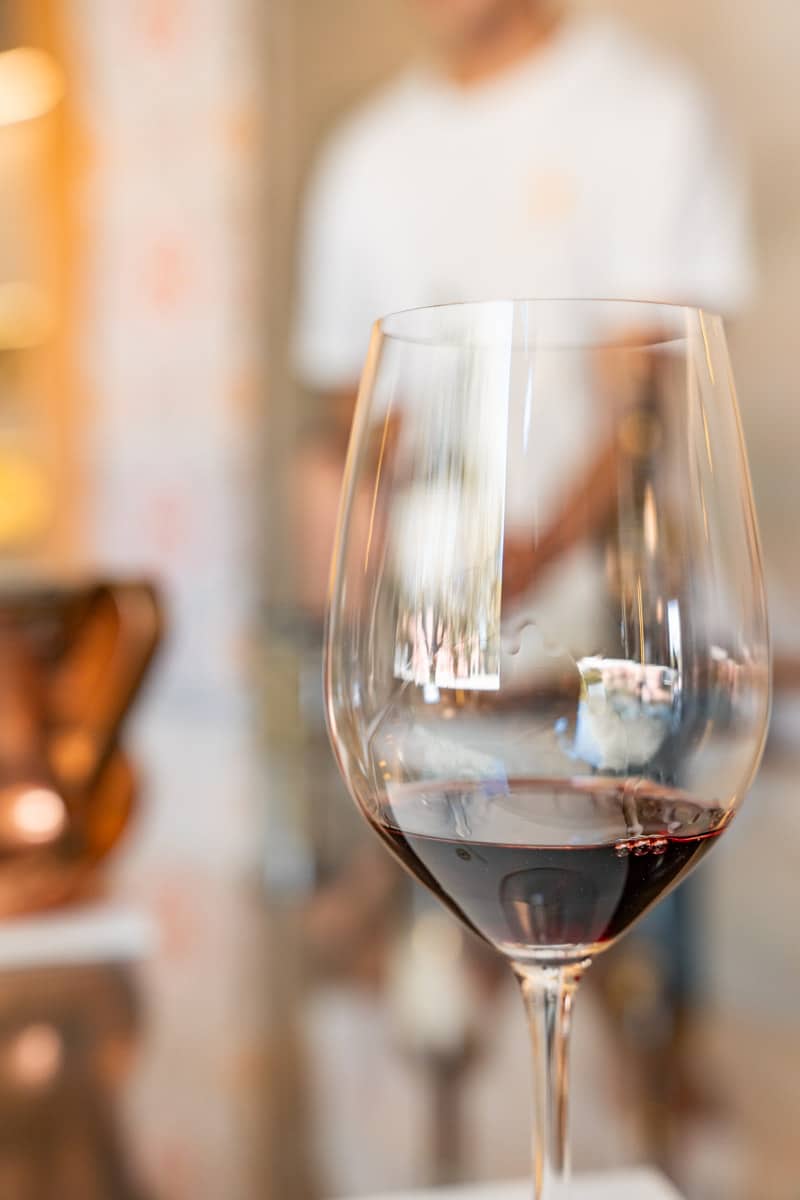 It's not exactly a secret that the Val D'Orcia is stacked with incredible vineyards and wineries, each of which offers a different glimpse of the rich diversity of Tuscan wines. Exploring them was one of the things I was most excited about for this trip and it didn't disappoint.
As I mentioned above, Montepulciano and Montalcino are named for their Vino Nobile di Montepulciano and Brunello di Montalcino respectively, while the Pienza area abounds in a range of organic wines that pair perfectly with the area's excellent cheeses.
I'd recommend Poliziano Winery, Cantina Terra Antica and the underground Contucci Winery in Montepulciano. Another top spot is Poggio Rubino in Montalcino, where you can sample Brunello wines to your heart's content!
Food + Drink
If the Vino Nobile is a little too much for your palate (or wallet), try the Rosso di Montepulciano, a young, full-bodied and fruity wine that's aged for eight months with its mix of 80% Sangiovese and 20% Merlot grapes.
Explore the Stunning Fortress Village of Radicofani
While you cannot go wrong exploring any of the towns and villages in Val D'Orcia, the hillside village of Radicofani is a real gem. This tiny medieval village is easily skipped, but trust me, you don't want to overlook this beautiful hilltop spot.
Its imposing fortress, the Rocca di Radicofani made the village one of the most strategic locations in the wars between Siena and Florence.
The fortress dates back to the 10th-century and today is best-known for two things: the beautiful views from the top and being the setting for many stories about Ghino di Tacco, a local Robin Hood-type figure mentioned by Dante in the Divine Comedy.
There's more to Radicofani than the fortress though, the village is a delightful maze of narrow streets and stone houses, studded with a pretty church here (the Pieve di San Pietro is particularly beaut) and a traditional restaurant there.
Wander the Medieval Town of Montalcino
Just down the road from Montepulciano is the quieter, less renowned small town of Montalcino. This charming and quaint town, which is best known for the production of the famous Brunello red wine, was a personal highlight of this visit to Tuscany.
The town's appearance has barely altered since the 16th century, and as you wander the streets away from the usual tourist throng that you'll often find elsewhere in Tuscany.
The stunning Montalcino Fortress dates all the way back to 1361 remains intact – climb to the top for outrageously pretty views. If you're lucky, you'll be able to attend a concert or festival such as the famous Jazz & Wine Festival which takes place in the fortress in July.
Other treasures include visiting the Temple of Brunello Museum, an interactive and immersive journey through the history of the wine region, and taking a cookery class to diversify your culinary offerings at the Locanda Demetra & Montalcino Cooking School.
Hop Aboard the Local Steam Train
Taking a steam train through the Val D'Orcia might not be the first thing you think of for the region, but it's a must.
Running from March to December, the train coincides with local festivals and food fairs, such as the Castiglione d'Orcia autumn mushroom festival, the Montalcino Brunello wine fair, the San Quirico D'Orcia oil fair and the San Giovanni d'Asso truffle fair.
These trips are popular, so book in advance.
Head to The Other-Worldly Landscape of Le Crete Senesi
Not all of Val D'Orcia is rolling hills and ancient towns and villages. Another of the region's stunning road trips takes you along the barren, almost moon-like landscape of Le Crete Senesi.
This breathtaking road trip stretches from Siena to Montepulciano, full of weird and wonderful clay hills and crater-like ditches. Trust me this has to be seen to be believed!
Getting There
Take the SS438 to Asciano and the SP451 to Monte Oliveto Maggiore along barely used roads that make you feel like you're traversing the Nebraskan desert rather than the beautiful Tuscan region.
Bask in the Thermal Town of Bagno Vignoni
Tuscany is famous for its hot springs and thermal towns, few of which are better than Bagno Vignoni, a small hamlet that's been famed for its thermal waters since Roman times.
At the heart of the village, the main thermal pool (no swimming!) dates back to the Middle Ages, when it was a popular stop for pilgrims undertaking the Via Francigena. The waters are believed to have therapeutic properties.
Luckily, if you want to embark on a therapeutic dip in a warm spring, there are plenty of spa resorts and bathhouses offering the chance to indulge in the restorative waters.
Step Back in Time at the Monte Oliveto Maggiore
Val D'Orcia is packed with stunning historic buildings dating back to the Middle Ages and beyond. Monte Oliveto Maggiore is one of the most mystical – a working abbey that's half hidden by local woodland.
Founded in 1319, the Olivetan monks live under Benedictine rule and follow the precept that "a real monk lives by his own labour."
They produce their own liqueurs, wines and oils worth every cent. This stunning building is a rare and unmissable opportunity to visit an incredible relic of the Middle Ages in total working order.
Best Places to Eat and Drink in Val D'Orcia
Ristorante Il Moro, Montalcino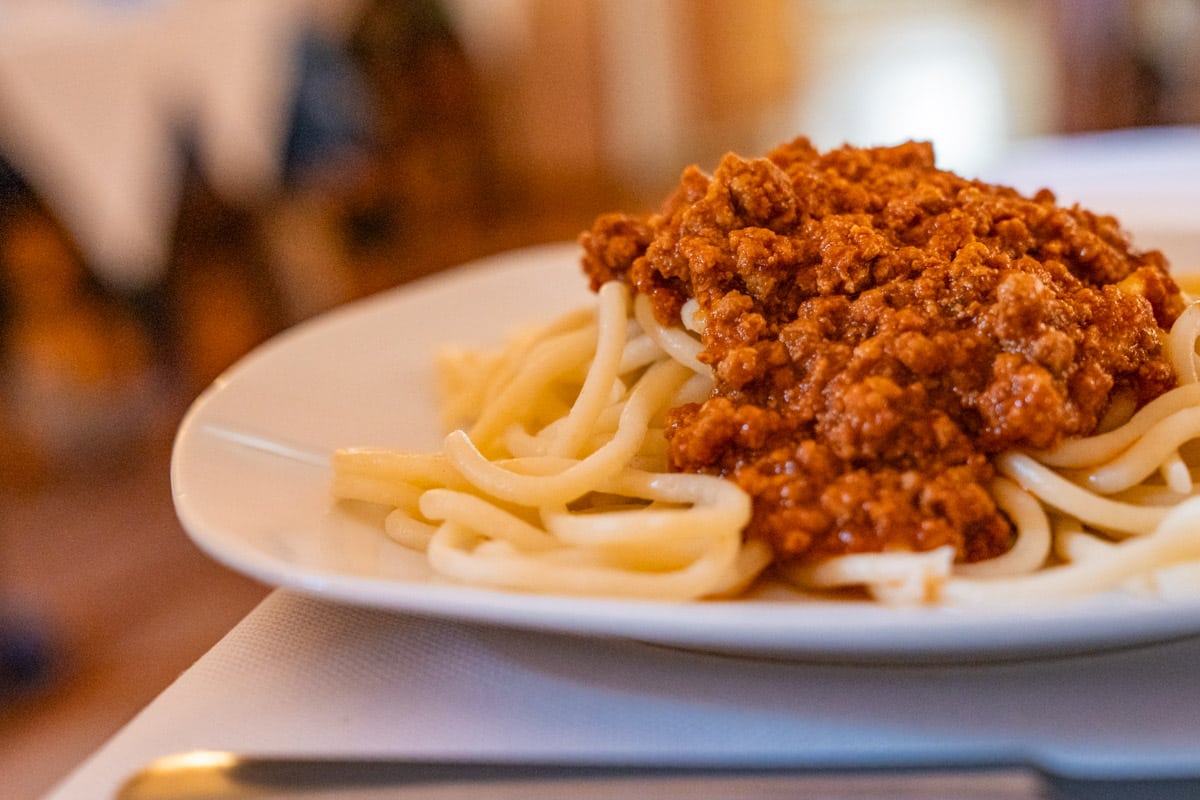 This incredible restaurant in Montalcino is a must-visit. The secret hidden terrace is a must-visit, and it serves traditional local food that hits the spot given the number of locals there when I visited.
A two-course meal for two with a glass of wine was just €53 and the tastes were unbelievable. The grilled sausage was simple but outstanding, and the homemade pasta with a rich ragu sauce really did it for me.
A shout out to the wonderful staff here, who couldn't have been more helpful, sharing some of the local specialties with us!
Agriturismo Il Rigo, San Quirico D'Orcia
This working farm is beautiful, with a brilliant 4-course tasting menu that costs just €28 per person (excluding wine) and changes daily.
All the produce at Agriturismo Il Rigo is locally sourced and the menu is always traditionally Tuscan. The proprietress, Lorenza, is enthusiastic about her food and happy to share the best wine recommendations to accompany your meal.
Know Before You Go: Practical Tips to Plan Your Val D'Orcia Trip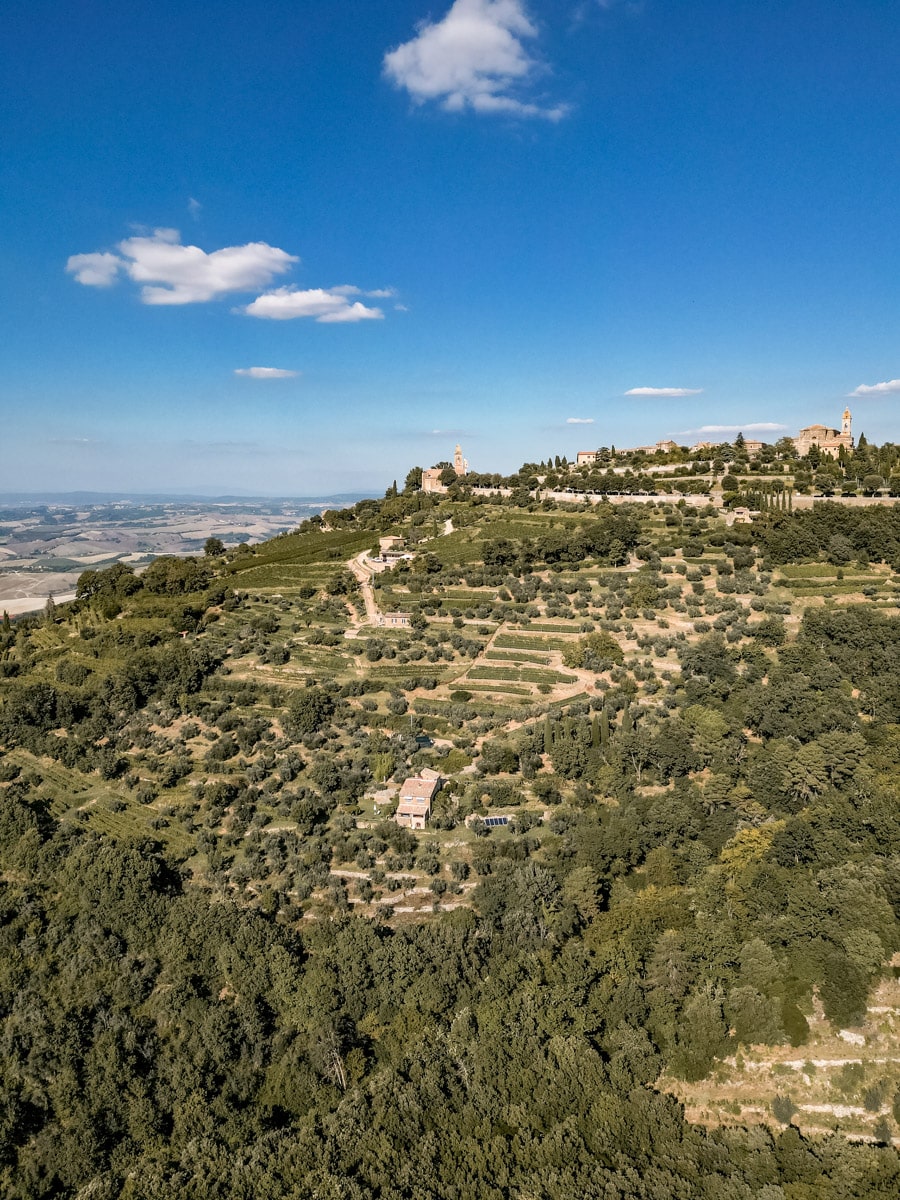 Typical Cost of Travelling?
Expect to pay around €165-270 per day on a mid-range basis including meals, accommodation and activities.

Accommodation: €100 to €150 per night on a mid-range basis
Meals: €20-50 per person including wine
Activities: Expect to pay €15-30 for wine tasting or €5-15 for entry fees for attractions.
How Long to Visit?
There's plenty to see and do in Val D'Orcia and you can see most of it in three or four days. If you want to go at a leisurely pace, I think it's worth expanding your itinerary to five days.
Best Time to Visit
Visit Val D'Orcia between the end of March and early October to get the most out of the weather and see the landscape at its best.
Where to Stay in Val D'Orcia
Castello Banfi – Il Borgo
Sat overlooking its own vineyards 10km outside Montalcino, the Castello Banfi – Il Borgo offers world-class service and even better comfort and luxury.
This hotel provides the best of Tuscany's famed hospitality with elegant rooms exquisitely decorated with Wi-Fi, flat-screen TVs with satellite channels, and beautiful, powerful walk-in showers. The on-site restaurant has lovely stone arches and antique chandeliers, with local specialties for lunch and dinner.
Rosewood Castiglion del Bosco
The Rosewood Castiglion del Bosco is a stunning luxury hotel deep in the Tuscan countryside, 12km outside Montalcino. The outdoor swimming pool offers spectacular views across Val D'Orcia, which are attractive as the sun dips.
All rooms have a bath and shower, while you can relax in the separate seating area. If you're tired after a long day exploring Val D'Orcia, chill in the on-site spa and fitness centre with a sauna and Turkish bath.
Relais Il Chiostro Di Pienza
Not everyone can claim to have stayed in a 15th-century convent, but you can add this boast to youR friends with a stay at Relais Il Chiostro Di Pienza.
Located just 100 yards from Pienza's beautiful cathedral, this stunning resort has beautifully maintained gardens and a breathtaking panoramic terrace that offers picture-postcard views of the surrounding Tuscan countryside. Rooms include pictures of the old town and convent or across the valley while containing original ornate frescoes and mod cons like minibars and satellite TVs.
Things to Do in Val D'Orcia: Map
Explore More of Tuscany
Love This? Save and Share on Pinterest