Montepulciano is the place where Tuscan hillsides meet world-class vineyards and Renaissance architecture takes centre stage. Ready to experience the best things to do in Montepulciano? Read this guide.
Wine lovers, history buffs and those in pursuit for a taste of la dolce vita converge on Montepulciano – one of the best-known towns in Tuscany. As someone who falls into all three categories, spending some time exploring the magic of Montepulciano was long overdue.
Ever dreamed of hanging out in a town surrounded by vineyards that produce some of Italy's finest reds, soaking in panoramic views that really do look like they've been snatched off a postcard? Montepulciano is your place.
Don't believe me? Here's a peek from my recent trip..
Dating back all the way to the 4th century BC, it's an absolute winner.
As with many Tuscan towns, the town is best explored on foot. Make sure you have your sturdiest, most comfortable walking shoes, though – Montepulciano is hilly, even by Tuscany's standards!
Ready to go? Let's dig under the surface of this stunning ancient Tuscan town with my comprehensive Montepulciano travel guide.
Top Tip
Montepulciano was one of the busiest Tuscan towns I visited on my recent visit to the region. If you are visiting during the high tourist season and don't want to be part of a tourist mob, I suggest starting early or waiting until evening once the tourist coaches have left.
Top 5 Things to Do in Montepulciano
See the Piazza Grande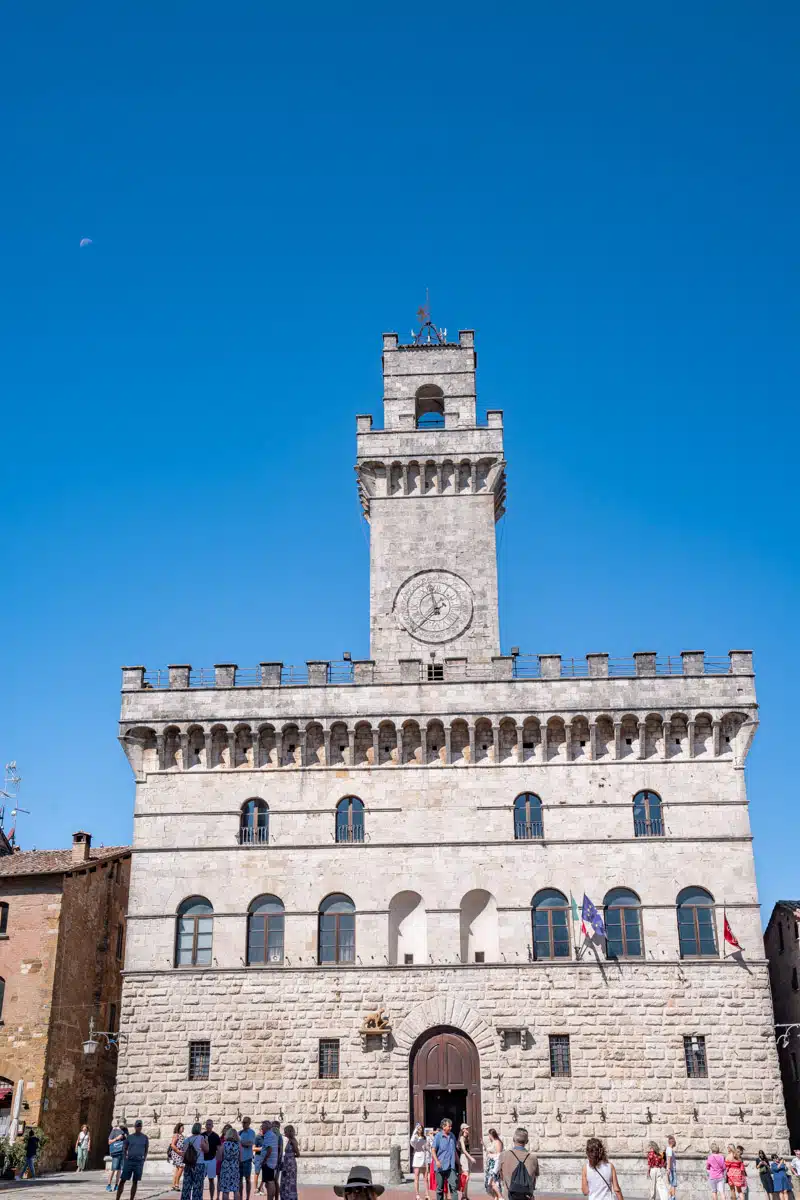 You can't come to Montepulciano without visiting the Piazza Grande – it would be like going to Florence and not visiting the Duomo – not going to happen.
It was top of my list thanks to the fact that several of the town's must-see spots are clustered around the square's immediate vicinity and I strongly recommend you put it at the top of yours.
The piazza sits at the heart of the town's life, much as it has for centuries – a masterpiece of Renaissance architecture and a hub of local culture.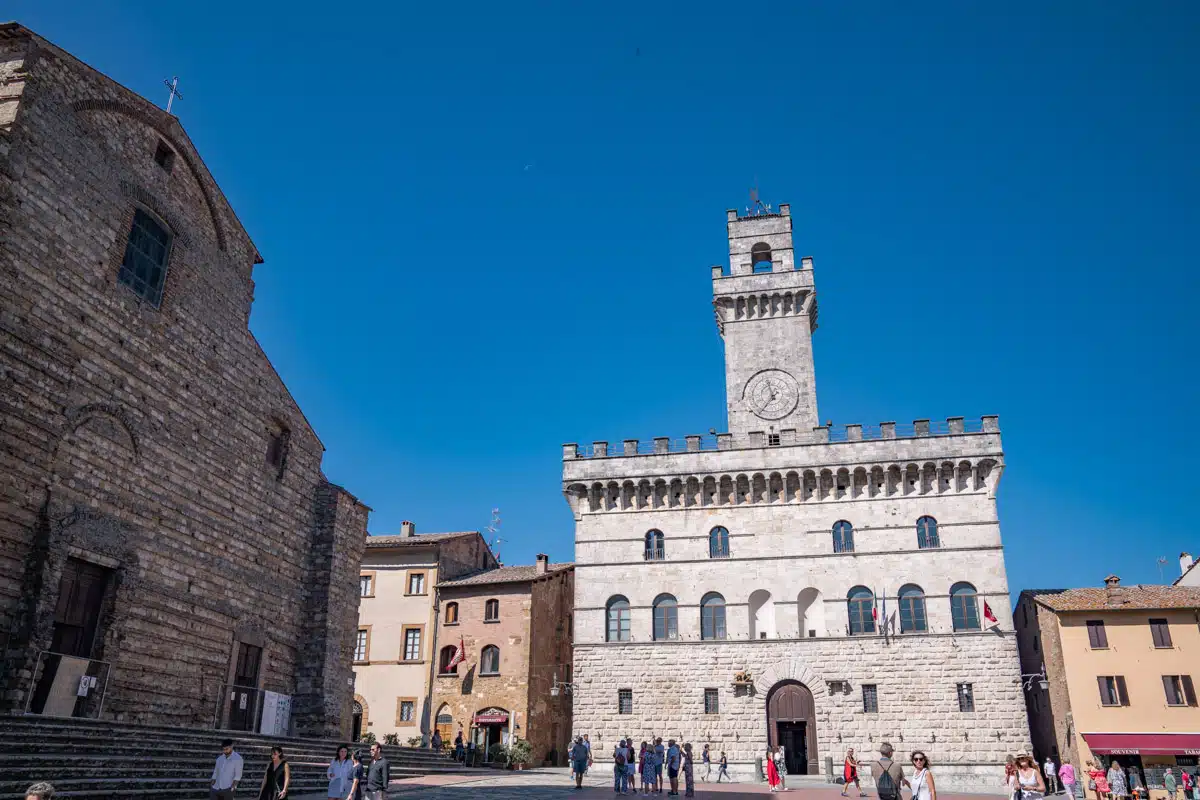 Drink in views of the 15th-century Palazzo Comunale (more on that shortly), the 16th-century Palazzo Contucci on the other. Meanwhile, Florentine design and earlier Sienese gothic flourishes are visible around the square, reflecting the city's role, regularly changing hands in the battles between Siena and Florence.
Last but definitely not least is the imposing but sombre-looking Cathedral that includes the enormous Assumption triptych dating back to 1401.
Top Tip
Eagle-eyed Twilight film fans may recognise the square as several scenes from New Moon were shot in the town – most notably the scene where Bella saves Edward's life, which was filmed right here in the Piazza Grande.
Climb to the Top of Palazzo Comunale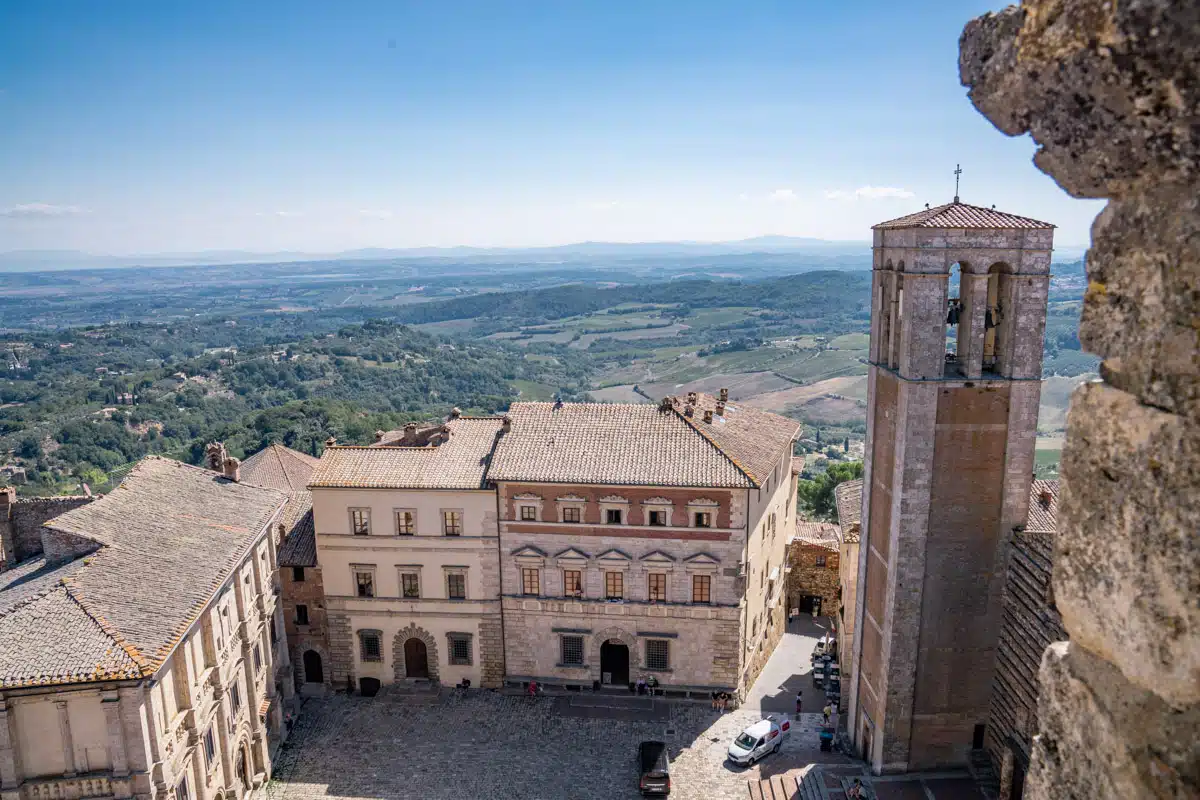 I hate to play favourites, but if you made me pick the highlight of my visit to Montepulciano, the Palazzo Comunale or the old town hall would be right up there.
Beautiful in its own right, dating back to the 1400s, you have to take the lift and old spiral staircase to the top of the tower, which is a miniature version of that on Florence's Palazzo Vecchio.
The views from the top are straight-up stunning, with sprawling panoramas across the Val d'Orcia, Monte Amiata, Siena. Look hard enough and you can even spot Enve Take Trasimeno in neighbouring Umbria.
Sip a Glass of Wine at Poliziano Winery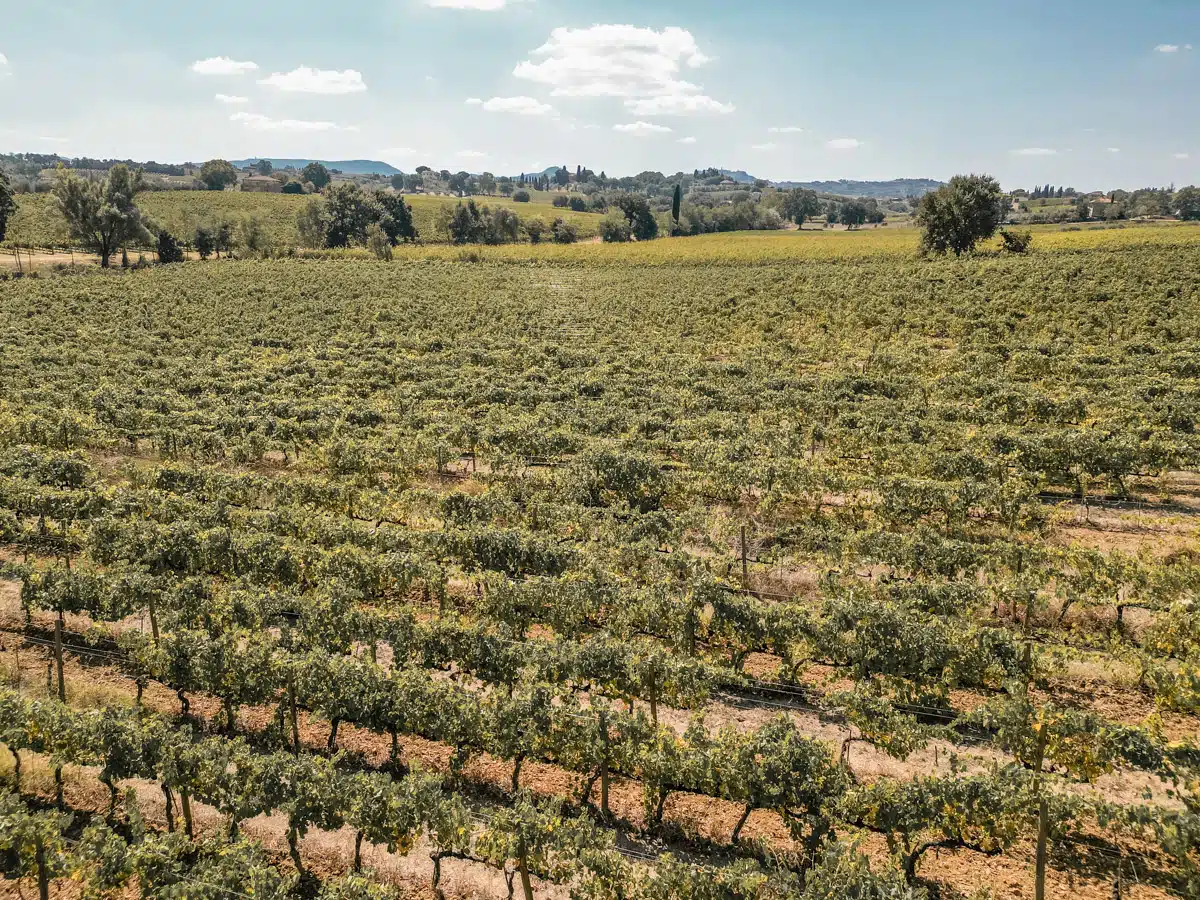 Wine and Tuscany go hand-in-hand and if you're a fan of a glass (or three) of vino, the Poliziano Winery is the ideal spot for you.
Let's just put it like this, I asked the local concierge at my hotel for the number one winery he'd recommend visiting in the Montepulciano region and he said Poliziano – 'nuff said.
Opened in 1961, the winery comprises 170 hectares of vineyards and is increasingly managed via organic agricultural methods.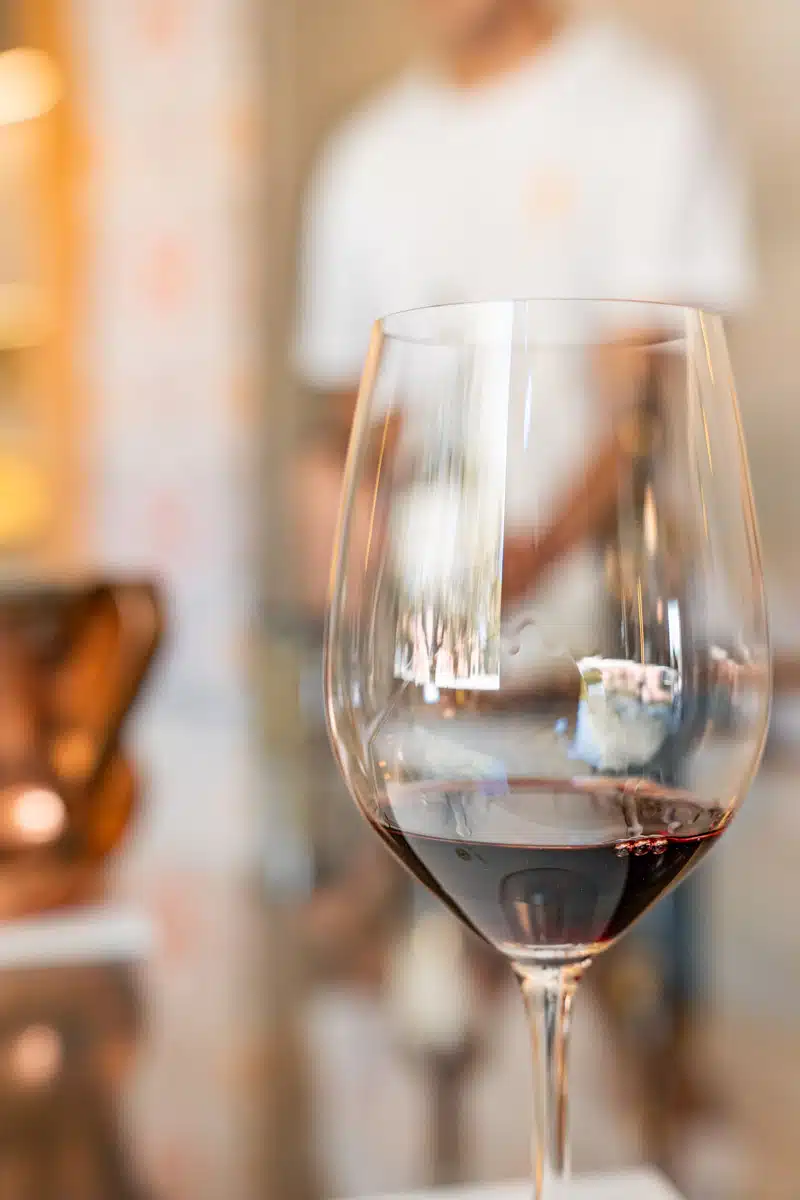 I could have spent hours here but remained sensible and plumped for the €20 guided wine tasting, which lasted about an hour, after which I strolled around the vineyards and hung out on the outside terrace.
Wines to try include the Le Stanze, a unique blend of 90% Cabernet Sauvignon and 10% Montepulciano, that culminates in a beautiful, rich red aged for 16 months in new French Oak.
Want something punchier? The Vino Nobile di Montepulciano DOCG is aged 14 to 16 months in wooden barrels, providing intense aromas that showcase the Sangiovese grape at its best.
Top Tip
Unfortunately the guided tour of the vineyards was fully-booked on the day I visited – so book at least a couple of days ahead if you want to be sure of a space.
Swing by the Medici Fortress (Fortezza Medicea)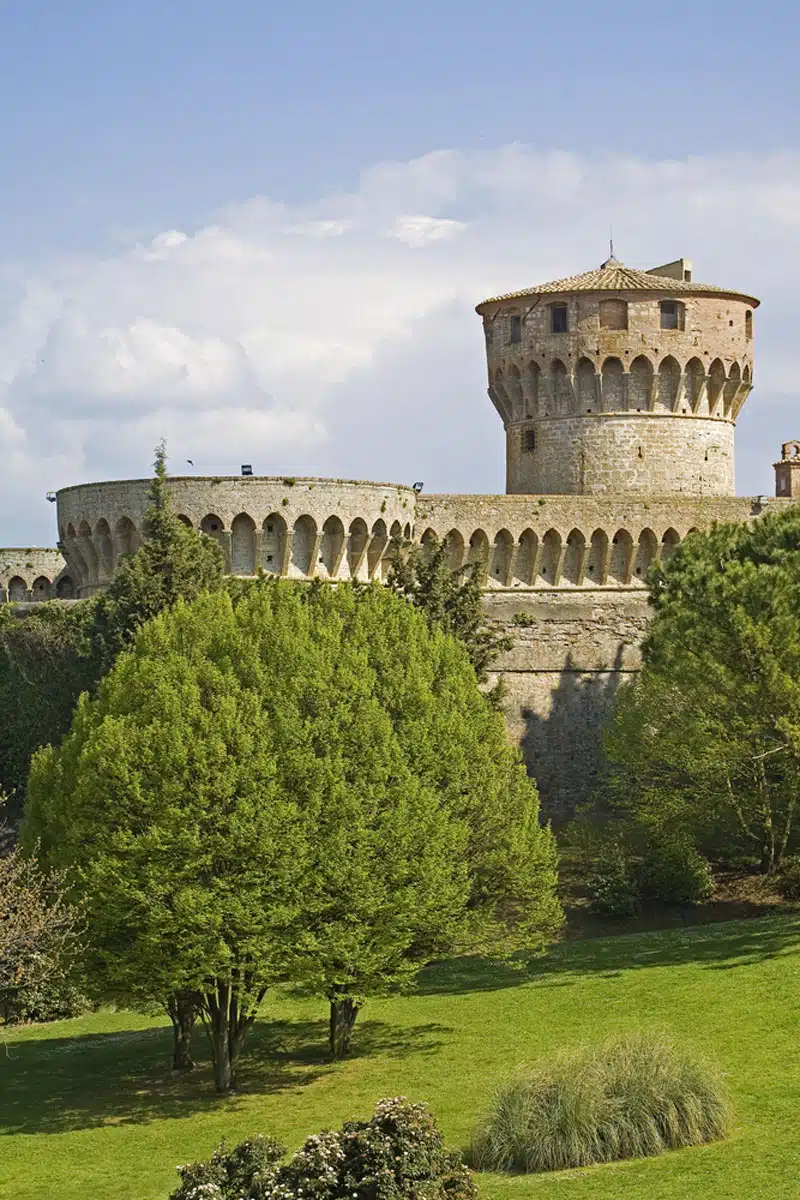 Tuscany isn't short of historic fortifications, but the 13th-century Medici Fortress stands out.
First built in 1261, it stands in an impressive location overlooking the town. It was regularly destroyed and reconstructed as Siena and Florence continued to battle for control of the town during the Middle Ages. The final renovation took place in 1885, designed by Augusto Corci.
Sure, that's cool and all, but there's another reason you should visit: the fortress is home to the stellar Enoiteca Consorzio Vino Nobile wine bar. Simply charge a card with as much cash as you want to spend, then use it to taste different wines from the wine dispensary.
See the 16th-Century Sanctuary of the Madonna di San Biagio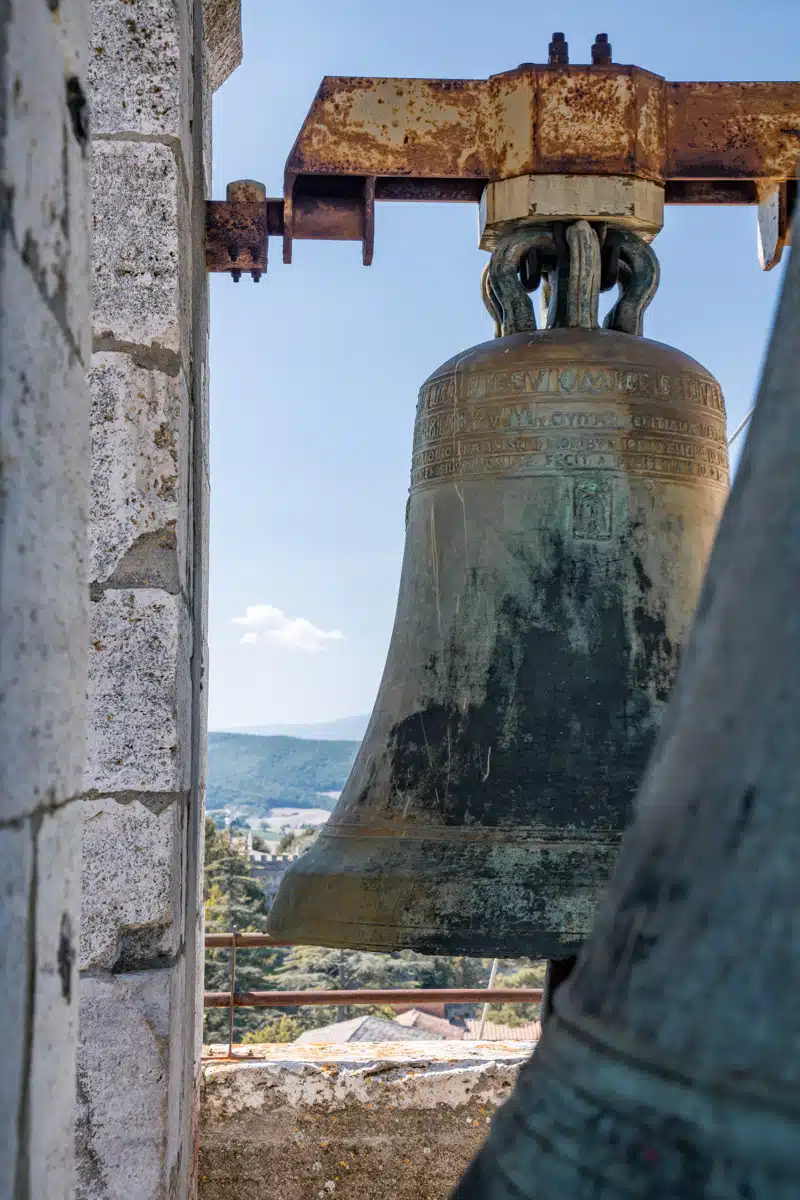 You might have spied the Sanctuary of the Madonna di San Biagio from the top of the tower of the Palazzo Comunale. Now it's time to see it up, close and personal.
Sitting just below the city walls at the end of a line of beautiful Cypress trees, San Biagio is a stunning Renaissance-era church that draws in the crowds.
It's not hard to see why. Honey-covered brickwork rises to a beautiful domed top and its Sangallo design dates back to 1518. With its Greek-influenced design, it feels more classical than other Tuscan churches of the era.
Brilliant Things to See & Do in Montepulciano
Visit Montepulciano's Underground Wine Cellars (Including Contucci Winery)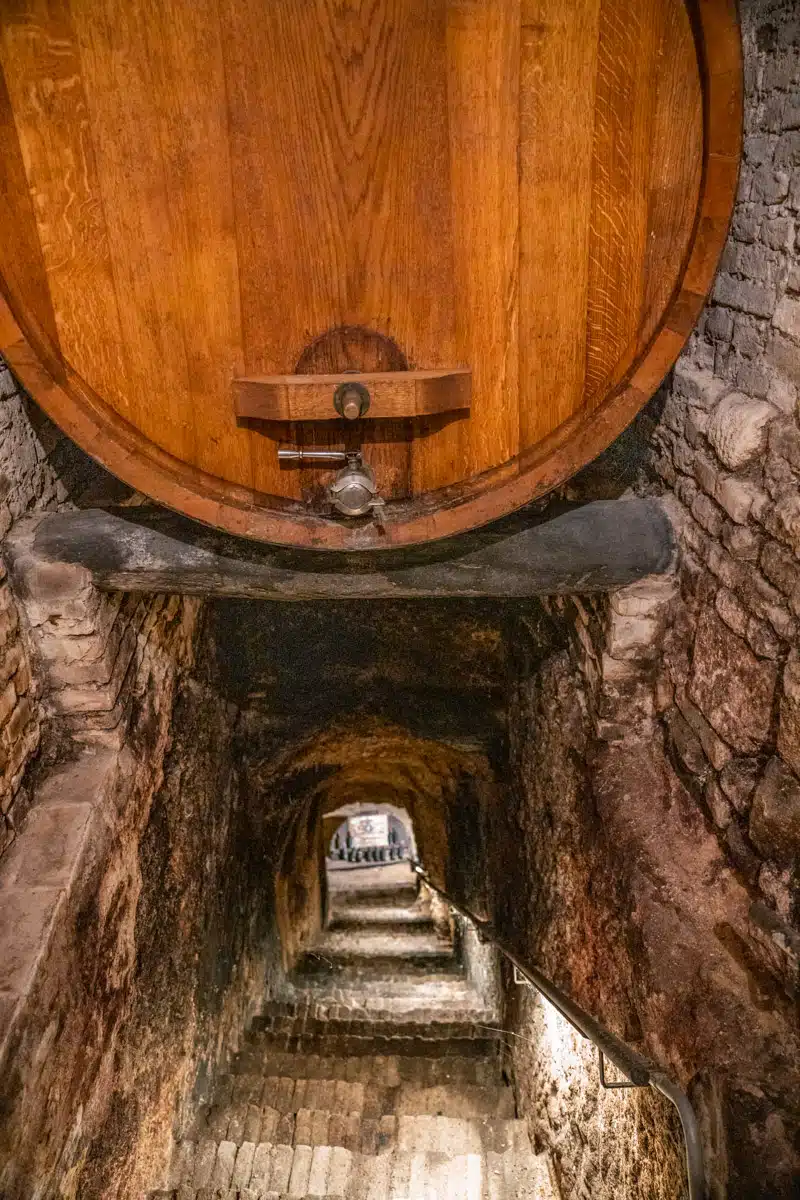 Montepulciano's wine scene isn't restricted to the verdant vineyards surrounding the town – it also manifests itself in a number of stunning underground wine cellars from some of the town's oldest wineries. Visit to work your way through some of the region's extensive range of wines.
My favourite was the Contucci Winery, a labyrinth of barrel-filled tunnels only a few dozen steps from the Piazza Grande.
You can take a peek without having to book onto a tour, but given the unique location, I'd recommend a tour and tasting – it's the perfect location to savour their Vino Nobile di Montepulciano. Other underground wine cellars to visit include Avignonesi and Boscarelli.
Walk to Montichiello
Montepulciano is so captivating that it can be easy to forget that it sits at the heart of the equally stunning Val D'Orcia – the perfect setting for a leisurely stroll.
My favourite is the 8km trail from Montepulciano to the nearby walled hamlet of Montichiello, it is one of the best ways to experience this gorgeous slice of Tuscany at your own pace.
Pack a picnic, and you can choose to stop at a winery and sample a glass or two of the local tipple while walking along the cypress-lined avenues and peaceful country lanes.
Top Tip
Once you arrive at Montichiello, you can choose to go on another 5km to the town of Pienza through the Val D'Orcia, or, if you have engaged the services of a local guide, enjoy another glass of wine before taking an arranged minibus back to Montepulciano.
Go Ballooning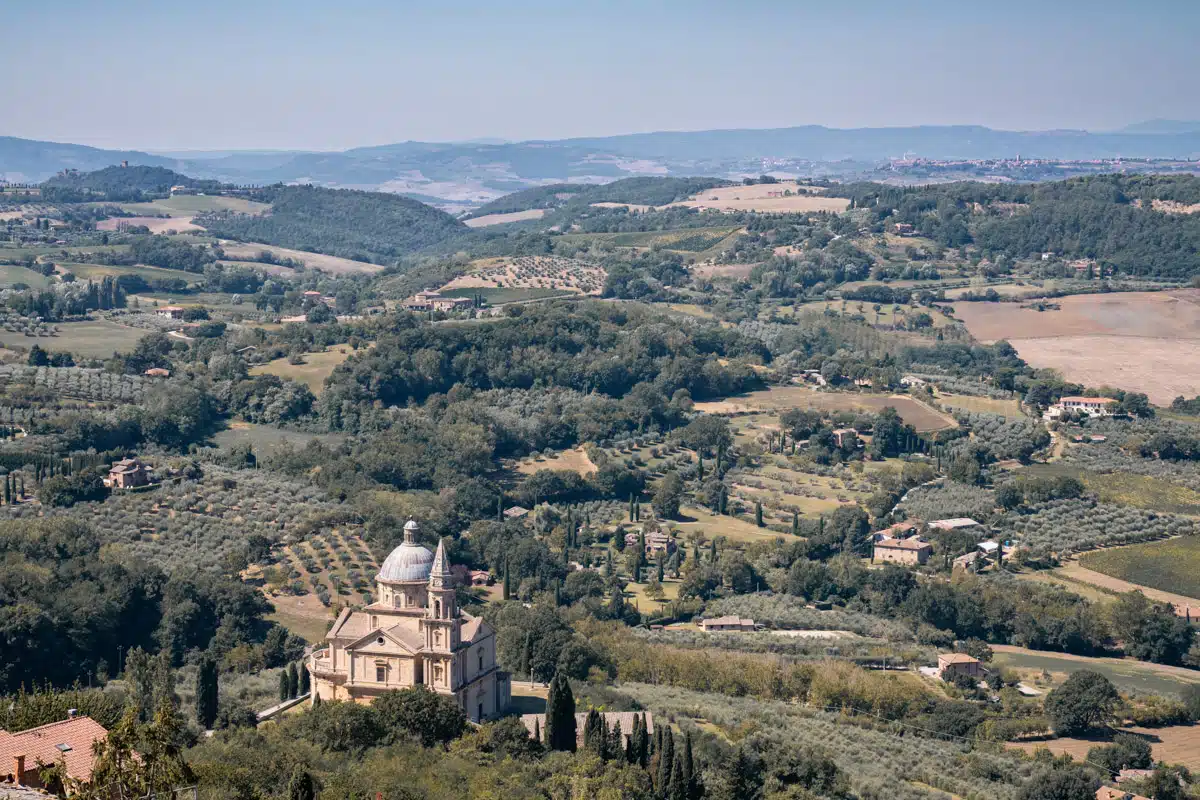 Seeing an area of interest from upon high cannot be beaten. Seeing Tuscany from the tranquil surroundings of a hot air balloon is unbeatable. Montisi, just north of Montepulciano, is the local ballooning base.
Although I didn't experience it myself, I've heard great things about their dawn ballooning adventure that ends with breakfast and sparkling wine.
The views are stunning, taking in wildlife, including wild boar and deer, as well as the various gorgeous towns and villages dotted across the Val D'Orcia. After the flight, Montisi is worth exploring, with inns, taverns and two beautiful but tiny Romanesque churches.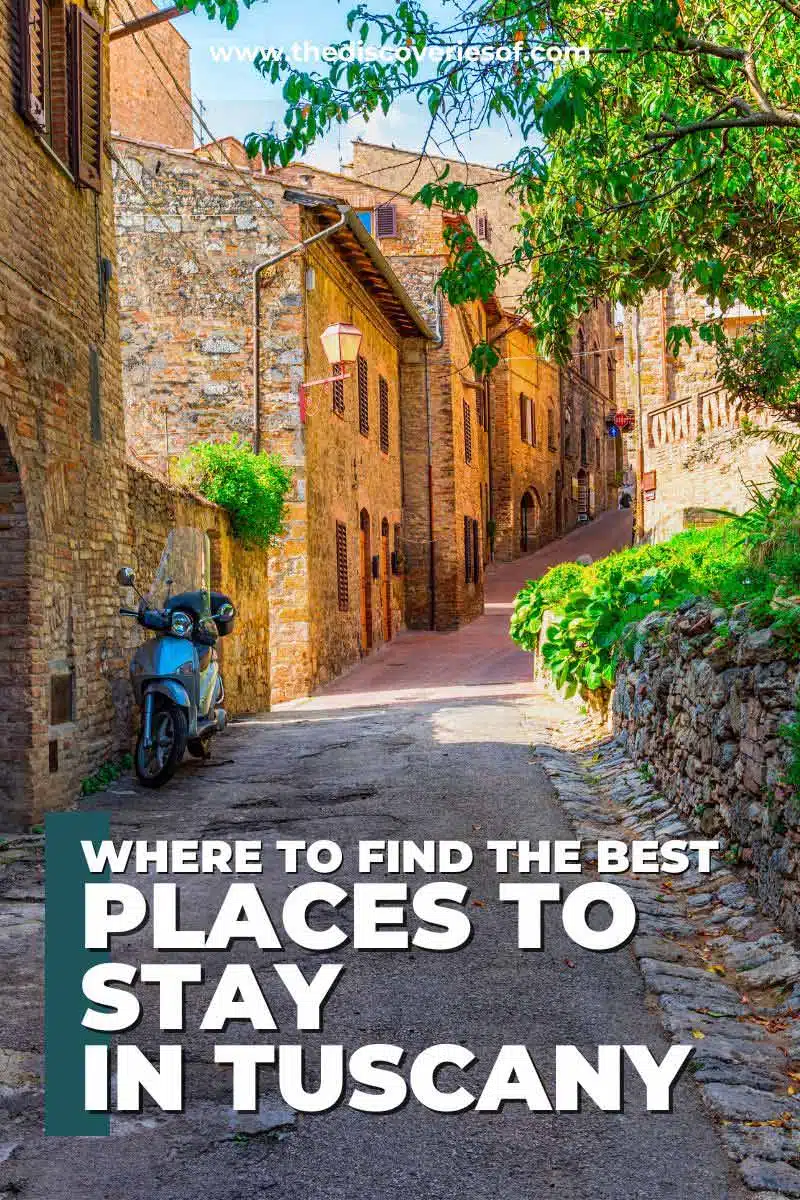 Must-Try Bars & Restaurants in Montepulciano
Le Logge del Vignola
Long renowned as one of Tuscany's best restaurants, Le Logge del Vignola is the star of Montepulciano's dining scene.
Although they do have a comprehensive a-la-carte menu, I strongly recommend putting yourselves in the hands of the head chef, Carlo Gutierrez and letting him curate a specialised 3- or 4-course tasting menu with matching wines.
La Bottega del Nobile
Located in the centre of Montepulciano, La Bottega del Nobile is a recently opened Enoteca restaurant that combines fresh local produce with some of the best Nobile wines from the region. If you've had your fill of vino, don't worry; they have bubbly gins and vodkas aplenty to choose from.
A wise-ranging charcuterie board or bowl of fresh pasta perfectly accompanies the tasty wines and drinks on offer.
Osteria Del Conte
Located near the Medici Fortress and Sanctuary of San Biagio, Osteria Del Conte is a gorgeous family-owned restaurant offering genuine Sienese cuisine by Lorena and her son Paolo.
Menu highlights include the Grilled pecorino cheese and ham starter, while the Bavette pasta garnished with black truffle is an evening meal wonder.
If you have room for more, try the grilled lamb and the sauteed beans in olive oil on the side for something truly spectacular!
Best Hotels in Montepulciano
Albergo Il Marzocco
Located within the city walls of Montepulciano, the Albergo Il Marzocco is the city's oldest hotel and arguably its best. Classically designed rooms include city views on one side and across Lake Trasimeno on the other. If your budget can stretch to one of the rooms with a balcony or terrace, I thoroughly recommend you do it. You won't be disappointed!
Terra Antica – Resort, Winery and Spa
The Terra Antica Resort, Winery and Spa is a modern hotel with classical design features about 3 miles east of Montepulciano city centre. The hotel features all mod cons, including WiFi, flat-screen TVs and private bathrooms, including bidets as standard.
There's a sauna, hot tub, spa facilities and a beautiful infinity pool overlooking the Tuscan countryside. The hotel provides car and bicycle rental services to help you explore the local area.
Palazzo Carletti
The Palazzo Carletti is a stunning hotel bang in the heart of Montepulciano's city centre. The hotel is a repurposed Medieval building, but it still contains its original frescoes, high ceilings, and unimpeachable views across the Chianti Valley and Lake Trasimeno.
Each room is uniquely designed with separate sleeping and living areas. If you can stretch to a room with a Turkish or spa bath, it is worthwhile to help soothe aching feet after pounding Montepulciano's ancient, undulating streets.
Montepulciano: Practical Tips for your Trip
How Long to Visit in Montepulciano? 
It is possible to spend a day visiting Montepulciano and take in all of the town's charms. However, it can get busy during the day in high summer, so I recommend taking two or three leisurely days here to enjoy things at your own pace, explore the extensive local wines, and wander or cycle through the local countryside.
Best Time to Visit Montepulciano?
As with anywhere else in Tuscany, the best time to visit for good weather is between March and October. If you don't want to be caught among armies of tourists, you should visit earlier or later in the season, during April or September, when it's less busy but still at its most beautiful.
Where Should I Stay in Montepulciano?
The centre of Montepulciano is the perfect base. You can explore the town on foot and be close to its incredible range of restaurants and wineries.
How to get to Montepulciano?
The easiest and quickest way to get to Montepulciano is by hiring a car and driving. There are irregular bus services that link the town with Florence and Siena, while there is a small rural train station a couple of km outside the city. An hourly bus service runs from nearby Chiusi station on the mainline between Rome and Florence. 
Things to Do in Montepulciano: Map
Love This? Save and Share on Pinterest