Planning a trip to Tuscany? Don't leave Cortona off your list. Grand architecture, stark valleys and hills, and a history dating back thousands of years make this gorgeous town a must-visit. Explore with this Cortona travel guide.
Many villages in Tuscany win over tourists for their quaint, honey-coloured architecture looking out to the undulating hillsides of the Val D'Orcia – Cortona is not one of them.

Instead, the imposing stone buildings of Cortona stand proudly above long, low-lying plains filled with carefully plotted farmland that produces the rich ingredients that welcomely land on your plate each day.
I was surprised just how different Cortona felt to many of the other towns and villages I visited on my most recent trip to Tuscany last month. It sits just on the cusp of Tuscany, near the border with Umbria (another of my favourite Italian regions) and has a character all of its own.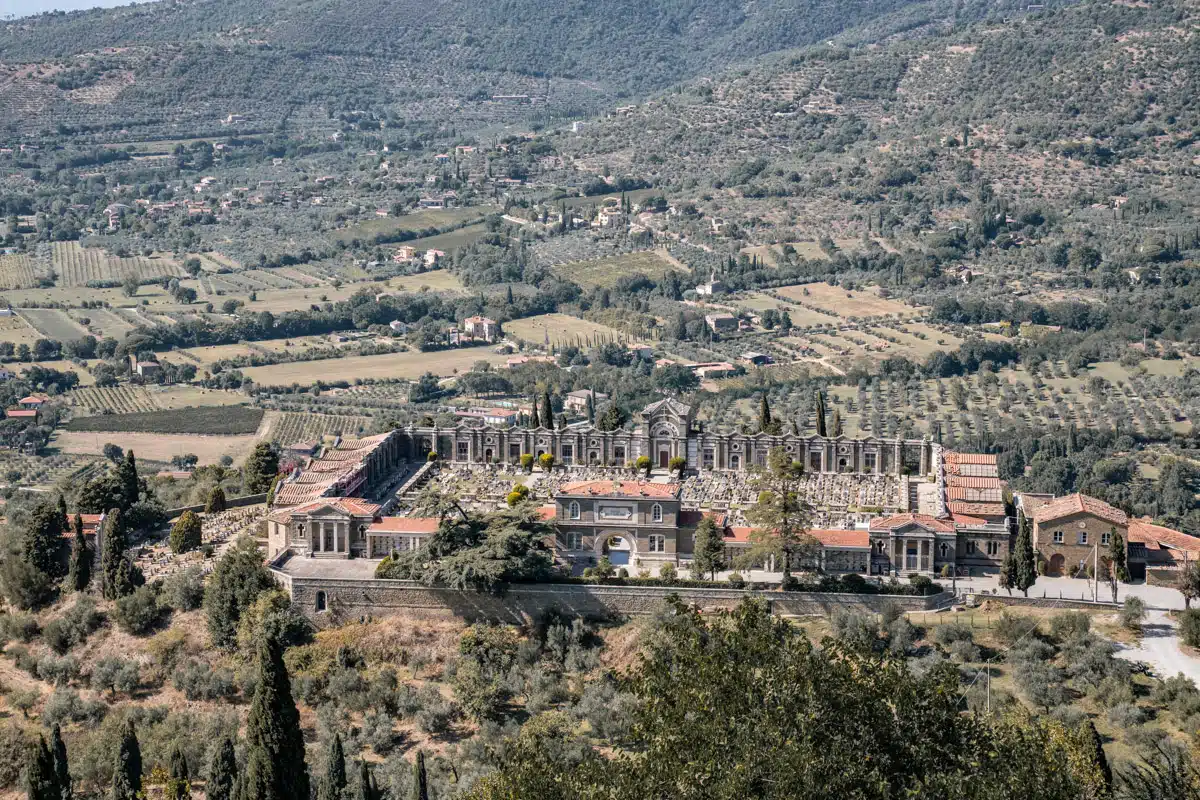 Cortona's history goes back thousands of years. In fact, most scholars believe it's older than Rome. Facts. The Etruscan heritage is strong, which you'll see when exploring some of the town's most famous (and lesser-known) attractions.
But which Cortona restaurants, museums, wineries, and hotels should you put on your to-do list? I'm here to help.
This handy travel guide breaks down everything you need to know to plan a visit to the storied town from Under the Tuscan Sun.
Stay in an ancient monastery, which is now one of the leading luxury hotels in Tuscany, at Monastero Di Cortona Hotel & Spa
Top 5 Things to Do in Cortona
Piazza della Repubblica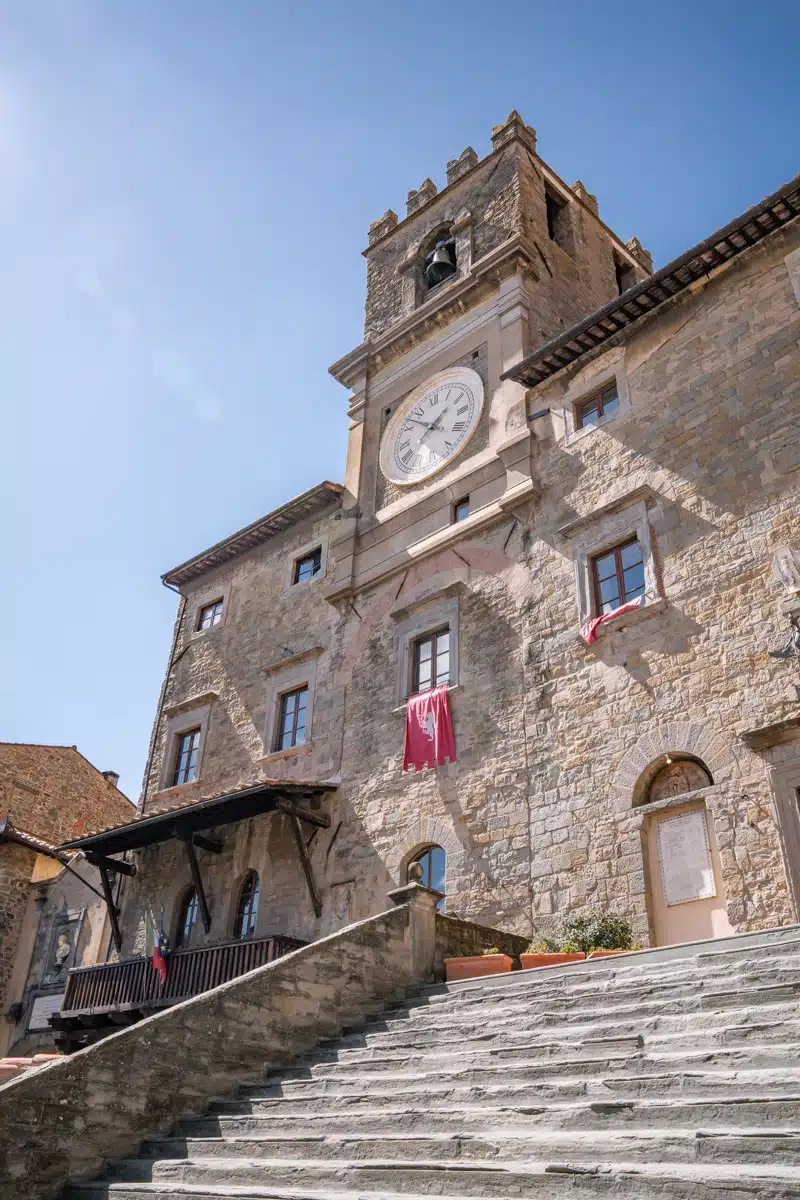 Visiting Piazza della Repubblica, it's easy to feel the history of the centuries-old streets and stone buildings in Cortona.

In reality, the town square dates back long before the medieval Cortona grey stone buildings, clock tower, and cobbled streets. It was once the town forum in Roman and Etruscan times – standing in the centre, I could well believe it.

There's a lot to love about the vibrant town centre, as it's home to plenty of shops, cafes, and restaurants lining the 13th-century square. Sit on the steps under the clock tower, or grab a snack and espresso at one of the sidewalk cafes and soak up La Dolce Vita, as you should, when visiting Cortona.
Visit the Bramasole (From Under the Tuscan Sun)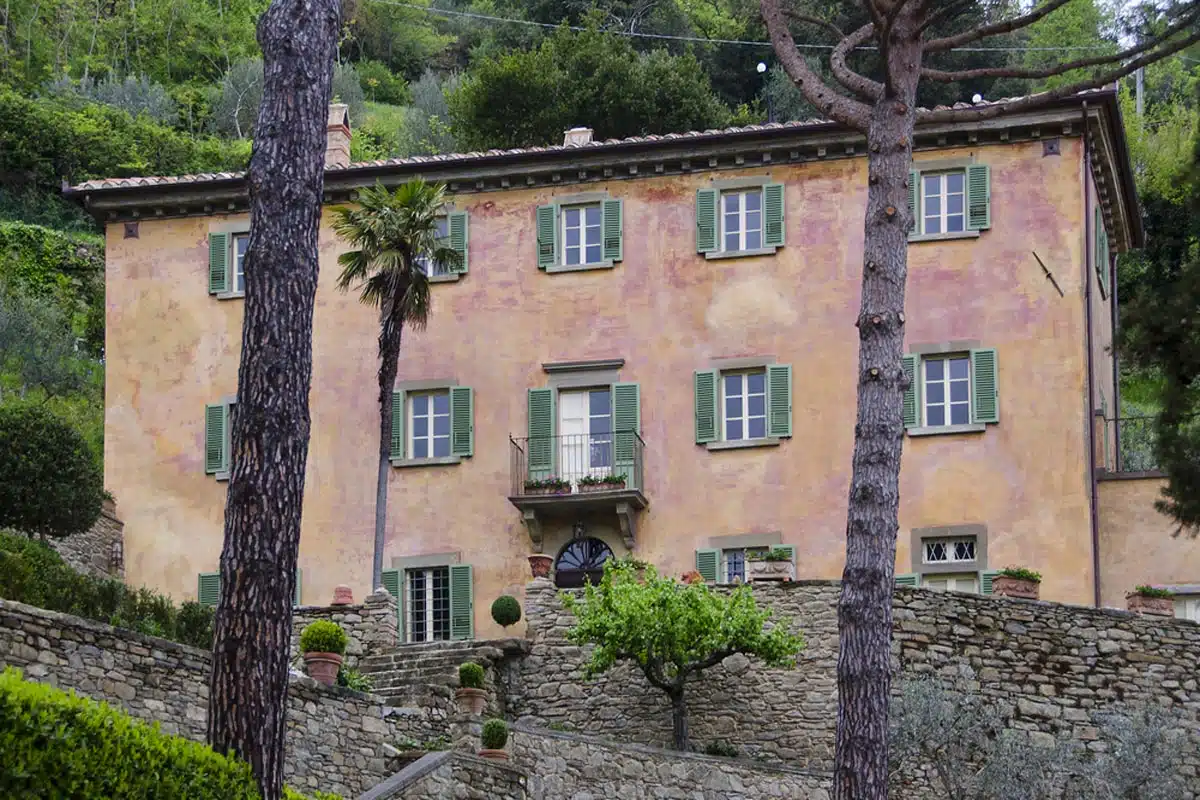 Frances Maye wrote her memoir Under the Tuscan Sun nearly 30 years ago, which became a blockbuster film in 2003.

While the movie centred around Diane Lane in a fictional narrative of the author moving to Cortona after a nasty divorce, the novel focused on another type of love story. One about a woman's (and her husband's) deep passion for restoring a villa in the Tuscan countryside.
Both stories are great – and centre around Bramasole – a 200-year-old farmhouse outside Cortana, which is pretty much the picture-perfect Tuscan country home.
You can't go inside the villa (unless you and Maye are friends). But if you walk from the town centre on Via Nazionale towards Basolato del Ghianda, you'll eventually take the quiet Localita Toreonne up to see the iconic estate.
Top Tip
The house used in the movie is actually another estate (Villa Laura), which you can rent on Airbnb for a few nights on your trip to Cortona.
Climb to the Fortezza del Girifalco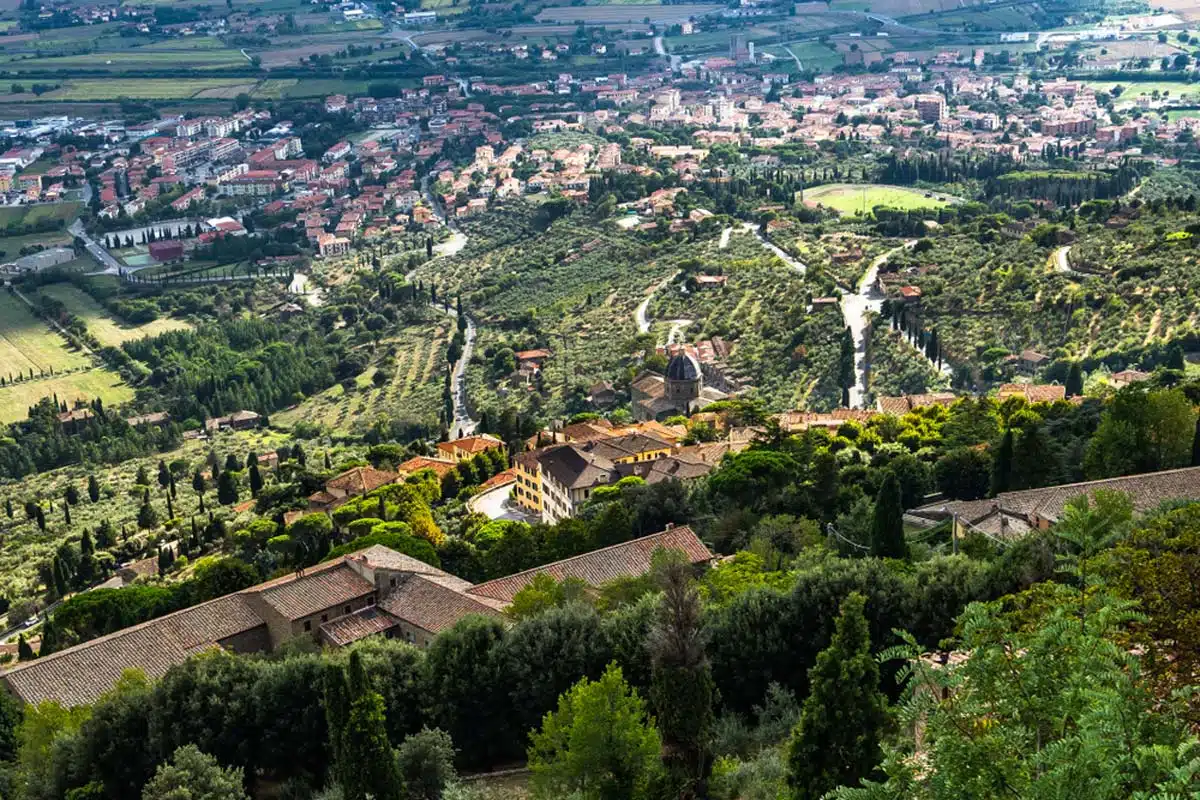 Look at a map of Cortona and you'll see Fortezza del Girifalco just west of the Bramasole estate.

You can access the 13th-century fortress (restored in the 16th century) from the town centre by taking Via S. Margherita to Via di Fortezza. Yes, it's a bit of a schlepp up to there but trust me, it is worth it.
Once you're there, be sure to take in the epic views of the mountains and valleys below from the ancient ramparts.
Top Tip
There is a lot of history around this site. Historians believe that Estrucans built a structure on this hill long before the mediaeval fortress, and you may notice some evidence of the ancient stone walls on your walk-up.
Visit the Museum of the Etruscan Academy Museum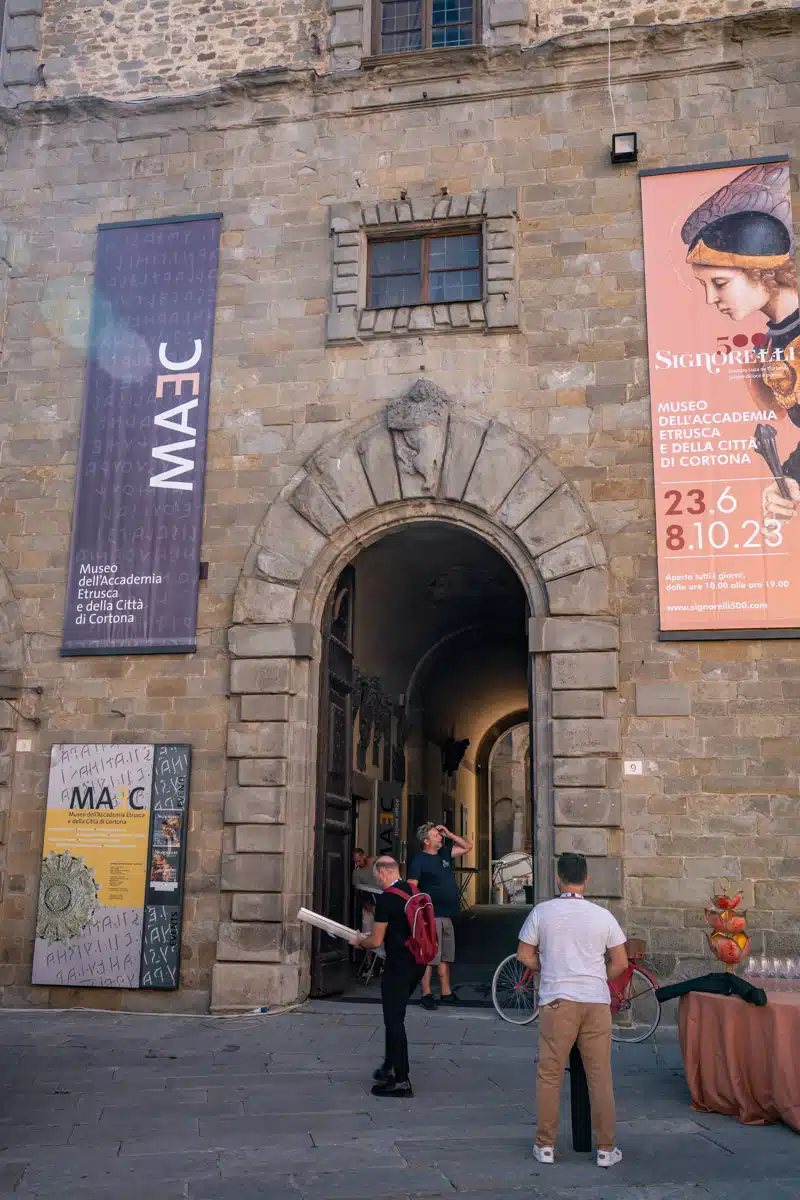 MAEC is the best place to learn more about the Etruscan history in Cortona, as it's mostly dedicated to the ancient culture that ruled Cortona before the Romans.
Located in an ancient stone structure up the road from Piazza della Repubblica, the museum is home to ancient artefacts from the Etruscans and Romans.
Top Tip
Many of the sculptures, vases, and paintings are worth taking in, but the Tabula Cortonensis is one of the more intriguing pieces in the collection. It's a 2,000+ year-old scroll written in the Etruscan language, which experts still aren't able to fully interpret.
Cortona Cathedral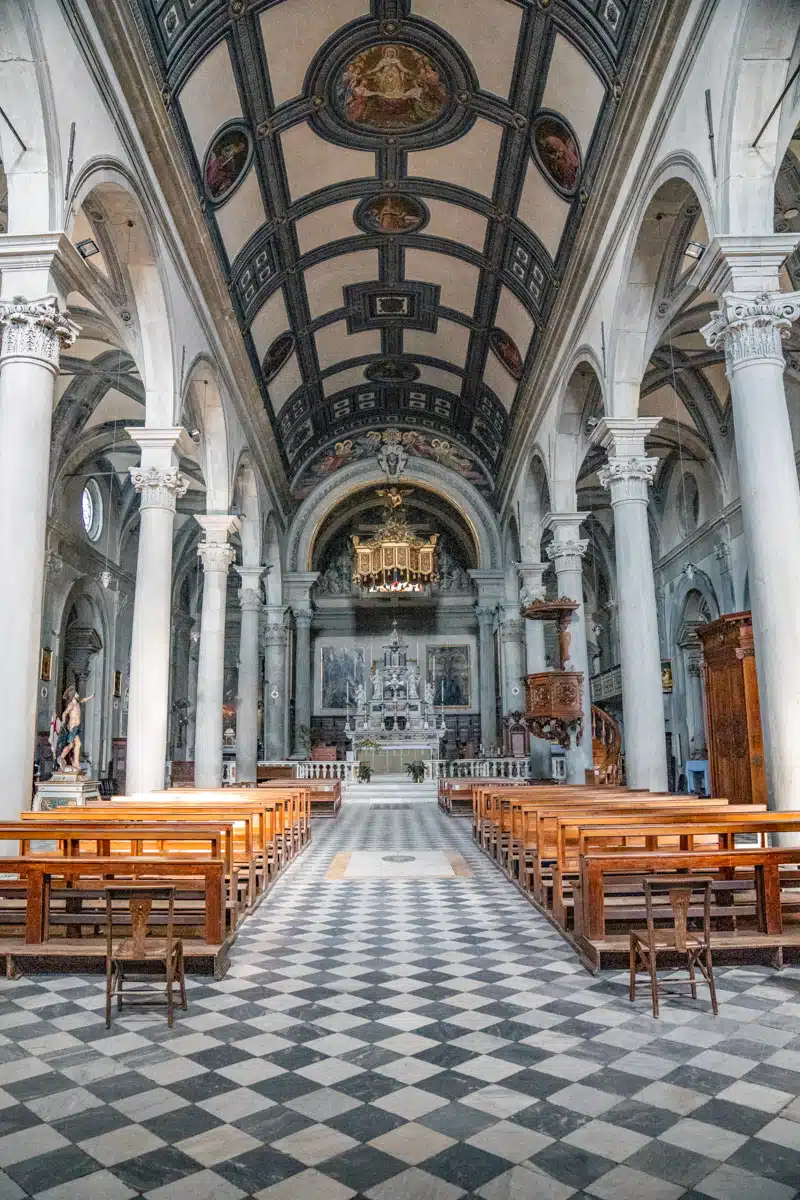 Around the turn of the 16th Century, the Cortona Cathedral went up on the northwestern corner of Old Town Cortona.
Set right on the cusp of the city, with views overlooking the valley below, Cortona's cathedral is unassuming and all the more charming for it. Where other cathedrals in Tuscany are constantly manned, with separate ticket offices and a lot of fanfare, I was able to simply pop into the cathedral and take a look around.
Featuring the famous Cortona grey stone on the exterior, the building is a tribute to the Assumption of the Virgin Mary.

The large pillars leading to the altar and several paintings are worth visiting (for free) on your trip to Cortona.
Brilliant Things to See & Do in Cortona
The Basilica of Santa Margherita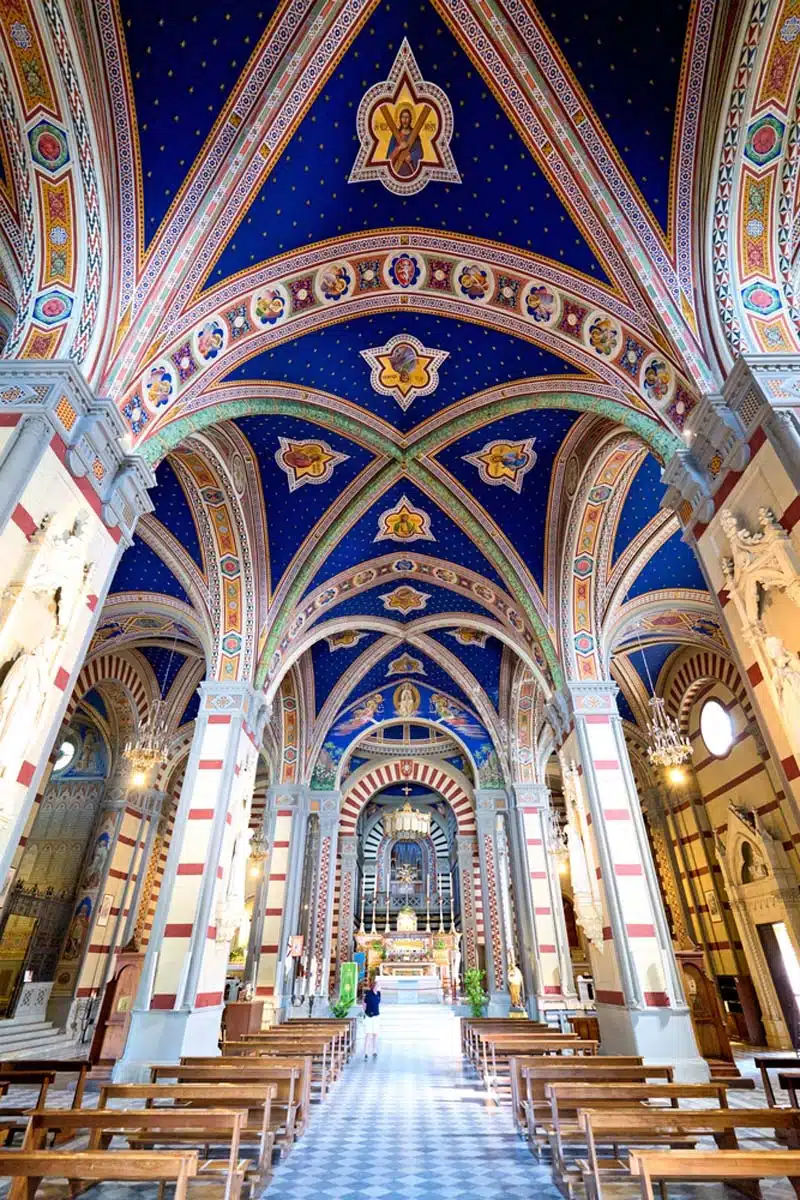 The Basilica of Santa Margherita is a famous religious site in Cortona and, for many, the most visually striking.

Step inside the 700-year-old building and pay attention to every detail of the Neo-Gothic Catholic church. They're legit impressive.

Renovations improved the condition of the basilica, and it's now most well-known for its two naves, elaborate murals on the vaulted ceilings, and oversized Romanesque columns.
Top Tip
The Basilica is just outside the city centre near Fortezza del Girifalco, so it's best to plan a walk over to both on the same day.
Wine Tasting at Cantina Baldetti
Cortona wine is famous for its rich flavours and high quality, which shows through the DOC wines you'll find in the region.

Though Sangiovese is commonly grown here, Syrah is where the wines really shine. Cantina Baldetti has led the way for generations and is now making an effort to take their wine-making techniques into the 21st century.

Visit the beautiful villa in the Cortona countryside and try the family-run winery's excellent Syrah and other reds on Monday through Friday from 10 am to 5 pm.
Tour the Sodo Archaeological Park
At Sodo Archaeological Park, you can find ancient tombs, Etruscan walls, and Roman ruins. Still an active archeological site, you can only access certain areas to see Estrucan ruins in Cortona.

It's most famous for the Tumulo del Sodo, burial mounds with a staircase that features stunning Etruscan craftsmanship.
Top Tip
Chat with the staff at MAEC to discuss a tour, as they do offer access to certain areas with advanced notice.
Cortona Cemetery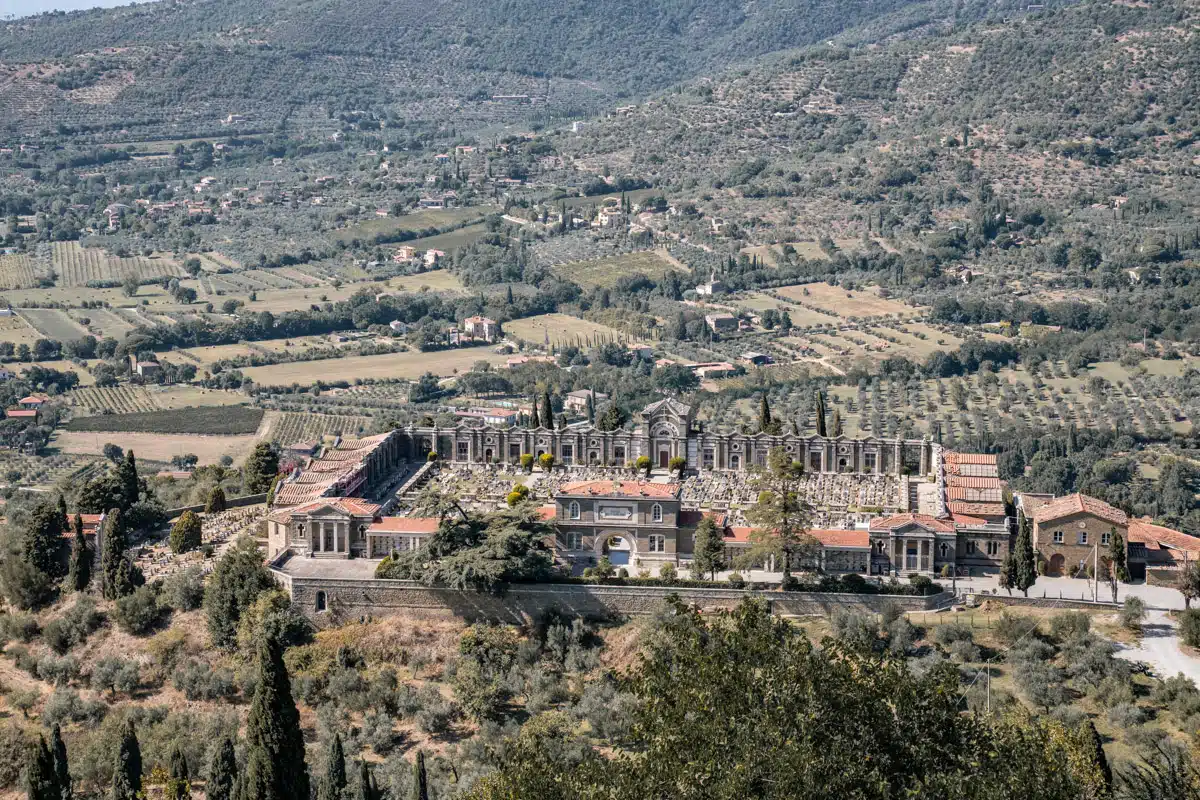 It might sound a bit macabre to recommend visiting Cortona's cemetery during your time in the town, but once you see the cemetery in question, you'll understand.
Nestled halfway up the hill to Cortona, the stone-walled cemetery is unlike any I've seen before.
First, there are the views, both up to Cortona itself and then down into the valley below. But then there's the cemetery itself – a maze of elaborate mausoleums and statue-topped graves. Spend a little time walking around in the quiet.
Must-Try Bars & Restaurants in Cortona
Ristorante IL Preludio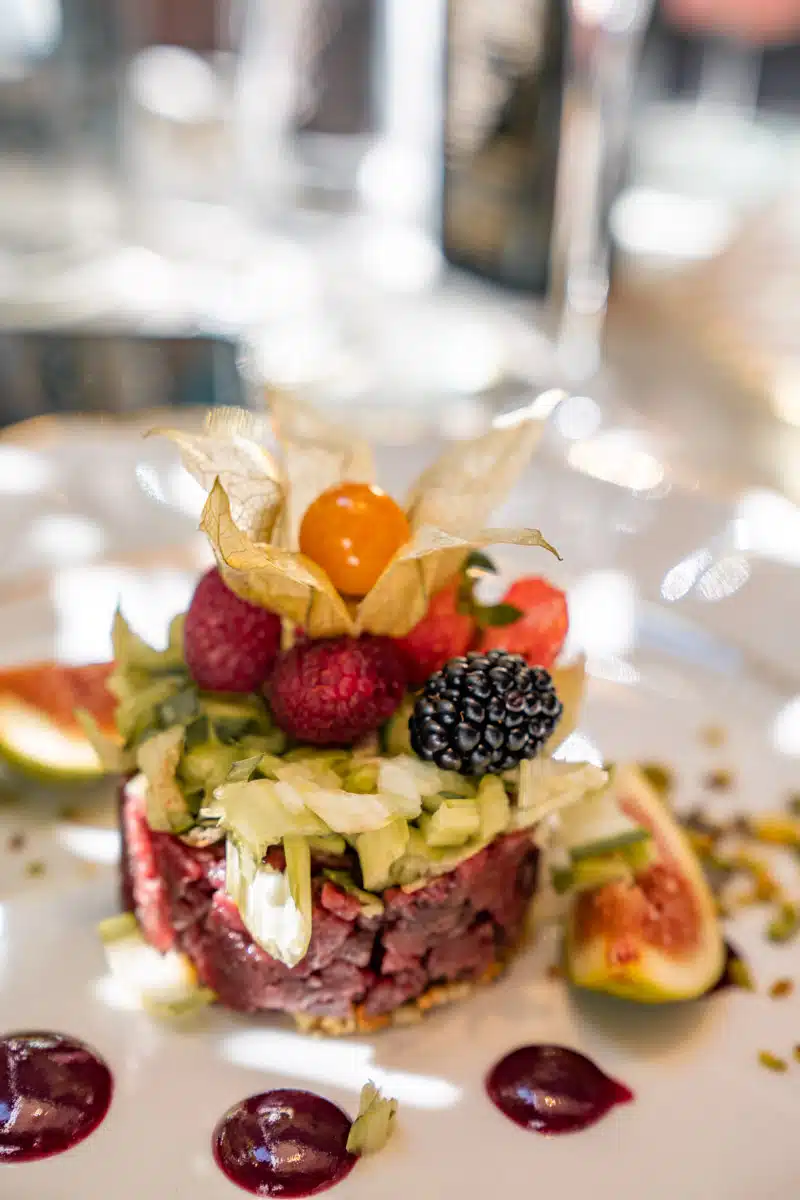 Ristorante IL Preludio is an interesting spot open for lunch and dinner, that's one of the more popular restaurants in Cortona, Italy. It's most famous for its dramatic interior and expansive menu.
While the interior is stunning, I grabbed one of the two tables outside for a spot of sunshine and people-watching and would recommend you do the same.

In all fairness, it doesn't always hit the mark – some of the food verges on the unnecessarily fussy. But Il Preludio's seasonal menus have their highlights, like the porcini tagliatelle and the bison tartare, which were both very good.
La Bucaccia – Da Romano
It's hard to narrow in on the best Cortona restaurants, there are more than a few. But La Bucaccia – Da Romano delivers on both ambience and cuisine – all at a fair value.
The ancient stone walls and views of the surrounding area are only outdone by the excellent handmade pasta and locally sourced meats of the finest quality.

Arrive hungry and listen to each and every recommendation from the cheerful owner in what might just be the best Cortona restaurant overall.
Osteria Le Rughe di Cortona
Enter into the mediaeval stone walls of Osteria Le Rughe di Cortona to enjoy some of the brightest flavours and presentations in town.

You'll need to grab your map of Cortona as this one is a bit removed from the city centre. But when you try dishes like risotto al chianti or pappardelle all'ocio, you'll be happy you found it.
Birrificio Cortonese
Sometimes, a no-fuss meal in a pub is just what the doctor ordered. Birrificio Cortonese is a lot more like a cheerful brasserie than a dimly lit dive bar – but the menu is very much gastropub.

Find familiar Italian classics like cured meats, cheeses, and lasagne alongside burgers and Bavarian dinners. And an excellent beer list allows you to take a break from all the great wine you'll enjoy on your trip to Tuscany.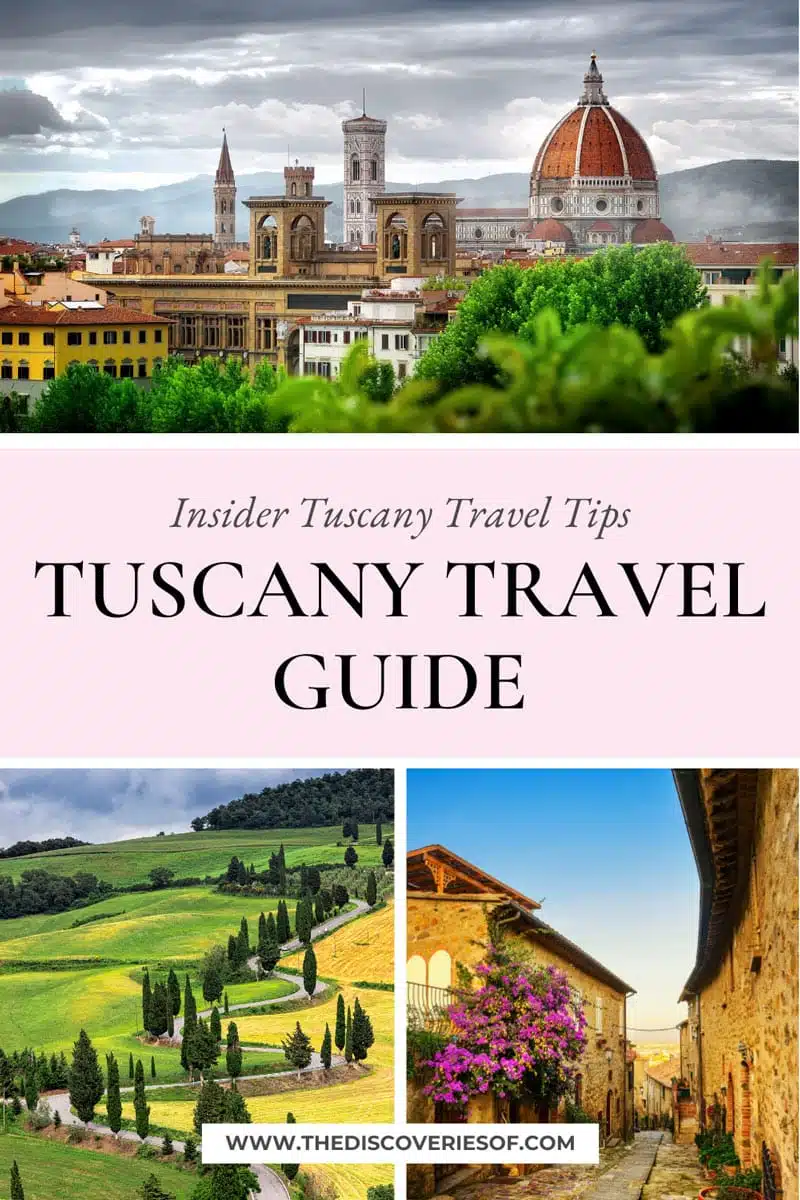 Best Hotels in Cortona
Monastero Di Cortona Hotel & Spa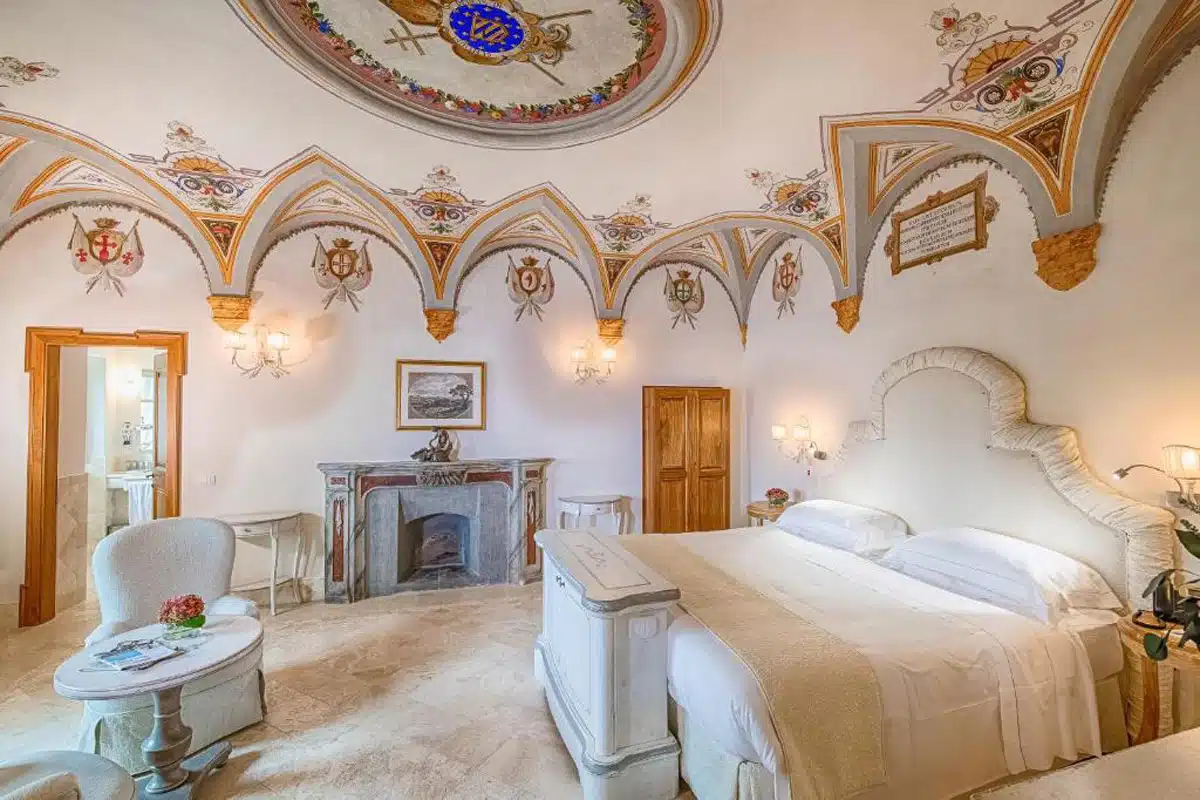 Friendly hotel staff, beautifully decorated rooms, and a luxurious lobby make Monastero Di Cortona Hotel & Spa my favourite choice when staying in Cortona.

I'm not sure which I'm more in love with – the outdoor pool overlooking the gorgeous interior courtyard or the spa pool inside. The latter features stone walls and vaulted ceilings that will legit transport you to another time.
Hotel San Luca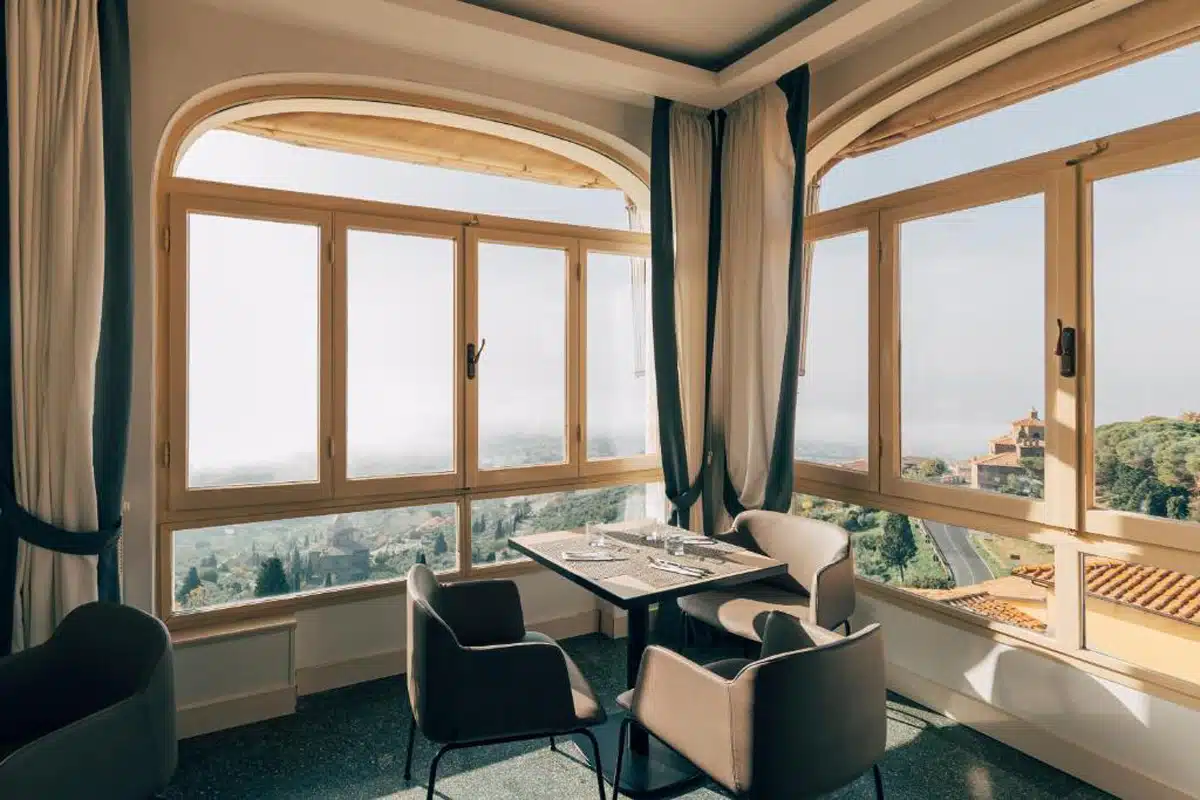 Hotel San Luca is nestled high up on the hillside in Old Town Cortona, within walking distance of many of the landmarks and restaurants in the city centre.
The rooms are a bit small but very comfortable. And if you're lucky enough to reserve a superior room, you'll take in some pretty amazing views of the valley below.
Hotel San Michele
Hotel San Michele sets you up in historical accommodations in the 15th-century Baldelli Palace in Old Town. Rooms have an old-world charm, with antique furniture and chandeliers adorning the historic residence.

Opt for the Apartment with a Terrace room, where you'll take in city views from a large outdoor balcony above Cortona's city streets.
Cortona: Practical Tips for Your Trip
How Long to Visit in Cortona?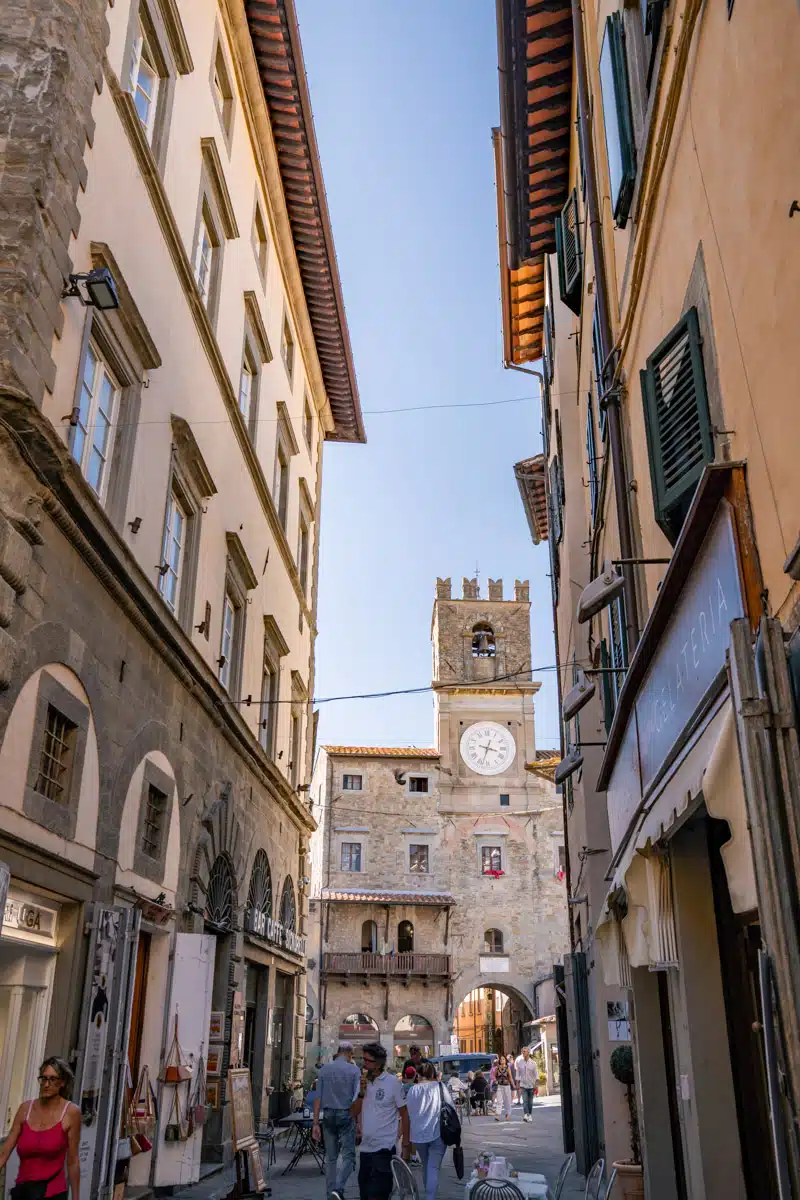 Cortona is a small town, but it's rich with history, culture, and cuisine.
If you want to visit the best restaurants in Cortona, give yourself enough time to tour a winery, walk the bustling Via Nazionale, and explore the town squares, allow at least 2-3 days.
Best Time to Visit Cortona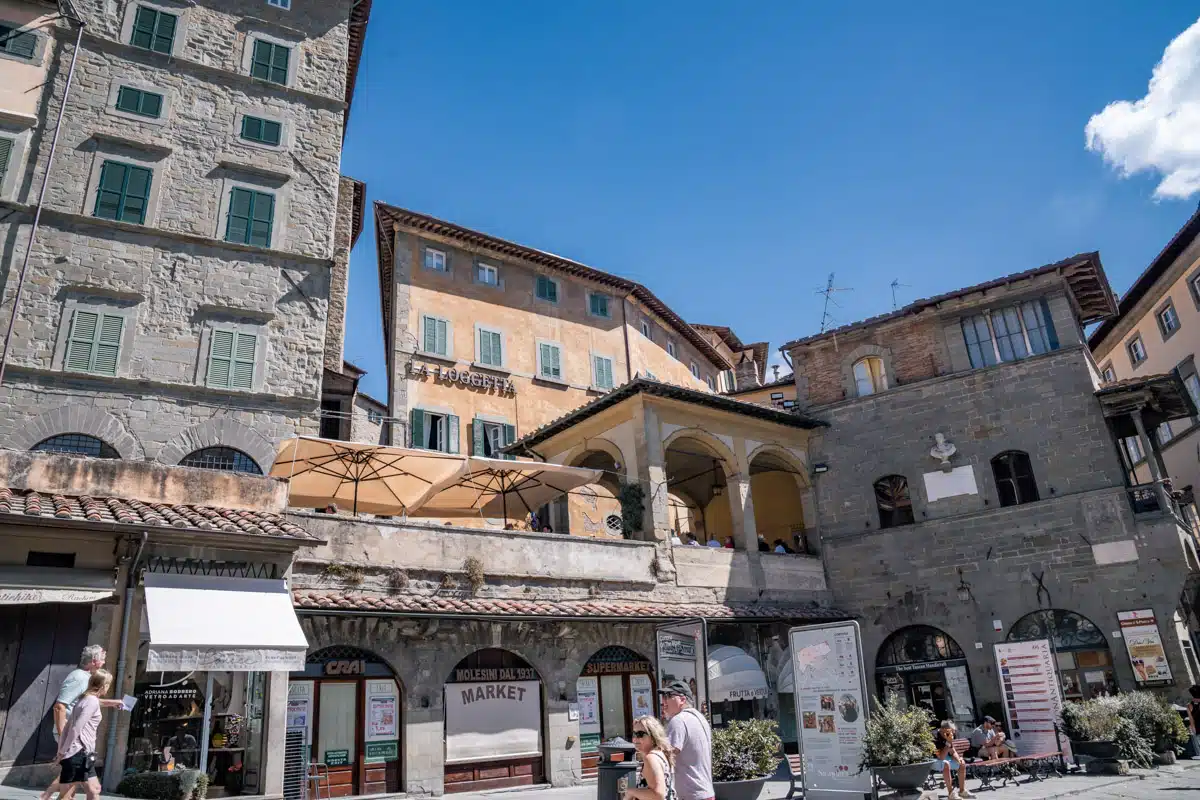 Cortona is firmly stamped on the tourist trail, albeit marginally less busy than some of the large towns in Val D'Orcia, like Montepulciano.
Early or late summer is a perfect time to go, with May being my favourite month to visit, especially if you plan to visit the more touristy areas.
Where Should I Stay in Cortona?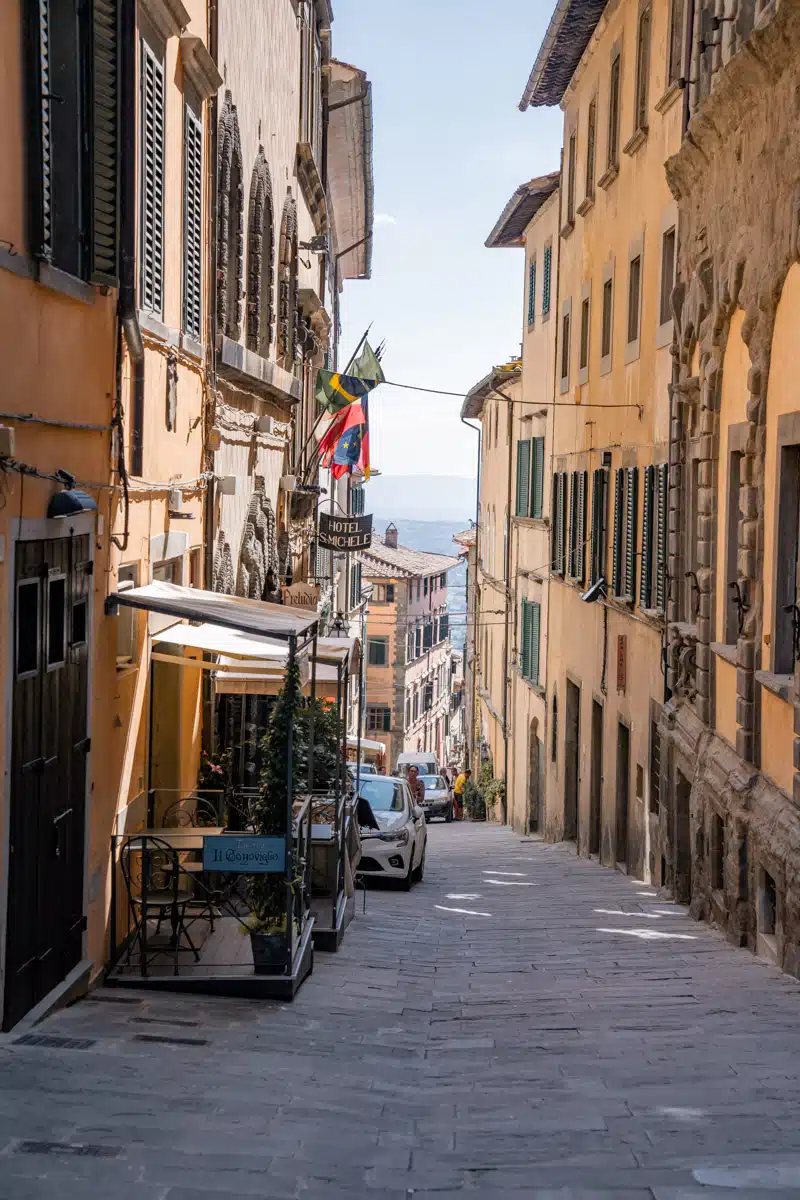 The city centre in Cortona offers excellent accommodations at reasonable rates. From here, you can hit up well-known landmarks and have access to the best Cortona, Italy, restaurants and bars.
How to Get to Cortona?
By Train
Take a train to the Camucia-Cortona station. From there, you can hire a taxi, take the bus, or (if you pack light) walk to Cortona in around 30 minutes.
By Car
If you're driving, there are a number of car parks dotted around the city's walls. Bring change as although they ostensibly take card, bring change as they can be temperamental. Go early if you can, the car parks do fill up quickly.
Things to Do in Cortona: Map
Love This? Save and Share on Pinterest!