A blend of Etruscan history and contemporary Tuscan charm, visiting Volterra is a must on any Tuscan trip. Discover the best of the city with this Volterra travel guide – explore Medici fortresses, Roman ruins and beyond.
For some reason, Volterra is sometimes overlooked by Tuscan travel guides. Well, you can be sure I'm not going to make the same mistake.
Rich in history, Volterra was one of the twelve main towns that comprised the Etruscan confederation at the start of the 4th century BCE. Many walls and gates built around this era remain in excellent condition, including the Porta dell'Arco, Porta Diana and the Acropolis and Roman Theater.
In addition to its centuries-old history, Volterra remains full of artisans hand-crafting alabaster objects for which Volterra is famous globally.
I spent a couple of days exploring Volterra on my most recent Tuscany trip – my only regret? Not visiting it sooner.
From the striking townscape topped with that iconic duomo dome to the warren of winding streets between honey-coloured buildings, Volterra is the definition of the Tuscan dream.
So, are you ready to explore one of the most beautiful towns in Tuscany?
Here's my guide for spending time in Volterra. Let's dive right in!
Top 5 Things to do in Volterra
Visit the Cathedral of Santa Maria Assunta & Baptistery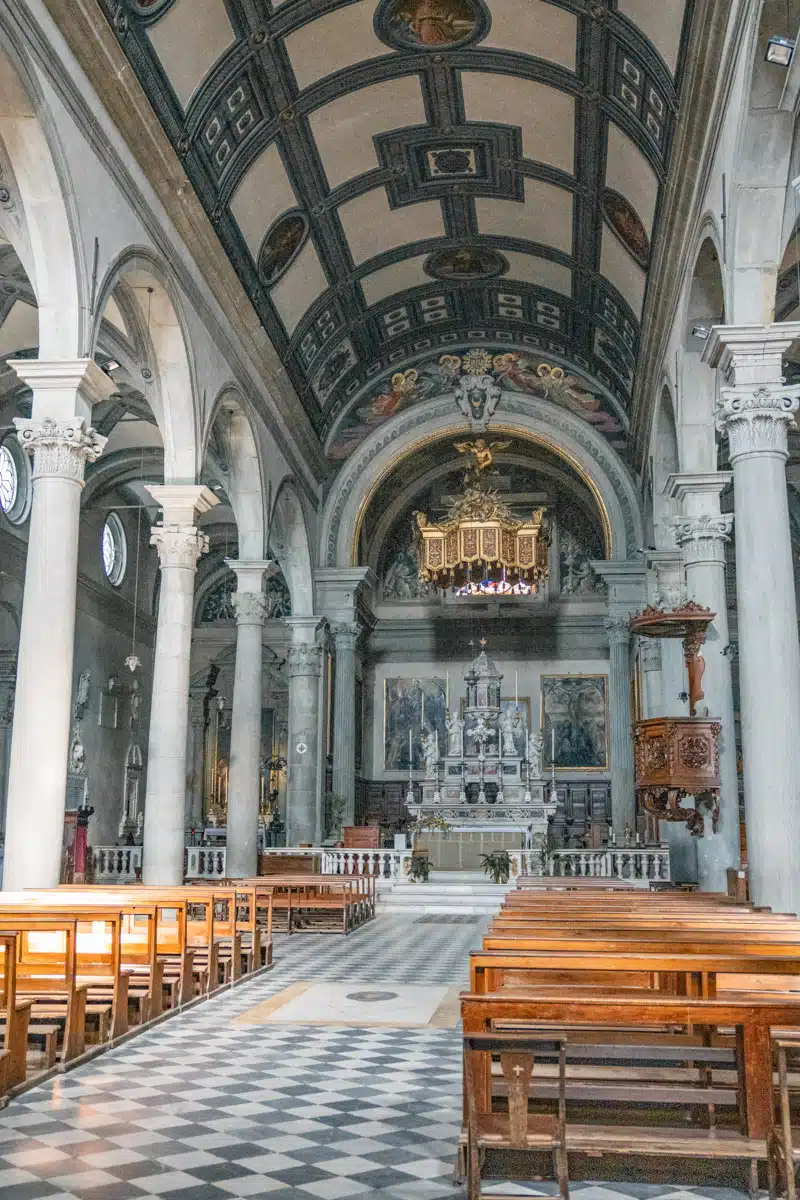 Although smaller than many other Tuscan Cathedrals, I think Volterra's has a solid claim to being one of the most beautiful.
Established in 1120, Volterra's cathedral's interior underwent a vast facelift during the Renaissance to provide the building with its alluring mix of Romanesque architecture, gilded ceilings and frescoed chapels from the late 16th Century.
Home to pieces by several renowned Italian artists, including Andrea della Robbia and Mino da Fiesole, I think Benozzo Gozzoli's incredible fresco dating back to 1479 is the best.
Once you're done in the cathedral, hop across the road to the gorgeous Baptistery. The baptistery dates back to the 13th century and includes an incredibly ornately sculpted marble baptismal font.
Top Tip
You can combine your visit to the civic hospital (below) with entry to the Cathedral of Santa Maria Assunta and the Baptistery next door for one ticket costing just €7.
Discover the Gems Hidden in the Civic Hospital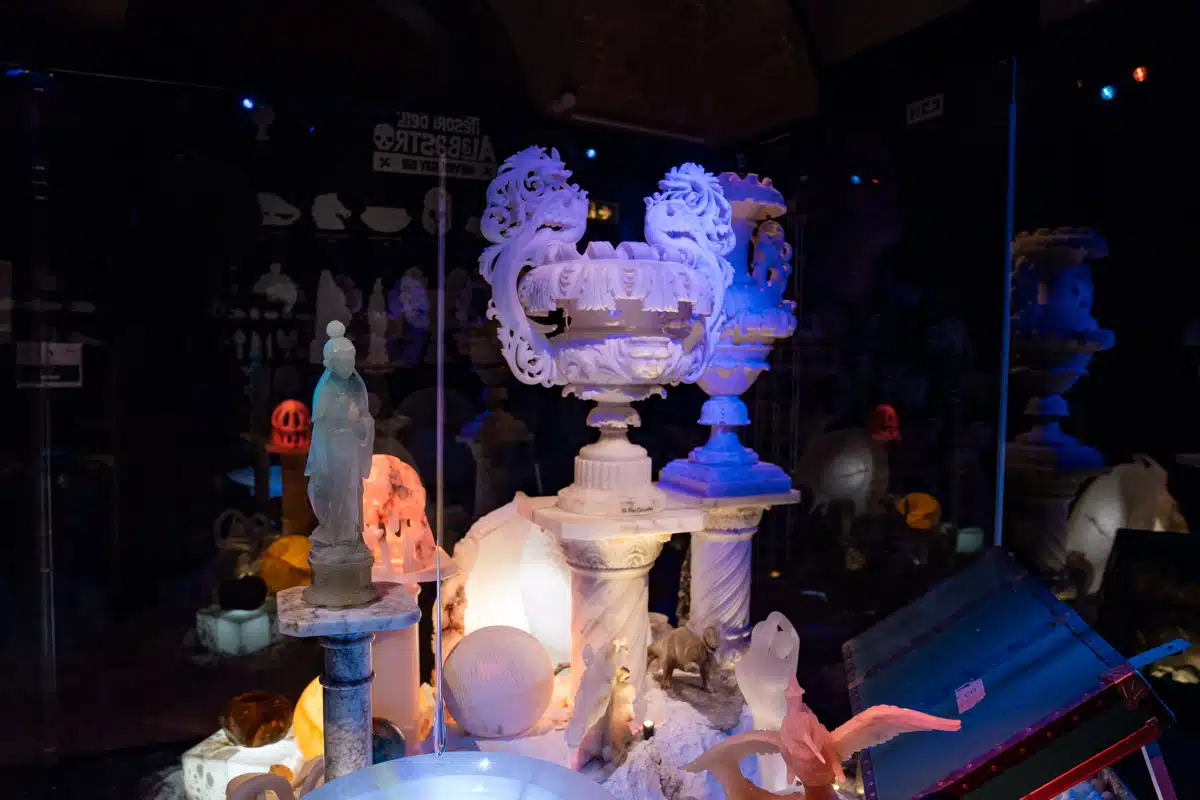 Mention of a civic hospital in Volterra was first recorded in the 12th century. Now, the civic hospital of Santa Maria Maddalena has been lovingly restored to become one of Volterra's most beautiful buildings. That's quite an achievement in a town full of stunning architecture.
This wasn't something I had high on my list – but thought it was worth checking out as you have to enter the building to buy your ticket to the cathedral anyway. I'm really glad I did, it's a gem hidden in plain sight.
I recommend spending at least half an hour exploring the labyrinthine building, with the remains of a Roman structure, thought to possibly be a water cistern, which later became an early Christian church.
Make sure you explore the exhibition centre, which contains incredible works from local and national artists, and the small Etruscan Museum. Don't forget to head up to the terrace for pretty views across the town.
Delve into History in the Etruscan Museum "Mario Guarnacci"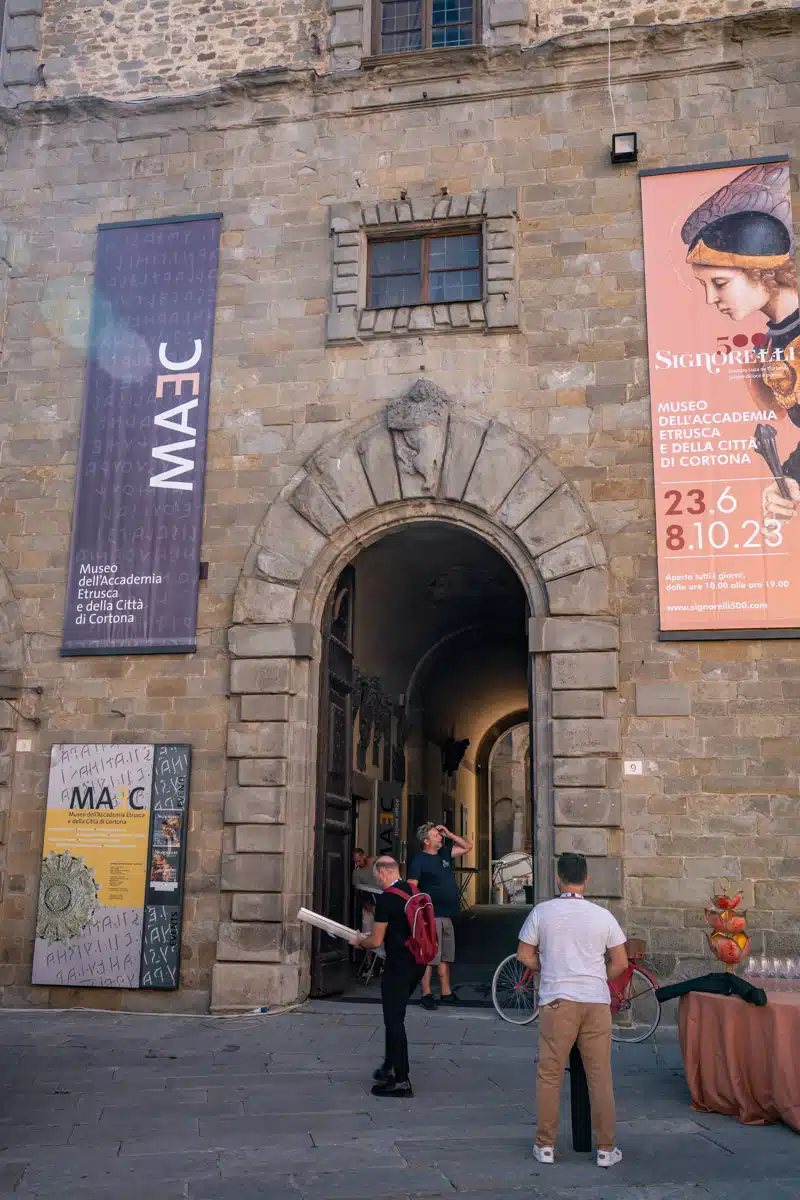 Sure, you'll find quite a few Etruscan museums dotted around Tuscany but you should make time to visit Volterra's.
The Etruscan Museum is one of the oldest public museums, having opened its doors for the first time more than 250 years ago by Mario Guarnacci in 1761.
Guarnacci donated a huge archeological collection built over decades, including Hellenic and Archaic funeral urns and a library of more than 50,000 volumes.
This collection adds tremendous richness to Volterra's cultural life, with highlights such as the Shadow of the Night, a long thin nude figurine carved out of bronze, and the Urn of the Sposi that dates back to the 1st century AC, a terracotta sculpture of an elderly couple laying side-by-side.
Don't miss the opportunity to visit some of Italy's finest, most ancient artistic relics, never mind Tuscany.
See The Medici Fortress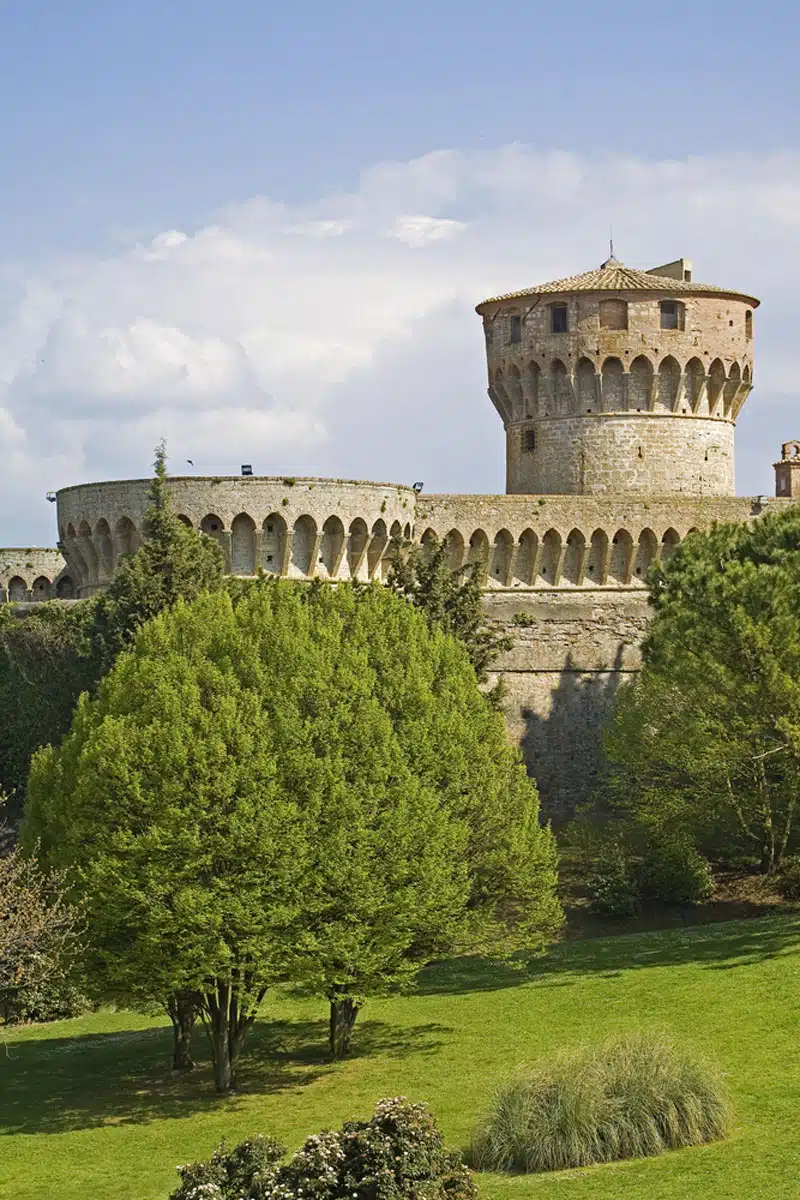 Volterra's Medici Fortress was built in 1474, two years after Florence conquered Volterra in a war over the nearby alum mines. Designed to protect the city and keep its inhabitants in check, it proudly overlooks the countryside and town.
Sadly, you won't be able to get inside as it's now a high-security prison. However, inmates participate in a rehabilitation project called "cene galleotte," producing stunning gourmet meals for the public to enjoy.
If one of these nights coincides with your visit, I recommend it for an evening meal with a twist!
Walk Around the Roman Amphitheater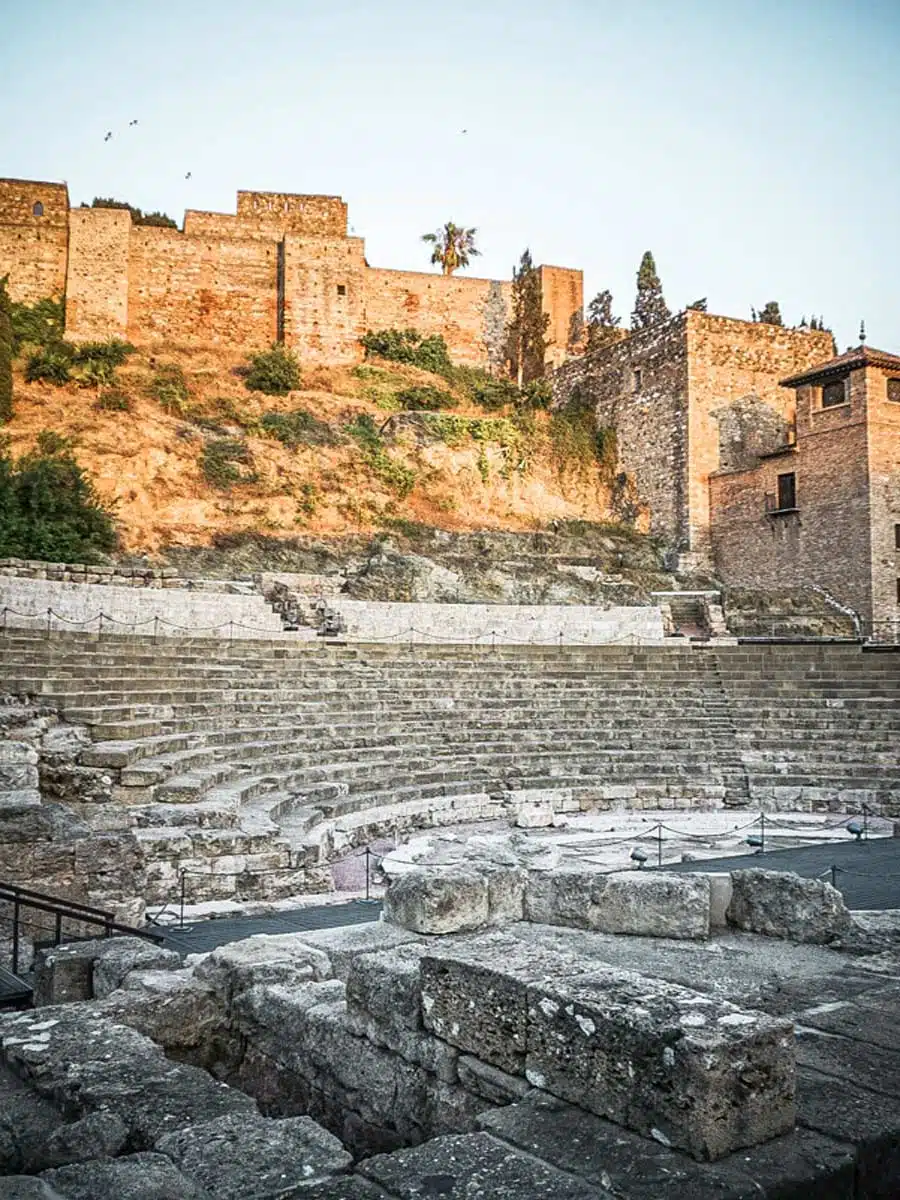 Nestled just outside the city walls by Porta Fiorentina, Volterra's Roman Amphitheater is one of the most beautiful still standing in Italy.
It was built in the 1st Century AD; you can still see remains of the theatre itself and the Roman baths that were built 300 years later.
After being used as a rubbish dump in the Middle Ages, painstaking excavations began in 1951 to uncover what's left of a stunning piece of Roman architecture.
Do
The arena is open daily between March and November and weekends only during the winter.
Brilliant Things to See and Do in Volterra
Visit the Piazza dei Priori with its Stunning Palazzo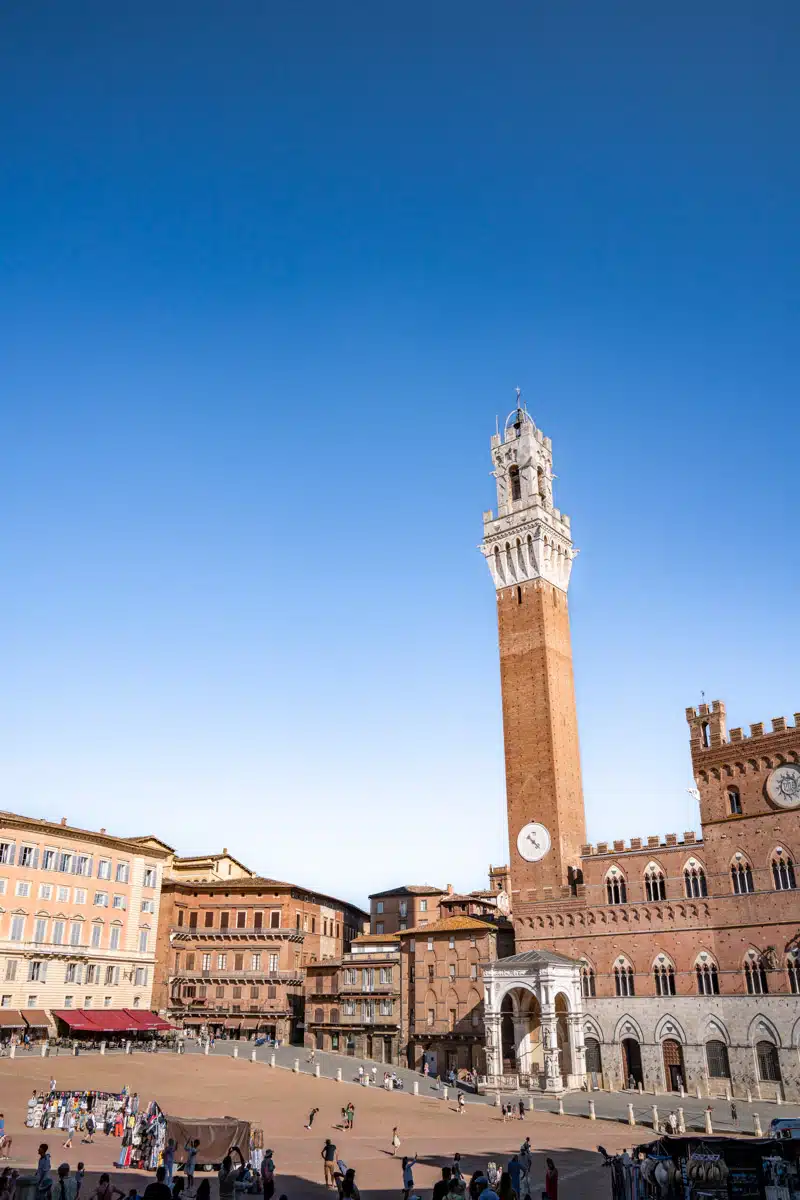 It's not a visit to a Tuscan town without a visit to the main square is it? Nope. Volterra is no different.
The main square in Volterra, Piazza del Priori, is surrounded by incredible medieval architecture.
Visiting is like being taken back to the Middle Ages as you navigate the narrow streets that lead into the square before taking out your (very 21st century) camera to photograph the beautiful buildings that surround you.
The Palazzo dei Priori is the oldest surviving town hall in Tuscany, although an earthquake destroyed its tower in the 19th century and it has since been rebuilt.
Top Tip
Keep an eye out for the tower on the Palazzo Pretorio, formerly the seat of Volterra's mayor, which has a wild boar made of stone at the top.
Walk Around the Etruscan Walls and Gates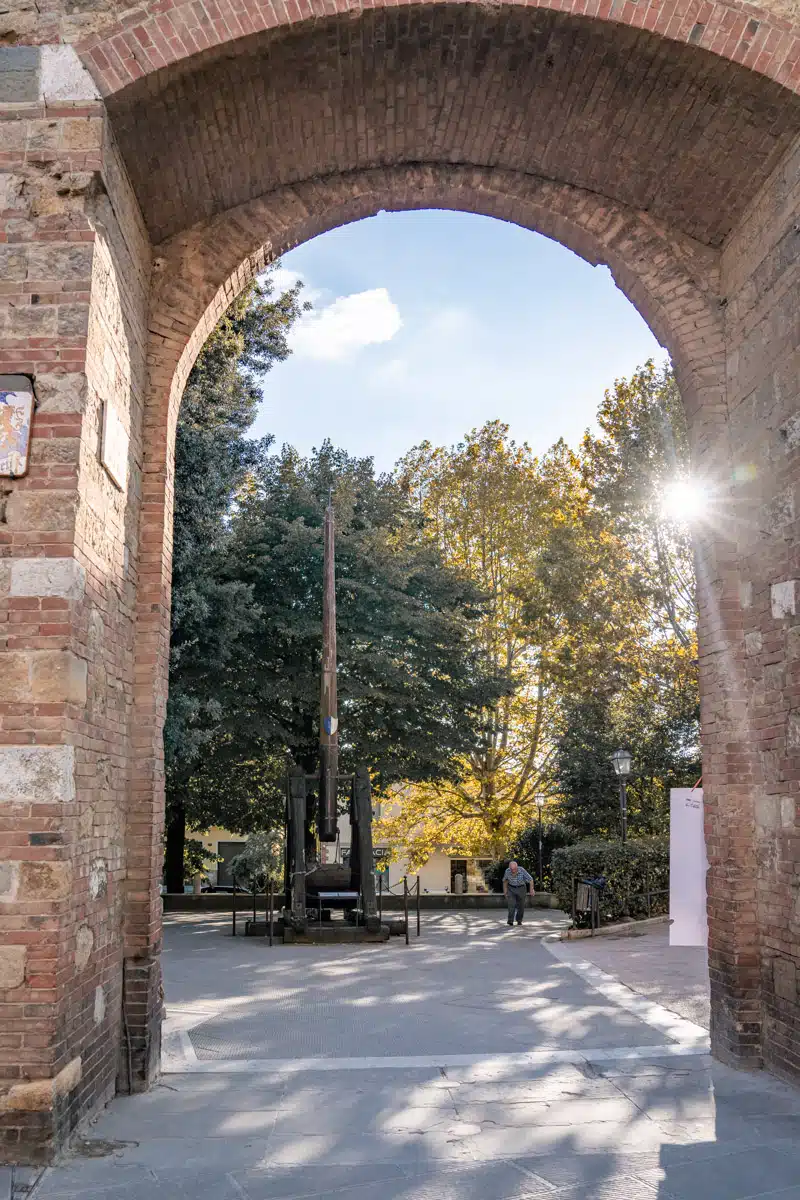 I think the best way to get a feel for any city is on foot, and Volterra is ideal for pedestrian exploration. If you make your way around the city walls, you can check out the differences in construction between the 13th and 16th centuries, when much of the wall was built.
Make sure you visit the stunning Porta all'Arco, the oldest city gate still standing and marvel at the 5th-century carved heads watching over you as you enter through.
Meanwhile, you can see traces of original frescoes at Porta San Francesco, while Porta San Felice offers unrivalled views of the Tuscan countryside that hug this beautiful city.
See The Etruscan Acropolis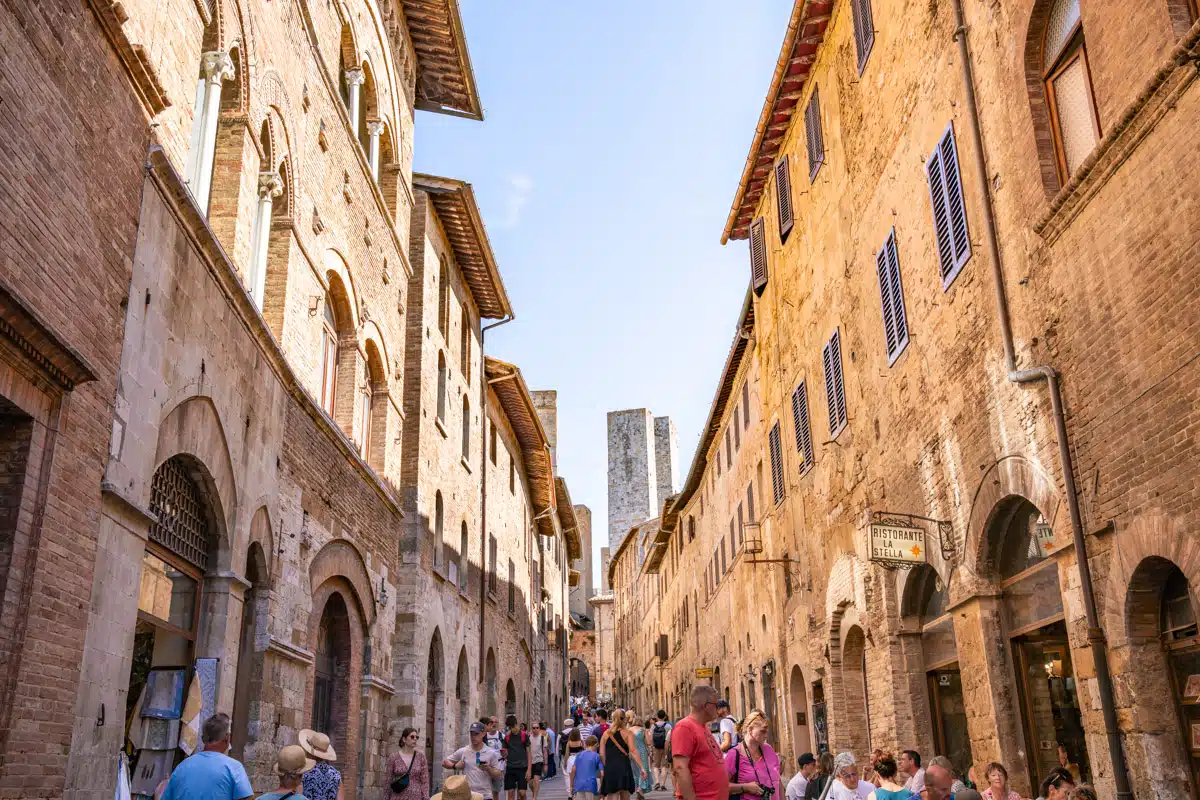 In a town stacked with ancient ruins, one of the most complete is the Etruscan Acropolis, which houses the remains of religious buildings dating from the Etruscan age through the Roman Empire to Medieval times.
In addition to the remains of a water cistern, there are two temple-shaped buildings. One dates back to the 2nd Century BCE, with the other more than 500 years older. If you are interested in history, this is the perfect place to mark the passage of time several centuries ago.
Take a Gruesome Walk Through History at the Torture Museum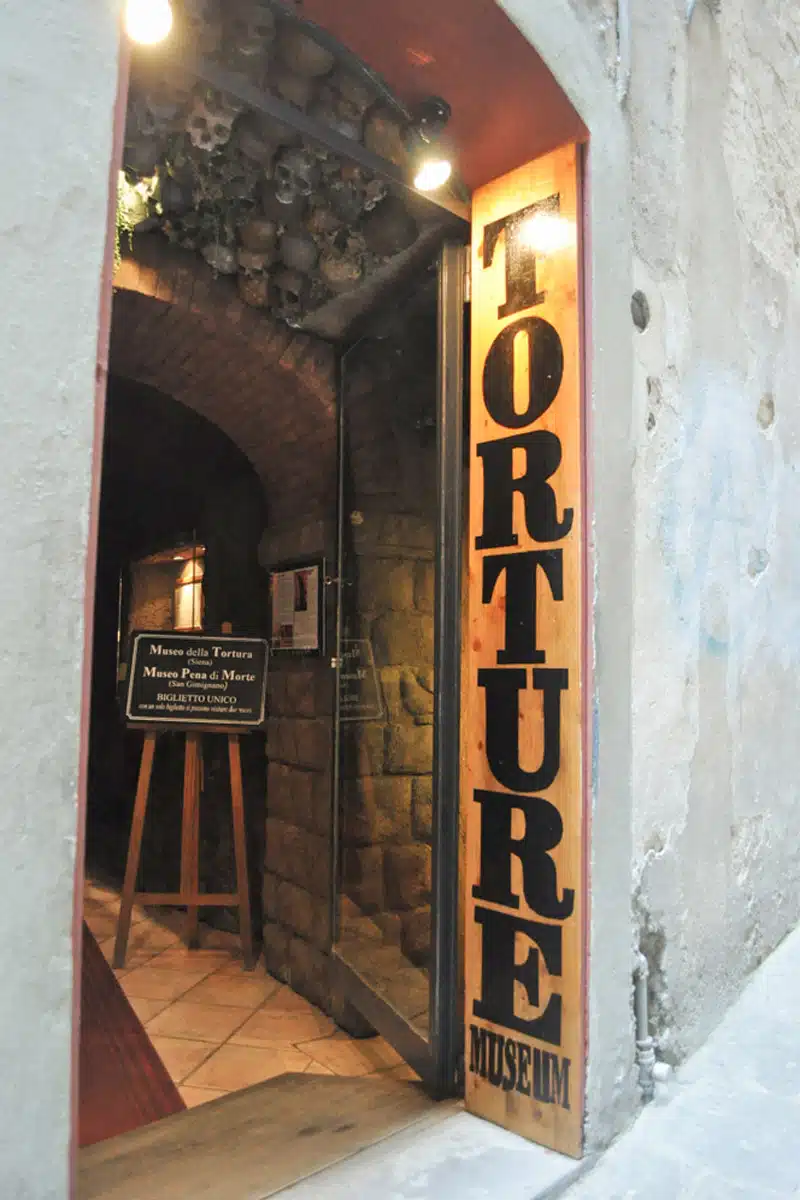 Okay, I'll grant you that this is a niche entry, but bear with me.
The Volterra Torture Mesum covers the history of torture punishments and execution methods from across Europe through reconstructions and authentic period pieces and allows you to trace how miscreants were dealt with down the years.
Some devices date back to the 16th and 17th centuries and are particularly gruesome. Others are less well-known but give an eerie insight into the human mind's capacity to inflict torture and pain.
Shop for Alabaster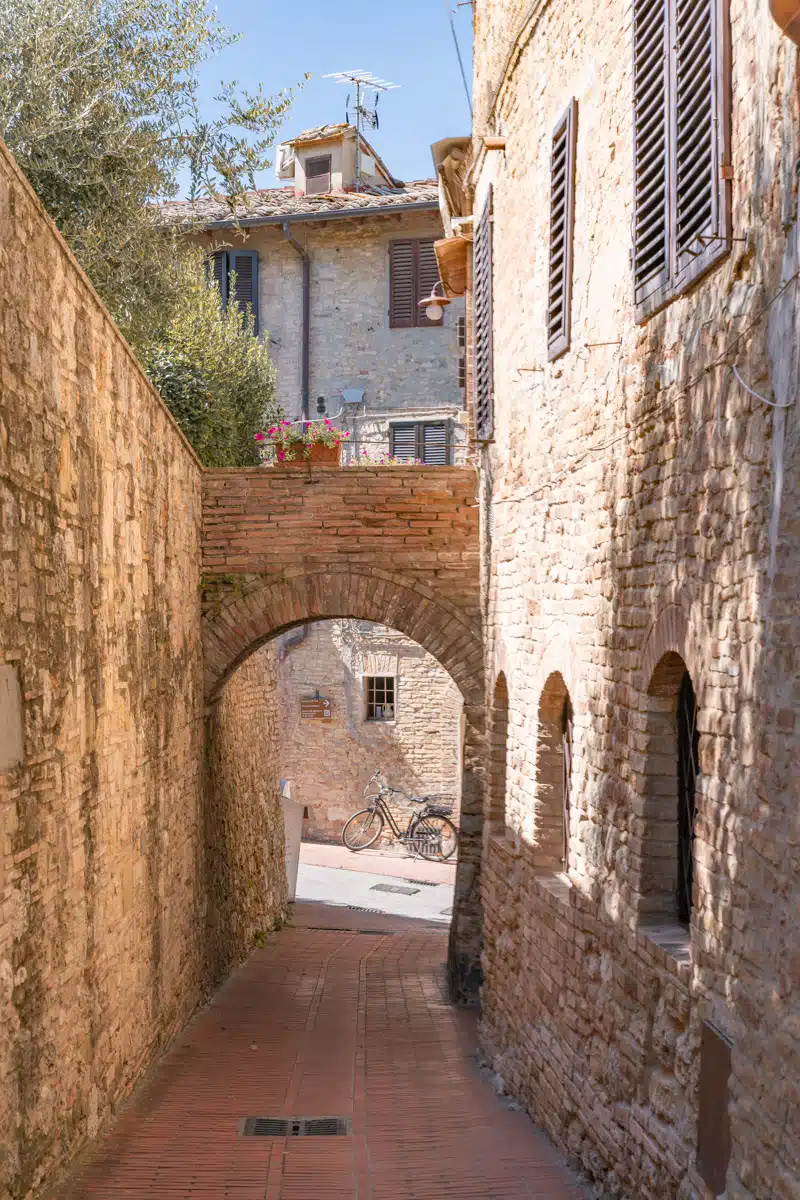 As you explore Volterra, you won't fail to notice the prominence of alabaster stone. Many stores display alabaster in their windows, a tradition that dates back centuries. This precious stone came from nearby quarries in the Etruscan time and has been an enduring part of Volterran life ever since.
You can buy hand-crafted souvenirs to take home, such as sculptures, boxes, bowls, and picture frames, all made using authentic crafting methods passed down through generations.
Must-Try Bars & Restaurants in Volterra
Osteria La Pace
If it's authentic Tuscan food you're after, Osteria La Pace has everything you could want. Its antipasti selection is unbelievable, while the spinach ravioli and crostini completely hit the spot for me.
That said, I couldn't help offering admiring glances at the stewed wild boar and polenta or the Rotolini (pork rolls with cabbage, cheese and bacon).
The restaurant is a small, welcoming boutique restaurant nestled in ancient brick walls while the tiled flooring completes the clean but rustic feel. I'd recommend heading here during the twilight hours to get the full effect of the soft mood lighting during the evening.
Don Beta
Don Beta is an authentic Italian pizzeria set in one of Volterra's ancient pedestrian streets with al-fresco or indoor seating.
The menu is well-balanced and will have you drooling with anticipation. The local ham with grilled pecorino cheese and truffle bruschetta is a beautiful starter, while the wild boar steak with Chianti is simply gorgeous. If you just want a tasty pasta dish or pizza, no problem.
La Vena Di Vino
A wine shop with a wine bar, La Vena Di Vino makes for a perfect date night option after a long day exploring all Volterra has to offer.
Its endless list of local wines is specially curated to suit any and all palettes, while the accompanying cured meats, cheeses, and sides provide a tasty side. So why not take the time to sample, kick back, chat, and then snaffle a couple of bottles of your favourites to take home with you>
Best Hotels in Volterra
Borgo Pignano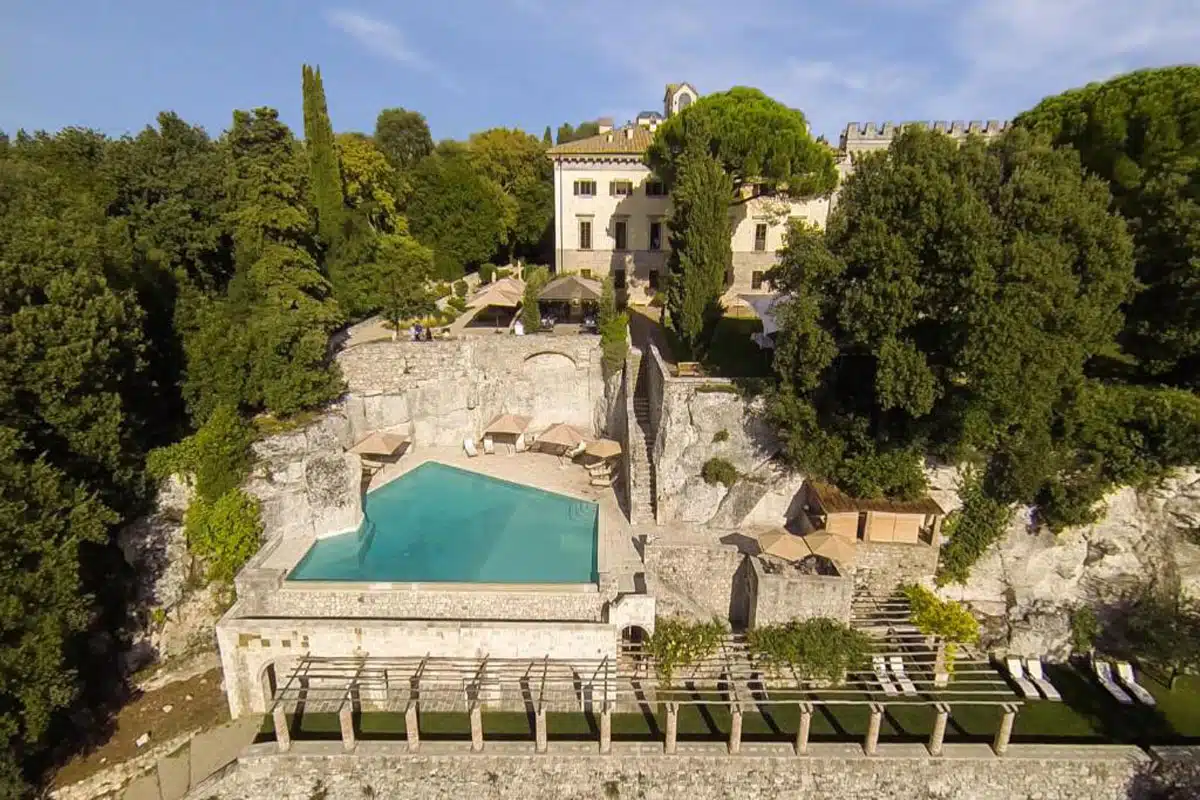 If you want palatial luxury and film-star service, Borgo Pignano is the hotel for you. Located inside 750 hectares of private gardens and forests, this is an oasis of tranquillity to match the beautiful setting of Volterra.
Enjoy the wellness centre with a sauna, hammam and steam room, and close your eyes and imagine yourself as an 18th-century noblewoman taking a bath in the ornate marble bathrooms that adjoin every room. Bask in the 18th-century frescoes throughout the property, and glide across the marble floors to take in the view from your balcony. A real slice of Tuscan heaven.
Hotel La Locanda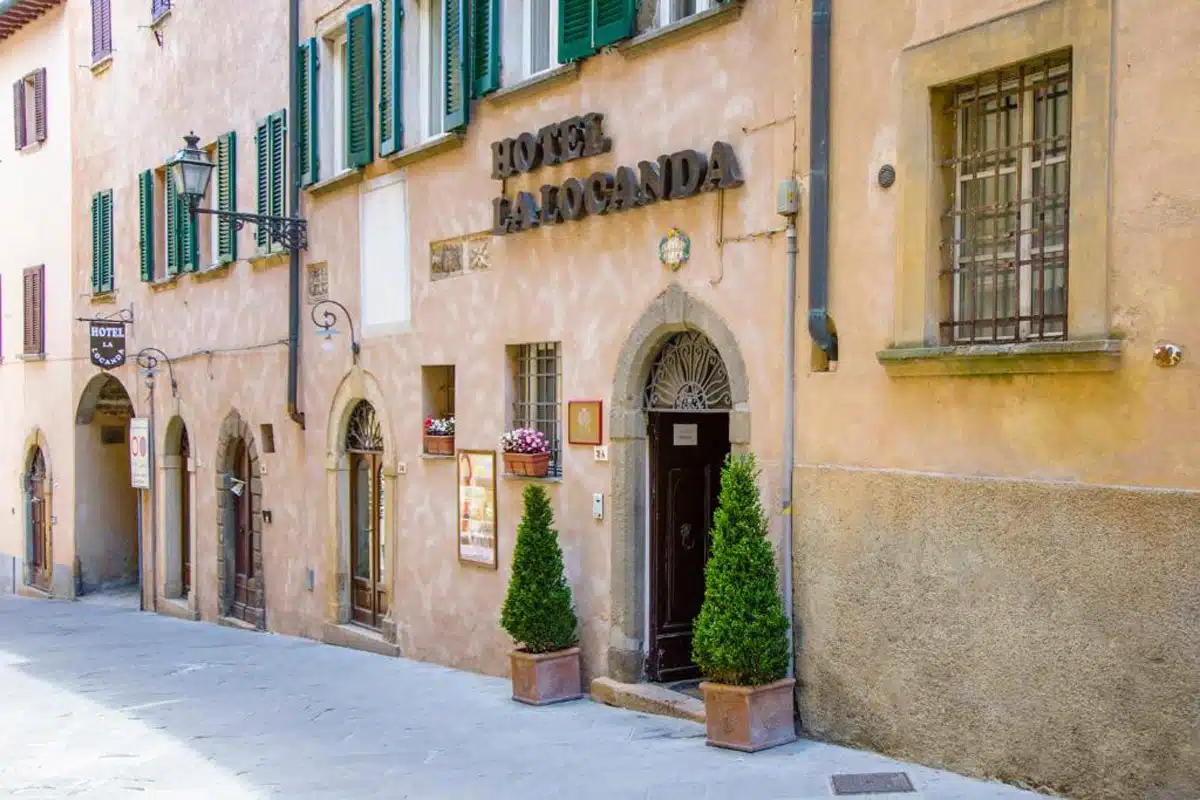 Hotel La Locanda was once a nunnery owned by famous Italian historian Anot Filippo Giacchi and is now one of Volterra's most stunning hotels. With luxury, elegance, and comfort, the watchwords throughout all rooms are stunningly designed with beautiful finishes.
Each room comes with satellite TV and a mini-bar, while you'll revel in the spa bath or hydromassage shower as they soak away the aches and stiffness of the day's efforts.
Hotel San Lino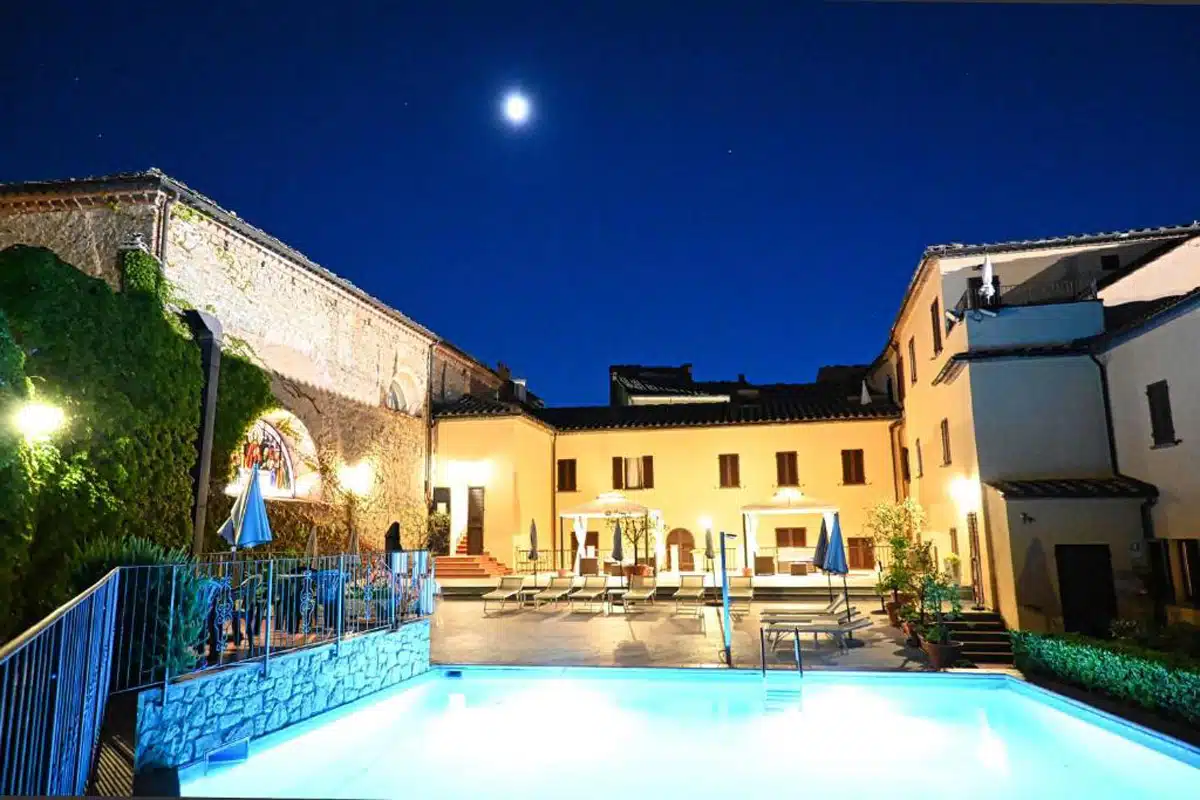 Nestling within the town's ancient walls, Hotel San Lino is a beautiful boutique hotel with an outdoor pool, stunningly maintained gardens, and a sun terrace where you can drink in views across Tuscan hillsides along with a glass of the best local vino.
All rooms are tastefully designed with terracotta flooring and rustic wooden furnishings to provide plenty of comfort and Tuscan elegance for your stay in this hidden gem.
Volterra: Practical Tips For Your Trip
How Long to Visit in Volterra?
Volterra is a small Tuscan town, so you could see everything within a day. However, I prefer taking things a little more slowly, so I recommend allowing a couple of days to go at your own pace.
Best Time to Visit Volterra?
Fortunately, Volterra is a little off the beaten tourist track, so it doesn't attract the same number of visitors as nearby Siena or Florence. To get the best of the weather, views, and food, any time between April and the end of September are ideal for visiting Volterra.
Where Should I Stay in Volterra?
Stay within the walled town to get the best of Volterra after dark and be part of the Tuscan nightlife. Everything is within walking distance.
However, if you want to enjoy a bit of a rural retreat, there are several stunning hotels in the Tuscan hills, only a short drive from Volterra.
How Do I Get to Volterra?
Pisa is the nearest international airport to Volterra, although Florence also isn't more than an hour away. I suggest booking airport transfers in advance to ensure a seamless visit to Volterra or hiring a car on arrival.
Things to do in Volterra: Map
Explore More of Tuscany With These Guides
Love This? Save and Share on Pinterest