Discover historic boutiques, luxury resorts, and surprise gems with this guide to the very best San Gimignano hotels.
Tuscany has a lot going for it. If the vineyards, olive groves, and mediaeval villages between Florence and Siena look like something out of a fairytale – they kind of are.

Arriving at San Gimignano and staring up at the 14 ancient towers (many of which have been there since the turn of the 13th Century) paints a clear picture of why so many fall in love with this city time and again.

The best part is San Gimignano isn't just all show. Start exploring the streets and piazzas of the "Manhattan of the Middle Ages," and you'll realise just how much there is to see, eat, and drink.
So, if you're wondering where to stay in San Gimignano, I have good news. The town is full of historical buildings that open their doors for guests to explore ancient buildings, impeccable gardens, and swimming pools that look like something out of a Hollywood film.

Here's a look at the best hotels in and near San Gimignano.
Best Hotels in San Gimignano: At a Glance
Best Hotels in San Gimignano
Hotel La Collegiata
££
Colli Seneri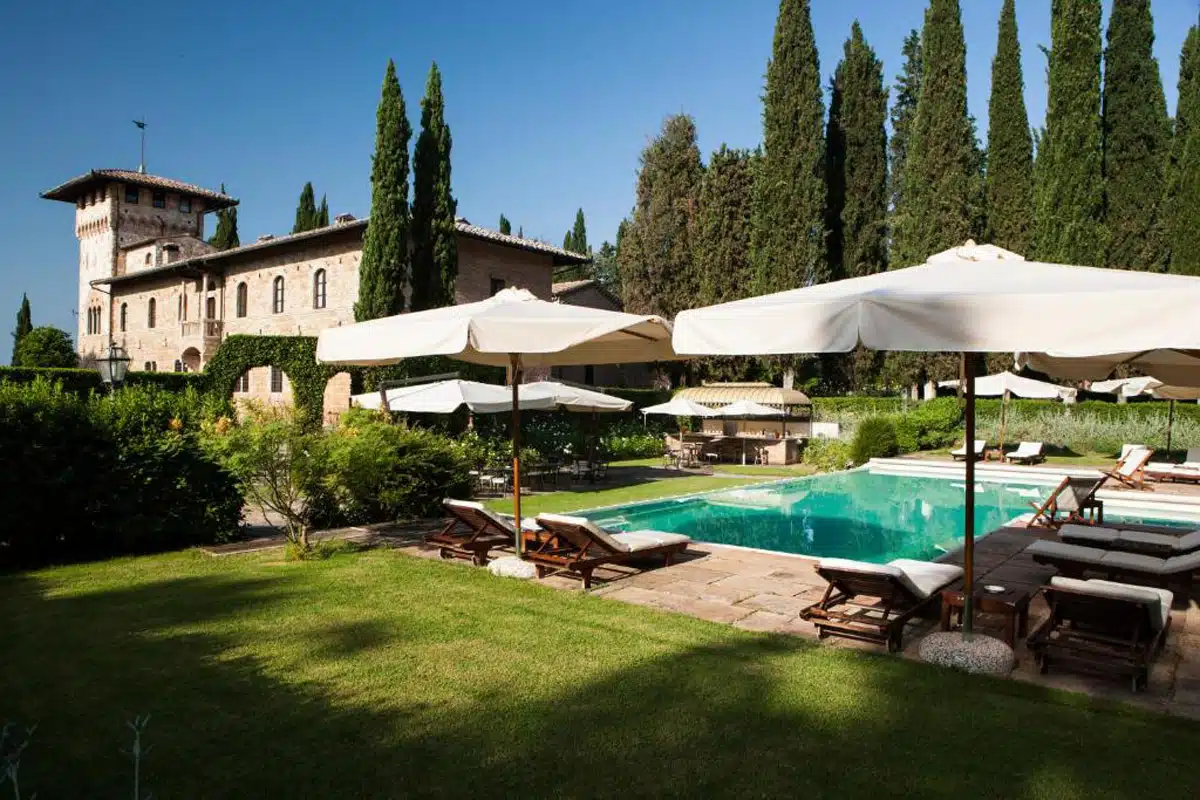 The 16th-century Hotel La Collegiata sweeps you off your feet with vintage charm from the stone exterior to the luxurious interior that feels just a touch magical as you make your way down the hallway to your accommodation.

Standard and deluxe rooms each offer their own charms, like arched windows and antique headboards, but the private balconies in superior rooms make it worth upgrading.

My favourite part about this boutique gem is the incredible swimming pool. Flanked by Italian cypress trees and perfectly manicured shrubs, you can quickly get lost in the moment at this 4-star accommodation near San Gimignano.
Agriturismo Poderi Arcangelo
££
San Benedetto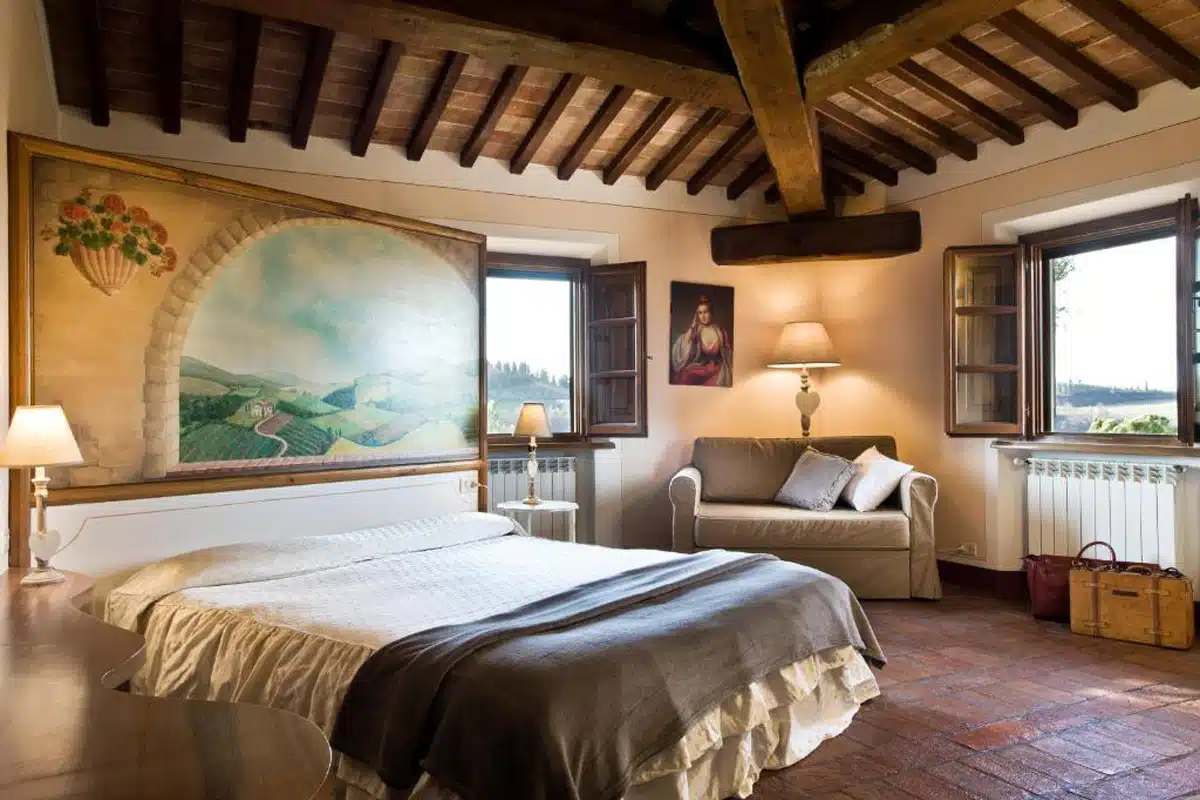 A short drive north near San Benedetto, Agriturismo Poderi Arcangelo is one of the finest boutique hotels San Gimignano offers.

First, it's a classic Italian farmhouse experience with a family-run farm producing excellent olive oil and wine. Then there's the fact that the restaurant is run by an Italian grandmother.

I don't know about you, but sitting up on a hill above an organic farm in Italy noshing on freshly made cheese and salumi, handmade pasta, and Florentine steak is as good as it gets.

But before Grandma Maria serves you the dinner of a lifetime, explore the vineyards and wine cellars for some excellent chianti and sparkling rosé.
Rooms vary in size, but I think the junior suite offers just enough space for couples or solo travellers and features lofted ceilings, large bathrooms, and gorgeous views of the outdoor pool and rolling hills around you.
Toscana Resort Castelfalfi
£££
Montaione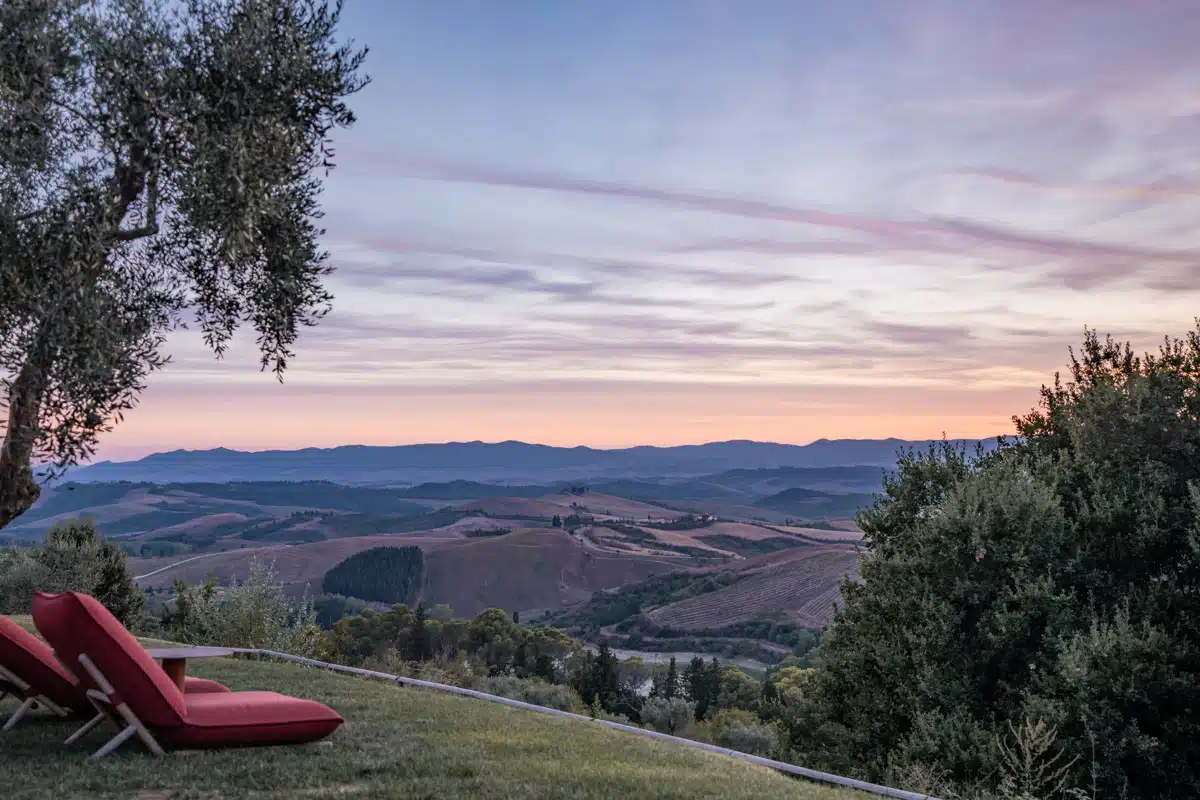 For one of the best hotels near San Gimignano, you can't do much better than Toscana Resort Castelfafi. This 5-star luxury resort has everything you can think of in a Tuscan dream home… or a hotel. I stayed here during my most recent Tuscan trip and would highly recommend it.
It's 30 minutes south of San Gimignano, providing you with an idyllic stay in the Italian countryside. Enjoy a 27-hole golf course and world-class spa on the historic property with residents dating back to the Etruscan Civilization.

Visiting Tuscany is kind of, sort of all about the food and wine. Toscana Resort Castelfafi doesn't disappoint.

With traditional flavours at Il Rosmarino or bolder takes on the Tuscan dining experience at Olivina (a stylish space from Henry Chebaane), it's one of the best hotels in San Gimignano for food and wine.
Villa San Paolo Resort & Spa
££
Strada per Certaldo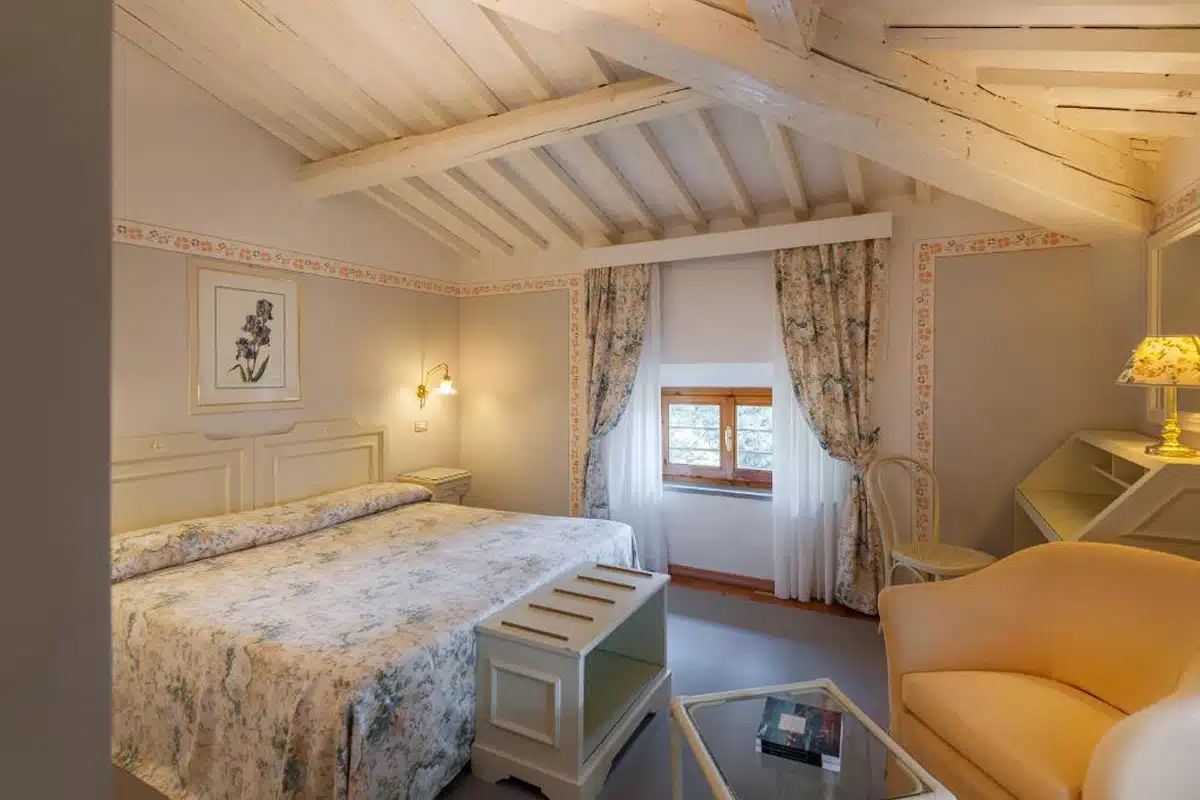 I'm not sure what's more alluring, the idyllic location in the middle of gardens and groves (they make their own olive oil here) or the 1000 square metre spa at Villa San Paolo Resort & Spa. I'll let you decide.

Let's start with the views from your room or suite – no other hotel captures the beauty of San Gimignano quite like this four-star resort just minutes from the city centre.
But the spa is equally enchanting, with pools indoors and outdoors, ice fountains, and treatments using carefully sourced ingredients like grape seed oil and arctic blackberry.

This luxury San Gimignano resort also offers several memorable dining experiences, but looking out at the picture-perfect countryside from Lampulla while eating locally sourced Tuscan cuisine is hard to beat.
Hotel La Cisterna
£
City Centre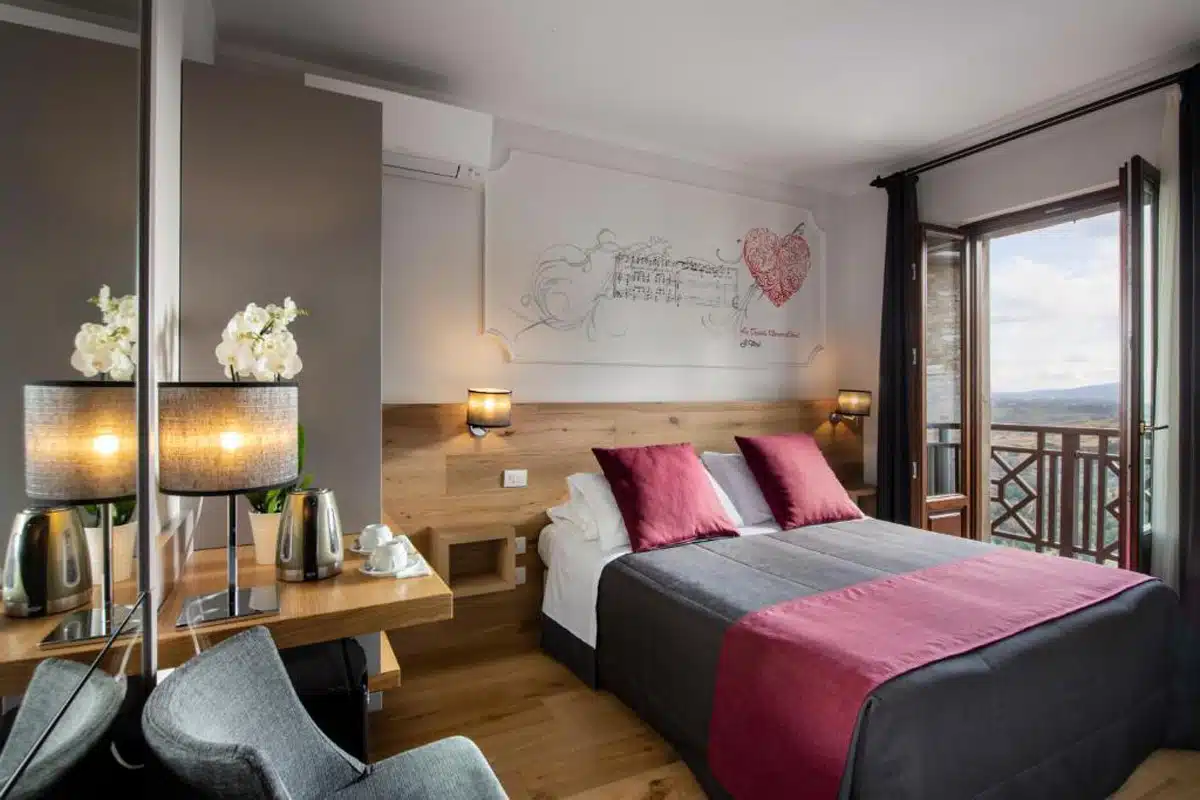 Visiting San Gimignano is really about soaking up the history and folklore in a mediaeval Tuscan village. Hotel La Cisterna allows you to do just that from the moment you wake up until you fall asleep in the 14th-century stone walls in the city centre.

Florentine chandeliers and antique furniture add elegant touches to the small but inviting living quarters. And the food at Le Terrazze restaurant is authentic Tuscan at its finest, in a lovely setting overlooking the town below.

It's one of the best places to stay in San Gimignano on a budget.
Hotel Bel Soggiorno
£££
City Centre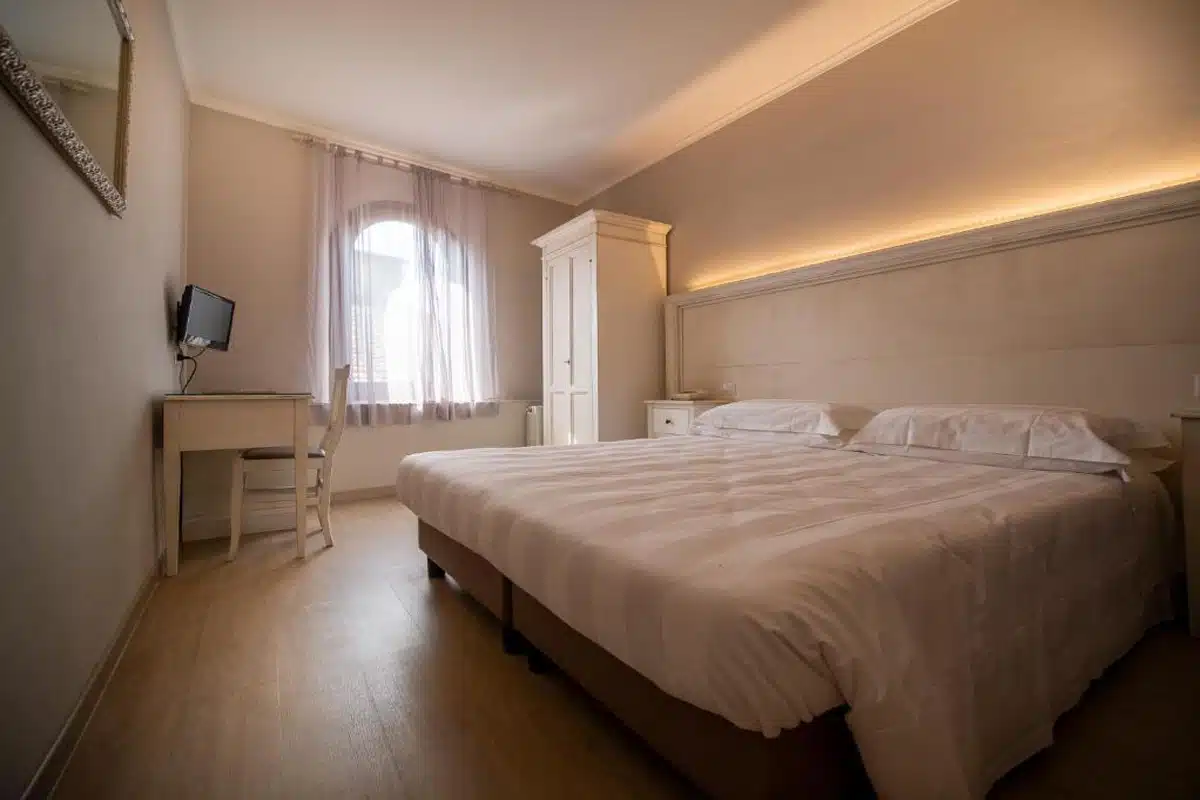 Walk from one of the best hotels in San Gimignano to the Duomo, 14 towers, and some of the other most famous sites in San Gimignano on your trip to Tuscany.

Hotel Bel Soggiorno has a winning combination of all the conveniences of being in the centre of the city with rooms that feel like you're hiding away in the Italian countryside.

Guests love the private parking, breakfast buffets, and stunning views from their balconies.
Hotel & Restaurant Casolare Le Terre Rosse
££
San Donato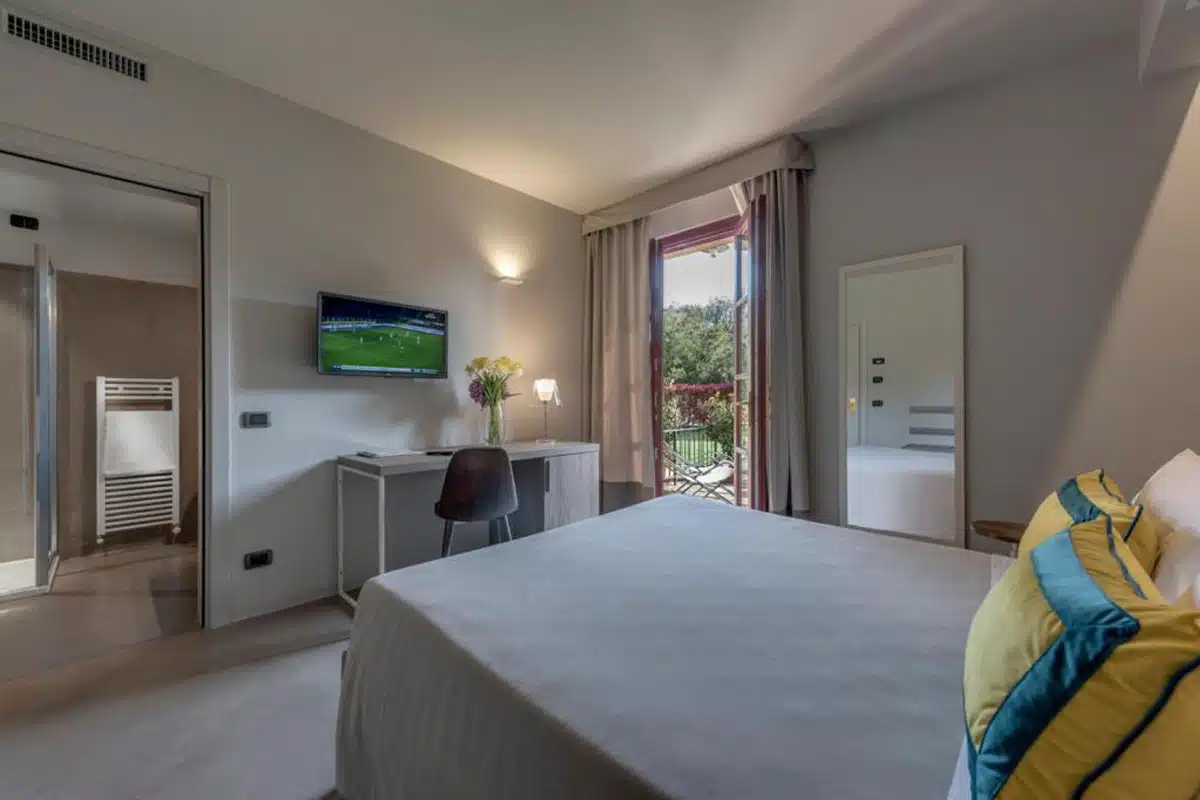 Located near the beautiful Riserva Naturale di Castelvecchio, which features ancient hiking trails and mediaeval ruins along the historic route of Via Francigena, Hotel & Restaurant Casolare Le Terre Rosse is a tranquil retreat just outside of San Gimignano.
Rooms are beautifully decorated with unique colour schemes and wildlife portraits. Patios open up to the countryside, where you can enjoy a glass or two of wine in your private outdoor space.
Hungry? Tuscan cuisine at its finest is available at the breakfast buffet or dinner in the courtyard from 7 pm to 10 pm, where chef Maurizio Cambi presents seasonal menus highlighting regional classics like handmade pici pasta (like a larger spaghetti) with guanciale and tomatoes.
Hotel Pescille
££
San Donato
Another popular choice in the quiet area of San Donato is Hotel Pescille.

There's a lot to like about this boutique gem a few minutes away from San Gimignano. But I think the remote location and city views will make you feel right at home in the Tuscan countryside.
This hotel San Gimignano offers has beautiful property grounds featuring lush gardens, a large outdoor pool, and an old-school farmhouse vibe that still manages to feel fresh and stylish.

The best part about it? It's one of the only places to stay in a San Gimignano tower – how's that for an authentic trip to the Town of Fine Towers?
Leon Bianco
£
City Centre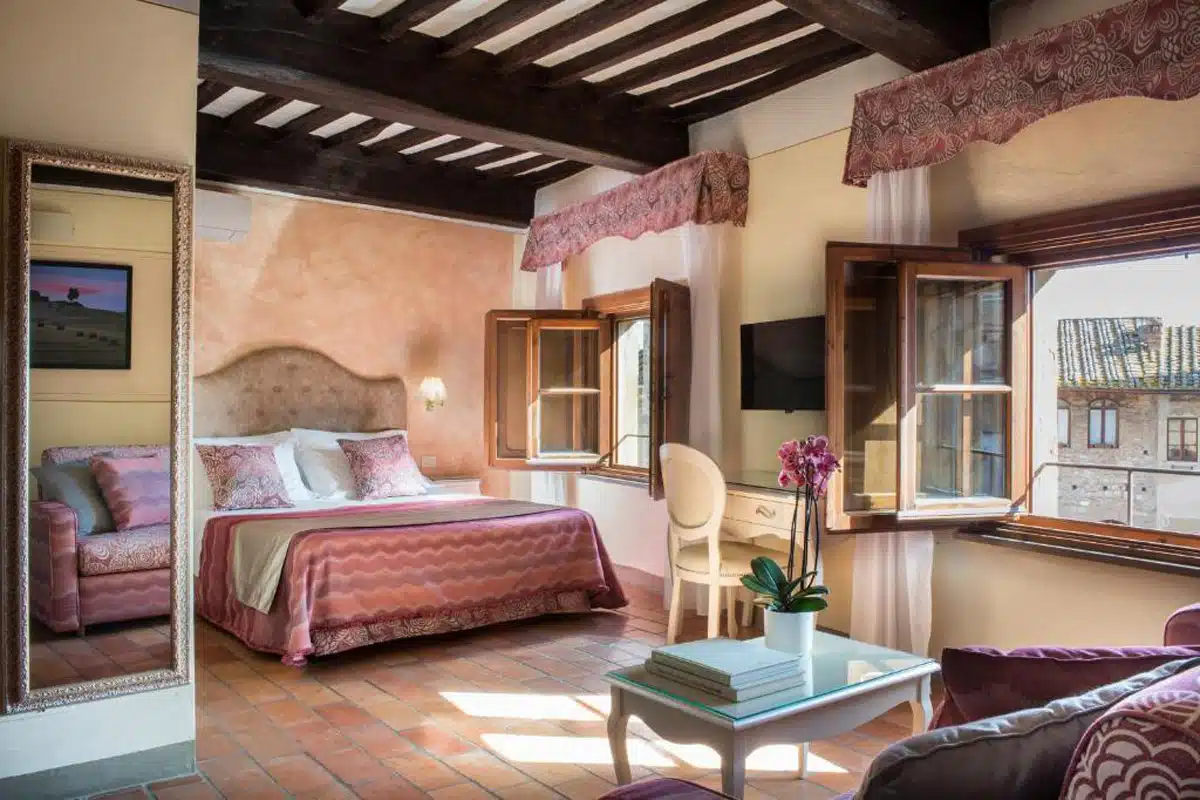 Wake up and walk out to one of San Gimignano's famous piazzas enveloped by mediaeval towers at the 11th-century boutique Leon Bianco.

Rooms are relatively spacious and available at great rates, considering you can walk to the top attractions in mere minutes. You can't park on-site, but the hotel gives you 20 minutes to check in and drop off your luggage before finding public parking nearby.
Hotel Da Graziano
£
San Gimignano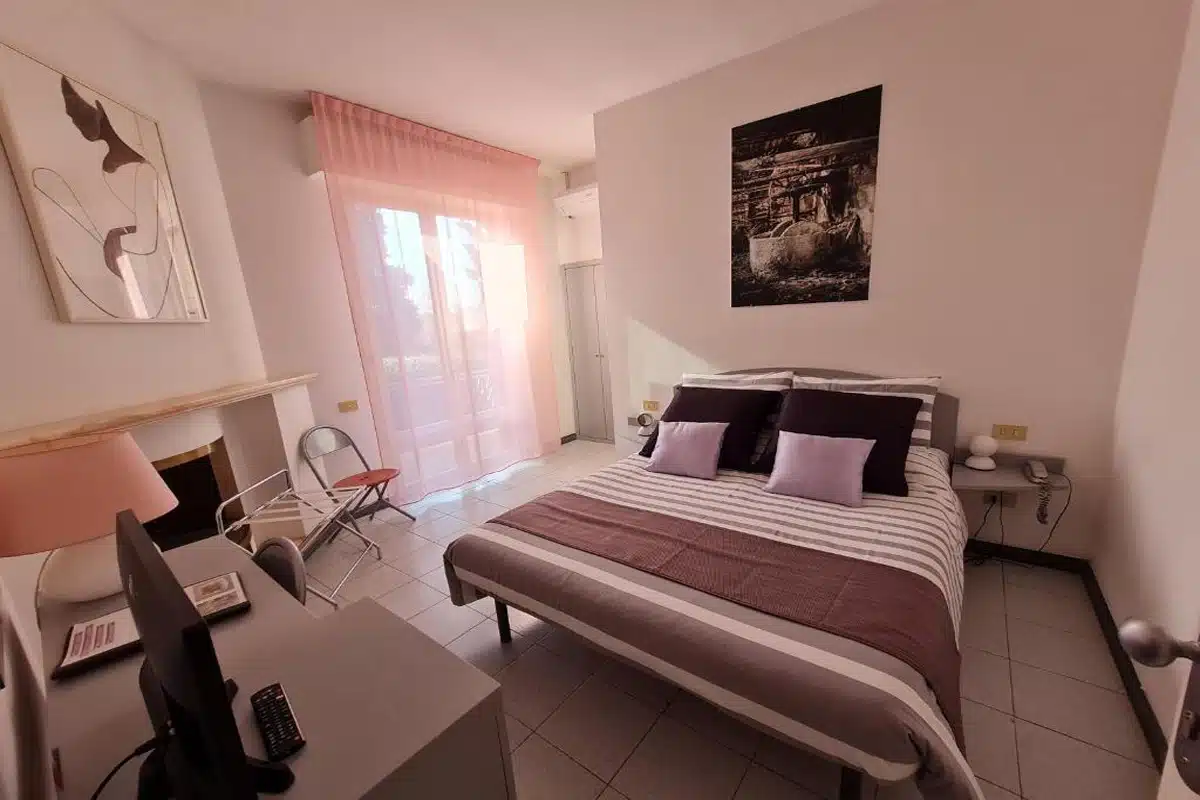 Finding the right accommodation in San Gimignano, Italy, usually comes down to location. If you want to stay in San Gimignano but outside the city walls, Hotel Da Graziano is perfect.
The affordable boutique hotel offers nice enough rooms in a quiet part of town. And the restaurant here serves hearty Italian fare in a casual setting that's perfect for kicking back, having a couple of glasses of wine, and enjoying some pizza, pasta, and salad.
Hotel Relais La Cappuccina
££
Colli Seneri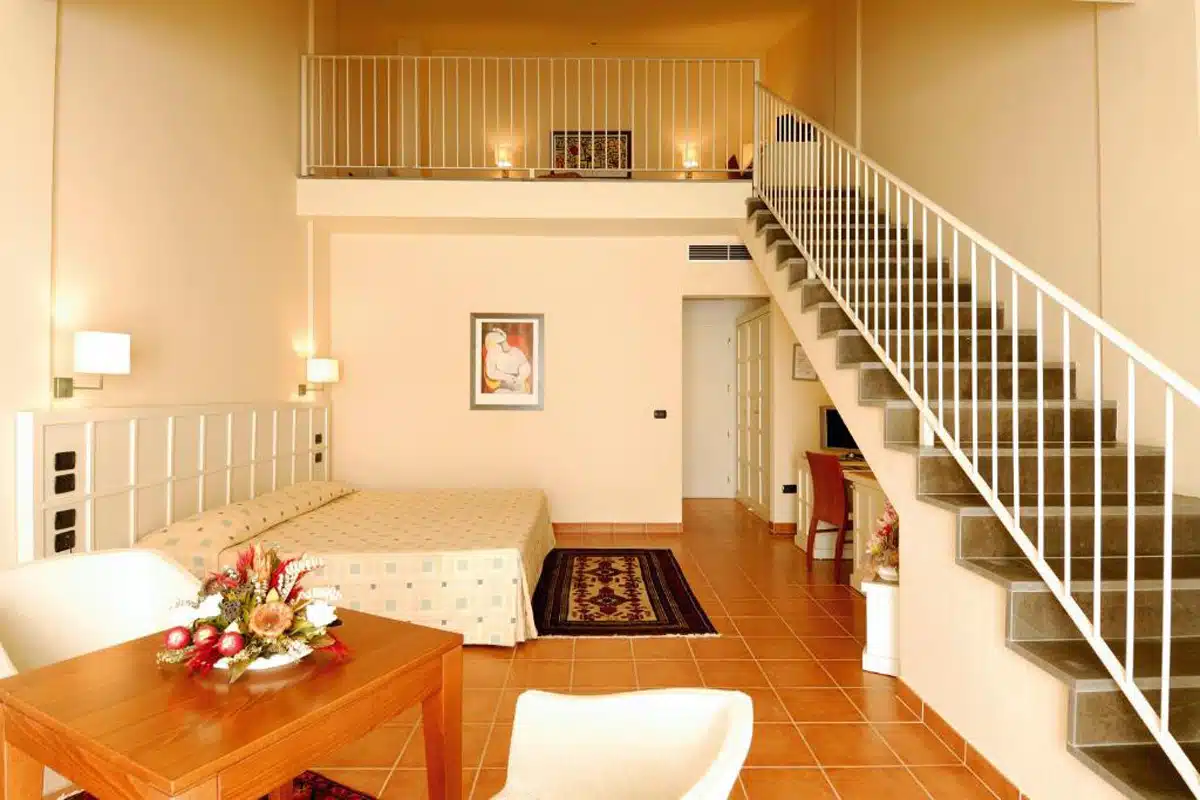 Looking for San Gimignano hotels with a pool? Set in the heart of wine country overlooking San Gimignano, Hotel Relais La Cappuccina is just steps from the popular Cobucci Wine Tasting, one of the best places for wine in town.

When you're ready to eat, try the hotel's Tuscan dining option, Ristorante La Cappuccina, overlooking the pool and garden outside.
Rooms are rather simple, but the 2-story junior suite is spacious and comfortable, with a quaint private outdoor area for enjoying a glass of wine before dinner.
Best Hotels in San Gimignano: Frequently Asked Questions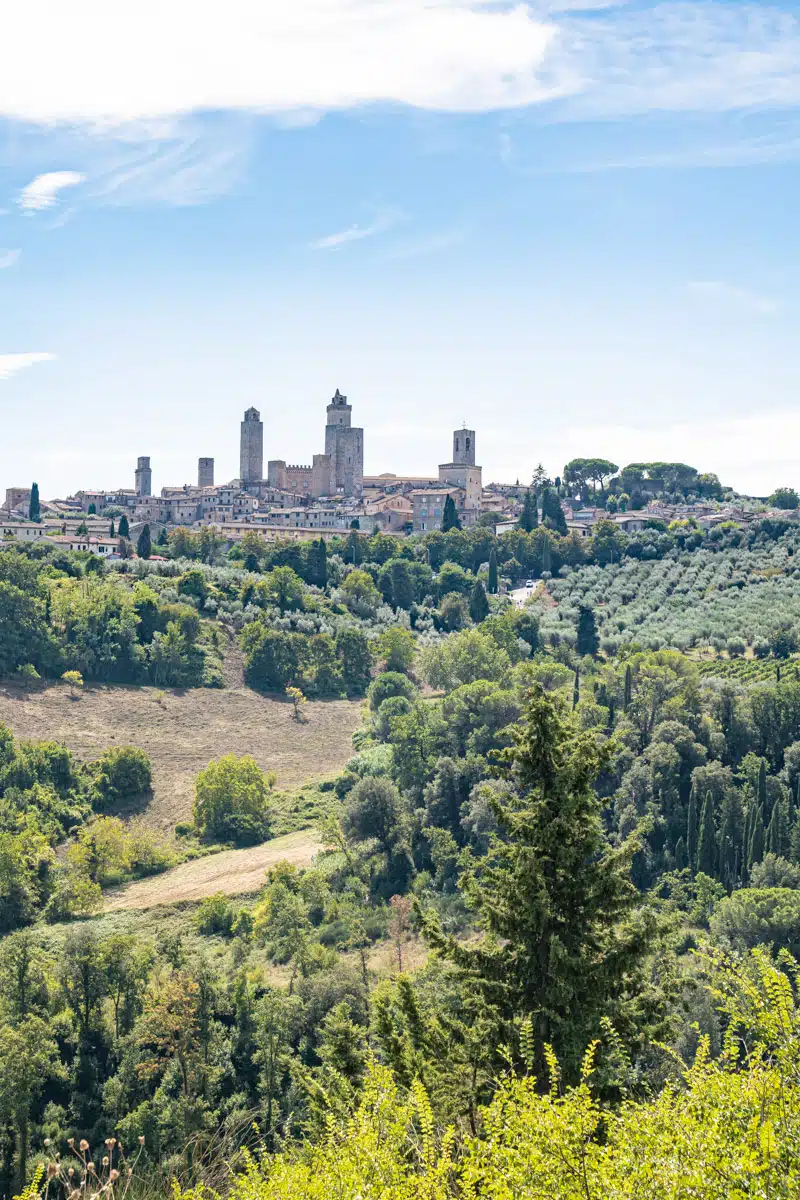 What is the Best Area to Stay in San Gimignano?
Many of the best hotels in San Gimignano, Italy, are scattered along the countryside and small villages outside of town.

You can find wonderful luxury hotels in San Gimignano, Italy, in areas like San Benedetto and San Donato.

But staying near the piazzas and mediaeval towers in the city centre provides an experience you'll never forget.
Is It Worth Staying in San Gimignano
San Gimignano, Italy hotels give you a chance to really appreciate the ancient city much better than you can by taking a day trip.

Because it's a touristy area, afternoons can get a bit hectic with foot traffic, so it's refreshing to see the city in the morning and at night.
How Long Should You Stay in San Gimignano?
I recommend spending 3-5 days at your San Gimignano hotel. This amount of time is ideal for sampling different restaurants, visiting a winery or two, and soaking up the sun near the pool.
Practical Tips to Consider Before Booking Your San Gimignano Hotel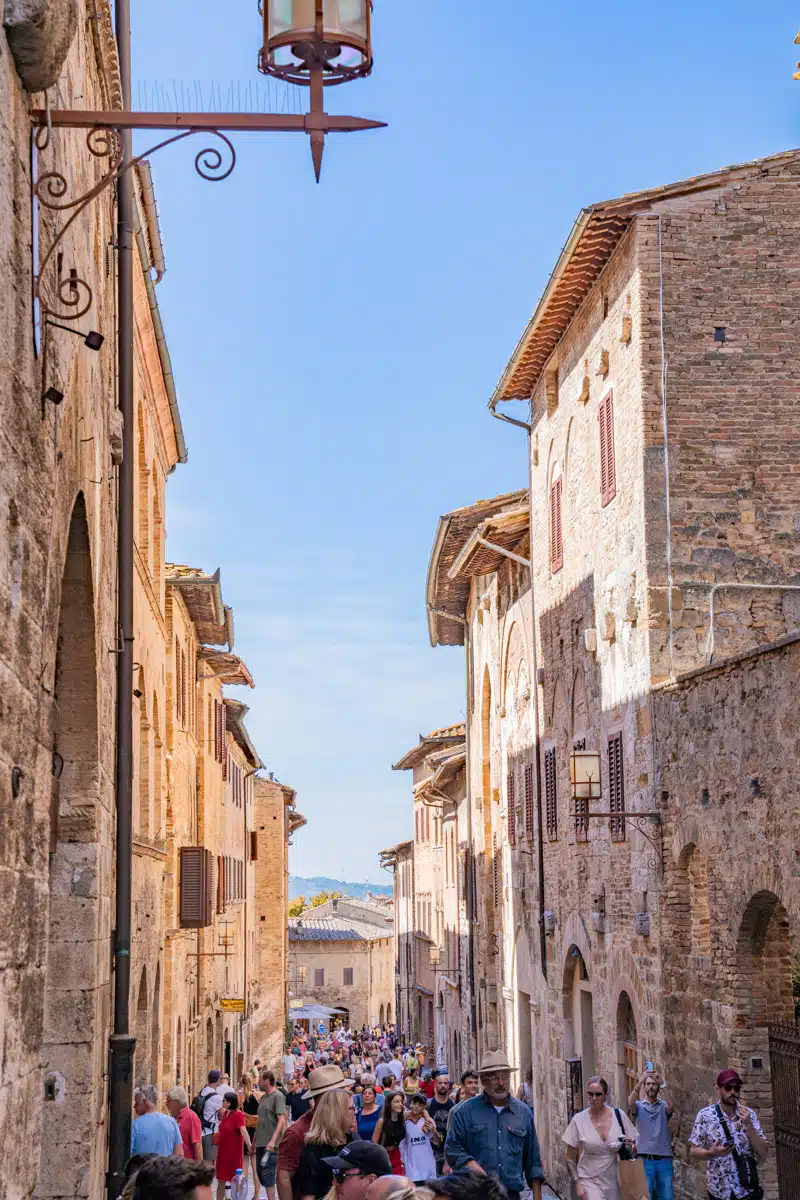 If you're staying in San Gimignano proper, you won't need to hire a car unless you plan to visit numerous places outside of town.
Many hotels San Gimignano offers are 10-20 minutes away from the city centre. In that case, you'll likely want to hire a car.
You might run into plug Types C, F, and L in your hotel in San Gimignano, so bring a universal travel adapter.
Some popular hotels in San Gimignano, Italy, are only open in the summer, so check ahead if you're staying in the shoulder season or the winter.
Love This? Save and Share on Pinterest