Discover the best places to stay in Venice with this handy travel guide. Everything you need to know about the city's top neighbourhoods and hotels.
Planning a trip to Venice? You'll need somewhere to stay, of course.
You see, the beauty of Venice lies in how amazing it is to visit regardless of the time of year. Venice in winter is a chilly wonderland brimming with a cosy and inviting atmosphere and, during summer, epic festivals and outdoor celebrations dominate its streets.
So considering that there's never a wrong time to visit, hotels in Venice take full advantage of this fact. From the famous San Marco neighbourhood to the buzzing nightlife of Dorsoduro, it might be challenging to choose your favourite area to stay.
That's where I come in. Read on to discover the best areas and hotels for your Venice trip. Happy planning!
Best Places to Stay in Venice: At a Glance
Where to Stay in Venice, Italy
One thing's for sure, Venice has an almost whimsical ability to capture your heart in seconds. And just when you think I couldn't hype this city up even more, stick around, because you're in for a wild ride.
San Marco: Where to Stay in Venice for First-Time Visitors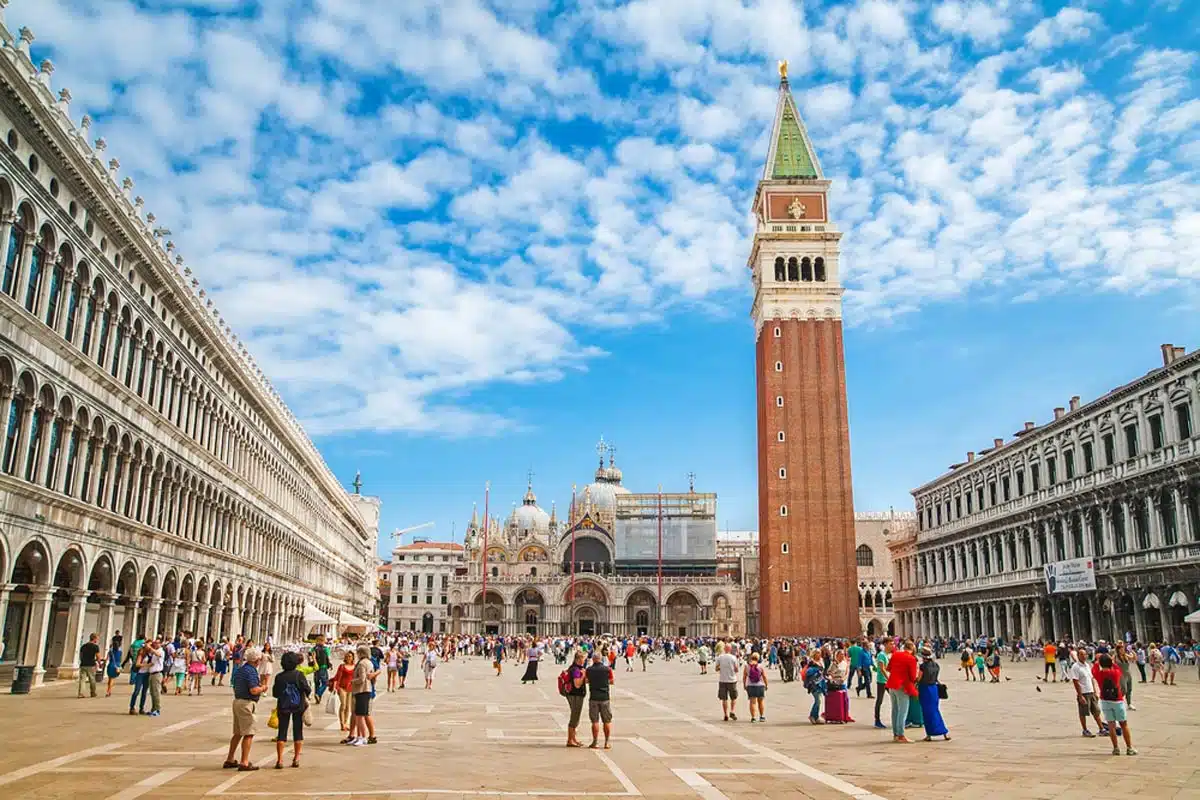 Considered the beating heart of Venice, the oldest and most famous quarter of the lagoon city, San Marco is a favourite amongst travellers. And I agree – this popular spot's vibrant and buzzing atmosphere is always palpable, and the sheer number of legendary sites in San Marco makes it a standout.
Here, you'll find a premier location in the city with stunning views of the lagoon and nearby islands, with hotels typically being a bit more pricey. But, trust me, it's worth the price tag.
San Marco Highlights
Explore the magnificent Piazza San Marco, where you can head on an adventure to the 11th-century St. Mark's Basilica. Get your skip-the-line ticket to ensure you don't face the everlasting queues Venice proudly showcases.
Take almost surreal snapshots of the Torre dell'Orologio, the fantastic astrological clock tower of St. Mark.
For a more sombre yet mesmerising perspective on Venice, take a stroll across the Bridge of Sighs. Famous for supposedly being the last place convicted criminals of the city heading to Venice's jail could have had their last view of freedom.
You can't stay in San Marco without visiting the most important building in Venetian history. Grab a ticket for this 2-hour tour of the history of Venice as you venture into the Palazzo Ducale.
Suggested Hotels in San Marco
Dorsoduro: Where to Stay in Venice for Nightlife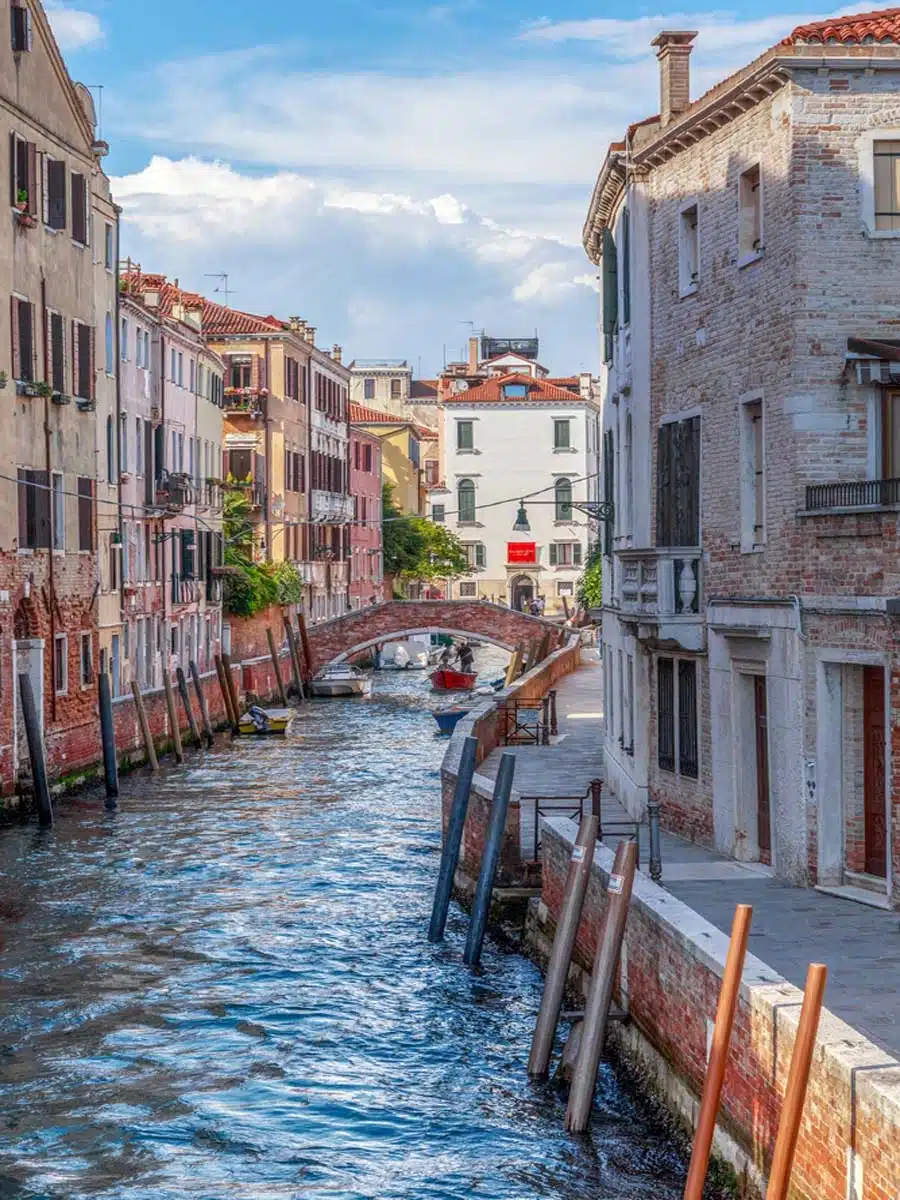 Making up one of the six sestieri of Central Venice, Dorsoduro is locally called the University District.
While this is a flocking ground for students from across the globe, it's far less expensive than other areas and sees fewer tourists. And, while Venice might not boast a party scene, you'll find some of its most lively bars and nightclubs here.
Beyond that, Dorsoduro also features numerous art galleries, a strikingly large number of boutique and department stores, and exquisite dining options. What more could you want?
Dorsoduro Highlights
Speaking of those art galleries, one of the most noteworthy is the Galleria dell'Accademia. Comprising three buildings, it began life used for religious purposes until it became a museum and art complex.
If you're in the mood for a more focused artistic experience, visit the Peggy Guggenheim Collection, where exhibits showcase the best contemporary artists from America and Europe.
Dive into the history of Venice with a trip to the Basilica di Santa Maria Della Salute. Built by survivors of the plague, it was long a place where these fortunate people gave thanks for surviving.
Finally, a stay in Dorsoduro wouldn't be complete without a night out. Some of the best spots to visit include Chet Bar for some epic cocktails, and Cafe Noir, which brandishes a boho charm and delicious drinks.
Suggested Hotels in Dorsoduro
San Polo: Where to Stay in Venice for Culture and Cuisine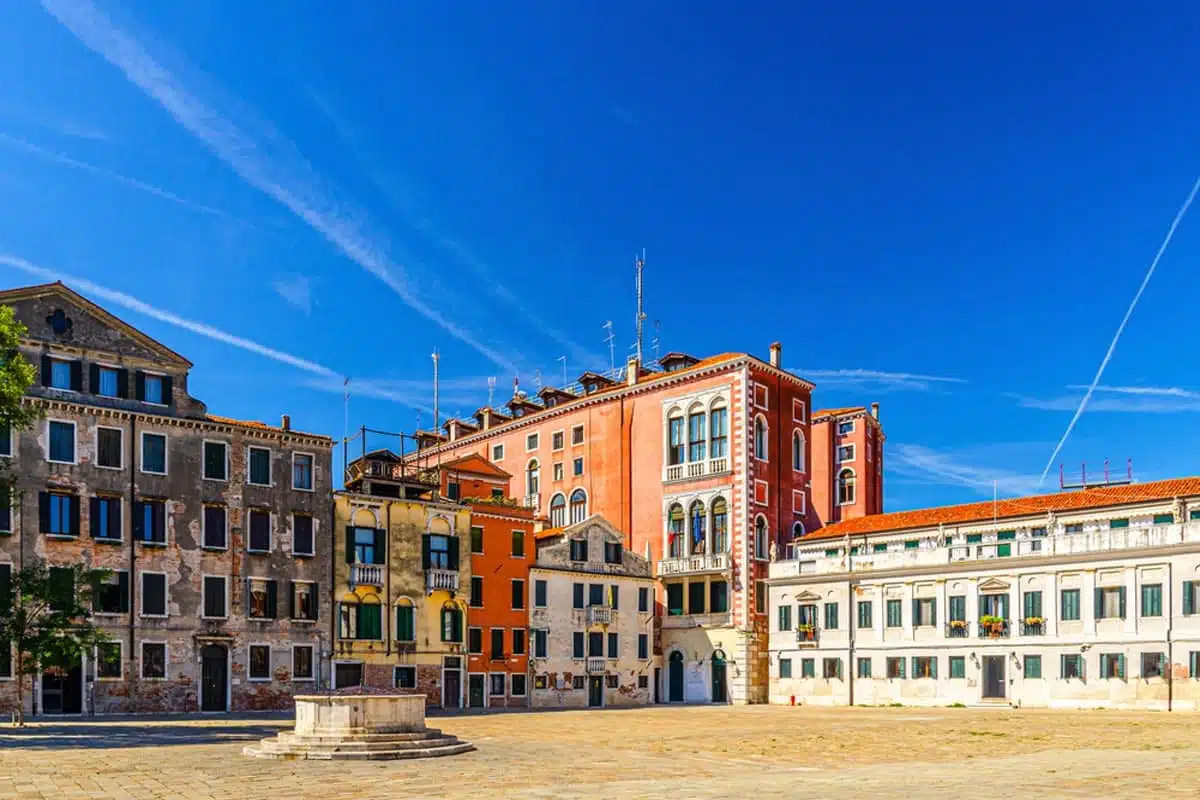 The smallest sestiere in Venice, San Polo is well known for its near-perfect location bordering Canal Grande, Dorsoduro, and Santa Croce.
If you're on a culture trip, then there is no better answer to "where's the best place to stay in Venice?" It features easily navigable access to numerous landmarks, including striking churches and retail options.
And for those looking to indulge in the best cuisine imaginable, San Polo easily outshines other areas. Its fish, fruit, and vegetable markets regularly receive acclaim, while its many restaurants take centre stage.
San Polo Highlights
Synonymous with San Polo is the Rialto Bridge. Not only is it the most famous and photographed bridge in the city, but it's also the site of many a romantic night on the Canal.
For those yearning for some Venetian retail therapy, the Rialto Market offers a little (okay, a lot) of everything. Here you can buy everything from craft items, Murano glass works, jewellery, and high-end souvenirs.
You can't stay in San Polo without treating your tastebuds to a feast at any of its rustic eateries. One of the best is Cantina do Mori. Opening its doors in 1462, it lays claim to being the oldest wine and tapas bar in the city.
A trip to Venice means you'll inevitably come across spectacular works of art. And one of the best places to see some of this is the Santa Maria Gloriosa dei Frari Church.
Suggested Hotels in San Polo
Cannaregio: Where to Stay in Venice on a Budget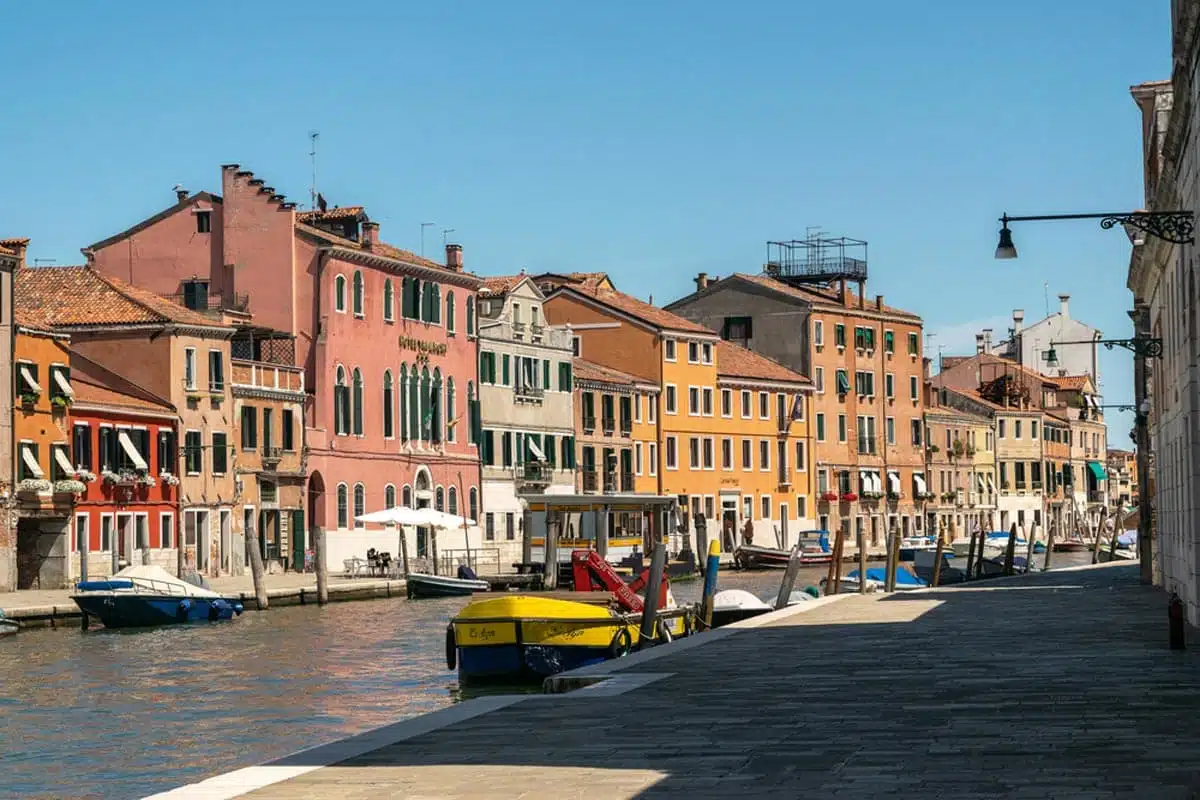 If you're stuck wondering where is the best area to stay in Venice on a budget, allow me to introduce you to Cannaregio. Set within the northern part of the city, it's a bustling and vibrant hub for both locals and visitors.
Considering that it's the largest sestiere in Venice, it should be no surprise that accommodation options are nearly limitless here.
This also means it covers some of the most stunning landmarks in the city, as well as historical sites galore. And for those architecture buffs out there, it's also home to some of the city's most beautiful buildings.
Cannaregio Highlights
Want to spend a few hours wandering around the best tourist-focused shopping area? Well, head to Strada Nova, which features an astonishing array of souvenir shops and boutique stores.
Step back in time to the inspiration and setting of Shakespeare's The Merchant of Venice and visit the Venetian Ghetto (more commonly called the Jewish Quarter). Brimming with history, it's the best place to learn more about the segregation history of the city.
Experiencing the finest in Venetian Renaissance art by artist Tintoretto is easily done when you visit the Madonna dell'Orto Church. Here, you can also view the stunning statue of Madonna and Child.
Eager to spend a night along one of the most picturesque streets in Venice? Of course, you are. So head to Fondamenta Ormesini, lined with quaint shops and cafes perfect for some people watching.
Suggested Hotels in Cannaregio
Murano: Where to Stay in Venice for a Local Experience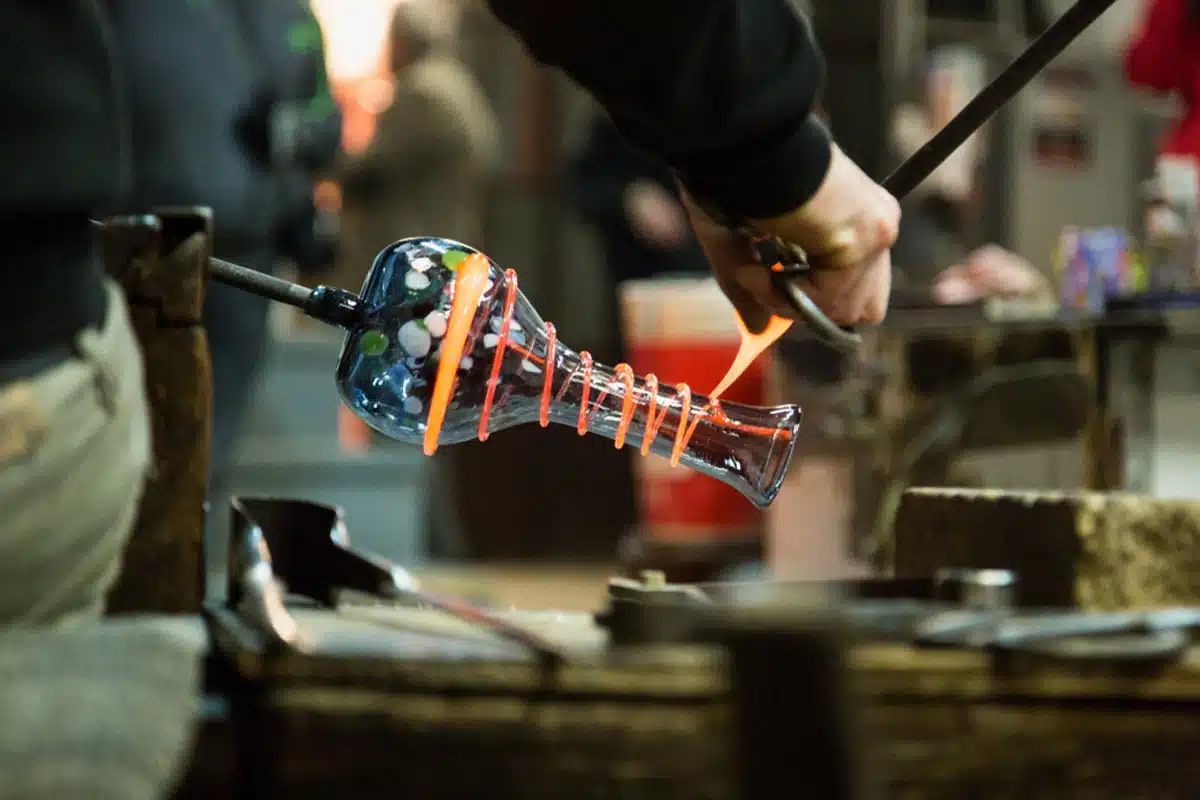 The most famous of the 118 islands that comprise Venice, Murano is where you go to experience life like a local. Artisans have been making glass creations within its many glass factories for decades.
The only negative, though, is that it sits off the mainland. While this adds to its vibrant local flair and makes for a more relaxed and serene atmosphere, it can be a pain to travel to the mainland.
You can spend hours exploring glass art galleries and factories or indulge your taste buds at any of the many trattorias along its shoreline. And at night, wining and dining takes centre stage.
Murano Highlights
While here, one of the most alluring highlights is heading out on a Murano Island tour. You'll get to embrace local life in Murano, Burano, and Torcello while cruising on your private boat.
Speaking of the finest in glass art, the best place to view these stunning creations is at the Museo del Vetro. The renowned Museum of Glass shows you every aspect of the creation process.
Remember those trattorias I mentioned earlier? Well, you should indulge in one (or more) of Murano's best. Some of the most delectable hotspots include Osteria al Duomo, Trattoria Busa alla Torre, and Acquastanca.
Suggested Hotels in Murano
Hyatt Centric Murano – A stunning 4-star property, the Hyatt Centric Murano sits within a former glass-making furnace. It showcases elegant design and decor; on-site, you'll find the fantastic Rivalonga Bar.
Casa Sulla Laguna – When you're pondering where to stay in Venice, let me turn your attention to this charming (and budget-friendly) property. It boasts a grand sun terrace and is within walking distance of the coastline.
NH Collection Murano Villas – This property features a restaurant, a bar, and a wellness centre. Beyond that, it also has one of the most beautiful terraces, perfect for catching some Venetian sun.
Where to Stay in Venice: Frequently Asked Questions
Practical Tips to Consider Before Booking Your Venice Accommodation
It's no secret that Venice is an extremely popular destination, so it's absolutely crucial to book your accommodation as far in advance as possible. Be aware of peak season, as this also affects prices and availability.
Read my guides on the top landmarks in Venice and unmissable things to do to help you plan your itinerary and decide where to stay.