Discover the ultimate 2 days in Rio de Janeiro itinerary with this handy guide.
There's a reason why Brazilians call Rio de Janeiro the "Marvelous City." With its striking mountains, sparkling beaches, and beautiful people, this bustling Brazilian hotspot is nothing short of spectacular.
Although, in my biased opinion, a weekend is far too short of a time to spend here, it's enough to hit the main highlights of the city and learn about the exciting carioca culture.
If you're thinking about traveling to Brazil, read on to learn how to spend a weekend in Rio de Janeiro.
Why Should I Travel to Rio de Janeiro, Brazil?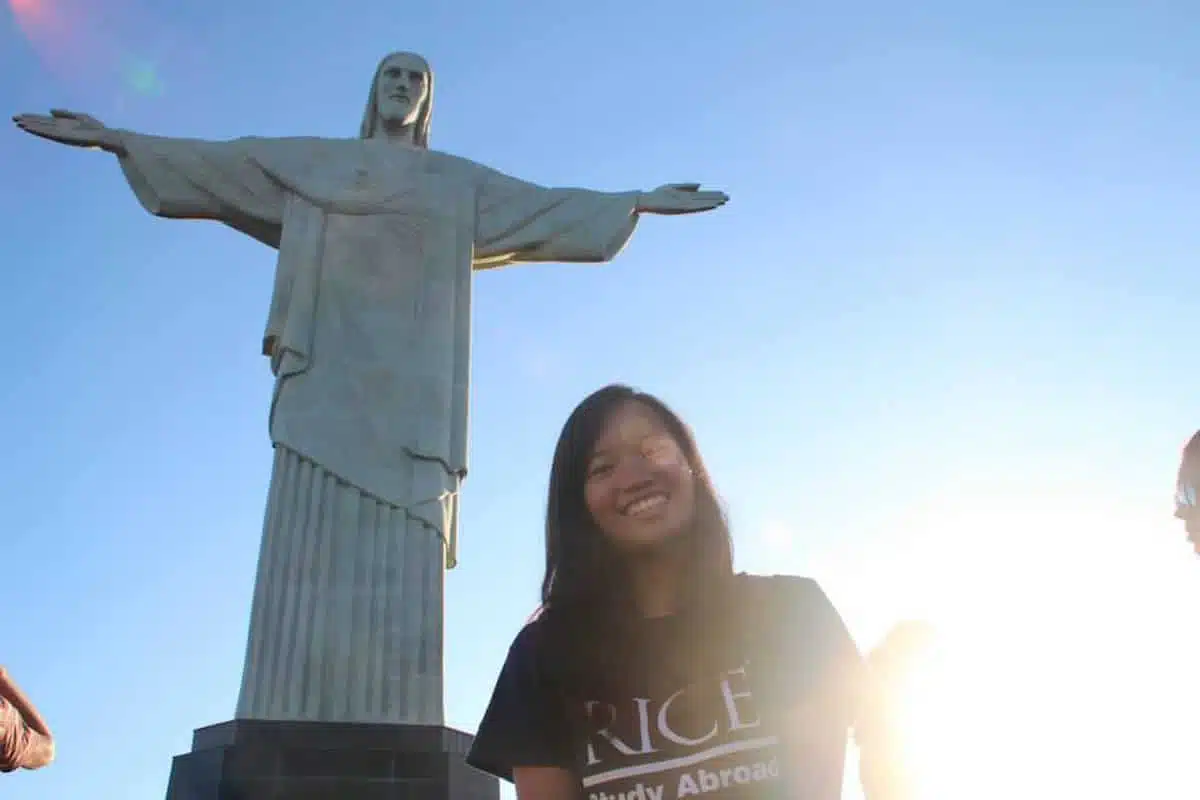 There's nowhere in the world quite like Rio de Janeiro. For one thing, it has a little bit of everything – mountains that practically touch the sea, lush jungles, fascinating history, and a culture that's full of energy and life.
Although it is most famous for its annual Carnaval festival, Rio de Janeiro is actually a fantastic year-round destination. Whether you have a weekend or a few months to spend, you won't regret traveling to this incredible city.
There are so many things to do in Rio de Janeiro that you'll never get bored!
2 Days in Rio de Janeiro Itinerary: Practical Information
When to Visit Rio de Janeiro
Because Rio de Janeiro is in the Southern Hemisphere, its seasons are reversed from destinations like the United States, Canada, and Europe. Therefore, traveling there during the American summer is actually the middle of their "winter."
But don't fret! It never really gets that cold in Rio, and in the summer months of November-January, temperatures can reach astronomical highs.
For this reason, I recommend traveling to Rio de Janeiro between the months of May and October.
How to Get To Rio de Janeiro
Rio de Janeiro has two airports – Galeão (GIG) and Santos Dumont (SDU).
Most international flights arrive in Galeão, the larger of the two airports. However, it is also much farther from the tourist areas/beaches of Rio than Santos Dumont.
Buses are also available from most large cities in the US – but be warned, bus rides in Brazil are extremely long because of its massive size.
If you're staying in Zona Sul (the most popular area for tourists, near the beaches) you can either take an Uber or an air-conditioned coach for 16 BRL.
What to Pack for Rio de Janeiro
When traveling to Rio de Janeiro, bring clothing for summer weather. There aren't really any cultural restrictions on what to wear, as Brazilians are fairly liberal with their clothing choices, so shorts and tank tops are totally fine.
It rains often in Rio de Janeiro, so be sure to bring at least one waterproof jacket or umbrella. In the "winter" months of June-August, bring a light jacket for cooler nights. Cariocas basically live in flip flops, so be sure to bring a pair of sandals or two.
Also, bring swimsuits, swimsuits, swimsuits. You'll need them basically every day you are there.
So…What's Up With The Swimsuits in Rio de Janeiro?
I won't go into this too far in depth here, but you've probably heard or seen photos of the…sparse swimsuit situation in Brazil.
It's true, Brazilian swimsuits (for both men and women) are really, really small. You can definitely wear your normal-sized swimsuit, but you will likely stand out as a tourist this way.
For more information on Brazilian beachwear and cultural norms, check out this post.
Safety in Rio de Janeiro
You may have heard that Brazil, and perhaps Rio de Janeiro specifically, are not very safe. And while there are a good number of instances of robbery and theft, if you are careful about your belongings and the areas where you are traveling, you will be absolutely fine.
As with any tourist destination, be sure to keep your valuables (e.g., iPhone/smartphone, wallet, passport, etc.) out of sight and preferably on your person to safeguard them.
Avoid wearing loud, expensive jewelry and/or fancy watches. And, of course, do not leave your belongings unattended while you are at the beach.
How Much to Budget for Rio de Janeiro
The payment culture of Brazil is often a mixture of debit cards, credit cards, and cash. However, many places do not accept certain types of international credit cards, so to err on the safer side, I'd recommend having enough cash to last your entire trip.
As of January 2023, the exchange rates were as follows:
1 USD = 5.17 BRL
1 EUR = 5.60 BRL
1 GBP = 6.38 BRL
1 CAD = 3.84 BRL
1 AUD = 3.58 BRL
On average, here's what to budget for Rio de Janeiro:
Accommodation

Hostel dorm: 32.5 – 65 BRL
Budget hotel: 162 – 200 BRL
Luxury hotel: 600+ BRL

Meals

Cup of acai: 4 BRL
Cheap meal: 15 BRL
Sit down meal: 50 – 100 BRL

Transportation

Bus ride: 3.60 BRL
Taxi/Uber: varies, but considerably cheaper than the USA
Accommodations in Rio de Janeiro
The easiest region of the city for tourists to stay is called Zona Sul. Located near the iconic Copacabana and Ipanema beaches, Zona Sul has the highest concentration of hotels and hostels, and gives visitors a central location to base themselves.
Budget: Mango Tree Hostel
Ipenama
Located just one block from the beach in Ipanema, near the Aropador Rock, is a highly-recommended hostel called Mango Tree. Situated in a refurbished colonial home, this hostel offers both dorm-style accommodations and private rooms, and is suited for backpackers and flashpackers alike.
Mid-range: Mar Palace Copacabana Hotel
Copacabana
With a rooftop bar and pool, this modern hotel features easy access to both the beaches of Copacabana and the metro to explore the city. Located just two blocks from the beach, Mar Palace is a hidden gem of a hotel for a steal of a price.
Splurge: Sheraton Grand Hotel and Resort
Leblon
When I was last in Rio de Janeiro, I stayed at the Sheraton Grand Hotel and Resort and had a blast. Depending on the season, you can get a room here for $150-200 per night.
This hotel is located between Leblon and São Conrado and boasts beautiful panoramic city views. It also has a private pool area and a secluded beach. What more could you ask for?
Getting Around Rio de Janeiro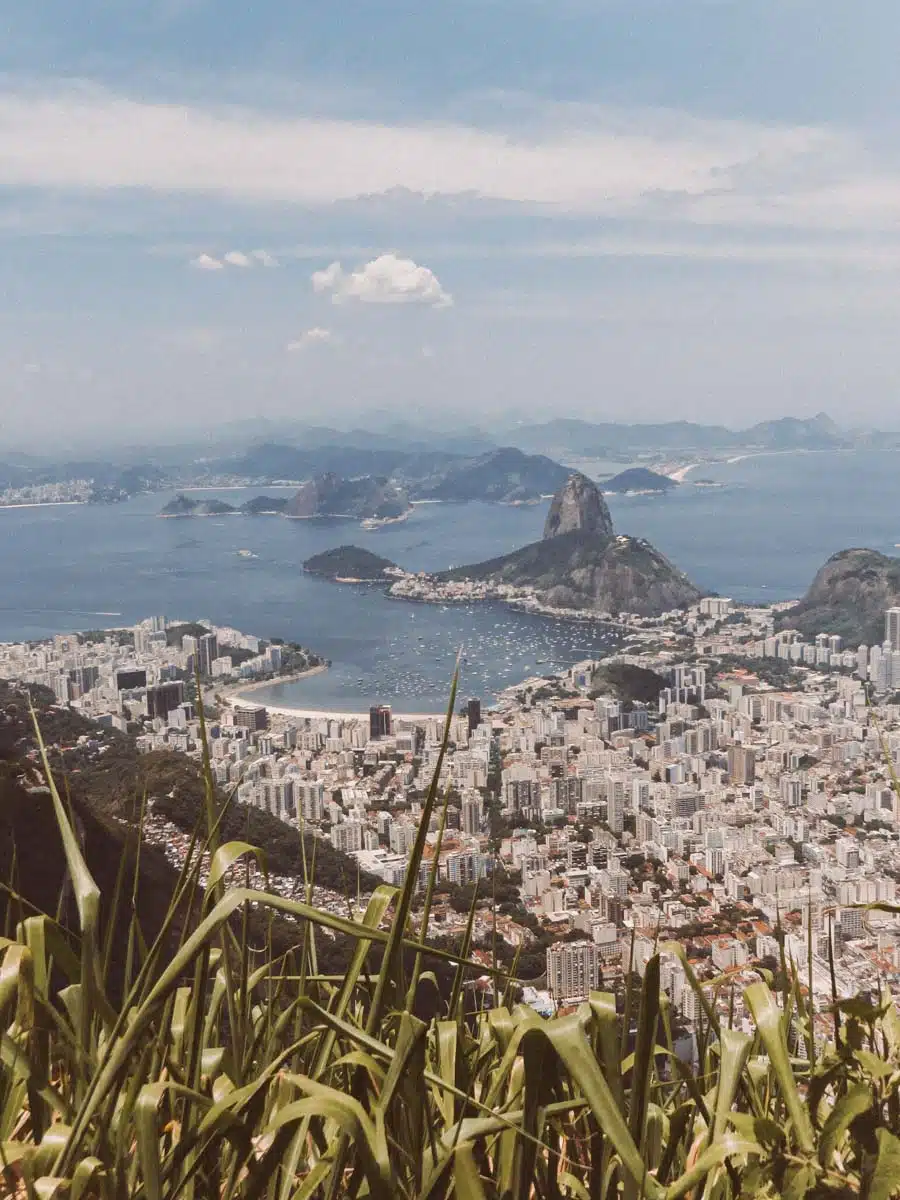 There are two good ways to get around Rio de Janeiro: the first is by bus, and the second is by Uber/taxi.
Taking the bus in Rio can be tricky, but it's an interesting way to see into the lives of the local people. To use the bus, simply determine which direction you're headed, and ask the bus drivers if they stop in your location.
The much easier and preferred method of transportation for tourists is by private car. Taxis are abundant in Rio, but only accept cash in more or less exact change.
Otherwise, a new establishment in Rio is Uber ride sharing, where you can catch an Uber for just a few reais to virtually anywhere in the city. The only downside? Making sure you have internet access to call one!
The Perfect Weekend in Rio de Janeiro: A Sample Itinerary
Arrival: Sunset at Arpoador and Dinner at a Churrascaria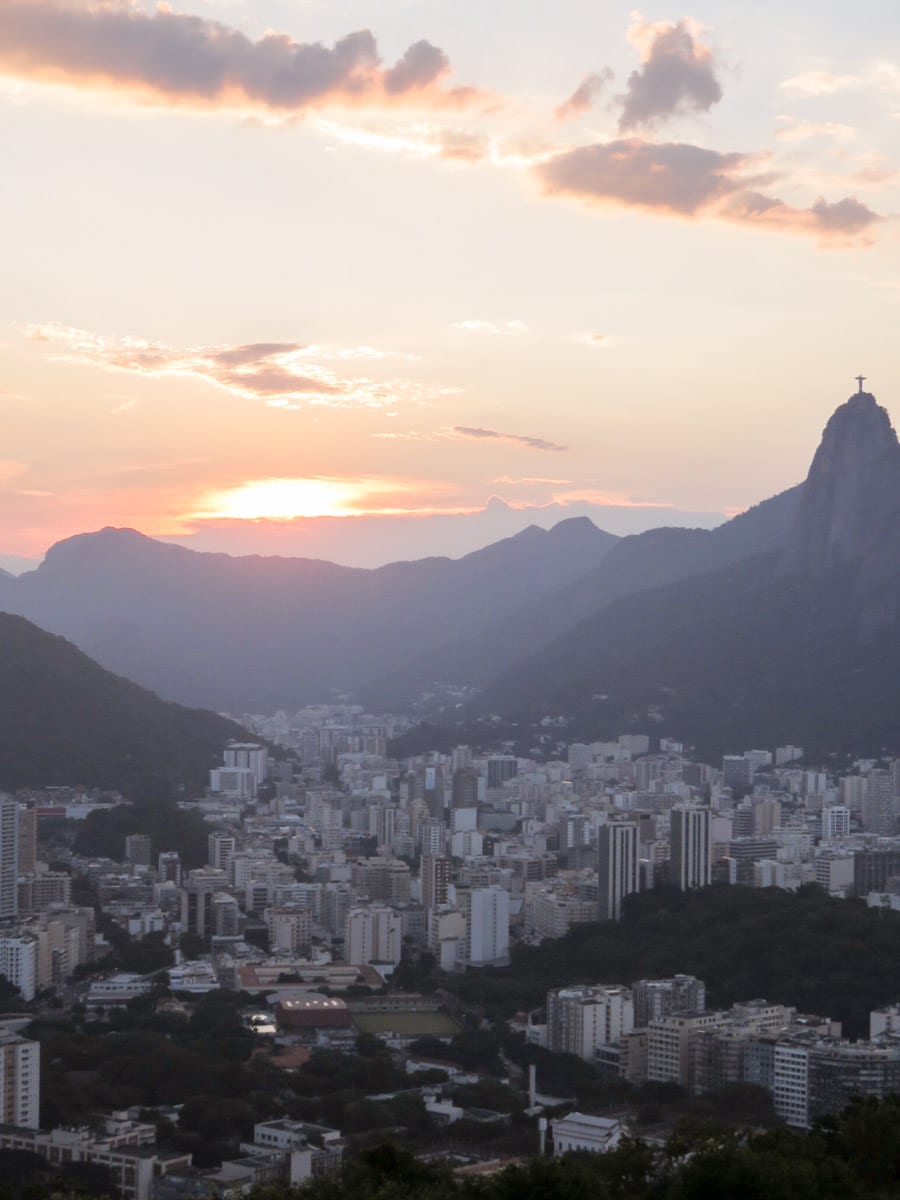 Welcome to Rio de Janeiro! As you're landing in the city and taking your taxi or bus into the city, be sure to snag the window seat and look around. You'll see mountains everywhere, one in particular with the famed Christ the Redeemer statue on top of it.
Once you arrive in Zona Sul, drop off your things and head straight to the beach. Familiarize yourself with the patterned sidewalks, the friendly beach vendors, and the seaside bar "kiosks."
Just before sunset, head to Arpoador Rock (a large rock in between Ipanema and Copacabana) to experience one of the city's best sunset views. Grab an agua de coco natural (natural coconut water) or other amazing Brazilian food on the way and sip on it as you watch the vibrant colors of the sunset around you.
After sunset, head into town, where you can enjoy a traditional nice Brazilian steakhouse dinner at one of the city's churrascarias. Some of the most famous ones include Fogo de Chão, Porcão, and Carretão.
If you're feeling up for it, take a taxi to Lapa in the night and try out Rio's nightlife scene. In Lapa, you'll find streets and alleys full of bars and clubs. One of my personal favorites, which boasts live Samba music and a few floors of dancing all night long, is Rio Scenarium.
Day 1: The Whirlwind Tour of Rio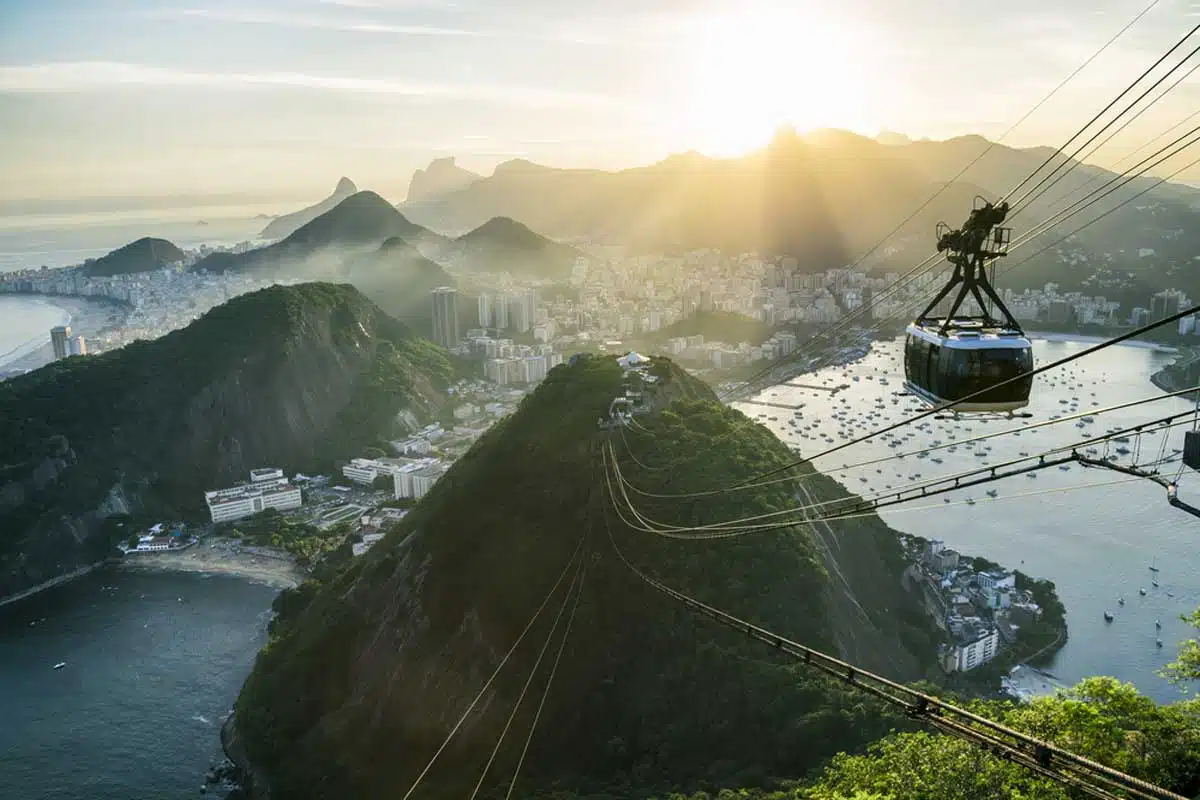 For your first full day in Rio, you'll want to get up nice and early and gear up for a day full of Rio's most iconic attractions.
After eating an early breakfast, head to Pão de Açúcar (Sugarloaf Mountain) in Urca. This mountain is a pointy rock with two cable cars that lead up to its summit. This attraction gets very crowded during the day, but if you go early, the crowds aren't bad at all.
Catch the first cable car to the top at 8 AM (80 BRL) and spend the morning enjoying one of Rio's most spectacular views.
Lagoa
Once you've been to Pão de Açúcar, head to the Lagoa, a large, heart-shaped lake in the middle of the city.
Here, you can see locals riding bikes, running, and hanging out on the shore. If you want to get some exercise, you can rent a paddleboat and explore the lake on the water.
Otherwise, nearby, you can check out Parque Lage, one of the city's incredible, jungle-like parks with a historic building on its grounds.
Centro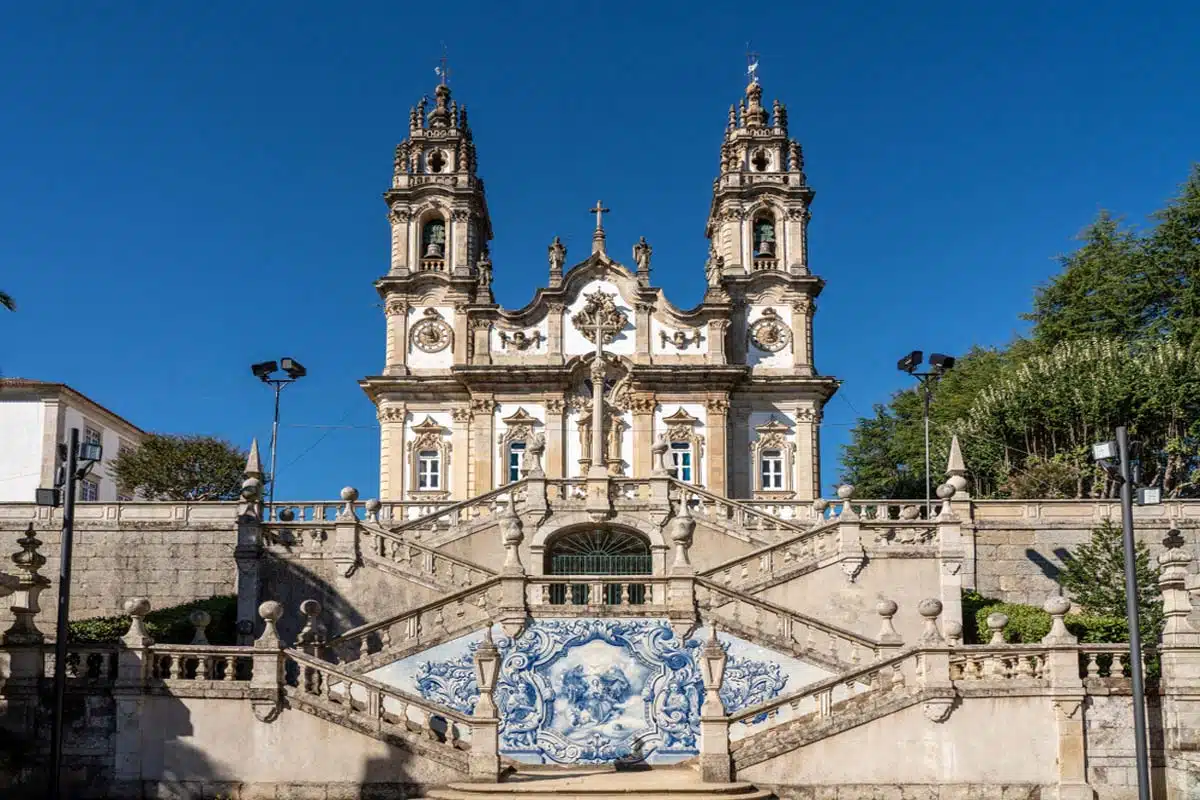 After lunch, head to Centro and check out the city's more historic side, with regal architecture and a somewhat dilapidated charm.
There are several art and history museums here to peruse. Explore the Escadaria Selaron, a colorful mosaic staircase located in the Lapa area that was created by a Chilean artist, Jorge Selaron.
Or, if you want more artsy areas to explore, head to Santa Teresa neighborhood, which is located close to the Centro.
Christ the Redeemer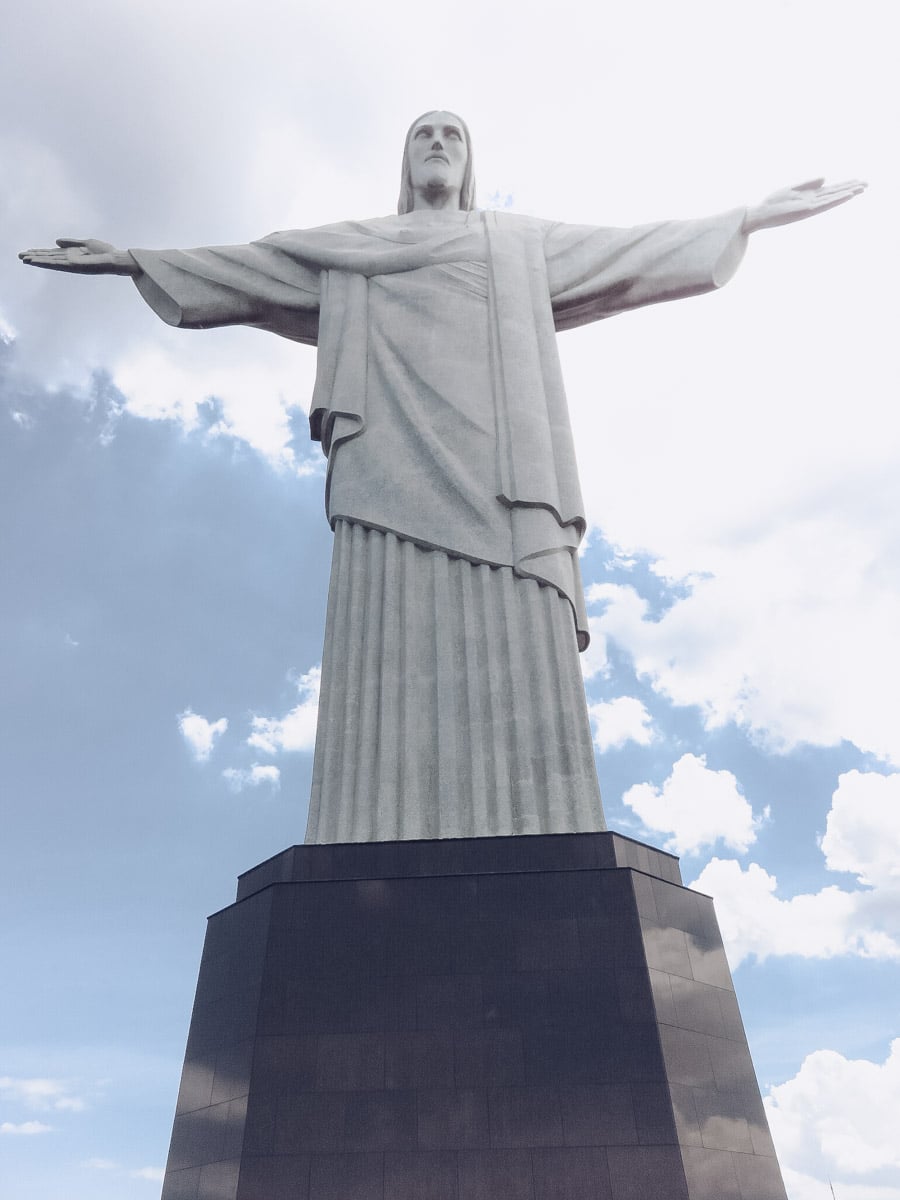 In the late afternoon, catch the train (62-75 BRL per person) up to Rio's most famous sight, the Christ the Redeemer statue. Be sure to make your way there with some sunlight still left.
Not only can you see this enormous statue up close and personal, but you can also catch one of the most incredible panoramic views of Rio de Janeiro, spanning from the buildings of Centro to the beaches of Zona Sul, all the way out towards Zona Oeste (West Zone).
In the evening, head back to Zona Sul and go to a barzinho, where you can pick up a chopp (draft beer) and much on my favorite Brazilian bar snack, frango a passarinho (crispy fried chicken).
Day 2: Explore the Outdoors and Enjoy the Beach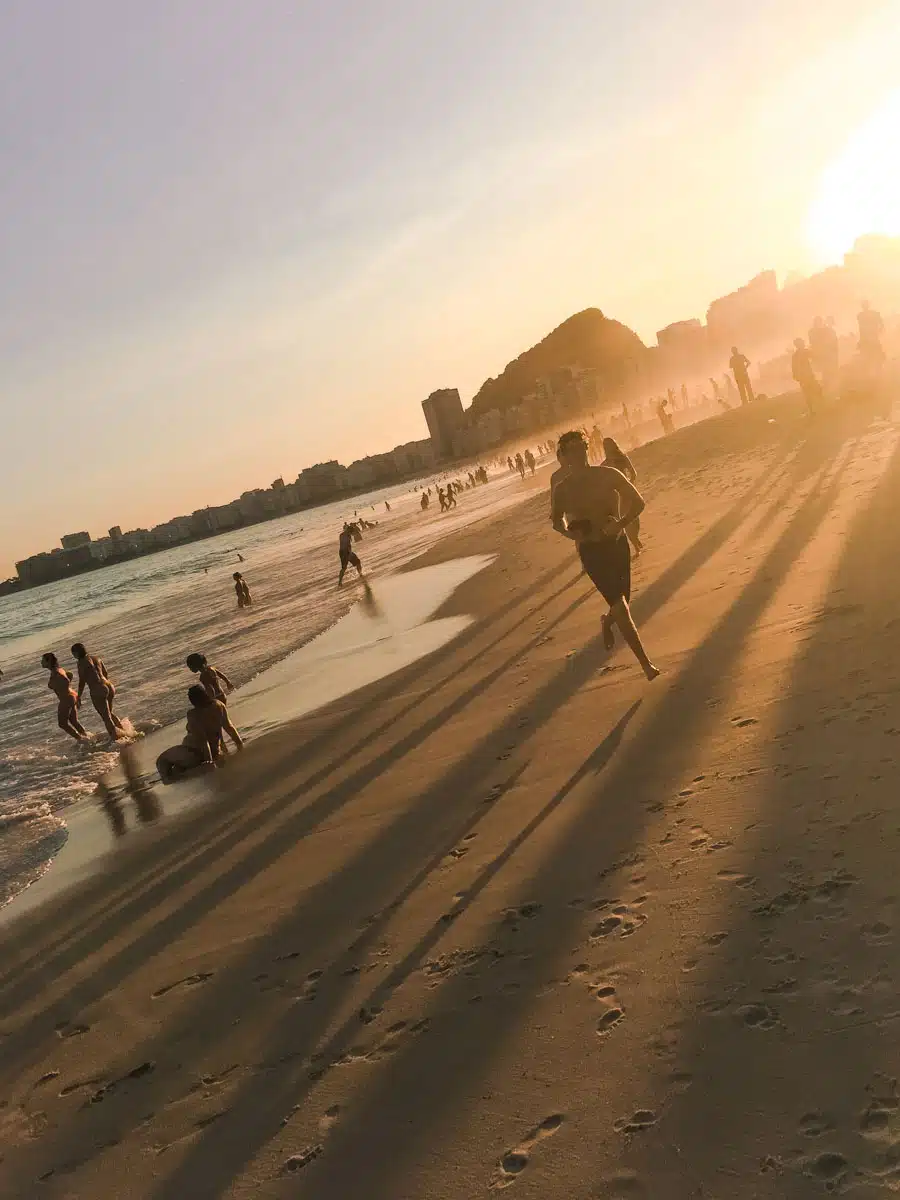 Get ready, because today you'll be spending most of the day outdoors.
Hike Dois Irmaos and Jardim Botânico
In the morning, eat a quick breakfast and then head to Vidigal to hike Dois Irmaos. Dois Irmaos is one of the city's jagged rock formations, and the views from the top, in my opinion, are the best in the city.
After Dois Irmãos, explore Jardim Botânico (15 BRL). With its amazing plants and well-maintained paths, this peaceful jungle respite is a must-see in Rio.
Laze on a Rio Beach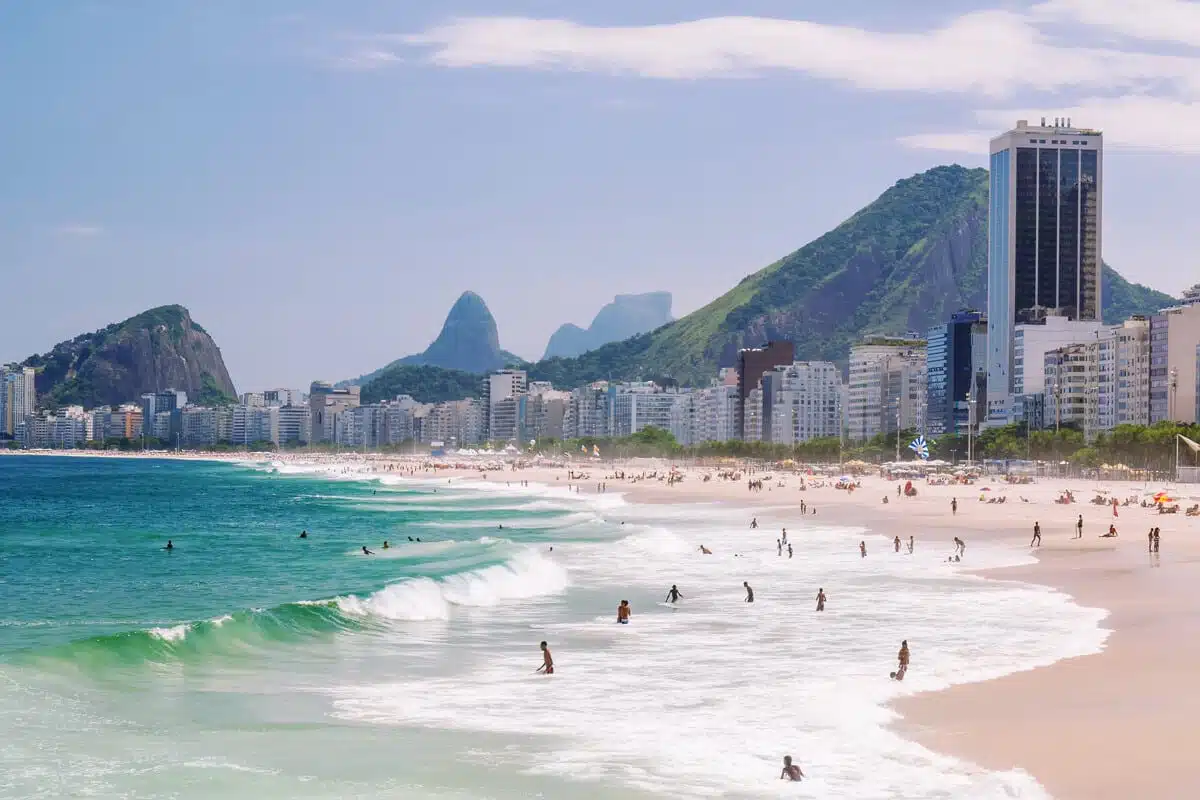 Afterward, the rest of the day is easy – set out your cangas and enjoy the beach! You might be thinking, Kay, this is the laziest travel guide ever. However, spending a day, or at least an afternoon, at the beach is an essential Rio experience.
It's not just lying at the beach that makes this an experience, it's the grand people-watching opportunities. Beach vendors fly by as young kids kick soccer balls around the beach. Often, you can spot a surfer or two riding the waves nearby.
Ending your weekend in Rio with a beach day will help you experience a slice of the carioca lifestyle, one that's laid back but still full of vibrance and fun.
2 Days in Rio Itinerary: If You Have More Time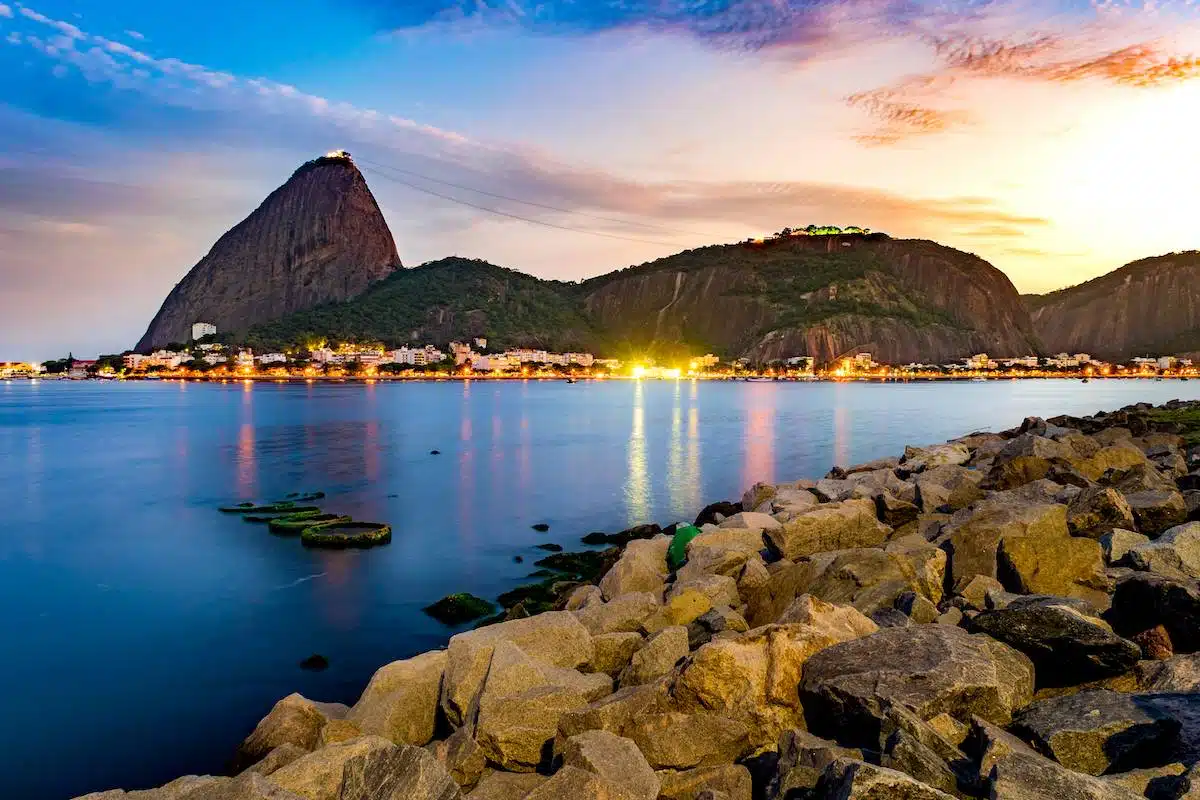 Like I mentioned before, you could stay in Rio for a long while and still have more to do! If you have more time, explore some more of the museums and historic areas of Centro, or wander through the busy streets of Zona Sul.
Alternatively, you can check out some of the city's street markets, which typically happen on Tuesday, Saturdays, and Sundays.
If you're feeling adventurous, take a bus or Uber out to Zona Oeste and check out those beaches, which are slightly less chaotic than the popular areas of Zona Sul, or try another one of the various hikes within the city's limits.
2 Days in Rio Itinerary: Final Thoughts
Rio de Janeiro is one of the world's most iconic cities, and you can definitely see a lot of it even if you only have a weekend. If the opportunity to visit Rio presents itself, take it!
With its outdoor activities, bustling streets, and beautiful beaches, Rio has something for everyone, and you definitely won't regret experiencing it for yourself.