Tie up your laces and grab your football, we're heading to the Henningsvær, Norway, soccer stadium in the Lofoten Islands.
Henningsvær Stadium isn't home to a Champions League club, it can't fit 100,000 fans (or even a fraction of that), and it won't host the Euro Cup 2024. Doesn't matter. It's still one of the most beautiful football pitches you'll see anywhere in the world.
If you're into cool football fields, I have a little secret for you – Norway's Lofoten Islands has one of the most unique fields in the world. I know first hand, after visiting twice in the past couple of years.
What makes it so special? Here's an in-depth look at everything you need to know about visiting Henningsvær Football Stadium
Why Visit Henningsvær Stadium?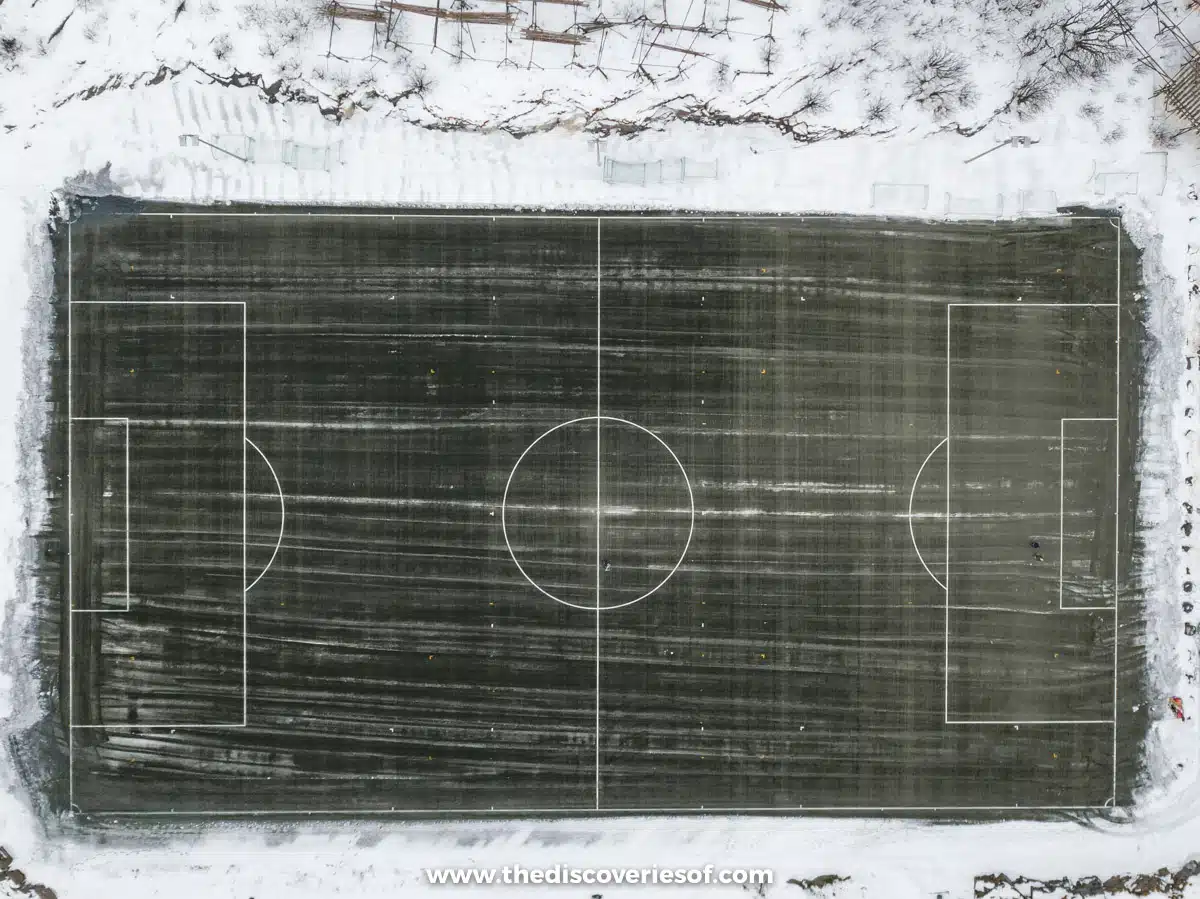 Why visit Henningsvær Stadium? Let's be clear. Where else will you see a soccer stadium smack dab in the middle of the Arctic Circle, surrounded by the dramatic mountains, inlets, and open waters of the Norwegian Sea? Nowhere.
Real talk: the field looks like something EA Sports dreamt up for FIFA 2024, not somewhere you can visit in person. But you can. And you definitely should.
Why is Henningsvær Stadium There in the First Place?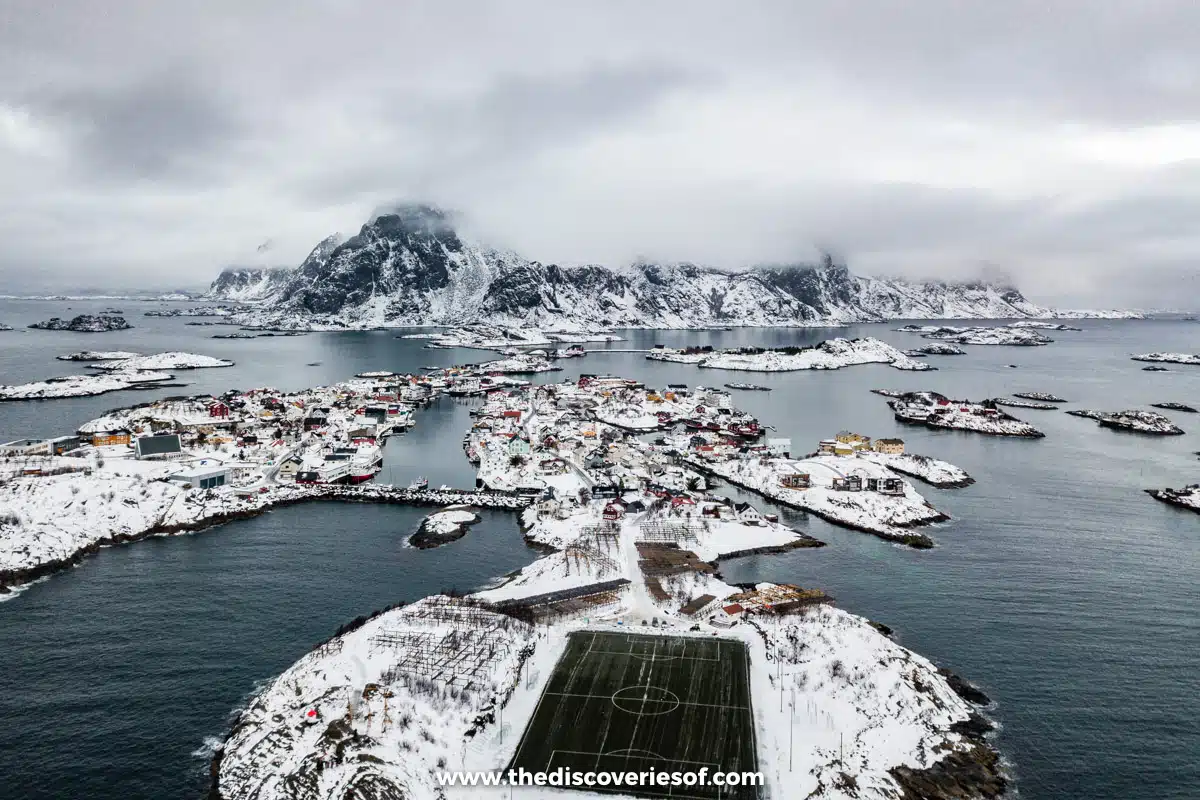 Rolling up over the bridge from Henningsvær, you'll notice the dramatic rocky shores with stockfish drying racks scattered about the boulders near the chilly coasts. So, how did a soccer pitch end up here?
The town was a booming fishing village in the 20th century, and the amateur team Henningsvær IL needed somewhere to play. Thus, the famous stadium plans began forming in the Arctic Circle in 1927.
But How Did the Football Pitch Get There?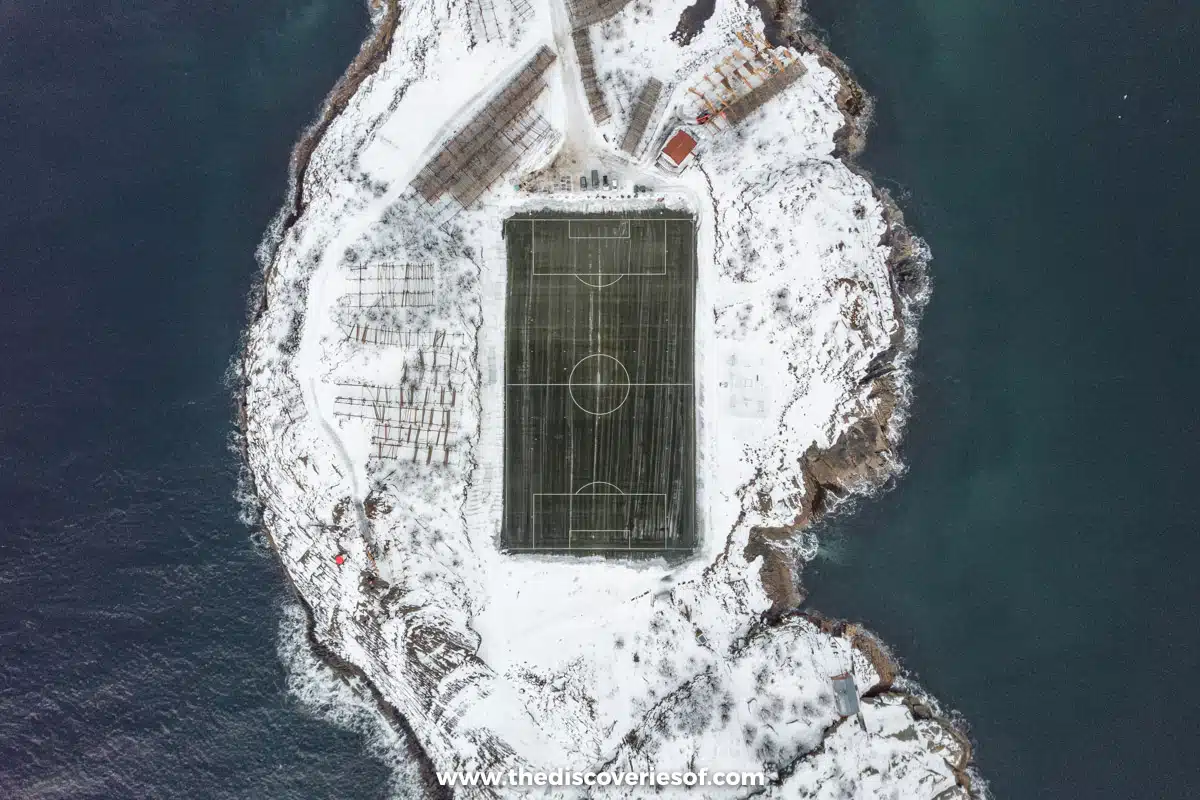 Hard work and determination can yield some pretty amazing results.

Luckily, the Henningsvær IL team inspired an effort to excavate and flatten the rocky island, providing the perfect place to lay the world's most beautiful soccer pitch.
Who Plays There Now?
Currently, no professional or amateur teams call the Henningsvær Stadium Home. But local youth leagues play here all the time, so luckily, the field is still being used.
Can Anyone Visit Henningsvær Stadium?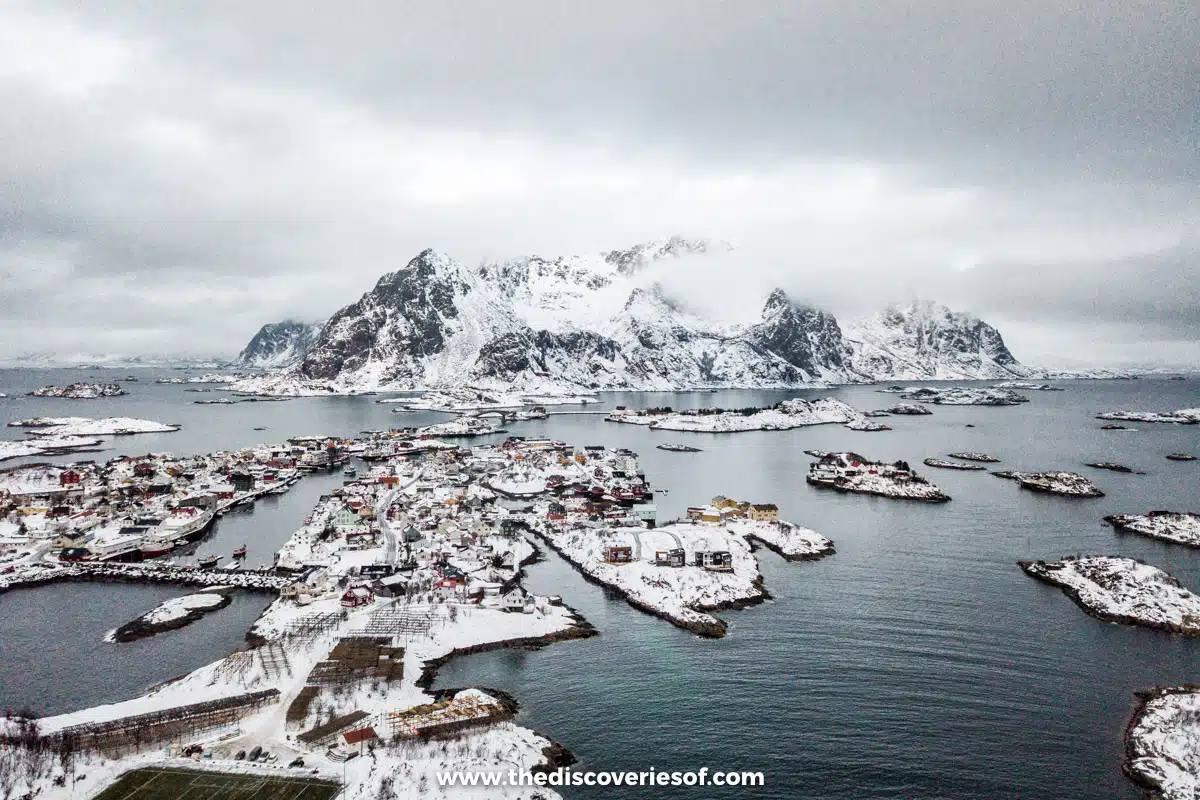 Anyone can watch from the sidelines or try their luck at getting the ball through the goalposts at Henningsvær Stadium.

Or, if you're just here for an epic photo, you're welcome to do that, too.
How Do I Capture The Photo?
Arrive around sunrise or sunset, as these times of day typically provide excellent lighting for Henningsvær Stadium photos.
While you can get some great shots of the local culture around the clubhouse and pitch, nothing is better than capturing the dramatic Lofoten Island landscapes surrounding the Henningsvær Pitch from above.
Top Tip
Bring your drone for the best photos of the field from above. Check out my winter shots on YouTube!
Following the Rules at Henningsvær Stadium
Are Drones Allowed on the Pitch?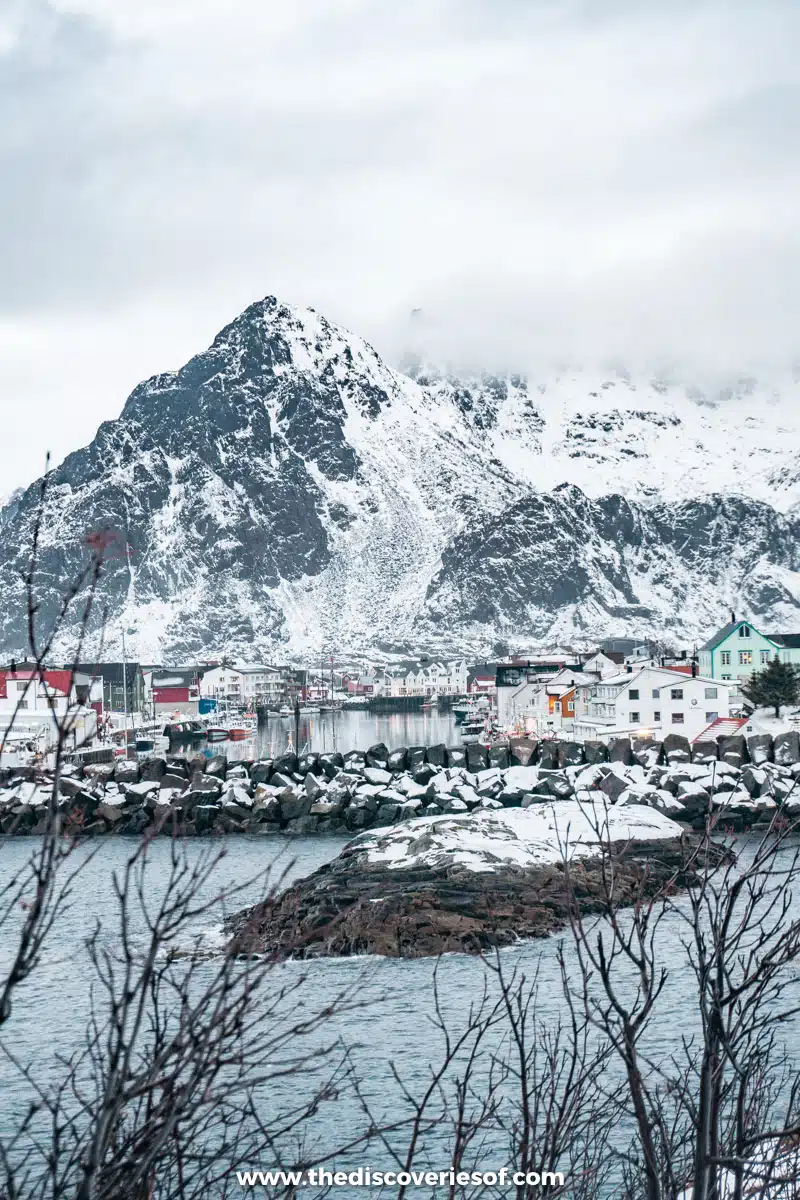 This is somewhat of a grey area. But if you use common sense, respect any local's requests not to fly near their homes or vehicles, and pay attention to any potentially dangerous winds, you can fly a drone.
Other Rules at Henningsvær Stadium
When you visit Henningsvær Stadium, you'll want to be aware of the following guidelines:
No camping overnight.
Dogs aren't allowed on the pitch.
Smoking and consuming alcohol are prohibited.
Planning Your Visit to Henningsvær Stadium
Henningsvær Stadium Address
Løktveien 25, 8312 Henningsvær, Norway
Henningsvær Stadium Opening Times
You can technically visit the stadium 24 hours daily. Playing under the Midnight Sun is actually a local favourite.
Visiting Henningsvær Stadium Independently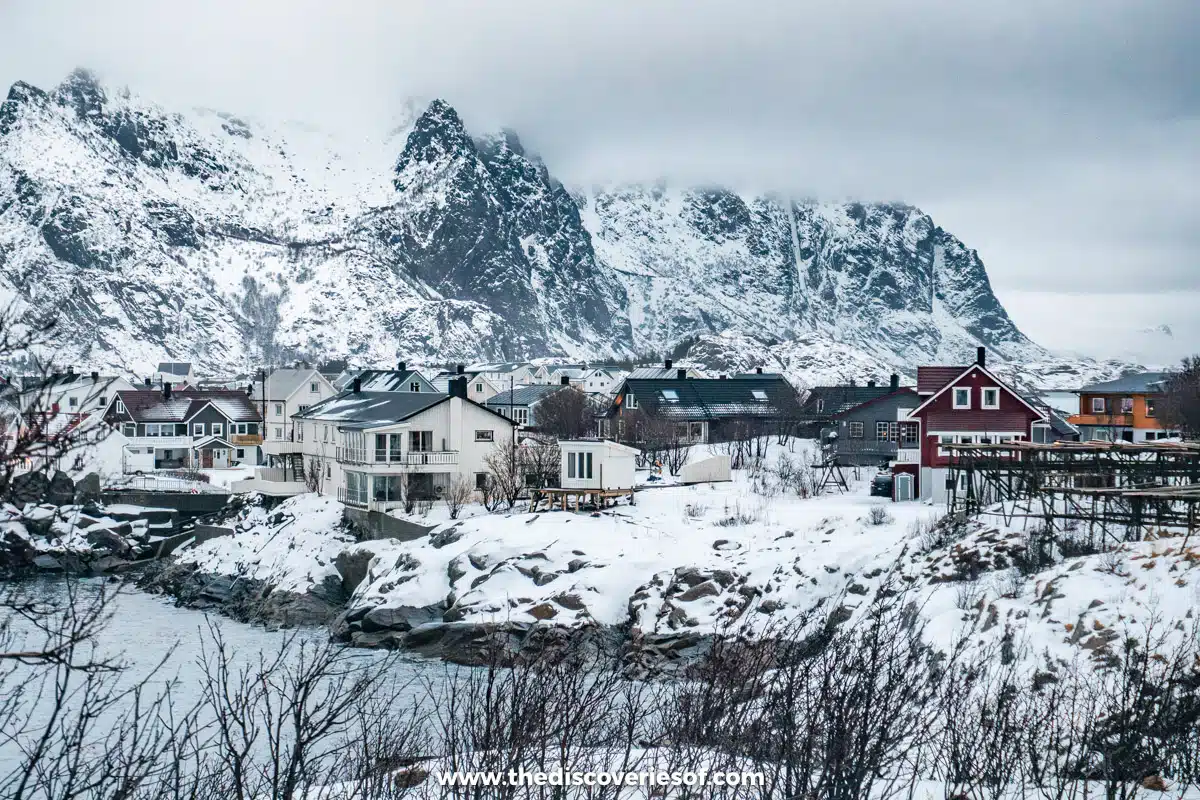 Getting to the Lofoten soccer field, Henningsvær Stadium is easy enough.

It's only about 20 minutes from Svolvaer, and you can easily reach the main village by car or bus.
By Air
The easiest way to get to Henningsvær Stadium is to take a flight from Oslo to the Harstad/Narvik Airport.

Flights typically take 1.5 hours and start around £100 ($123) round trip. Then it's about a 3-hour drive to the Henningsvær Stadium.
By Boat
You can take a ferry from Bodo to Svolvær, which takes about 3-5 hours, depending on the day.

It's around £20 ($25) per person plus the cost of a bus ticket or taxi to Henningsvær. Alternatively, you can bring a car with you for around £73 ($90).
Where to Stay for Henningsvær Stadium
Tobiasbrygga
If you're looking to stay in a place that's uniquely Norwegian (and, specifically, has the Lofoten Islands Charm), Tobiasbrygga is a perfect choice.

Your apartment-style accommodation is in the heart of the iconic fishing town, a short walk from the art galleries, shops, and cafes.

Rooms have plenty of space, all the amenities, and a cool aesthetic that mixes old-world traditions and modern design. Try cooking freshly caught seafood in your full kitchen, which you can enjoy on your harbour balcony on warmer evenings.
What to Pack for Henningsvær Stadium
Visiting Henningsvær Stadium stadium (or anywhere in Henningsvær) requires dressing for the weather.

If you visit in the summer, temperatures are warmer but still often under 60°F (15.55°C), with 8-11 days of rainfall on average each month.
When the weather is (significantly) colder in the winter, you'll need to pack a bit more. Here are a few things you won't want to leave at home:
Henningsvær Stadium Map
Explore More of the Lofoten Islands
Love This? Save and Share on Pinterest