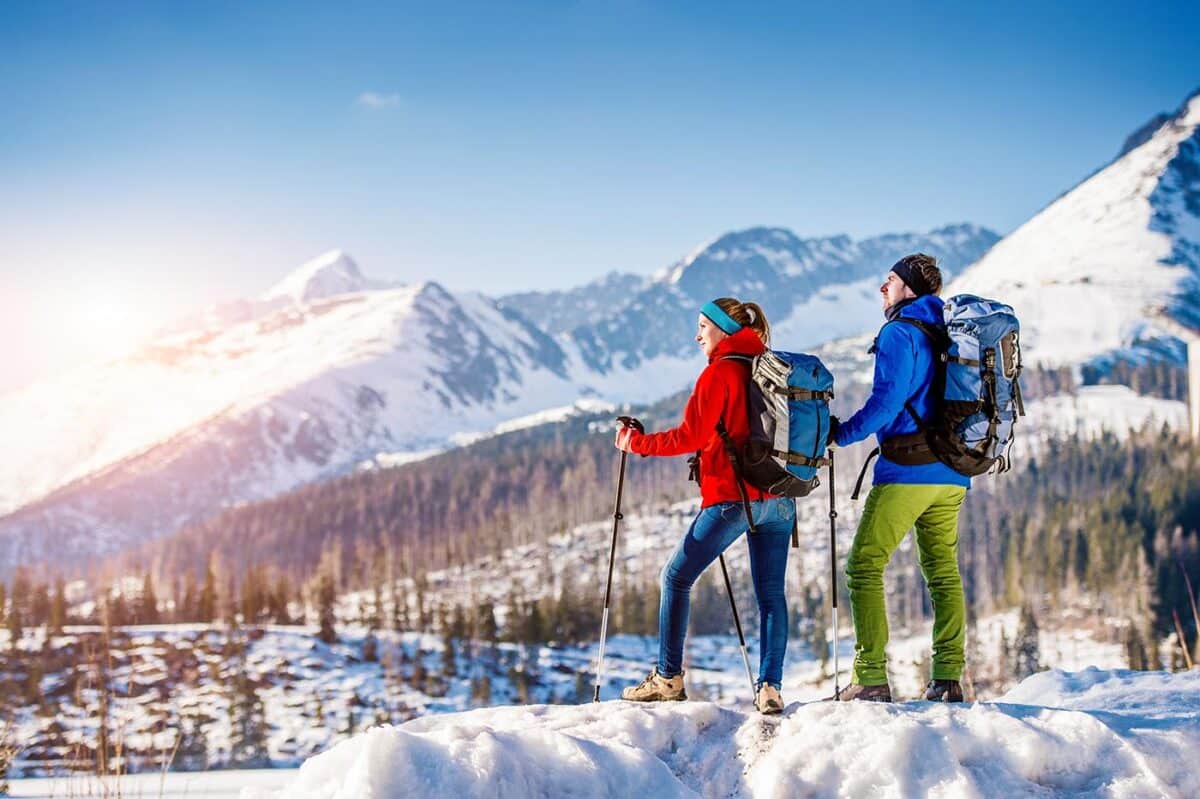 Looking for the best hard shell jacket? An essential piece of travel wear for your next trip, these are the very best on the market right now.
A good jacket is key for any trip. Not only can it protect you from the elements, but it keeps you warm and can look rather stylish, if I do say so myself.
Whether you're hiking in the mountains, whale-watching or merely taking a city-break, I've rated and reviewed some of the best hard shell jackets on the market to keep you protected.
Ready?
Best Hard Shell Jacket: At a Glance
The Best Hard Shell Jackets
Mammut Convey – Best Hard Shell Jacket for Men
££
The Mammut Convey is my choice of Best Men's Hard Shell Jacket thanks to its long, tailored fit, exceptional comfort and low noise. This 2.5-layer Gore-Tex Pro hard shell combines simple, effective features with low weight and great packability.
The Gore-Tex Pro materials give the Convey great weather resistance with 28,000mm water column. It's not just you that stays dry, the two 'Napoleon' pockets keep their contents totally dry and their placement is nicely out of the way of backpack straps and waist belts.
The jacket and pockets fasten with spray proof zips, which keep things simple and accessible as well as adding a very masculine pop of red against the charcoal/black finish.
The 3-way adjustable hood offers comfortable, close-fitting protection. It can also be secured with a nifty little hook to prevent it blowing around when not in use.
The Convey has a pair of extra-long pit-zips, useful to get some extra air-flow in changeable conditions, or long uphill slogs.
For me, the fit is what really makes the Convey a stand-out jacket. If, like me, you are tall and gangly, the long cut and pre-shaped arms give great protection for most outdoor activities.
Combine this with simplicity, lightweight and the lack of rustle and you have what we believe is the best men's hard shell jacket.
Although there is currently no women's version of this jacket, the women's Convey Tour has many of the same features and performance.
Mammut Convey – Pros & Cons
Pros
Cons
– Tailored fit
– Extremely waterproof
– Simple and lightweight
– Not suitable for extreme Alpine use
Berghaus Stormcloud – Best Hard Shell Jacket for Hiking
£
Okay, time to get back to basics. The Berghaus Stormcloud is our recommendation for the best waterproof jacket for hiking.
I've deliberately picked a no-nonsense, simple jacket for hiking and walking and as such the Stormcloud is also well-suited for wet-weather city breaks too.
If you are thinking of a trip with extreme weather or are planning something more adventurous than a hike, then I would recommend some of the more specialised choices in this article. However, if you're just after a reliable, affordable waterproof jacket, then the Berghaus Stormcloud is a great option.
Featuring Berghaus' own Hydroshell breathable, fully waterproof material, this hardshell means you'll stay dry in everyday challenges (Hydroshell exceeds 10,000mm water column). The simple design features an externally adjustable hood, two external zipped pockets and velcro-adjustable cuffs.
The straightforward cut is our preferred hip-length, with a dropped back ensuring your lower back is protected. We like the simplicity overall. You can be confident that Berghaus have focused on the best performance at this price point, not trying to emulate expensive technical features on a shoestring.
So with this jacket it's a case of what you see is what you get, an affordable waterproof hard shell that will perform well in adverse conditions.
There are some limitations. The lack of pit-zips, the zips and pockets are not waterproof and the pockets may be a little low for some. We found access to be okay, but they are close to where many people may choose to wear their rucksack's waist belt.
The Berghaus Stormcloud is our choice as the best waterproof jacket for hiking due to its value and simplicity. Available for both men and women in a range of both bright and subdued colours, its low-key design is also great as a go-to waterproof for city breaks.
Berghaus Stormcloud – Pros & Cons
Pros
Cons
– Great value
– Simple design
– Low-key looks also ideal for city use
– Not suitable for more strenuous activities
– Lack of pit-zips
– Zips are not waterproof
The North Face Active Stretch Shell – Best Stylish Hard Shell Jacket
££
It's clear that The North Face are unbeatable on the style front, but how do their jackets fare in a practical sense? Pretty well, actually.
I adore this Active Stretch Shell – it's perfect if you're after a lighter jacket to layer up with and suitable for both hiking and exploring a city.
The jacket is made from a PU-coated shell and boasts sealed seams that allow water vapour to escape, ensuring you won't get too sweaty or damp during the day. Great for those cooler days spent hiking or exploring the outdoors in milder weather.
Let's face it, sweaty pits are never fun – which is why it's so great that this jacket has pit vents, which simply unzip and allow the air to circulate through the jacket. Genius.
Now, I'll level with you – this jacket is not ideal if you're hiking in freezing cold weather or are looking for an ultra-hard wearing jacket to get you through the toughest of terrains.
Nevertheless, it holds its own and has wind and waterproof properties that ensure it protects you when out and about.
Colour-wise, the jacket boasts four colourways and my favourite is the Taupe Green. Ultra stylish and practical? It's a huge yes from me.
The North Face Active Stretch Shell – Pros & Cons
Pros
Cons
– Pit zips for extra ventilation
– Water and windproof
– Perfect for layering
– Ultra-stylish
– Not as hard-wearing as other jackets
– Fairly thin
The North Face Carto Triclimate Waterproof Jacket – Best Hard Shell Jacket For Snow
£££
If you love The North Face but need a jacket with a little bit more to it, the Carto Triclimate offering is excellent. It's the priciest jacket in this guide but it's well worth it for the fact that it has a gorgeous design that makes you go *chef's kiss*.
This jacket is a two in one, so you're getting great bang for your buck – simply unzip the outer layer in warmer weather and you're good to go. Chest and hip pockets ensure you've got plenty of storage for valuables (and snacks, if you're anything like me).
Despite its hardwearing nature, this jacket is incredibly lightweight. It also stands strong against the elements, with rain wiping straight off before it even gets the chance to soak into the coat. It also keeps you very warm and is resistant to wind.
The only thing to note is that the sizing can be a little bit tricky, so size up if you're particularly broad across the chest and shoulders. Or, just want a little bit of extra room to layer up.
Catch me in the Asphalt Grey colourway – though, if you're feeling particularly bold, the Burnt Ochre option is particularly stylish.
The North Face Carto Triclimate Waterproof Jacket – Pros & Cons
Pros
Cons
– 2 jackets in 1
– Lightweight yet durable
– Protects against the elements
– Very stylish
– Unique colourways
– Expensive
– Sizing is on the smaller side
Marmot Men's Knife Edge Jacket – Best Gore-Tex Hard Shell Jacket
£££
One of my top picks is the Marmot Knife Edge Jacket – it's lightweight, waterproof, and perfect for alpine hiking, and easily the best Gore-Tex option on the market right now.
Don't believe me? Clever GORE-TEX Paclite Technology ensures you stay warm and comfortable, and there's none of that horrible plastic bag feeling that some hard shell jackets give.
Made of 100% recycled polyester, this jacket is breathable and fits in a classic athletic style. It gives you just the right amount of flexibility yet doesn't overpower you when out and about.
The sleeker black and navy colourways are my personal favourites, though there's also the option to go bold AF with the Victory Red and Ember variations. You certainly won't be getting lost on the mountain in those colours.
A major drawback is that there are only two pockets on this jacket, though it has to be said that they are very deep so should be enough to keep your most valuable possessions closeby.
Marmot Men's Knife Edge Jacket – Pros & Cons
Pros
Cons
– Sleek and stylish design
– Dual-layer GORE-TEX Paclite membrane
– Water and wind-proof
– On the pricier side
– Lack of pockets
Diamond Candy Lightweight Hiking Coat – Best Hard Shell Jacket for Women
£
Though I often wear men's jackets (I find that they're usually bigger, comfier, and come with more pockets), the Diamond Candy Lightweight Hiking Coat is a great hard shell jacket for women.
The hood is removable via a surprisingly sturdy velcro zip, while the adjustable cuff tabs allow you to ensure you're kept totally dry and warm in a range of weather conditions.
The shell is made of waterproof material and it claims to be breathable (though I found that there are better alternatives on the market if this is your main concern).
When it comes to pockets, this jacket has (quite literally) got you covered.
It boasts two secure-zip waterproof hand pockets, a secure-zip chest pocket, and an internal pocket to keep your valuables safe. Each of which are waterproof, so there's no need to worry about your electronic devices facing water damage.
The lime green option is super funky and I love it. Word of warning, I would size up if you're planning on wearing anything remotely thick underneath as this jacket is very snug.
Diamond Candy Lightweight Hiking Coat – Pros & Cons
Pros
Cons
– Plenty of pockets
– Brilliant price
– Waterproof
– Suitable for mild weather only
Little Donkey Andy Lightweight Jacket – Best Budget Hard Shell Jacket
£
This Little Donkey Andy Jacket is a fabulous unisex offering at an even better price.
With 33 colours available to choose from and inclusive sizing, this hard shell jacket is a brilliant alternative to some of the more expensive options on the market. Though it's not quite as stylish, I will admit. But hey, who needs style when the price is THIS good?
The jacket has a lightweight mesh lining which helps to wick sweat away from your body, while the DWR finish on the jacket is waterproof and windproof. The jacket performs well in a number of harsher weather conditions, whilst still being light enough to wear in milder weather.
The adjustable hood can be tucked away inside the collar, taking this from a hard-standing coat into a lightweight jacket perfect for exploring the city with a hoodie underneath.
The chin guard, adjustable drawcord hem, and sealable cuffs ensure you're kept warm and dry during your adventure.
Little Donkey Andy Lightweight Jacket – Pros & Cons
Pros
Cons
– Budget-friendly
– Waterproof PU coated membrane
– Compact
– Range of colours and sizes
– Not the most stylish jacket
Columbia Men's Watertight Ii Jacket – Best Lightweight Hard Shell Jacket
££
When it comes to lightweight hard shell jackets, Columbia Men's Watertight Ii Jacket takes the crown.
This offering has been constructed with a waterproof nylon shell, which means it can withstand anything from a light drizzle to a torrential downpour.
I've found that it fares pretty well – though it's not the best jacket if you're planning on tackling hikes in monsoon season (not that I would particularly recommend this anyway, but each to their own).
Though, it has to be said that the best feature of this jacket is the abrasion-resistant chin guard that protects from the roughness of the zipper, helping to keep you warm and comfortable, even in the harshest of weather.
I found that the fit of this jacket was great, allowing for a couple of thin layers underneath but not so roomy that it's impractical and gets in the way whilst hiking. It is super lightweight and breathable on the body, even in humid temperatures – no sweaty pits here.
Colour-wise, it lacks anything outside of grey, black, or blue, though for those looking to purchase a sleek and neutral jacket, this is a brilliant option.
Columbia Men's Watertight Ii Jacket – Pros & Cons
Pros
Cons
– Extremely lightweight
– Abrasion-resistant chin guard
– Limited colourways
Carhartt Men's Dry Harbour Jacket – Best Stylish Hard Shell Jacket
££
If style is your main concern (it really shouldn't be – but fashionistas gotta fashion, amirite?), the Carhartt Dry Harbour Jacket is an excellent choice. In particular, the stunning green option.
But this jacket isn't just a pretty face, it boasts a 100% nylon shell with signature storm defender waterproof (and breathable) technology. The zipper fastening has a popper-flap, ensuring that you're kept nice and dry underneath.
Sold? There's more.
This jacket has pockets in abundance, not only do you get a roomy front chest pocket, but you also have two lower front pockets with zipper closures and storm flaps to play with.
Add to this interior drop-in pockets with a hook and loop adjustable closure, and there's really no reason to need a bag.
The only negative to note about this jacket is that there is no internal lining, which means that once the hard-wearing external waterproof coating is worn down, it will offer little protection in harsh weather.
I would recommend purchasing this jacket for city breaks or light hikes, as opposed to rigorous adventures in wet regions.
Carhartt Men's Dry Harbour Jacket – Pros & Cons
Pros
Cons
– Stylish
– Plenty of pockets
-Storm-resistant technology
– Larger fit – size down if you want more snug
Berghaus Vapour Storm – Best Breathable Hard Shell Jacket
£££
Berghaus offers an array of impressive hard shell jackets, but the Vapour Storm is one of my ultimate favourites. Seamlessly blending style, comfort, and practicality, this jacket's main pull is that it is ultra-breathable – perfect for those sweatier hikes.
How does this work, I hear you ask? Well, 3 layers of GORE-TEX and yoke venting results in a chimney effect, allowing cool air in and forcing humidity out. Meaning that you won't end up a sweaty mess halfway through your climb. Dream.
Something that doesn't often get covered is visibility – have no fear, this jacket boasts 360 reflectivity so that you can be safe and visible even in low light conditions. Great if you're catching the sunrise or sunset in a national park and want a little bit of added peace of mind.
Colour options are fairly limited, though if you're looking for practicality over style then this is a great all-rounder jacket that has got your back in a number of scenarios. Though, it has to be said, the price reflects this.
Berghaus Vapour Storm – Pros & Cons
Pros
Cons
– Ultra-breathable 360 reflectivity
– Made with GORE-TEX
– Expensive
– Limited colourways
Helly Hansen Seven J – Best Classic Hard Shell Jacket
££
Helly Hansen may have had its heyday in the mid-noughties, but this brand still produces excellent quality hard shell jackets that are not to be sniffed at. The Seven J is a case in point.
This jacket comes with what the brand likes to call Helly Tech protection – which basically means that it is waterproof, windproof, and constructed with breathable fabrics. All big ticks in my book.
It's also lined with a quick dry lining and boasts a fixed hood (as well as one hand hood adjustments – no need to balance your water bottle and phone on a nearby rock).
The front storm flap and anti-chafe chin guard protects you from the elements even further, whilst ensuring that the zipper material isn't too harsh on the skin. An often overlooked consequence of hiking is horrific chin rash, so it's great to see that this jacket has got your back.
The fit is probably my favourite out of all the jackets in this guide – slightly oversized but tight enough to the body that you wont find yourself getting caught on things. I also enjoy the colour range and the signature HH logo on the breast.
Note that there are only two pockets on this jacket, and I wouldn't risk putting anything extremely valuable inside as they are not the most waterproof of offerings.
Helly Hansen Seven J – Pros & Cons
Pros
Cons
– Waterproof Helly Tech
– Anti-chafe chin guard
– One hand hood adjustments
– Limited pockets
Best Hard Shell Jacket Guide – Things to Consider
Suitability
That obvious question – what will you use it for? I've reviewed a number of different hard shells with different activities and uses in mind.
If you want an affordable all-rounder for general hiking and to stay dry round town, then you have a very different brief to someone interested in alpine sports or mountaineering.
Waterproofing vs. Breathability
Most waterproof materials are rated using a hydrostatic head or water column.
There are a variety of different materials out there, generally for all-day resistance to moderate rain you should expect at least 10,000mm water column. For really heavy rain and serious levels of exposure then 20,000mm and above is the safest and most comfortable bet.
Breathability is what stops you feeling like you are in a greenhouse, the more air that can pass through the material, the better its breathability.
Features
It's key to consider what you will be using your jacket for, and therefore, what features you will need. For example, if you are just exploring cities, you will need significantly less features than if you are hiking or exploring somewhere extremely cold.
As a general guideline, consider if you need the following:
One-handed fastenings/adjustments
Helmet compatibility
Waterproof pockets
Rucksack-friendly pocket placement
Light weight
Active fit and tailoring
Pit-zips (underarm zipped ventilation)
Budget
Budget is another key factor to consider – try not to get caught up in brand names. Yes, The North Face produce uber-stylish jackets, but do you really want (or need) to spend £££ on a jacket when a simple one at half the price will do the job just as well?
Do you really need all the features together with the ultimate combination of waterproofing and breathability? If so then you will need to be prepared to spend a substantial amount of money. I've tried to keep things sensible but a hard shell jacket is a serious piece of kit and its price often reflects this.
If you're planning a more modest hiking trip or just want to take a reliable waterproof with you on a backpacking adventure, then choose the simpler and much cheaper options.
Summary of Best Hard Shell Jackets
So those are all the jackets… but which is best? Well, sorry to be unhelpful but it depends on what you're after.
If you're looking for a simple jacket that won't break the bank, this Little Donkey one is excellent. If, however, you're a seasoned adventurer and are in need of something a little bit more advanced, the Berghaus Stormcloud is a great option.
There we have it, the best hard shell waterproof jackets. I hope you've found this guide useful. Enjoy your travels and stay dry!
Love This? Save and Share on Pinterest!