So what's the hype about the Everywhere Bag by Away? Could it be the perfect carry-on underseat bag that changes travel forever? In this Away The Everywhere Bag review, I delve into why this is the best underseat carry-on bag on the market right now.
Away is a trailblazer in the travel accessories industry – so it should come as no surprise that the luggage company's The Everywhere Bag keeps true to form, offering travellers a unique blend of durability and style.
Since buying the Everywhere Bag a few months ago, it's fast become one of my favourite travel bags.
Packing for a holiday is challenging enough without worrying about finding the right luggage. This carry-on bag is slick, stylish, and big enough to fit everything you need for a long weekend if you pack smart.
Keep reading for a detailed review of Away's Everywhere Bag.
Away The Everywhere Bag Review: At a Glance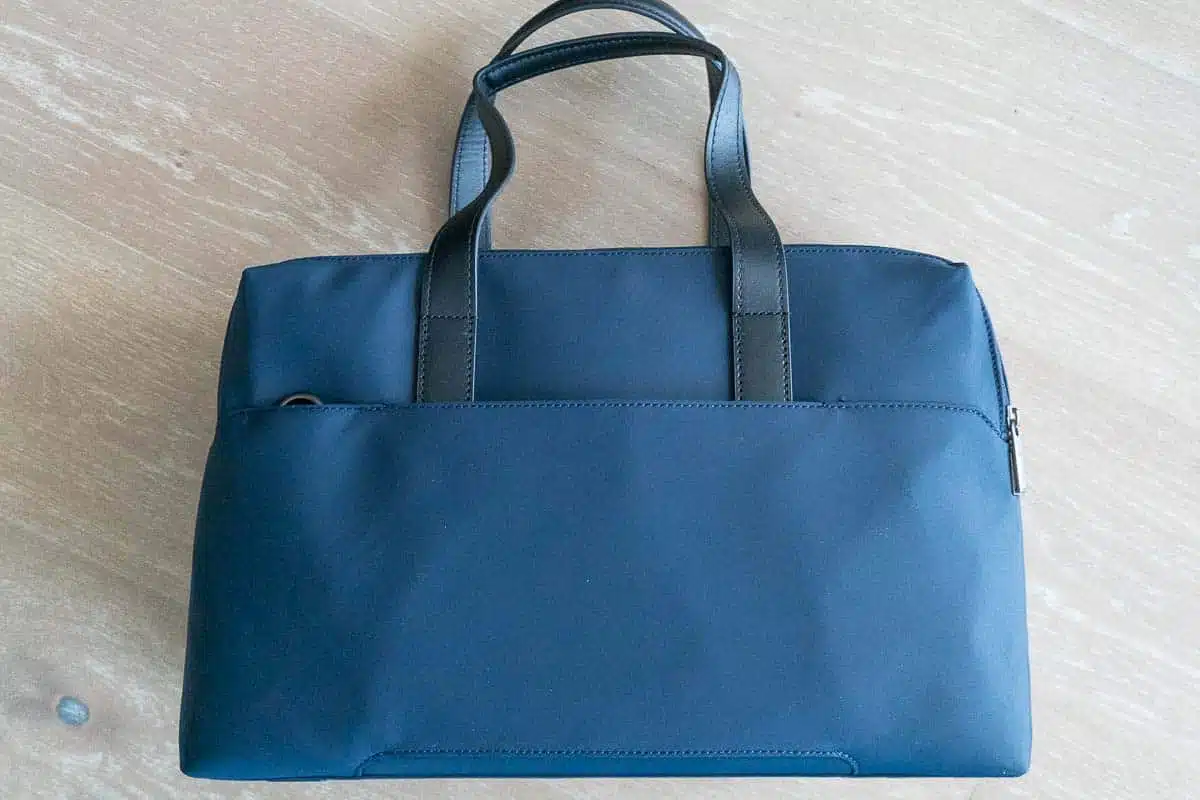 Now, I have this bag and love it. It's good for keeping stuff organised and, although it's a bag, it's nicely structured. So you could even stick in a couple of small packing cubes with your clothes to keep things neat.
Do I think it's worth the price tag? Yes. While The Everywhere Bag is a classic Away luggage scoring high on style and durability, this chic carry-on also offers some helpful features that make travelling ultra-convenient.
You can detach the strap for a more pared-down look. It's an actual underseat bag, so you can put your passport and other small travel essentials in the exterior pockets. You can also slot it onto your Away Carry-On and easily manoeuvre through the airport.
Away Everywhere Bag Review: In Detail
Still need convincing? Then let's dive into the more detailed part of this Away Travel Everywhere Bag review. This underseat bag's compatibility and optimised internal space make it a top contender for every traveller's go-to carry-on.
Durability & Design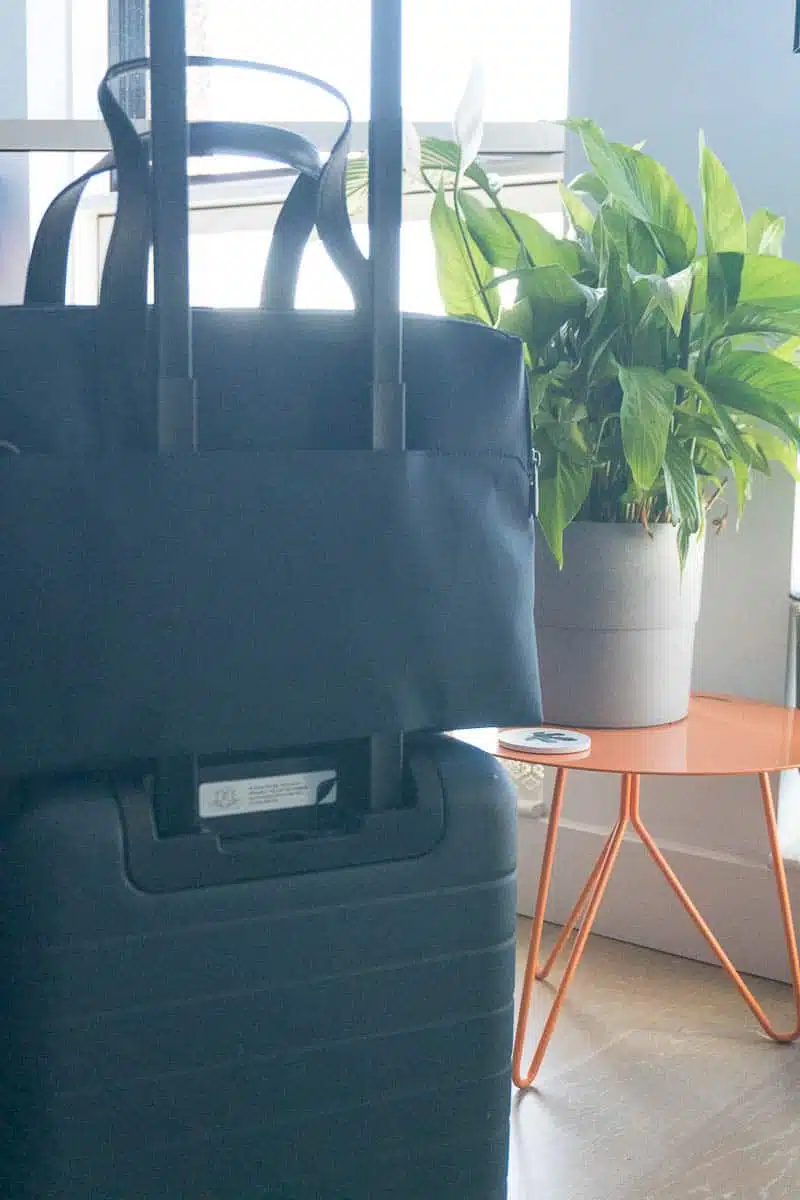 Made from nylon and leather trim, these high-end materials make The Everywhere Bag rigid and easy to clean. It may be a little pricey, but the durable material gives it longevity, while the water-resistant quality protects your items from damage.
Since this is an underseat bag, you'll save on paying for luggage – just note that the large size is too large for the underseat. The bag's rigid structure optimises internal storage, allowing you to add a couple of packing cubes to your luggage and save some cash on those extra baggage charges.
The exterior zip acts as a laptop pocket, and other compartments outside the bag give you easy access to important travel documents like your passport and bank cards. This bag is also quite versatile, thanks to its detachable strap.
While zooming around the airport, slot your Everywhere Bag onto the Away Carry-On or the Bigger Carry-On using the trolley sleeve. This holds the bag in place; it looks stylish and won't slide off as you move about.
Functionality
The Everywhere Bag is the perfect weekend travel bag. Its compact design and features make it ideal for business travel or a relaxing holiday, while the interior has several compartments and slip pockets for pens, notebooks, and electronic gadgets.
There's also a zipper for sensitive items like your wallet and a water bottle pocket. With an impressive 20-litre capacity, the Everywhere Bag still meets airline requirements as a personal item, meaning you can board it as underseat luggage.
The exterior laptop pocket has a magnetic locking zipper and comfortably fits computers up to 15 inches. So you can sit down at the airport cafe and check your emails one more time before boarding.
Storage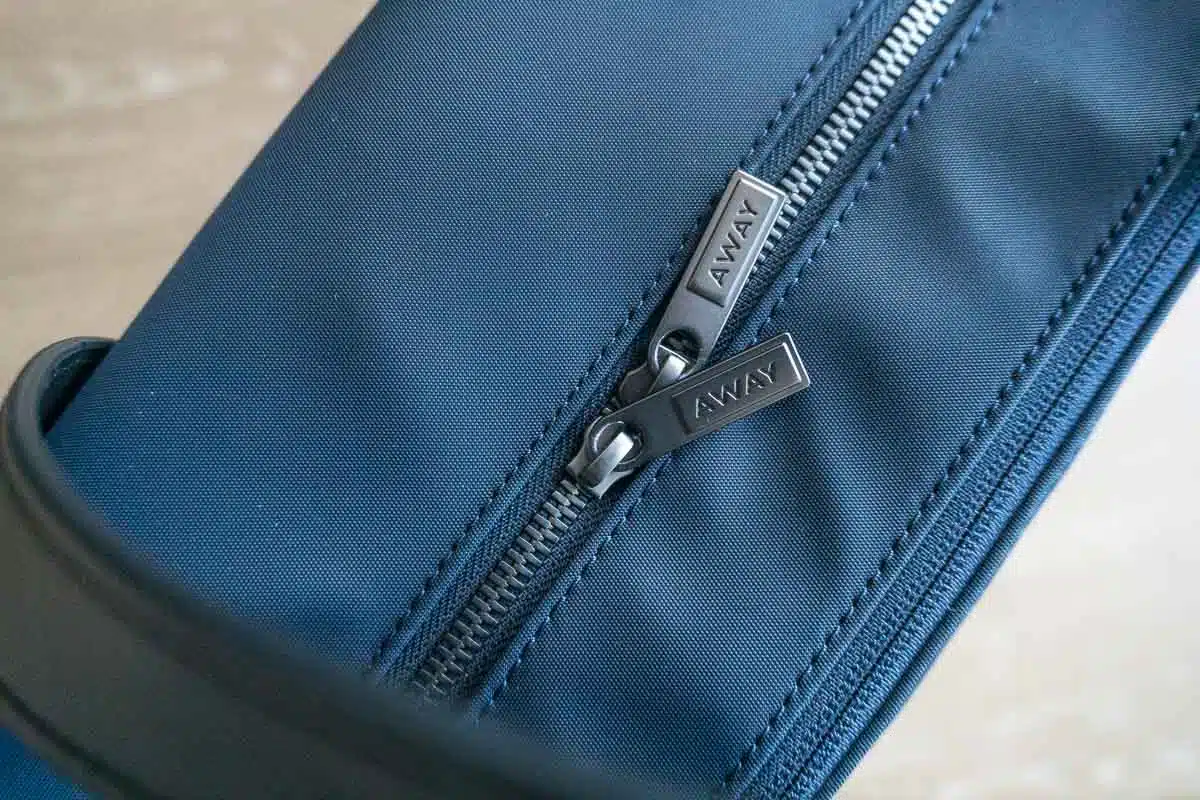 The Everywhere Bag's optimised internal storage makes this bag a steal. Its 20-litre capacity gives you enough room to pack clothing, toiletries, and other travel gadgets. The Medium Everywhere Bag is slightly bigger, giving you 28 litres of space.
Both the standard Everywhere Bag and the medium qualify as underseat luggage. But the Large Everywhere Bag has 38 litres of storage, making it too big for the underseat but still a viable carry-on bag.
Warranty
All Away The Everywhere Bags and accessories come with a one-year limited warranty.
Should anything break within the first year of purchase, the company will fix or replace it. You should also note that while personalised items may not be eligible for return or exchange, they still fall under warranty.
Everywhere Bag: Technical Details
With three great options, you may feel overwhelmed by this chic and compact carry-on. I've put together a comprehensive table that compares each bag's different sizes and features to help you make your decision.
Note: Each bag has a 100-day free trial. Should you not like it, you can return the bag and get a refund.
| | | | |
| --- | --- | --- | --- |
| Model | Dimensions | Weight Capacity | Extra Features |
| The Everywhere Bag | H= 41.4cm W= 25.9cm D= 18.5cm | 1.25 kg with strap, 1.02 kg without | – Available in five colours- Water resistant- Trolley sleeve- Interior & exterior pockets- Personal item |
| The Medium Everywhere Bag | H= 44.9cm W= 17.8cm D= 27.9cm | 1.45 kg with strap, 1.22 kg without | – Available in four colours- Water resistant- Trolley sleeve- Interior & exterior pockets- Carry-on ready |
| The Large Everywhere Bag | H= 53.1cm W= 29.9cm D= 23.9cm | 1.72 kg with strap, 1.49 kg without | – Available in three colours- Water resistant- Trolley sleeve- Interior & exterior pockets- Carry-on ready |
Practical Tips for Using the Everywhere Bag
Nylon and leather are highly stain resistant materials that make this bag super easy to clean. Use just a little warm water and a soft cloth, and you're good to go.
If you're an avid weekend traveller, the Everywhere Bag is your best bet. However, for trips that span four days or longer, I suggest you opt for the Medium or Large Everywhere Bag.
Make sure to detach the shoulder strap if you'll be slipping your bag onto the trolley sleeve. This removes any possible hindrances to the wheels, giving you uninterrupted rolling.
So Should You Buy The Away Everywhere Bag?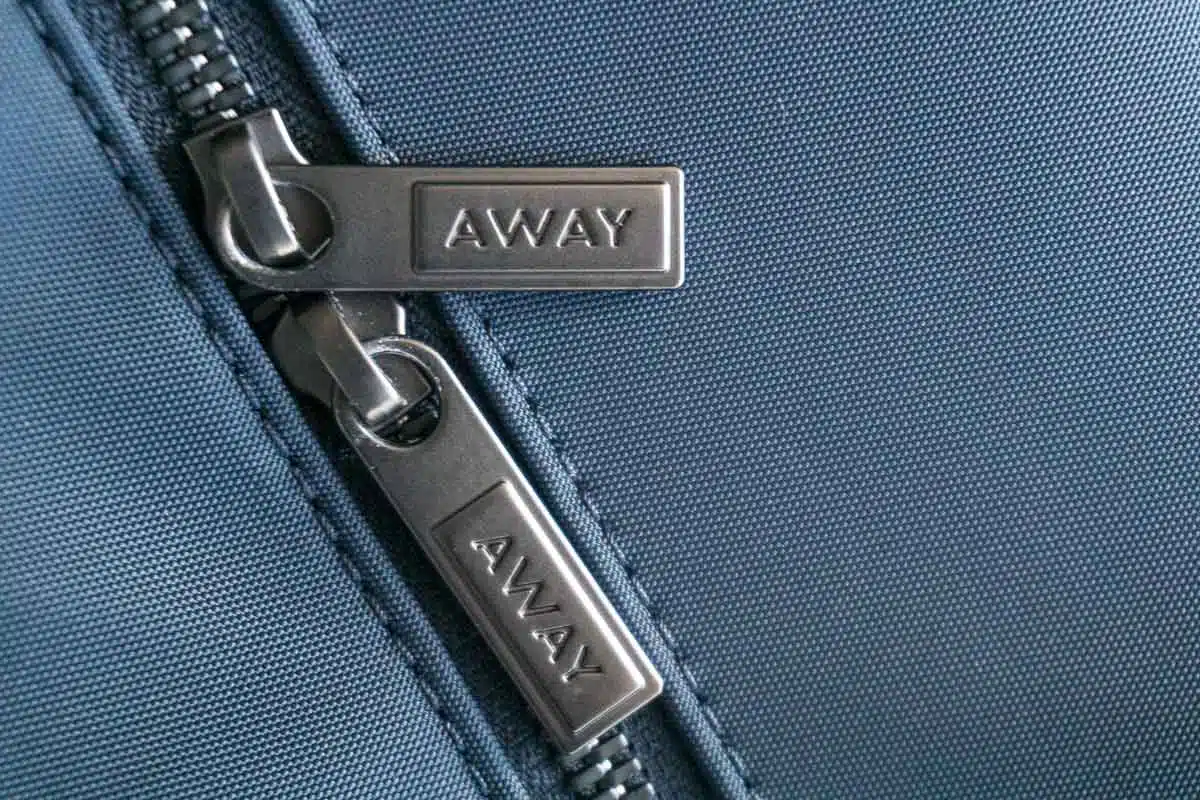 Ultimately the decision is up to you. But I must say, having this bag has made my travels much easier – especially for weekend trips where you really don't need much more than a couple of outfits and a swimsuit.
These bags are sleek, elegant, and boast a compact design that makes it easy to carry around, and all your travel accessories are within reach.
Away The Everywhere Review: Read Next