California is blessed with a wealth of national parks – a whopping nine out of the 63 national parks in the US. Explore these stunning natural locations with this insider's guide.
Look at a map of California's National Parks, and you'll notice that the state is home to 9 of the 63 designated national parks in the USA. Aside from Alaska and Utah, that's more than double any other state in the country.
Numbers aside, California national parks offer something for everyone. Seriously. It's not much of a surprise, considering the state is home to some of the most rugged landscapes, beautiful coastal shores, and diversity of wildlife anywhere in the USA.
If you don't have time to visit all 9 parks, you might face the tricky decision of which to choose. I'm here to help.

Buckle up, and let's cruise through California's national parks.
Explore California's National Parks
Yosemite
Best For: Outdoor adventures, grand and small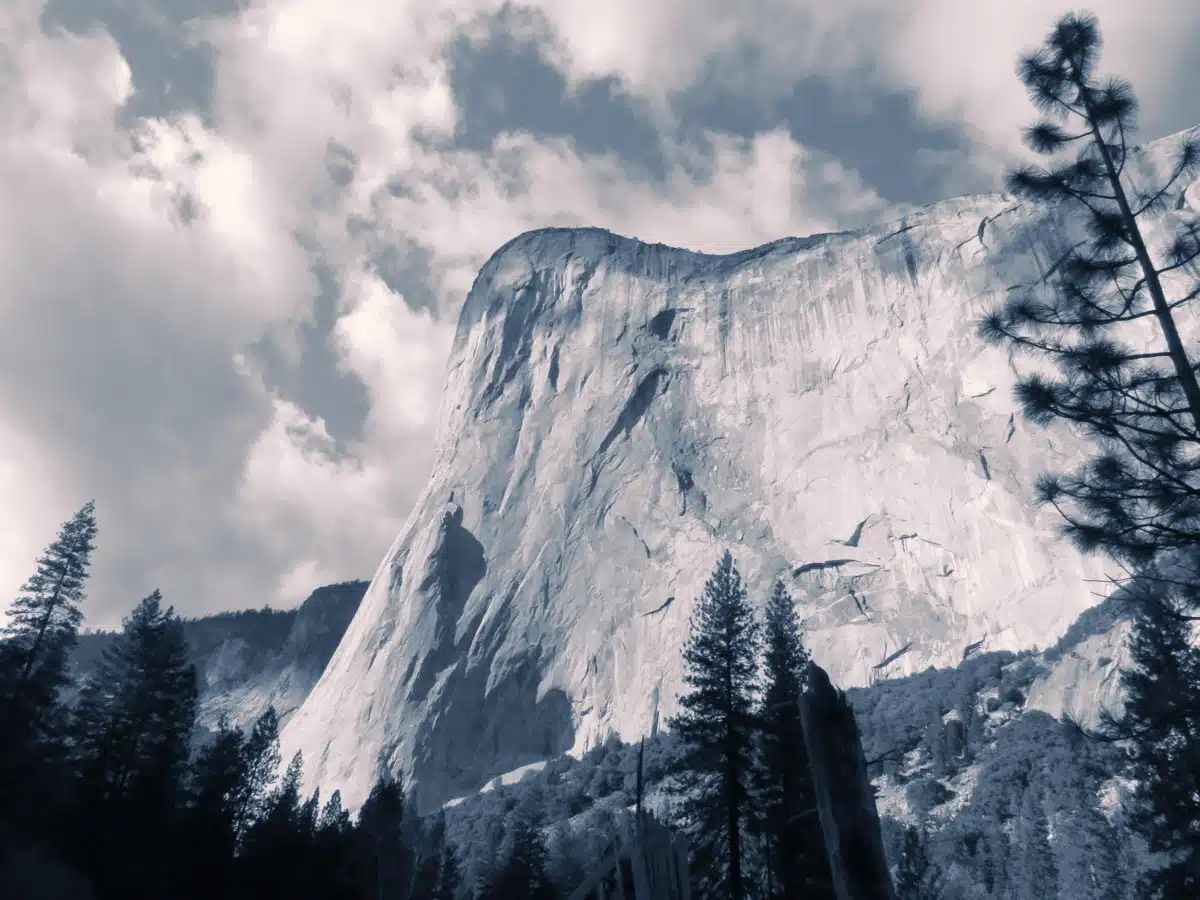 Ever see Free Solo? You know the one about the guy who free-climbed the 3,000-foot wall of granite? Then at some point, you've probably felt inspired to buy a pair of climbing shoes and chalk and climb Yosemite.
Driving into Yosemite Valley, it's impossible not to fall in love with the epic El Capitan, the 2,425-foot Yosemite Falls, and the uniquely curved shape of Half Dome. You can also catch that infamous Yosemite Valley photo from Tunnel View along Wawona Road.

But there's another side of Yosemite less familiar to many visitors. The giant sequoias in Mariposa Grove, the vistas from Glacier Point, and the underrated waterfall, Royal Arch Cascade, are all fairly well-kept secrets.
Top Things to do in Yosemite
Hiking Half Dome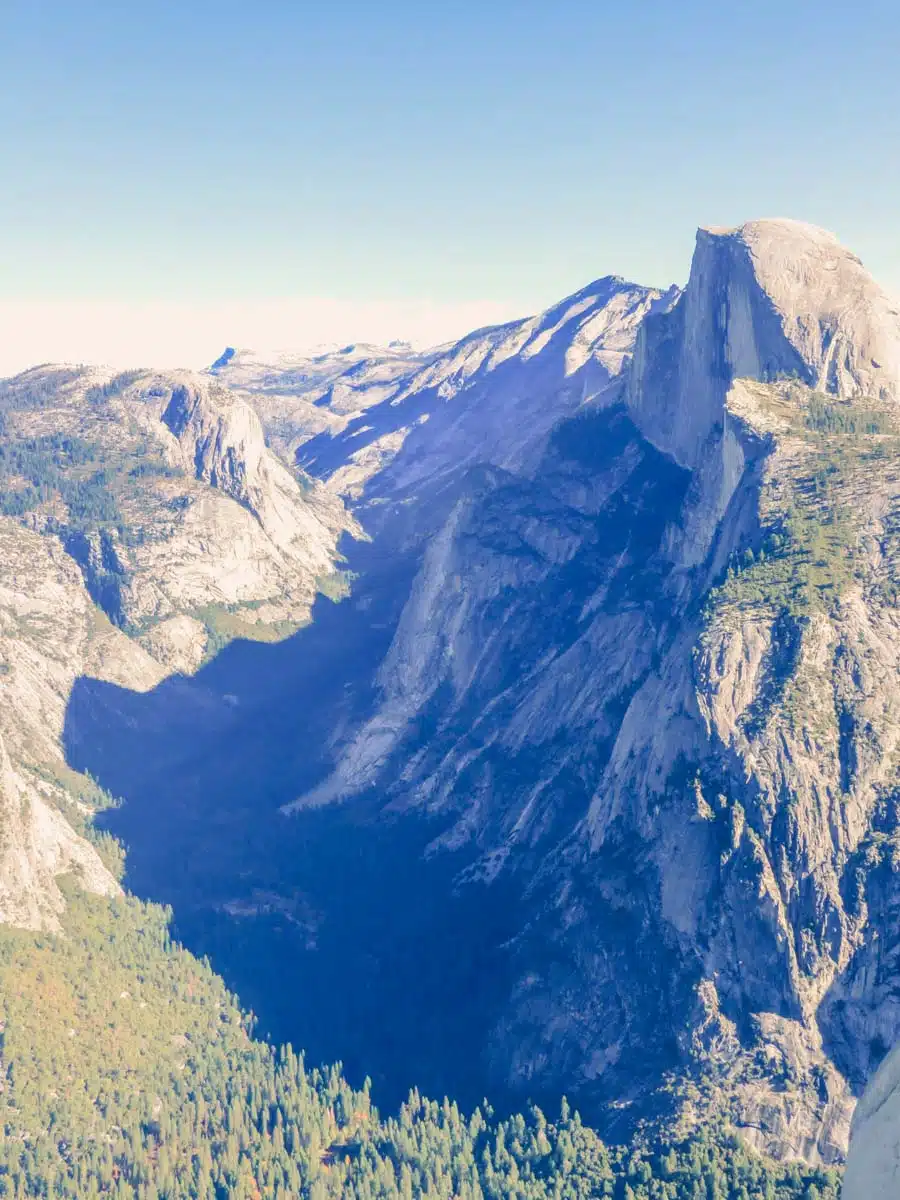 You'll find many of the best hikes in the USA at Yosemite. But if you want to do a bucket list trek, hiking Half Dome is your best bet. You'll need a permit to reach the top, but looking down from over 5,000 feet, above Yosemite Valley is worth every bit of effort.
Skiing to Glacier Point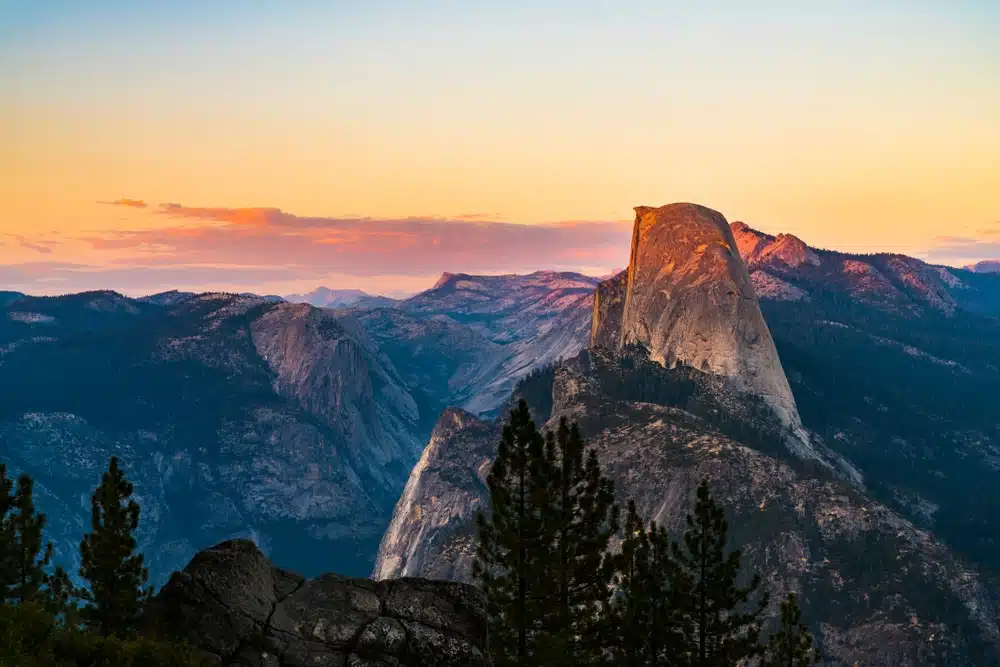 If you want to take in the most epic views of Yosemite Valley and Nevada Falls in the winter, ski in on Glacier Point Road. It's a 21-mile round trip, so pack warm clothes and plenty of water.
Dewey Point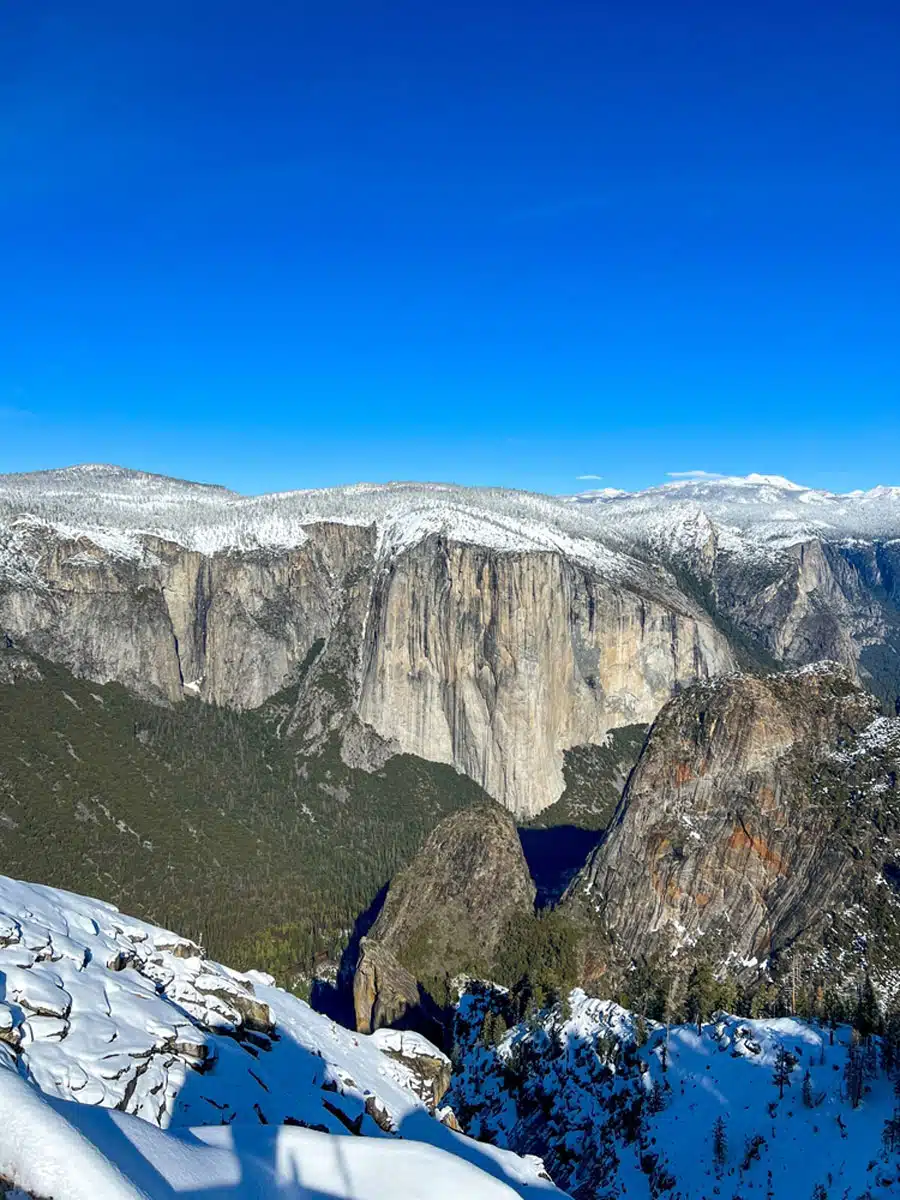 Take in dramatic views of Cathedral Rocks and El Capitan from a moderate 7.4-mile hike on the southside of the park.
Stay
Book a stay at The Ahwahnee, the iconic luxury hotel in Yosemite Village with the best Yosemite views you'll find anywhere.
Death Valley National Park
Best For: Otherworldly Landscapes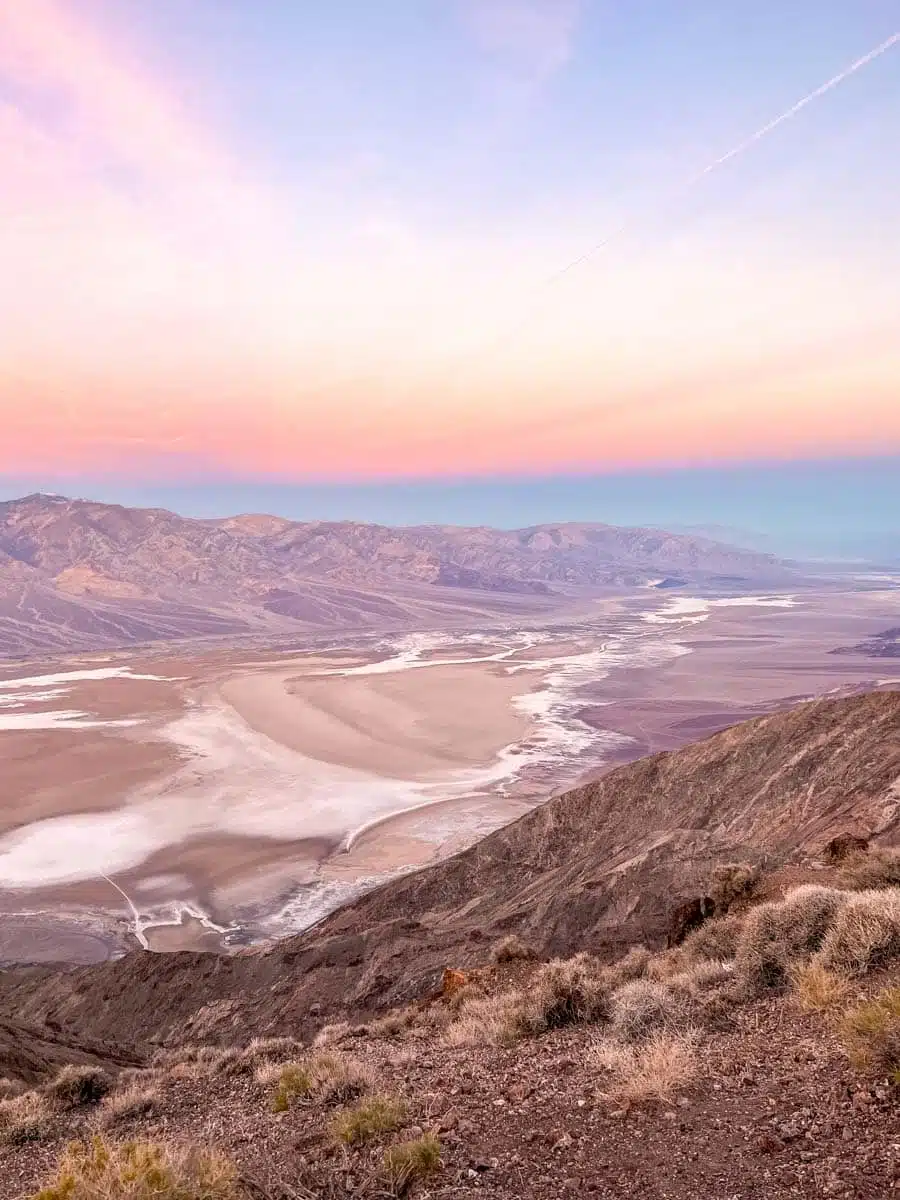 When thinking about what national parks are in California, Death Valley is probably the most dramatic of the bunch.

The name only paints part of the picture.

Yes, the 5,000+ square miles of salt flats, rattlesnakes, scorpions, and ghost towns live up to the name. But incredible sunrises, sunsets, stargazing, and hiking trails all show a softer side of the unforgiving desert.

Located near the border of California and Nevada, it rests in the Mojave Desert near the Great Basin. Volcanic craters, golden canyons, forests and a desert waterfall (yes, really) are just a few surprises in this truly epic national park.
Top Tip
Death Valley National Park is still closed as of October 2023. Major flooding damage washed out many roads and trails, making it unsafe for travel.
Top Things to do in Death Valley
Dante's View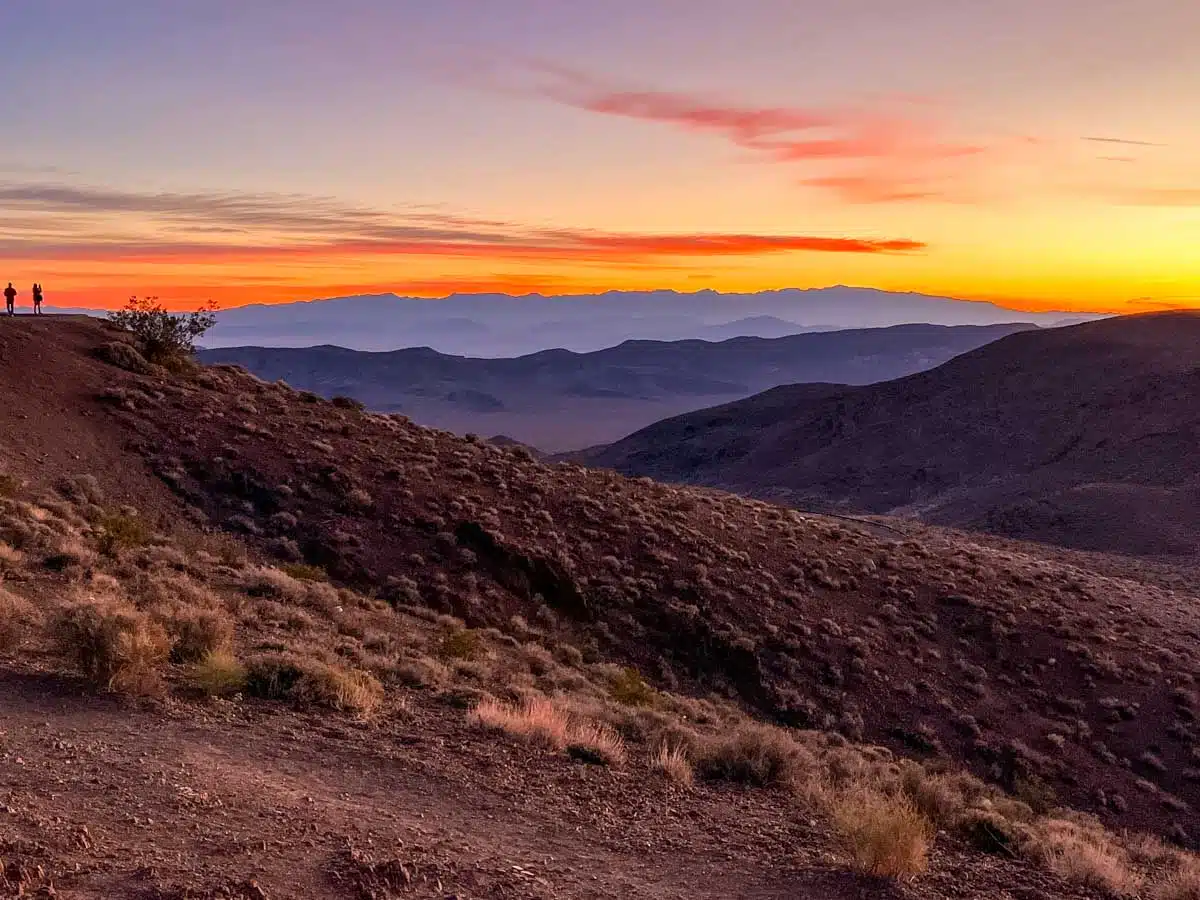 Drive up nearly 5,500 feet (1676 metres) 12 miles east of Furnace Creek to find my favourite place for a sunrise in Death Valley. Imagine swirling patterns of orange, white, and purple contrasting with the rising sun in the blue desert skies. It's perfect.
Badwater Basin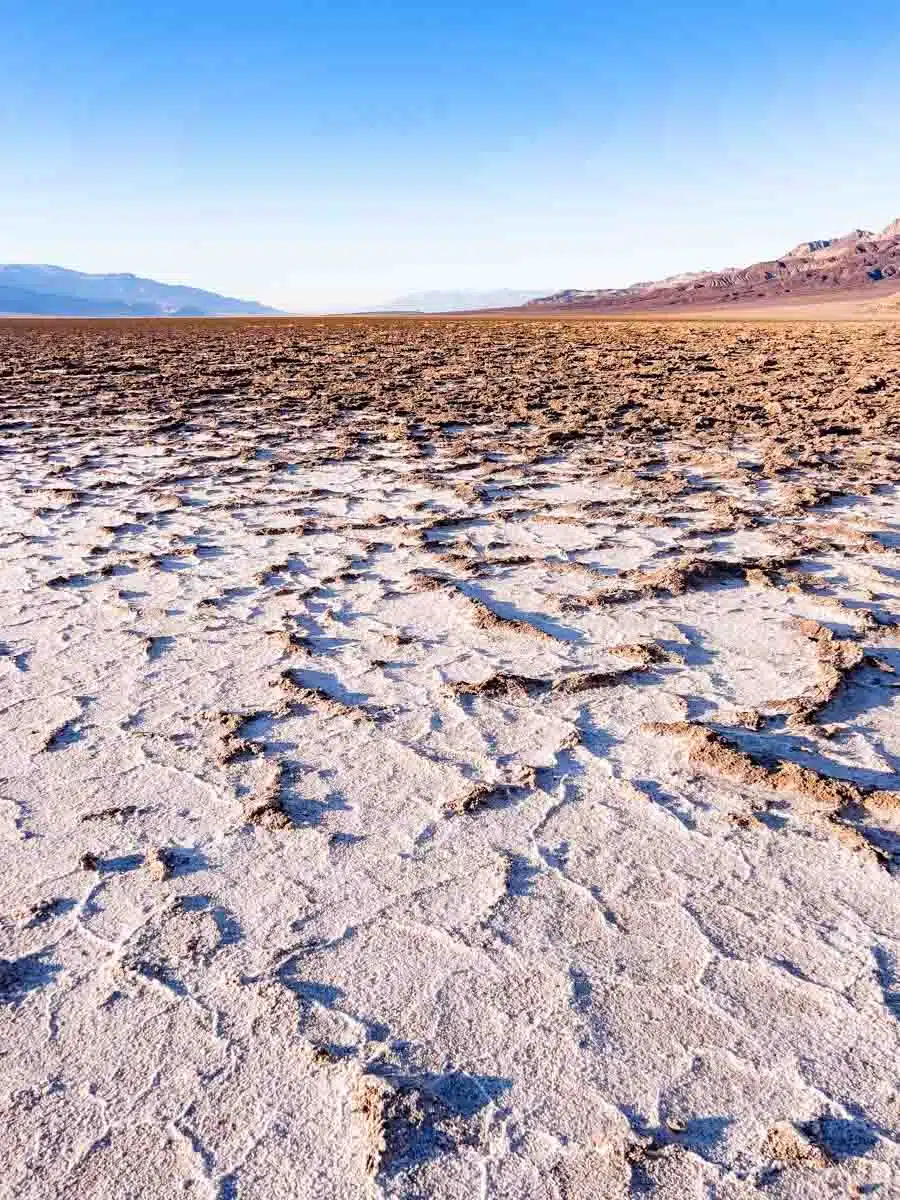 Every national park needs a claim to fame. Badwater Basin is officially the lowest point in the USA, at 282 feet (86 metres) below sea level. The salt flats are super cool to see in person, and you can walk 1.8 miles around a guided path for the best views.
Mesquite Flat Sand Dunes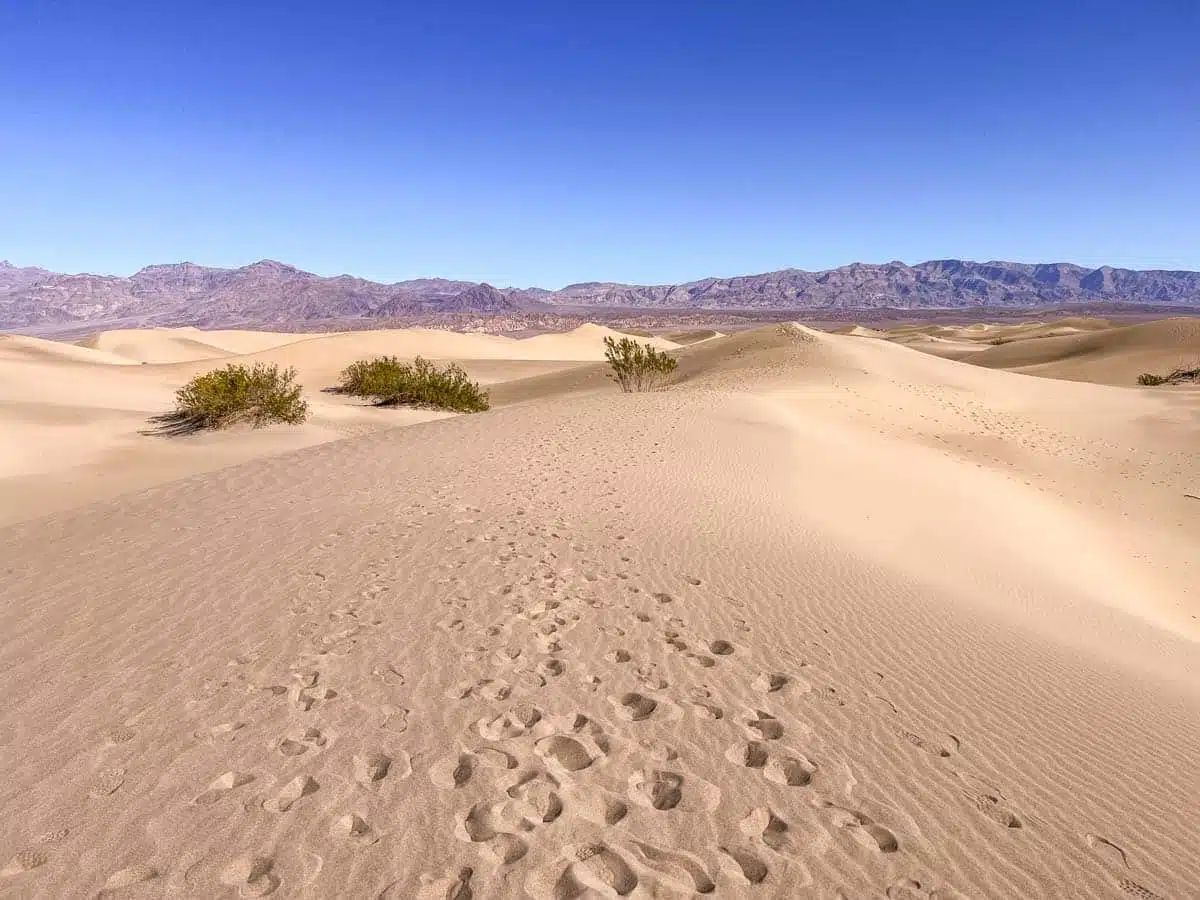 Mesquite Flat Sand Dunes are the most famous of the five sand dunes in the park, you can hike up and down them to challenge yourself to a scenic workout.
Stay
Treat yourself to luxury accommodations in Furnace Creek between desert adventures on your California National Park trip at The Inn at Death Valley.
Joshua Tree
Best For: Hiking and Stargazing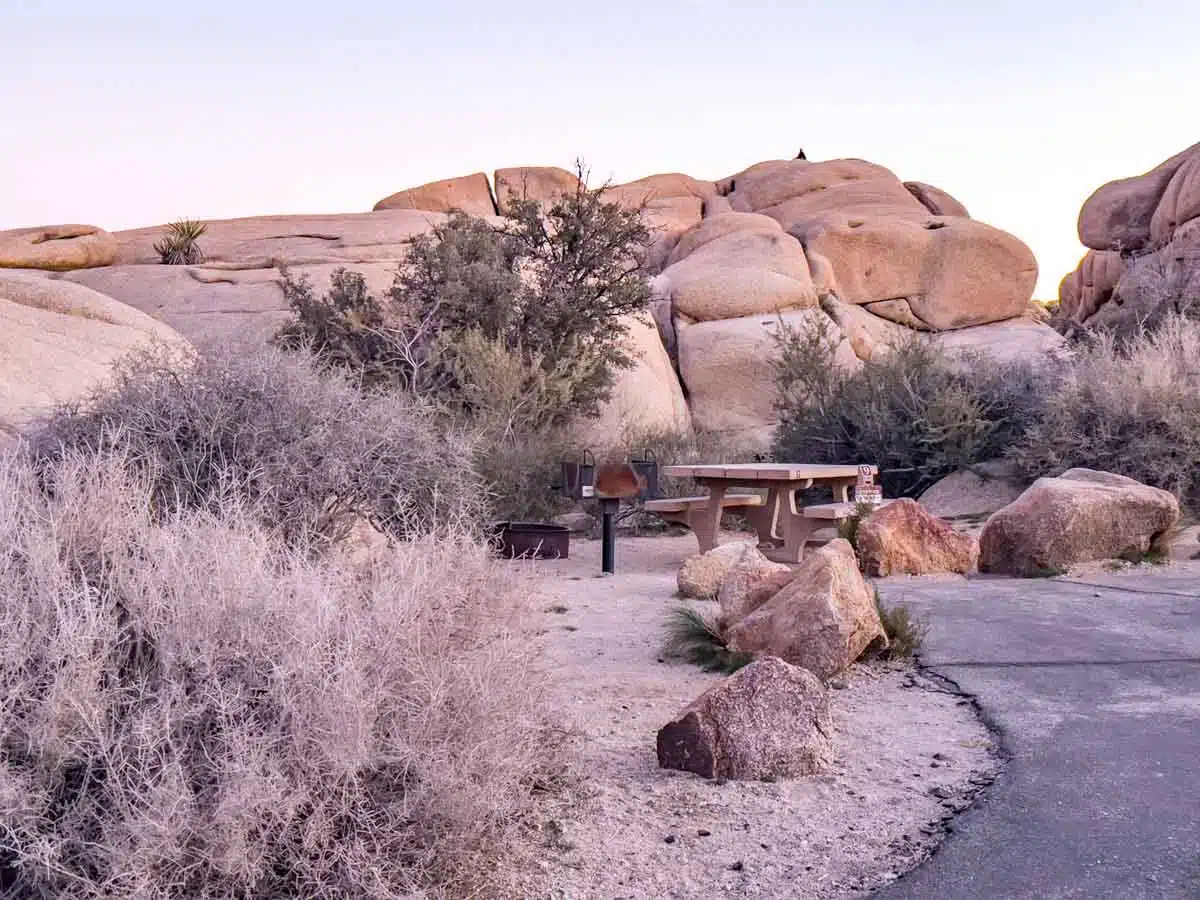 California national parks never cease to surprise. I'm not exaggerating when I say that every one is unique and full of surprises.

Joshua Tree is only around 90 miles from Orange County, but if you go at night, you'd never know you were near one of the largest suburban sprawls in the USA.
An International Dark Sky Park, camping in Joshua Tree, offers you a glimpse at some of the best stargazing anywhere. But 800,000 acres of Mojave and Sonoran Desert landscape also has a lot to offer before the sun goes down.

You'll find amazing rock climbing (like at the Hall of Horrors) and excellent hiking trails along the rock formations at Hidden Valley on the west side. If you go to the north entrance, you'll find the famous Cholla Cactus Garden.
Top Tip
You can choose from 9 different campsites, so I'd highly recommend reserving one for a night to enjoy the best stargazing access.
Top Things to Do in Joshua Tree
Rock Formations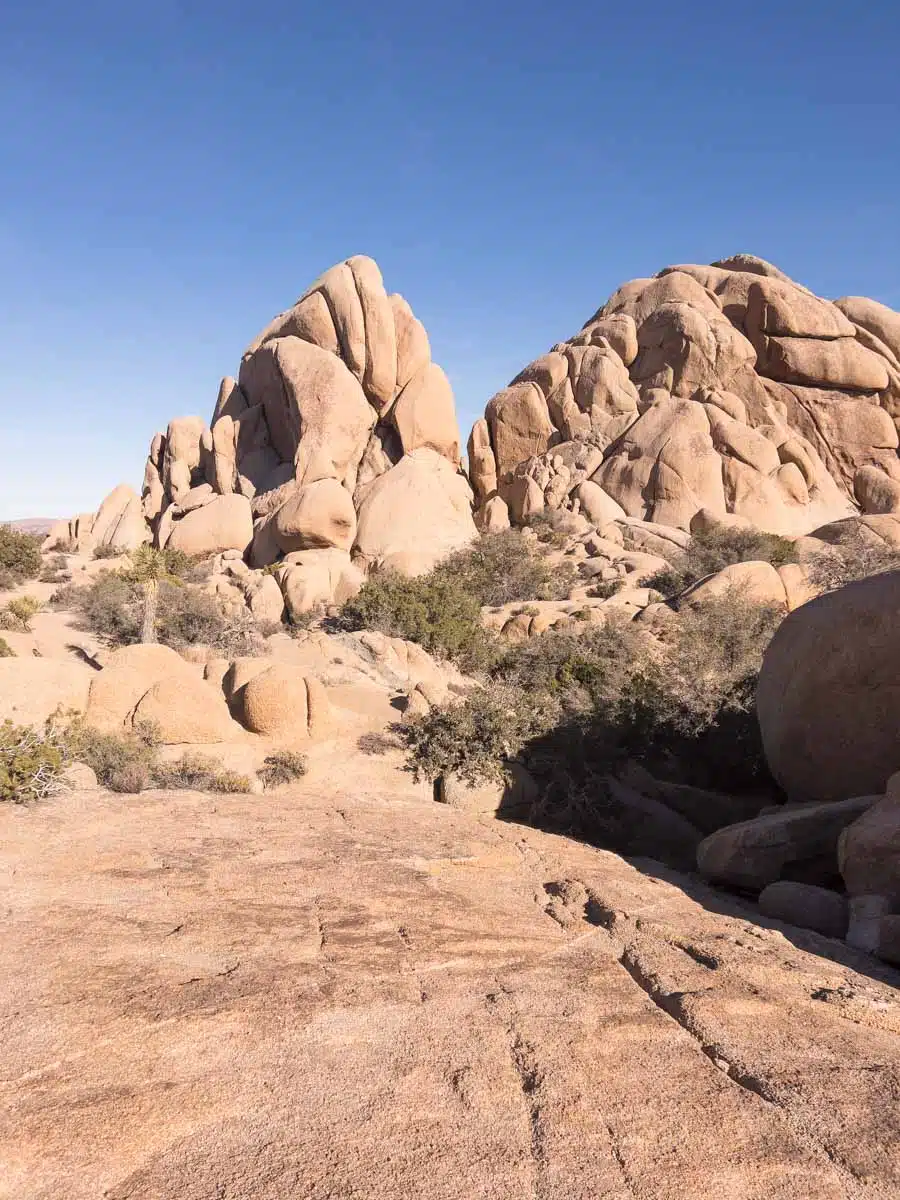 From the eerily human-like Skull Rock to the natural bridge impossibly balancing boulders at Arch Rock, hiking around the desert trails provides you with great views of the monoliths and gardens of quartzite, dolostone, and other rocks and boulders.
Cholla Cactus Garden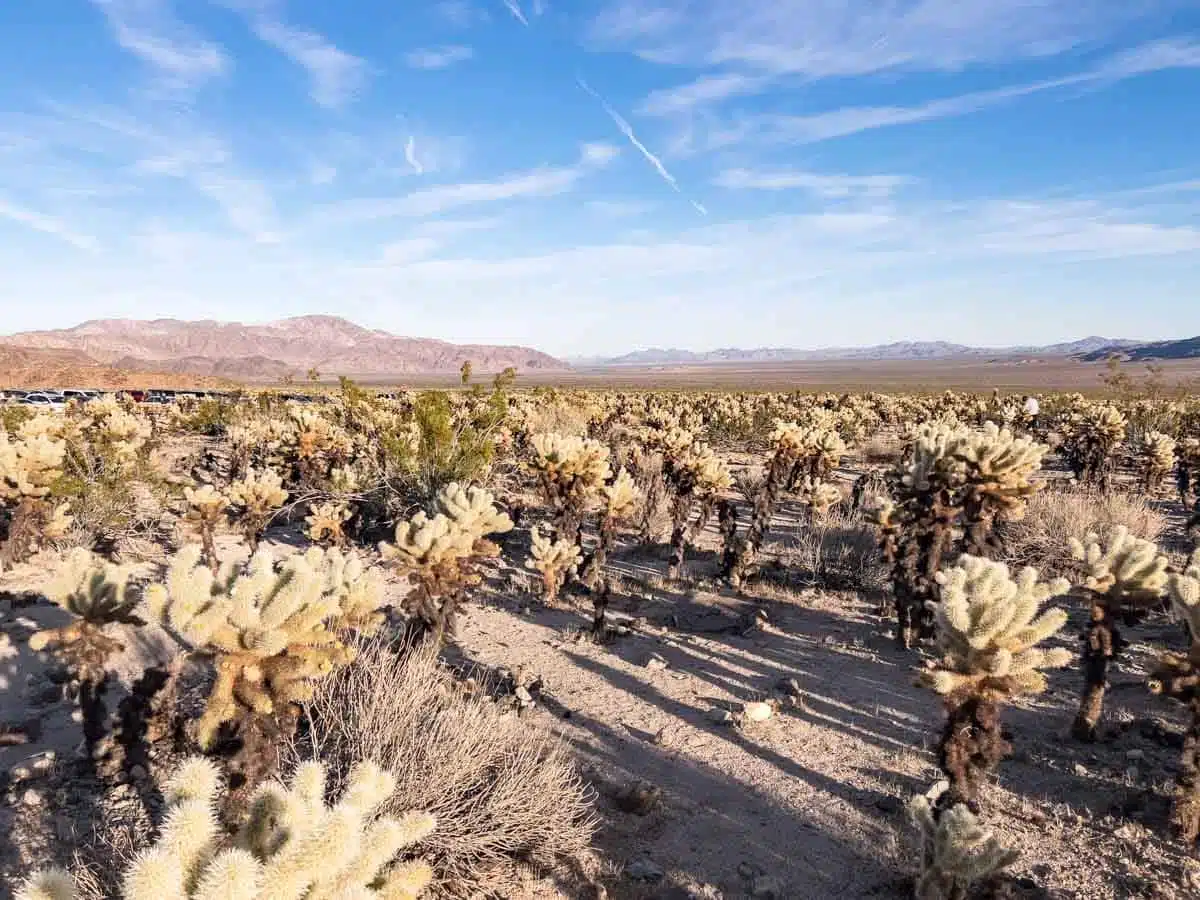 You might not think of the desert as a place to see a rich array of flora and fauna, but Joshua Tree has some special sites for budding botanists. Cholla Cactus Garden showcases the pillowy-soft looking cholla cactus and some epic wildflowers in the spring.
Stargazing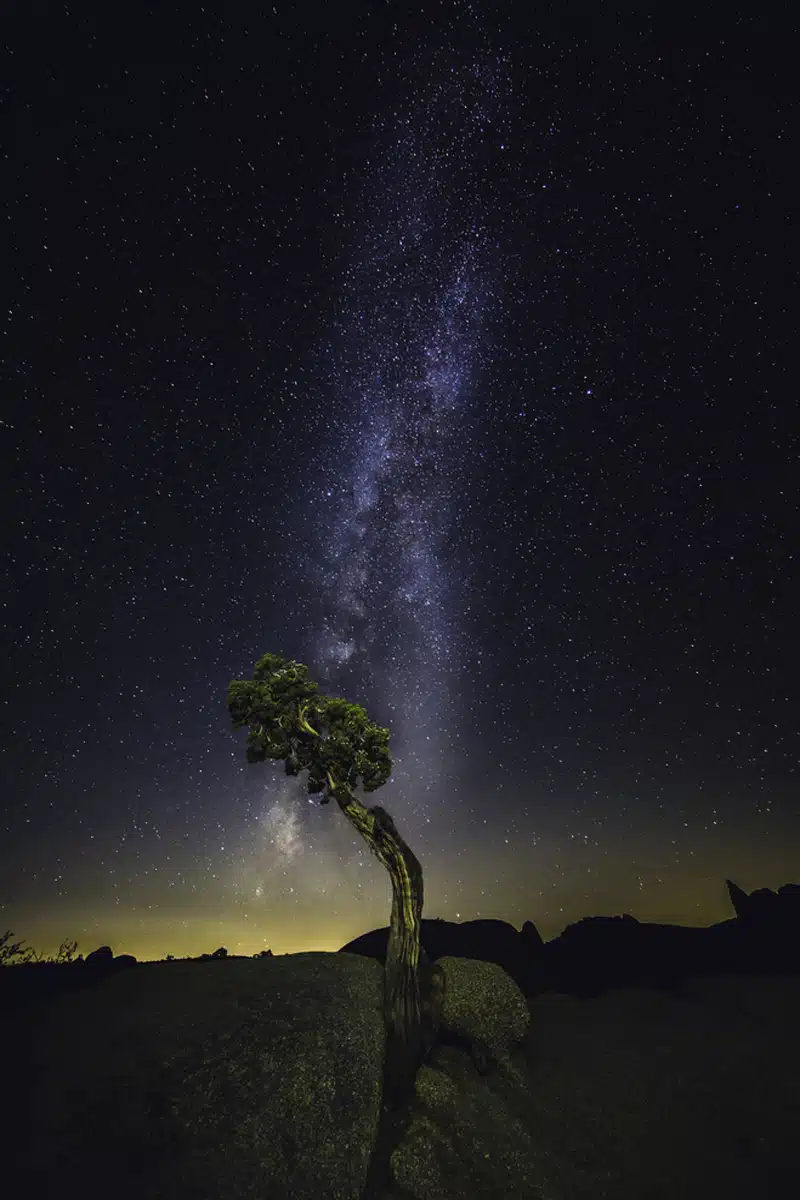 Stargazing in Joshua Tree is a must. The high desert landscape puts you close enough to the dark skies that you can get some of the best views anywhere in the world of the planets, stars, and the core of the Milky Way.
Top Tip
Sacred Sands provides stylish accommodations with park views from your jacuzzi tub on your private patio.
Redwood National Park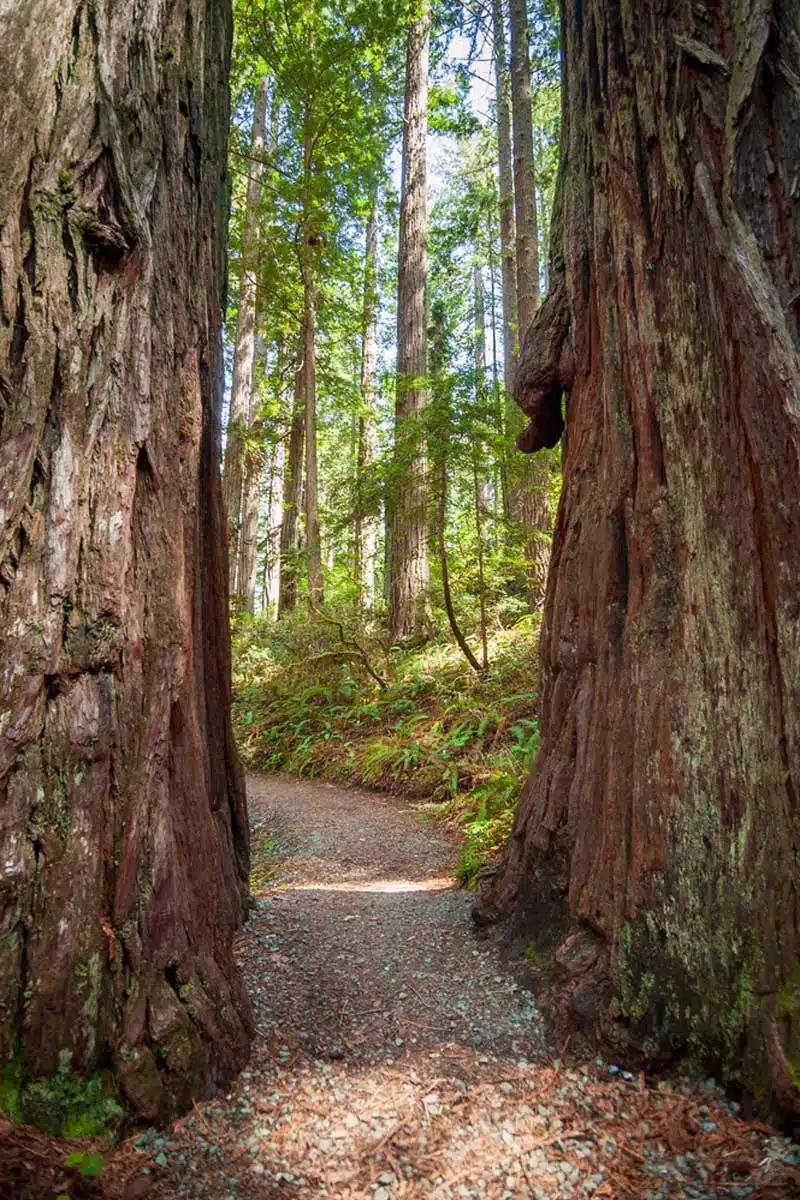 Best For: Exploring Protected Redwood Forests

Driving from Orick up to Crescent City along the 50 miles of the park's Northern California coastal landscape, you can't help but marvel at the nearly 39,000 acres of old-growth forest.

Redwood National Park has over 130,000 acres of total land, including an isolated coastline, rare wildlife, and some of the tallest trees you'll find anywhere in the world.

Clearly, the redwoods are the stars of the show – often reaching heights of over 377 feet and providing shade, oxygen, and even water for the forest. They host an ecosystem that includes reptiles, birds, and the adorable Roosevelt Elk, which you won't find in many other locations in the world.

Sadly, starting around the Gold Rush, logging began wiping out many of California's redwood forests. Through a conservation effort started by the Save the Redwoods League in the 1920s, the forest began slowly receiving the protection it needed.

In 1968, President Lyndon B. Johnson declared it a national park, which is why you'll find one of the top landmarks named after the First Lady at Redwood National Park.
Top Tip
Redwood National Park is a unique California national park in that it co-manages with the California State Park system. Be sure to check out parks, including Del Norte Coast Redwoods and Jedediah Smith Redwoods.
Top Things to do in Redwood National Park
Lady Bird Johnson Grove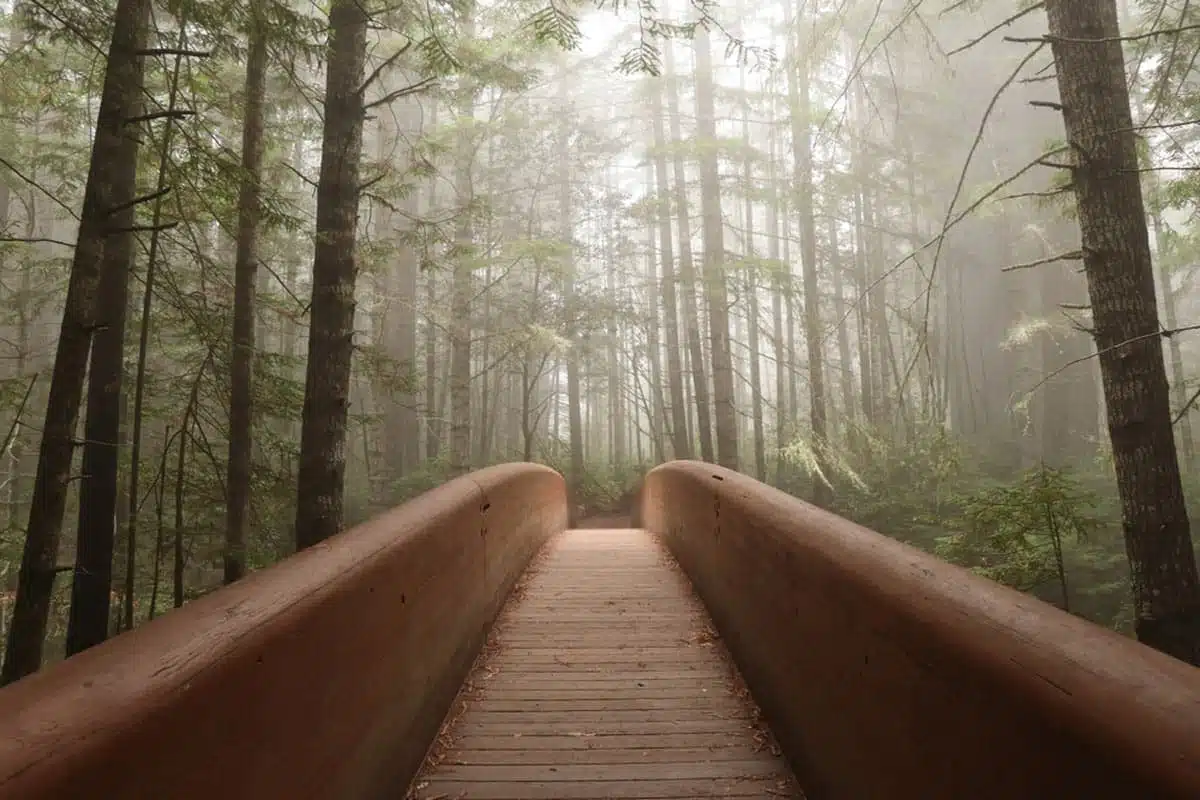 This famous hillside redwood grove pays homage to the First Lady, an active environmentalist who helped campaign for this and other national parks. It features a short, scenic bridge and walkway through old-growth redwoods.
Fern Canyon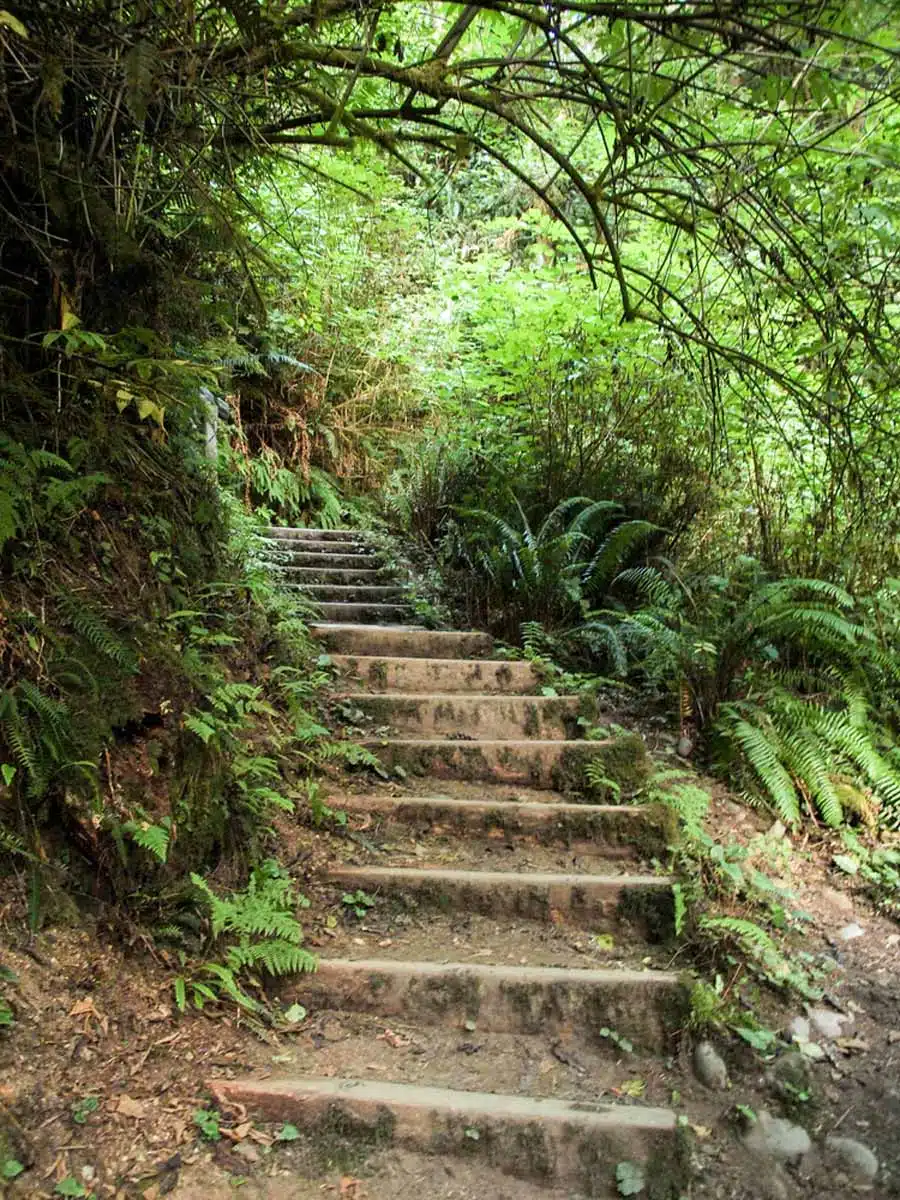 You might recognize the lush ferns towering on both sides of the steep 50-foot banks of Home Creek from the Jurassic Park movies. You're not wrong. It's one of the most scenic areas in the park, and you can see most of it on an easy 2-mile stroll.
Elk Meadow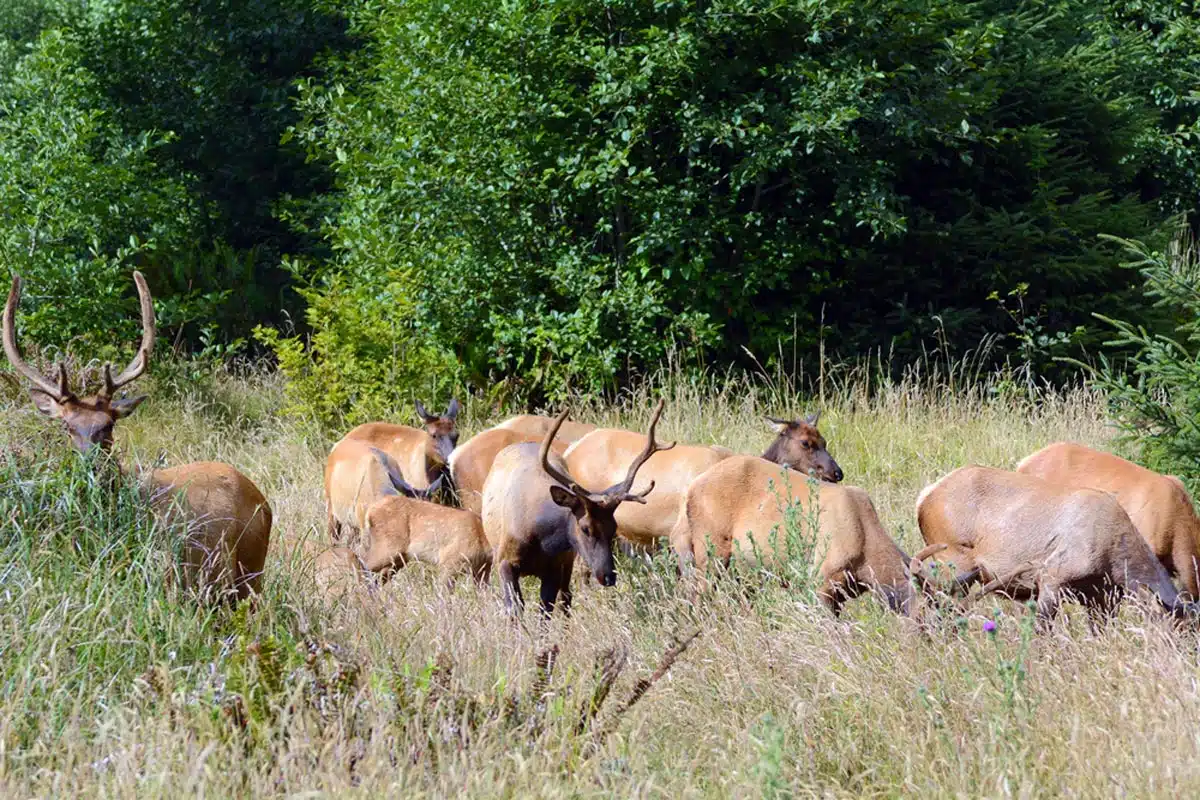 You'll likely see the beautiful Roosevelt Elk near Berry Glenn, just up the road from Orick. You'll have the best chance of seeing them around sunrise and sunset.
Stay
Stay in Crescent City at the park's North end for the best access to hotels, restaurants, and things to do in the area. Anchor Beach Inn offers clean, comfy rooms at a fair price.
Lassen Volcanic National Park
Best For: Geology Buffs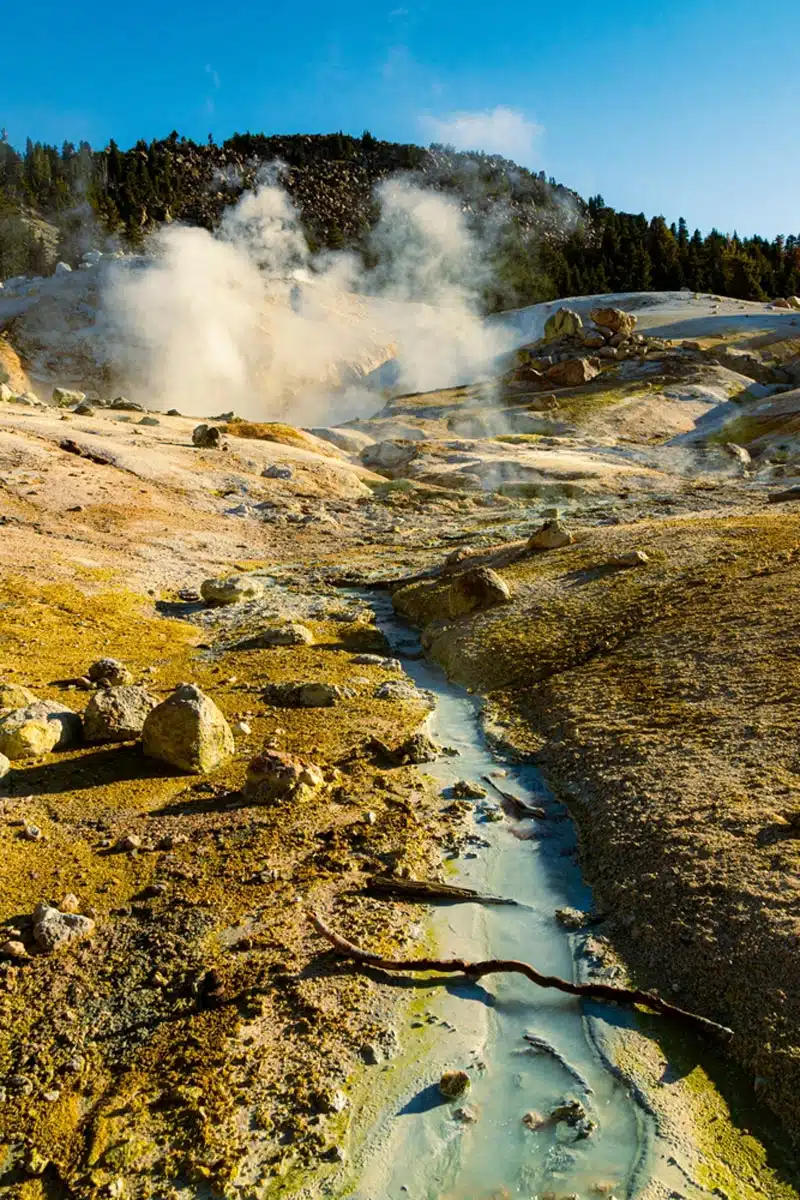 Head (way) up in Northern California, and you'll find one of the state's most underrated national parks. Lassen Volcanic National Park is a treasure trove of geysers, alpine lakes, and (of course) volcanoes.
It's a huge park with 166 square miles of land, and it's one of the least crowded national parks in the state.
You can see several types of volcanoes in the park, but its claim to fame is the largest plug dome volcano in the world. Lassen Peak is over 10,000 feet tall, and you can climb it on a day hike on this challenging trail.
Top Tip
Trails are still open in many places, but you'll notice differences in the landscape and want to pay attention to any warnings related to falling trees and other risk factors from the 2021 Dixie Fire.
Top Things to Do in Lassen
Hike Bumpass Hell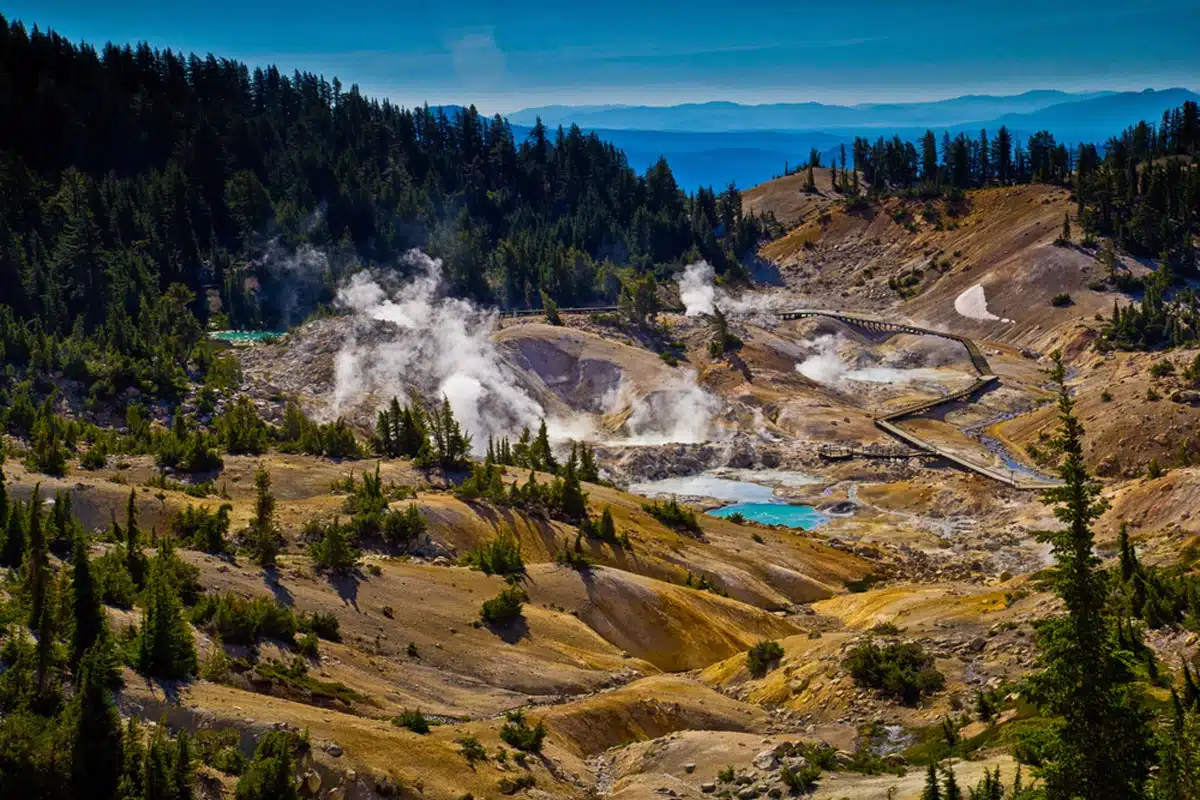 Aside from Lassen Peak, you can take in volcanic views from Bumpass Hell, a famous collection of hot springs, geysers, and geological features along a mellow trail that's under 3 miles long.
Stargazing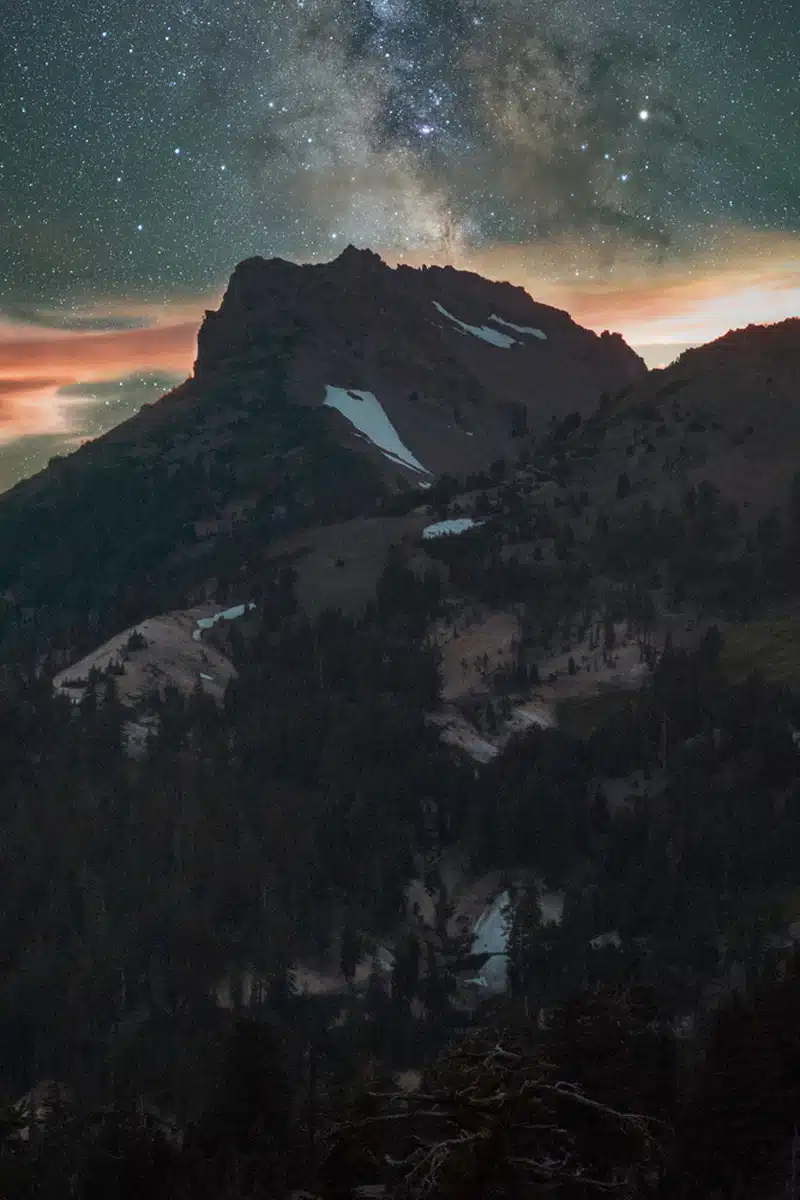 Believe it or not, Lassen is one of the best places to see galaxies and constellations when visiting California National Parks.
Explore the Lakes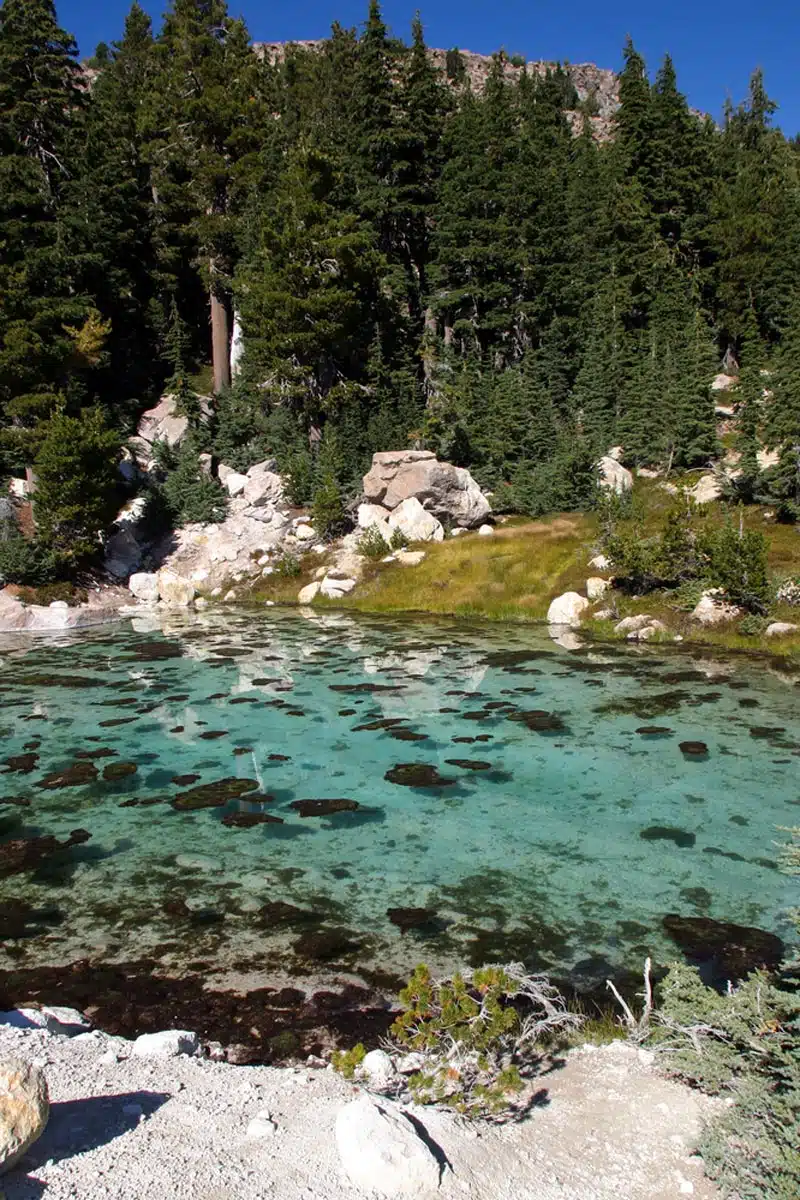 Whether you camp next to the famous Manzanita Lake or take in the views of Lassen Peak from the beautiful blue waters of Lake Helen, the lakes in Lassen are stunning.
Kings Canyon & Sequoia National Parks
Best For: Seeing Two California National Parks in One Trip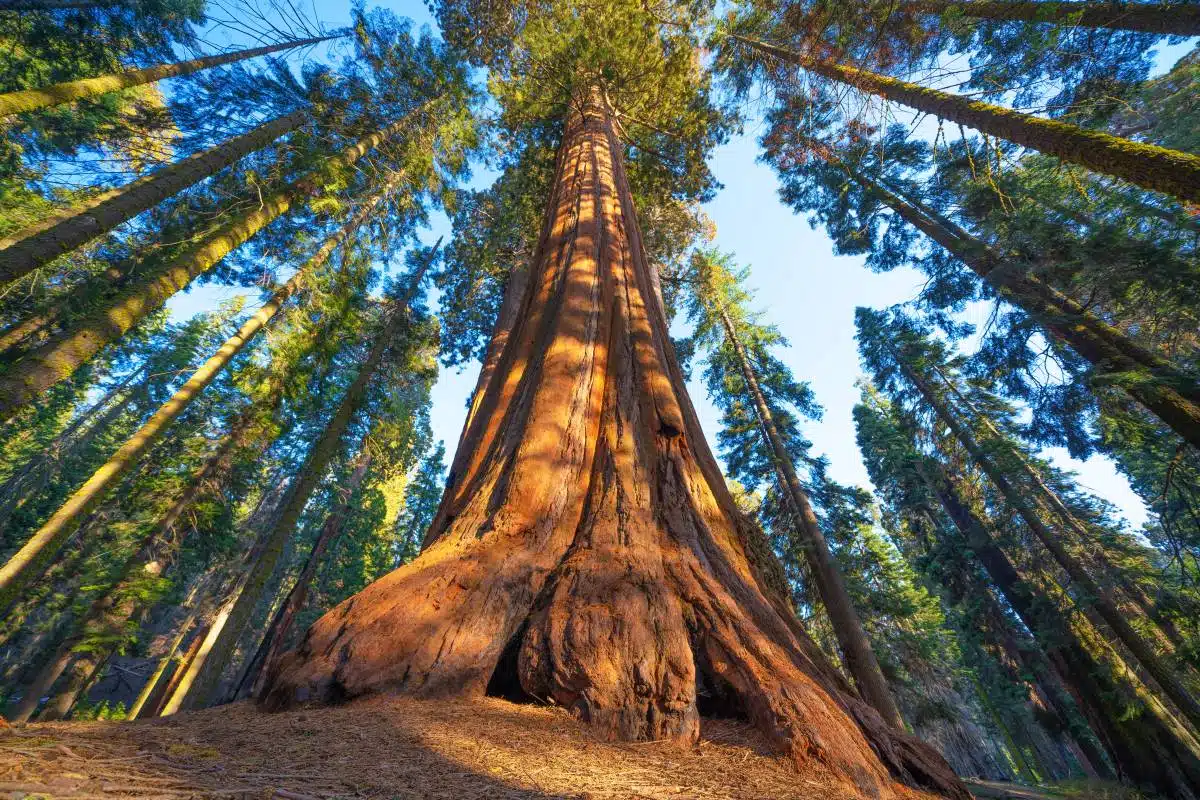 OK, so technically these are different national parks.

But the National Park Service has managed Kings Canyon and Sequoia together since 1943. Combined, they stretch over 1,300 square miles along the Sierra Nevada Mountain Range in Eastern California.
You've already heard about the world's tallest trees, but as far as sheer size, the Giant Sequoias take home Gold.

Don't believe us? Check out General Sherman, considered the biggest tree in the world. King's Canyon also features the largest sequoia grove and the famous General Grant, a 29-foot wide monster of a tree.

But there's so much more to these two national parks. The lakes, canyons, and mountain views might be the best in all of California.
Top Tip
Zumwalt Meadow and Cedar Grove offer two of the most picture-perfect vistas in the state, so don't skip them.
Top Things to do in Kings Canyon & Sequoia National Parks
Hike in the Giant Forest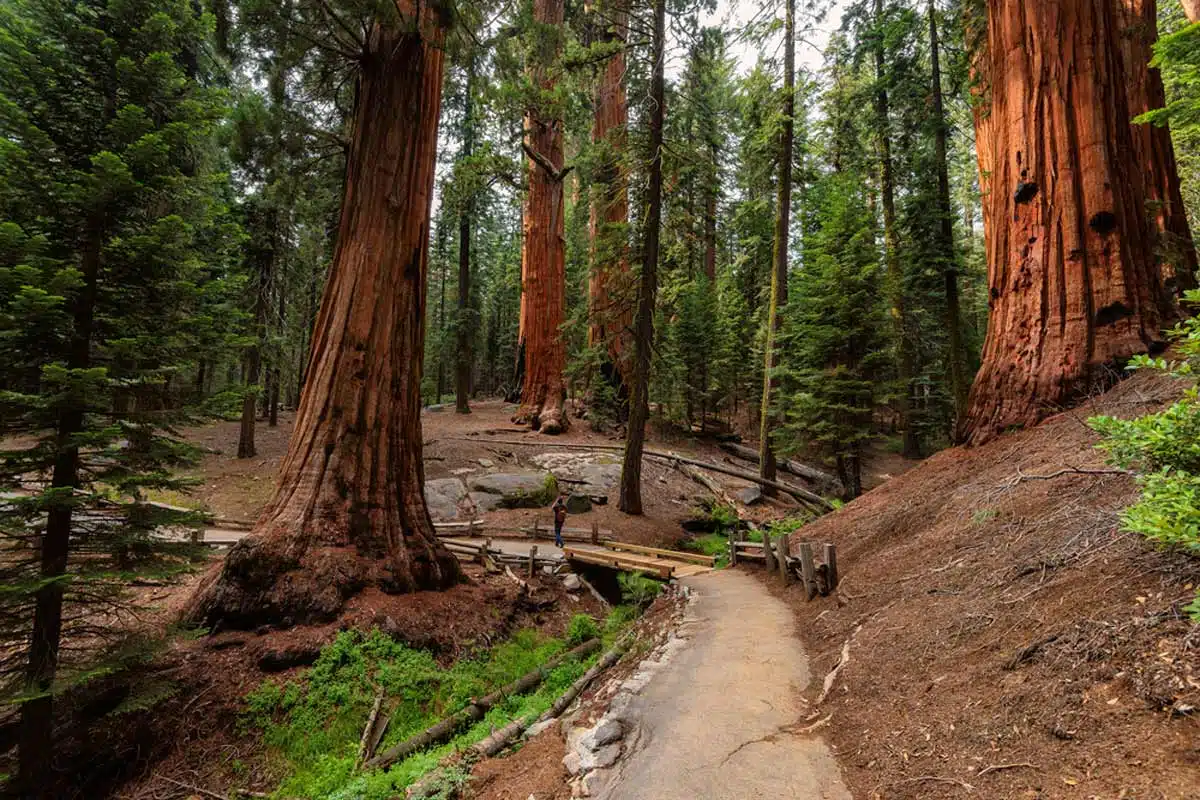 When John Muir named this stretch of 8,000+ sequoias, he wasn't kidding. Many of the largest trees in the world are right here. After seeing General Sherman, hike the Congress Trail or Circle Meadow Loop to see more of the enormous sequoia trees.
Drive Through a Fallen Tree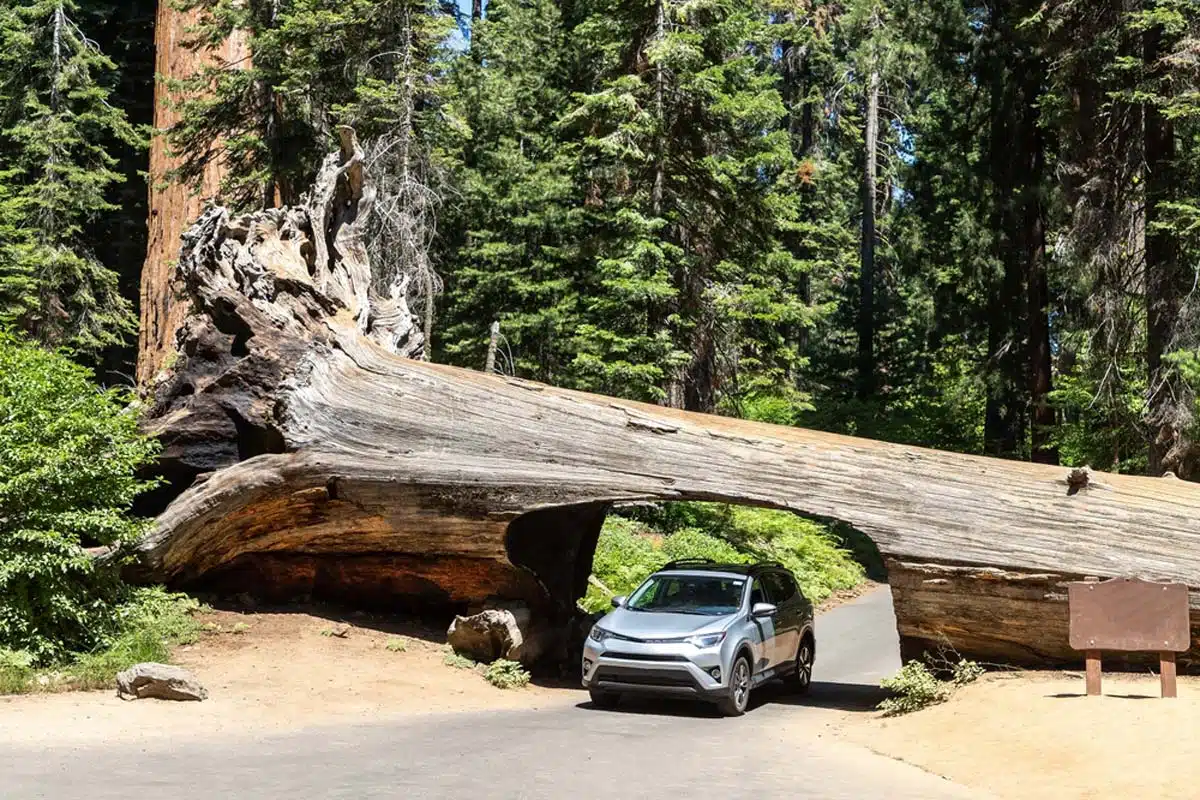 Drive through a massive fallen sequoia on this famous stretch of Crescent Meadow Road, a road trip staple for Californians since 1938.
Visit Cedar Grove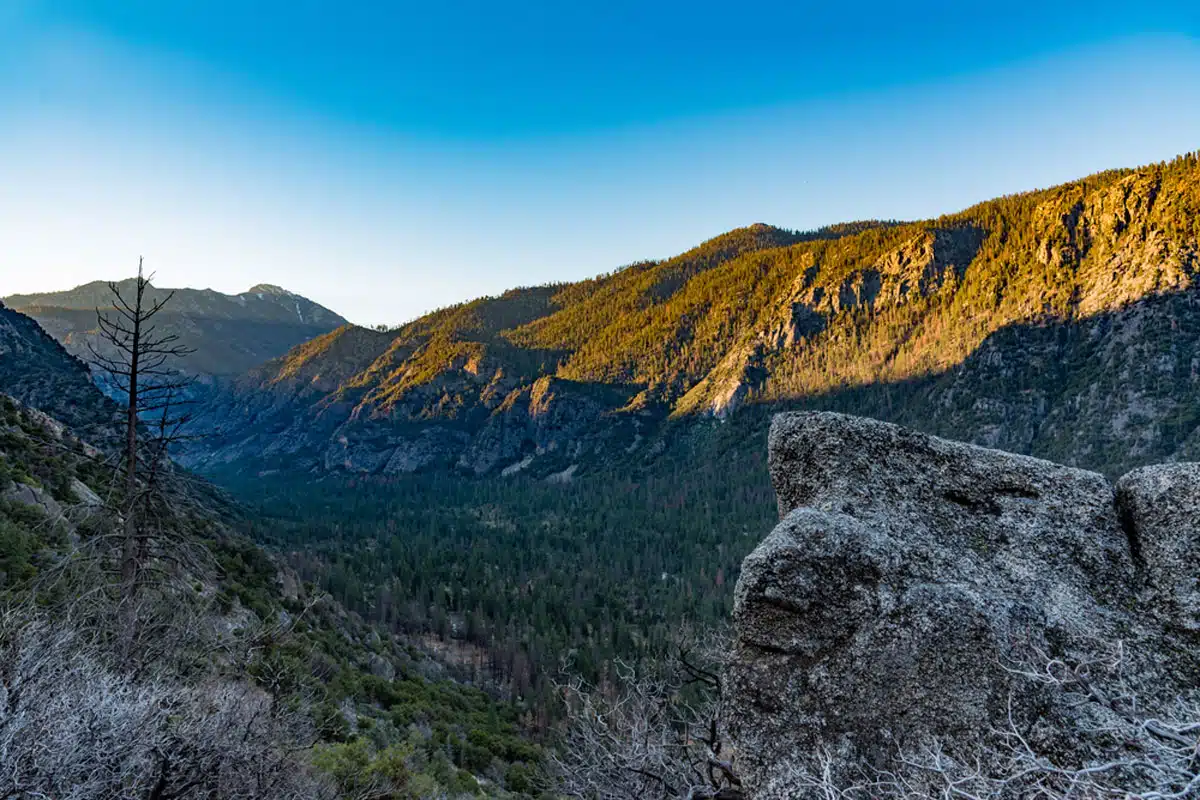 The granite cliffs here are so iconic that John Muir considered Kings Canyon it a "rival of Yosemite". Lucky for you, it sees a fraction of the crowds of Yosemite at only around 500,000 visitors each year.
Stay
Silver City Mountain Resort offers cosy cottages with full kitchens or meals prepared by the staff on-site. It's just a few miles from the ranger station in Sequoia National Park.
Pinnacles National Park
Best For: Unique Rock Formations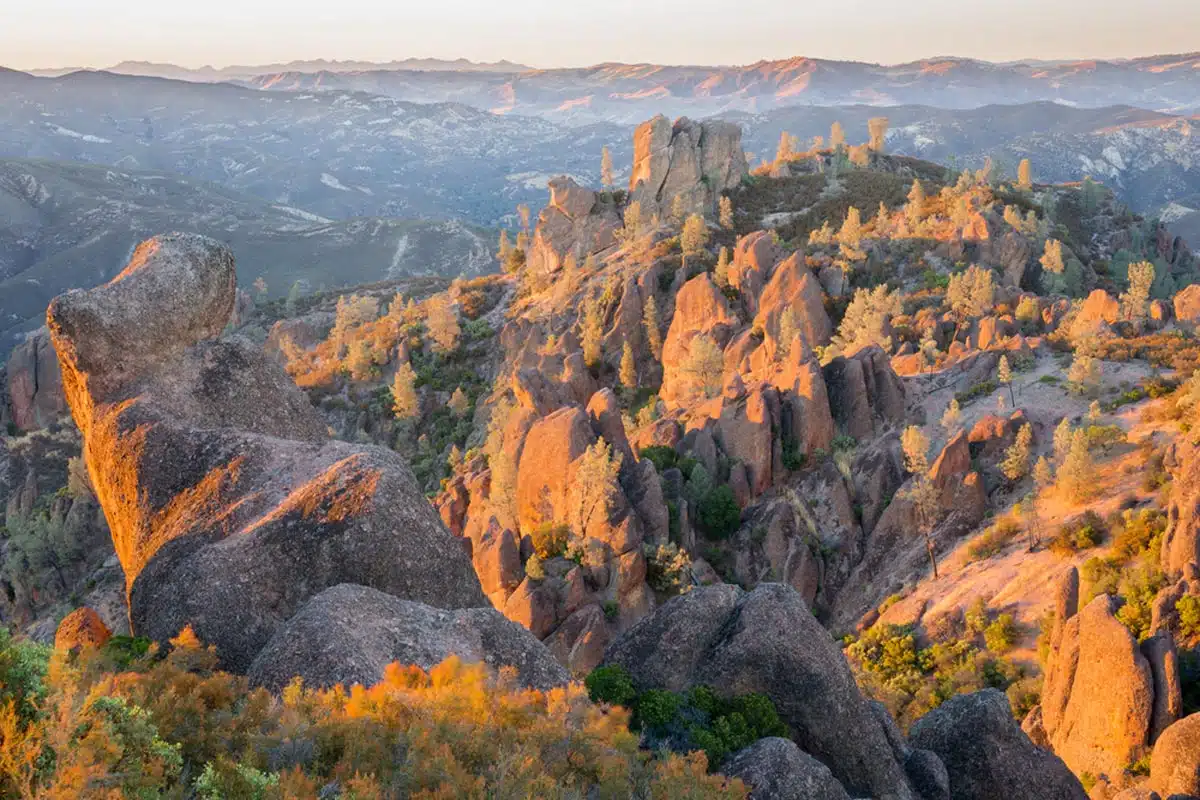 Pinnacles might have the title of California's youngest national park, but the caves, pinnacles, and dramatic rock formations are so much older than the park's 10 years indicate.

First, a quick background on how it formed.

Because Pinnacles lies on the San Andreas Fault Line, all the incredible rock formations you see resulted from volcanic vents over 23 million years ago.

The park is home to various igneous rocks. Say what? Igneous rocks occur when molten lava cools down and solidifies over time.

You'll find a few types here, including andesite (made partially of granite and basalt) and rhyolite, which has a shiny, mineral-rich composition. The rhyolite isn't very common worldwide, so seeing it in person is pretty awesome.
Top Tip
Be sure to check the forecast before going. Rain can make the trails very dangerous, and flooding is common.
Top Things to Do in Pinnacles
Caves at Bear Gulch
Bear Gulch is known for its great hiking trails, climbing walls, and picnic areas. But it's also home to some spectacular caves.
It's a 2-mile trial with oversized boulders teetering inside slot canyons, waterfalls, and some really moody caves. Bring your camera and headlamp.
Top Tip
The caves are closed from May through July when bats raise their young pups.
Condor Gulch Trail
This is a perfect trail for seeing the unique geology of Pinnacles. It's just over 5.5 miles, and involves over 1,500 feet of elevation change, but you'll see lots of igneous rocks on the way.
Stay
It's a slightly longer drive than Salinas, but you'll find reliable accommodations near the water in Monterey. I like Monterey Plaza Hotel & Spa for its central location, beautiful views, and private parking.
Channel Islands
Best For: Beaches and Coastal Views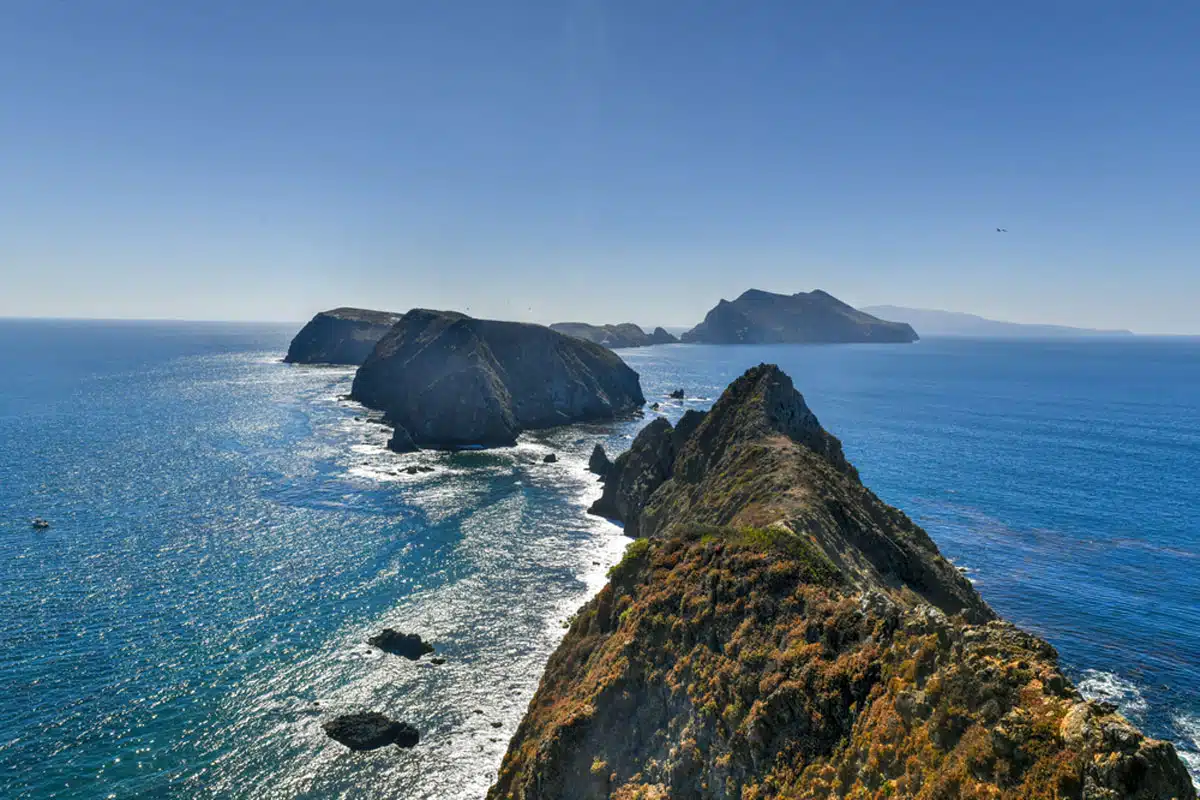 What if I told you there was a California National Park where you could hike, camp, and take in ocean views on what often feels like an escape to a private island? Enter the Channel Islands.

Channel Island National Park consists of 5 of the 8 channel islands located off the coast of Southern California between Santa Barbara and Los Angeles. It's arguably the most pristine coastline in California, with almost 250,000 acres of remote island landscape.

You can only get there by boat, so once you're on any of the islands, you'll need to hike to camp or hit up any pristine beaches.

But once you're there, you'll enjoy some of the best marine life viewing opportunities anywhere in the USA. Elephant seals, orcas, and humpback whales are just a few sea creatures you may notice on your visit.
Top Tip
Book your ferry ride as far ahead as possible. Island Packers gets you to most islands, but you'll want to book your ticket there (and back) in advance.
Top Things to Do in Channel Islands
Hike Smuggler's Cove
Find one of my favourite hikes in Southern California on Santa Cruz Island at Smuggler's Cove. Think private beaches and too many great views to count.

The nearly 8-mile trek will take you a bit longer because you can only access it from a ferry that runs once a day. I think that just makes it that much more epic.
Anacapa Island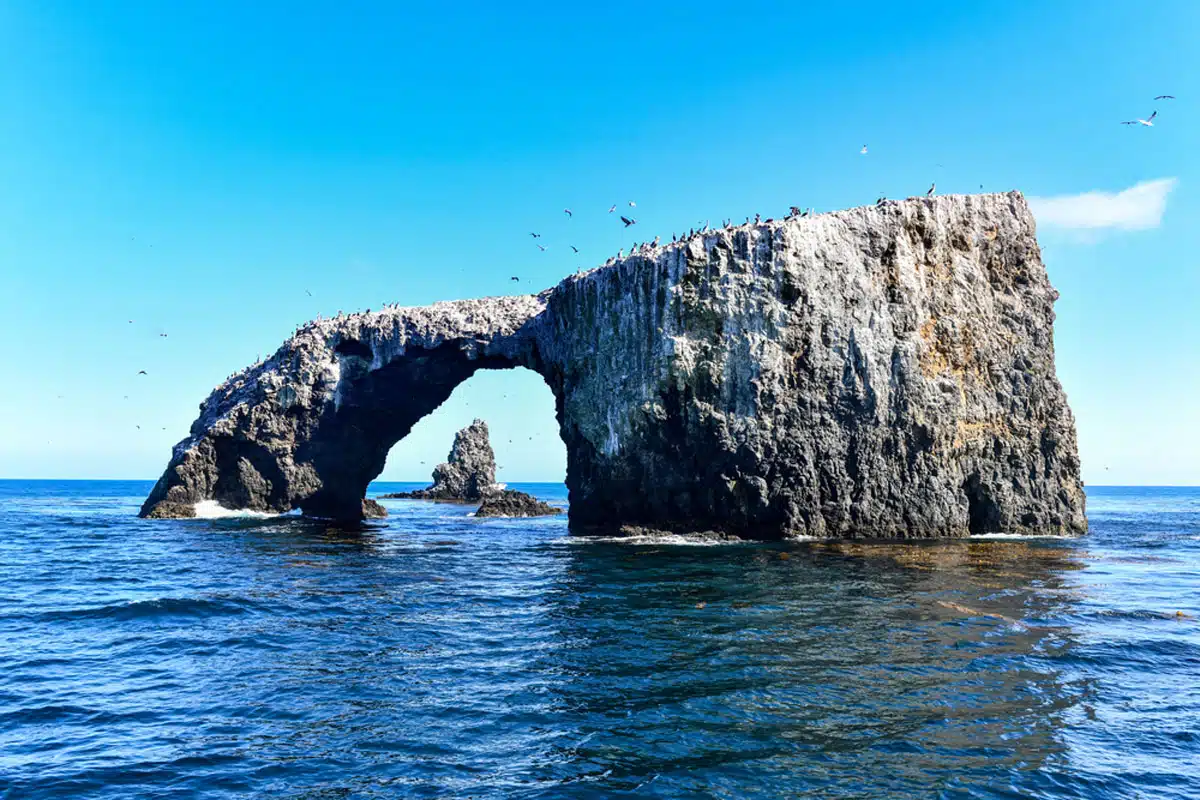 Hiking Anacapa Island epitomises everything I love about the Channel Islands. The white-washed lighthouse on a coastal bluff, undisturbed ocean vistas, and wildflower super blooms are all reasons to visit.
Stay
Your best option for accommodations when visiting the park is the vibrant coastal city of Santa Barbara. Hilton Santa Barbara Beachfront Resort provides beachside accommodations with an outdoor pool, wine-tasting room, and restaurant.
Practical Tips for Exploring The State's National Parks
California national parks are often close to other incredible nature, including state and regional parks worth checking out.
Many California national parks experience cold and wet winter weather. If you decide to visit from November through March, you'll want to follow the forecast before your travels.
Wildlife is abundant throughout rural California. It's important to understand safety tips if you encounter bears, mountain lions, and other predators on your visit.
Road closures are common, especially after wildfires. Research ahead of time to plan your route.
Some California national parks are very close to others. Plan on hitting more than one if you have the time and money.
California National Parks: Map
Ready for More Californian Adventures?
Love This? Save and Share on Pinterest