Ready to discover epic things to do in Death Valley National Park? Incredible sunrises, salt flats and scenic drives await.
Death Valley is straight-up epic. No if, no buts, no quibbles.
If you're planning on visiting Death Valley for the first time, let me tell you, you're in for a ride.
The name might sound a little grim, but the reality is a series of landscapes that are out of this world – from watching a kaleidoscopic sunrise light up the valley basin to hiking into the midst of multilayered canyons – Death Valley is packed with cool things to do.
I spent some time in Death Valley National Park on my recent California road trip. Sure, I was excited but if I'd have known what was coming, I'm pretty sure I wouldn't have been able to sleep for jitters – seriously.
That's enough about me. Let's help you plan your trip to Death Valley.
Ready to take a deep dive into all the incredible attractions that bring visitors back to this formidable piece of the planet year after year? Of course you are.
Need a place to stay? The Ranch at Death Valley is a delight with an outdoor pool, tennis court, and lush garden.
Top 5 Things to Do in Death Valley
Catch the Sunrise at Dante's View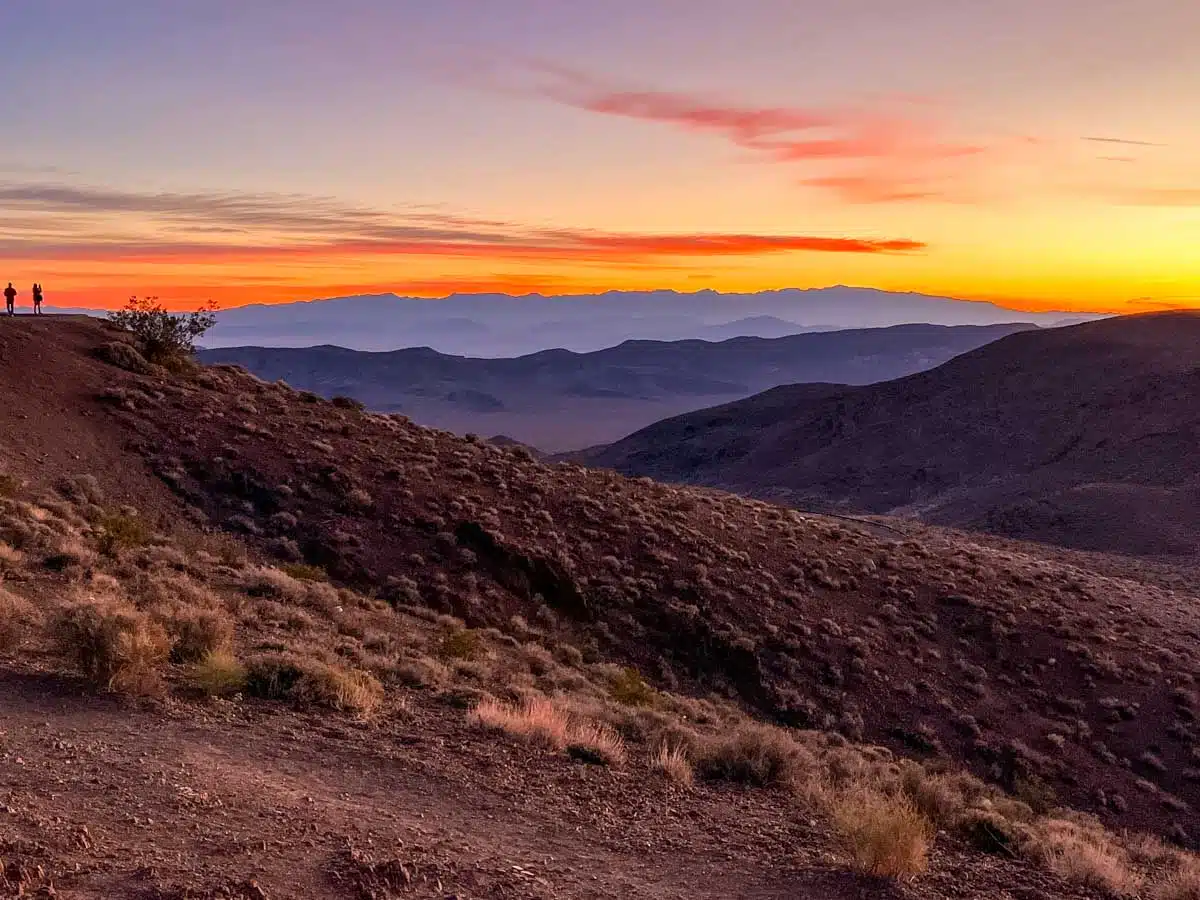 If you only have time to take in one EPIC viewpoint in Death Valley, make it Dante's View.
The views alone guarantee Dante's View a spot in any list of the top things to do at Death Valley National Park, but when you throw a spectacular sunrise into the mix, it's almost unbelievable.
What's the draw? Trundle up in the car to the viewpoint's lofty 1,670 metres, to look down over the breadth of Death Valley… all the way across the Badwater Basin to the mountains on the far side.
It's a little out-of-the-way to get to, but the view alone is worth it. The browns and oranges of the mountain rock contrast the silky whites and purples of the Basin, making it seem like you're gazing upon a winding river of milk. Stunning!
I'll warn you – it is freezing at sunrise (seriously, I thought my ears were going to fall off) so wrap up warm and bring a hot drink – you'll want to be up here for hours.
Hang Out At America's Lowest Point: Badwater Basin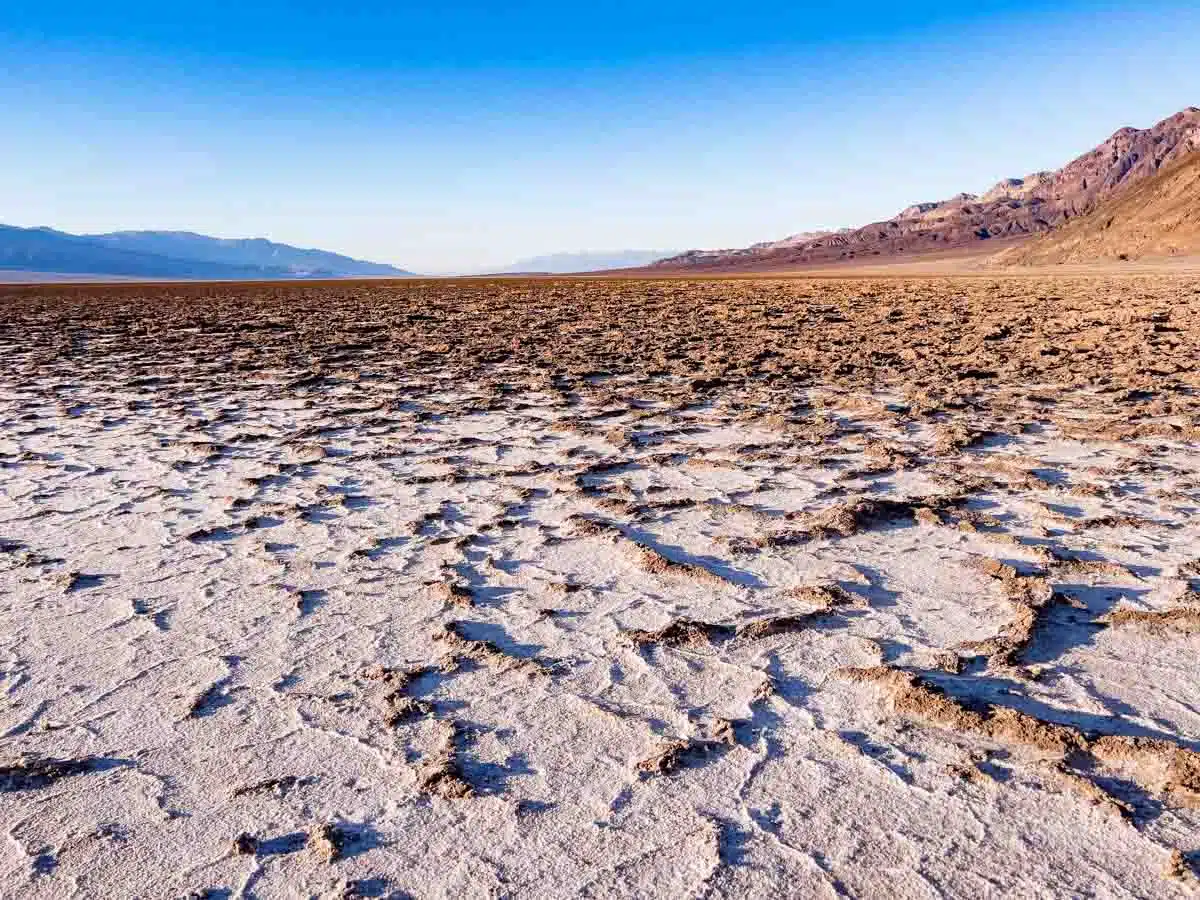 When it comes to Death Valley attractions, Badwater Basin is always going to be high on the list.
At 86 metres below sea level, it's the lowest point in North America.
That's not all though – Badwater Basin just so happens to be a vast salt flat. Hundreds of intricate geometric shapes tesselate like sunlight on the bottom of a pool – all in all, it's a fascinating sight that looks more like it belongs in Bolivia than in good ol' California.
Most people just take a few steps beyond the boardwalk. But if you're like me, you'll want to walk the 1.8-mile path to ensconce yourself in the shimmering, salty vista fully.
It's super easy to get to, so lazy tourists will rejoice. But the parking lot fills up fast, so get there early.
Top Tip: Check out this tour that starts at Badwater and moves on to other places to visit in Death Valley.
Marvel at the Views from Zabriskie Point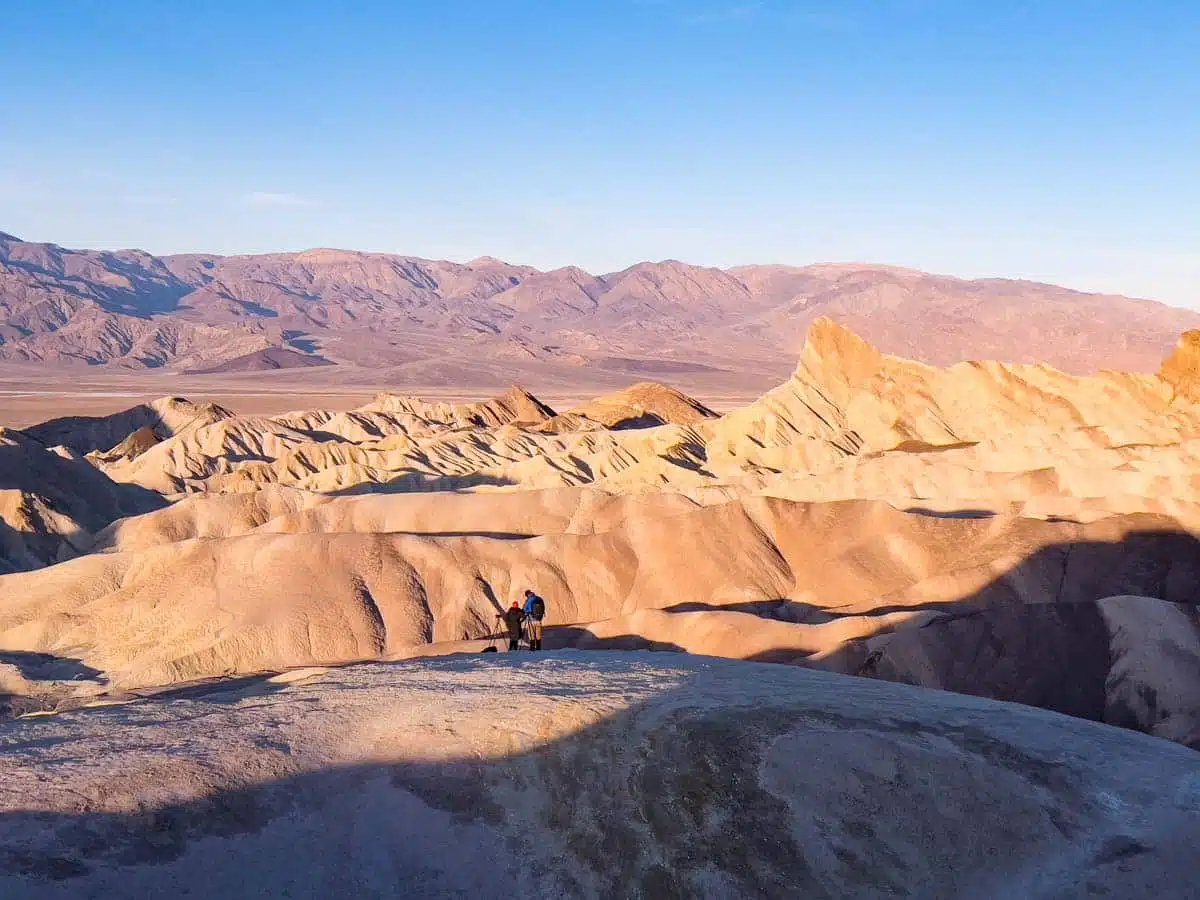 Zabriskie Point is another of Death Valley's epic attractions. Just a short hike from the parking lot, it boasts one of the park's most glorious vistas.
Can you conjure up images of jutting multi-hued stone carved by wind and water? Zabriskie Point overdelivers – with a dramatic panoramic view of the valley that is, quite frankly, obscenely pretty.
It's popular, so prepare yourself for crowds if you come during peak season.
You may also want to bring a warm jacket, as it's at a much higher elevation than the floor of the valley, so it can get chilly depending on the season.
Top Tip: Want to see Death Valley's Sights but short on time? This full-day tour stops by Zabriskie Point as well as the park's many other highlights.
Hike Over The Mesquite Flat Sand Dunes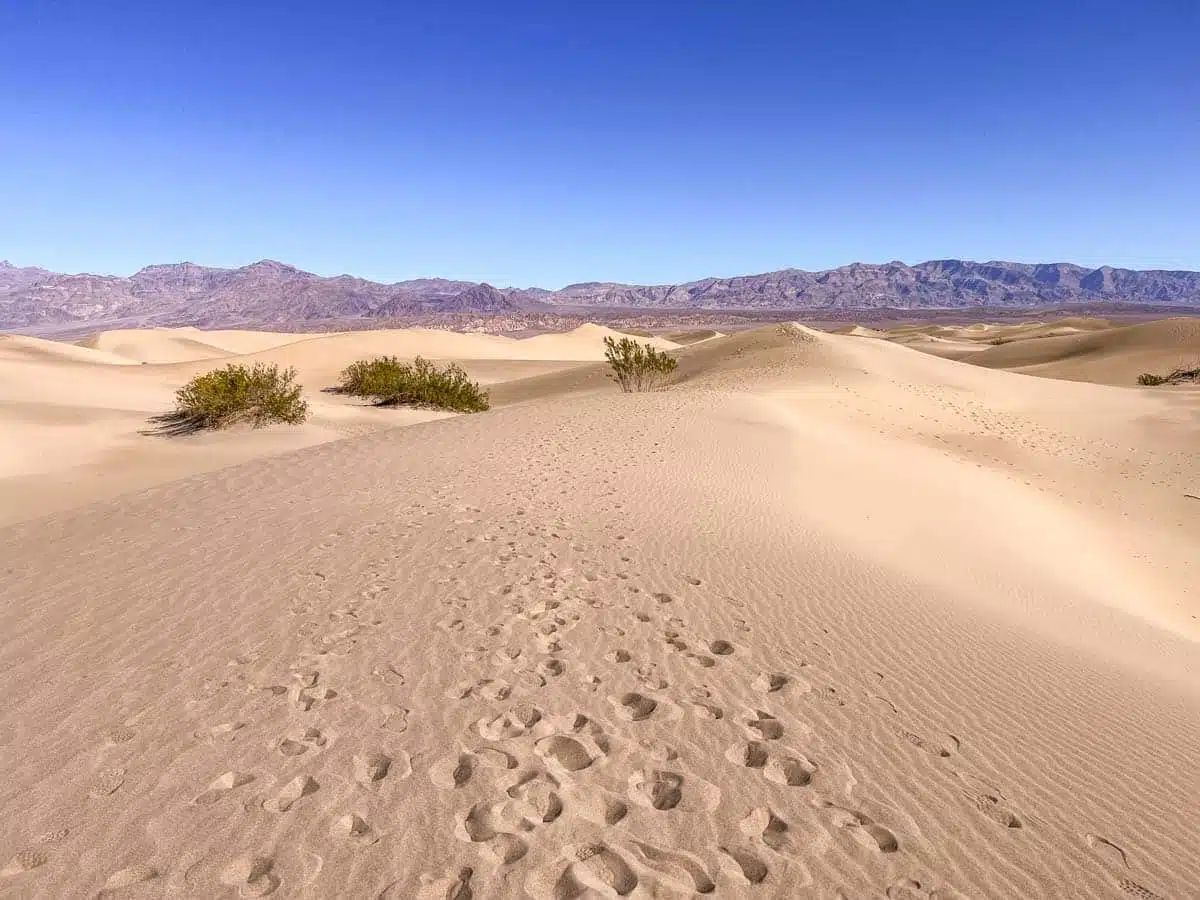 Although Death Valley is actually home to five dune fields, the Mesquite Flats are the most popular.
With majestic purple mountains in the distant background and golden dunes before you, it's a photographer's dream come true.
Strike out onto the dunes from the parking lot as far as you like, but – be warned – walking in loose sand is no easy task, so save some energy for the return trek.
That said, the further out you get, the more solitude and better views you get… isn't that always the way.
Top Tip: The heat and the sun are no joke – ensure you're well protected from the sun and have plenty of water.
See the Volcanic Remains at Ubehebe Crater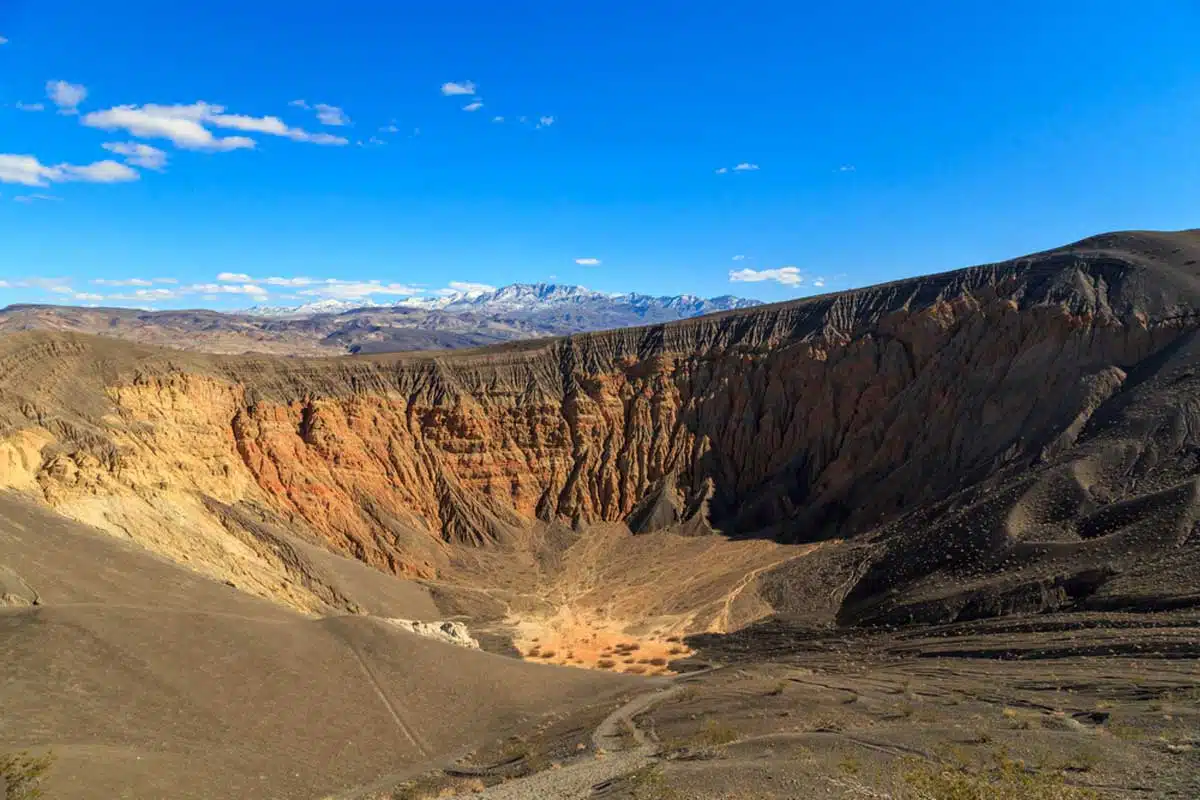 Ube-what-now? It's pronounced "oo-beh-heh-bee" and looks like a meteor's strike zone, but Ubehebe is a volcanic crater in the valley.
The sands that spread outward from it are still darkened here and there from distant volcanic activity, making for a beautiful contrast in colours.
You can hike around the rim (a mere 1.5 miles), trek down to the crater, or admire the view from the parking lot.
Top Tip: The crater was closed on my most recent trip in November 2022 due to flash floods on the road to the crater. Check with the NPS if it's open before attempting to go.
Brilliant Things to See & Do in Death Valley
Check Out the Devil's Golf Course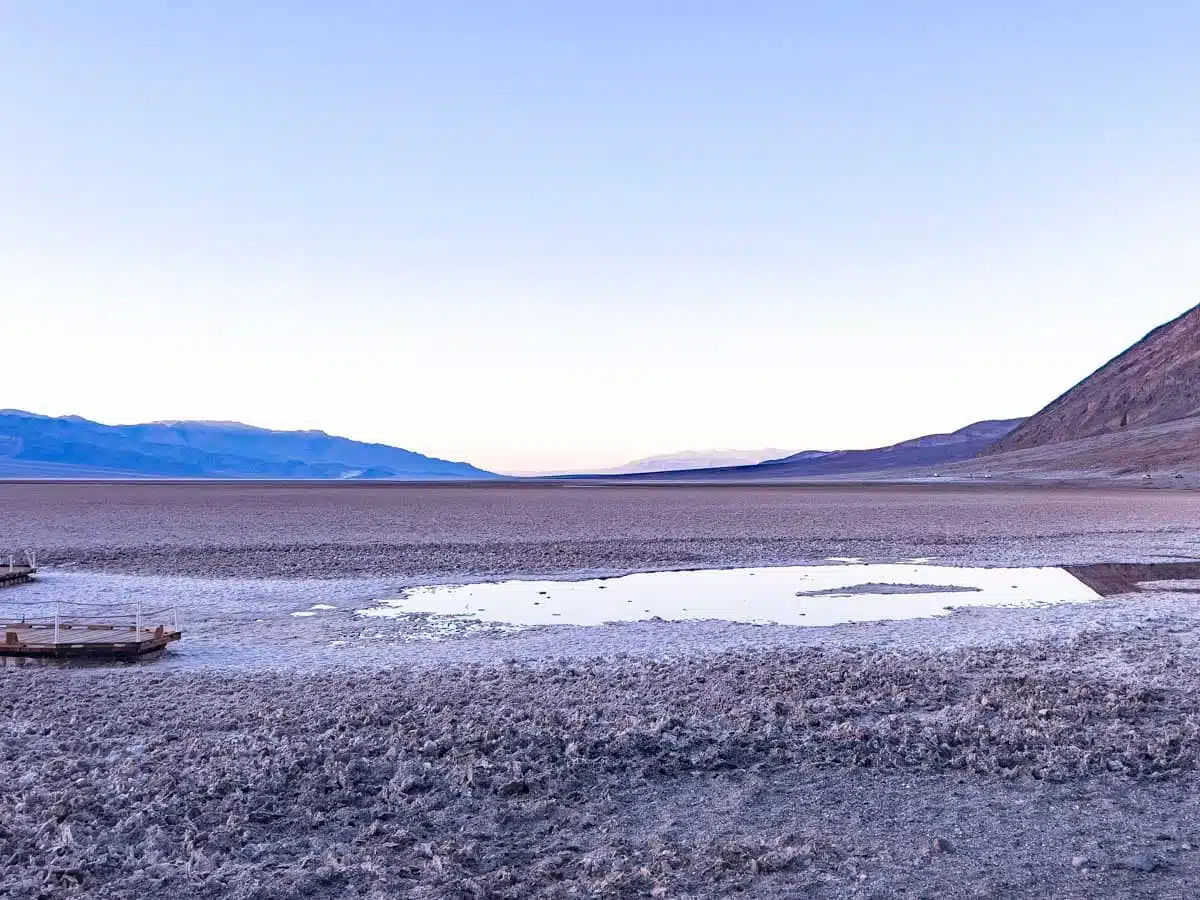 Imagine a landscape maintained by the worst groundskeeper ever and you'll come close to the Devil's Golf Course. Looking like the divets of a thousand golfers pockmark the earth, it's actually a lumpy salt (not-so) flat that forms part of Badwater Basin.
You're not allowed to actually walk on the Golf Course – probably down to the sharp salt crystals on many of the mounds. Nonetheless, it's worth a quick visit as you can see the area from the path leading from the parking lot to Badwater Basin.
Tackle The Mosaic Canyon Hike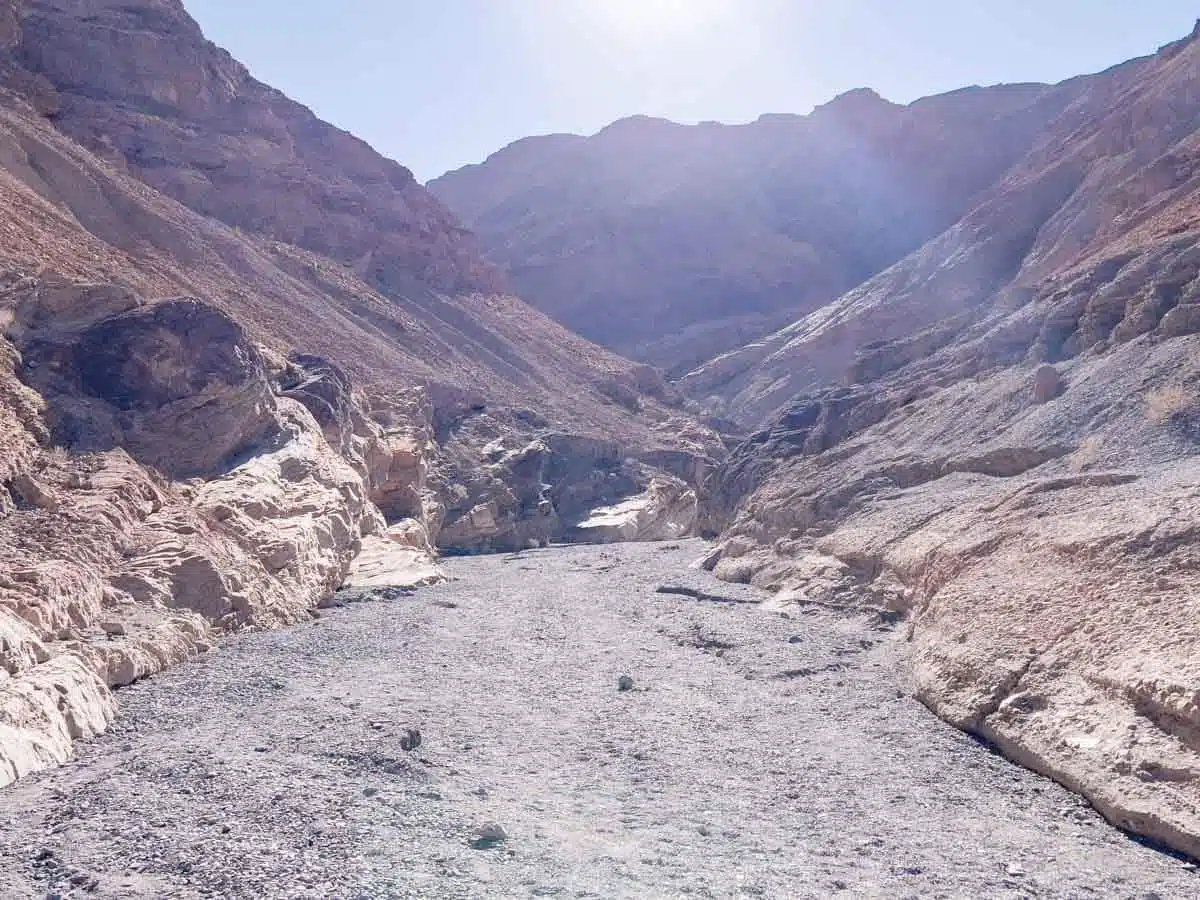 Newsflash! There are tonnes of hikes in Death Valley and tackling as many as you physically can is one of the most fun things to do during your visit.
Don't stress though – many of the hikes, including Mosaic Canyon are relatively easy and big on the wow factor to keep you distracted during the uphill stretches.
This moderate 4-mile hike takes around 2-3 hours, with plentiful snapshots of shiny slickrock and gleaming marble that give the canyon its name.
Kick things off by delving into the narrow canyon, which twists and turns before opening up into a wider plain. Safe to say that this hike isn't short on different views and perspectives, and there's just enough rock scrambling to keep things interesting.
See the Lee Flat Joshua Tree Forest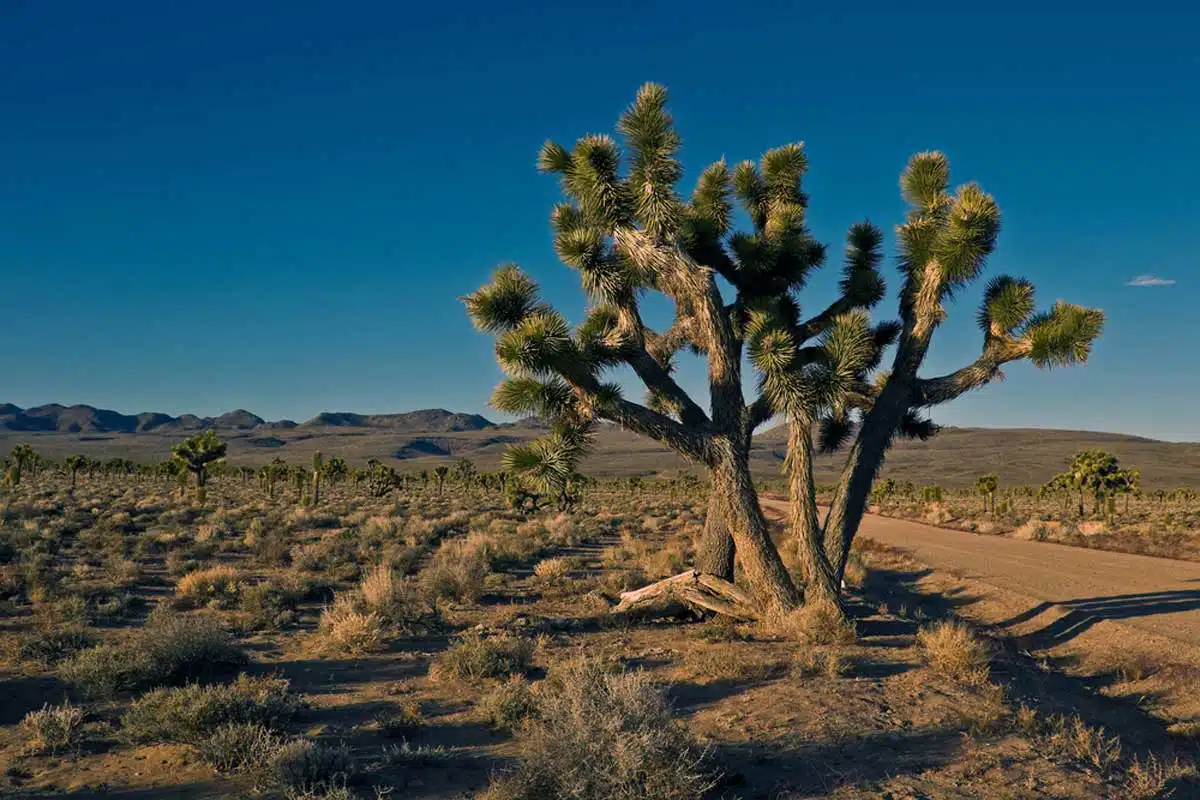 That's right, folks — Joshua Tree National Park isn't the only place to spot these weird and wonderful specimens of flora.
Death Valley has its own Joshua Tree forests, the largest of which is the Lee flat Joshua Tree Forest. It's near the western entrance to the park and sits at a higher elevation than the valley floor.
This means it has an almost completely different climate to what you find at Badwater Basin — a difference of 20°C or more in temperature between the two isn't uncommon.
Visit at sunset, when the golden hues sweep over the brush and trees from across the purple mountains.
Set Off on the Golden Canyon and Gower Gulch Hike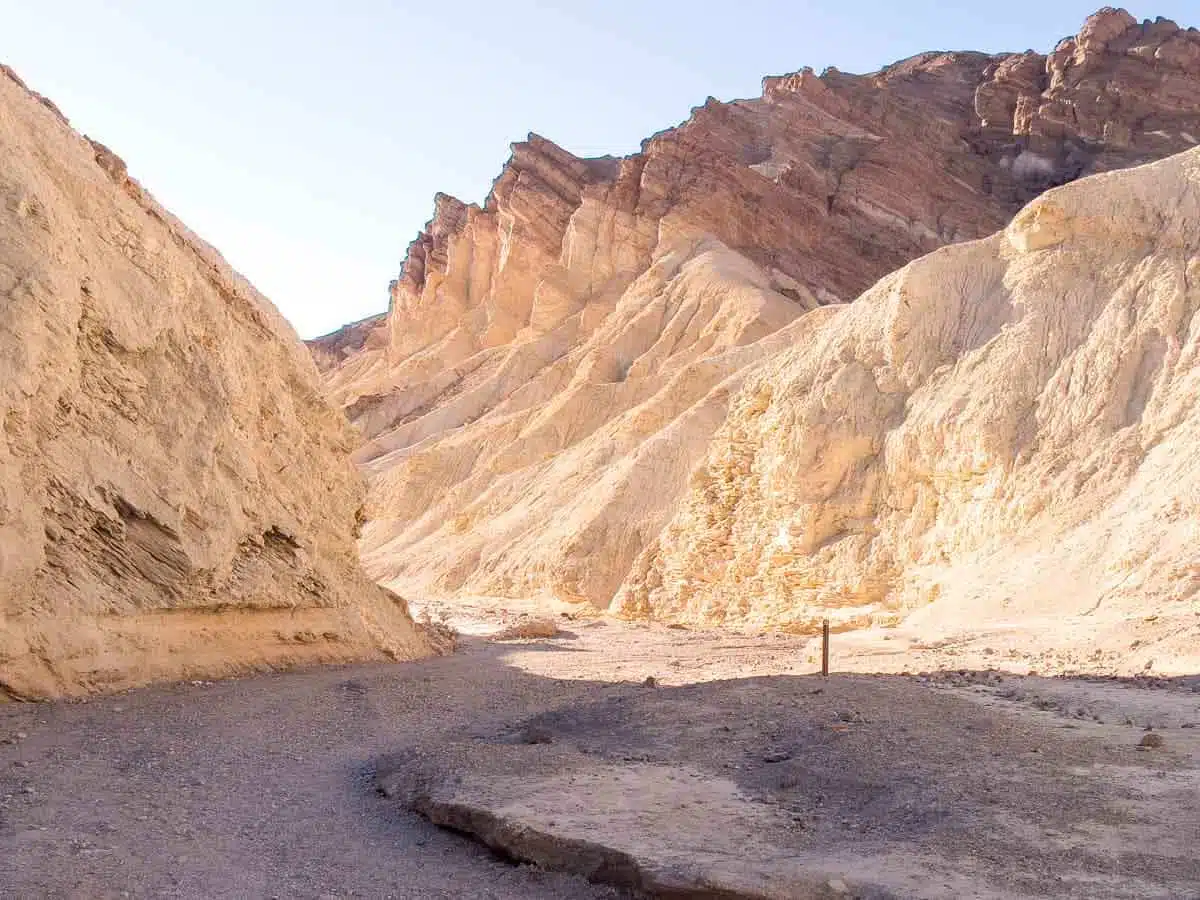 The Golden Canyon and Gower Gulch Hike is a relatively easy hike at 4.4 miles long and is a must if you're visiting Death Valley for the first time.
There's only a little elevation and a bit of scrambling at the end – expect for it to take 2-3 hours in total – more if you stop to gawp at the fantastic views of the valley as I did.
Named after the golden mudstone that makes up the beautiful formations that surround you during the larger part of the hike, I'm willing to bet that you've never seen as many shades of red and orange fanned out across one landscape.
Continue on towards Manly Beacon for the most exciting (and difficult) part of the trail, which comes with stunning views — they even rival even the grandeur of Zabriskie Point with their multicoloured formations.
Not going to lie – I had to sit the last part of the Manly Beacon stretch out thanks to my pesky fear of heights but J went to the top and assured me that it was spectacular… I did take the opportunity to mess around taking *arty* pictures like this in the shade – win win really.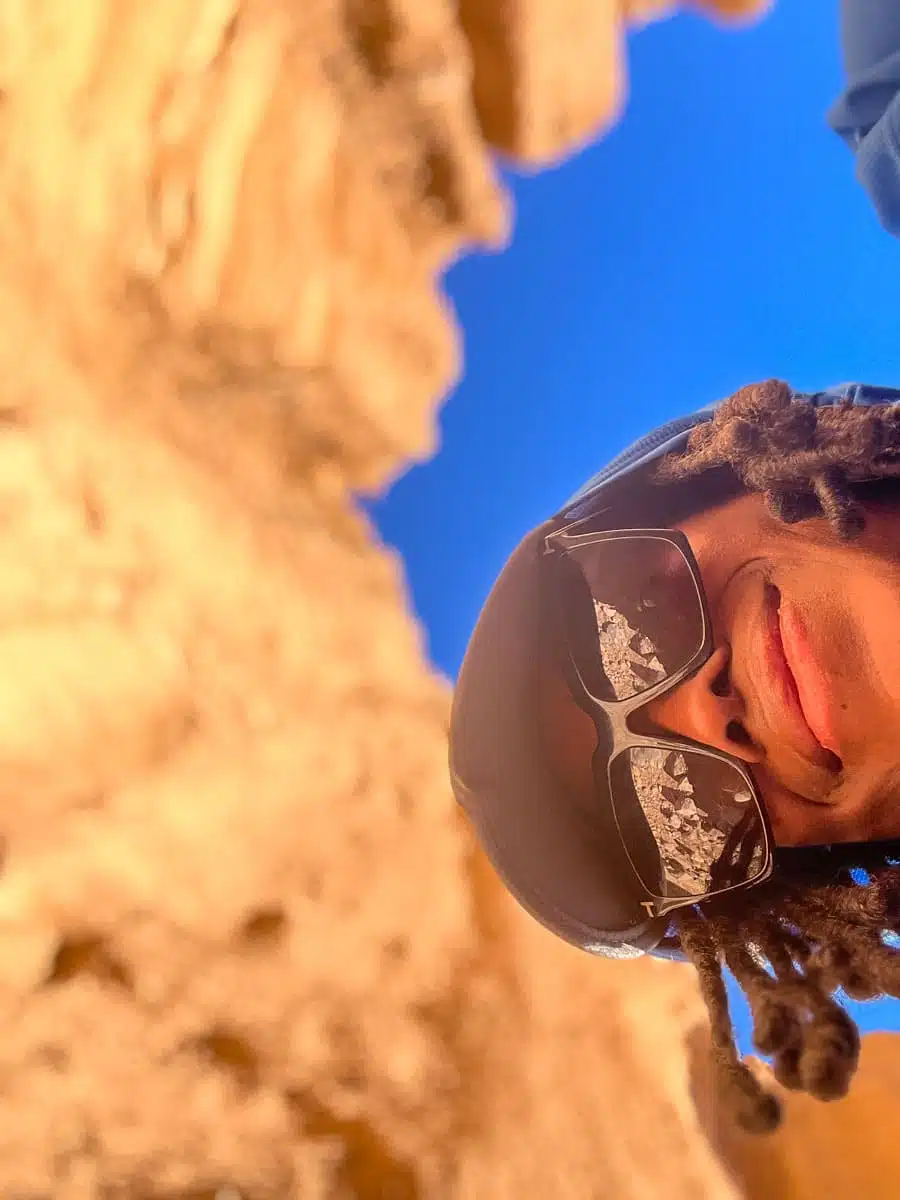 Visit the Harmony Borax Works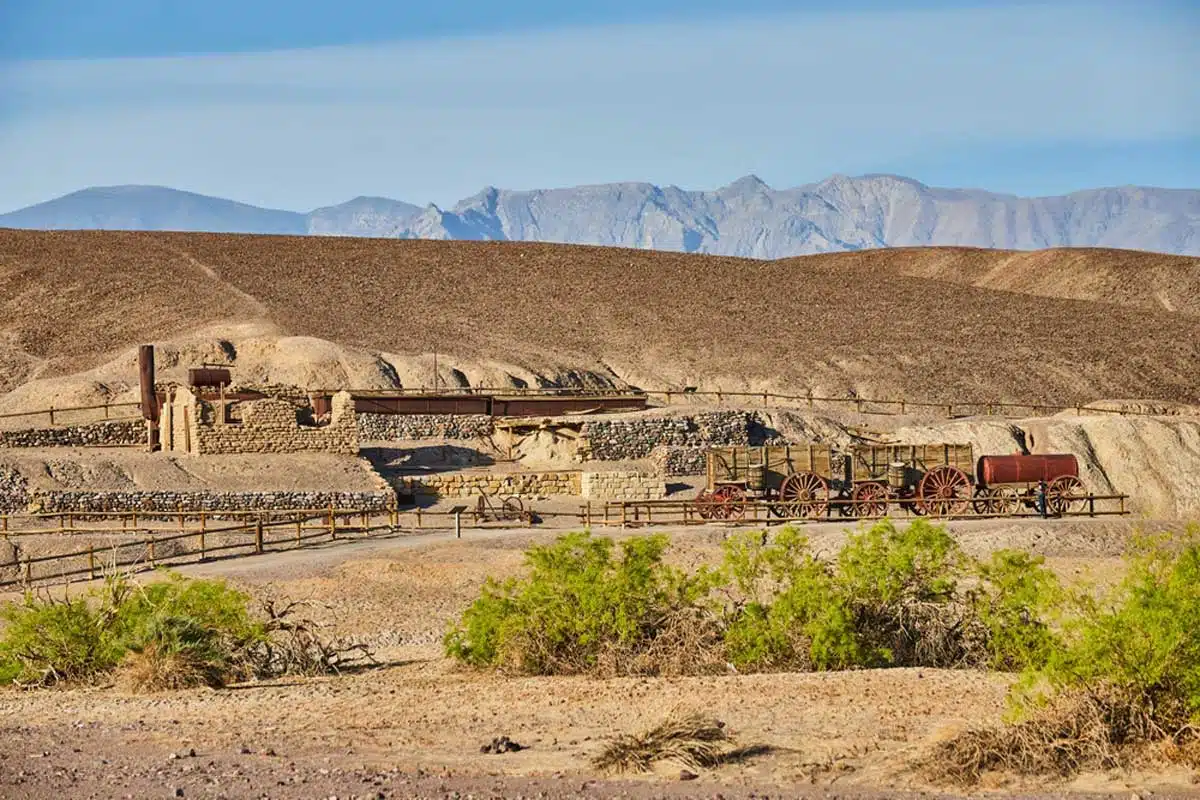 Any history buffs here?
If you're wondering what to do, Death Valley has a unique offering: the remains of Harmony Borax Works.
Aaron Winters found borax on this site in 1881 and sold his claim to William T. Coleman, who built the Works where they refined borate-bearing mud until 1888.
You can wander around the site, and see the crumbly adobe walls, the old broiler, and a couple of old wagons that have lasted the test of time.
Cruise Along Artist's Drive & Artist's Palette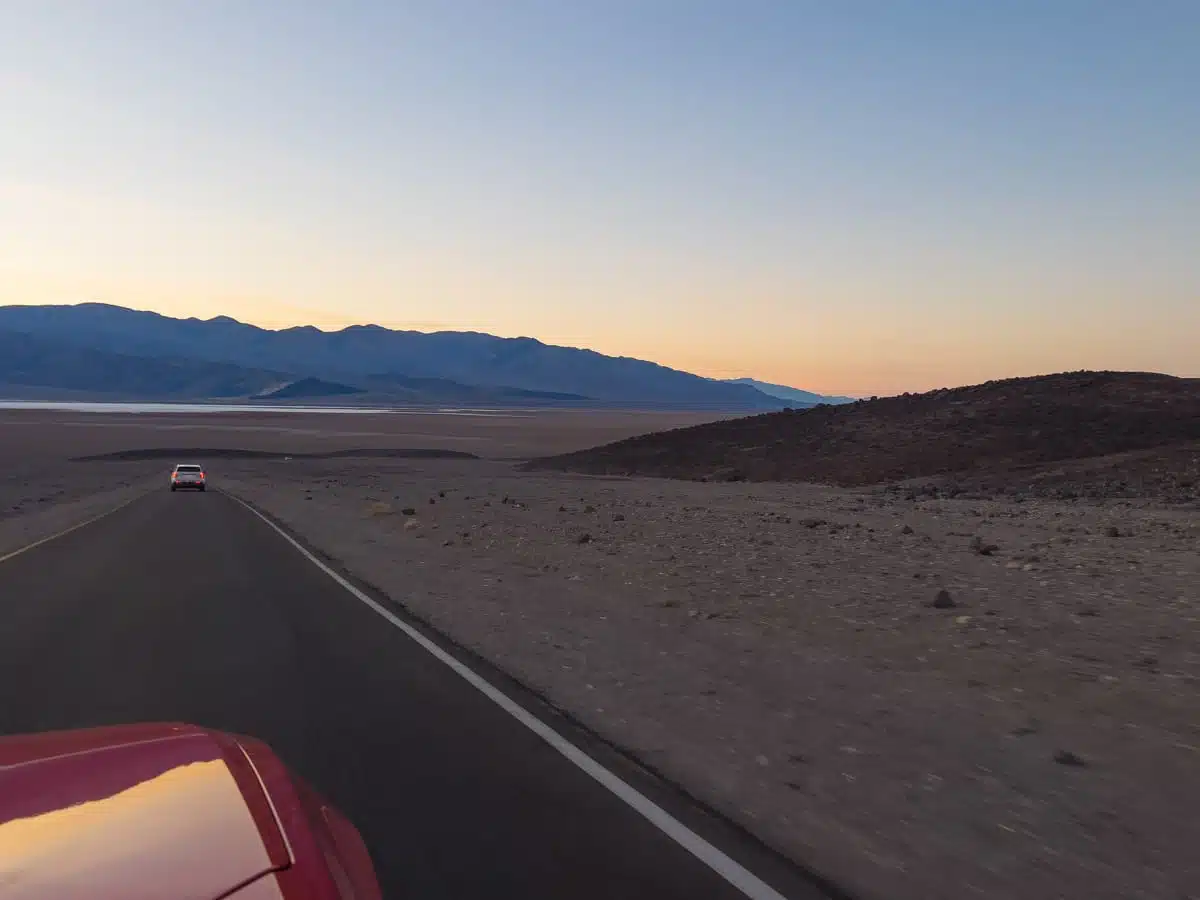 A 9-mile-long drive through one of Death Valley's most unique and scenic landscapes, Artist's Drive runs from south to north and is one-way.
Although it offers plenty of spots for opportune photo-taking, stopping at Artist's Palette is one of the best things to do in Death Valley by a long shot.
The hills change from brown and orange to a mix of pink, aqua, purple, and white. It's the bizarre and beautiful result of the oxidation of different metals in the soil. There's a parking lot nearby, so you can ogle the gorgeous site up close.
Hike to Natural Bridge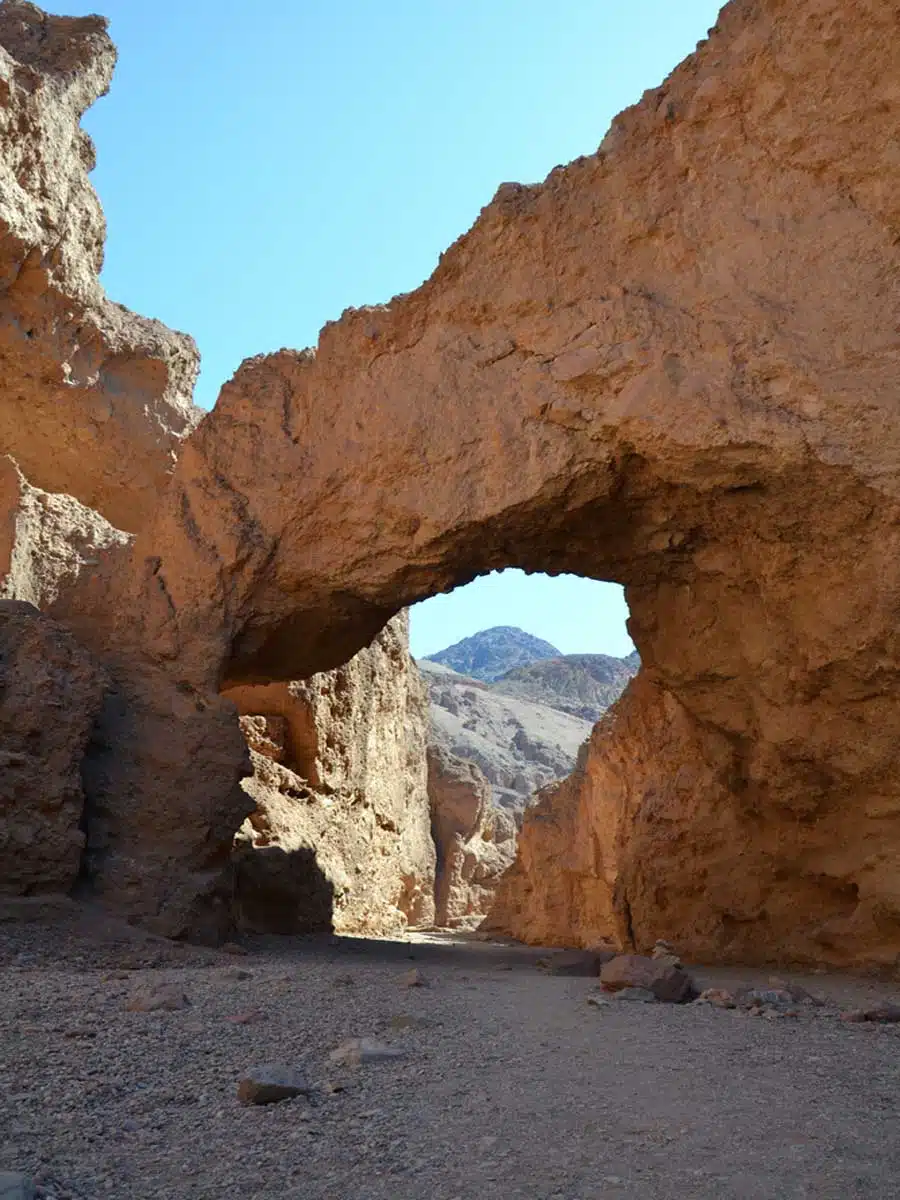 Wondering what to do in Death Valley? Why not check out Natural Bridge? It's not far from Badwater Basin and is only about half a mile from the parking area.
You can rather do the full 2-mile hike, though — it's fairly easy and takes about an hour. It's not an especially exciting hike, but Natural Bridge is still a popular crowd-pleaser you can admire as you walk beneath.
This isn't a hike to tackle midday, though — earlier in the morning is better to avoid direct sun for the entire trek.
Take the Twenty Mule Team Canyon Road Scenic Drive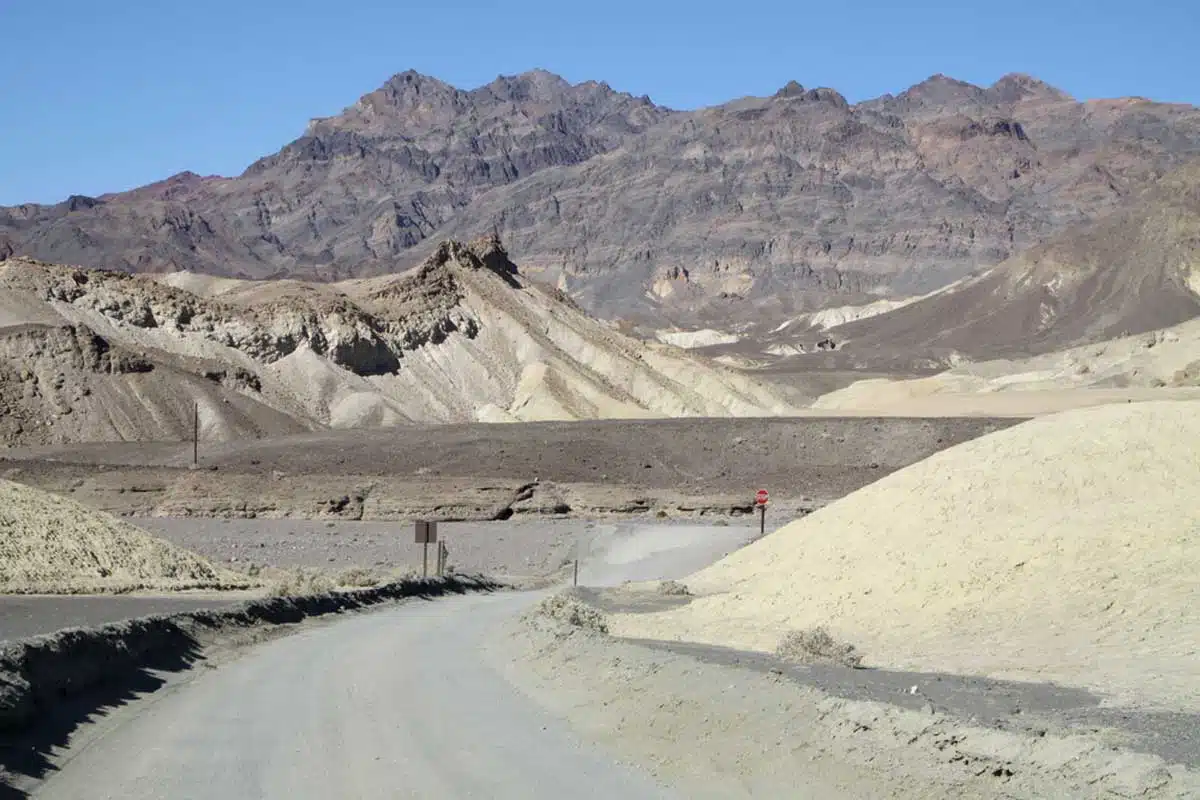 A one-way road through white and yellow mudstone hills, you might think a 30-45 minute drive through Twenty Mule Team Canyon could be a bore.
But the landscapes it offers are incredible! No desert brush obscures the gorgeous rock formations here.
Many small hiking trails splinter off the road, so you can stop and traverse them for even more epic views of the wind-carved mudstone from the top. It's a must-see in Death Valley.
Go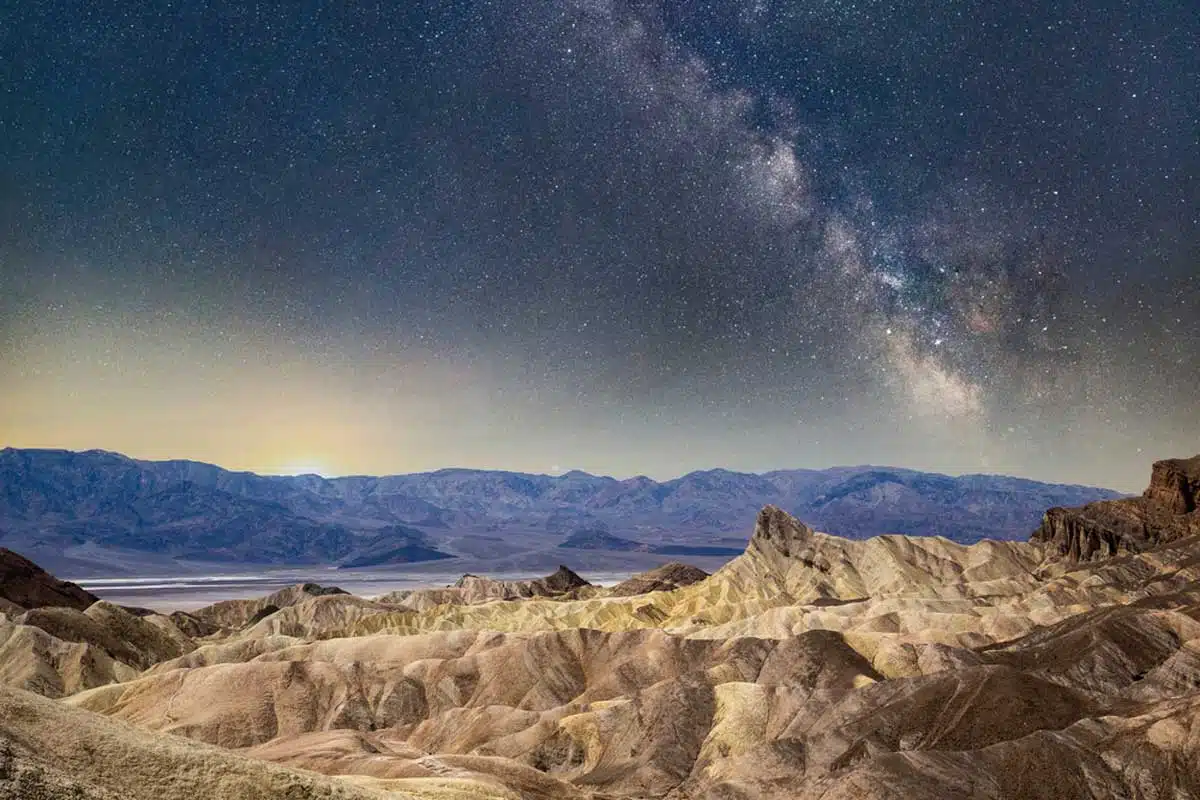 Death Valley languishes beneath the International Dark Sky Path, meaning it's one of the top places for stargazing in the United States.
There are multiple locations to choose from for the best viewing. Badwater Basin, Mesquite Flat Sand Dunes, and the Harmony Borax Works are all great choices. Bring your camera for epic nighttime Milky Way photography.
Unique Things to See & Do in Death Valley: Hidden Gems That are Off the Beaten Track
See Darwin Falls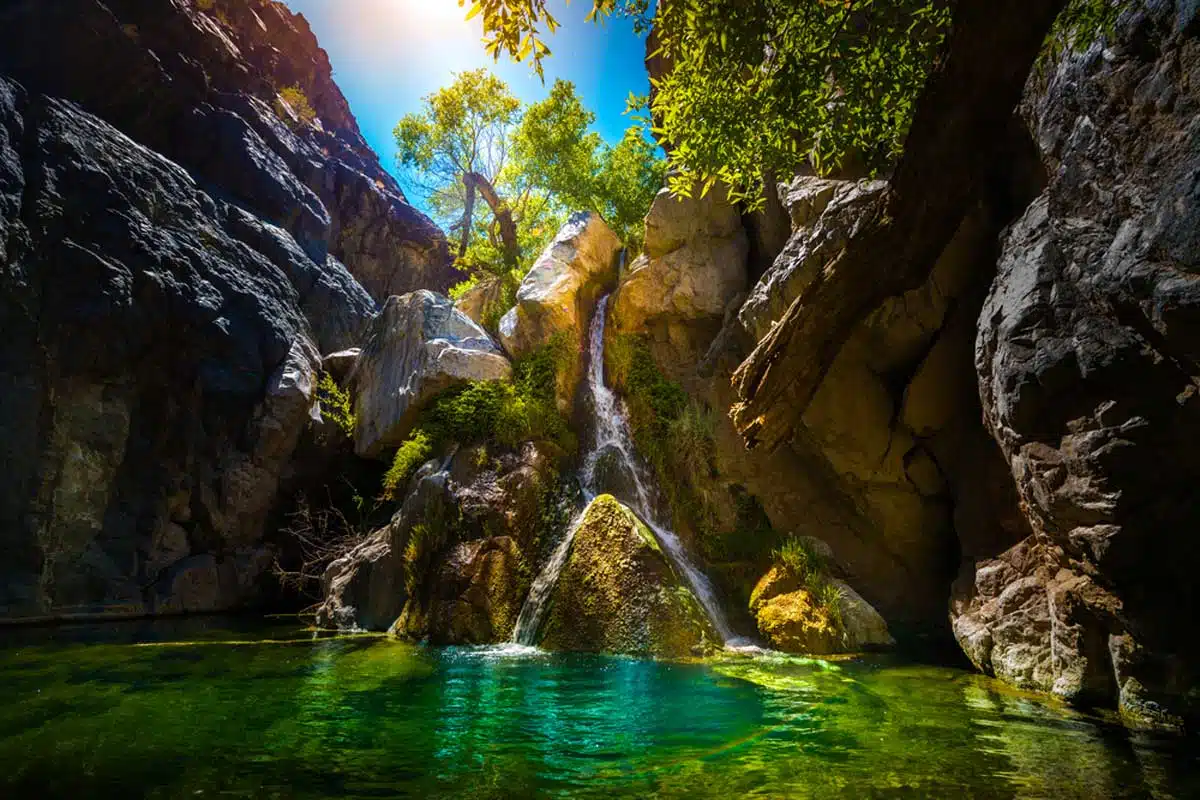 Believe it or not, Death Valley National Park, one of the hottest places on Earth, has a year-round waterfall.
That fact alone makes Darwin Falls one of the best places to see in Death Valley. You'll have to walk along a trail to find this watery treasure. As you go, you might doubt that it exists at all, but eventually, you'll see a small creek complete with dragonflies and frogs croaking.
In due course, you'll come upon this desert miracle, with plenty of time to cool your feet in the waters and soak in the wonder of it all. It's a 1.9-mile round trip, so it'll take 1-2 hours, depending on your hiking stamina.
Walk in the Footsteps of History in Death Valley's Ghost Towns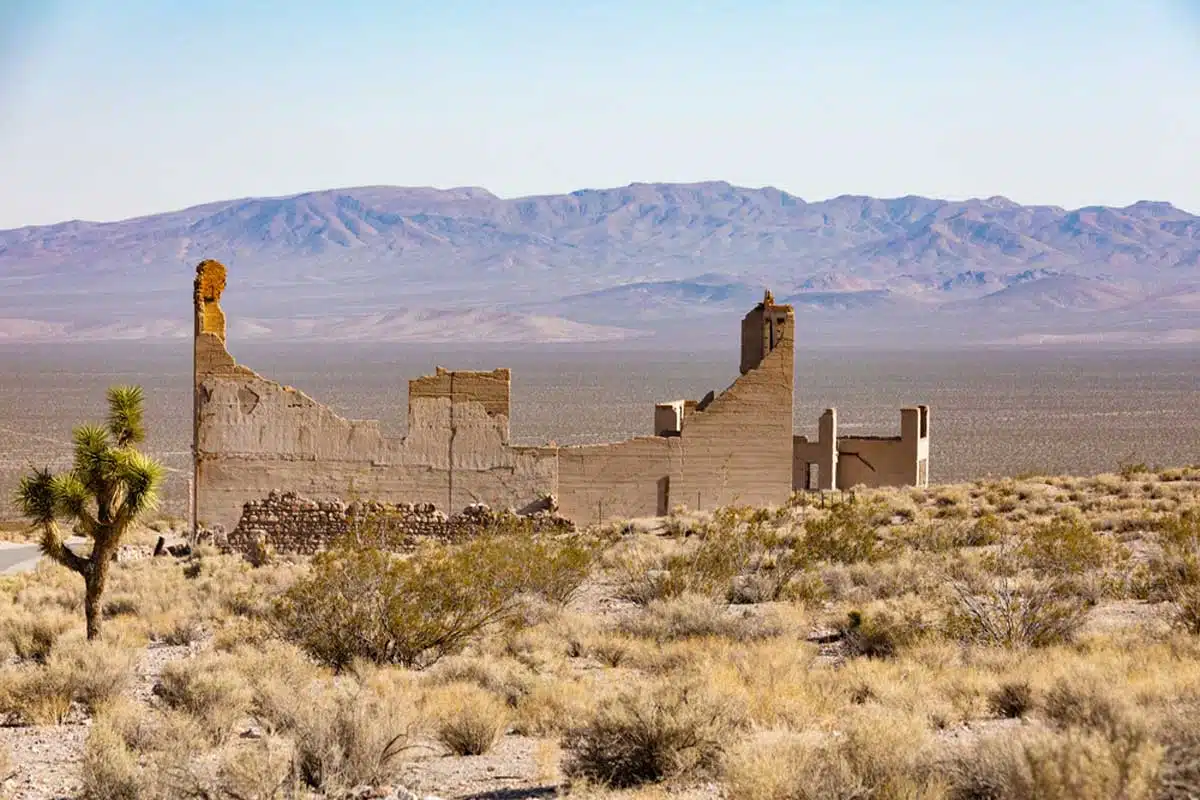 It's hard to believe that these inhospitable plains were once home to small communities of people drawn in by the gold and copper mined in the region.
You won't find much left of the so-called ghost towns, but they are worth a trip if you have some time to spare and love poking around in the remains of history.
Rhyolite is the best-known Death Valley ghost town – which is funny given that it's not even in Death Valley and actually sits across the state line in Nevada.
Others like Ballarat, Chloride City and Panamint City are smaller in comparison, but no less interesting.
Take a Trip to The Eureka Dunes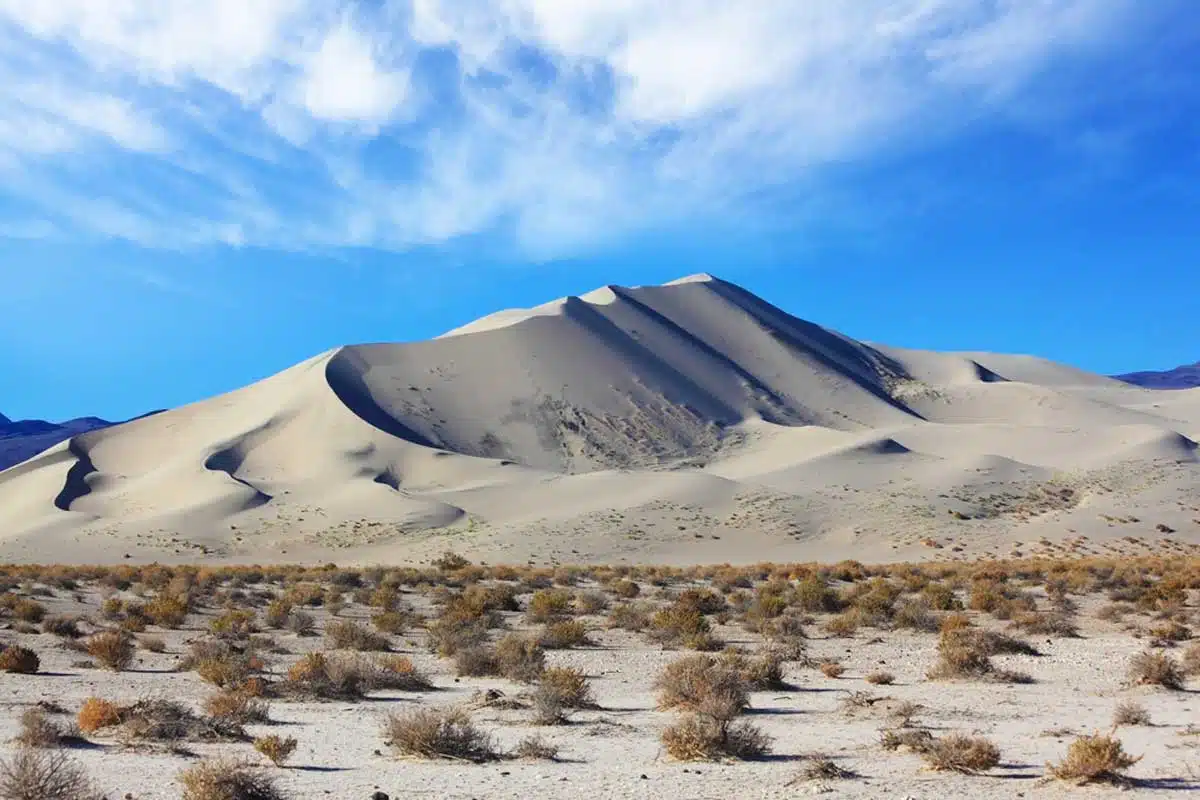 The Eureka Dunes are more remote, but they're the most beautiful dune field Death Valley offers. Probably because it's so remote and therefore lacking in touristy crowds.
At a 914-metre elevation, they're the tallest dunes in California, and part of their picturesque appeal is the Last Chance Mountains that form their backdrop. As if this wasn't enough, they sing.
Yes. The dunes sing. It may not be the latest Taylor Swift hit, but under the right conditions, they sound out with a bass reverberation similar to a pipe organ emanating from under your feet. Who wouldn't want to experience this baffling phenomenon that has scientists scratching their heads?
Be prepared for some challenging climbing, though. The dunes are tall, and climbing them is a mean task for calves unprepared for the physical onslaught.
See the Skidding Stones at Racetrack Playa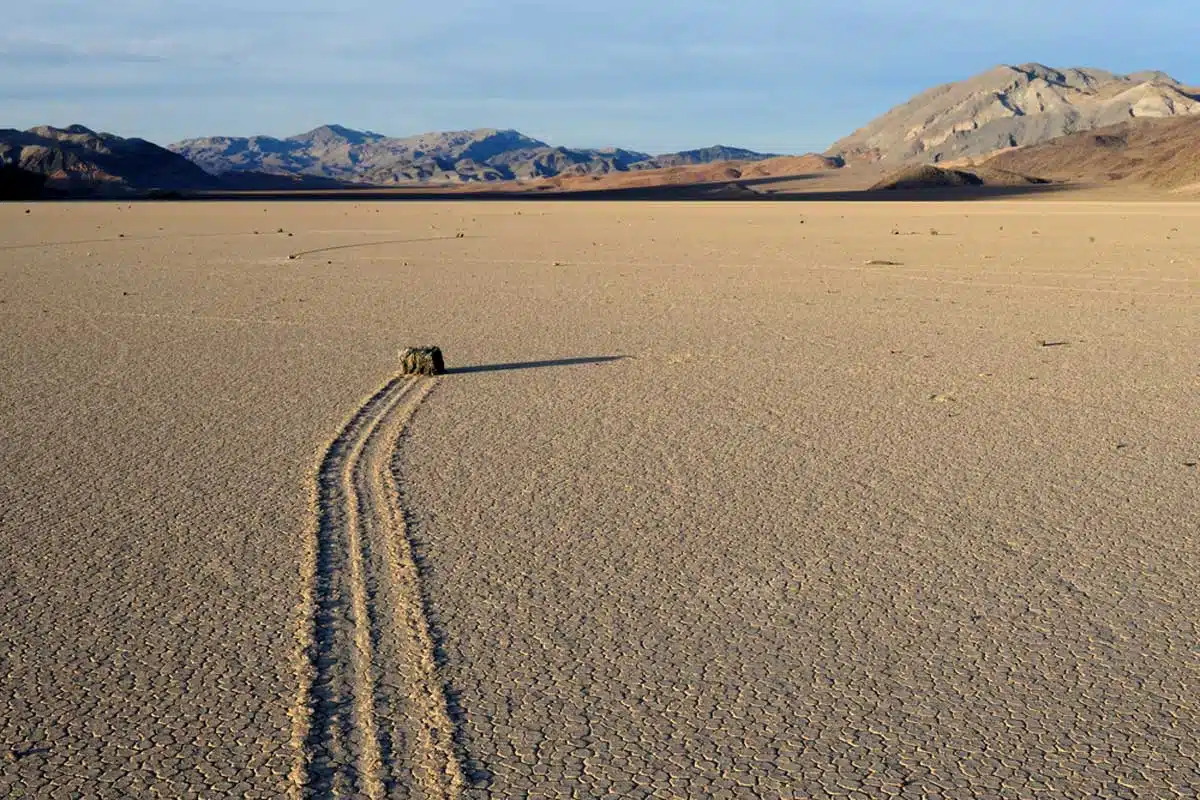 Because of its bizarre nature, this is a Death Valley must-see. Perhaps you've heard of them — the mysterious large rocks that seem to glide across a dry lakebed, leaving enigmatic trails behind them though no one ever sees them move.
They're called the sailing stones, and how they manage to move is superbly mysterious. Scientists have been studying them since the early 1900s to figure out this phenomenon, and it seems that in 2014 they finally sorted it out.
Driving the 27 miles over the unpaved road in a high-clearance 4×4 is a small price to pay to see the Racetrack and its slow-motion racers.
Tip: The playa surface is fragile, so stick to the roads and don't touch the stones. Also, bring a spare tyre or two just in case — that road can be brutal.
Do the Grotto Canyon Hike
Did you think the hikes in Bryce Canyon could be challenging? The Grotto Canyon hike is a 2-4 mile round trip, depending on your athletic abilities.
It's a quiet trail that navigates through narrow canyons and will have you scrambling over difficult obstacles. The first half of the hike sees you through a canyon, climbing over some tricky rock sections.
About halfway, you'll hit a 2.4-metre chimney — it's the "oh hell no" point of return for many hikers. But if your legs are up to the climb, give it a go and complete the hike.
See The Charcoal Kilns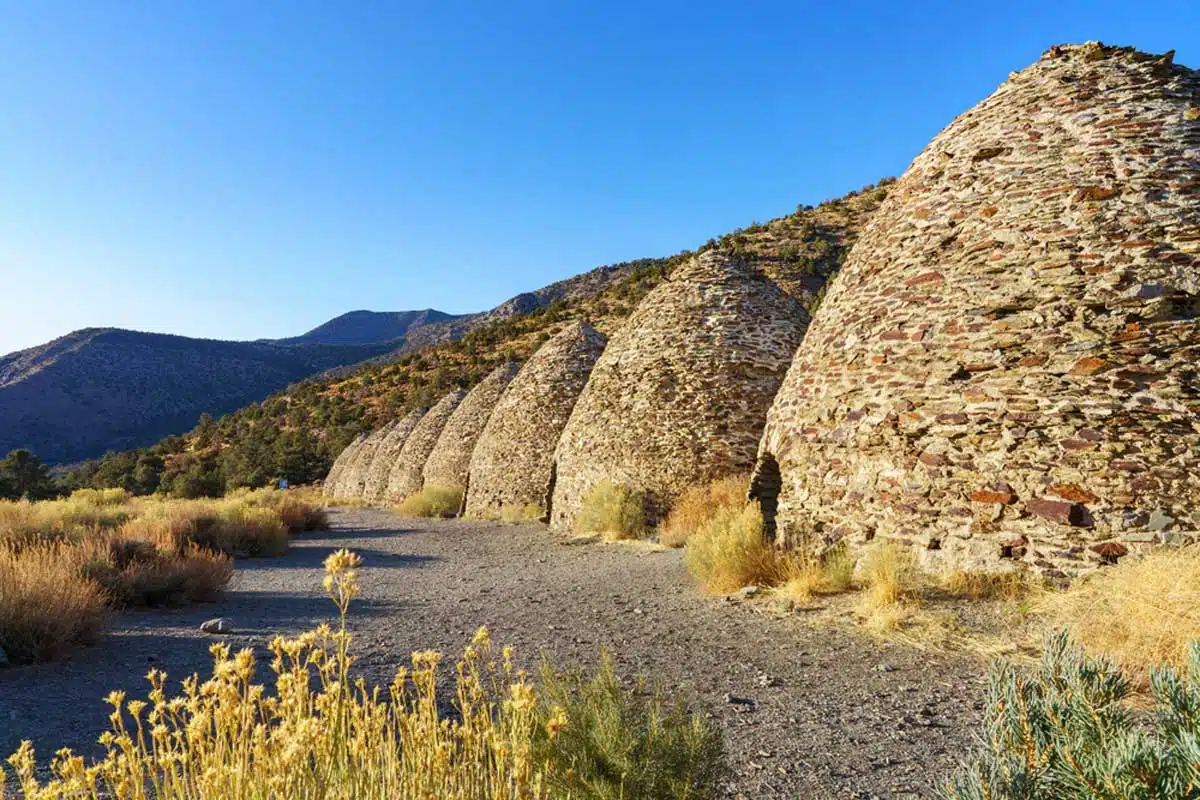 One of the more unusual things to do in Death Valley is to visit the charcoal kilns.
Their interesting conical beehive appearance with bits of dry scrub surrounding them gives the vibe of a quirky abandoned village. They were in use back when the park was a mining hotspot to create charcoal.
You can find them in the Wildrose section of Death Valley, but beware: the road to the kilns is bad, so a high-clearance or a 4WD vehicle is necessary to reach them.
Head Out to the The Ibex Dunes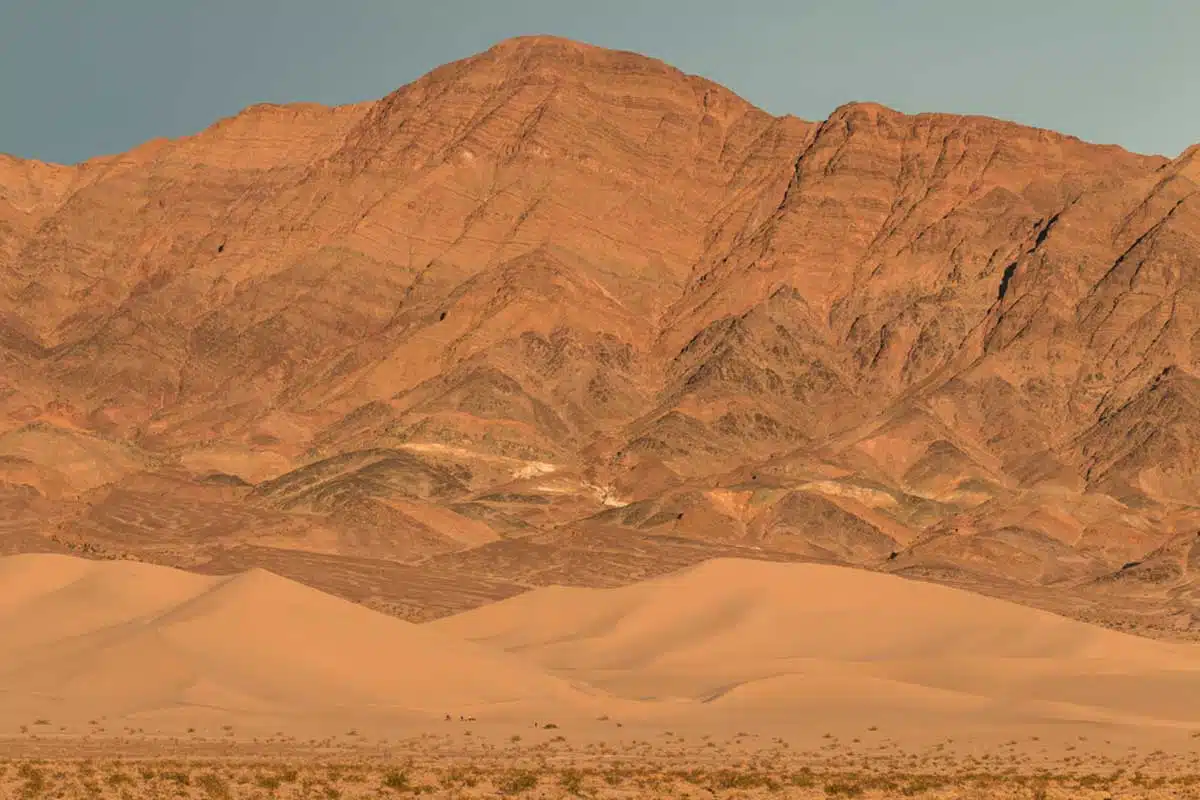 The Ibex Dunes are pretty remote, making them ideal for photography enthusiasts. It helps that they're naturally superbly photogenic, too.
The abandoned mine is on the far side of the dunes by the mountain, an eerie reminder of days gone past and a great photo spot. Heading out on the high-clearance road to explore the isolated dunes is one of the cool things to do in Death Valley, but do it early in the day.
Even in winter, it gets hot quickly out there, and you wouldn't want to end up in a dangerous situation.
Things to Do in Death Valley: Practical Tips for Your Trip
How Long to Visit in Death Valley?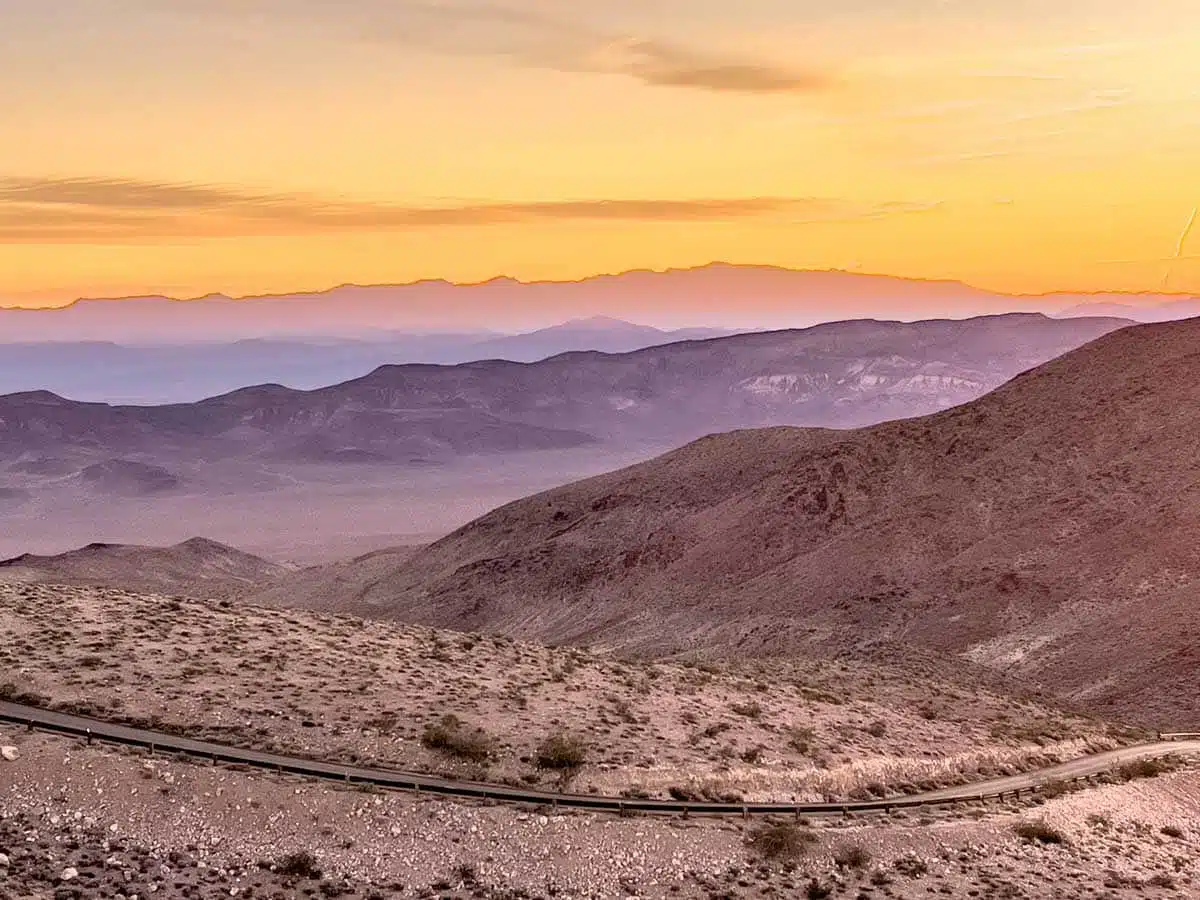 It's possible to see the highlights in one day, but who wants to rush such an experience? A good two to three days is perfect for getting in all the sights without busting a gut.
Best Time to Visit Death Valley?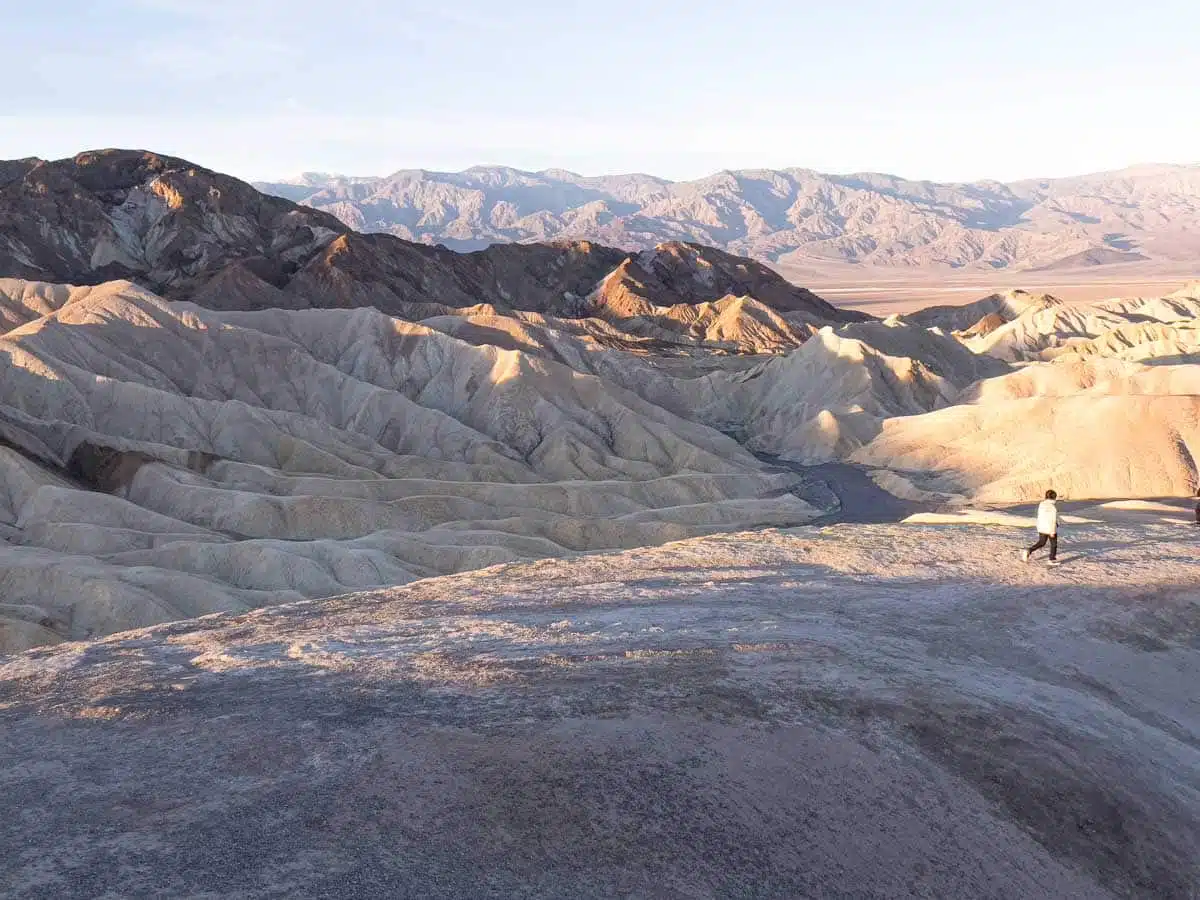 The best time to visit the valley is undoubtedly spring, from March to May. It's also the most popular time, so don't suffer a surprise if you bump into other tourists taking in the views.
But the days are warm and sunny, and if the winter blesses the lands with rain, a carpet of desert wildflowers flowers will enchant you. Their peak blooming time is late March to early April.
Where Should I Stay in Death Valley?
Holiday Inn Express & Suites (Mid-Range)
With a pristine pool and mountain views, Holiday Inn Express & Suites offers an affordable luxury experience with its crisp modern rooms. The Death Valley Junction is only 24 miles away, making it an ideal location.
Check Rates and Availability for Holiday Inn Express & Suites on Booking.com
The Inn at Death Valley (Luxury)
Located inside Death Valley, this luxurious hotel has all the trimmings. It is a beautiful place and offers a sauna, outdoor pool, bar, and air-conditioning in the rooms. With uber-comfy beds and lush lawns and palms before the mountainous backdrop, you won't want to leave.
Check Rates and Availability for The Inn at Death Valley on Booking.com
Recommended Tours in Death Valley
Things to Do in Death Valley: Map
What to do in Death Valley: Read Next
Exploring Death Valley's Sand Dunes