Discover the badlands with this in-depth Death Valley National Park itinerary. Everything you need to know to plan the perfect trip.
Call me late to the party but I've become completely obsessed with America's national parks in the last few years and Death Valley National Park was no exception.
I swung by on my recent California Road Trip and my goodness… it's insane.
From straight-up jaw-dropping vistas rolling out from Dante's View to the barren salt flats of Badwater Basin, there's a lot to see on any Death Valley trip.
I'll be blunt, unless you've got weeks and weeks to explore, you're going to have to be smart about planning your Death Valley itinerary.
After all, you want to have enough time to explore the national park and squeeze in a few hikes without feeling like you're on some mad merry-go-round that leaves you totally broken after your trip.
Strap in because this is going to be one hell of an adventure.
I'll run through some top tips for planning your Death Valley itinerary then get into the nitty gritty of a three-day itinerary for your trip.
Handy Tips for Planning Your Death Valley Itinerary
Suggested Stay for Your Death Valley Itinerary 
The Inn at Death Valley is a boutique 5-star resort where you'll completely forget you're in the middle of a desert.
The Inn Dining Room serves delicious meals all day, and the rooms are spacious, with views of the palm tree gardens outside. There's also a lovely pool to soak in after a long day and a splendid terrace to take in the afternoon sun.
Group Tour or Independent Travel?
Death Valley is the largest national park outside of Alaska, so you can imagine there's a lot to explore.
With over three million acres of land and plenty of wildlife to discover, there are pros and cons to choosing a group tour or independent travel.
Group Tours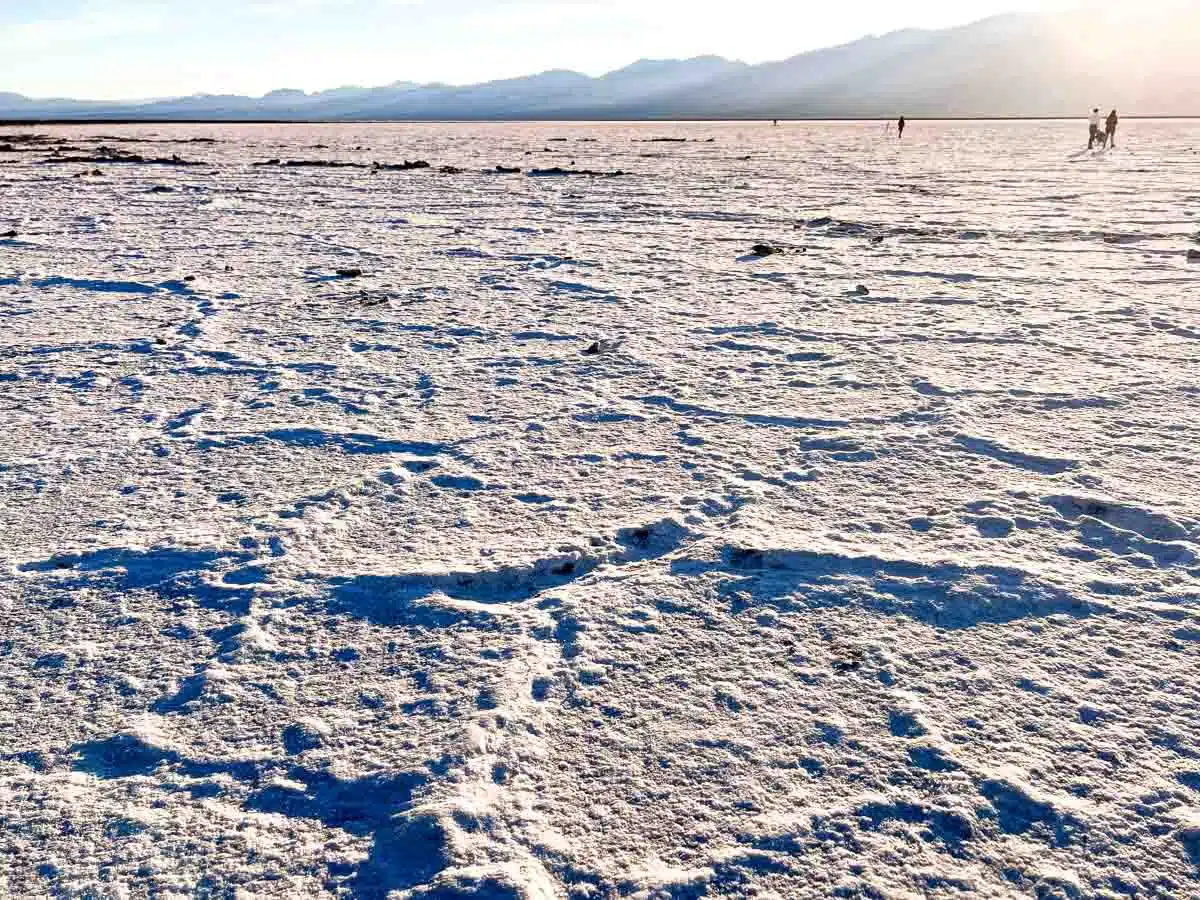 If you're doing a group tour from Las Vegas, you don't need to worry about transportation. You'll also visit the most iconic parts of the park, like Badwater Basin and Ubehebe Crater.
The downside is that you'll only have one or two days in Death Valley… and it's a group tour so how you feel about those will play a large role (me? Used to hate them, have done a couple and am now coming round to them).
Visiting Death Valley Independently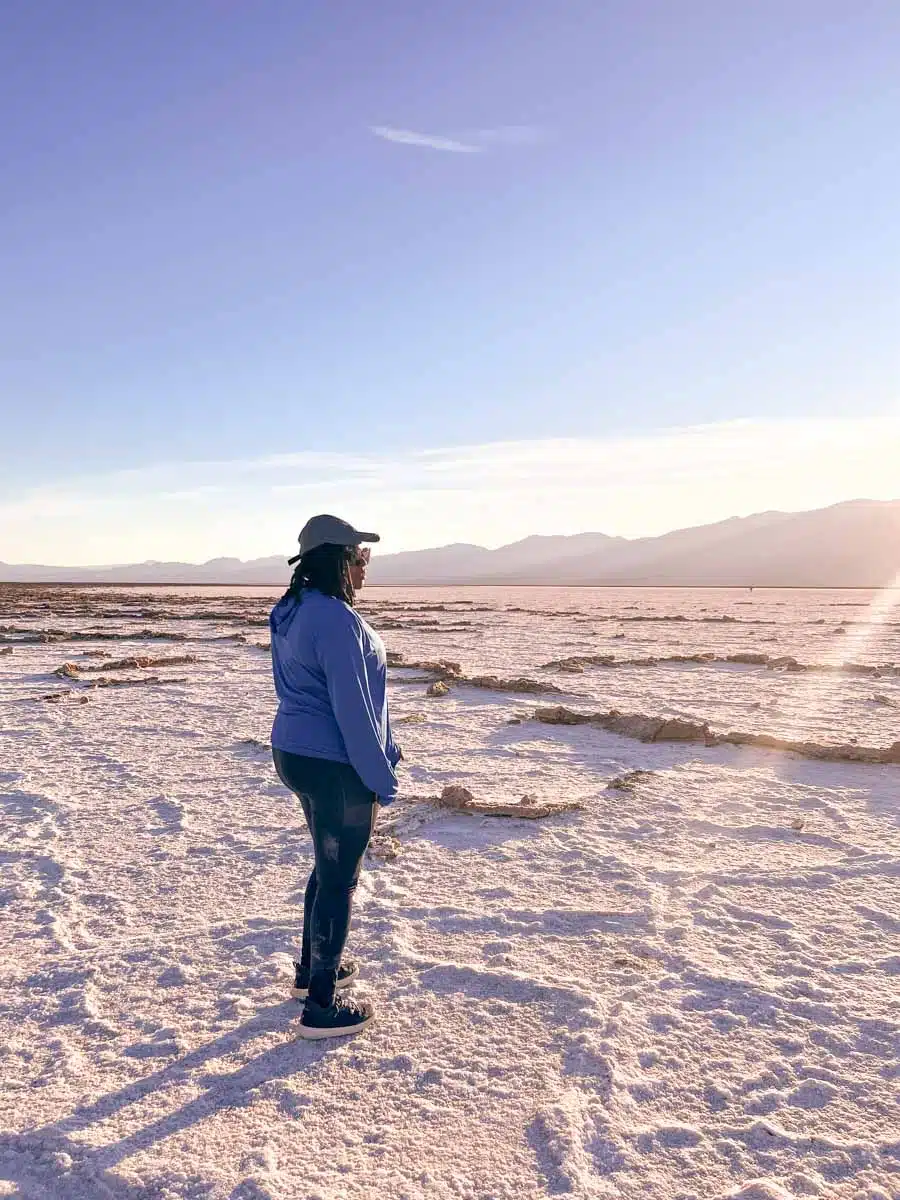 Independent travel gives you the freedom to go wherever you like. You can take your time with a 3-day itinerary of Death Valley. You'll have the freedom to explore some amazing sites that you won't be able to on a group tour, like Artist's Palette Drive.
What to Pack for Your Death Valley National Park Itinerary
Here's a list of some of the things you should pack for your Death Valley itinerary:
I recommend getting this good-quality hiking backpack for the occasional hike. I always use the Osprey Daylite pack. 
A sturdy water bottle is always a must in Death Valley – keeping a good supply of water is really important – I cannot stress this enough. 
Protect yourself with a sun hat.
A warm fleece is perfect for chilly nights.
Pack light long-sleeve shirts and trousers.
Remember to take a quality camera, and don't forget your SD. card.
Bring a sturdy pair of shoes. Read my Tropicfeel Canyon review to see why they've become my go-to hiking shoes for warmer climates. 
And last but certainly not least, remember SPF sunscreen.
Useful Resources
Before you jump into this Death Valley itinerary, here are some handy resources:
Skyscanner – You'll find the best deals on domestic and international flights to and from airports near the park.
Booking.com – You can find your ultimate stay in lodgings that accommodate every price range with Booking.com.
Tripadvisor – Use this to find out what other travellers thought of each destination on your list. This way, you can filter out the bad and only visit the activities that'll live up to your expectations.
Get Your Guide – There is no better place to find fantastic tours and tickets that include everything on your Death Valley itinerary.
Rentalcars.com – If you don't have a car and need one to explore the park, you'll find the best car rental deals on this site.
Death Valley Guidebook – Although not super necessary, a guidebook is always handy, with maps and information about the lesser-known parts of the park.
Getting Around 
As Death Valley is a big place, you'll want a convenient and reliable method of transportation. There are two main entrances along Highway 190, which runs through the park from east to west.
There are 12 entrances to the park, but the most common ones are Furnace Creek to the east and Darwin to the west. It will take an average of two and a half hours to drive from Darwin to Furnace Creek.
Death Valley is one of the few U.S. parks that doesn't have a shuttle service. So you'll need a car to get around the park. The alternative is to join a tour, like this Death Valley day tour from Las Vegas.
Top Tip: If you're planning to drive, read my road trip essentials guide.
Death Valley Itinerary
Death Valley Itinerary Day 1: Furnace Creek & Surrounds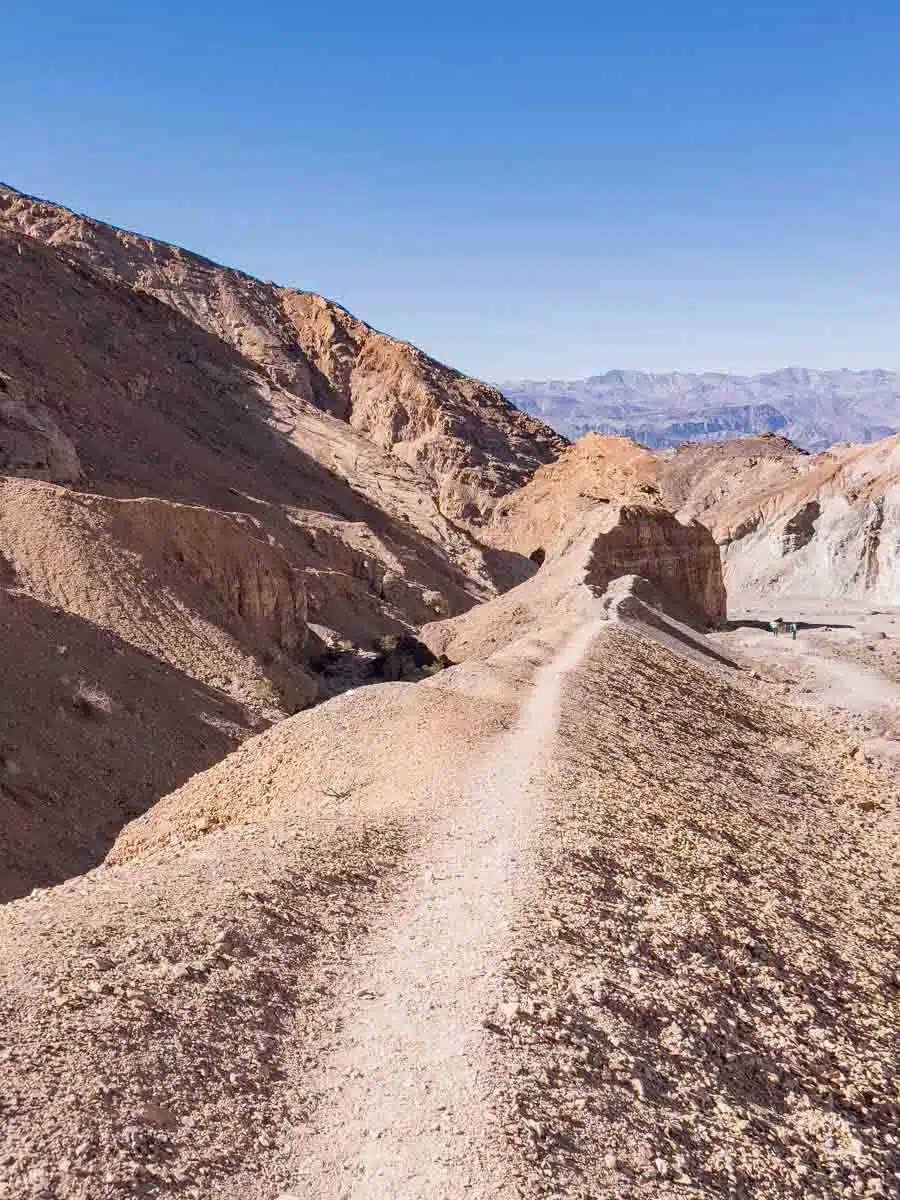 Furnace Creek is the eastern town within the park that provides a fantastic base for your Death Valley itinerary in 3 days. It's a small oasis of greenery in the vast Californian desert.
The best resorts in the park are at Furnace Creek, as well as the lowest-elevation golf course in the world. The Furnace Creek Visitor Centre is the main eastern entrance to the park – where you'll pay a $20 entrance fee.
Top Tip: You need to make sure you have lots of water for your Death Valley trip. Buy a big bottle and keep it in the back of the car to refill your smaller water bottles.
Watch the Sunrise at Dante's View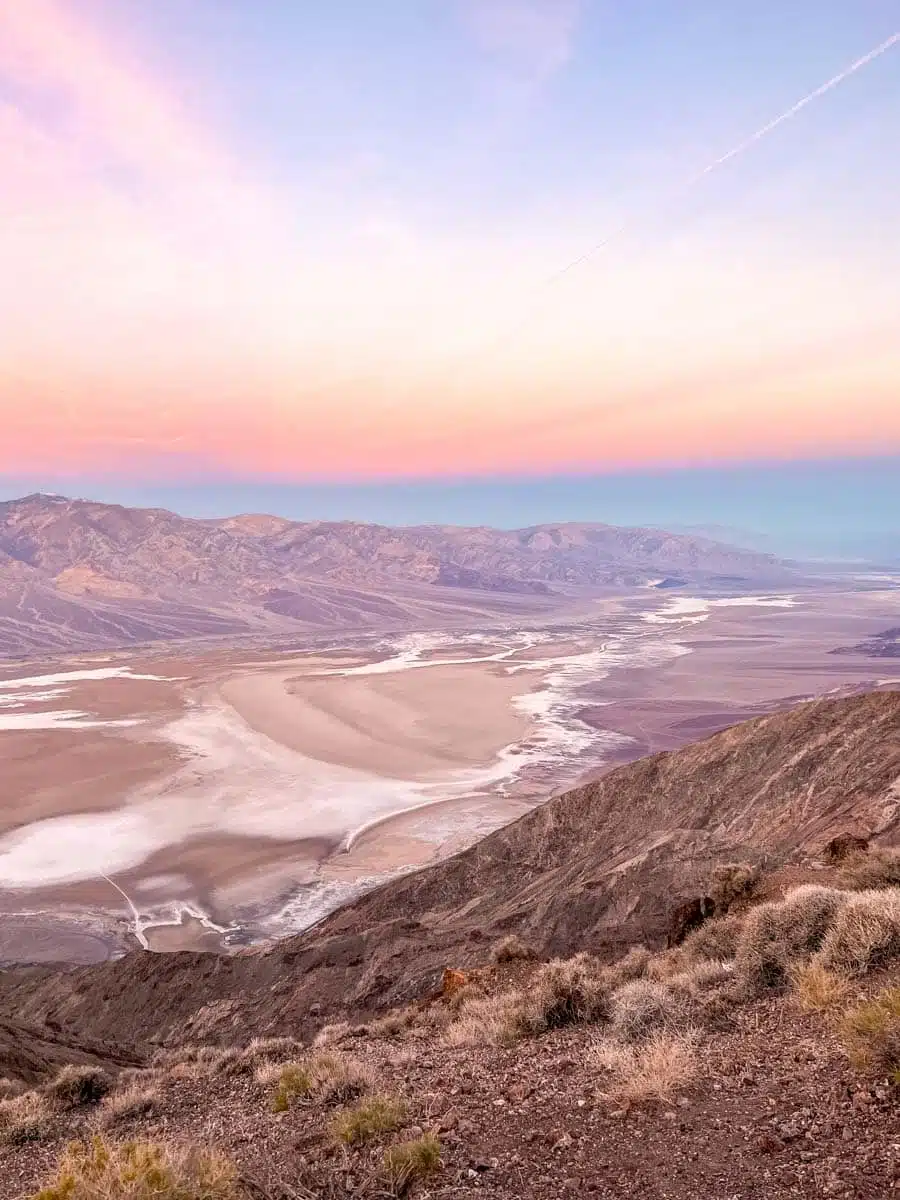 Dante's View is the best viewpoint in Death Valley, so where better to kick off your itinerary with some awesome sunrise views?
This was one of the highlights of my Death Valley trip. The sunrise was the gift that kept giving: at first lighting the sky in a pastel-hued fantasy before breaking out into a kaleidoscope of oranges and reds that wouldn't look out of place on a postcard.
Absolutely worth dragging my bleary face out of bed at 4am for.
Zip off the main road for a 12-mile drive – roughly 25 minutes – to reach the parking lot, resting at 5,475 feet above Badwater Basin.
From here, you'll have mesmerising views of Death Valley, with the striking salt flats stealing the show. And if you're feeling energetic, you can always embark on the challenging 9-mile-long hike along the Dante's Ridge Trailhead.
Zabriskie Point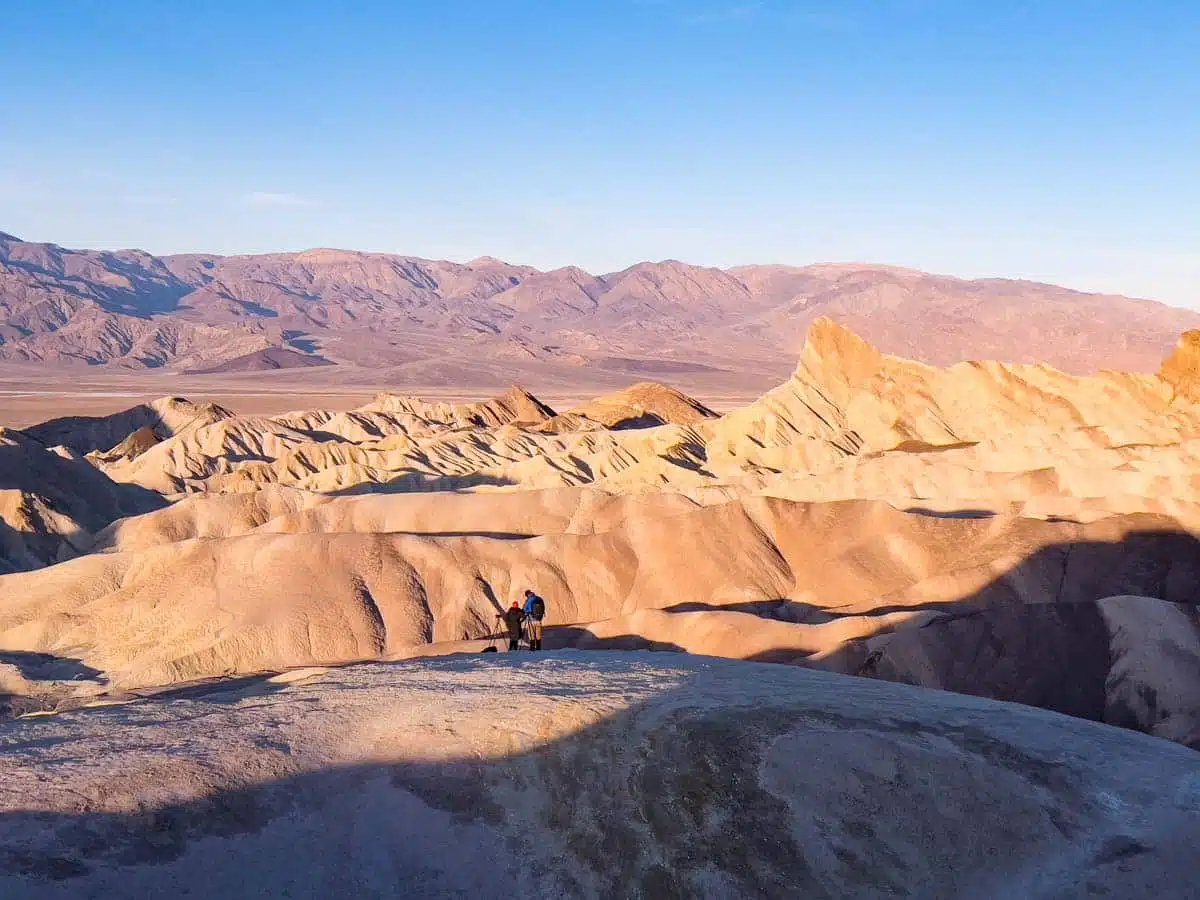 If you want unforgettable views of the Amargosa Mountain Range and that Instagrammable photo opportunity, head to Zabriskie Point.
It's only a seven-minute drive (4.6 miles) from Furnace Creek and then just half a mile walk from the parking lot.
Go for mesmerising views of Manly Beacon nearby and the Panamint Mountains that dominate the park's western side.
You'll also be able to see glimpses of the salt flats at the base of the valley. Visit Zabriskie Point either at sunrise or sunset for a truly magical display.
Top Tip: You can trek the 2.5-mile-long Badlands Loop Trail, which starts at the parking lot.
Hike the Golden Canyon Trail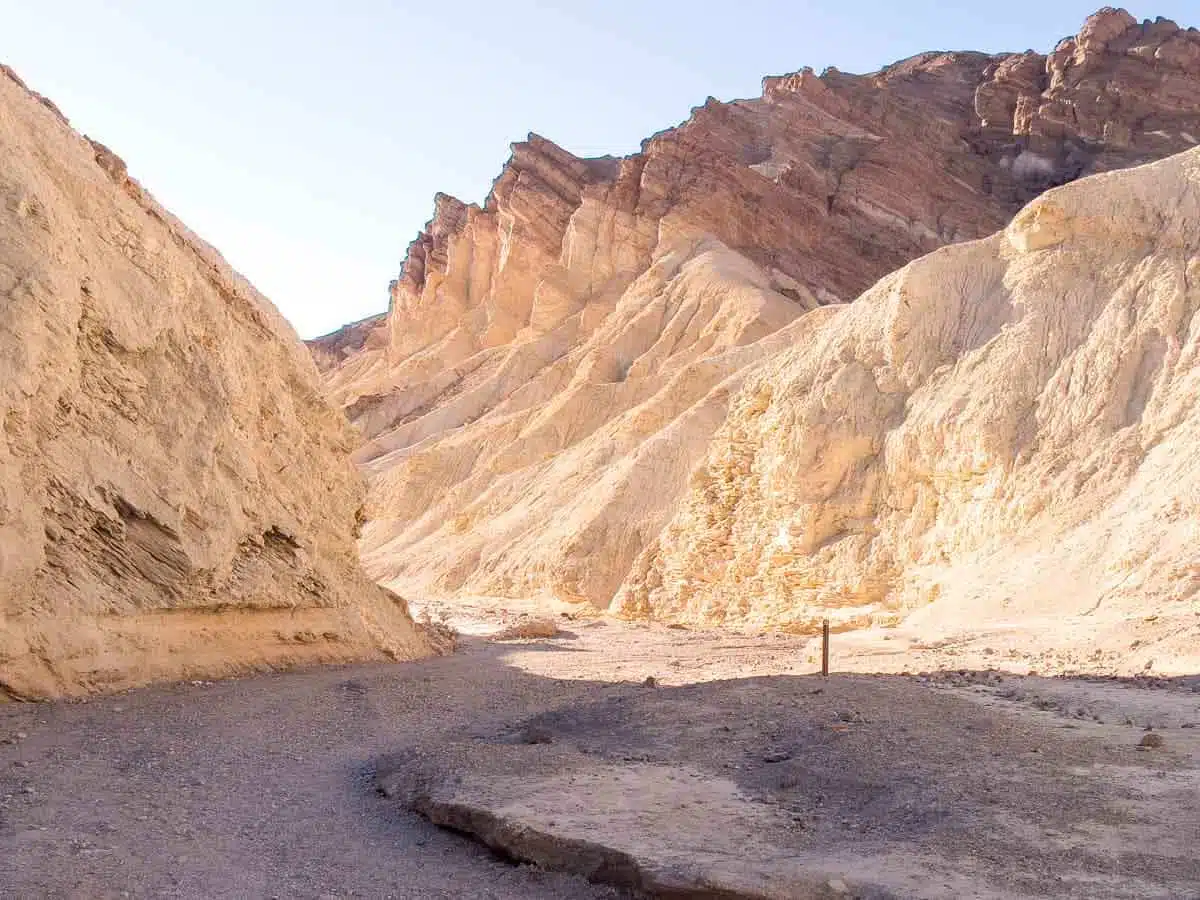 The less gung-ho of you will be relieved to hear that most of this hike is less "hike" and more slightly uphill walk. No matter though – it's the views you're here for and the Golden Canyon Trail has heaps of them.
It's pretty obvious where the name comes from – almost every shade of yellow to red is worked into the canyon's walls. Meander between them as you make your way to the Red Cathedral, the apex of the hike.
I'll be honest, the last bit to the Red Cathedral was too much for my dumbass vertigo to deal with, but J scaled the last section and assured me that the views were indeed spectacular.
I sat down at the bottom feeling a bit aggrieved (with myself) while I waited for him to return, but if you have more gumption, go for it.
Head Out on the Artist's Palette Drive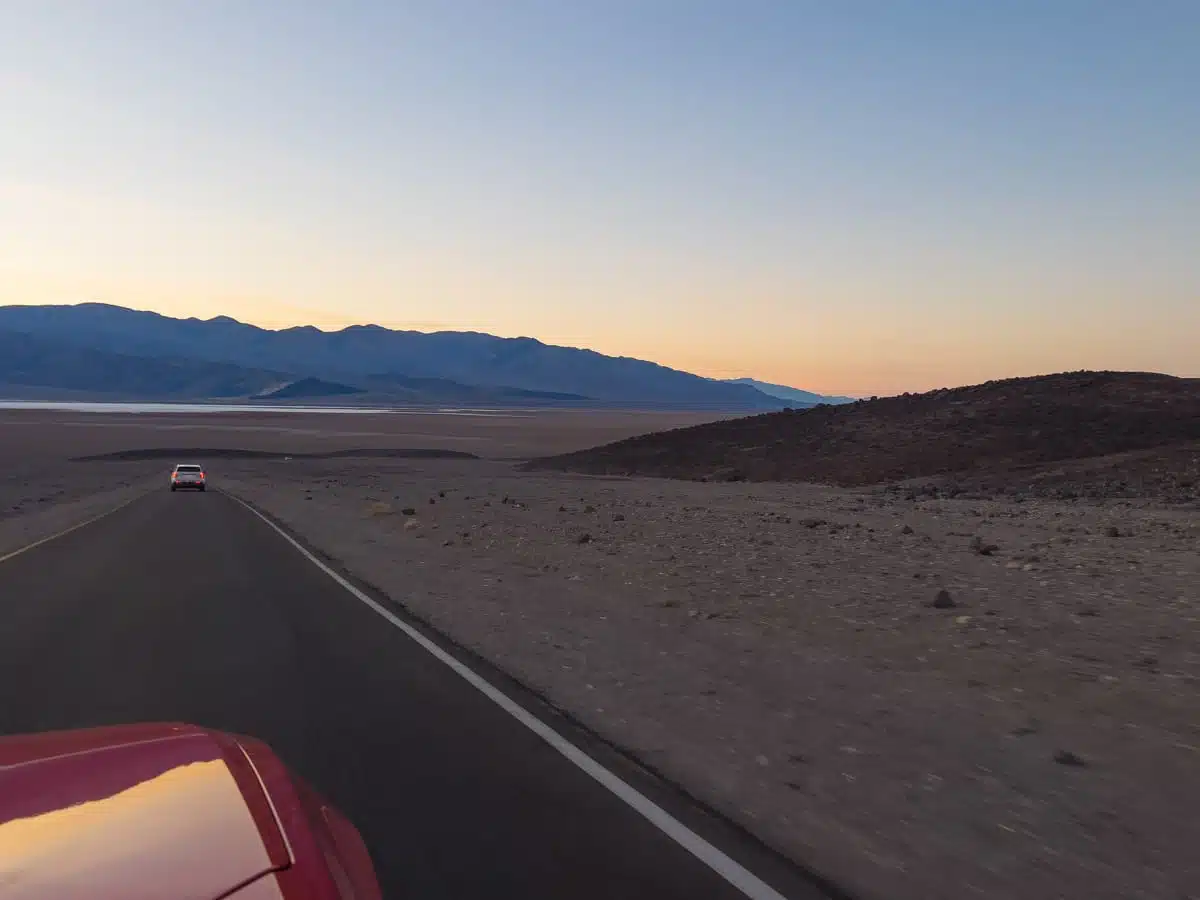 The Artist's Palette Drive begins 5.8 miles from Furnace Creek on the way to Badwater Basin. Rather than continuing along Badwater Road, take a left turn onto this 8.8-mile scenic drive.
Weave through hills made by the Furnace Creek lake thousands of years ago. The name will soon make sense as shades of pink, green, orange, red, and yellow light up the rock face.
Yes, this is real, and it's possible thanks to the erosion of metals within the rock. The drive will take around 30 minutes to complete, but if you decide to step out and touch these gorgeous hillsides, your actions are completely normal.
Hike The Natural Bridge Trail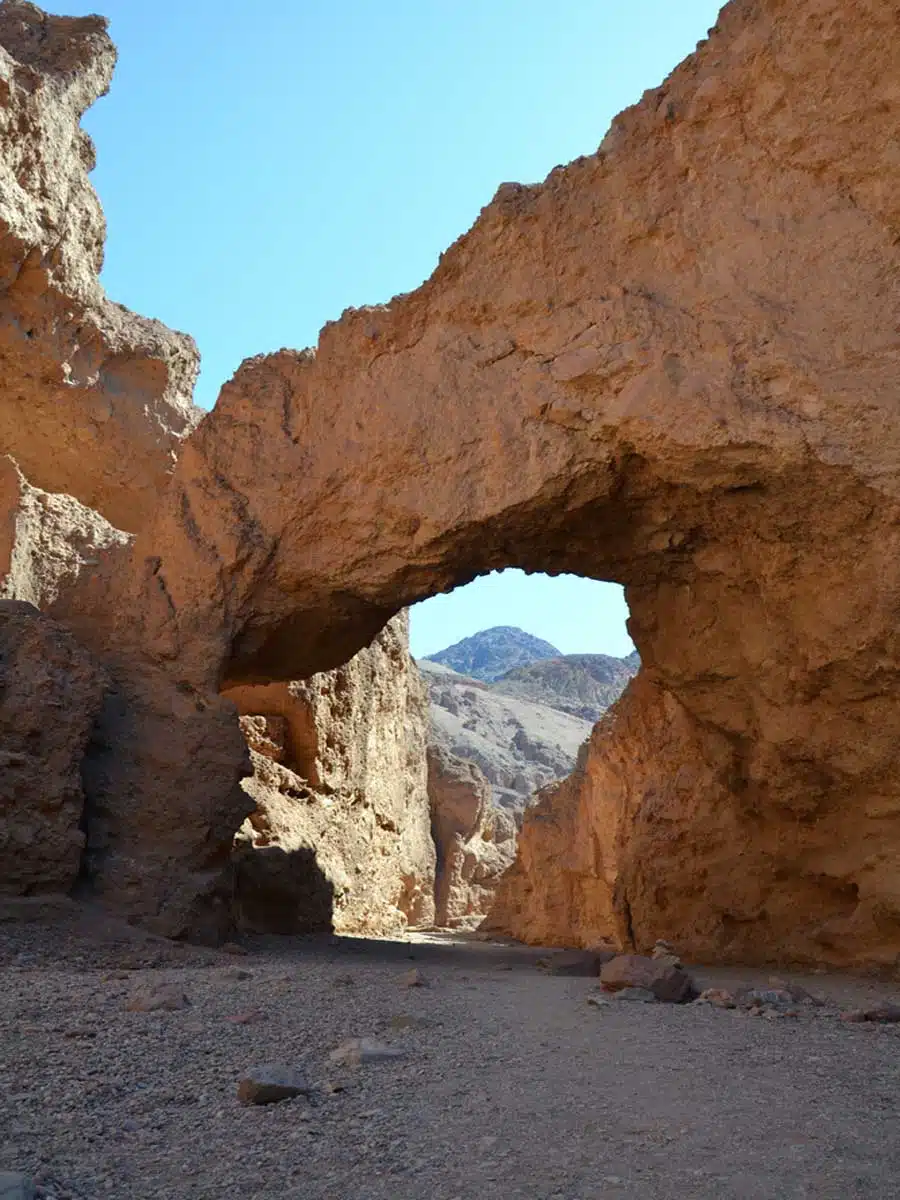 Time to strap on those hiking boots and head along this 1.9-mile out-and-back trail. After a 6-mile drive from Artists Palette, you'll reach the parking lot. It's a relatively easy hike between the towering cliffs until you reach the star of the show.
Natural Bridge is a colossal arch towering 35 feet above the canyon floor. It's a magical site where you can also check out some amazing hanging canyons and vertical chutes.
Hang Out at Badwater Basin (Preferably for Sunset)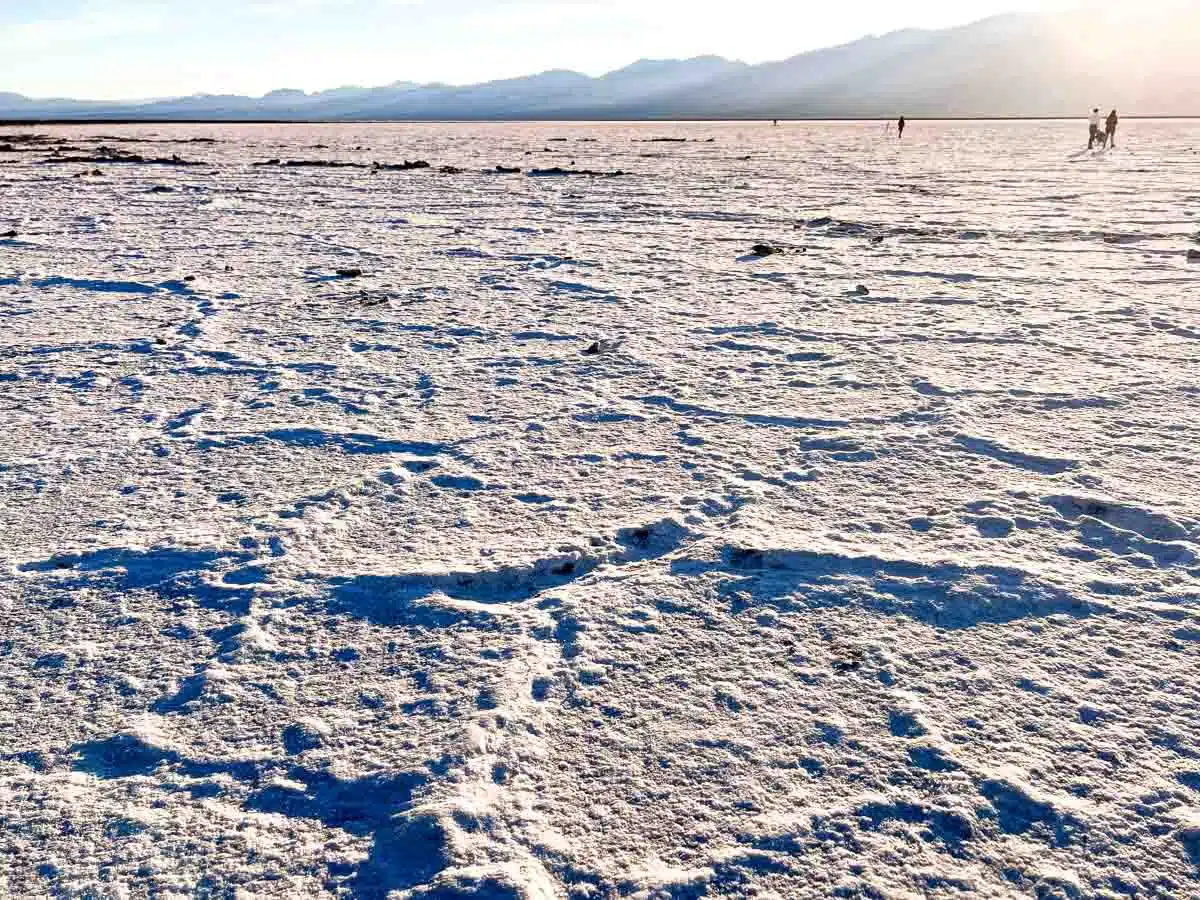 This is the lowest point in North America, at an astounding 282 feet below sea level. And it's just a six-minute drive (2.4 miles) from Natural Bridge.
You've probably never seen anything quite like it, with the white crystals of salt covering the cracking earth below. You can also take a short two-mile boardwalk on the Badland Basin.
While out there, you'll be able to admire the mystical Black Mountains to the east and Telescope Peak on the Panamint Range to the west.
Getting to Furnace Creek
You will likely start your journey in Las Vegas, a two-hour drive (123 miles) from Furnace Creek.
Death Valley Itinerary Day 2: Stovepipe Wells
There isn't much going on in Stovepipe Wells, but there's plenty to see when you step just outside the town. This was once the only place in the park where you could find water, with a large stovepipe marking the town – hence the name.
Today it's a small town with a petrol station, one fairly basic lodging, and some small stores.
Top Tip: Are you strapped for time? If so, you can turn this into a Death Valley 2-day itinerary and only explore Furnace Creek and Stovepipe Wells.
Mesquite Sand Dunes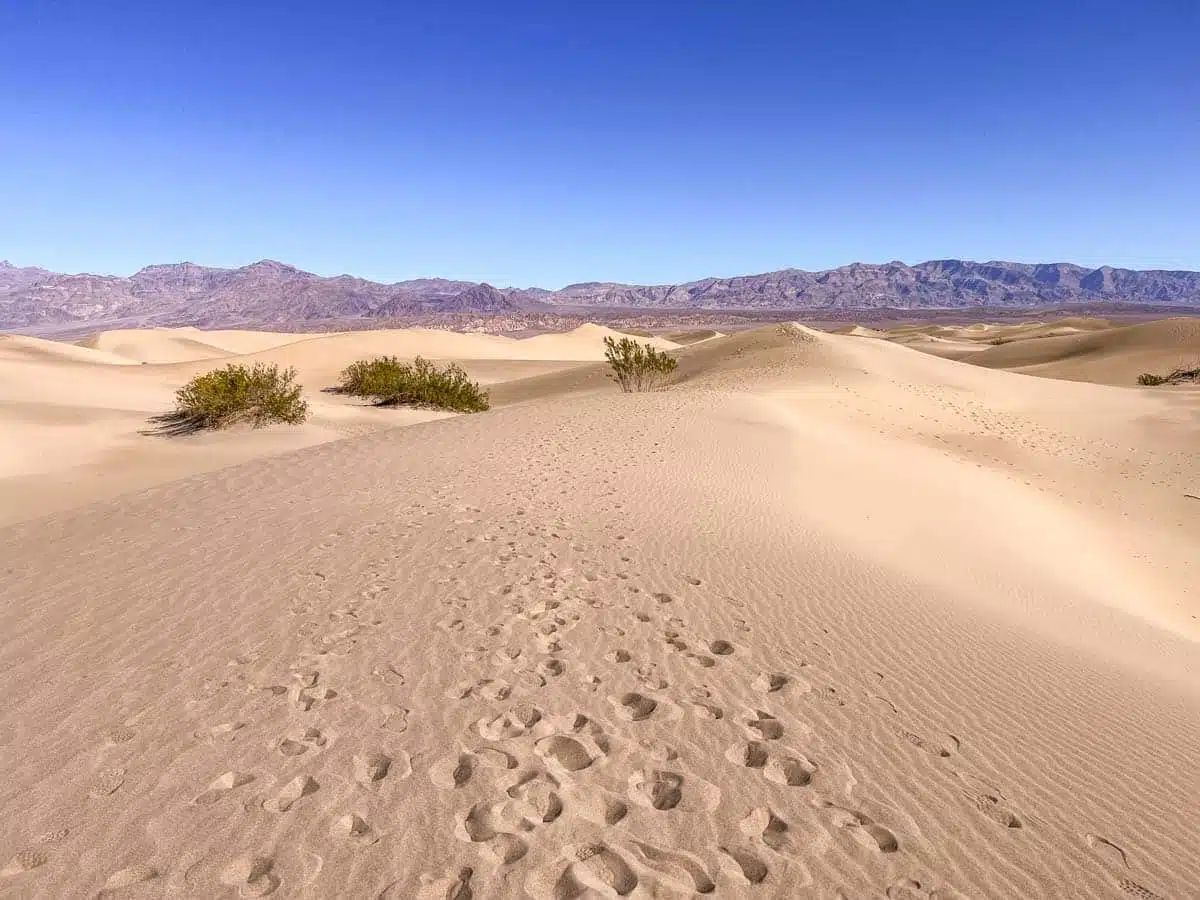 Step into the breathtaking Mesquite Sand Dunes – two miles from Stovepipe Wells. This is easily the most accessible landmark in the park, and with dunes rising as high as 100 feet, it's an awe-inspiring sight.
The towering Inyo Mountains to the north encapsulate the rippling waves of sand that remind me of a flowing ocean. But admiring the landscape isn't the only thing to do, as it's one of two sand dunes where you can go sandboarding in the park.
Mosaic Canyon Trail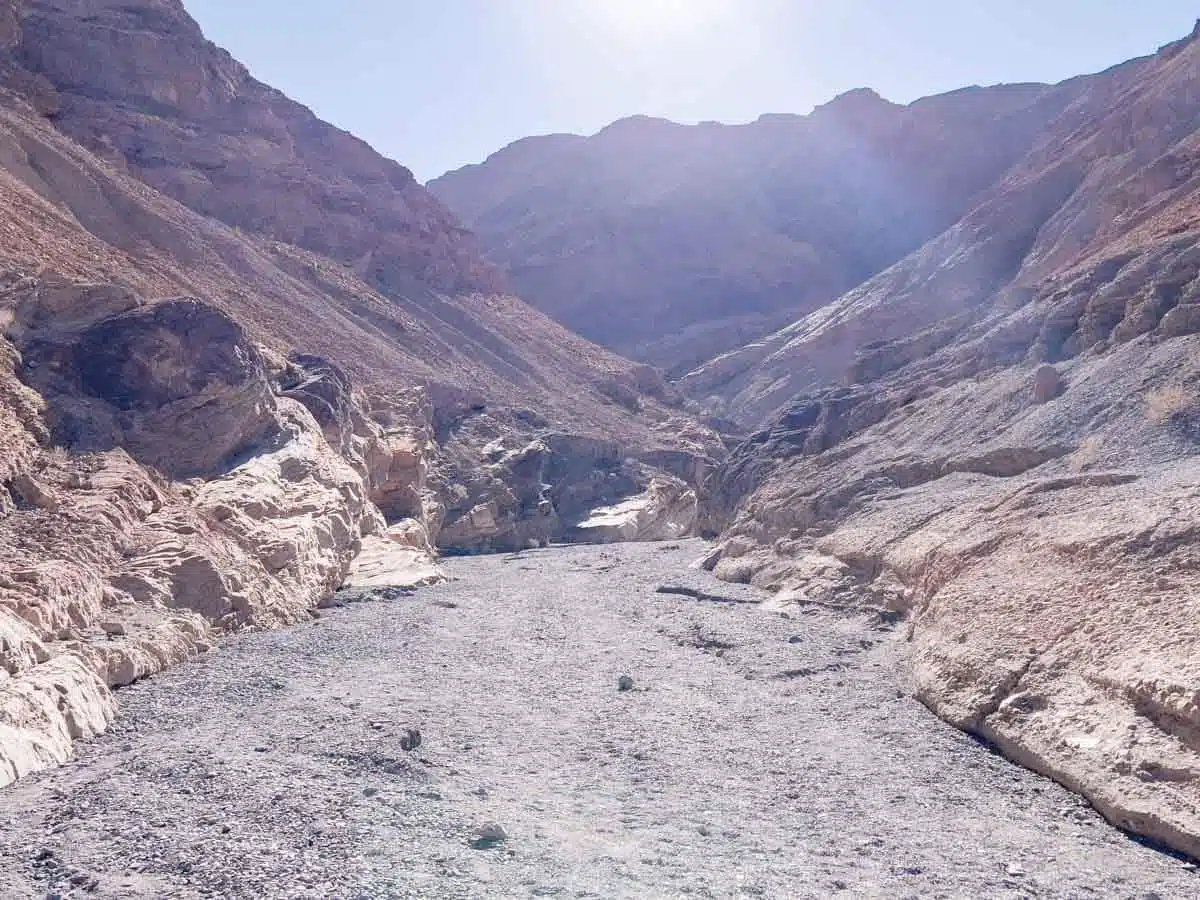 I hate to play favourites but the Mosaic Canyon Trail was another highlight of my 3 days in Death Valley.
Just 2.4 miles from Stovepipe Wells, this out-and-back hike will take roughly two hours as you wind between 3.3 miles of canyon walls.
As you walk through the Noonday Dolomite, you'll see how flash floods have shaped this region. And don't forget to look at the outcrops, which have varying speckles of rock that give this canyon its name.
Keane Wonder Mine
Take a 23-mile drive from Furnace Creek to the ghostly Keane Wonder Mine. Once you reach the entrance, you'll think you've struck gold – quite literally, as it was once a gold mine.
It's now just remnants of Death Valley's lucrative mining past, with aerial tramway towers dominating the scenery. This isn't the prettiest site in the park, but its historical significance makes it well worth the visit.
Top Tip: Heed the warning signs under and around the tramways. Mines are pretty dangerous places, and the last thing you want is to hurt yourself during a visit.
Ubehebe Crater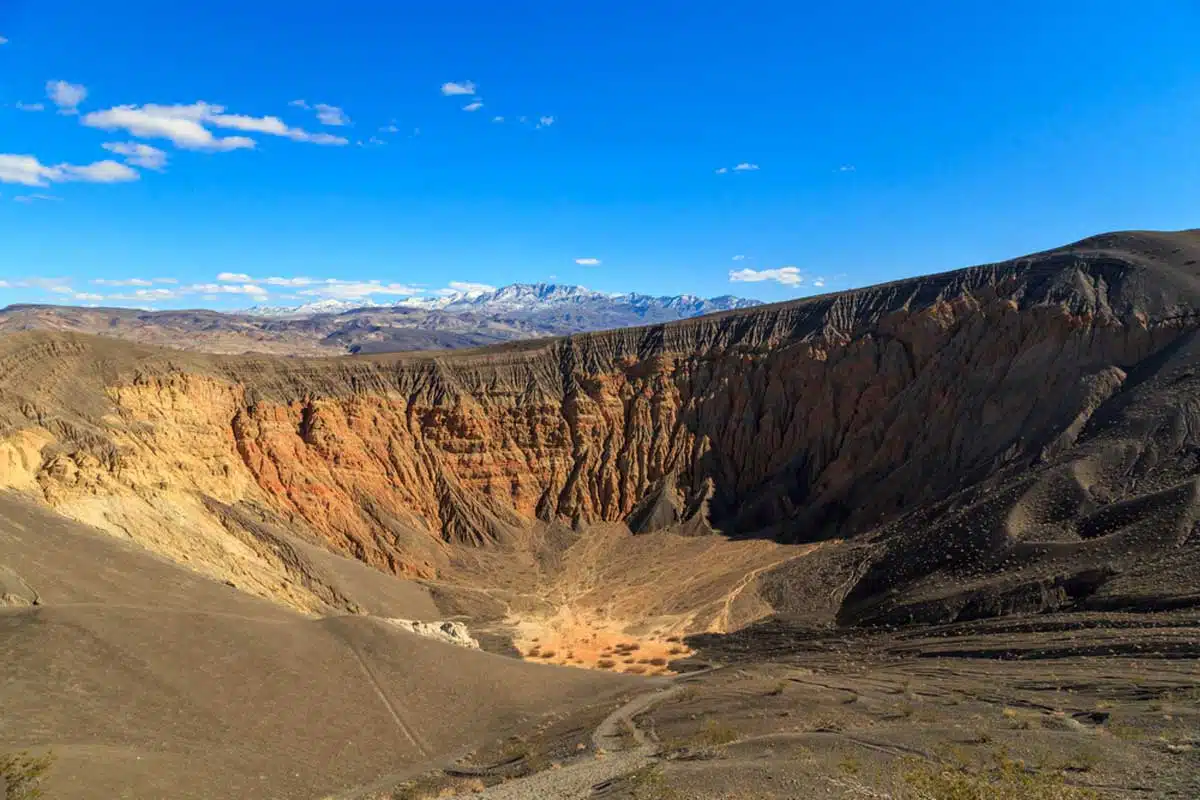 One of the most iconic sites you'll see on your Death Valley itinerary in 3 days is the Ubehebe Crater. It's 46 miles north of Stovepipe Wells, but after the hour-long drive, you'll see a truly magnificent site.
Cut into the landscape is a large volcanic crater half a mile wide and 600 feet deep. You can walk around the massive hole in the earth on the 1.5-mile-long trail or hike to the crater's base. The hike to its base isn't too difficult, but getting back to the caters rim can be exhausting.
Getting to Stovepipe Wells
Stovepipe Wells is at the park's middle point along Highway 190 and is a 25-mile drive (30 minutes) from Furnace Creek.
Death Valley Itinerary Day 3: Panamint Springs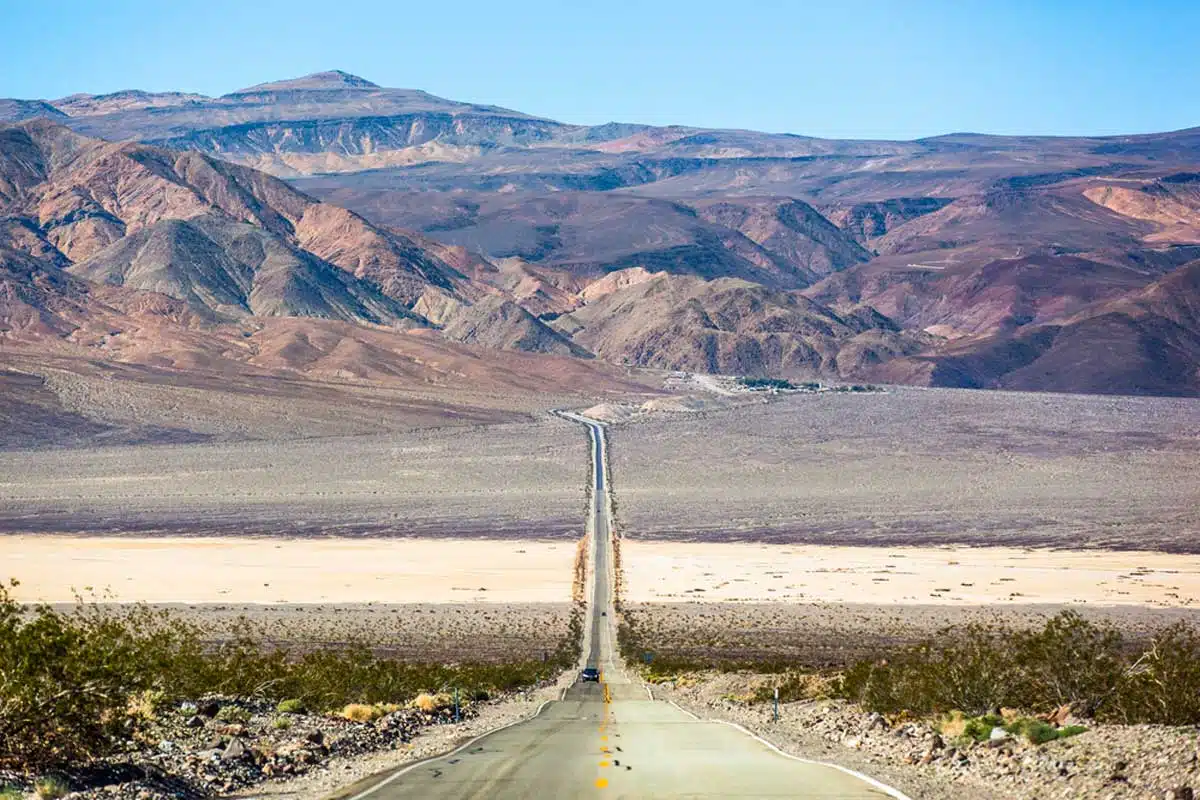 Panamint Springs is a small town on the west of Death Valley. And although the western half of Death Valley isn't as busy as the eastern side, there are still some hidden gems worth visiting.
People often skip Panamint Springs when on a Death Valley one-day itinerary. But if you're spending a few days in the park, I recommend visiting the town.
Things to Do in Panamint Springs
Towne Pass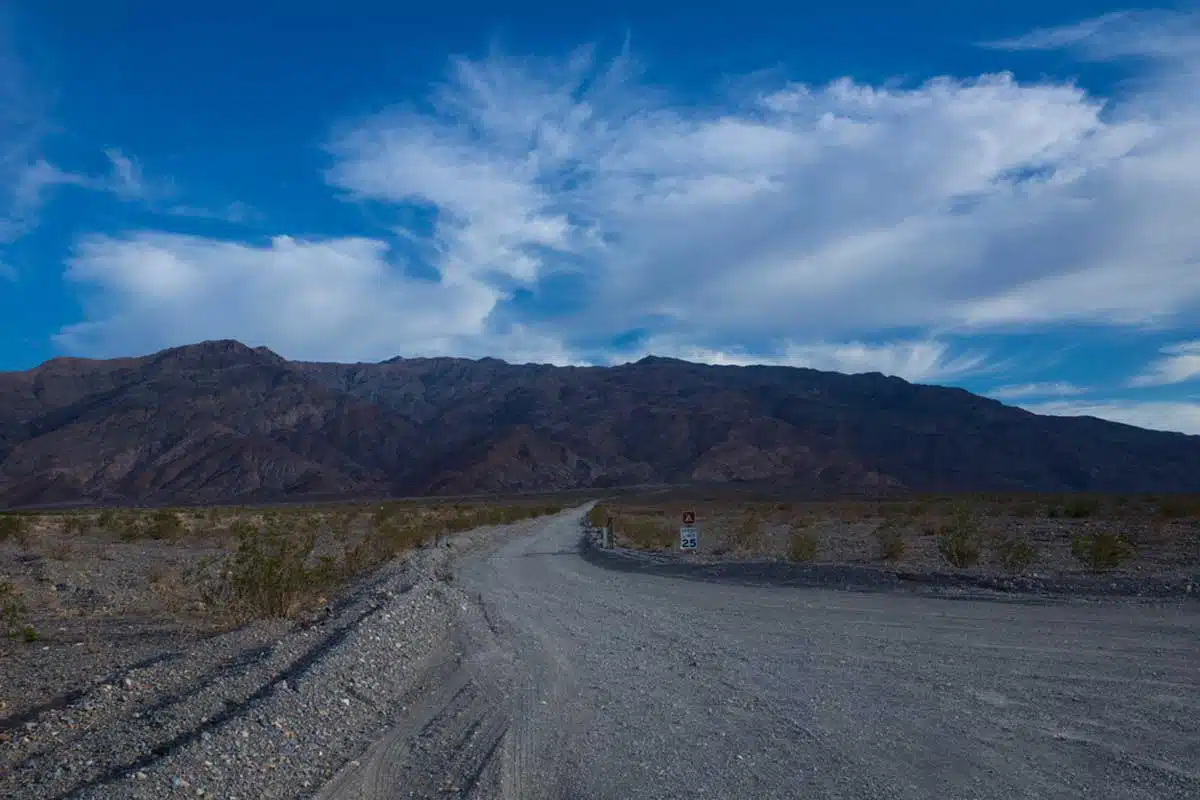 This is a scenic drive along Highway 190, connecting Stovepipe Wells to Panamint Springs. It's a 16-mile stretch of road that weaves between the canyon walls.
Along the drive, you'll have some fantastic views of Pinto Peak to the south and Hunter Mountain to the north. It'll take roughly an hour to complete, but it's best to take it slowly so you can admire the landscape around you.
Darwin Falls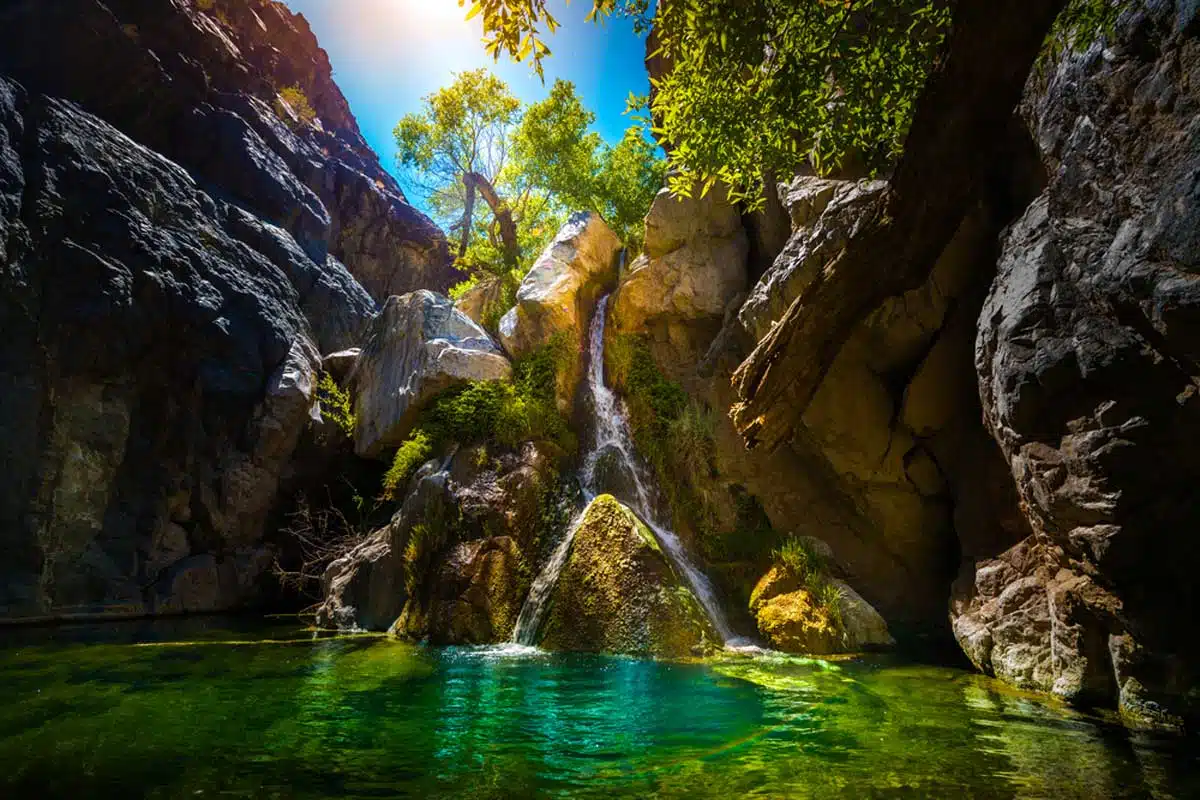 After a short 12-minute drive from Panamint Springs, you'll reach the Darwin Falls Trailhead parking lot. This is an easy two-mile out-and-back trail where you'll see a drastic change in scenery.
As you walk, the dry, barren landscape will slowly become green with trees and grasses until you reach Darwin Falls. The lush landscape is a reasonably quiet oasis within the desert, so you can relax and enjoy the sounds of nature around you.
Father Crowley Point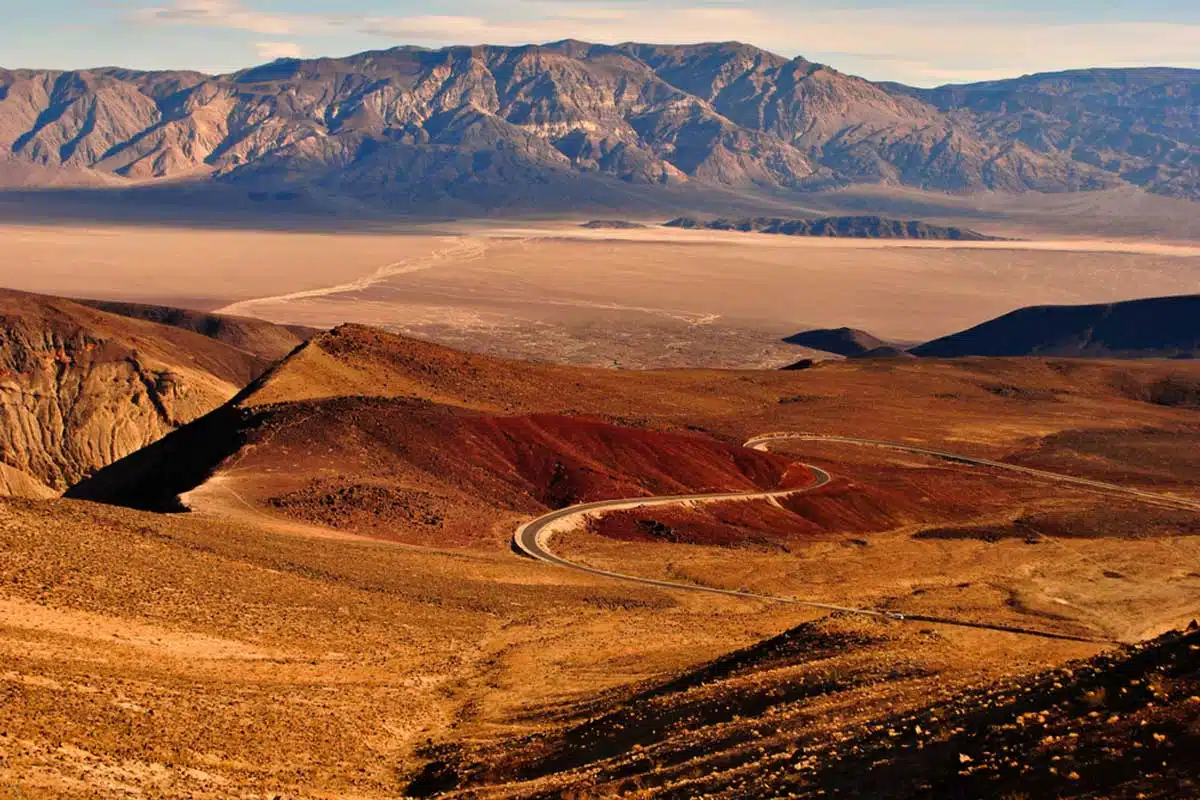 If you drive for 15 minutes along Highway 190 from Panamint Springs, you'll reach the iconic Father Crowley Point. From here, you'll have unforgettable views of Rainbow Canyon.
The canyon gets its name from volcanic activity, resulting in a dazzling display of oranges and reds. It's also known as Star Wars Canyon, as it looks very similar to the planet of Tatooine from the famous movie franchise.
Getting to Panamint Springs
It will take you roughly an hour and 20 minutes to drive 55 miles from Furnace Creek to Panamint Springs.
Death Valley Itinerary – Map
Looking for More Inspiration for Your 3 Days in Death Valley? Read Next