Looking for the ultimate where to stay in Barbados guide? I've got you covered with this handy guide.
Let's get you on your way to a once-in-a-lifetime trip to Barbados with a nifty guide to ease your accommodation worries. It's almost as if I've scoured every inch of the island, searching for the best luxury hotels in Barbados. Wait… I have…
Add that to this where-to-stay guide, and you'll hit the sweet spot for the best vacation in one of my favourite destinations in the world.
Excited? You should be.
Best Places to Stay in Barbados: At a Glance
Where to Stay in Barbados
Regardless of where you decide to rest your head while in Barbados, one thing is for sure: It'll be paradise. And I'm extremely jealous.
Its rugged northern coast and the modern, vibrant south coast appear to be on two different planets. But, trust me, as distinct as they may seem, every inch of Barbados is equally worthy of your attention.
So whether you've come for the sun, rum, or surf, the best place to stay in Barbados depends on you.
Tip: If you're keen on exploring the rest of the Caribbean, read my guide to the most beautiful islands in the Caribbean to get you going.
Christ Church: Best Area to Stay in Barbados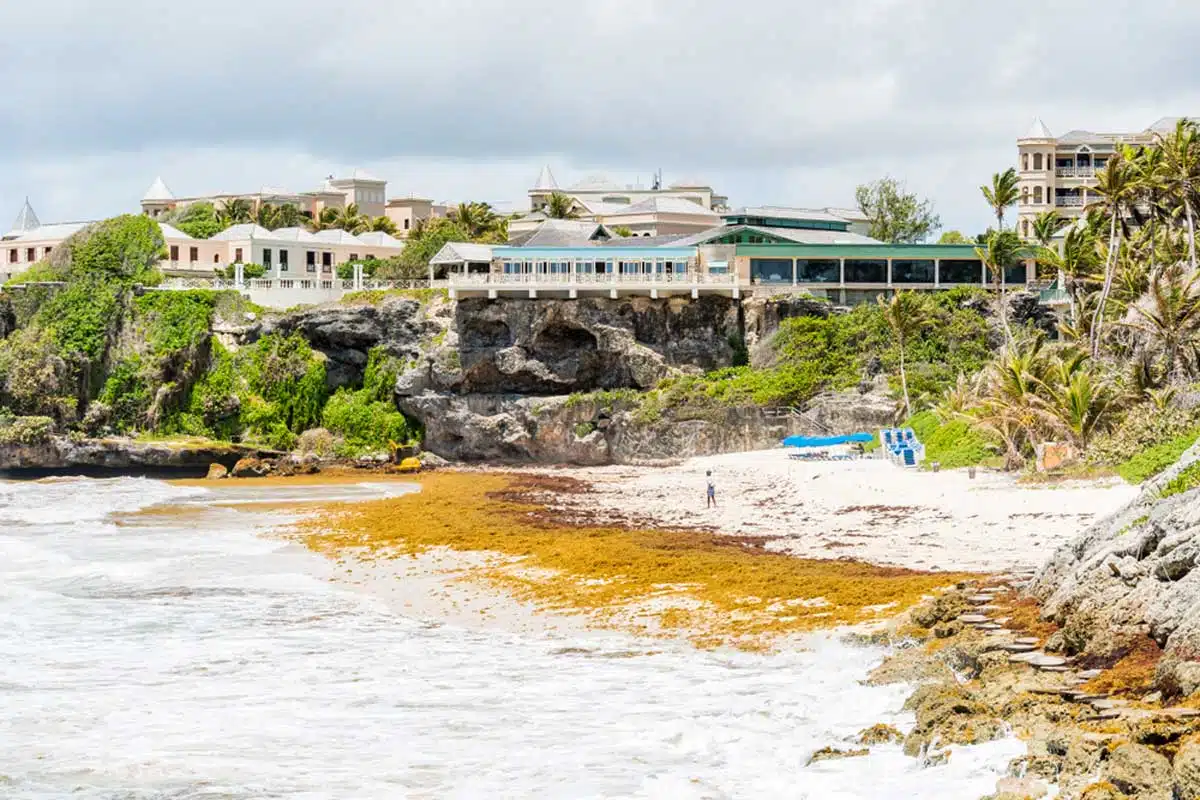 Sitting on the southwest coast of Barbados is the lively and vibrant area of Christ Church.
Some of the island's best beaches can be found here, as well as the ever-entertaining neighbourhood of the St. Lawrence Gap (or just "The Gap" if you want to sound like a local). You'll find restaurants, bars, clubs, and retail therapy heaven here – see why it's so great?
Beyond that, Christ Church answers the lingering "where is the best place to stay in Barbados?" question. And if you're planning a trip with your significant other, Christ Church is one of the best areas to stay in Barbados for couples.
Christ Church Highlights
Several of the best beaches in Barbados call Christ Church home. For epic coastal views, head to Worthing Beach, or for the iconic pink sands of the island, venture to Crane Beach.
Dive into the best nightlife on the island in St. Lawrence Gap, where dozens of bars await. Or, start your evening on the Boardwalk, a popular gathering spot where you can BYOB (bring your own booze) and watch the sunset.
Visit the Harry Bayley Observatory on Friday evenings to indulge in some stargazing through a super powerful (and massive) telescope.
Suggested Hotels in Christ Church
Sandals Barbados – An opulent 5-star all-inclusive resort, Sandals Barbados is an adult-only luxury property with features that few others can match. Beyond this, there are numerous à la carte restaurants and some of the best evening entertainment on-site.
Little Arches Boutique Hotel – This gorgeous hacienda-style hotel is one of the prime boutique offerings on the island. Located in the fishing village of Oistins, it's one of the most laid-back properties in Barbados.
O2 Beach Club & Spa – A true showcase of glitz and glamour, the O2 Beach Club & Spa in St. Lawrence Gap brings together everything the island is famous for. Relax next to its two massive swimming pools, or party it up on the Ibiza-style roof terrace.
Tip: Looking for the best honeymoon destinations in the world? Read my guide to find out why Barbados ranks amongst the top post-nuptial getaway locations.
Saint James: Best Place to Stay in Barbados for Luxury Hotels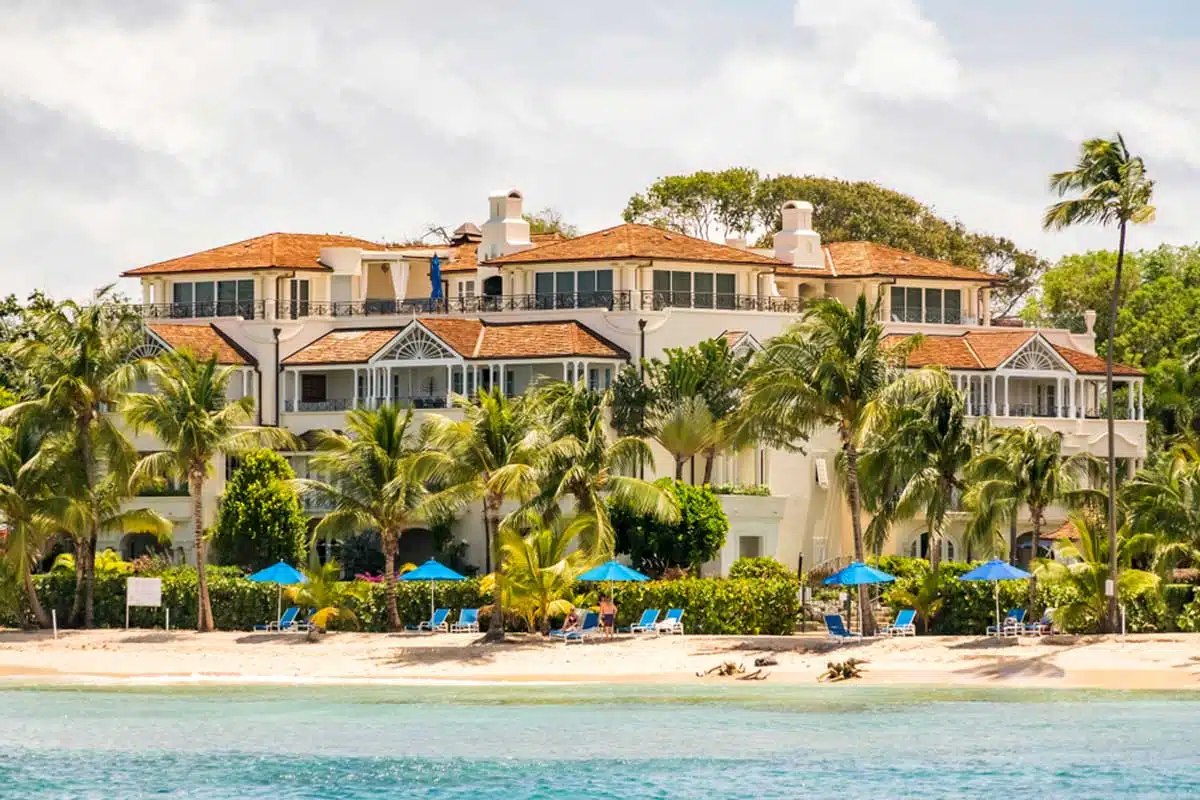 Located in the western central region of Barbados, Saint James is the most popular spot for elite visitors to the island (or anyone who fancies themselves as an amateur influencer).
Dotted with some of the most exclusive resorts and hotels, this area is where celebrities vacation in Barbados.
But beyond the glitz and the glamour, here you'll also find a vacation destination for any budget and some of the island's best beaches, restaurants, and designer stores.
Saint James Highlights
Visit the St. James Parish Church, built in the 1600s. It's the perfect way to immerse yourself in Barbadian history.
Indulge in some water sports fun at the Folkestone Marine Reserve, where you can dive and snorkel around an artificial reef.
If you fancy yourself as a history buff, pay a visit to the Sir Frank Hutson Museum, which you'll find on the site of the only working sugar factory in Barbados.
Suggested Hotels in Saint James
Coral Reef Club – Presenting old-school luxury in a country-house style, Coral Reef Club offers an experience unlike any other in Barbados. Unwind in arguably one of the best spas on the island or lounge next to the immaculate outdoor pool.
Beach View – Undoubtedly the best place to stay in Barbados for families, Beach View is an affordable aparthotel brimming with character. Beyond its spacious apartments are several swimming pools and easy access to Paynes Bay.
The Colony Club – Once a private colonial-era club, The Colony Club sits within seven acres of pools, manicured lawns, and a prime beachfront. On-site, you can indulge in a dizzying selection of watersports such as kayaking, sailing, and waterskiing.
Tip: If you're looking to fill out your Barbados itinerary, check out my guide to the best things to do in Barbados.
Saint Philip: Best Place to Stay in Barbados for a Laidback Vacation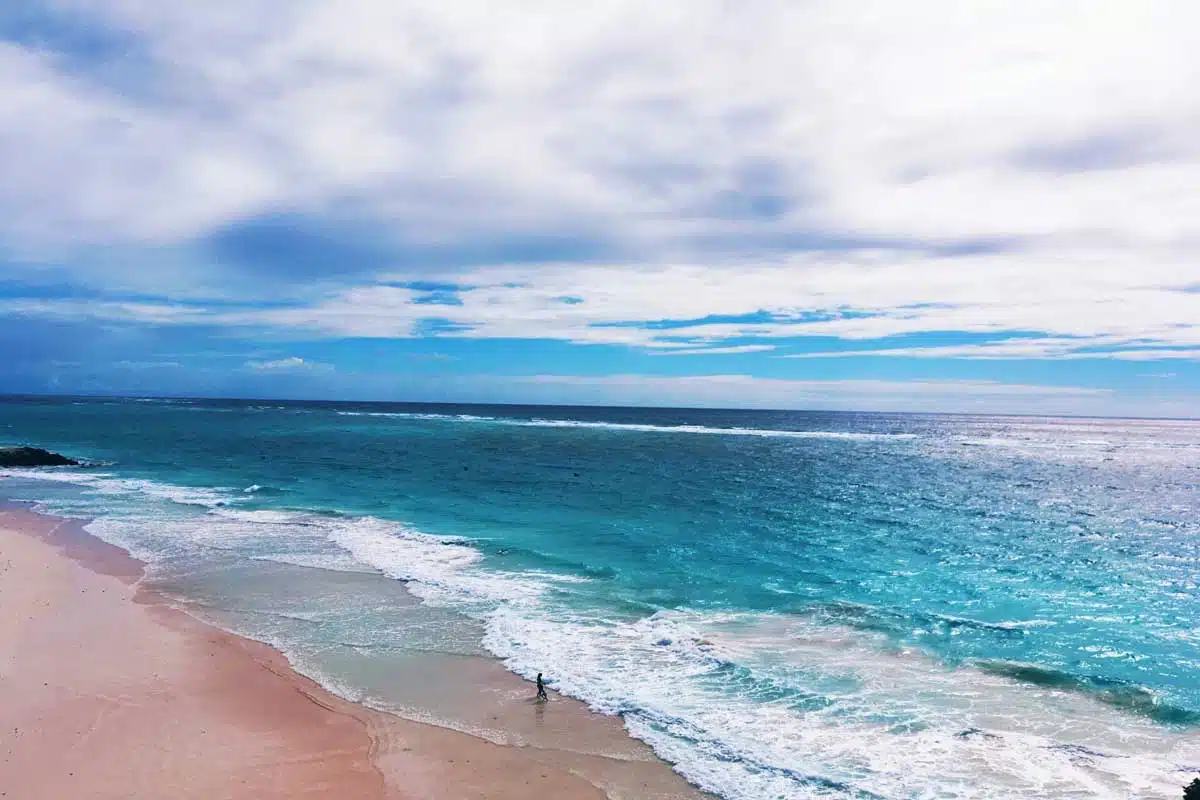 Where do you go when eager to experience a calmer side of Barbados? Saint Phillip, of course. Located in the southeastern region of the island, this area personifies a traditional laidback Caribbean vacation.
Make no mistake, though, it might appear calmer than other regions like Saint James, but that doesn't mean nothing is going on. Home to iconic beaches and the island racing circuit, there is something here for everyone.
Saint Philip Highlights
Lounge under the Caribbean sun on the pristine sands of Bottom Bay. Often considered one of the best beaches on the island, surprisingly, it doesn't get as busy as other spots in Barbados.
Get your heart racing (literally) at the Bushy Park Racing Circuit. Here you can participate in several races, from drag racing to go-karts. If you're lucky enough, you can also spectate international racing events held here throughout the year.
For some sightseeing, head to the four lighthouses of Ragged Point, where you can indulge in some of the best coastal views in Barbados.
Suggested Hotels in Saint Philip
The Crane – One of the largest 5-star hotels in Barbados, The Crane offers accommodation and a lifestyle you won't be able not to love. This gated resort offers numerous restaurants (five of them) and striking lighted swimming pools. It also has its own village with bars, cafes, and even boutique stores.
Tip: If you're staying on the wild Atlantic Coast of Barbados, read my in-depth guide on everything you need to know about The Crane Barbados.
Saint Peter: Best Place to Stay in Barbados for Secluded Getaways
If you're hunting for a more secluded vacation spot, look no further than Saint Peter. Situated within the more rugged northwest region of Barbados, this is where you'll find an abundance of untamed beaches and countryside.
Within Saint Peter lies much of the historical side of the island, including the charming beach town of Speightstown. If you want to live like a local and experience authentic Barbadian life, staying in Saint Peter is a must.
Saint Peter Highlights
Visit historic Speightstown, the second biggest on the island, over a weekend – the local vendors take to the streets to sell anything and everything.
Explore The Farley Hill National Park, once home to a stunning Georgian mansion. Today only its ruins remain surrounded by sprawling natural beauty. It's the perfect attraction to break away from beach-hugging.
Head to the St. Nicholas Abbey Rum Plantation to tour the museum or indulge in a tasting session within the on-site distillery.
Suggested Hotels in Saint Peter
Cobblers Cove – Offering you a 5-star secluded getaway beachfront spot, Cobblers Cove is a sophisticated, colonial-style Barbadian icon. The award-winning Camelot Restaurant serves up some of the best food and even afternoon tea. Or, unwind within the Sea Moon Spa, a full-service in-house wellness centre.
Saint Peter's Bay – Located on four acres of manicured tropical grounds, Saint Peter's Bay is an upmarket aparthotel focused on affordable luxury. Highlights of this property include its inviting lagoon pool and snorkelling trips with sea turtles.
Sugar Cane Club Hotel & Spa – An adults-only mid-range option within Maynards, the Sugar Cane Club is unflashy while offering every luxury you could need. On-site, you'll find two stunning outdoor pools for unwinding. When you're hungry, La Salsa and Sandy's Chattel Bar both serve traditional Bajan cuisine with a twist.
Tip: Trying to escape a cold winter? Find out why Barbados is one of the best winter sun destinations worldwide.
Saint Michael: Best Place to Stay in Barbados for Visiting Attractions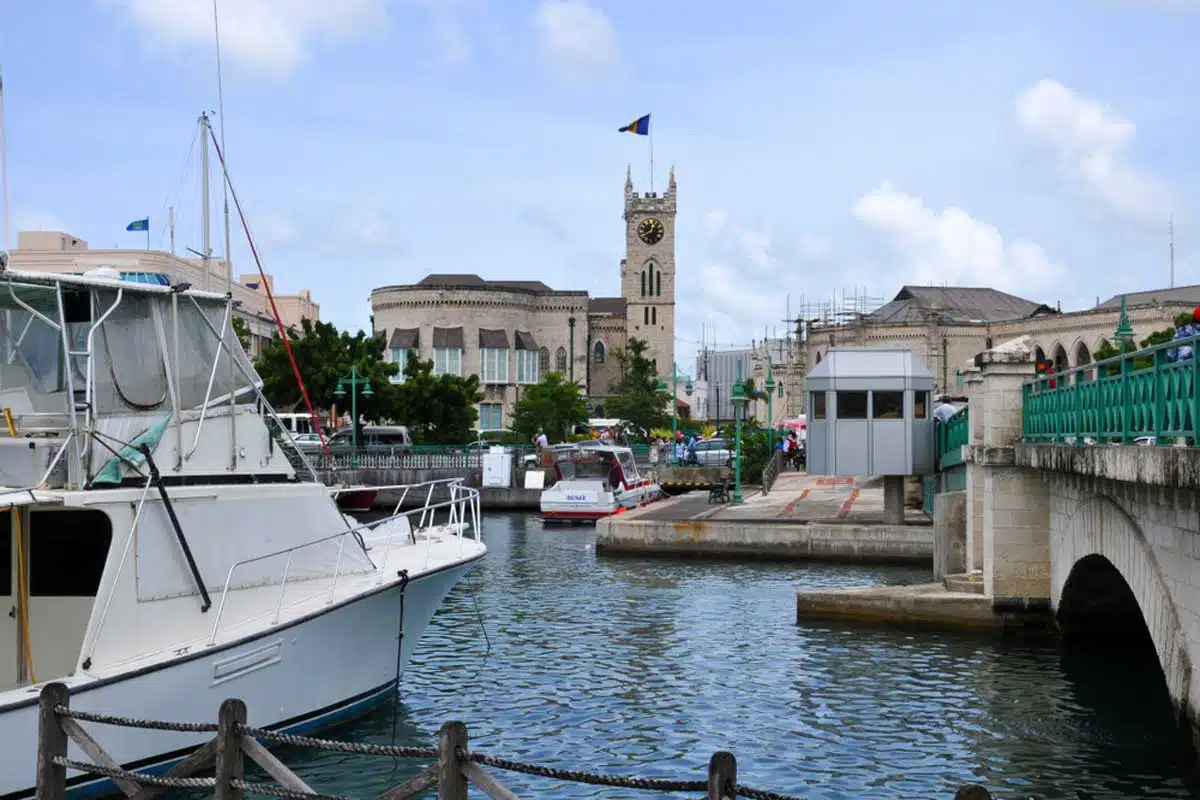 As much as I love chilling out on a vacay, I also adore the hustle and bustle of exploring new places. Same? Well, along the western coast of Barbados lies the very famous area of Saint Michael.
Brimming with tourist attractions, it's home to the capital city of Bridgetown. If you want to stay in the island's heart, there is no better place than this.
From sightseeing, retail therapy, and vibrant nightlife to underwater shenanigans, Saint Michael never has a dull moment. The best bit? Here you'll find accommodation options that are bound to fit your budget.
Saint Michael Highlights
Visit the picturesque beaches of Carlisle Bay and, while there, head to the Carlisle Bay Underwater Dive Park. Here you can dive through landscapes dotted with numerous sunken ships and boats.
Watch a cricket match at The Kensington Oval, a popular local and international cricket hub in the heart of Bridgetown.
Discover the rich history of Barbados when you visit the George Washington House, Saint Ann's Fort, or The Barbados Museum.
Suggested Hotels in Saint Michael
Hilton Barbados Resort – A 5-star luxury resort in Needham's Point, Bridgetown; expect to live in opulence when staying here. All rooms at the Hilton feature balconies overlooking the Caribbean ocean, while outdoors you'll find two private beaches.
Coconut Court Beach Hotel – If you're worried about breaking the bank while in Barbados, opting to stay at the Coconut Court Beach Hotel is a great idea. Rooms are spacious, offering sea views, while you can head to the palm-tree-lined beach. Or, relax at the laid-back beach bar or next to its stunning outdoor pool.
Courtyard by Marriott Bridgetown – Set within the historic Garrison District of Bridgetown, the Courtyard offers convenient and affordable luxury. The in-house restaurant, Centro, serves international cuisine. Or head to the beach, which sits directly across the street, where you can rent sun loungers and umbrellas.
Tip: Unsure which Caribbean island you should visit? Stop stressing and read this post on my three favourite Caribbean islands to help you settle your uncertainty.
Where to Stay in Barbados: Frequently Asked Questions
Practical Tips to Consider Before Booking Your Barbados Accommodation
Remember to always carry your passport and valid return airline ticket with you. This is especially important when checking in to your accommodation.
Always try to book your accommodation as far in advance as possible. With the high season in Barbados being very popular, properties fill up quickly and prices skyrocket.
Don't be afraid to shop around. If you're not on a tight budget, the island offers a wide selection of possible accommodation choices. However, if you're on a budget, shop around in the more touristy areas (like Saint Michael) where accommodation is usually cheaper.
Where to Stay in Barbados: Read Next