Strap on your hiking boots and prepare for an adventure – these Death Valley hikes will blow you away.
Death Valley is one of America's most incredible landscapes: packed with jewel-coloured canyons, vast salt flats and much more. So it's little surprise that hiking Death Valley is one of the best ways to explore the national park.
I had high expectations of my time in Death Valley, but I couldn't have anticipated the breadth of destinations to discover within the park. From the crazy sand dunes at Mesquite Sand Dunes (more on that anon) to the glinting walls of Mosaic Canyon – it's a hiker's dream.
Enough about me though: if you're planning to tackle some of Death Valley's hikes, you'll need an epic guide.
Ready to explore the park's best hikes? Whether you're a seasoned hiker or looking for something a little more gentle, there's a trail for you.
Excited? Let's go.
Best Hikes in Death Valley
Zabriskie Point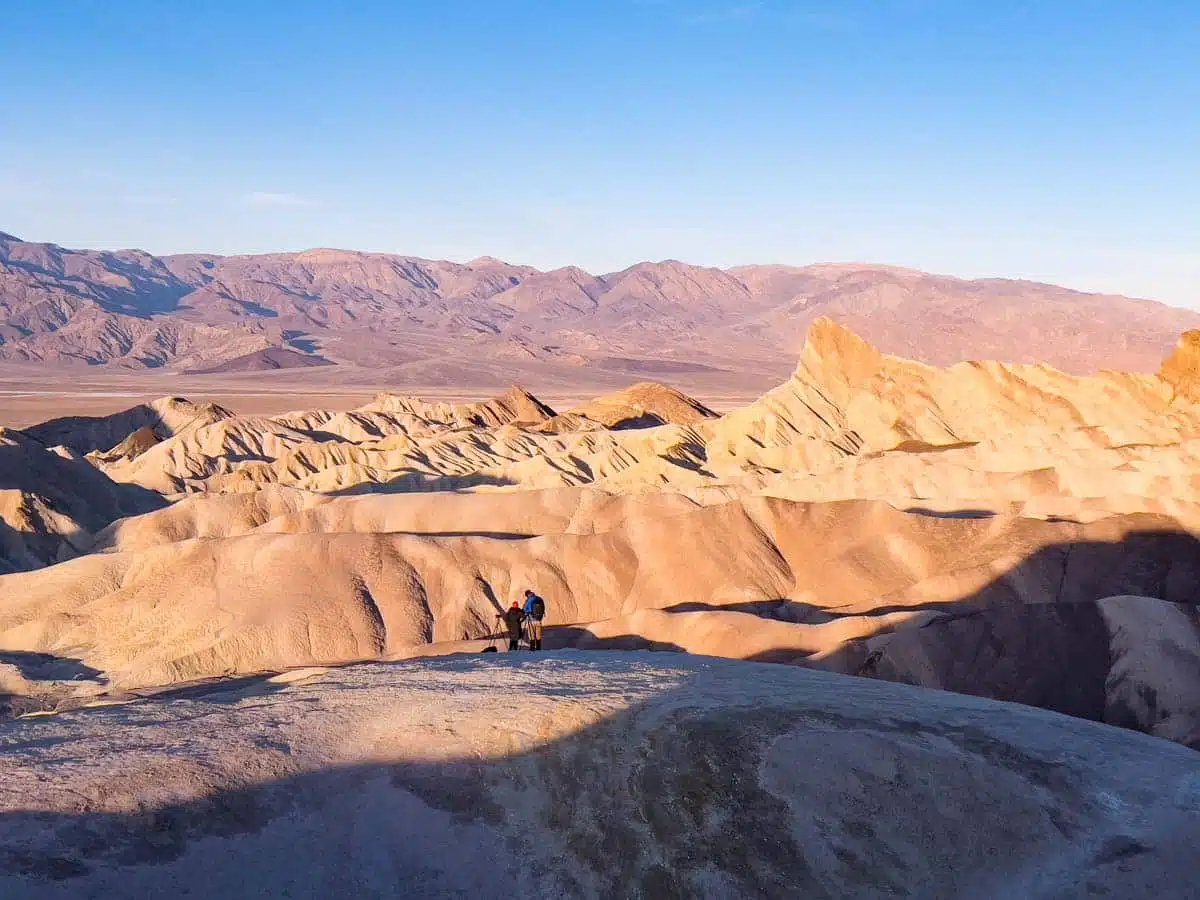 Length: 0.6 Miles
Time: 15 – 30 Minutes
Difficulty: Easy
Let's kick things off with one of the most famous Death Valley trails.
Before you roll your eyes at the thought of tackling a popular (and – let's be honest – short) trail, hear me out.
The Zabriskie Point trail may be a straightforward out-and-back hike leading to one of the park's most iconic spots, but any trail that comes with views like these is a no-brainer.
It's a bit of a photographer's paradise (and one of the best spots to see sunrise in Death Valley) – in no small part thanks to those incredible views. Don't worry though – you don't need to be a pro to get epic shots, as the trail does all the werk.
If less than a mile's hike sounds way too easy, you can also use the trail as a jumping off point for the Golden Canyon and Gower Gulch Loop (featured later in this guide), which winds its way past Zabriskie Point.
Head to the trailhead near the Highway 190 entrance to the park, where a short and, at times, steep paved trail leads from the parking lot to the viewpoint.
After the hard work is done, Zabriskie Point delivers a visual experience second to none – a sea of colourful vistas. The nerds among you (and me) will also love the series of signs at the summit walking you through the geological history of the landscape.
Mesquite Flat Sand Dunes
Length: 2 Miles
Time: 1.5 – 2 Hours
Difficulty: Easy to Medium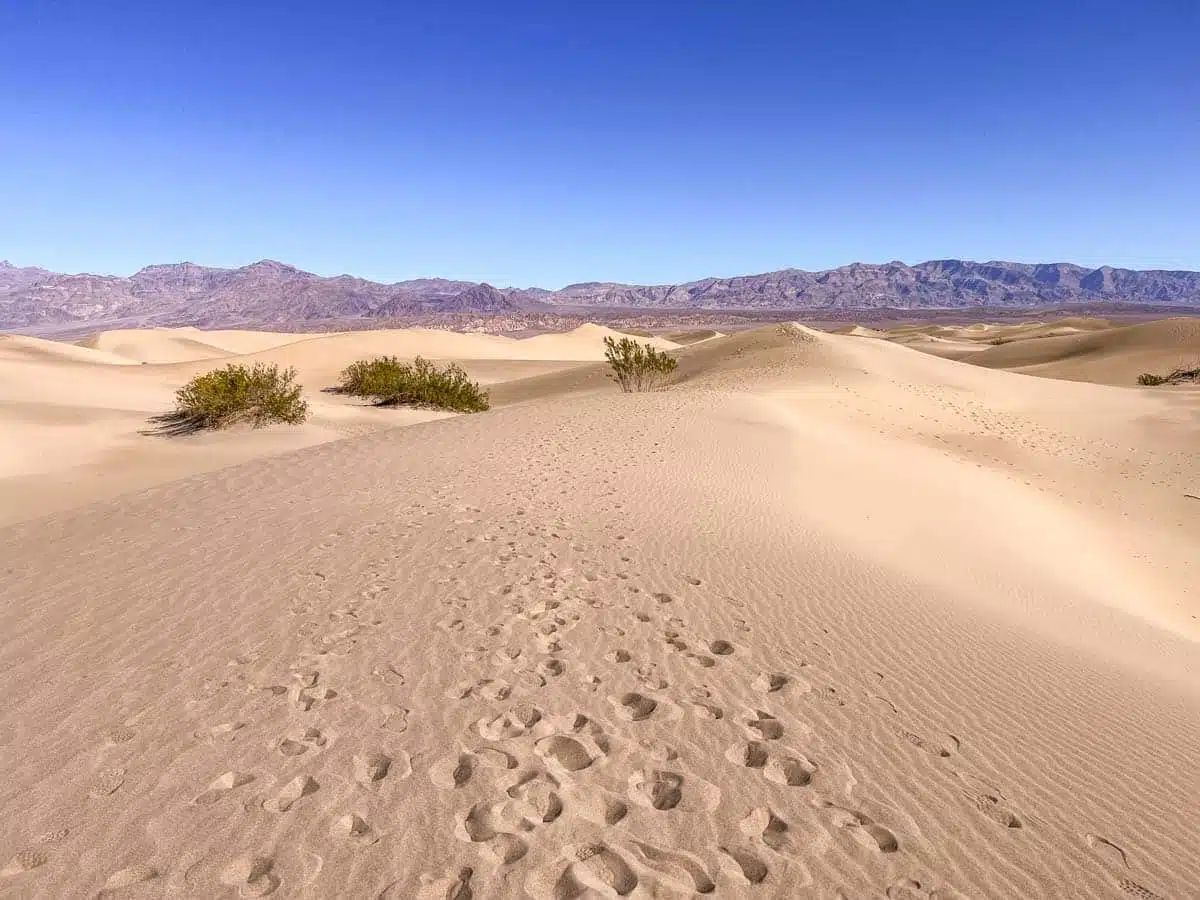 One of the quintessential Death Valley National Park hikes you shouldn't skip is the Mesquite Flat Sand Dunes trek.
I mean, it's basically a massive sandy playground that's irresistible to any adult who's a child at heart (myself very much included).
Don't be fooled. This isn't your ordinary hiking trail; it doesn't have a formal trail or trailhead. But, starting from the parking lot by Stovepipe Wells Village along Highway 190, you can head into the dunes however you choose.
Heading up to the highest dune means you've crossed about 2 miles, and as there's no must-reach payoff, you can venture as far as you want.
Taking on this hike during sunset or sunrise is, without a doubt, the best choice. During these hours, you can gaze out on the dunes as the sun graces the vast landscape with a golden glow.
Top Tip: please ensure that you are bringing lots of water for these hikes – there aren't many places to refill water bottles in Death Valley and not doing so can have dire consequences.
Suggested Map
Golden Canyon – Gower Gulch Trail
Length: 4.3 Miles
Time: 3 Hours
Difficulty: Medium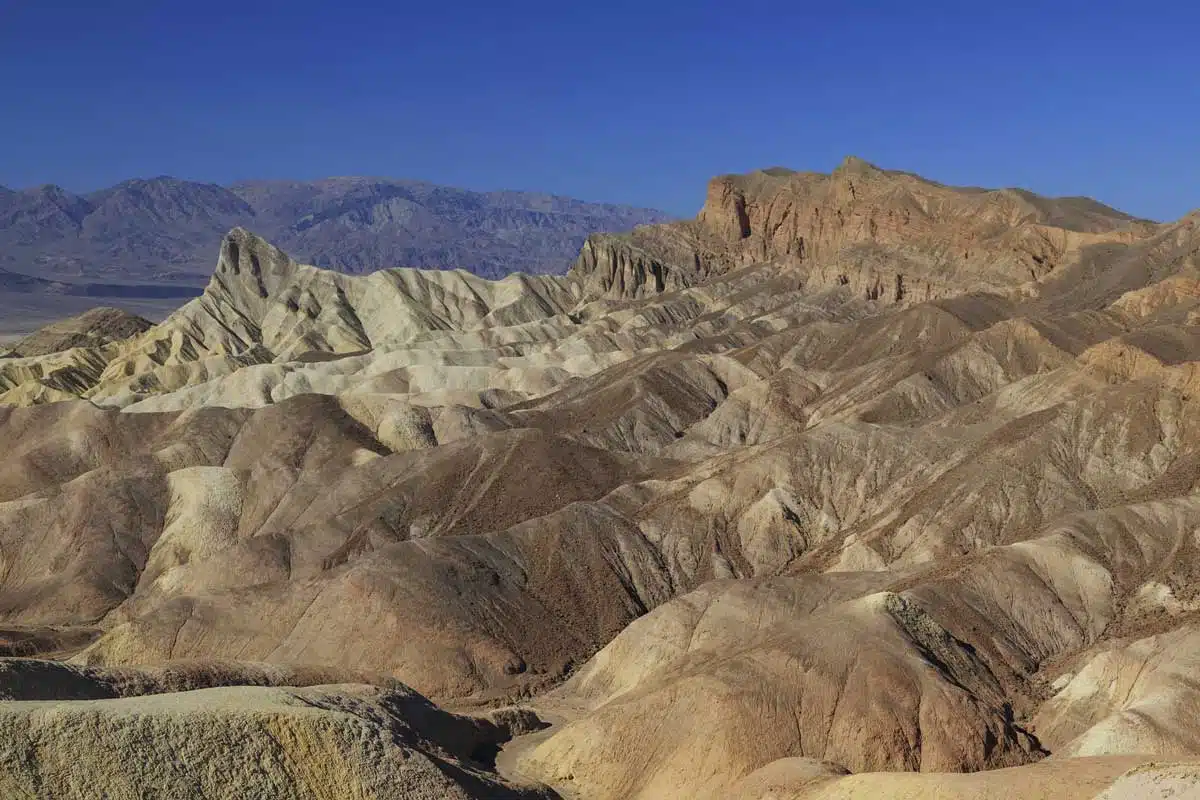 If you were to ask seasoned Death Valley visitors, "Can you hike in Death Valley?" they'd probably laugh and point you towards the Golden Canyon – Gower Gulch Trail as Death Valley's best hike.
Confused about the complicated name? Don't be – this is really two hikes – The Golden Canyon Trail – a cool out-and-back trail to the Red Cathedral that takes about 1hr 30 mins and the Gower Gulch extension that turns it into a stunning loop.
Sure enough, this symbolic trek is a staple for anyone looking for the valley's most spectacular landscapes. It really was one of my favourite hikes in the park – not least because of the range of topography you can see in a relatively short period of time.
The easy to find trailhead is located on the Golden Canyon Road.
Making your way through the rugged and rocky canyon, you'll scramble past boulder overhangs and reach Red Cathedral – a beautiful overlook with views out over the canyon and to the park beyond.
Mosaic Canyon Trail
Length: 4 Miles
Time: 3 Hours
Difficulty: Medium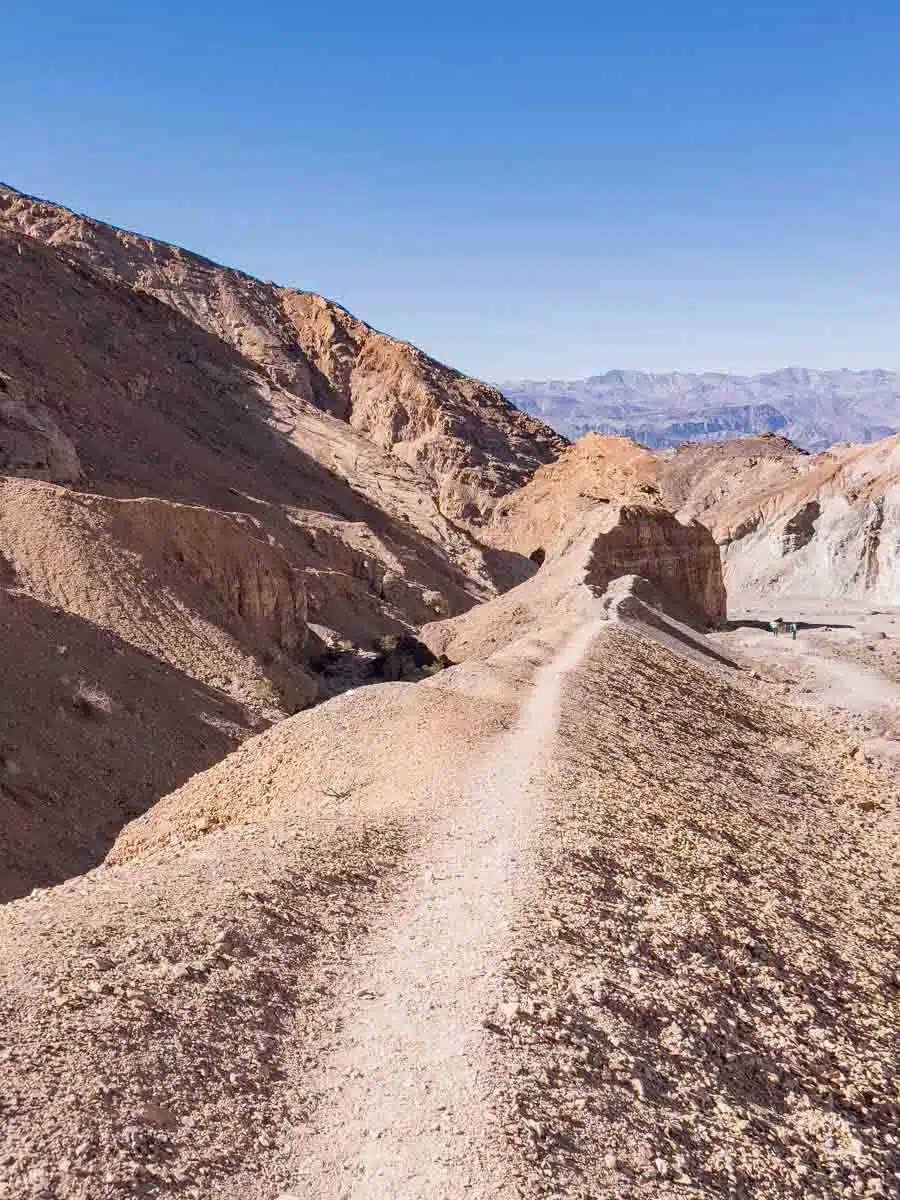 Mosaic Canyon sure did an excellent job of leaving me speechless (a very difficult task). Not to oversell it, but IMHO this is the best canyon hike in Death Valley.
Head to the trailhead on Mosaic Canyon Road along Highway 190 to start an out-and-back trail that leads directly into the canyon.
Thick marble-lined canyon walls in cascading hues of brown, cream and white surround you from the get go – at times so close that you can touch both sides of the canyon at the same time.
It kicks off with an easy flat walk, then leads you through a set of narrows where you need to scramble over rocks and a few boulders before emerging into a sprawling amphitheatre with a dry fall.
While most turn back before reaching the boulders, if you are feeling adventurous, I recommend continuing till the dry fall. You won't regret it.
Natural Bridge Canyon
Length: 1 Mile
Time: 45 Minutes
Difficulty: Easy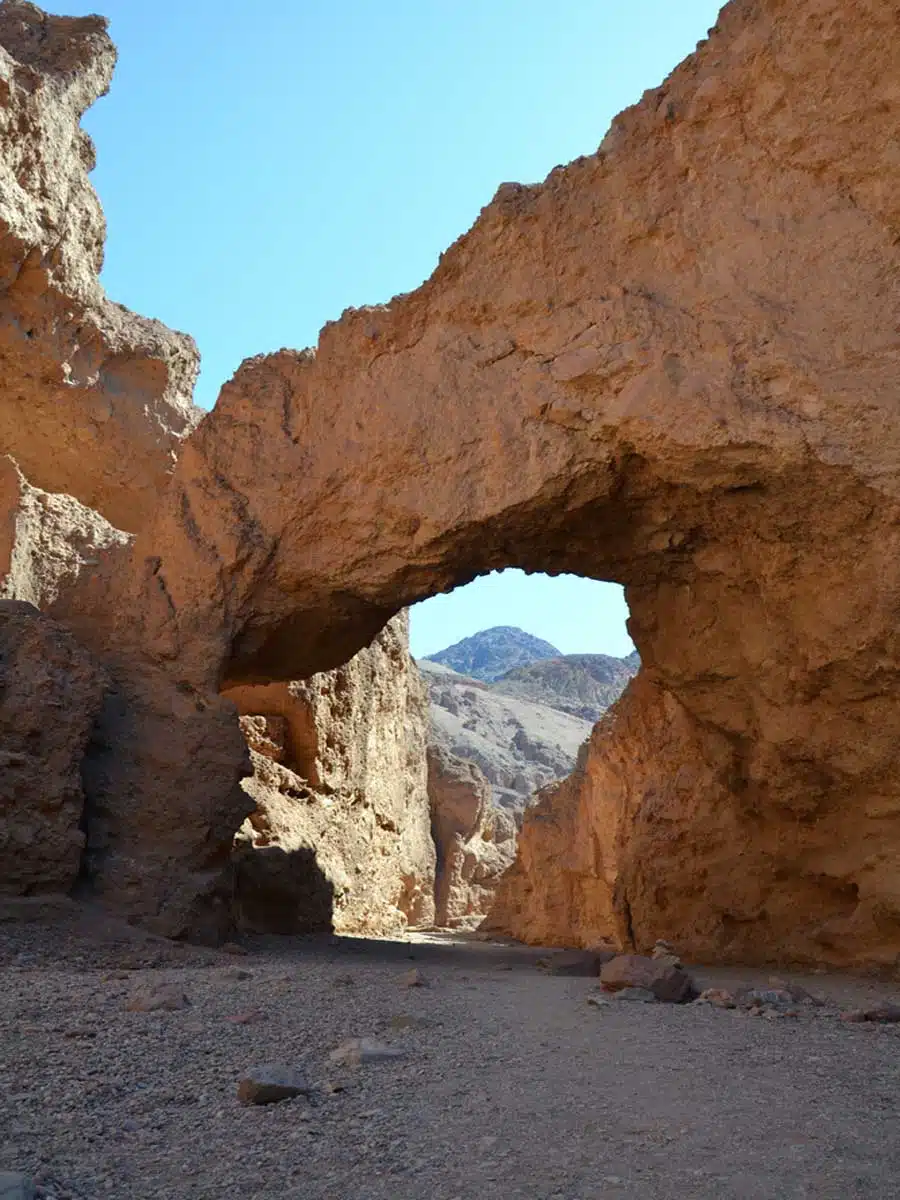 Hiking in Death Valley means many things. Yes, you'll break a sweat and stand in awe of its landscapes, but most noteworthy, you'll see almost surreal natural features. One of these is the stunning Natural Bridge Canyon.
An easy 2-mile out-and-back trail leads you through a narrowing canyon, which opens up into a wider section with the headline act – The Natural Bridge.
Once there, you can take in the breathtaking sights of the bridge extending over the canyon's breadth.
The trailhead starts along Natural Bridge Road, and thankfully, it's very well-marked.
Although the trail is mostly flat, it does have some uneven spots, so watch your step. The real bonus from the bridge is the possibility of heading further to a dry fall or even to a range of side canyons.
However, most choose to turn back after reaching the bridge. The choice is yours, though.
Darwin Falls
Length: 2 Miles
Time: 2 Hours
Difficulty: Medium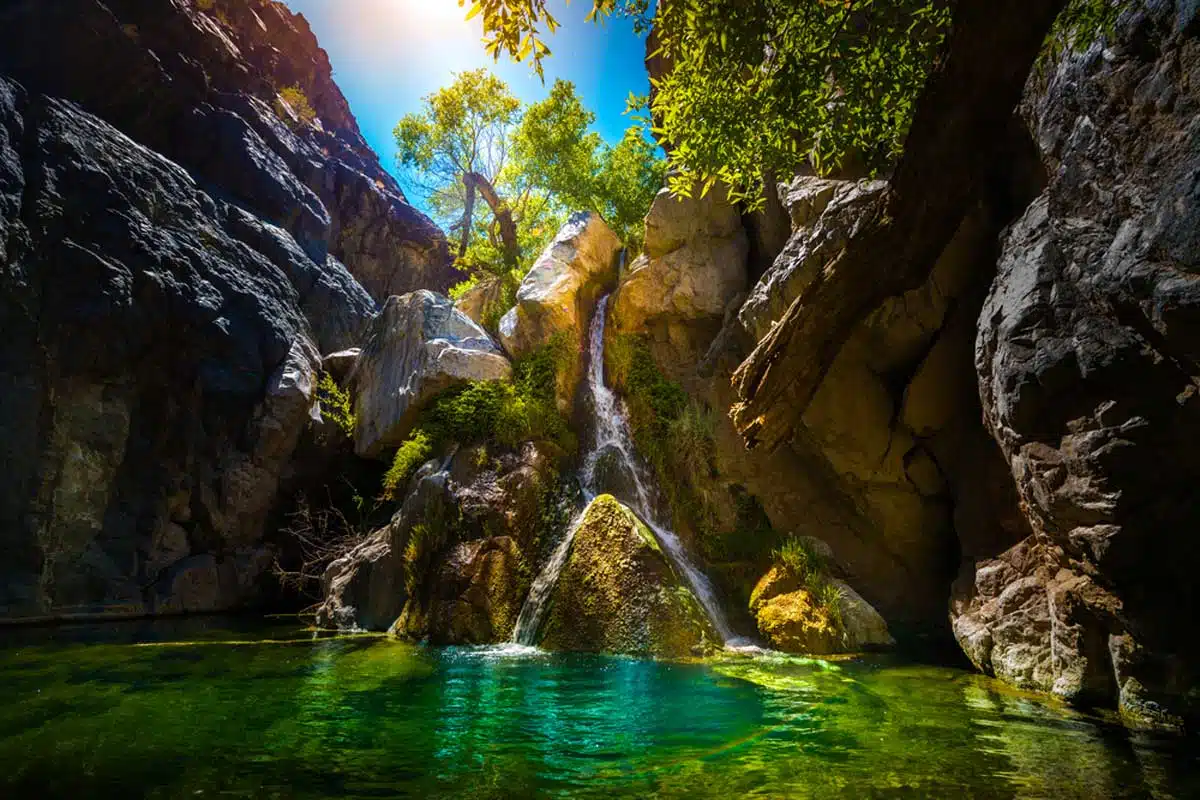 It's typical that often the best hikes in Death Valley seem tucked away in the furthest regions of the park.
The Darwin Falls hike is one such hike. Tucked away on the park's western edge, it's a lush oasis in the middle of this arid landscape.
It seems unfathomable (big word) at first glance, yet, it exists.
Easily reachable from Darwin Falls Road just off Highway 190, the trailhead isn't exactly well-marked, but it's not hard to spot.
At 2 miles out-and-back, it features some rocky areas and a bit of overgrowth, so tread carefully. Winding along a dusty canyon, the route crosses river streams and takes you directly to the waterfall.
A popular spot to see numerous bird species, as well as thousands of colourful dragonflies, it's a nature lover's nirvana. And when you think about the outlying desert landscape, the tranquillity of Darwin Falls is a welcome escape.
Dante's Ridge
Length: 8 Miles
Time: 5+ Hours
Difficulty: Hard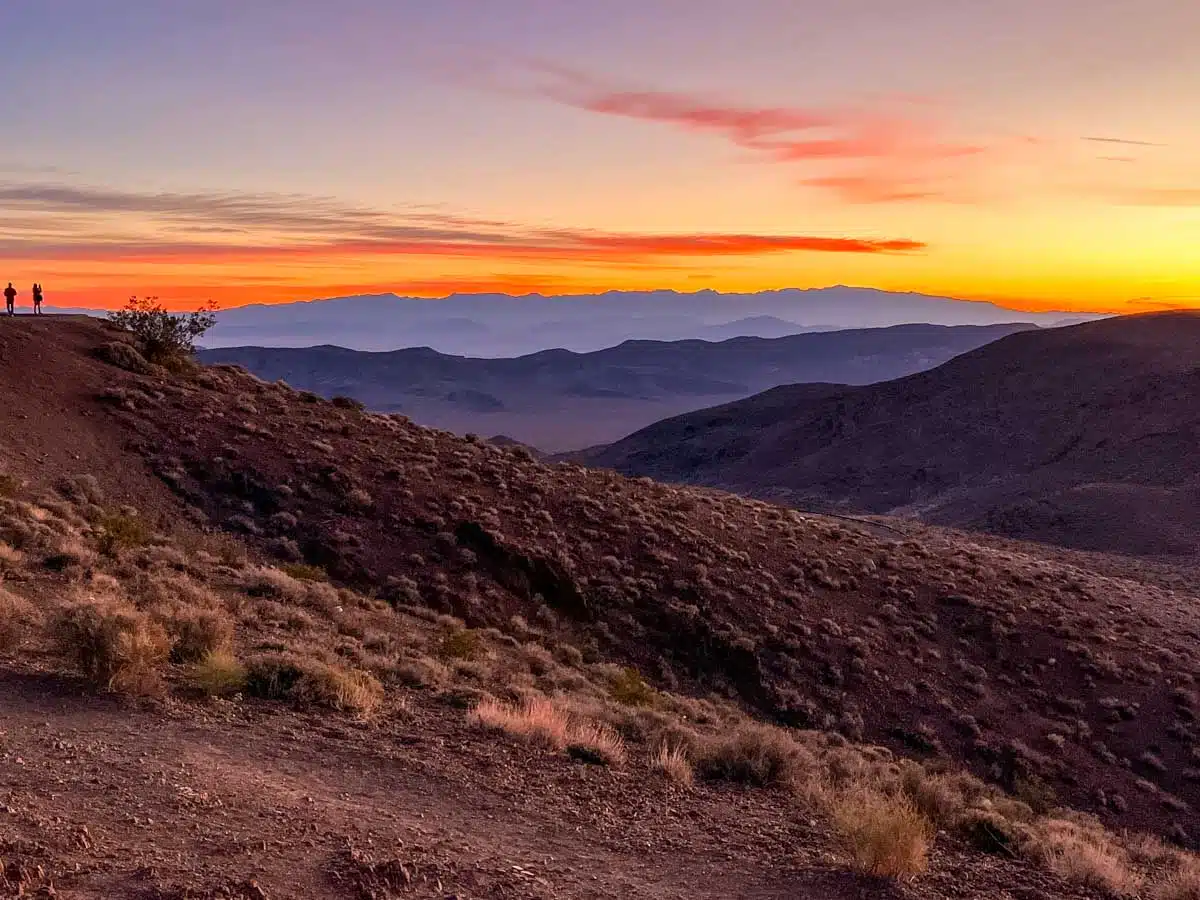 Remember the ambition I mentioned earlier? You'll need a bit of it to tackle this trail in the park. Dante's Ridge is one of those hiking in Death Valley treks that demands it and more.
But trust me, the payoff is worth it.
A trail that has its trailhead at an iconic viewpoint, that being Dante's View, is bound to be thrilling.
Although not an official track, this is one of the most popular for hikers looking for a challenge. Skirting a ridgeline, you'll traverse a route that provides ethereal views of the valleys and salt flats below.
With a cumulative elevation gain of 1,200 feet, the National Park Service noted Dante's Ridge as a strenuous hike. Come prepared physically and delight visually in the sweeping views this stunner boasts.
Sidewinder Canyon
Length: 5 Miles
Time: 6 Hours
Difficulty: Hard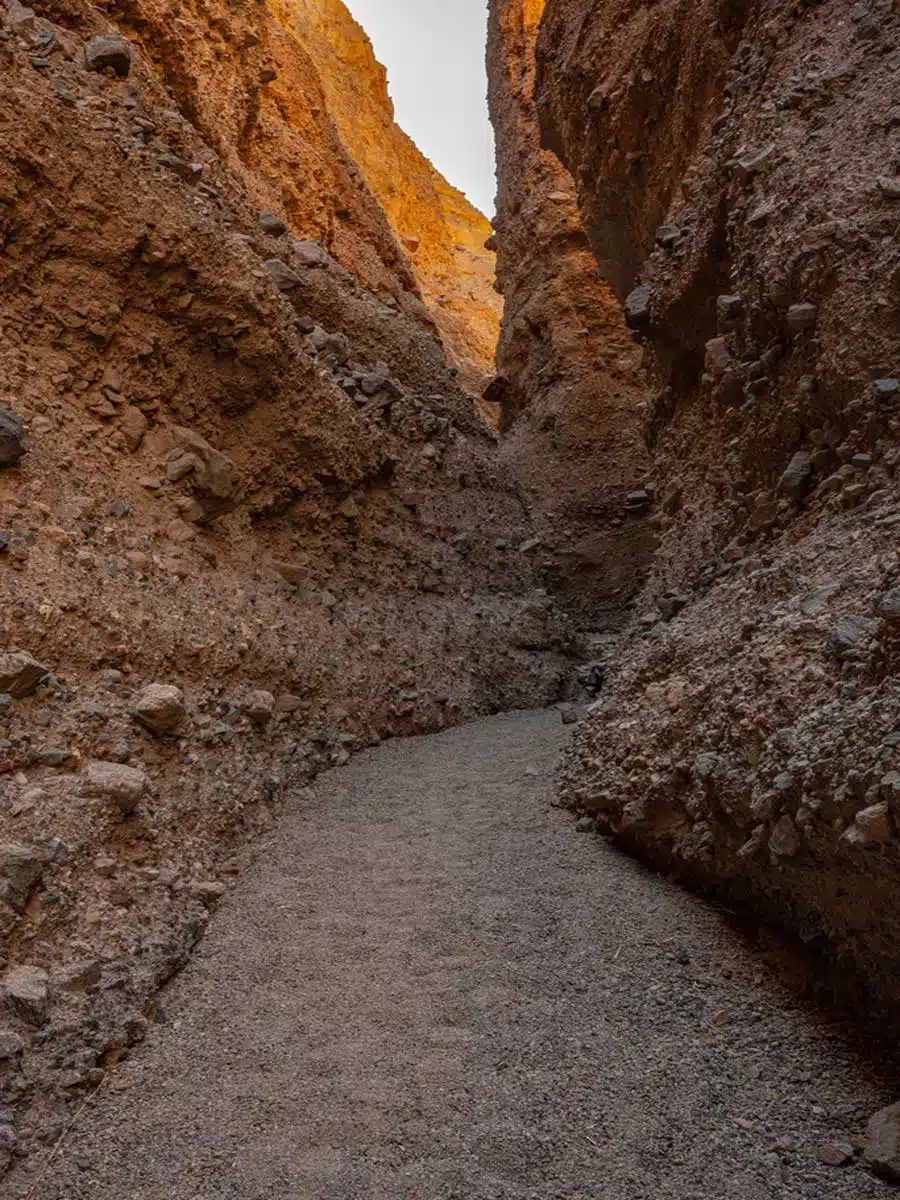 There's just something about slot canyons that entice and amaze even the most novice of hikers. And one of the best Death Valley hikes, Sidewinder Canyon, takes slots to the next level.
A word of caution, though, if you're claustrophobic, best to skip this one.
It takes a particular type of hiker to love slot canyons; thus, this trail is far less crowded than its counterparts in Death Valley.
The parking lot is literally in the middle of nowhere, and its trailhead is tricky to spot at best, between mile markers 31 and 32 along Badwater Road.
Journeying past the pile of rocks used as a trail marker, you'll head into the canyon and, as far as you walk, venture deeper and deeper. Leading into numerous slots, the highlight here is the golden glowing walls from overhead sunlight—pure eye candy.
Artist's Palette
Length: Varied depending on your own choice
Time: At least 45 minutes
Difficulty: Easy to Medium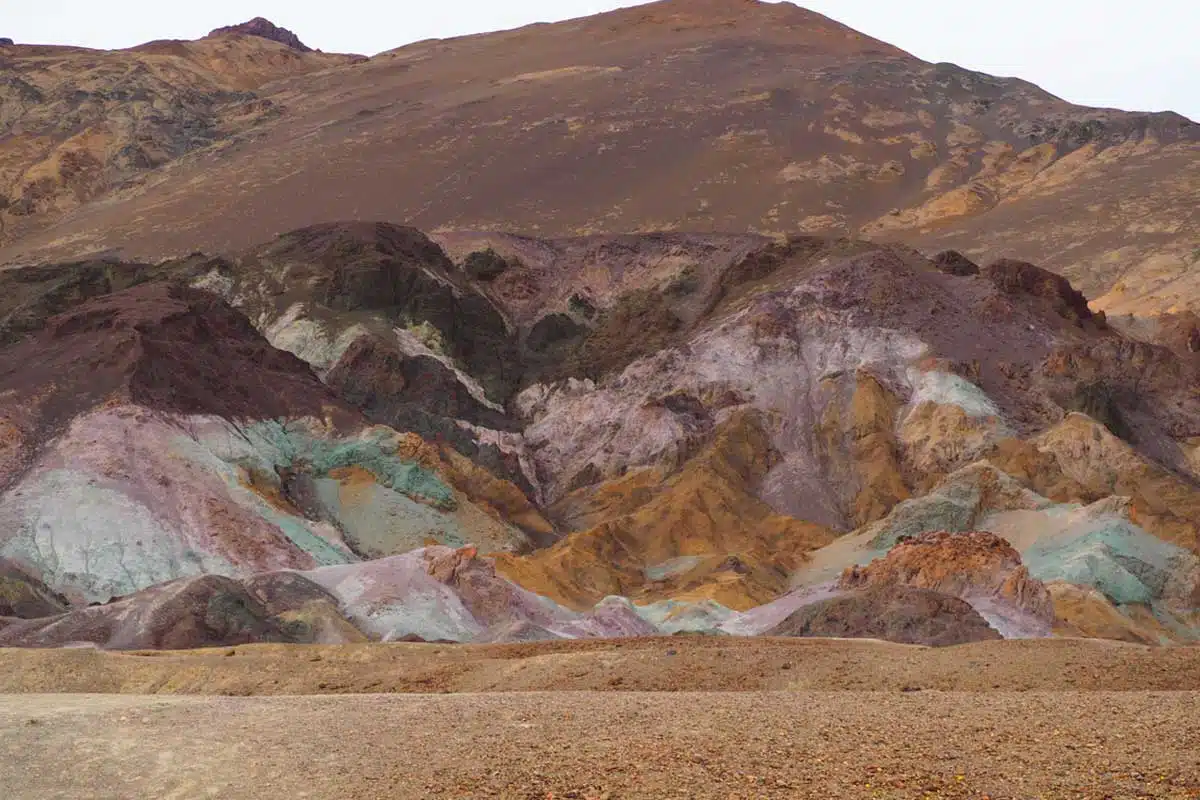 Okay, this one might just be my favourite. In an authentic, create-your-own-adventure trek, the Artist's Palette Death Valley hike is, unsurprisingly, a buzzworthy adventure.
Starting from the viewpoint at Artist's Palette along Artist's Drive, this route descends into a wash and out onto rolling hills.
As there is no outlined trail here, it's a free-for-all, and you can journey as far as you'd like. From the surreal views at the trailhead, the spectrum of colours emanating from mineral deposits makes this a standout. If you're looking to fill your Instagram feed, this is the spot to do so.
A miasm of colours awaits, from lavender, blue, green, yellow, pink, and red, what more could you want? If you're after aesthetics and an easy trek, this hike in Death Valley will steal your heart.
See why I love it so much?
Badlands Loop
Length: 2.7 Miles
Time: 2 Hours
Difficulty: Medium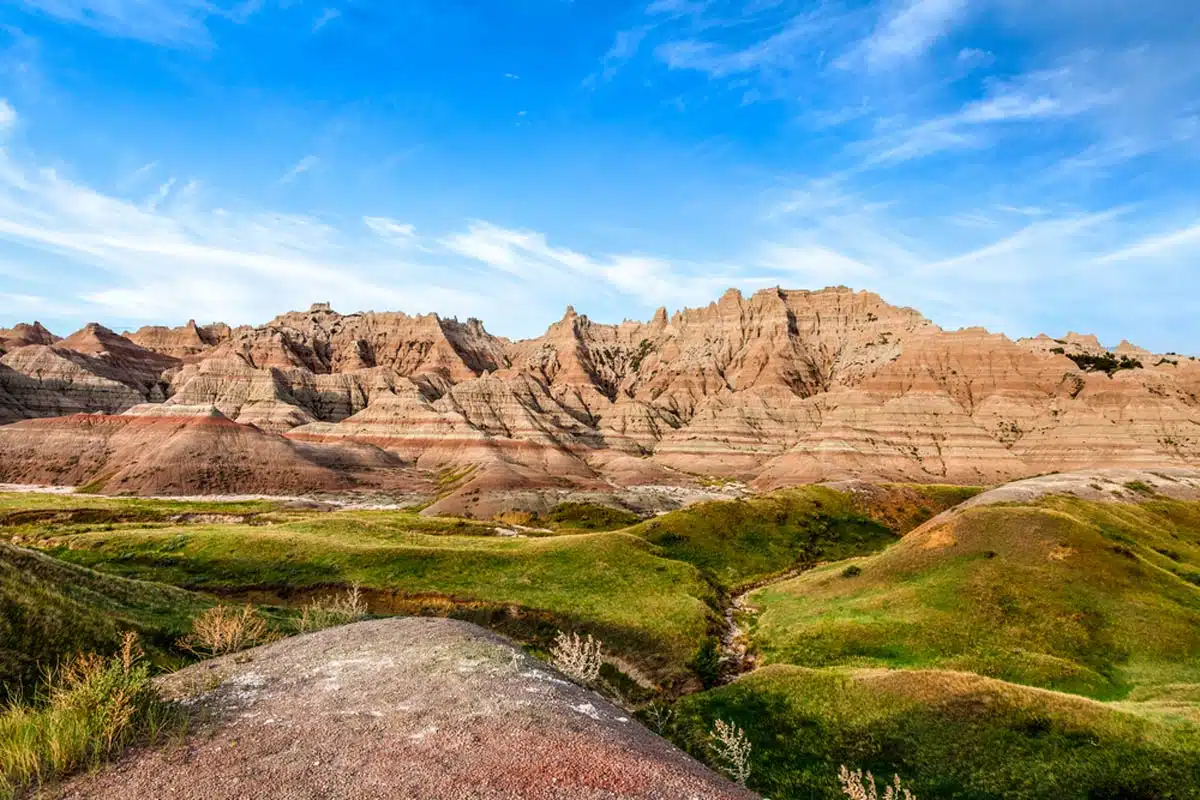 A simple answer to any curious minds thinking what makes Death Valley's hikes the best is the collection of views, landscapes, and rock formations. And all three of those you'll find along the Badlands loop trail.
I dare you to argue, considering this trek begins at the park's most iconic viewpoint—Zabriskie Point.
A fantastic option for a day trip, the route runs through a maze of golden-hued canyon formations and across a dried lakebed. It's as immersive as they come, taking you to many of the valley's famous views.
As if your eyeballs haven't been treated enough already, you'll head through a primaeval labyrinth of gullies in shades of yellow, tan, gold, and heavily burnt orange.
The best bit? You can easily add this trail to the Golden Canyon – Gower Gulch loop, providing a thorough jaunt for experienced hikers.
Desolation Canyon
Length: 3.6 Miles
Time: 3 Hours
Difficulty: Medium to Hard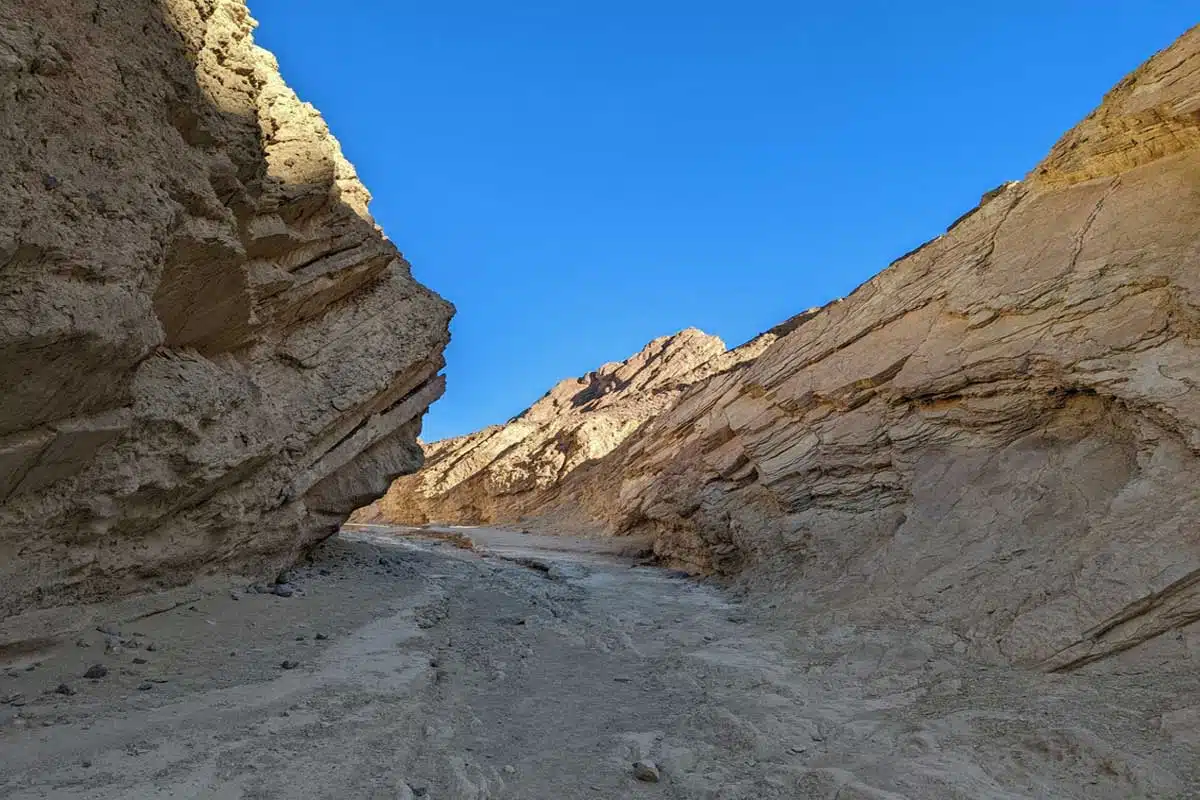 One of Death Valley National Park's best hikes is an off-the-beaten-path one sitting close to Artist's Palette. While not as famous as its close relative, this is where adventurers with unending wanderlust come to explore.
Considering there's no actual trail designated, you'll find this unmarked trail fairly easily just off Artist's Palette. Trailing through a desert wash into a canyon, this is the perfect spot for avid cross-country hikers.
Once you're through the entry wash, you'll land at the foothills of the Black Mountains, where colourful canyon walls await.
While it's a pretty straightforward out-and-back, the main canyon does have numerous smaller side canyons you can explore. Don't worry too much about getting lost, as heading downhill from any canyon will lead you back to the main trail.
Telescope Peak
Length: 14 Miles
Time: 7 – 9 Hours
Difficulty: Hard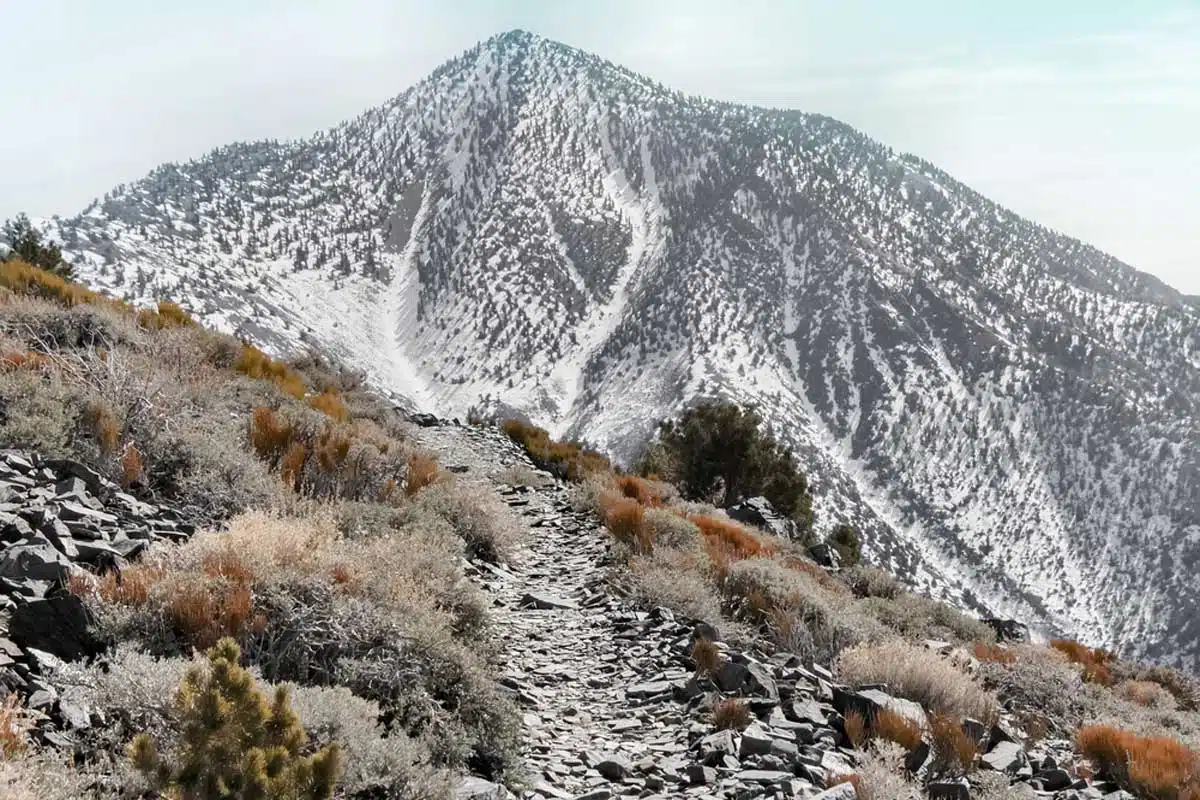 Not to brag, but I think I might have saved the ultimate hiking trail in the park until last. So, kudos if you're still reading.
Up to its tallest point, Telescope Peak is probably one of the best winter hikes in Death Valley. At 11,049 feet above sea level, this is where you'll find awe-inspiring panoramic views as well as bragging rights.
From the trailhead at Mahogany Flat Campground, this whopping 14-mile out-and-back trail isn't for the faint of heart. Don't let that put you off though – preparing for the hike is definitely worth it.
As you begin on the eastern slope of the Panamint Mountains, after roughly 2.5 miles, the trail leads into a stunning meadow. Followed by a plateau for the next 1.5 miles, the final 3 miles consist of several switchbacks to the summit.
Once you've reached Telescope Peak, pat yourself on the back, and feast your eyes on views of Badwater Basin and Mount Whitney in the distance. You've earned it.
Best Death Valley Hikes: Practical Tips
The most important thing to remember when hiking in Death Valley is to bring enough water. I cannot stress this enough, as many trails offer little escape from the scorching heat. Invest in a hydration pack and, of course, a tried-and-tested water bottle.
If you're unsure what to pack, have a look at my packing list ideas for inspiration. Remember a pair of lightweight hiking shoes – I'm a big fan of the Tropicfeel Canyon shoes.
You also need to bring sunscreen and a wide-brimmed hat.
It is unlikely that you'll encounter any, but beware of dangerous wildlife, especially coyotes, mountain lions, bees, wasps, black widow spiders, and rattlesnakes. For most of these, the best tips are to remain calm, provide the animal with a way to escape, and throw items their way should they approach you.
---
Love This? Save and Share on Pinterest