Dreaming of an epic road trip through the American Southwest? You need to add the Monument Valley Scenic Drive to your itinerary.
I'm not being dramatic when I say that the Monument Valley Scenic Drive was one of the highlights of my recent(ish) trip to Arizona and Utah.
Taking a picturesque drive through nature's paradise of spires, buttes, and red rock masterpieces in Monument Valley Navajo Tribal Park was an experience like no other. You should all be very jealous.
But don't worry, I'm here to spill the deets so you can plan your own epic adventure.
You can visit the Navajo Nation's Monument Valley with a tour or by taking the Monument Valley Scenic Drive, a dirt road that cuts through the centre of this iconic location.
And, of course, I have a tonne of travel advice to help you have the best possible vacation to Oljato-Monument Valley.
Read on to discover what you can see and do along the scenic drive, how to get to the valley, what to pack, and where to stay the night in Monument Valley or the surrounding area.
Why Visit Monument Valley?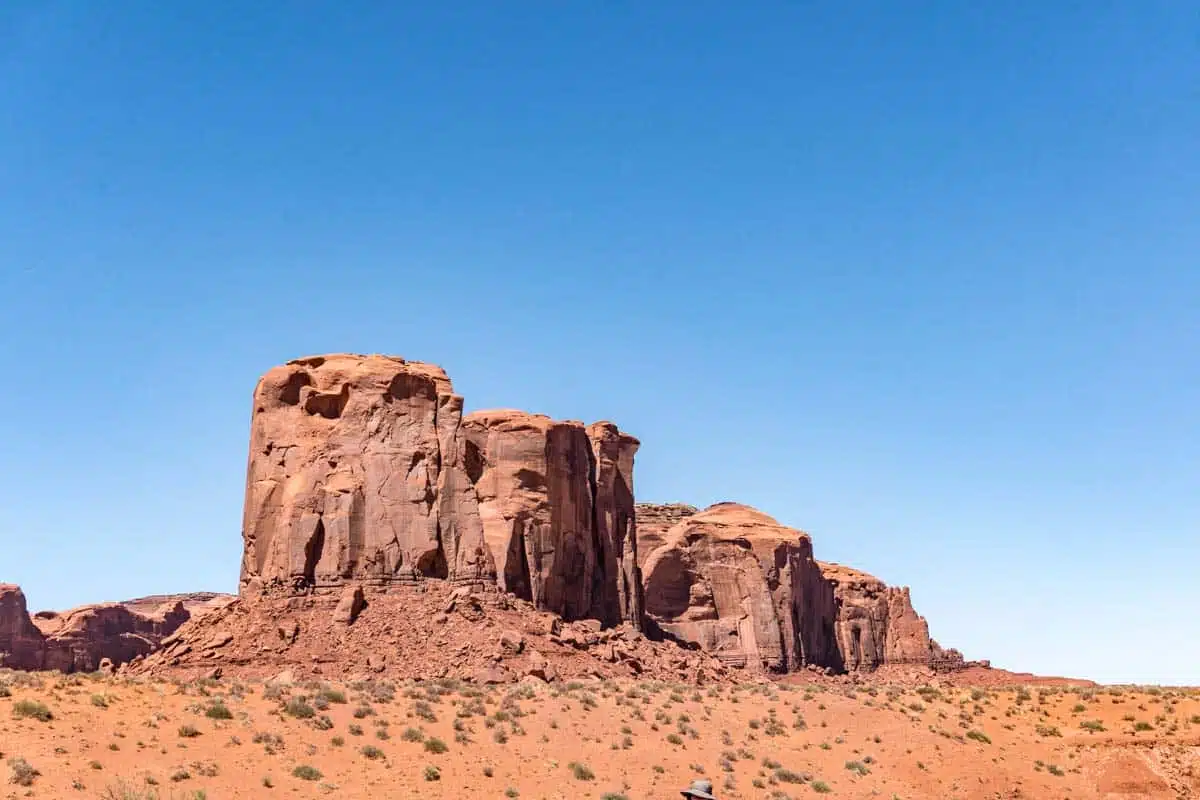 I mean, let's be real. Have you seen Monument Valley – why wouldn't you want to visit?
It's one of the most photographed locations on the planet. And for good reason. The valley is home to massive sandstone rock formations that rise 400 – 1,000 feet above the valley floor and have been shaped over time.
The gorgeous sights of buttes (no sniggering, please) and beautiful trails attract most people to Monument Valley – myself included.
And while Monument Valley has plenty to brag about in the hiking department, it's the scenic drive that really stole my heart.
The Monument Valley Scenic Drive: What You'll See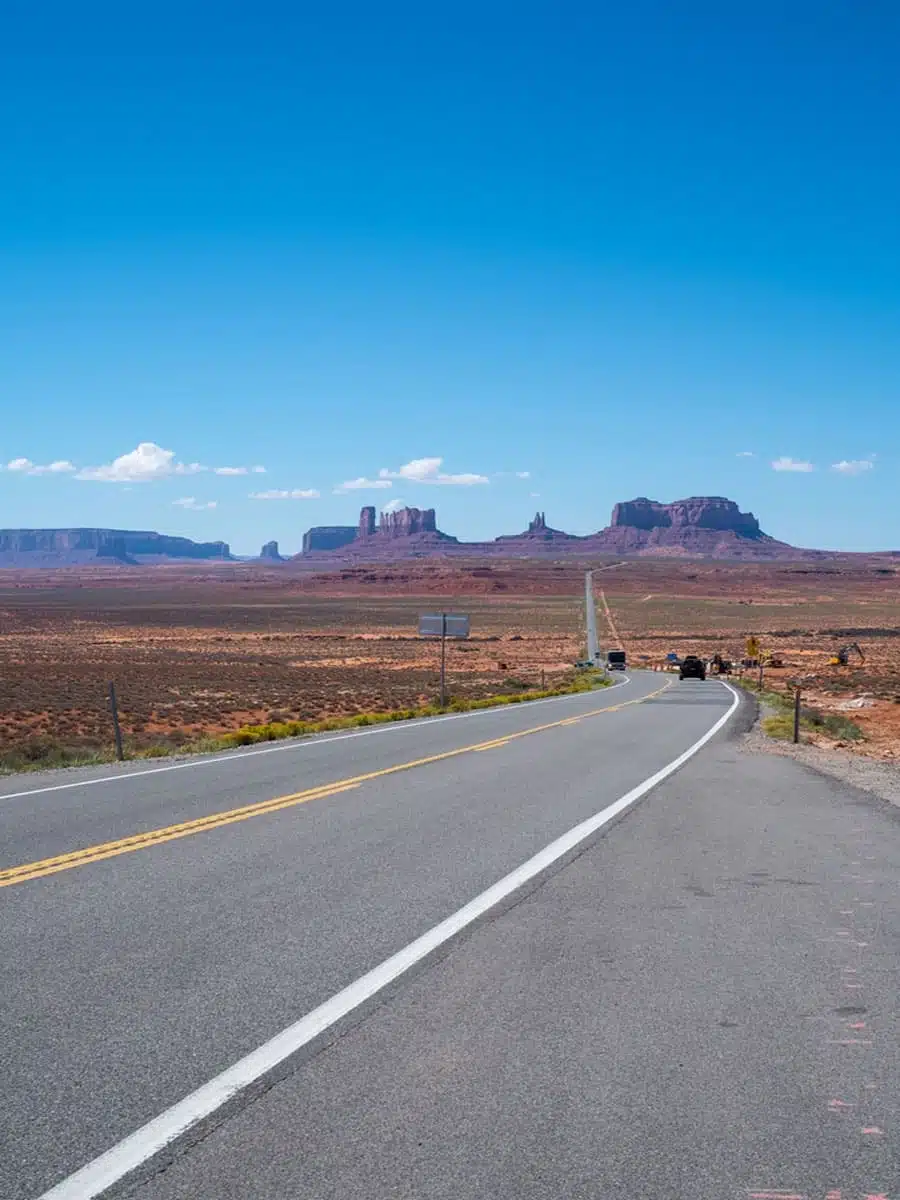 First of all, make sure you pick up the free map offered by the Visitor's Center. There are 11 numbered stations on the scenic drive through Monument Valley, so let's take a look at some of the more popular sights.
The Mittens and Merrick Butte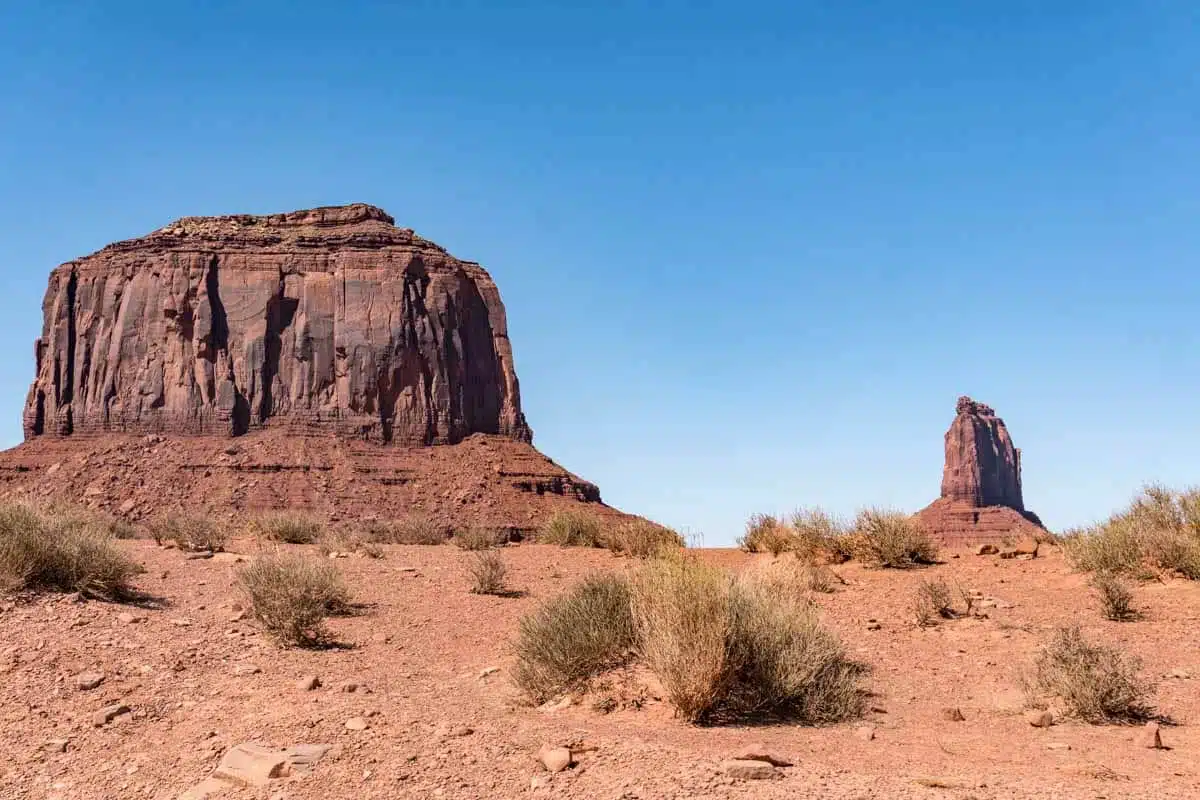 You've probably seen East Mitten, West Mitten, and Merrick Butte in many photos – they're the most instantly recognised of all the Monument Valley formations.
The mittens are named because they look like a – you guessed it – pair of mittens… Of wacky proportions, I will admit. While Merrick Butte pokes through the middle in the distance in near-perfect symmetry.
Elephant Butte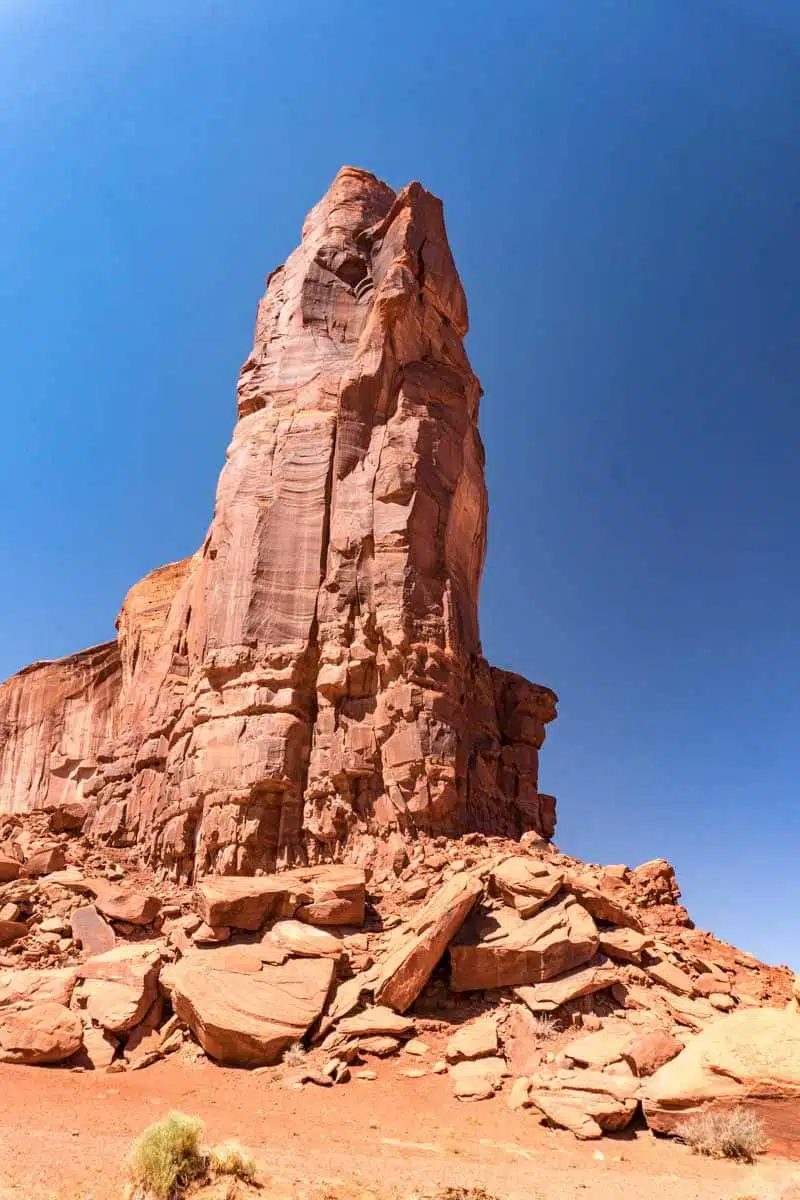 Another of Monument Valley's more famous spots. Atop a red ridge is the sheer Elephant Butte made of sandstone.
This is one of the park's numerous enormous and unusual rock formations. The butte resembles an elephant – you might need to use your imagination with this one.
Three Sisters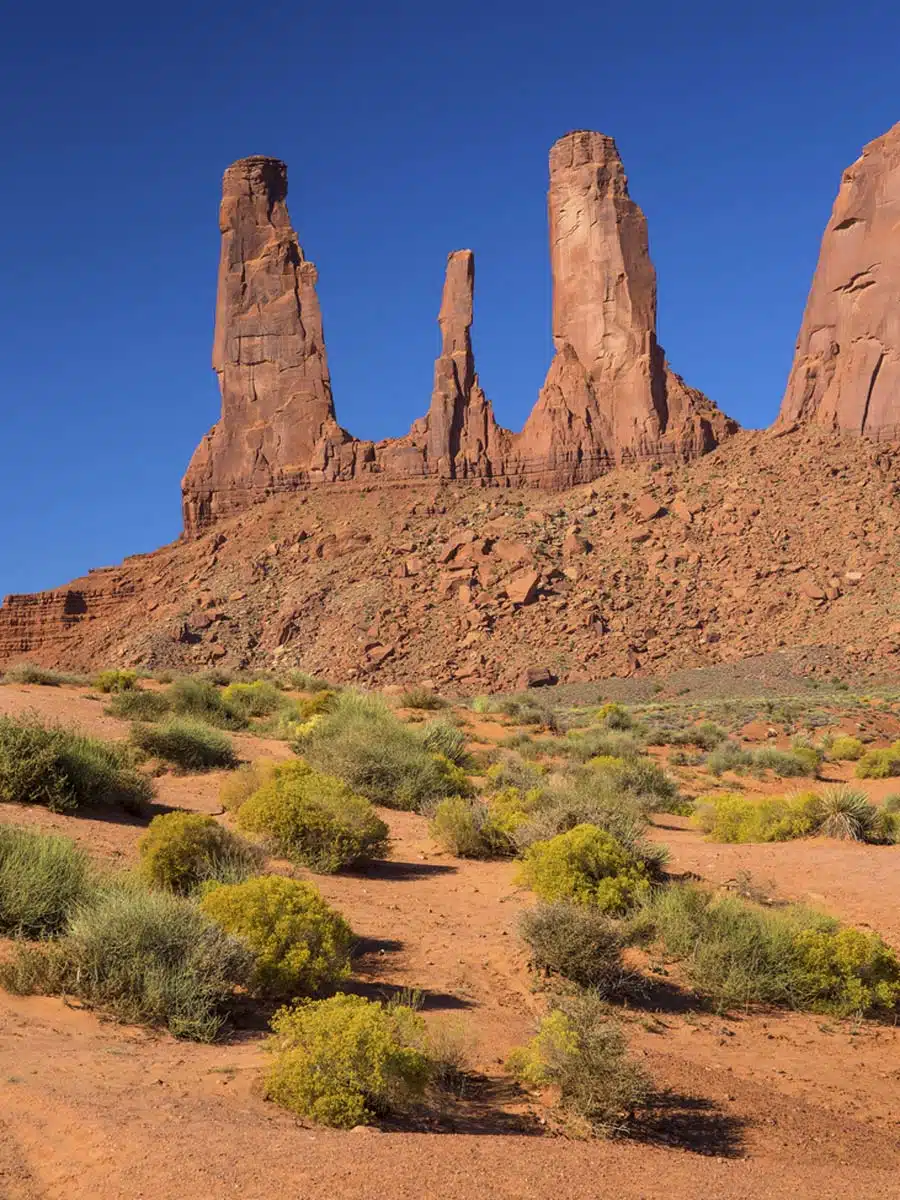 The Three Sisters offers an excellent photo stop. Pay attention to the crumbling earth at its base. It's worth pausing here to consider how nature created such a weird and wonderful sculpture.
John Ford's Point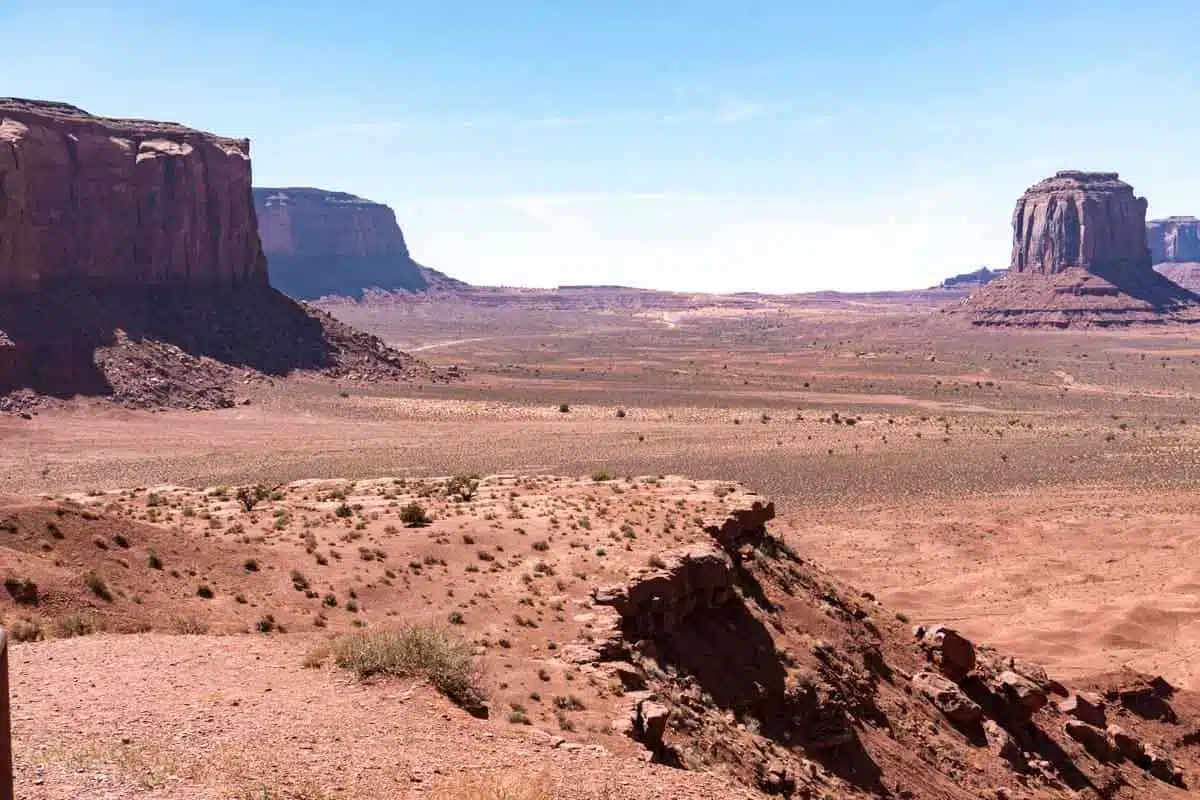 This is a picturesque area created in honour of the filmmaker who made Monument Valley the Hollywood representation of the American West, John Ford.
He was the filmmaker behind the John Wayne movie Stagecoach. Since then, numerous films and television series use Monument Valley as a background.
Camel Butte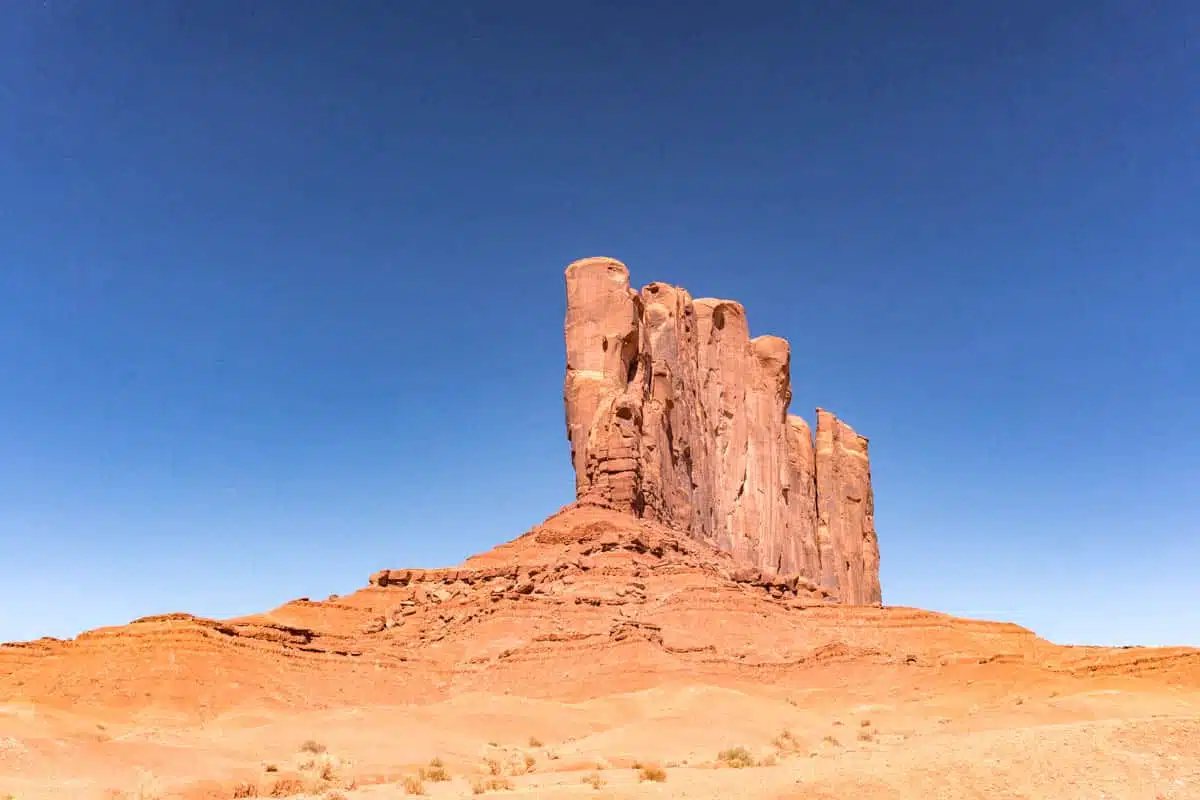 An enormous, intricate, and impressive rock formation known as Camel Butte is also on the trail. It's another sandstone peak that is slender and narrow-looking but again, with a little imagination, you might successfully spot a camel at this stop.
The Hub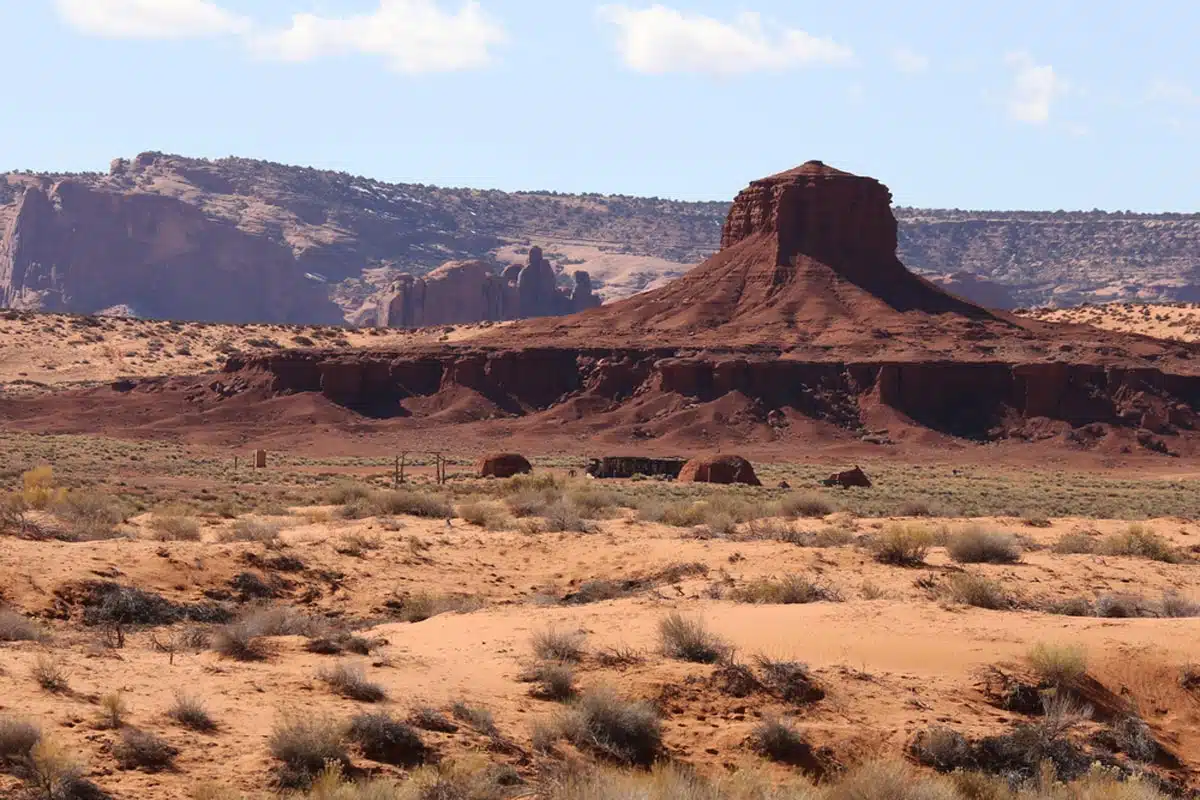 The Hub is a single, isolated spire that rises 150 feet above the ground southwest of the intersection and has a collection of Navajo homes at its base.
Totem Pole and Yei bi Chei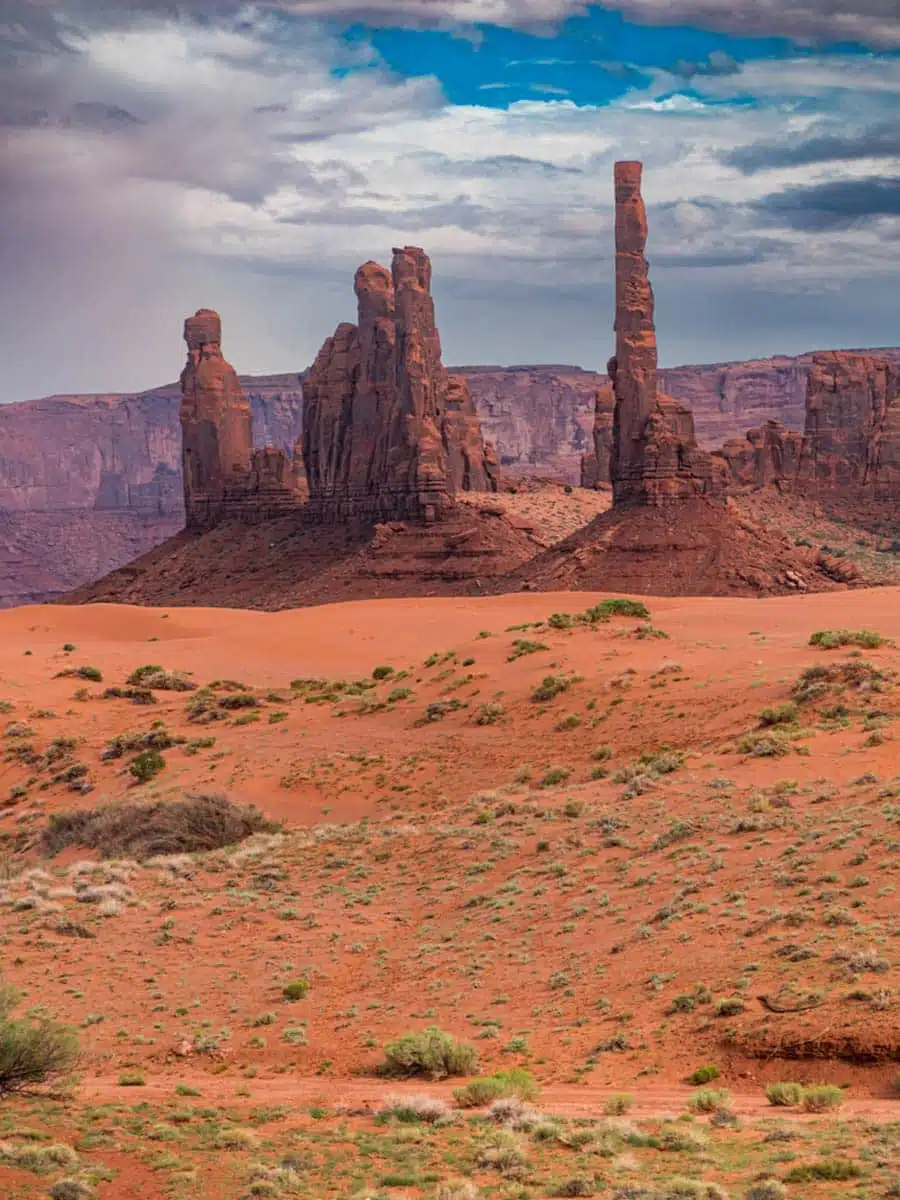 I'll let you in on a secret – this is one of the best locations in Monument Valley if you're searching for a picturesque backdrop.
The Totem Pole Spire, which stands 450 feet high, is next to the Yei be Chei formations, a lonely cluster of spires.
Totem Pole and Sand Spring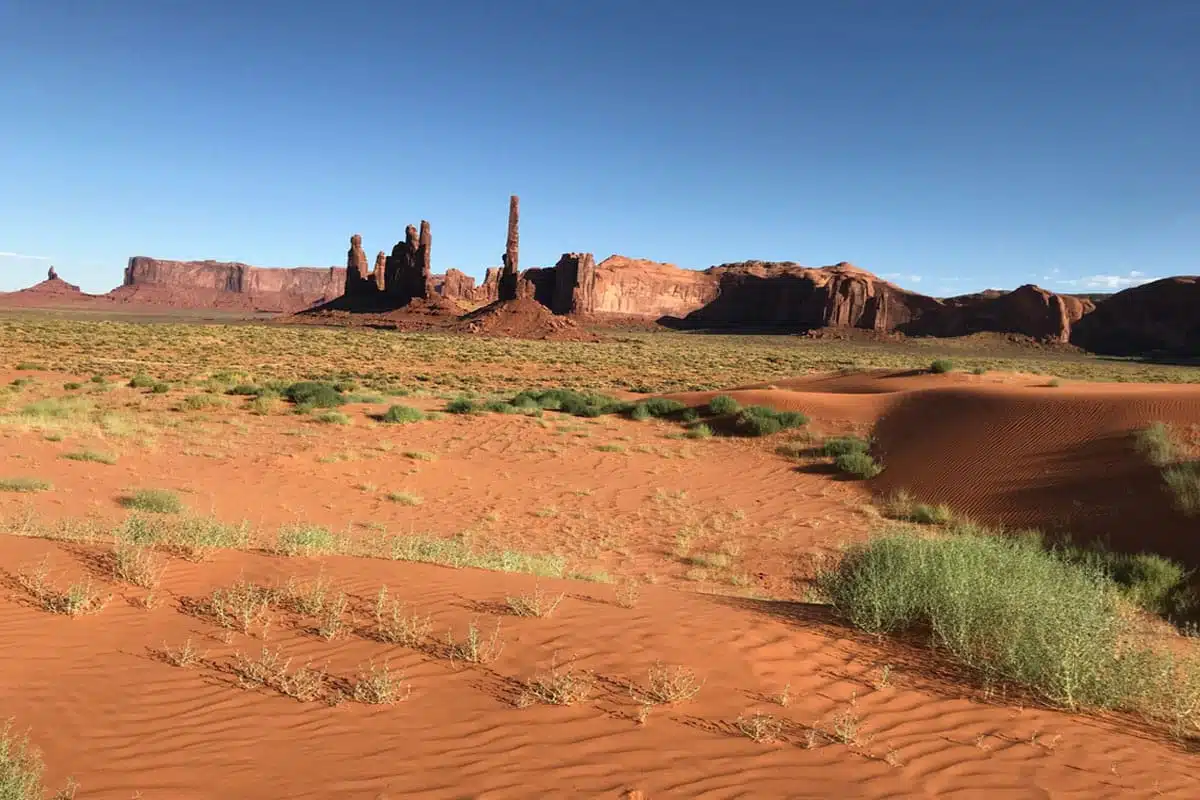 Officially, the next pull-out is a vista of Sand Spring and the neighbouring red-orange dunes, but because the overlook is a little closer to Totem Pole and Yei Bi Chei, it also provides a better view of these formations.
Artist's Point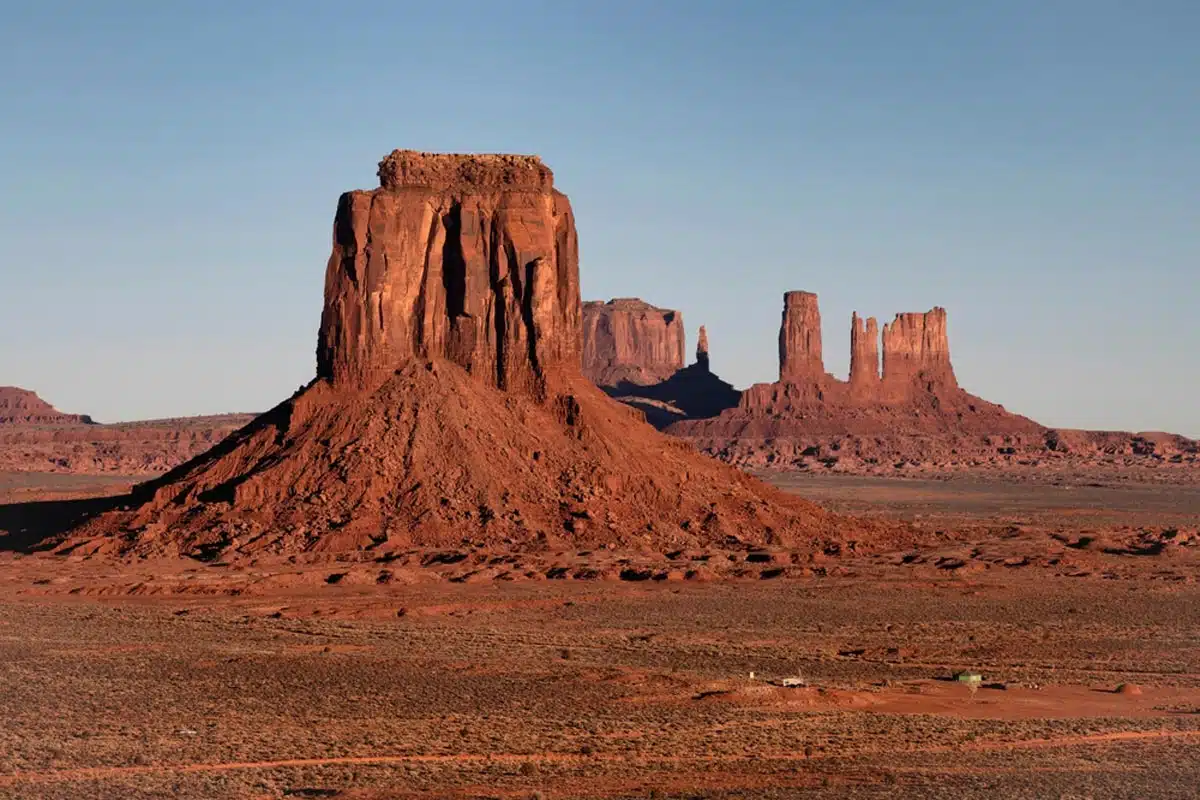 This is Artist's Point, which, after John Ford's Point, is arguably the nicest overlook along the route. However, it is less popular and, therefore, more tranquil than John Ford's Point.
To the east, Spearhead Mesa's edge soars relatively high, while Cly Butte and Elephant Butte, which have lower spans, are to the west.
North Window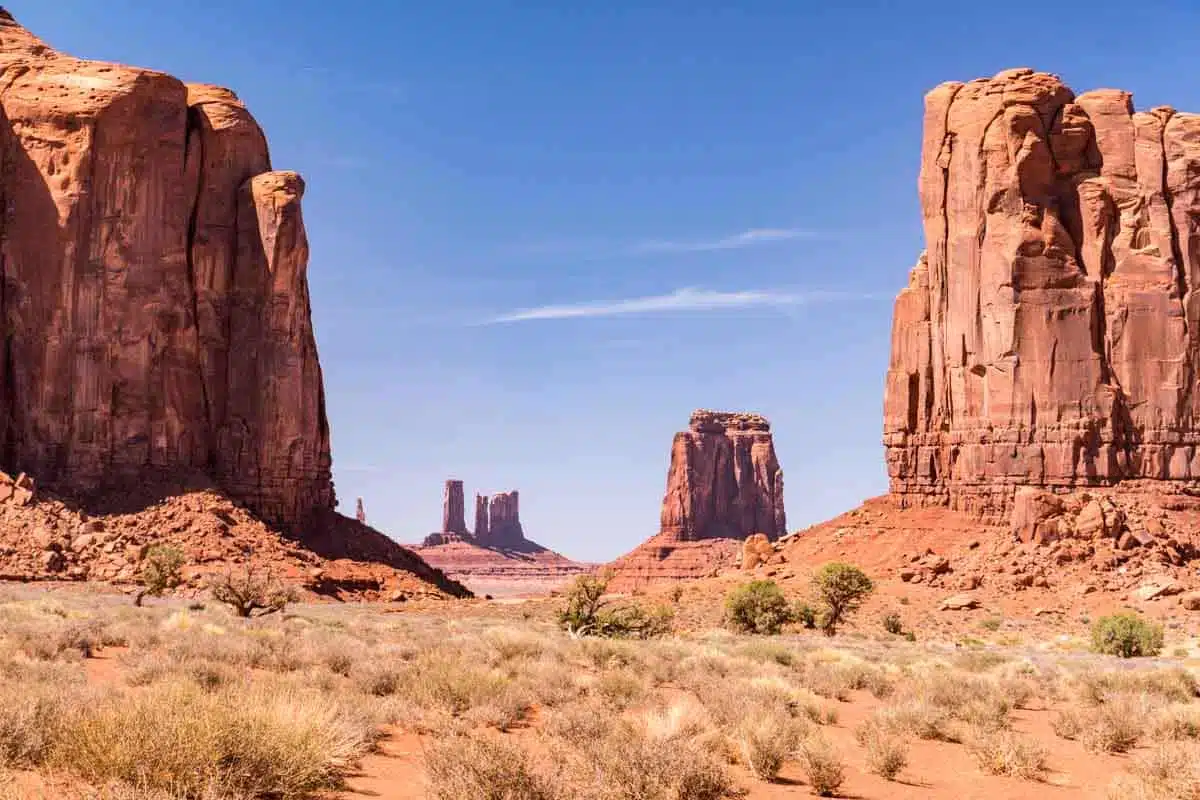 North Window, a chasm between Elephant Butte and Cly Butte that frames East Mitten Butte three miles to the north, is the penultimate destination on the Valley Drive.
Visitors can walk along a 1/3-mile pathway that leads closer to the two buttes for even greater views from the parking area, just off the main road.
The Thumb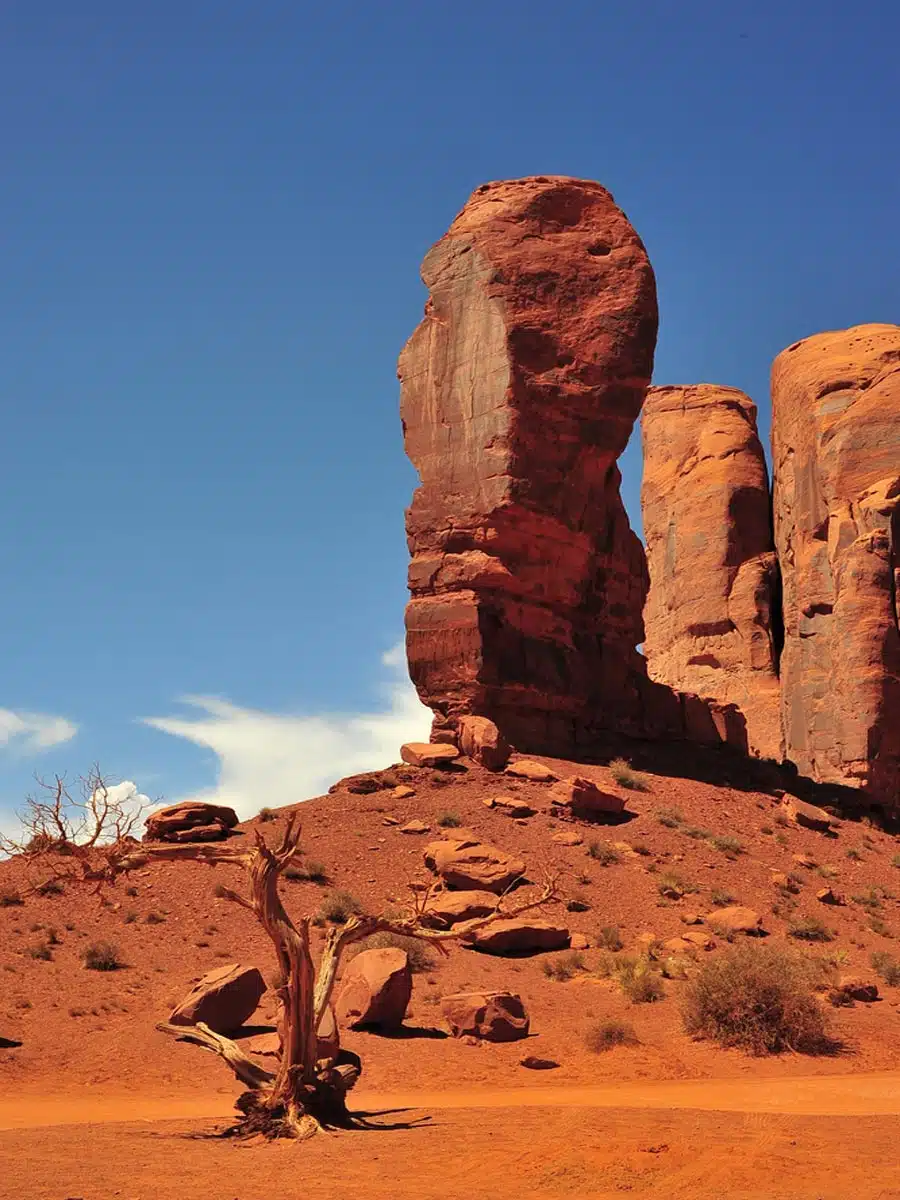 The Thumb, a rounded pinnacle at Camel Butte's easternmost point, and the North Window parking area are home to the last known overlook along the Valley Drive.
It really does look like an ugly thumb. For this one, imagination is not essential.
Planning Your Visit to Monument Valley
Arrive in Monument Valley before sunrise to get the most out of the drive. You won't want to miss the opportunity to capture the sunrise behind East and West Mittens on camera.
General entrance is $20 per car for up to 4 persons to drive the Monument Valley 17-mile loop route; children under nine ride for free. Online entry fee purchases save time and provide access to admission times and closings.
Since there are no amenities in the valley, not even restrooms, make sure to bring drinking water.
Wear a hat and sunscreen because the sun is potent in Arizona and Utah.
Monument Valley Address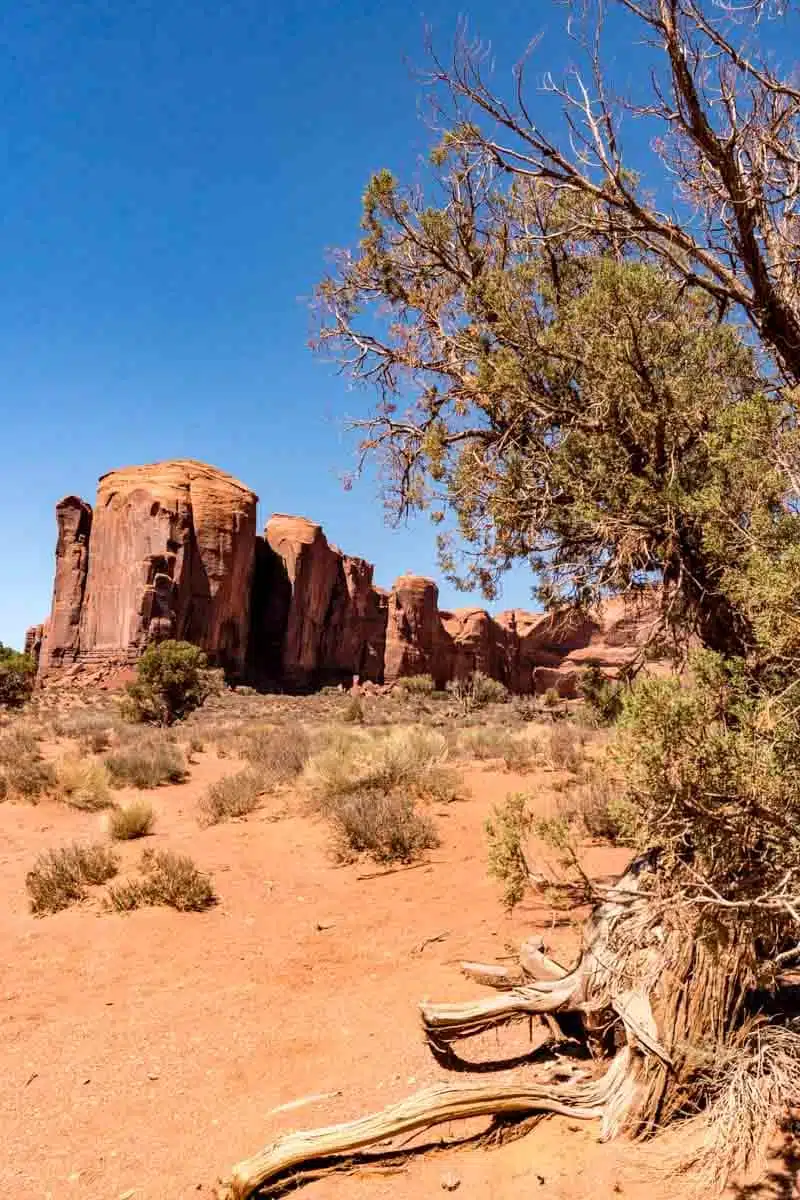 Visitor Centre: U.S. 163 Scenic, Oljato-Monument Valley, AZ 84536, United States
You can obtain a Monument Valley map showing the picturesque vantage spots inside the tourist centre. Along the way inside the valley, there are signs as well.
I would also recommend downloading a Google Map of the area because it has labels for all the viewpoints along the Monument Valley Scenic Drive. Since there is poor cellular coverage in the valley, downloading the map offline is a lifesaver.
Monument Valley Scenic Drive Independently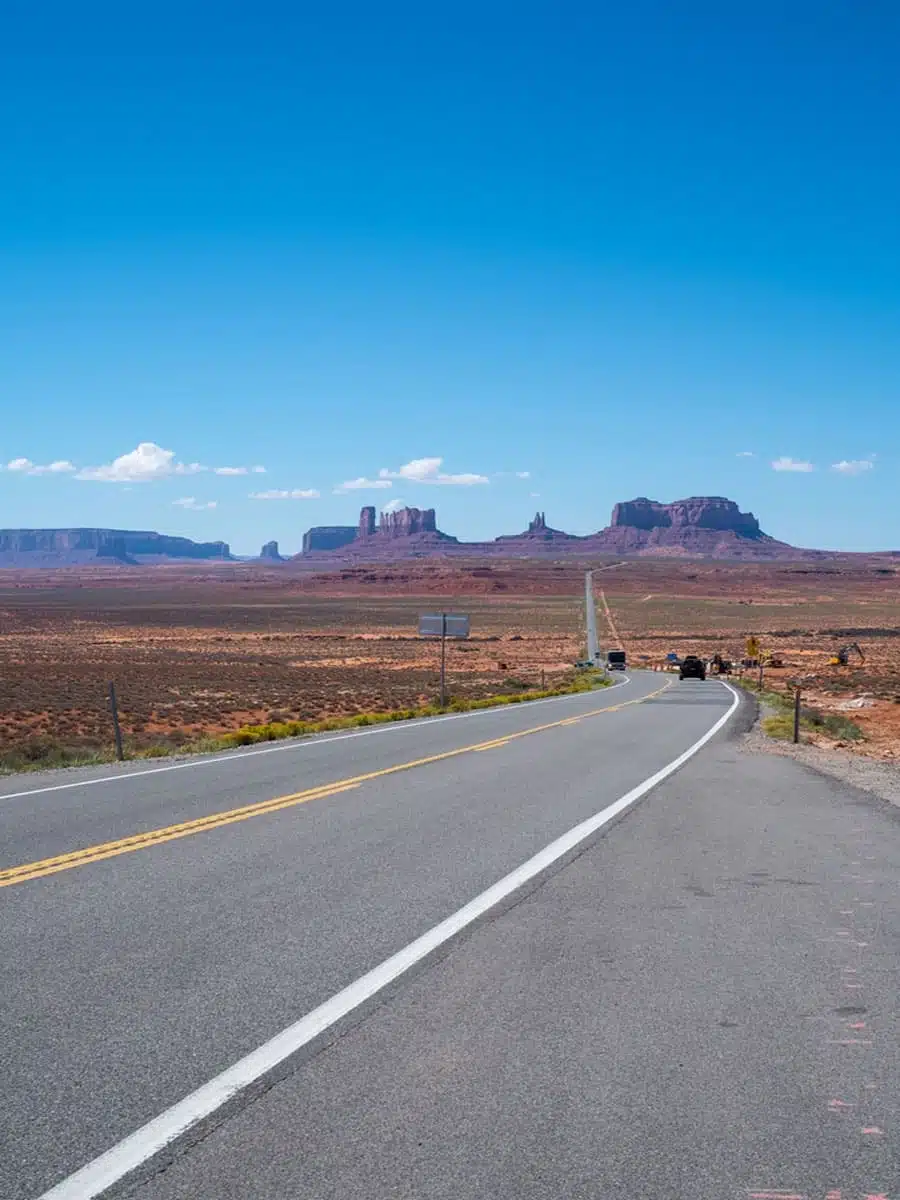 For the most part, taking a guided tour through Monument Valley loop drive is one of the more popular options. However, you can drive through the entire valley solo.
The stunning scenic road is bumpy but still drivable, and allows you to pass through the buttes and strange rock formations.
You should avoid driving a low-riding vehicle, though, as you can encounter clearance problems. Try hiring a Jeep at the Visitor's Centre, as that will be the best option for driving the rocky and rough terrain on the 17-mile loop in Monument Valley.
On a Tour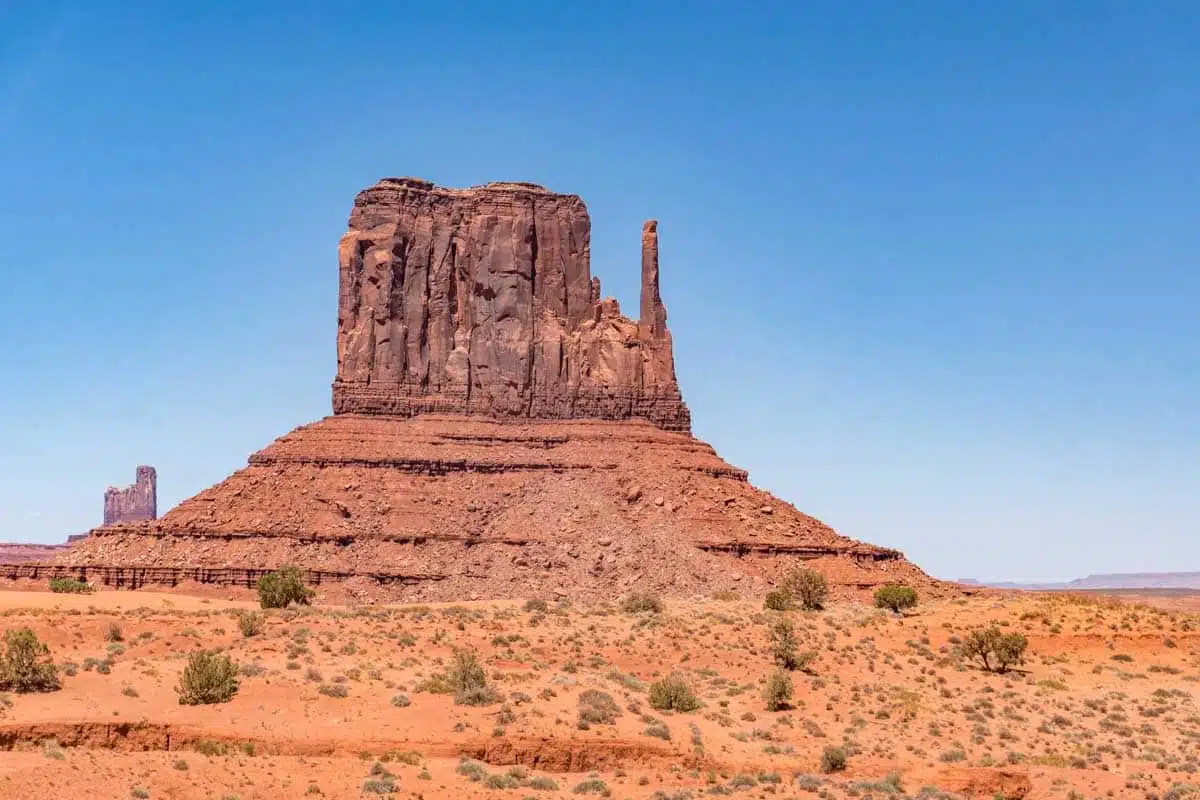 It's only possible to travel to a large portion of this fabled region (the backcountry) with a Navajo guide. This means a guided tour is more popular than driving on your own.
This is also the best option for those who aren't comfortable driving on dirt roads or want to unwind and take in the scenery.
This Monument Valley: Backcountry Jeep Tour with Navajo Guide is one of the best options for a guided tour.
On top of seeing all the gorgeous sights mentioned in this guide, you also get the opportunity to watch a live rug-weaving demonstration at Navajo Hogan, a traditional Navajo home.
Your guide will also take the extra mile and perform a ceremonial music performance for your group. It's a pretty special experience.
Where to Stay for a Monument Valley Scenic Drive
There are plenty of places to stay near Monument Valley Scenic Drive.
Goulding's Lodge
I reckon that Goulding's Lodge is the best Monument Valley hotel option. While Goulding's doesn't offer the same jaw-dropping view of some other accommodations nearby, the old trading post-turned lodge is the subject of many local stories.
The View Hotel
As the only hotel in Monument Valley, it's no wonder that this spot is so popular. Built into the landscape, The View offers hotel rooms with valley views as well as cabins and a campground.
What to Pack for a Monument Valley Scenic Drive
There aren't very many shops nearby Monument Valley (and there are none inside), so being prepared is a must. Here are some things you need to bring.
Monument Valley Scenic Drive Map
Read More Monument Valley Guides