Wondering where to stay in New York? This bumper guide to all the best areas and hotels has got you covered.
Oh, the Big Apple. New York is certainly one charming city with plenty to see and do.
Comprising five boroughs divided into areas and neighbourhoods, finding the ideal spot to rest your head can be intimidating. Whether you want to stay somewhere classic in Manhattan or go a little off-piste in the Bronx, there's options to suit all budgets and tastes.
Where do you even begin? Worry not; I'm pitching all the best places to stay in NYC, Yankee style.
Get ready to dive into the areas you don't want to miss for your next trip to the city that never sleeps. New York is calling!
PS: Don't miss out on the highlights with this two-day NYC itinerary.
Best Places to Stay in New York City: At a Glance
Where to Stay in New York
New York has five boroughs: Manhattan, The Bronx, Queens, Staten Island, and Brooklyn, further divided into neighbourhoods. Here are the top areas and neighbourhoods to stay in New York.
Midtown Manhattan: Best Place to Stay in NYC for Sightseeing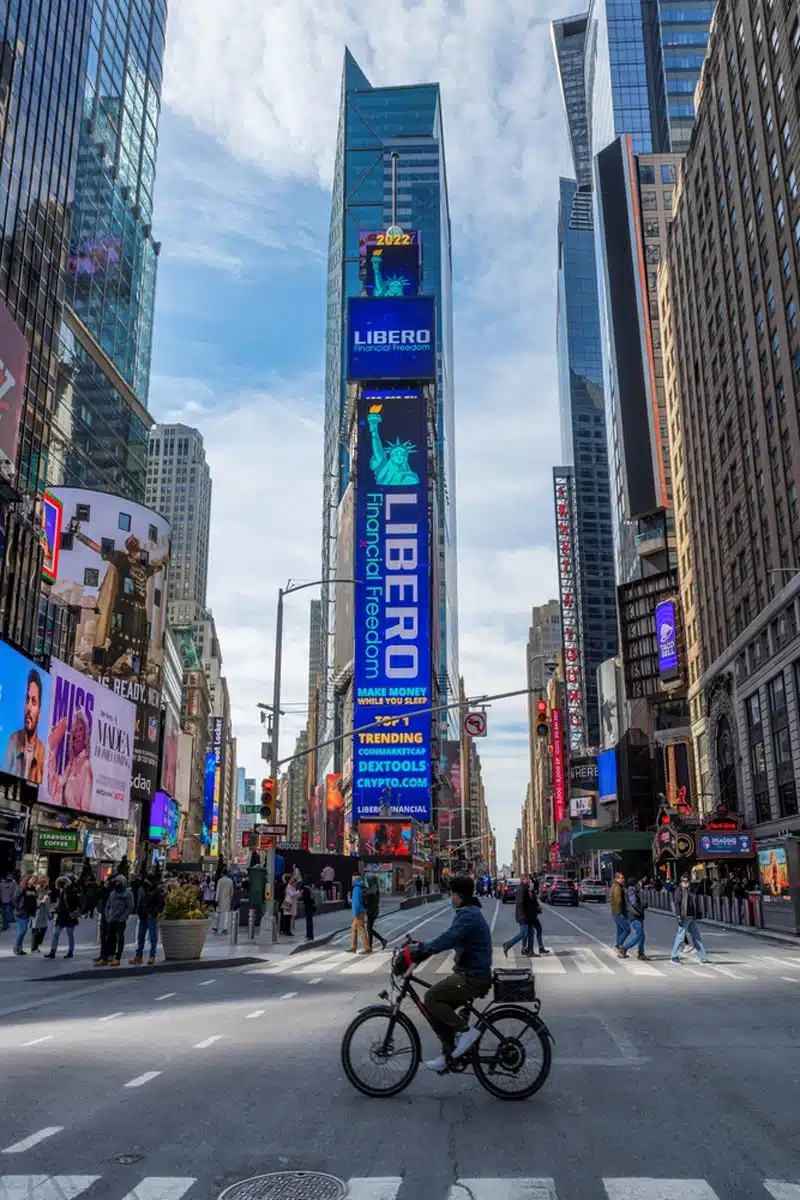 Midtown Manhattan is the beating heart of the city, fostering iconic attractions. It's one of the most recognisable destinations worldwide, boasting top landmarks like the Empire State Building, Rockefeller Centre and Grand Central Terminal.
This area consists of many skyscrapers and, within these, abundant businesses, restaurants and rooftop bars. Fabulous shops, accommodation and, most significantly, stunning panoramic city views are abundant.
All of these factors make Midtown one of the best places to stay in New York (though it also makes it one of the pricier spots, too).
Midtown Highlights
Famous Skyscrapers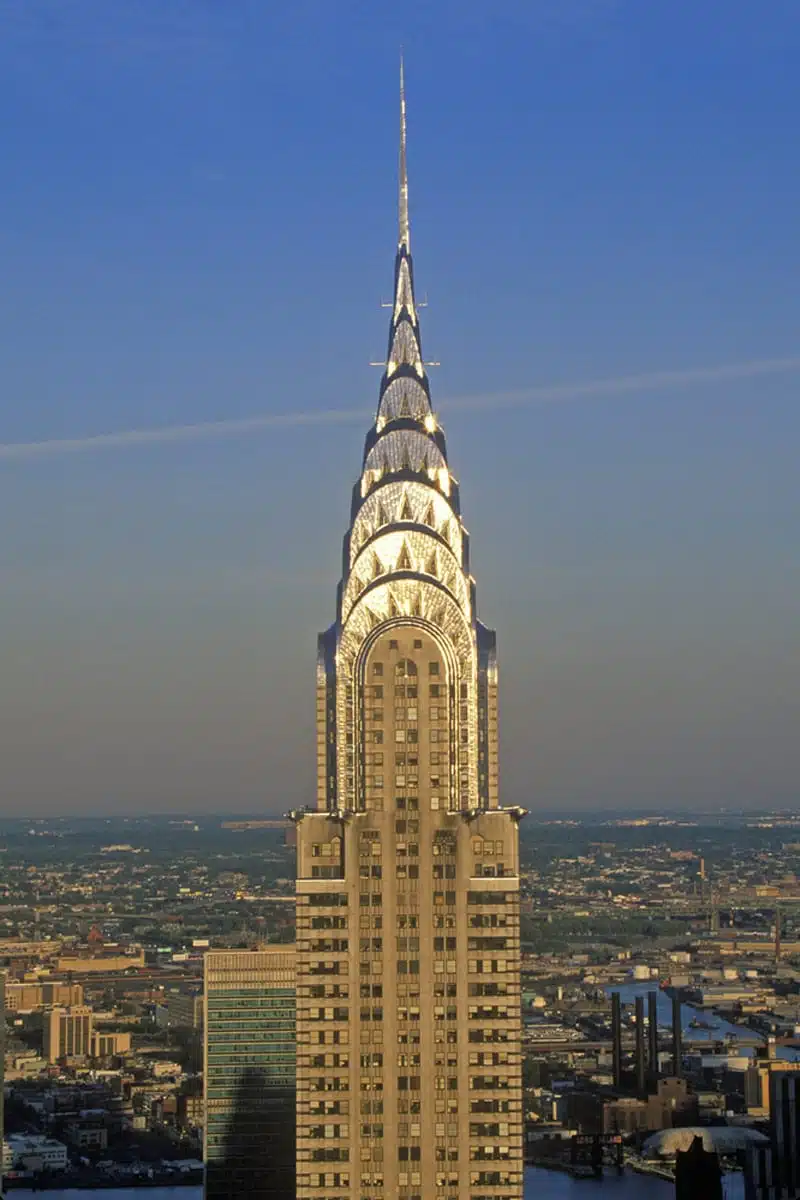 If it's epic photo opportunities you're after, look no further. Capture world-famous skyscrapers like the Chrysler, Empire State, and Flatiron buildings from a multitude of angles.
Rockefeller Center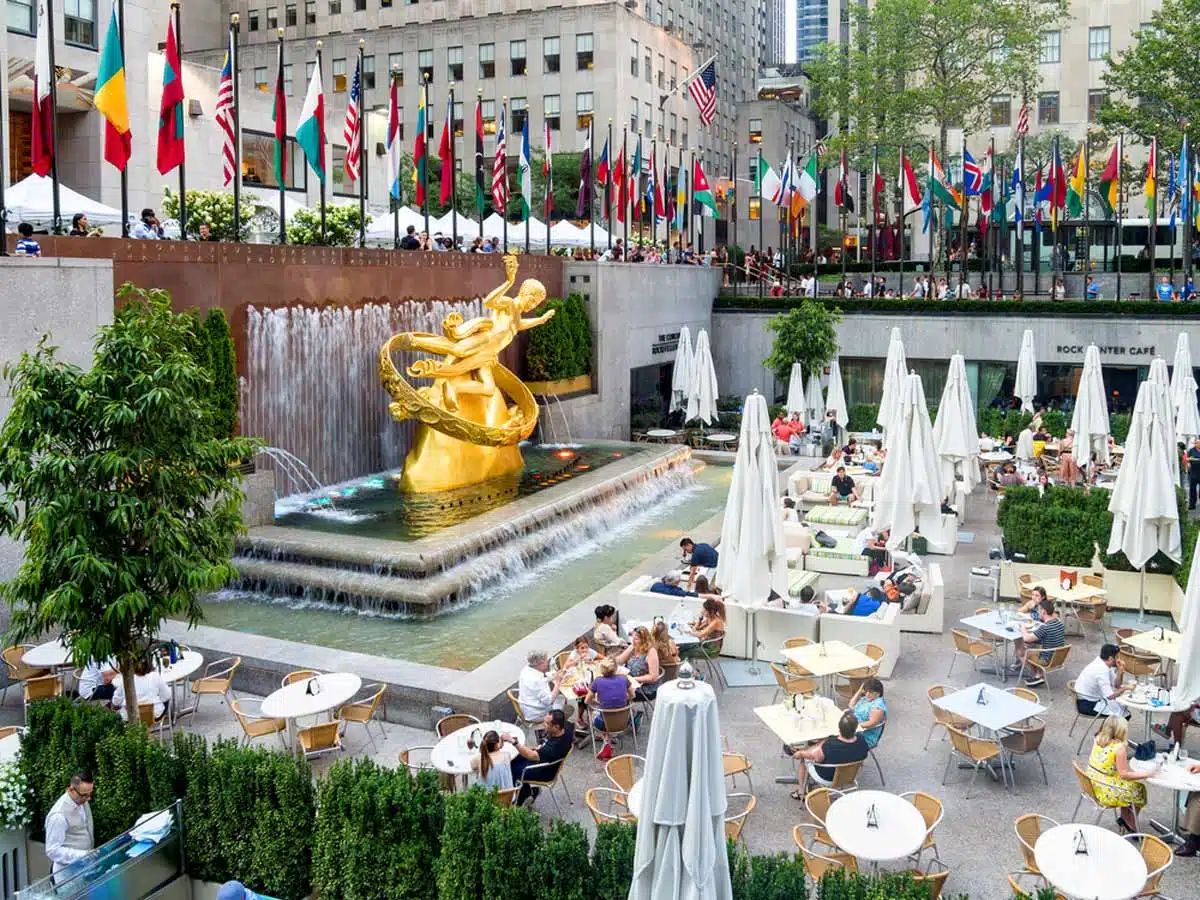 The Rockefeller Center is a historic landmark with abundant art exhibitions, an ice rink, and the Radio City Music Hall. It's also the best place to hang out at Christmas in New York.
Times Square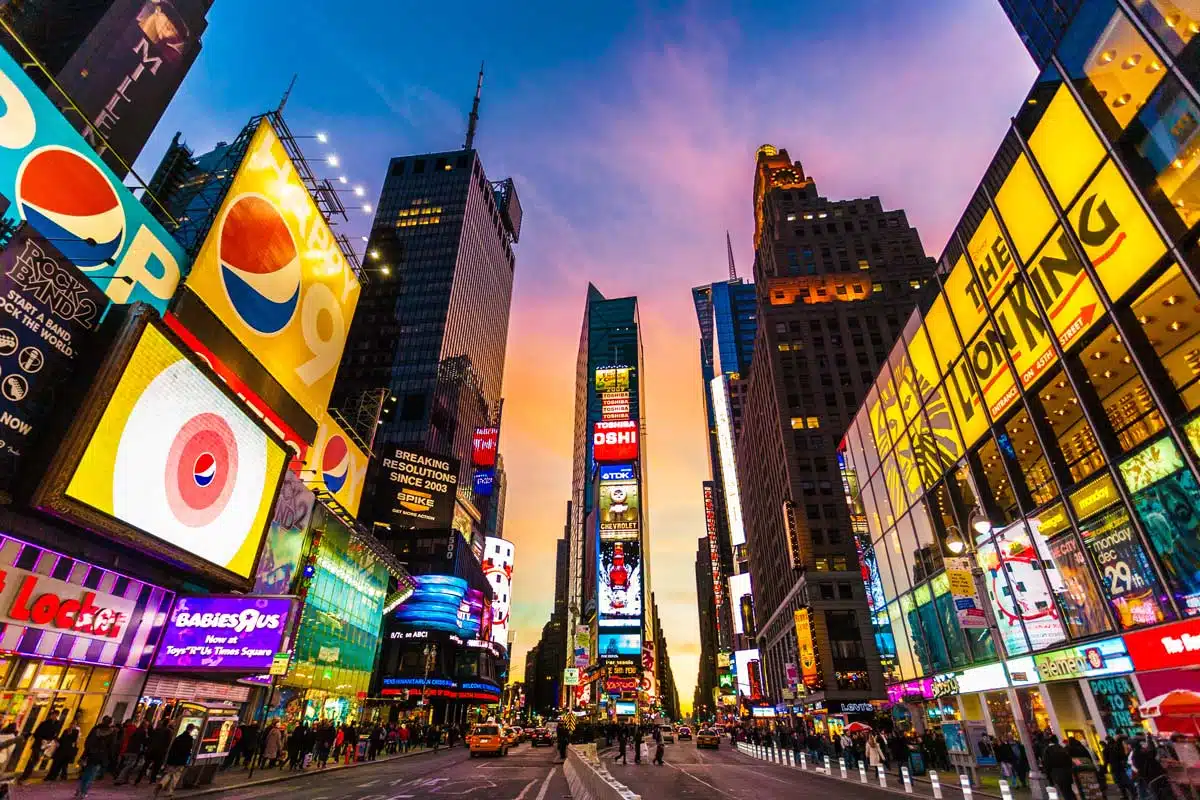 Yes, it's totally cliche. But, yes, it's iconic. A central entertainment hub and top tourist destination, Times Square is a must-visit when you're in New York.
Suggested Hotels in Midtown
Park Terrace Hotel
When it comes to New York hotels, Park Terrace is a wonderful option. Stay at an elegant and breezy hotel with soundproofed rooms featuring MALIN + GOETZ® toiletries, a Nespresso machine, and floor-to-ceiling windows with stunning views.
citizenM Hotel
The vibrant, stylish citizenM Hotel will blow your mind with breathtaking city sweeps and gorgeous ultra-modern rooms. Some amenities include rain showers, streaming services and a fitness centre.
Lower Manhattan: Best Place to Stay in Manhattan for Digital Nomads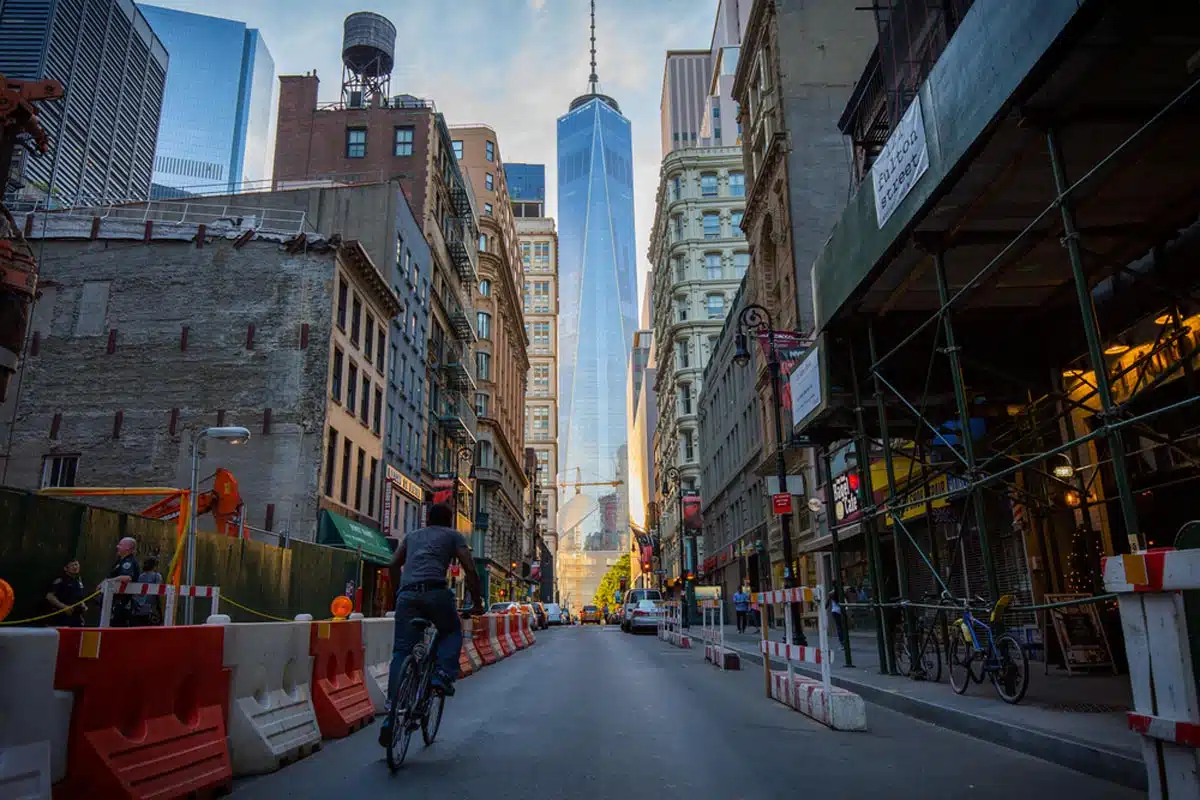 Lower Manhattan falls under the Manhattan Borough, comprising many lively, quaint and artsy neighbourhoods. This includes the elegant SoHo neighbourhood brimming with high-end galleries, fashionable shops, and fast-paced nightlife.
Tribeca is another dream destination boasting lofty boutiques and industrial-style buildings, as well as hosting the annual Tribeca Film Festival.
Students, business-savvy adults and digital nomads will especially love the vibe here as it's home to New York University and the bustling Financial District. Lower Manhattan is not all business, though, with many trendy bars, upscale dining, high-end shopping, and endless entertainment and nightlife.
Lower Manhattan Highlights
Statue of Liberty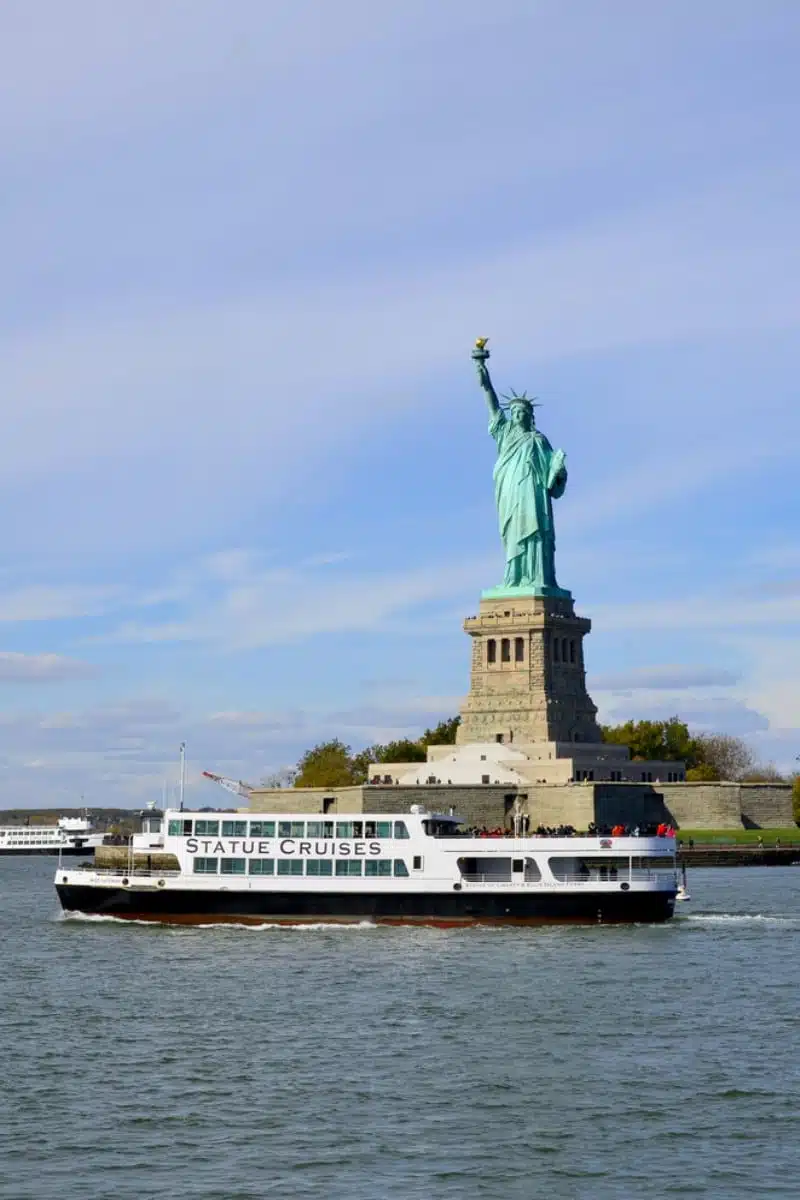 I'm sure you don't need me to tell you why you need to see the Statue of Liberty. See the Green Goddess up close with this tour.
One World Trade Center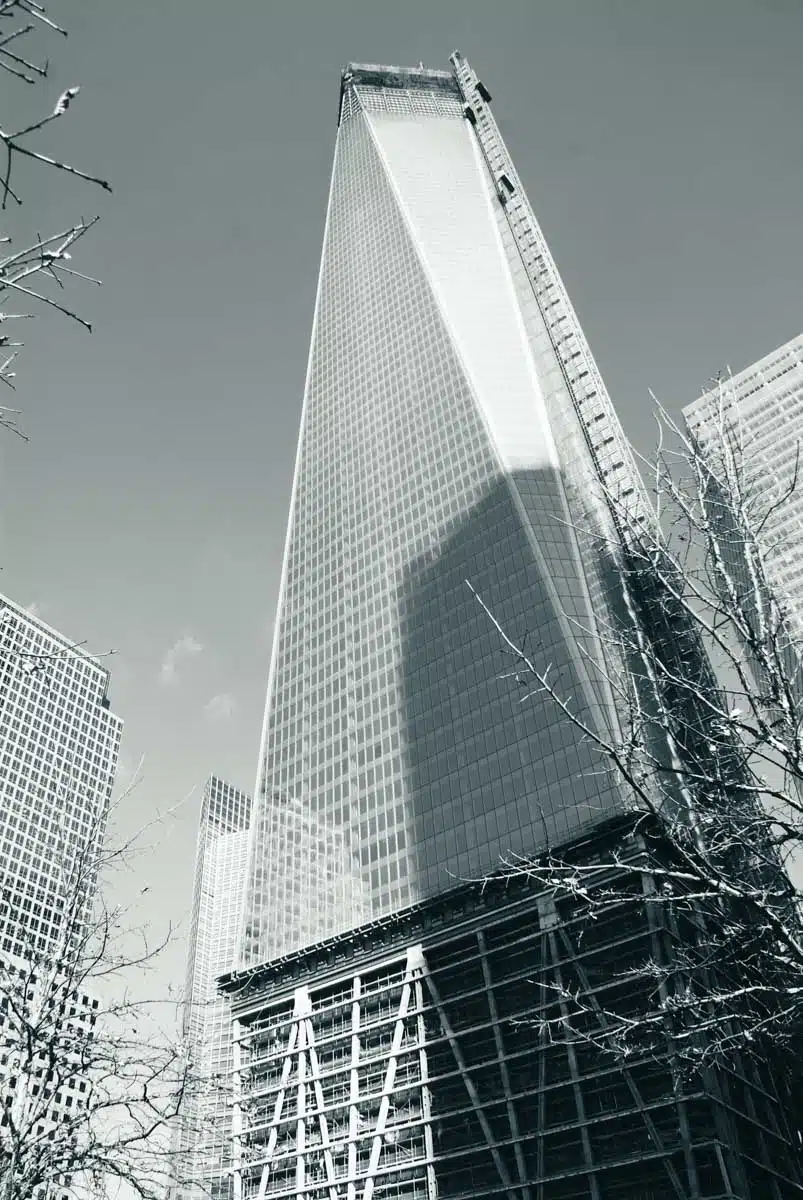 This tall business complex offers an observation deck with unmissable city views. Not to mention it's also home to the 9/11 memorial site.
Fifth Avenue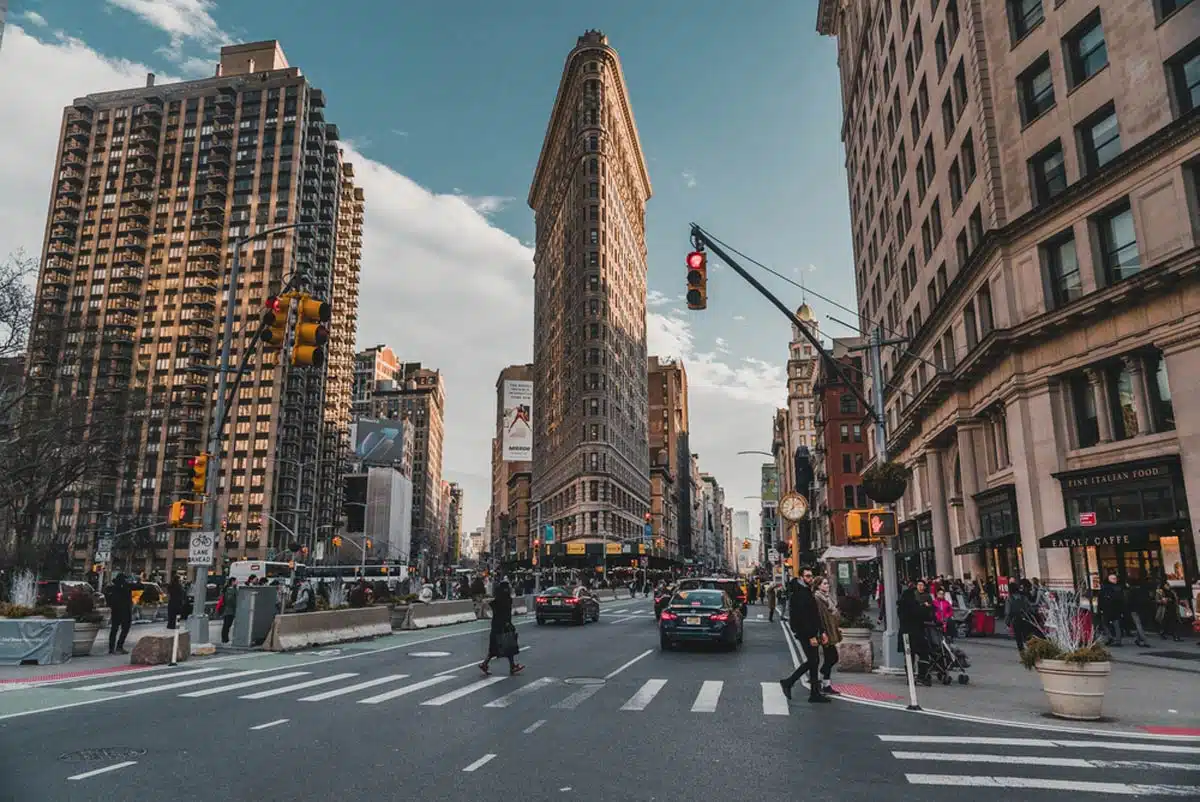 Indulge in an extravagant shopping spree on the 49th and 60th streets with designer shops like Chanel and Tiffany & Company. Fifth Avenue is a shopping destination like no other.
Suggested Hotels in Lower Manhattan
The Greenwich Hotel
More affordable yet modest, The Greenwich Hotel is a farm-style spot that boasts individually decorated rooms with an underground pool and fitness centre. There's also an onsite spa to unwind.
Arlo SoHo
Close to SoHo, Tribeca, and West Village, Arlo SoHo is a lavish and contemporary hotel that'll meet all your desires. This includes a rooftop bar with cityscapes, room service and breakfast.
Chelsea & Meatpacking District: Best Areas for Art Lovers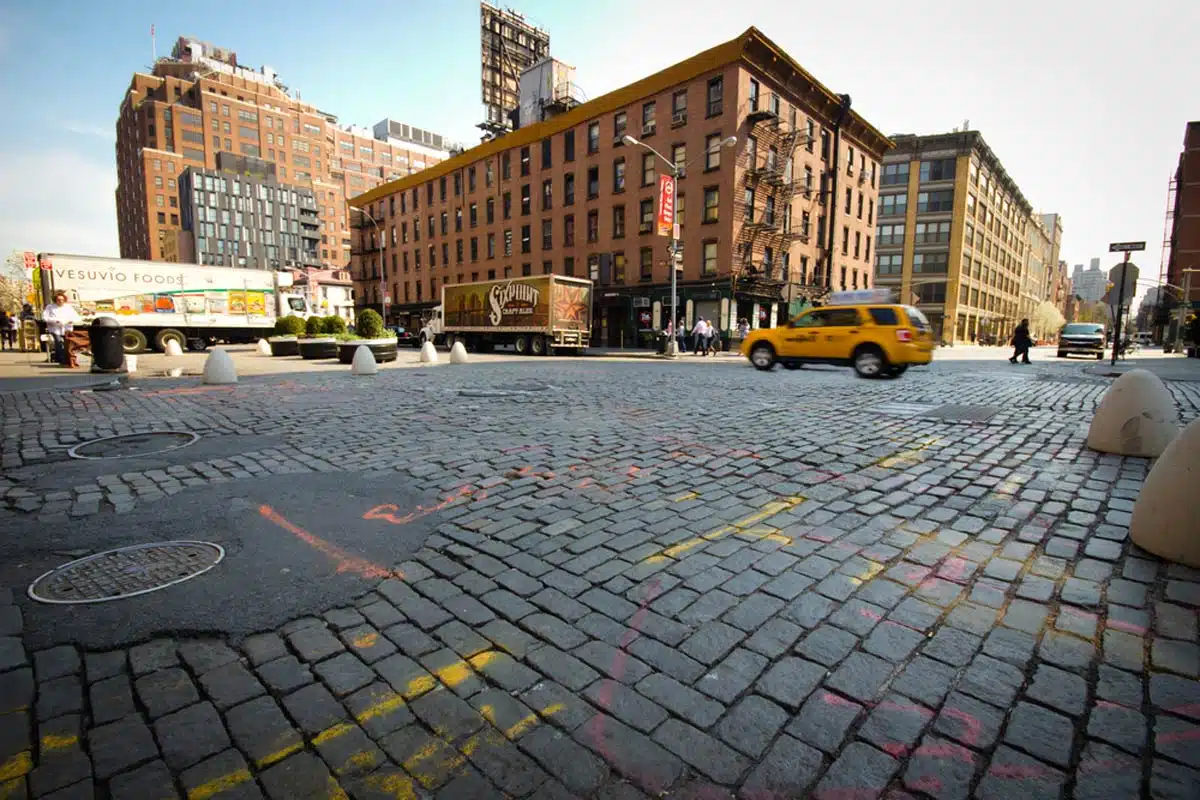 First of all, let me give you a little bit of background. The Meatpacking District was an actual meat packing and distribution centre in the 1920s surrounded by Chelsea and Greenwich. And, when talking about the small area, most people toss it in with the larger Chelsea neighbourhood.
Chelsea and the Meatpacking District radiate chic and trendy with fabulous art galleries and fashionable shops. There's no better place to be if you want established and emerging artists around you, as these areas contain over 200 galleries.
Chelsea also has an epic foodie culture and a vibrant LGBTQI+ scene.
Chelsea & Meatpacking District Highlights
Chelsea Market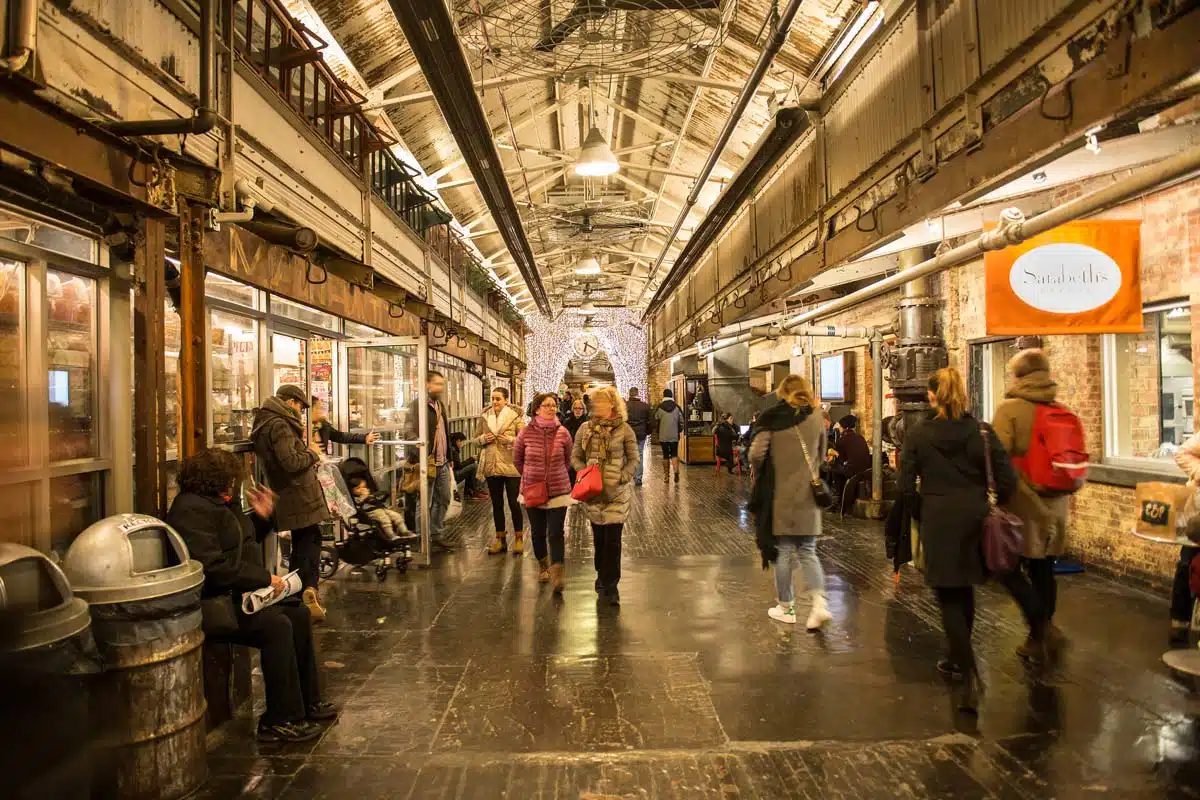 Chelsea Market is one of New York's biggest highlights. This world-famous hub for foodies and collectors is an exceptional indoor food and retail marketplace.
The Highline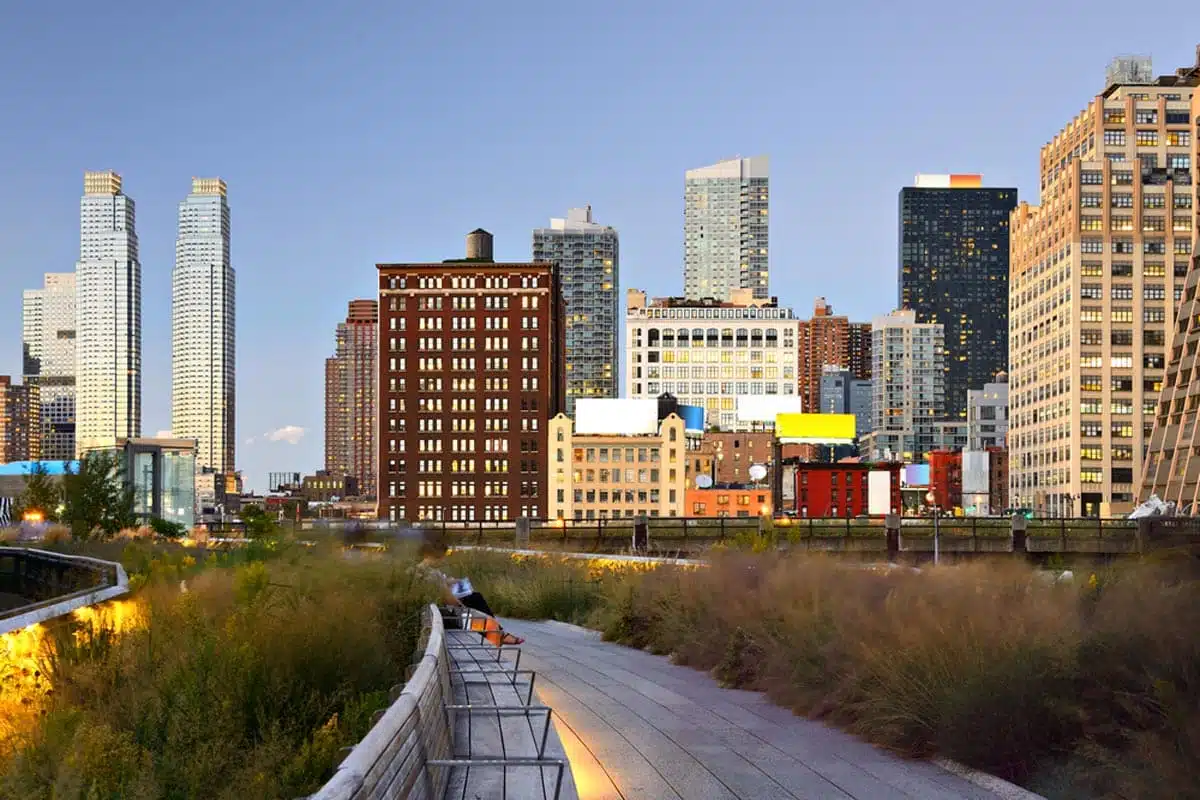 The Highline is one of my favourite – and underrated – attractions in NYC. Walk through gardens, sample tasty food, and admire art — all on top of a historic, elevated rail line.
Madison Square Garden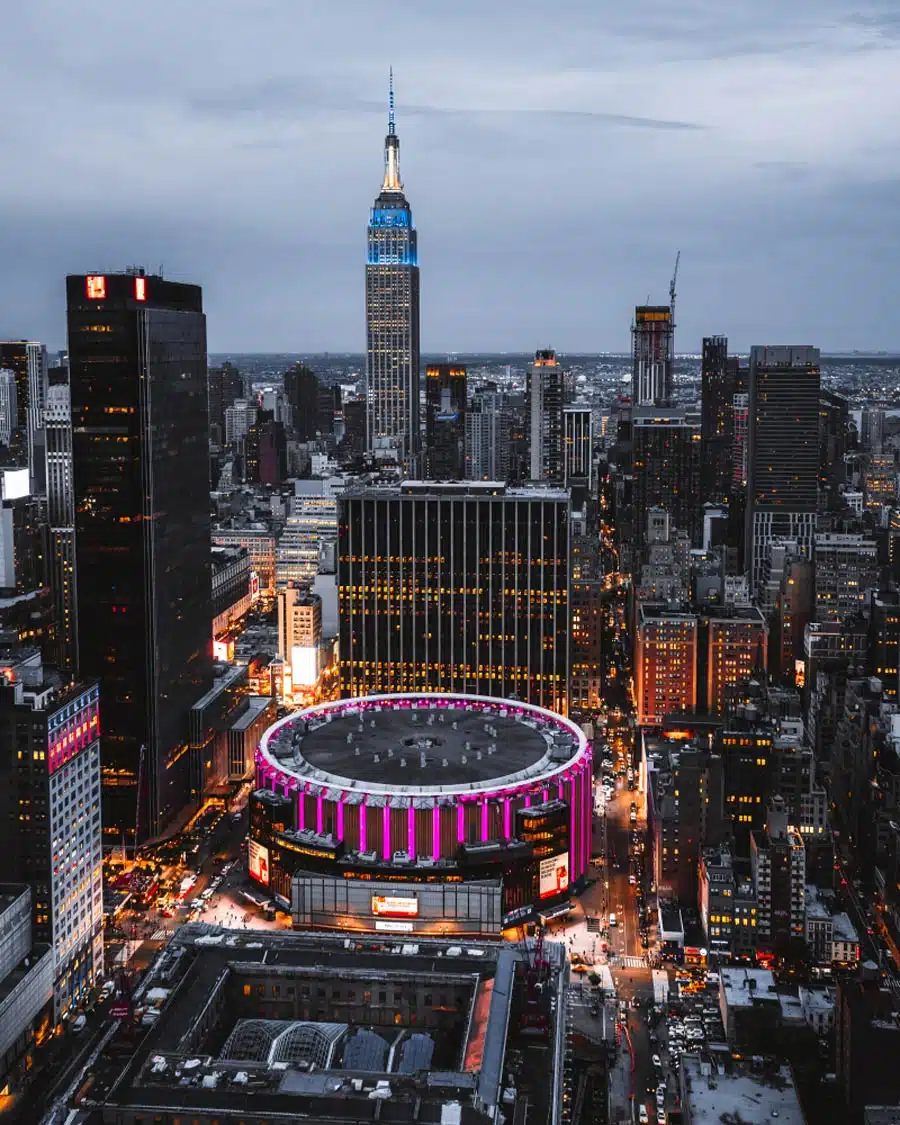 The Garden, or simply MSG, is the "world's most famous arena" for its stellar musical line-ups, like the Rolling Stones and being home to the New York Knicks.
Suggested Hotels in Chelsea & Meatpacking District
Renaissance Hotel
Book a stay at the Renaissance Hotel and enjoy a lavish stay with bright, Instagram-ready rooms. Boasting gorgeous cityscapes, fascinating decor and spa-like bathrooms, you can't go wrong.
Moxy NYC Chelsea
Allow Moxy to sweep you off your feet with fun, colourful, and innovative spaces. Its effortlessly modish rooms boast floor-to-ceiling windows with dreamy city scenery.
Greenwich Village & West Village: Best Areas for Progressives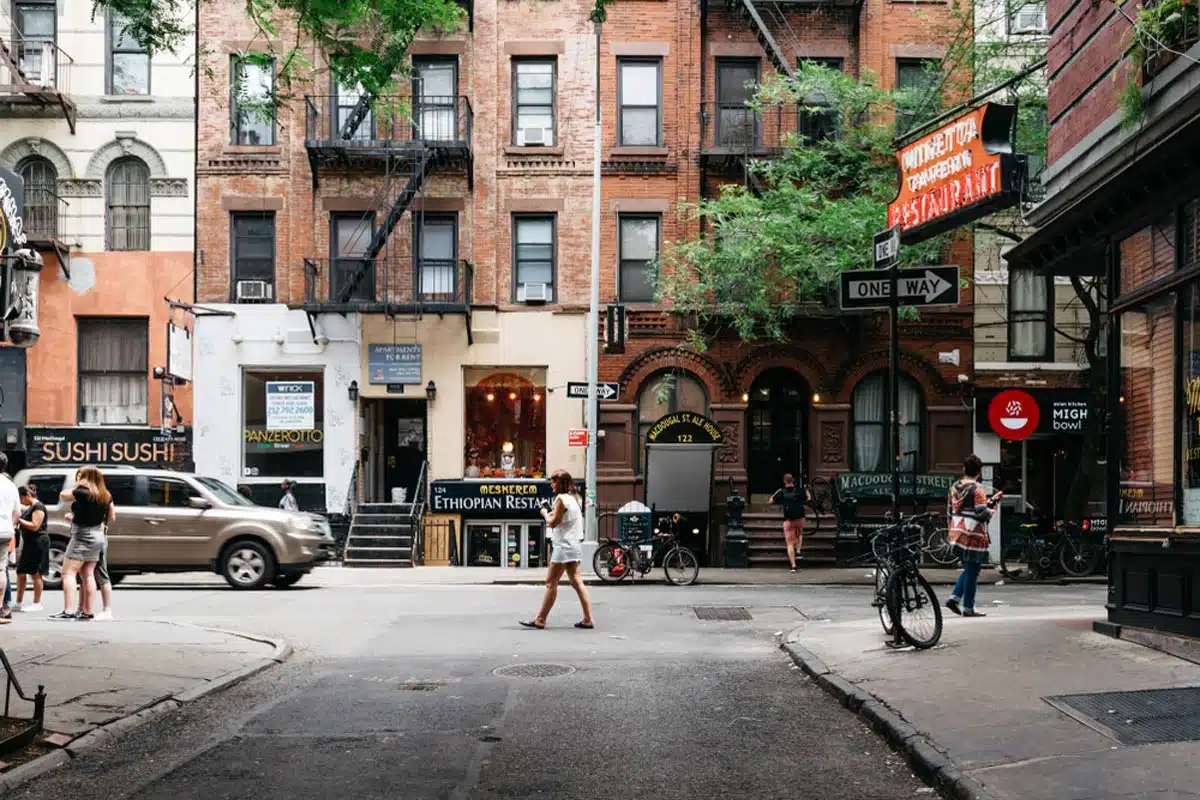 Greenwich Village, or The Village, is arguably the most charming neighbourhood of New York. And the most celebrated part of The Village is West Village for its alternative culture and art. The Village is the epicentre of the 60's counterculture movement, establishing itself as a haven for the LGBTQI+ community.
West Village stands out for its cute streets with artsy spots, designer boutiques, groovy bars, and Federal-style townhouses. It appeals to a mature crowd for its progressive historical roots (home to the city's first racially integrated nightclub), swanky piano bars, theatres and an epic jazz scene.
Greenwich Village & West Village Highlights
Village Vanguard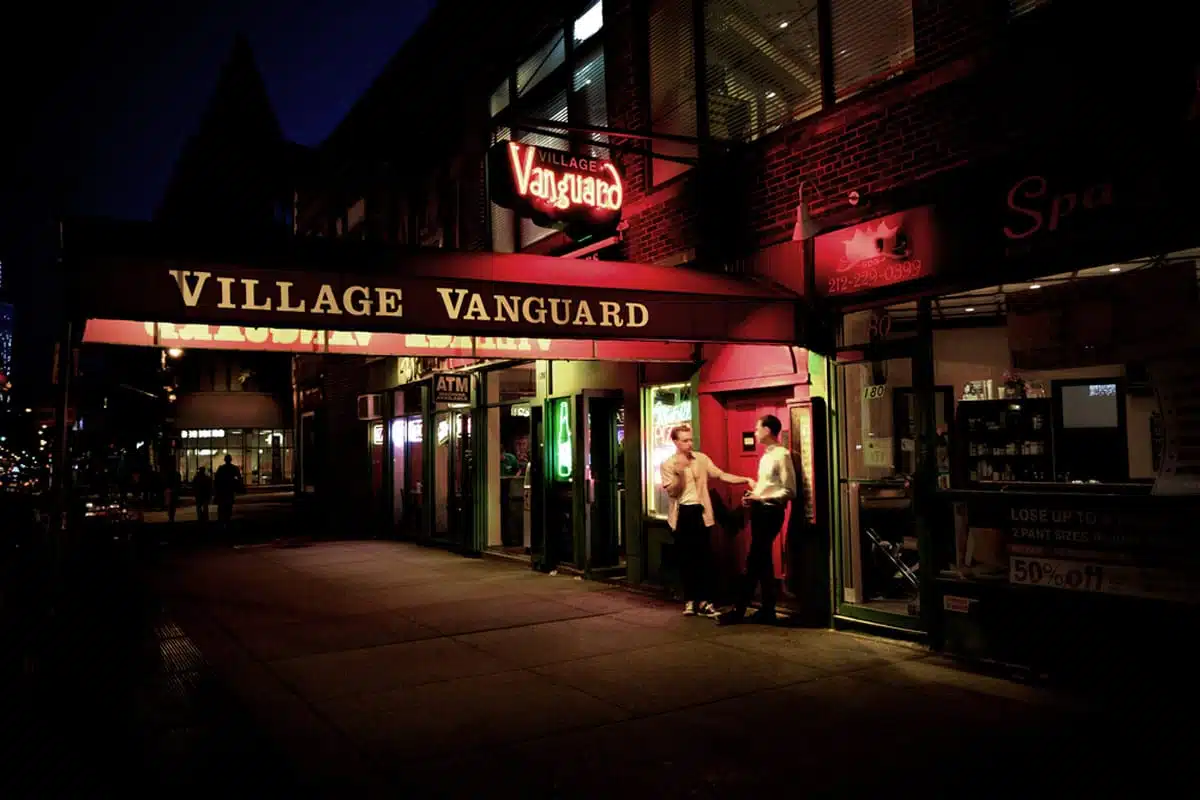 The Village Vanguard is unmissable. Get into the swing of things at this snazzy, world-famous jazz club that has serenaded musicians' ears since 1966.
Stonewall Inn bar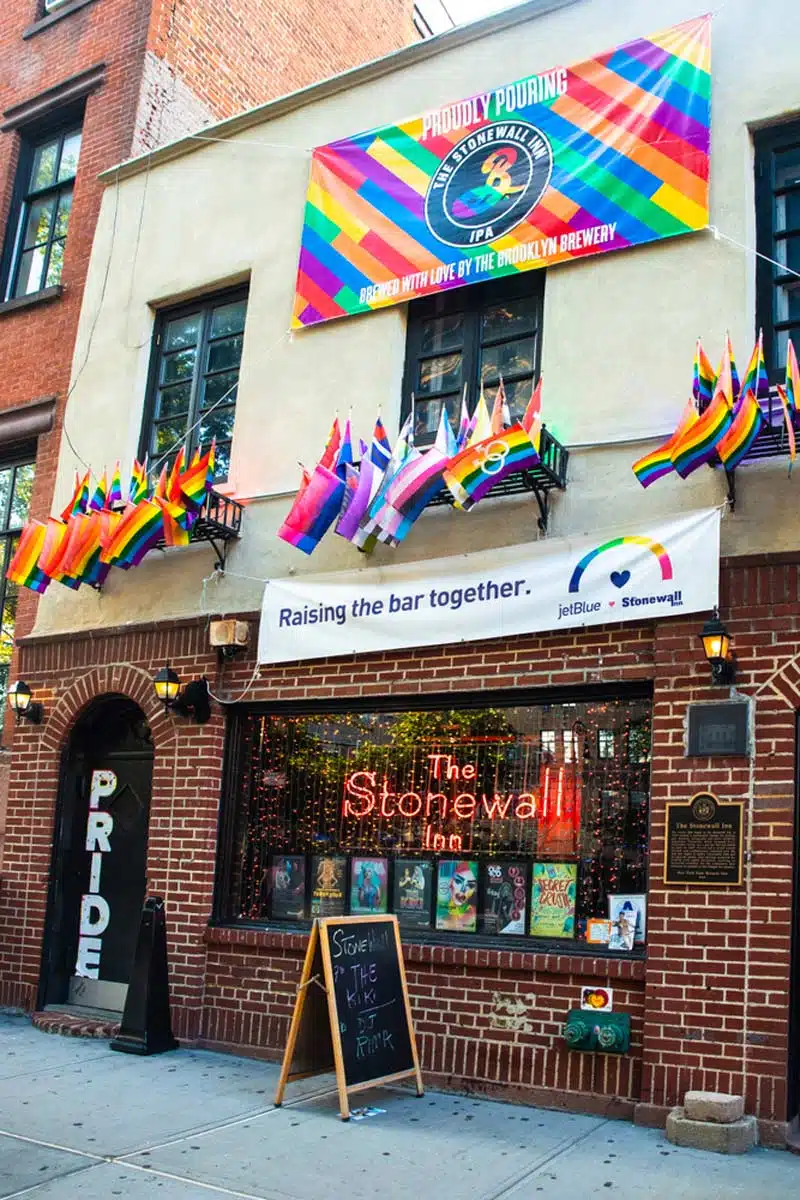 Another iconic bar? Say no more. Stonewall Inn gay bar is a historic landmark and the site that launched the 1969 riots that sparked the gay rights movement.
Washington Square Park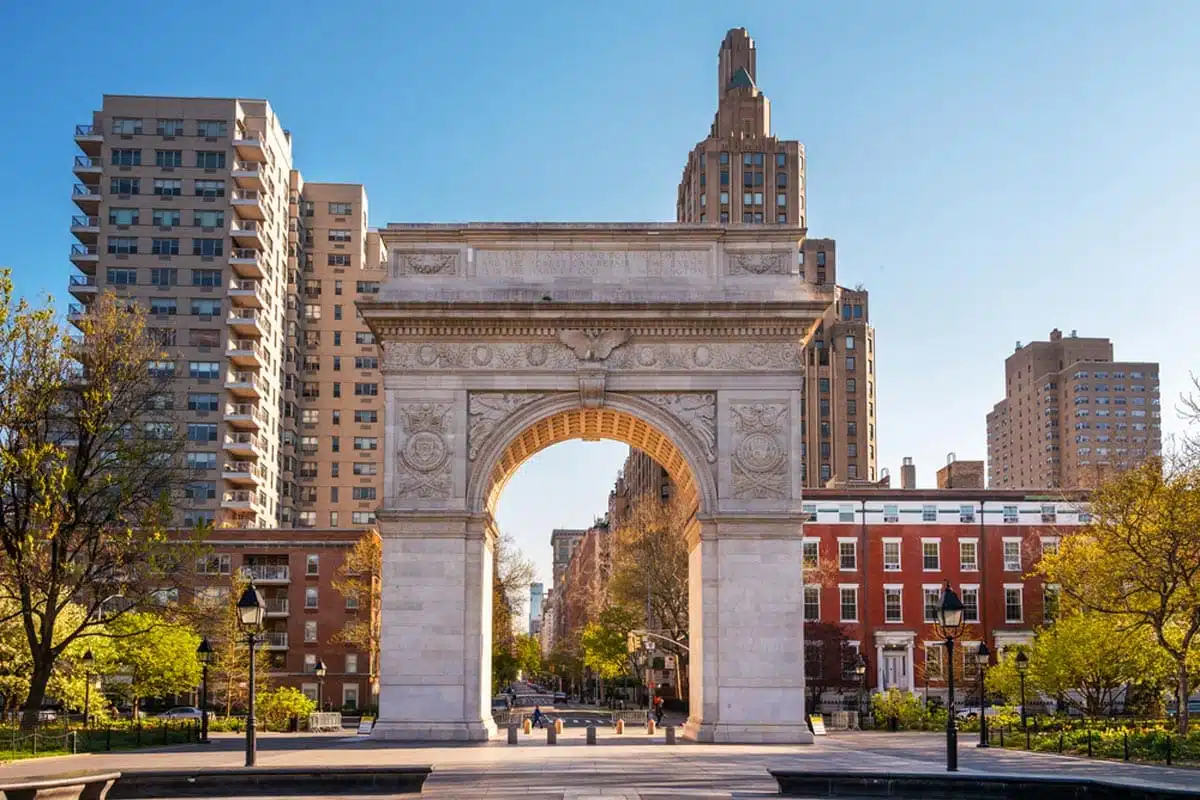 Washington Square Park is a far more chilled out (and smaller) version of Central Park. People watch or interact with other New Yawkers (if they have time) at this popular meeting place.
Suggested Hotels in Greenwich Village & West Village
Gansevoort Meatpacking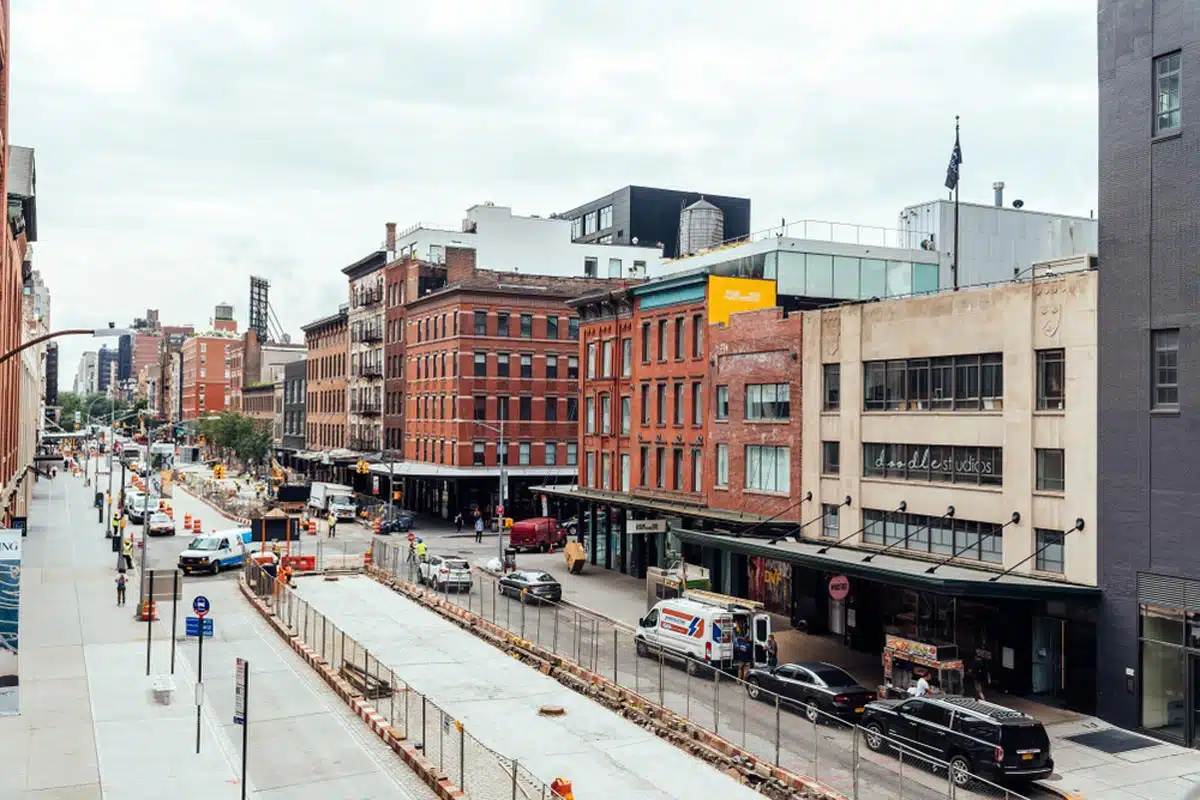 The chic and minimalistic Gansevoort Meatpacking hotel boasts a lofty rooftop space, heated pool, bar and lounge. Each luxe and simplistic room contains a flat-screen TV, bathrobes and L'occitane en Provence toiletries.
The Marlton Hotel
Fancy staying at a cute, rustic boutique hotel with lovely terraces and art deco rooms? The Marlton Hotel is for you. Enjoy amenities like an onsite restaurant and bar, complimentary toiletries, and laundry facilities.
East Village & Lower East Side: Best Areas for Music Fanatics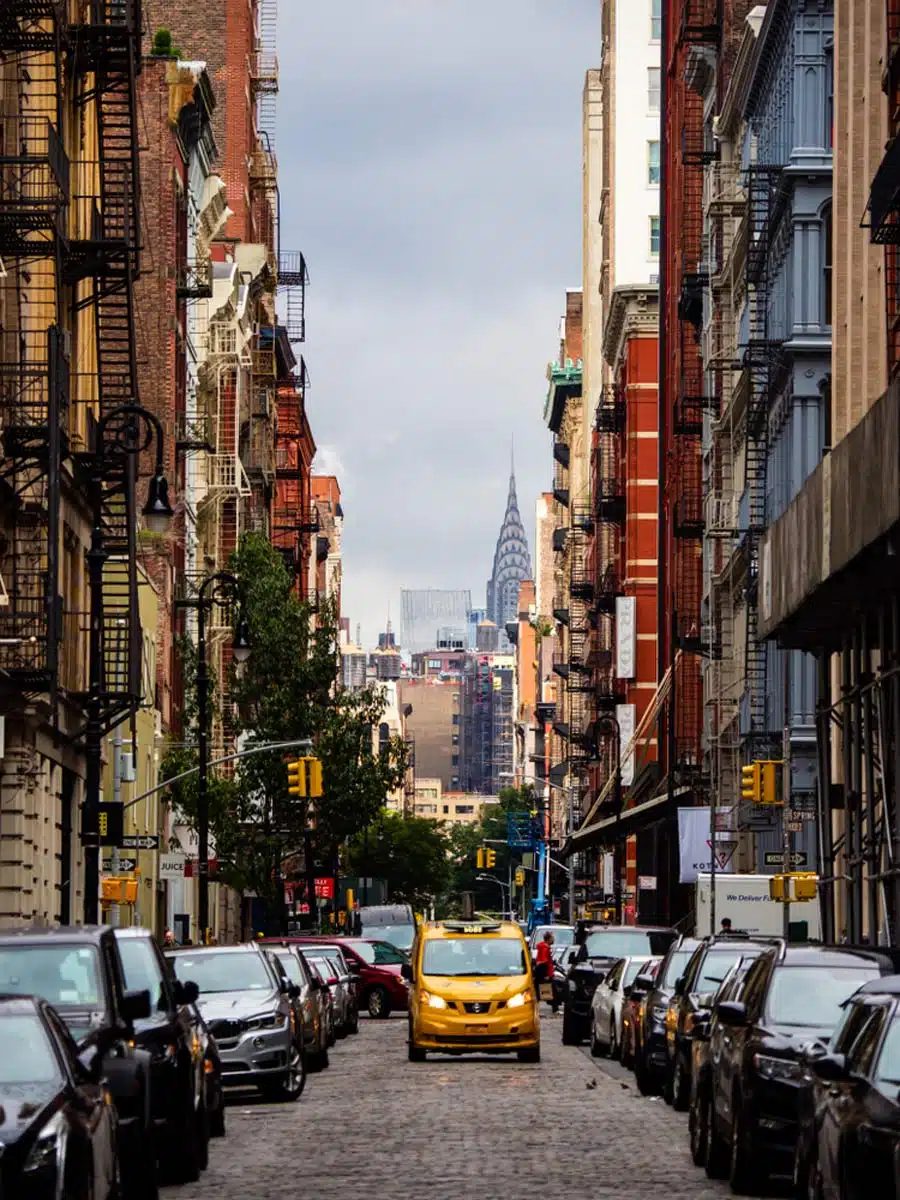 Although East Village once fell under the Lower East Side (LES), it has grown a unique, distinctive culture. However, these two Lower Manhattan neighbourhoods often get grouped together. Both exude bohemian energy offering the most buzzing bars, indie boutiques and a laid-back energy that I adore.
East Village is as quirky as they come, with an emphatic punk scene, vintage shops, and tattoo parlours. It's a musician's paradise, featuring many music venues, performance spaces and unwavering nightlife.
LES is just as busy with many hip restaurants, chic boutiques, and trendy bars like Attaboy and the Back Room.
East Village & Lower East Side Highlights
Tenement Museum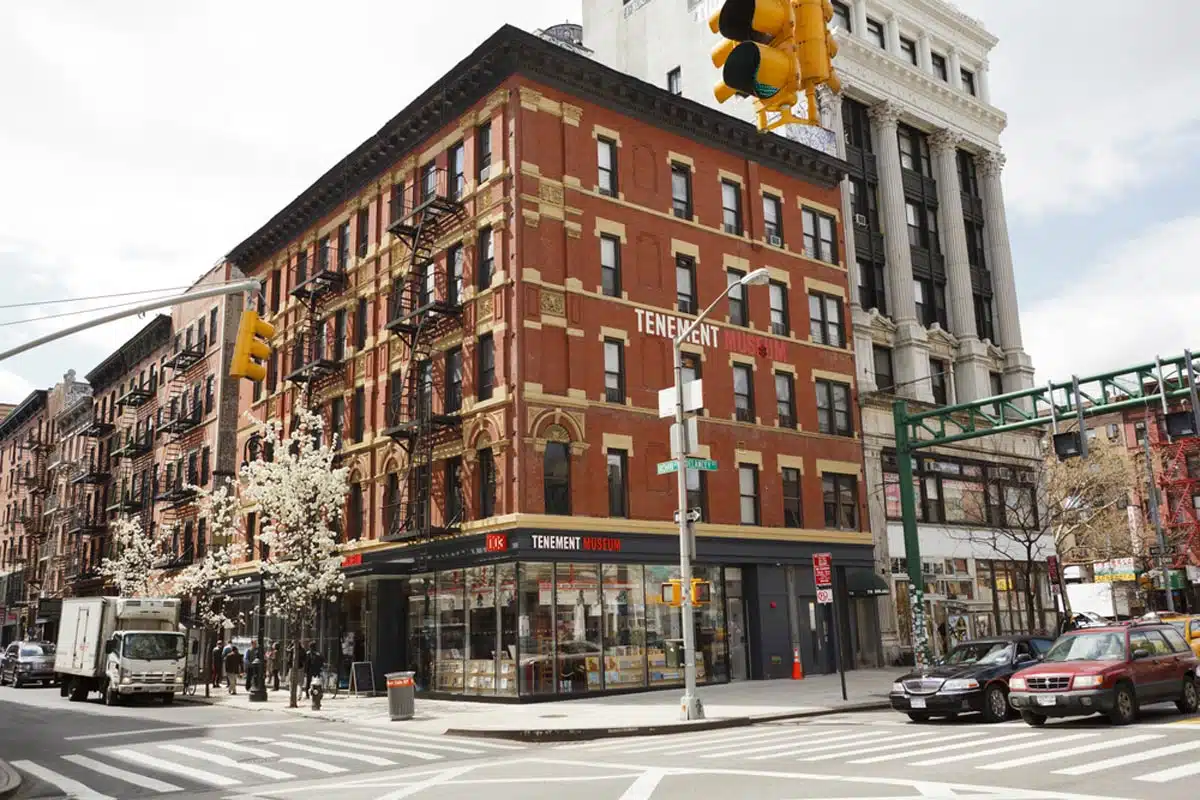 The Tenement Museum is a fascinating place that celebrates working-class American stories as well as the immigrant and migrant experience.
Katz's Deli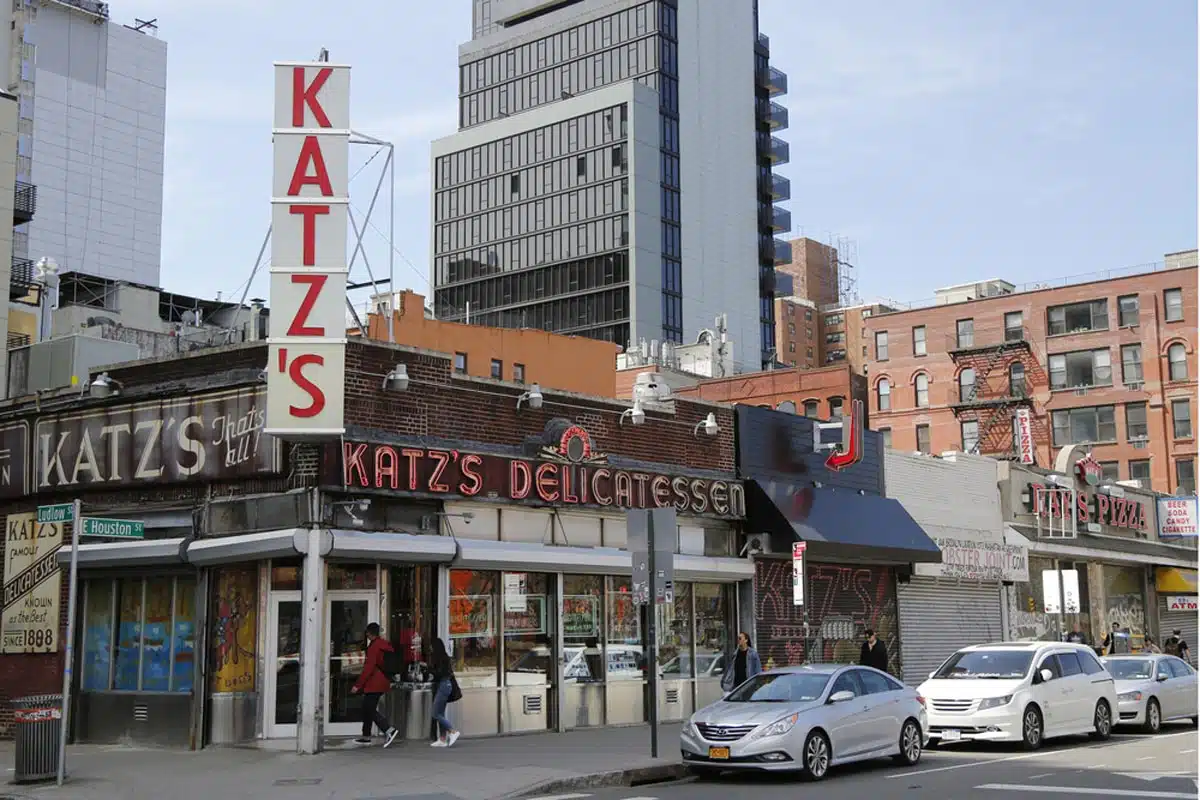 Famed for its iconic sandwiches and cameo in When Harry Met Sally, Katz's Deli is a must-visit. It's popular among locals and tourists for its legendary pastrami on rye.
Nuyorican Poets Cafe
A personal favourite – see live poetic, musical, and comedic performances in a bohemian space at Nuyorican Cafe.
Suggested Hotels in East Village & Lower East Side
Ludlow Hotel
The Ludlow is an eclectic hotel with a trellis-covered garden, captivating views, an old English pub-style restaurant, and a sophisticated lobby bar for wining and dining.
Sixty LES
Sixty LES is a stunner. This dazzling designer hotel showcases a seasonal rooftop pool, bar, beer garden, and sushi restaurant. You'll love the bespoke rooms with luxury amenities, including REN toiletries.
Upper West Side: Best Area for Students and Families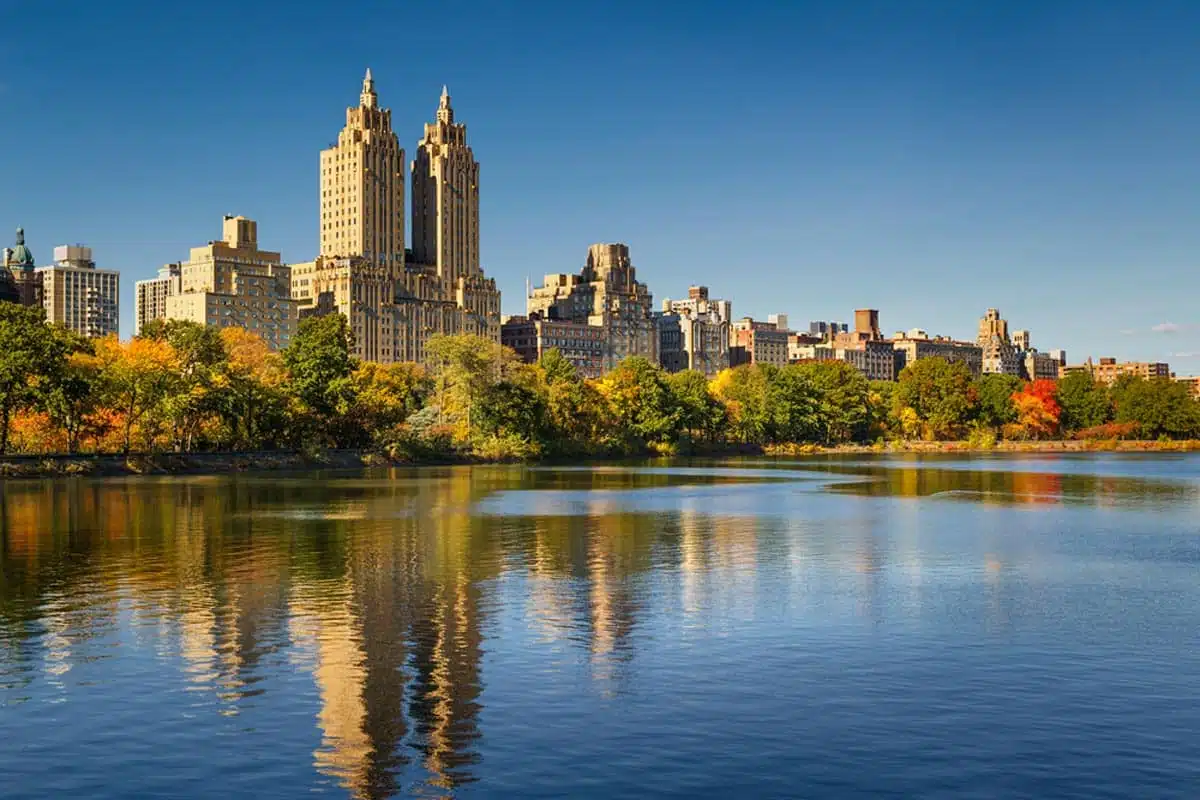 With Central Park to the east and the Hudson River to the west, the Upper West Side is a very popular area of NYC. With aesthetically pleasing brownstone townhouses, endless coffee shops and iconic diners, it's worth the hype.
UWS appeals more to a younger population as renting is more affordable – which spills out into its tourist hotspots. The lifestyle here gears towards students and families thanks to all the fun museums, outer-space exhibitions, abundant dining options and, more significantly, a low crime rate.
Upper West Side Highlights
American Museum of Natural History
Put on your curiosity cap and learn all about the planet, geography, and other sciency stuff at the Museum of Natural History.
Lincoln Center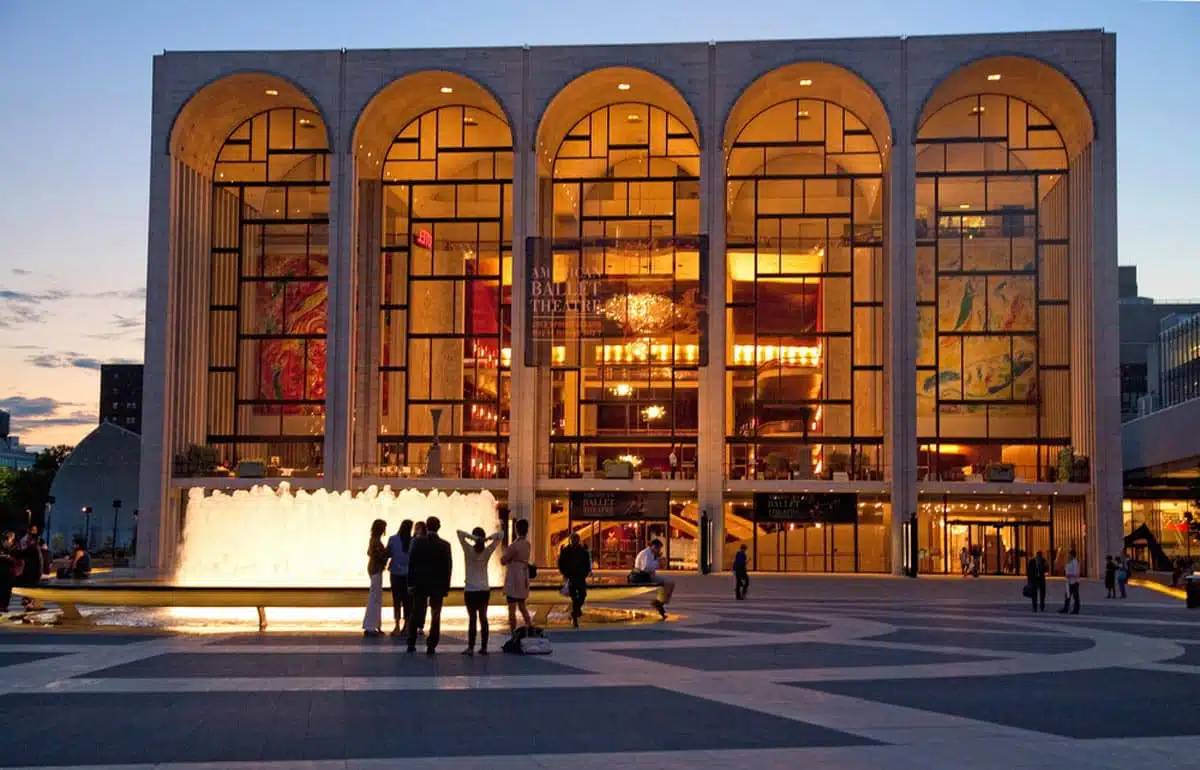 Don't miss a visit to the Lincoln Center. Welcome to the world's leading performing arts centre with 11 resident art organisations.
Suggested Hotels in Upper West Side
Hotel Belleclaire
Snooze at an elegant hotel in an adorable historical building. Each room at Hotel Belleclaire boasts sparkling chandeliers, classic wooden floors, and large windows to make it feel airy.
Arthouse Hotel
The name gives it away. This artsy hotel has luxurious spaces with vivid colours and fun, quirky touches. You'll have three fabulous restaurants, a lobby library, a bar, and a fitness centre.
Upper East Side: Best Area for Retail Therapy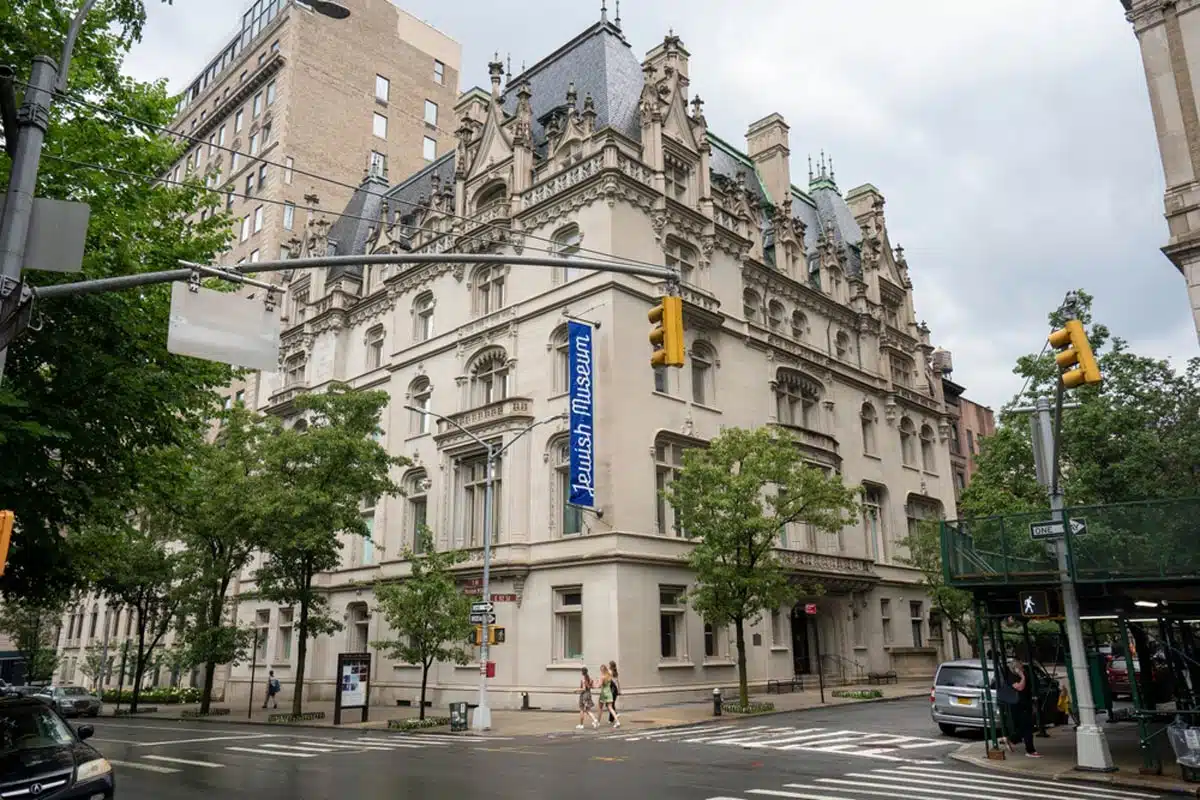 I'll make a bold claim: the Upper East Side is the best area of Manhattan to stay in. This postcard-ready neighbourhood is the playground of NYC's elite, hopping between fancy designer stores, upper-crust restaurants and prestigious museums.
It's posh with numerous luxurious accommodation options giving you a tiny taste of what it's like to experience the upper-class lifestyle of the world's richest city.
Fun Fact: If you're a fan of the popular Gossip Girl series, you'll love staying in this affluent neighbourhood, as it's where most of its characters call home.
Upper East Side Highlights
Madison Avenue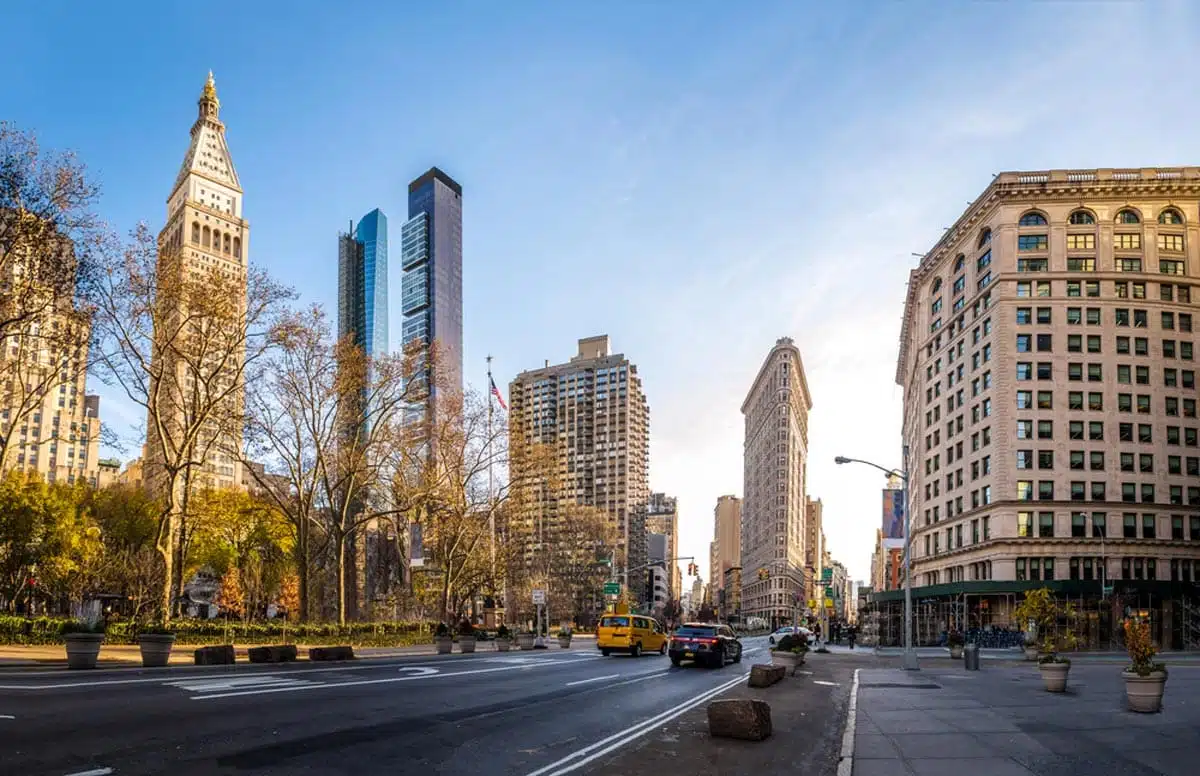 Swinging by Madison Avenue is always fun. This high-end shopping street is always busy and jam-packed with designer boutiques.
Metropolitan Museum of Art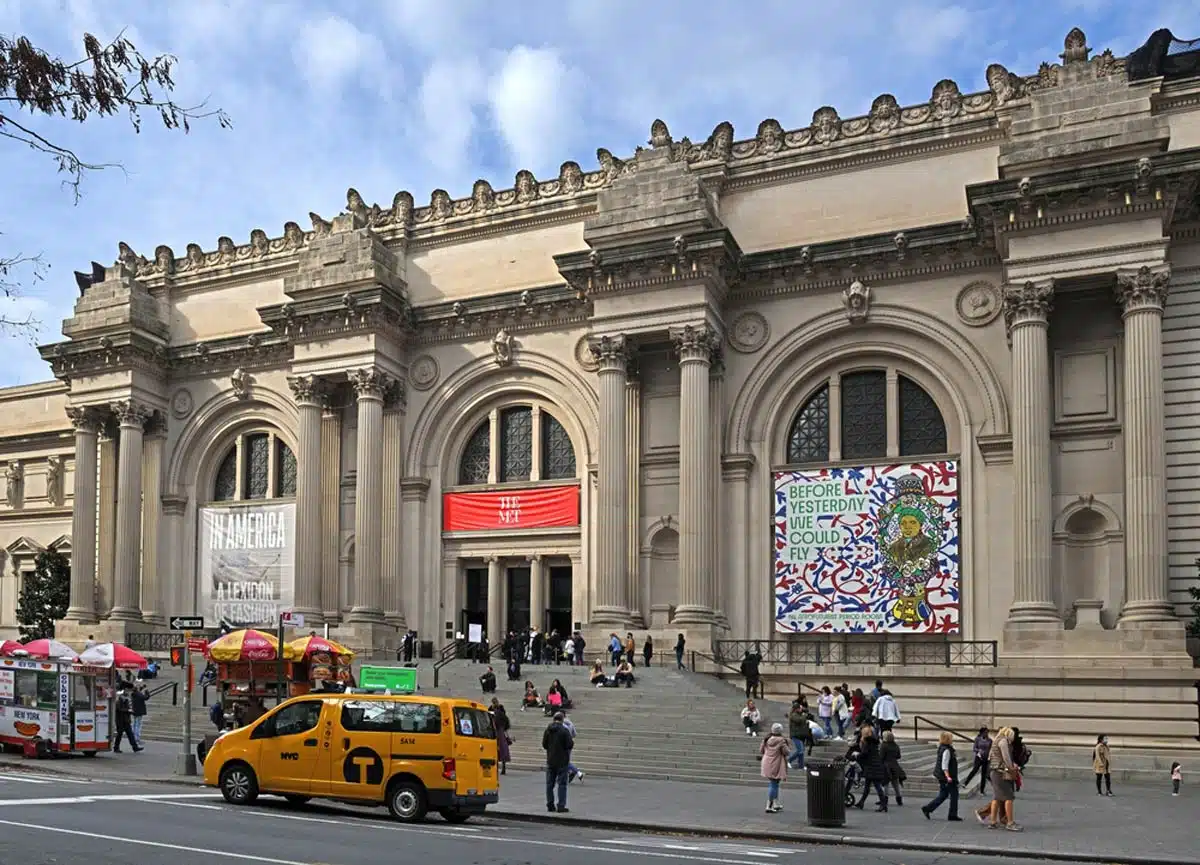 Also called "The Met", this museum is one of the finest and largest globally, with over two million artworks.
Suggested Hotels on Upper East Side
voco The Franklin
Elegant, stylish, and bright is what you can expect at The Franklin. The vivid blue and white rooms feature plush beds, sleek furniture and modern conveniences.
The Gardens Sonesta
The Gardens boasts clean and pristine suites that look contemporary and airy. The suites have a lovely kitchenette, fitness centre and room service. And it's pet-friendly too.
Williamsburg: Best Area for Fashionistas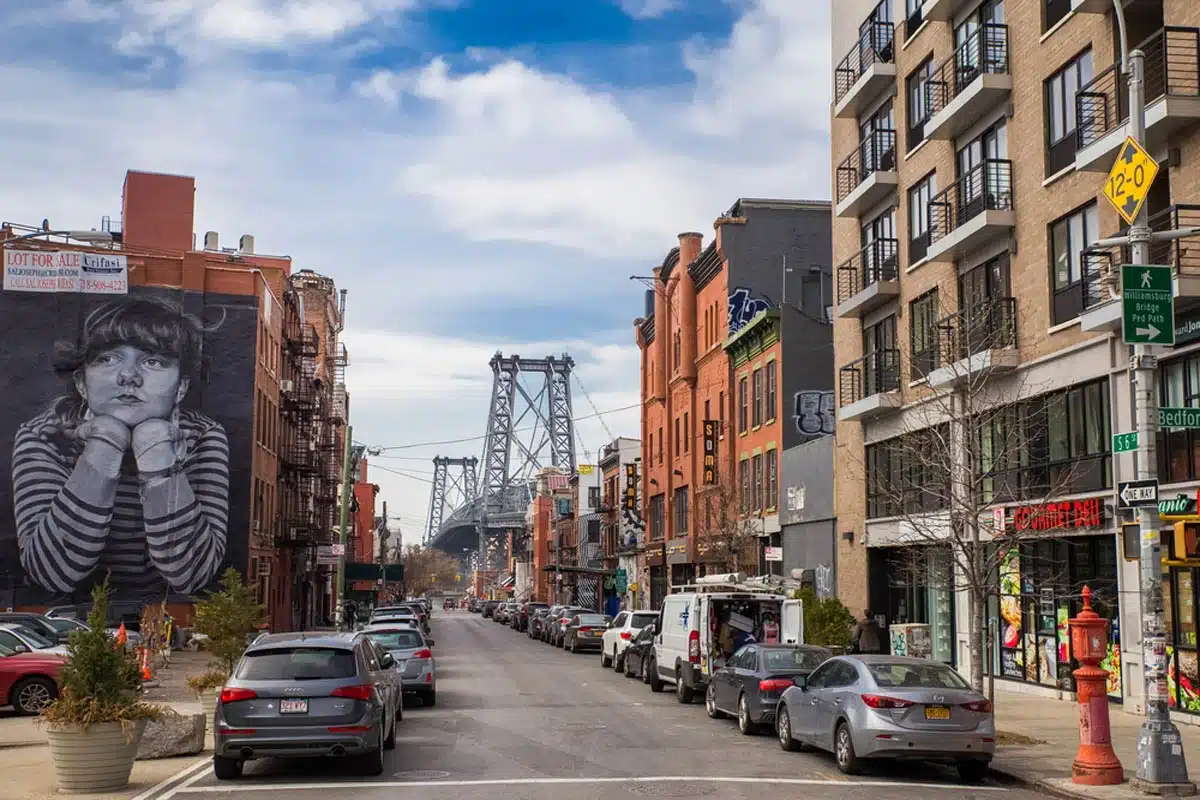 Williamsburg is a budding Brooklyn neighbourhood attracting hordes of young adults for its hip and trendy scenes. Chic boutiques, exclusive cafes, restaurants, dance clubs and music halls — it makes sense why young, fashion-forward individuals want to be here.
Don't worry though – pretty much everyone will enjoy this artsy neighbourhood thanks to open-air food markets, concerts and galleries.
Widely known as an influential hub for fashion and other arts and a hipster's dream spot, Williamsburg takes the cake for the 'coolest neighbourhood' in Kings County.
Williamsburg Highlights
Bedford Avenue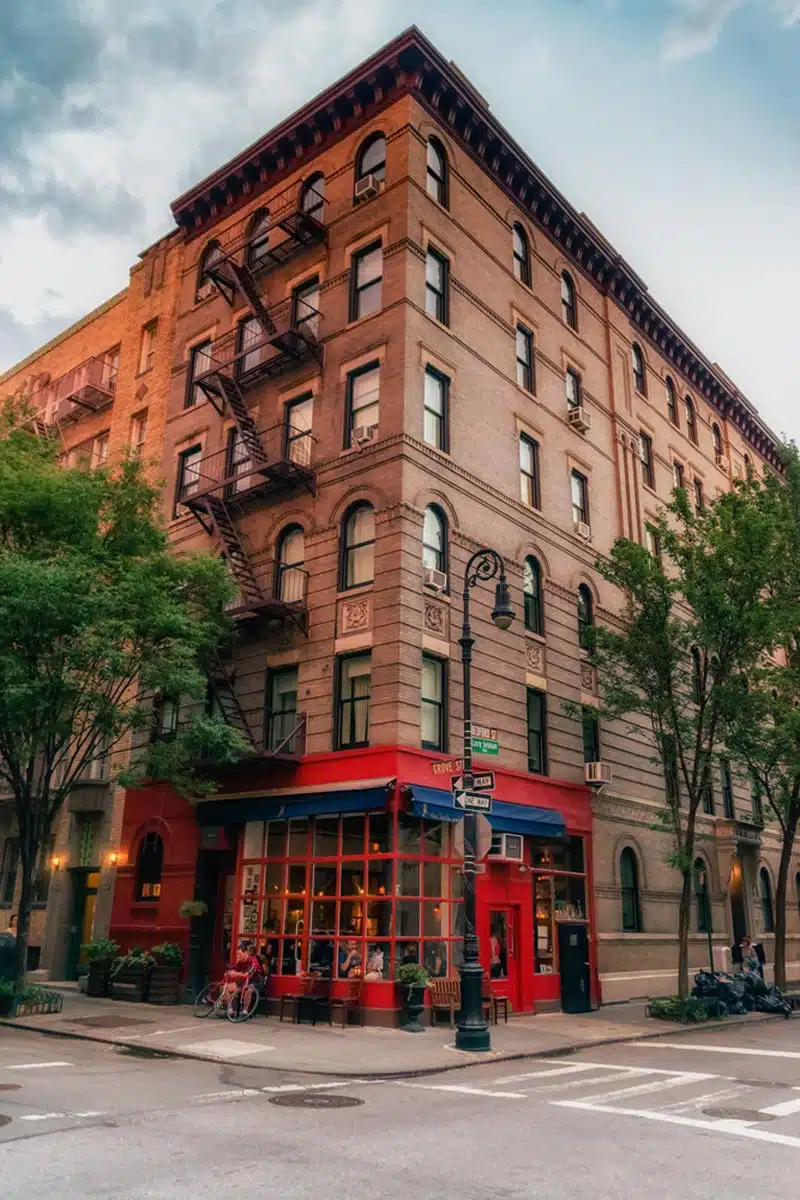 Add Bedford Avenue to your itinerary. Explore Williamsburg's main shopping street with lovely Manhattan sweeps.
Brooklyn Bowl
Heading to Brooklyn Bowl is cheesy, but it's a true icon. Test your bowling skills at a lively genre-defying bowling alley with lumo lights and banging tunes.
Suggested Hotels in Williamsburg
The Hoxton
Nothing beats the timeless and chic feel of this splendid accommodation. The Hoxton boasts epic views, elegant air-conditioned rooms, lavish bathrooms and a swanky bar.
The Williamsburg
Here's your chance to stay at a whimsical hotel that blends vintage and modern like no other. Enjoy luxe, vibrant rooms, charming spaces, and sleepy views over Manhattan at The Williamsburg.
Dumbo: Best Area for Photography Lovers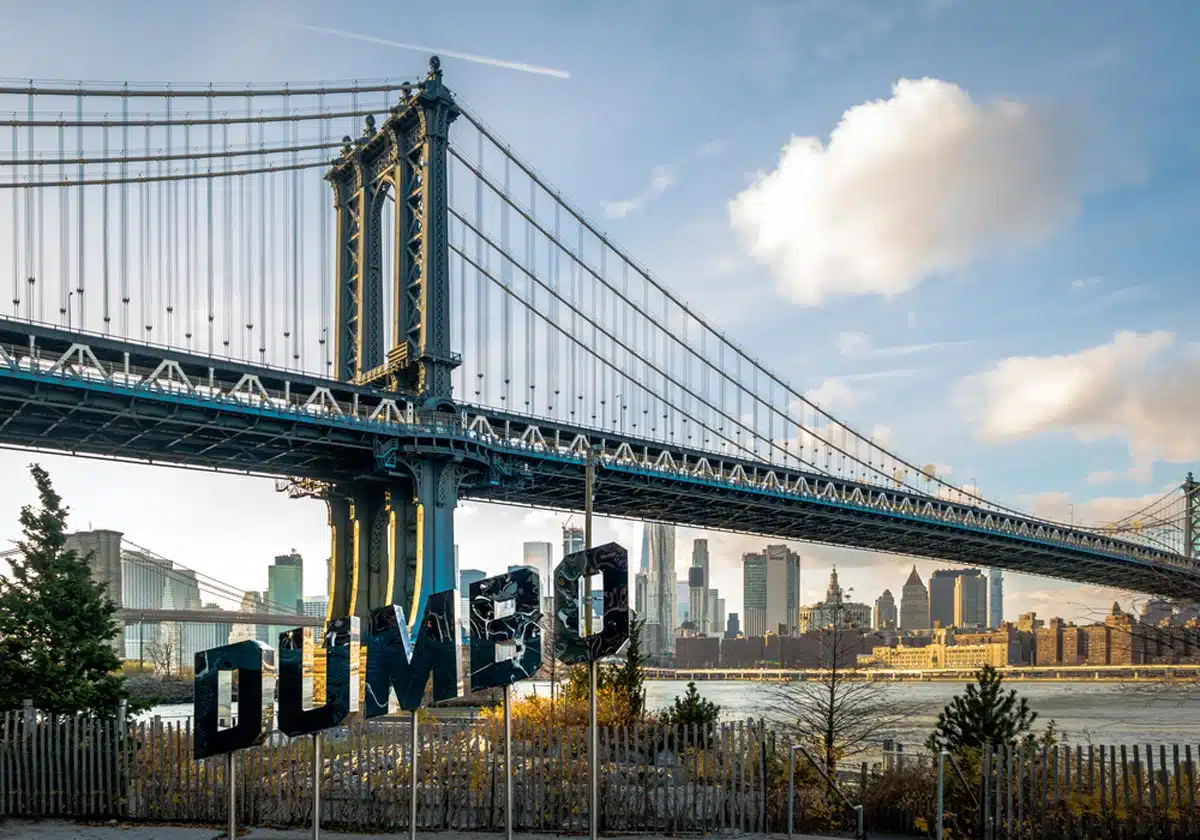 Down Under the Manhattan Bridge Overpass, or better yet, Dumbo is an electric Brooklyn neighbourhood.
It has that classical old New York ambience with industrial-turned-residential warehouses, luxury condos and cobblestone streets. The historic look and feel of Dumbo add to its charm, along with mesmerising Manhattan skyline vistas.
Expect an air of exclusivity and sophistication, as the living expenses here are sky-high — it's Brooklyn's most expensive neighbourhood. That said, you won't run out of swanky bars, high-end restaurants and hip cafes here.
Dumbo Highlights
Washington Street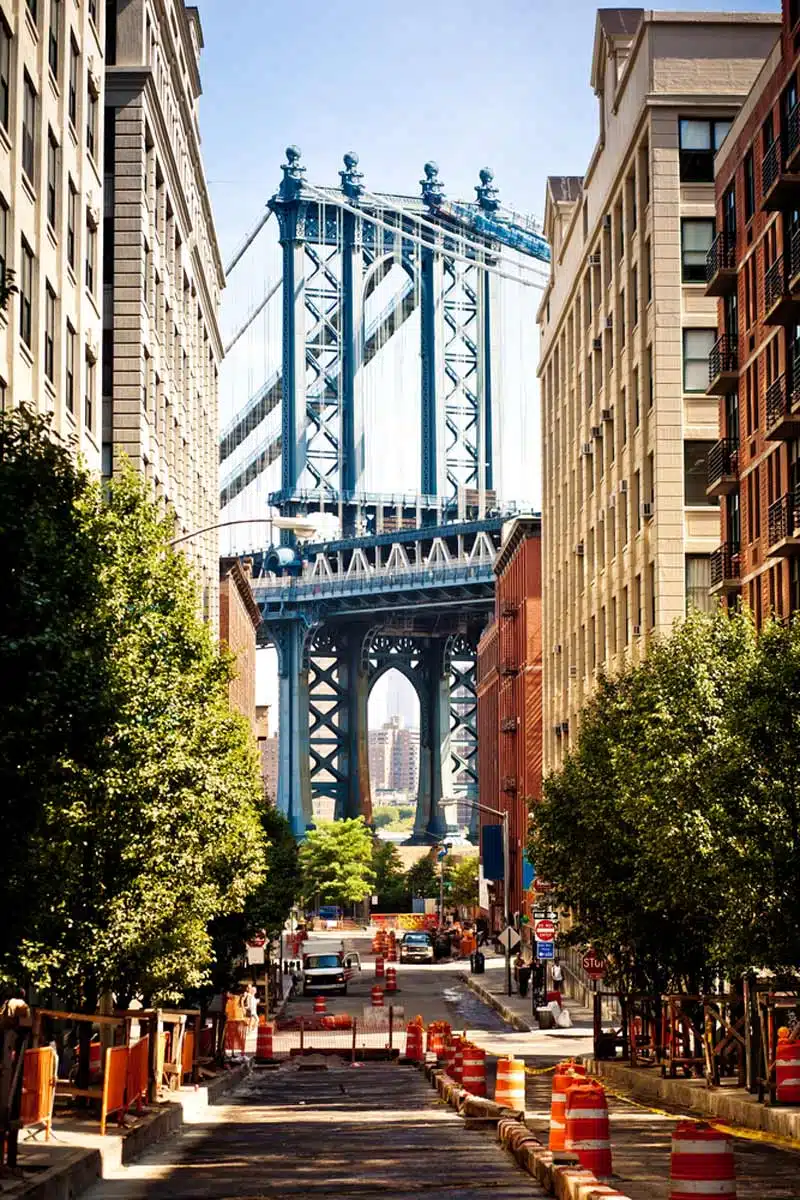 You've seen Washington Street on the 'Gram before. Come here for Instagram-worthy shots of cobblestone streets, the Manhattan Bridge, and Empire State Building all in one.
Jane's Carousel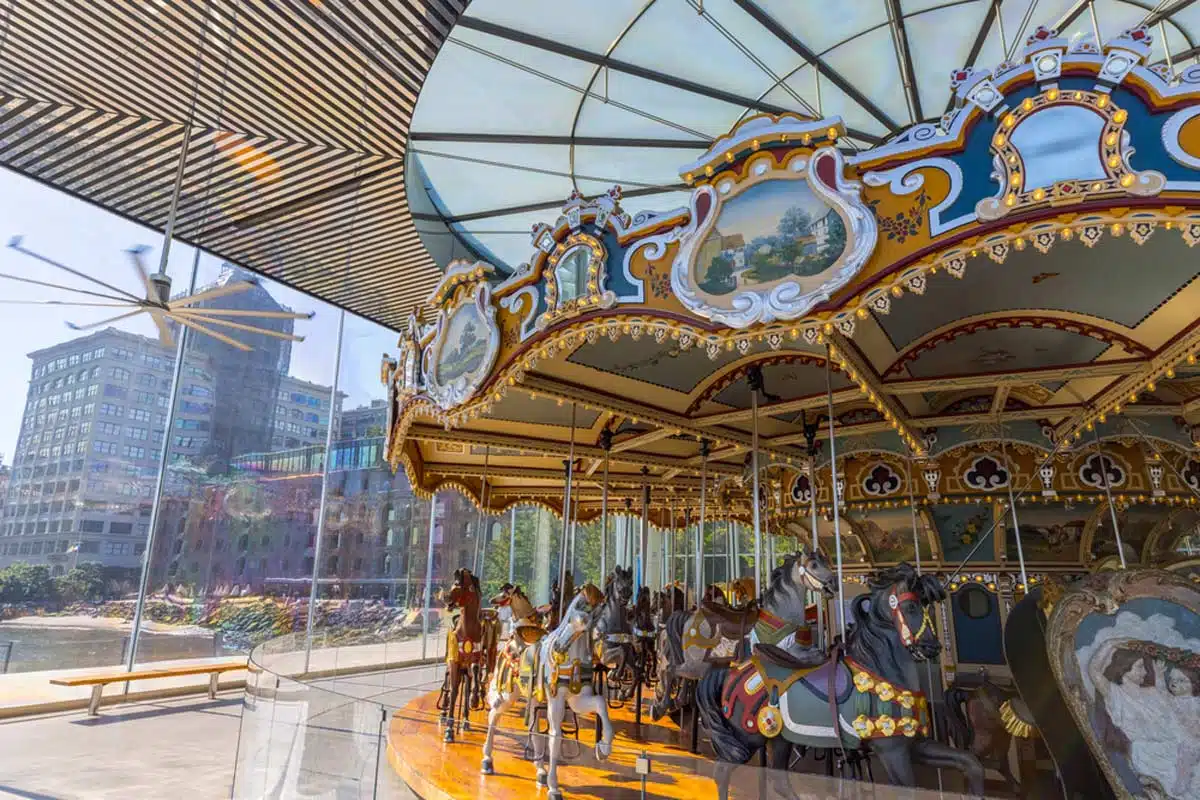 Jane's Carousel is an adorable pit stop in Dumbo. Visit the most picturesque wooden-carved 48-horse carousel operating since 1922.
Suggested Hotels in Dumbo
1 Hotel Brooklyn Bridge
The astonishing 1 Hotel waterfront spot oozes luxury with a fitness centre, spa and wellness centre, and a rooftop pool with magical city views. Most spaces have lush greenery and enchanting light fixtures, but the rooms are so glamorous you'd never want to leave.
Hampton Inn
Sure, the Hampton Inn is simple, but don't rule it out. Its bright rooms feature fantastic views, a work desk, and a coffee machine. Some rooms even have balconies.
Park Slope: Best Place to Stay in NYC for Relaxed Vibes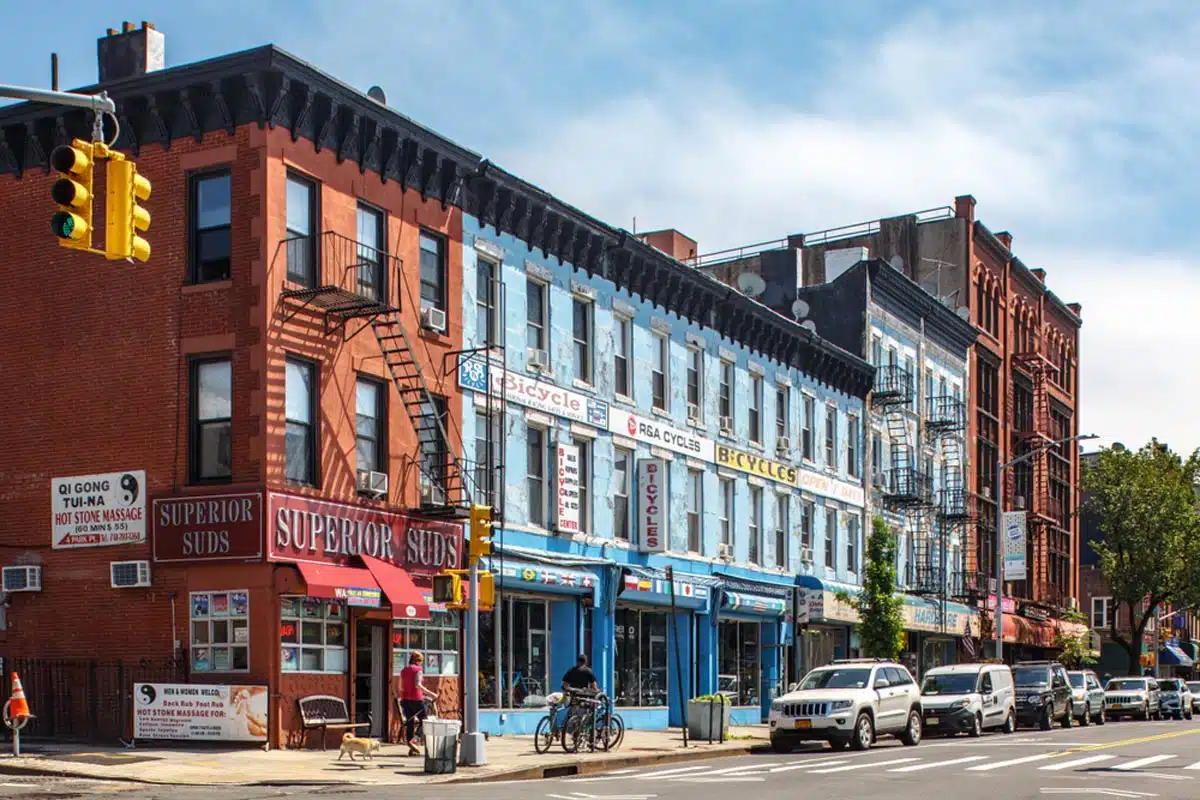 Park Slope is a quaint, tree-lined neighbourhood in northwestern Brooklyn. Thanks to its down-to-earth atmosphere, this area is idyllic for the hippy, free-spirited types. You'll enjoy laid-back bars and restaurants, indie boutiques, and a non-judgemental community here.
No wonder Park Slope is famous amongst young professionals with high-paying jobs and those looking for a buzzing nightlife. However, you will also love this upscale yet relaxing neighbourhood for its organic food markets, outdoor concerts and charming walkways.
Park Slope Highlights
Brooklyn Bridge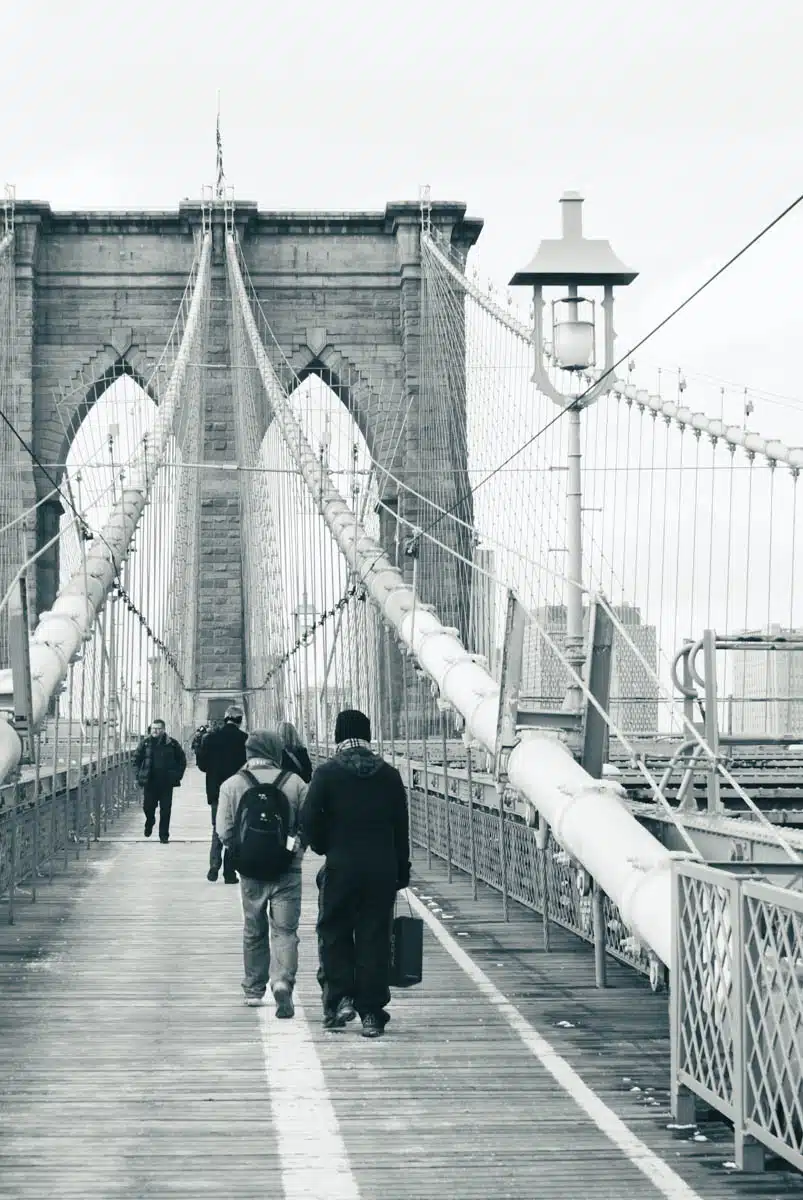 For the best views of Brooklyn Bridge, head to Park Slope. See one of the most photographed bridges on the planet with its signature steel and stone design.
Brooklyn Botanic Garden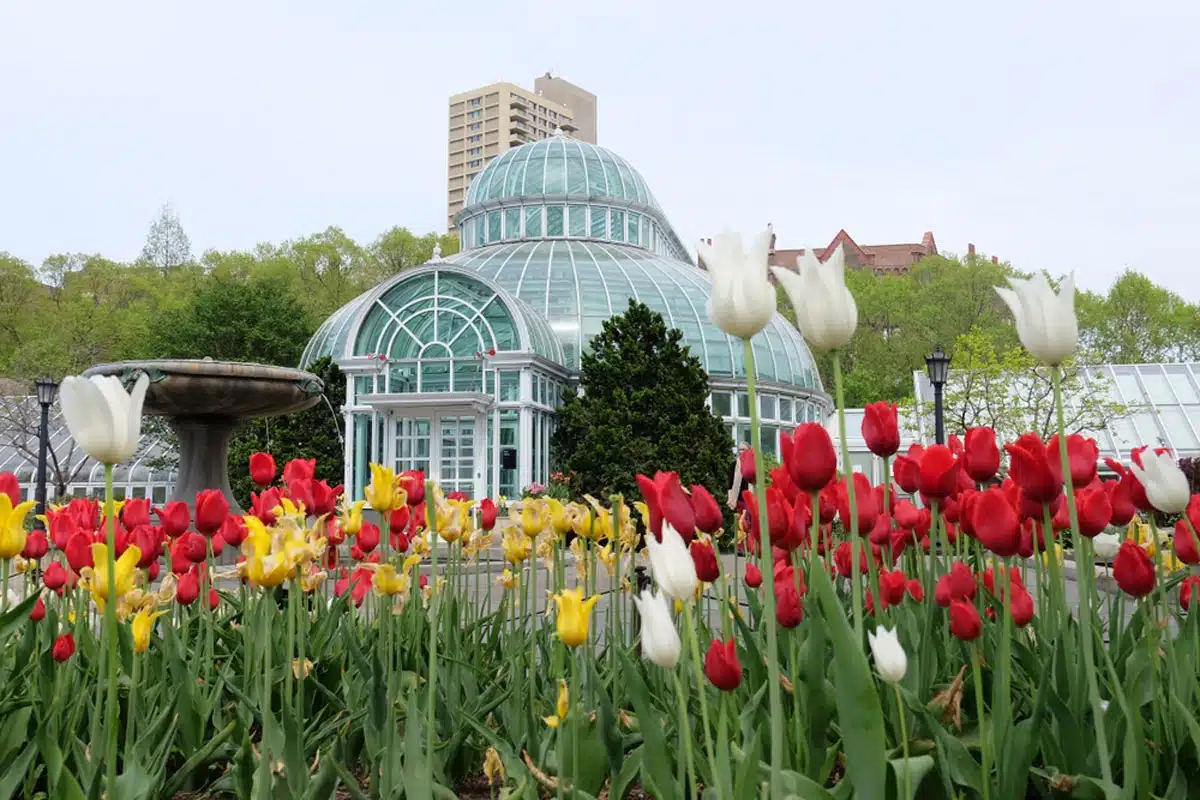 Another spot to visit is Brooklyn Botanic Garden. Visit an urban botanic garden with a zen-like vibe that's camera-worthy around every corner.
Suggested Hotels in Park Slope
Townhouse
Knowing what Park Slope is all about, it only makes sense to stay at a cosy accommodation to make you feel at home. Townhouse has all the comforts you need, including a fully equipped kitchen and spacious living room with a flat-screen TV.
Queens: Best Place to Stay in New York City for Cultural Diversity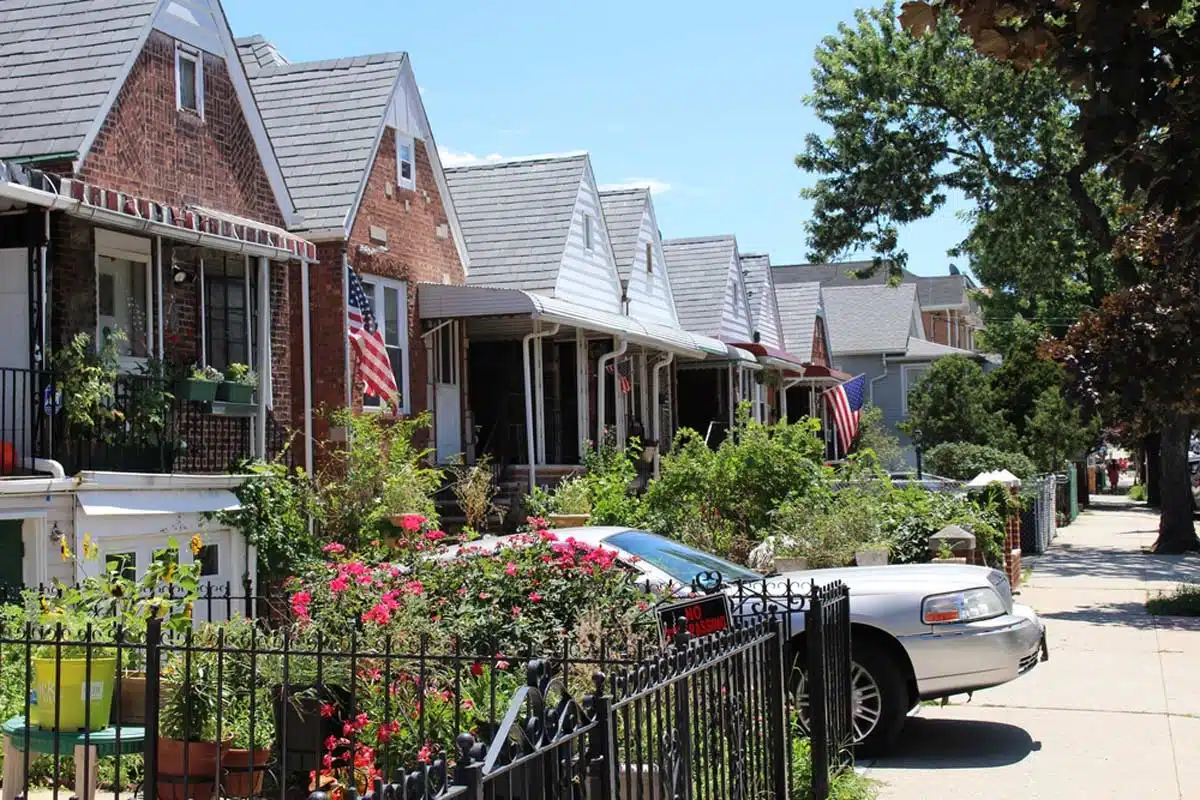 Queens is the largest of the five boroughs on Long Island. It's one of the most diverse districts where you'll hear over 100 languages and see quirky shops and eateries from around the globe. No wonder Queens holds the record for the "most ethnically diverse urban area on the planet".
So why travel the world when you can go to Queens? Jokes aside, the best neighbourhoods to consider are picturesque Astoria, elite Forest Hills, trendy Long Island City and vibrant Flushing.
Queens Highlights
Flushing Meadows Park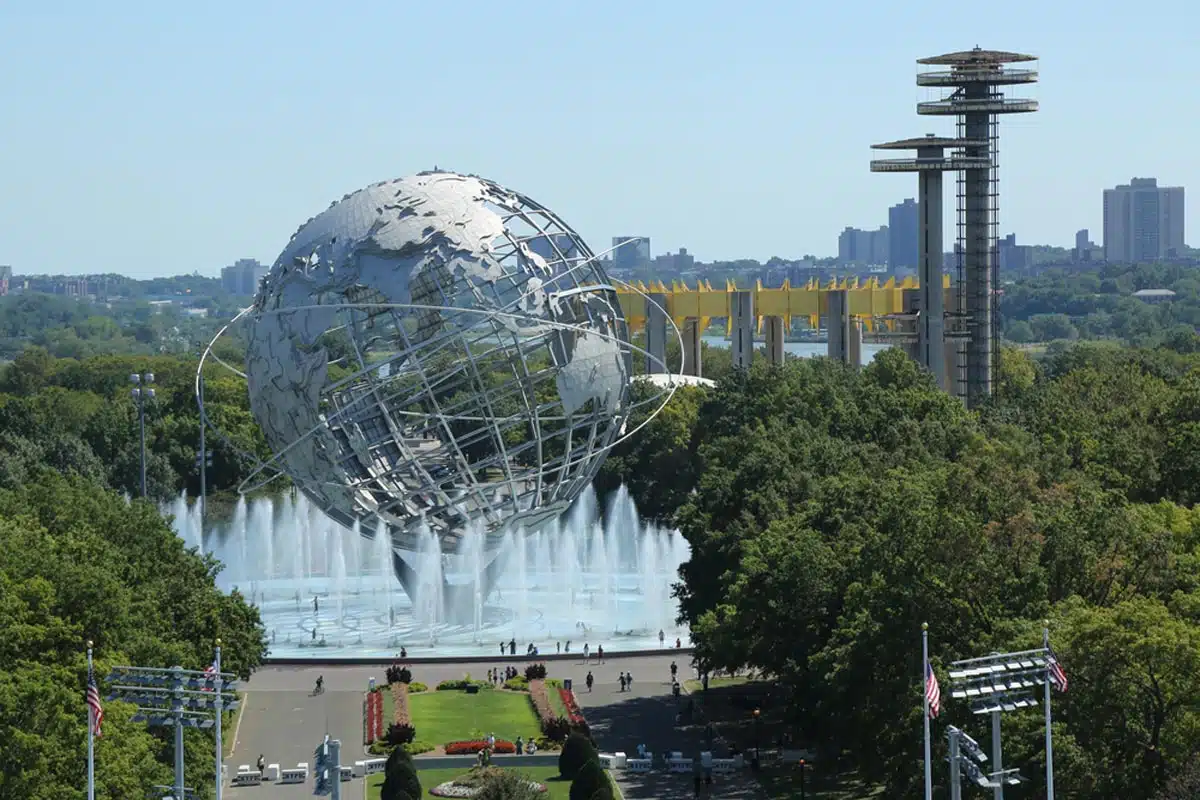 Swing by Flushing Meadows Park. Visit the home of the New York Mets and US Open tennis tournament.
Chinatown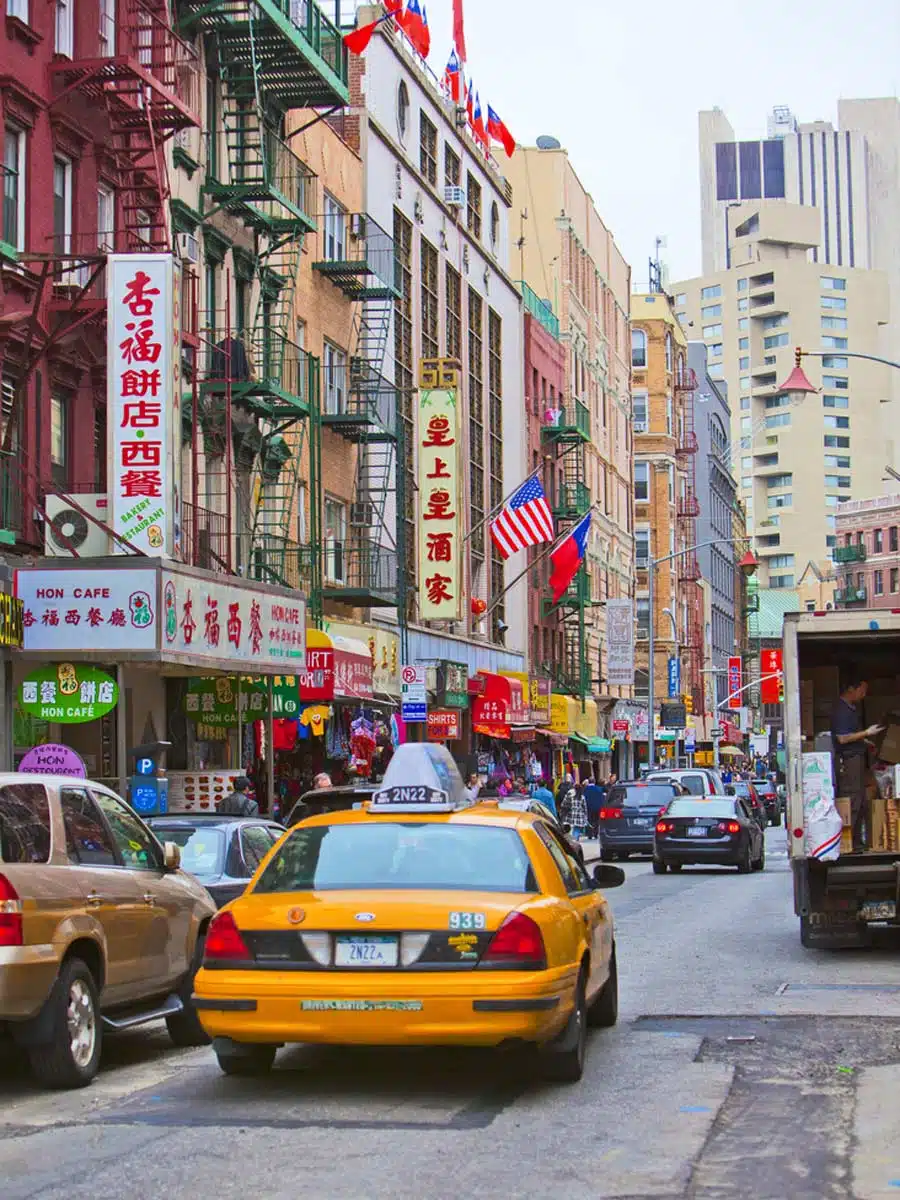 A visit to Chinatown is always neccessary. Pop into bubble-tea shops and sample dumplings or pork buns in this densely packed and thriving neighbourhood.
Suggested Hotels in Queens
The Boro Hotel
The Boro Hotel is a gem; a fashionable hotel that makes you feel like you're in an upscale art studio with a minimalist theme. The rooms are stunning, with hardwood floors, bathrobes, and balconies overlooking Manhattan.
Aloft Long Island City
Quite the antithesis to the above hotel, Aloft is eye-catching, bright, vivid, and artsy. Lumo graffiti features perfectly throughout, supported by eclectic and colourful furniture and art.
The Bronx: Best Place to Stay in NY for Hip Hop Enthusiasts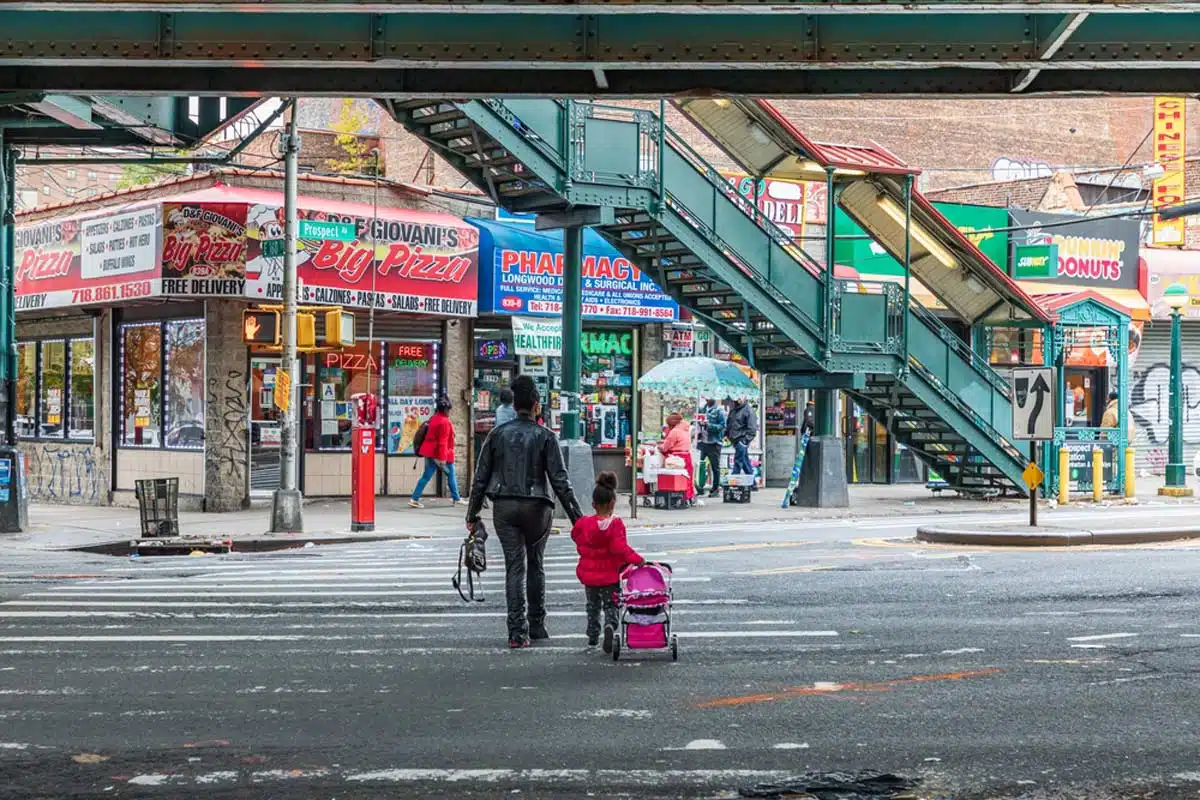 Fun fact: out of all the boroughs, the Bronx is the only one attached to the U.S. mainland. It's also a melting pot of cultures with a strong hip-hop scene.
When asked, "Where to stay in NYC?" few will respond with the Bronx.
That's due to a tarnished reputation caused by its dangerous and high-crime neighbourhoods such as Hunts Point, Highbridge, Mott Haven, Morrisania, and Soundview. However, numerous safe, wealthy neighbourhoods fly over most visitors' heads. These include Riverdale, Country Club, Kingsbridge, Morris Park, and Woodlawn Safe.
All are brilliant places to stay in New York.
Bronx Highlights
New York Botanical Garden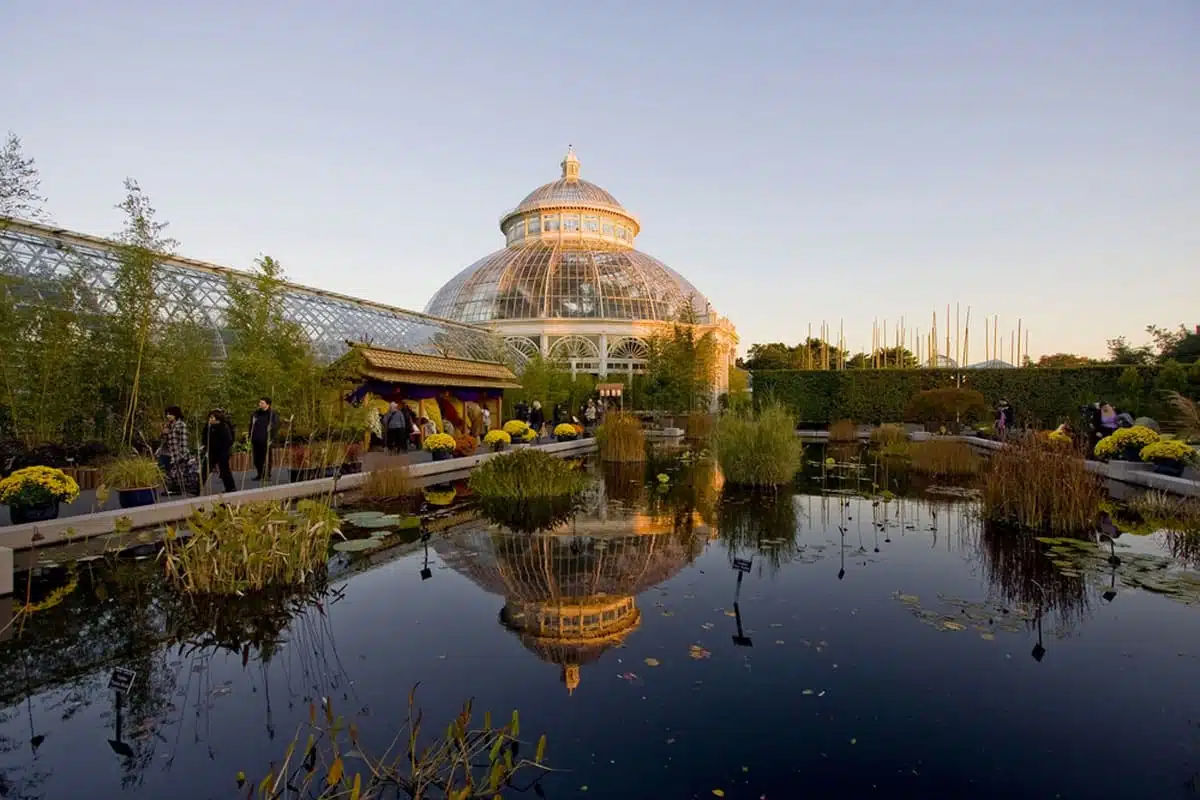 Brush up on your plant and fungi knowledge at the whimsical New York Botanical Garden with fountains and dome-like structures.
Yankees Stadium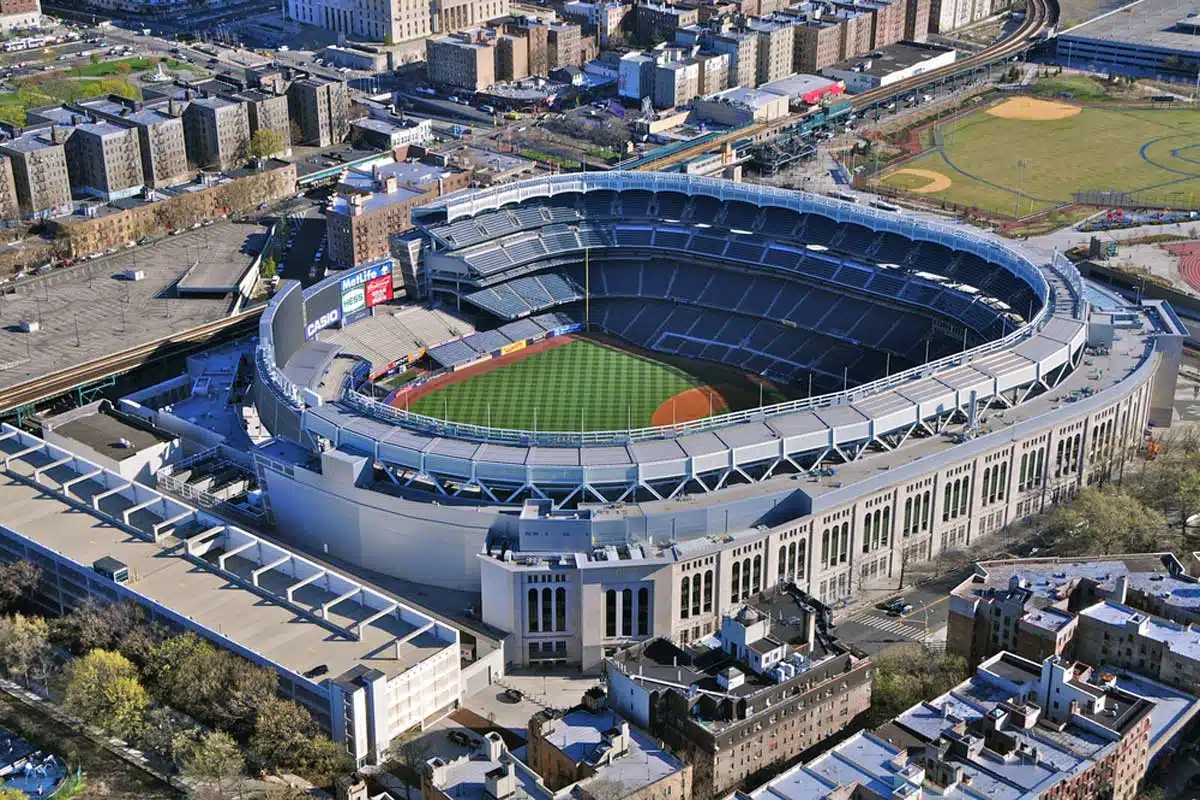 Catch one of the most well-known baseball teams, the Yankees, at their home base in the Bronx.
Birthplace of Hip Hop
DJ Kool Herc, the founding father of hip hop, hosted a birthday party for his sister at 1520 Sedgwick Avenue, and the rest is history. Wander through the streets and it's impossible not to feel the vibe.
Suggested Hotels in the Bronx
Global Luxury Suite
Oh, it's luxurious, all right. This ultra-modern hotel offers dream-like rooms with gorgeous blue headboards, crisp-white beds, and lavish bathrooms.
Morris Guesthouse
Industrial meets stylish at the authentic and beautiful Morris guesthouse. The rooms are simple but offer streaming services, a smart TV, and air conditioning for your comfort.
Staten Island: Best Place to Stay in New York for Budget-Travellers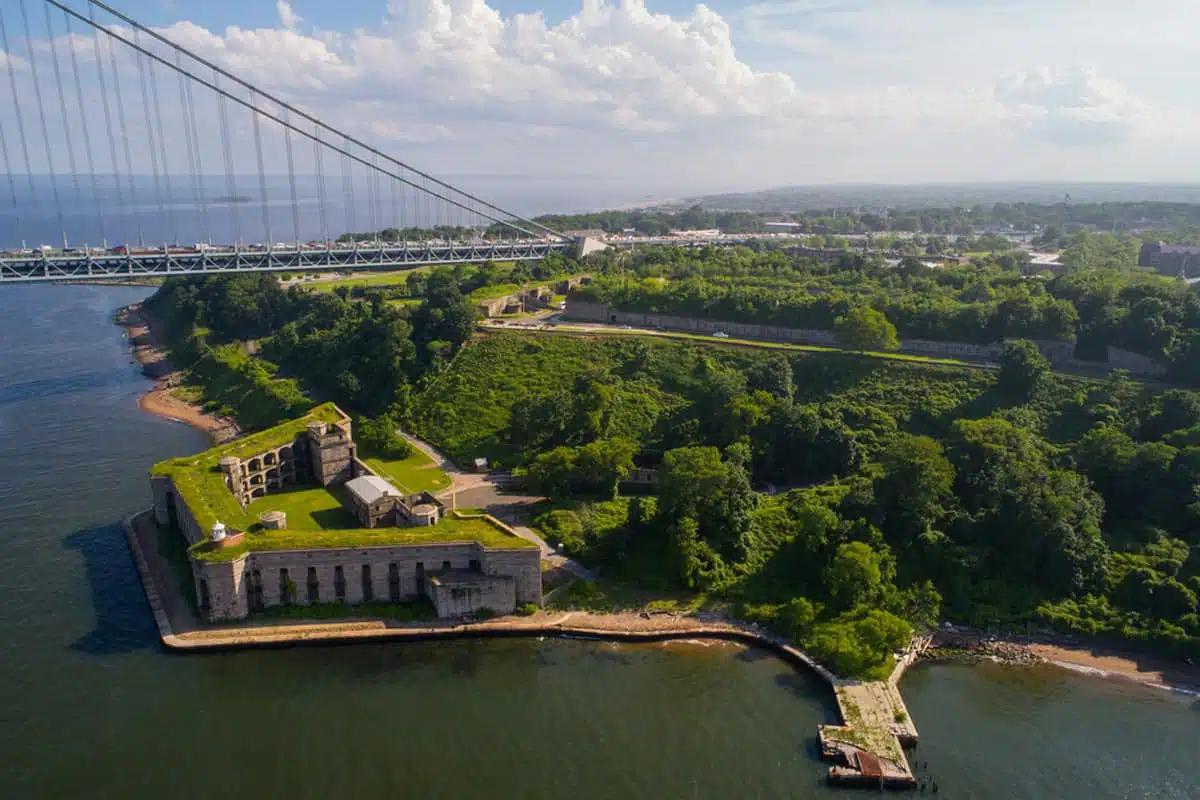 Most out-of-towners don't even know that Staten Island is part of the Big Apple. Which is a huge shame – Staten Island is the southernmost borough of New York, filled with enchanting gardens, Greek revival buildings and art galleries.
And let me not forget about the balmy beaches and heavy accents that'll have you scratching your head — honestly.
Where to stay in New York on a budget? Staten Island is far more affordable than the other boroughs. You easily commute from this borough to the other by using the Staten Island Ferry, which is free.
Staten Island Highlights
George Theatre
Catch a show at the picturesque, dramatic George Theatre resembling a fairytale castle. This performance arts venue opened up in 1929.
Staten Island Zoo
See all kinds of critters at the biggest "little zoo" in America. Staten Island Zoo showcases over a thousand animals, from snakes to capybaras.
Suggested Hotels in Staten Island
Fairfield Inn & Suites
Stay at these simple, pristine suites with superb amenities and interactive spaces like an onsite restaurant and lounge. You'll have access to air-conditioned rooms, heating, complimentary toiletries, free parking and Wi-Fi.
Where to Stay in New York City: Frequently Asked Questions
Practical Tips to Consider Before Booking Your Best Places to Stay in NYC
Try to wrap your head around New York's Subway system before you go to avoid feeling lost in the rush.
There's lots of talk about some areas of NY (ahem, the Bronx) being dangerous. While the crime rates are higher, exercise caution as you would in any other city and you should be totally fine.
Love This? Save and Share on Pinterest