Thailand is one of South-East Asia's most popular destinations. Planning a trip and wondering what to do in Thailand? Check out this epic list of 50 unmissable things to do in Thailand – packed with beaches, culture, beautiful views and more.
Looking for more Thailand and Southeast Asia travel inspiration? Check out these awesome posts.
Top Things To Do In Thailand
Visit Wat Phra Singh, Chiang Mai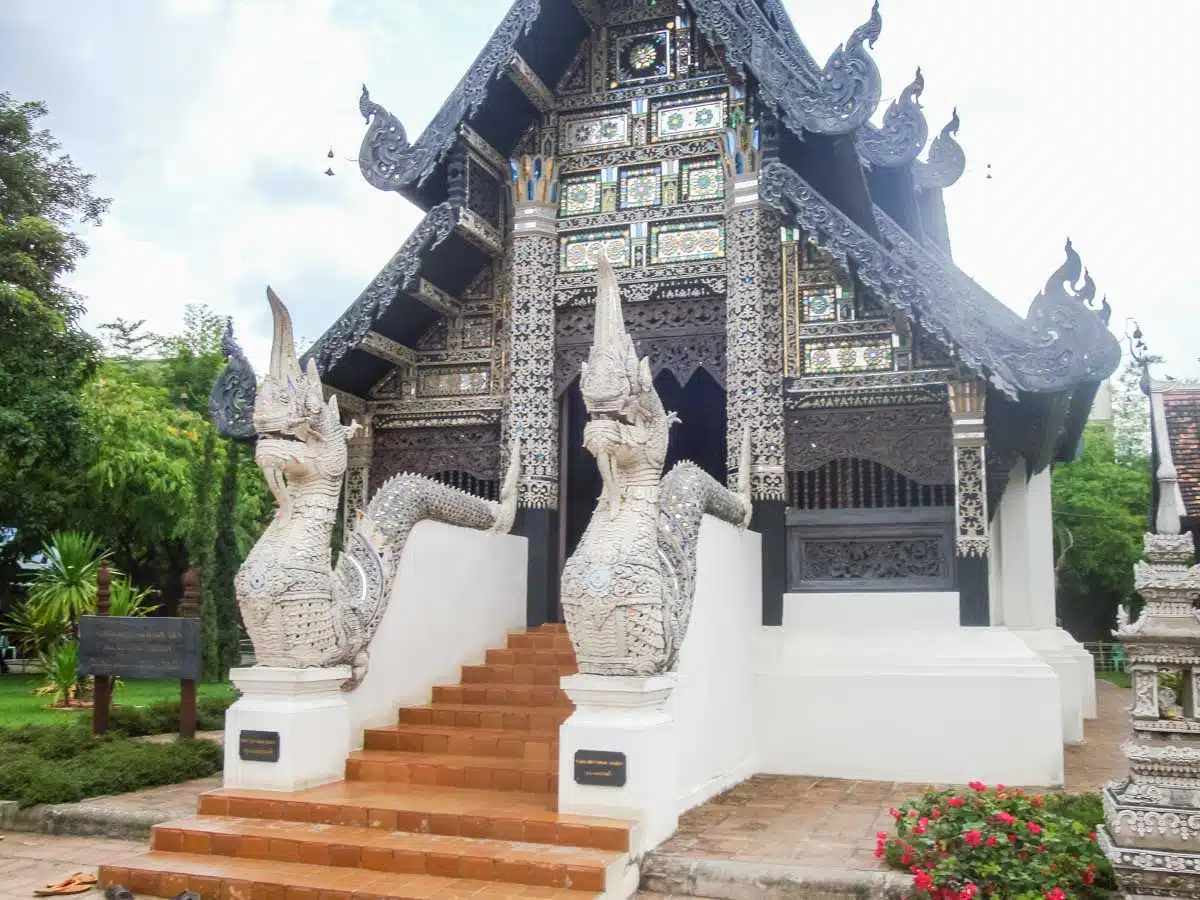 While Wat Phra That Doi Suthep may be Chiang Mai's most revered temple, we think that the beautiful Wat Phra Singh pips it to the post for beauty and should be top of your list of things to do in Thailand.
Built in the Lanna style of temple architecture, the temple features elaborately decorated gold and maroon wing-shaped roofs.
The walled enclosure of Wat Phra Singh features three main buildings – the Lai Kam assembly hall, Viharn Luang assembly hall and Haw Trai, the library. Set aside a reasonable amount of time to explore the temple complex.
Then take your time to marvel at the architecture and dramatic interiors.
Be a Beach Bum in Railay (and Possibly do Some Rock Climbing Too)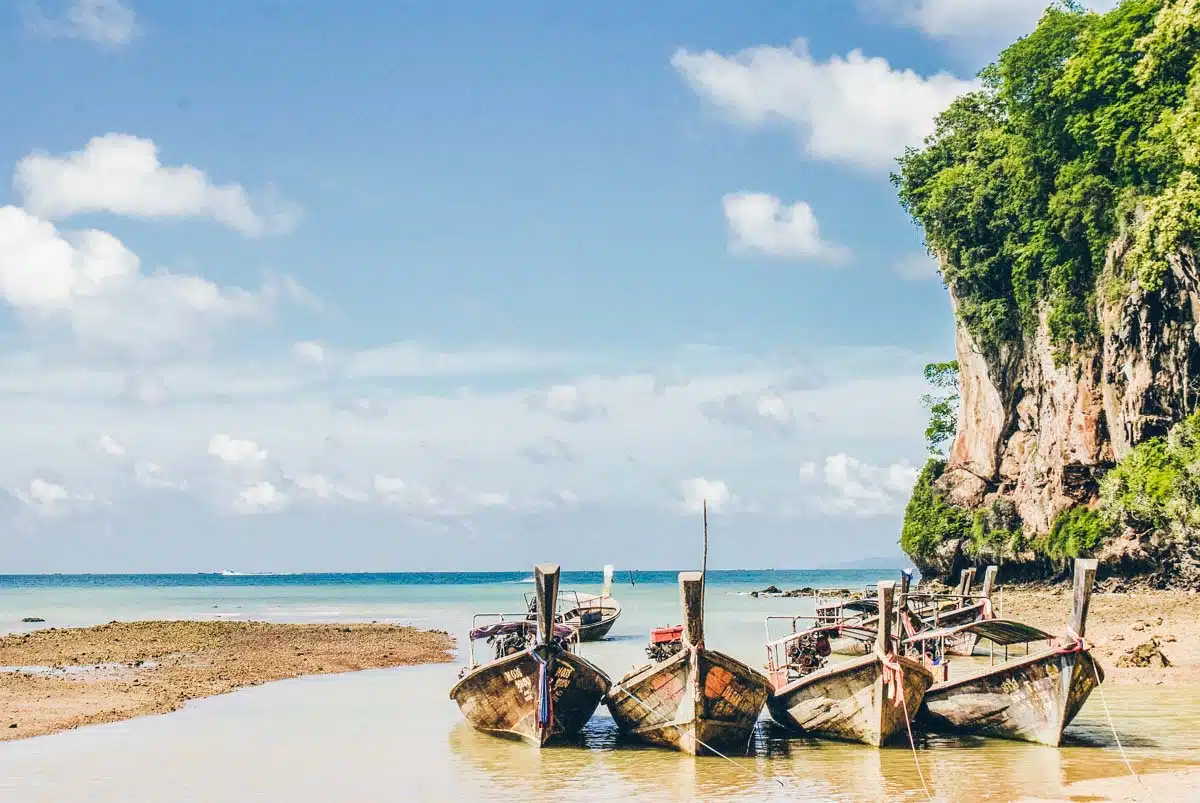 Railay is every beach bum's dream come true. The impossibly picturesque scenery is paired with one of the prettiest beaches in the world and laid-back beach bars.
Krabi is well known for its amazing coastline and Railay is the jewel in the crown.
You can only get to Railay by boat, but it's worth the (tiny) bit of extra effort.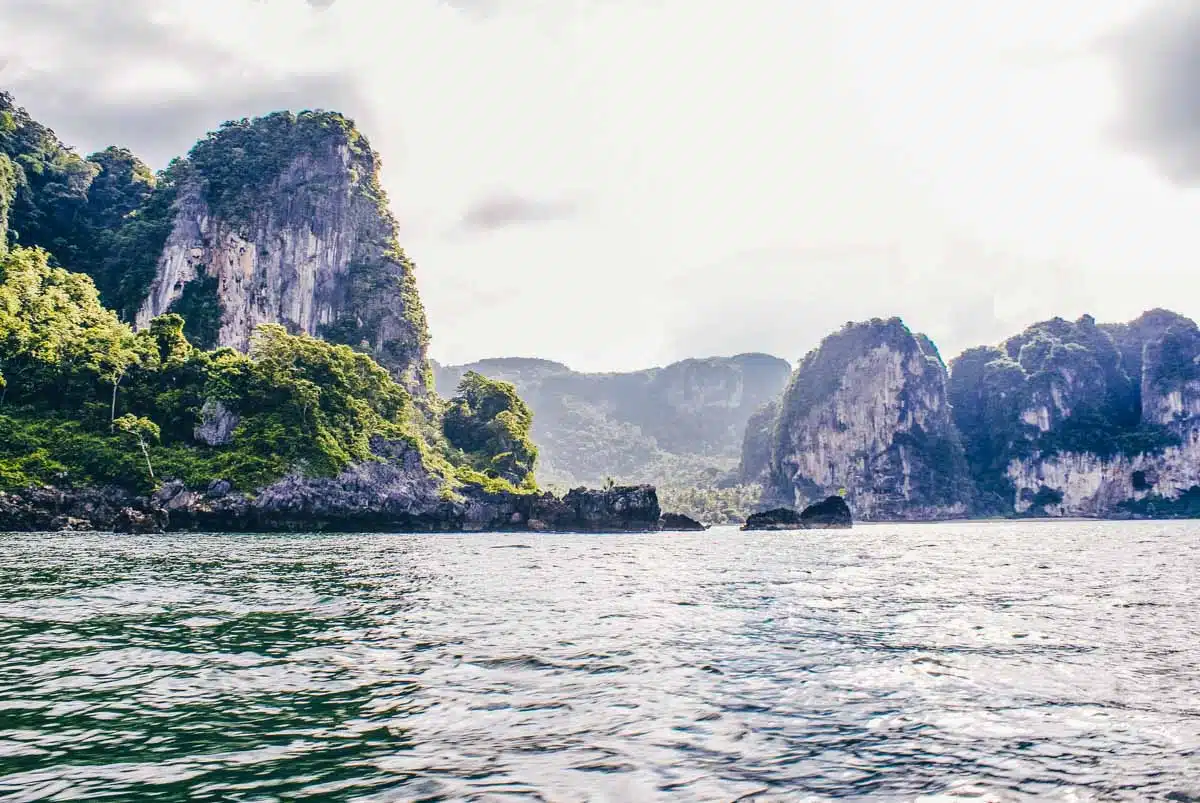 Once you're there, you can pick a spot on one of the many beaches (Sunset Beach and Phra Nang Bay are the best) and contemplate how good life can be – little wonder that it's one of Thailand's popular honeymoon destinations.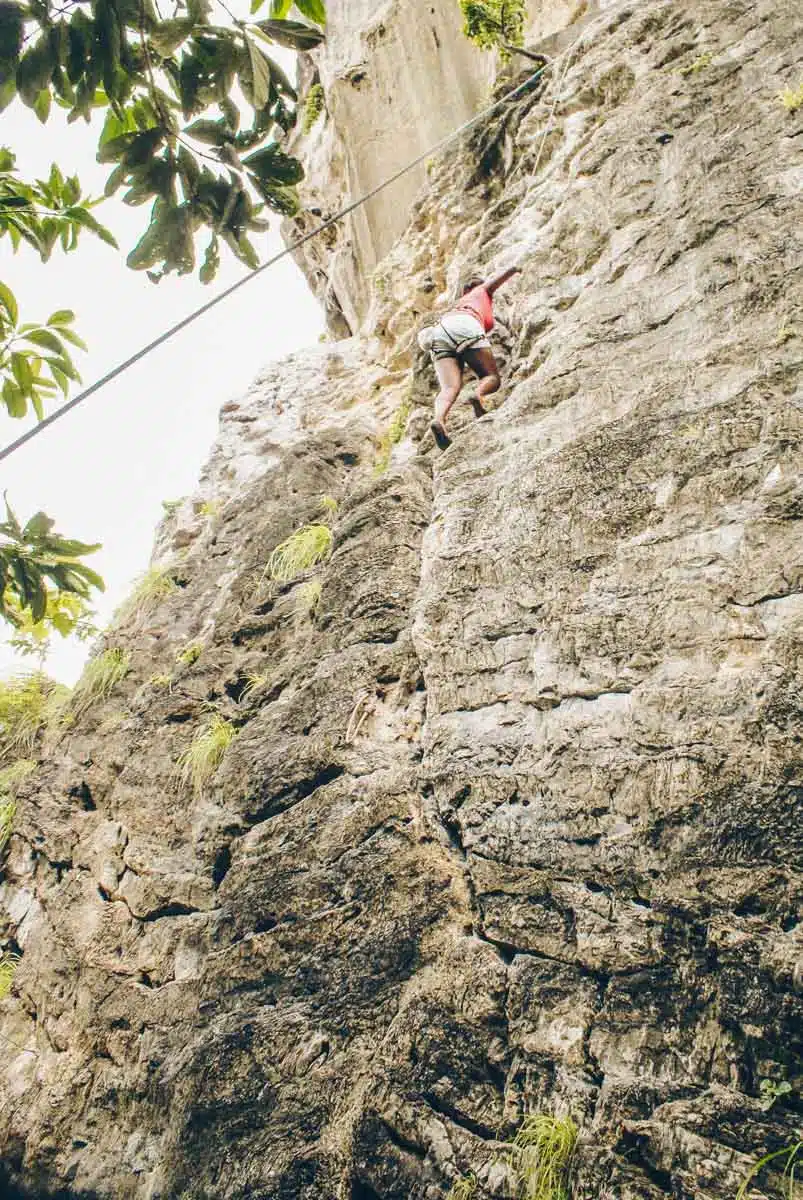 If that sounds a little too relaxed, Railay is also a world-class rock-climbing destination with climbs for every level and proficiency.
Go Island Hopping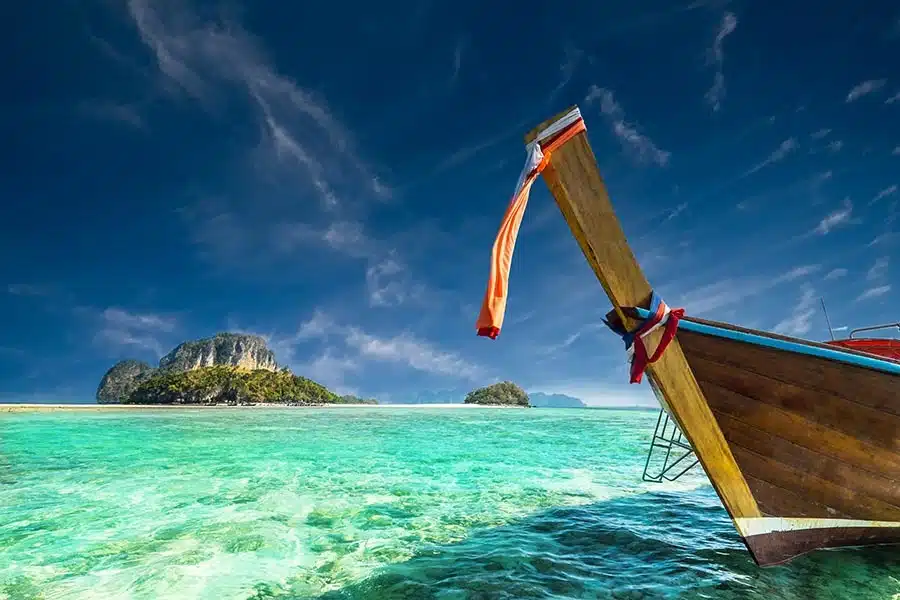 Islands? Thailand has a few (1,430 if our sources are to be believed).
It's no surprise then that Thailand island-hopping finds its way onto any list of top things to do in Thailand.
Ferry between better known islands such as Ko Samui, Ko Phangan and Koh Tao, or head to more obscure ones like Koh Jum, Koh Lipe and Koh Phayam for a quieter time.
Learn to Dive in Ko Tao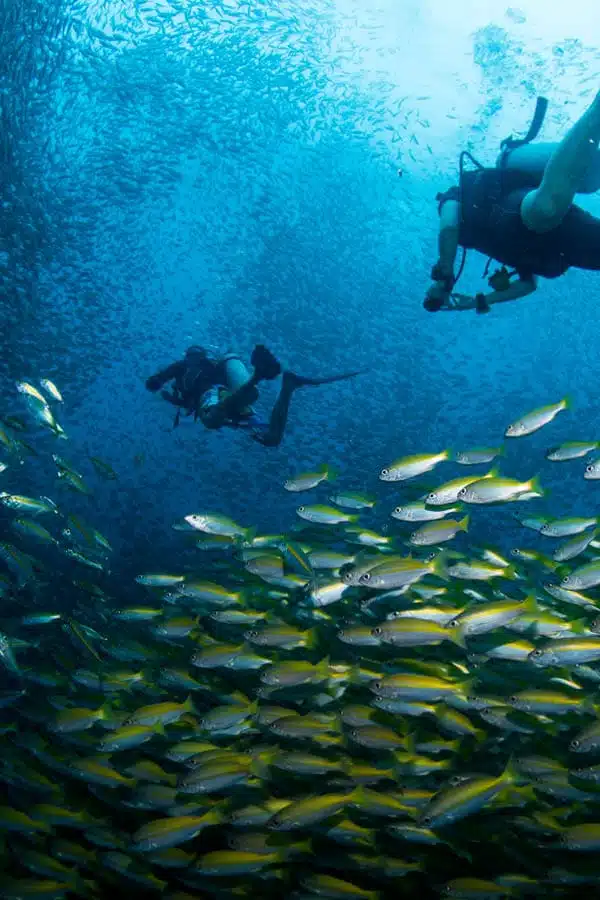 If you can't dive, Ko Tao is the place to learn. If you can dive, Ko Tao is the place to go diving. It really is that simple.
Crystal clear waters and abundant ocean life combine to create a unique diving destination.
Ko Tao is one of the cheapest places in the world to get your PADI qualification. If you barter hard, they will also often throw in free accommodation with the agreed price.
The huge rivalry between different dive schools means that the quality is generally high with well-trained teachers. Do a bit of research before signing up to a particular school – this course comes highly recommended.
Discover History in Sukhothai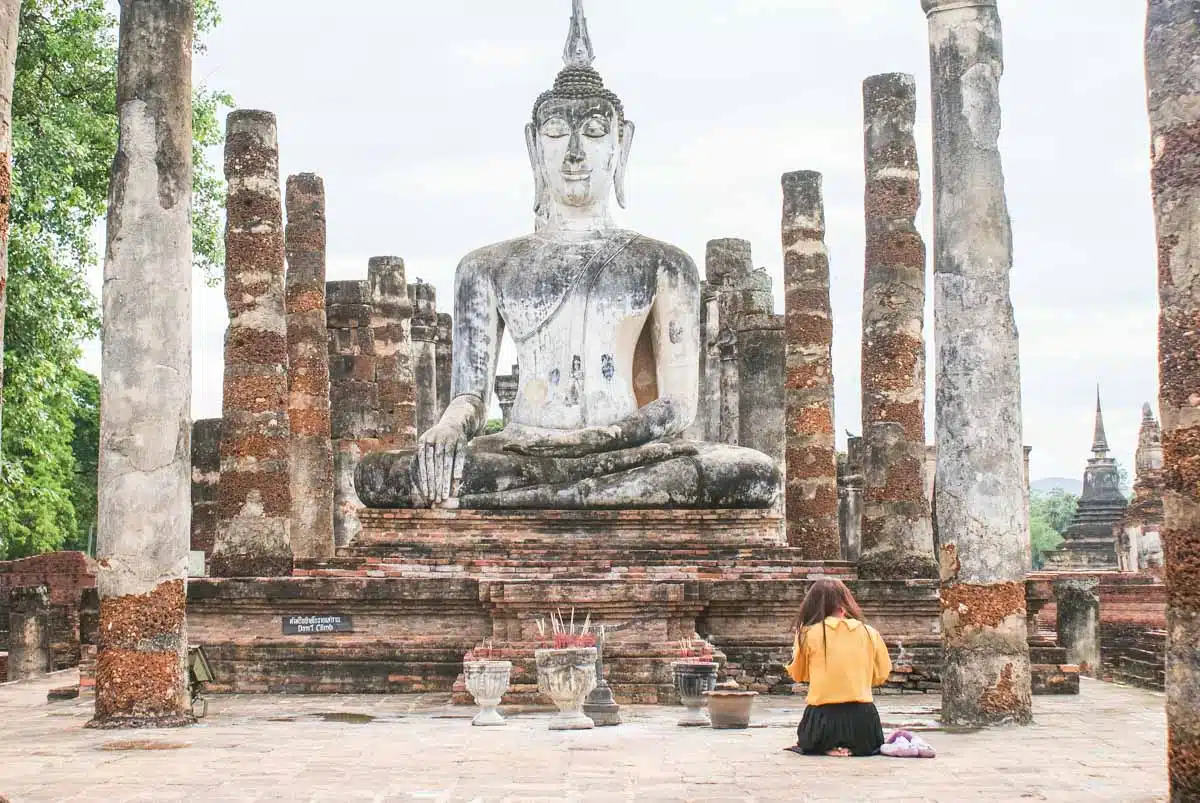 For an history fans out there, exploring the beautiful ruins in Sukhothai is one of the best things to do in Thailand.
Hop on a bike or scooter and weave your way through this UNESCO World Heritage Site. This was once the capital of the Sukhothai Kingdom and is scattered with over 200 ruins to explore.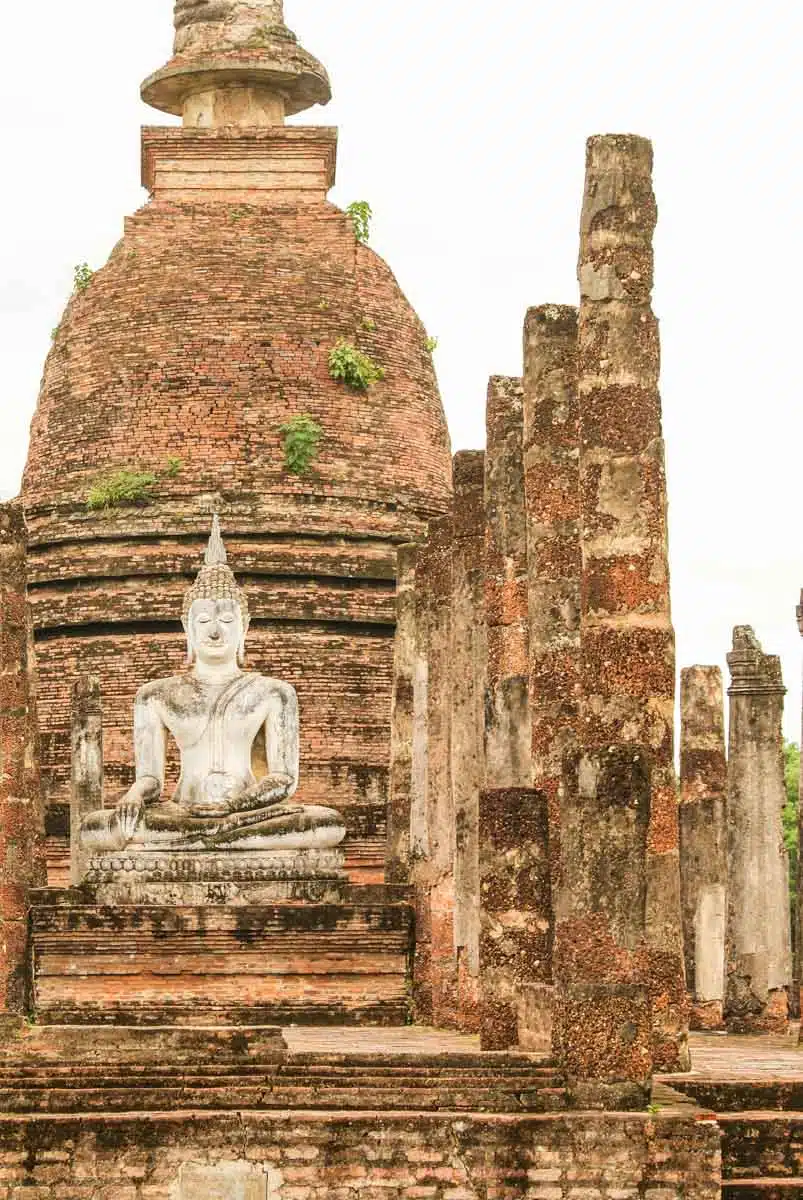 I would be sure to leave a good half a day to wander through the ruins, as there's so much to see.
The ruins are truly spectacular to look at: burnt orange bricks crumble away and large Buddha statues sit firmly inside the ageing walls. This is truly a top destination in Thailand and one you'll want to bring a camera to.
Take a Thai Cookery Class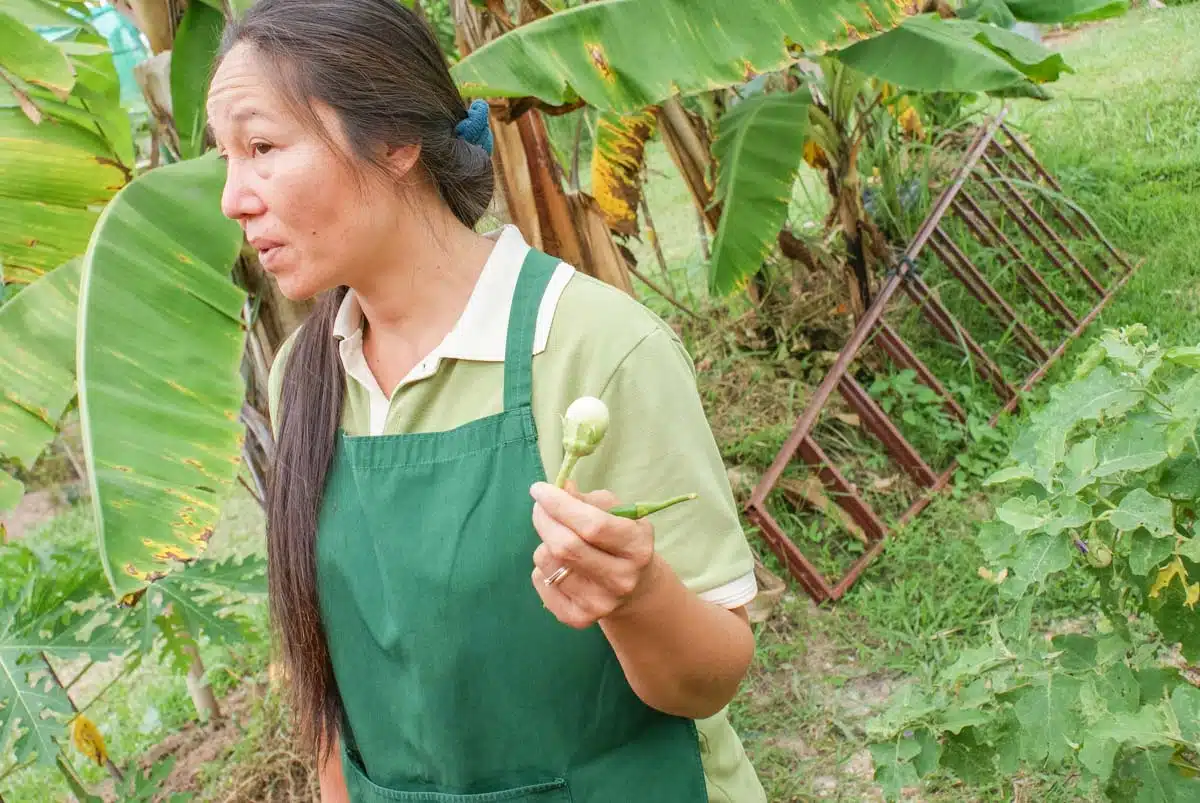 Thais take their cooking very seriously. From street-food vendors, to upmarket restaurants, you are never very far away from food when in Thailand.
Travelling in Thailand reveals an array of regional dishes and flavours so it's no wonder that many visitors opt to take a Thai cooking class when in the country.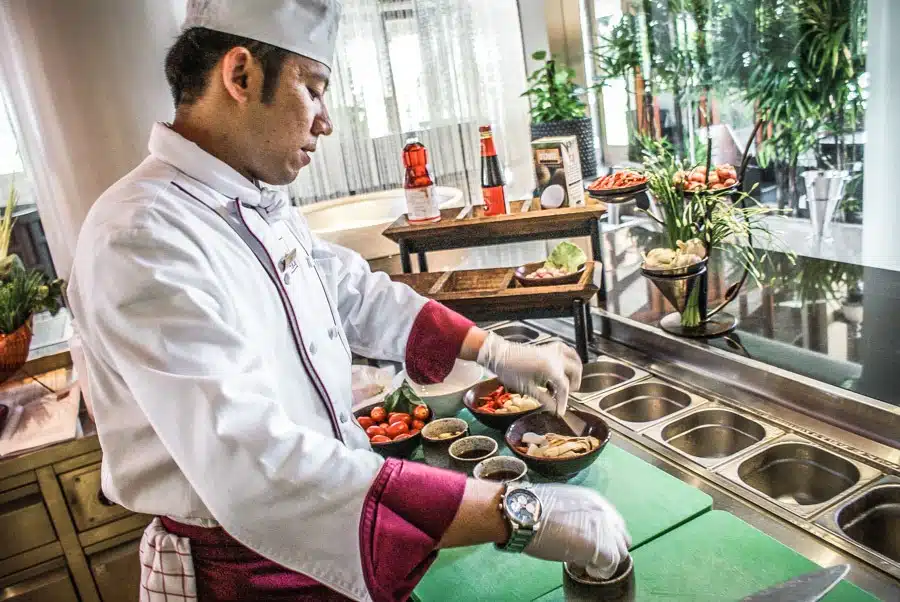 It's a fun way to understand the flavours and ingredients that go into Thai cuisine, and you can make the dishes you learn when you go home.
Of all the things to do in Thailand, the skills you learn at a cooking class are likely to be the most useful in the long run!
Explore The Grand Palace in Bangkok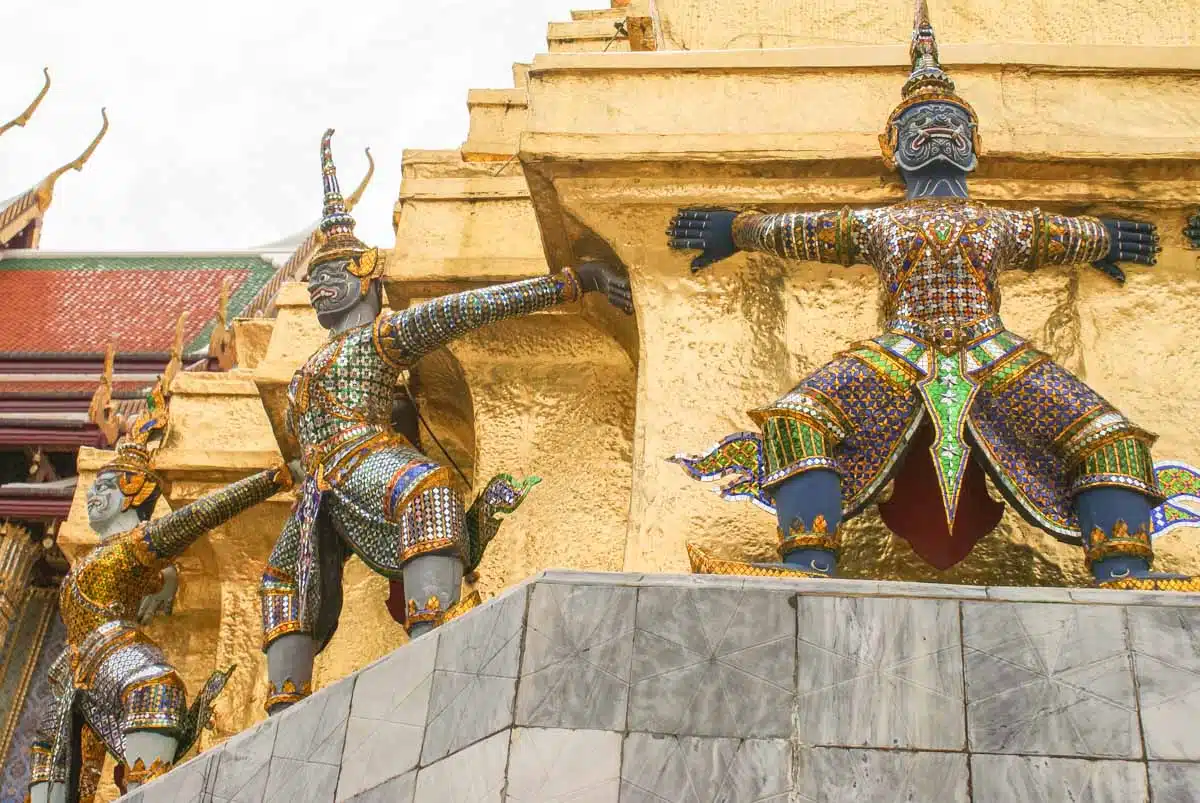 There are so many things to see in Bangkok whether you are having a day trip, a spending a couple of days or a longer stay – but if you only have time for one, you should go to The Grand Palace.
The palace is divided into three areas, The Outer Court, the Middle Court and the Inner Court. The Outer Court houses the Emerald Buddha, Thailand's most revered sculpture (see entry below).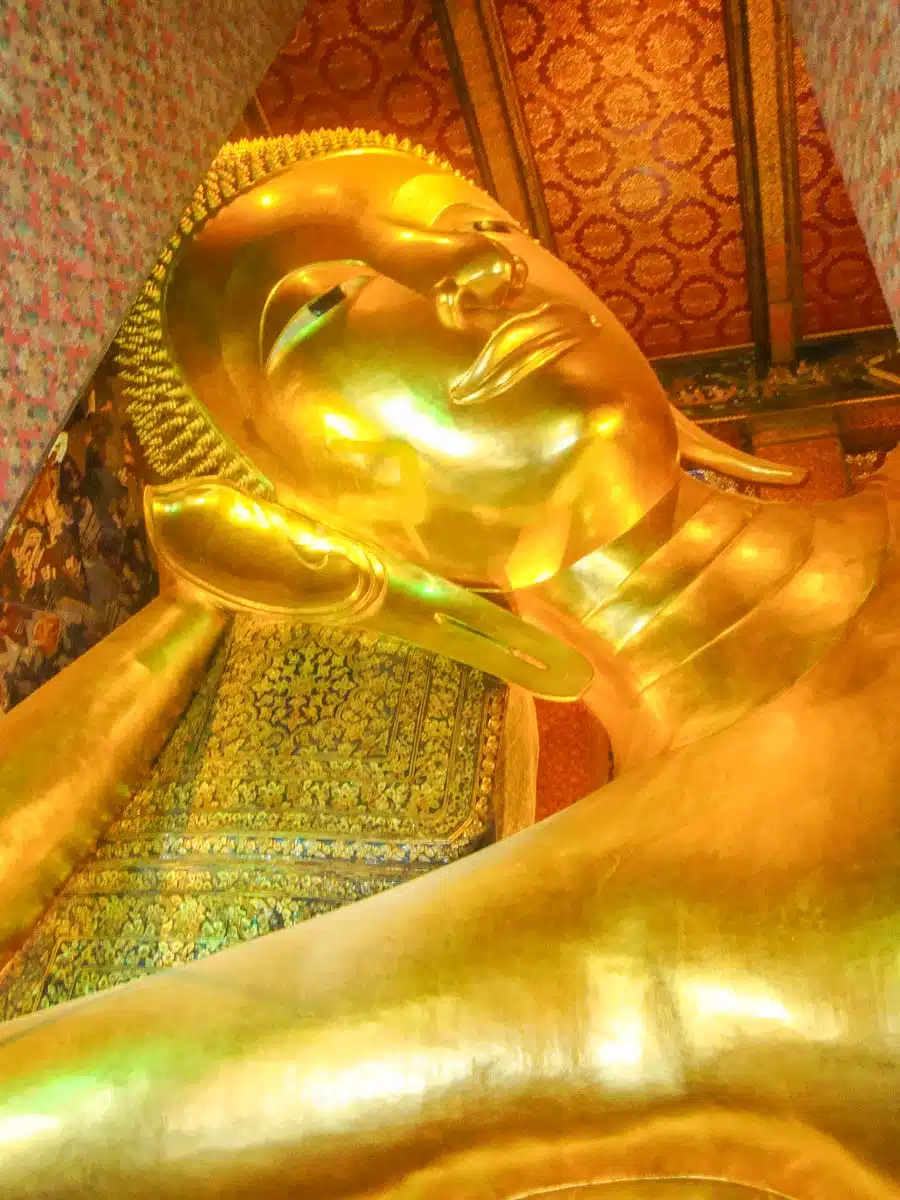 Take a day and explore the Palace and its grounds.
Handy hint: Don't believe the scam artists outside of the Palace who will try and tell you that it's closed. It's an age-old trick to try and get you to go on a tuk-tuk trip with them to a merchant of some kind, where they'll try their hardest to persuade you to buy their wares.
Watch some Muay Thai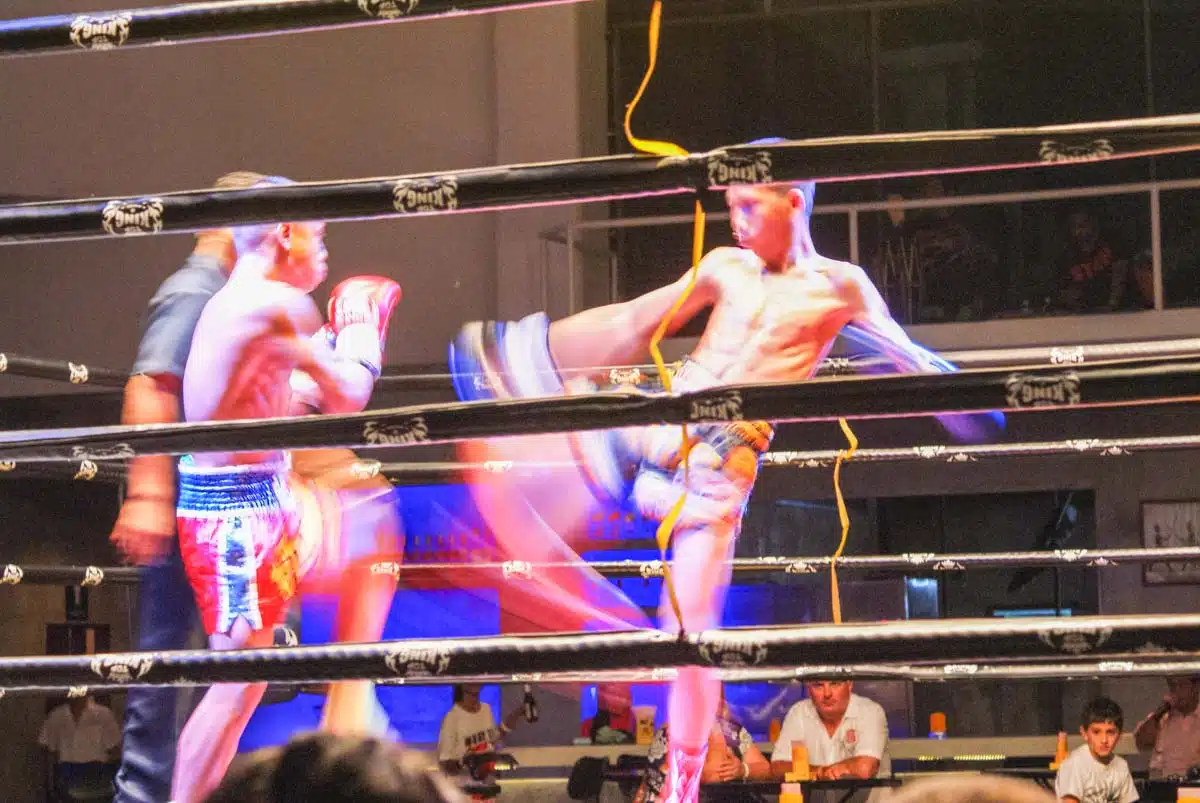 Muay Thai is Thailand's national sport and watching a Muay Thai fight is a must.
Muay Thai fighters use their whole body as a weapon but it's their speed and elegance that make for fascinating watching.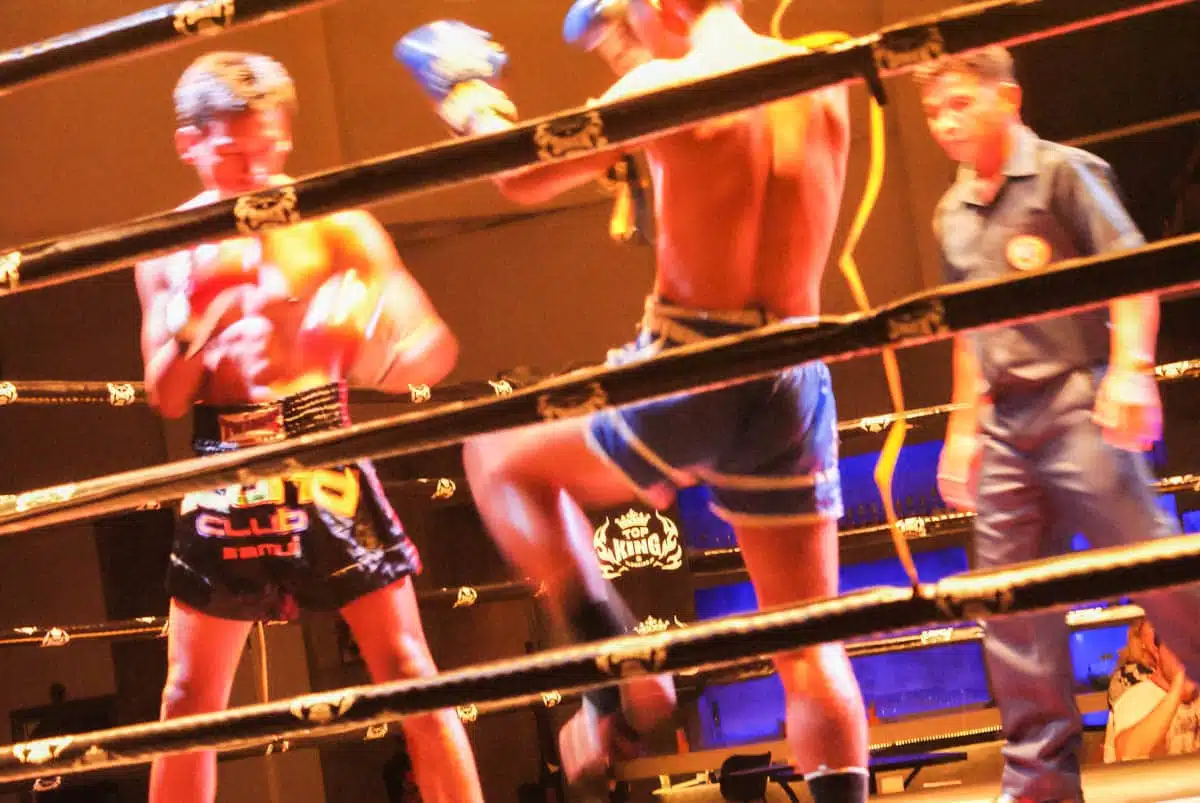 The sport is also known as the "art of eight limbs": fighters use their elbows, knees and shins as well as their fists and feet.
Discover the Perfect Beaches in Koh Lanta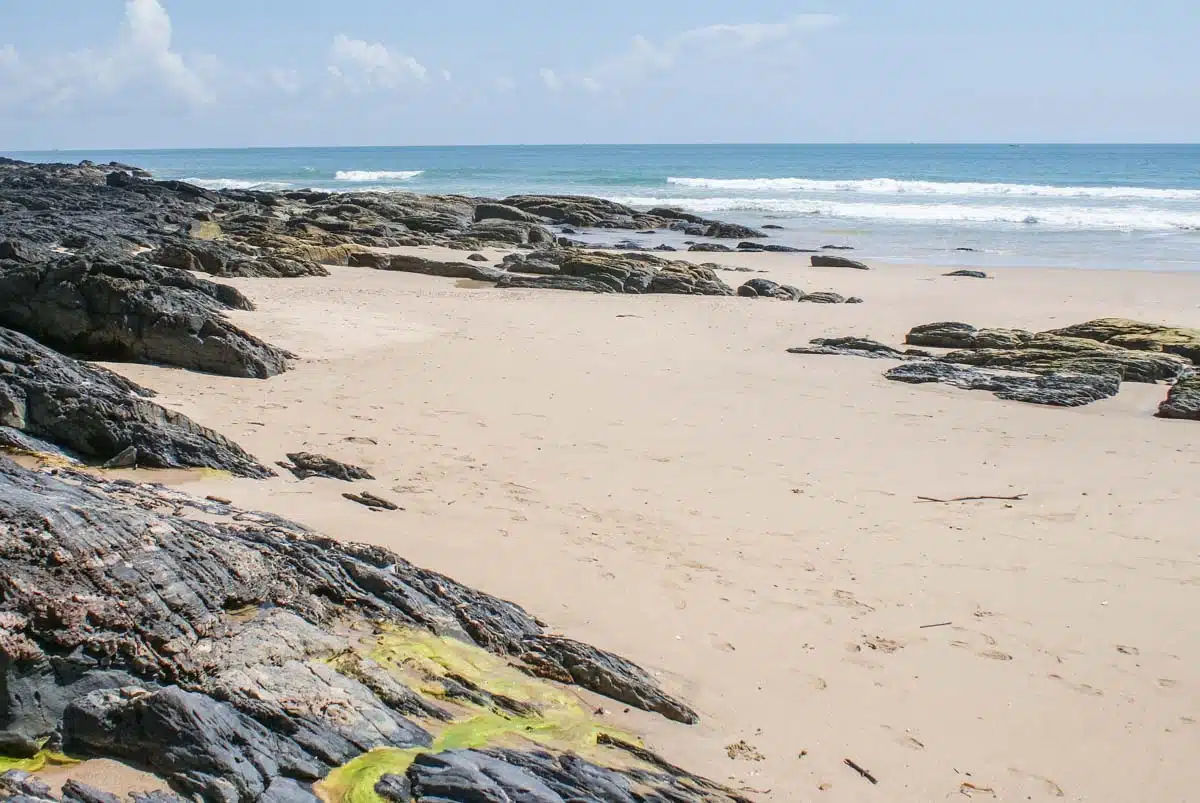 Koh Lanta boasts some amazing beaches and is the perfect destination for those looking for a slice of island solitude without wanting to sacrifice their creature comforts.
To be honest, I went to Koh Lanta for some serious chill time with my friends but was enchanted by the islands – there are so many places to see in Koh Lanta that it ended up being far more active than I'd anticipated.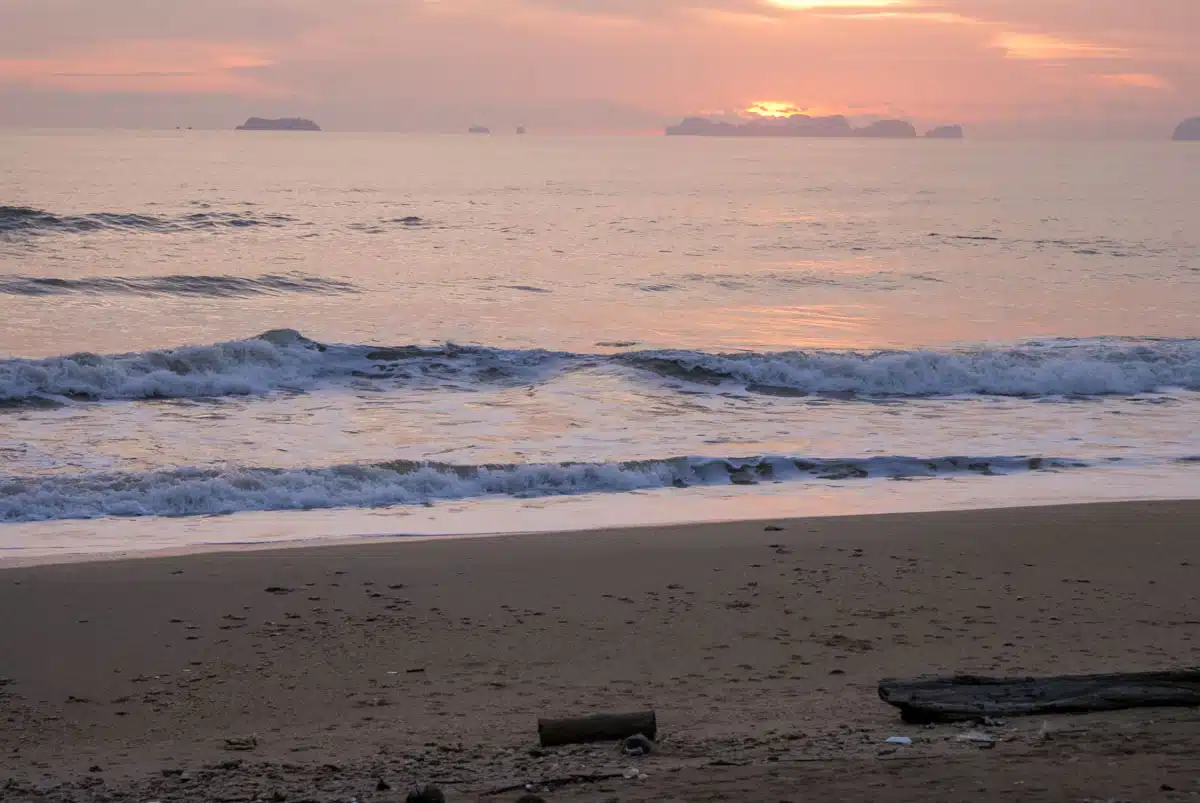 Koh Lanta is made up of several islands, of which Koh Lanta Yai is the most popular.
Put on some durable footwear and set off one one of the islands' many hikes. Alternatively, there are numerous cocktail bars to provide refreshment after a long day on the beach.
Read more: cool places to stay in Krabi
Catch a Slow Boat along the Mekong River to Laos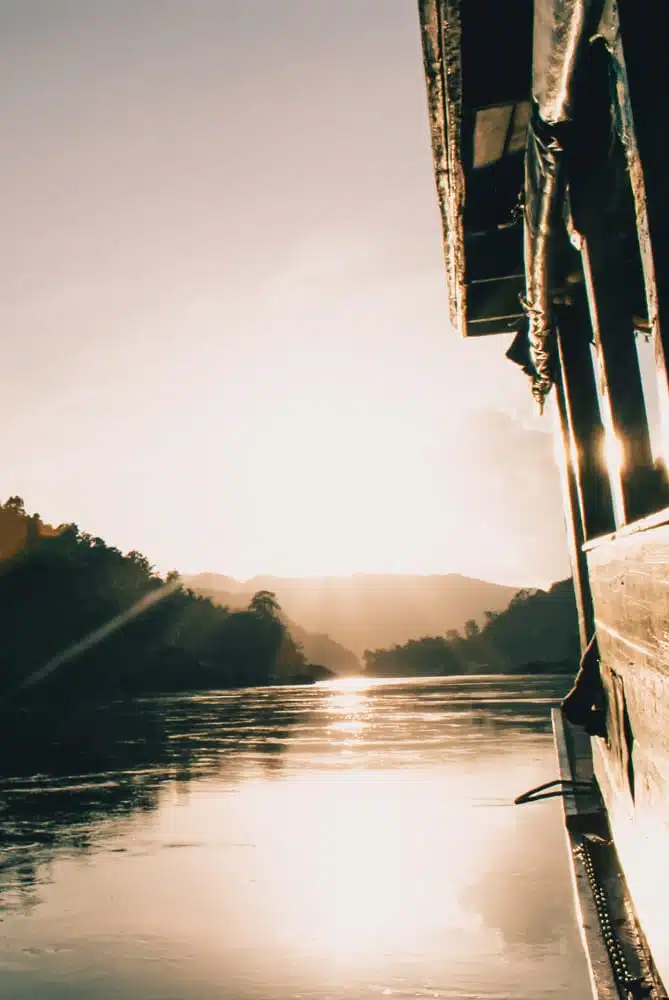 If you are heading over to Laos after north Thailand, you should not miss the slow boat along the Mekong along the Thai border.
It's not a simple journey but you'll spend two days gently floating down the Mekong River towards Luang Prabang (Luang Prabang is an awesome destination itself).
The scenery is incredible and you'll be rewarded with several Insta-worthy shots and the chance to make a few new friends.
Heading into Laos from there? Do a spot of rock climbing in Vang Vieng to get the adrenaline pumping.
Visit the Temple of the Emerald Buddha, Bangkok
There are so many beautiful things to see in Thailand, but picture this; the image of Buddha, ornately carved from a block of jade.
This can be found in the Temple of Emerald Buddha, also known as Wat Phra Kaew.
Catching a glimpse of the Emerald Buddha isn't all that easy; you'll have to compete with the crowds and it's also perched very high up.
Despite this, the temple is a must see place in Thailand due to its stunning architecture that consists of vibrantly coloured buildings, gleaming, gold spires and gorgeous mosaics.
Celebrate at a Full Moon Party on Koh Phangan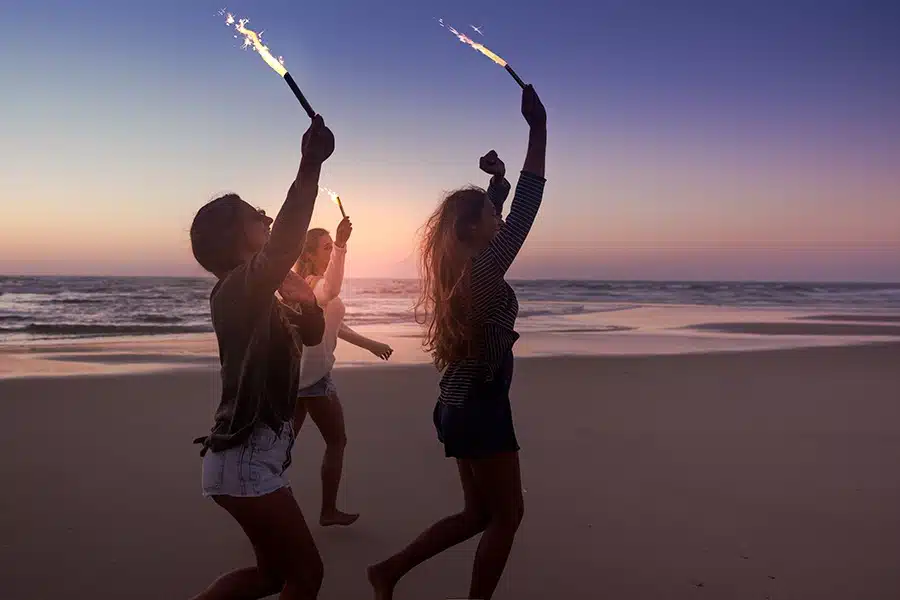 At the top of the list of fun things to do in Thailand, going to a Full Moon Party has to be close to the top.
Koh Phangan is the best (and original) spot for Full Moon Parties.
Picture a huge party surrounded by palm trees and beautiful sandy beaches – sounds pretty wonderful right?
It's the ultimate night out and a great chance for travellers from all paths to get together and share an amazing night.
Of all the things you must do in Thailand, I would say this is definitely something you don't want to miss, especially if you love to let loose.
Go Hiking or Rafting in Khao Sok National Park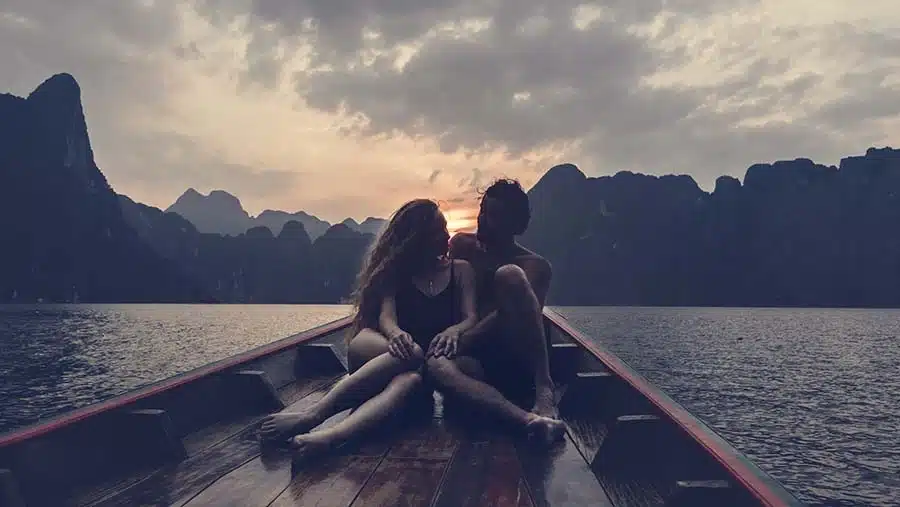 There are so many different things to do in Thailand – but you should take some time to explore the gorgeous natural landscapes the country has to offer.
Hiking in Khao Sok National Park is an absolute must for the keen hikers among you. Amongst the pretty waterfalls and caves, you'll find a variety of animals including bears, gibbons, deers, cats, elephants and tigers if you're lucky.
There's as much to see up above as there is below, as this park is home to over 300 species of bird.
If you really want to be at one with the wild, then spend 2 days on a Jungle Safari in this national park, where you can marvel at the natural surrounding, go bamboo rafting and stay the night a jungle bungalow.
Don't forget to pack your hiking boots or sandals from your Thailand packing list.
Other Brilliant Things to See and Do in Thailand
Explore the Temples in Phetchaburi
Of all the amazing things in Thailand to see, the temples are definitely up there. Few places can outdo Phetchaburi when it comes to temples.
All of these temples boast intricate architecture, with exquisite carvings, scripture halls and stunning monuments. It's truly a walk through history and a great way to immerse yourself in the city's culture and heritage.
Check Out Wat Pho, Bangkok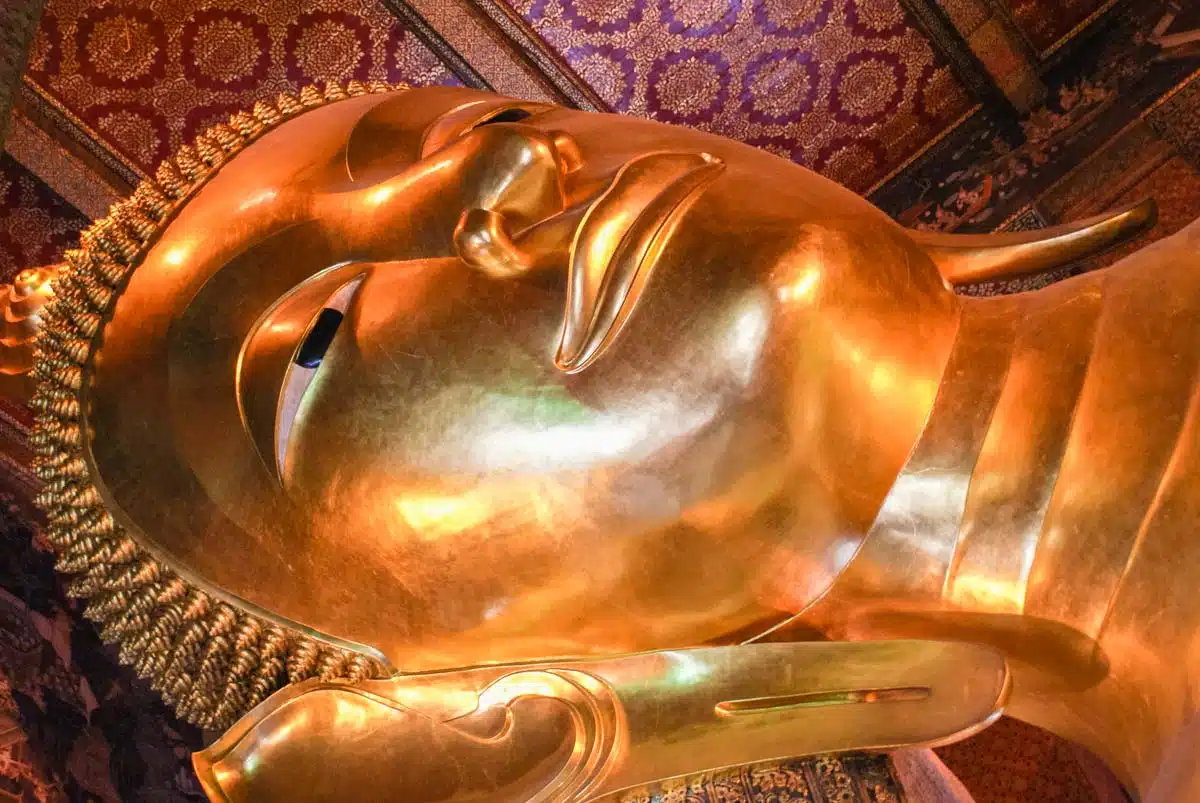 Situated behind the Temple of the Emerald Buddha is the must see Wat Pho, also known as, the Temple of the Reclining Buddha.
The temple got its name from the mammoth reclining Buddha that lives there. It's a whopping 46 metres long and beautifully decorated with gold leaf.
The buddha might dominate the temple's interior, but you should take some time to explore the rest of the interior as well.
All that temple spotting can be exhausting (I know right). If you're feeling a bit pooped, you;ll be glad to hear that Wat Pho also specialises in traditional Thai massage and medicine, ao you can book yourself in for a massage.
Sound pretty perfect? It is.
Explore Maya Bay
Just off the Phi Phi Islands in Thailand is Maya Bay – one of the most beautiful and popular destinations in the country.
This cove quickly rose to fame when it was used as a filming location for the 2000 movie, The Beach, starring Leonardo DiCaprio. The movie put Maya Bay on the map, attracting millions of tourists to the island to experience the paradise-like setting for themselves. I don't blame them.
This actually led to the beach being closed to the public to allow for the natural ecosystem to recover from the effects of over-tourism. The closure has given the coral reefs and marine life a chance to recover, and the beaches have been able to rejuvenate themselves.
It's now open again – hurray!
Top Tip: Go with a reputable guide that cares about the environment. I recommend this tour.
Bike Between the Ruins in Ayutthaya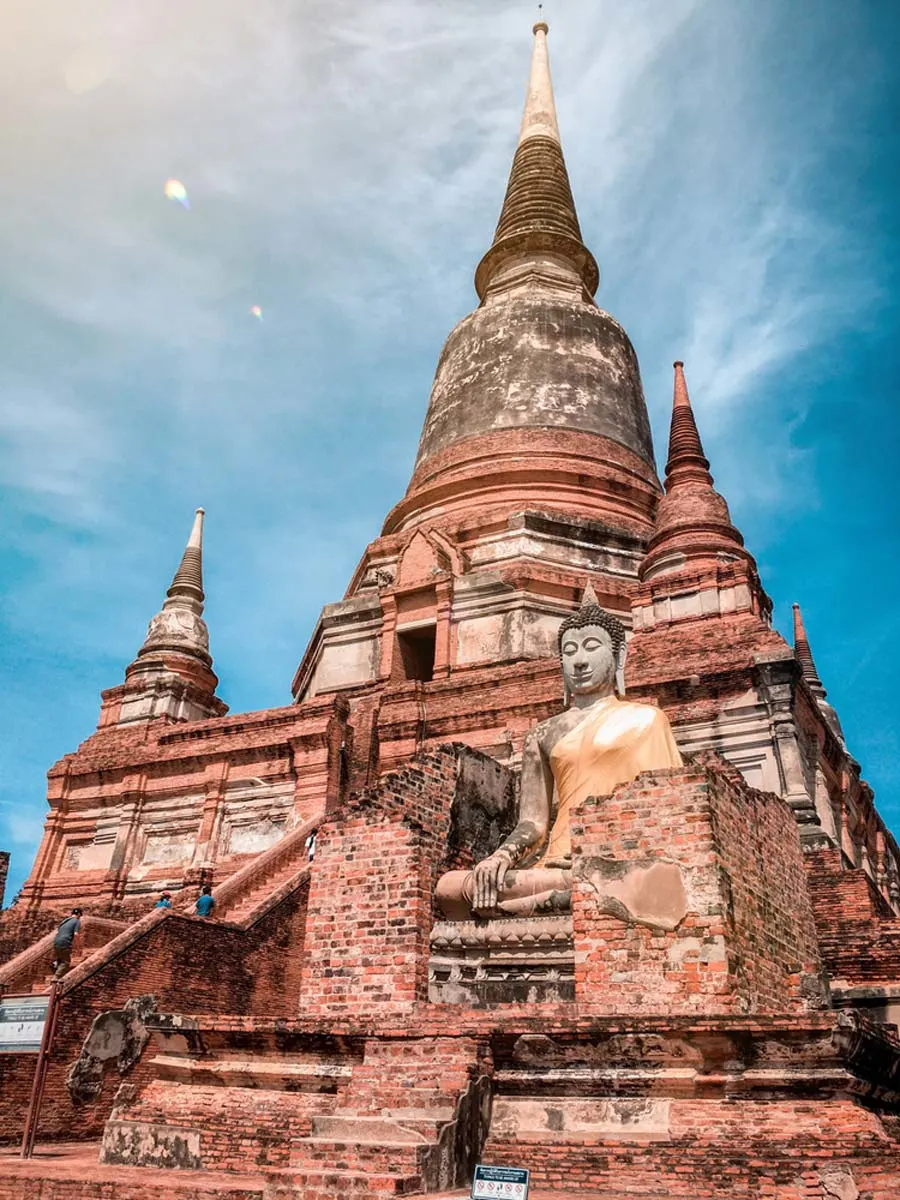 The natural beauty of Thailand means that you can sometimes forget that this is a country with a long and interesting history.
Ayutthaya was built in 1350 as the second capital of Siam, as Thailand was then known. It prospered, becoming the centre of Thai politics and commerce until the 18th century when the Burmese army attacked it and forced the residents to flee.
Wander around the vast complex of temple ruins to fully appreciate the scale and grandeur of Ayutthaya.
It's only 85km from Bangkok, so makes for an easy day trip. Alternatively, a few days will give you ample time to explore the ruins at your leisure.
Go on Night Safari in UNESCO World Heritage Site Khao Yai National Park
Thailand is so popular that it can sometimes feel like everyone is following the same travel route and doing the same things.
Wondering what to do in Thailand that's a little different from the norm? How about a night safari in the Khao Yai National Park?
Animals are more active at night, so it makes a lot of sense that you up your chances of seeing some cool stuff when you head on a night safari.
Catch a glimpse of the local wildlife under moonlight on a night safari in Khao Yai National Park.
Keep your eyes open for a chance to spot deer, civets and sometimes elephants. Exploring the jungle in the darkness gives a different perspective to the traditional safari whilst being able to explore a great national park.
Get Wet and Wild at Songkran Festival
A top event to experience in Thailand – Songkran Festival is well-known for the legendary water fights that ripple from town to town as Thailand bursts into celebration.
Quite simply, it's a must do in Thailand.
Translated from Sanskrit, Songkran means "to move forward" – an apt way to start the Thai Traditional New Year. It takes from from the 13-15 April and is all about starting anew.
Temples, schools and offices will be cleaned for a fresh start and Buddha images will be sprinkled with water for blessings.
Take part in the friendly water fights and embrace the wonderful chaos. Just don't wear your best clothes.
Stock Up on Goodies at Chatuchak Market in Bangkok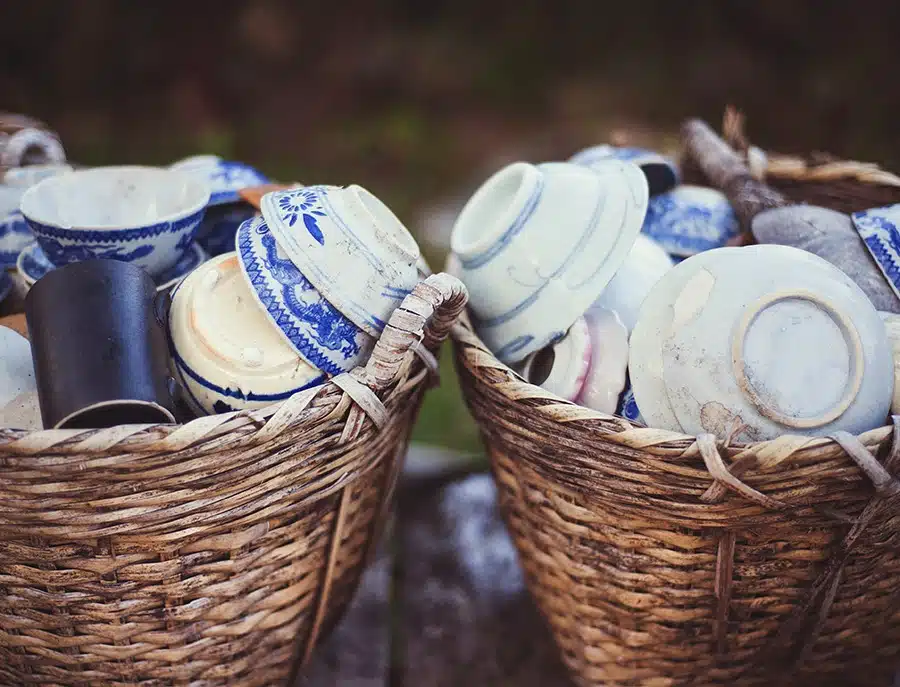 It's the weekend. You're wondering what to do in Thailand and you just so happen to find yourself in Bangkok. There's only one answer: Chatuchak Market.
Chatuchak Market is pretty much my favourite market in the country- basically, if you can't buy it at Chatuchak, it's not worth buying.
I would recommend getting there early and devoting a whole day to exploring the myraid of alleys, jammed with stalls, small shops and restaurants.
Be warned: there's a lot to get through.
If you're looking for tokens of memorabilia, you'll find some wonderful antiques and souvenirs in the form of musical instruments, masks and statues.
If you're looking for some new garms, look no further as there is plenty of choice in this market. It boasts styles for varying subcultures and is numbered in sections for your convenience.
Alongside this, you'll also find homeware, pets, plants and of course, some tasty food and drink. Bring empty bags.
Get A Thai Massage
If you even make it through a proportion of this list of what to see Thailand, chances are you're going to be pretty exhausted.
What better way to wind down than with a Thai massage? This is a top Thailand tourist attraction. Unsurprisingly so; it's inexpensive, relaxing and invigorating.
A traditional Thai massage uses ancient methods to relieve stress and relax the body and is said to have great health benefits.
Not had a proper Thai massage before?
Expect your muscles to be stretched and pulled and for the masseuse to use various parts of their body, including their elbows and knees. Some masseurs may even walk on your back to really stamp out those dreaded knots.
It sounds far more terrifying than it actually is – plus you're pretty much guaranteed to walk out with a spring in your step, ready to tackle the rest of your itinerary.
Hike the Mae Hong Son Loop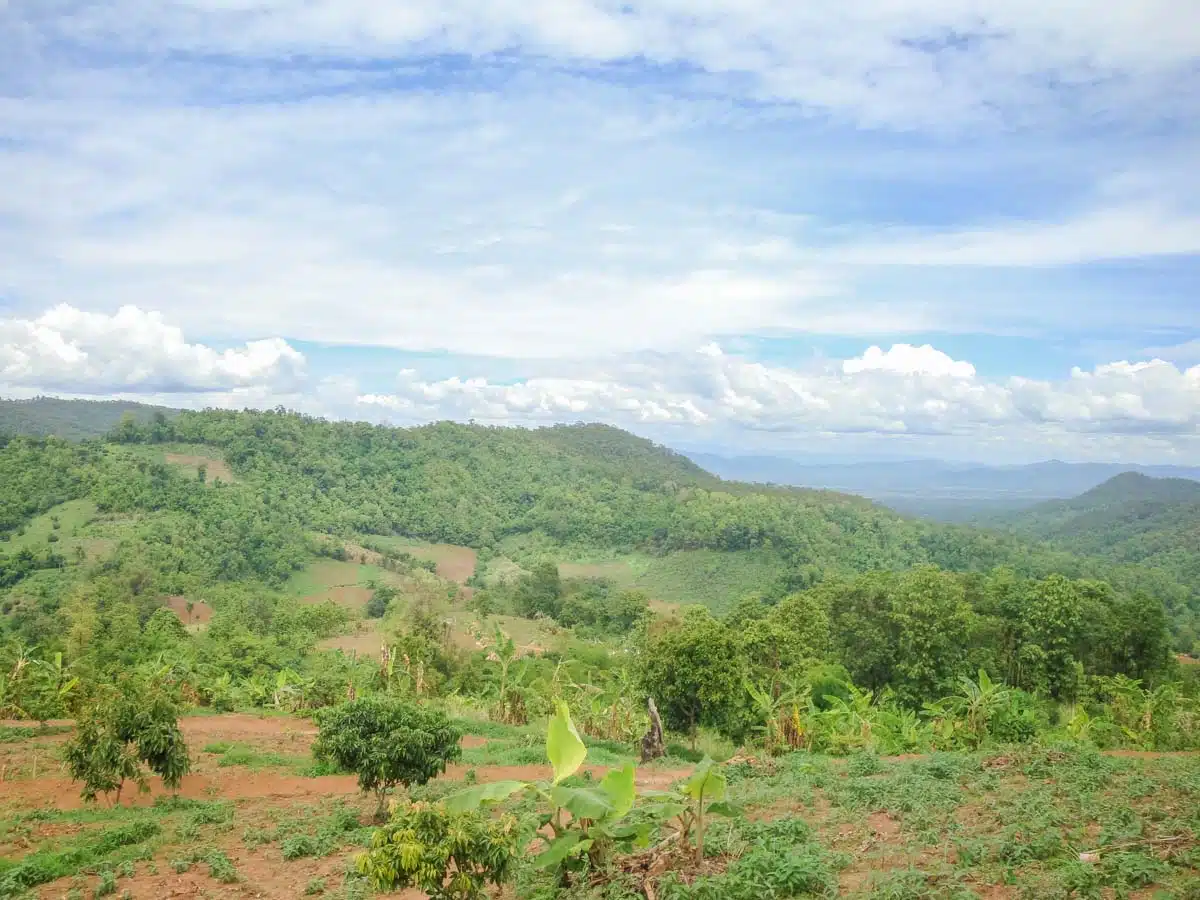 Experiencing a trip through Mae Hong Son Loop is one of the most authentic things to do in Thailand. Hiking in the interior is a perfect way to break away from the popular beaches and crowded cities.
Expect to see breathtaking landscapes, explore hidden villages, peruse markets and marvel at the beautiful temples.
There is so much to see on this hike, with lush forests, epic mountain backdrops and serene waterfalls.
A lot of the standard tours include visits to the hill tribe villages located in the north of Thailand. I would not recommend these as the large majority exploit the villagers, many of whom are displaced from Myanmar.
There are ethically-run tours to visit some of the lesser-known hill tribes – just make sure that you do your research before you book.
Go White Water Rafting in Pai
Love outdoors adventure? White water rafting is a must do in Thailand.
Travel down the Pai river to get an amazing rafting experience, surrounded by gorgeous mountains and beautiful greenery.
You'll get to see the best of Thailand whilst taking on some high octane adventuring.
Get Away From it All in Koh Kood
If you're seeking natural perfection, then look no further than Koh Kood for one the most beautiful and best places in Thailand.
Wriggle your toes in silky, soft sand and be lulled by the sounds of gentle, lapping waves.
With all the bustling things to do in Thailand, a trip to Koh Kood is a peaceful moment away from the noise. Chill out on a hammock, go kayaking or enjoy the water with some snorkelling.
You won't want to leave.
Go Sea Canoeing in Ao Phang Nga
Hop in a canoe and explore the cliffs and caves of Ao Phang Nga National park.
One of the best places in Thailand for serenely gliding through the waters – there's nothing quite like the experience of rowing through the fascinating limestone caves to take in the awe inspiring scenery around you.
Visit the Hill Tribe Villages of Northern Thailand (Ethically)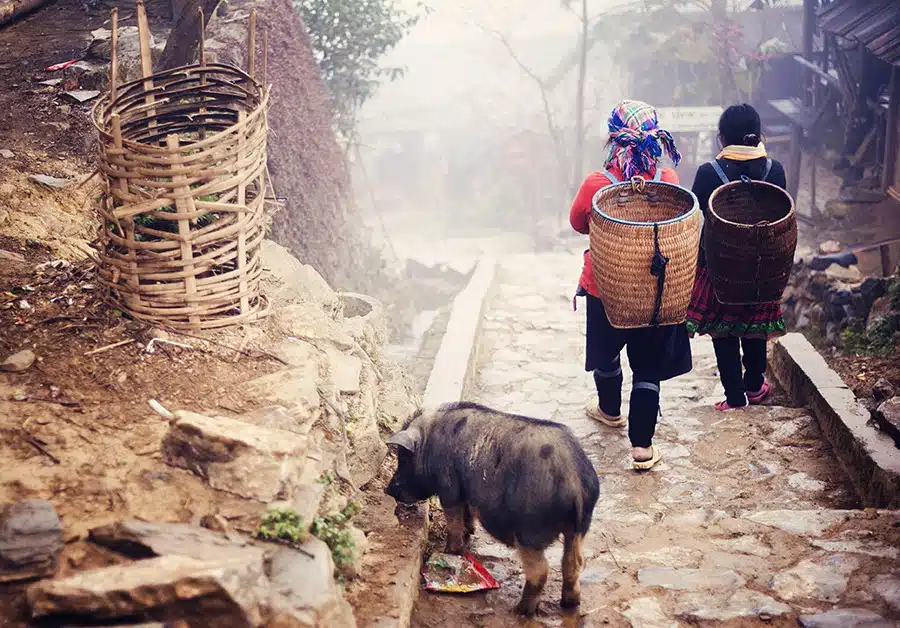 Visiting the hill tribes of northern Thailand is at the top of many a traveller's Thailand bucket list – their unique culture and practices offer a glimpse at a world far removed from our own day to day lives.
However, there are real problems and questions about the treatment and exploitation of many of the tribes visited on standard tours.
It's not to say that you can't visit the hill tribes. Instead, you should spend time doing research to make sure that you are going with a guide who understands and respects the culture of the tribes and avoids the most frequented villages, which have taken on the aspect of a human zoo.
Learn About the Death Railway and the Bridge over the River Kwai in Kanchanaburi
The name alone portends the dark past of the so-called "Death Railway" and the Bridge over the River Kwai.
Learn about the treacherous history of slave labourers and WW1 prisoners who built the railway and the unforgiving work conditions that it was built under.
In contrast to the saddening history, the Bridge over the River Kwai is a surprisingly beautiful location and one of the most popular Thailand tourist attractions.
Visit Wat Rong Khun (The White Temple) in Chiang Rai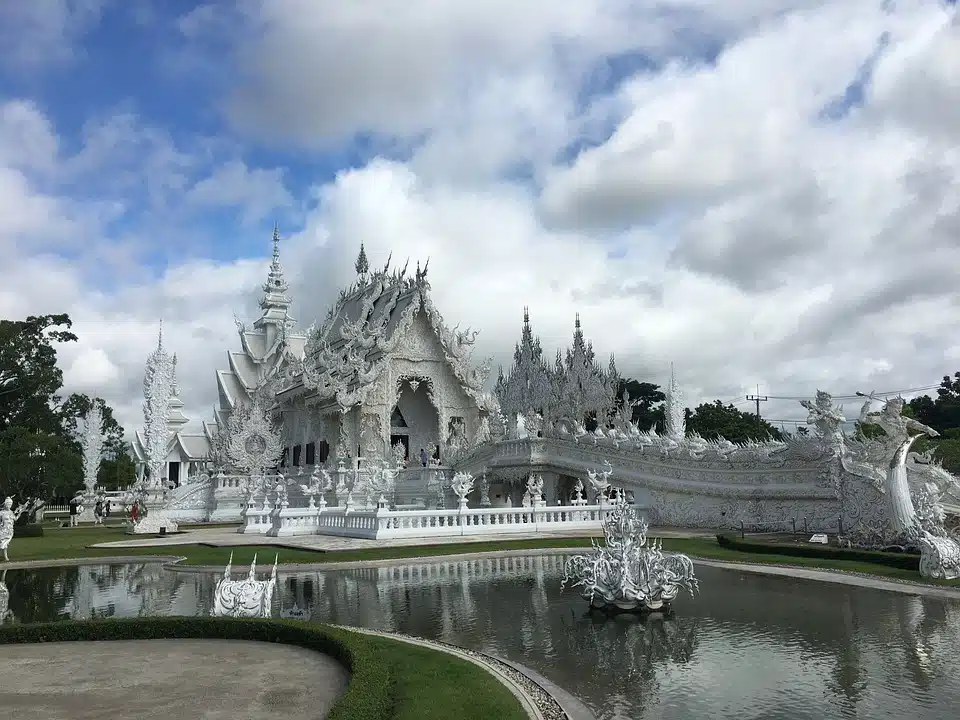 The eye-catching Wat Rong Khun is (IMHO), the most striking temple in the country.
Why do I think Wat Rong Khun is one of the must see places in Thailand?
Take a look…
Its unconventional and striking aesthetic is pretty unforgettable. Rather than the usual glistening gold and bronze, this temple is all white, and covered in ornate designs.
Design-wise, it's something of a mix – you can find traditional imagery alongside contemporary references: the creator, Chalermchai Kositpipat, even worked in imagery from Superman and spaceships!
It's every bit as wonderful and bizarre as it sounds and 100% one of the most interesting things to see in Thailand
Marvel at the Impressive Wat Arun in Bangkok
Named after Aruna, the Indian God of Dawn, the significant structure of Wat Arun is a truly amazing thing to see in Thailand.
Look closely and you'll see impeccably made floral mosaics that have been pieced together by shards of chinese porcelain.
Brave the steep climb and get an amazing view from the top of this gargantuan spectacle. The sheer size of this bustling metropolis is laid bare – don't forget to bring your camera.
Go Island Hopping in the Gulf of Thailand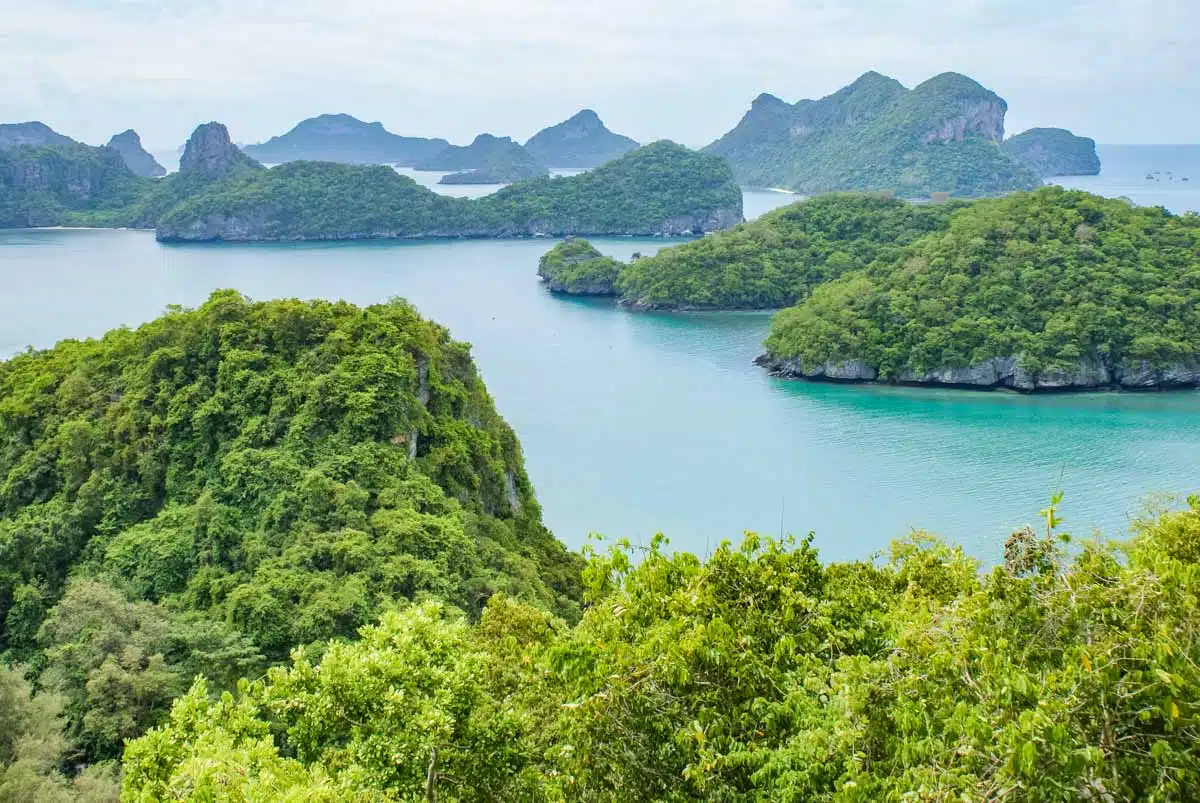 The Gulf of Thailand boasts some pretty spectacular islands, so it'd be a shame not to visit them all (or at least as many as you possibly can).
Experience the best of Thailand and hop from one paradisiacal location to another and embrace all the island beauty on offer.
Soak up the sun in Koh Chang, enjoy a walking train in Koh Mak and marvel at the waterfalls in Koh Kood – and that's just the beginning.
Eat Lots of Pad Thai
Out of all the activities, eating gets my vote as one of the best things to do in Thailand. It's difficult to choose a favourite dish but Pad Thai has a special place in my heart (well, stomach).
Indulge in the aromatic combination of silky rice noodles, tangy notes of tamarind and the umptuous bite of chicken, shrimp or tofu.
The marriage of salty and sweet is near impossible to resist.
Soak Up the Sun on Chaweng Beach, Koh Samui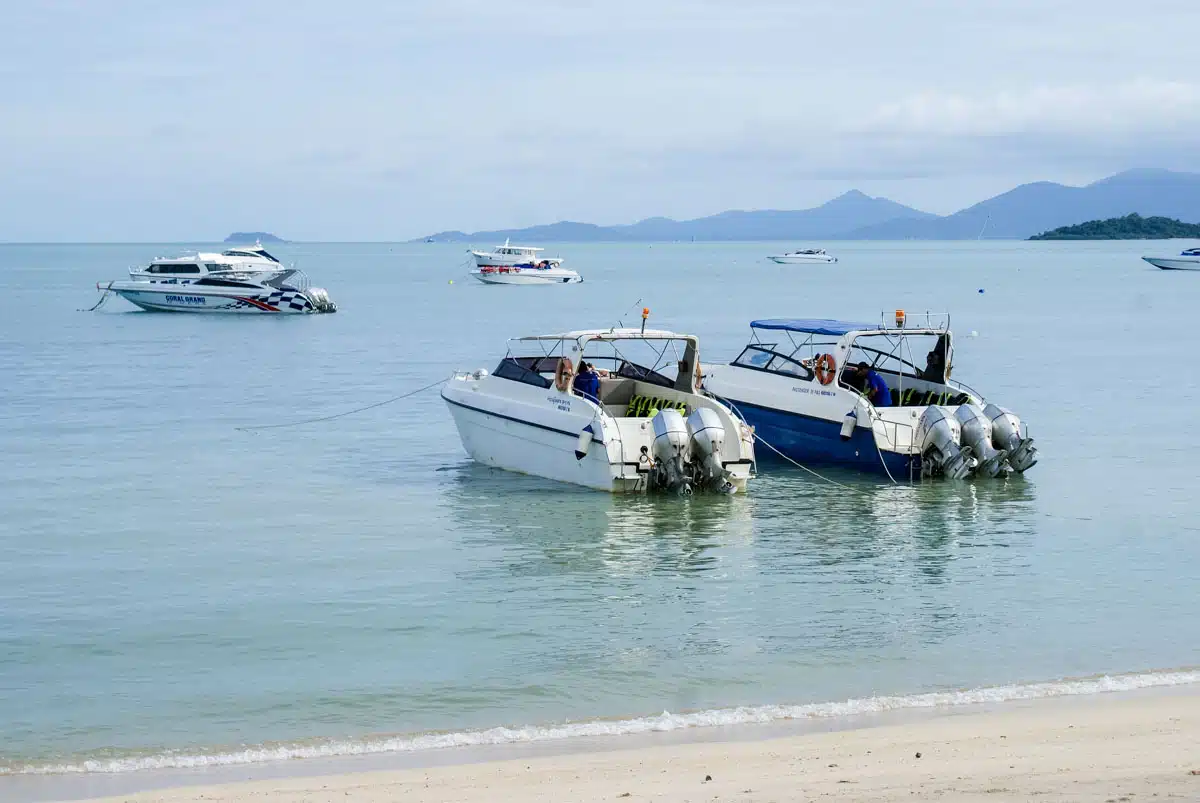 Once you've hiked through the vast stretches of nature, ridden on a tuk tuk and squeezed through crowds in Bangkok, it's time to head to the beach.
Koh Samui is famous for having some of the best beaches in Thailand: Chaweng Beach is no exception.
7km of pristine white sand beckons – who are we to resist? Grab a towel and some sunscreen and pick your spot. Rinse and repeat.
Go Shopping at Asiatique Night Market in Bangkok
If you're figuring out where to go in Thailand in the evening, I suggest heading to the Asiatique Night Market in Bangkok.
This former international trading port now exists as a market with over 1500 boutiques and 40 restaurants.
There's a huge range of shops, selling everything from clothing, to jewellery, to handicrafts. Don't just expect to find touristy stuff here, Asiatique boasts some of the latest in cutting edge fashion and gadgets.
Pick Up Some Souvenirs at the Chiang Mai Night Bazaar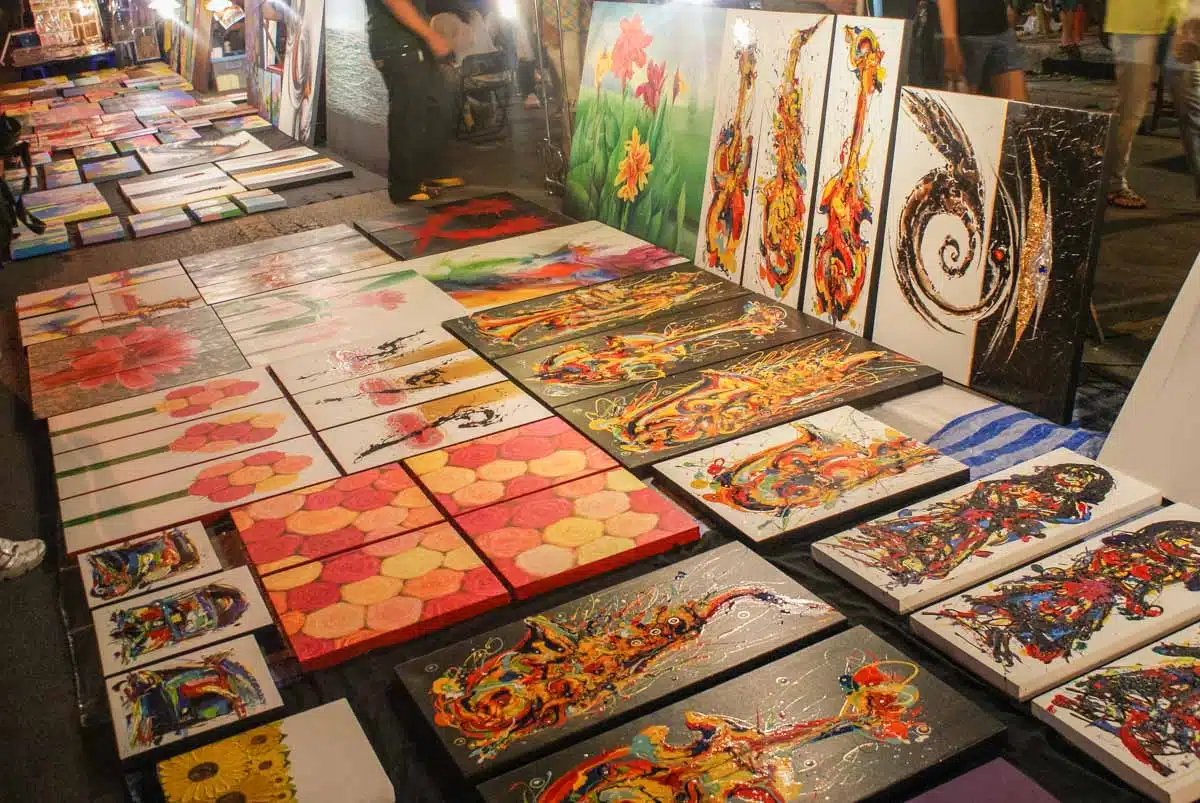 Whether you're looking for a souvenir or just want to immerse yourself in an exciting atmosphere, the Chiang Mai Night Bazaar is one of the most lively places to visit in Thailand.
The market stretches on for nearly a mile and is filled with stalls selling clothing, jewellery, handicrafts and food.
There are a plethora of goodies to be purchased, such as bamboo rice boxes, Thai silks, hand carved soaps and spices.
Shopping can make you pretty peckish, but not to worry, there's plenty of food on offer, from street food to a sit down meal.
Visit the Elephant Sanctuary in Chiang Mai
At the Chiang Mai Elephant Sanctuary, their primary focus is the protection and conservation of elephants.
Of all the fun things to do in Thailand, this also provides an educational trip that'll teach you the importance of looking after the elephants.
During your trip, you'll get the chance to bathe, feed and play with them and get up close and personal to these amazing creatures.
Book yourself a tour and experience the great work that's going into protecting the elephants.
Get a Sak Yant Tattoo
Tattoos. Love 'em or hate 'em – it's practically a rite of passage to get a tattoo during your travels at some point in your life.
If you want a tattoo with a deeper meaning (let's face it, who doesn't), consider getting a Sak Yant tattoo.
This isn't just any tattoo; Sak means jab or tattoo and Yant is a form of mystical diagram. The tattoo is done by a Buddhist monk with a metal rod and is both an art form and a spiritual experience.
The tattoos are believed to provide magical powers, promoting good health, money, protection, luck and family. Either way, it's definitely one way to remember your trip.
Go Diving and Snorkelling in the Andaman Islands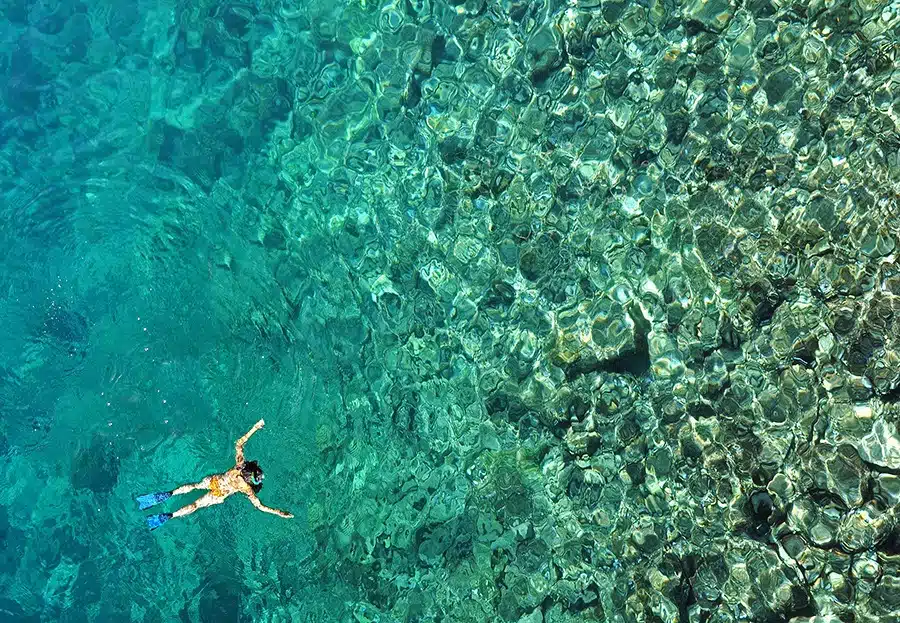 The Andaman Islands are the best place in Thailand to go diving, so dive in and explore the abundance of sea life.
They're a little off the beaten track (read, pretty difficult to get to), but totally worth the effort.
Dipping under the turquoise waves, you'll find a paradise of marine life, including a rainbow of coloured fish, manatees and turtles.
There are several beaches to explore, including Havelock and Mysterious beach, all offering gorgeous waters, beautiful scenery and of course, a variety of vibrant of sea life.
Enjoy the Flight of the Gibbon Experience in Chiang Mai
Ever wondered what the jungle looked like from the perspective of a gibbon? Oh, maybe just me then.
Sounds surreal, but it turns out that you can go full Gibbon in Chiang Mai at the Flight of the Gibbon Experience.
Zip through the jungle and have your toes dangling above the trees as you soar above the jungle canopy. There's a range of courses you can choose, from Long Zip-Line, to Honeymoon Zipline or zip from tree to tree as a gibbon would!
Not only do you get the exhilarating fun of being on a zip wire, but you'll be surrounded by all the natural beauty the jungle can offer.
Flying across one of the longest zip wires in Asia has to be one of the top fun things to do in Thailand.
Live it Up with Rooftop Cocktails in Bangkok
Rooftop bars are totally in vogue and it seems everyone wants to sip cocktails whilst peering over a city skyline; I mean, why wouldn't you?
Bangkok is no exception to this trend and has its fair share of stylish rooftop bars for you to enjoy a taste of the high life.
Enjoy a more casual setting on ABar Rooftop or surround yourself in fashionable opulence at CRU Champagne Bar. Work your way between them to work out which one has the best view.
Watch a Ladyboy Cabaret Show
Glitz, glamour and cabaret; the makings of a perfect night out!
Experiencing a Ladyboy Cabaret Show is a must do in Thailand if not your usual Friday night out on the town. It's a fascinating blend of glamorous dresses, cheeky jokes and eye-popping moves.
These ladies know how to put on a performance – and the costumes are out of this world.
Stay in a Luxury Hotel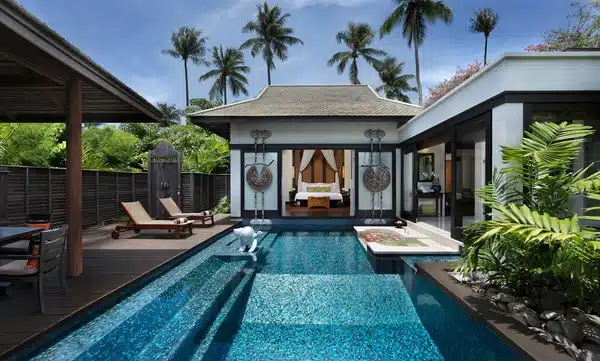 If you like your trips with a touch of opulence, then there are few better places to indulge yourself than in Thailand.
There are so many hotels on offer, providing their own unique spin on a luxury stay and they're often much better value and larger than high-end destinations in Europe and the Americas.
Immerse yourself in fantasy at Keemala or bathe in serenity at the Four Seasons resort. If you're staying in Phuket, there are some amazing hotels to choose from and lap up the luxury. You could even make it more special by getting a first class train in Thailand to get there.
Snack on some Insects
Whilst eating insects may not be to your taste, it's not that unusual across some parts of Asia.
Deep-fried grasshopper, spicy locust – there's a whole host of crunchy critters for you to try (they're surprisingly tasty too)…
Explore the Waters of Ko Tarutao Marine Park
Divers and water lovers: if you're wondering where to go in Thailand and you're looking for a stunning destination to explore then the Ko Tarutao Marine park is the best place to visit for off-the-beaten-trek beauty.
Landwise, you can find macaques, mouse deer, tree shrews, squirrels and hundreds of species of bird.
But it's what lies underwater that lures most travellers here: the park's rich waters are teeming with tropical fish, sperm whales, dolphins and turtles.
Chow Down on Street Food in Bangkok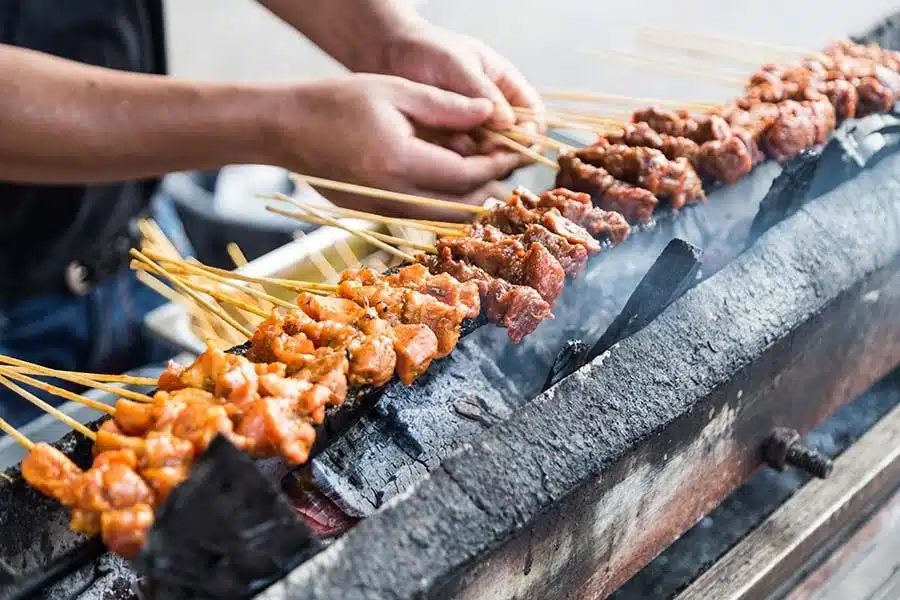 Chowing down on some street food in Bangkok has to be one of the most popular Thailand tourist attractions, and if you've tasted the food, you'll understand why.
Walk through the streets of Bangkok and you'll be lead by the moorish aromas of delectable food. There is so much to choose from, you'll be spoilt for choice.
There's of course, delicious pad thai, aromatic curries and soups and sweet and salty seafood dishes on offer. So grab a fork (or some chopsticks), bring a hungry stomach and go and explore!
Trek Your Way To Tee Lor Su Falls from Umphang
Tee Lor Su Falls is located in the Umphang Wildlife Sanctuary and is said to be one of the most stunning waterfalls in Thailand.
Listen for the rumbling noise of the cascading waterfall as the sounds echo through the rainforest.
The trek from Umphang to the waterfall can be quite a walk – be sure to wear sensible boots and clothing.
Grab a Tuk Tuk Ride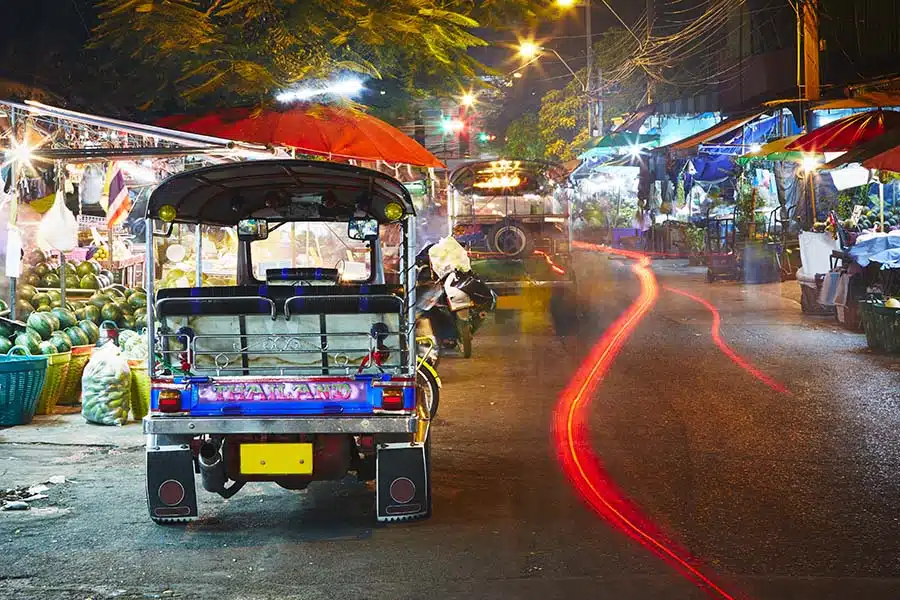 Tuk Tuks – built around a traditional rickshaw but with a small engine and often pimped out to unbelievable standards.
They're not exactly the speediest way of getting around but it's definitely a real Thai experience – no trip is complete without hopping in the back of one.
Looking for some tuk tuk tips?
Don't be afraid to haggle, agree the price upfront and make sure that your driver takes you direct to your destination (some try to take you on a circuitous tour of tat-filled shops where they'll get a commission on anything you buy).
Unique Things to do in Thailand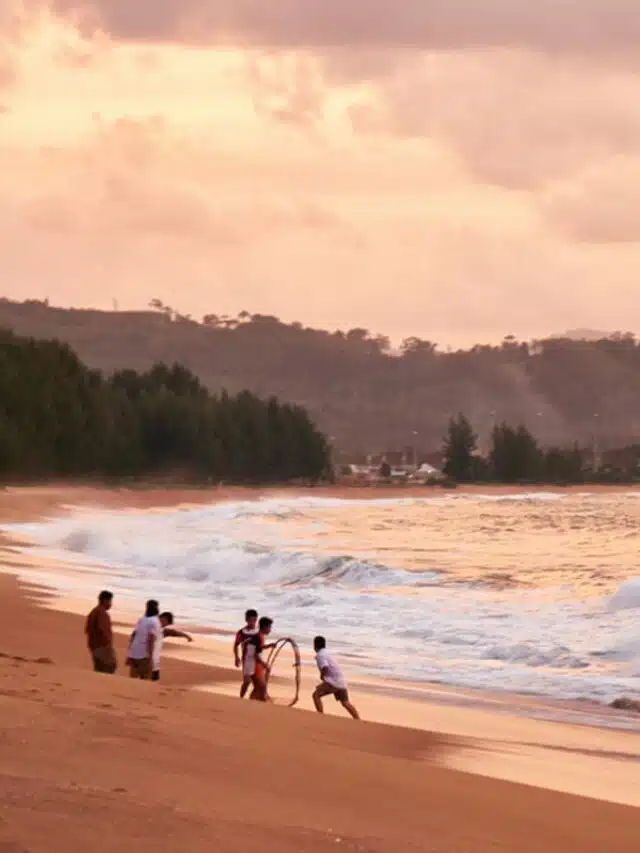 Visit Damnoen Saduak, Floating Market Ratchaburi
Why simply walk through a market when you have the option of floating through instead?
Out of the list of top things to do in Thailand, this is probably one of the more unique activities, but one that I'm sure you'll love.
Drift through the canals of the market and have a peek at what they're selling at the stalls – don't forget to pick up a few souvenirs either!
Explore The Wang Saen Suk Hell Garden
The Wang Saen Suk Hell Garden is definitely one of the more unusual places to visit in Thailand, but a fascinating one nonetheless.
This garden teaches us the treacherous life, or afterlife, of the underworld and the hellish imagery within it.
The garden features life size statues of contorted human bodies, people with animal heads and sinners being boiled whilst they're stabbed with spears.
The figures are truly unnerving, with violence, blood and torture popping up frequently. Not one to visit with your nan.
Enjoy Some Beach Time on Ko Samet
Thailand's beaches are famous for their beauty and Ko Samet has more than its fair share.
This is a must-see spot in Thailand for locals and travelers alike. The lure of golden-dusted shores, quaint coves and turquoise waters makes for a popular beach haven.
If you're looking for some excitement on the beach, there's plenty going on in the southern part of the island – from fire juggling to super-fresh and tasty beach barbeques.
And when you're finished? Head into the island's relatively untouched jungle interior to explore.
Visit the Bangkok Airplane Graveyard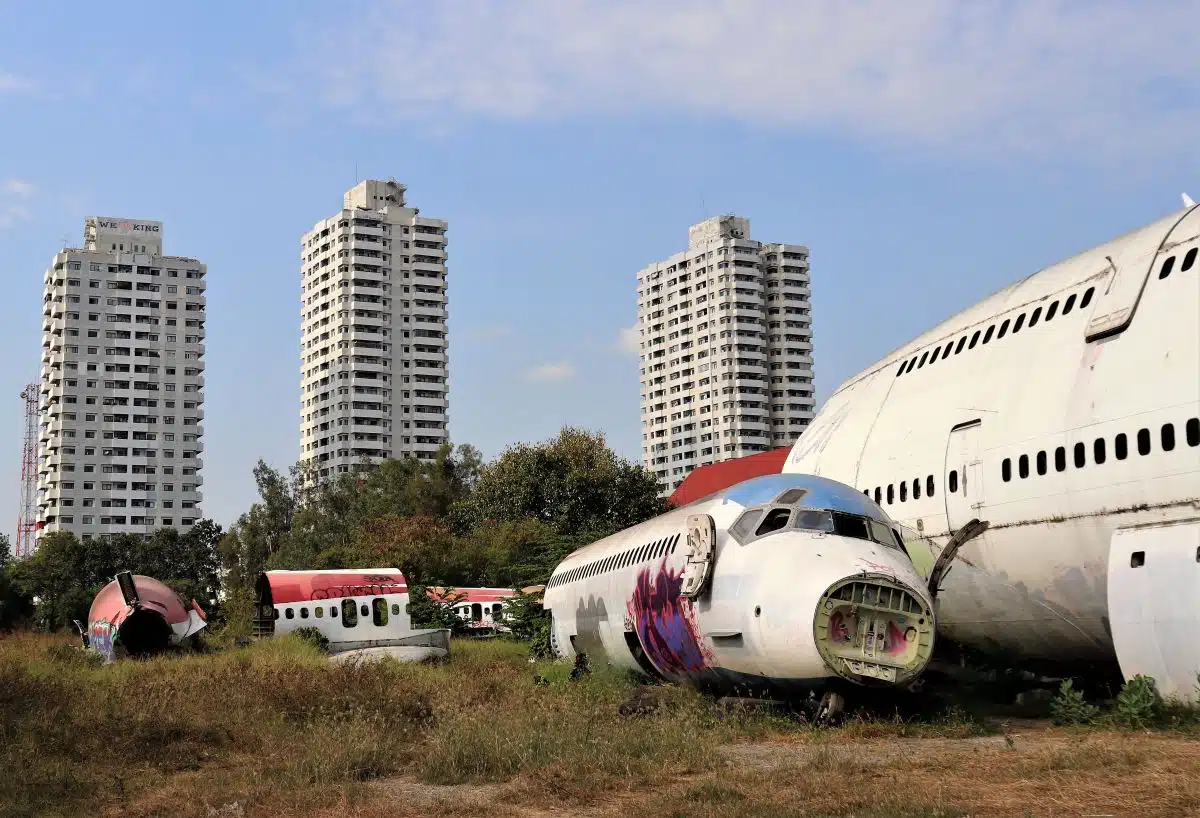 This isn't just any graveyard, this is a site scattered with the dismembered parts of planes that have been scrapped.
Explore the broken bodies of planes, wings and engines, littered across the floor. Head inside an abandoned Boeing 747 to see what a hollowed-out plane looks like.
This is a fascinating stop for any aircraft fanatics out there or for anyone looking for something unique to see in Thailand.
Hiking Pai Canyon
Strap on your hiking boots and experience the majesty of Pai Canyon. Visiting Pai is one of the most popular things to do in Northern Thailand and Pai Canyon one of its main attractions.
Look out at the breathtaking 360-degree views from the canyon and take in all the natural beauty surrounding it.
The hike can be pretty hard, with rocks to climb and narrow paths, so be sure to be prepared before you go. It's best to travel during early mornings or late afternoons, when it's a little cooler. Pai Canyon is a great place to catch a sunset – the view is so good it's practically mystical.
Practical Tips for Exploring Thailand
Don't be afraid to haggle. This is true at both markets and when it comes to catching boats to smaller islands – locals are known to hike up prices for tourists.
Make sure you are only taking part in ethical tours – especially when it comes to seeing the elephants and small villages.
Love This? Save and Share on Pinterest!