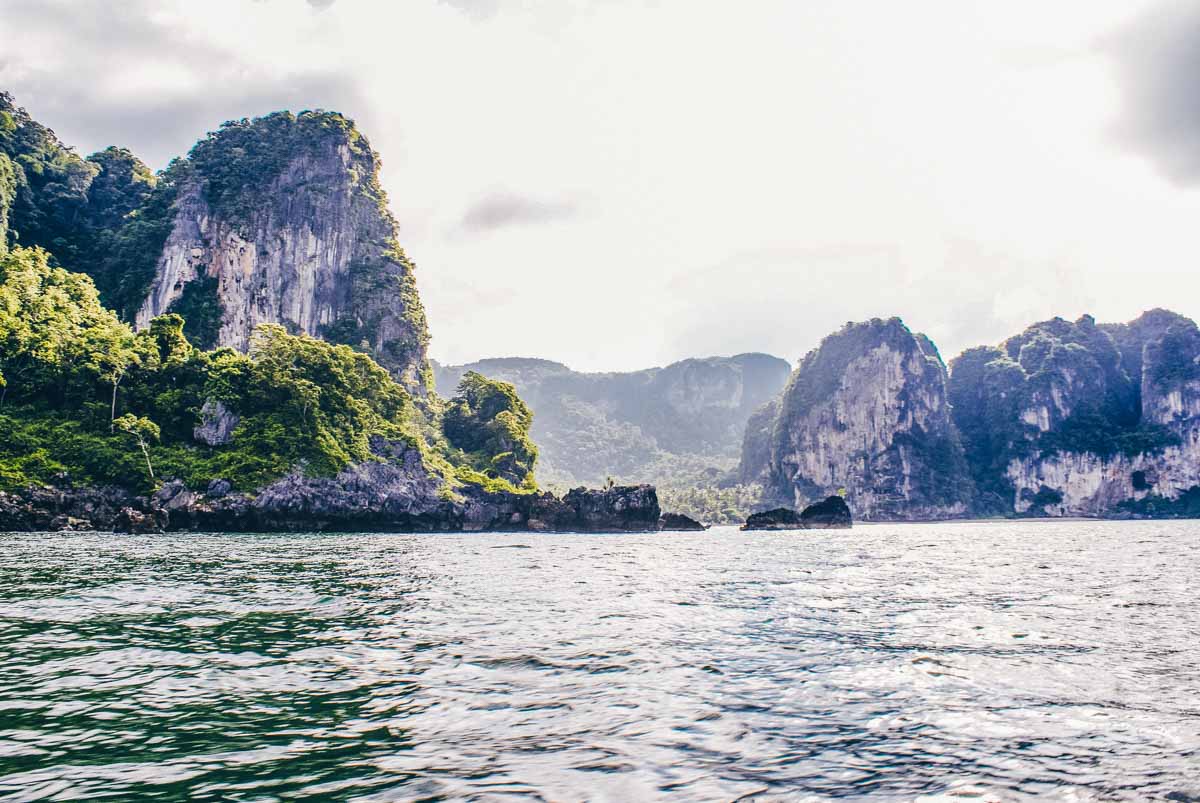 Limestone karts rising from the cerulean sea, chill beaches and balmy breezes hidden in secluded cloves you can only access by long-tail boat: there's a lot to love in Railay. Look beyond the perfect landscapes and you'll find another more adventurous draw: Thailand's biggest climbing mecca.
It occurred to me the other day that I've now spent the better part of a year in the UK – which is probably the most time I've been in my home country since I saved up the pennies from my terribly paid Saturday job aged 17 and set off backpacking around Spain and Portugal with my bestie. I'm not mad about it either. Really.
Of course I've spent some time mulling over the experiences I've had on my travels and started thinking ahead to that time when I can safely get on a plane and travel in the way that, I now realise, I completely took for granted.
It would be too difficult to pick one place I'm most excited about travelling to again, but Railay – a small area tucked in the Krabi province of Thailand, would have a strong winning chance at the title.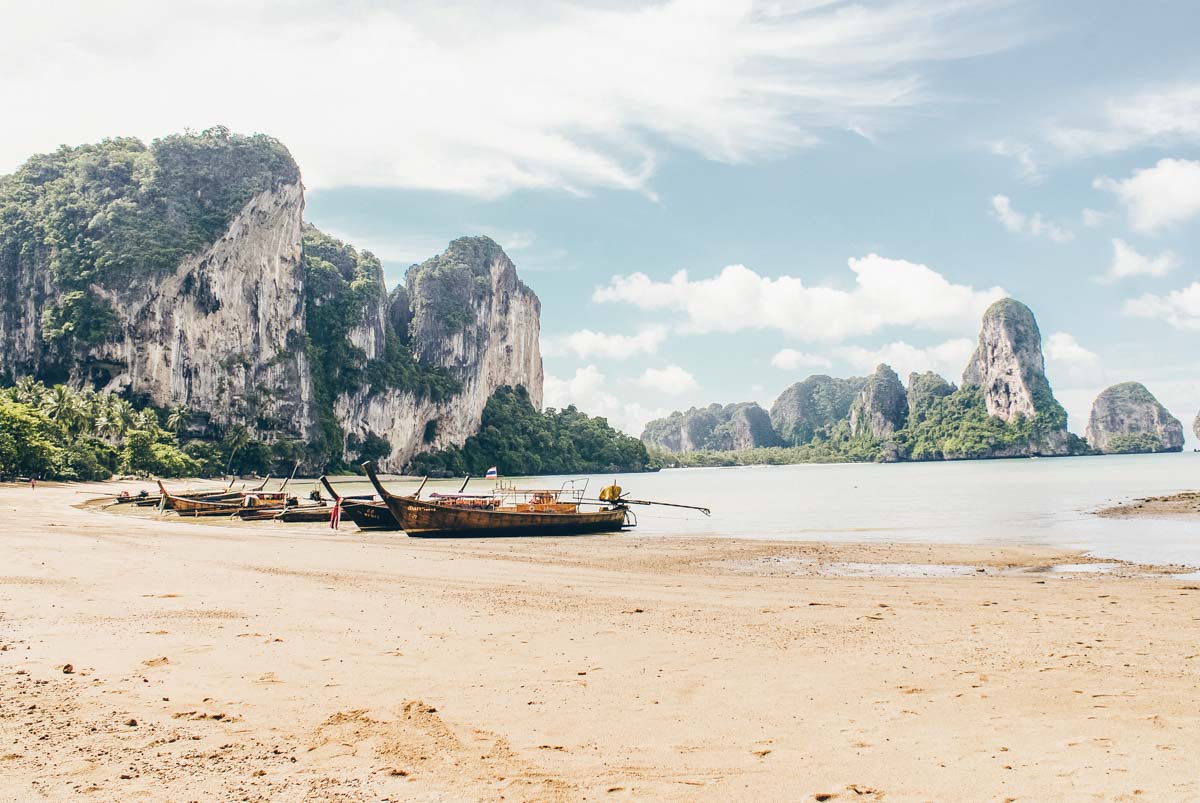 It's no accident that Alex Garland chose this region in Thailand as his fictional paradise in The Beach – or that the Danny Boyle film adaptation starring a tanned Leonardo di Caprio fresh from the thrills of his success with Titanic was filmed in Koh Phi Phi, an hour's boat ride away. Point is, this part of Thailand is stunning.
The craggy cliffs that dominate Railay's landscapes aren't just there for the wows.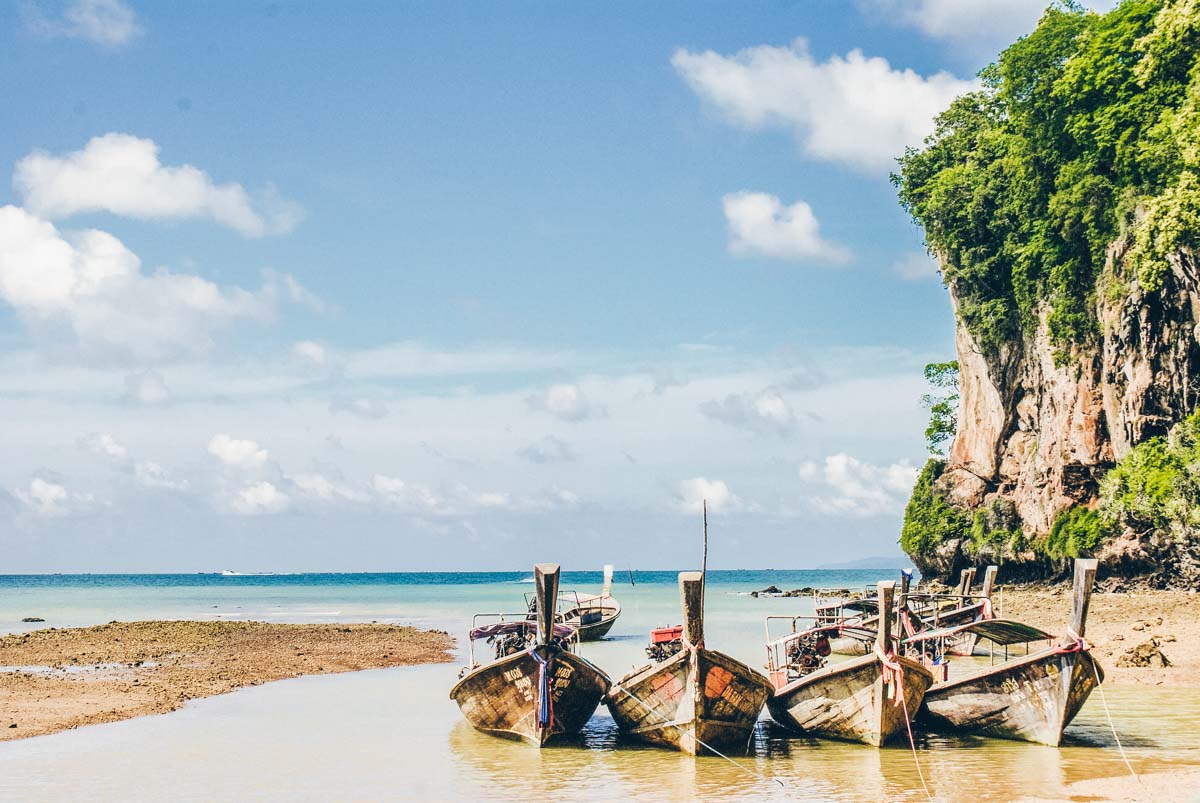 Among them, you'll find some of the country's most challenging (and dramatic) climbing routes.
Turn in any direction to find a three-dimensional maze of rough rock face looming over you: a world rendered magnificent in hues of white and gold, studded with barely-there footholds and small ledges to cling to. It's a thrill.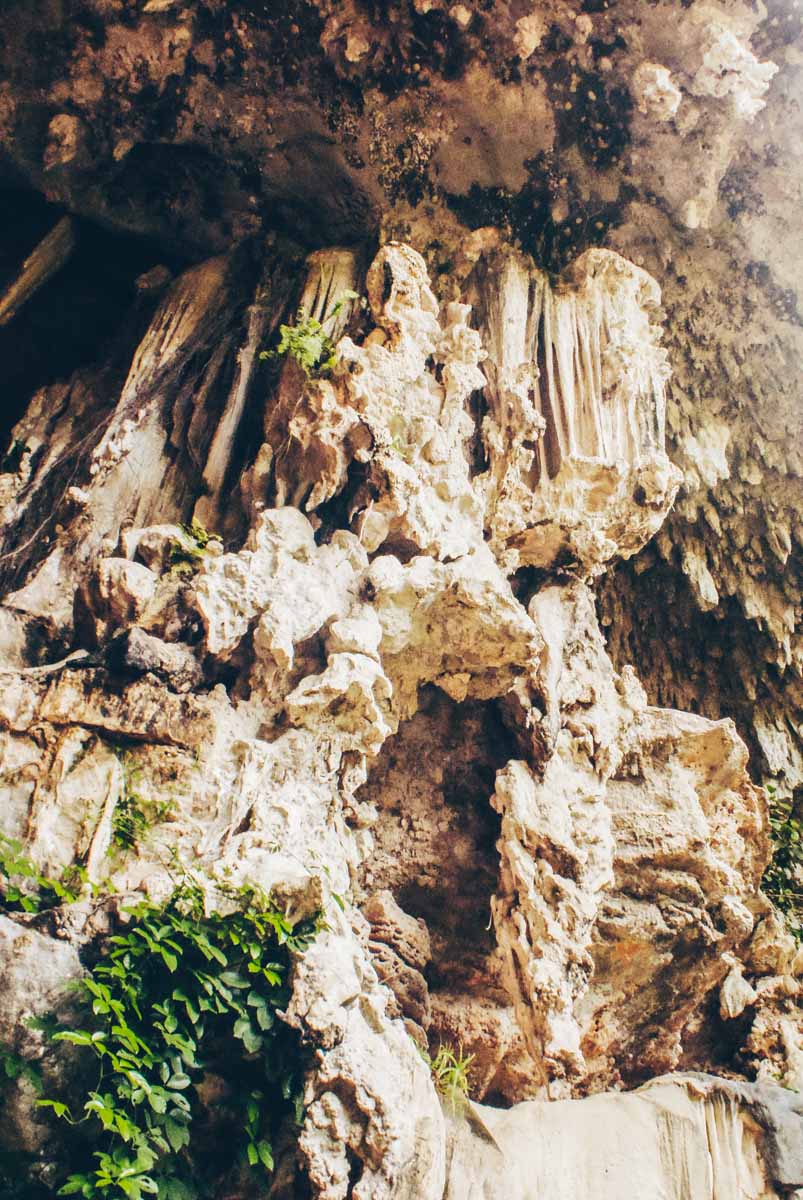 A Change of Plan
It's difficult to believe that I almost didn't go to Railay on my first trip to Thailand 11 years ago. In truth, I hadn't even heard of it.
It took a conversation on the bus from Bangkok to Ao Nang to change that. I'd been planning to head down to Ao Nang for some much-needed chill after three months on the road. Dirty, dusty and tired, all I wanted was to lie on the sand with a cold Chang and a good book. I got talking to another traveller who knew the area well.
"Have you considered heading to Railay? It's only accessible by boat – but it's really cool and it's less sterile than Ao Nang. Railay's got character," he enthused as we pulled into the bus station in the early hours.
I never did get the chance to thank that erstwhile companion in person. We bade farewell as I dragged my pack from the bus – leaving me to haggle with the shoremen straggling along the water's front for my fare. A choppy ride and a difficult hike later and I'd arrived on the mangrove-filled Railay East.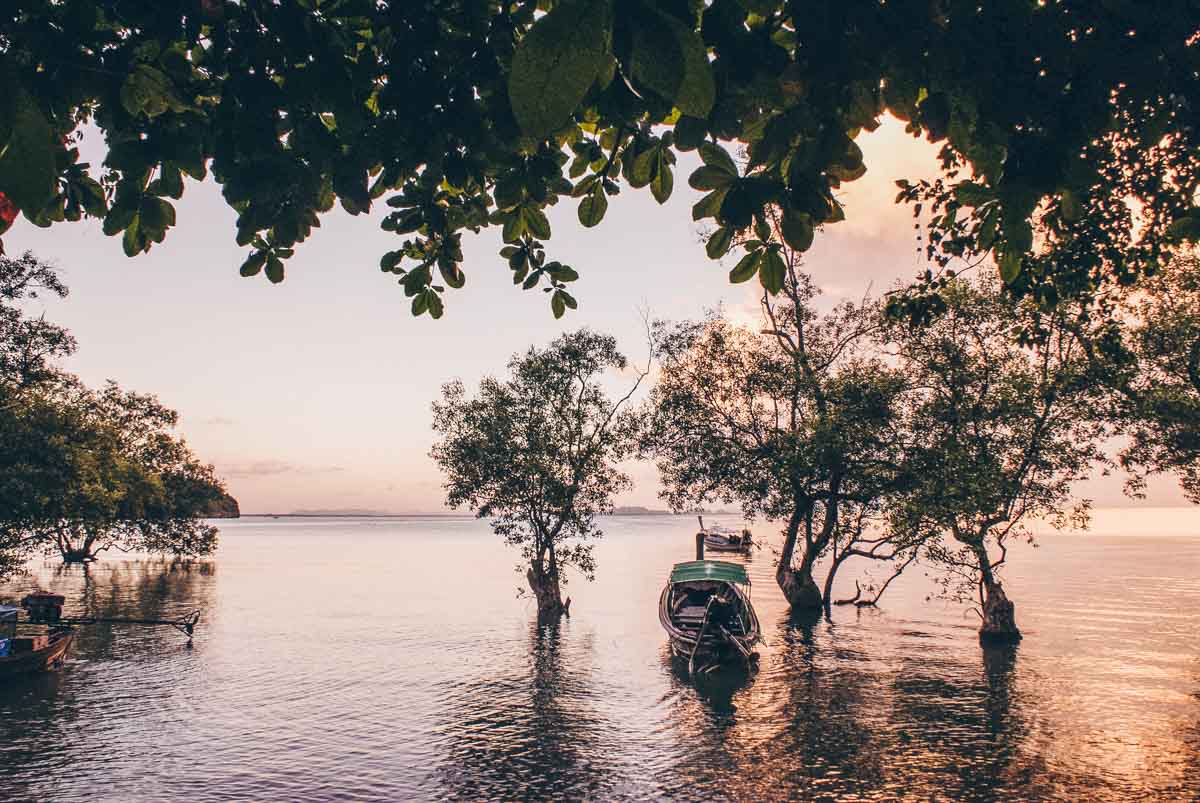 Rock Climbing in Railay
So far, I was still oblivious to Railay's biggest draw: rock climbing.
In his haste to mention the reggae beach bars and gorgeous views, the backpacker from the bus had forgotten to mention that Railay was a worldwide rock climbing mecca. Or maybe he did and I'd tuned out after hearing the words "chill, beautiful and beach paradise" – I'll never know.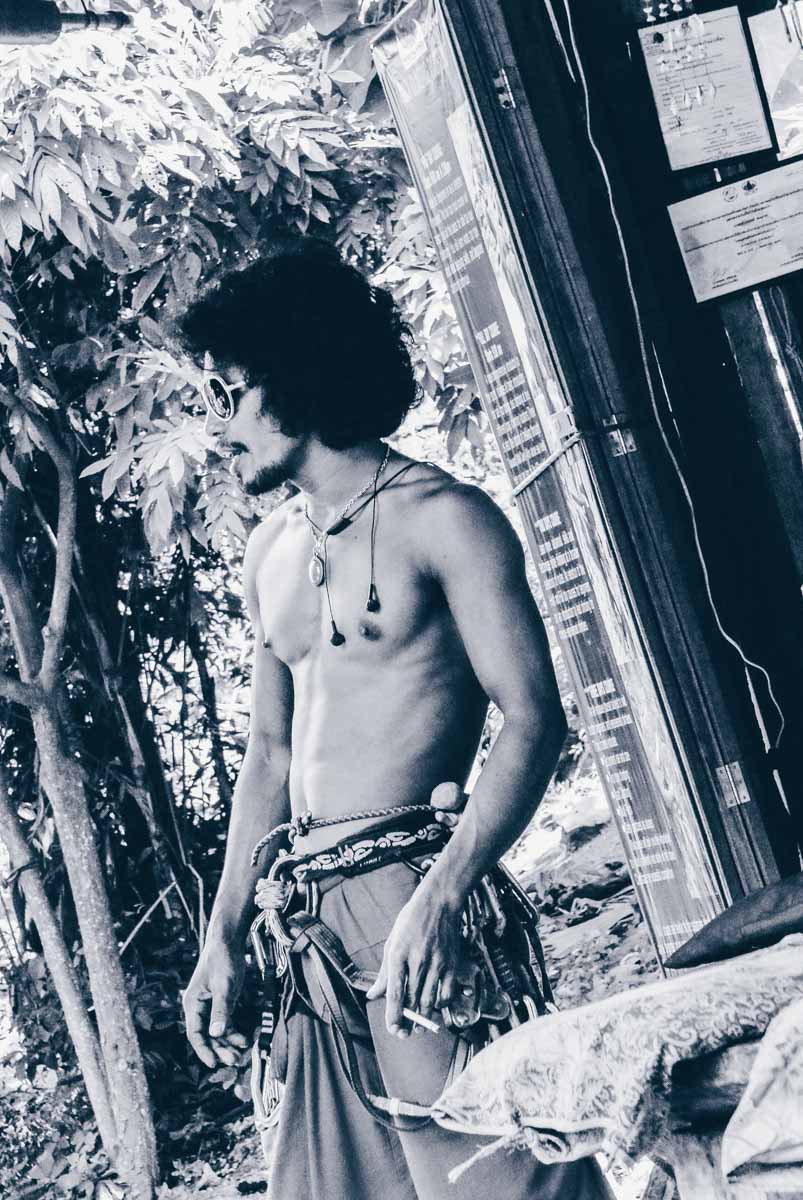 I got up to speed pretty quickly that evening as I chatted to a group of climbers kicking back at a local beachside hangout. Spending my days sweating it out scaling cliffs wasn't exactly the laid-back pitstop I'd had in mind, but I wasn't going to let the opportunity pass me by.
Sweating Under the Midday Sun
I knew I was going to slip moments before it happened. The morning's climbs had been a success and I'd become lax – lulled by a false sense of confidence that departed far quicker than it had arrived.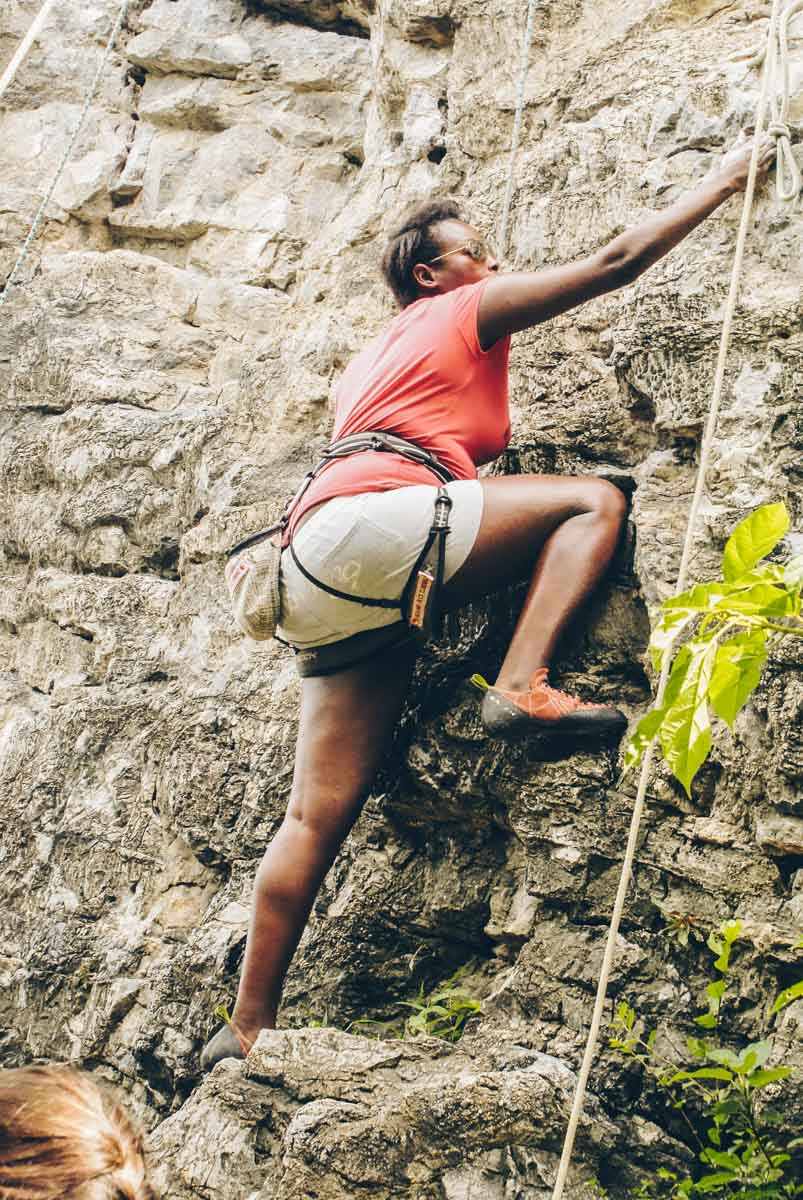 A rivulet of sweat ran into my eyes, stinging with its salty tang, blinding me in the glare of the midday sun. I tested my footing, it felt relatively stable. If I leant over a little to the left, I could use the back of my arm to wipe my face – or so I reasoned.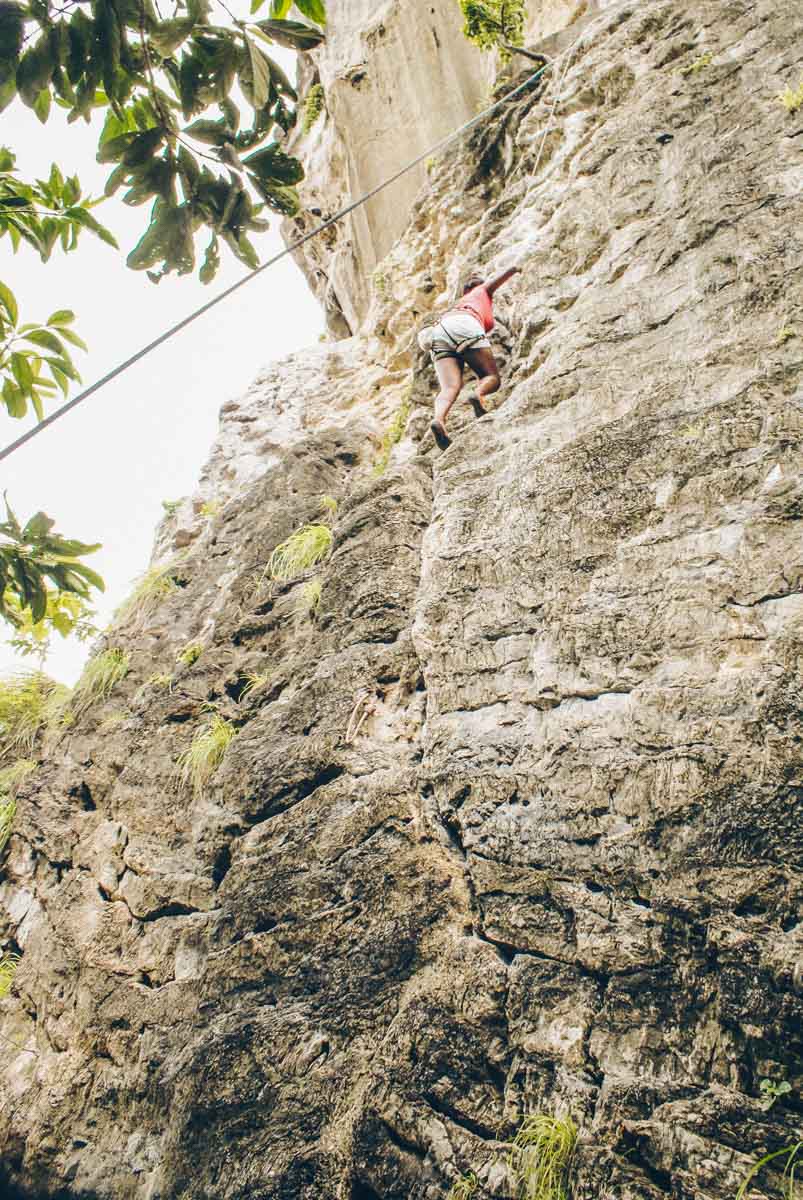 The reality, as it often is, was quite different: a short fall to the carabiner I'd clipped into moments before, accompanied by the sting of damaged pride.
Head ringing with the adrenaline of my pumping blood, I looked down to where Chaow, my guide, stood peering up from the ground – smaller than in real life, his features a blur through the haze.
"You're doing great. You almost had it. This time, shift your balance to the right and stretch your left leg up to that small tuft above your hip. Can you see it," he queried, his tone muffled by the distance.
I could. It didn't look possible: my right foot was clinging on as it was – and the foothold looked so high. Dipping my hands behind my back I delved into the chalk bag hanging from my belt, covering my clammy hands in a layer of dusty white.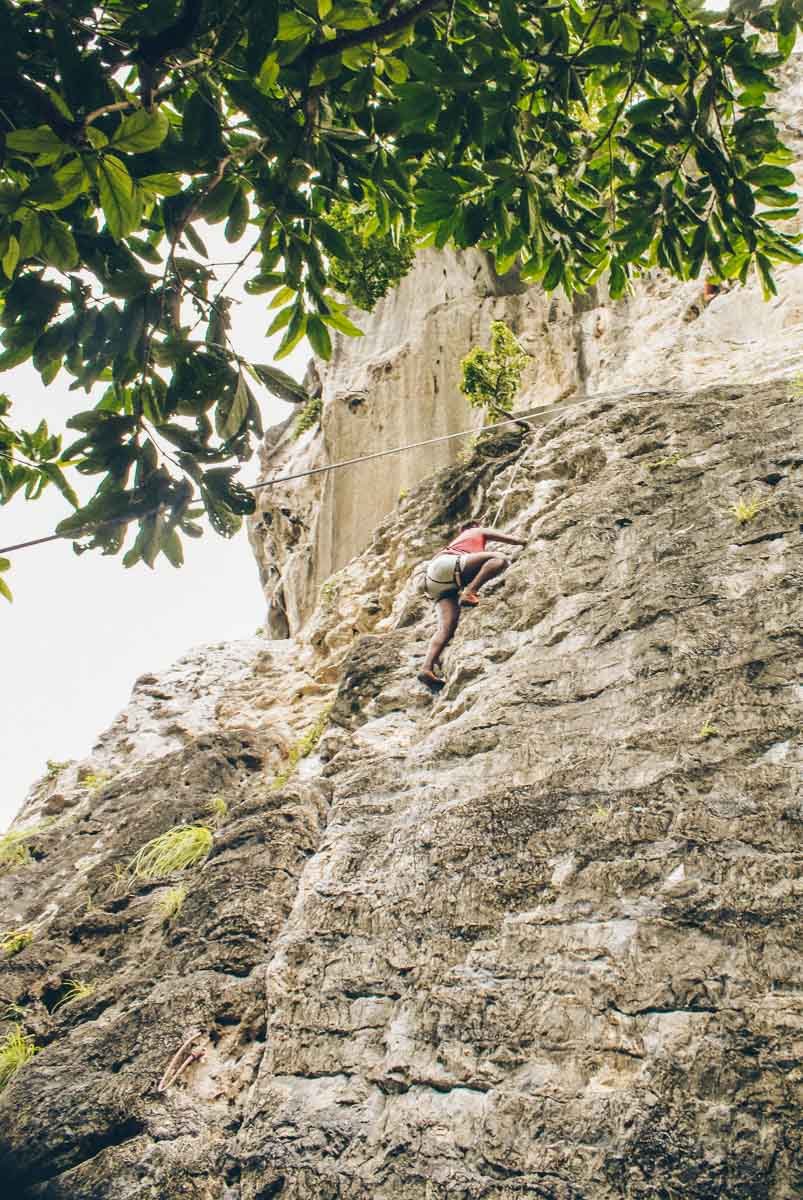 The top of the route was tantalisingly close. This had been the most difficult of all the climbs I'd done in the past few days, slowly inching my way up cliff routes with views that provided ample distraction from my burning legs. I shifted my weight as Chaow had directed – closing my eyes in anticipation of another fall, but it did not come.
Suddenly, half before I'd known I was going to do it, I'd stretched, grasping for the ledge with my foot and levering myself up when I found it.
Reaching the top I heard Chaow's jubilant yells from the ground. "I did it!" I shouted down. From here, the views were incredible. I could see my lodge down on Railay East, and the whiter picture-perfect sands of Railay West Beach, drifting off into a glassy sea, out of which misshapen karsts emerged, their weathered faces covered in vegetation.
My short-lived companion's words came back to me… "Railay's got character." At this point, I had to agree that it certainly did.
Practical Tips for Planning Your Railay Trip
Love This? Save and Share on Pinterest!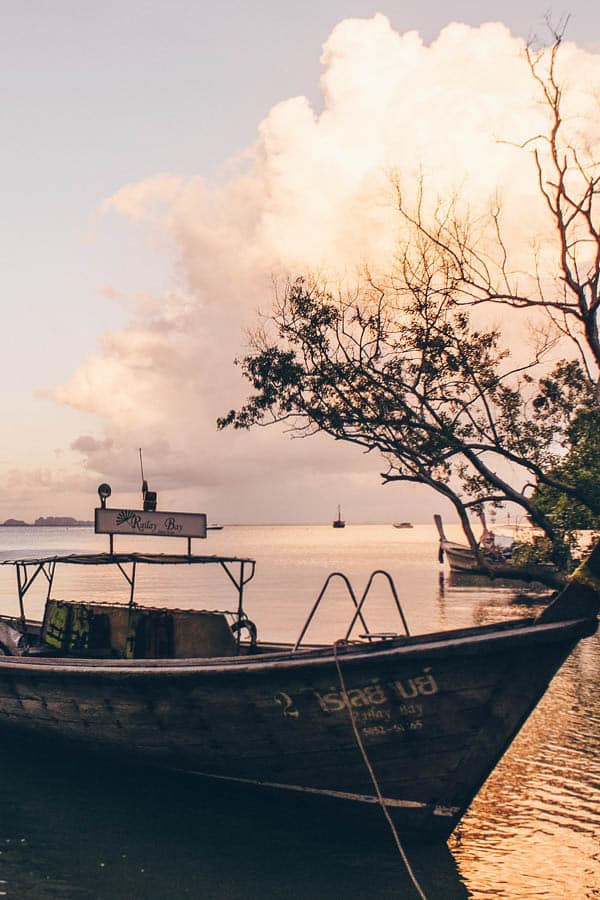 This article has been published in collaboration with the Tourism Authority of Thailand's #throwbackthailand campaign. As ever, all thoughts and opinions are my own. Find more Thailand travel inspiration, as well as information about the reopening of the country's borders and when you can travel there at www.fanclubthailand.co.uk
Looking for More Thailand Travel Tips and Guides?
Check these out…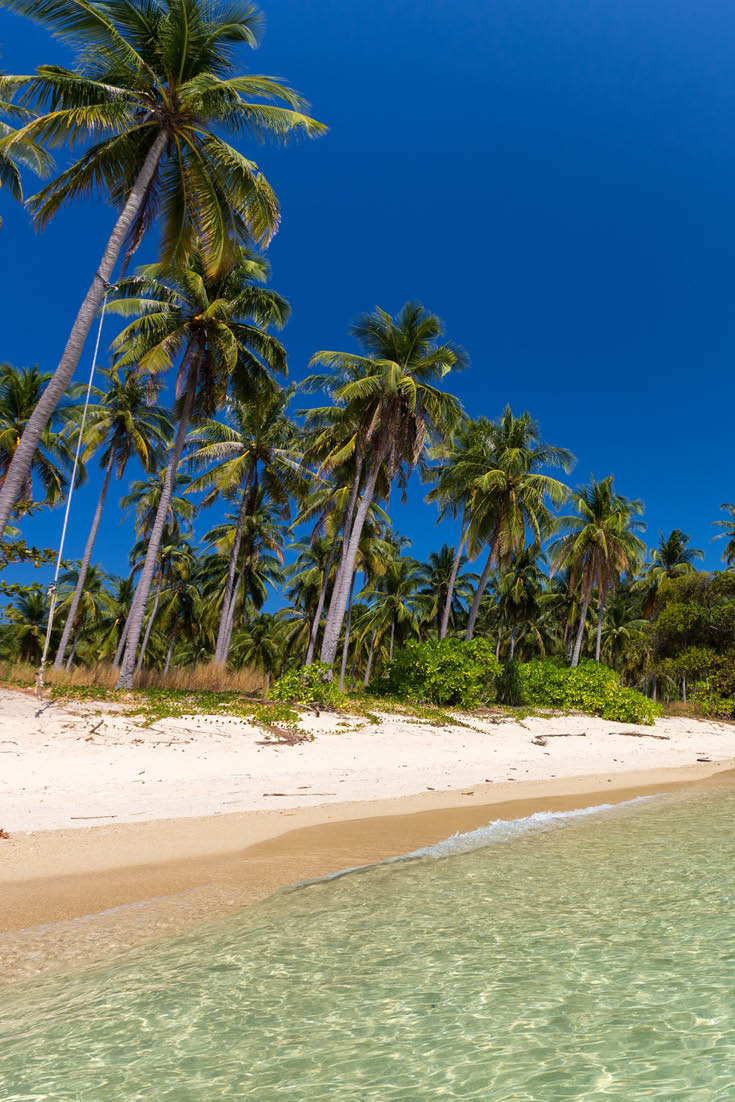 50 Cool Things to do in Thailand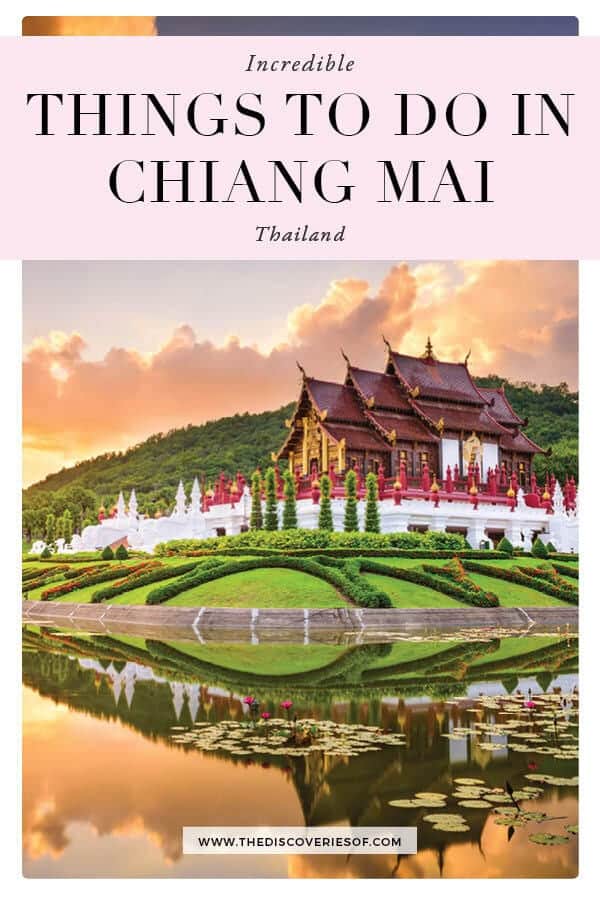 Unmissable Things to do in Chiang Mai