Discover how to spend the ultimate two weeks in Thailand with this handy itinerary. Unmissable places to visit in The Land of Smiles.
Thailand sits pretty atop many a traveller's bucket list, and I, for one, can't see anything wrong with that. 
It's one of the most magical places on earth, filled with culture, fascinating history, mega beaches and, of course, delicious food.
A recipe for an epic trip, if you ask me.
Spending 2 weeks in Thailand is a good way to see plenty of the country's top attractions. But, with so much to see and do, feeling a bit overwhelmed is almost expected.
Have no fear, though. I fancy myself somewhat of a walking, talking Thailand travel guide. Here's how to spend two weeks in the country.
Handy Tips for Planning Your Thailand Itinerary
Group Tour or Independent Travel?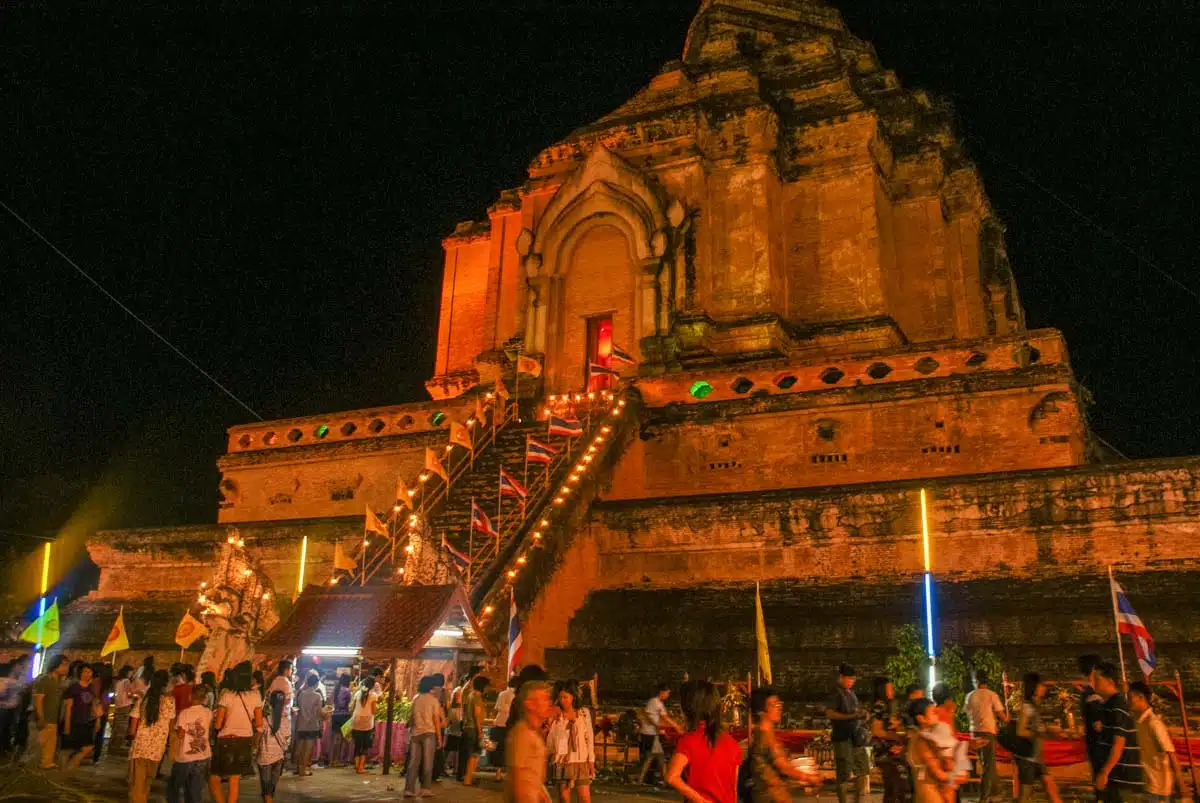 Look, there's no escaping the sheer bliss that two weeks in Thailand brings. Whether you head out on guided group tours or venture forth as a maverick and go solo, there's not a moment you won't enjoy.
However, you're guaranteed a definite structure when you choose to deck out your itinerary with guided group tours.
For example, this tour from Phuket includes visits to three islands, Maya, Phi Phi, and Bamboo. It even features a buffet lunch, making it a fantastic day trip option.
Alternatively, if you're in Bangkok, this 4-hour walking tour is a whirlwind of the city's best highlights, including a temple and market excursion.
What to Pack for Your Thailand Itinerary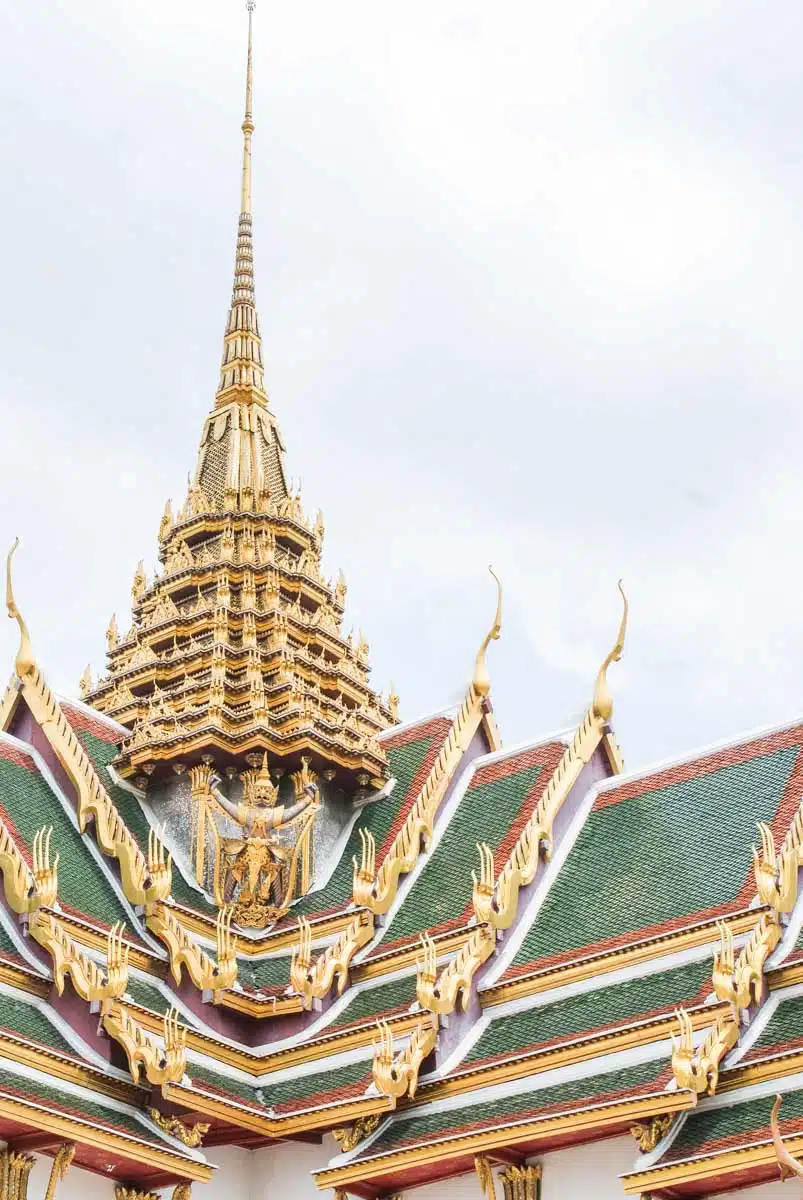 While your packing list ideas are entirely up to you, I have a few insights into what a Thailand packing list should include. You're not just heading to a country brimming with culture and history but also some of the best beaches in the world.
This means you'll need to bring a swimsuit (or two), your favourite beach towel, and one or more pairs of sandals. Thailand is a country of flip-flops, after all.
Other beach necessities include polarised sunglasses, a fashionable sun hat, and high quality sunscreen.
Back to exploring Thailand's urban jungles, you'll need a pair of comfortable walking shoes (I don't go anywhere without my Tropicfeel Canyons) and a functional daypack. 
Also, taking into account that you'll be hopping around Thailand, remember that a carry-on backpack is your new best friend.
Useful Resources
When planning your epic (if I do say so myself) Thailand itinerary, there are a few handy tools to use. Here are my top picks:
Getting Around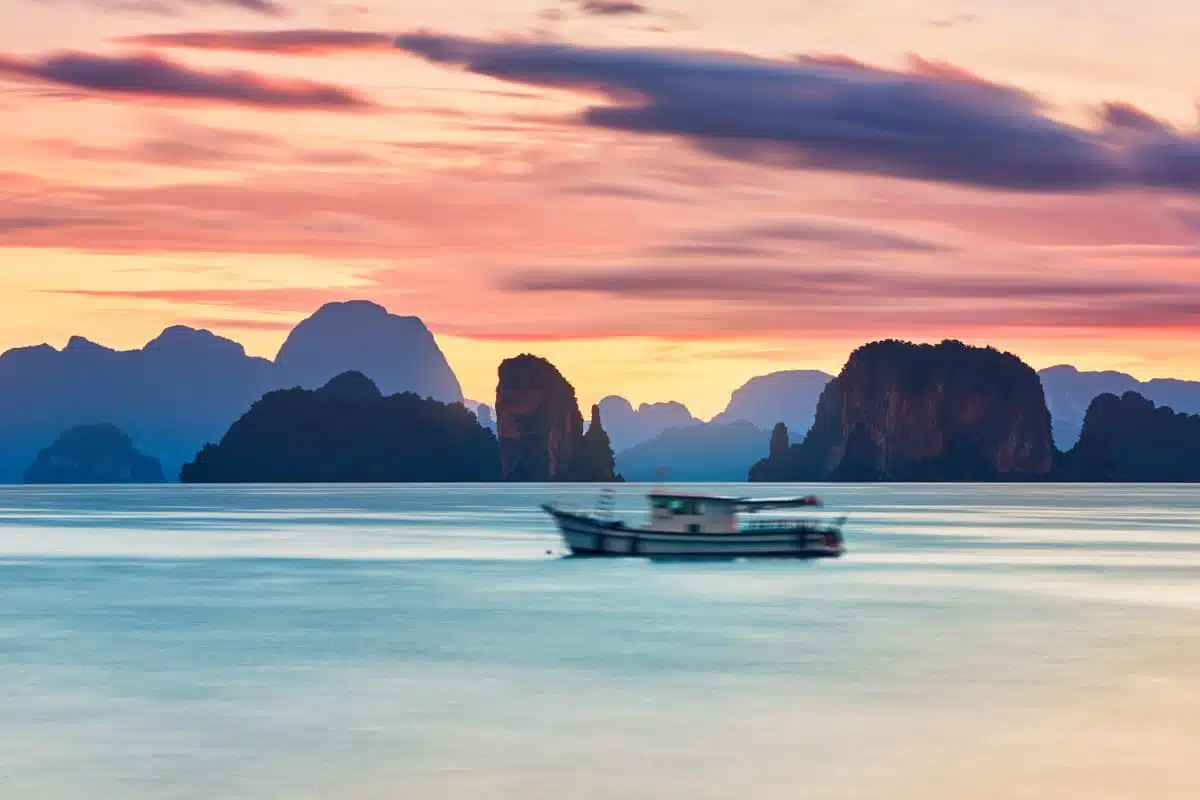 An integral part of any Thailand 2-week itinerary is rounding up how to get around this stunning country.
The most commonly used ways of getting around its cities include tuk-tuks, vans, shuttle buses, golf-carts (yes, really), motorcycles, songthaews, and the metro system.
You can grab your rental car using Rentalcars.com to traverse the roads of Thailand.
Thailand Itinerary
Day 1–2: Bangkok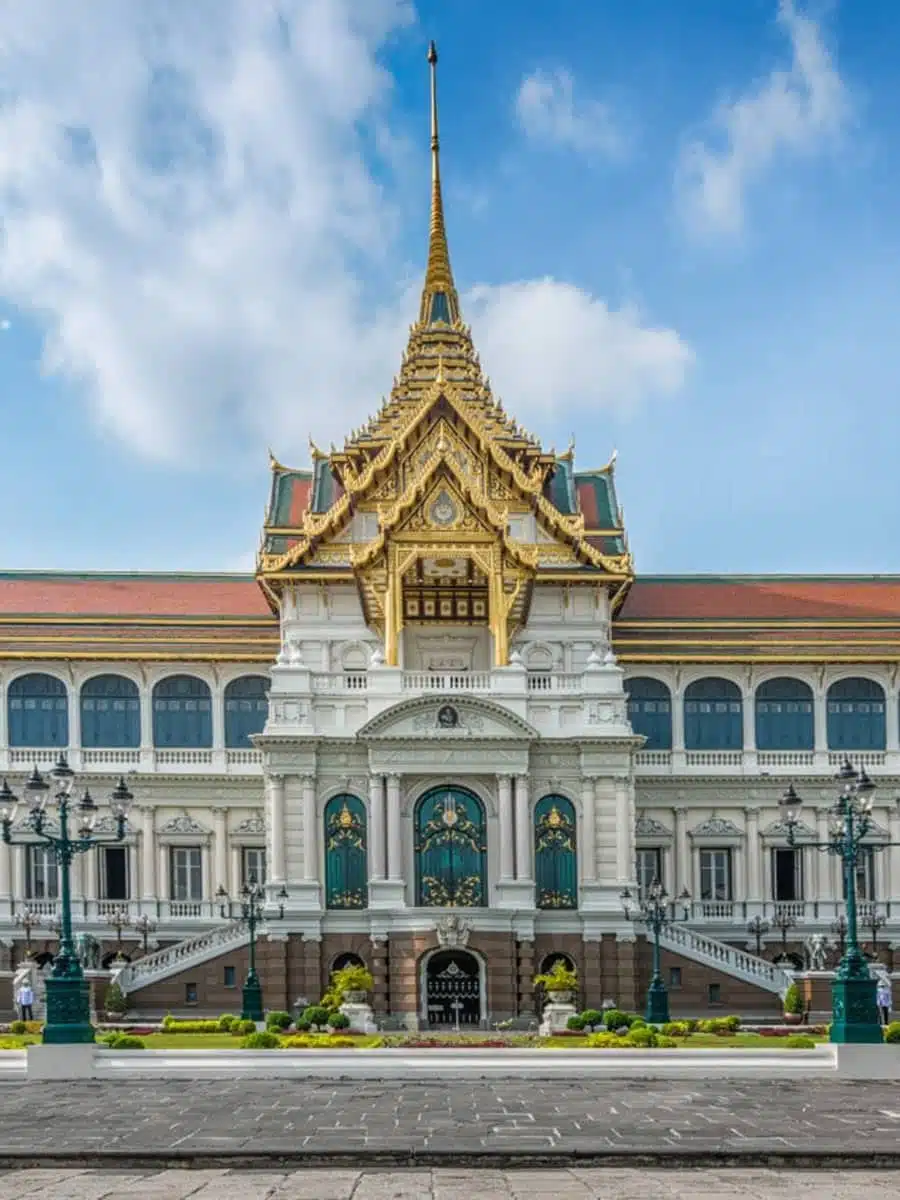 The capital city of Thailand, Bangkok, is a chaotic but thrilling place to kick off your 2 week Thailand itinerary. Home to more than 9 million people, it's a gigantic city, to say the least.
But that's fantastic news if you're looking for some urban jungle exploration.
Read Next: Things to Do in Thailand
Things to Do in Bangkok
Explore the Temples of Bangkok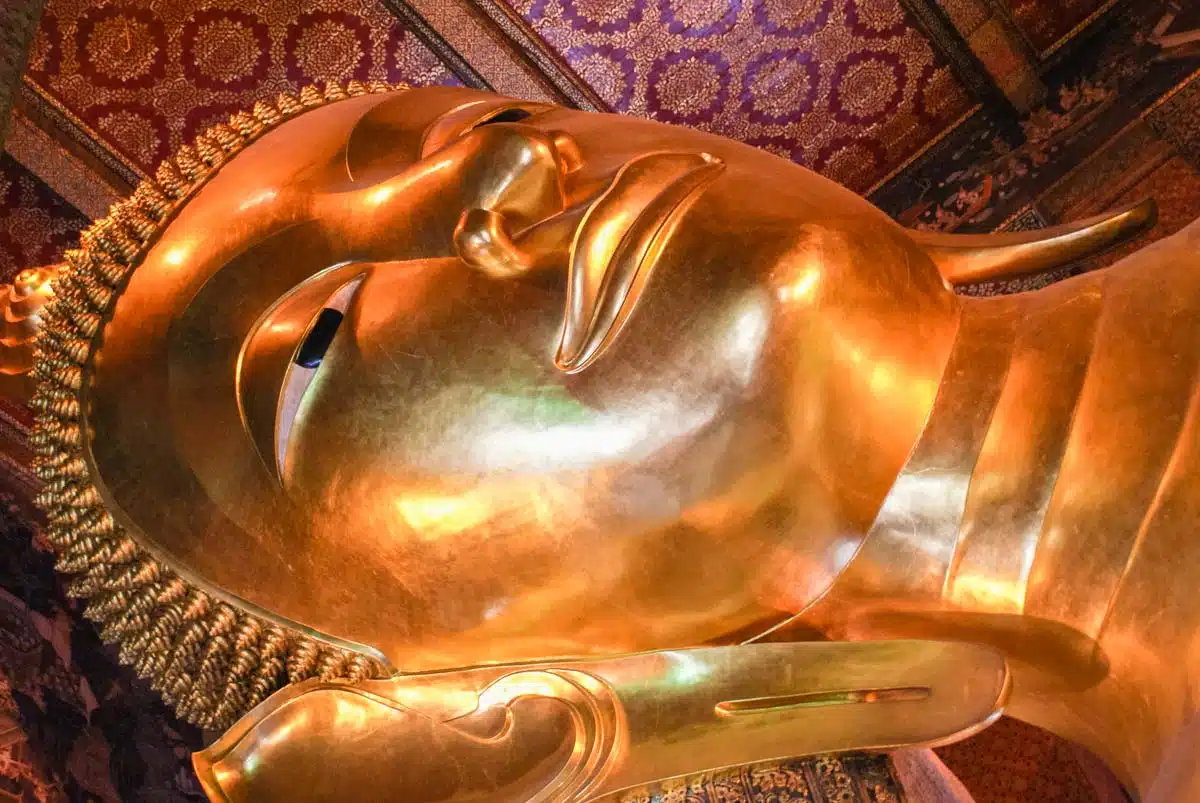 There's no shortage of temples worth your time when spending two weeks in Thailand. First up is Wat Arun, otherwise known as The Temple of the Dawn.
After spending some time here, you will cross the river to reach Wat Pho, where you can marvel at the giant reclining Buddha.
From here, it's a short walk to Wat Phra Kaew, the Temple of the Emerald Buddha, on the grounds of the Grand Palace.
Indulge in Retail Therapy
If you thought this Thailand two-week itinerary was going to include anything other than some well-deserved retail therapy, think again.
For the more affordable side of things, head over to Siam Centre. And if you're looking to splurge a bit, Siam Paragon is where you'll find a luxury shopping heaven.
Getting to Bangkok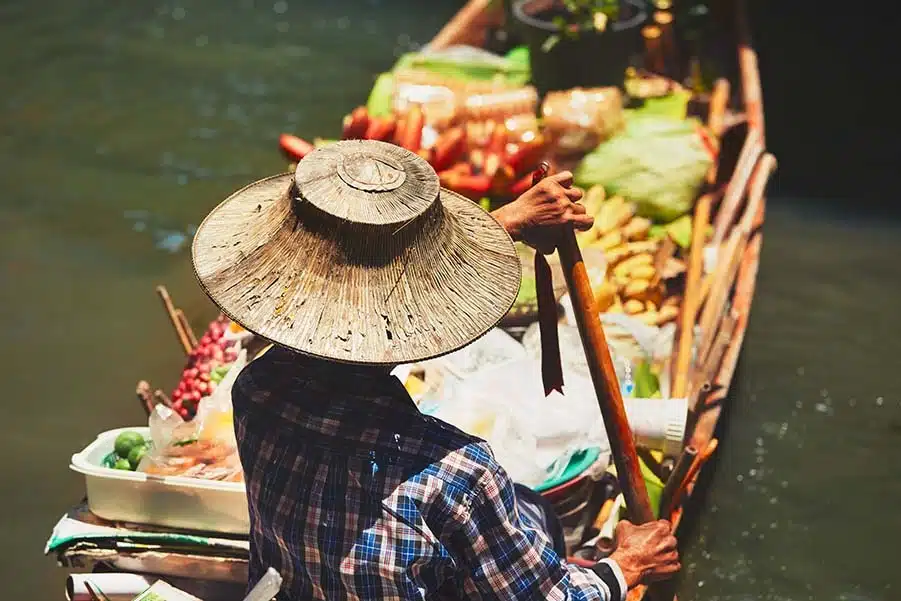 Considering you'll arrive in Bangkok, you can fly to either of its international airports.
Most airlines offer flights to both, but most visitors choose to fly to Suvarnabhumi Airport. Your other option is Don Mueang International Airport.
Suggested Stay for Bangkok on Your Thailand Itinerary
Casa Vimaya Riverside
A favourite amongst travellers, Casa Vimaya Riverside, sits within walking distance of Khao San Road in a very peaceful area of the city.
Offering luxury at its finest, you'll find spacious rooms that stun with tasteful decor. It also features a gorgeous rooftop pool with amazing views.
Check Rates and Availability
Alternatively, Check All Accommodation in Bangkok
Day 3: Ayutthaya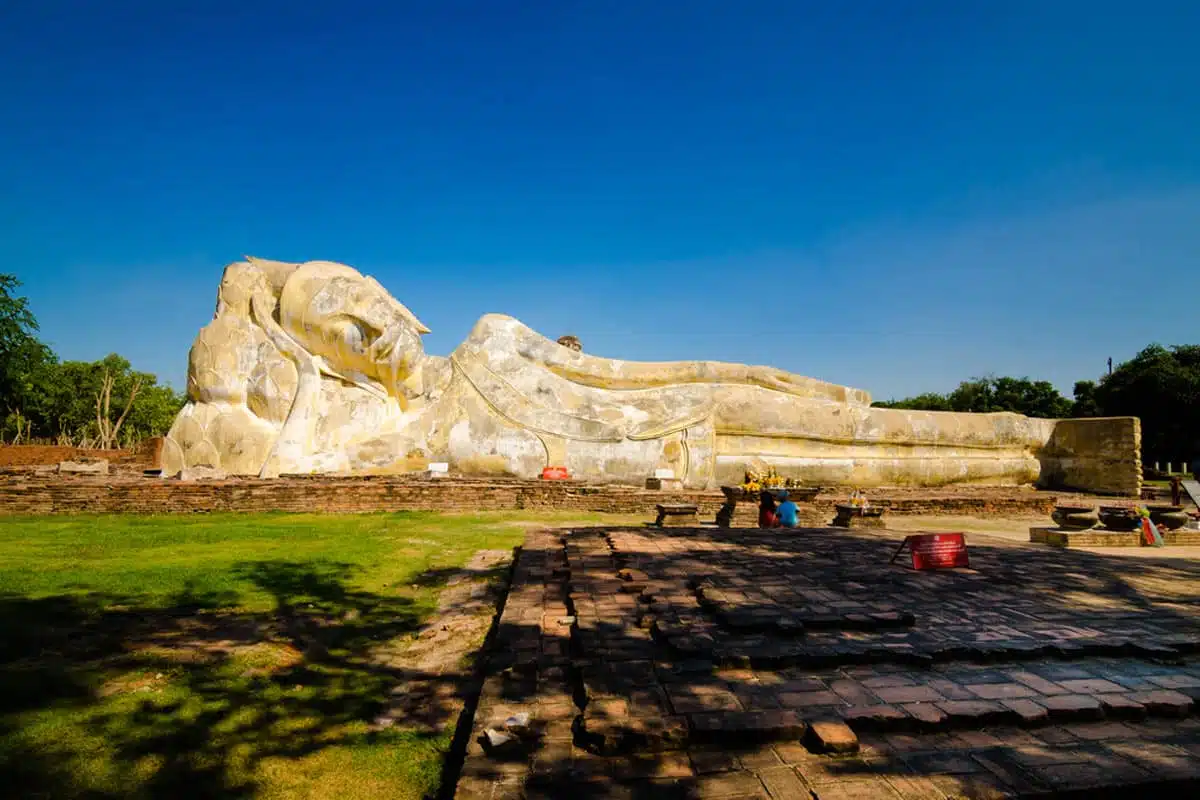 A UNESCO World Heritage Site, Ayutthaya is an exciting addition to your 2 weeks in Thailand itinerary.
With extensive temple complexes and a vibrant look into the cultural and religious part of Thailand's history, this is a superb way to immerse yourself in Thai heritage.
Things to Do in Ayutthaya
Visit the Historical Wat Chaiwatthanaram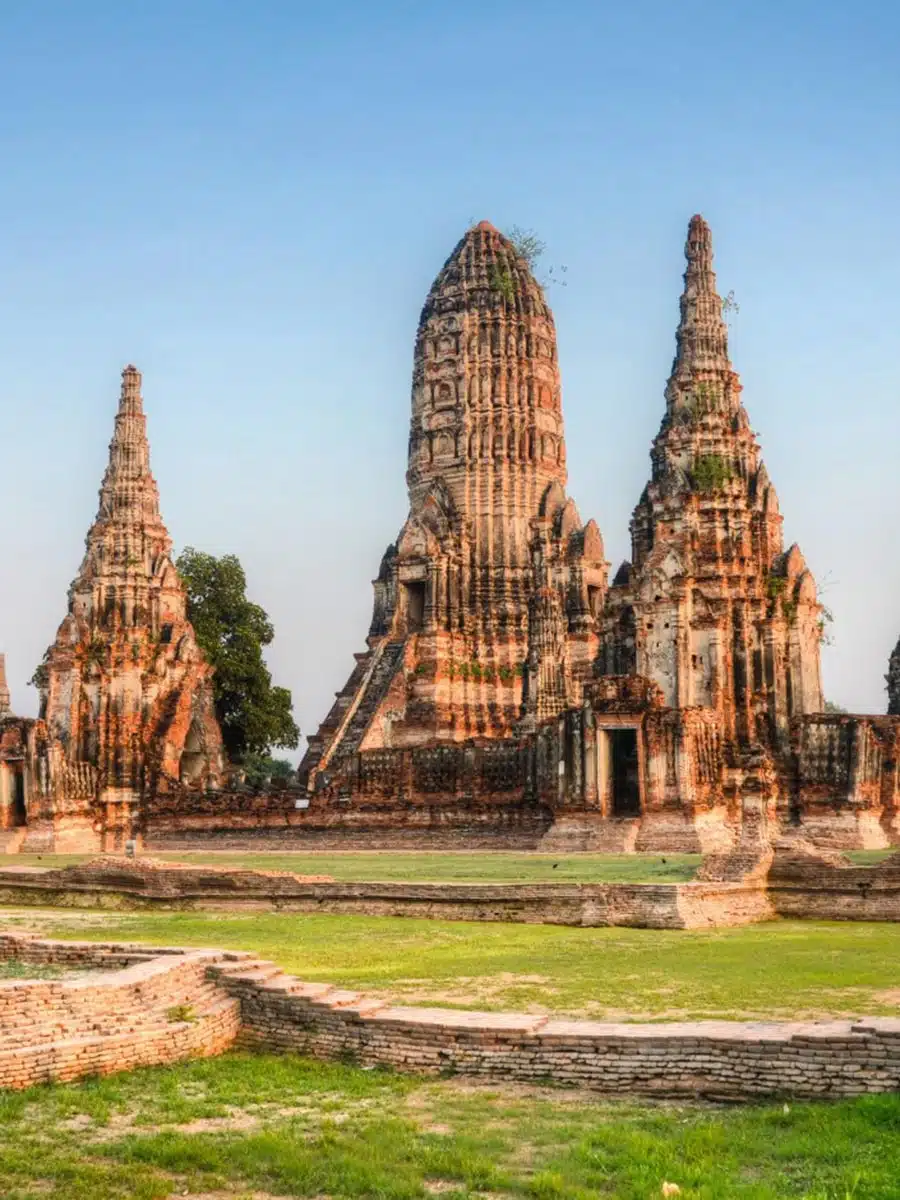 The most visited site in Ayutthaya, Wat Chaiwatthanaram, is the ruined remains of the most impressive temple in the ancient city.
In 1987, restoration began on the looted and destroyed temple to transform it into a stunning look at the influence of Buddhism on the country.
Explore the Impressive Wat Phra Si Sanphet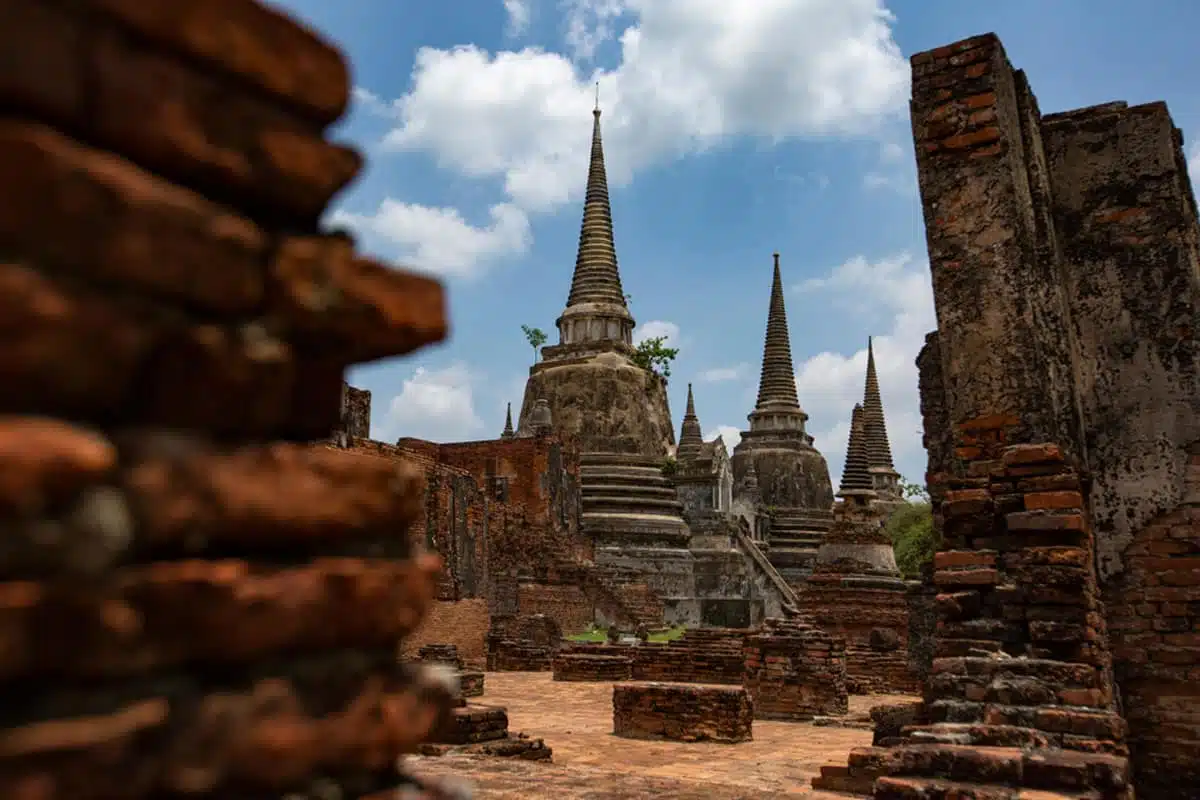 One of the loveliest temples in Ayutthaya, Wat Phra Si Sanphet, is also historically the most important.
Within two of the main chedis (pagodas) lie the ashes of the father and brother of King Ramathibodi II. Inside the third are the ashes of his son and successor, King Boromaraja IV.
Getting to Ayutthaya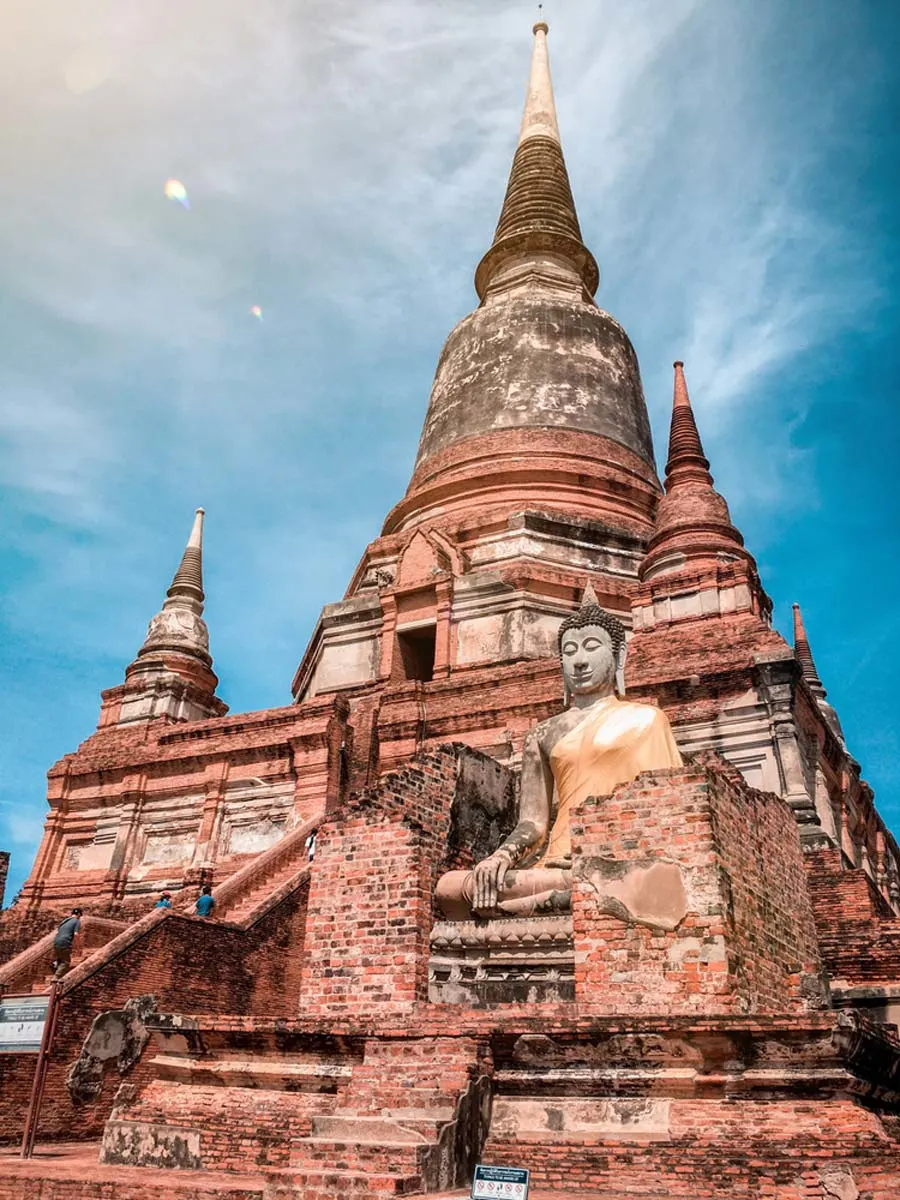 Ayutthaya sits 46 miles from Bangkok, and you can reach it in many ways.
Firstly, you can use your rental car to drive to the ancient city, which will take 45 minutes. Other than that, you can hop on a train with tickets costing about 2 Baht, and the trip is 2 hours long.
Suggested Stay for Ayutthaya on Your Thailand Itinerary
Sala Ayutthaya
Centrally located, Sala Ayutthaya offers modern double rooms at an affordable price. Decorated in exposed red brick, rooms showcase an airy design. On-site, you'll find an outdoor swimming pool, river, and temple views, with breakfast included in your room rate.
Check Rates and Availability
Alternatively, Check All Accommodations in Ayutthaya
Day 4–6: Chiang Mai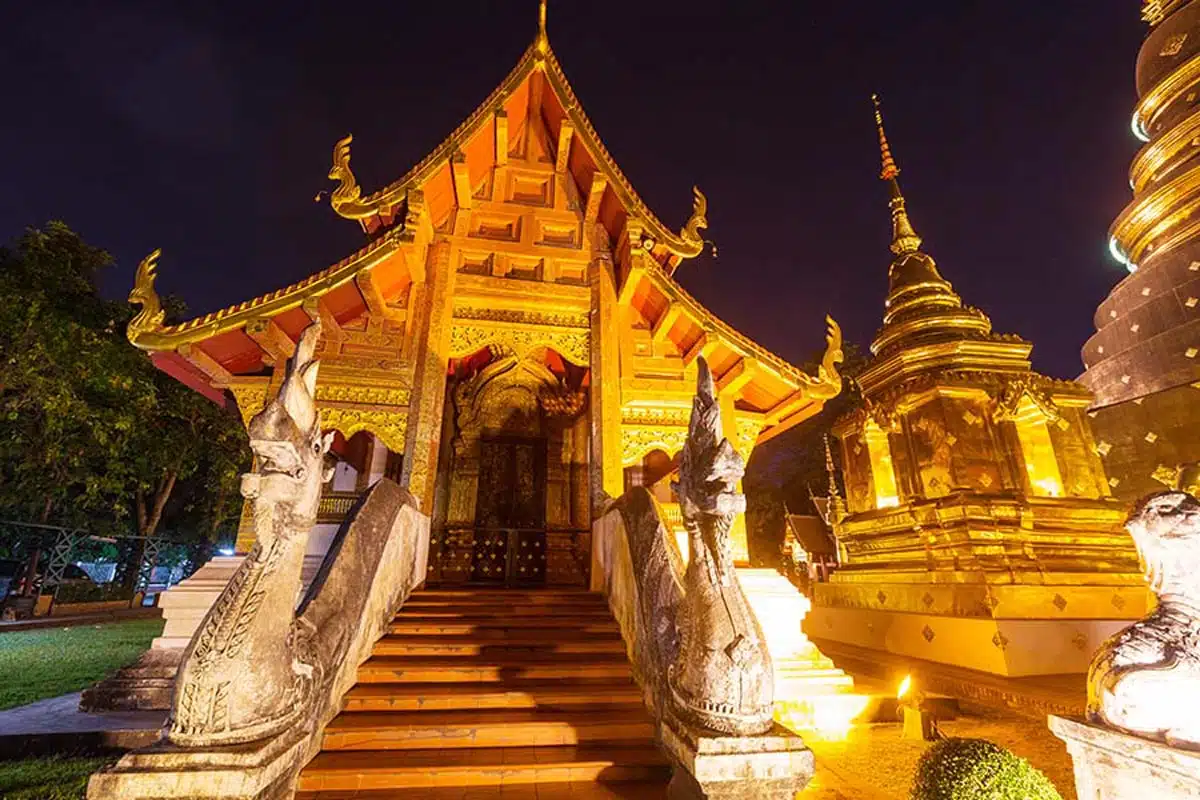 Chiang Mai in northern Thailand is a dazzling showcase of the other side of the country. 
It boasts many temples in its old town, stunning natural landscapes, and even some famous elephant sanctuaries.
Things to Do in Chiang Mai
Visit an Ethical Elephant Sanctuary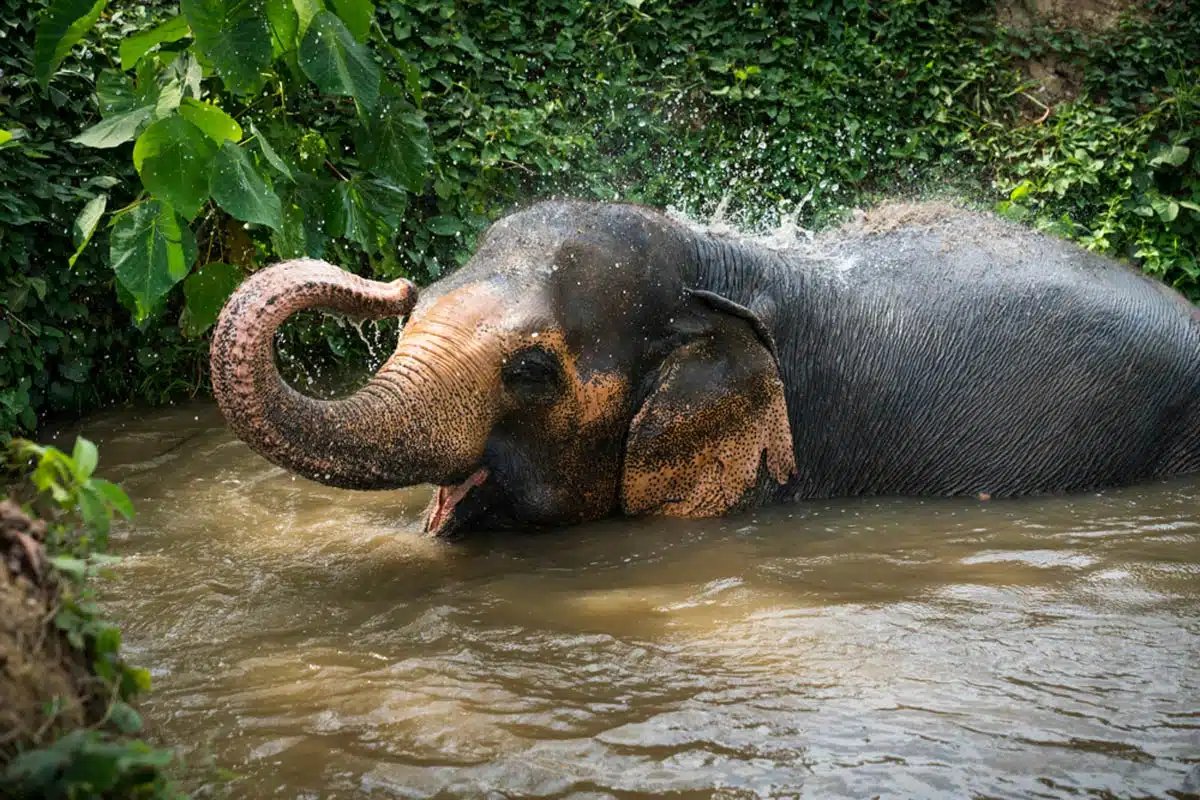 You can't visit Chiang Mai and not head out to the Elephant Nature Park. This sanctuary, under the helm of Lek Chailert, works with elephants and has won numerous awards.
Beyond the stunning forestry surrounding the park, interacting with the gentle giants and learning more about their conservation efforts is fantastic.
Day Trip to Chiang Rai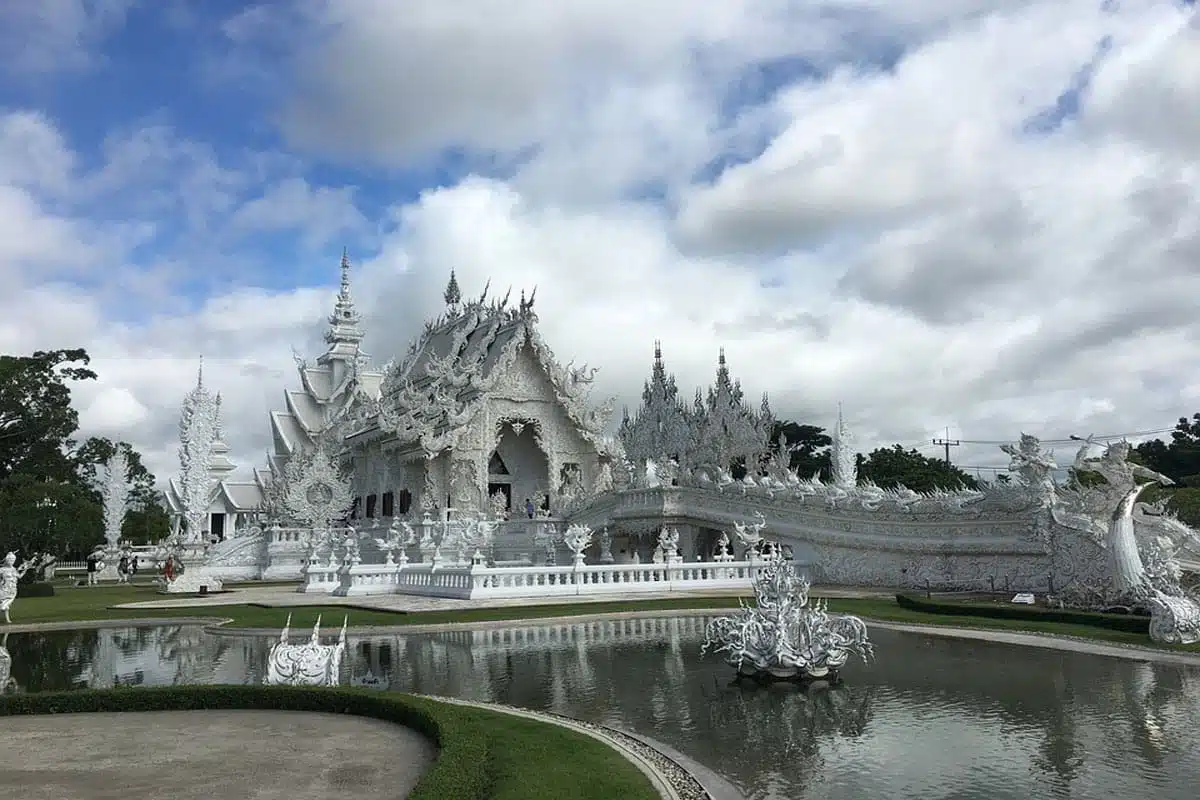 Now, if you want to combine the great outdoors and temple hunting, there is no better place to do this than in Chiang Rai.
One of the most beautiful temples in Thailand, Wat Rong Suea Ten, is a gorgeous display of architecture in vibrant shades of blue.
Getting to Chiang Mai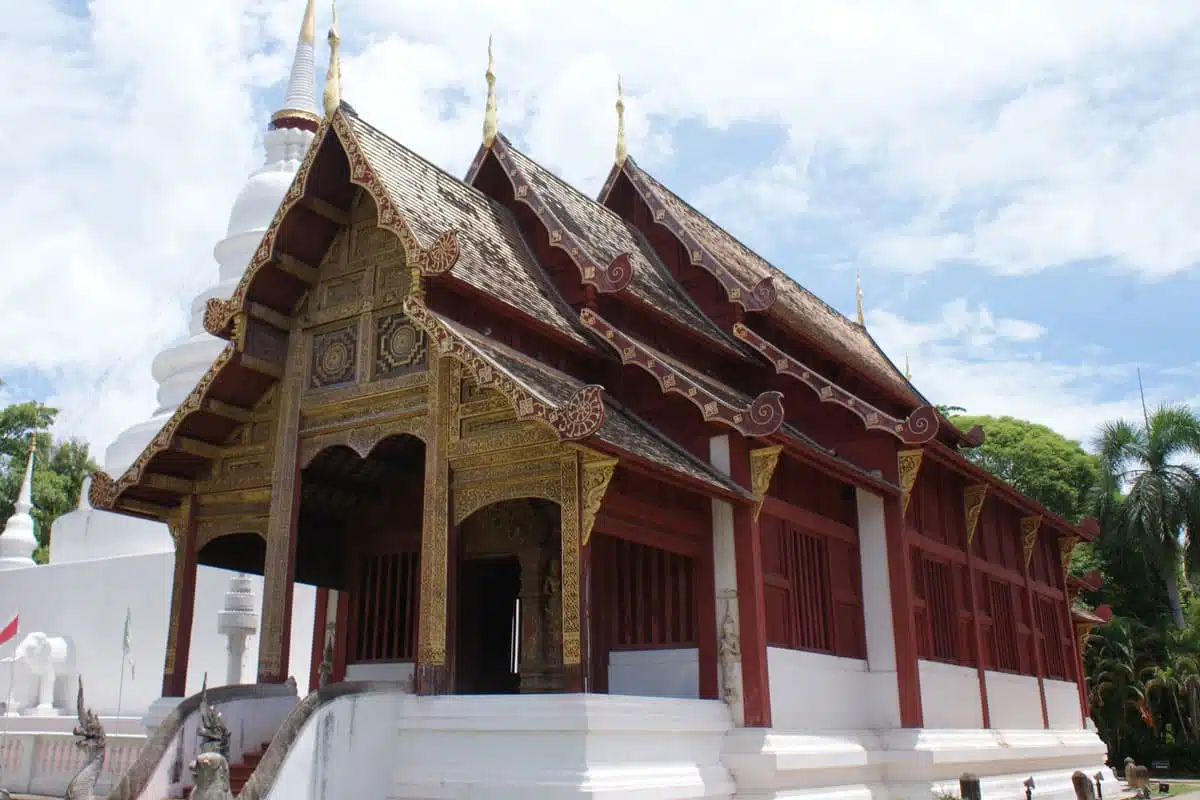 Located roughly 430 miles from Bangkok in Northern Thailand, there are two main ways of reaching Chiang Mai.
The first is to book a seat on a VIP bus that leaves for Chiang Mai daily and will take about 10 hours. Flying from Bangkok is a far more convenient way to reach Chiang Mai.
Suggested Stay for Chiang Mai on Your Thailand Itinerary
The Inside House
A place to splurge a little bit, The Inside House in Chiang Mai is modern and luxurious, with a wide range of amenities.
Here, you have a premium selection of rooms showcasing stylish designs and private pools.
Check Rates and Availability
Alternatively, Check All Accommodations in Chiang Mai
Optional Itinerary for The Andaman Sea
Day 7–8: Railay Beach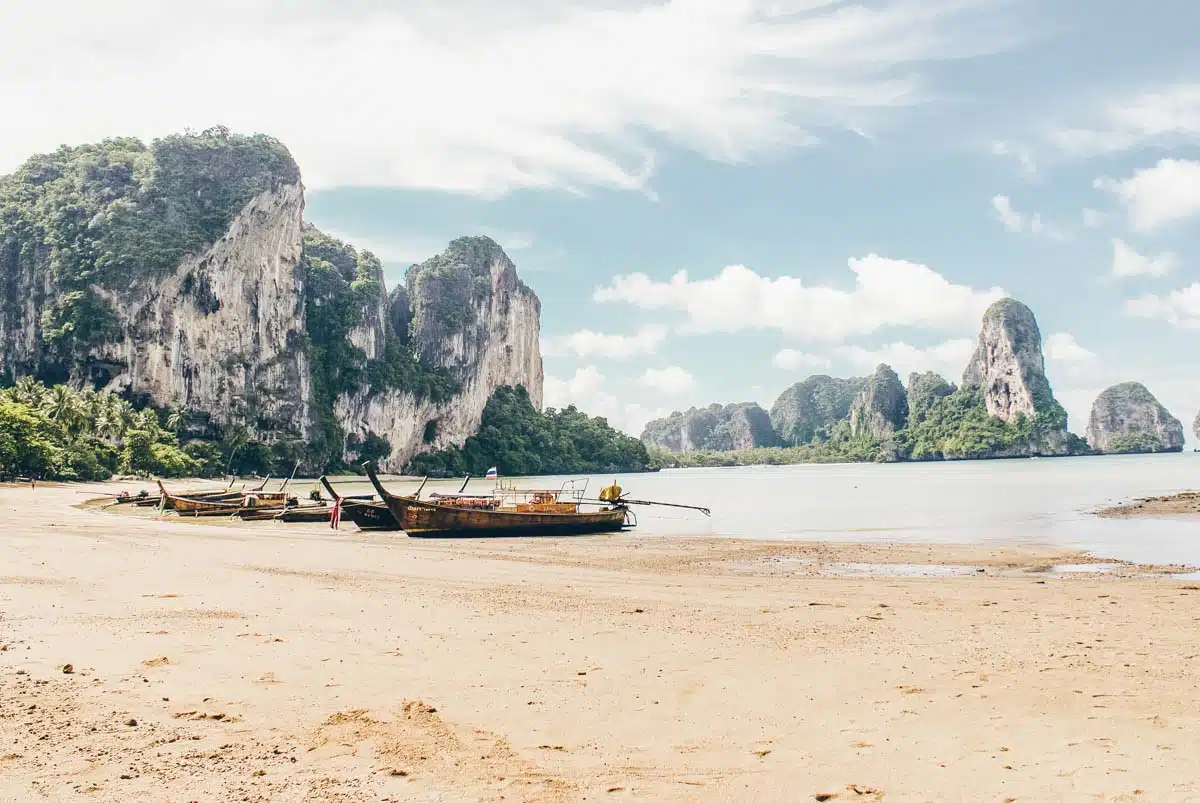 If you're thinking of how to spend 2 weeks in Thailand, choosing to head to the south, more specifically, The Andaman Sea, is a marvellous idea.
It's my favourite part of the country, so it makes sense that this is the option I would choose.
And, trust me when I say that your first stop should be the unspoiled beach heaven that is Railay Beach.
Things to Do in Railay Beach
Go Rock Climbing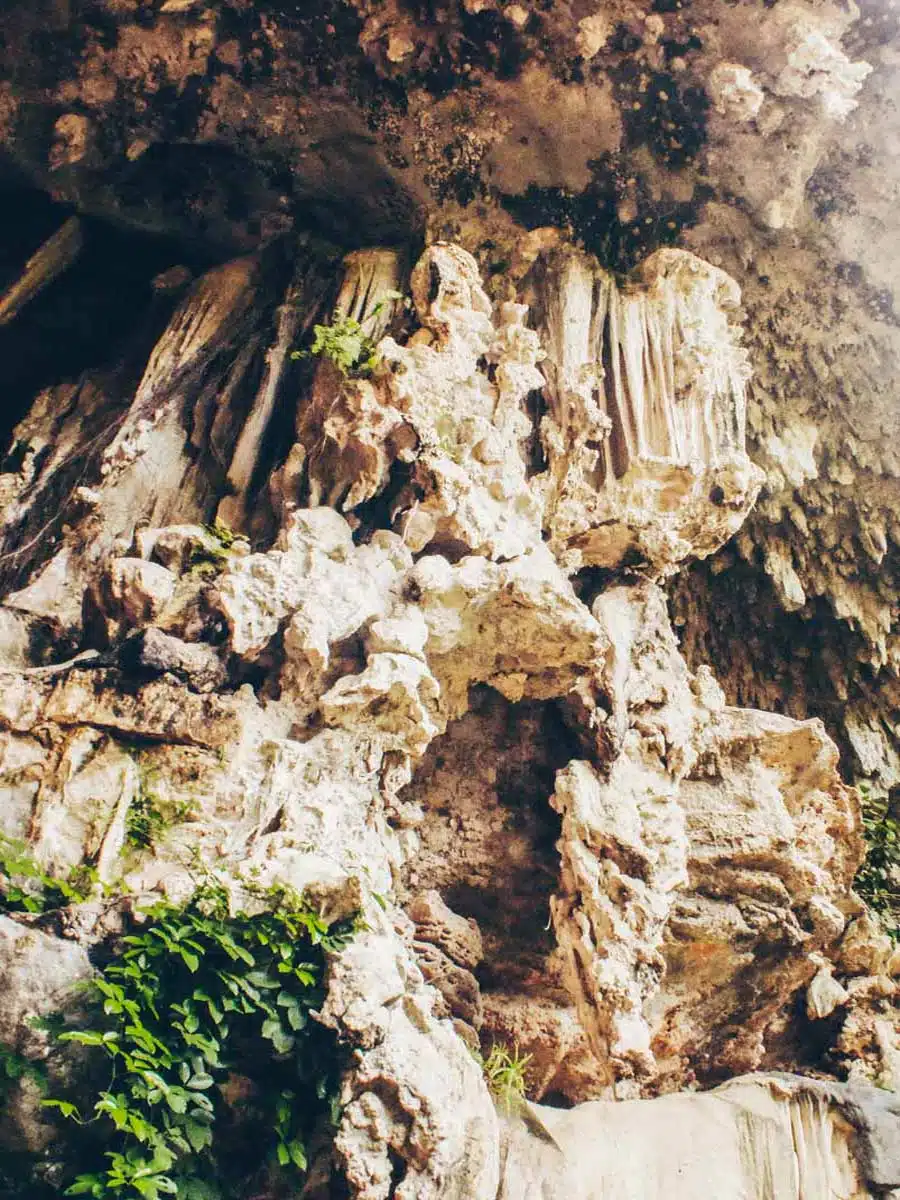 Pulling yourself away from the beach might be challenging when you're in a place as beautiful as Railay Beach.
But gazing at its limestone cliffs and tackling some rock climbing in Railay Beach adds an entirely different view (get it?) of this stunning area.
Visit Tonsai Beach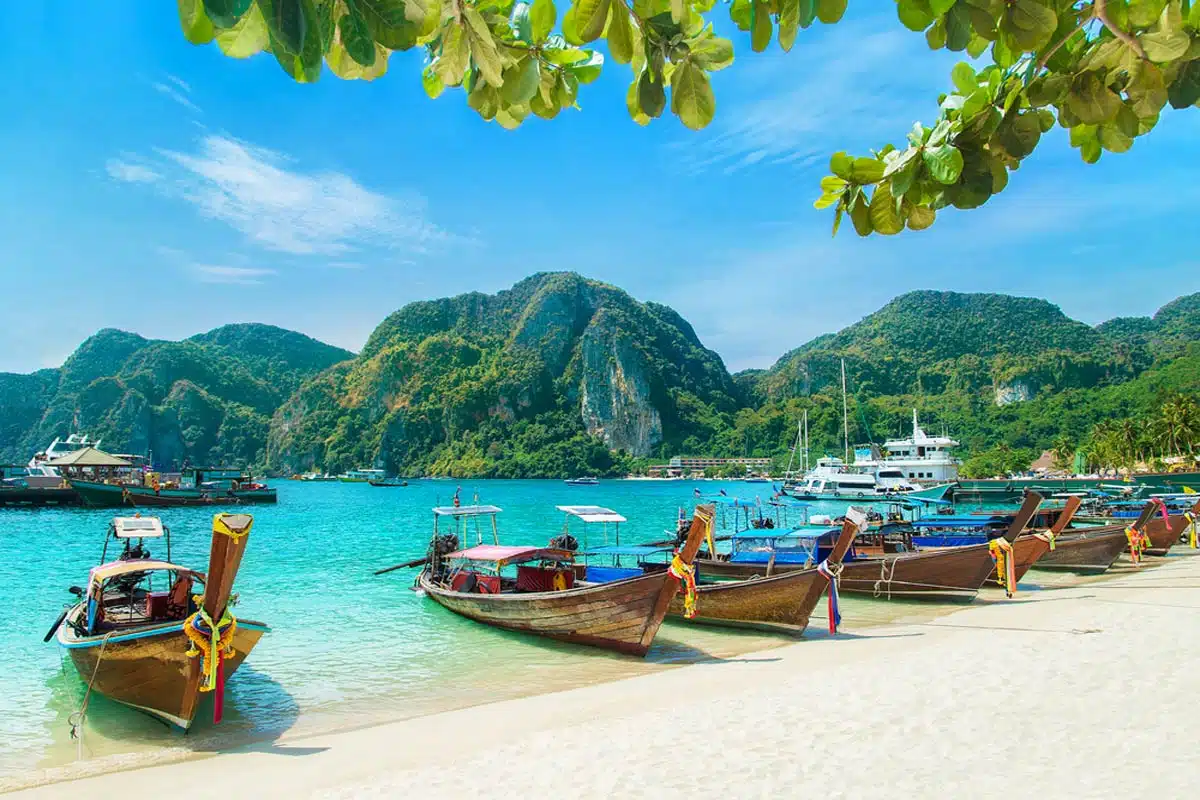 For the ultimate experience in a secluded section of Railay Beach, head over to Tonsai Beach.
This off-the-beaten-path spot sees far fewer visitors making it a truly fantastic place to laze around on the beach, sip on tantalising cocktails, and head out onto the waters on a kayak.
Getting to Railay Beach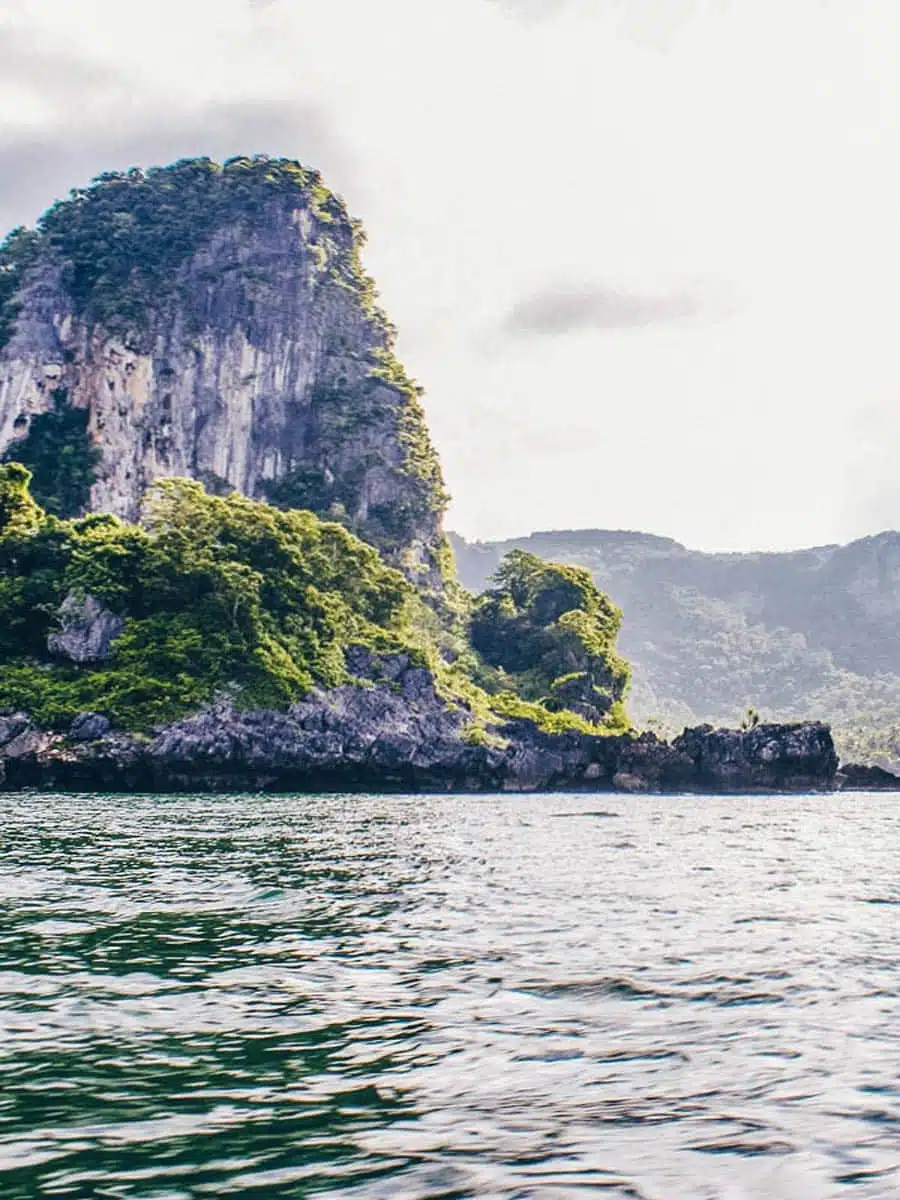 It's pretty simple to get to Railay Beach as you can fly to Krabi International Airport and, once there, take a 45-minute taxi or bus to Ao Nang Beach.
From the Ao Nang Pier, it's a short 20-minute long-tail boat trip that takes you to Tonsai Beach or Railay Bay West Beach.
Suggested Stay for Railay Beach on Your Thailand Itinerary
Sand Sea Resort
Located on West Railay Beach at Sand Sea Resort, you'll get your bungalow with charming decor and traditional styling, including a private terrace.
It features a stunning beachfront location and two outdoor swimming pools.
Check Rates and Availability
Alternatively, Check All Accommodations in Railay Beach
Day 9–10: Phi Phi Islands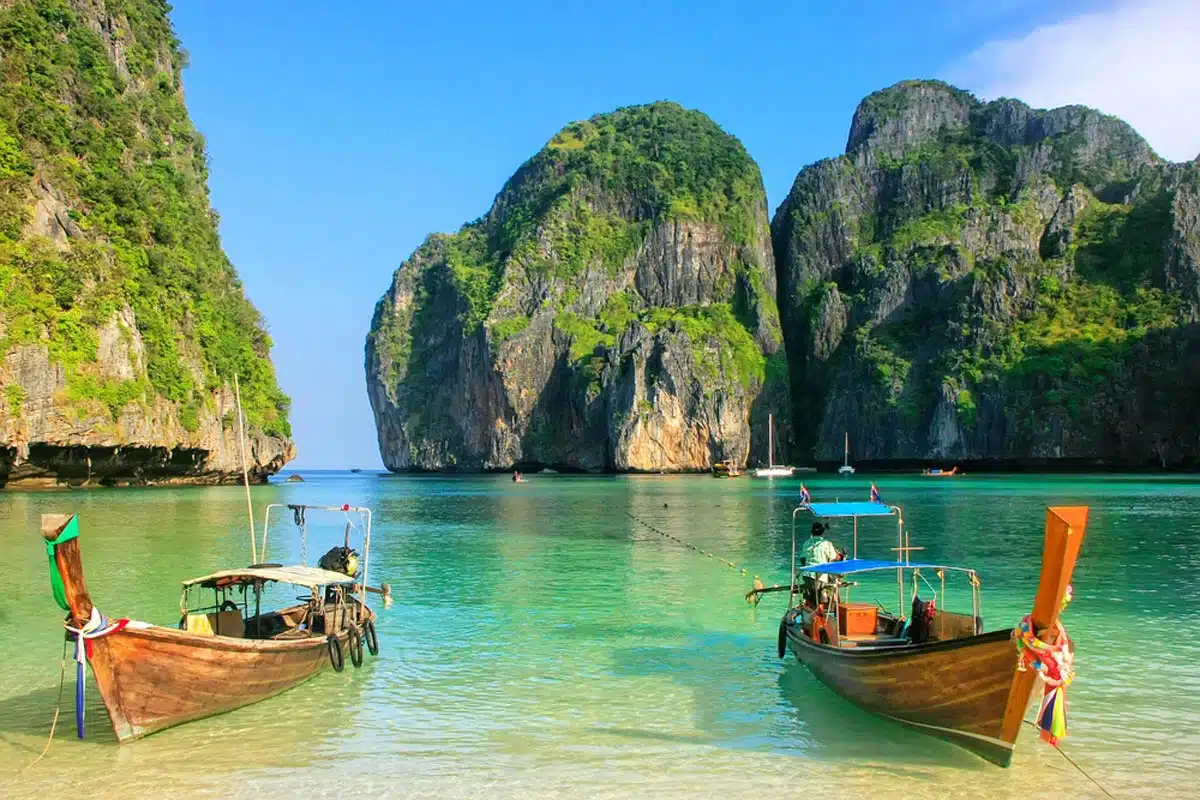 Although most people only know about two islands, the Phi Phi Islands is a collection of six. So it's no surprise that island hopping your way through each is an elegant way to explore these stunning islands.
Things to Do in the Phi Phi Islands
Hike to Phi Phi Viewpoint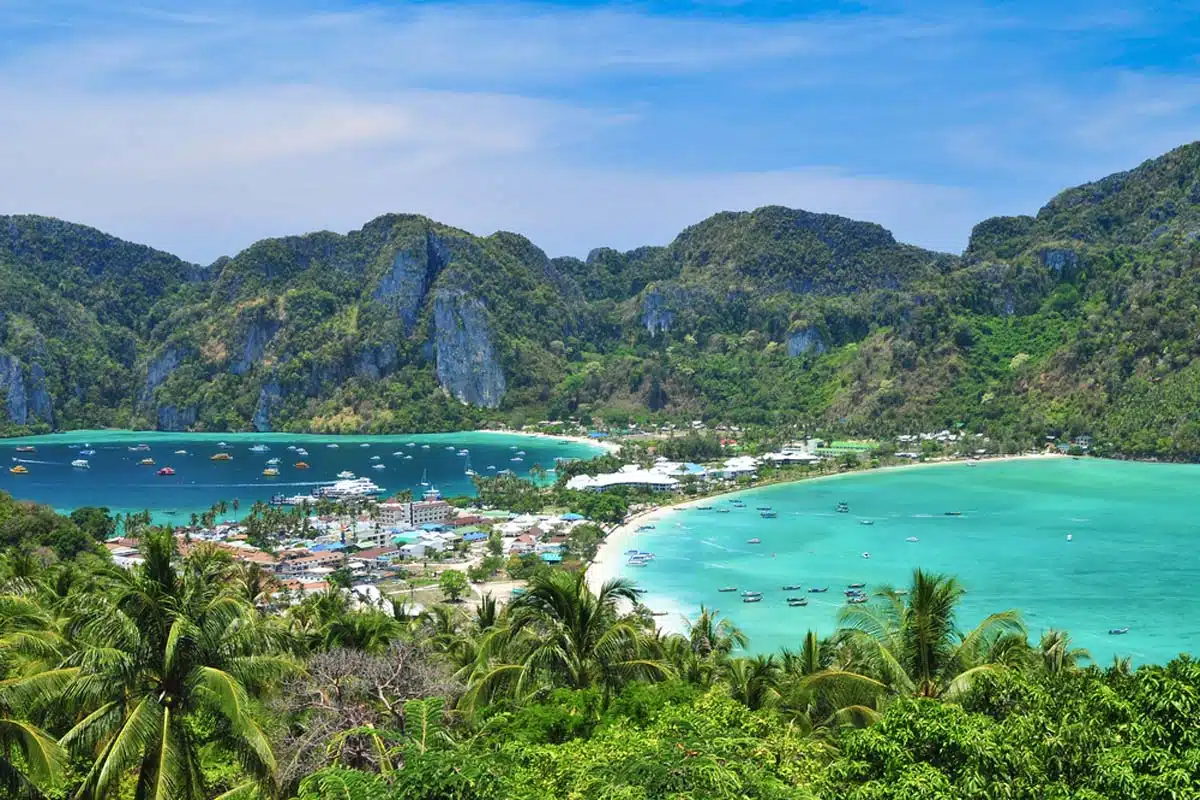 Shaped like a dumbbell, you can get the best view of Phi Phi Don by hiking up to the stunning Phi Phi Viewpoint.
The trek should take about 20 to 40 minutes, depending on your fitness level. You'll have epic views of Tonsai Bay and Loh Dalum Bay from the top.
Take a Boat Tour to Maya Bay
If you've ever watched the Leonardo Di Caprio movie, The Beach, you'll instantly recognise Maya Bay.
And what better way to explore this gorgeous beach and Phi Phi Leh than on a speedboat tour?
Getting to the Phi Phi Islands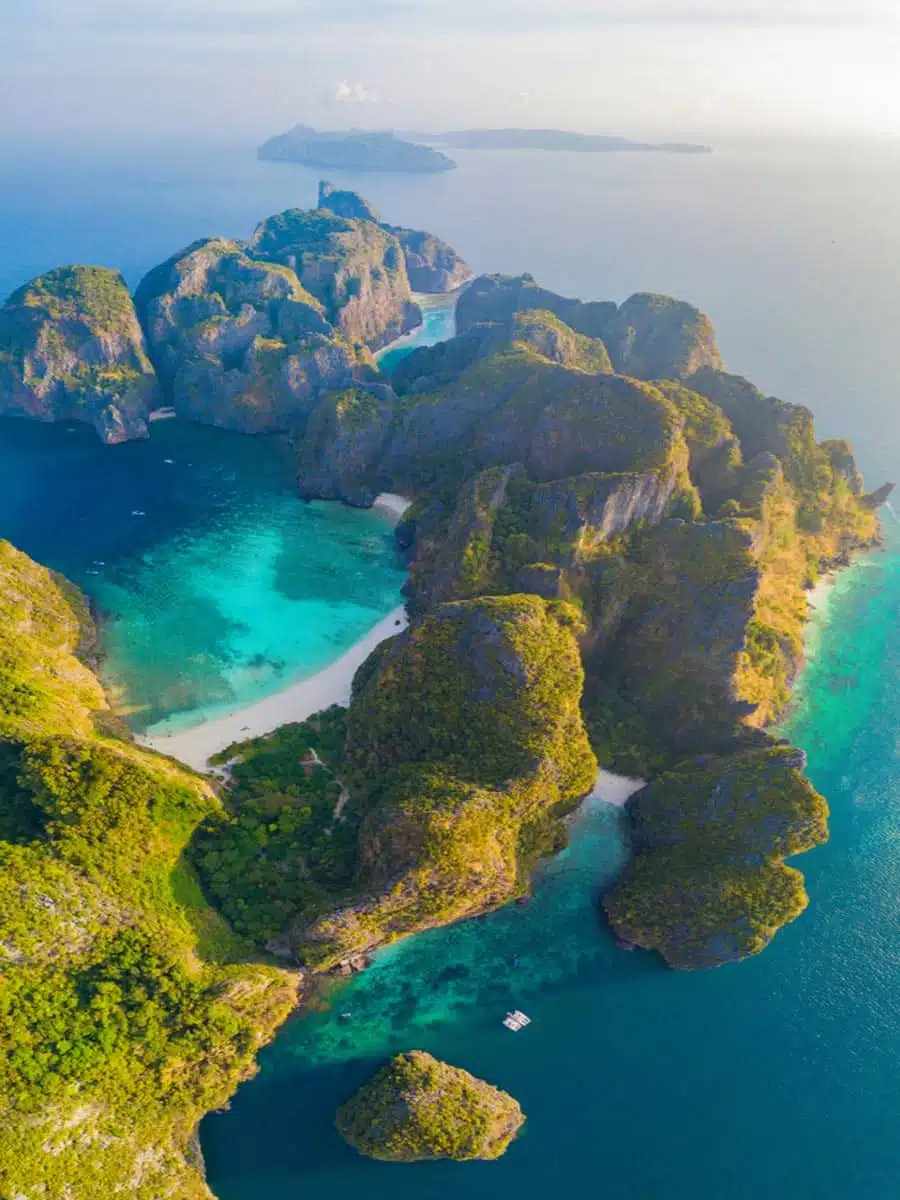 Another easy journey to undertake, getting to the Phi Phi Islands is simple.
You have two options depending on where you depart from. From either Phuket or Krabi, you can hop on a public ferry that takes 2 hours from Phuket and 90 minutes from Krabi.
Suggested Stay for Phi Phi Islands on Your Thailand Itinerary
Phi Phi The Beach Resort
Phi Phi, The Beach Resort, sits on Long Beach on Phi Phi Don and offers stunning hillside accommodations and breathtaking ocean views.
Beyond the gorgeous rooms, the resort also features snorkelling and kayaking facilities and a beautiful outdoor pool.
Check Rates and Availability
Alternatively, Check All Accommodations in Phi Phi
Day 12–13: Phuket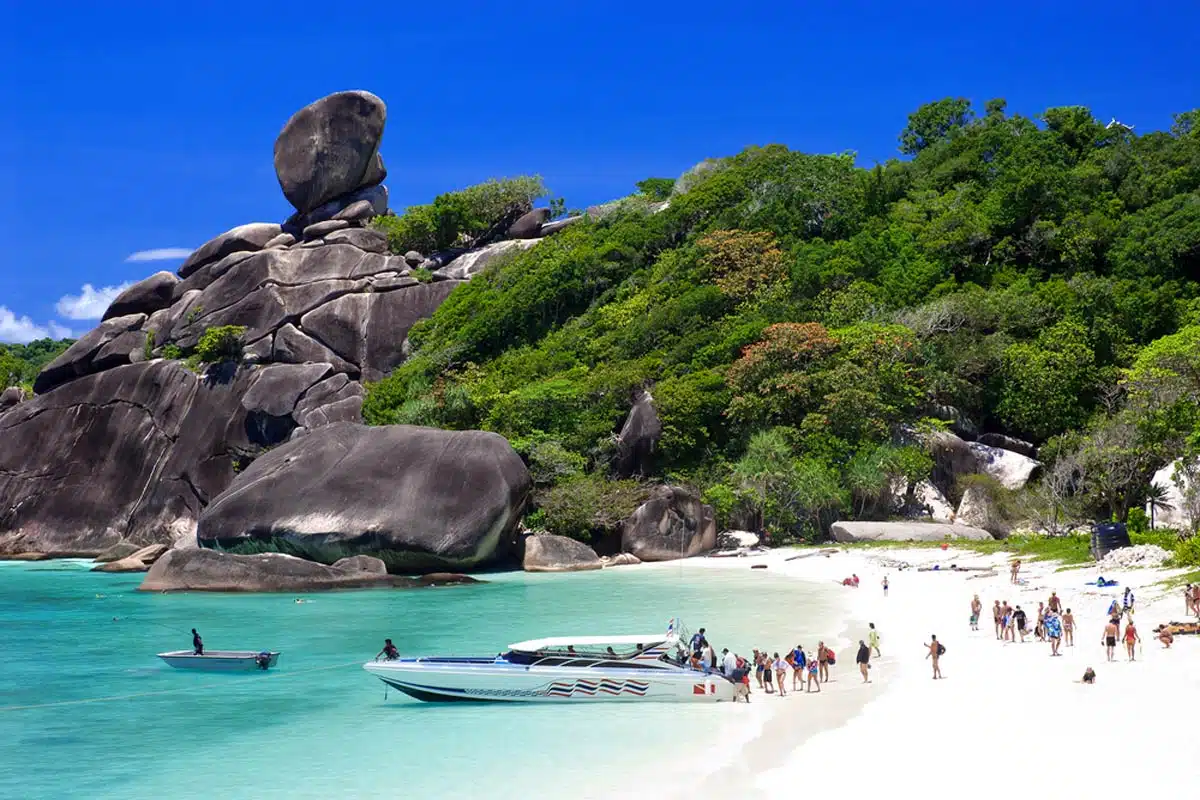 The rainforest-filled and mountainous island of Phuket is the darling of Thailand, and for a good reason. It's not only the site of gorgeous forests but also some of the country's most breathtaking beaches. 
Things to Do in Phuket
Explore Old Town Phuket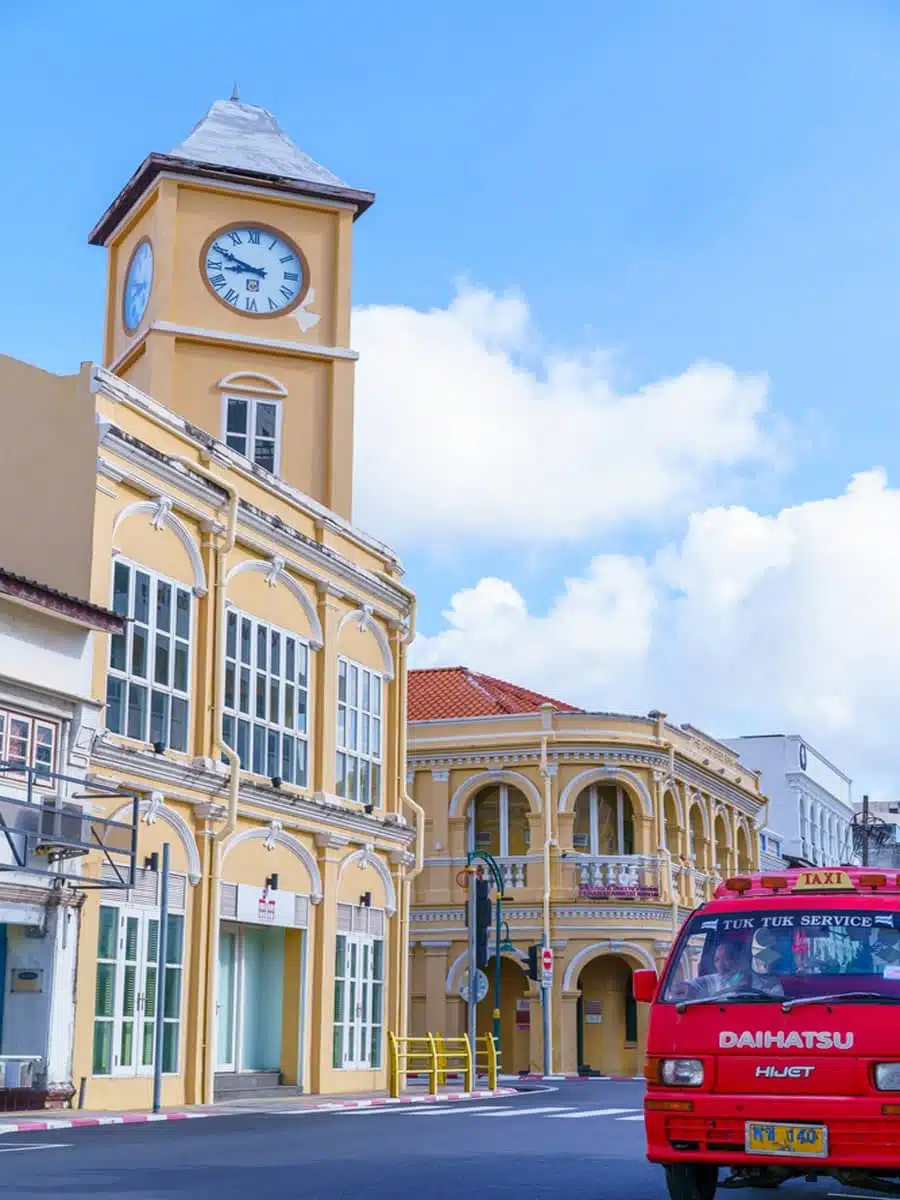 Before Phuket became today's tourist paradise, it was an important trading route between India and China.
And if you want to get a sense of this history, visit Old Town Phuket for an intimate view of its past. While here, stroll through Phuket Walking Street for island shopping fun.
Immerse Yourself in the Beaches of Phuket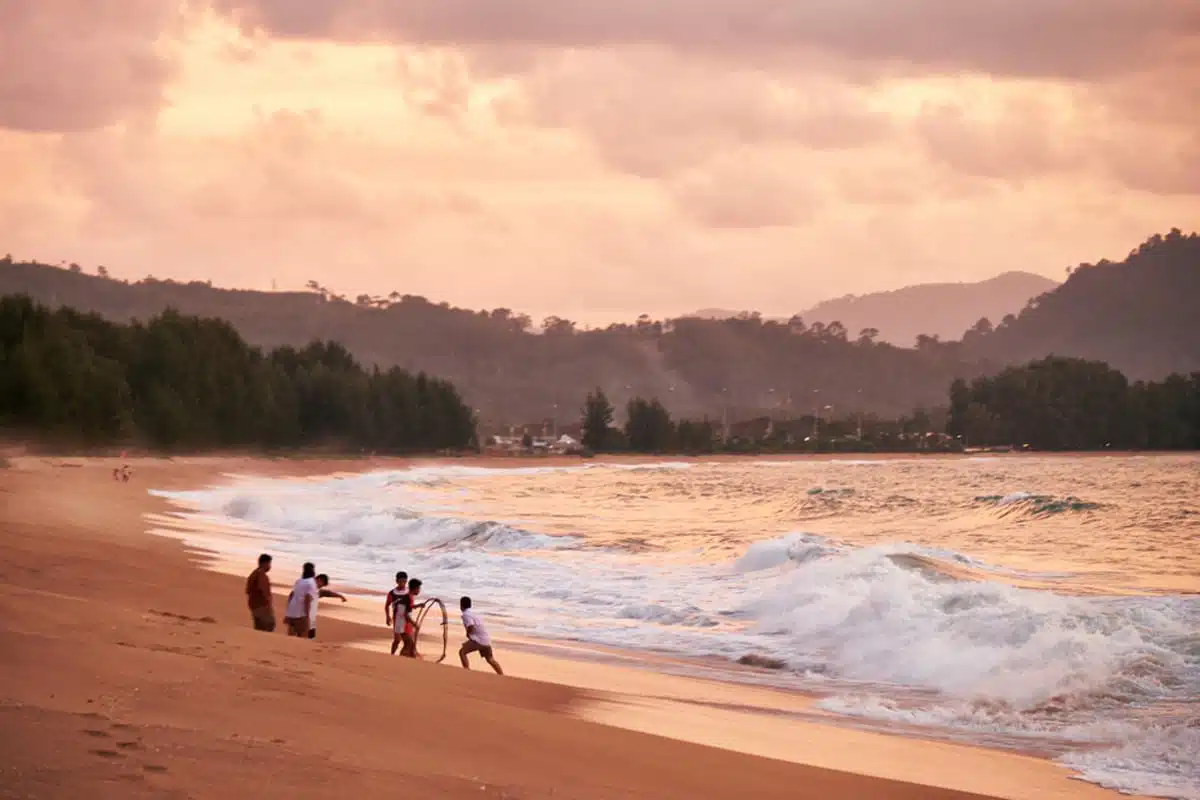 Second to none, the beaches of Phuket almost seem out of this world, and if you're a beach lover, you can't miss them.
Hopping from one to the next is as fun as it gets, and with so many options, how could you not fall in love? Freedom Beach, Banana Beach, and Bang Tao Beach are the most noteworthy.
Getting to Phuket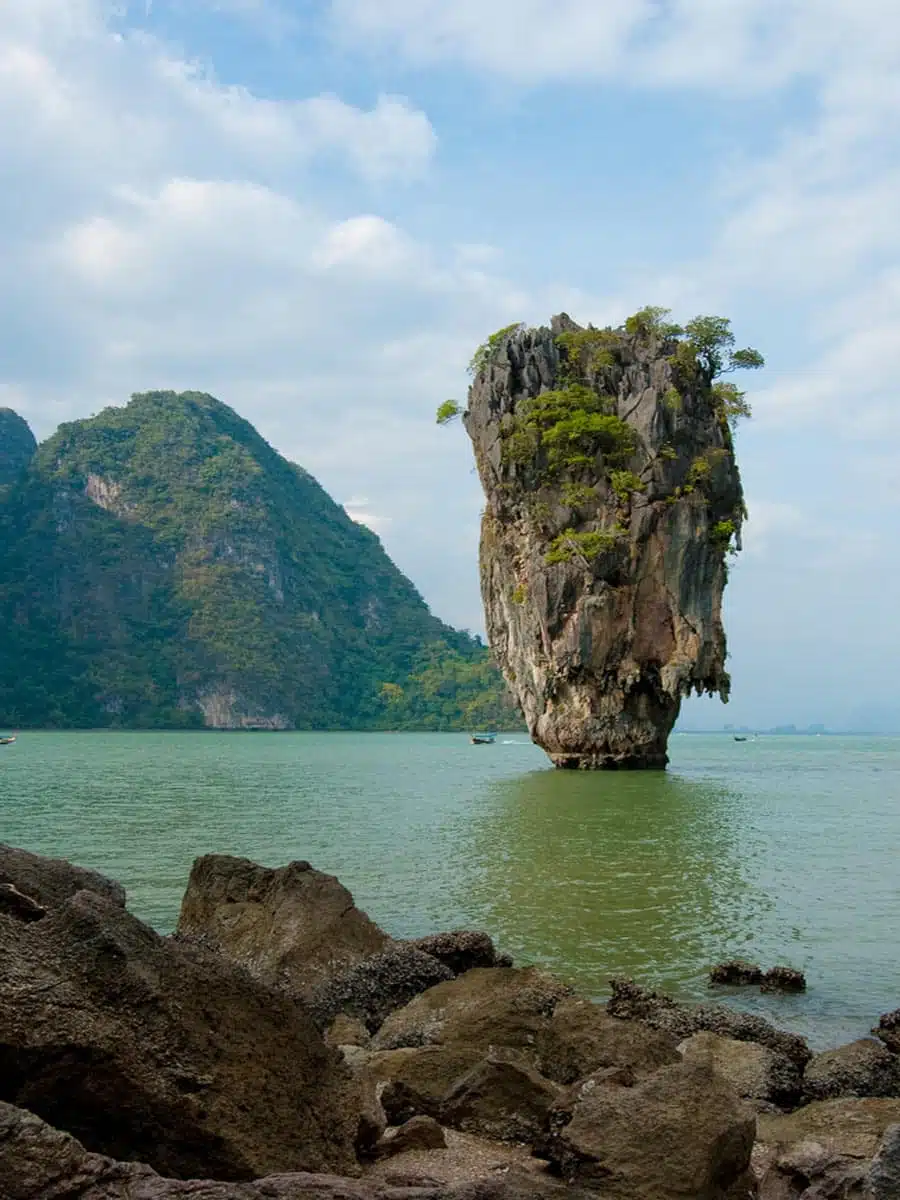 The easiest way to get to Phuket is by flying directly to the island.
Local airlines, including Thai Airways, offer affordable prices and run routes from Bangkok and Chiang Mai.
Suggested Stay for Phuket on Your Thailand Itinerary
Ramada Plaza by Wyndham
A luxurious 5-star property in Phuket Town, the Ramada Plaza by Wyndham brings together a lofty accommodation experience and some of the most opulent styling you'll find in a resort.
Check Rates and Availability
Alternatively, Check All Accommodations in Phuket
Day 13–14: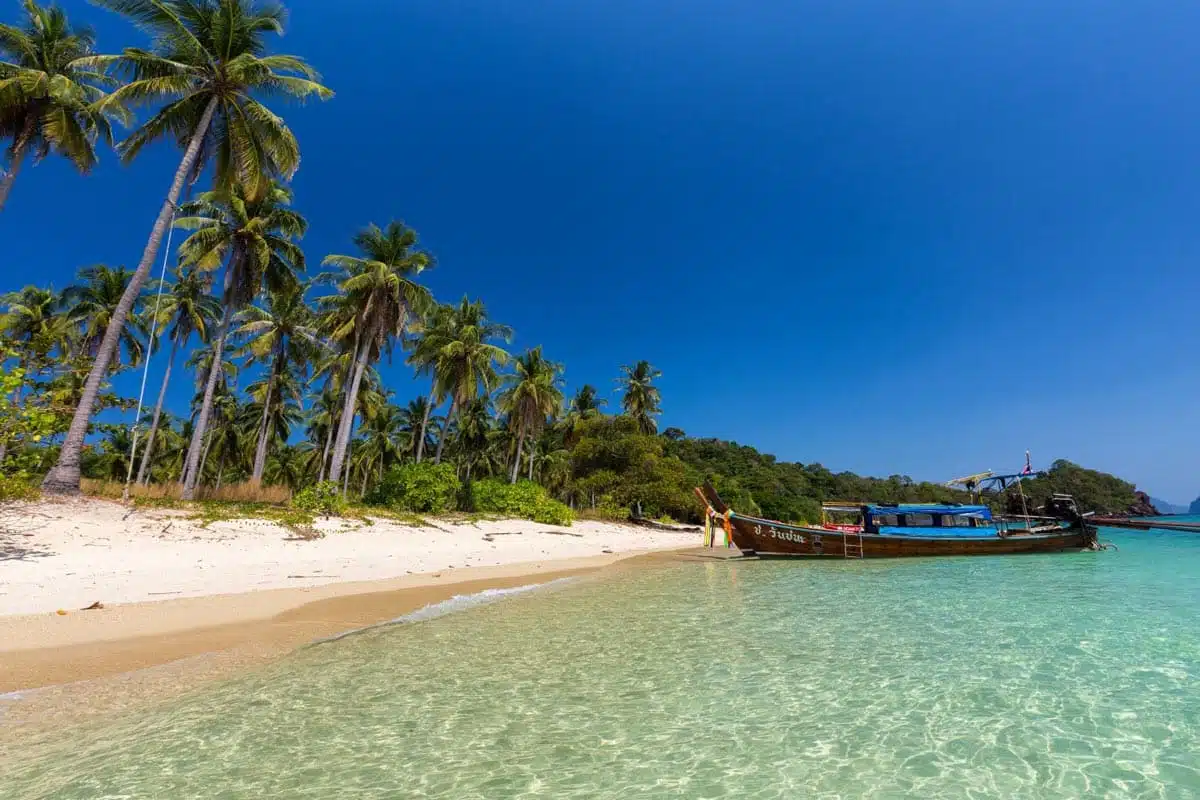 If I skipped Koh Lanta, this wouldn't be the best itinerary for Thailand.
This picturesque island off the west coast of Thailand has some of the most pristine waters you'll find anywhere.
Things to Do in Koh Lanta
Go Kayaking
Yes, you can go kayaking in many other places in Thailand, but heading out onto its waters takes on a new light when you're in Koh Lanta.
Head out on a guided tour through a natural mangrove swamp for a different kind of kayaking. And before you freak at the word swamp, trust me. It's worth it.
Explore the Caves of Koh Lanta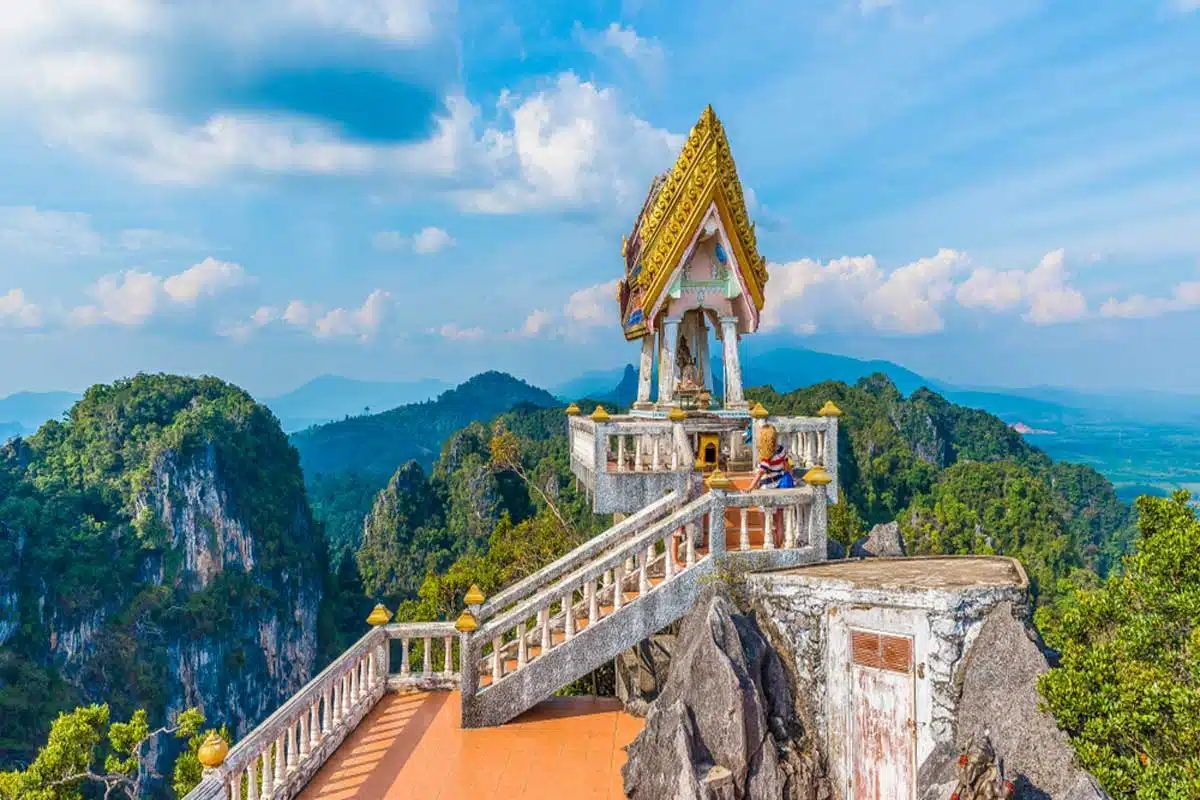 So you've had your fill of temples and beaches (as unbelievable as that sounds). How does some cave exploration sound?
Like other Thai islands, Koh Lanta has some gems to show off. One you simply can't miss is Khao Mai Kaew, otherwise known as Tiger Cave.
Getting to Koh Lanta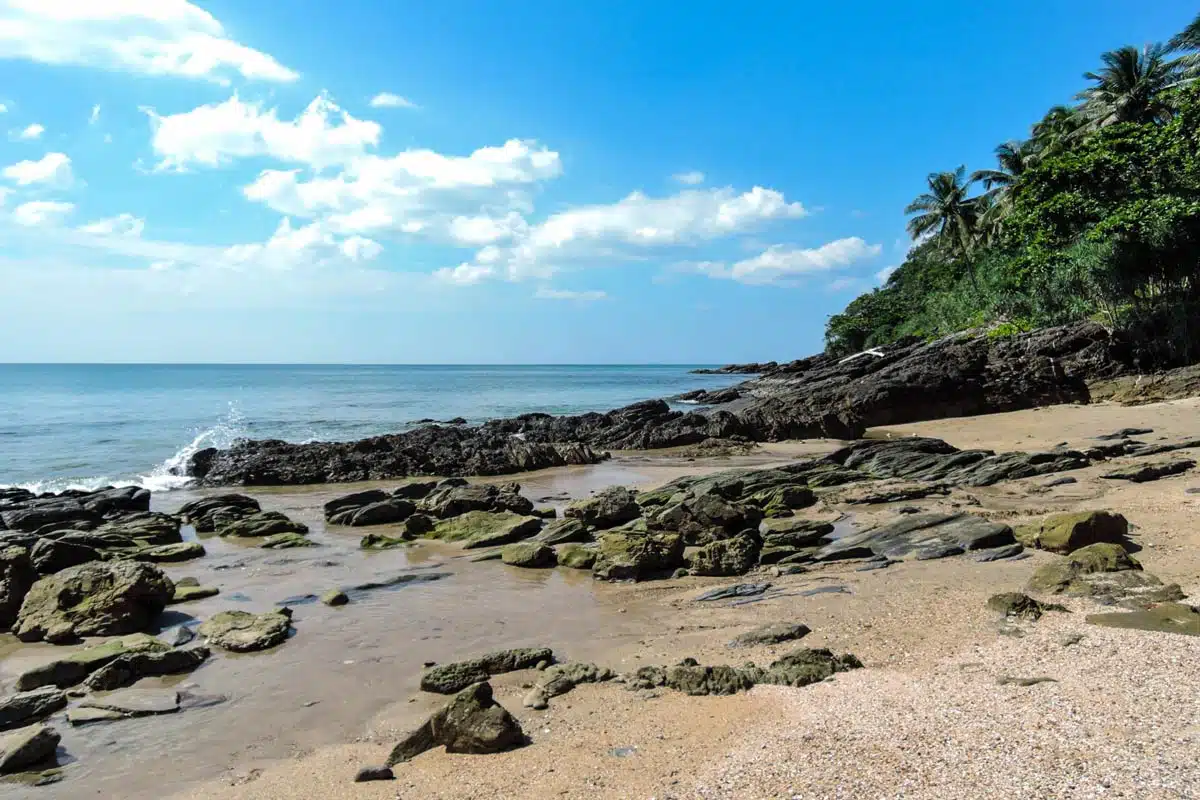 Reaching Koh Lanta is easy as you can take a passenger ferry from Phuket's Rassada Pier, located in the island's southern region, changing ferries at Koh Phi Phi.
Suggested Stay for Koh Lanta on Your Thailand Itinerary
Long Beach Chalet
When staying at Long Beach Chalet on Koh Lanta, you can book a beachfront bungalow or one within the resort's garden area. Highlights of the property include arranging tours and day trips from the reception.
Check Rates and Availability
Alternatively, Check All Accommodations in Koh Lanta
Optional Itinerary for The Gulf of Thailand
Day 7–10: Koh Samui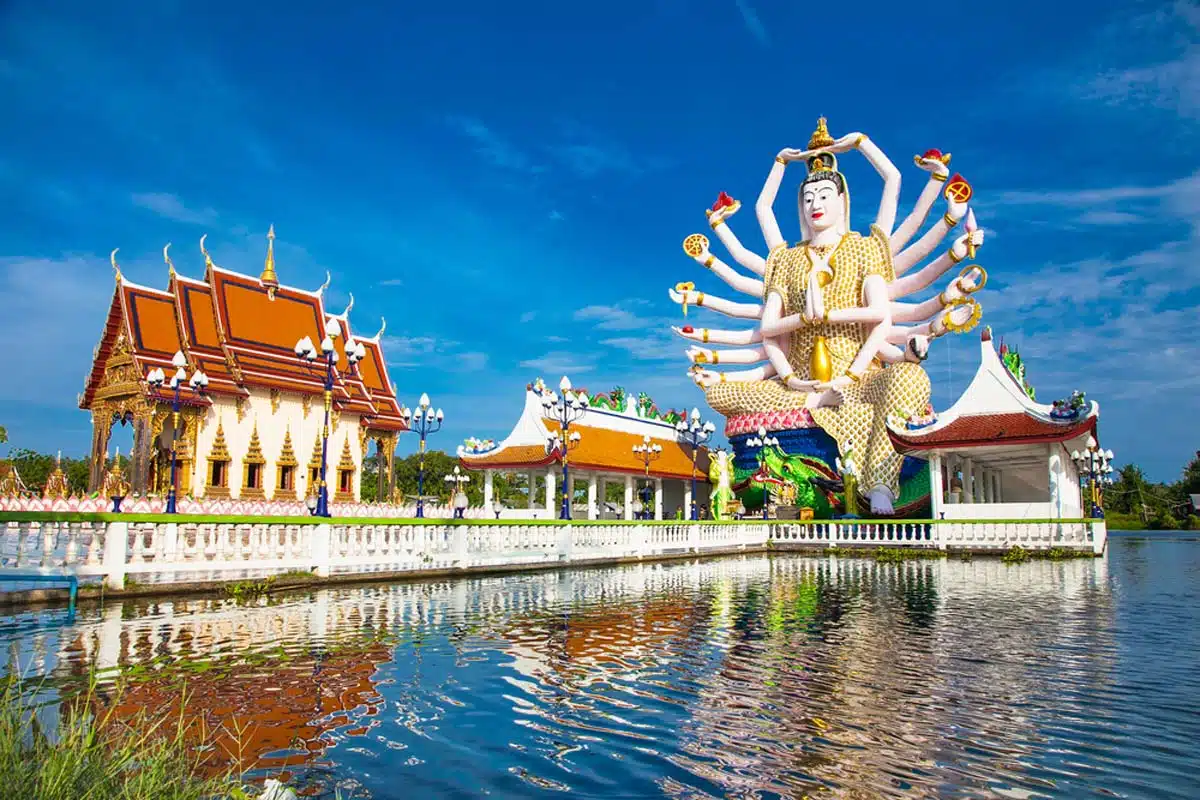 If you're more of a Gulf of Thailand lover, head to the island paradise of Koh Samui instead of heading for the Andaman Sea after leaving Chiang Mai.
A much-loved destination for thrill-seekers and party animals, it is hard to imagine not visiting the famous island.
Things to Do in Ko Samui
Lounge on the Beaches of Koh Samui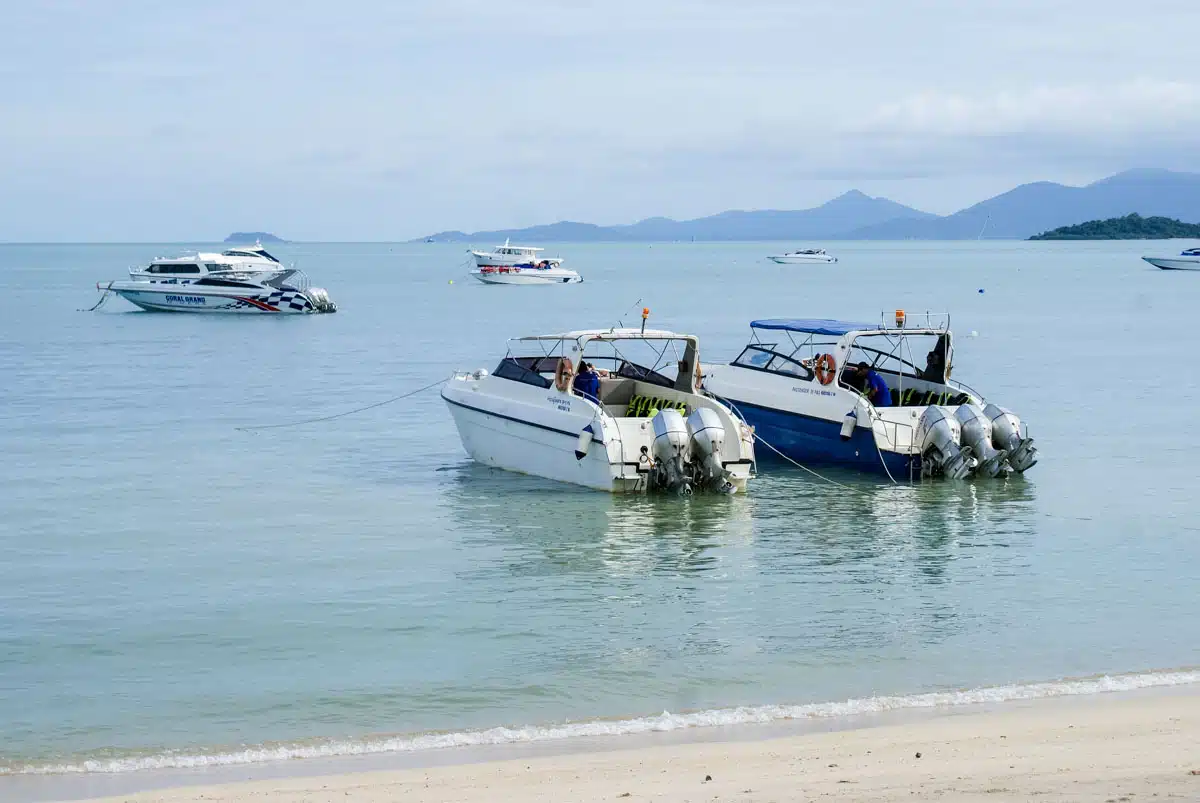 There are two must-visit beaches on Koh Samui worthy of your presence. The first is Chaweng Beach.
The island's longest stretch of sand is also immensely popular with tourists. Or head to the lesser famous Choeng Mon Beach for a more relaxed atmosphere.
Party on Koh Phangan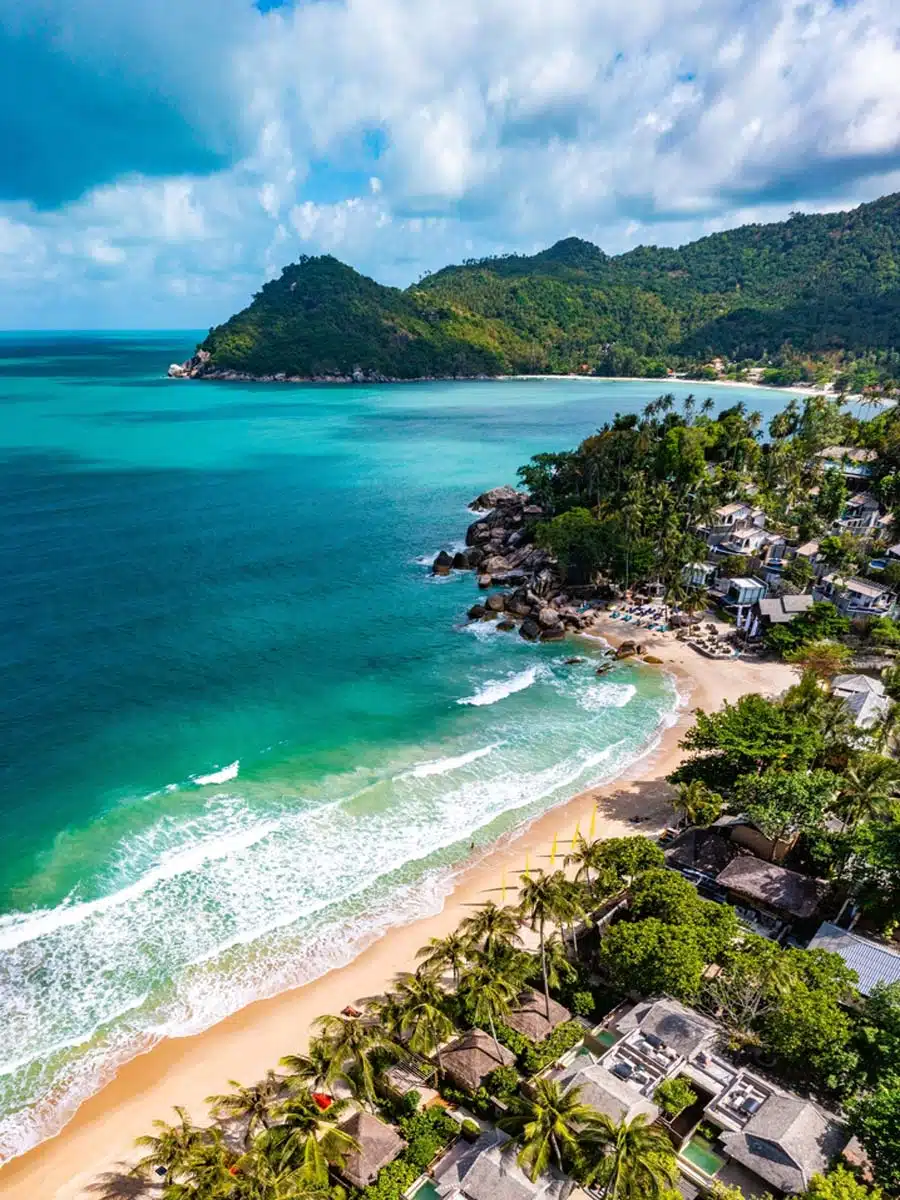 Ever heard of Thailand's famous Full Moon Parties? Well, if you're in Ko Samui, you're just a short ferry trip away from the home ground of the infamous all-night party festival.
With one happening every full moon, it's a night you'll never forget.
Getting to Koh Samui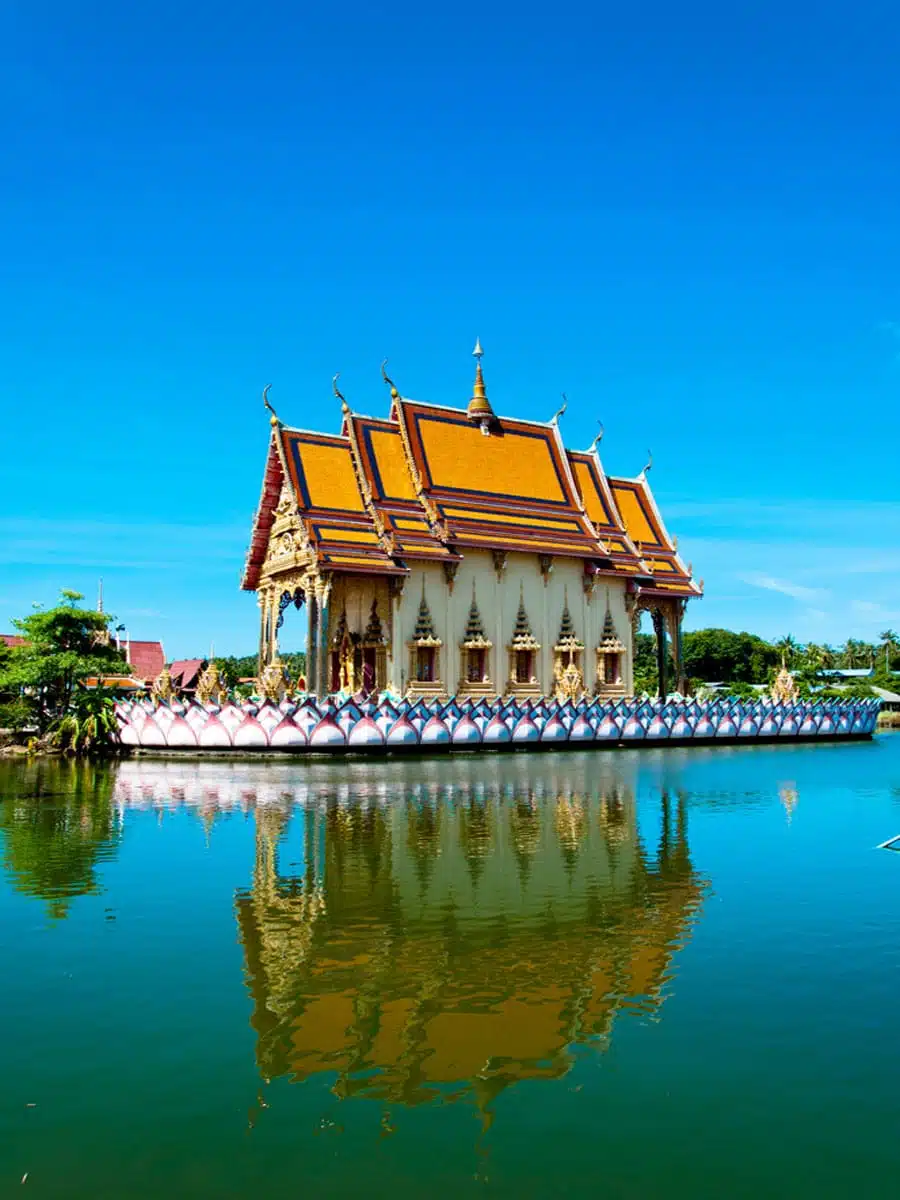 Getting to Koh Samui is very straightforward as you can only reach the island by a public ferry from Koh Phangan or Ko Tao.
Suggested Stay for Koh Samui on Your Thailand Itinerary
Melia Koh Samui
Melia Koh Samui is the best place to stay on the island with a stunning blend of traditional Thai hospitality and opulent modern architecture and luxury. You can choose from either one of the 159 guestrooms or 41 luxury suites.
Check Rates and Availability
Alternatively, Check All Accommodations in Koh Samui
Day 11–14: Koh Tao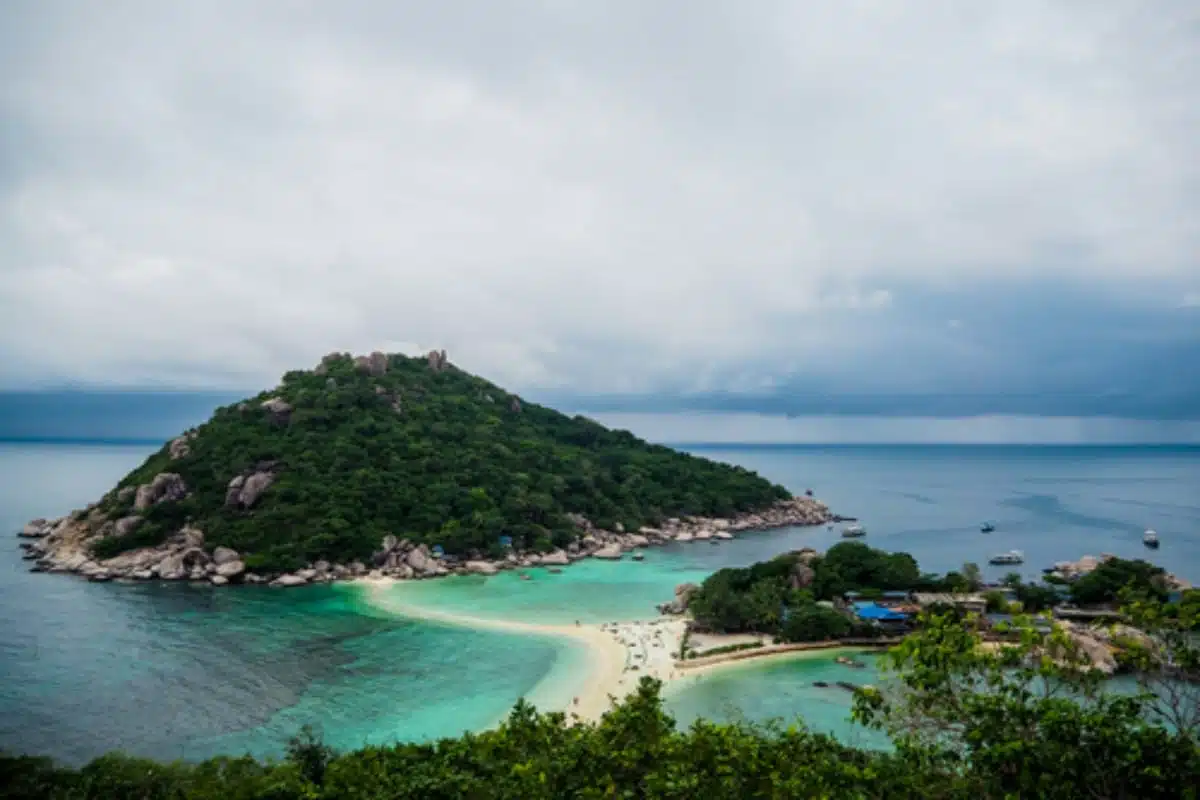 An equally fantastic island close to Koh Samui, Koh Tao offers a mix of everything that makes Thailand great.
It has beaches, jungles, epic nightlife, amazing street markets, and some of the country's best diving spots.
Things to Do in Koh Tao
Learn to Dive
With numerous dive and snorkel shops lining the beach of Koh Tao, you simply can't escape the diving fever.
If you're new to this water activity, there are so many schools offering certifications that you'll leave an expert.
Catch the Sunset at Sairee Beach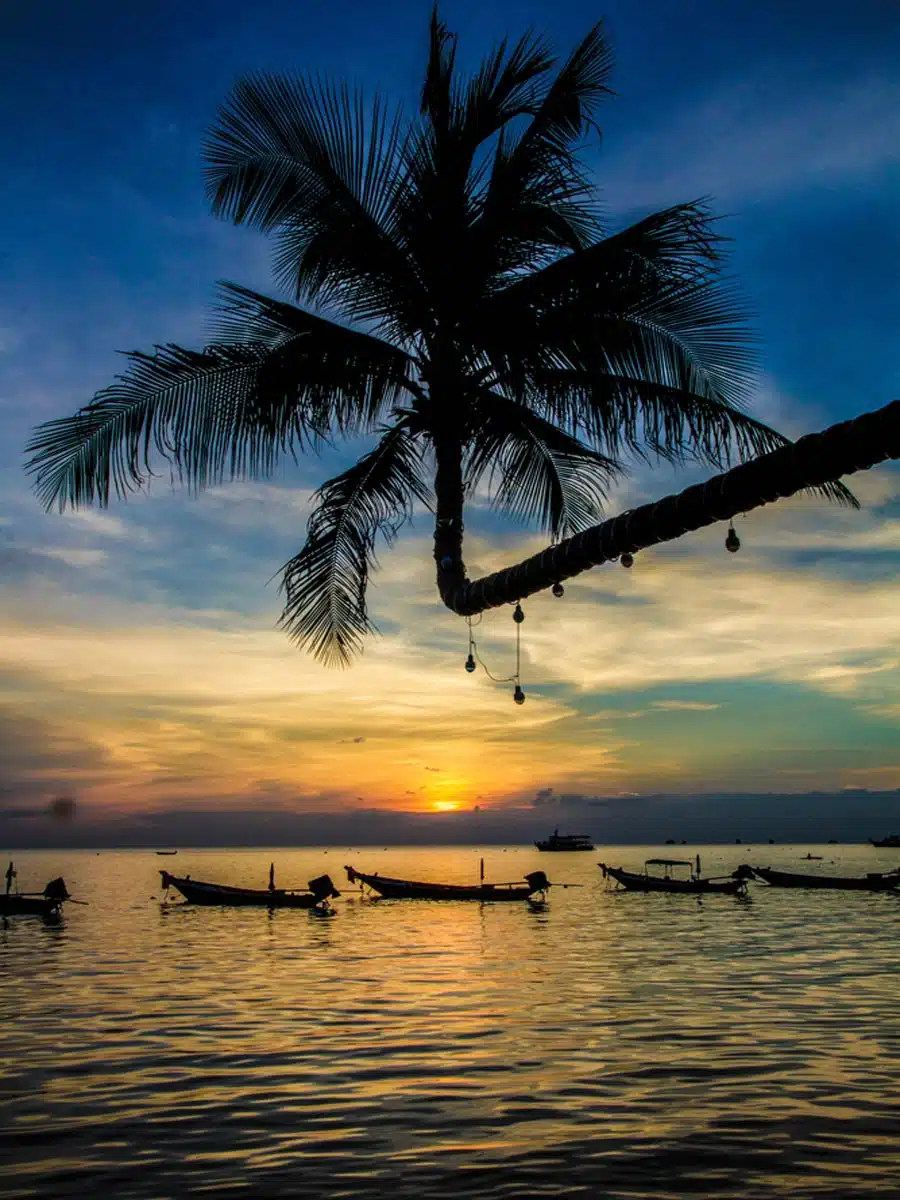 This is a vast stretch of beach on the island's western side. Beyond being one of the best beaches in Koh Tao, its sunset is euphoric.
With bean bags lined along the coast and beachfront restaurants, what better way to close off a day exploring the island.
Getting to Koh Tao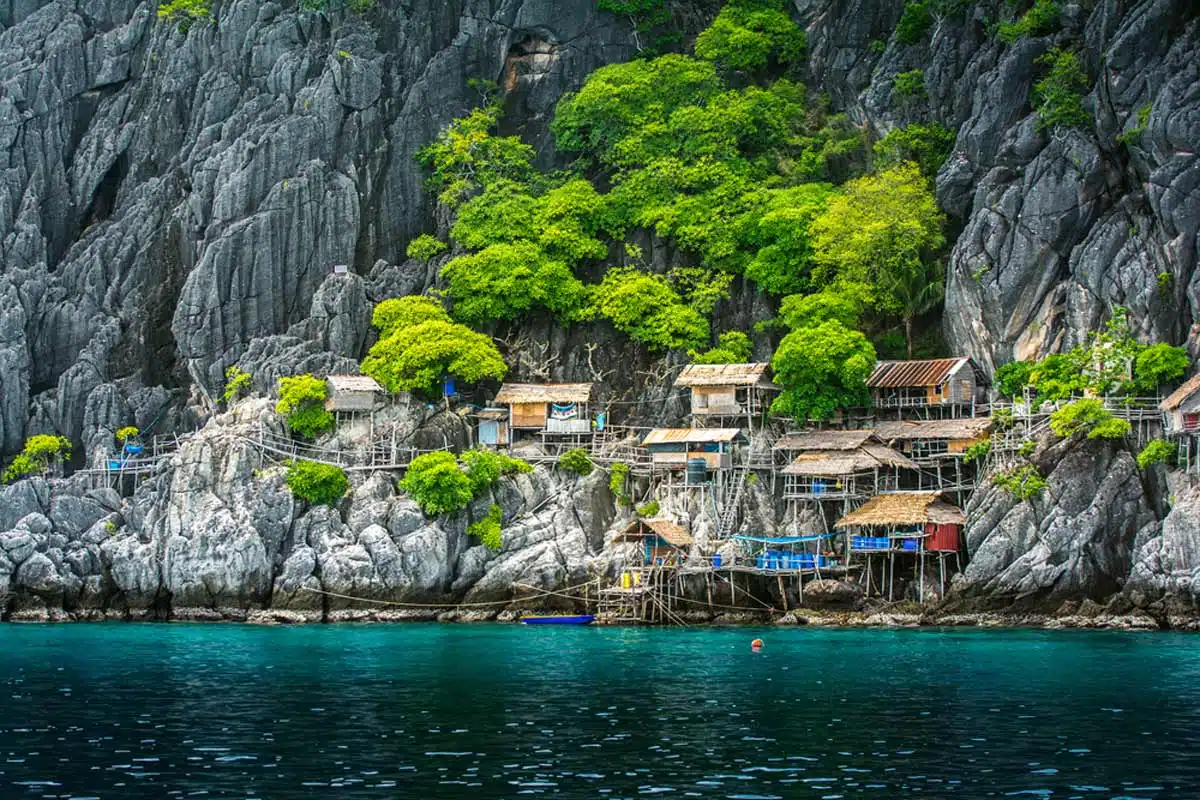 If you're heading out from Koh Phangan or Koh Samui, getting to Koh Tao is easy and doable via any public ferries that depart throughout the day.
Suggested Stay for Koh Tao on Your Thailand Itinerary
Jamahkiri Resort & Spa
Along Thian Og Bay, you'll find the impressive Jamahkiri Resort & Spa that offers the best in luxury at a relatively affordable price.
On-site, you have access to a stunning outdoor pool and an in-house restaurant serving the best in Thai cuisine.
Check Rates and Availability
Alternatively, Check All Accommodations in Koh Tao
2 Week Thailand Itinerary: Map