Discover the best things to do in Railay Beach with this handy guide filled with rock climbing, cocktail guzzling, and more.
Let's not beat around the bush. Thailand is synonymous with having some of, if not the, most beautiful beaches in the world. Railay might just take the crown though.
Sitting pretty between the towns of Krabi and Ao Nang, limestone cliffs outline the peninsula of Railay (pronounced Rai Leh, in case you were wondering).
While it's only accessible by boat, that only adds to Railay's charms. This gem offers white sands and breathtaking views of the Andaman Sea.
Could it get any better? Erm, yes. It does actually.
Trust me, once you discover what this jungle-laden mountain coastline has to offer, you'll quickly add Railay to your Thailand itinerary.
The best place to stay when visiting Railay Beach is Rayavadee Hotel. This luxury resort faces the Andaman Sea, with direct access to Phra Nang Beach.
Top 5 Things to do in Railay
Explore Railay Beach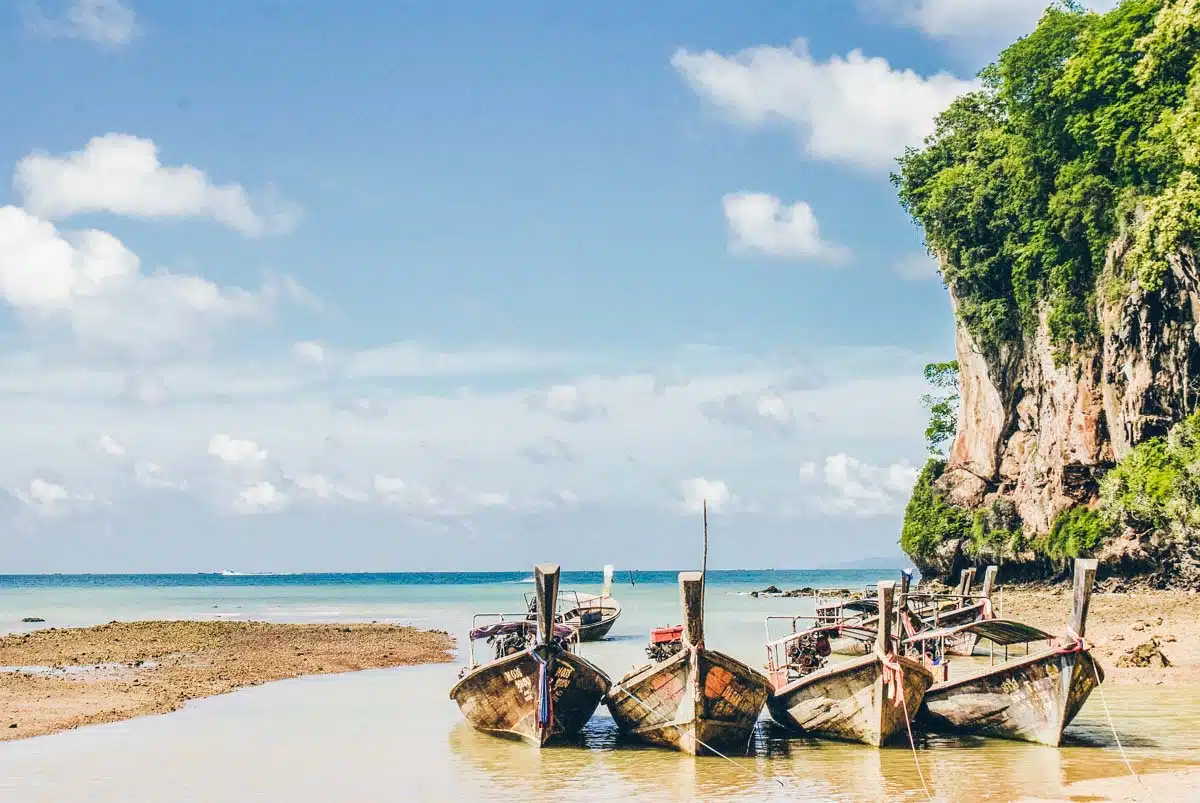 The most iconic landmarks of Thailand? Its beaches, of course. So naturally, it's not surprising that lounging on (and exploring) these natural gems is an absolute must when visiting the country.
But Railay is something special. It truly outdoes itself with its coastal offerings in the form of Railay West Beach, Phra Nang Beach, and East Railay Bay Beach. But, if you're looking for the ultimate experience, I say that you should head over to either Phra Nang Beach or Railay West Beach.
Both of these invite you in with picturesque white sandy shores, the enticing turquoise waters of the Andaman Sea, and towering limestone cliffs.
However, nothing comes close to East Railay Bay Beach if you're after a more eclectic beach experience.
During low tide, it stuns with dozens of exposed mangroves and an influx of Asian Water Monitors. Although they're not as dangerous as Komodo Dragons, remember to keep a safe distance when getting a look at these creatures.
Feast Your Eyes on a Sunset at Railay West Beach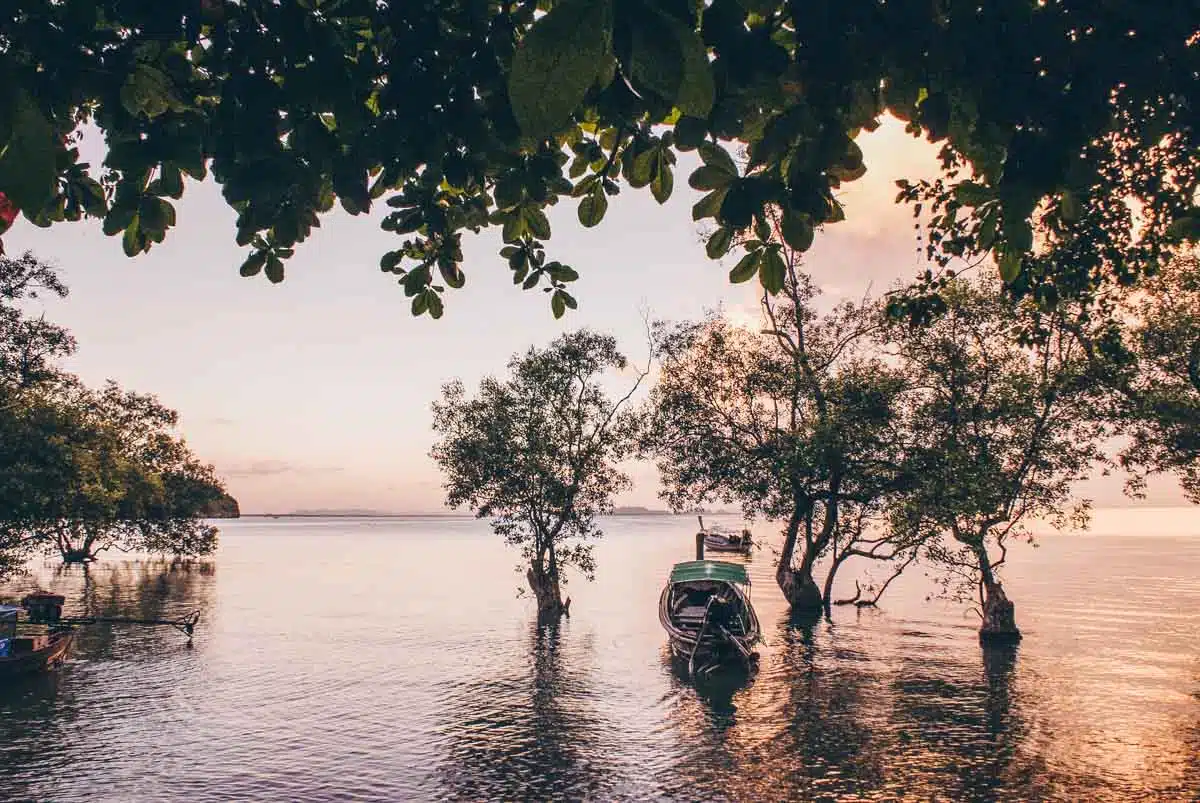 There's nothing quite as magical as a sunset overlooking the beaches of Thailand. But, if you're on the hunt for a genuinely awe-inspiring sundown, heading to Railay West Beach is a surefire way to knock your socks off.
Adding to the almost otherworldly setting sun over the Andaman Sea, grab a seat at any beachfront bar for the most epic sundowner you've ever had. Alternatively, grab a drink and sprawl out on the beach for a more intimate experience.
Go Rock Climbing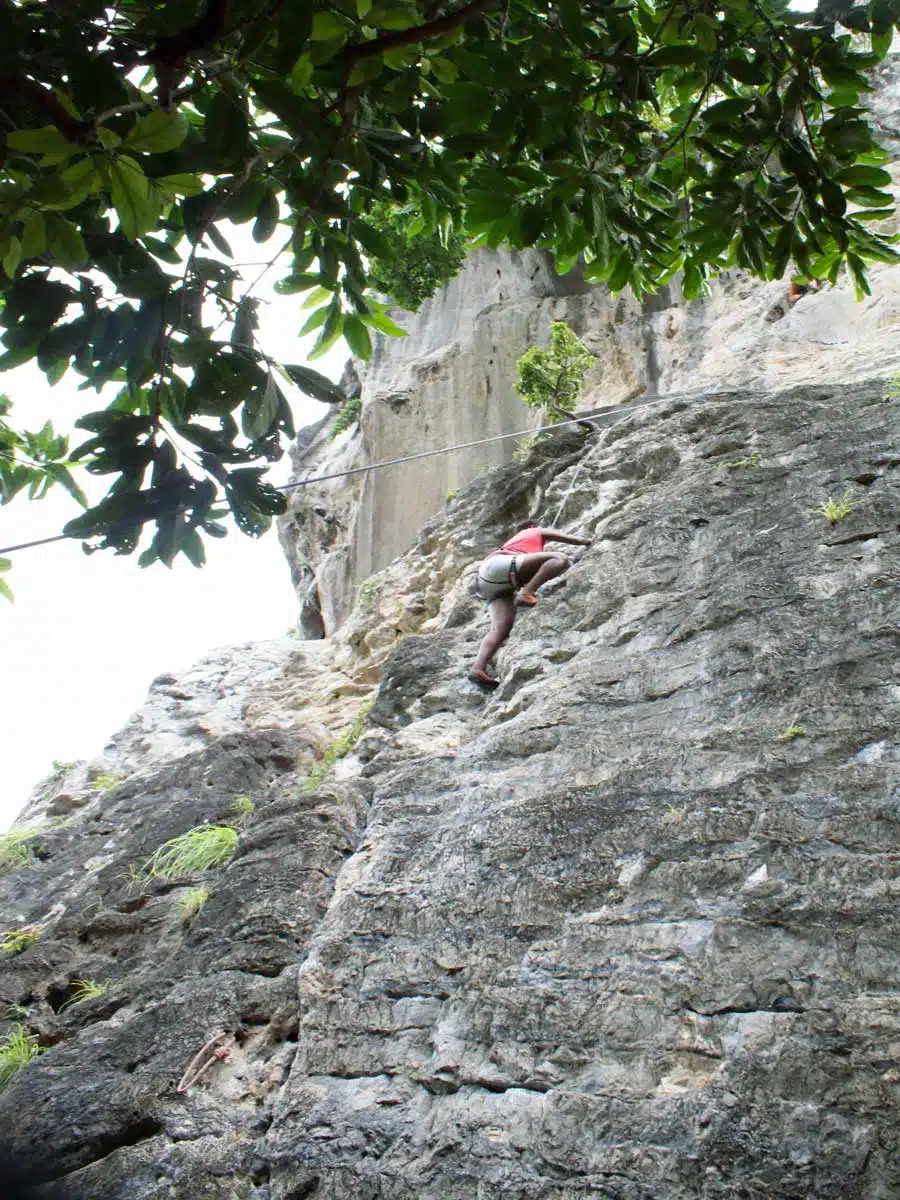 You know those limestone cliffs I've mentioned a few times already? Those are the setting for some of Thailand's best rock-climbing excursions.
In fact, it's an almost assumed activity when visiting Railay Beach. You would be bonkers to skip it.
While you don't need to be a thrill-seeking adrenaline junkie to ascend onto the cliffs of Railay, the imposing sense of adventure makes this a must. With numerous climbing routes, including Thaiwand Wall, Railay Beach Corner, and One-Two-Three, you will find the perfect rocky experience.
Tip: If you've never indulged in rock climbing, head to Walking Street, where a few schools offer a wide range of courses for you to learn.
Relax at a Reggae Bar
What you might not know is that there's a huge community of Rastafarians living and thriving in Railay Beach. Which is why there's a huge number of reggae-loving bars along Walking Street.
You'll find these bars in Railay East, but the vibe is entirely different (in the best way possible) on the western side.
Ordering off their 'happy menu' holds a few surprises I'll let you discover for yourself. But the selection of cocktails is simply incredible if you're not one for mystery.
Explore the Many Caves of Railay Beach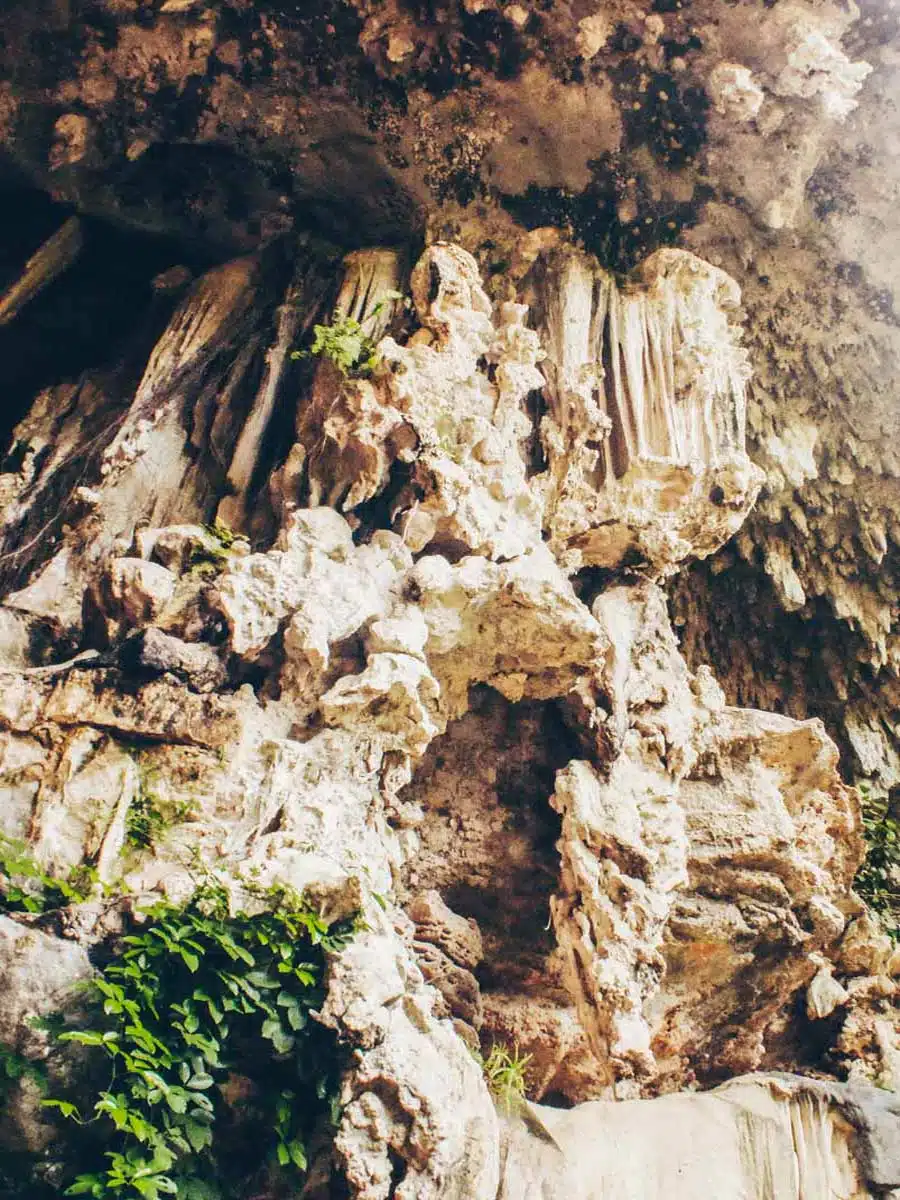 As enticing as the cliffs of Railay are, heading underground into the fabulously beautiful caves of Railay Beach is a once-in-a-lifetime experience. If you're looking for an activity to slot into your Thai adventure, explore and discover the depths of these marvels.
Diamond Cave – Locals know this by the name Tham Pranangnai, but you and I call it Diamond Cave. A 5-minute walk from Railay East Pier, the cave forms part of the Nopparat Thara Marine National Park.
Princess Cave – Situated along Phra Nang Beach, Princess Cave is quite a peculiar site. Why? Inside lies a myriad of colourful shining phalluses (giggles). Fishermen left these and believed doing so would bring them prosperity and protection. It's a little weird but worth it.
Tip: For the ultimate deep dive into Thailand, read my Thailand travel guide.
Brilliant Things to See & Do in Railay Beach, Thailand
Take a Trip to Tonsai Beach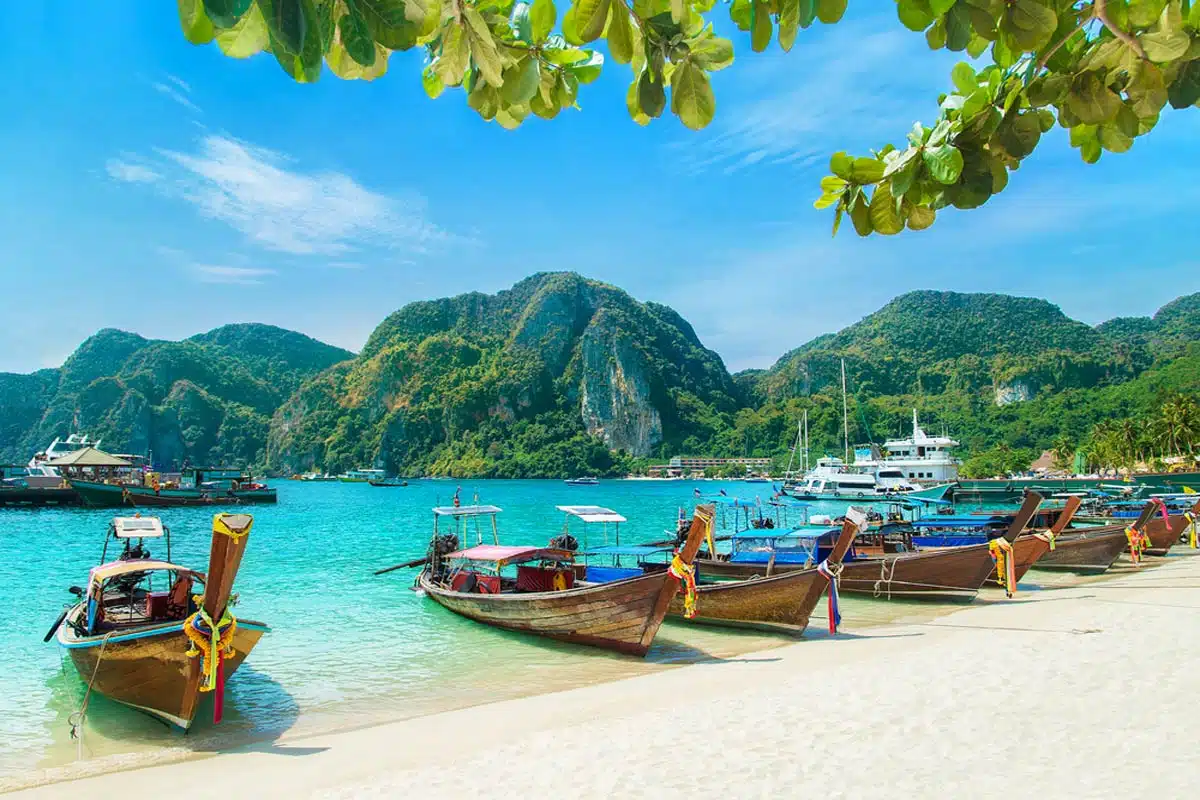 Tonsai Beach sits just north of Railay and brims with an air of seclusion that highlights the laid-back atmosphere of the entire area. Thanks to this, not many travellers explore it, and if you love going off-the-beaten-path, you're in for a good time.
During low tide, you can walk to Tonsai, but when the tide comes in, the giant rock face that separates it from the main beach area makes this impossible.
Getting here is also doable via a jungle hike that takes about 45 minutes to complete. Even better, you can quickly grab a kayak and head around the separating cliff for some water sports fun.
Treat Yourself to an Island Hopping Tour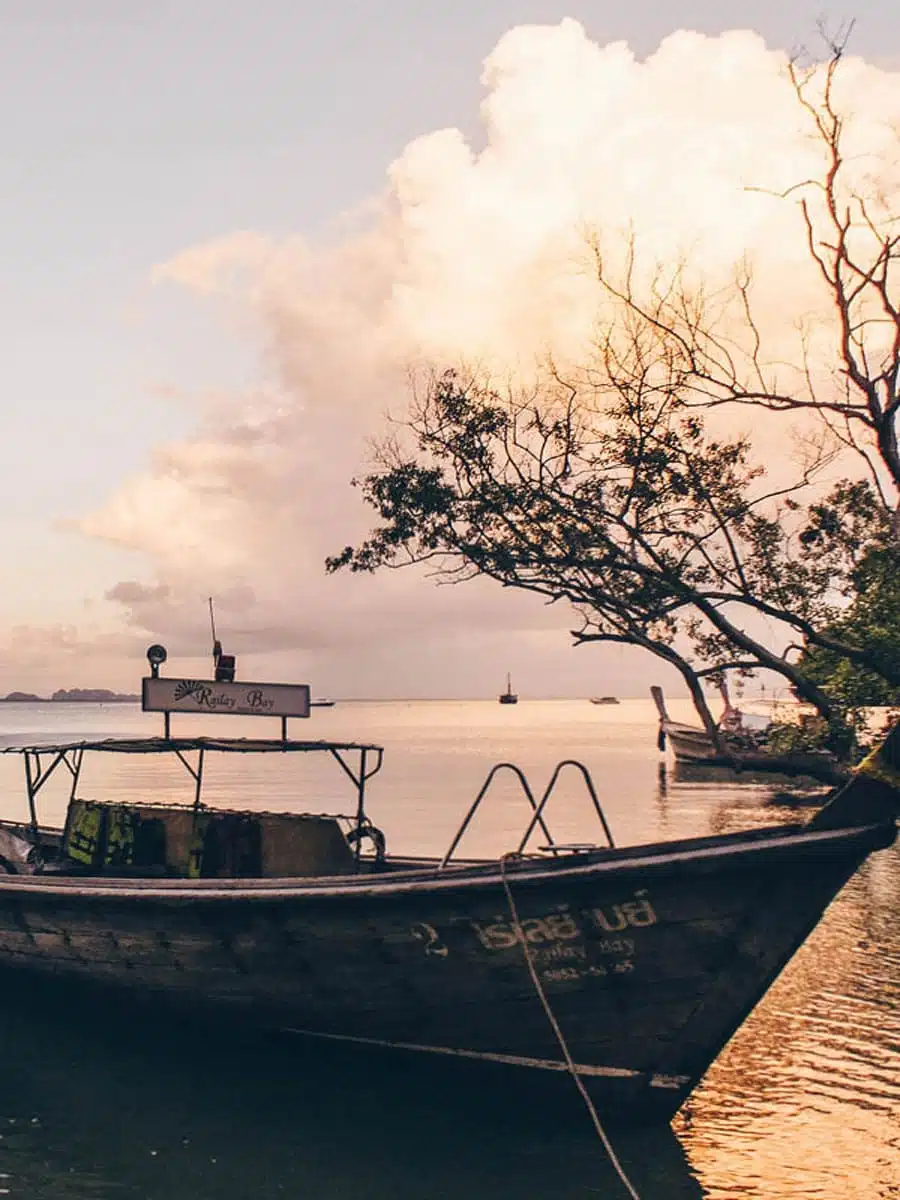 One thing that'll have you yearning to head back to Railay repeatedly is its proximity to some of Thailand's gorgeous islands. Especially near Krabi, you'll find so many stunning islands just waiting for you.
Choosing just one is impossible. But, you're in luck, because, from Railay Beach, many island hopping trips take you to the best of the best.
I recommend nabbing a spot on the famous Krabi 4 Islands tour or even the Hong Island tour. This takes the stress of logistics, lunch, and other necessities off of your plate.
Hike to Railay Viewpoint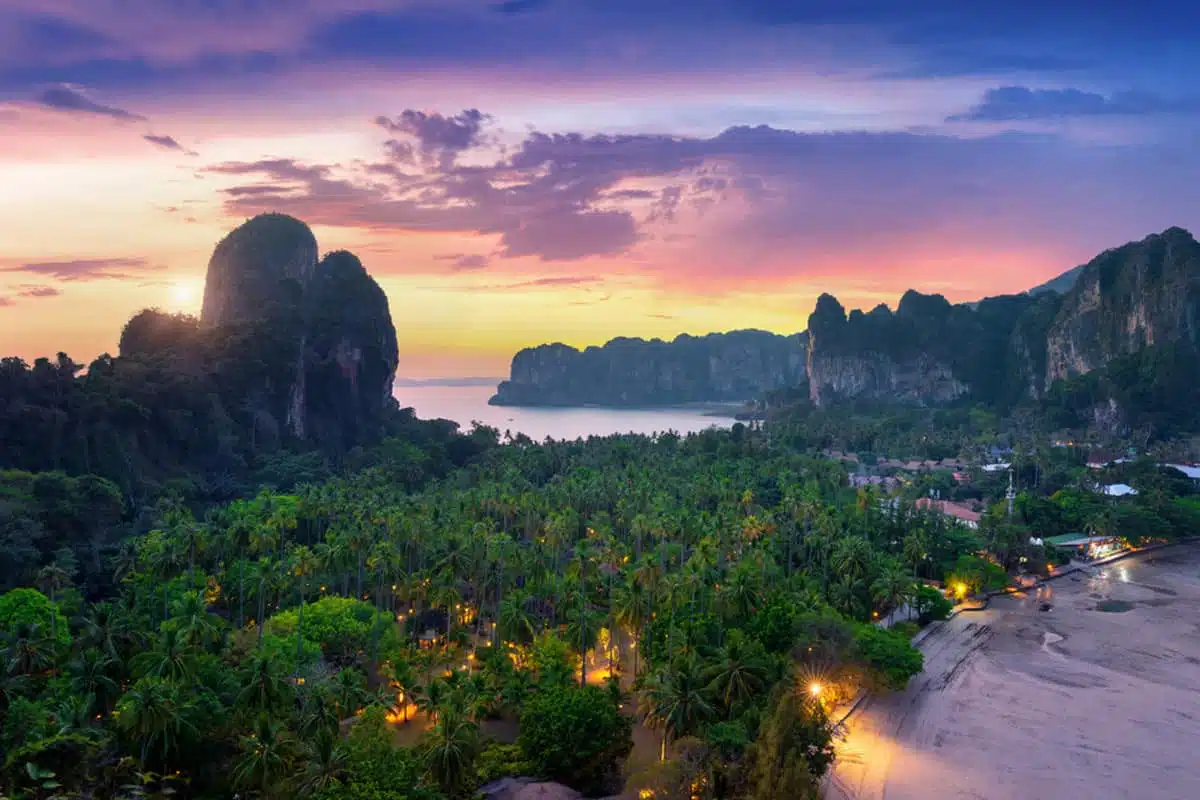 Looking for Railay Beach hikes? I don't blame you, the entire region is a haven for outdoor lovers.
But you don't have to go to extremes – the best route is the hike up to Railay Viewpoint. Here you'll get an epic bird's-eye view of the entire bay and Tonsai Beach.
It's one of the best things to do in Railay Beach, but the trek is not for the faint hearted. The payoff, however, is sublime (no, I'm not being dramatic). Although not a long trek, it is a strenuous one.
Tip: Be sure to pack the proper footwear (I swear by Tropicfeel shoes), and don't attempt the trek after it has rained.
Discover Railay's Secret Lagoon
While indulging in the epic views from Railay Viewpoint, more adventure awaits.
Close to the viewpoint, you'll find the pristine secret lagoon of Railay Beach. An azure-coloured pool surrounded by high cliffs is a sight you must see to believe.
Equally as challenging as the hike to Railay Viewpoint, you shouldn't underestimate the trek to the secret lagoon. Make your way through the wide opening at the top of the cliffs and head along the cliffside till you reach the lagoon.
Enclosed by 360 degrees of cliffs, you're welcomed by mind-blowing scenes of glistening waters, a lush jungle, and even a playful monkey or two once you reach the lagoon (keep your belongings close to you!).
Take a Thai Cooking Class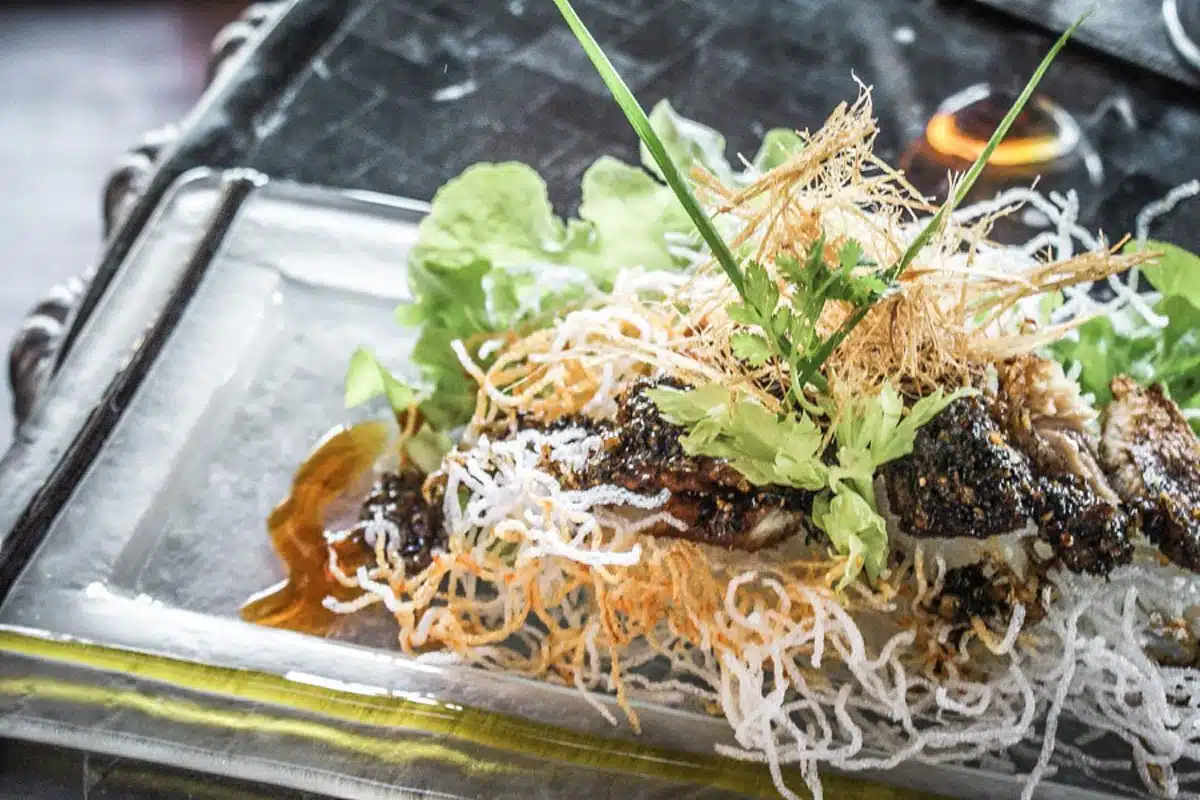 Playing second fiddle to the region's beaches, Thai cuisine is in a league of its own. And what better way to get a taste of Thailand than by learning to cook some of its best dishes?
Learning to cook like a local is a special kind of souvenir, especially in a place like Railay Beach. So beyond beach bumming, rock climbing, and cave hunting, immerse yourself in Thai cuisine at a cooking class.
Located on Walking Street, you'll find the Railay Cooking Class. Helmed by chef Ho, you'll learn how to make six Thai dishes (from scratch) in a step-by-step tour of flavours and smells. The class will cost you 1,200 Baht.
Must-Try Bars & Restaurants in Railay Beach
Last Bar
A quintessential Railay institution, Last Bar is a favourite among locals and visitors. It offers a happy hour that lasts for about six hours, during which cocktails drop to crazy low prices.
Better yet, you can indulge in some exquisite traditional Thai food while sipping your tantalising drink. Cheers to that!
Flame Tree
Sitting on the beachfront directly in front of Walking Street, the Flame Tree is another highlight of Railay nightlife.
The bar boasts an extensive drinks menu, and there's nowhere better to enjoy them than lounging on traditional Thai mats placed directly on the soft white sands of the beach.
Tew Lay Bar
For a unique setting, head to Tew Lay Bar, where you'll enjoy some of the most delicious cocktails in Railay.
The USP? You'll enjoy your drinks perched atop treehouse-like platforms that sit right above the waters of the Andaman Sea. Sounds like paradise to me.
Best Hotels in Railay Beach
Rayavadee Hotel (Luxury)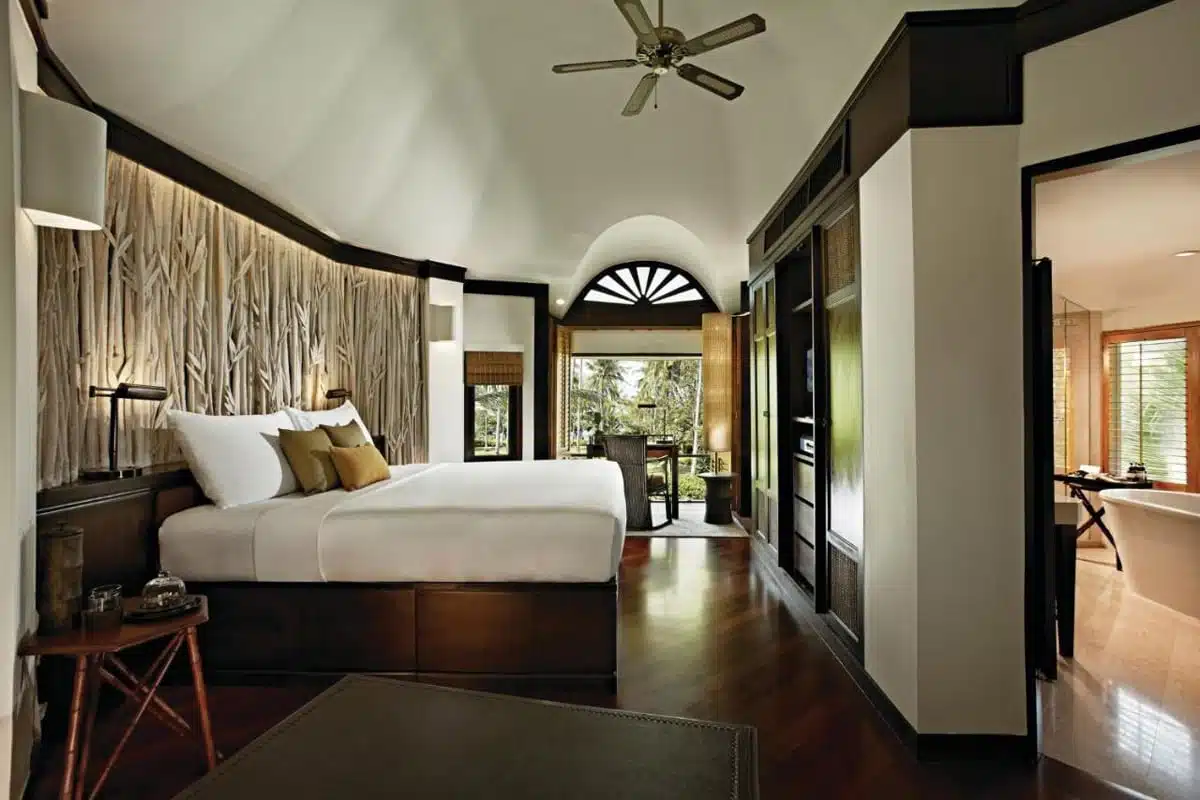 A stunning luxury property, Rayavadee Hotel faces the Andaman Sea with opulent features and amenities. Its glorious location, eye-catching outdoor swimming pool, and luxurious ambience make it one of the best Railay Beach hotel options in the area.
Railay Village Resort (Mid-Range)
If you're after a more relaxed yet strikingly charming Railay Beach resort, look no further than Railay Village Resort. Rooms open up to the sprawling pool area, which runs directly through the middle of the resort. It's easily one of the best mid-range options in Railay.
Avatar Railay (Mid-Range)
For those on a budget, Avatar Railay is an excellent hotel that won't break the bank. Rooms are simple, decorated in the traditional Thai style, while the pool view from your small balcony more than makes up for it.
Railay Beach: Practical Tips for Your Trip
How Long to Visit Railay Beach?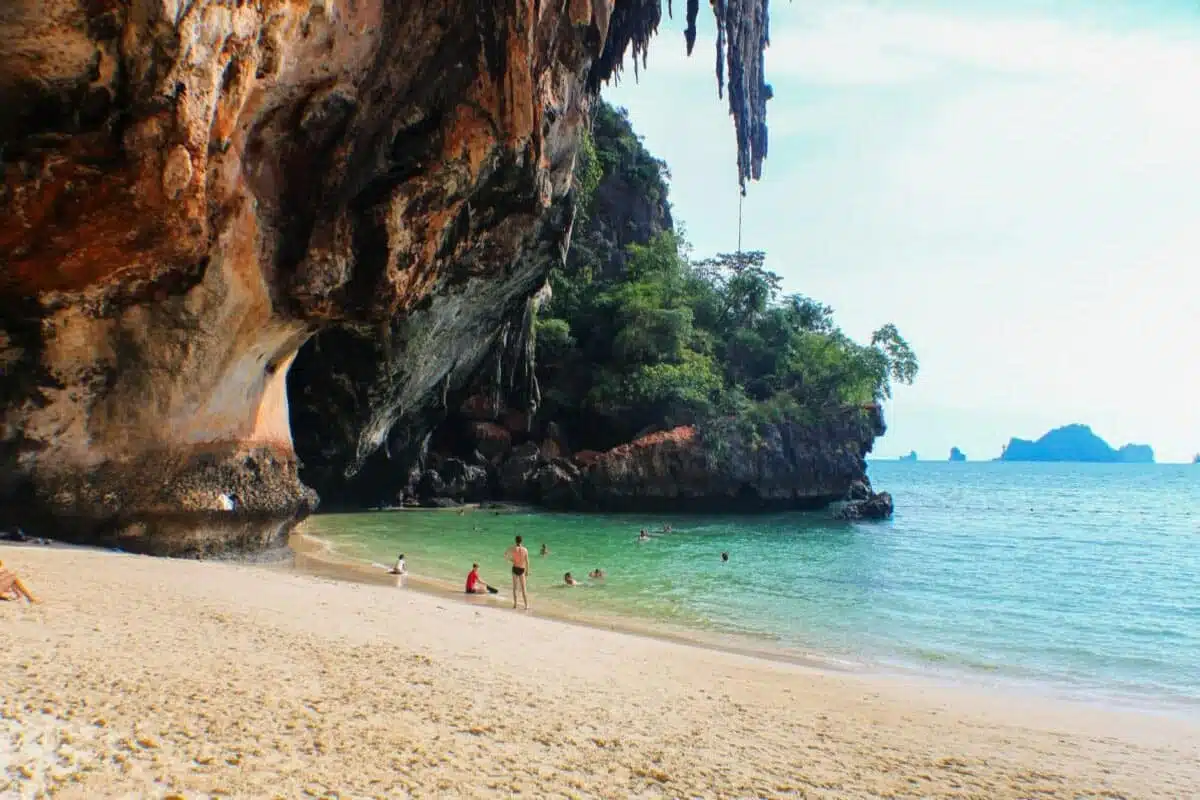 While most come to Railay as part of a day trip, I recommend that you should plan to stay here for at least two days. After all, the reason I love this region so much is for its laid back atmosphere.
Best Time to Visit Railay Beach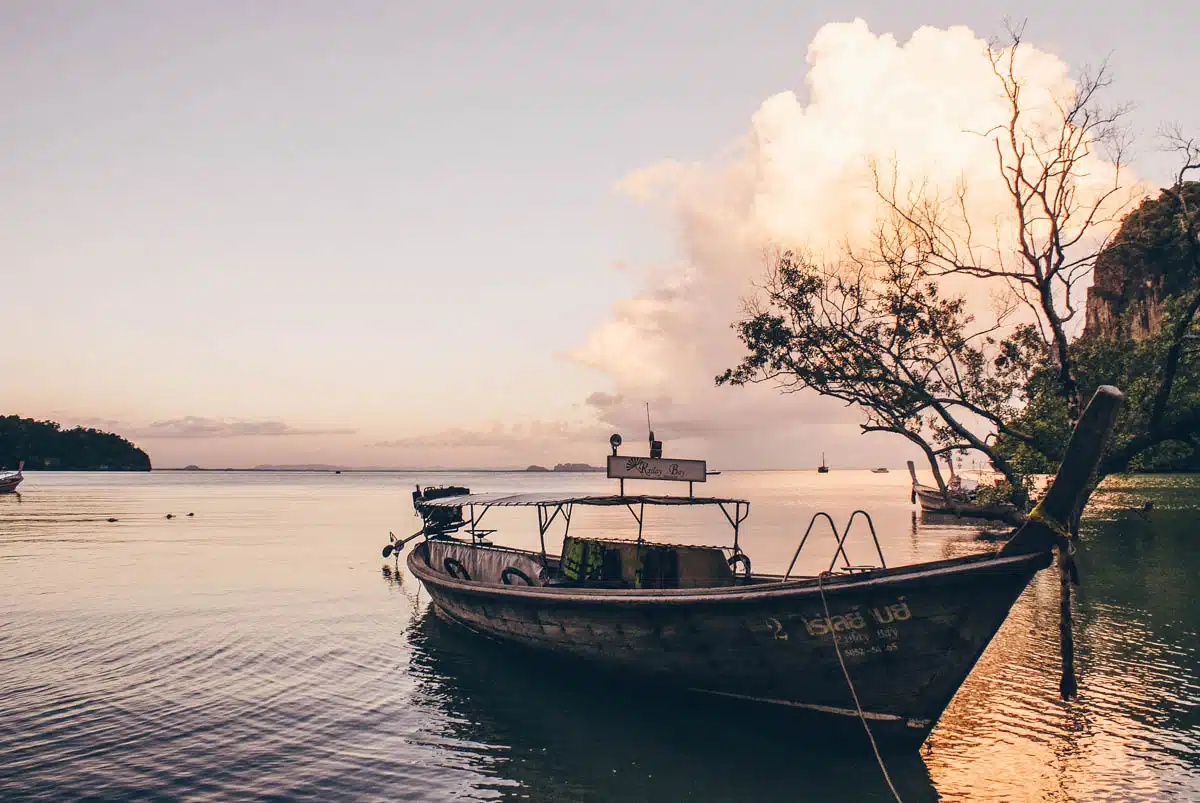 Plan your visit for anywhere between November and March. During these months, the weather is pleasant enough to enjoy the best of Railay without suffering the otherwise hot and humid weather Thailand experiences in spring and summer.
Where Should I Stay in Railay Beach?
How to get to Railay Beach?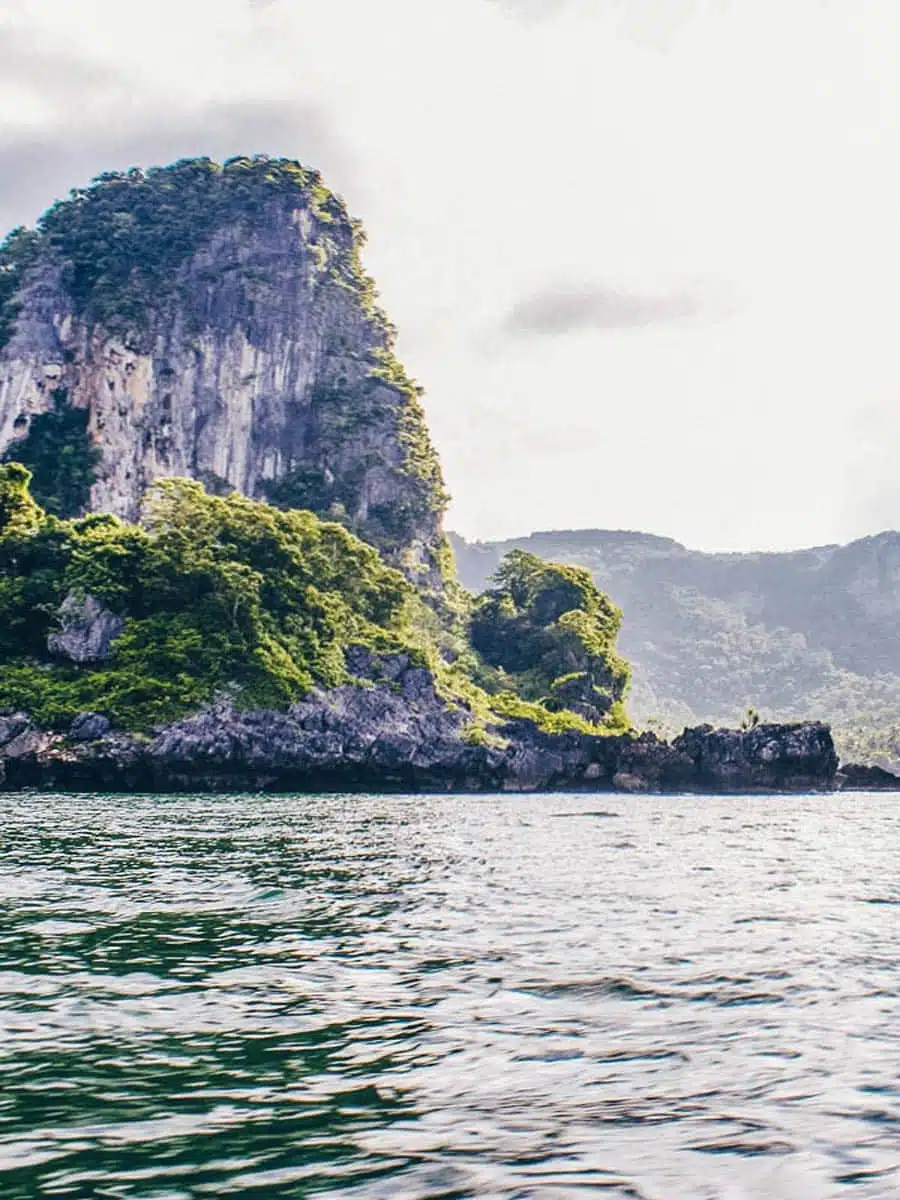 The easiest way to reach Railay Beach is by flying to Krabi International Airport and then taking a 45-minute taxi or bus to Ao Nang Beach.
Head to Ao Nang Pier and hop on a 20-minute long-tail boat trip to Railay West Bay.
Recommended Tours in Railay Beach
Things to do in Railay Beach: Map
Love This? Save and Share on Pinterest