Heading to California's birthplace of wine and looking for the best place to stay? I've got your back with these dazzling Sonoma Airbnbs.
With vineyards, a stunning coastline, and a temperate climate, it's no wonder that I love Sonoma so much. This gorgeous Cali wine valley is often overlooked in favour of Napa, but I have to say that I prefer the understated cool of Sonoma.
That said, deciding where to stay in Sonoma can be daunting. Do you head straight to the heart of the valley? Or, how about the historic hot springs region? Either way, there are so many stunning places to bed down.
Before we dive right in, let me add that I prefer Plum Guide when booking my vacations. I find that, compared to Airbnb, the quality is above and beyond. The team inspects and rates each property, resulting in completely curated apartment listings.
Alright, enough of the preamble, let me show you the best Airbnbs in Sonoma Valley…
Best Airbnbs in Sonoma: At a Glance
Best Airbnbs in Sonoma
Exploring Sonoma Wine County is one of the best things to do in California. Consider one of these hand-picked Airbnbs for your vacation.
Amidst the Vines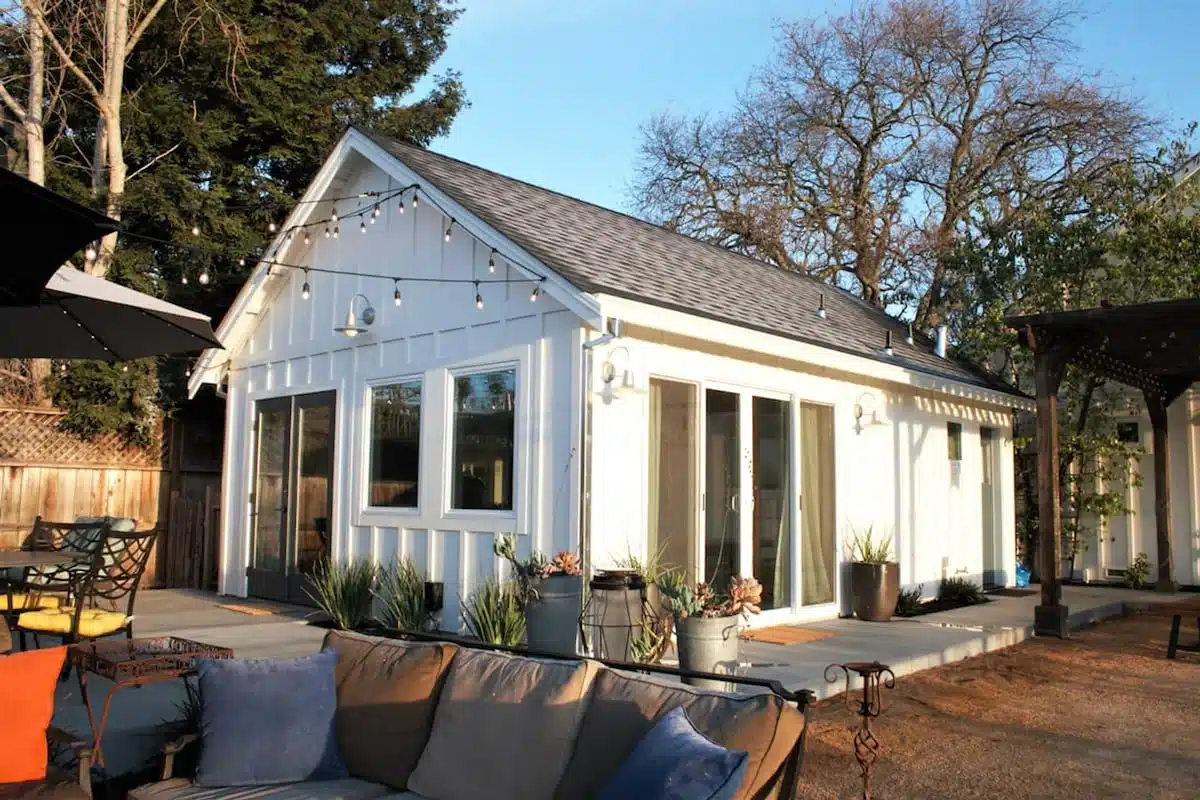 If you're after a classic escape, listen up. This quintessential Sonoma Airbnb encapsulates this wine country's essence.
First impressions count. And this one got the memo – you'll enter this property via an oak-tree-lined road leading to a charming, bright home among the vineyards.
With three bedrooms and multiple terraces, this spot is perfect for a group getaway. Unwind in a space decorated in neutral tones and awash with sunshine, or step outside to enjoy the Sonoma weather.
Location: Sonoma City
The focal point of this charming little city is the Sonoma Plaza and City Hall. Around this area you'll find quaint cafes and restaurants in old colonial buildings.
Birdwatch Bodega Bay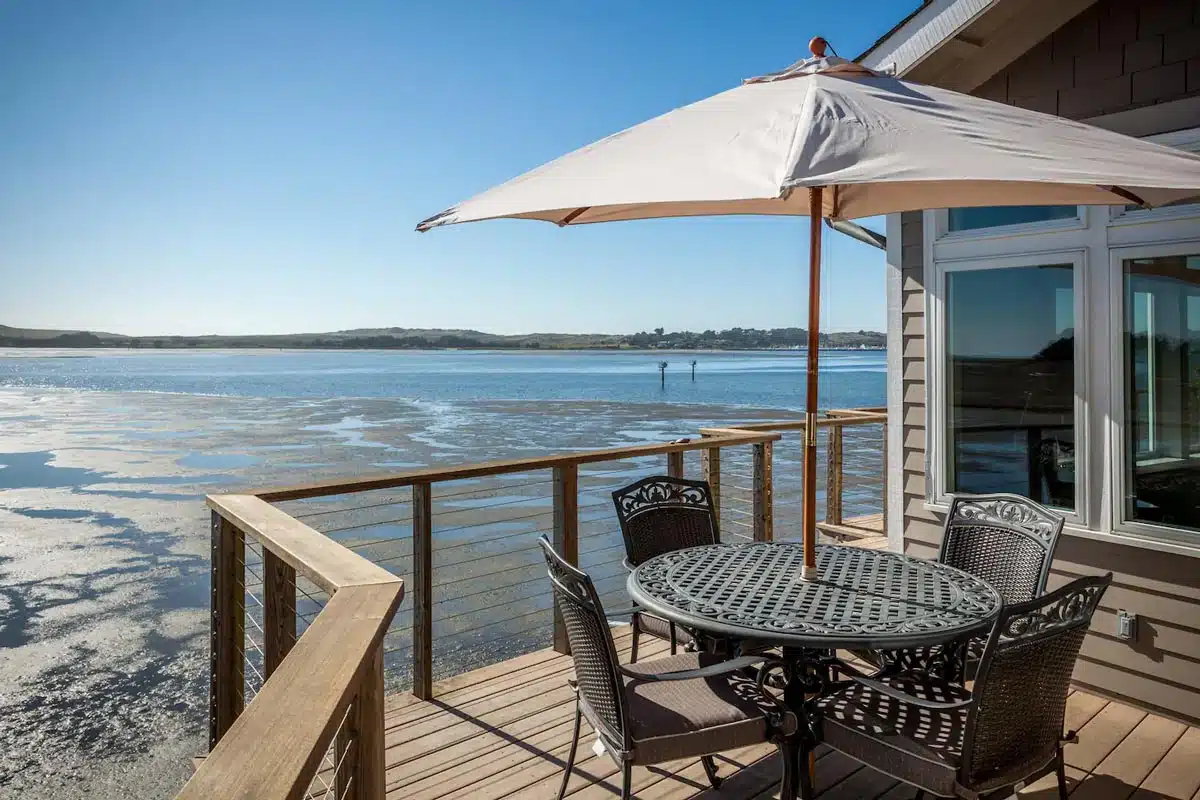 This bright and spacious apartment sits on Bodega Bay, providing stunning views of Dorian Beach and the Bodega Highlands. The apartment features humble but tasteful decor, with warm wood elements throughout.
The two-bedroom accommodation has a large kitchen and a small fireplace for cooler days. There's also a roomy deck for soaking up the sun and fresh air and a hot tub to unwind at the end of the day.
The one catch with this apartment is that it has no curtains. This allows plenty of sunlight to stream in, but that might not be your cup of tea if you prefer to sleep in.
Location: Bodega Bay, Sonoma County
This quiet coastal village is a great whale-watching spot and has some stunning beaches to stroll along around sunset.
Cherries & Plums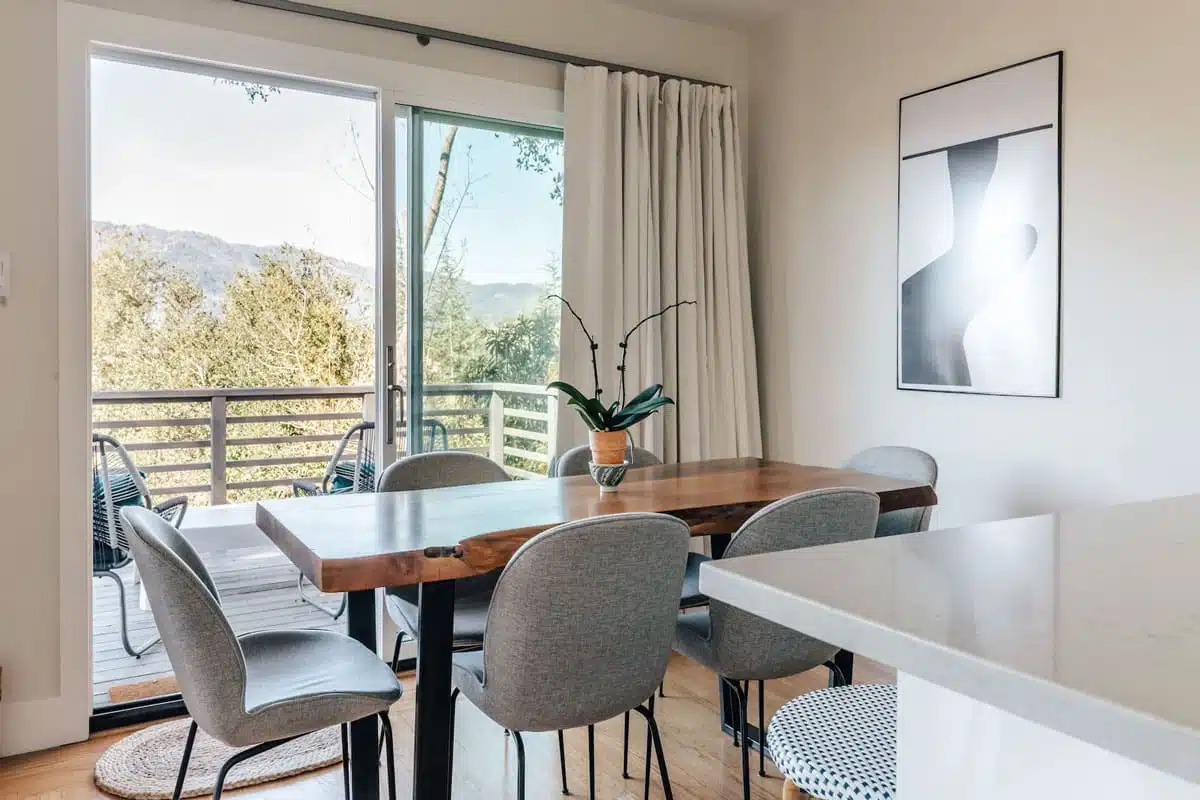 Couples' getaway, anyone? This two-bedroom accommodation near Sonoma has light streaming in from every direction and is the perfect place to soak up the good weather.
Kick back with a glass of regional wine on one of the many decks while absorbing the views of the Sonoma Mountains. Or embrace nature in the open-air shower. Brrr.
When hunger strikes, you'll have a fully kitted kitchen to whip up whatever you're craving, while the fruit trees in the garden provide all-day nibbles.
Location: Fetters Hot Springs-Agua Caliente
With its name translating to "hot water," this historic region is well known for its hot springs, making it a great area for a winter getaway.
Meritage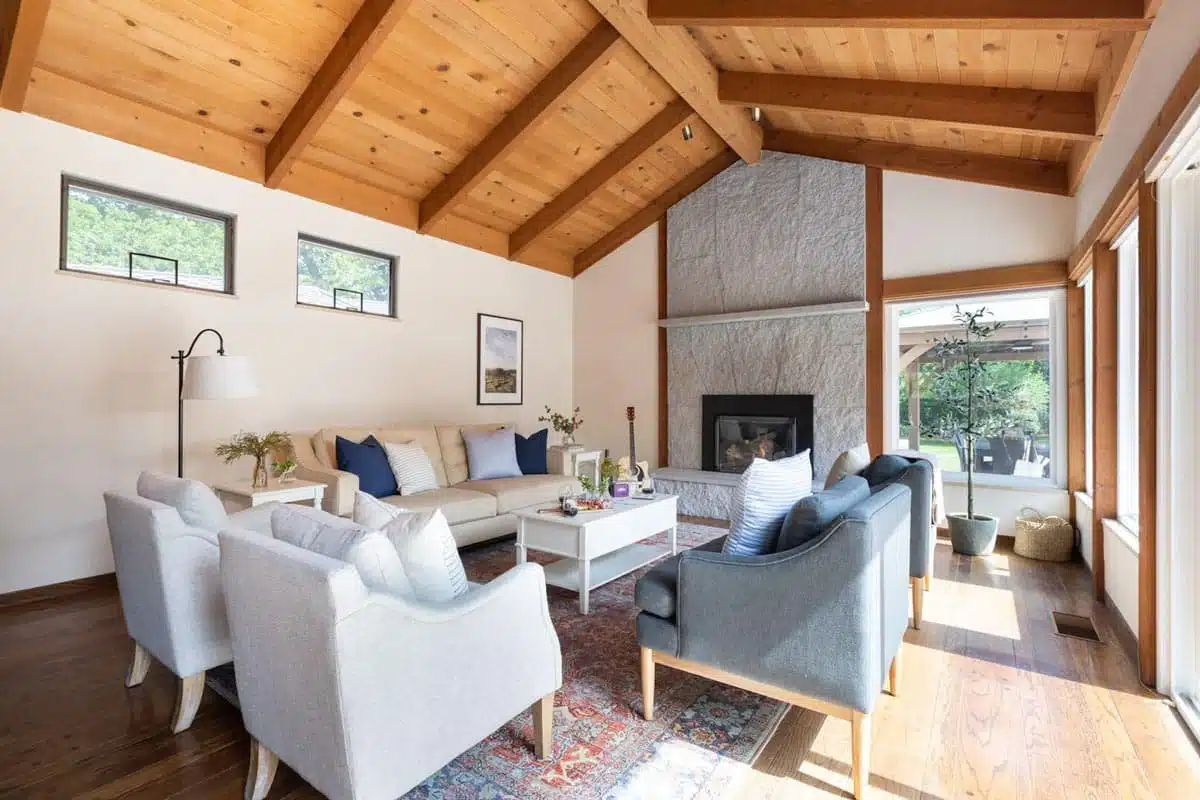 This three-bedroom property sleeps up to six people and is the perfect place for a group getaway.
Enjoy a game of bocce ball on the private court or soak up some sun rays on the deck chairs surrounding the pool. You'll also have access to a spacious kitchen and outdoor bbq so you can prepare some of your favourite dishes to enjoy outside.
Once it gets chilly, you can gather in the roomy lounge with its high wooden ceiling and fireplace.
Location: Boyes Hot Springs
Another area known for its mineral hot springs, you won't regret visiting this quiet, vineyard-filled region.
Out of Office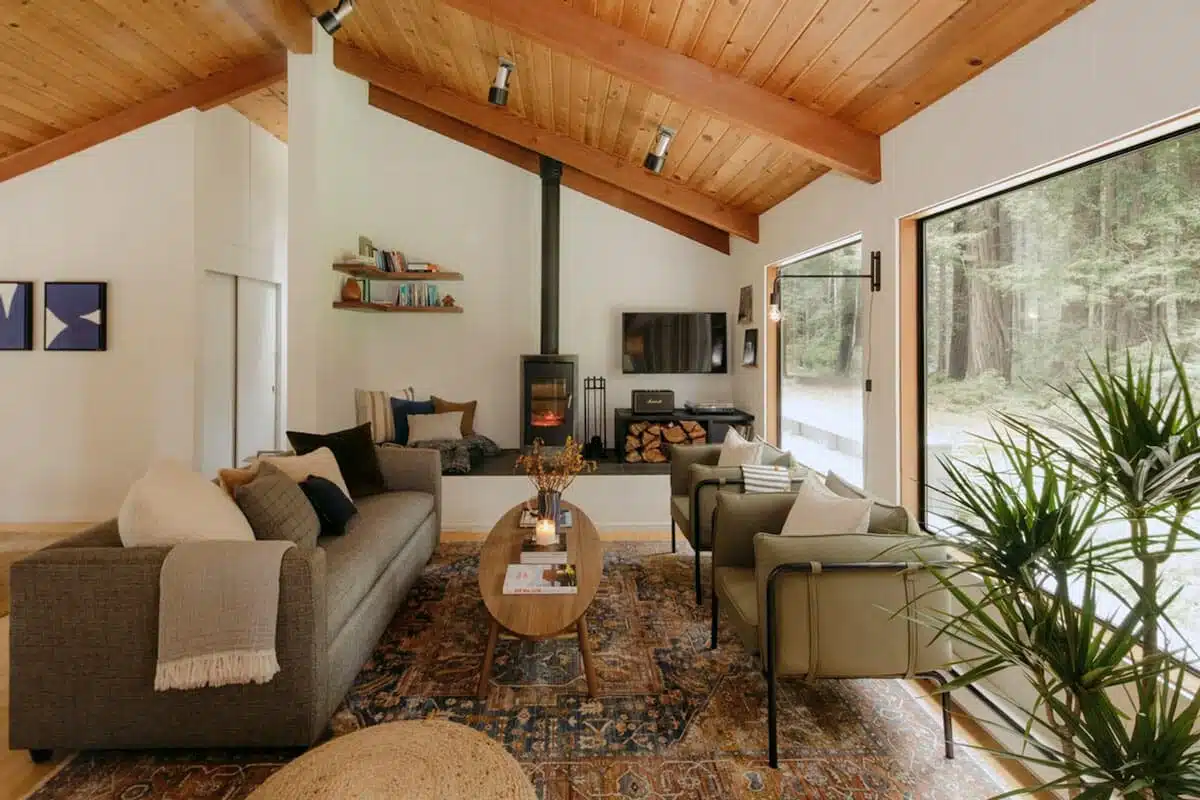 Escape the everyday bustle with a tranquil stay at this modern cabin in the woods. This cosy, one-bedroom accommodation in Sonoma County can sleep up to four people and is perfect for nature lovers.
The large windows allow plenty of sunlight to stream in while framing the stunning California redwoods surrounding the property. Inside, you'll find warm-hued, contemporary decor and a fireplace to keep you snug.
There's also an outdoor fire pit and hot tub, so you can pick which way you'd like to warm up.
Location: Sea Ranch, Sonoma
Located near many scenic beaches, Sea Ranch is the ideal location for a coastal escape.
Designer Wine Country Cottage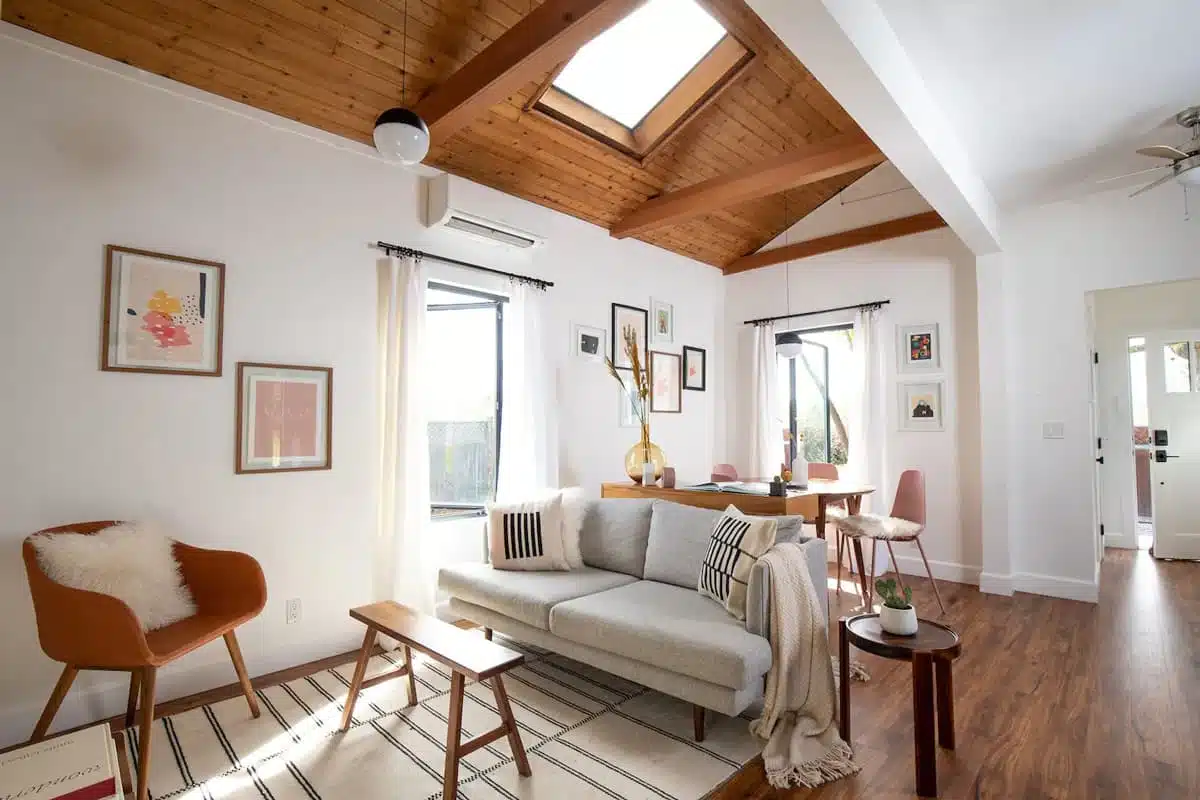 This artsy cottage in Sebastopol is light, bright, and teeming with fun decor. Here, you'll find luxury in every detail; from the Turkish cotton spa towels to the Tuft and Needle mattresses.
Prepare an evening meal on the Weber grill while enjoying the verdant outdoors, or cook your meals in the fully stocked kitchen. A bonus is that you'll receive complimentary fresh eggs, butter, and bread, as well as organic milk, coffee, and tea throughout your stay.
When you're not in the mood for preparing food, you'll be minutes away from a few cafes, wineries, and tasting rooms.
Location: Sebastopol
This city near Santa Rosa has plenty of amazing vineyards to explore, as well as some excellent eateries.
Run Russian River Run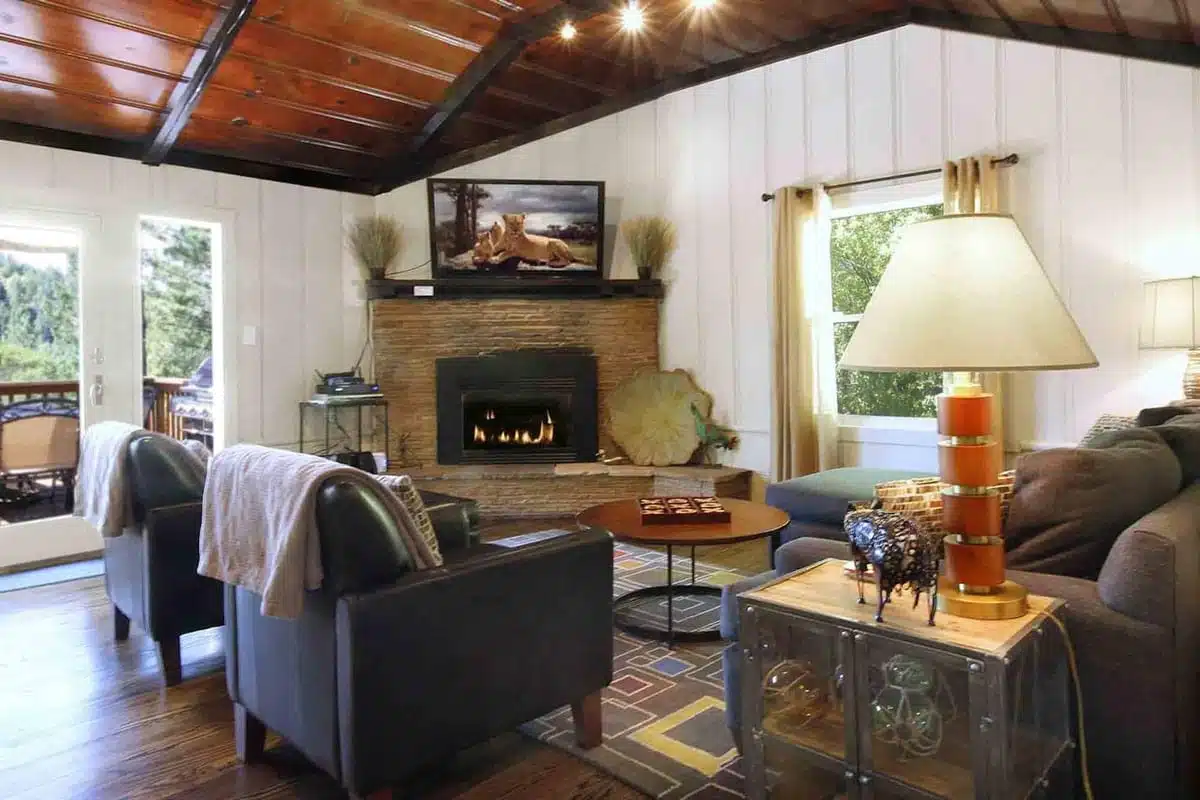 I don't like to pick favourites, but this next Airbnb is potentially my fave. This accommodation in Guerneville sits among towering California Redwoods, overlooking a dramatic valley.
Soak away in the hot tub, cosy up near the fireplace, or catch up with your reading goals in one of the hammocks or lounge chairs. There's also a spacious deck with a dining table, barbeque grill, and comfy lounge chair.
Within walking distance, you'll find the Russian River, where you can enjoy canoeing, kayaking, and riverside hikes.
Location: Guerneville
With the Russian River Valley as its highlight, this quiet community is great for water sports fanatics.
Sophisticated Sonoma Studio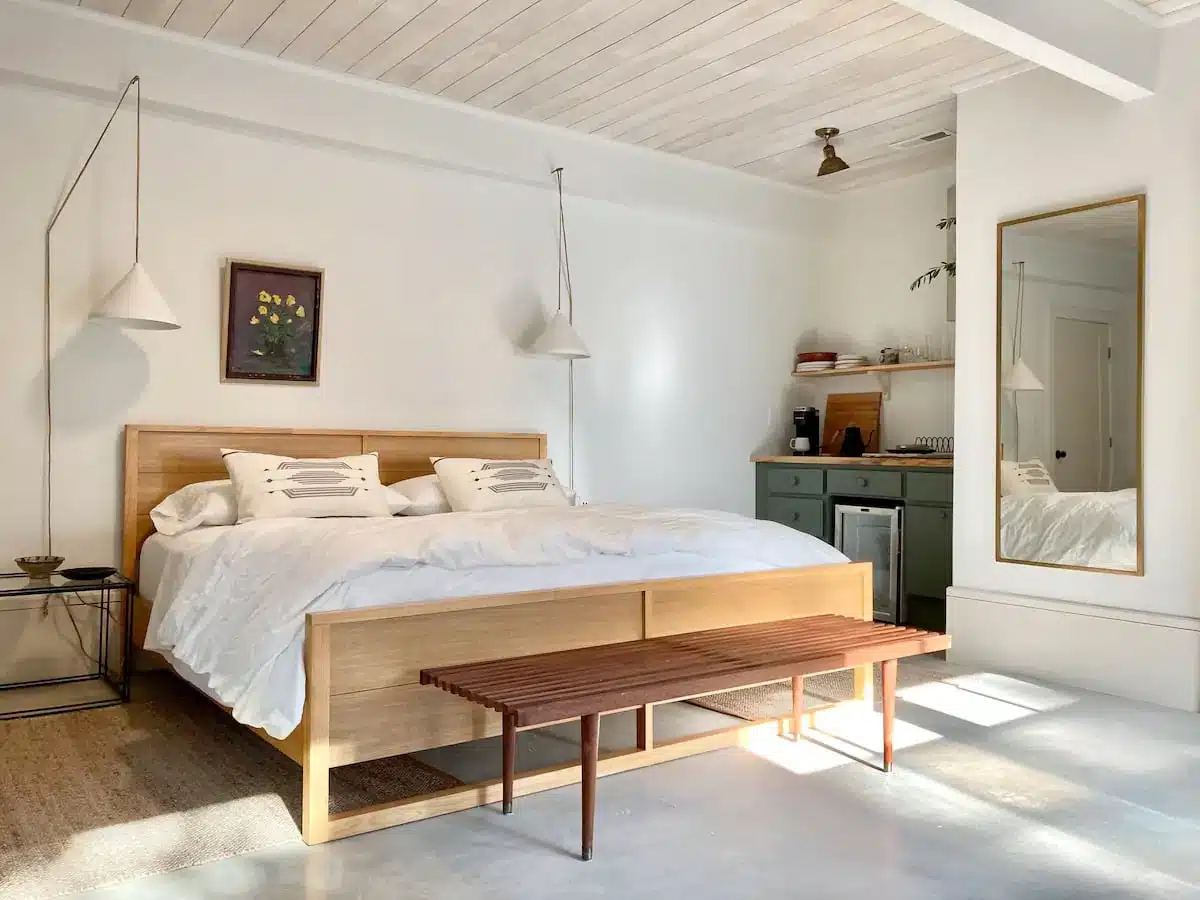 With light wooden furniture, white linens, and pops of greenery, this contemporary studio looks like something straight out of a magazine. Extra details like the pieces of art, quirky light fixtures, and cast-iron bathtub further elevate the space.
You'll find this stunning farmhouse between Sonoma Square and Glen Ellen, both of which provide plenty of excellent restaurants and attractions.
When you're not out exploring, enjoy the sunshine streaming into your place, or settle down on the patio with a cup of coffee.
Location: Fetters Hot Springs-Agua Caliente
North of Sonoma City, you'll find this studio in The Springs region where hot springs and vineyards await.
Vineyards & Verandas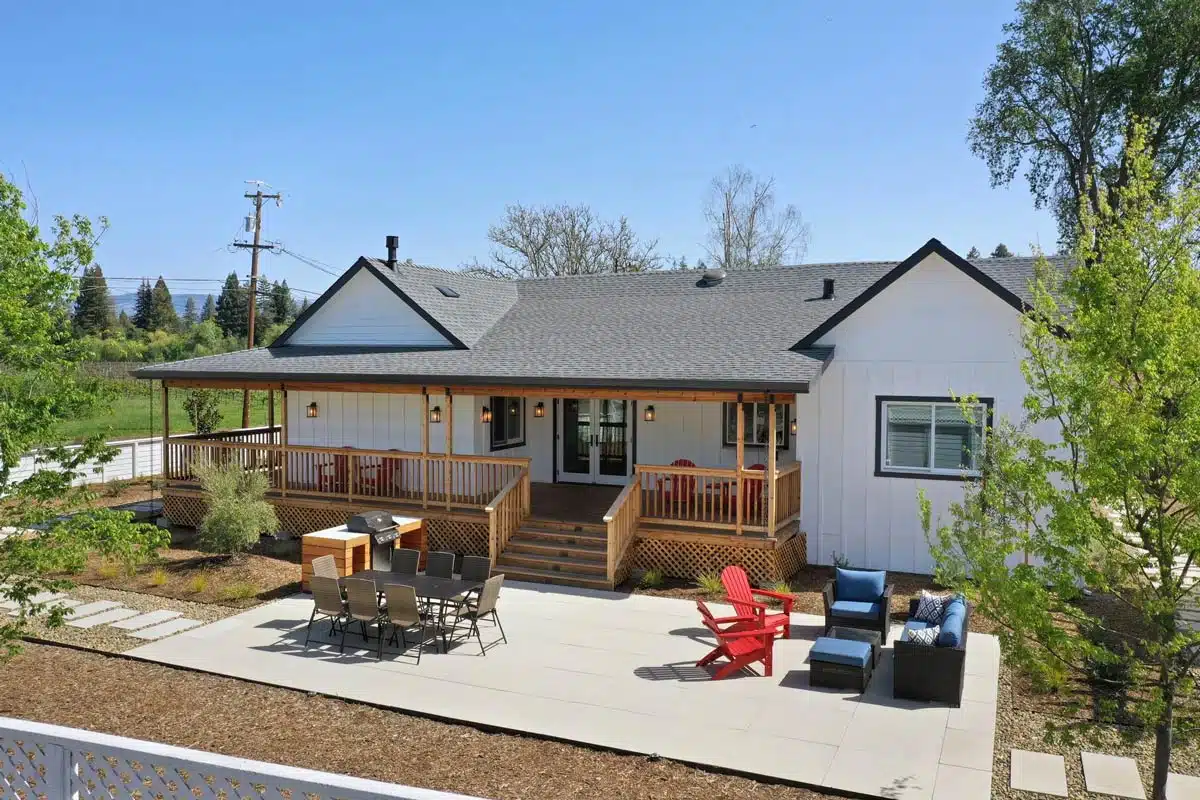 This renovated farmhouse has two bedrooms with roomy en-suite bathrooms and dreamy views of the surrounding greenery.
Enjoy your morning coffee on the wrap-around veranda or on the comfy lounge chairs in the garden.
You'll also have access to a fully stocked, open-plan kitchen that opens up to a lounging and dining area. Not to mention that the 10-foot-high ceilings keep the space cool during summer.
The property is a few minutes away from some great cafes and restaurants when you're not keen on cooking.
Location: Healdsburg
This picturesque city has vineyards and shopping experiences galore.
Practical Tips to Consider Before Booking Your Airbnb in Sonoma
Book in advance. Sonoma is well-known for its great wines, so you might miss out on your favourite accommodation if you book too late.
Consider your desired vacation. If it's a quiet escape you're seeking, consider a more remote location. However, if you're looking for proximity to attractions, larger cities may be a better bet.
Airbnb in Sonoma, California: Map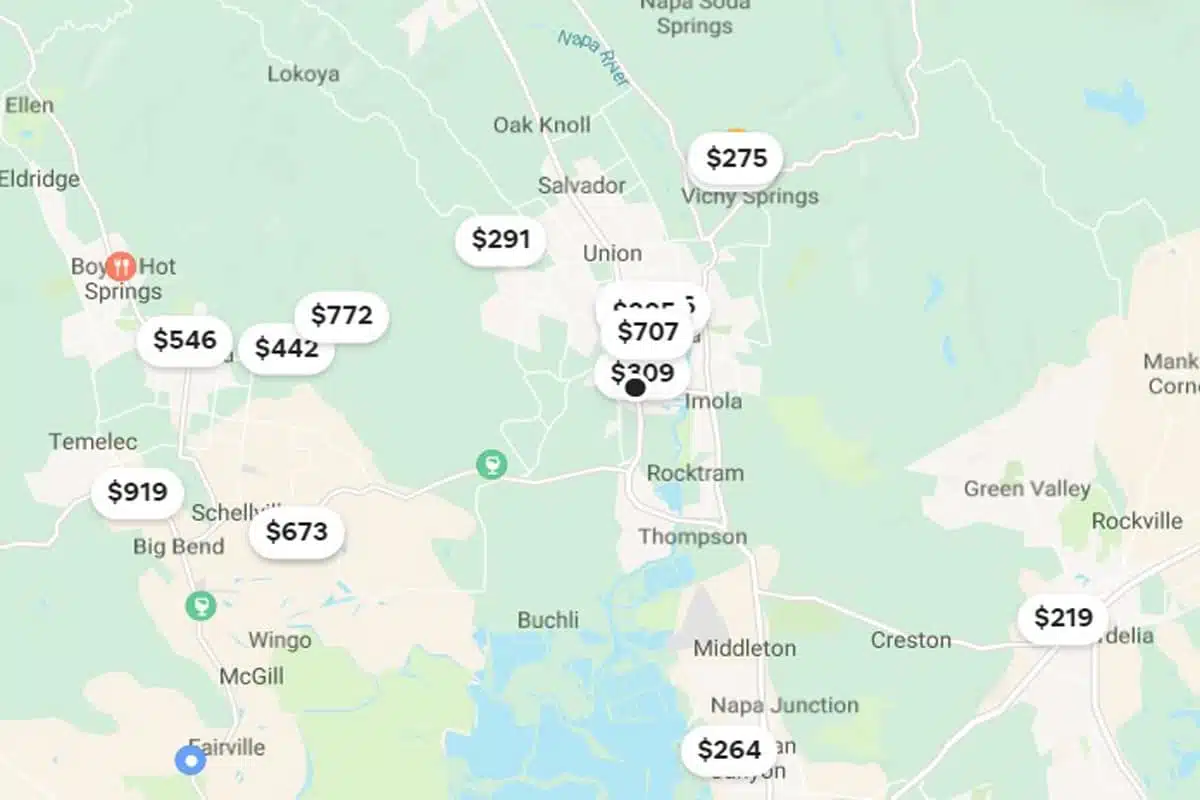 Click here for a map of the hotels featured in this guide