Wondering where to stay in San Diego? This handy guide covers the areas and hotels you need to know about.
For me, San Diego is the perfect place. On one side, the city is a paradise for beach lovers with its golden sands and lapping coasts. The other half of the city is a haven for foodies, booze-lovers, and culture-seekers.
So it makes sense that deciding where to stay in this mixed bag of a city can be difficult.
Do you choose the laidback La Jolla, where sun, sea, and surf is on the cards… Or what about the Gaslamp Quarter, where history and cuisine meet.
Let's skip the small talk and dive right in.
Heading to San Diego? Here's where to stay.
Best Places to Stay in San Diego: At a Glance
Where to Stay in San Diego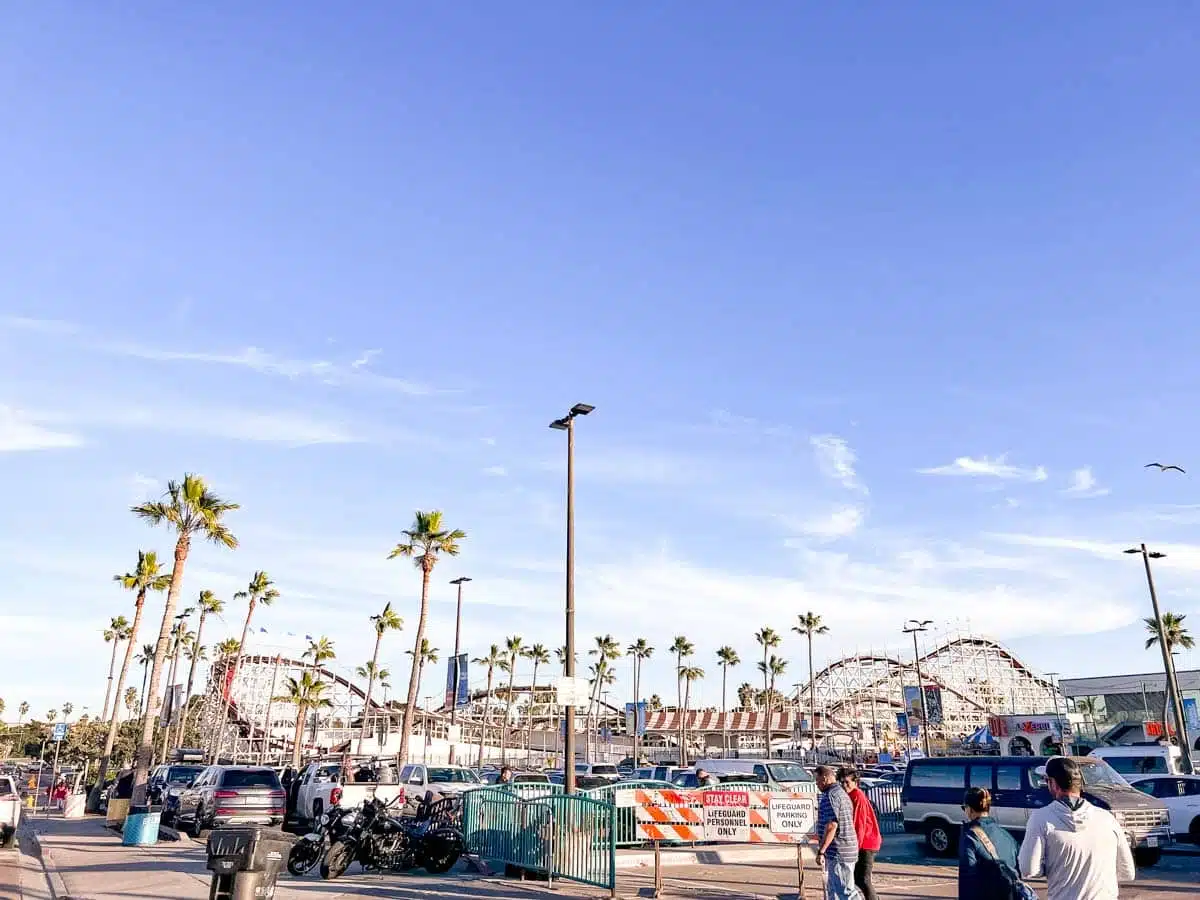 San Diego offers something for every type of traveler. The city boasts attractions galore, from SeaWorld San Diego to Belmont Park and the cultural hub of Balboa Park, which houses the world-famous San Diego Zoo.
And when it comes to neighborhoods, there are plenty of choices. From its trendy Gaslamp Quarter and nature-centric La Jolla to the beach-hugging Mission Bay and Coronado Island, what more could you want?
Oh yeah, that's right, you want an in-depth guide on where to stay. Well, here you go.
Gaslamp Quarter: Coolest Place to Stay in San Diego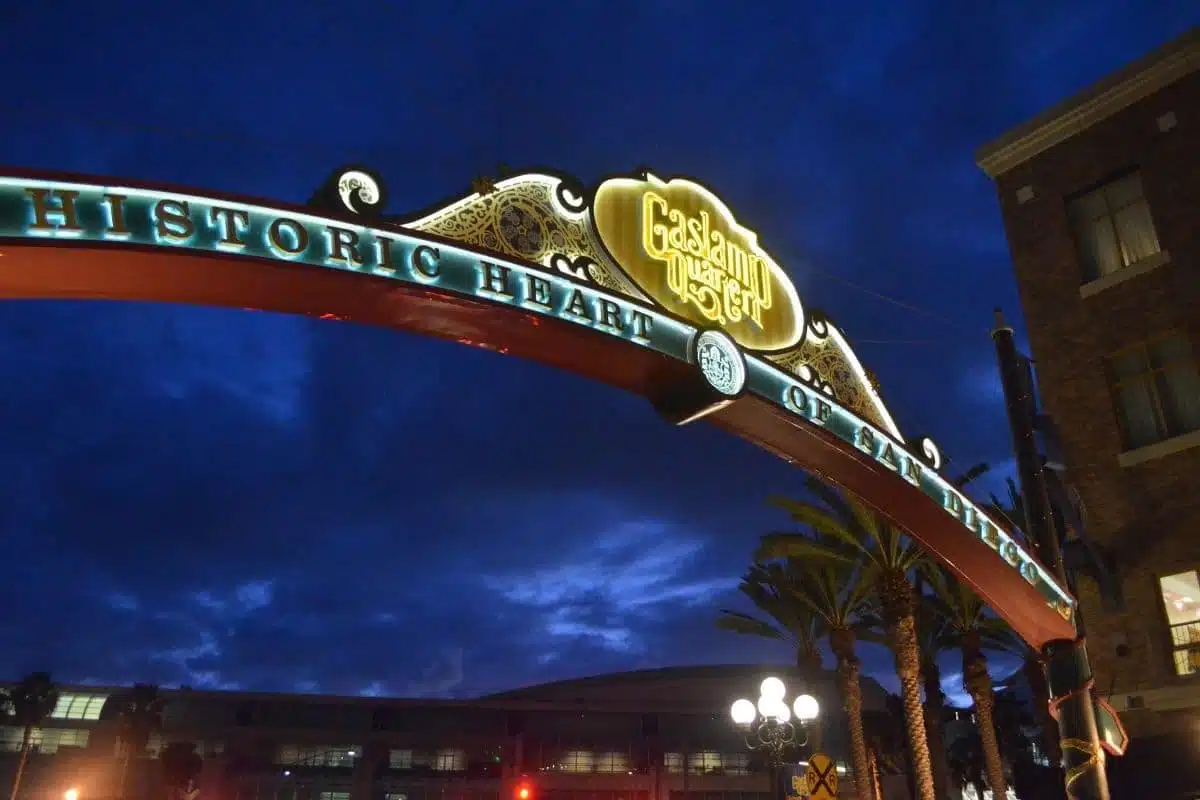 Personally, I won't book a hotel anywhere other than the Gaslamp Quarter. It's the place to stay for cuisine and nightlife. Where history meets modern urban adventures, and you'll find lively streets, boutiques, galleries, and restaurants around every corner.
Known to be the part of San Diego that never sleeps, the Gaslamp Quarter has a unique wild west past, complete with tavern brawls and shootouts. Previously home to the city's red light district and the 1860s Chinatown, today it's as entertaining as ever.
Gaslamp Quarter Highlights
While the area boasts more than 100 historic buildings, three noteworthy mentions sit along 5th Avenue: The Yuma Building, the Nesmith-Greely Building, and the Casino Theatre.
The Balboa Theatre, built in 1924, sits along 4th Avenue. This famous part of cinema history was reopened in 2002 by the Agency for Redevelopment. Now it showcases the best of Latin American Cinema.
The main square of the Gaslamp Quarter, Horton Plaza Park, is where you can catch a breath while here. It's also the only square in the area and features a public garden, stunning fountain, and outdoor cafe.
Spend an evening at any of the staggering 200 restaurants that line the streets of the 16-block Gaslamp Quarter.
Suggested San Diego Hotels in The Gaslamp Quarter
La Jolla: Where to Stay in San Diego Near the Beach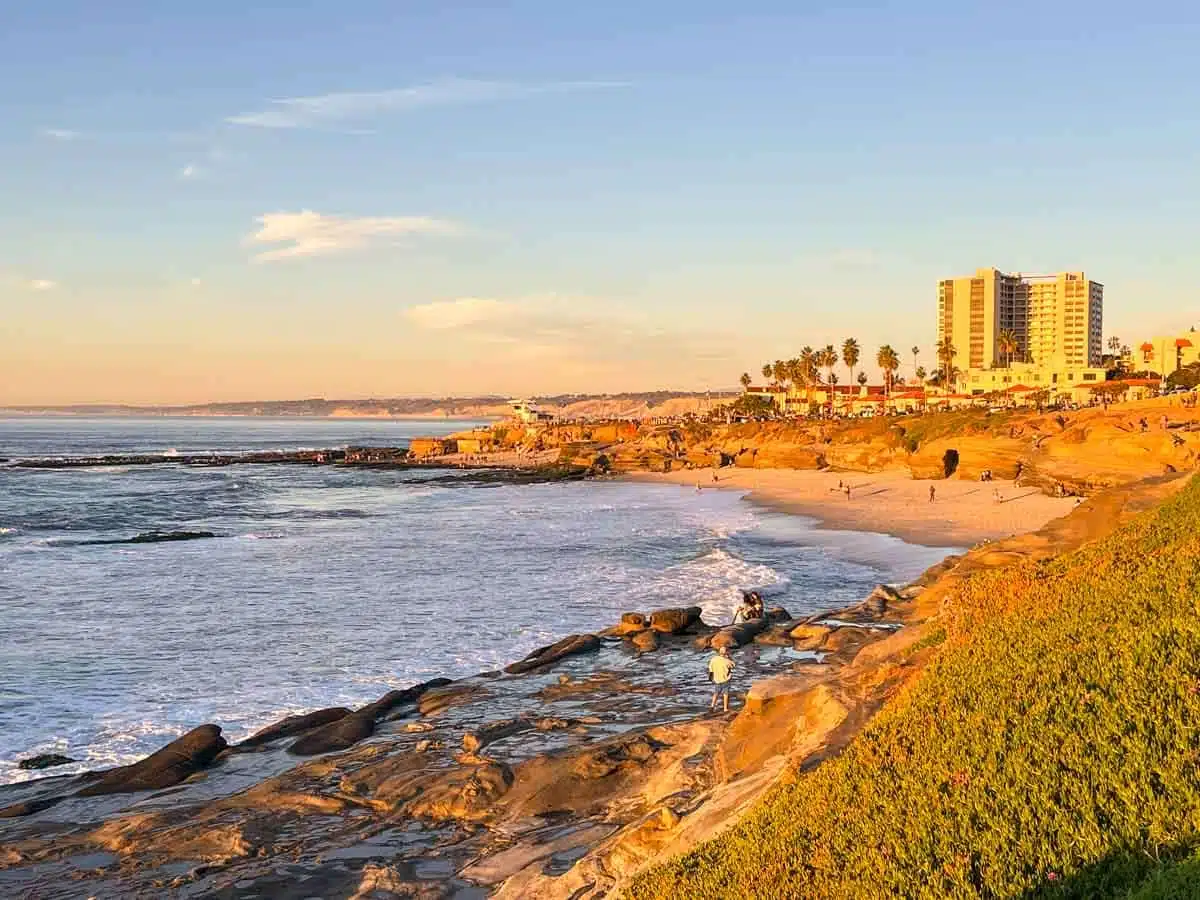 Looking for the best area to stay in San Diego for visiting the beach or exploring nature? La Jolla ranks as number one. Here you can spend days admiring the stunning coastline, pristine beaches, and a majestic mountain backdrop all in one place.
Of course, La Jolla is no stranger to elegant boutique stores, adventure opportunities with sea lions, and natural landscapes fit for your Instagram feed.
It's here where you can indulge in the finer things San Diego offers, and trust me, you should.
La Jolla Highlights
Located just north of La Jolla is the Torrey Pines Nature Reserve. Here you'll find an abundance of beaches, spectacular sheltered coves, and sea caves ready for exploration.
If you're an art lover, head to the Museum of Contemporary Art La Jolla. On display are numerous exhibits dedicated to contemporary art that blend the binational history of the city in new and exciting art showcases.
Plan an afternoon trip to the Children's Pool, where you can enjoy a picnic atop stunning cliffs overlooking a lively colony of seals that call this area home.
Dive into the waters of the San Diego-La Jolla Underwater Park, a protected area of the ocean where you can swim with California's iconic marine life. From the state fish, the orange garibaldi, to leopard sharks and even a variety of rays.
Suggested San Diego Hotels in La Jolla
Tip: Find out what the best hikes in San Diego are, and be sure to add them to your outdoor adventures.
Ocean Beach: Best Neighbourhood to Stay in San Diego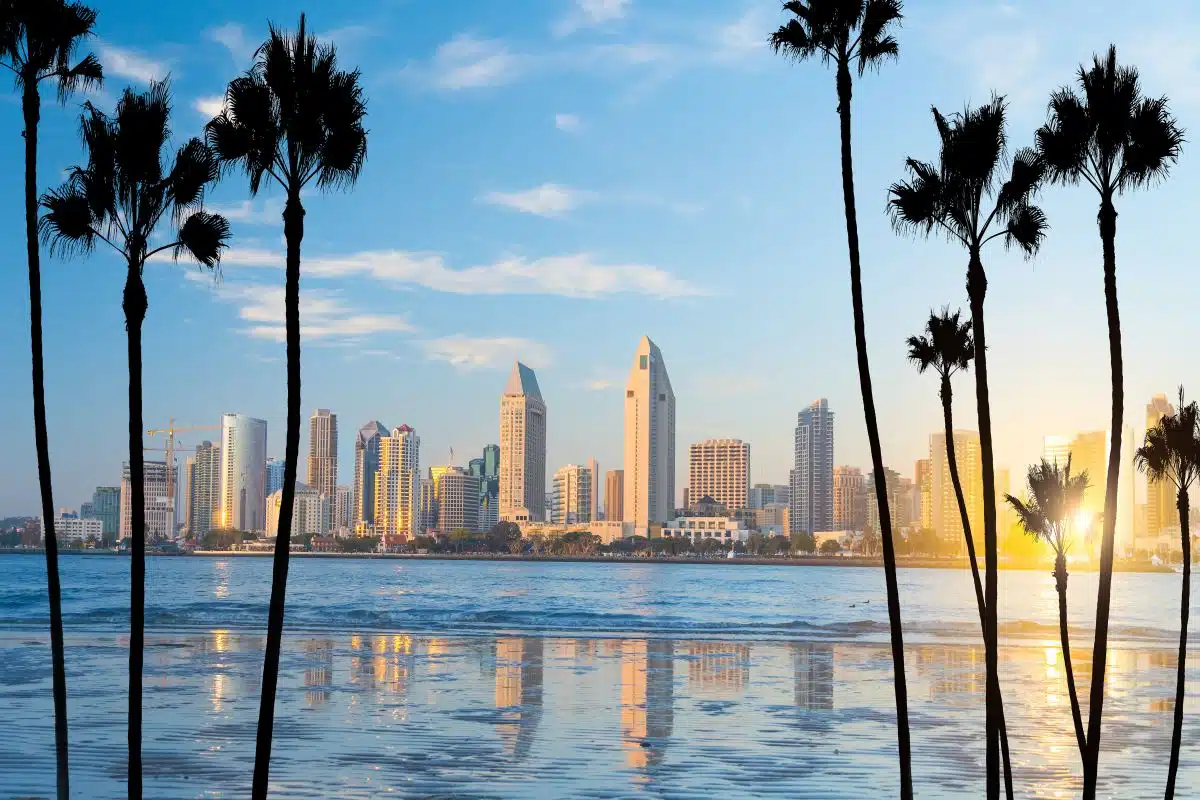 Just outside of the city center is the fun and funky neighborhood of Ocean Beach. A casual borough brimming with retro flair, it's a fantastic place to find unique shops, restaurants, and cafes without the huge crowds of La Jolla or the Gaslamp Quarter.
It's well-connected to numerous San Diego highlights, including Belmont Park, Sunset Cliffs, and the iconic Ocean Beach Pier.
If you can pull yourself away from the vibrant streets, it's the perfect spot to grab some sun, surf, and sand for the perfect beach breakaway.
Ocean Beach Highlights
If you're on the hunt for some traditional farmer's market shopping, the Ocean Beach Farmers Market is jam-packed with various fruits, veggies, sweets, and treats. On most days, you can also find live music entertainment set on outdoor stages.
Sunset Cliffs Natural Park is a genuine highlight of Ocean Beach and is the ideal spot to catch views of the setting San Diego sun in hues of pink and red. Alternatively, head down many of the staircases that lead directly into tidepools for some water-based fun.
For those eager to tackle the Pacific Ocean waves, Newport Beach Avenue welcomes surfers of any skill where you can paddle out and hang ten till you can't hang anymore.
For some history and scenic beauty, head over to the iconic Cabrillo National Monument. The site where Juan Rodriguez Cabrillo stepped onto the West Coast in 1542.
Suggested Hotels in Ocean Beach
The Inn at Sunset Cliffs – Wondering where to stay in San Diego close to the beach? Well, this stunning 3-star property is your answer. Spacious rooms lead into gorgeous courtyards, and other features include an outdoor heated pool and a golf course.
Ocean Beach Hotel – Situated on Newport Avenue, this 2-star budget-friendly property offers modern conveniences with a prime spot on the beach. The contemporary rooms have a sea or garden view and are pet-friendly.
Mission Bay: One of the Best Spots to Stay in San Diego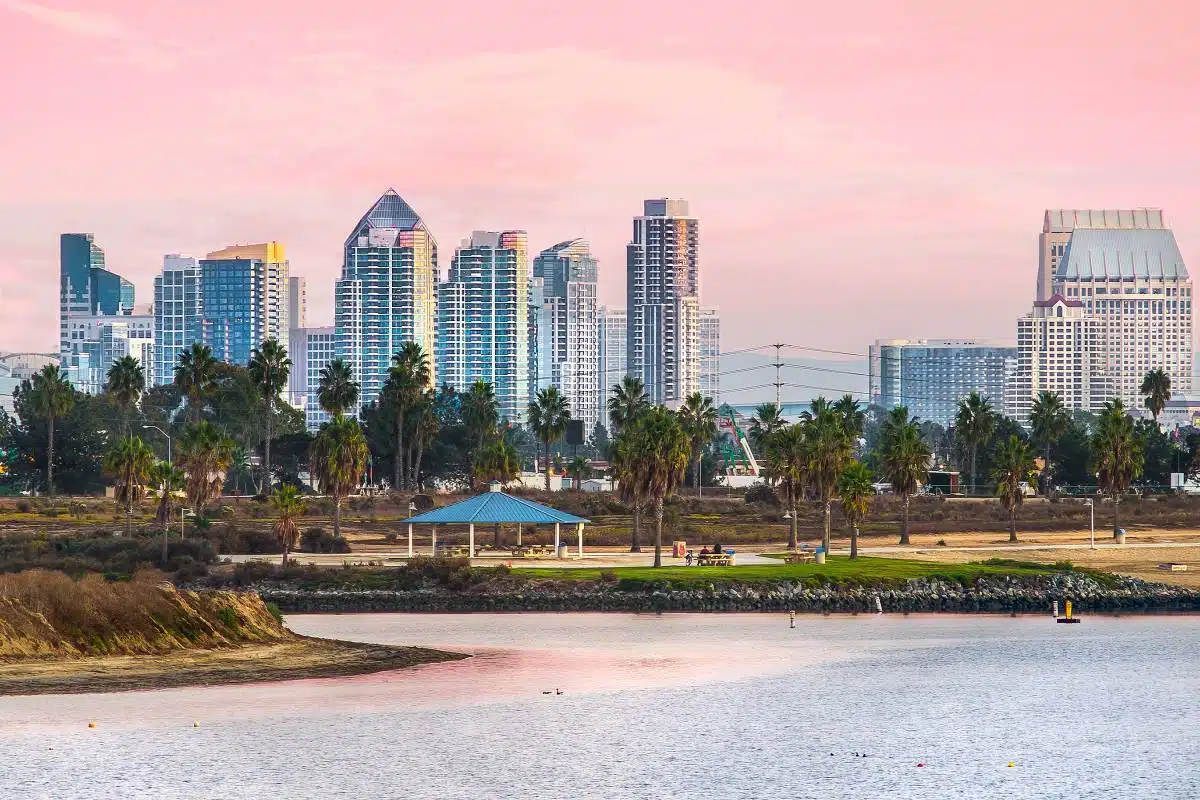 Easily one of the best areas to stay in San Diego, Mission Beach and the greater Mission Bay are pure coastal bliss. An artificial bay created to cater specially to water sports and waveless beaches, it's a stunning place to base your San Diego adventures.
With SeaWorld San Diego and Belmont Park being the star attractions of Mission Bay, the inviting sands of Mission Beach bring everything that makes San Diego great together.
Streetside vendors, bars, and restaurants round off its unique atmosphere fit for a great vacation.
Mission Bay Highlights
The biggest draw of Mission Bay is SeaWorld San Diego. With epic shows, seasonal activities, and interactive exhibitions, it's a close encounter with spectacular marine life you won't find elsewhere.
The historic Belmont Park showcases a rich history dating back to 1925. If you're a thrill-seeker, look no further with its Giant Dipper, often rated as one of the best rollercoasters in California.
The Mission Bay beachfront is a local hotspot and quintessential coastal adventure destination. The promenade links three different areas of San Diego, and you'll find numerous cafes, beachfront restaurants, and nightclubs lining its streets.
An absolutely fascinating Mission Bay attraction is going on a nighttime stand-up paddleboard tour. Using specialized boards that have high-intensity LED lights underneath, they illuminate the water as you glide across the ocean.
Suggested San Diego Hotels in Mission Bay
Tip: To make sure you don't miss out, have a look at the best activities in San Diego. You can thank me later.
Coronado: Where to Stay in San Diego Without a Car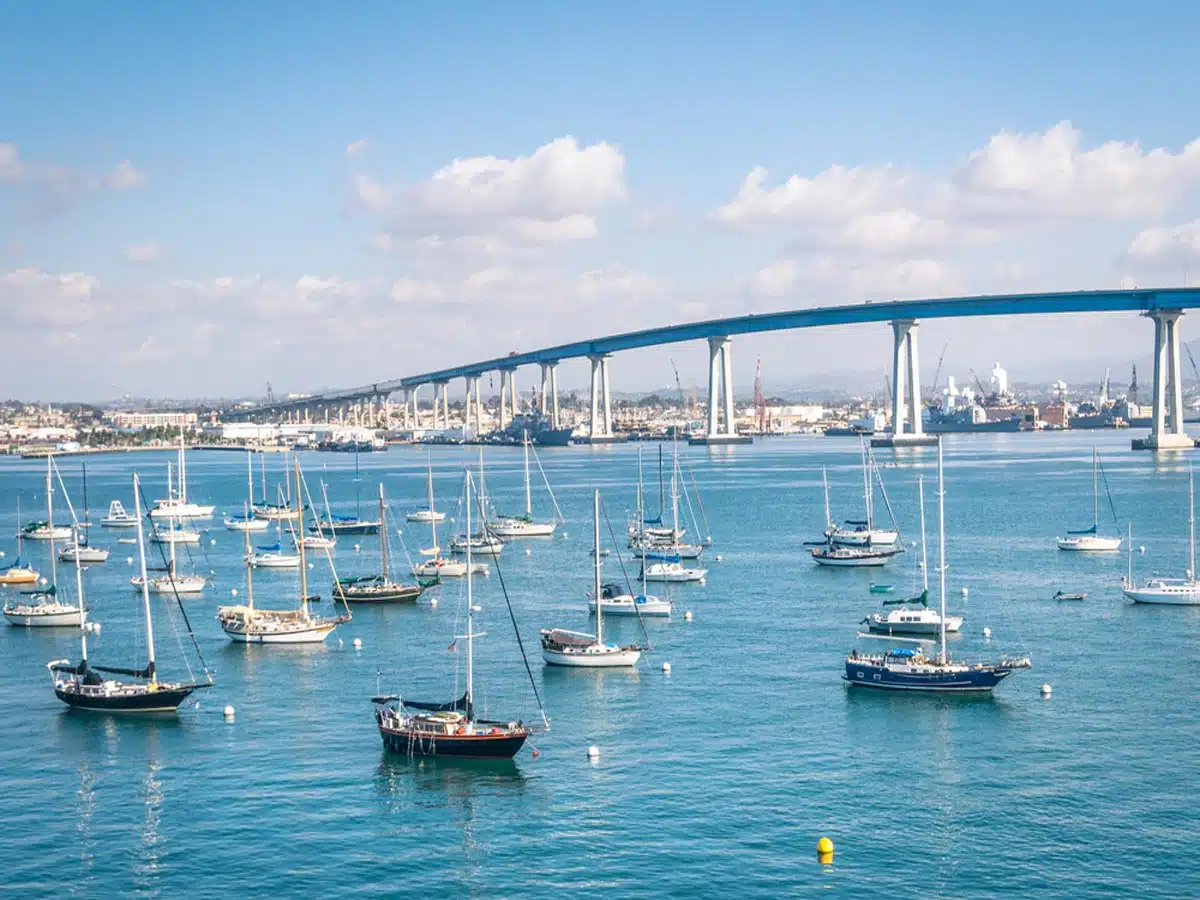 Sitting right across the bay from Downtown San Diego, Coronado boasts one of the best stretches of coastline in the United States.
Don't believe me? Head there for yourself.
Reachable via ferry or by crossing the spectacular Coronado Bridge, its claim to fame is its beach, and you'll quickly realize why once you set foot here.
The best bit? Coronado is hands down the best area to stay in San Diego without a car, as it's very walkable. Orange Avenue, as well as the Coronado Ferry Landing, both boast numerous shops and eateries.
And if you're looking for some breathtaking views, Centennial Park delivers sweeping glimpses of the San Diego skyline.
Coronado Highlights
Without a doubt, the biggest attraction is Coronado Beach. It's wide and flat, making it perfect for sunrise or sunset strolls. Or some casual swimming, and if you opt for laidback lounging, I can't blame you.
Visit the Coronado Museum of History and Art, where rotating exhibits showcase various topics. From naval aviation to contemporary music, check their current schedule to plan your visit.
If you're looking for majestic panoramas of the San Diego skyline, Centennial Park features manicured lawns. Here you'll find picnic spots, a stunning rose garden, and even a small stretch of beach.
Indulge your sweet tooth cravings at any of the fantastic spots for decadent treats on the island. From ice cream at Moo Time Creamery to a savory cupcake at the Coronado Cupcakery and French pastries at Tartine.
Suggested San Diego Hotels in Coronado
Where to Stay in San Diego: Frequently Asked Questions
Practical Tips to Consider Before Booking Your San Diego Accommodation
Plan your trip beforehand. San Diego offers a lot to see and do, and knowing what to include and what to skip will make your trip all the better.
Book your accommodation in advance. If you're visiting during peak season, the city's summer months, most properties fill up quickly.
Considering the many different property options, shop around before making a final decision. This also ensures you stick to your budget.
If you're stuck wondering what to bring along for your trip to San Diego, check out my essential packing list ideas to help you decide.
Where to Stay in San Diego: Read Next